Casey Fields Lake in Cranbourne is well known for its trout fishing. Located within the Casey Fields Sporting Grounds on Berwick Cranbourne Road, the main lake has been stocked by the Victorian Fisheries Authority with 500 rainbow trout in readiness for the school holidays.
1. Use trout pellets for berley. These fish were born and bred at Snobs Creek Fish hatchery and will switch on to the sound of pellets being thrown into the water.
2. Powerbait is the best bait. It is the closest you will find to the food they are fed at the hatchery.
3. Use a baitholder hook. The barbs on the hook help keep the bait nicely presented on your hook.
4. Fish close to the reeds. This is where the main food source is and hence where the trout will be foraging for food.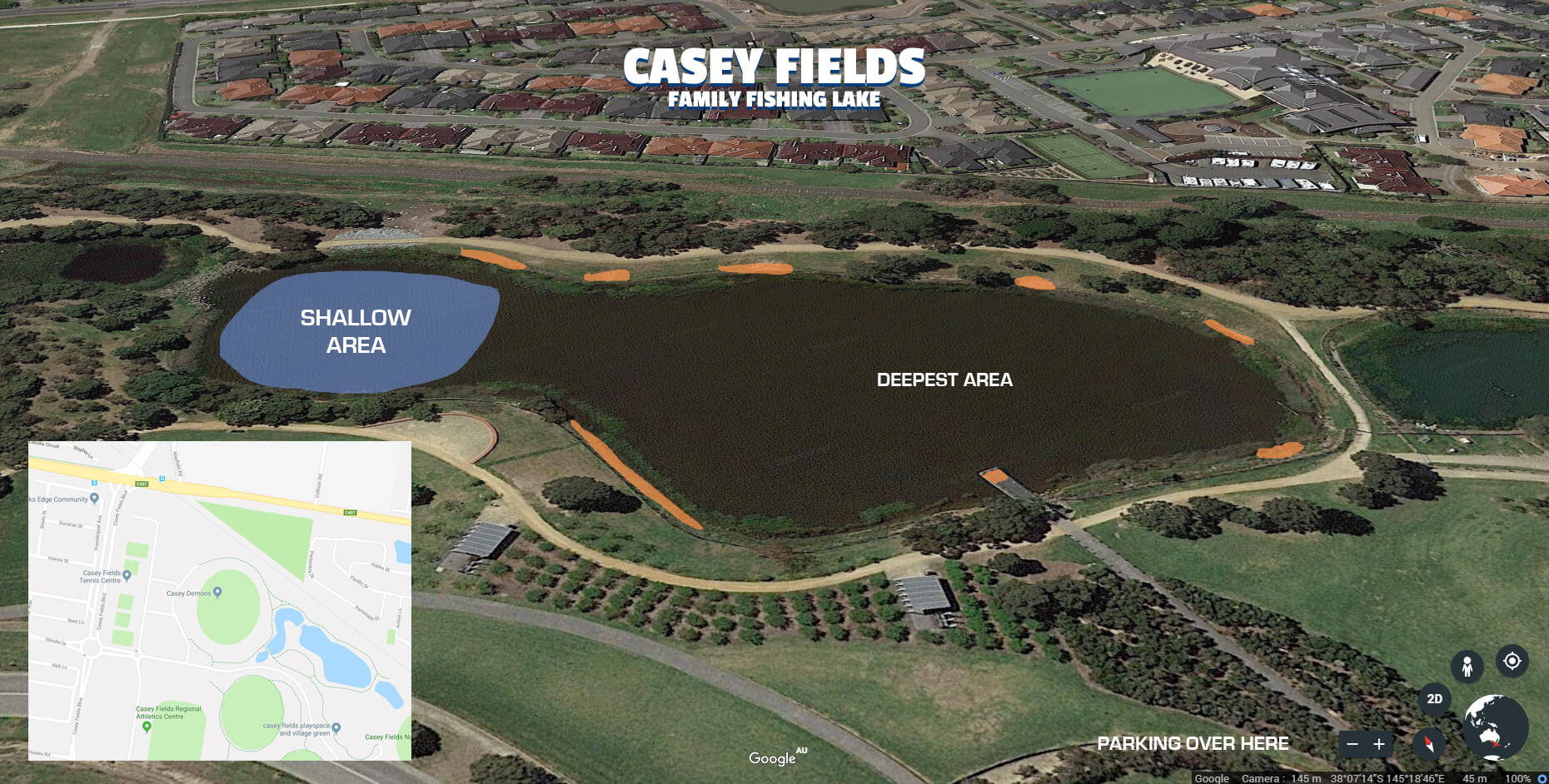 5.   Fish with the wind behind you. You will be using very light gear so casting into the wind makes it very difficult to get your bait out any distance. 
6.    Use the lightest sinker possible. Just enough weight to help you cast the distance.
7.    Check your bait every 5 minutes. Trout like activity, so re-casting will often result in a hook-up as the bait settles.
8.    If you haven't caught a fish within 30 minutes, move 20m and try again.
9.    If you see fish splashing on the surface, try using a float and have your bait suspended 50cm under the surface.
10.    When you catch a trout, move well away from the water's edge before taking the hook out. They are slippery suckers and many a fish has slipped from an anglers hands, back into the water and swam away.
Very easy and tasty recipe with ingredients most will have on hand, for fresh rainbow trout (farmed or wild). It takes very little time and is much lighter than ocean fish. The key is to remember to add the water to the dish as instructed in directions, which keeps fish from drying out. Serve with rice and veggies. Light and delicious. Be careful of bones! Make sure to add hot water to the dish; cold water can crack the baking dish.
Ingredients:
- 2 teaspoons olive oil, or to taste

- 2 whole rainbow trout, gutted and cleaned, heads and tails still on

- 1/4 teaspoon dried dill weed

- 1/4 teaspoon dried thyme

- salt and freshly ground black pepper to taste

- 1/2 large onion, sliced

- 2 thin slices lemon (optional)

- 2 tablespoons hot water
Directions:
1. Preheat oven to 200 degrees C. Grease a 20x30cm baking dish with about 1 teaspoon olive oil.

2. Place trout in the prepared baking dish and coat with remaining olive oil. Season the inside and outside of fish with dill, thyme, and salt. Stuff each fish with onion slices; grind pepper over the top. Place 1 lemon slice on each fish.

3. Bake in the preheated oven for 10 minutes; add water to dish. Continue baking until fish flake easily with a fork, about 10 minutes more.
---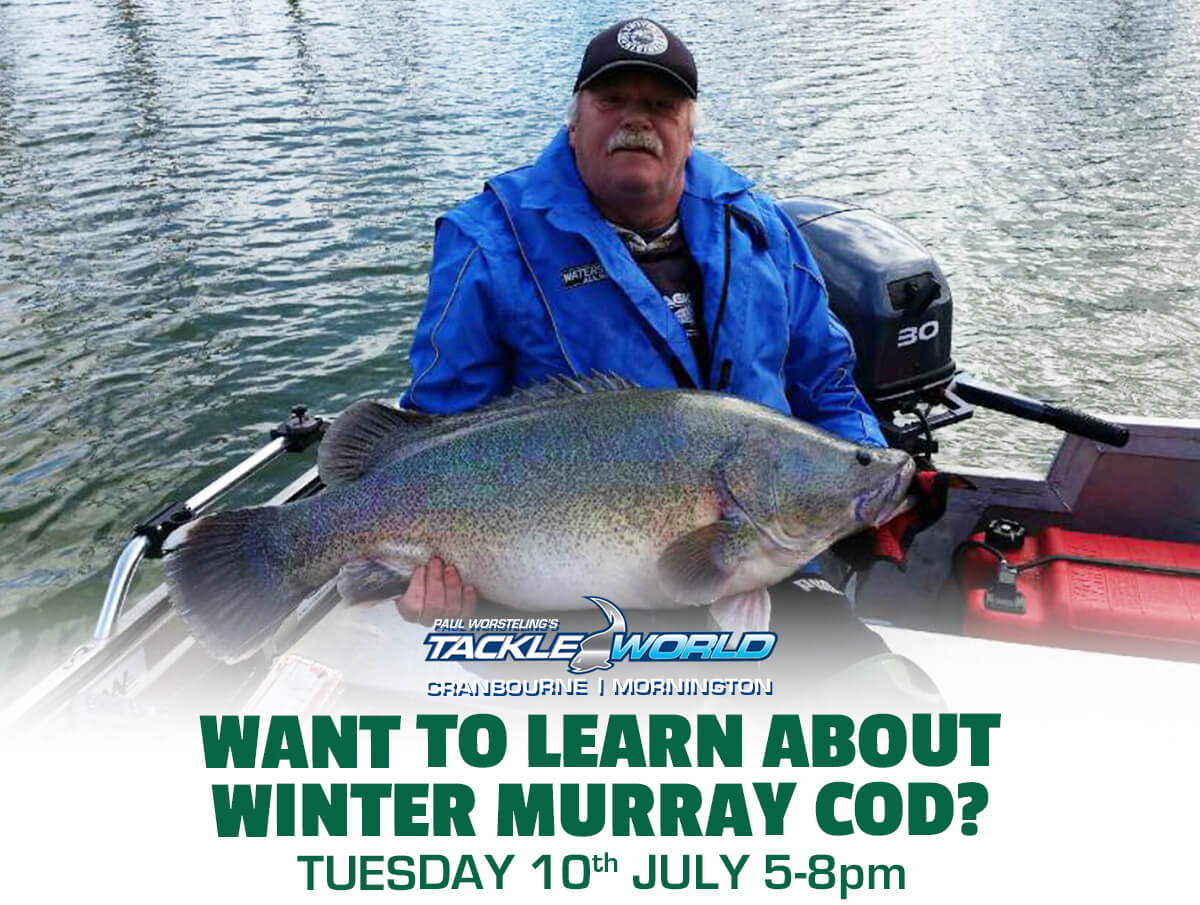 ...an after hours event talking all things Murray Cod.
BOOK NOW
CRANBOURNE: 5996 6500 or MORNINGTON: 5975 7500
*** BOOKINGS ESSENTIAL FOR CATERING ***
WHEN: TUESDAY 10th JULY
TIME: 5pm - 8pm (drop in any time during these hours)
WHERE: BOTH CRANBOURNE & MORNINGTON WILL HOLD AN EVENT
COST: FREE EVENT
- Come and chat with our experienced staff about Cod fishing

- Expert small group tuition

- Free pizza and drinks on entry

- 20% OFF anything to do with Cod Fishing

- Drop in anytime between 5 – 8pm
Note - This is not a traditional talk night; rather an intimate after hour's event focused on Murray Cod with expert staff to provide advice and tuition.