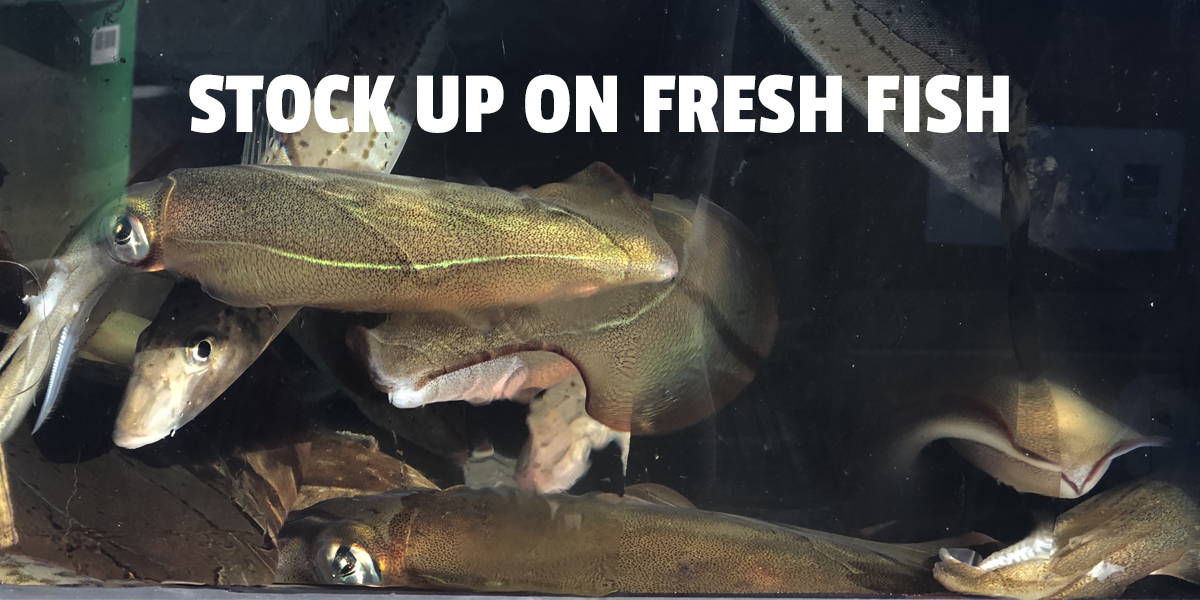 Catching your own fresh fish can be very simple, our experienced staff have put together an article that will help you target some easy to catch species using simple techniques and gear.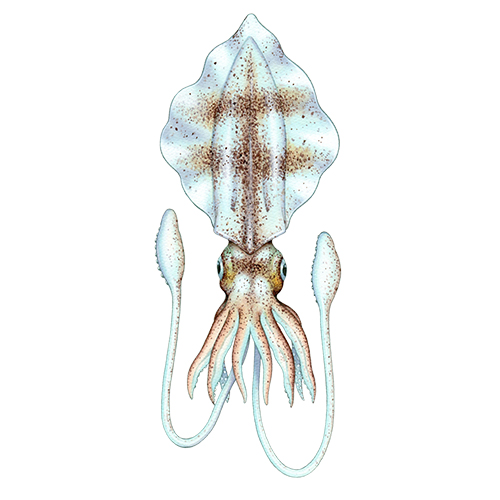 SIZE/CATCH LIMIT: No Size Limit, A combined total limit of 10 for one or more species of squid, octopus and cuttlefish.
WHERE TO CATCH:
One of the most accessible species to all fishers.
Anywhere with a mixture of sand, weed and rubble will hold calamari. Most piers and jetties will also hold calamari.
LANDBASED: The various rock platforms along the peninsula from Mornington to Mt. Martha.
TOP JETTIES: Mornington, Blairgowrie, Flinders
FROM THE BOAT: In Port Phillip Bay, any broken ground in 4 to 8 meters of water.
FROM THE BOAT: In Westernport any area with thick weed like te1he Quail Bank, Tyabb Bank and Tankerton are very reliable.

GEAR TO USE: For casting squid jigs any graphite rod from 7 to 8 foot will allow you to get the maximum casting distance on every cast. Any 1000 to 3000 size spin reel is best and though braid is preferable (mainly to aid in casting distance) it's not enitrely crucial so spool with what's most comfortable for you.
HOW TO CATCH: The big key to calamari is to keep moving and keep casting. They will often cluster together so finding that initial patch can lead to numbers quite quickly.
Vary the retrieve speeds and actions on the jig too. It's amazing how finely tuned the squids senses can be at times and they can become obsessed with specific things at a time so it pays to be mobile and it pays to be experimental with the retrieve.
Work on specific shades when choosing jig colours. Here's a rough guide to get you started.
LOW LIGHT: Red or Gold
DIRTY WATER: Red or Black
CLEAR WATER: White or Rainbow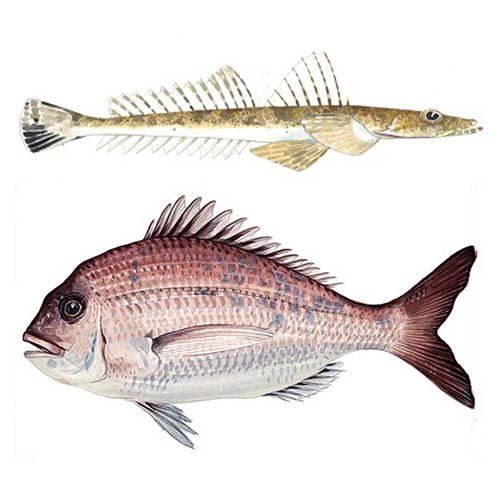 FLATHEAD SIZE/CATCH LIMIT: 27cm, A combined total limit of 20 for one or more species of flathead (excluding dusky flathead)
PINKY SIZE/CATCH LIMIT: 28cm, 10 (of which no more than 3 fish may be equal to or exceed 40cm in length).
WHERE TO CATCH: Structure is key. The Pinkies in particular will congregate in large schools around any reef structure. This is particularly important for land based fishers. Rock walls and groins that are surrounded by weed and rubble are super productive, especially at dawn and dusk.
Flathead are little bit easier to come across. If there is sand with a few weed patches, there is flathead.
FROM THE BOAT: Ricketts Point to Black Rock in 6 to 10 meters of water. The muscle farm around the corner from Fisherman's Beach in Mornington is also a great area.
LAND BASED: Mornington Pier and the beaches from Frankston to Mordialloc are great locations, especially in the rough weather and low light conditions.
GEAR TO USE: SOFT PLASTICS: Graphite rods from 6'6" to 7" in the 2-4 to 3-6kg range. 2500 to 3000 size reels and spooling with braid is a must. 3 to 4 inch minnow style plastics are best. Don't forget a little bit of S-Factor
BAIT: Any combo you are comfortable with here will suit. If you prefer the durability, then glass rods are for you and if you prefer the light weight and sensitivity of graphite then are a lot of options available for you too.
LAND BASED: 10 to 12 foot rods are the go here. The extra length will greatly assist in casting distance and also give you the adequate leverage to deal with any bigger snapper that come your way.
HOW TO CATCH: Keep it simple. A simple running sinker or paternoster rig is perfect and an octopus or baitholder hook in a 1/0 to 3/0 is the go. Half pilchards and squid strips are all you need in the bait department and berley is essential.
SIZE/CATCH LIMIT: 27cm, 20 per person per day.
WHERE TO CATCH:
Whiting are one of the most prized species for their eating quality and can be found in a variety of locations and depths with shallower water being the most productive.
LAND BASED: Patchy weed-grass areas along beaches and jetties are the places to target whiting land based.
TOP LAND BASED LOCATIONS: Somers, Balnarring, Dromana, Rye.
FROM THE BOAT: In Port Phillip Bay and Western Port weed with sand patches are the go-to locations in water from 2 to 8 metres. However this can change and finding the same ground in less than 2 metres or even 15 to 18 metres can be productive.
TOP BOAT LOCATIONS: Middle Spit, Tyabb Bank, Mud Island, St Leonards.

GEAR TO USE: Quiver tip rods in 7'6 to 8 foot are preferred for most applications. Though if fishing land based, try and push that out to somewhere between 8 and 9 foot. There is no rule here for braid or mono, fish whatever makes you comfortable.
HOW TO CATCH: Berley, berley and berley. Whiting love the moving water so timing the tide is crucial and a variety of baits can really come in handy, especially when the fish are being a little shy. Pipi's, mussels, squid strips and bass yabbies are all gun baits on any given day.
In the tidal waters of Western Port a fixed single hook paternoster sits best in the tide and in Port Phillip Bay a simple running sinker rig is fine.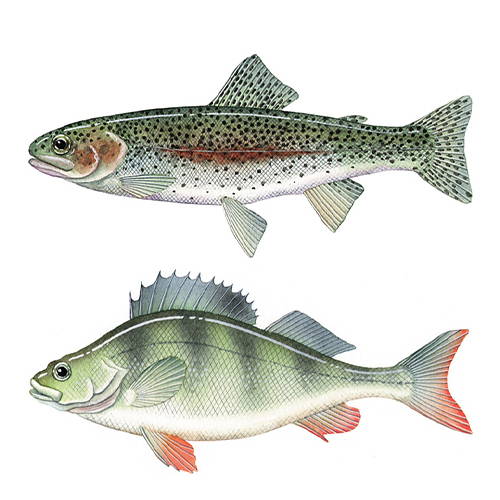 TROUT SIZE/CATCH LIMIT: Varies, See LINK for details.
REDFIN SIZE/CATCH LIMIT: No Limit.
WHERE TO CATCH: Trout are stocked into family lakes across Victoria and can be found in many rivers and streams fed by mountain run off. The best way to identify trout rivers is to check out the list in the above link for size limits. For a list of stocked family lakes see this LINK. Redfin can be found in most of the same waterways as trout and are often a by-catch but most common in local lakes like Karkarook, Jells Park or Lakeside Pakenham.
GEAR TO USE: Light graphite rods in 1-3kg with a 1000 size reel is ideal as the most productive ways to catch trout and redfin is with small lures like inline spinners, diving minnows. The other effective method for catching these fish is using worms for bait using size 4 or 6 hooks on a running sinker rig or with split shot a foot above the hook to help with casting and getting the worm to the bottom.
HOW TO CATCH: Casting lures as mentioned is the most productive method as its fast and covers a lot of water. Small spinners or diving minnow lures match the hatch for both trout and redfin as they both each small minnows and gudgeons. Casting from the bank to deeper holes or along weed lines with a steady retrieve is all that is needed. If you can see fish following but not committing then pause for half a second or give the lure a small twitch every so often as this can entice a reaction bite.