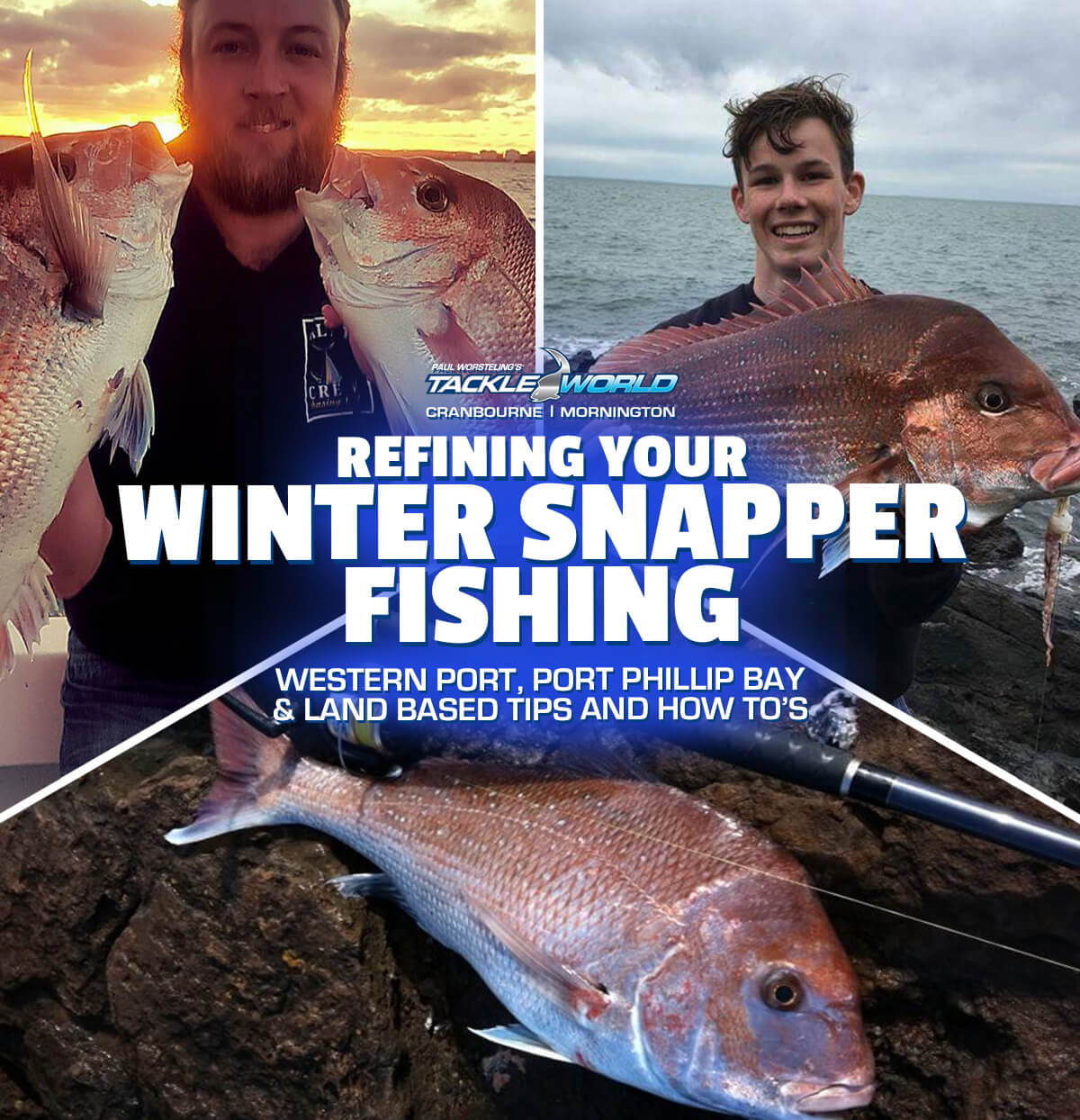 Although snapper season is for the most part seen as a spring/summer fishing time of the year, more and more people are starting to venture out in the colder months of winter and autumn to chase some trophy snapper. Once the water temperatures start to cool down, the fish's metabolism slows which decreases their need to feed as often. When this happens there are a few things to look for to increase your chances of a winter red, these things are; Bite Times, Baits, Rigs & Finding Fish.
The first thing to note with winter snapper fishing is the dramatic decrease in their bite window. While the fish still need to feed, their lowered metabolism affects their bite times making them much shorter periods of time as well as not a lot of travel from their home reefs.
In Port Phillip Bay it pays to work around the tide change and especially if you can match this with first and last light. If fishing land based it is ideal to fish during or just after strong prevailing winds (as long as it remains safe to do so of course).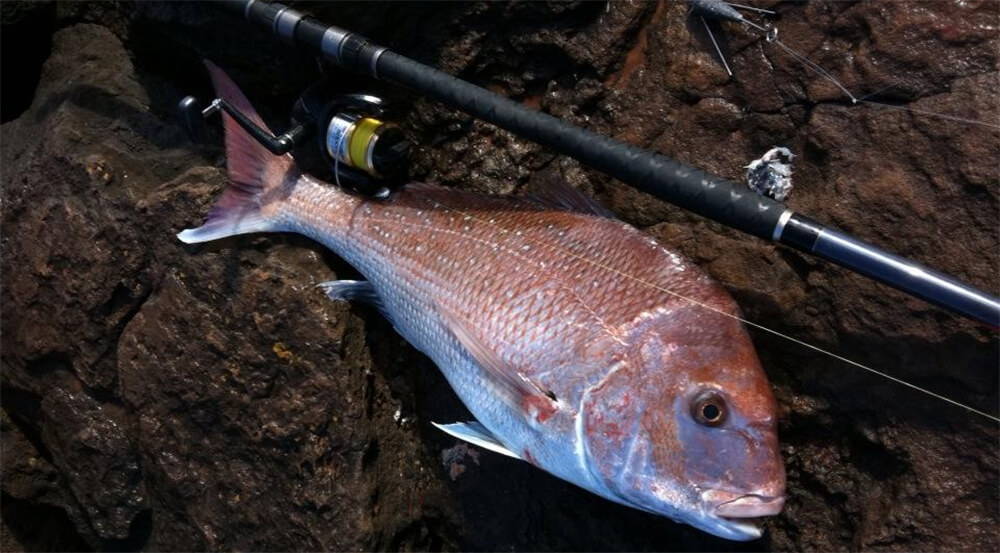 Western Port isn't as sensitive to changing tides but it is important that it isn't a slack tide or low/slow moving tide and low light periods working well but from experience, night time is the best. For fishing shallow water of around 5m and under it is best to fish the incoming tide as this is when the fish will move in from their reefs to feed. For an outgoing tide you will find deeper water works best as the fish will be waiting for their food to be washed down from the shallows.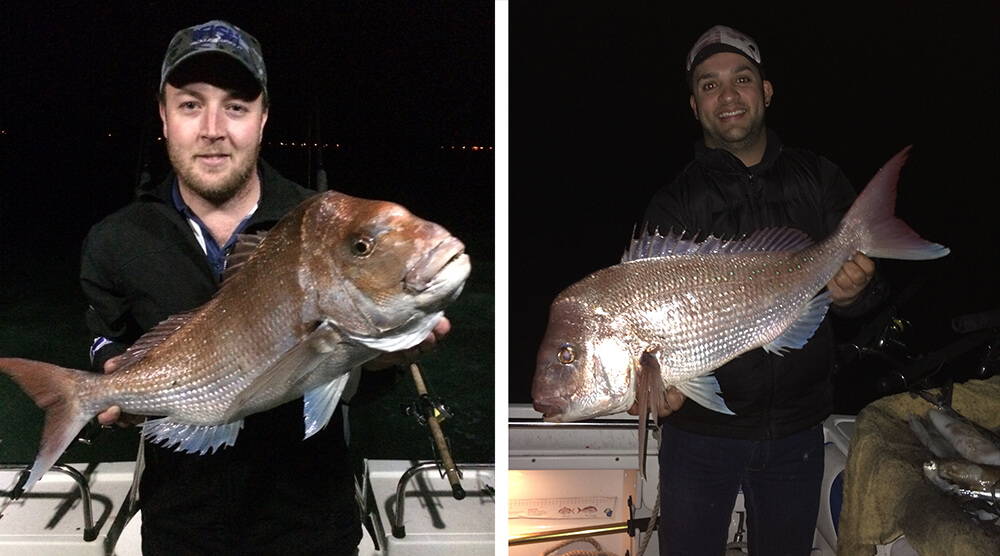 An extra thing to add to the change in their bite window is to keep an eye on is the barometer and water temperatures, a reading of over 1030 is ideal for snapper but don't let it stop you as we have had some fantastic fish from Western Port well below 1030. When it comes to the water temp there isn't a single ideal number but you will find the warmer pockets of water to hold more fish with more regular feeding, even a single degree difference can mean buckled rods.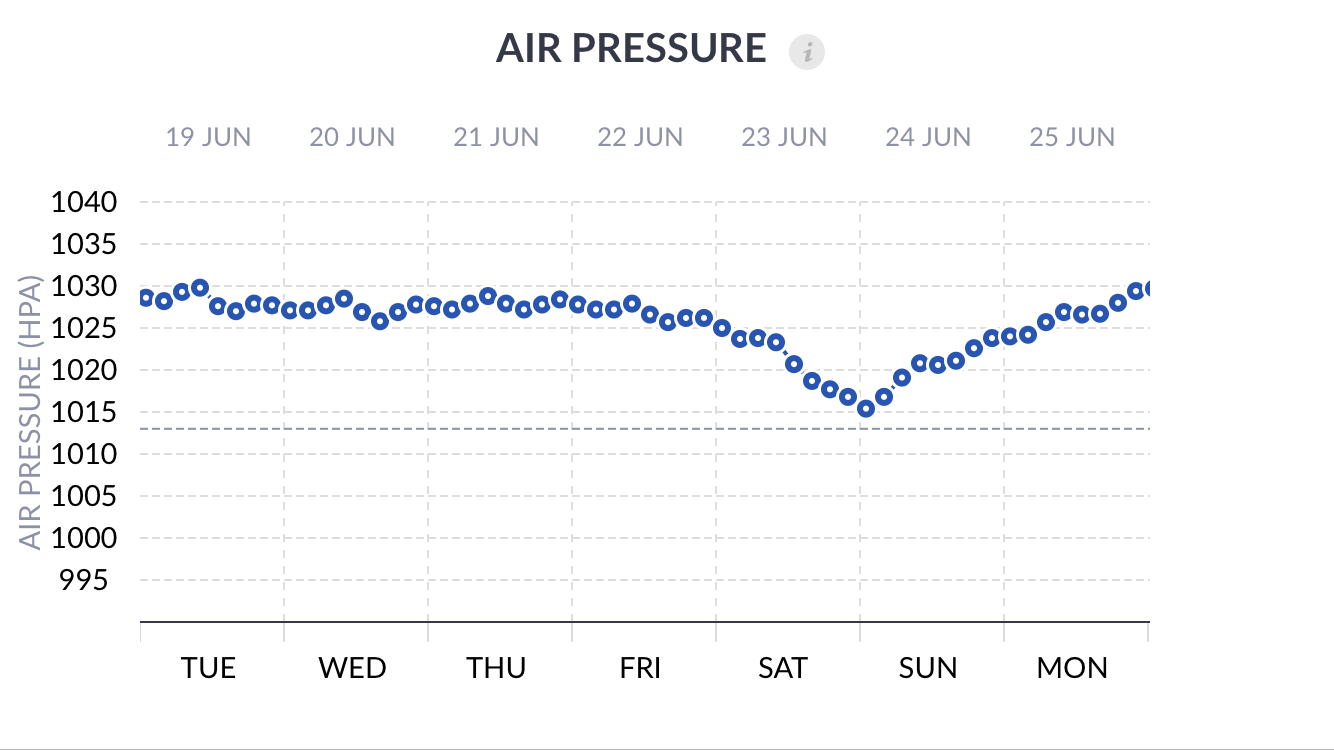 While it is important to find out when the fish come on the chew it is even more important to present the right bait as with smaller bite windows come pickier fish. Sure there are fish caught on pilchards and squid but the best baits are the freshest. Fresh squid is an outstanding bait that is very hard to beat, however salmon, yakkas and trevally are good options too.
If you want to be in with the best chance of big winter snapper it will pay to take the time to get fresh bait, having squid and/or sabiki outfits as well as planning your trip to begin with a bait collection session could mean the difference between cooking up some servo pilchards for dinner or frying up some snapper fillets.
Western Port: For the most part I fish the same rig regardless of winter or summer. A running sinker rig with twin snelled hooks, however for winter I drop down the leader and hooks sizes, running 40lb leader and 4/0 circle hooks with these smaller hooks will penetrate better due to the thinner gauge wire. Baits used are usually slightly smaller than summer baits so the hooks will be snelled slightly closer together than normal to accommodate the bait size.
Port Phillip Bay: Like WP I keep my usual summer fishing rig but downgrade my leader and hooks. The rig I use in PPB is a running sinker rig with a small ball sinker run down to the hooks and like WP, twin snelled 4/0 hooks to maximise where the fish will bite the bait and penetration.
Land Based: When fishing for snapper land based I use a paternoster rig with a single dropper and again twin snelled hooks in 4/0 size. This choice of rig allows me to cast the bait out further which is ideal as from the eastern side of PPB you are casting into the wind. This rig allows me to keep the line tighter to the bottom and gives me a better indication even for the subtler bites.
Click the images below to see the rig diagrams closer.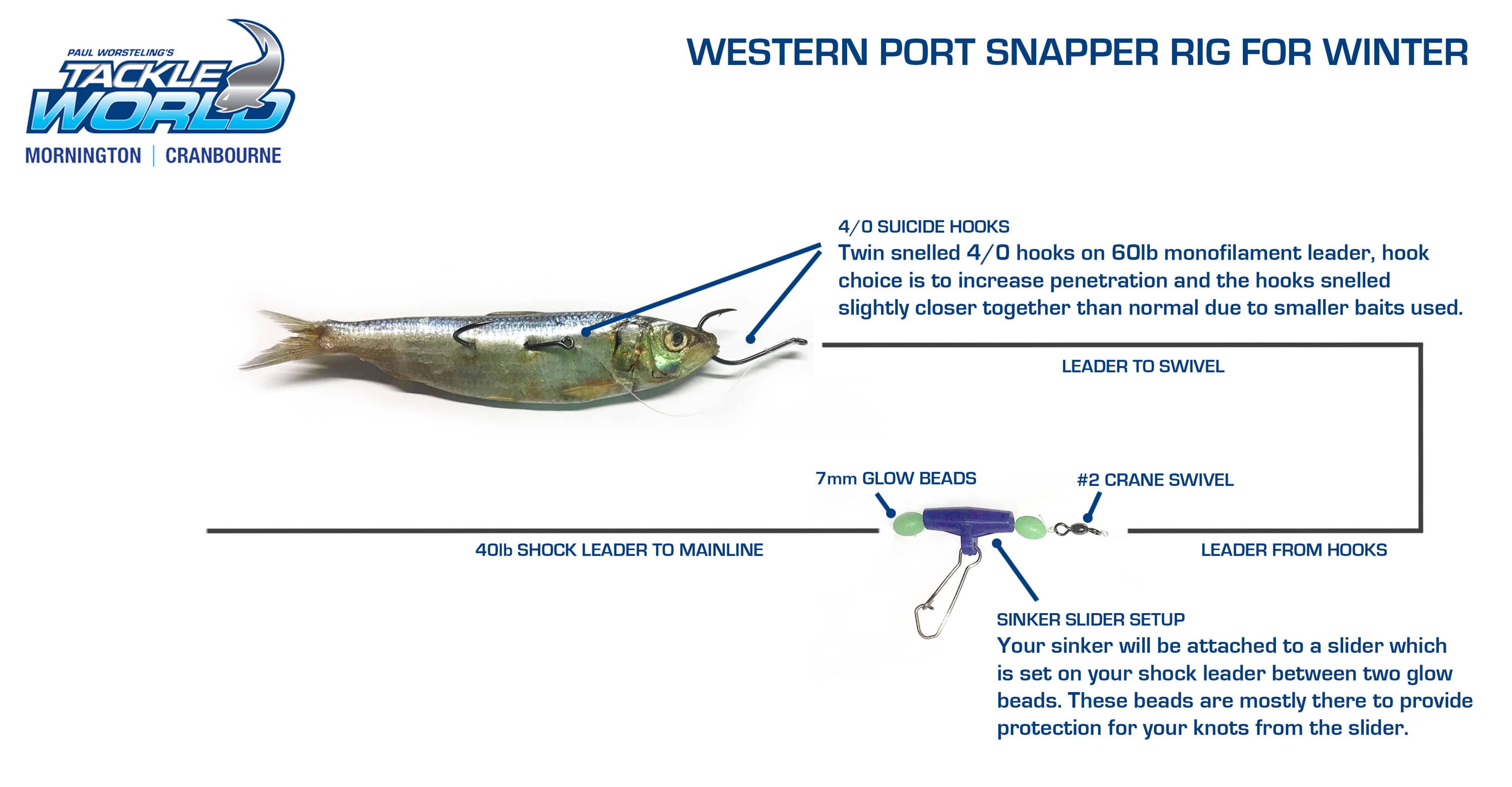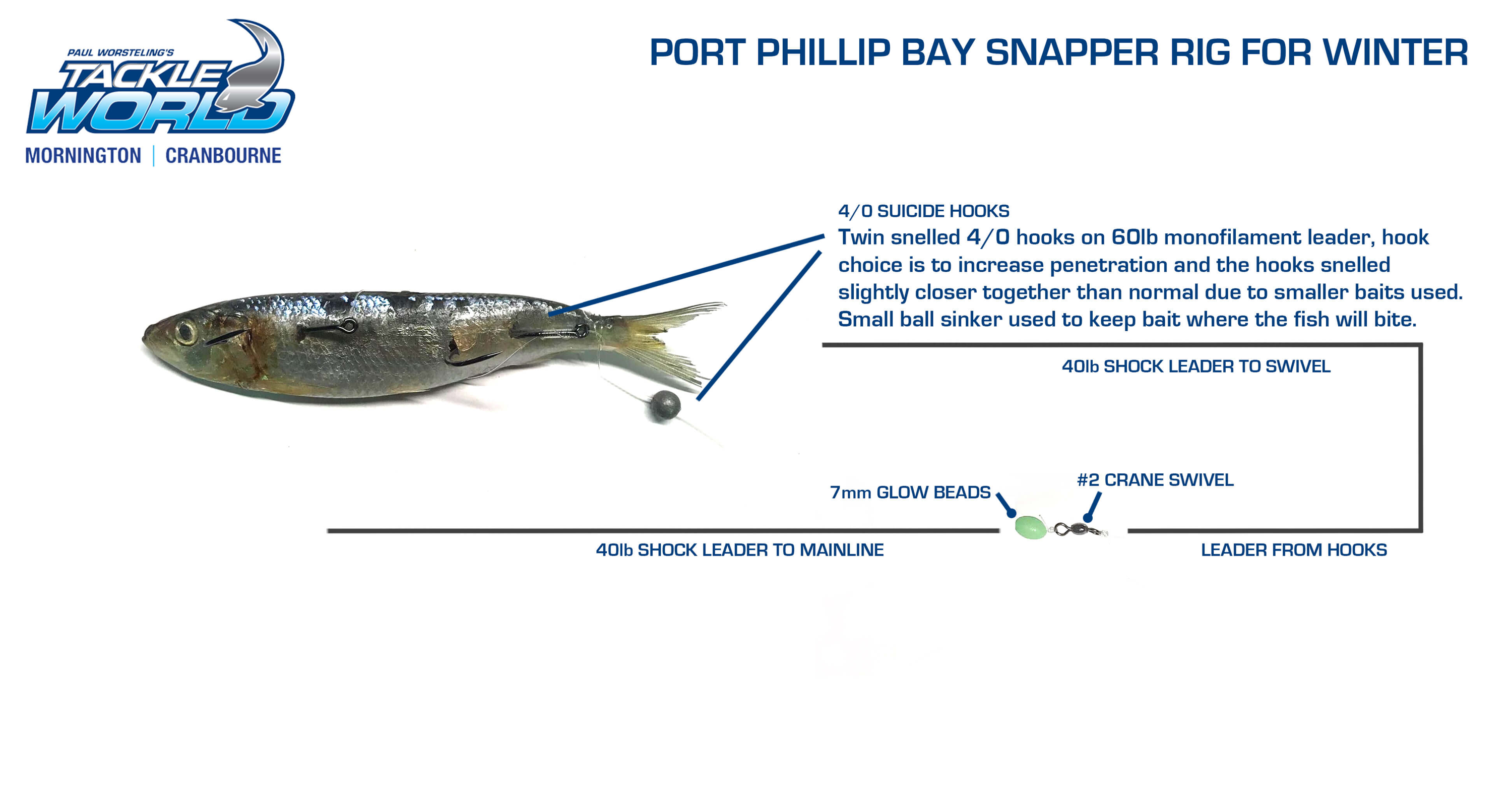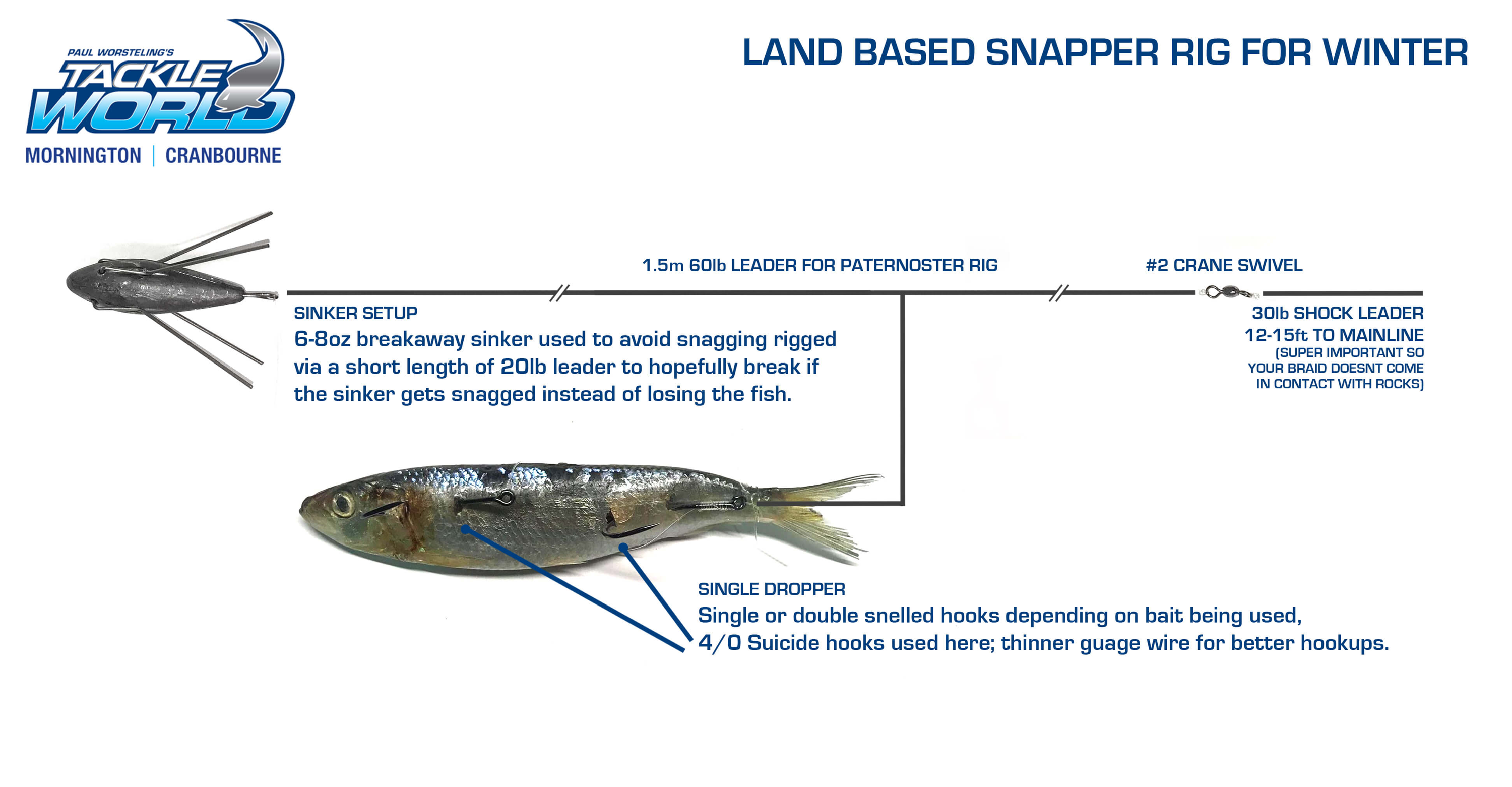 The final but by far the most important thing when fishing for winter snapper is "where are the fish?".
Time spent sounding for fish is very important, yes it can be tedious and at times very boring but there is no point in all the effort in getting out in the cold weather, dropping the boat in, collecting bait, only to drop anchor on a mark in an area with no fish. I personally will never drop anchor in winter unless I have sounded some fish first.
Once you have located some good fish on your sounder you will need to position yourself right in order to present your baits to them. This normally means moving slightly up tide or up wind and dropping the anchor. I like to try and position the boat so the fish you are casting at are around 20m behind your boat once the anchor has come tight. Most modern sounders will allow you to measure the distance from a point and gives you a better understanding of where the fish you sounded are in relation to the boat. The next thing is to try and minimize and sideways movement or yawing. This can be done in Western Port by simply putting out a small sea anchor and in Western Port I use a bridle to help minimize movement.
Although fishing for winter snapper may not be as fast paced as it is in the warmer months it can certainly produce some quality fish when you put in a little bit of effort and brave the colder conditions.
---

Now is a great time to get some new snapper gear to use during winter and the lead up to the new season. Head to the link below to see our deals on rods, reels and tackle just right for targeting big snapper.
---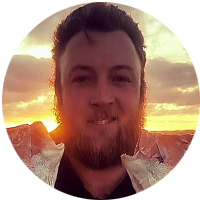 Mark is a familiar face for our customers in the Mornington store. Mark has chased every species in Victoria and dedicates himself to mastering each technique for each species.