GOLDEN PERCH (Yellowbelly)
MINIMUM LEGAL SIZE: 30cm (VIC)
BAG LIMIT: 5 (VIC)
WHERE TO FIND THEM
It's all about the structure!
In a lake situation, like Lake Eildon, any stand up timber or rock/sand point is heaven for the yella's. Your sounder very quickly becomes your best friend here as you will literally be able to sound them schooled up on any particular part of the point or tree.
If you are fishing in a river, like the Murray, finding the back waters or any point at where you get smaller creeks flowing into the main river are golden. The outflow of the creeks can create a small eddy as it enters the main river and is a hot spot for the yella's to sit and ambush food as it gets caught up in the eddy. Any fallen trees or big lay down style snags are also a great option.
(pic. Lake Eildon provides endless points and trees to explore and look for fish)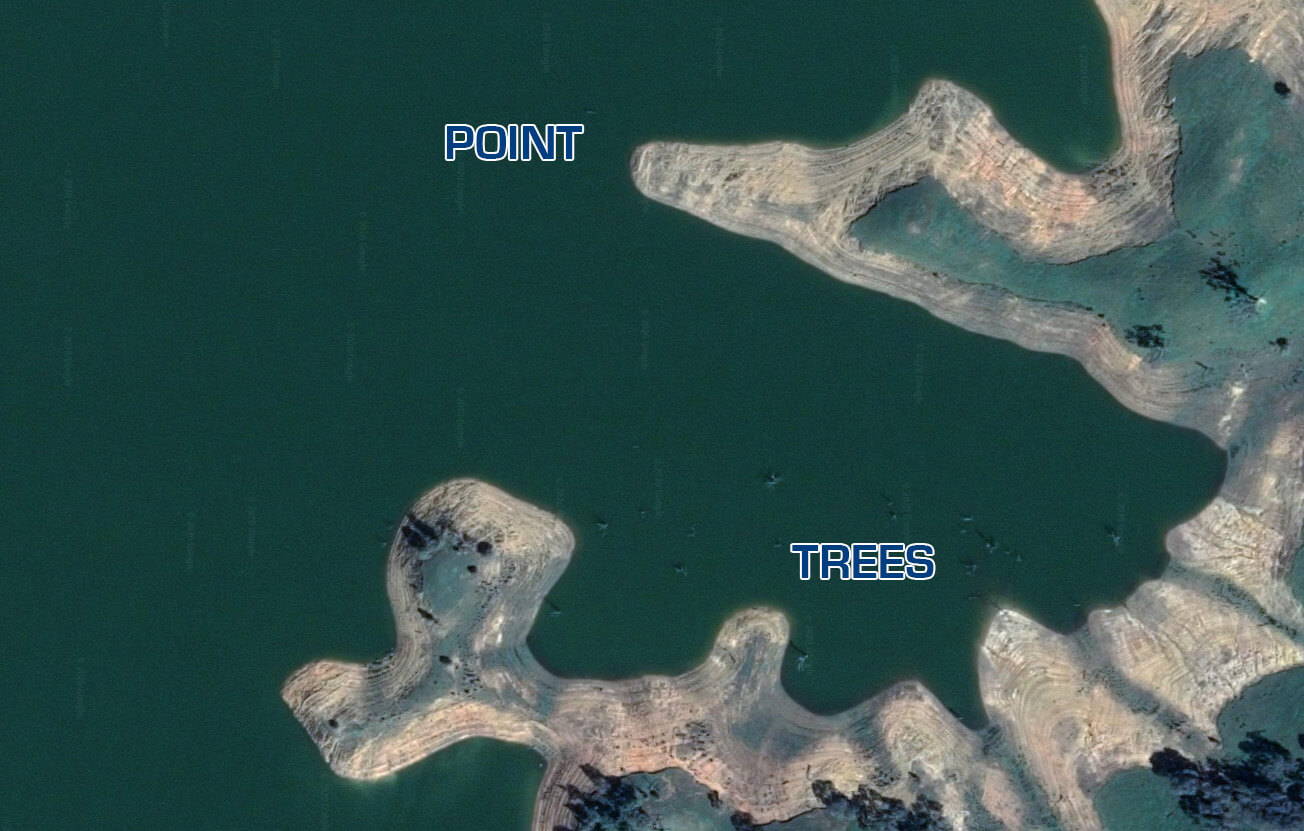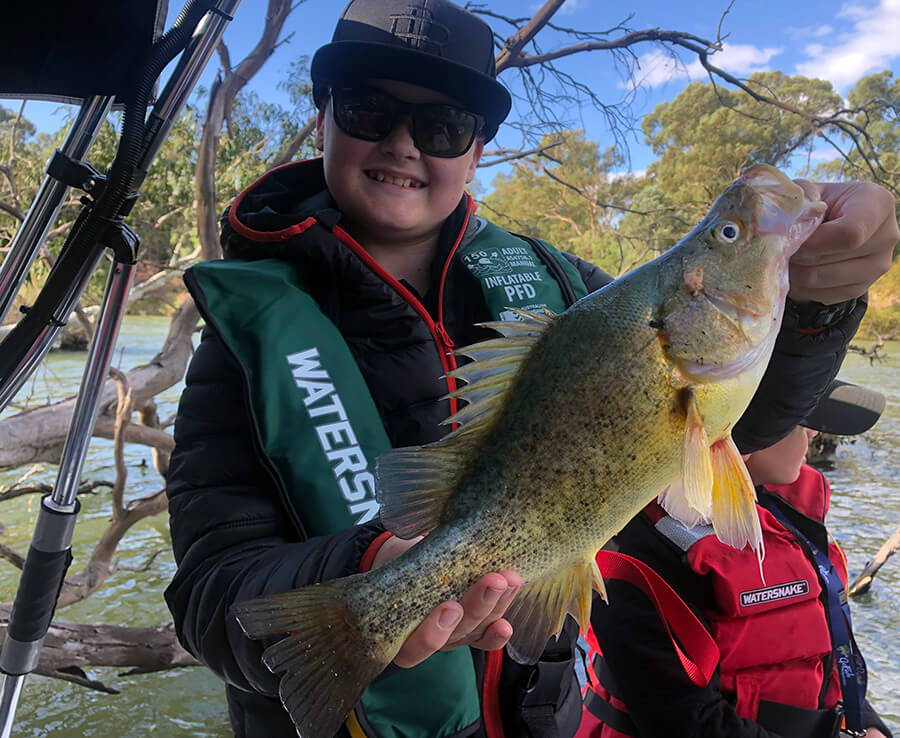 (pic. Jet Worsteling with a nice yella caught from a lay down tree)
HOW TO CATCH THEM
The great thing with yellowbelly is that they will comfortably and aggressively eat a variety of baits and lures.
If you have sounded fish sitting on a tree at Eildon for example, your options are endless. The easiest way to attack them is to tie up to the tree and fish vertically. A simple running sinker rig with a ball sinker running directly down to the top of a size 4 to 1/0 (depending on bait size) baitholder hook is perfect. A good old fashioned bunch of worms or a nice juicy live yabby will be too much for the yellas to resist. If you are finding it hard to get a bite with the baits stationary, gently jig the bait up and down to constantly keep it moving.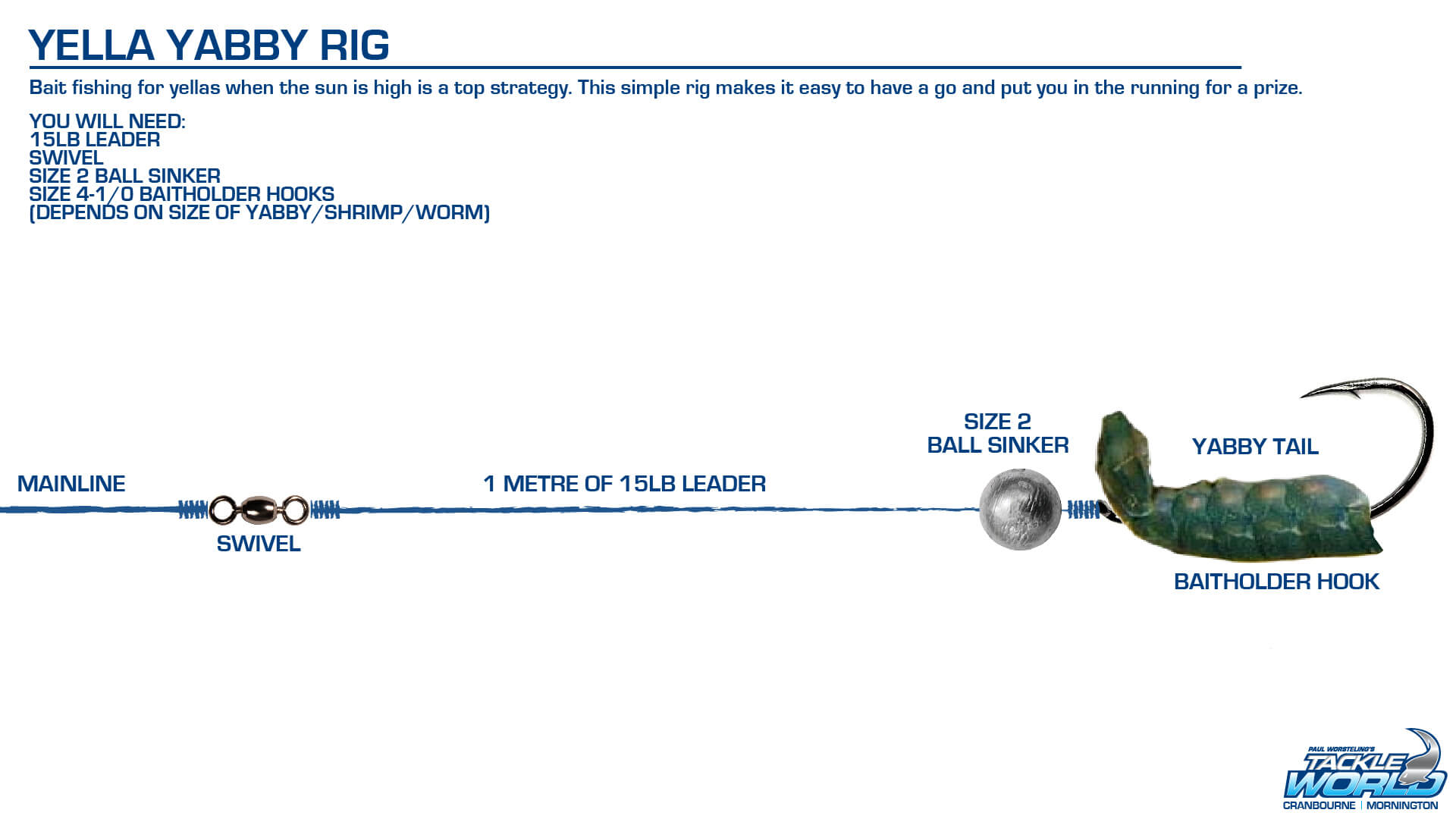 Another deadly technique for schooled up fish on vertical timber is to slow roll a small plastic or jig spin style lure up the length of the tree. A Gulp 3" Minnow Grub in black or a Squidgies Bio Twin Tail Grub in black matched with a 1/12 to 1/8oz depending on depth and the Jackson IGA Jig Spin's are also a great option for this technique.
If you come across fish sitting on a point the technique changes slightly. It now becomes important to get the lures away from the boat to cover a lot of ground. Lipless crank baits like Jackall TN 50s & 60s, Zerek Fish Traps and Berkley Shimma Shads are all great options. It's as easy as casting the lures as far as you can and either slow rolling, or hopping the lure back to the boat. Dark colours still seem to be the popular choice here but it does pay to have a couple of natural presentations too.
Casting 3" to 4" paddle tail style plastics are dynamite too, especially when the fish are little shy. The plastics allow you to really lighten up your leaders and fish ultra slow to really annoy those finicky fish into a strike.
Another overlooked lure for this application are small chatterbaits. Jackson IGA Jig Chatter's give you the benefit of a traditional chatter but also give you a little added flair with a nice willow blade sitting under the chin of the bait. If you want to bulk the lure up a little bit, a Fuze "The Claw" plastic will give you the added bulk just nicely.
(pic. Mitch Chapman makes the most of his sounder to locate schooled fish and fishes small soft plastics into the school)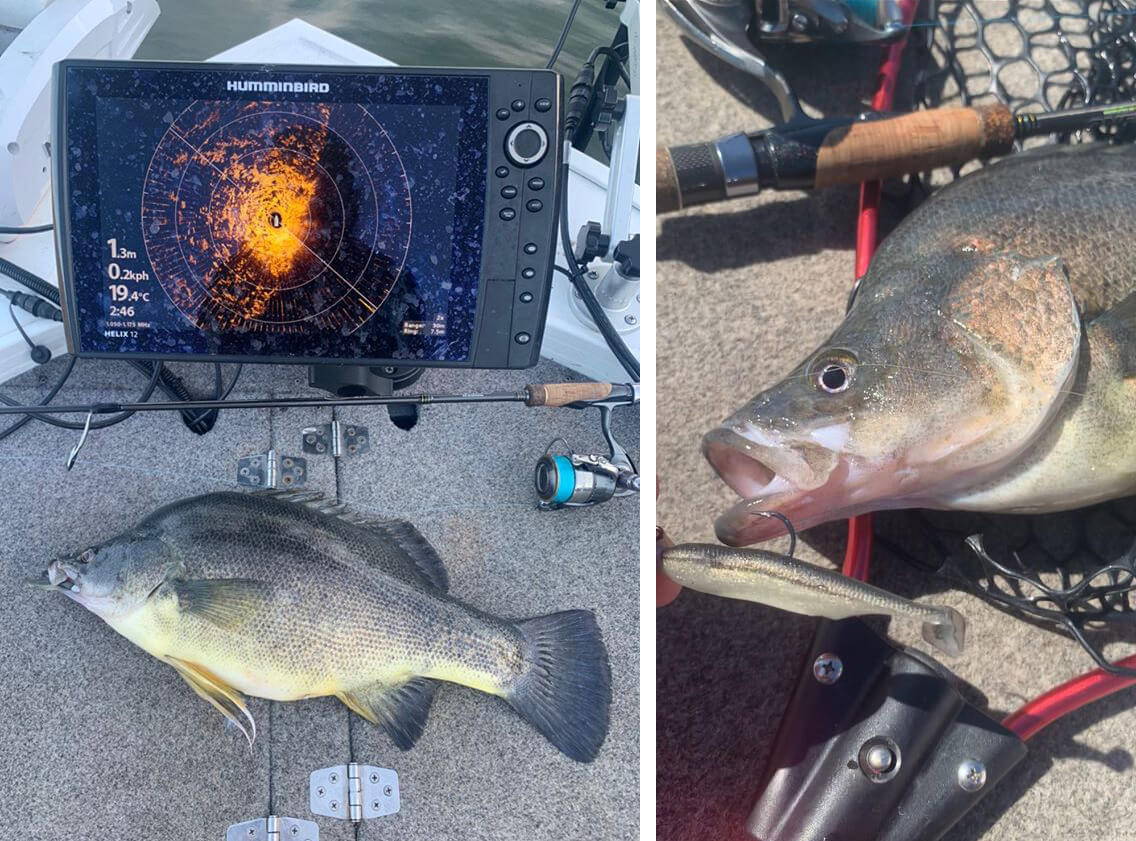 If you are camping up on the Murray it will always pay to have a couple of bait traps out. Freshwater shrimp and yabbies make for exceptional live bait and the rig here is exactly the same to the one we covered fishing vertical in the timber. A ball sinker running directly down to a baitholder hook will get the job done. If the shrimp and yabbies are hard to come by a big bunch of worms is just as good.
As you will most likely have to contend with various speeds of flow throughout the river lure choice does differ here as well. Spinnerbaits and traditional bibbed lures are the go as they are a lot easier to control in higher flow areas.
Bassman Spinnerbaits are hard to pass up and hard bodies such as Size 2 Stump Jumpers and Kuttafurra Mudhoney 75's are a must have. The technique for both these lures is the same. Cast them as close to the structure as you can and straight wind them out as slow as the current will allow you to.
It's the perfect time of year to get amongst the yella's and it's made all the more easy with the current travel restrictions now being lifted in Melbourne.
If you need any more help or info please feel free to give us a call at either Tackle World Cranbourne or Mornington and good luck on the yella's this summer!
---
HAVEN'T GOT THE RIGHT GEAR? HERE'S SOME SUGGESTIONS