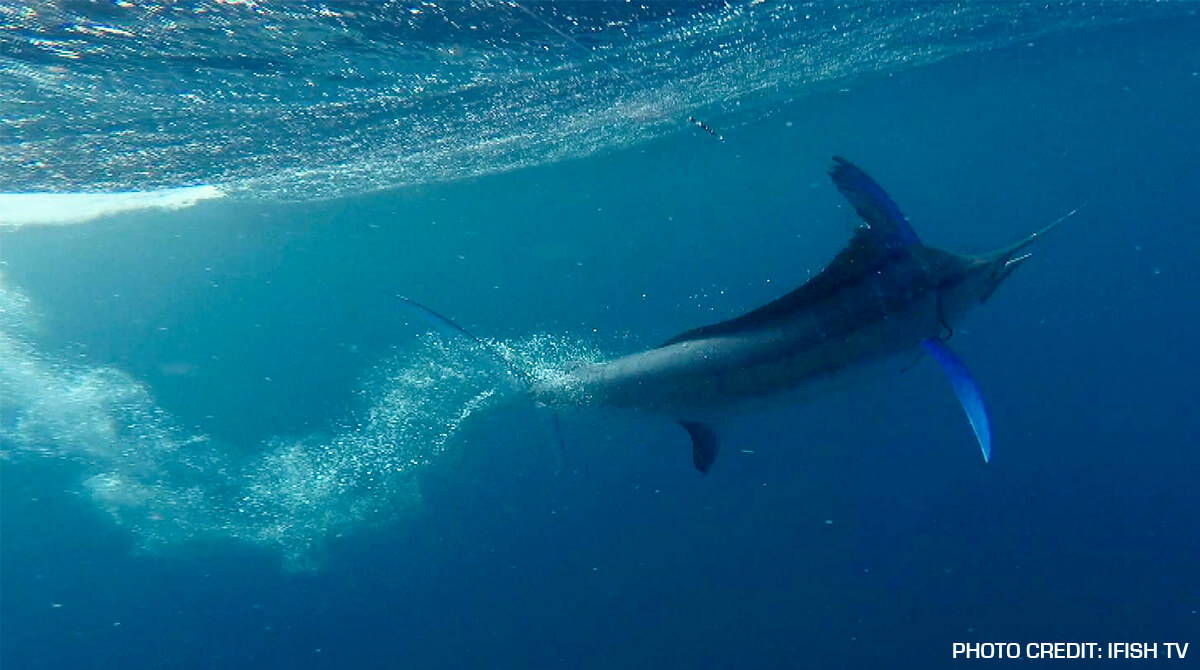 In early March 2019 myself (Paul Worsteling) and the IFISH TV crew took off up the east coast to Bermagui and meet up with local fishing guides Chris and Matt Cassar in search of marlin fishing from their boat. We headed out from Bermagui to the Tathra Canyon where under the Cassar boys guidance we hunted down some bait using the sounder, using bait jigs on 6oz sinkers we managed a tank of big slimey mackerel in no time. Once the baits were rigged and our rods and reels setup we started out search for birds working bait on the surface with seals working the bait ball. With seals on the bait ball and a visual on marlin also feeding on the bait ball it was a good sign, we threw our baits out to the marlin and were on to our first striped marlin for the trip.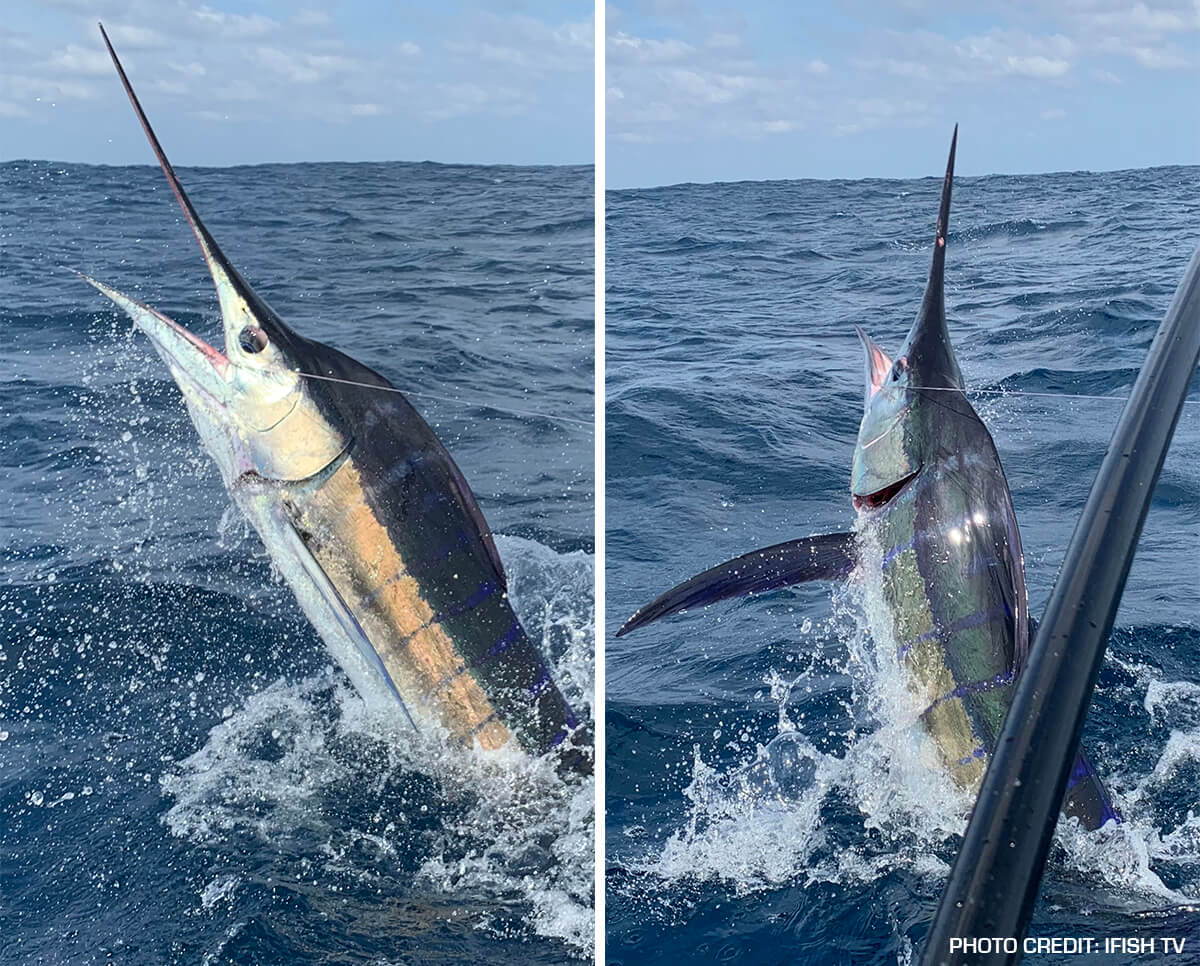 With this the only fish for the day we returned to Bermagui and upon arrival got word of the bite being hot off Mallacoota so it was a quick drive south and over the border back to Victoria where we prepared to launch from Mallacoota in the Babi Stabi. The weather report told us 15 knot winds but once we got out there it started to come up to around 30 knots as we headed out to the shelf where we found the first contour lines on our GPS, this was in around 150 metres. This time around we couldn't find bait and the only thing to come up on our bait jigs was a single arrow squid so we quickly stitched up the arrow squid as a skip bait and ran it out the back of the boat and in about 10 minutes a marlin came up and ate it.
After all the offshore action Matt Cassar took us inshore to fish around Gabo Island where we landed some fantastic sand flathead in 27 metres of water on snatcher rigs with 2/0 hooks. We moved out to 70 metres of water where we drifted and were doubling up on tiger flathead to 2kg as well as gummy sharks.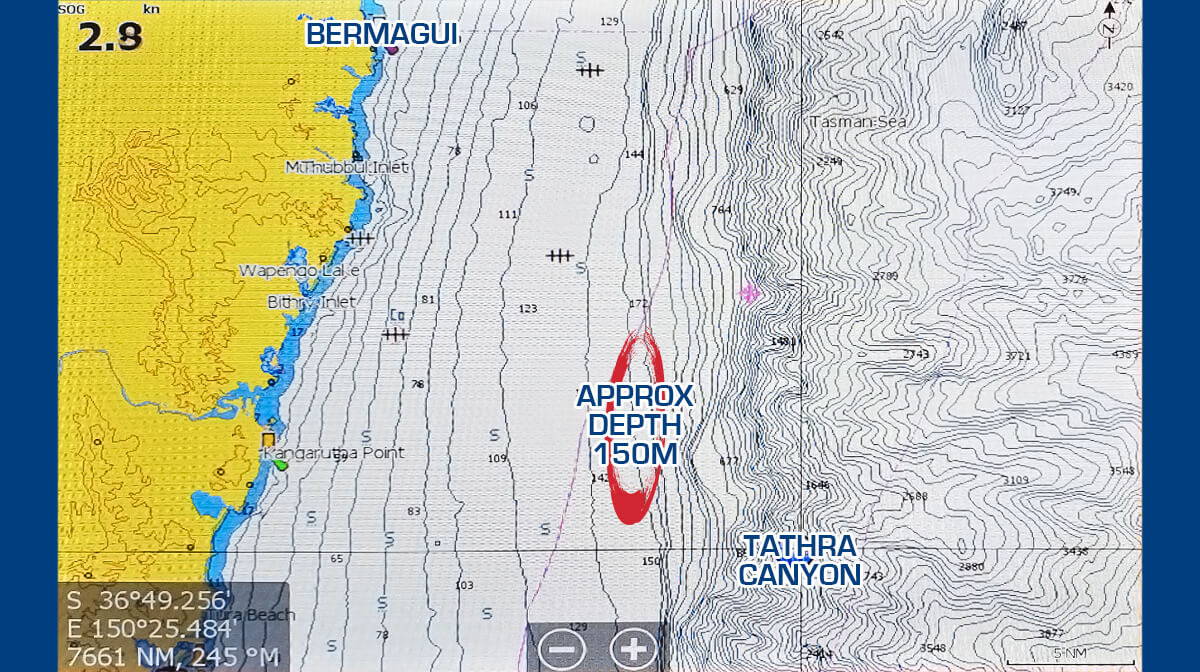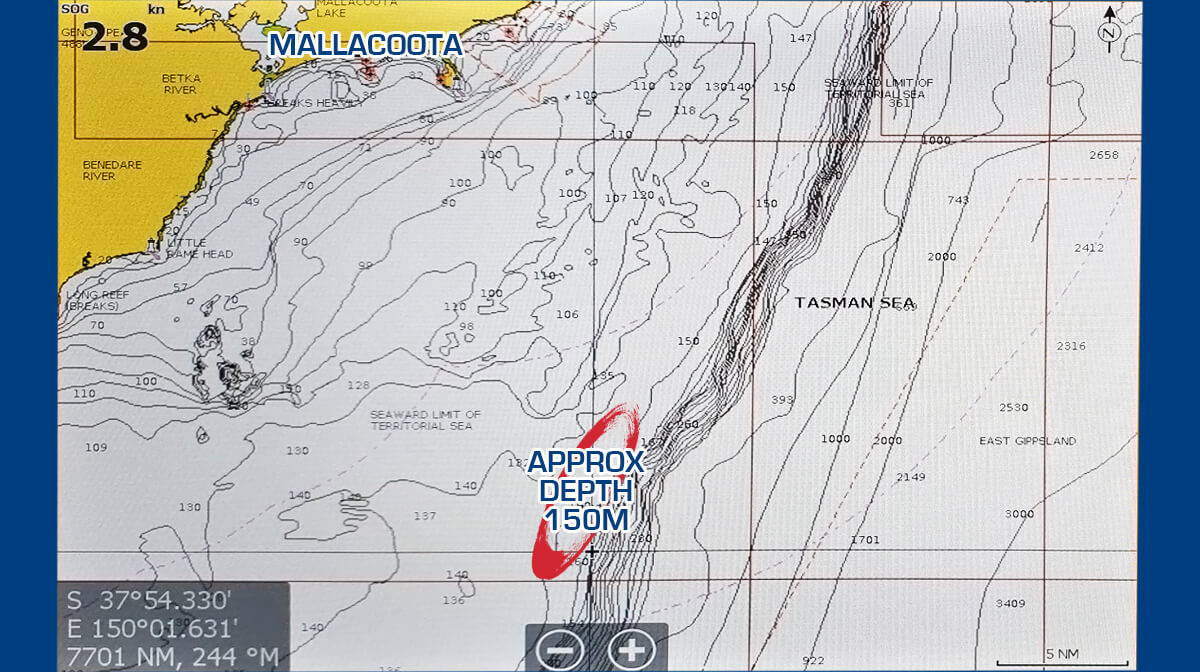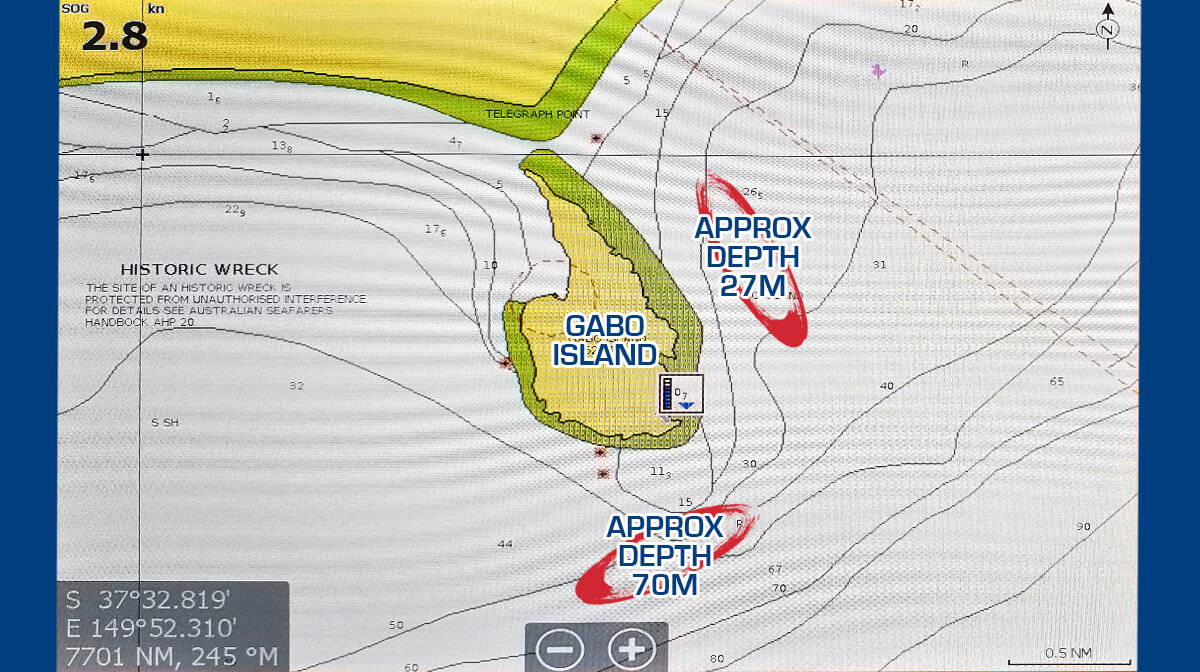 Live Bait:
For marlin, big slimey's are perfect so large bait jigs with 6oz lead is perfect for getting the jig quickly down into the school you have sounded up and get the bait tank full in no time. Looking for birds working the surface can help find bait fast and often find marlin or other predators working the bait from underneath also.
Rigging Live Bait:
For rigging live baits like slimey mackerel you are best to "bridle" the bait using a short piece of Dacron looped onto your hook. From there you will use a bait needle to thread the Dacron through the side of the eye socket and then twist and loop the hook onto the Dacron to hold it in place.
Locating Marlin:
The key is to head offshore to "the shelf" which is if you are looking at your map on your gps unit, where the first contour lines start and anywhere from 130 to 180 metres of water. When looking for marlin you will be searching for birds working bait balls and if you can see seals underneath the bait then you are in a good chance of marlin being there also.
Running Out Baits:
If you can see marlin on a bait ball then you can literally chuck your baits down to them but if you are going to start trolling for them then I like to use outriggers. The first bait I run out as is about 50 metres behind the boat on the surface and the second bait I like to put down about 30 metres with a size 8 to 12 snapper lead on the wind on leader with a small elastic band to get it a bit deeper. You can either drift with the current or run just in gear, I prefer to be just in gear.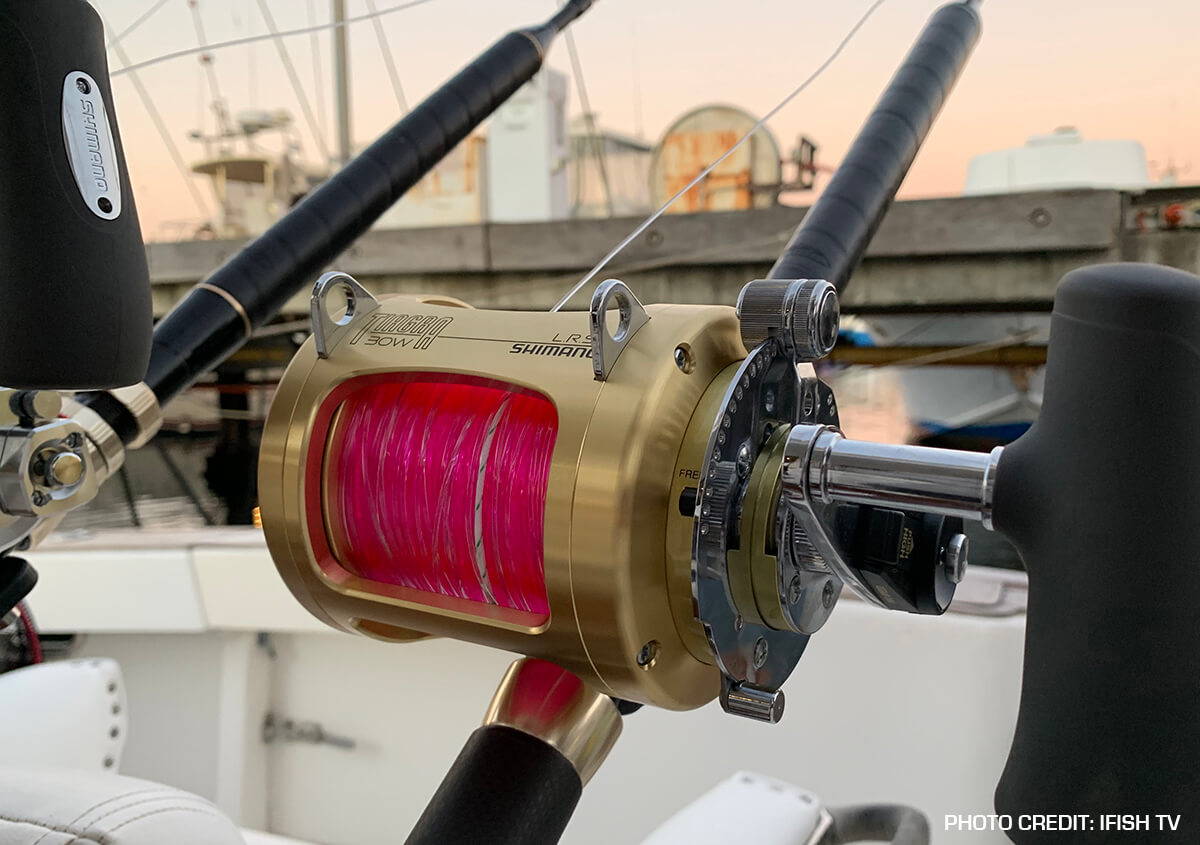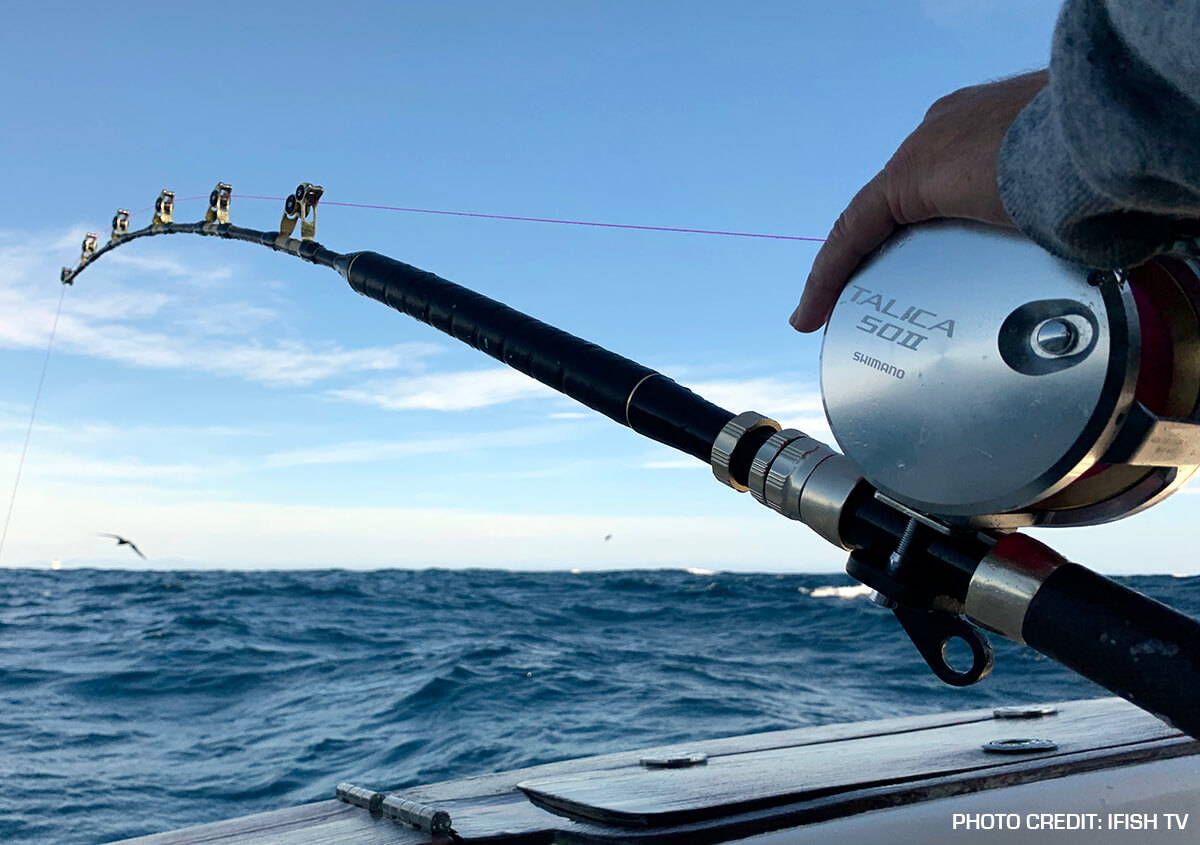 ---