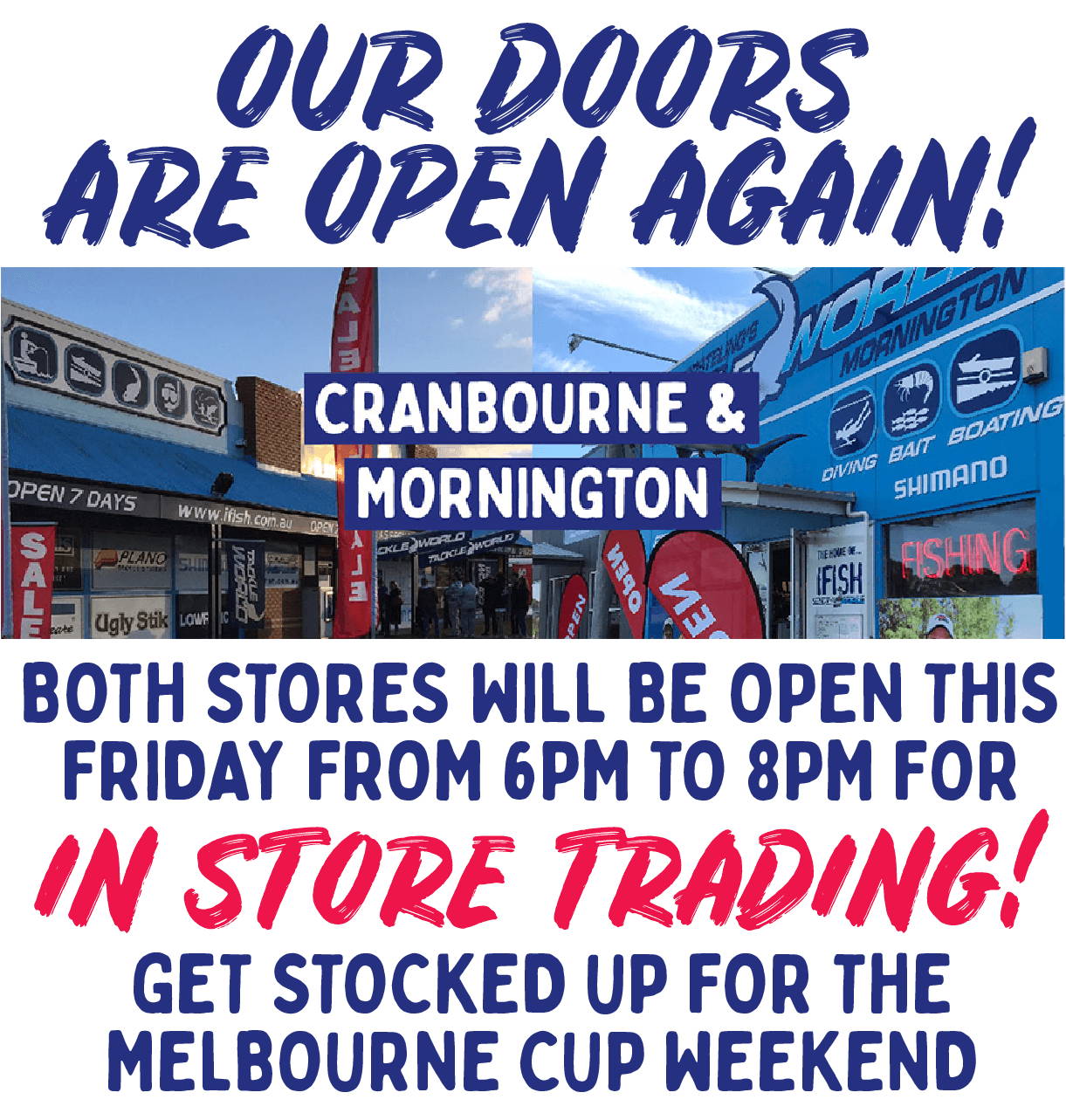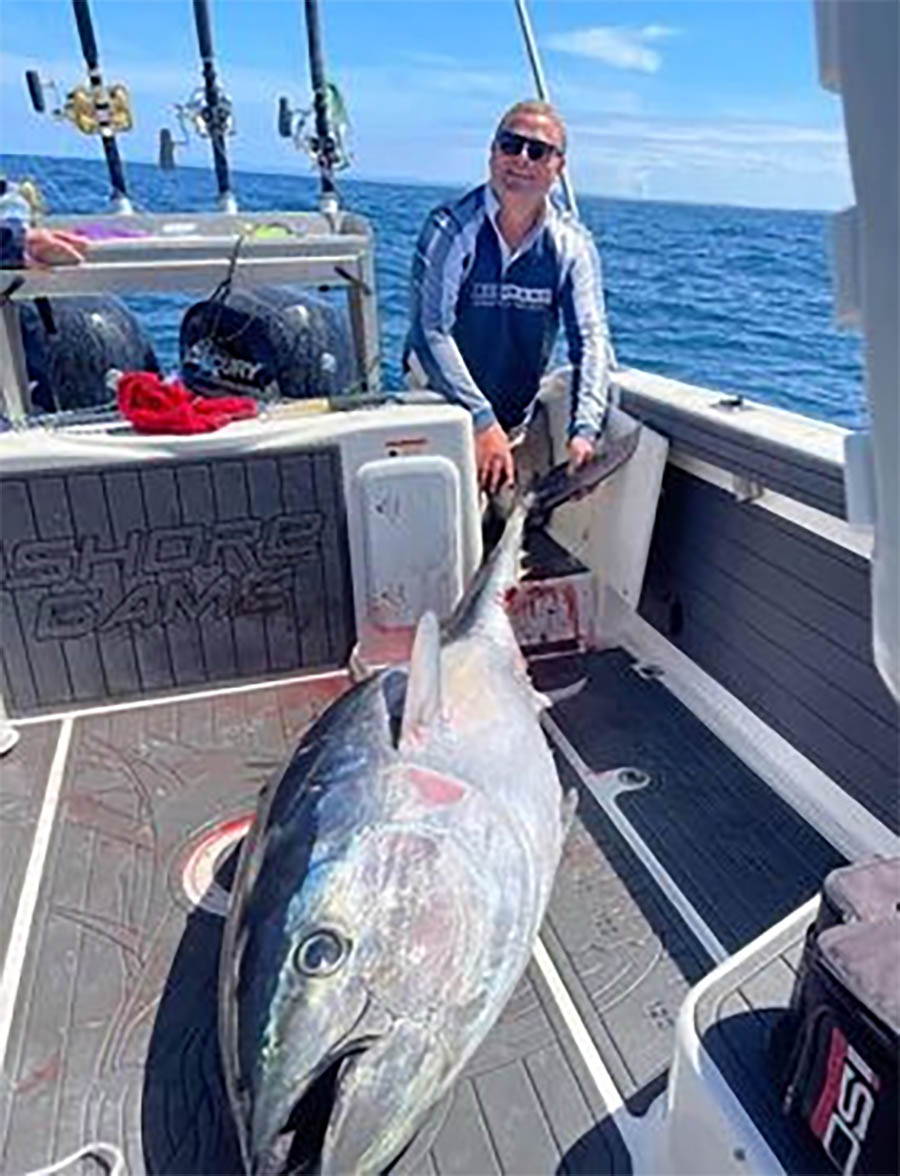 Bernard Abrams caught this cracking 135kg tuna straight out from The Rip. Fight went for 4hrs and 10mins and was lucky not to lose the fish to a shark.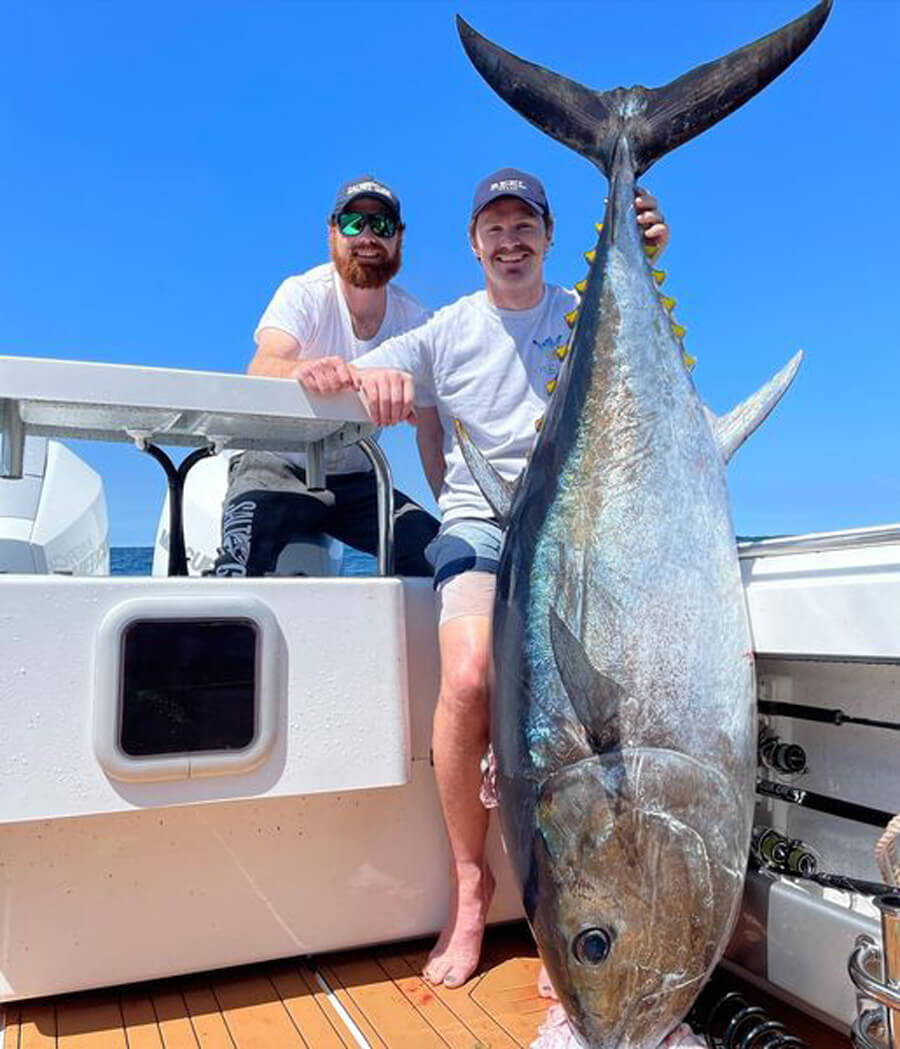 Patrick Dangerfield caught a beautiful 135kg tuna fishing offshore with Aaron Habgood this week to help christen Pats new boat.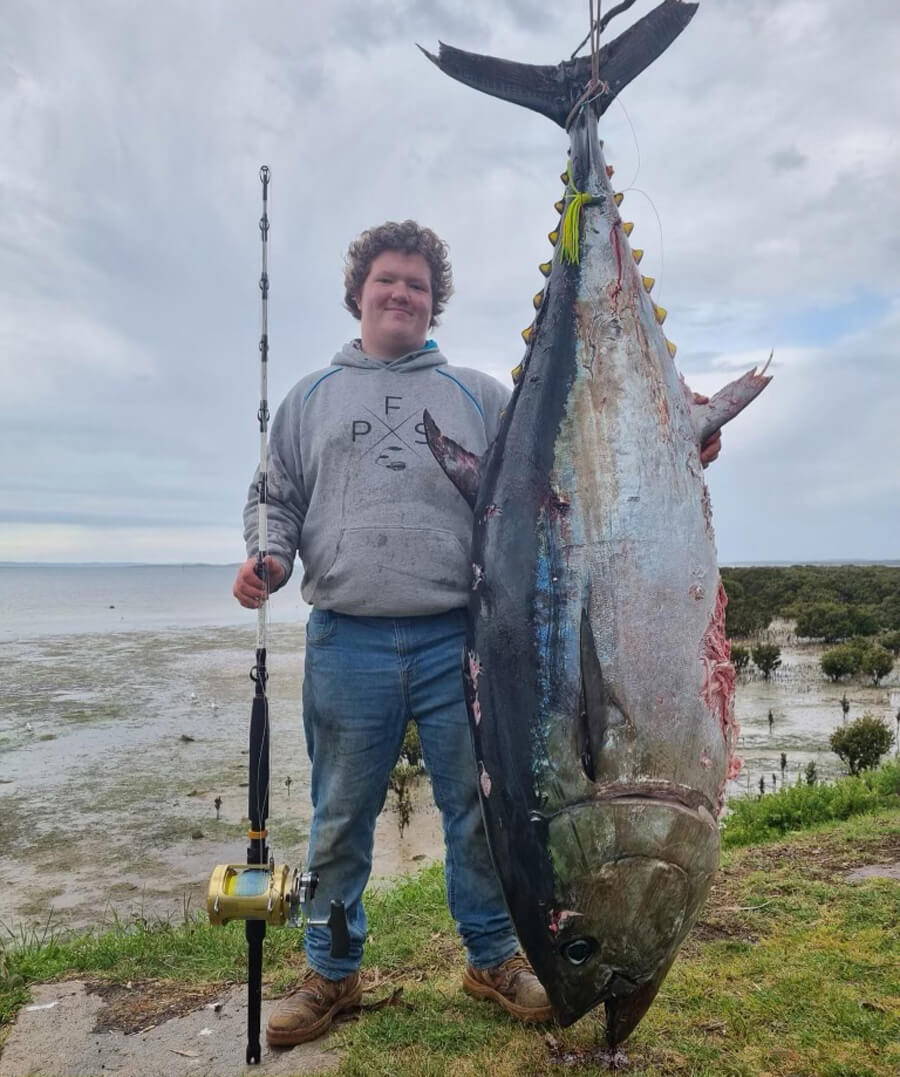 Phil Goepel caught this monster bluefin tuna weighing in at 141kg offshore from Seal Rocks this week.
Lumo coloured skirts look to be doing the job for a few people this week offshore from Western Port.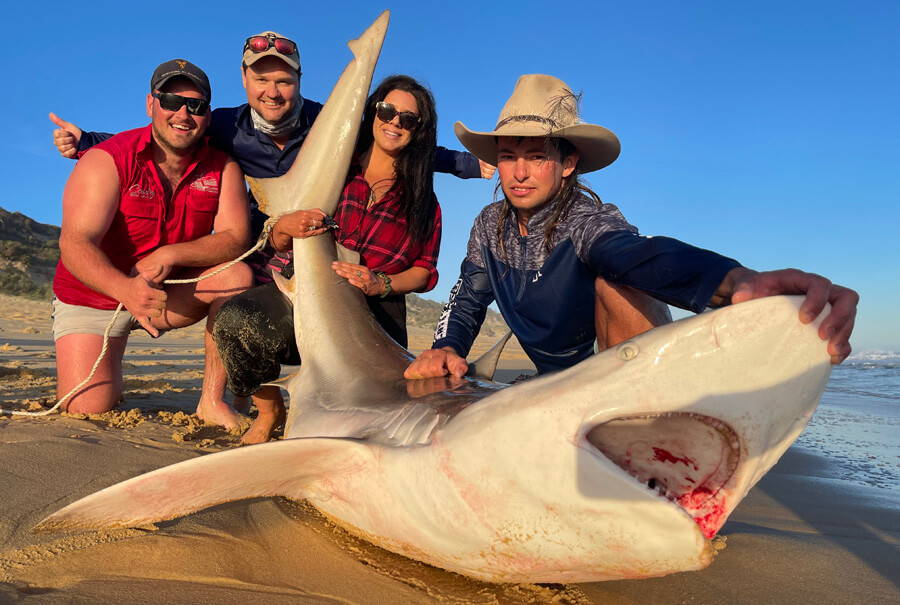 Paul Worsteling and the IFISH crew headed to Gippsland this week to do some work for Fisheries Victoria. They fished the local rivers around Marlo and caught long-finned eels to 7kg. They then headed to the beaches the following day to target bronze-whaler sharks. After deploying baits using drones and kayaks up to 450 metres off shore they managed to hook up just before dark to land a beautiful bronze whaler that was then tagged and released. Izzy Sesto was the angler on the rod and having the locals from Orbost come down to the beach to cheer her on made their day.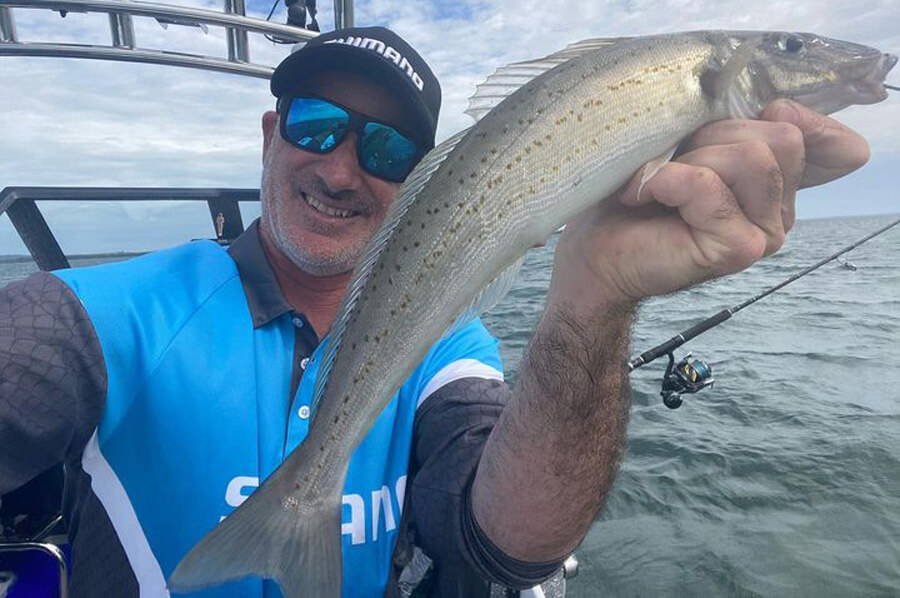 Matt Cini from Reel Time Fishing Charters hit Western Port this past week and caught some fantastic whiting.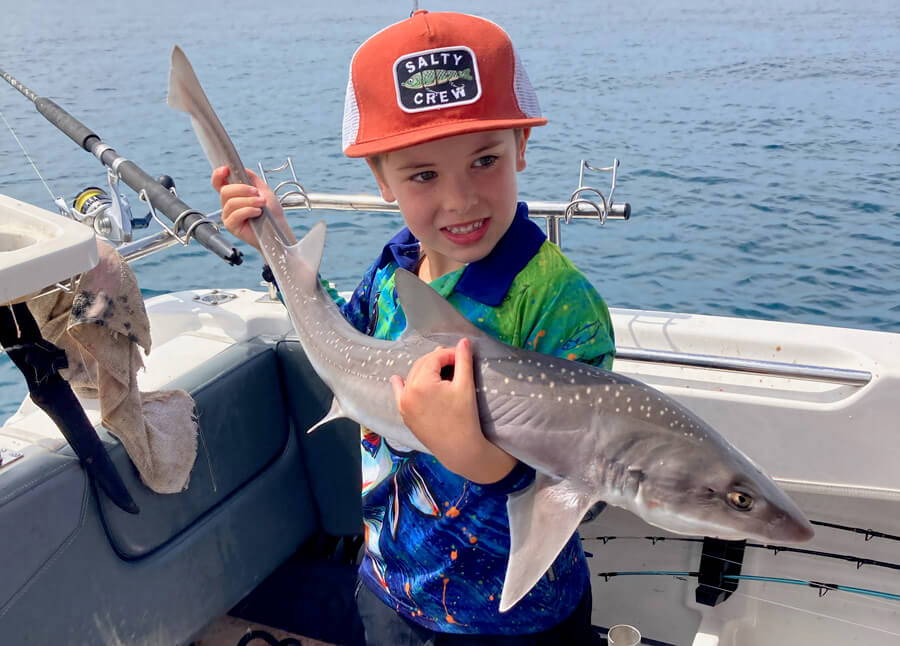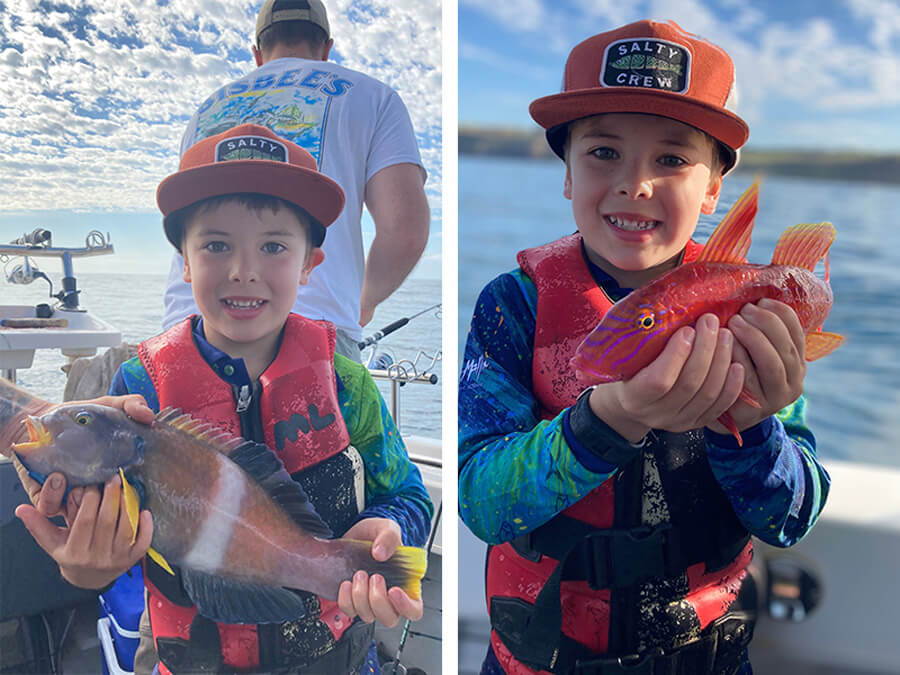 Young Jacko McPherson had a ripper trip fishing offshore from Cape Schanck this week with his best catches being a nice gummy shark, blue throat wrasse and a goatfish.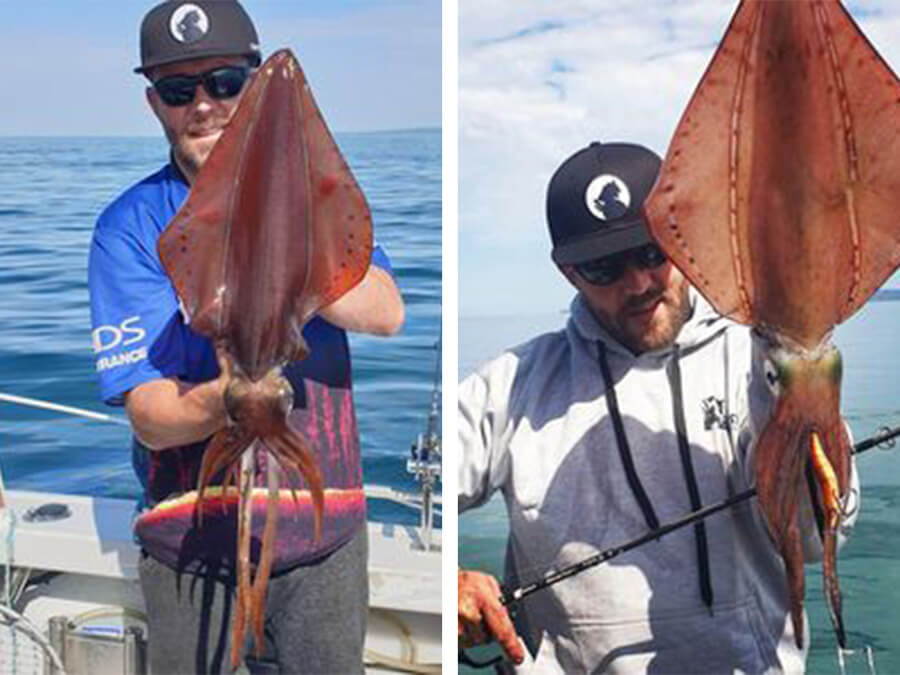 Borno and his wife fished Flinders and caught some ripper squid on gold/orange Maorcraft jigs. They also caught some fantastic trevally on squid and pipi and salmon using Plazo soft plastics.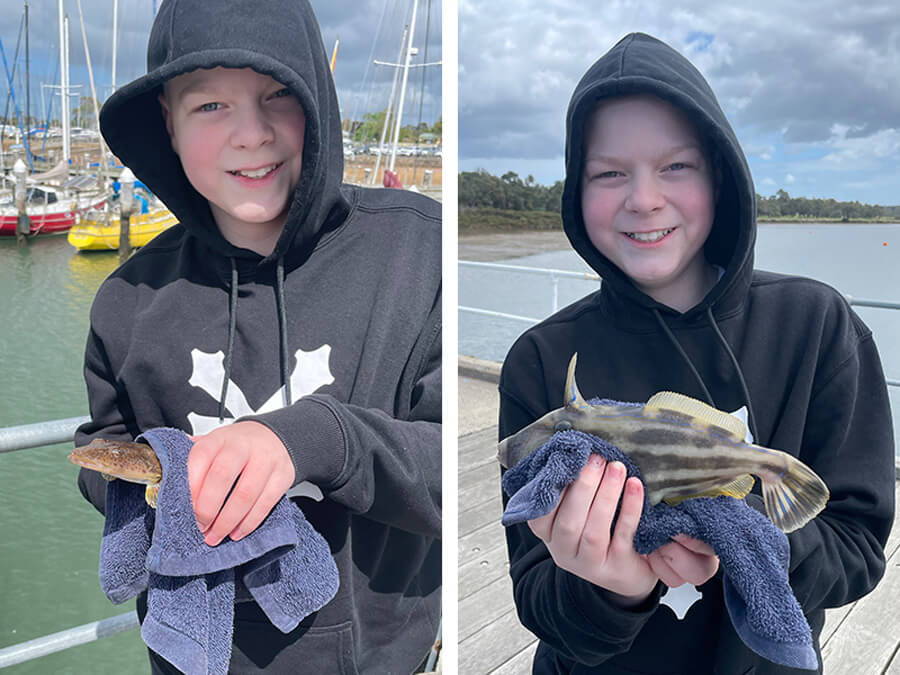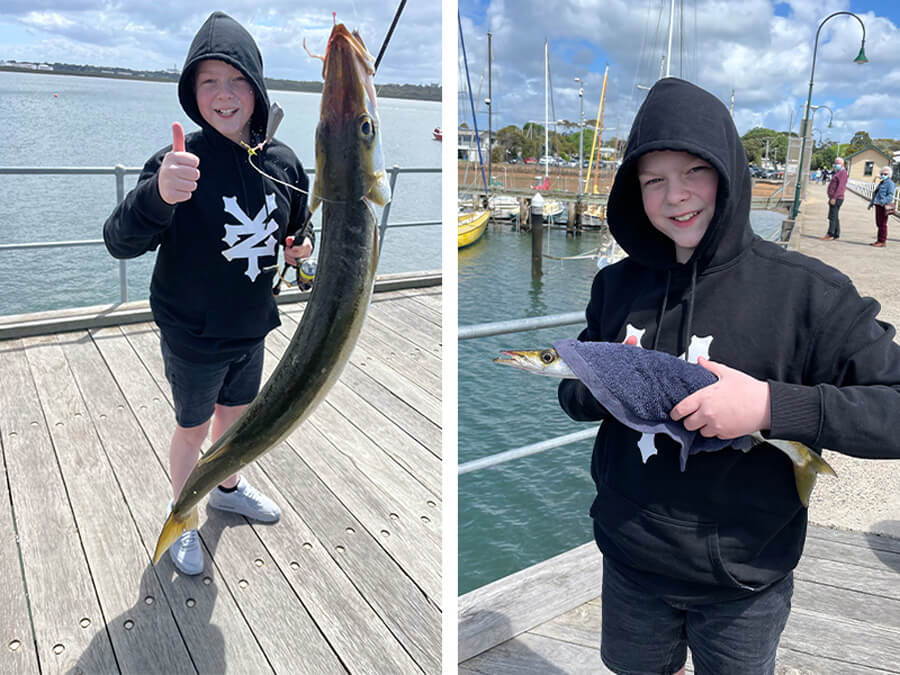 Zakiya Maloney fished his favourite spot at Hastings Pier this week and had a ripper session with plenty of fish caught and released. The best fish for the session was a 63cm pike caught using squid for bait.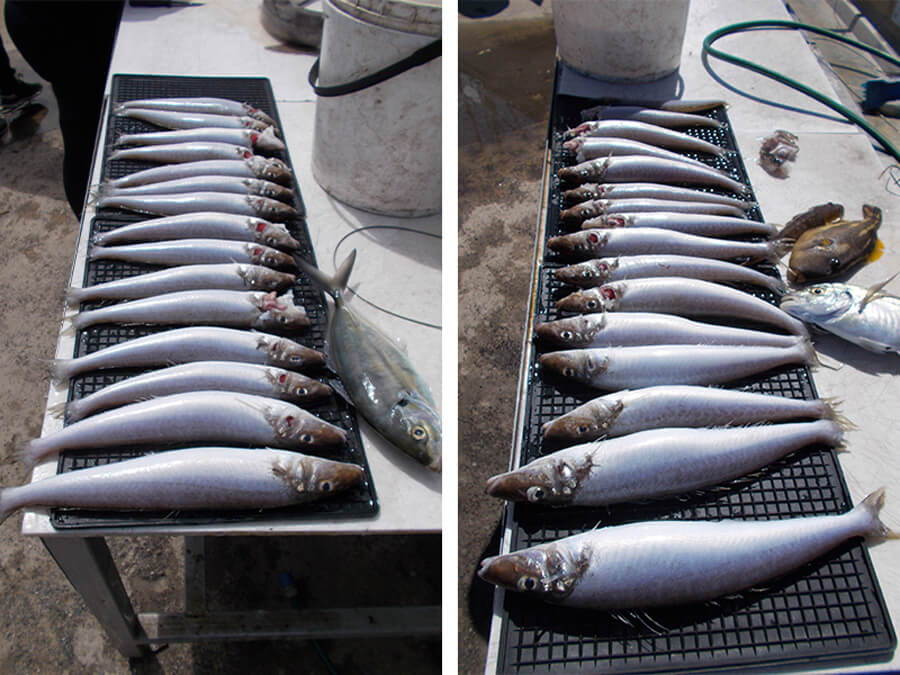 David Milne fished Middle Spit on 2 occasions this past week and managed some fantastic whiting to 45cm.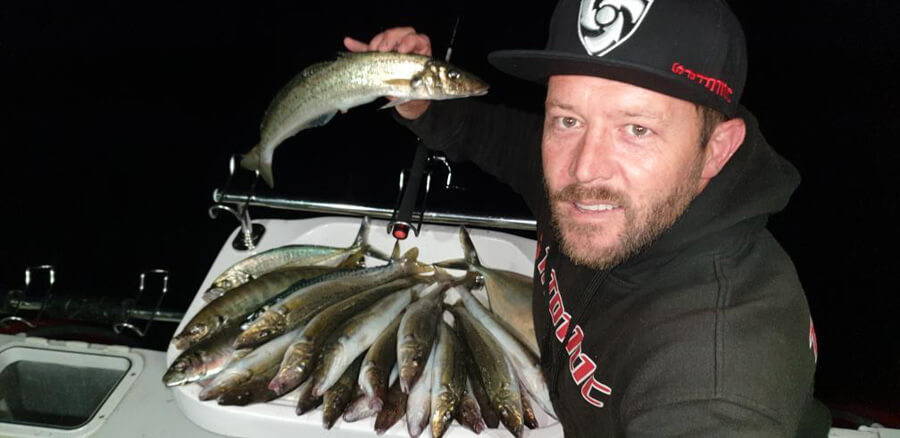 Borno managed a nice bag of whiting to 45cm as well as some yakkas, trevally and salmon while fishing Tyabb Bank in 7 meters. The best bait was squid strips.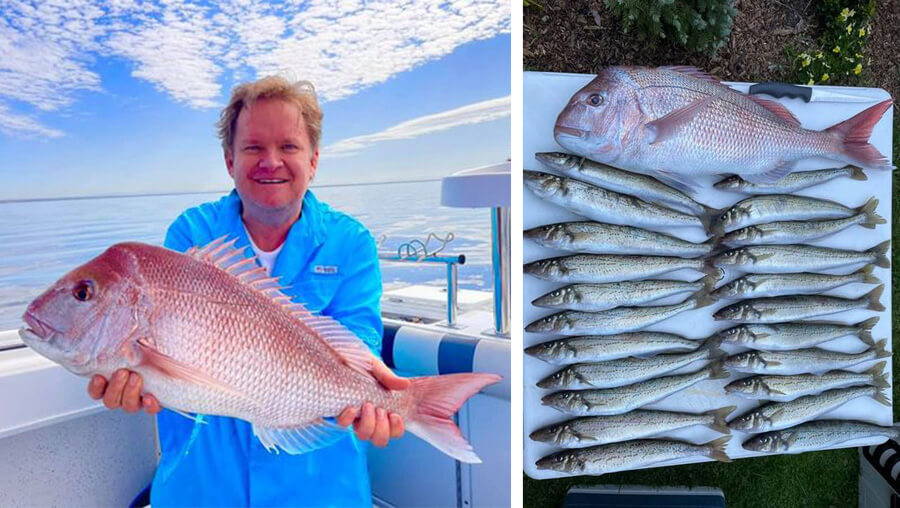 David Priddy fished the Top End and after sounding fish he dropped his first squid head bait straight on top of this nice 68cm snapper. Later David headed to the bottom of Middle Spit and managed some nice whiting using squid and pipi for bait.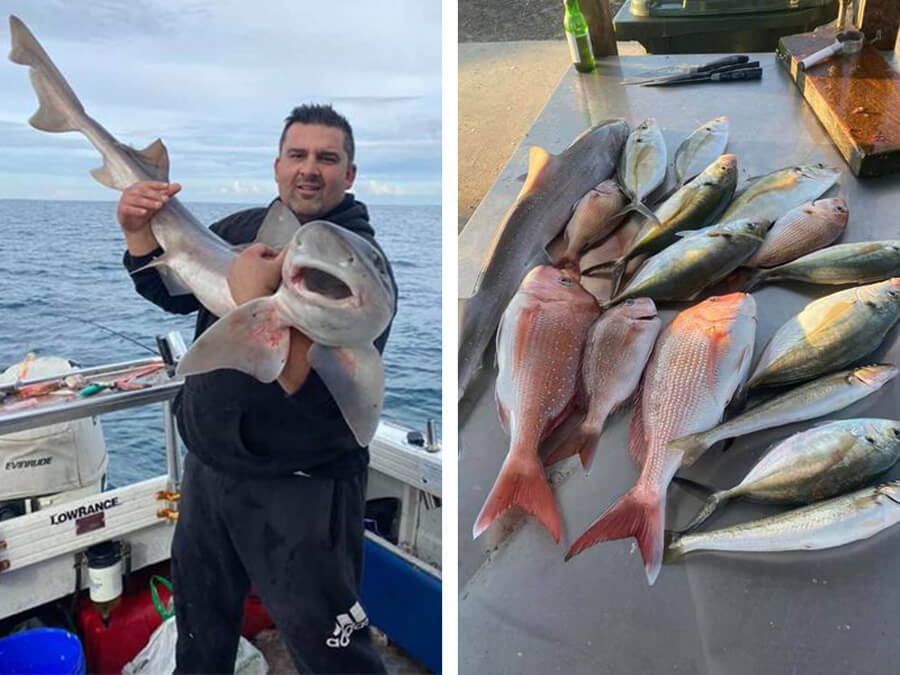 Ben Gutu fished straight out from Warneet in 22 metres last week and caught some nice pinkies and trevally, as well as this gummy which was released.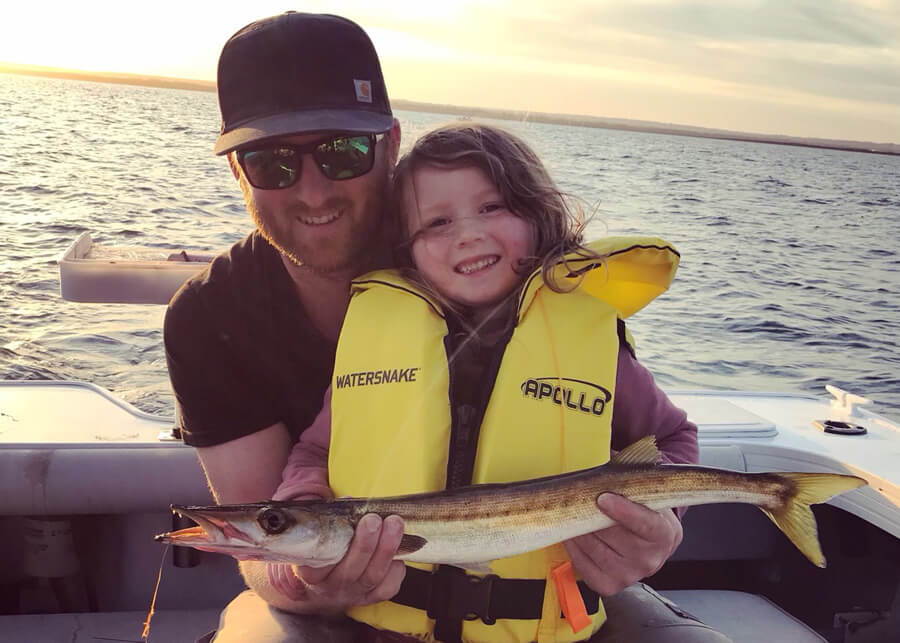 Daphne Corrigan caught a solid pike fishing out from Warneet while fishing with her dad.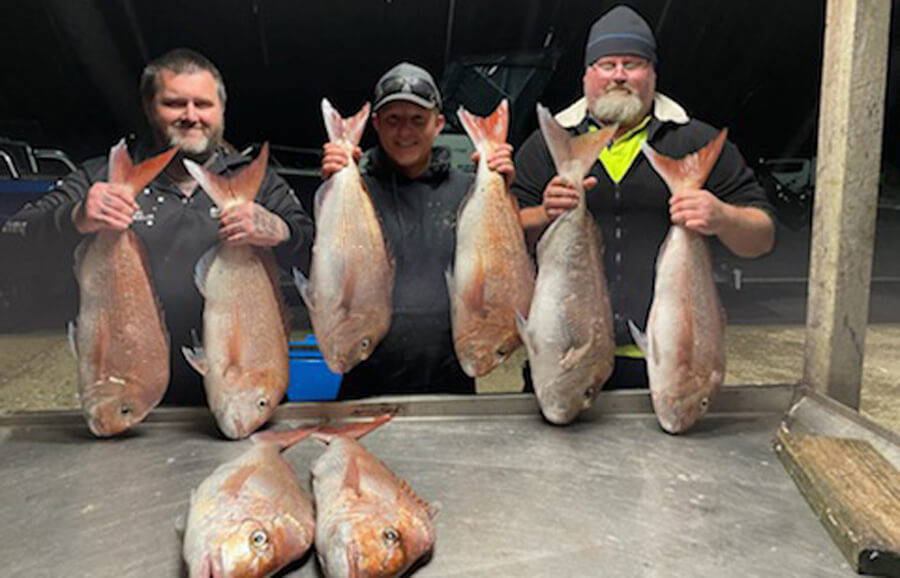 Michael Woods, Mark Armstrong and Mitch Tarr with some cracking snapper from a ripper session near Joe's Island on Friday night. They report they threw back as many as they caught in a quick 2 hour bite using fresh trevally for bait.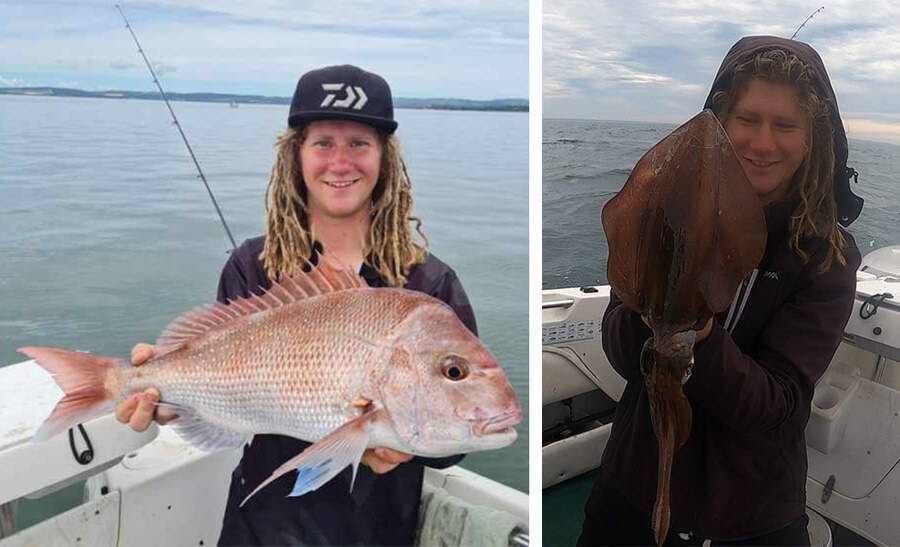 Tyler Hotchkin fished with his dad last week and caught some cracking squid at Ventnor before converting them paired with some pilchard into a couple of nice snapper to 65cm at Tenby Point at the end of the run in tide.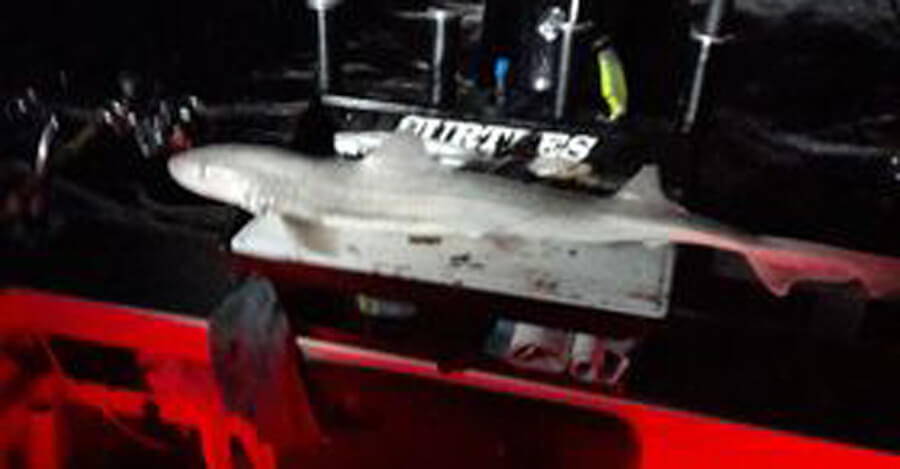 Dylan Gussenhoven caught a nice gummy shark while fishing The Corals this week.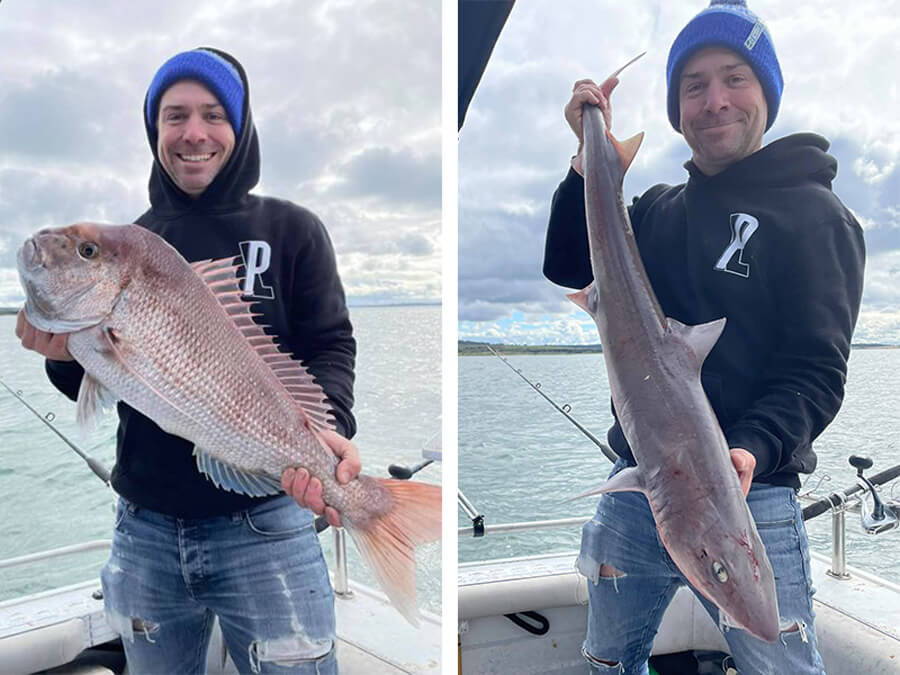 Troy Kenyon fished the East Arm close to French Island in 10 metres and caught a nice 80cm snapper just before high tide and the gummy (1.35m) was caught during slack tide. Both fish fell to squid baits.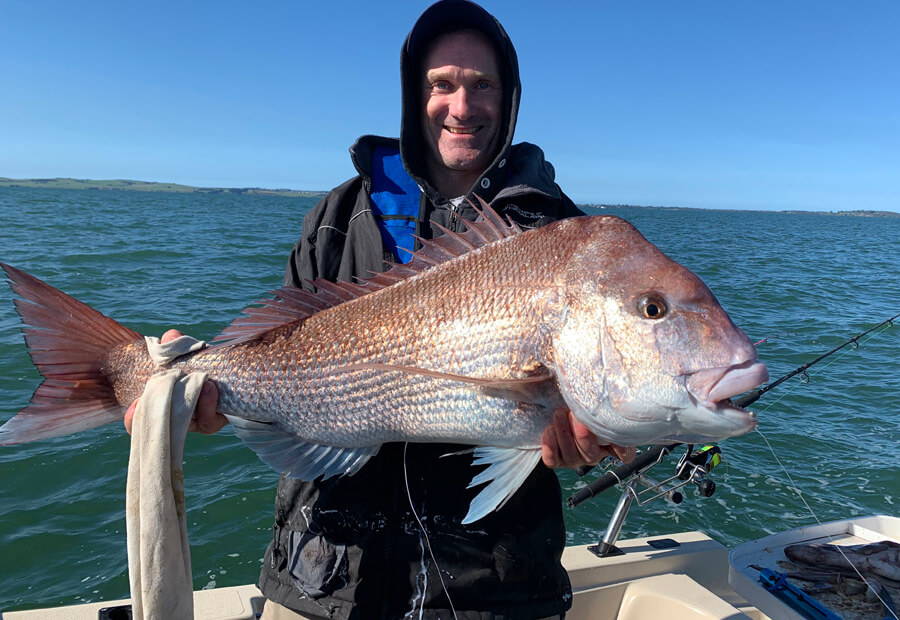 Dan with a cracking 8kg snapper caught and released out from Rhyll this week.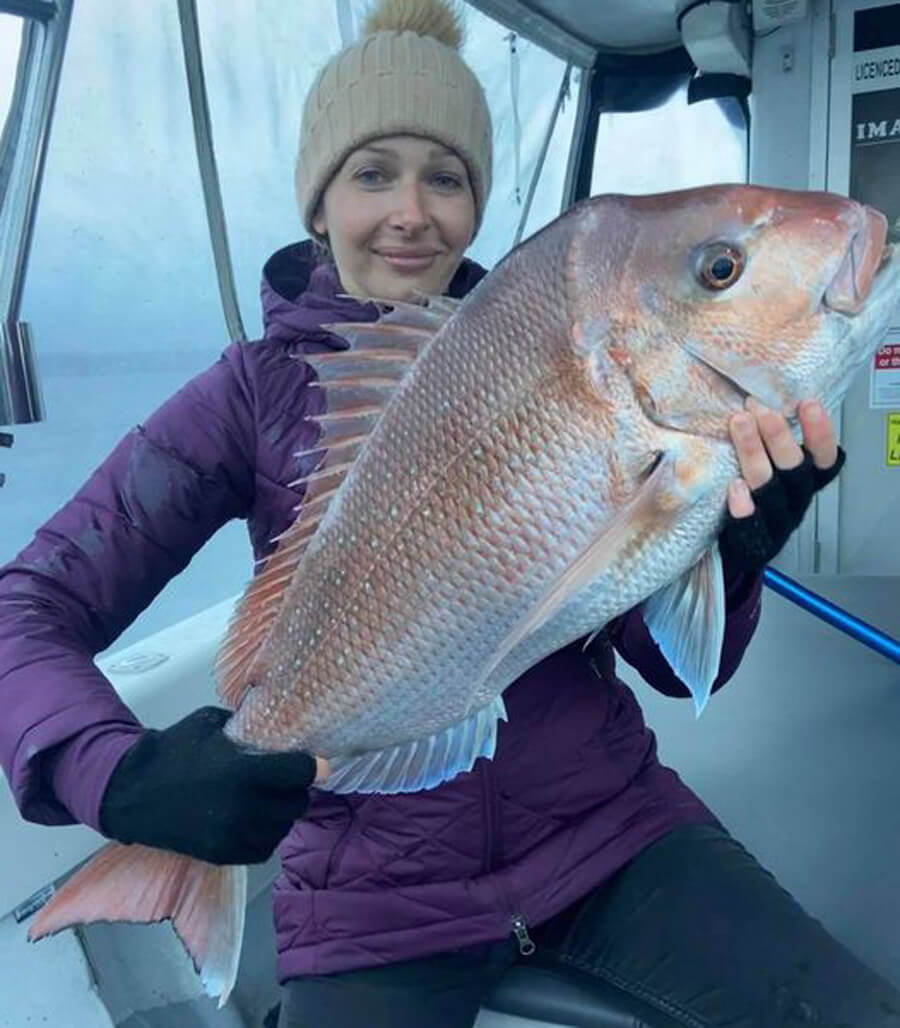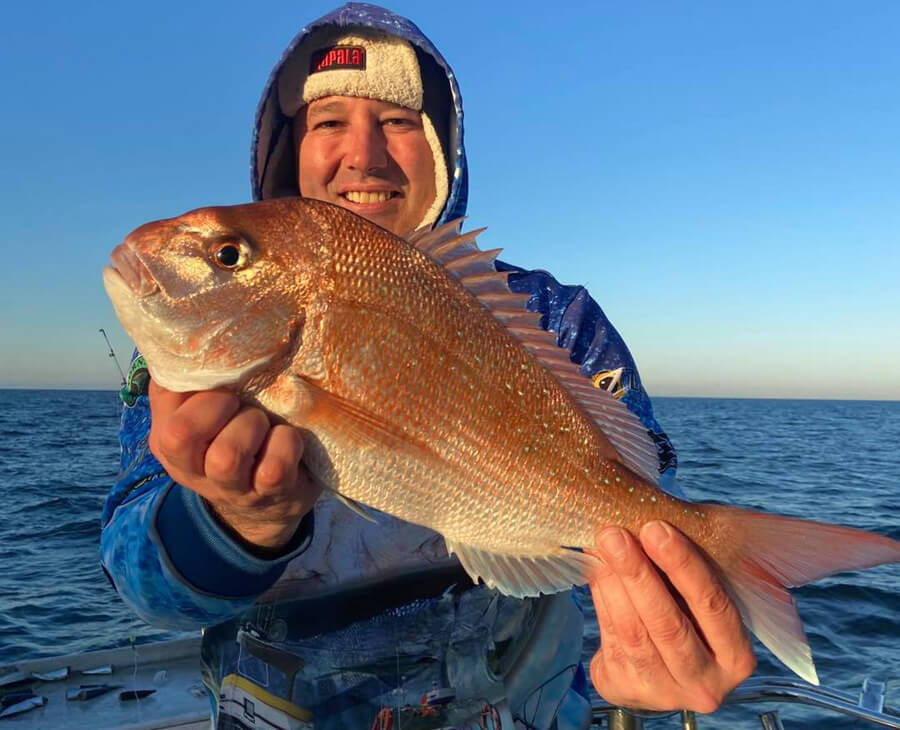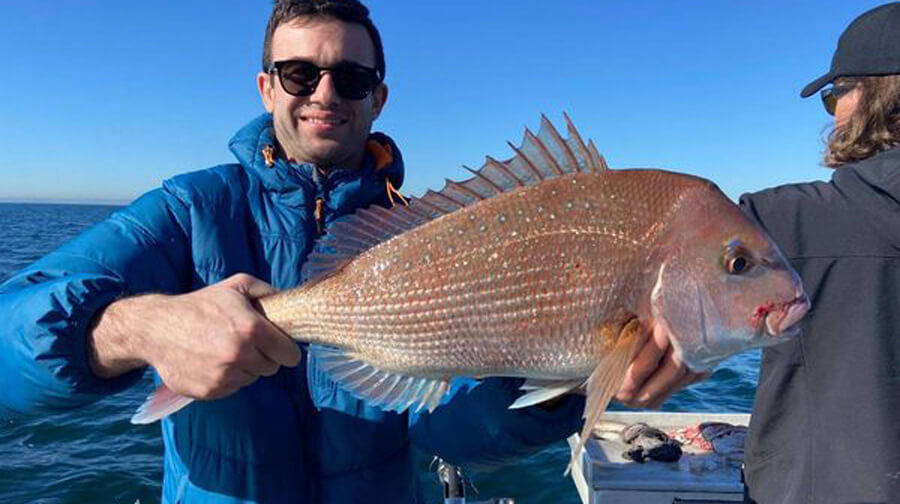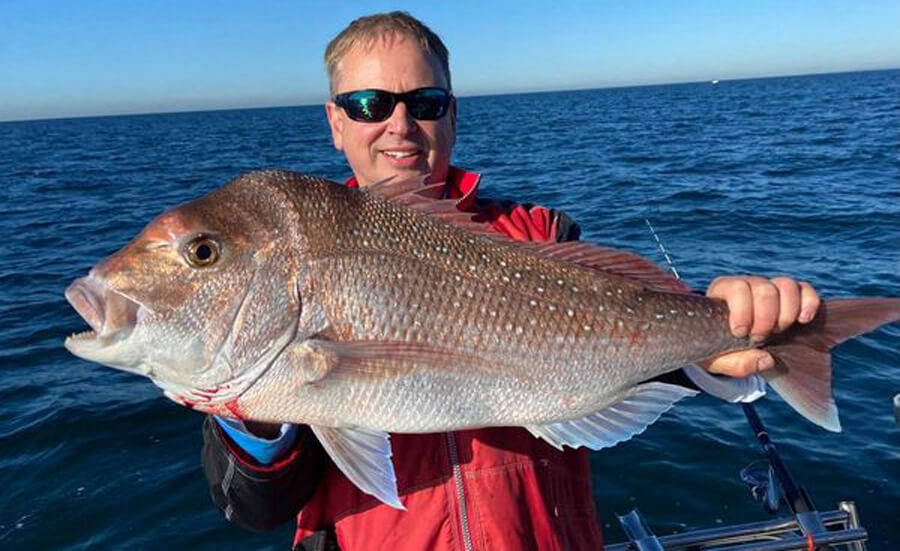 Marco from Sharkmen Fishing Charters helped his customers get stuck into some fantastic snapper this past week with plenty of smiles all round. The highlight of the week was Maggie's cracking snapper caught in Port Phillip Bay.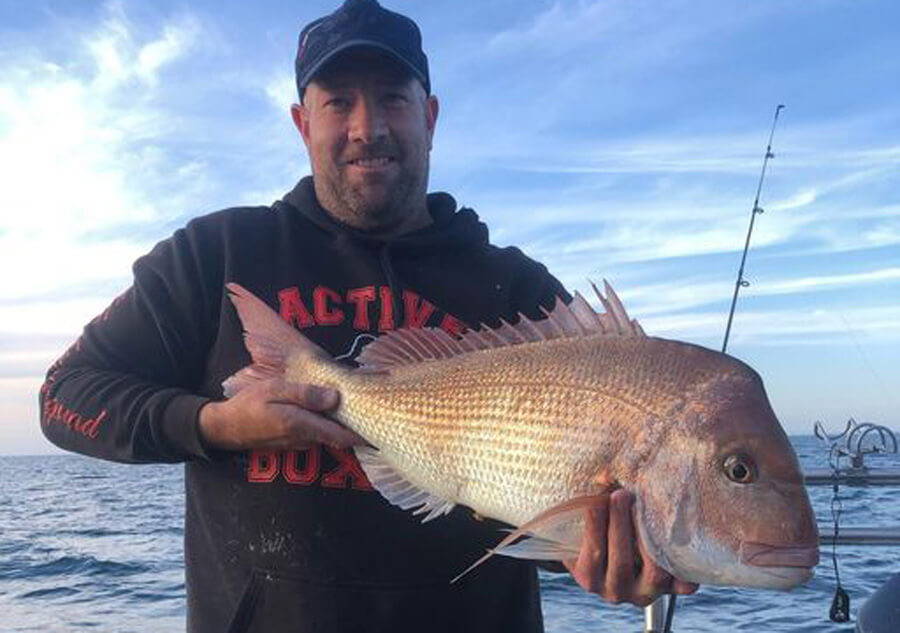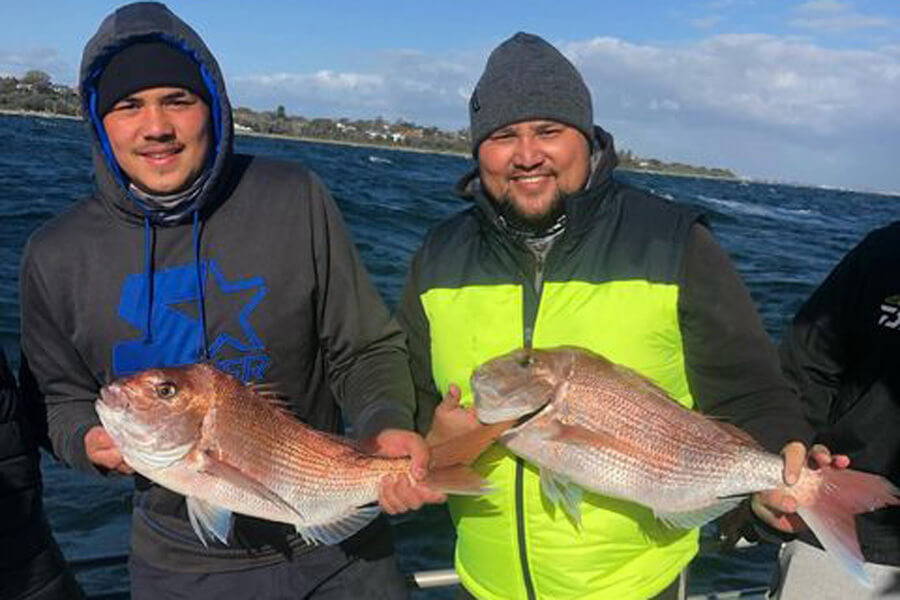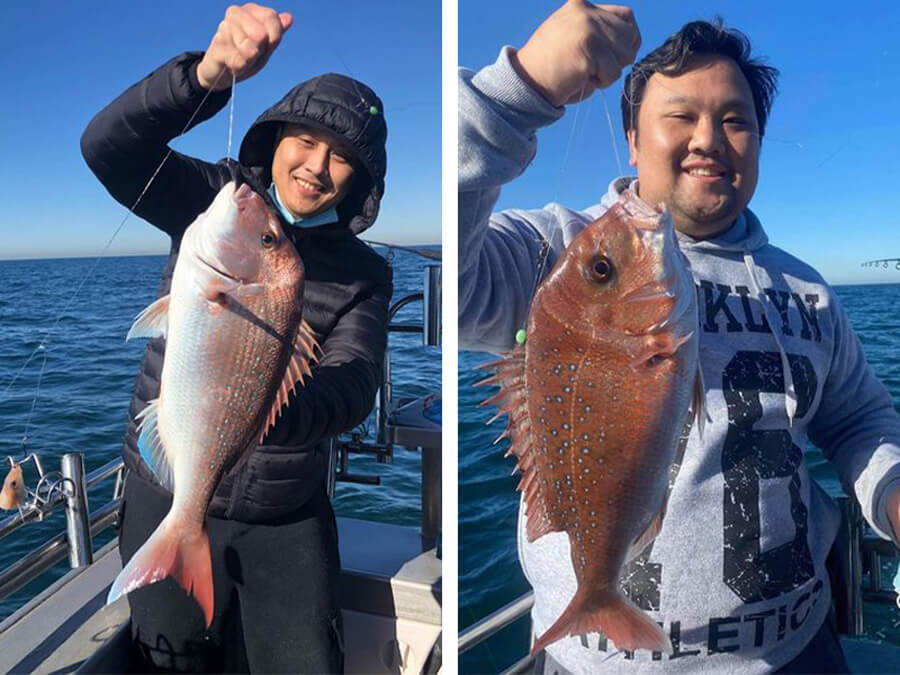 Matt Cini from Reel Time Fishing Charters found some nice snapper with his customers this week fishing Port Phillip Bay.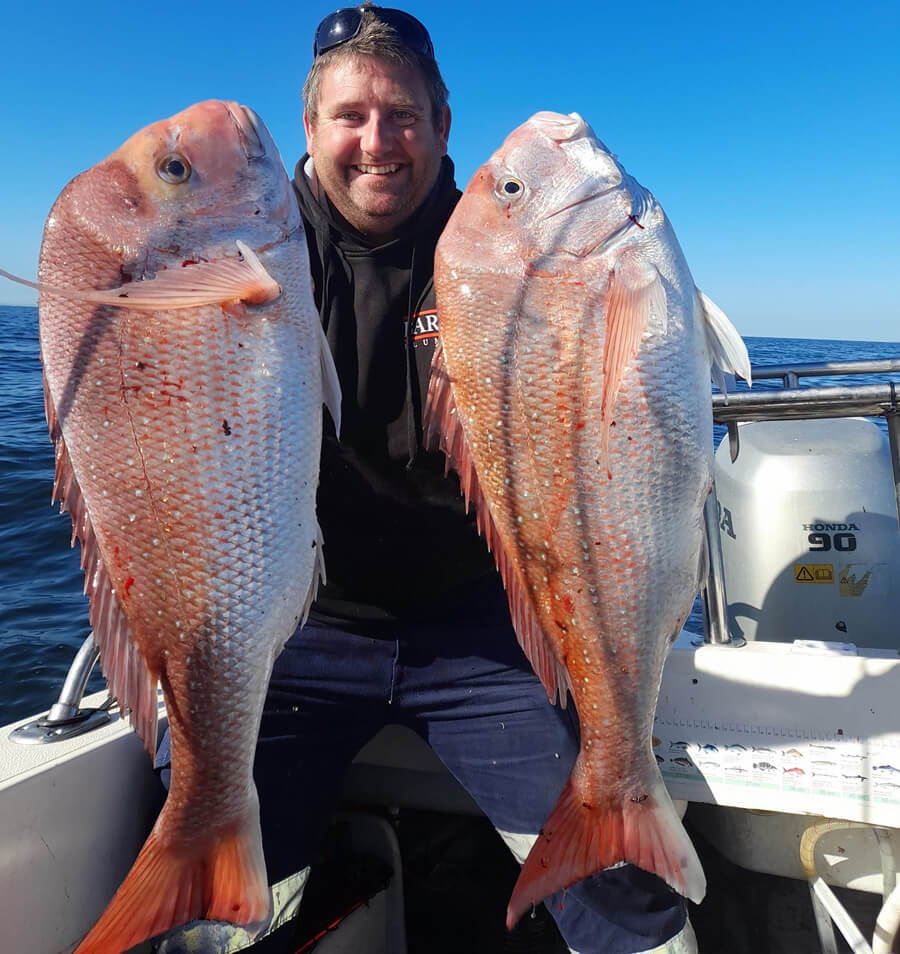 Michael Sass fished off Williamstown and landed 2 cracking snapper to 5.1kg.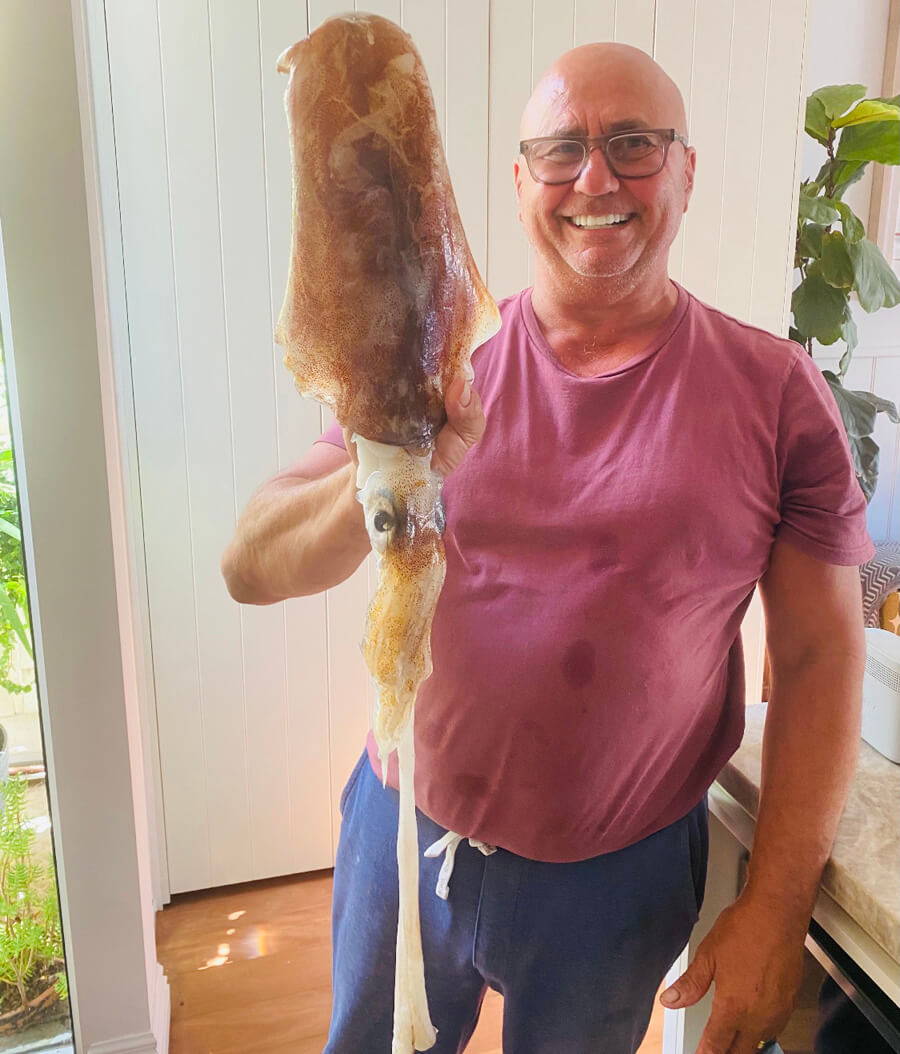 Michael Briffa caught this solid 1.6kg squid off the St Kilda Marina while trolling for salmon, the squid latched on to a bay trout Michael had hooked.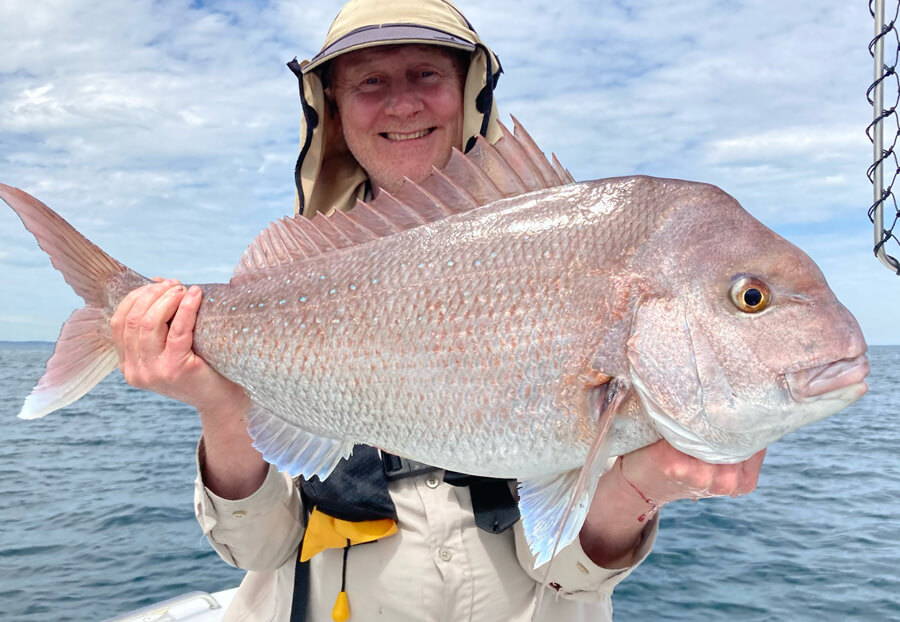 Hooksey caught this beautiful 80cm snapper in 18 meters off Carrum using raw chicken thigh for bait.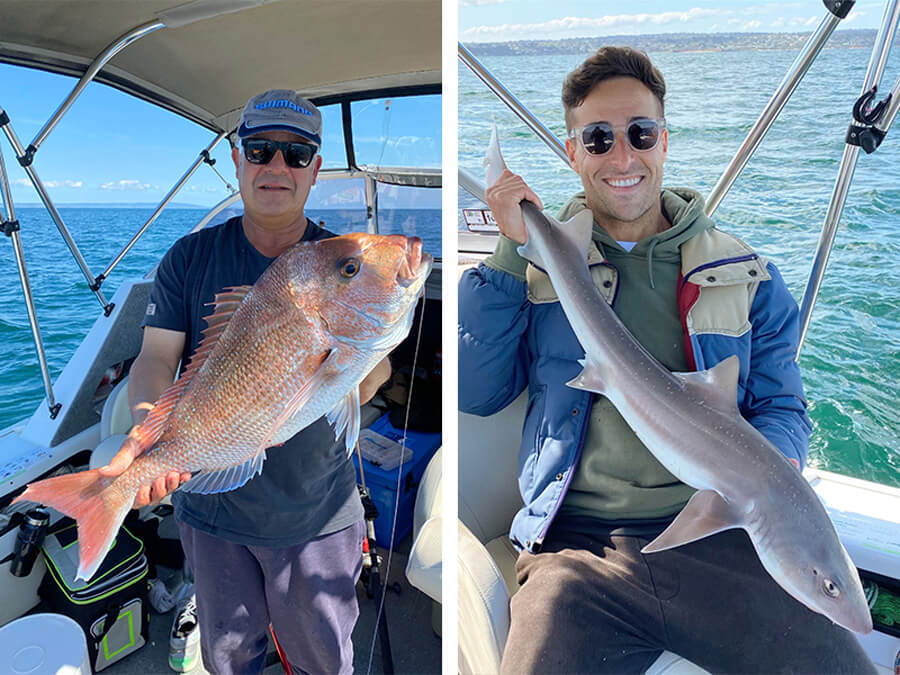 Sam Giaquinta fished with Tristan out wide from Frankston this week and Tristan caught a nice 70cm snapper. Later Tristan caught a nice gummy in a bit closer to Frankston.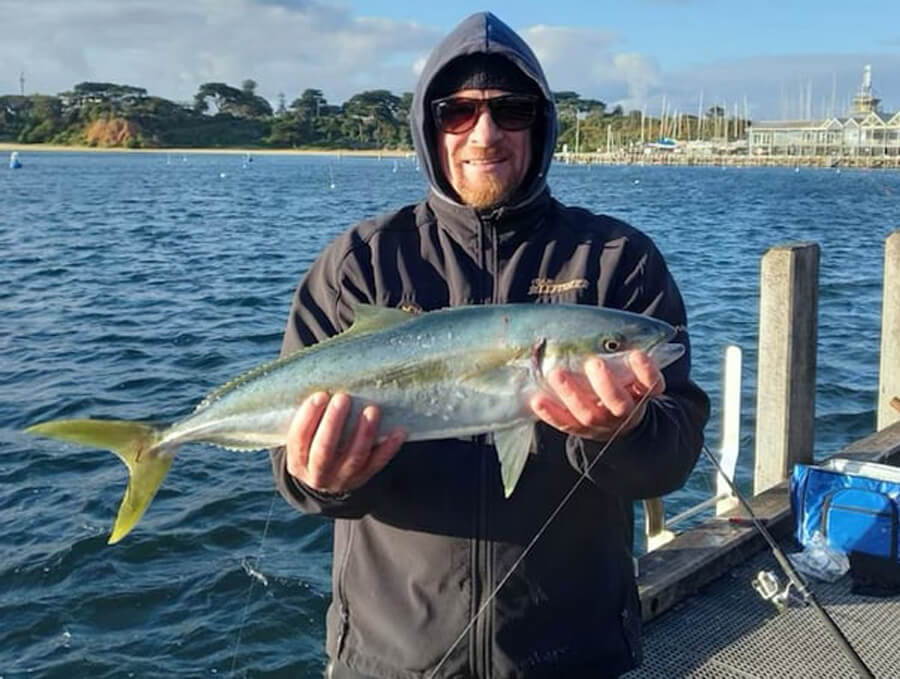 It's that time of year again, looks like the rat-kingfish have made their way to the Mornington pier to harass the fish-os there. This 65cm one was caught earlier in the week but the photographer didnt get a name of the angler (feel free to reach out and let us know who he is).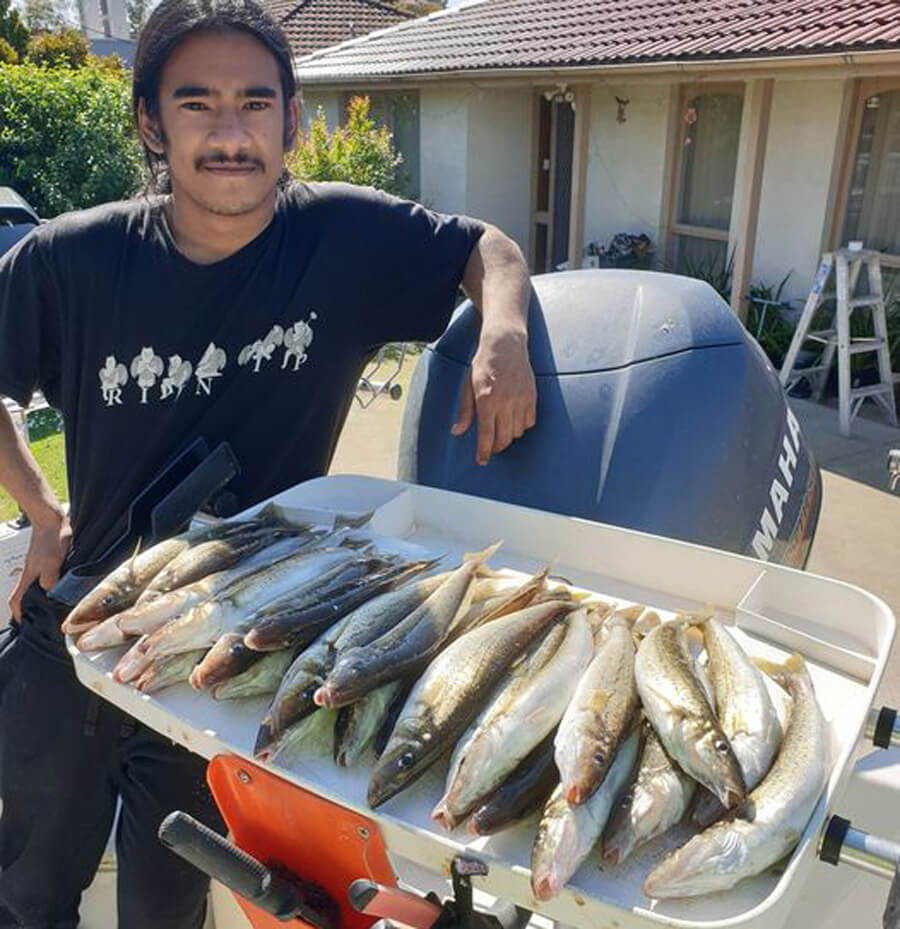 Tom Sidiropoulos and his son Delfin fished out from Rosebud in 10 metres and caught a nice bag of whiting using mussel and squid for bait.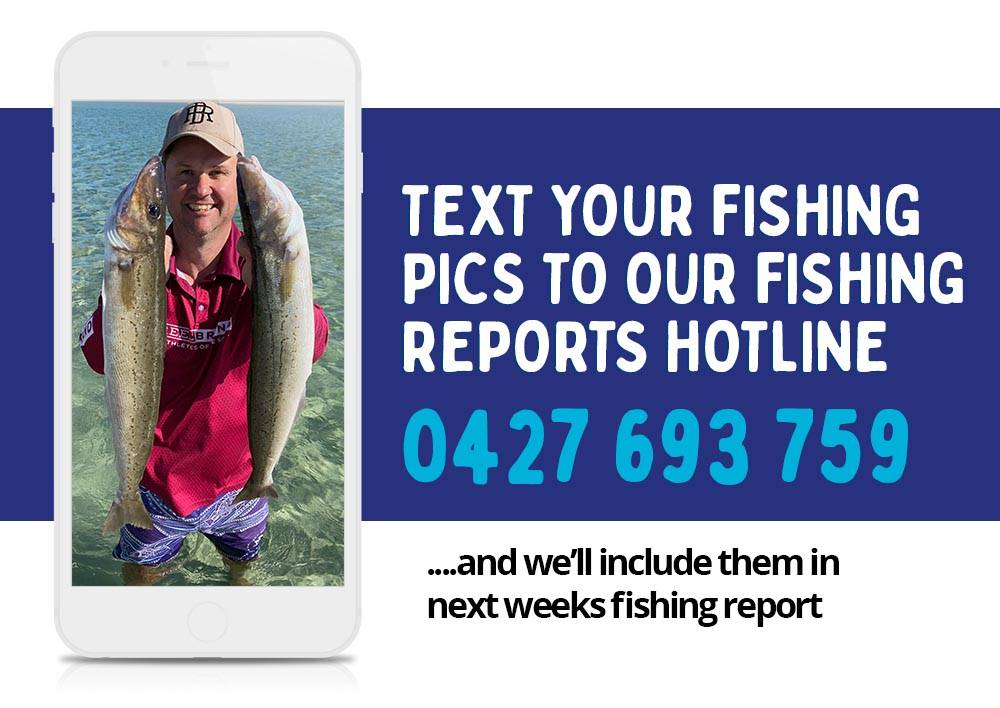 Steve fished Melton Reservoir on the weekend and caught a nice yellowbelly.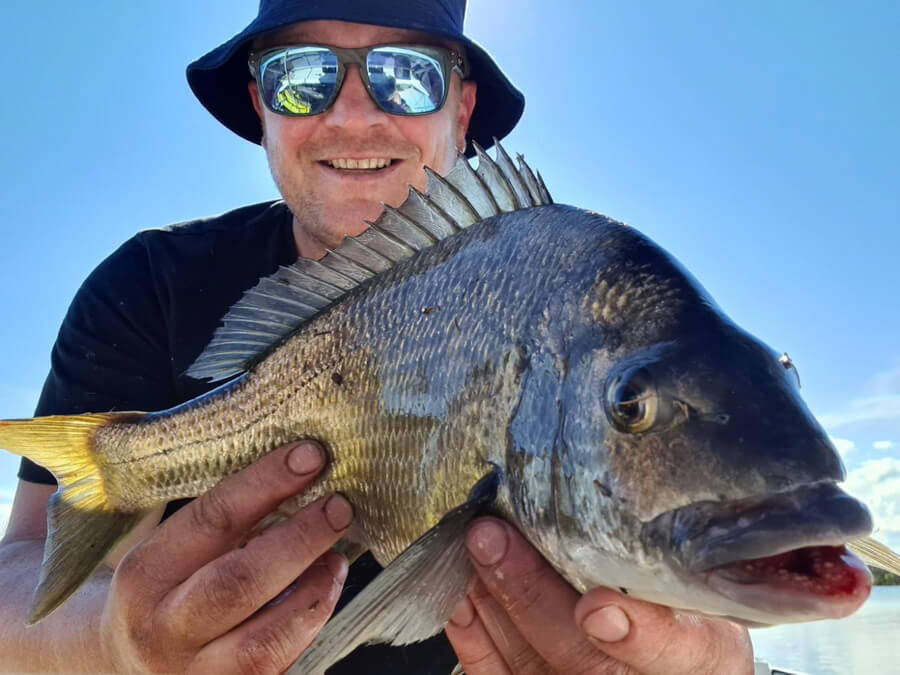 Forte has caught some solid bream to 44cm while fishing the Nicholson River recently using crabs and yabbies for bait.
IFISH WITH TACKLE WORLD - SERIES 16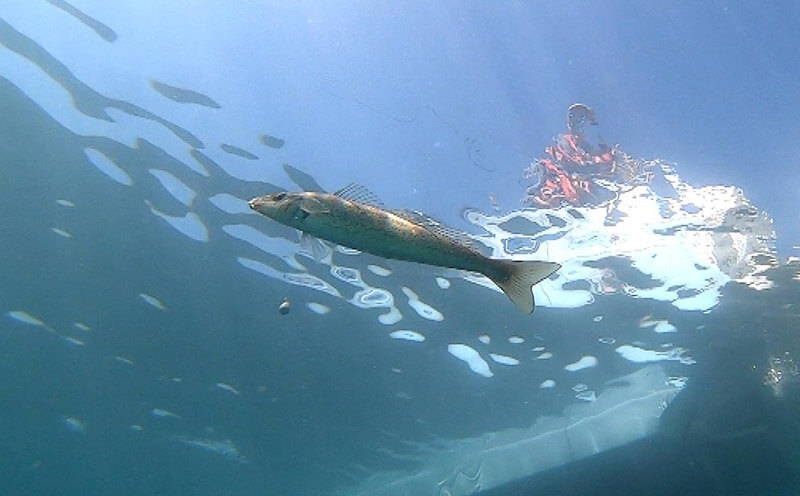 THIS WEEK ON IFISH TV
LOCATION: SORRENTO, VICTORIA
TARGET: KING GEORGE WHITING
SUNDAY 31ST OCTOBER, 2021 on 10BOLD at 5PM
Catch past episodes of IFISH TV on Youtube so you can get your fishing fix any time, any where.
TALKING FISHING - C31 - TUESDAYS at 8.30pm
Catch "Talking Fishing" on Melbourne's C31 TV (CH44) at 8.30pm each Tuesday night. Staff members David Kramer and Adam Ring together with Niki Duckstein host Australia's only "Live to Air" fishing television program at this prime time-slot. Put Tuesday night's at 8.30 away in your weekly diary of TV shows to watch!
Good Luck with your fishing and stay safe on the water,

The TEAM at Tackle World Cranbourne & Mornington