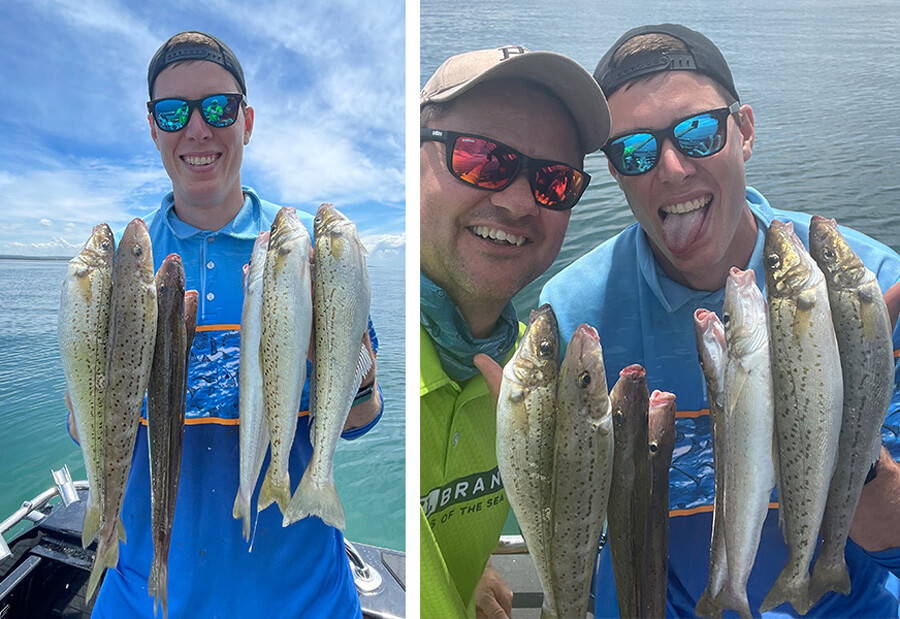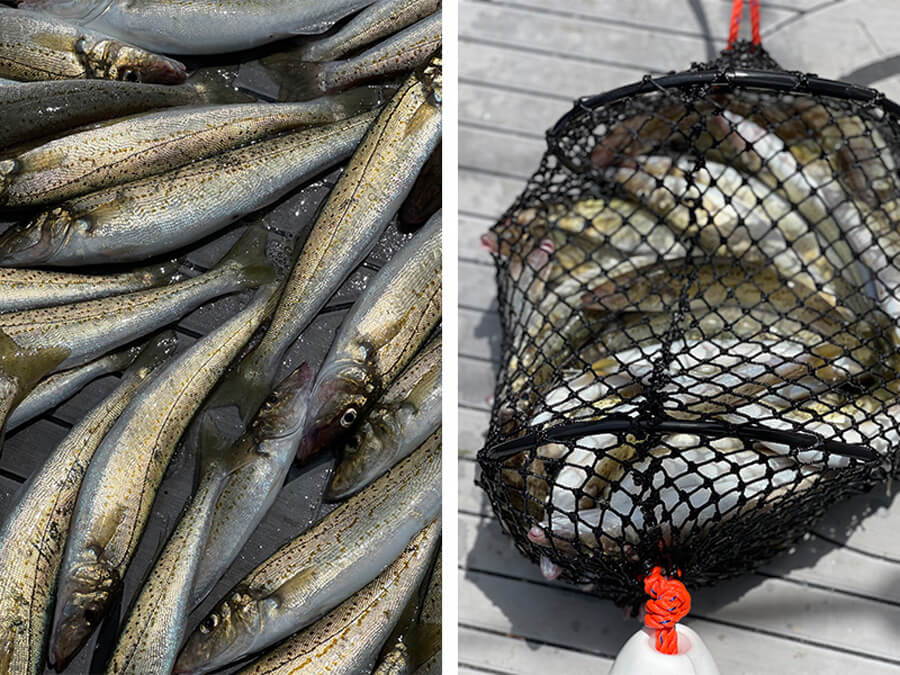 Paul Worsteling and his friend Mason Cox from the Collingwood Football Club fished at St Leonards this week. They fished in beautiful conditions and found the whiting in 5.2 metres of water on their first drop using Paul's new Shimano Whiting Prowler 732 Nibble Tip rods. The guys caught some fantastic whiting in about 3 hours with the best bait being Bushy's shucked mussels tipped with a small strip of California squid which helped the guys catch 40 whiting to 41cm. Berley was key to keep the bite going for longer; Paul used his Seadog Burley pot filled with Shredded Pilchards and some extra sinkers to keep it on the bottom. Paternoster rigs were used for the whiting which also came in handy to catch a few squid on the same grounds by attaching a squid jig instead of a hook on the same rig.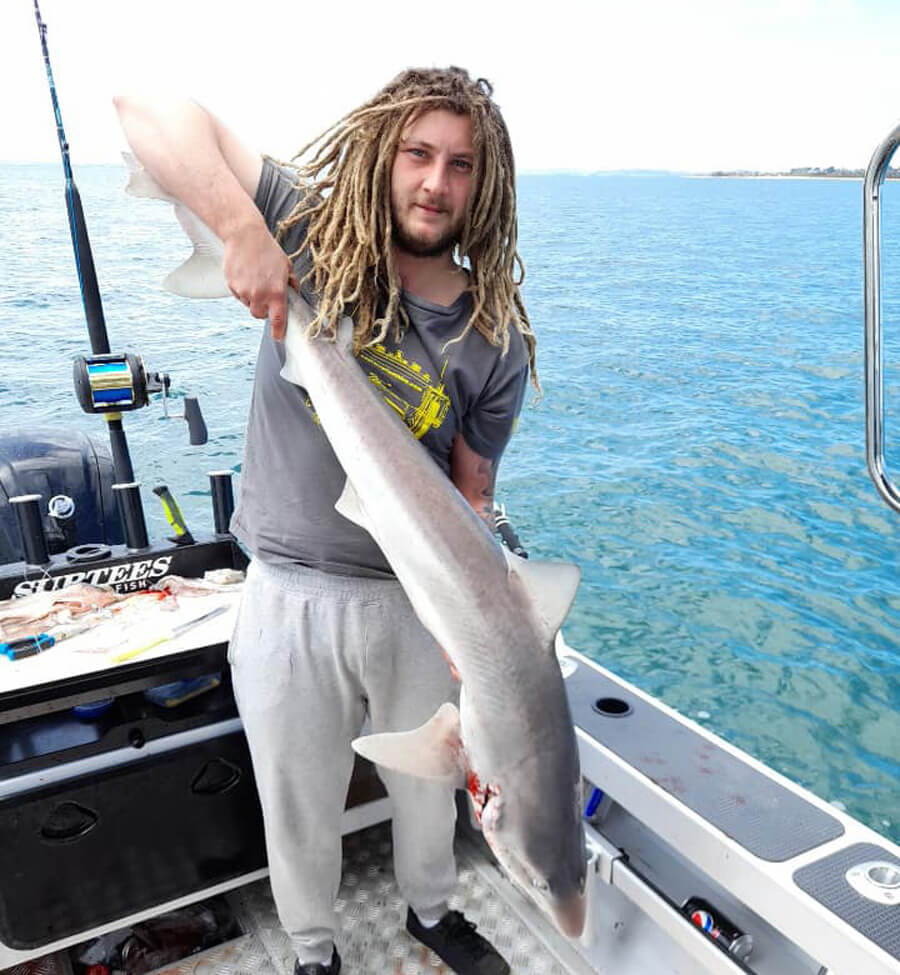 Liam Gussenhoven and his brother Dylan fished Silverleaves this morning and have landed this cracking 16.5kg School Shark. The Schoolie fell to a well presented wrasse bait.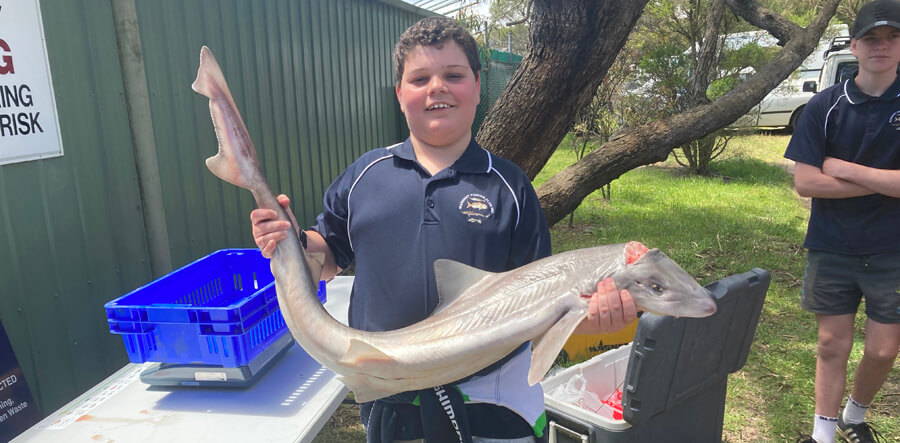 Corey caught his PB gummy shark out from Silverleaves on the weekend, well done Corey!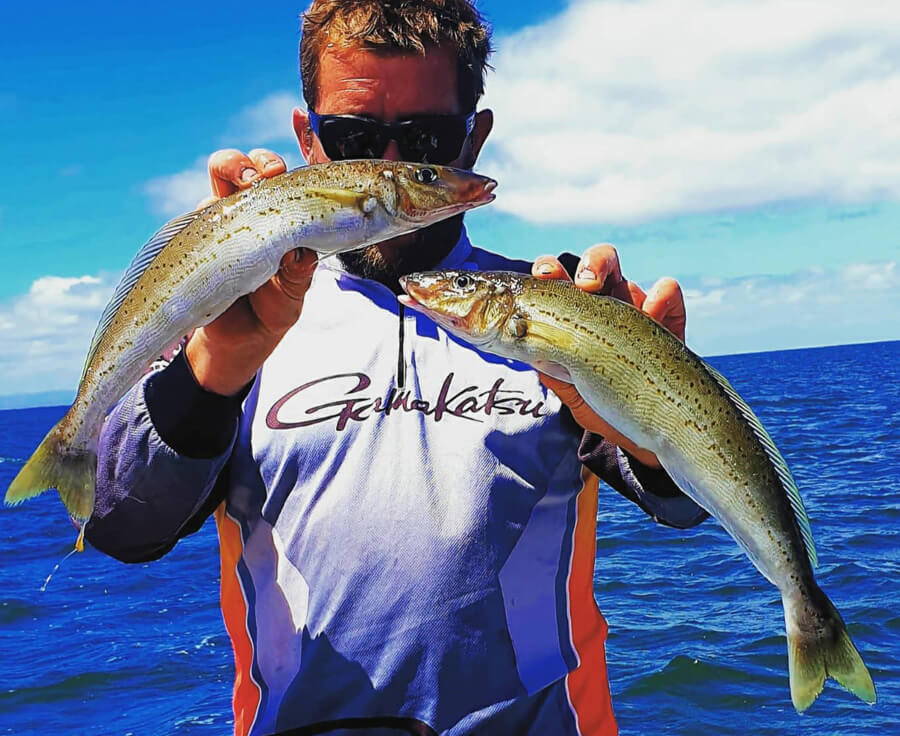 Borno fished out from Silverleaves and caught a nice feed of whiting to 45cm using squid strips on size 2 Gamakatsu long shank hooks.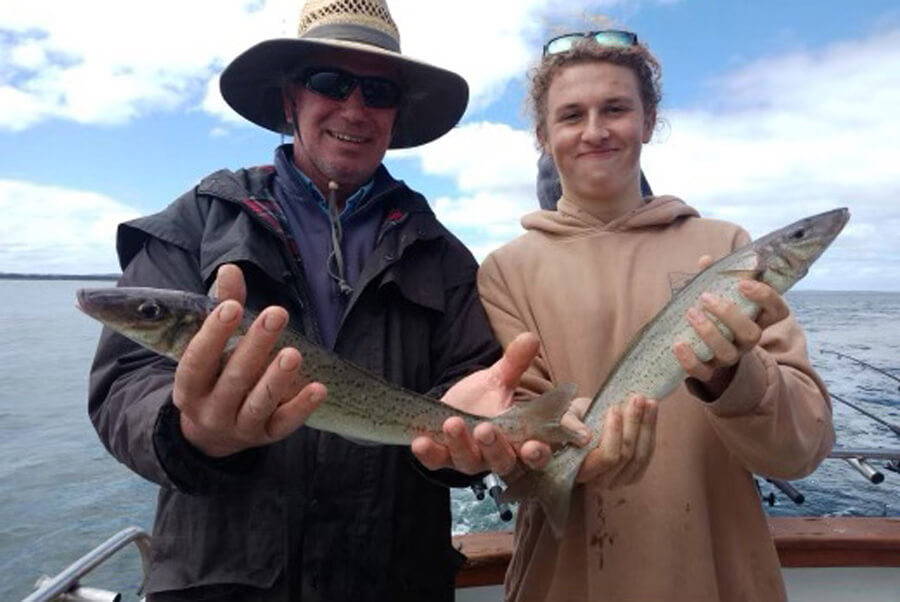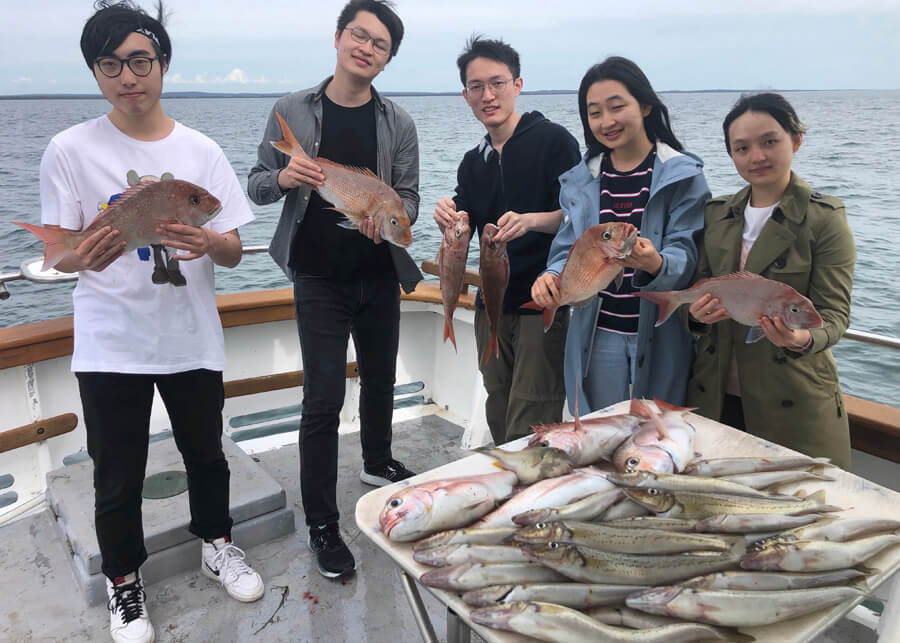 Steve Johnson from Ace Fishing Charters had a fantastic time with his customers catching some nice whiting and pinkies.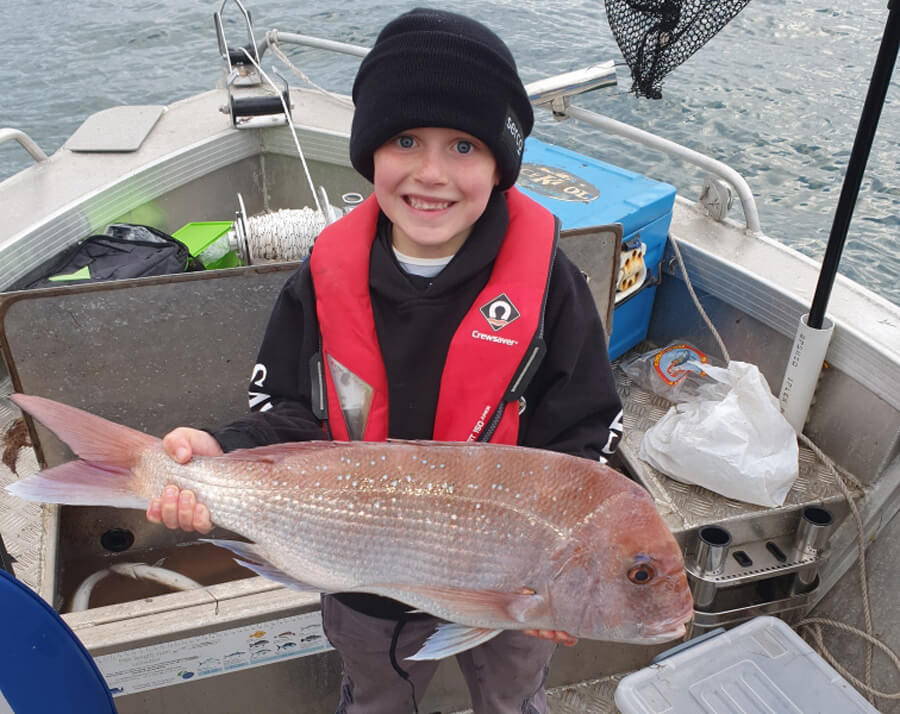 Lennox Foster (6yo) caught this cracking snapper out from Hastings that went 3kg.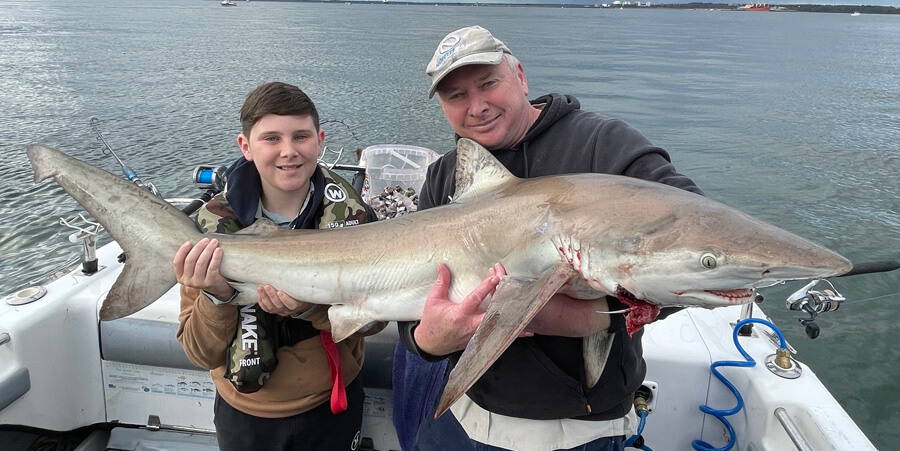 Mark and Adam Powell fished out off Lysaughts on the weekend and caught this cracker 25kg bronze whaler.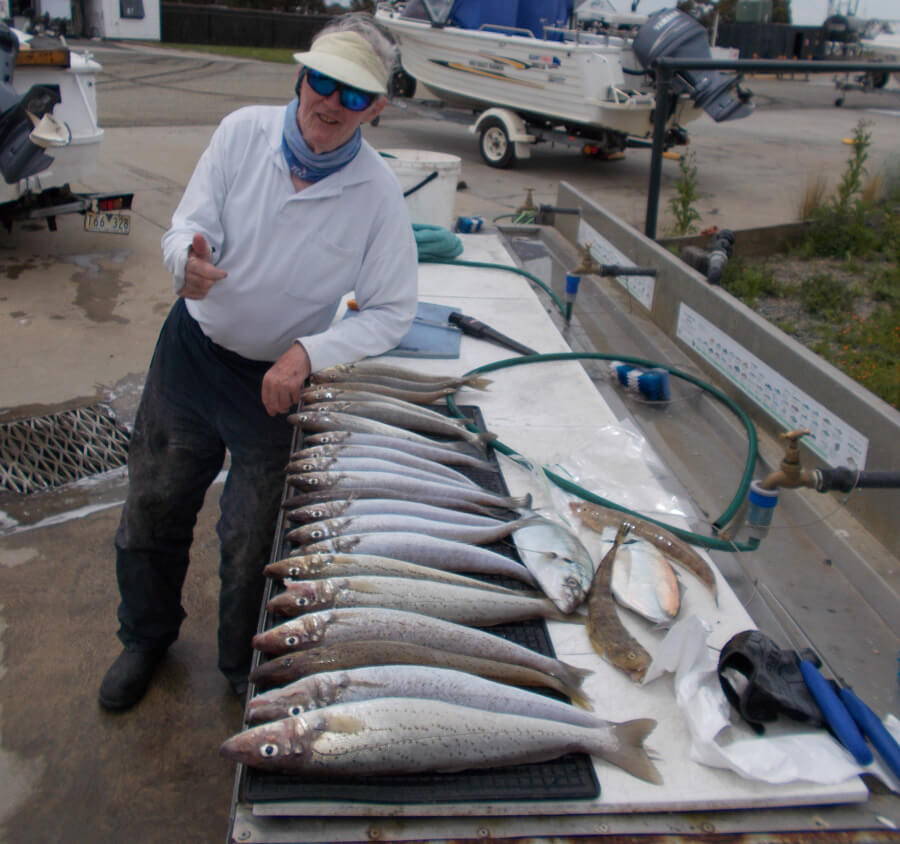 David Milne and Lindsay Fraser fishing the mouth of the Tooradin Channel and caught some nice whiting using squid strips and mussels for bait.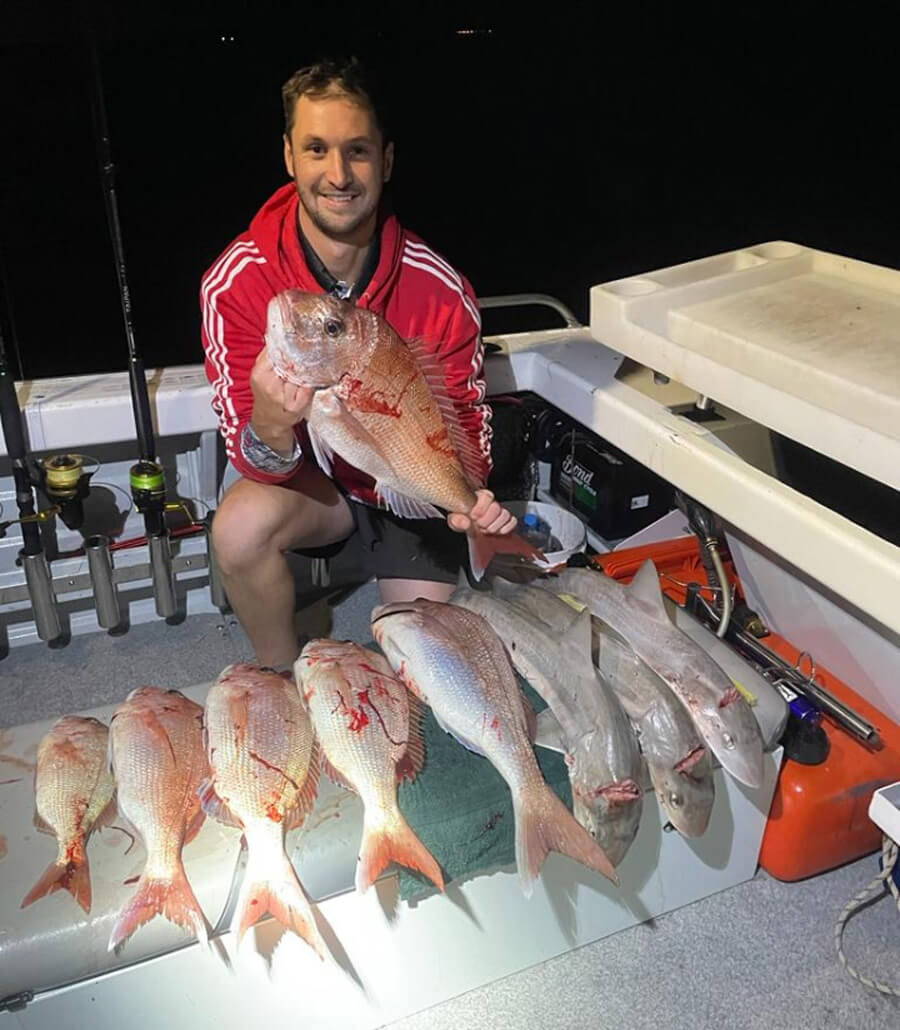 Craig and Dave fished out from Tooradin this week and smashed the snapper and gummies with squid being the best bait.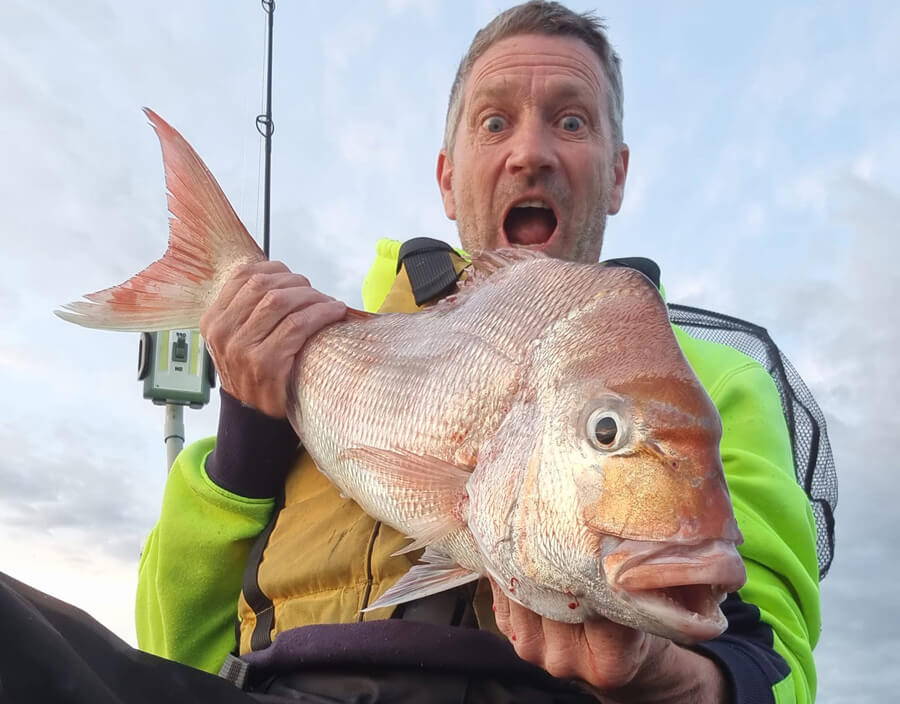 Mick Vanders caught 3 cracking snapper fishing out from Lang Lang on his kayak this week, squid was the best bait for the session.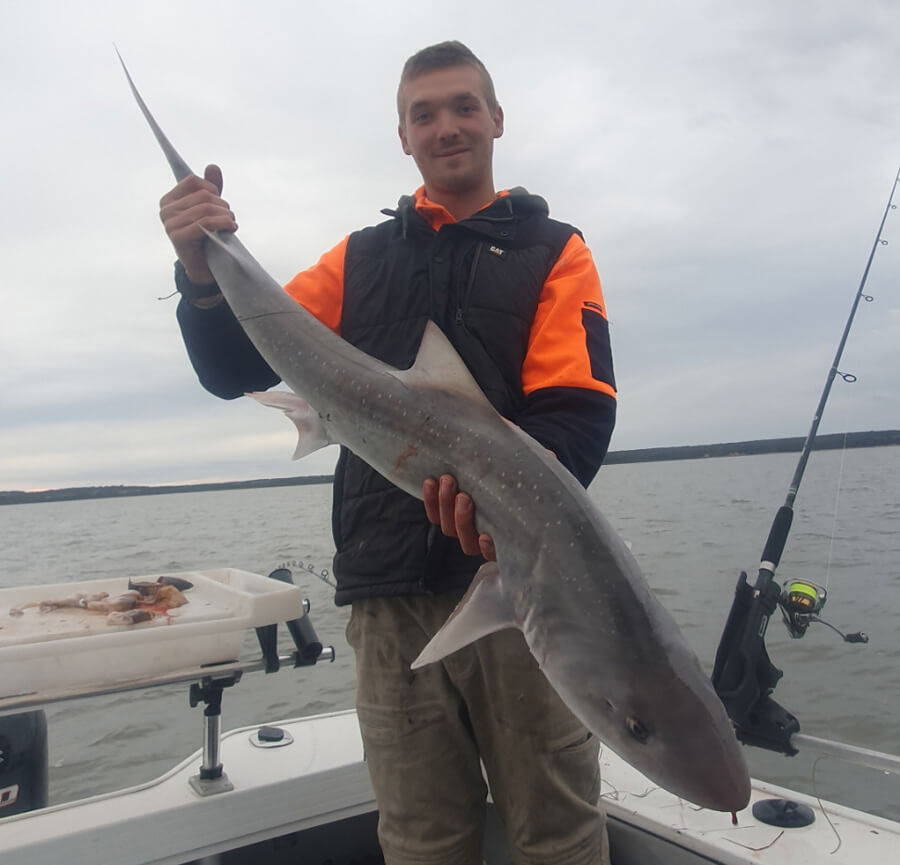 Travis Chapman caught this nice gummy shark fishing Corinella during slack tide using fresh squid rings for bait.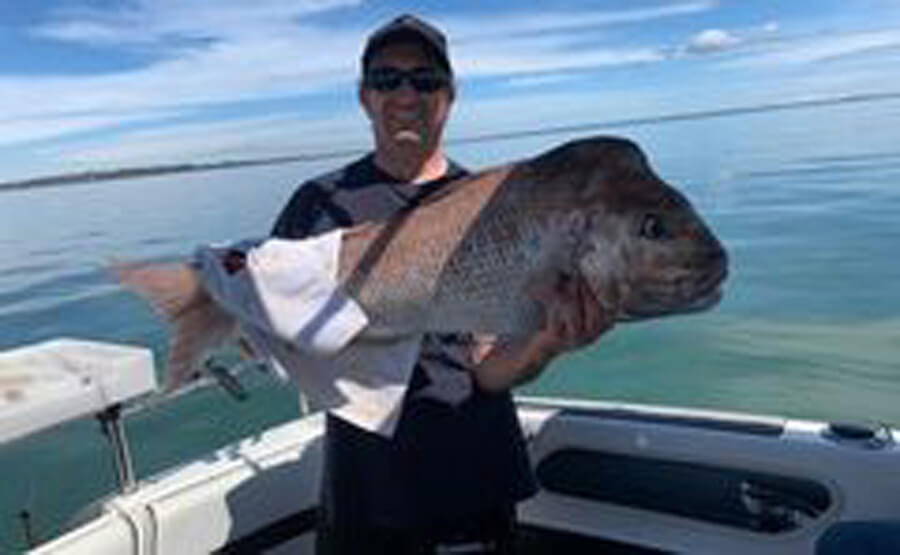 Rob Pernice with a cracking 92cm snapper caught at The Corals using a squid head for bait.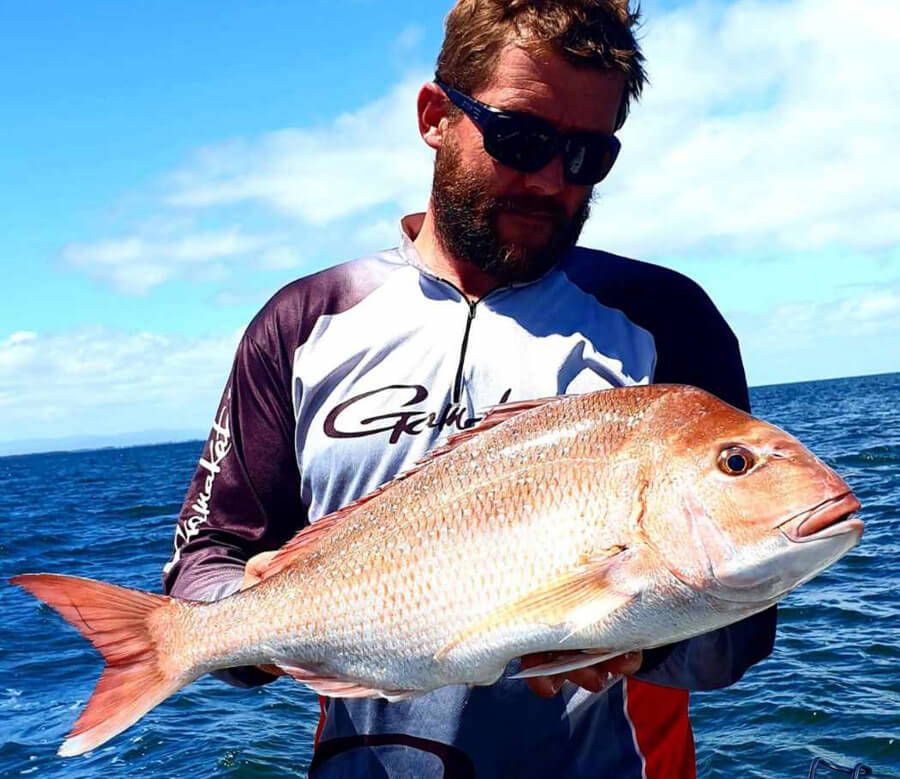 Borno fished The Corals in 6 metres using trevally for bait on snelled 6/0 Gamakatsu Octopus hooks and caught a nice snapper.
Glenn and Graham fished Rhyll last week and managed a couple of cracking snapper using yakka chunks for bait. The gummy was caught on a fresh squid head.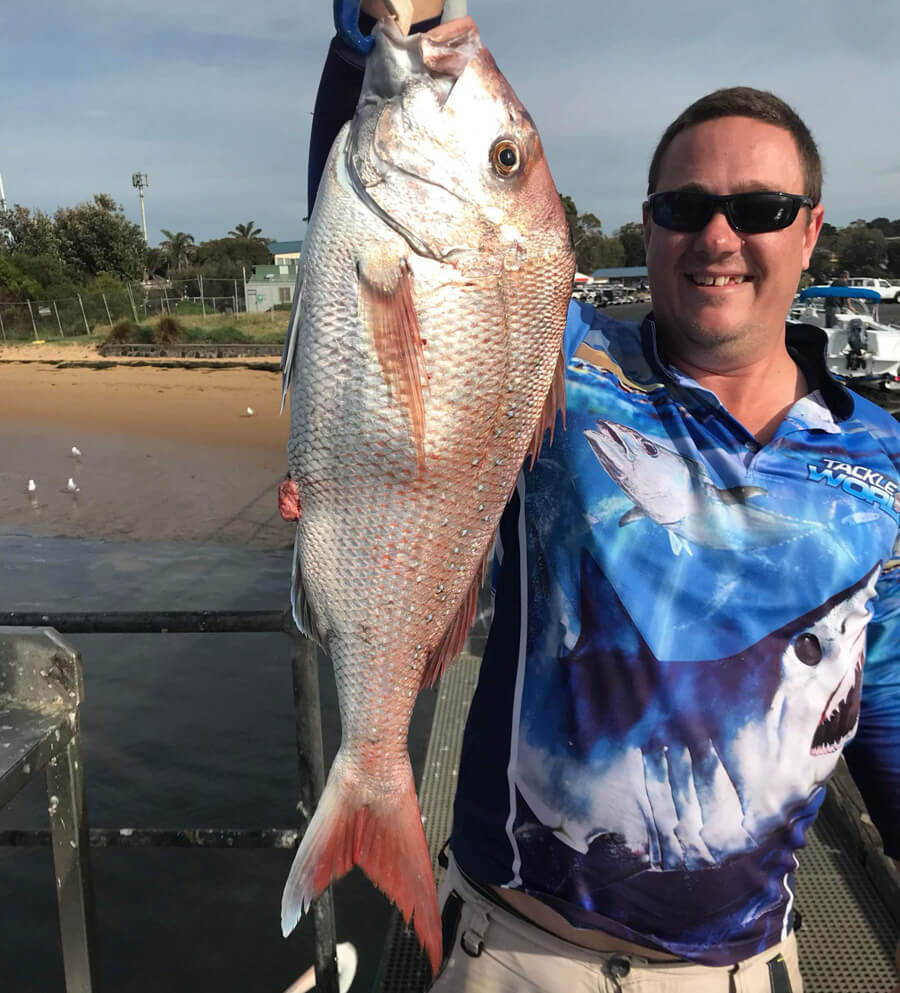 Ricardo Barfuss caught a beautiful snapper of 83cm fishing out from Rhyll using fresh yakka caught earlier on a half pillie.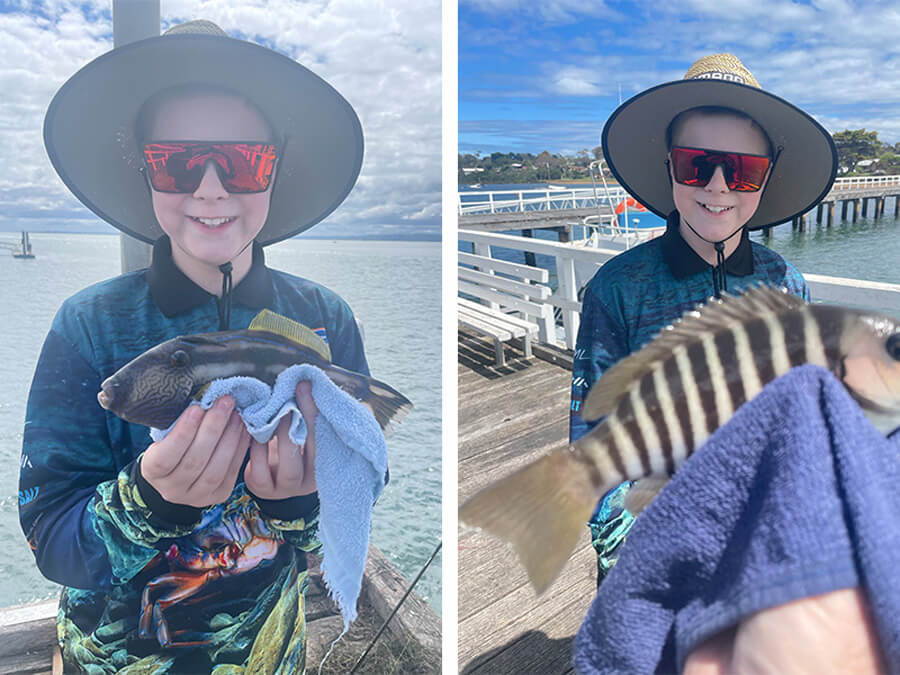 Zakiya Maloney fished the Rhyll Pier and had a ball catching some nice leather jackets and zebra fish.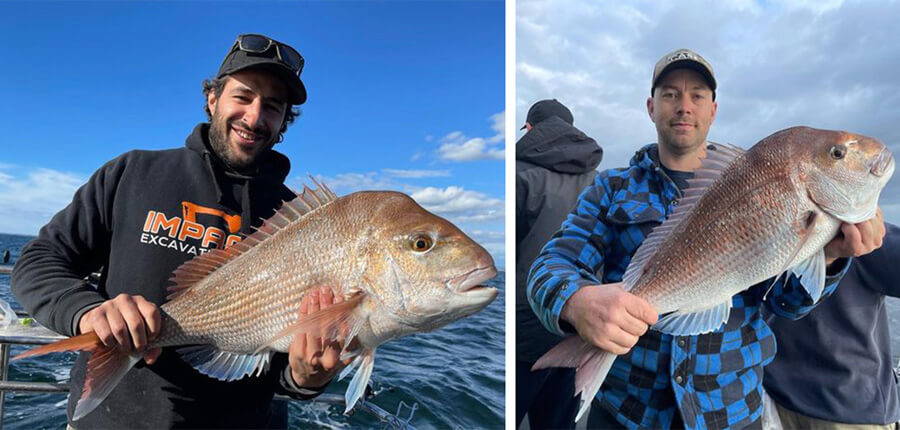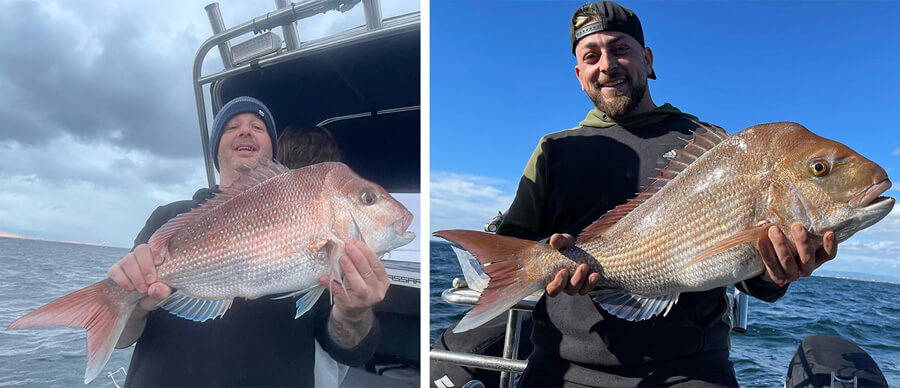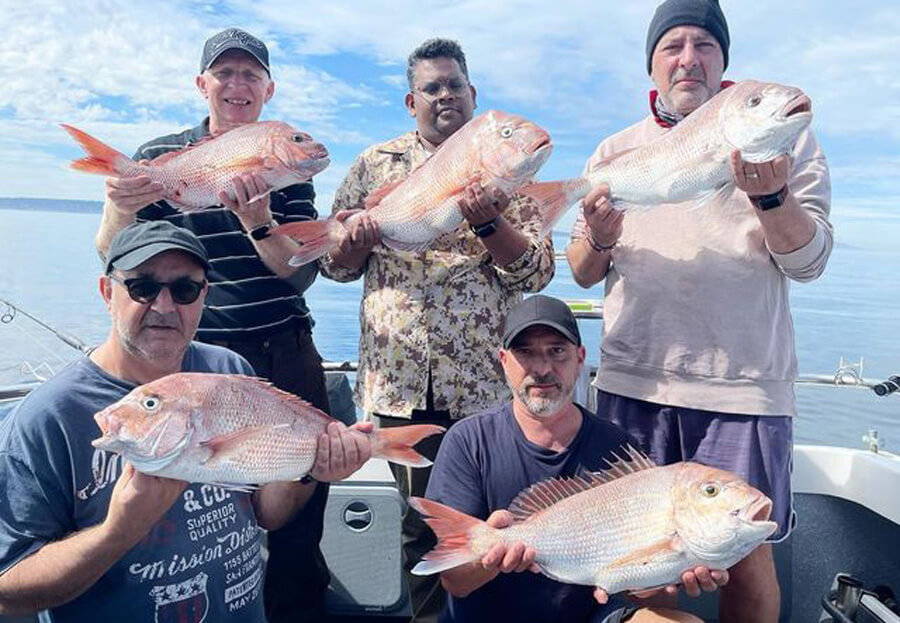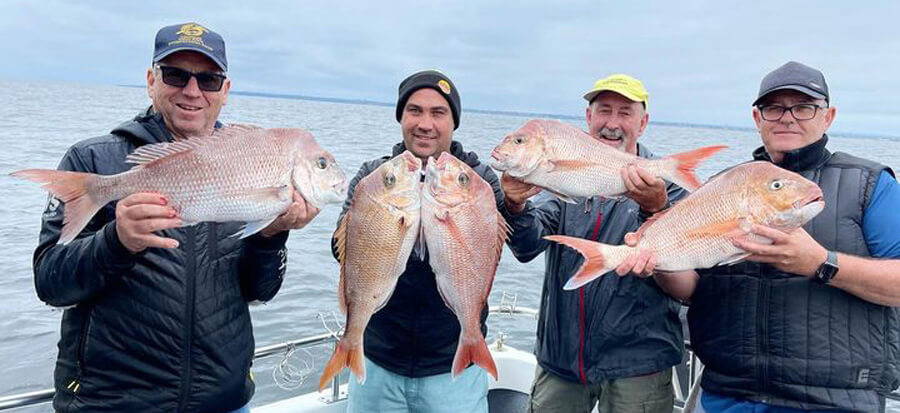 Chris Cassar from Cassar Fishing Charters had a ripper week on the Port Phillip Bay snapper with the best area being between Mordialloc and Sandringham along the edge of the shipping channel.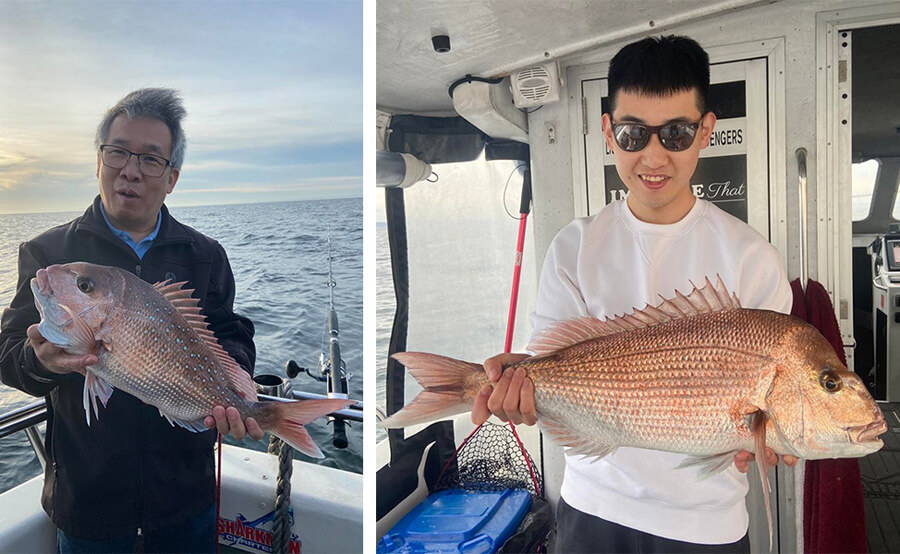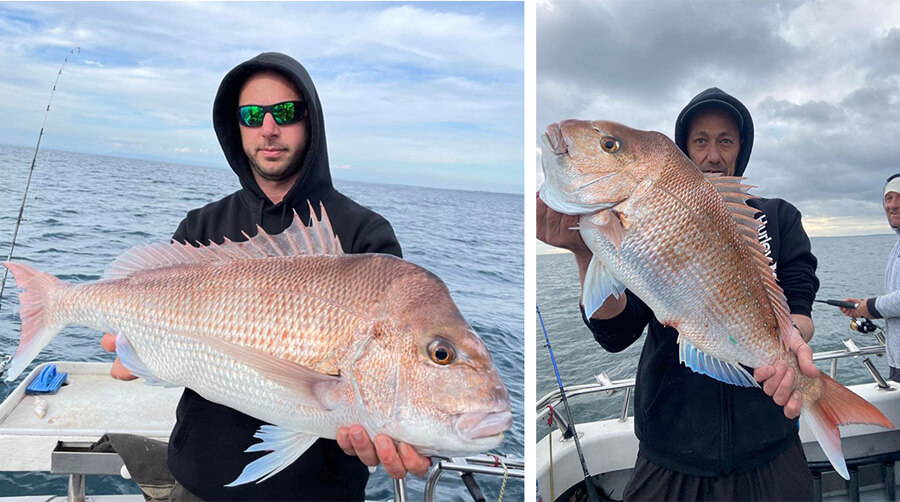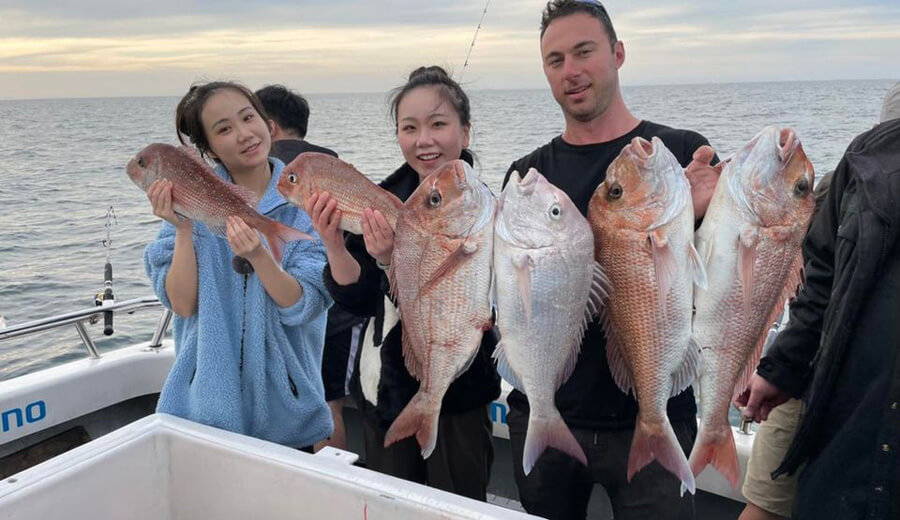 Marco from Sharkmen Fishing Charters found some solid snapper with his customers this week fishing Port Phillip Bay.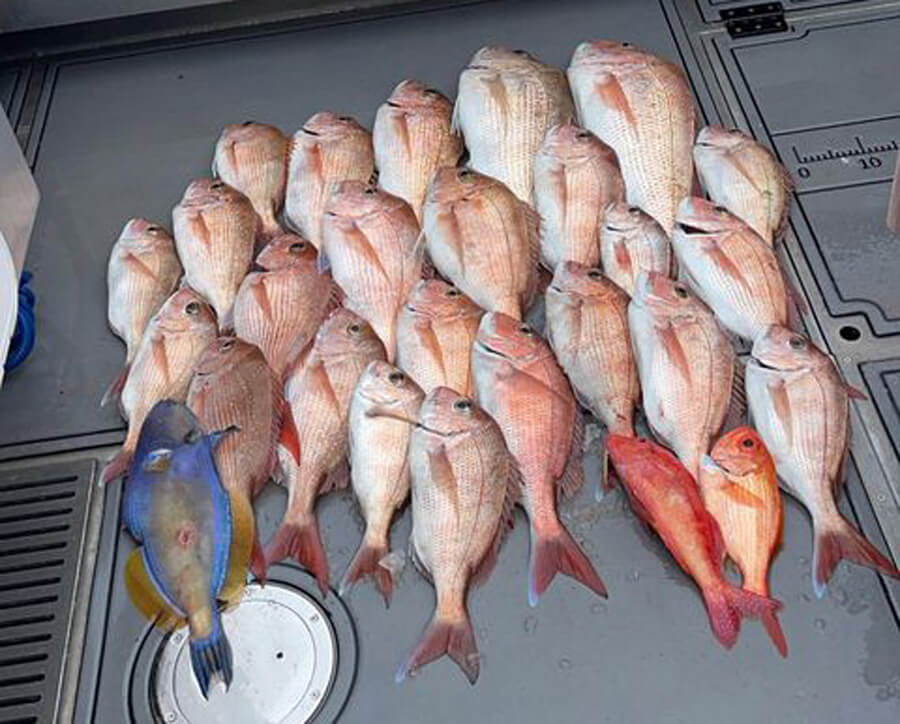 Zac Cross from Cross Country Fishing Charters got stuck into some nice snapper with his customers this week.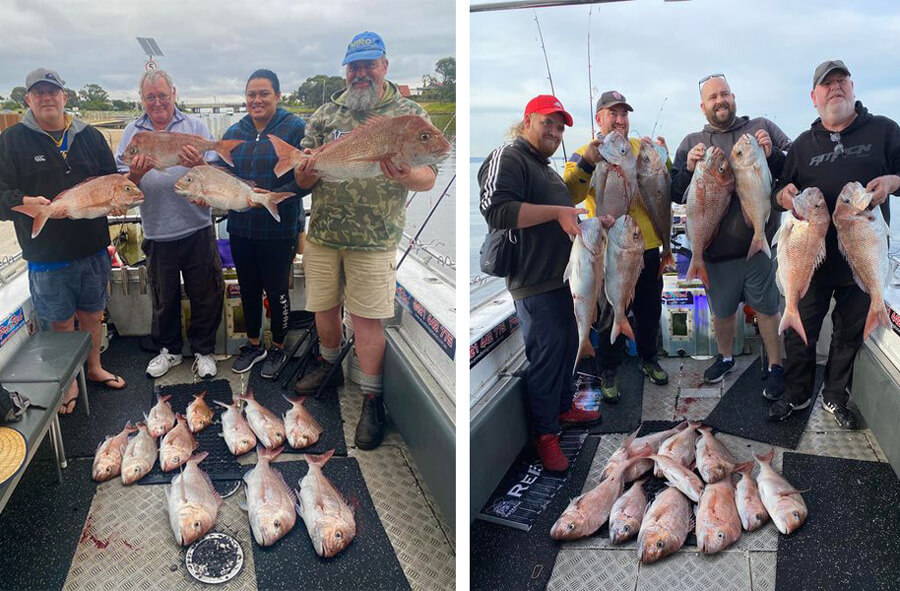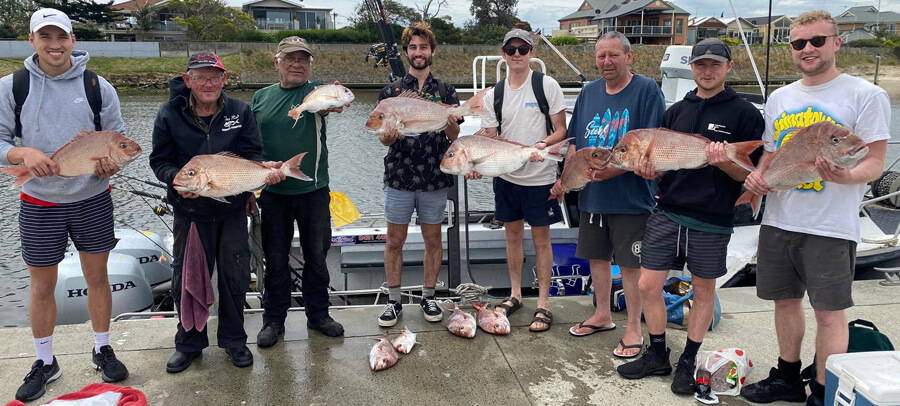 Jayson Turner from Pro Red Fishing Charters launched from Carrum with his customers this week and caught some ripper snapper.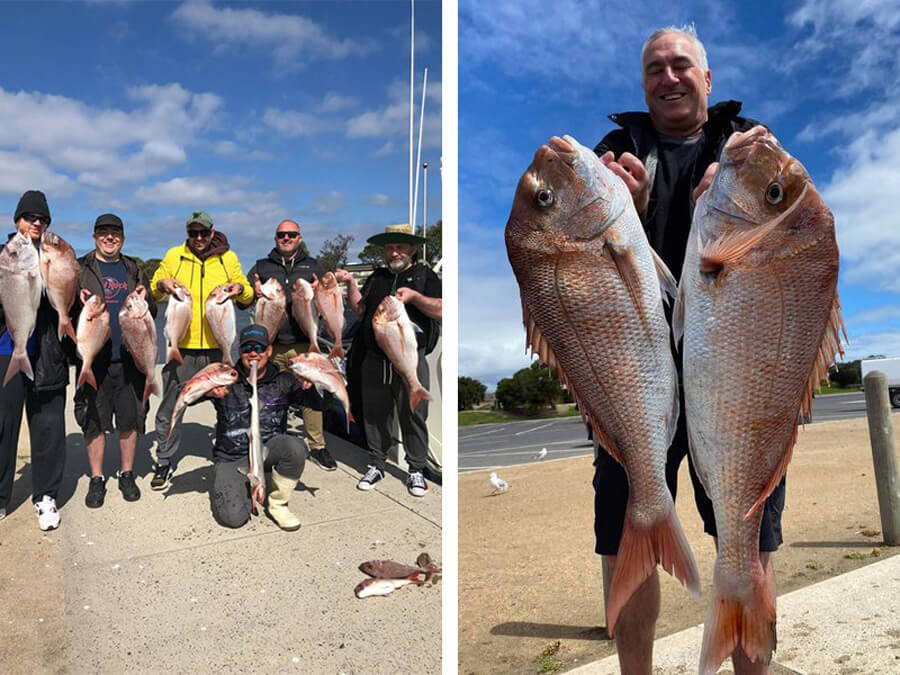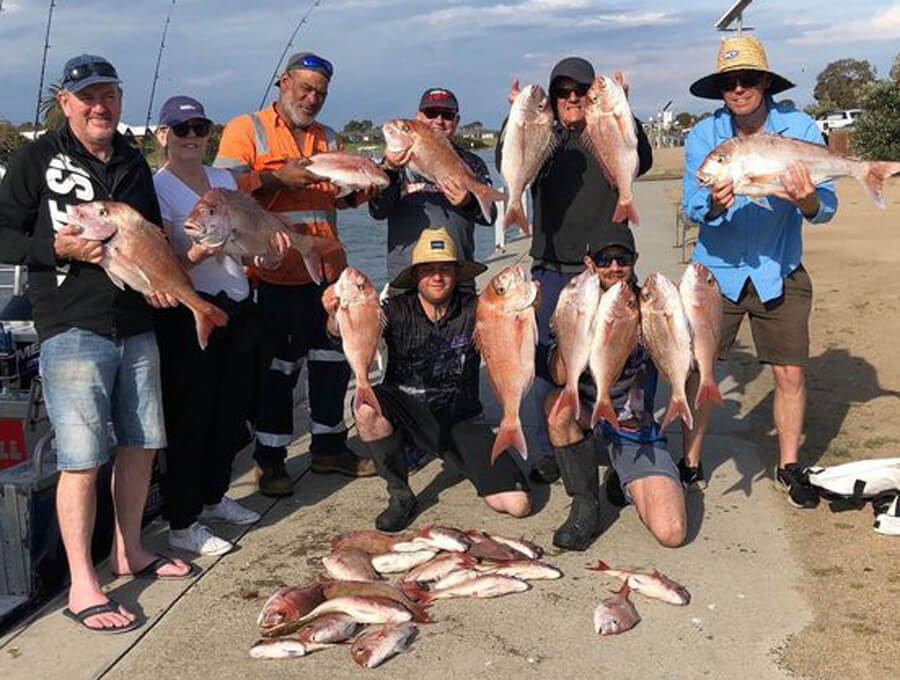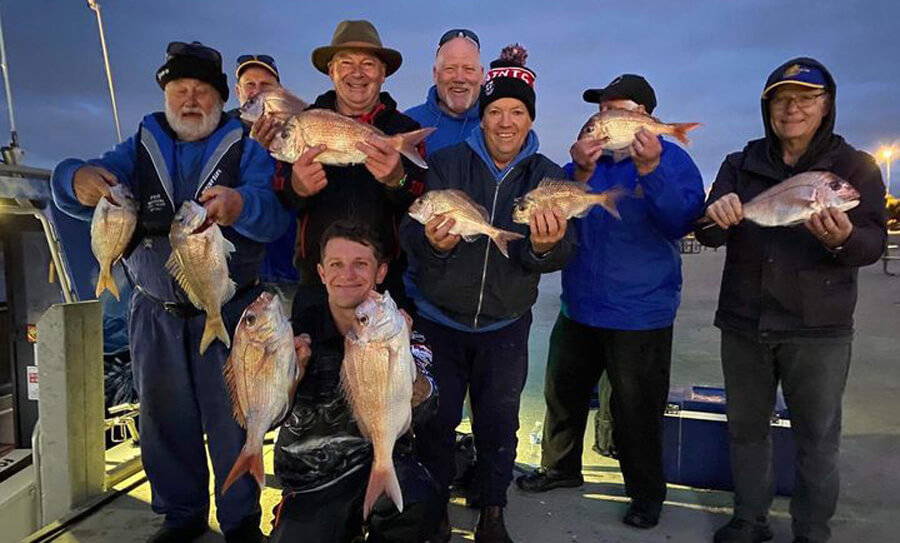 Matt Cini from Reel Time Fishing Charters has been getting stuck into the Port Phillip Bay snapper this week getting plenty for their customers to enjoy.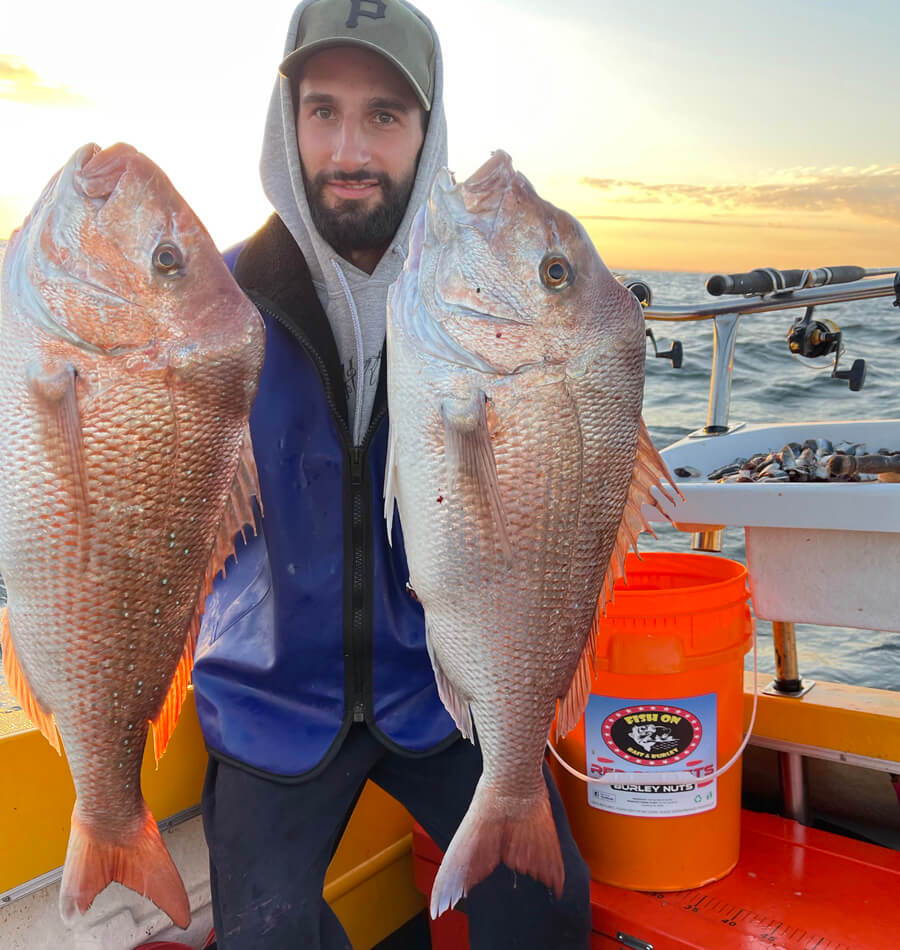 Anthony Anastasio caught 2 cracking snapper at sunset using silver whiting for bait and burlied up using Fish On Red Bullets.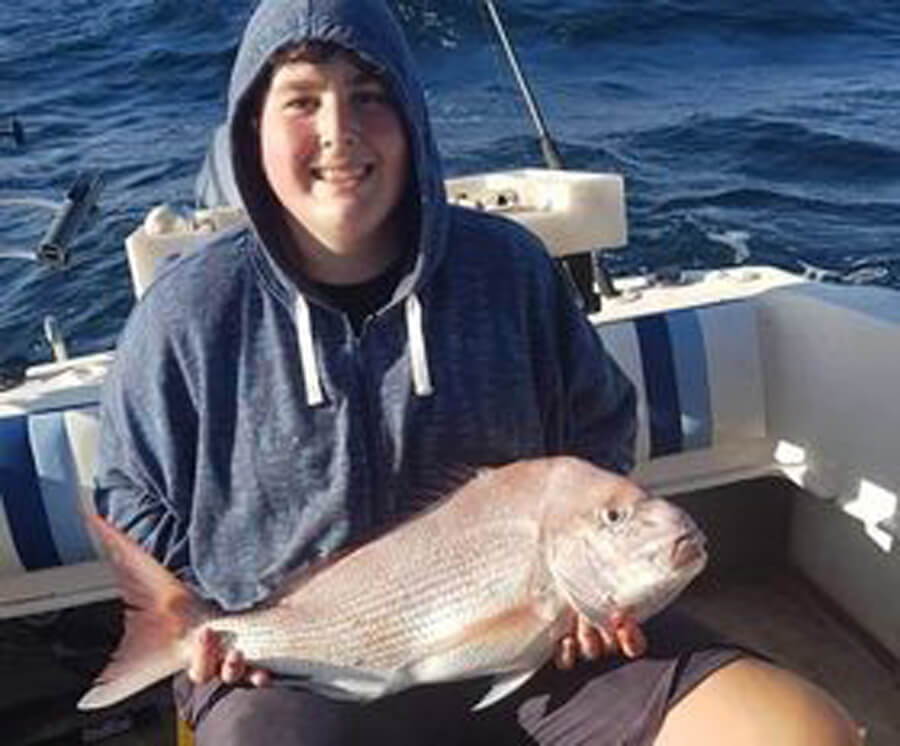 Andy Cassar caught this nice 73cm snapper fishing out from Altona this week.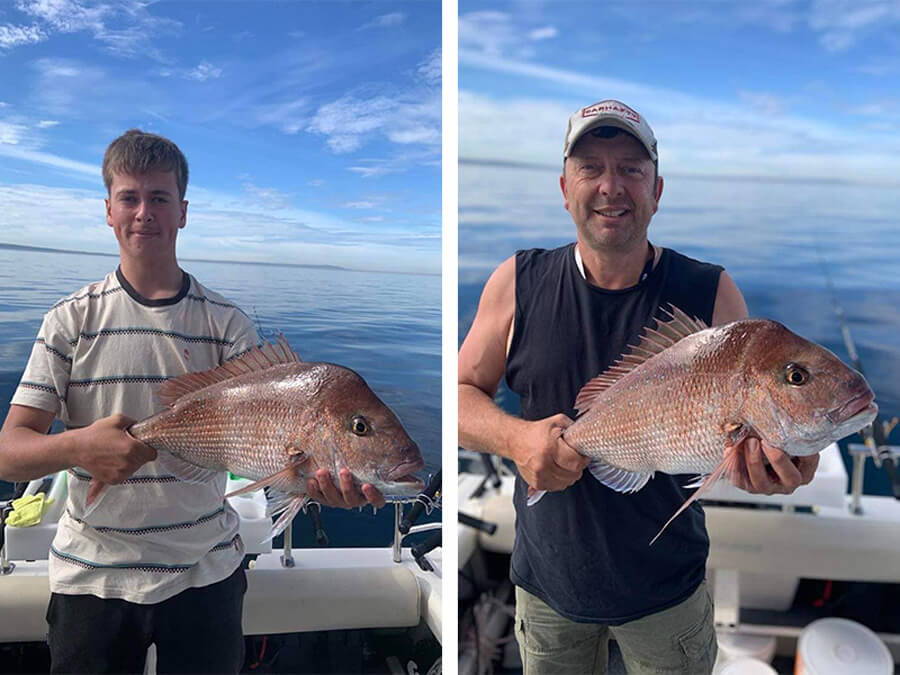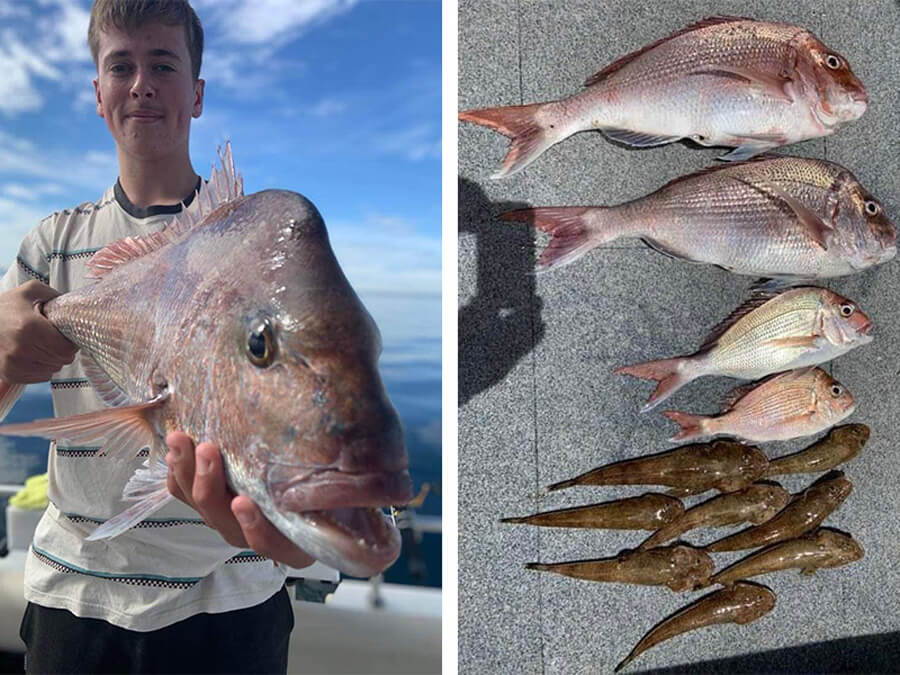 Staff member Luca Sabbadin and his uncle Adrian fished out from Ricketts Point and caught some beautiful snapper using whole silver whiting on snelled rigs.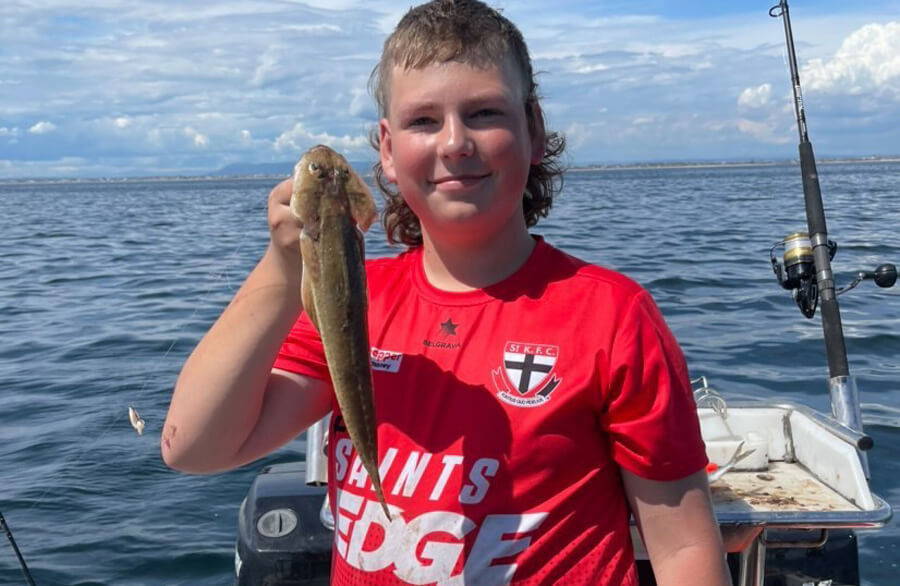 Charlie Doyle with a nice flathead caught out from Carrum this week.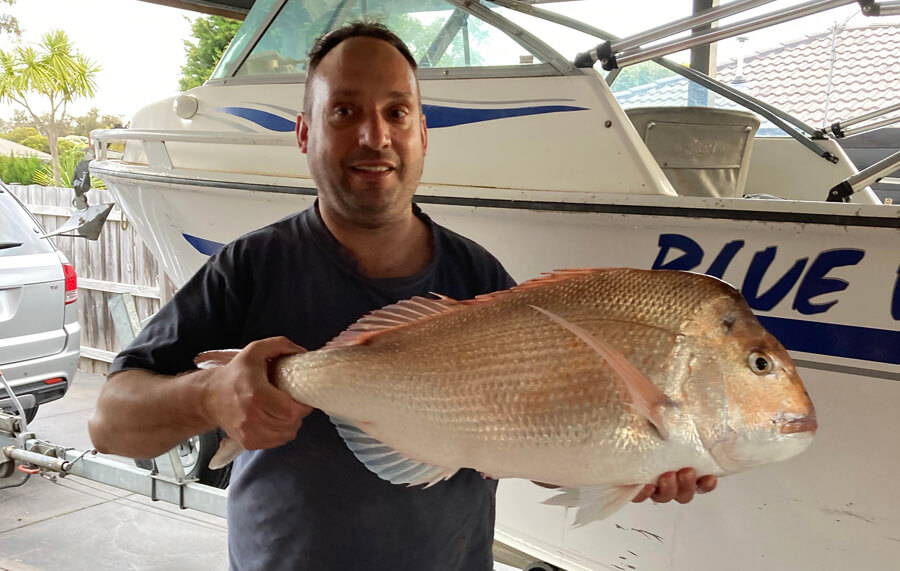 Chris from Langwarrin fished the Carrum reef this week and landed this ripper snapper. Well done Chris!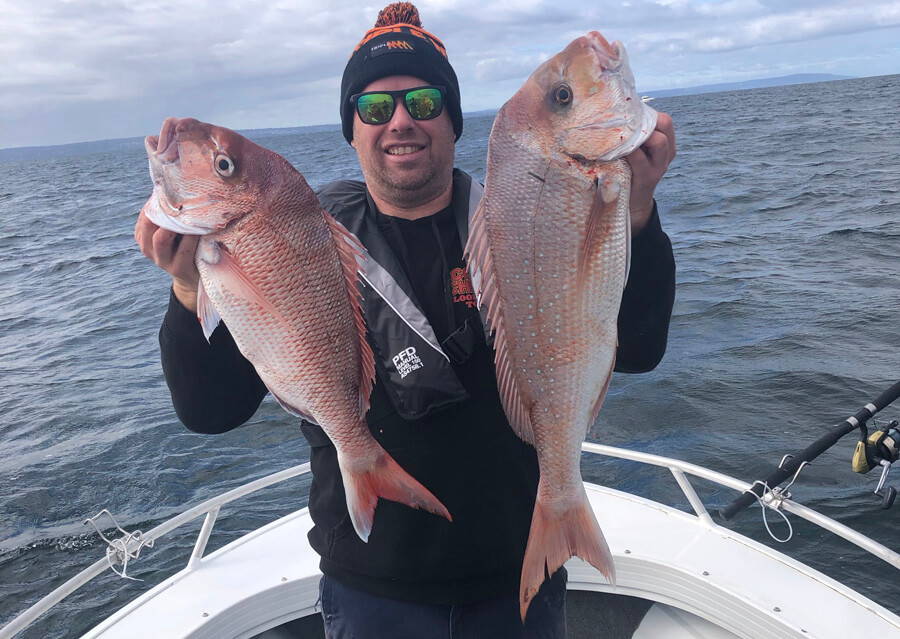 Darryl Natt with some beautiful snapper caught out from Carrum in 18 metres near the wreck. Well done Daz!
Ben caught this nice snapper fishing out from Carrum this week using squid strips for bait.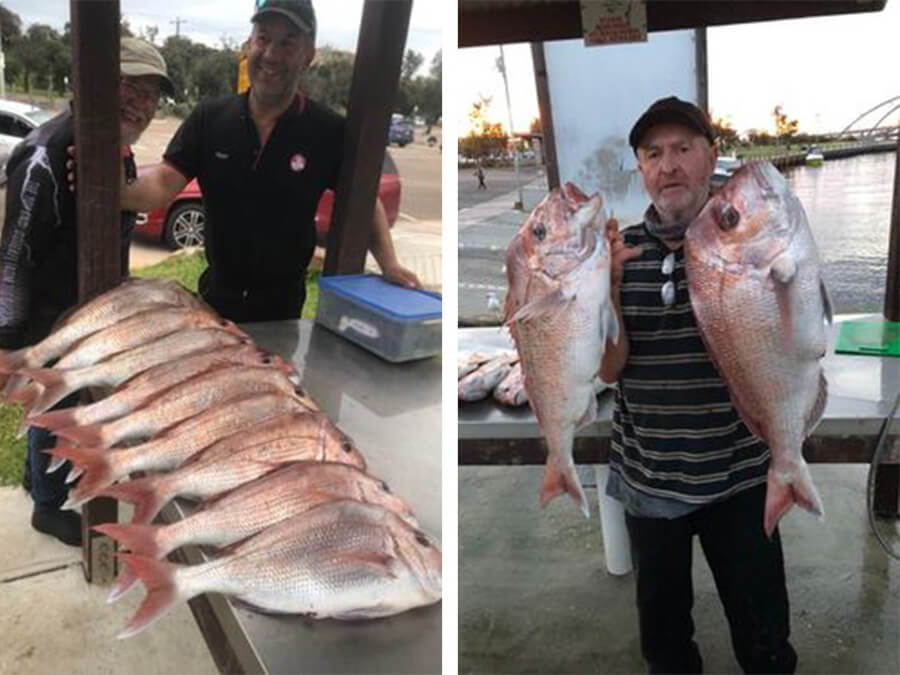 Terry, Patrick and Pete had a cracking week on the snapper this week fishing out from Frankston.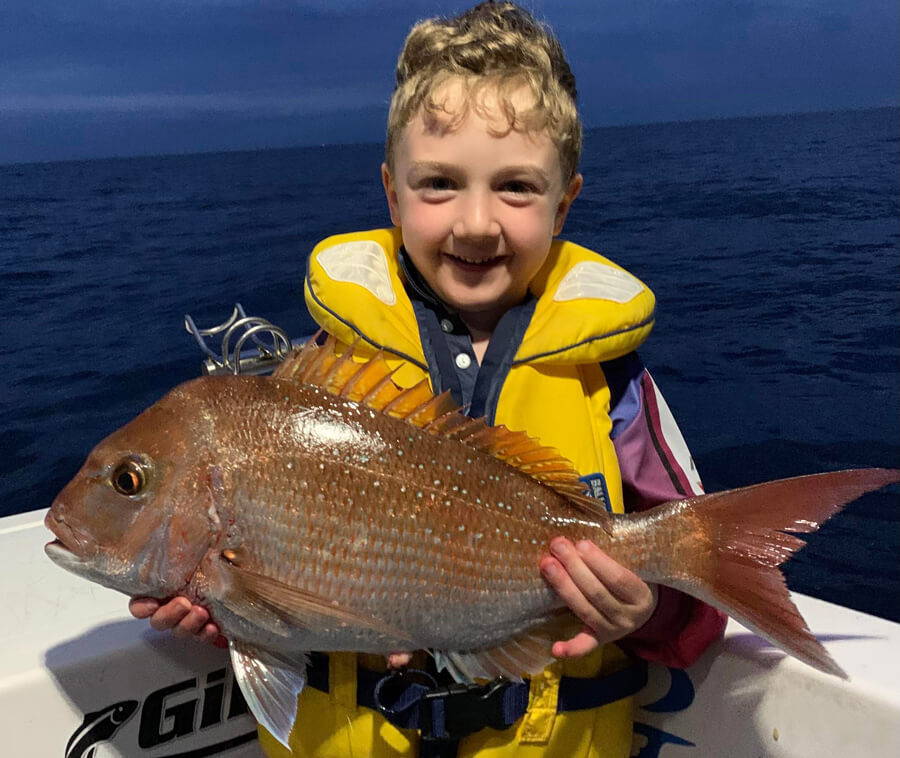 Staff member Mark Keaveny took his son Eoin out off Mt Eliza in 16 metres on Tuesday night. Eoin caught his PB snapper of 54.5cm on a whole saury during the run out tide. Well done Eoin you little legend!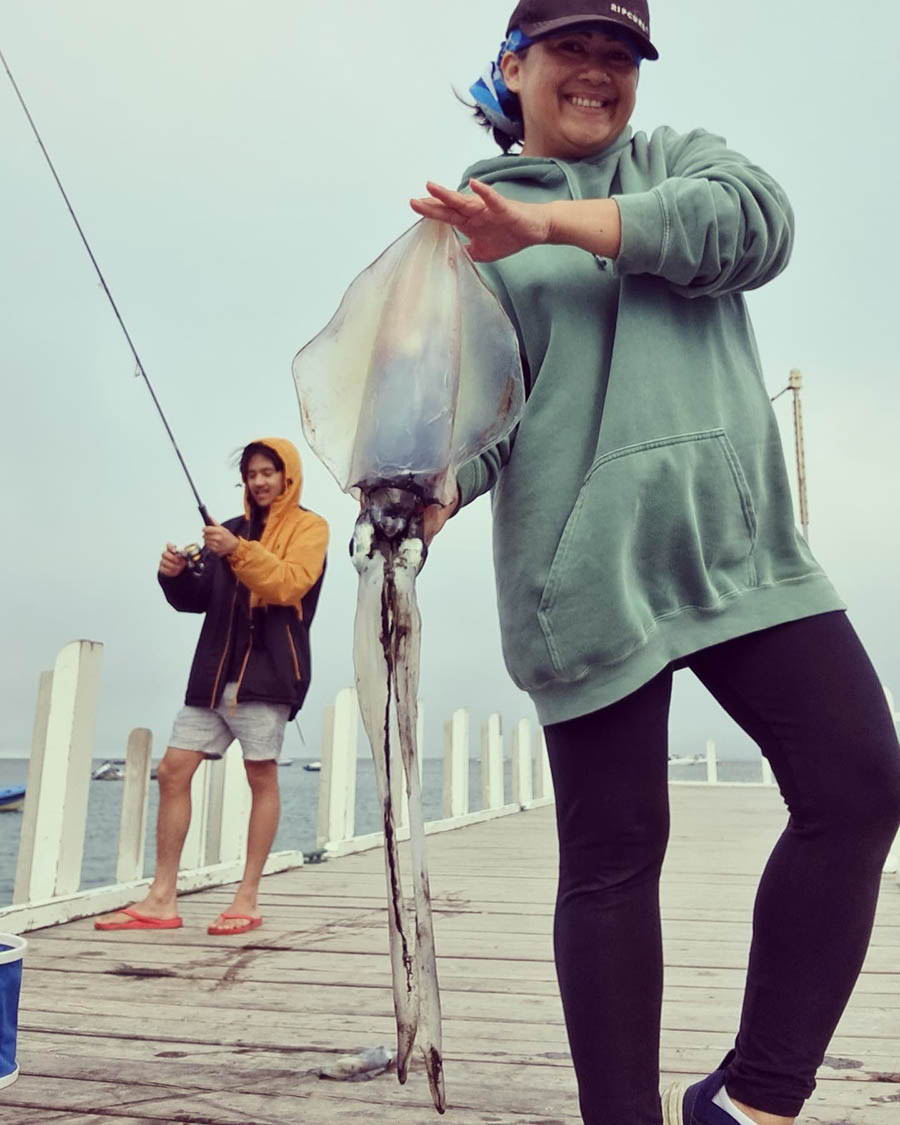 Shyrinne with a lovely squid caught from Sorrento Pier recently, well done.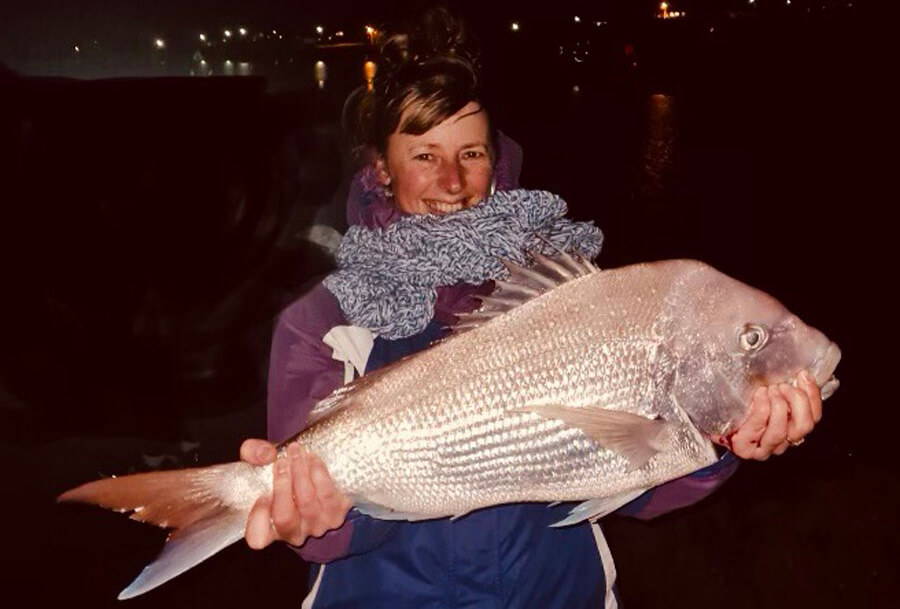 Kim caught this beautiful 68cm snapper while fishing the Portarlington breakwall. Well done Kim!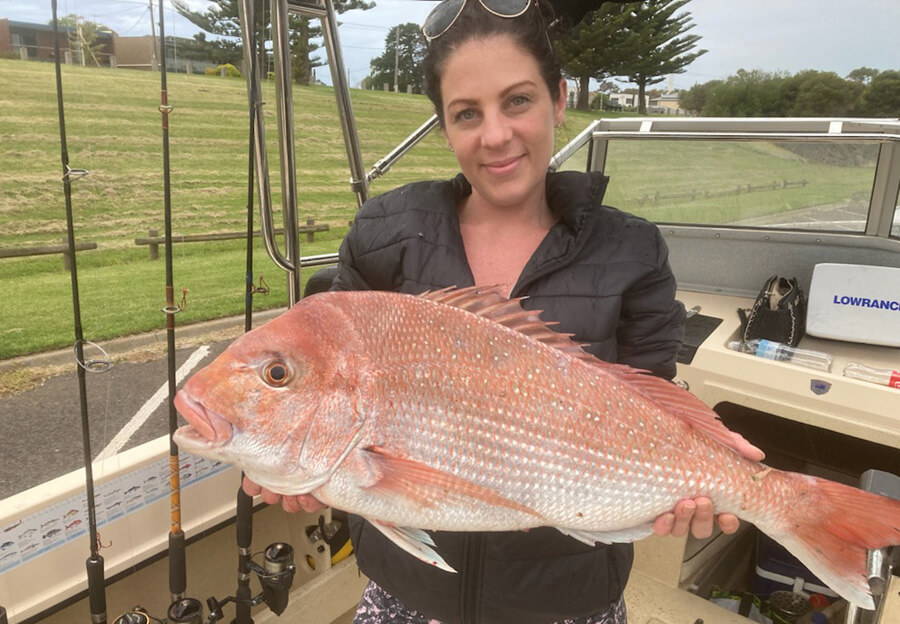 Lisa Comodromos caught this ripper snapper using sand whiting for bait while fishing Point Cook this week, well done Lisa!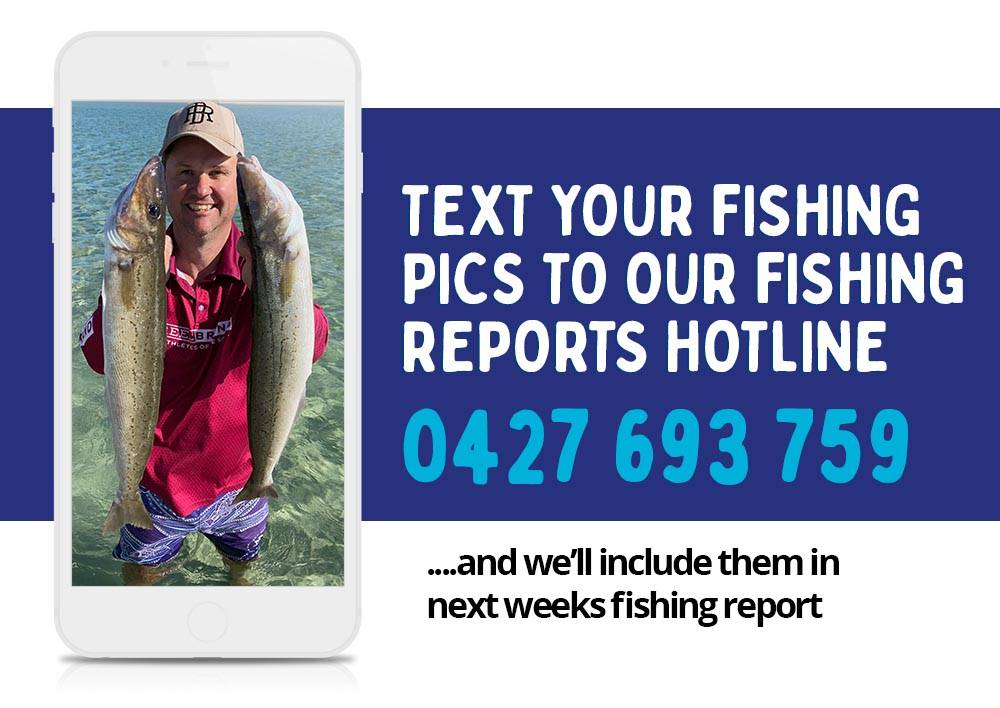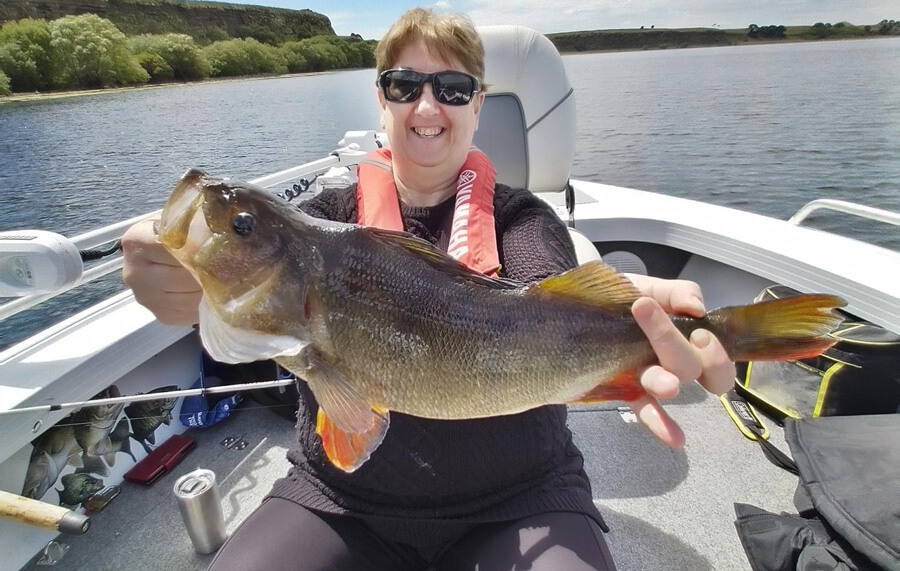 Sue Celar caught this solid 1.2kg redfin fishing Lake Purrumbete last week.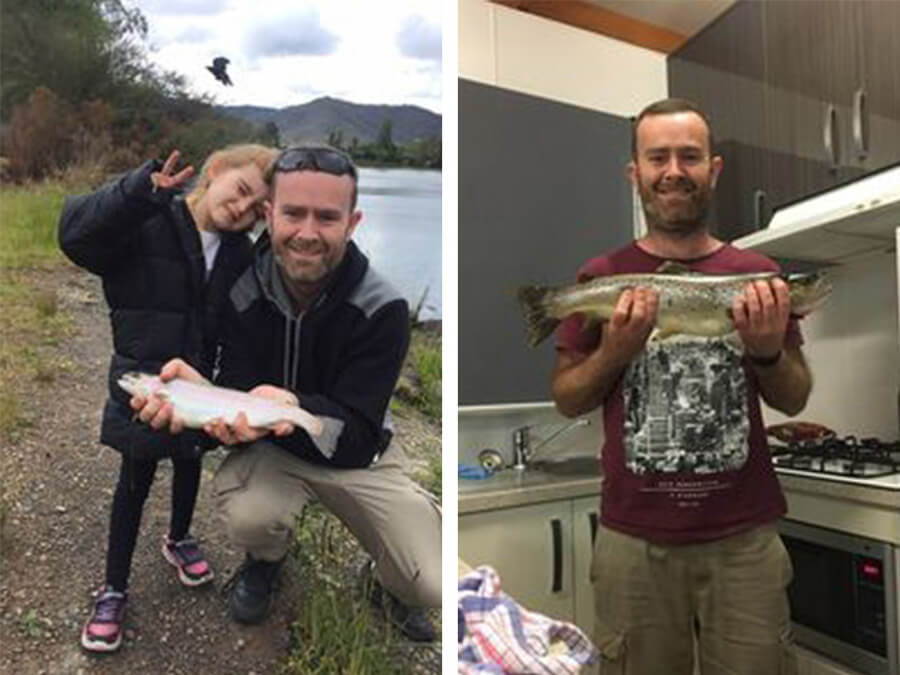 Peter Franks and his daughter Alicia fished Eildon Pondage and caught some nice rainbow and brown trout using Power Bait and worms.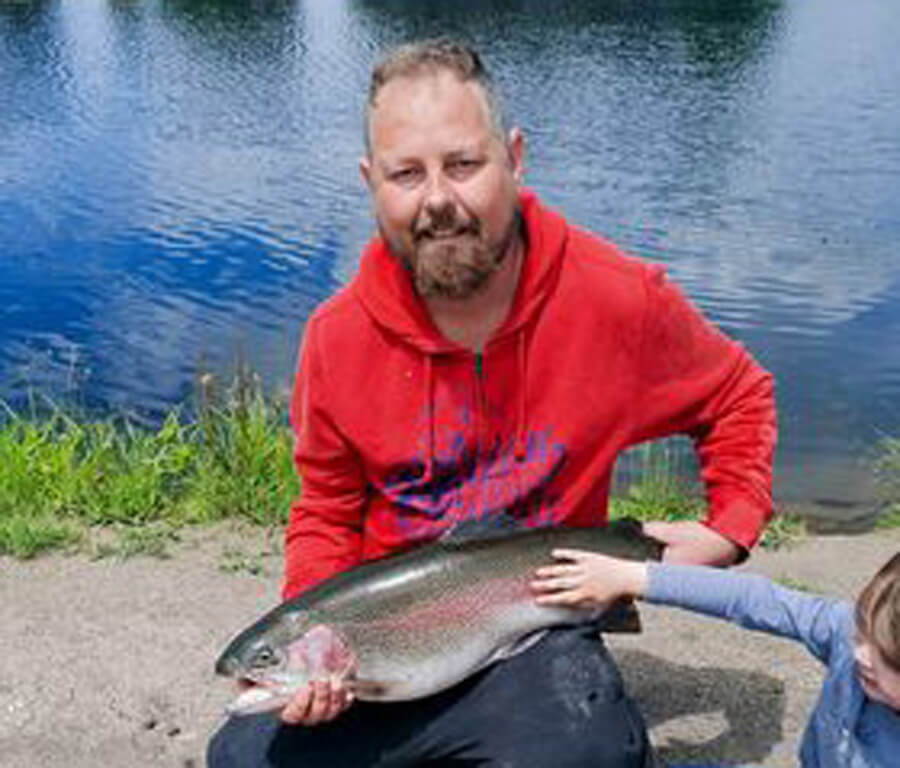 Damien George fished Garfield Lake and caught a stonker rainbow trout using Power Bait.

Brett Geddes fished Port Albert and caught some thumping garfish along with a nice sized pike and some solid whiting.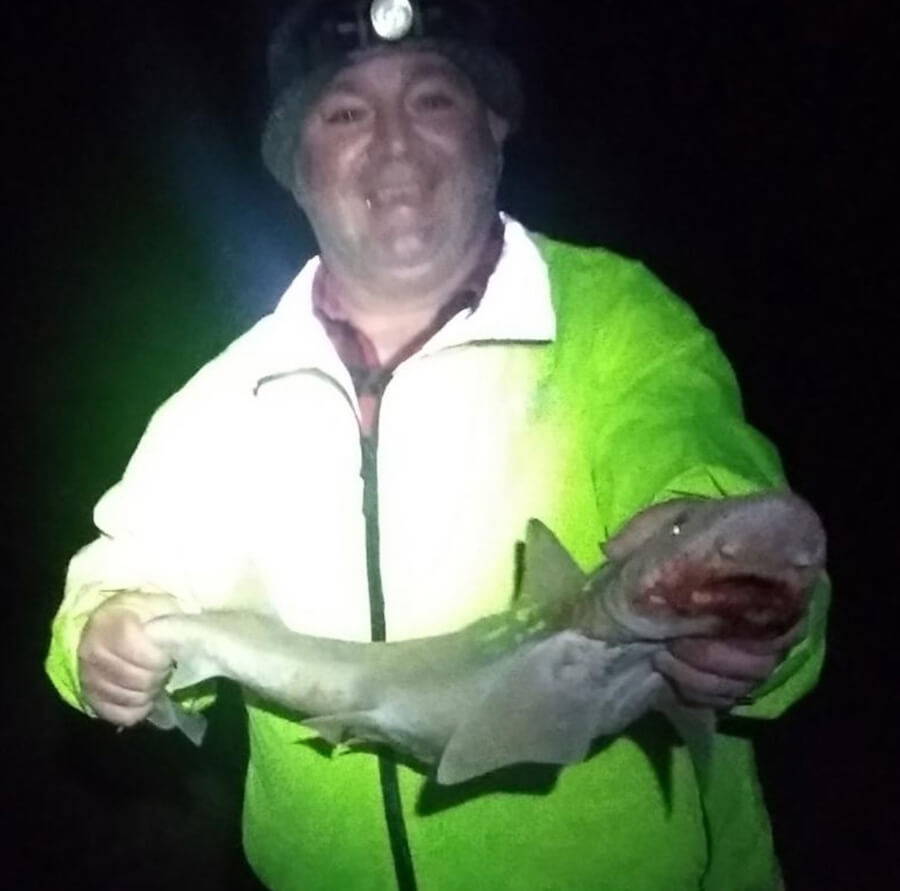 Gerhard Krauser with a nice gummy shark caught at Loch Sport this week.
IFISH WITH TACKLE WORLD - SERIES 16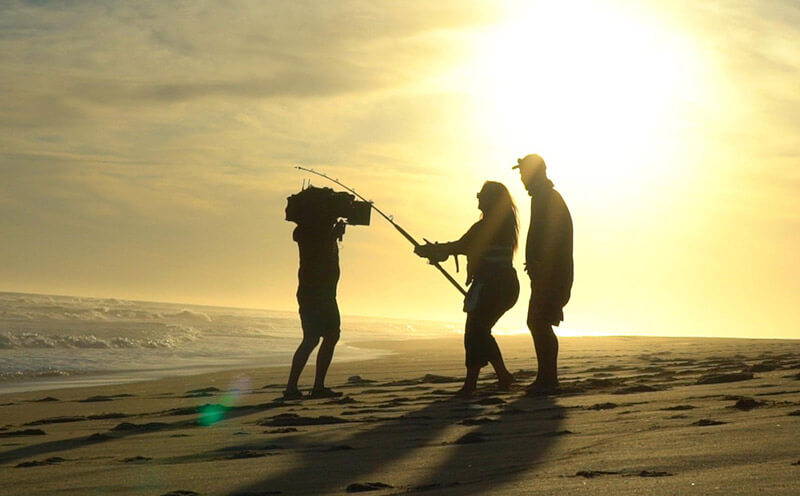 THIS WEEK ON IFISH TV
LOCATION: ORBOST, VICTORIA
TARGET: BRONZE WHALER SHARK
SUNDAY 28TH NOVEMBER, 2021 on 10BOLD at 5PM
Catch past episodes of IFISH TV on Youtube so you can get your fishing fix any time, any where.
TALKING FISHING - C31 - TUESDAYS at 8.30pm
Catch "Talking Fishing" on Melbourne's C31 TV (CH44) at 8.30pm each Tuesday night. Staff members David Kramer and Adam Ring together with Niki Duckstein host Australia's only "Live to Air" fishing television program at this prime time-slot. Put Tuesday night's at 8.30 away in your weekly diary of TV shows to watch!
Good Luck with your fishing and stay safe on the water,

The TEAM at Tackle World Cranbourne & Mornington