Paul and Jet Worsteling free dived out from Mount Martha on Saturday, spending 3 hours in the water. They are happy to report plenty of pinky snapper to around 35cm. During their dive they saw good numbers of bearded goatfish and decent sized schools of garfish, Australian salmon and tommy rough. The guys took home a couple of leather jackets for dinner.
Jet then did a dive with IFISH producer Tom Hughes and speared Jet's first boarfish, a target species of Jet's for the past 6 months. They believe this to be a junior Victorian and Australian record for the species.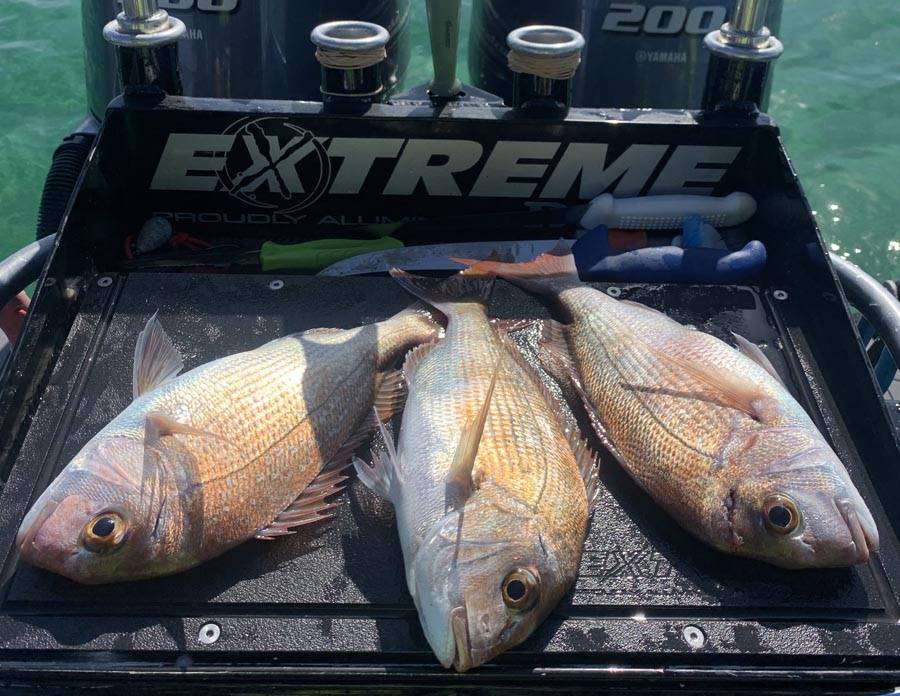 Paul, Cristy, Jet and friends then fished off Mount Martha on Sunday afternoon for pinky snapper. They found them in plague proportions keeping 3 for a feed that were served up deep fried asia-style.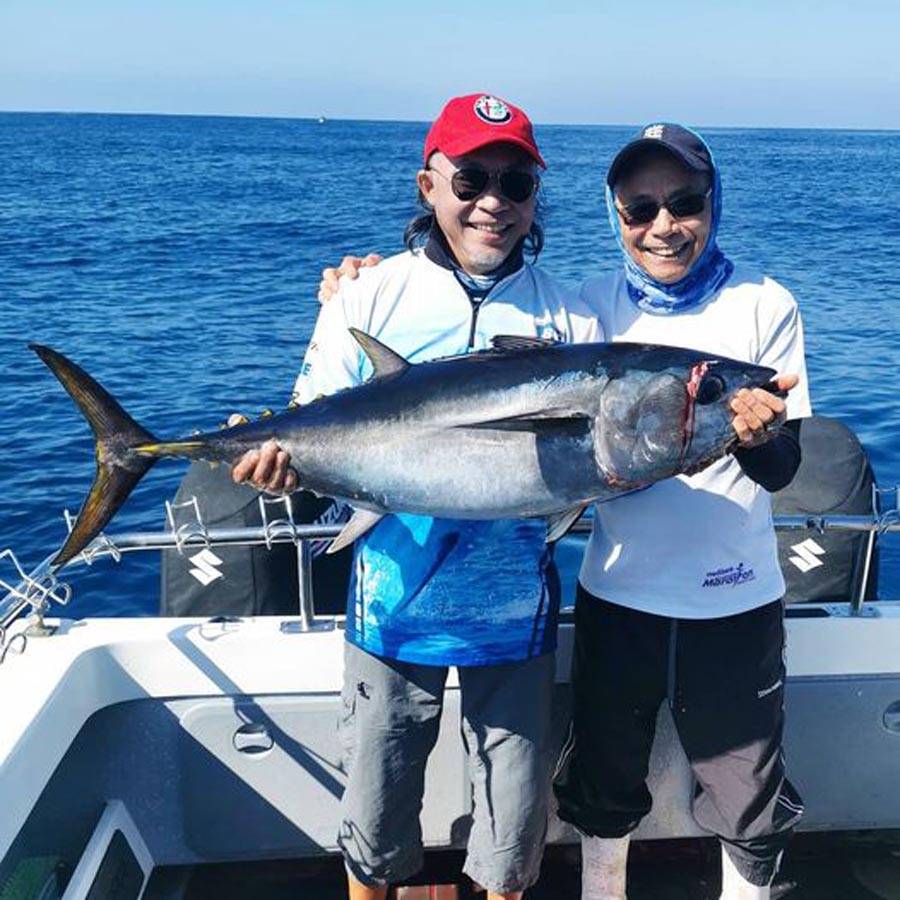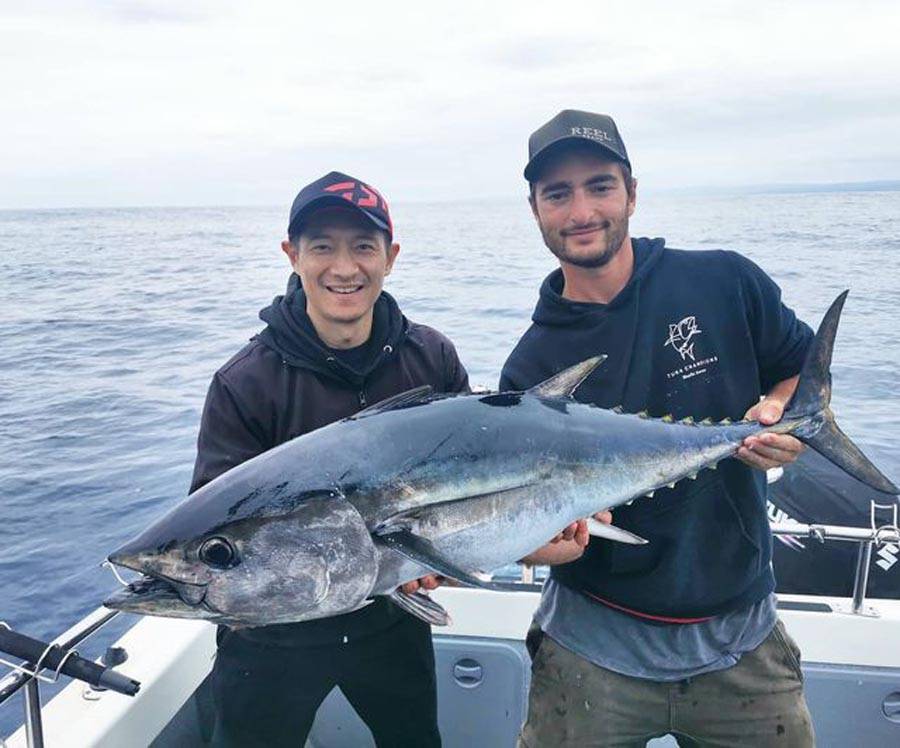 Chris Cassar from Cassar Fishing Charters has been offshore last week and smashed the tuna with his customers.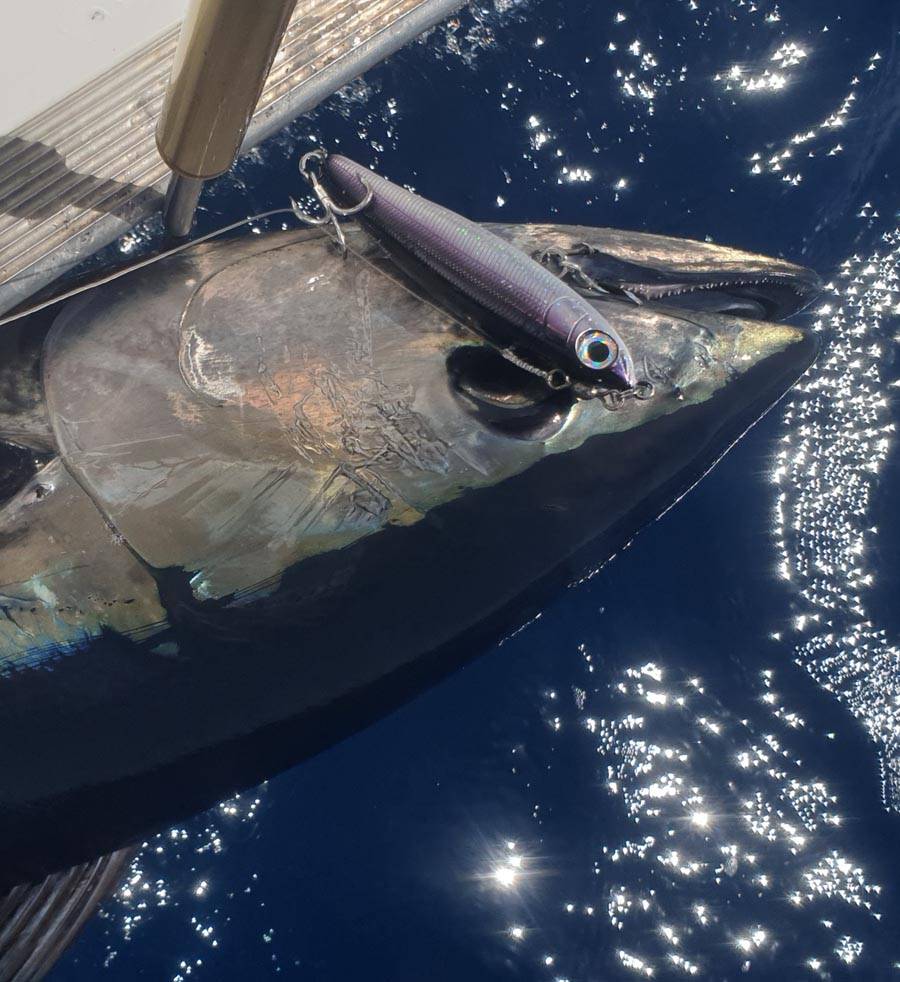 Staff member Scott Harper fished out from Cape Schanck and smashed the local tuna. The guys landed 4 beautiful fish and released countless more. The best lure for the day was the Strada Pro Tempest 140mm with the best retrieve a fast wind back to the boat.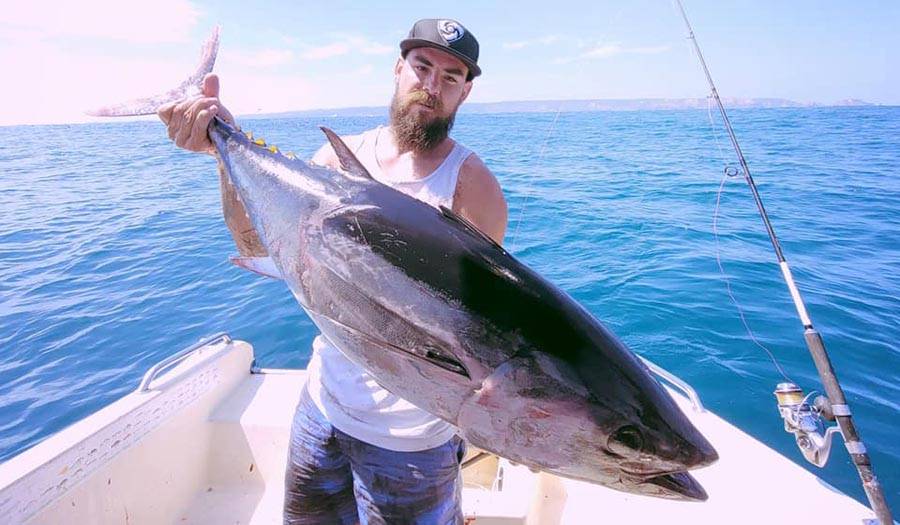 Gerry Morsman caught this ripper tuna fishing at Cape Schanck using a soft plastic.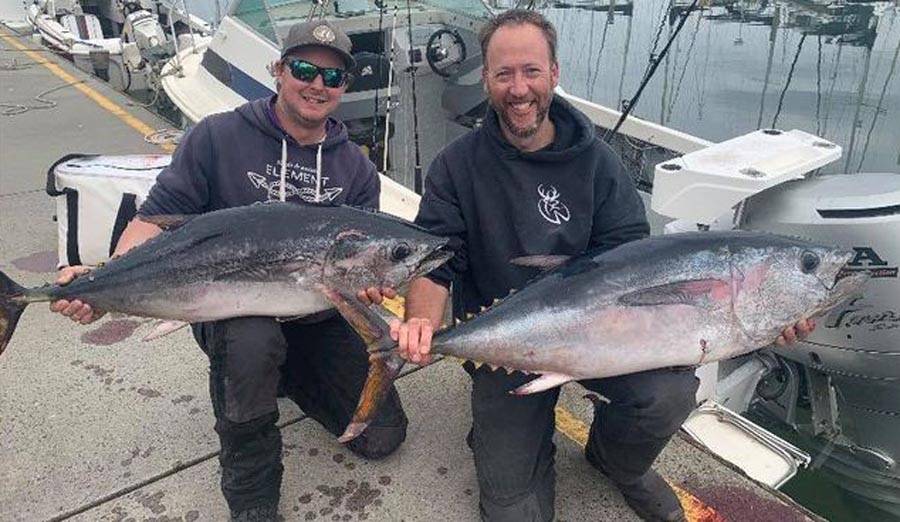 Justin Craig and Stewart Gelatly fished out from Cape Schanck and caught these two fantastic tuna on the troll using blue, clear and purple skirted lures.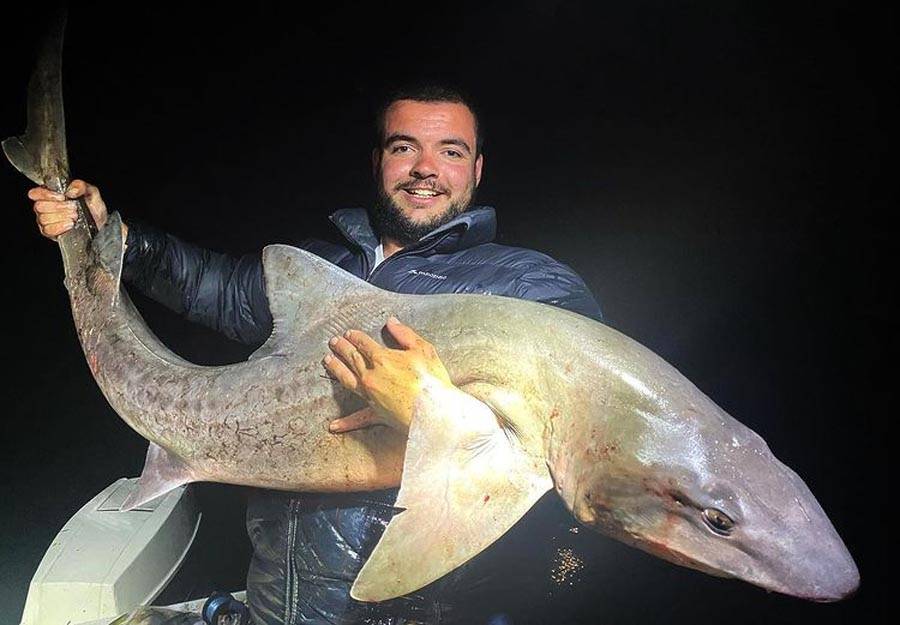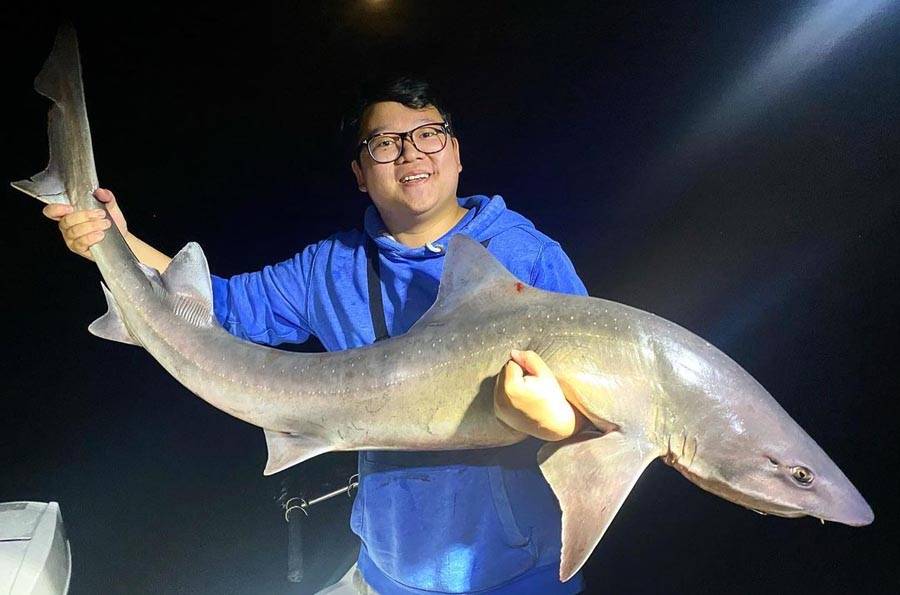 Sam and Ryan fished out from Cowes and landed some massive gummy sharks to 25kg using fresh trevally & pike.

Christian Wilson with 2 of his best salmon from a fantastic session out from Stony Point where he landed 7 in total and released 4.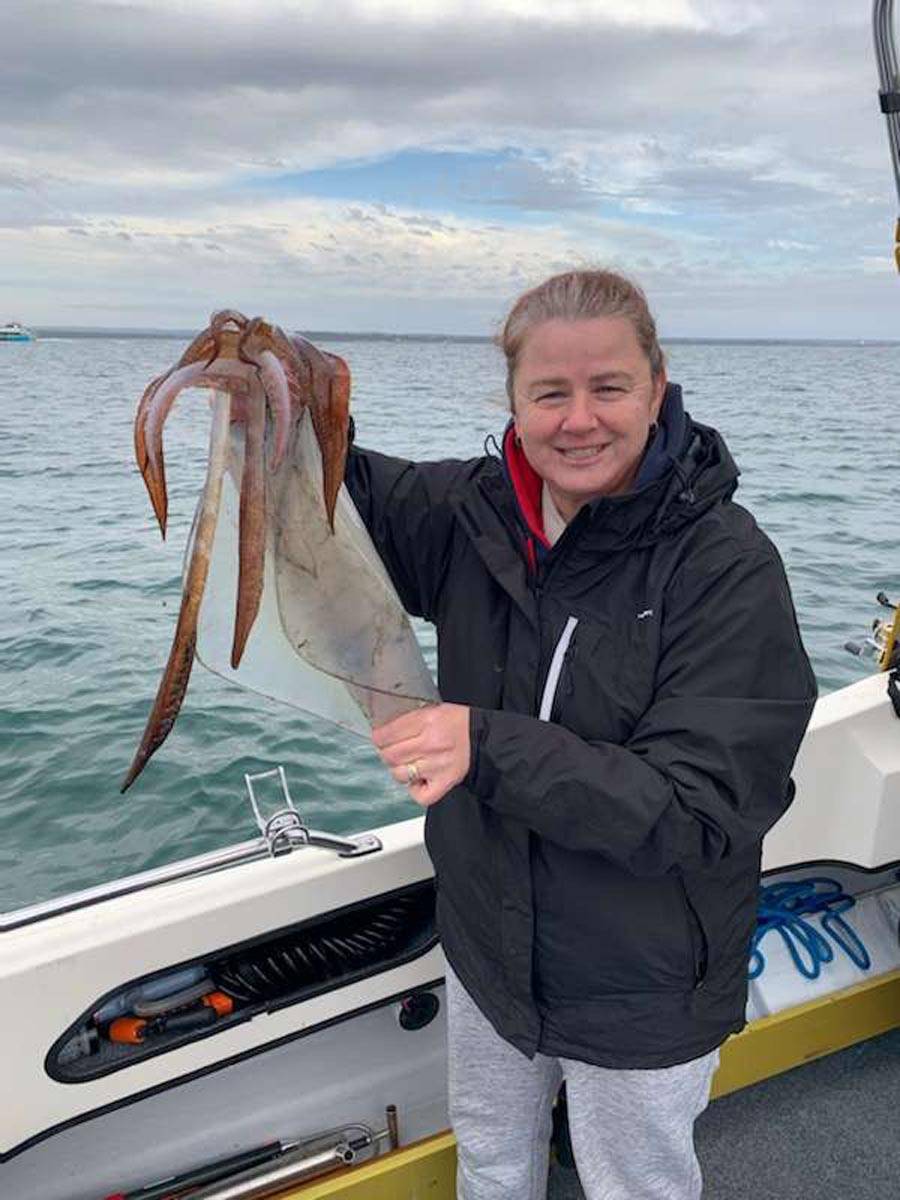 Leeann Lewis with her first squid caught fishing out from Stony Point.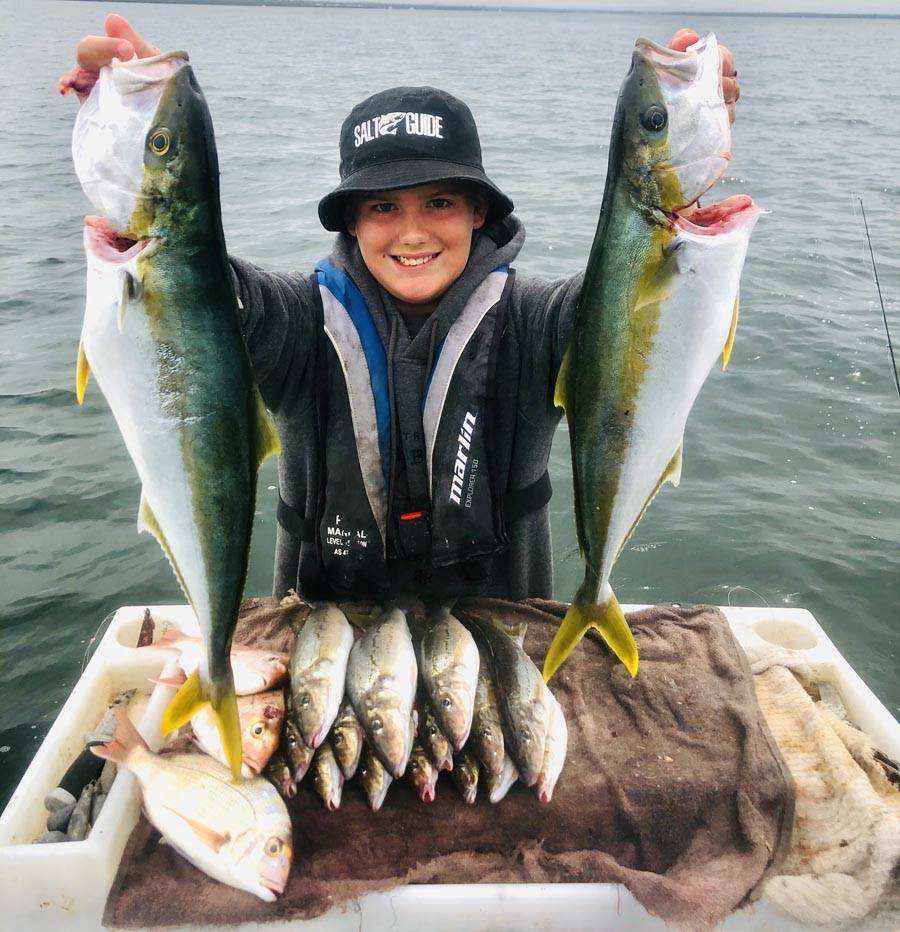 Kade Thornhill caught some nice whiting and pinky snapper fishing out from Hastings but the highlight was Kades first ever kingfish caught using yakkas for bait.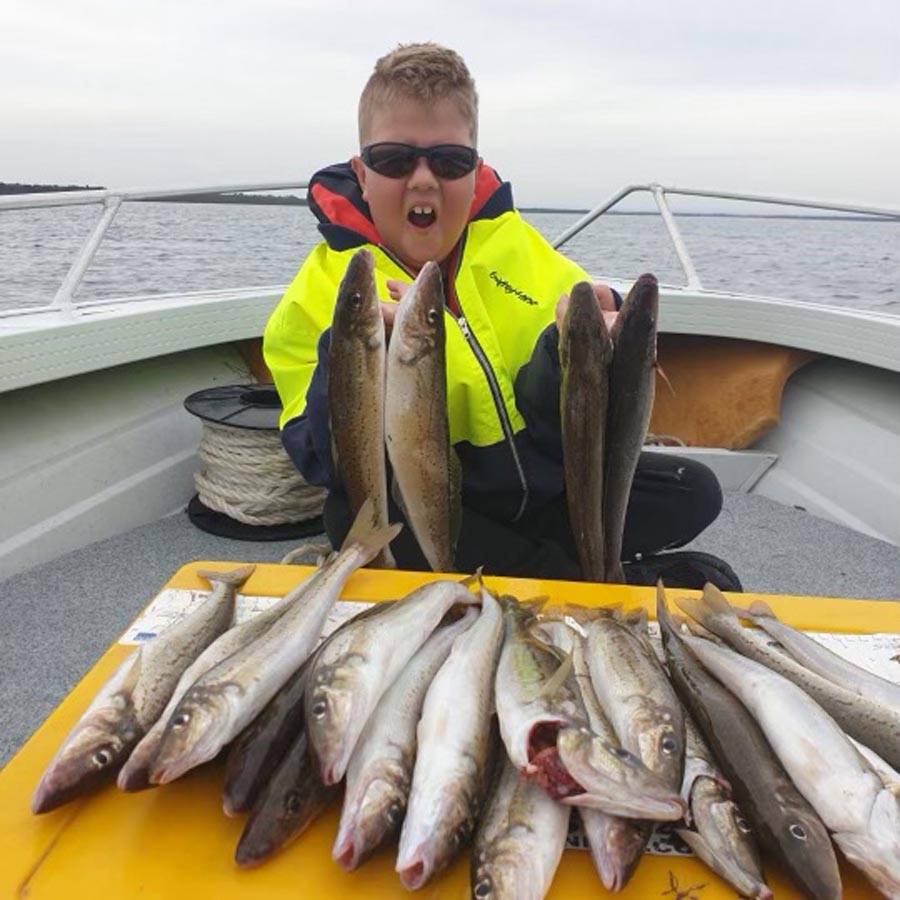 Mason with a nice catch of whiting caught at Middle Spit with his dad.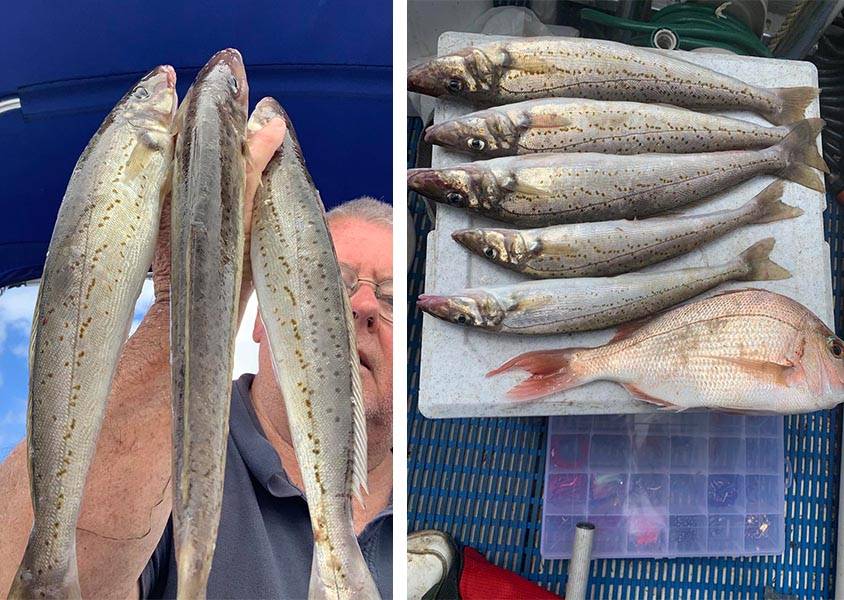 Don Wood with a mixed bag of whiting and pinky snapper caught fishing Middle Spit this week.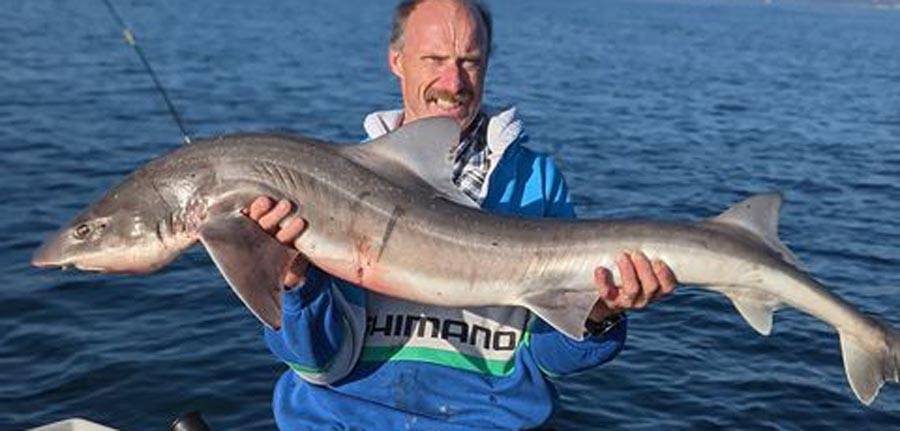 Bruce Ashcoft fished in 12 meters off Eagle Rock during the change of tide and caught this cracking gummy on a whole squid head.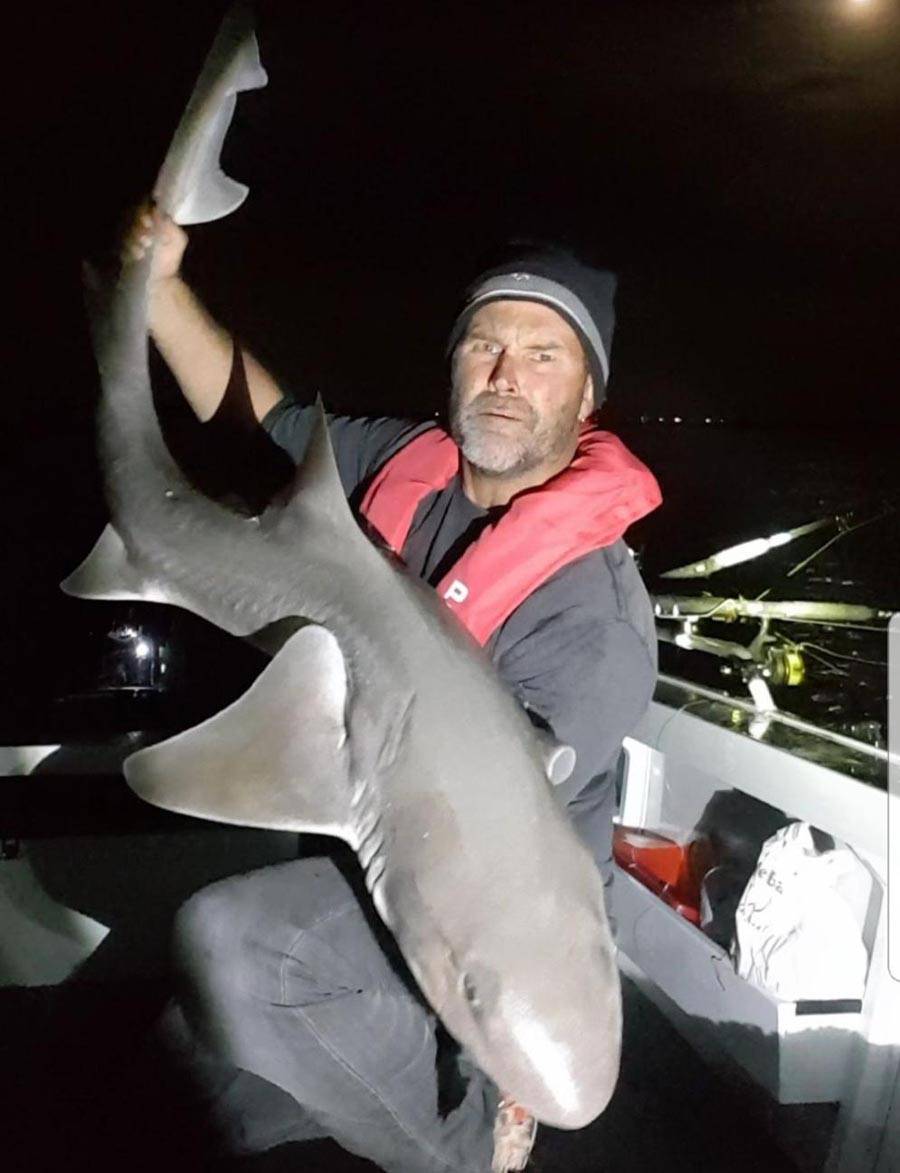 Andrew Ketelaar fished the Boulton Channel during the full moon on Saturday night and landed this fantastic 25kg gummy shark during the run in tide.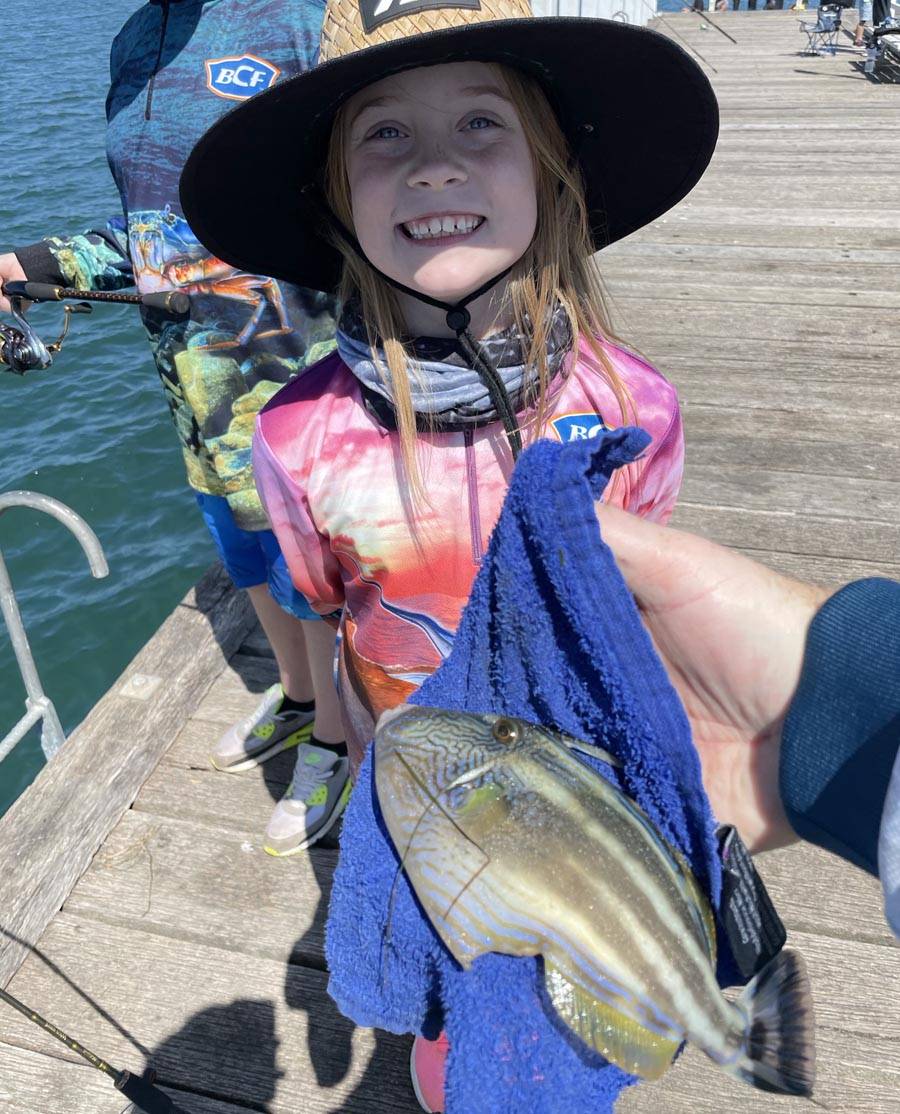 8 year old Tigerlily caught her first ever leather jacket fishing at the Rhyll pier using squid for bait.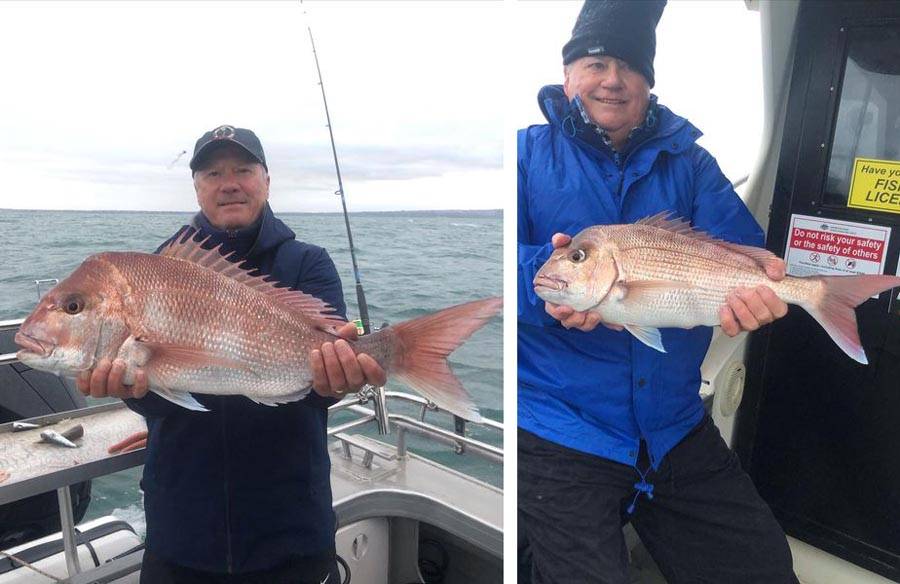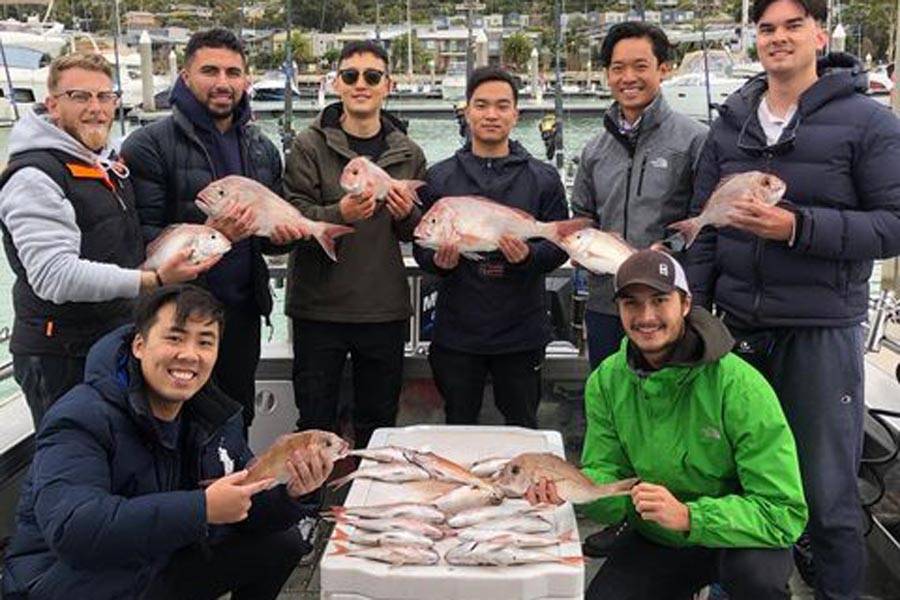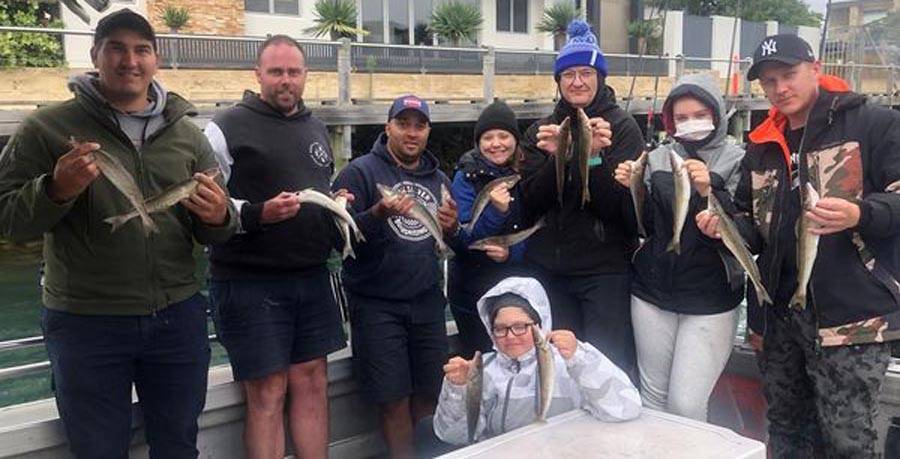 Matt Cini from Reel Time Fishing Charters and his customers have been getting stuck into some fantastic whiting and snapper fishing this past week.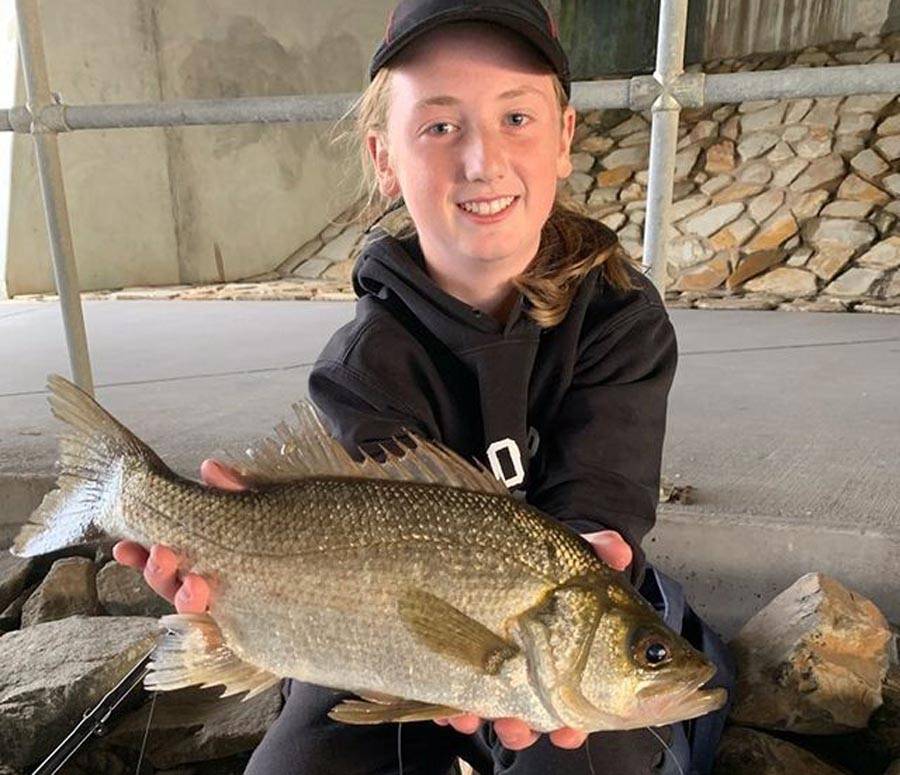 Kai Saxon with a cracker estuary perch caught in the Patterson River.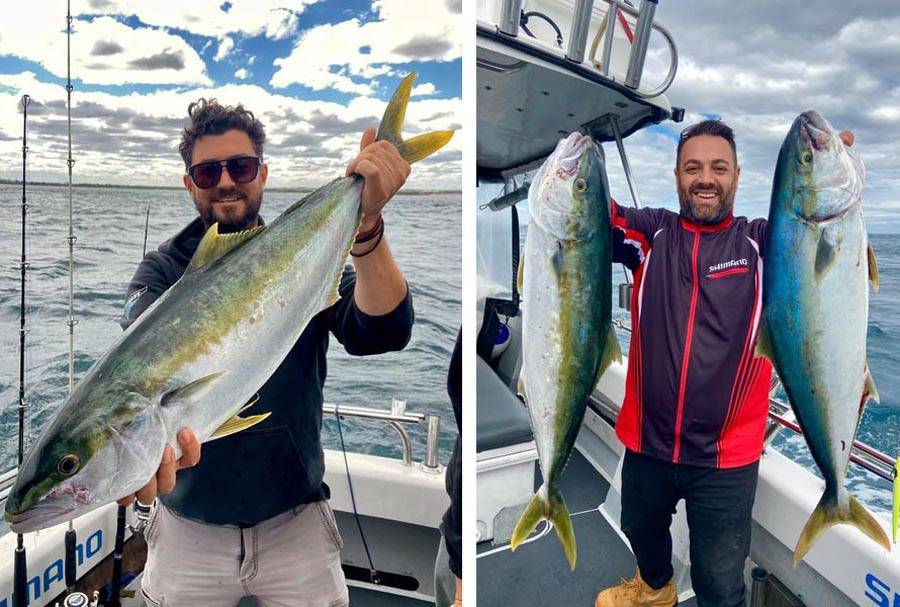 Sharkmen Fishing Charters had Jim's crew on board and they caught some fantastic kingfish in the rip.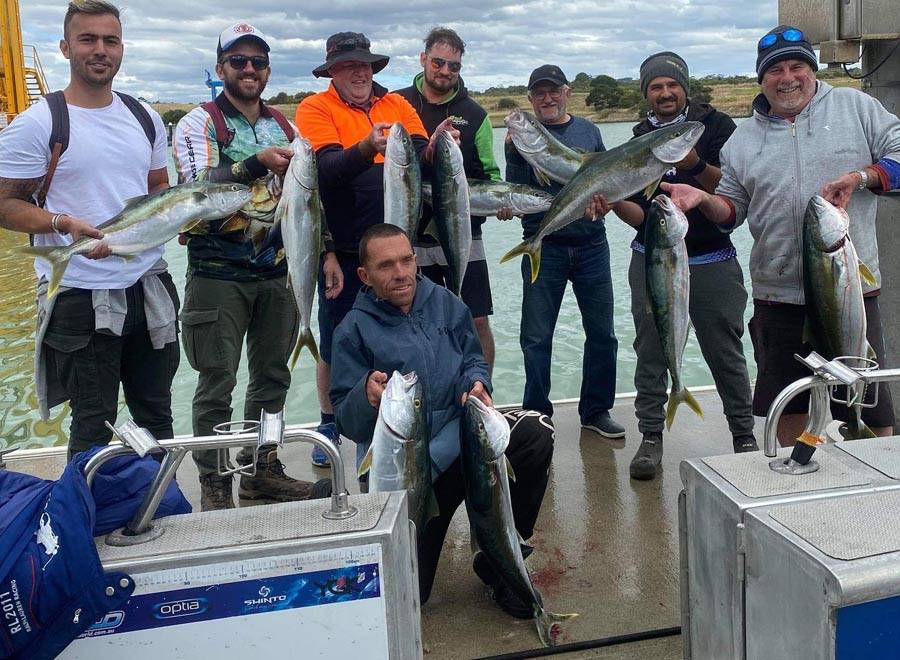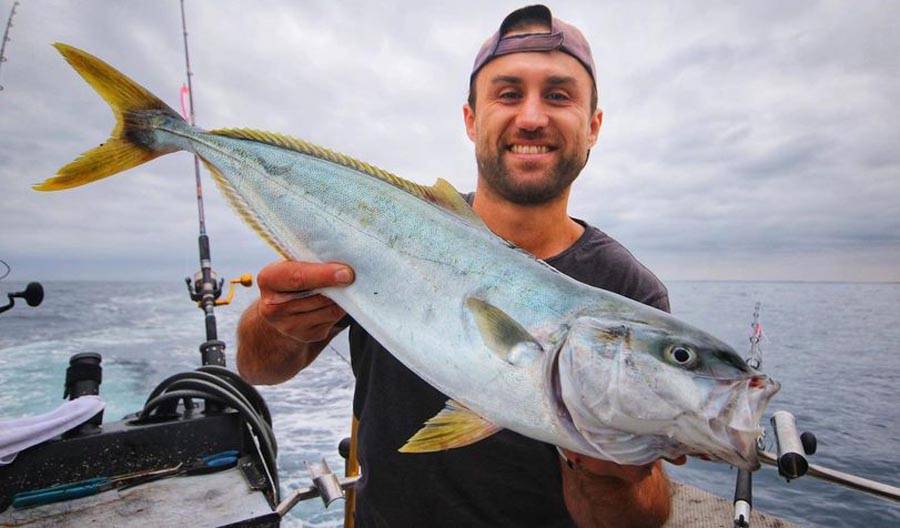 Matt Cini from Reel Time Fishing Charters hit the kingfish in the rip with his customers last week and they landed some fantastic fish. This weekend we should see good numbers come back on the chew in the rip.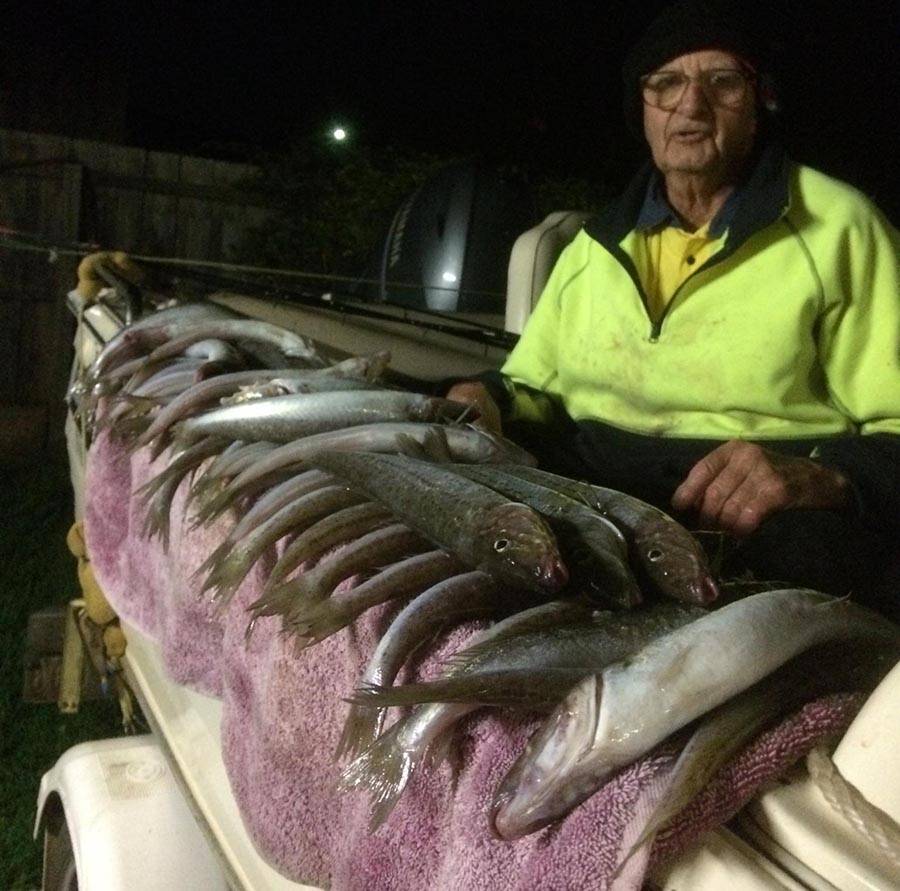 Lance Lockyer with a nice catch of King George whiting to 40cm caught fishing Corio Bay with some friends.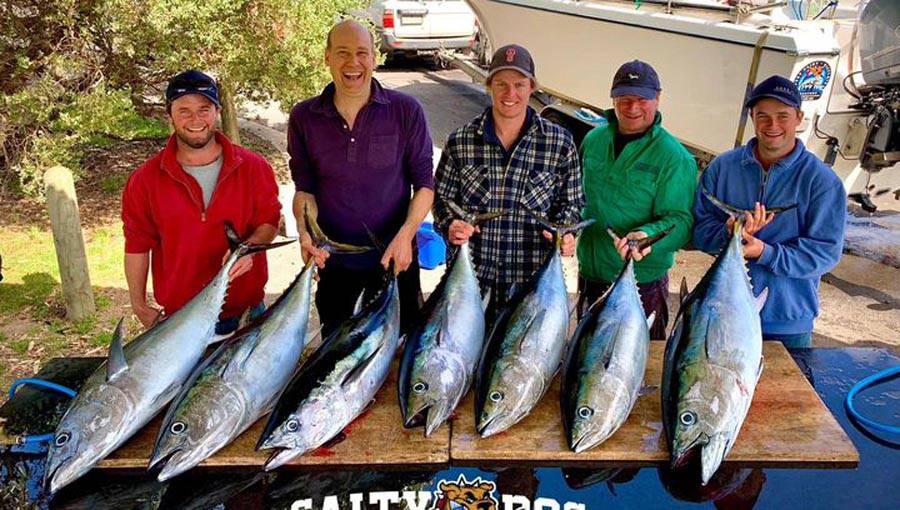 Dan Hoey from Salty Dog Fishing Charters helped his customers clean up on some amazing tuna on his charters this past week.
Brendan Woodman caught his PB yella of 49cm fishing the Campaspe River.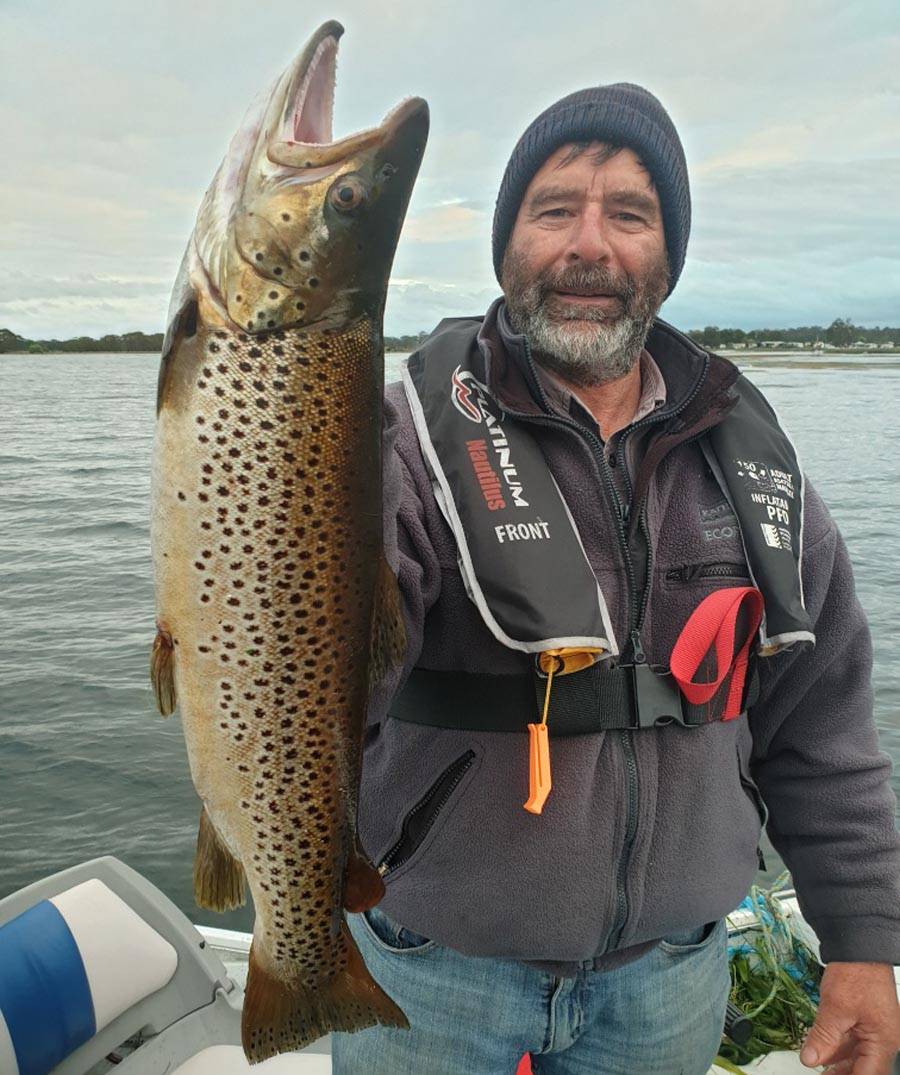 Wayne Bastin with a monster brown trout caught at Lake Purrumbete.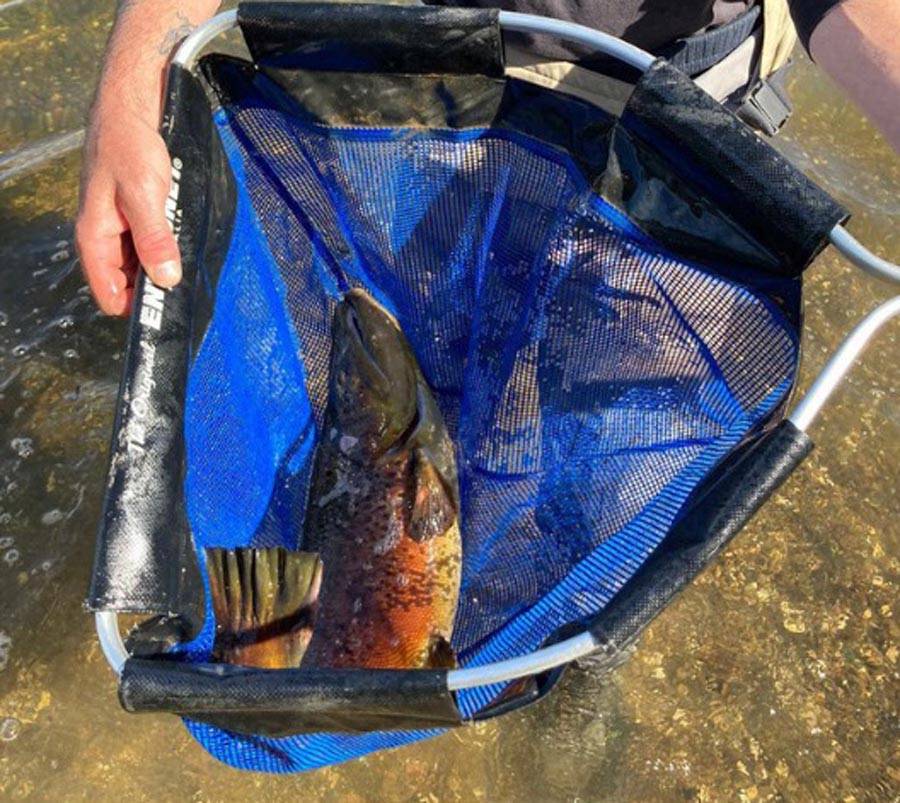 Just in time for the long weekend Eildon Pondage received 50 large broodstock brown trout and 200 catchable-size rainbow trout for the kids thanks to Victorian Fisheries Authority.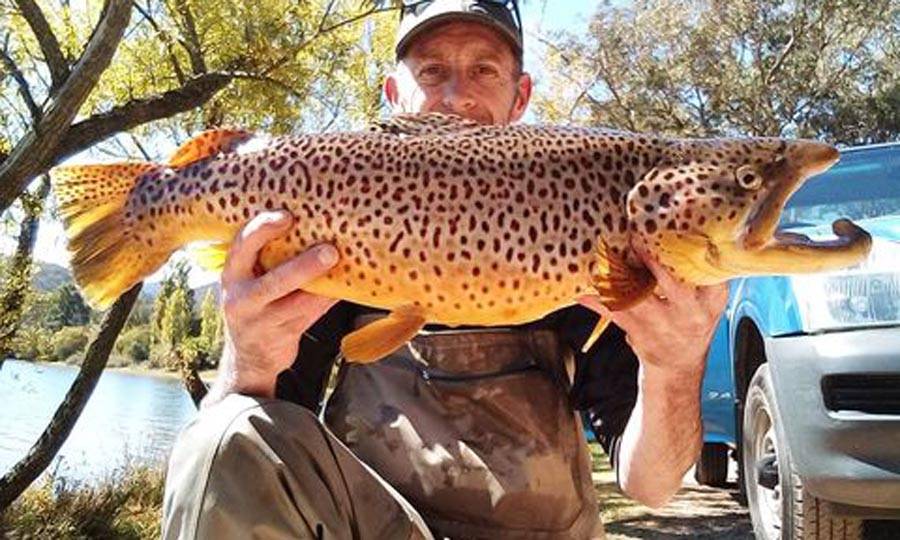 Matt Tormey caught this ripper 5kg brown trout on a gold wobbler lure fishing Eildon Pondage this week.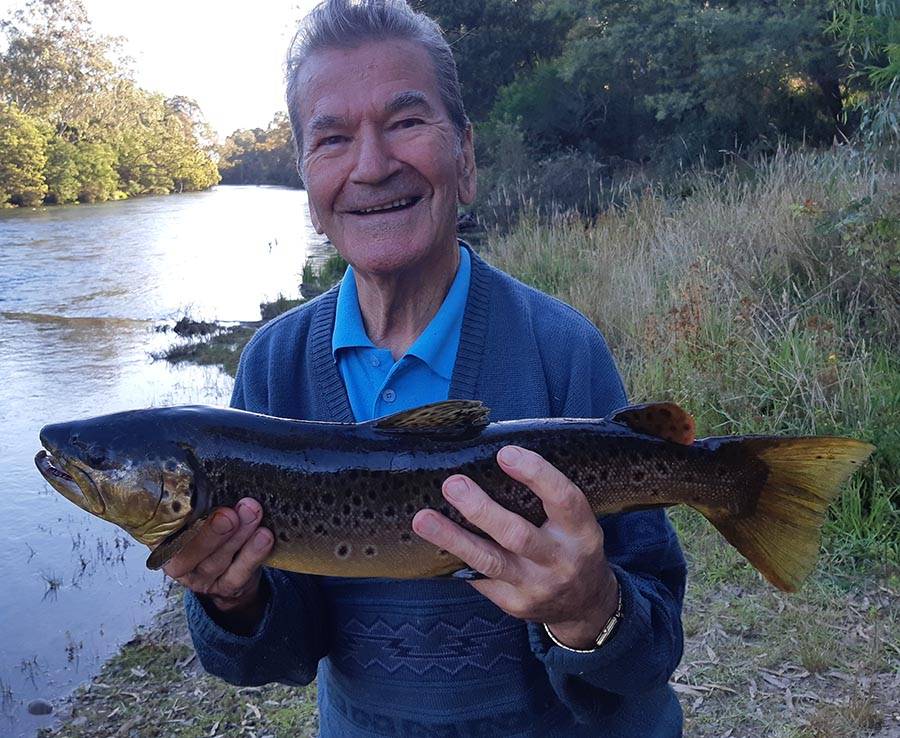 Ilija Veljanovski caught this cracking brown trout using a jointed Rapala fishing the Goulburn River last week.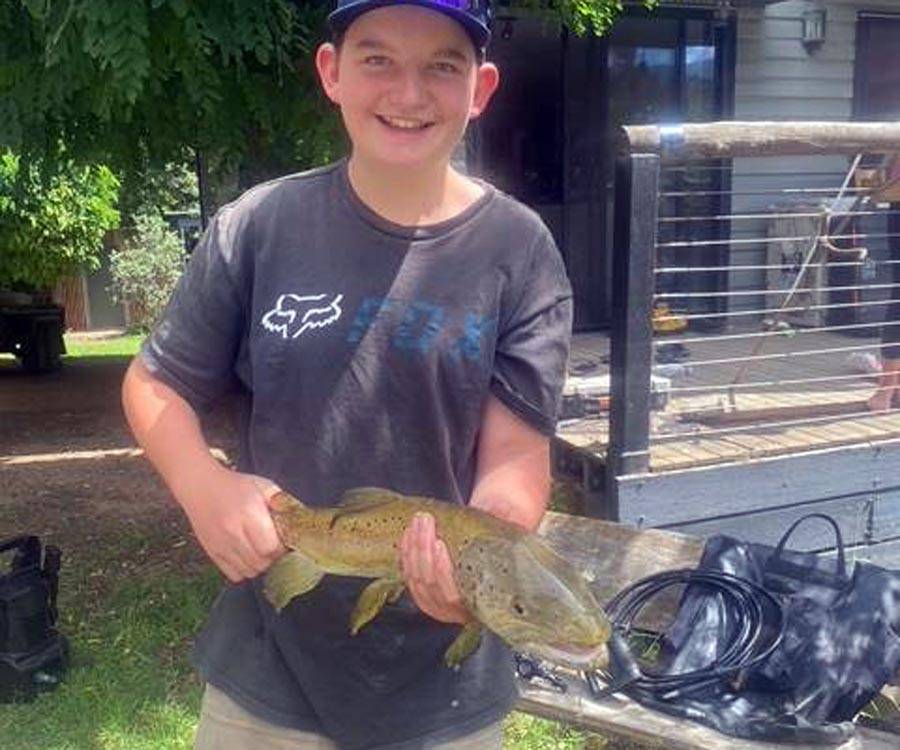 Haidyn caught this fantastic brown trout fishing the Delatite River near Mt Buller.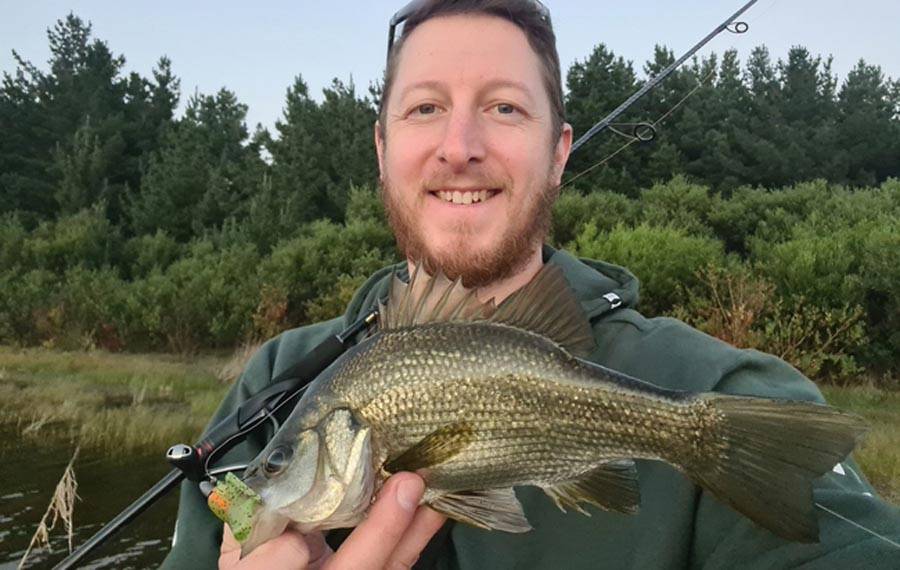 Staff member Brendon Cunningham fished Devilbend right on dusk and managed some beautiful estuary perch using Fuze Triple Tail soft plastics. The key was to wait for the fish to start feeding within the weed line and cast to any disturbance on the surface of the water.
Ben and Terry with their first ever mako shark caught out from Inverloch on the weekend.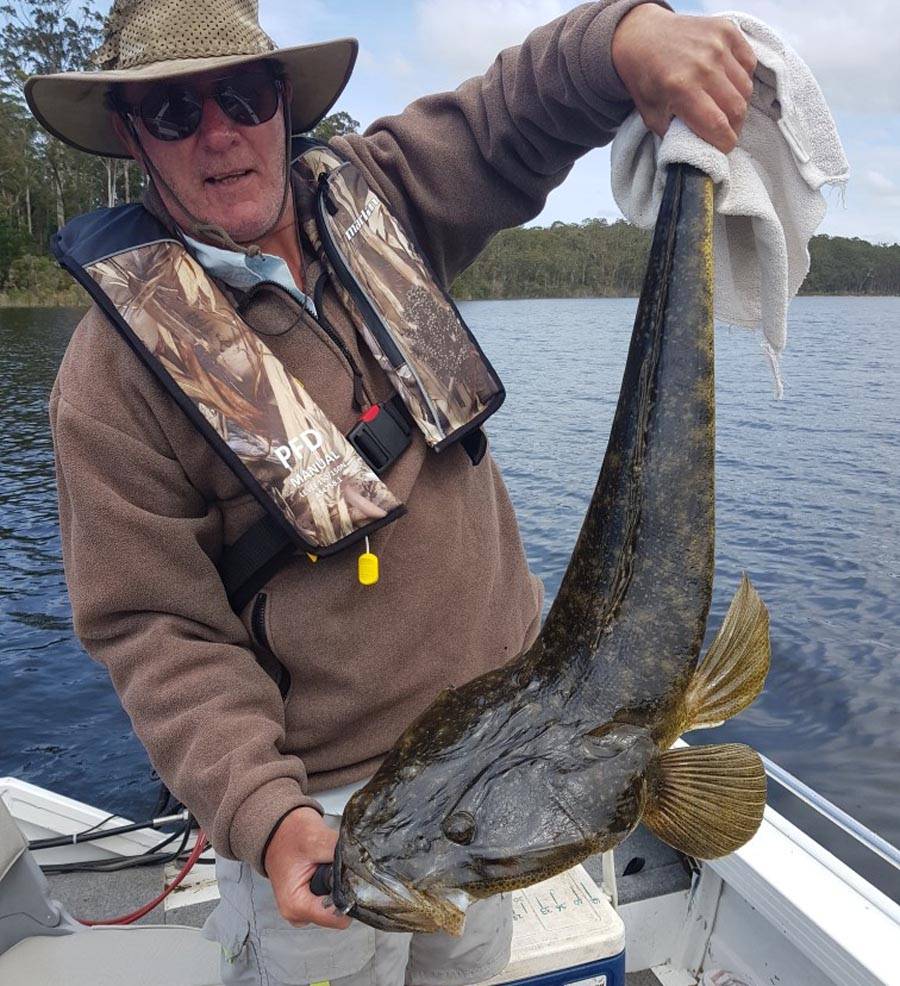 Ray Toohey with a cracking 96cm dusky flathead caught on a soft plastic and released at Lake Tyers last week. Great fish Ray, well done.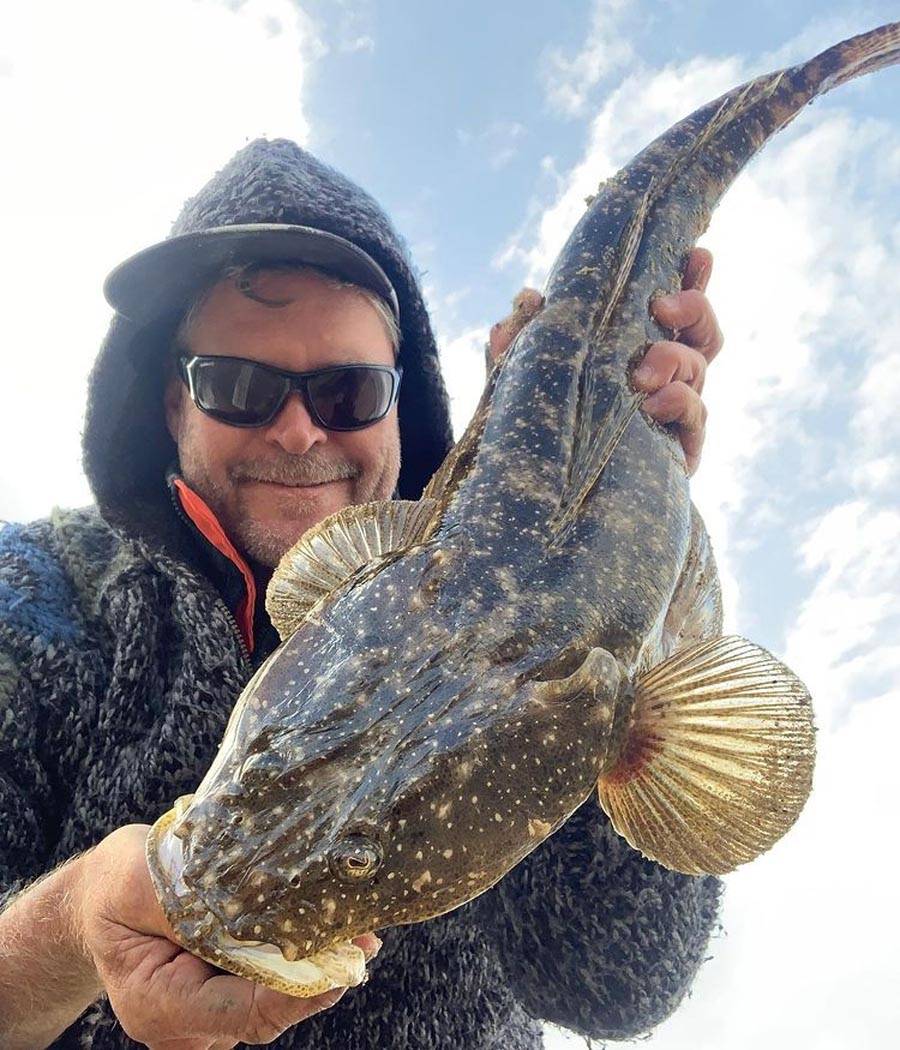 Trent Davis has been catching some amazing dusky flathead at Lake Tyers using soft plastics.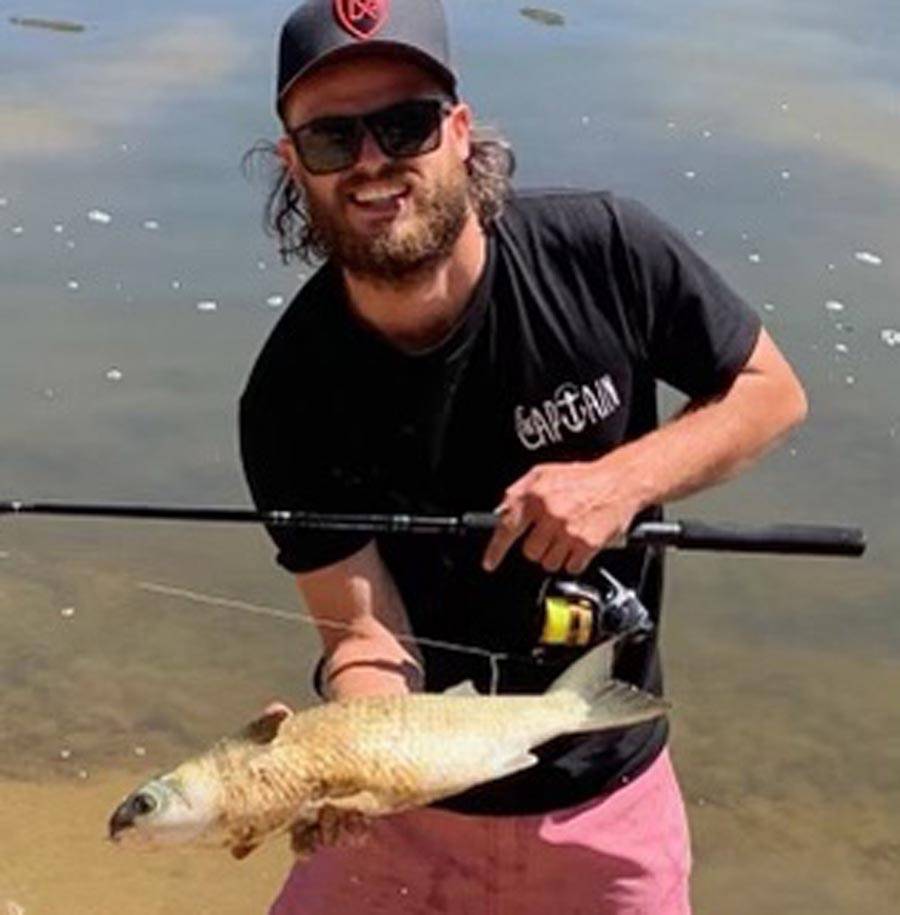 Zac Macmahon caught his biggest mullet fishing at Lake Tyers on the weekend.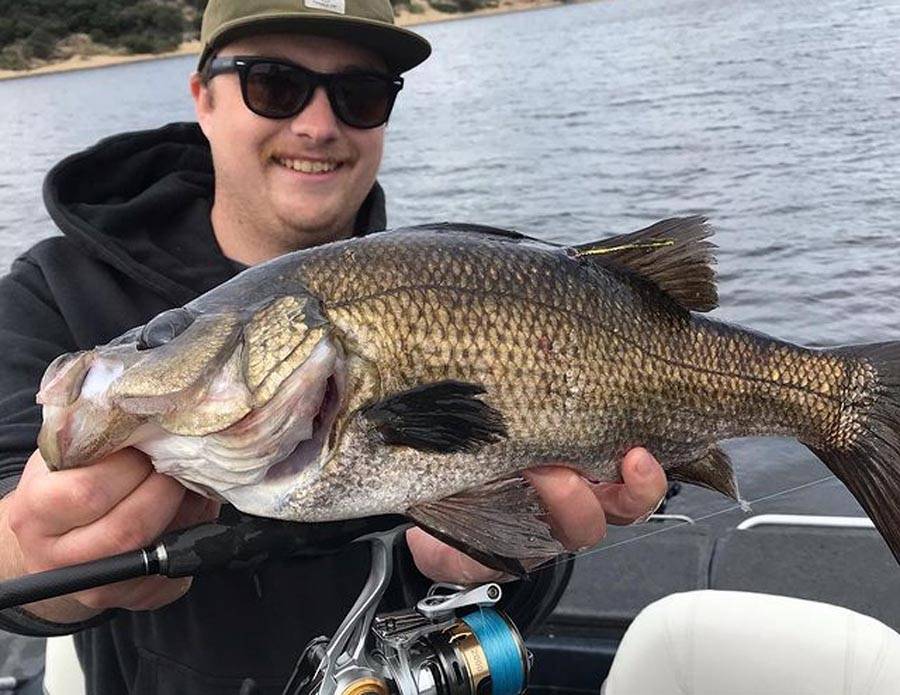 Kallan Braid-Ball fished Bemm River and caught a ripper estuary perch that went in the live well for photos. When brought out of the tank Kal realised the fish was tagged and it landed him $2000, well done Kal!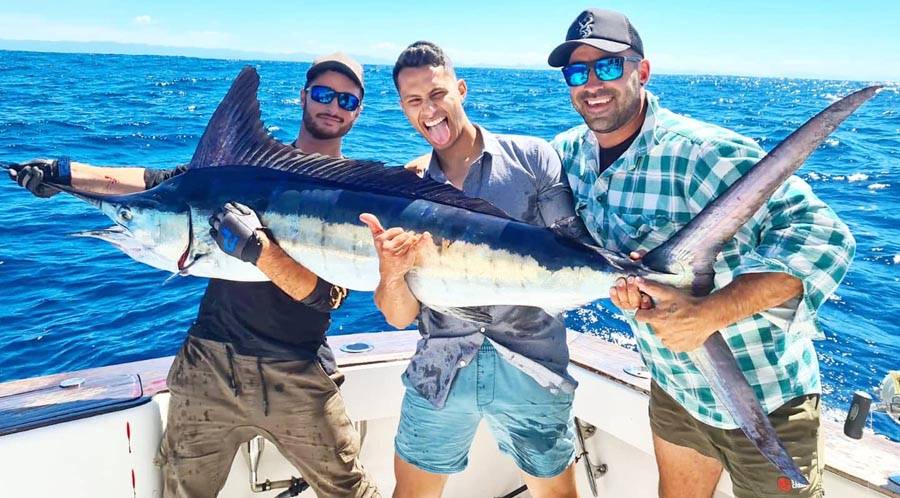 Chris Cassar from Cassar Fishing Charters fished with some friends out from Bermagui on Wednesday and managed 2 from 2 on striped marlin.
Chris Gray fished the new FAD out from Bermagui and caught this ripper dolphin fish.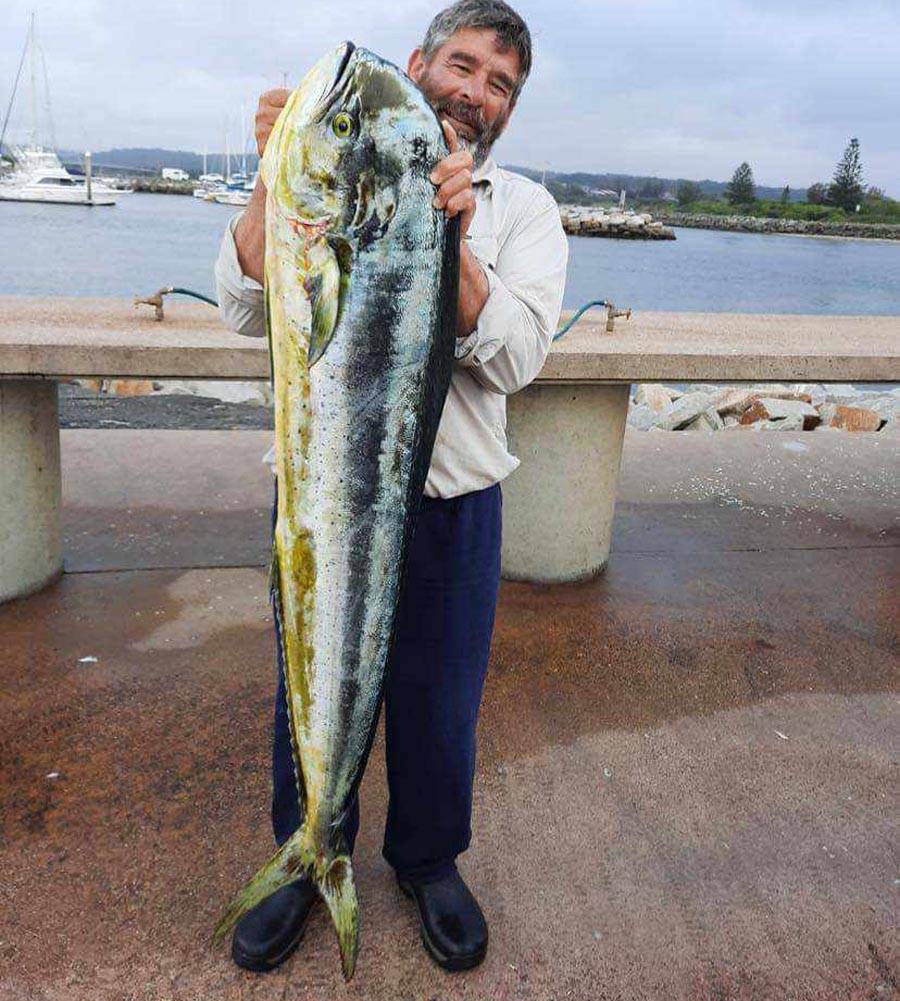 Wayne Bastin caught a beautiful dolphin fish while fishing out from Bermagui.
IFISH WITH TACKLE WORLD ON TEN BOLD - SERIES 15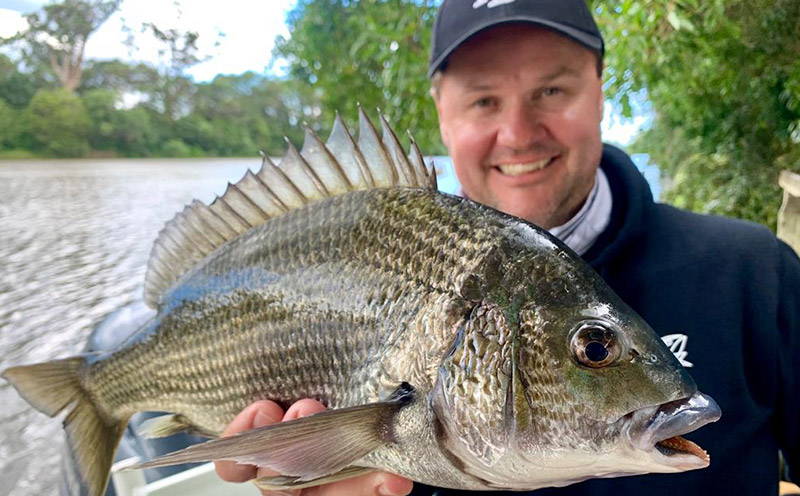 IFISH WITH TACKLE WORLD ON YOUTUBE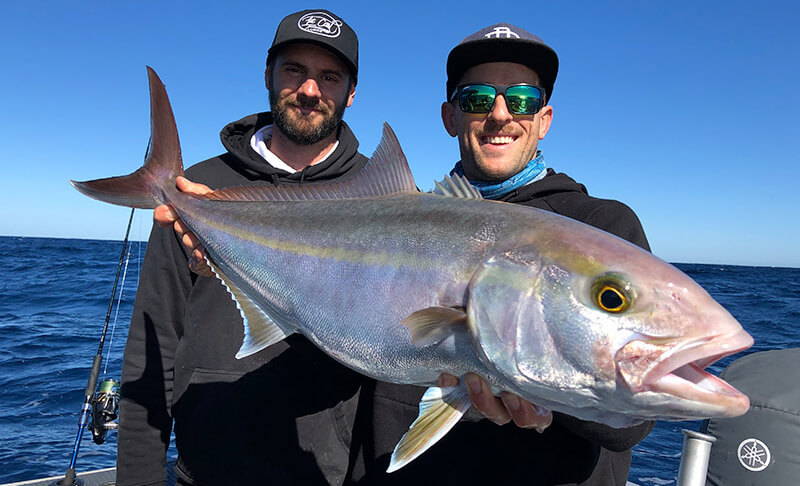 Catch past episodes of IFISH TV on Youtube so you can get your fishing fix any time, any where.
TALKING FISHING - C31 - TUESDAYS at 8.30pm
Catch "Talking Fishing" on Melbourne's C31 TV (CH44) at 8.30pm each Tuesday night. Staff members David Kramer and Adam Ring together with Steve "Trelly" Threlfull host Australia's only "Live to Air" fishing television program at this prime time-slot. Put Tuesday night's at 8.30 away in your weekly diary of TV shows to watch!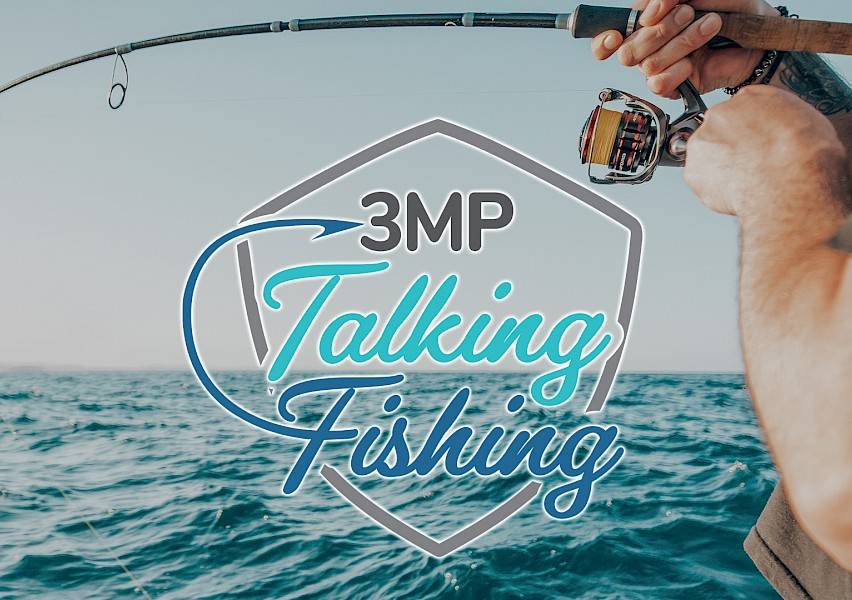 Catch a new episode of Talking Fishing on 3MP every Friday presented by staff members David Kramer and Adam Ring. The boys chat with charters operators and prominent anglers to find out what's biting and where plus each week there's a special guest talking serious fishing. Add in a fresh fish market update and all the Fisheries news. It's a weekly program not to be missed. Download the podcast here:
Most pandas in the world are on loan from China.

Good Luck with your fishing and stay safe on the water,

The TEAM at Tackle World Cranbourne & Mornington