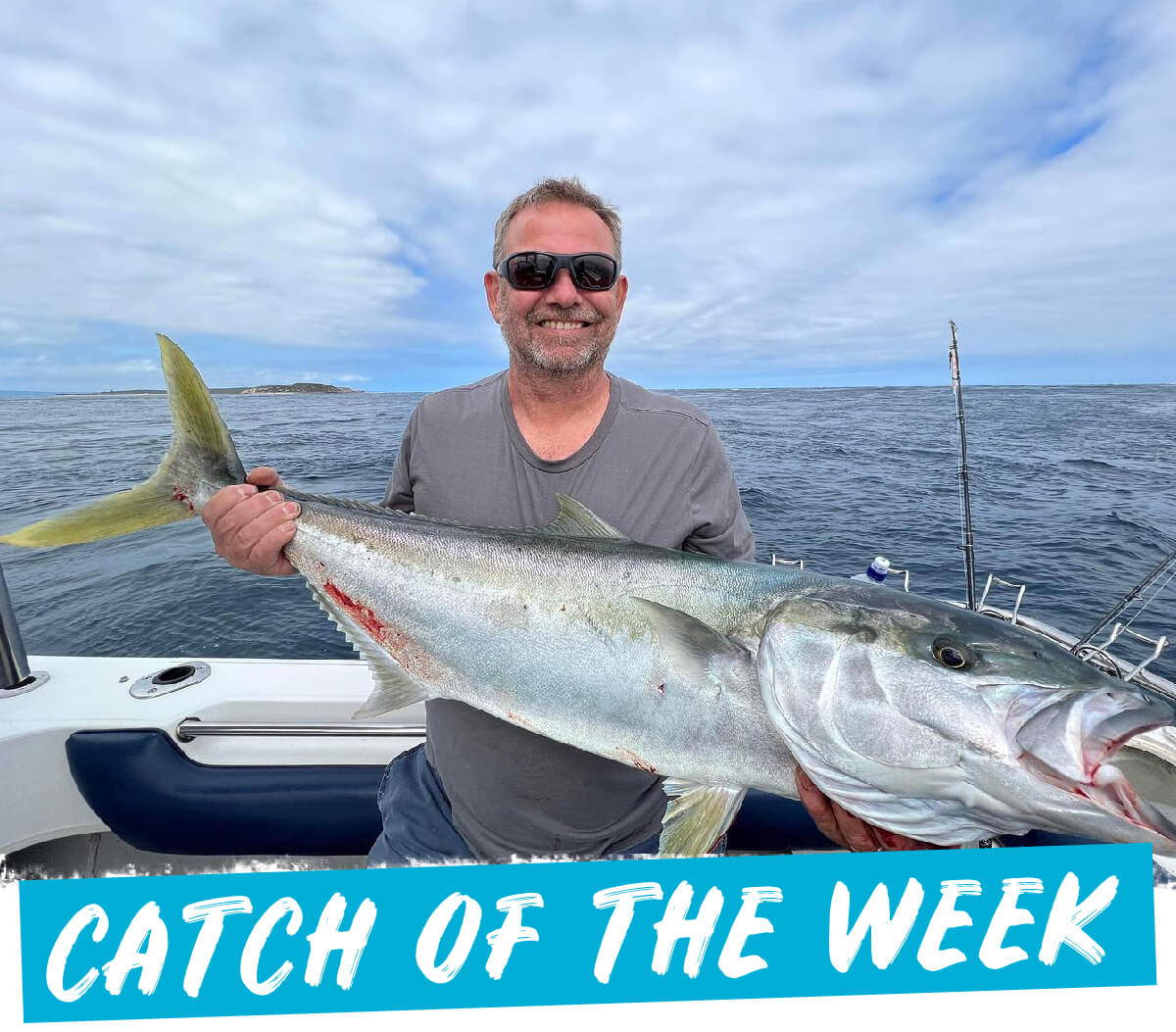 Congratulations to Duane Barton on guide with Matt Cini on your metre plus kingfish caught in the Rip, you are this weeks Catch of the Week.
Be sure to check out Paul's detailed fishing report in the video above.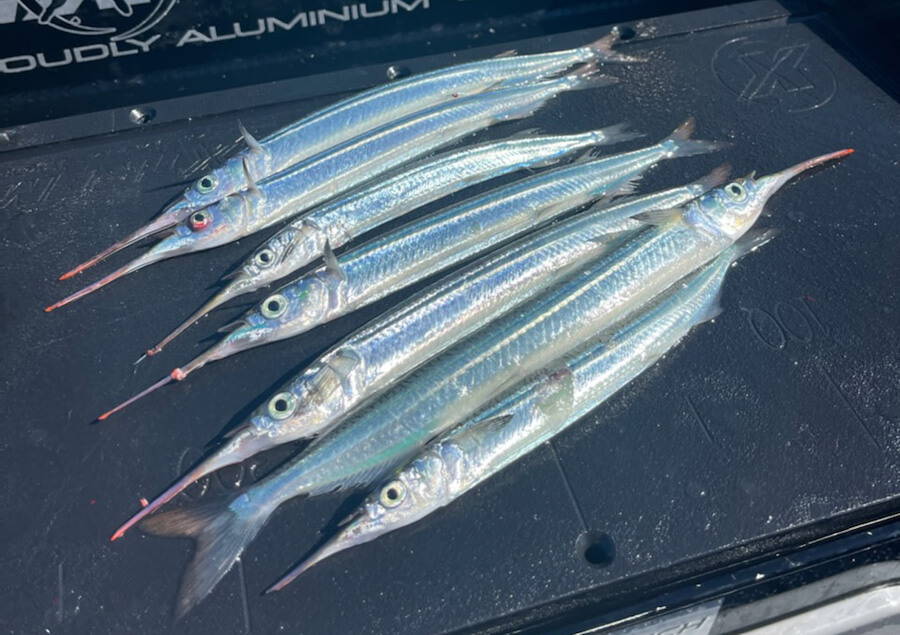 Paul and Jet Worsteling and a friend headed out from Mount Martha in search of snapper on Sunday morning. They sounded plenty of fish but couldn't get them to take a bait. While on the snapper grounds they kept coming across massive amounts of garfish so they set up some light gear and caught some beautiful garfish for a feed and bait restock using pilchard fillets and maggots for bait.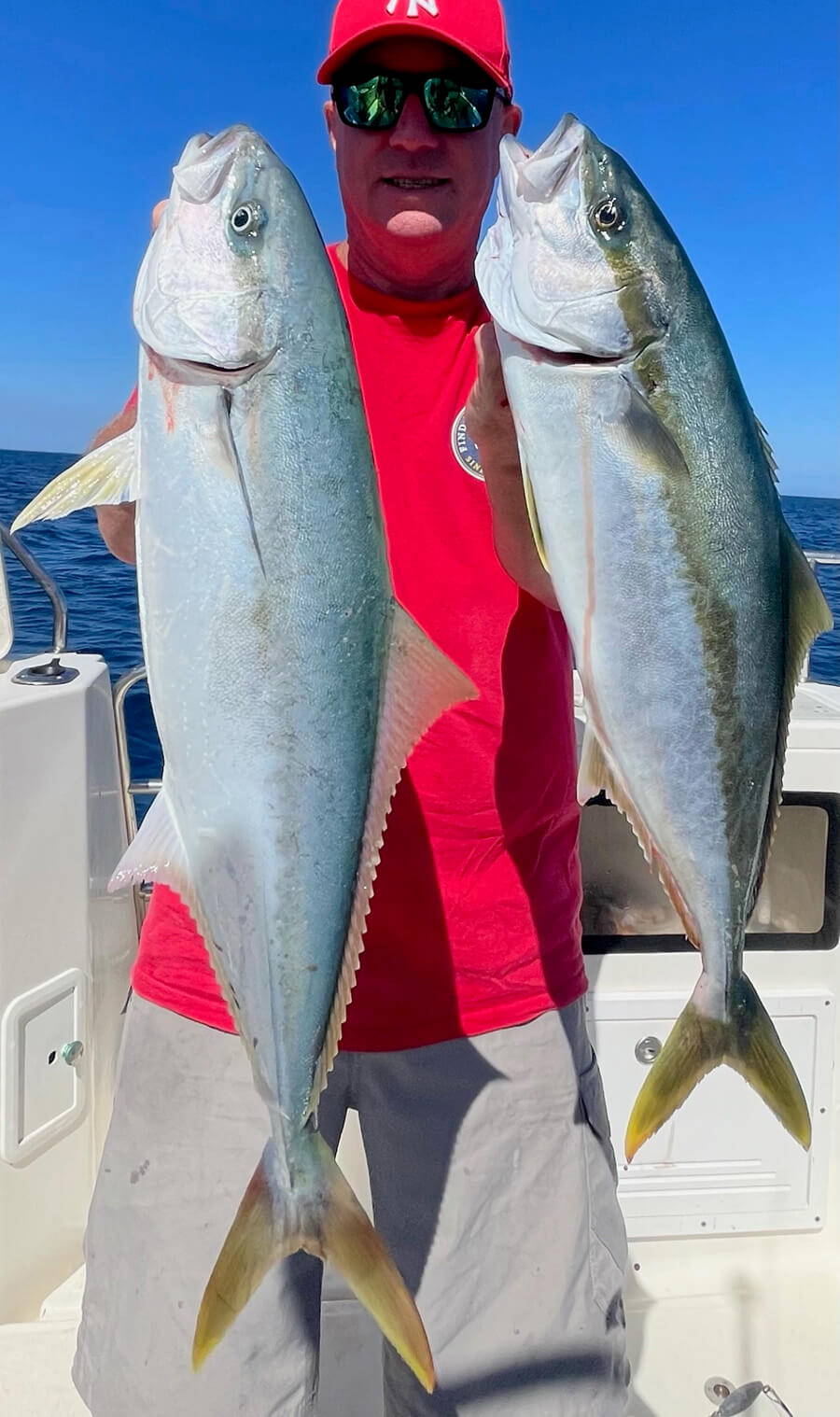 Staff member David Kramer landed some beautiful kingfish off Point Lonsdale on Sunday in 40 metres of water using arrow squid for bait.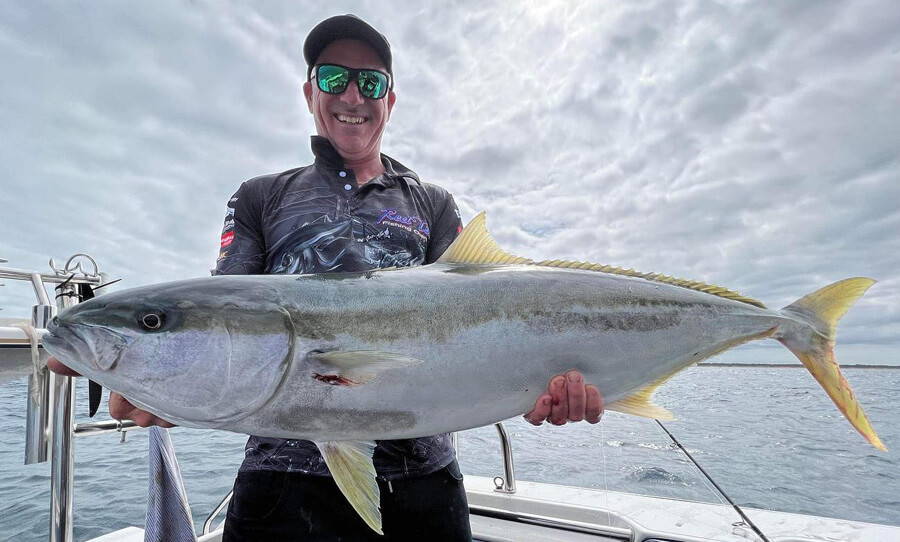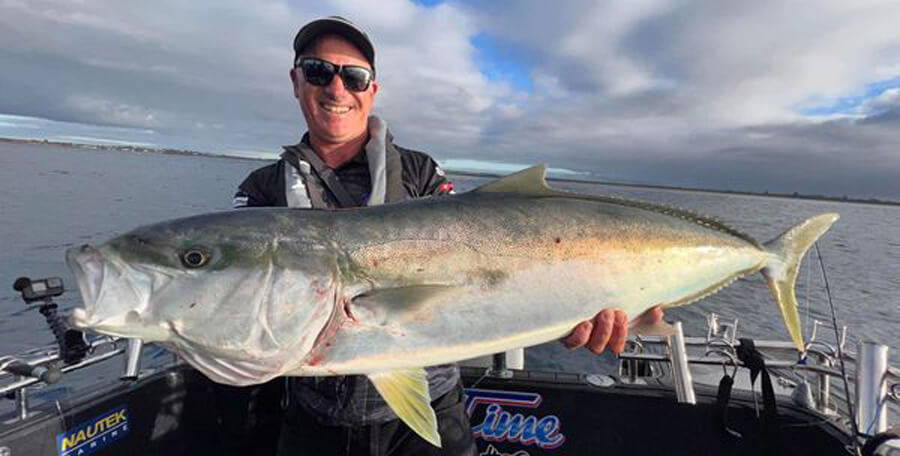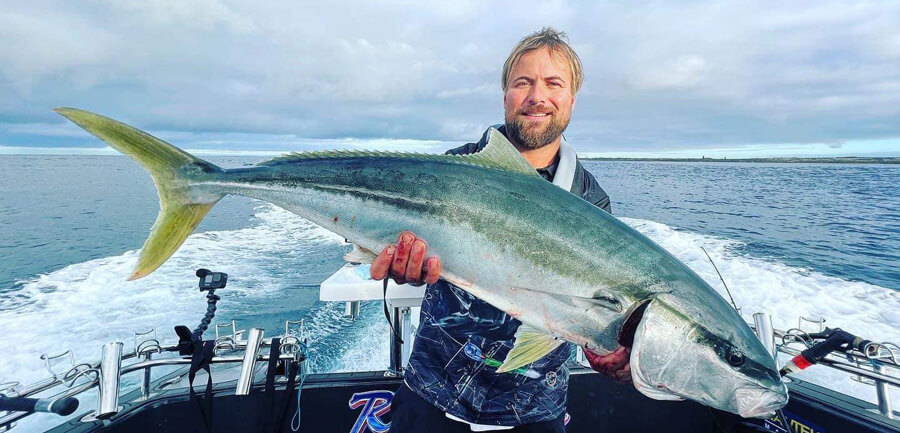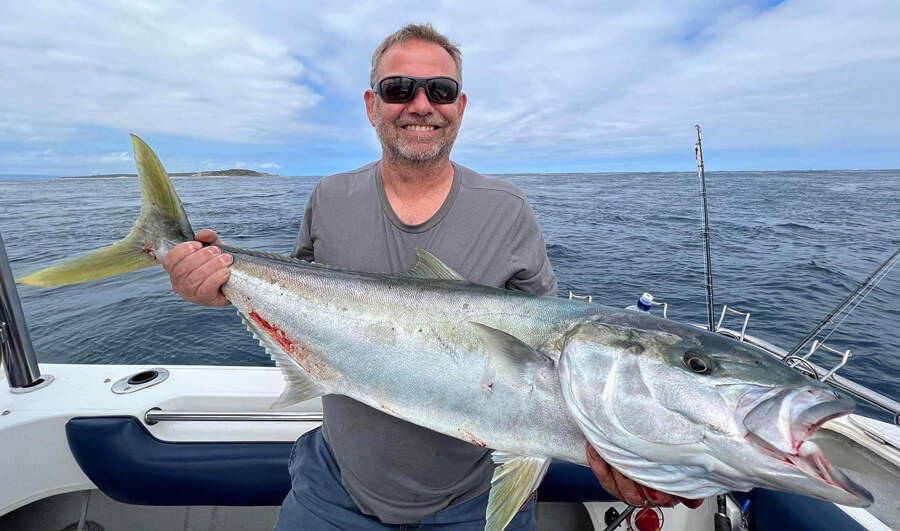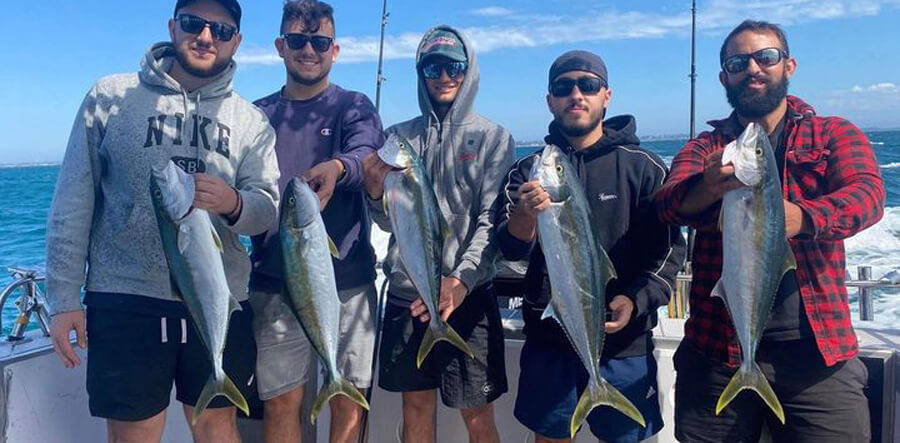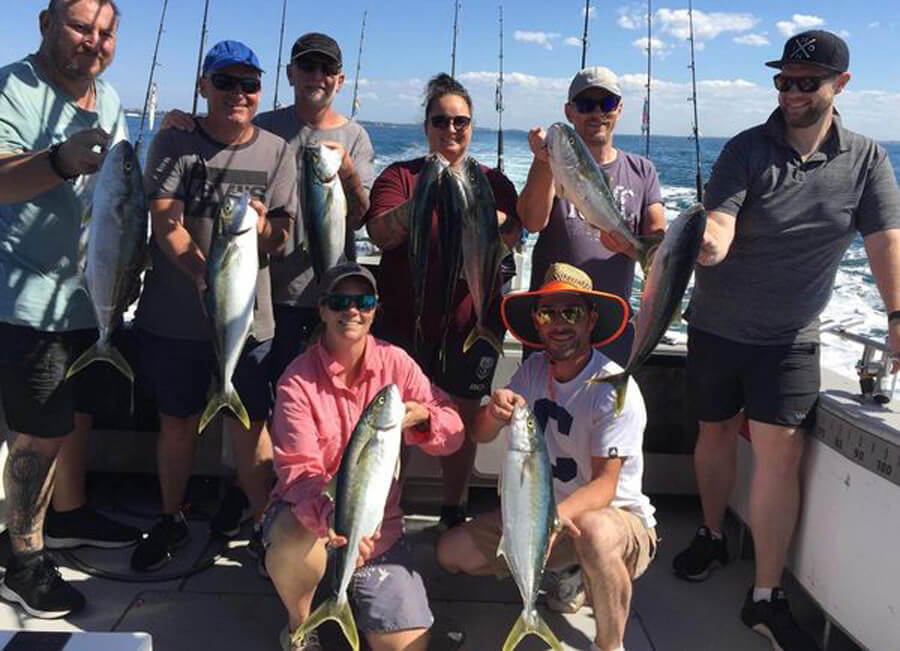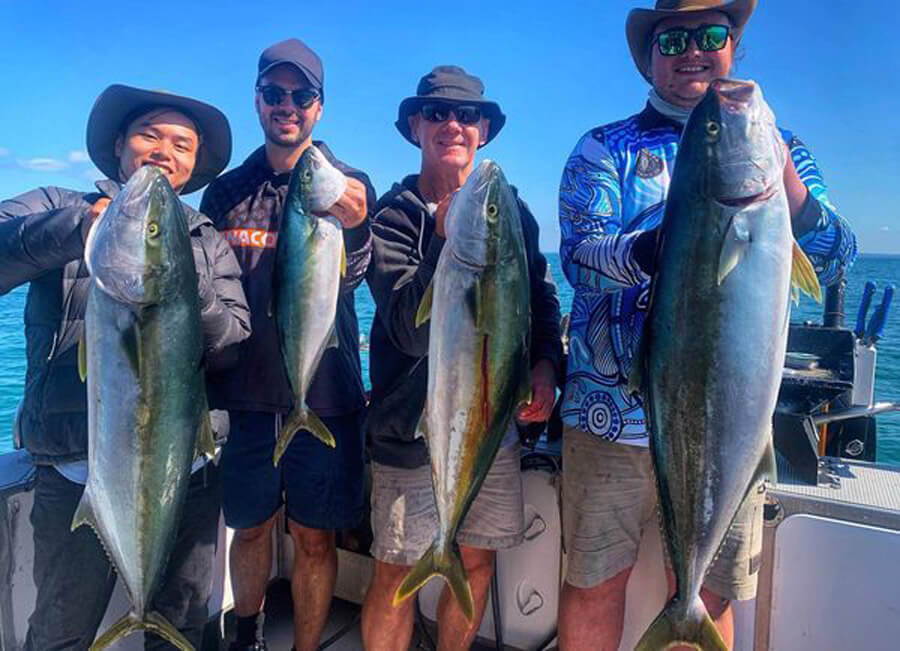 Matt Cini and the Reel Time Fishing Charters crews fished The Rip and offshore this week and caught some cracking kingfish to over 1m.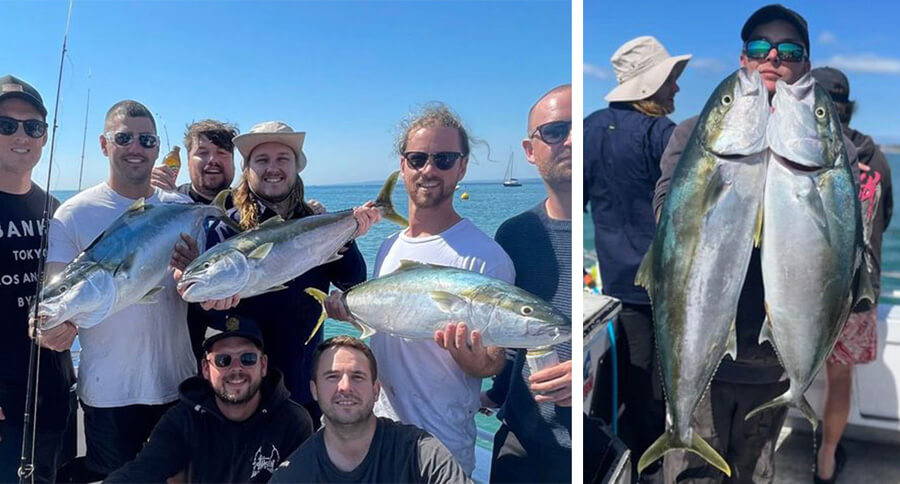 Marco from Sharkmen Fishing Charters got his customers on to some fantastic kingfish offshore over the weekend.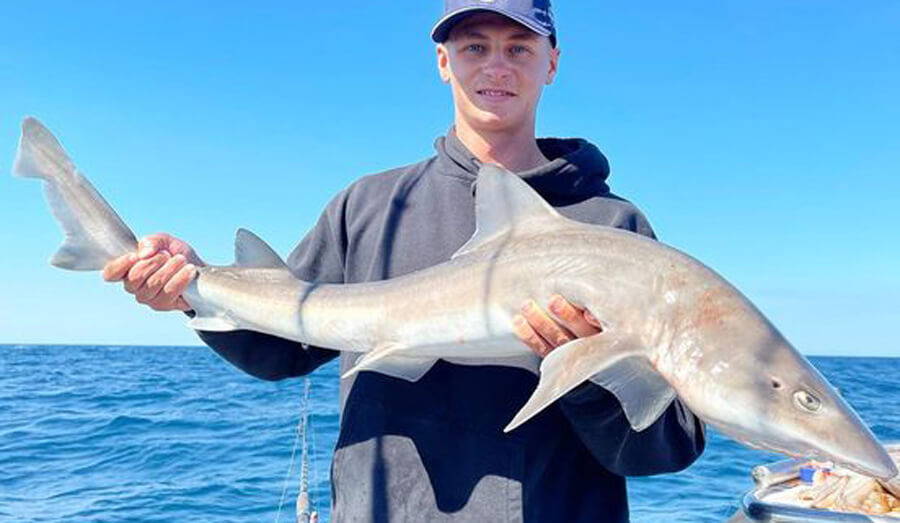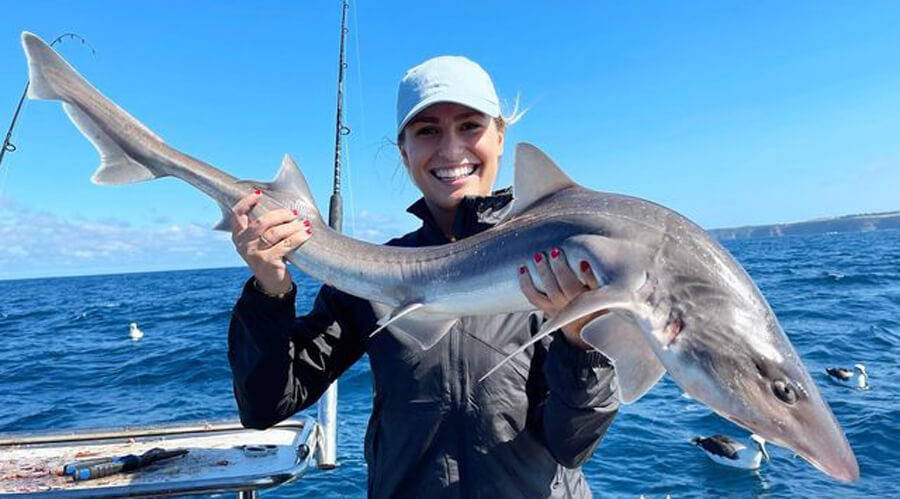 Chris Cassar from Cassar Fishing Charters caught some fantastic gummy sharks with his customers offshore this past week.
James Andrewaetha headed out on the kayak at Shoreham around 3 am to fish the end of the high and start of the run out tides. He landed this nice gummy in the channel that went 119cms.

Jason with a thumper 47cm whiting caught at Sandy Point.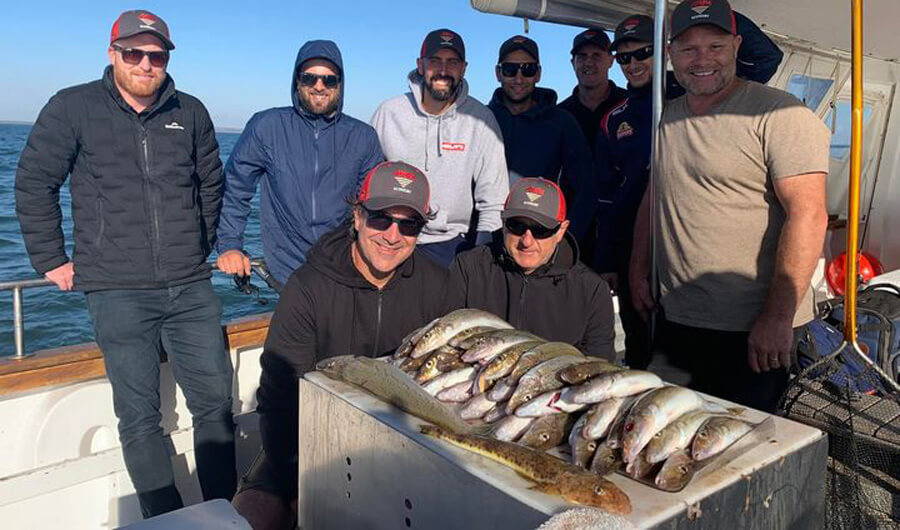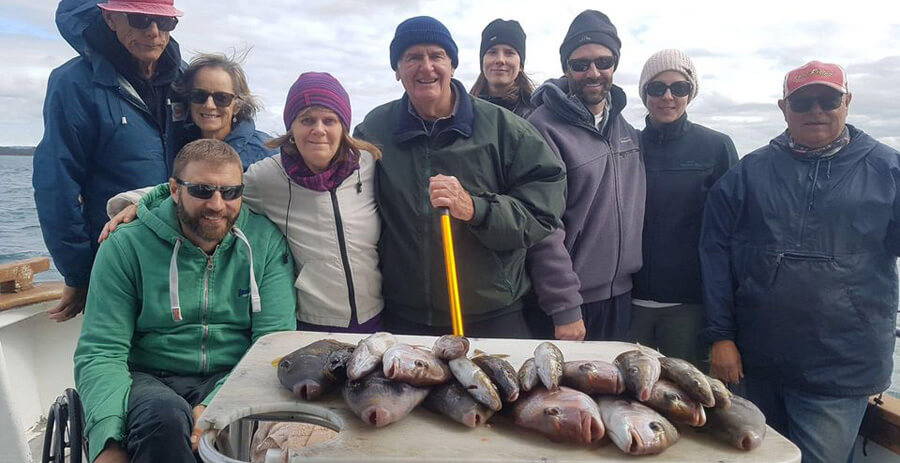 Steve Johnston from Ace Fishing Charters caught some fantastic whiting and snapper with his customers this week with his hot spots being Middle Spit and Hahns Inlet.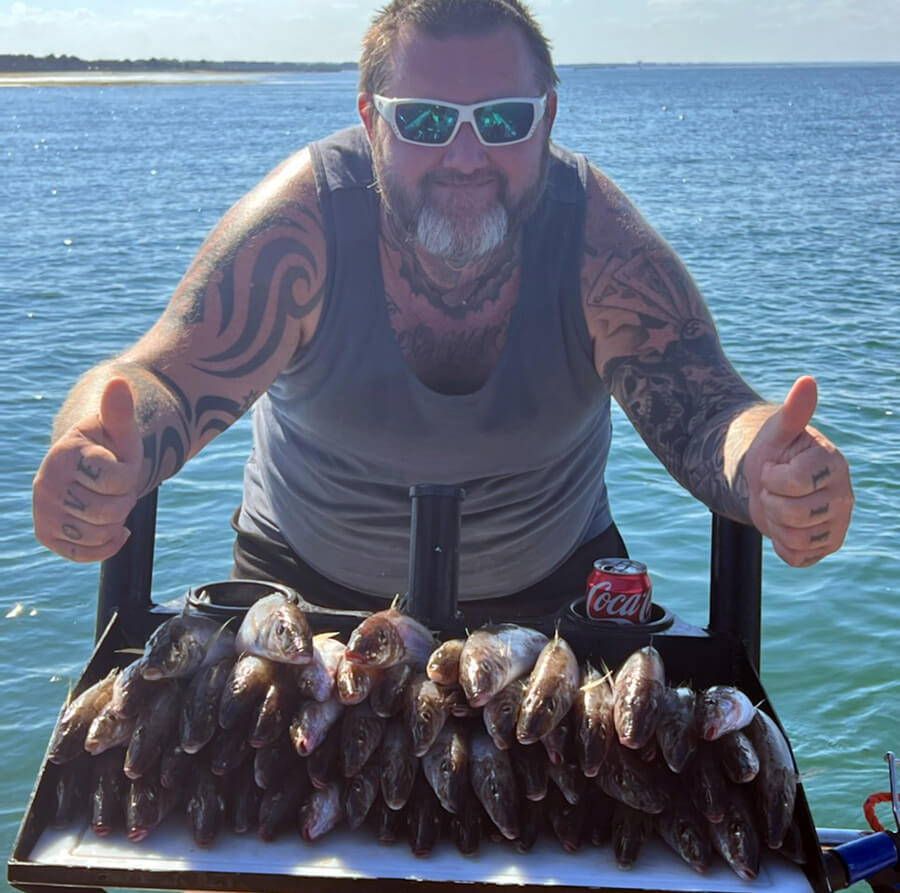 Michael Woods and some mates smashed the whiting at Middle Spit using pipi and squid cocktail baits.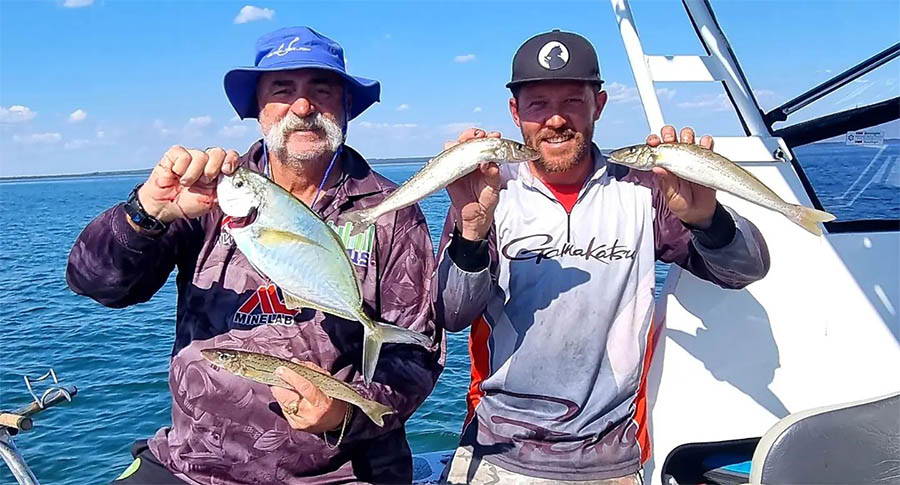 Borno fished with Merv Hughes as part of his Peninsula Snapper Challenge prize and caught some fantastic whiting and trevally at Middle Spit in 8 metres of water using squid and pipis for bait.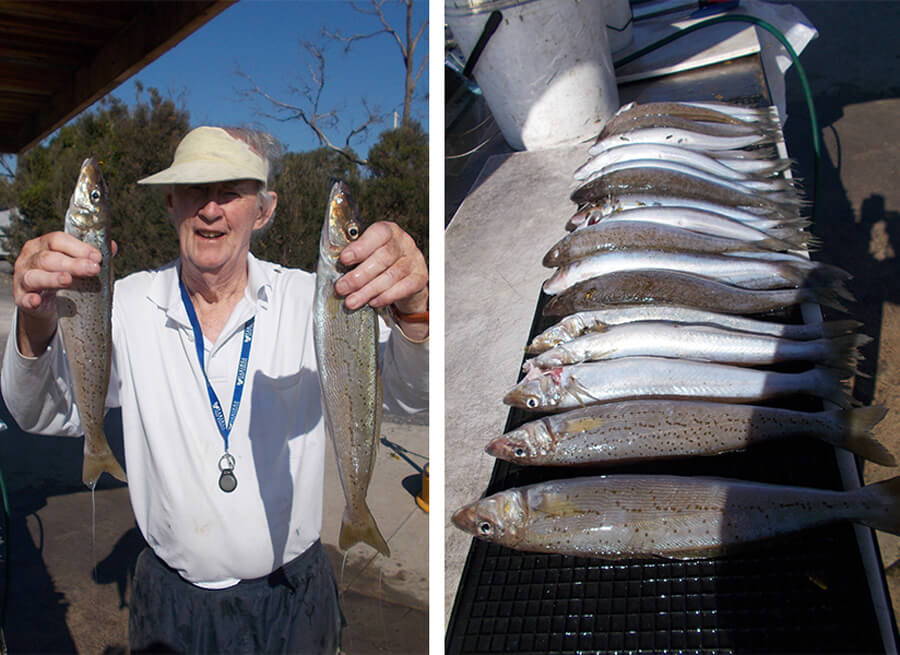 David Milne and Mick James fished shallow at Tyabb Bank for some solid whiting to 45cm, they finished off their bag fishing Tooradin and Middle Spit.
Cooper Bell caught his first decent gummy fishing at Lang Lang with his dad.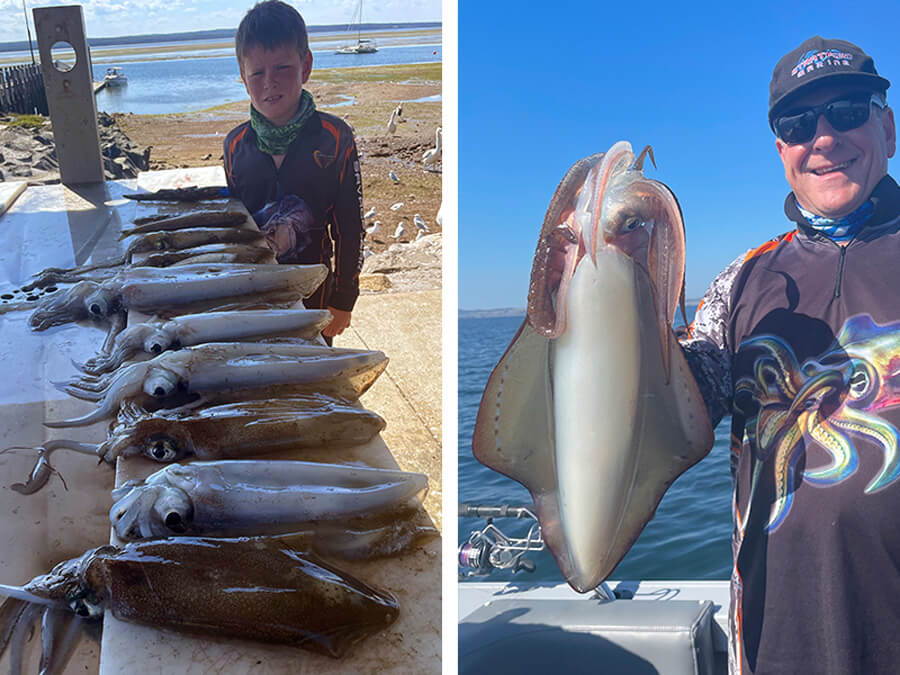 Matt and Mitchell Bradshaw report in from a fantastic session on the squid to 43cm (hood) fishing the Coronet Bay area.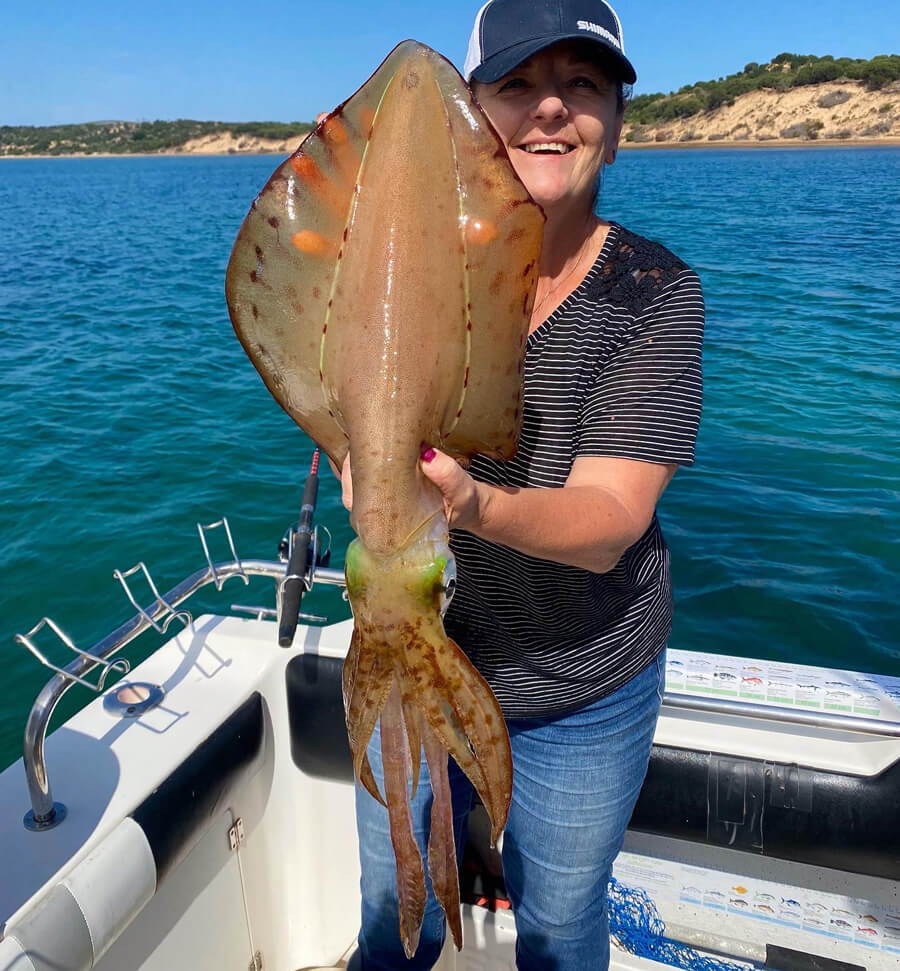 Amanda Keilar caught this 46cm (hood) stonker squid fishing Cleeland Bight.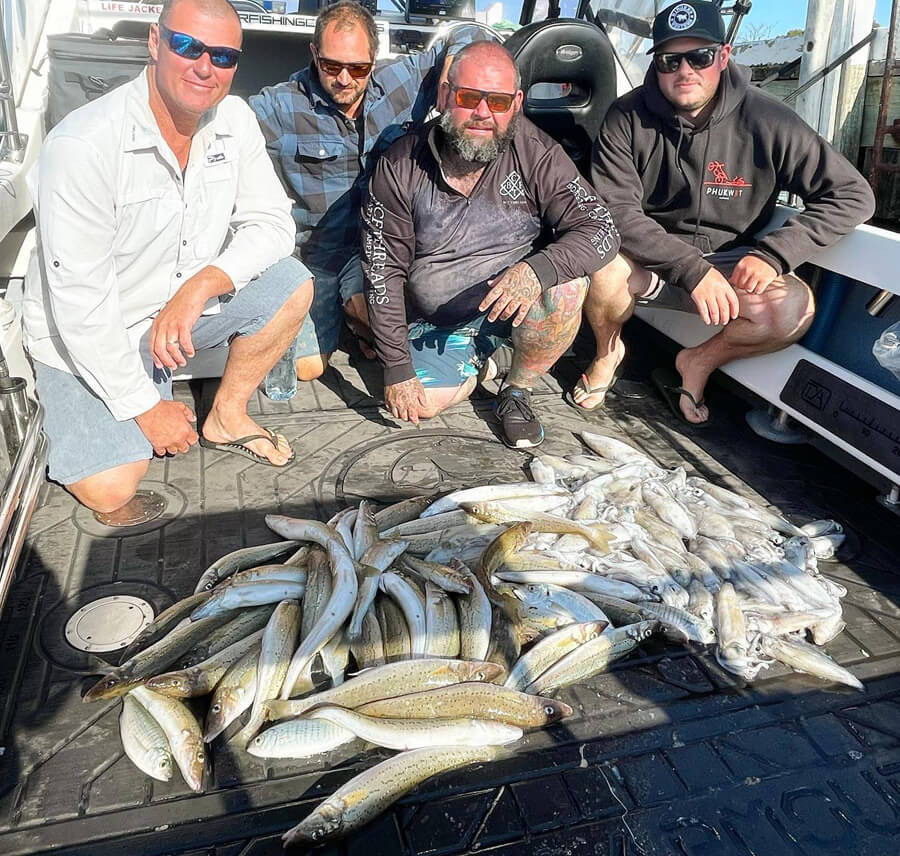 Chris Cassar from Cassar Fishing Charters found plenty of squid and whiting with his customers fishing Port Phillip Bay this week.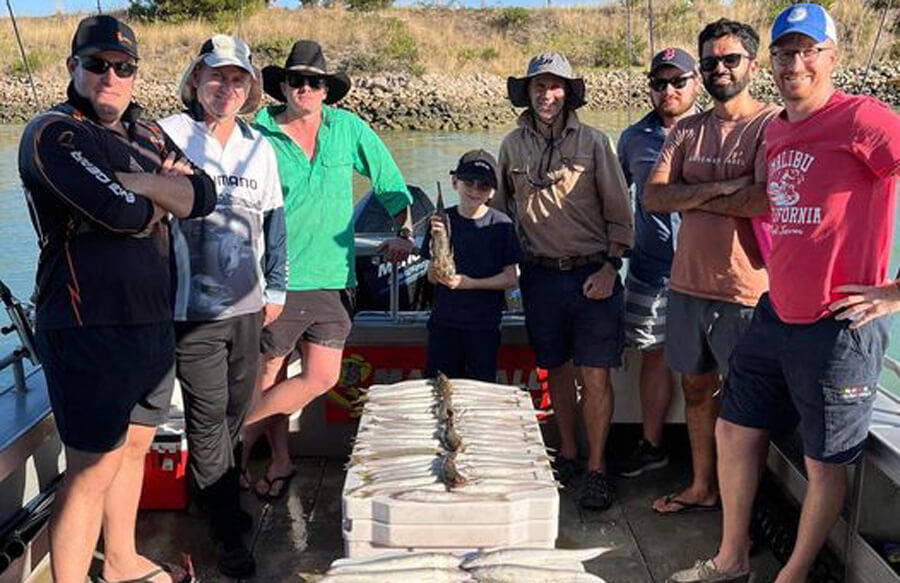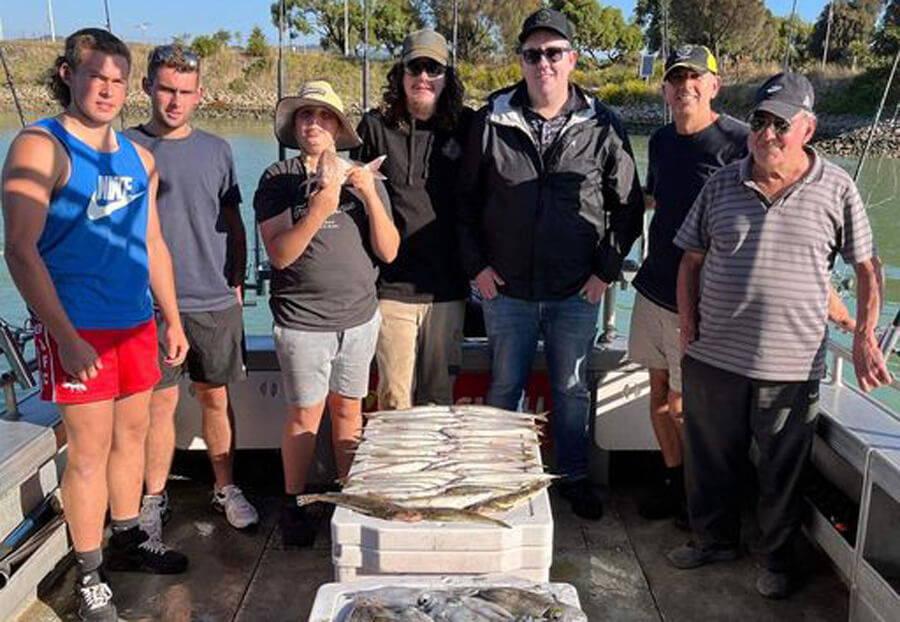 The Reel Time Fishing Charters crews caught some fantastic squid and whiting with their customers fishing Port Phillip Bay.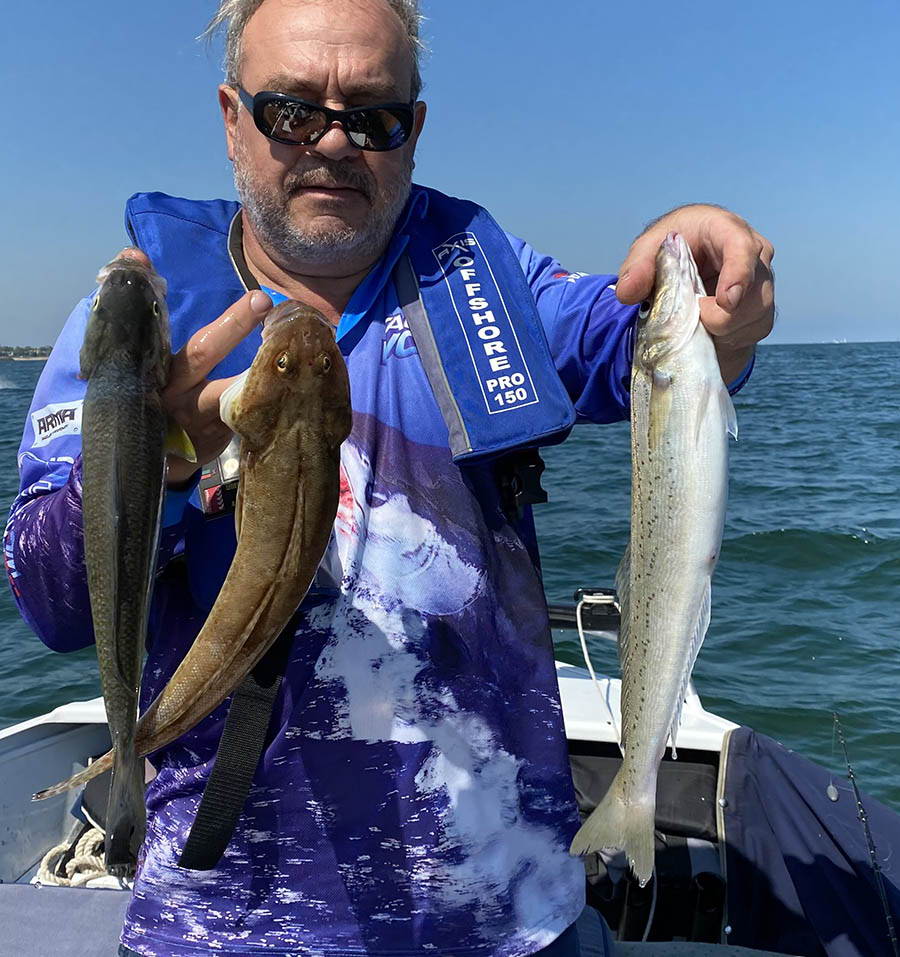 Chris Boddy fished off Black Rock and caught the 40cm trifecta on whiting, flathead and salmon.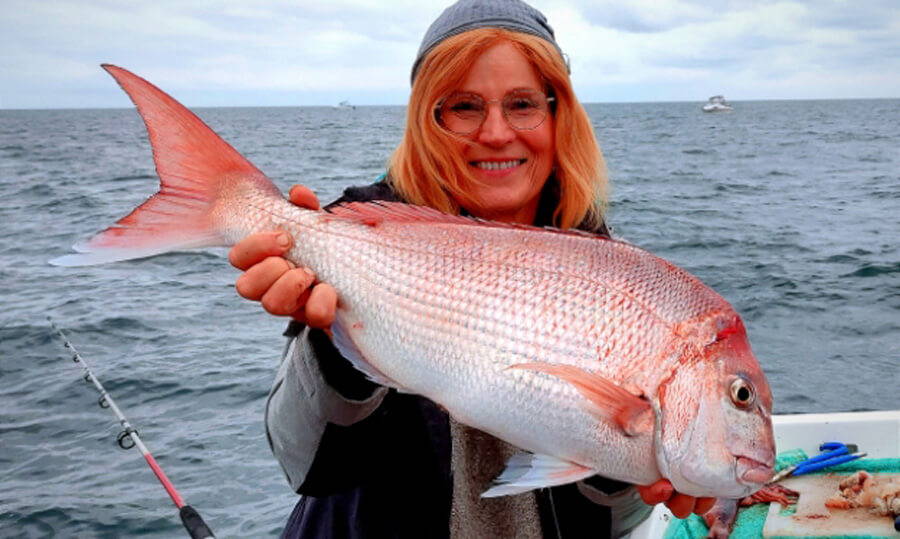 Debra Green caught this beautiful snapper fishing out from Mornington in 22 metres of water.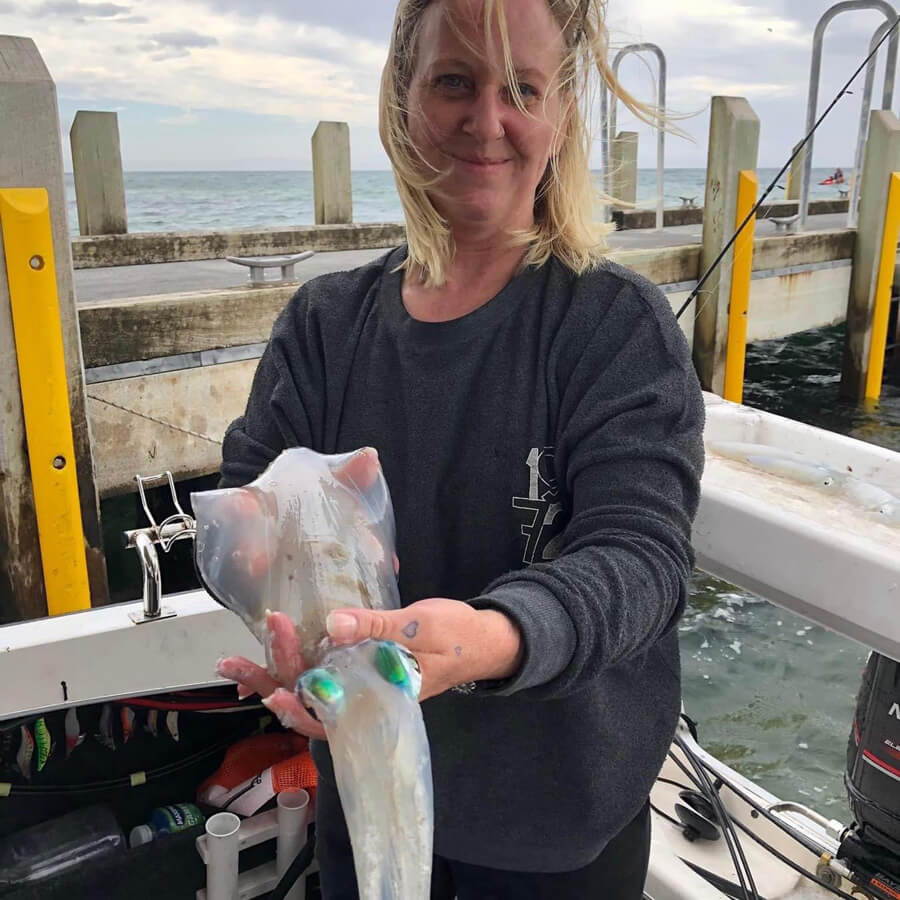 Samantha Moile caught a ripper squid fishing between Mornington and Mt Eliza on the weekend.
Nick and his son Jedd fished off Rye on Saturday and caught some fantastic whiting to 42cm plus a decent gummy shark. Well done guys!

Paul Stellini sent in this photo of a very lost cobia he caught and released off Indented Head. Cobia aren't usually found in water south of NSW so this is a very rare catch!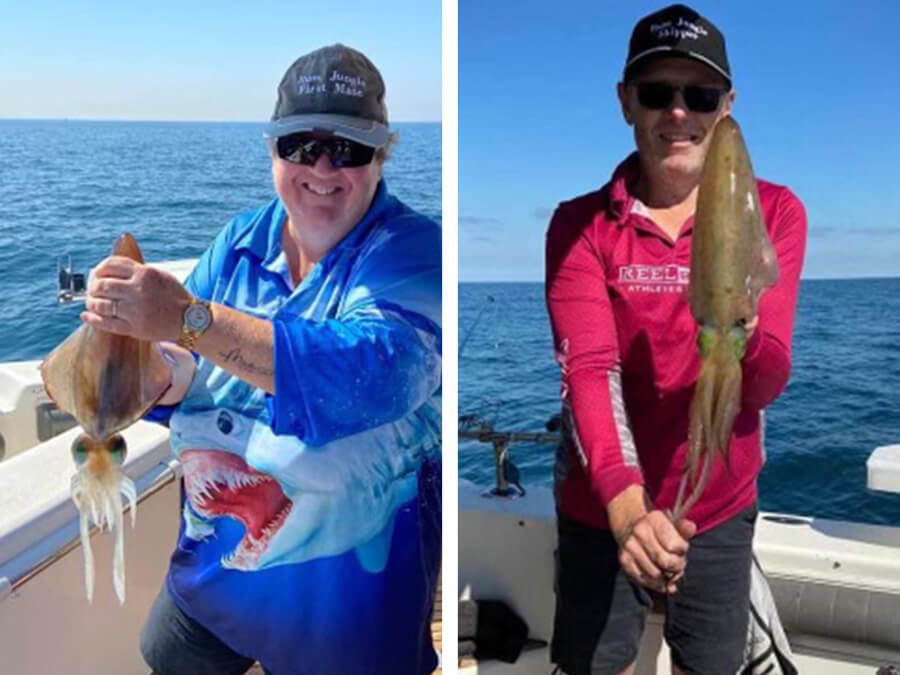 Jim and Tracey Pascoe bagged on some cracking squid in 5 metres of water off Werribee; black jigs were the go-to jig for the day.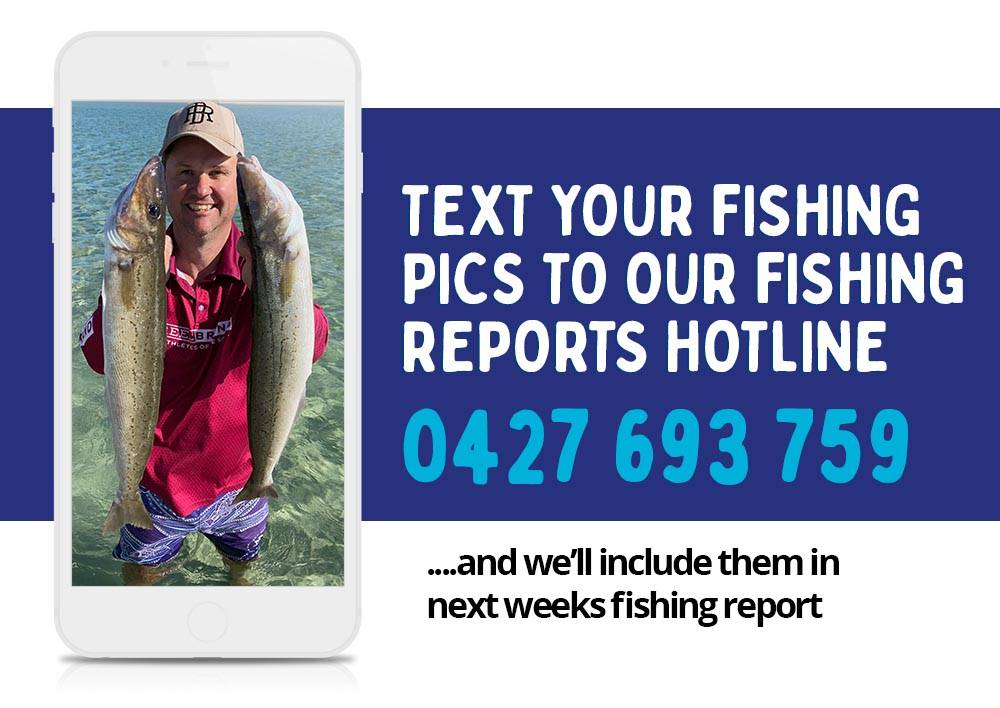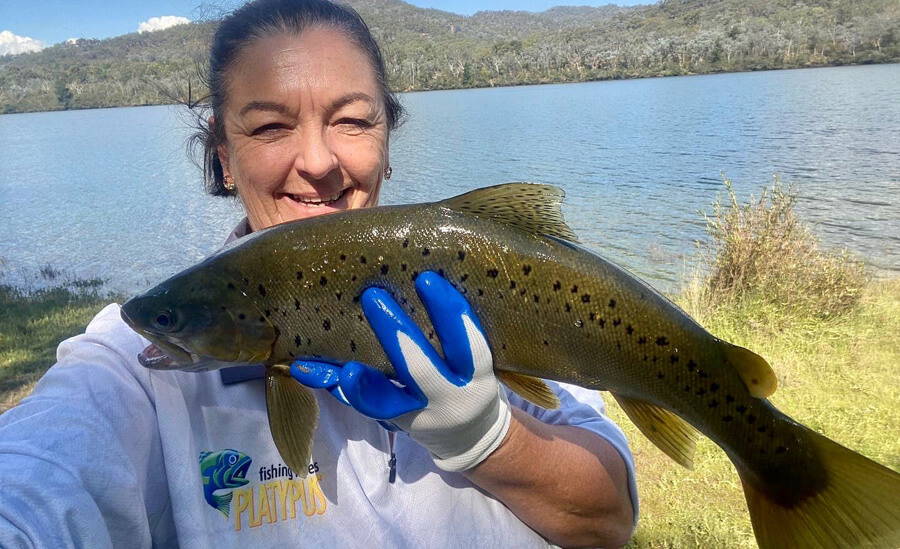 Amanda Keilar caught this beautiful 52cm brown trout using a spinner at Eildon Pondage.
Lachlan Buttigieg caught his PB redfin at Taylors Lakes using a Zman Slim SwimZ soft plastic.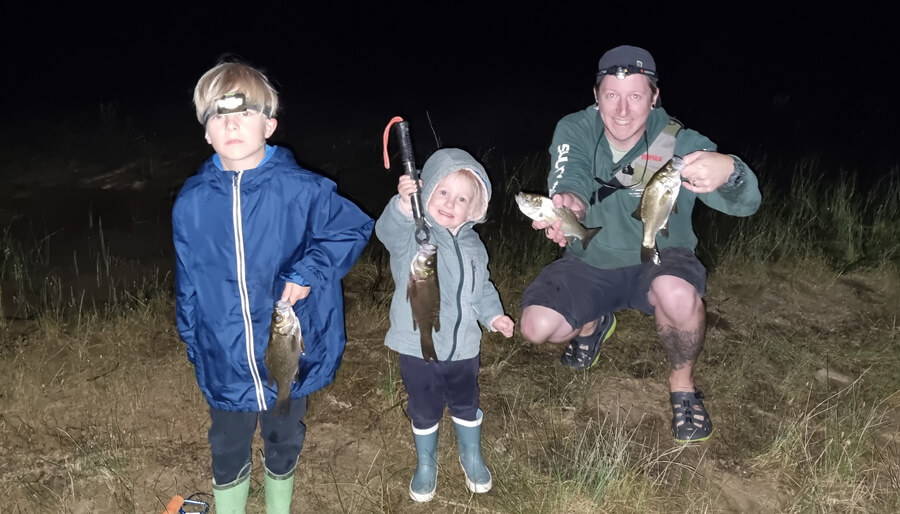 Staff member Brendon Cunningham took the family to Devilbend after dinner last week and caught good numbers of estuary perch with his kids using the Shimano BT Bait.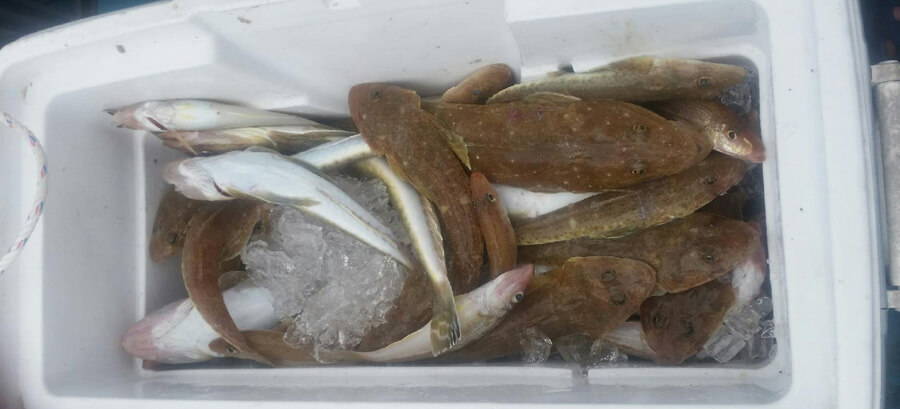 Kozzi and Huff fished off Kilcunda for a decent bag of flathead and whiting.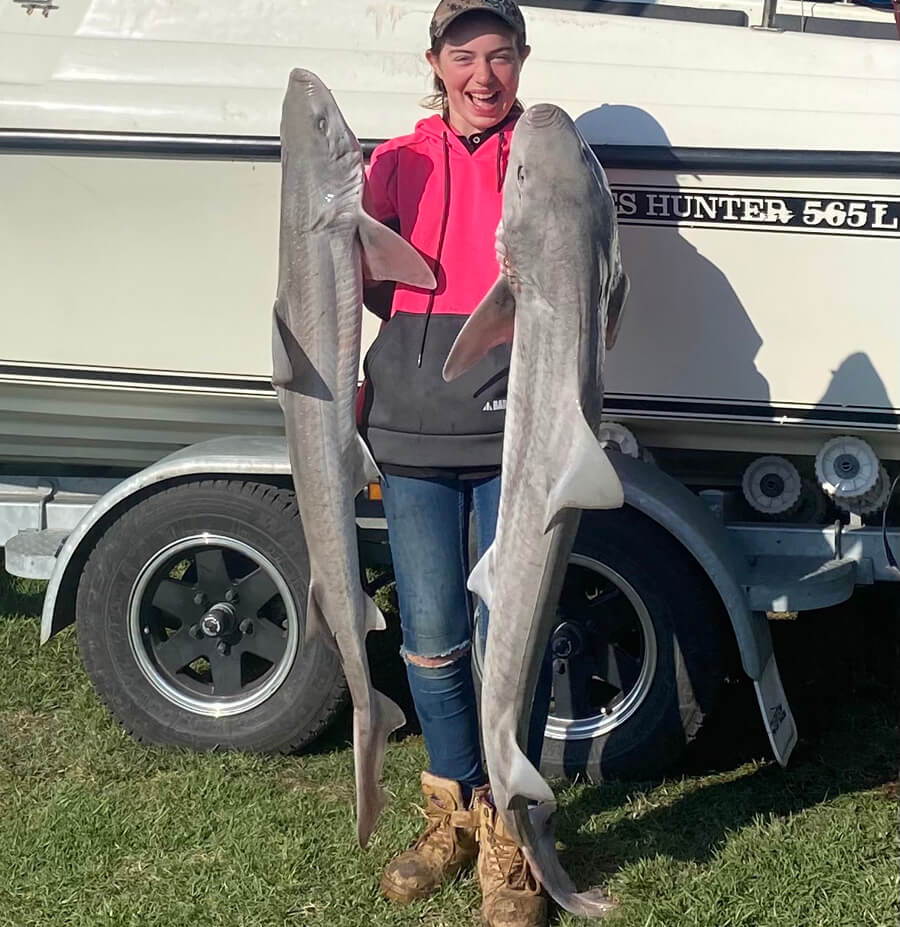 12yo Chelsea caught some cracking gummy sharks fishing Port Welshpool on the weekend.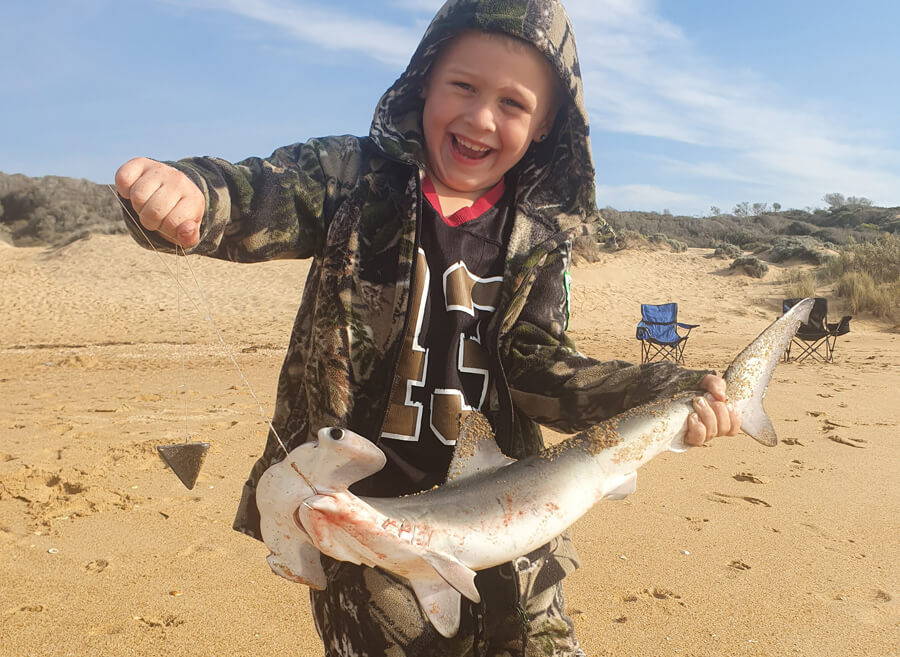 Hunter Broadway caught his first hammerhead shark fishing Golden Beach recently.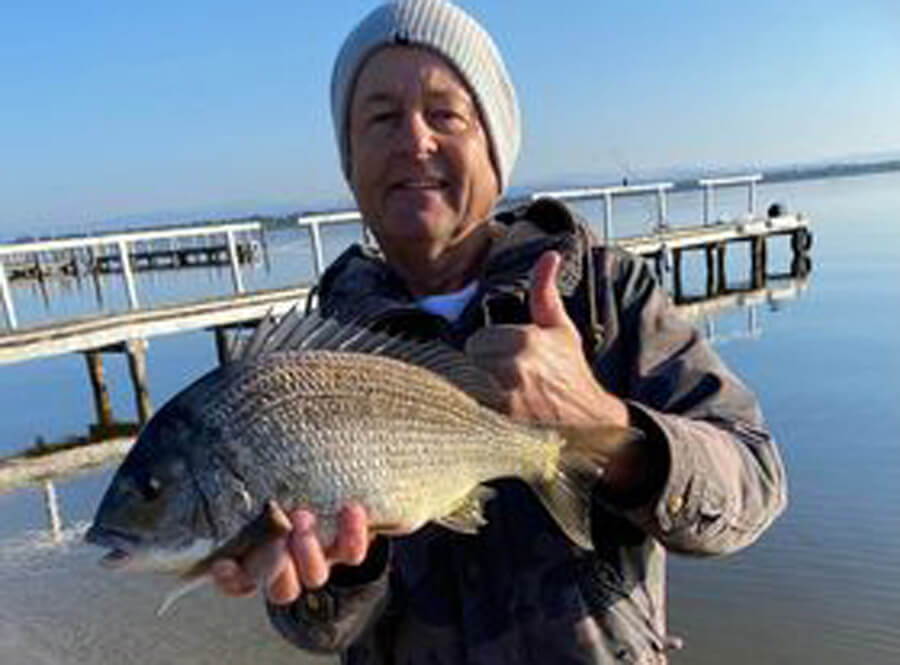 Phil Shannon caught and released this beautiful 45cm bream fishing at Eagle Point.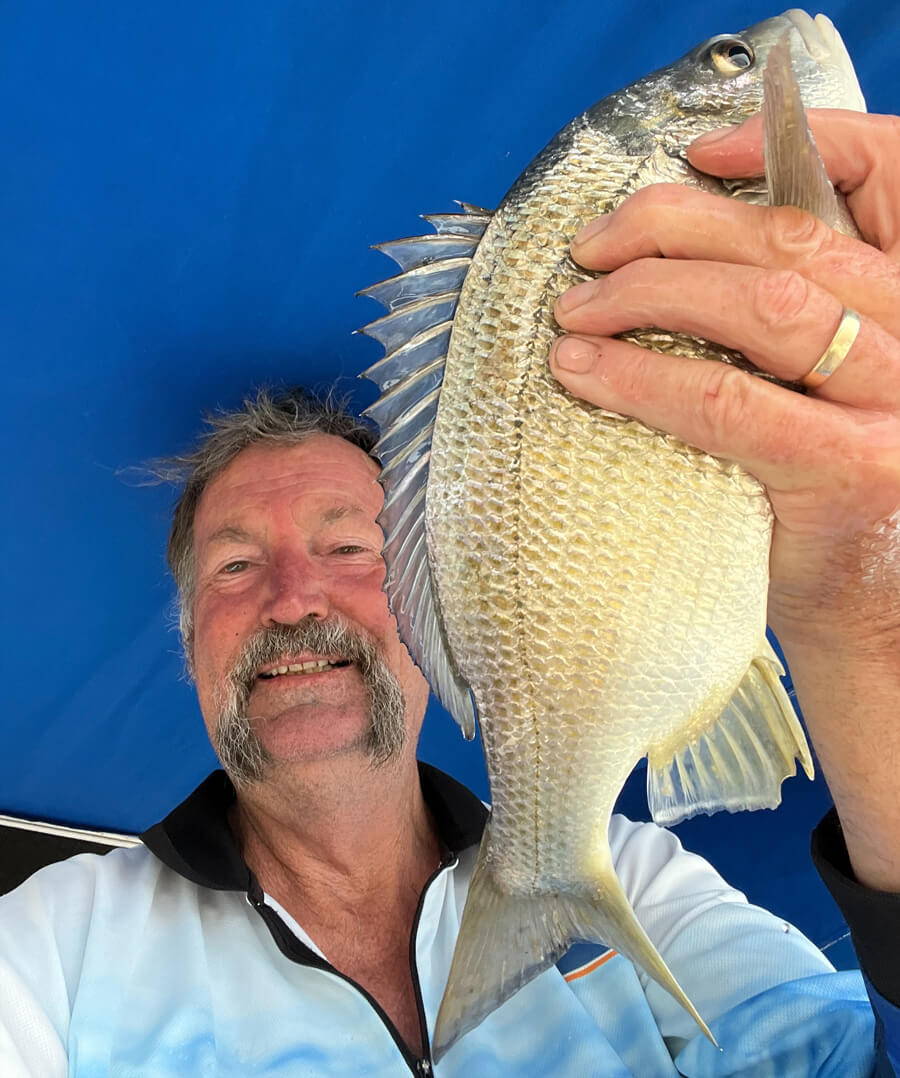 John Slater fished the Mclennen Straight and caught some cracker bream to 38cm.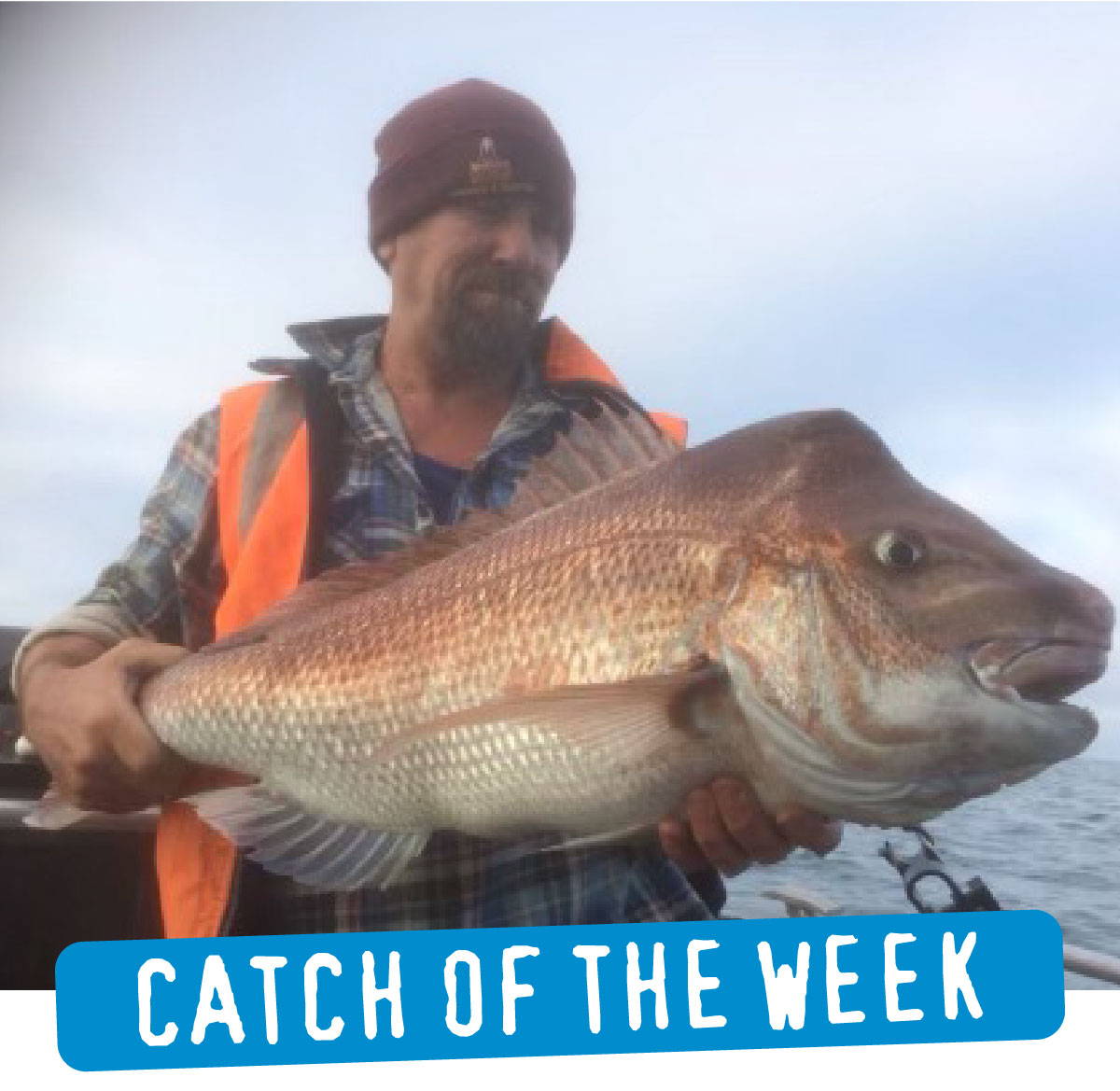 Congratulations to Brad Shield on your cracking snapper caught out from Mt Martha, you are this weeks Catch of the Week.
Our fishing report archives go back to 2014 so you can go back and see what was being caught where over the years.
IFISH WITH TACKLE WORLD - NEW 2022 SERIES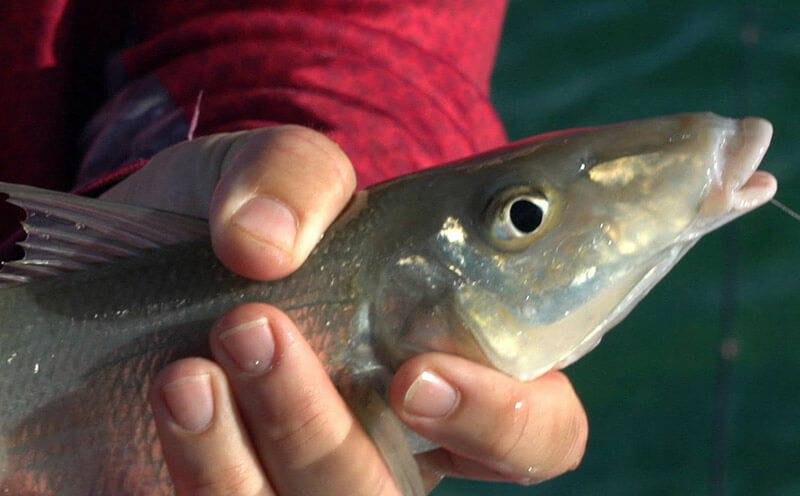 THIS WEEK ON IFISH TV
LOCATION: MARKS POINT, NSW
TARGET: SAND WHITING
SUNDAY 3RD APRIL, 2022 on 10BOLD at 10AM
Catch past episodes of IFISH TV on Youtube so you can get your fishing fix any time, any where.
TALKING FISHING - C31 - TUESDAYS at 8.30pm
Catch "Talking Fishing" on Melbourne's C31 TV (CH44) at 8.30pm each Tuesday night. Staff member David Kramer along with Adam Ring Tiffany Newton host Australia's only "Live to Air" fishing television program at this prime time-slot. Put Tuesday night's at 8.30 away in your weekly diary of TV shows to watch!
Good Luck with your fishing and stay safe on the water,

The TEAM at Tackle World Cranbourne & Mornington