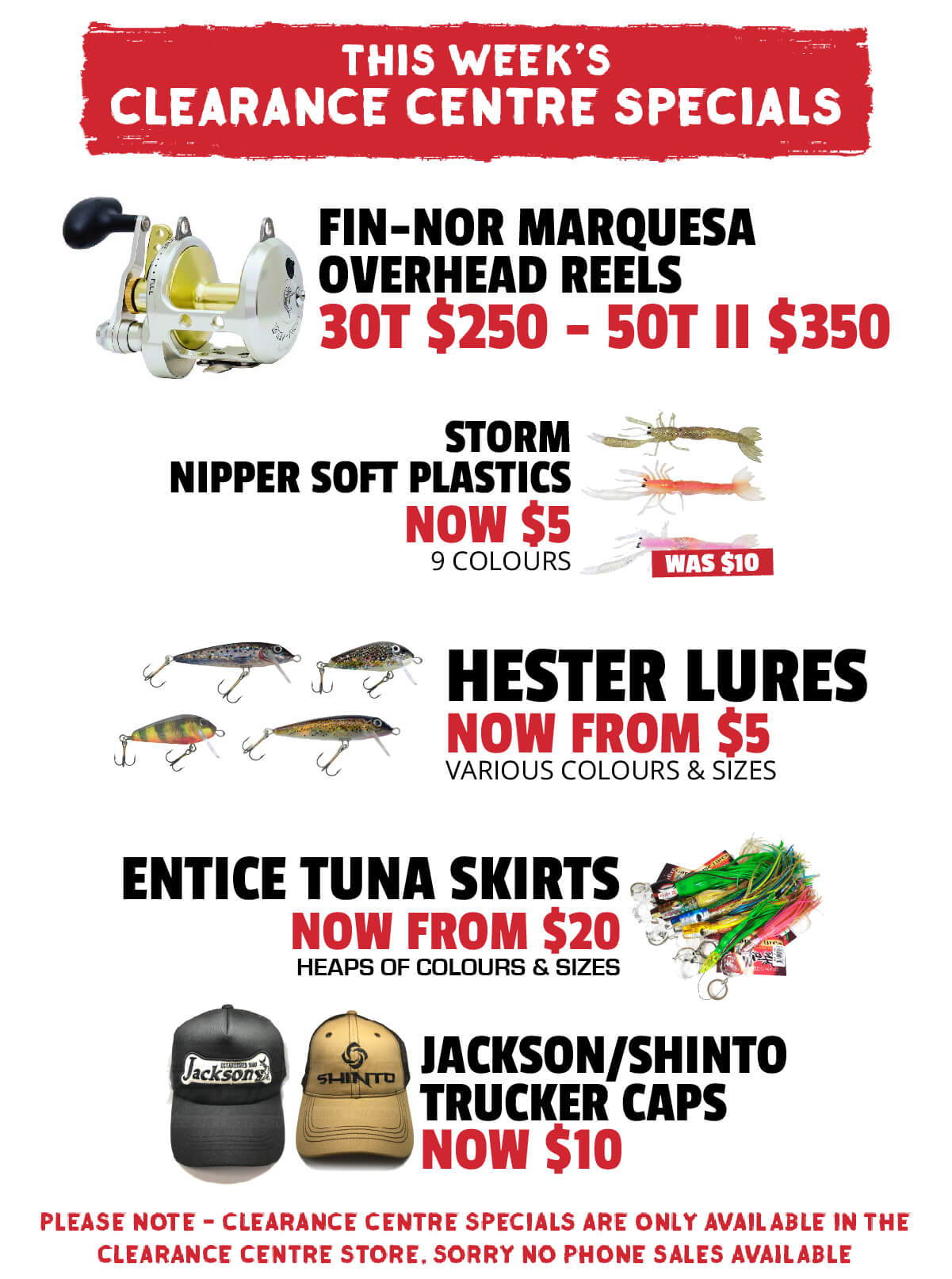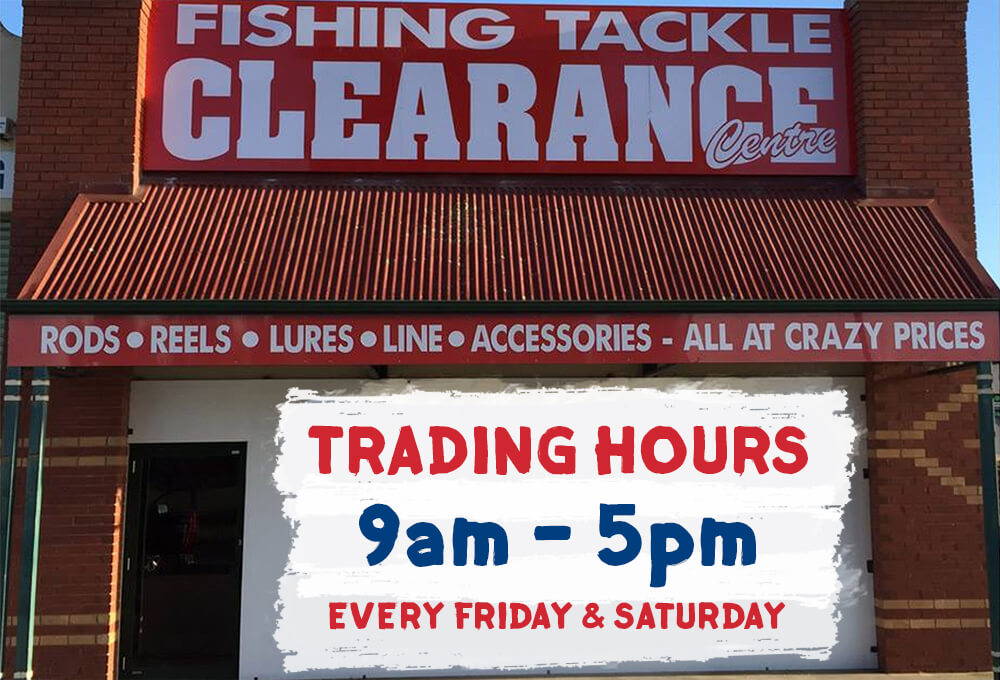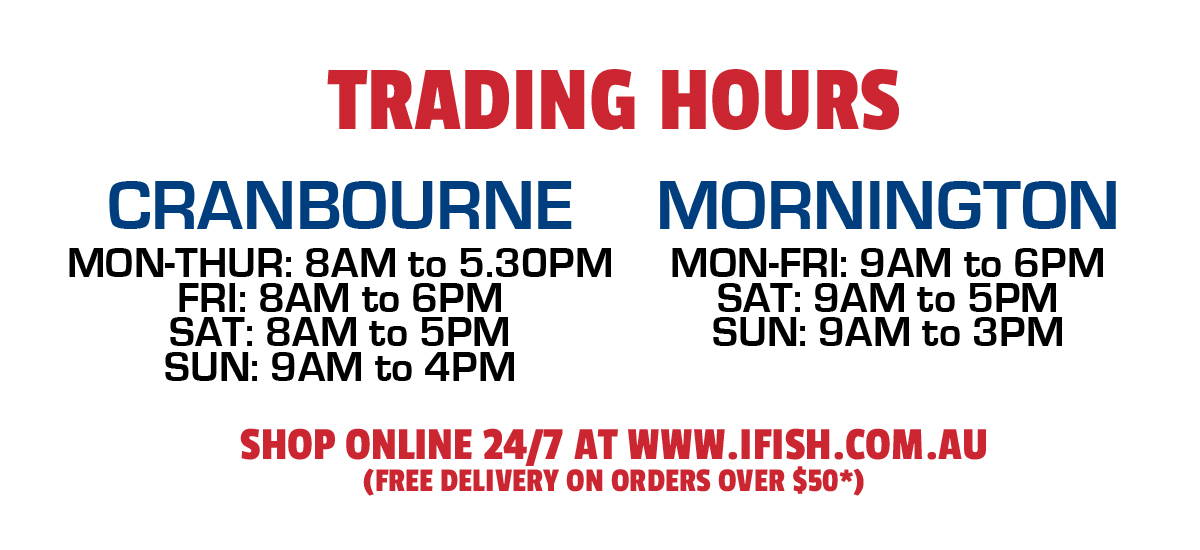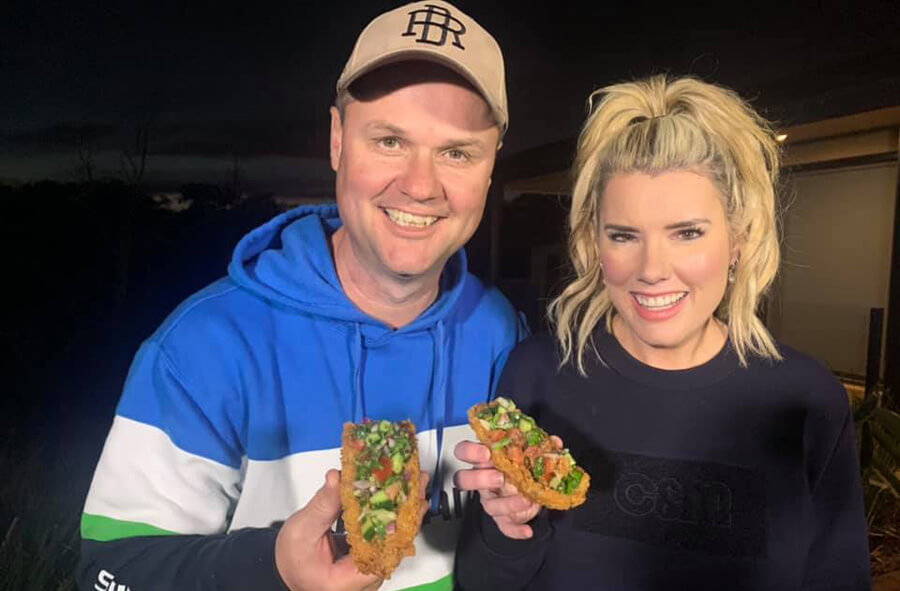 Paul, Cristy and the IFISH crew fished the beaches of Mount Martha and Safety Beach, their aim was to catch land based garfish of which they achieved with over a dozen garfish up to 40cm caught. The key was to use heavier weighted floats so they could cast their maggots out further from the shoreline. Paul and Cristy then turned their garfish catch in to the most amazing garfish bruschetta.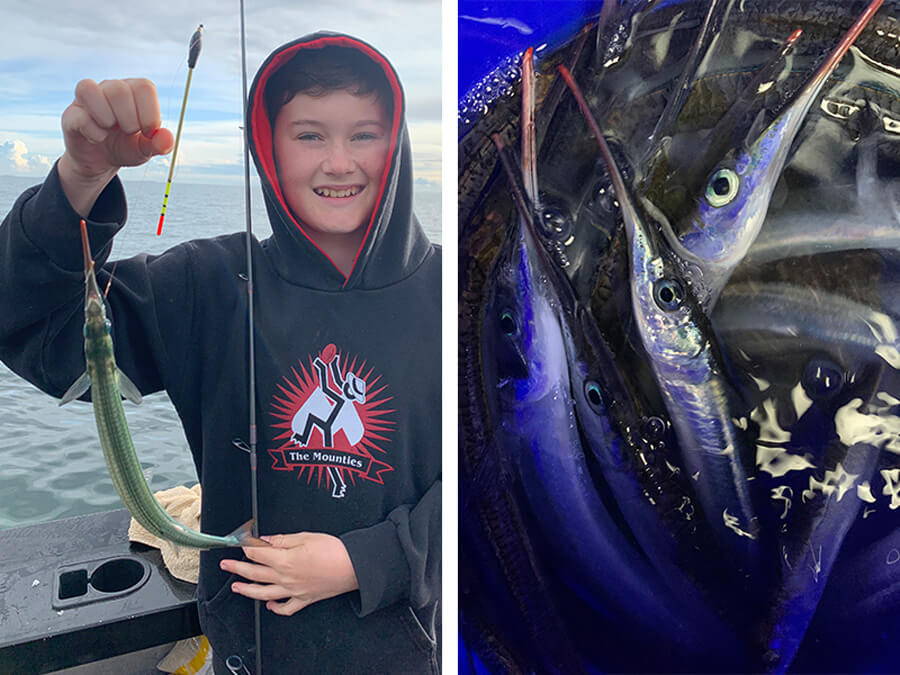 On Sunday afternoon Paul and Jet snuck out for a quick fish out from Martha Cove. In just over 2 hours the boys landed over 50 garfish to 40cm. The best baits were maggots, silverfish and small pieces of pilchard. The rig was the Gamakatsu Long Shank size 12 set a metre under their float, berley was key to keep the fish in the area.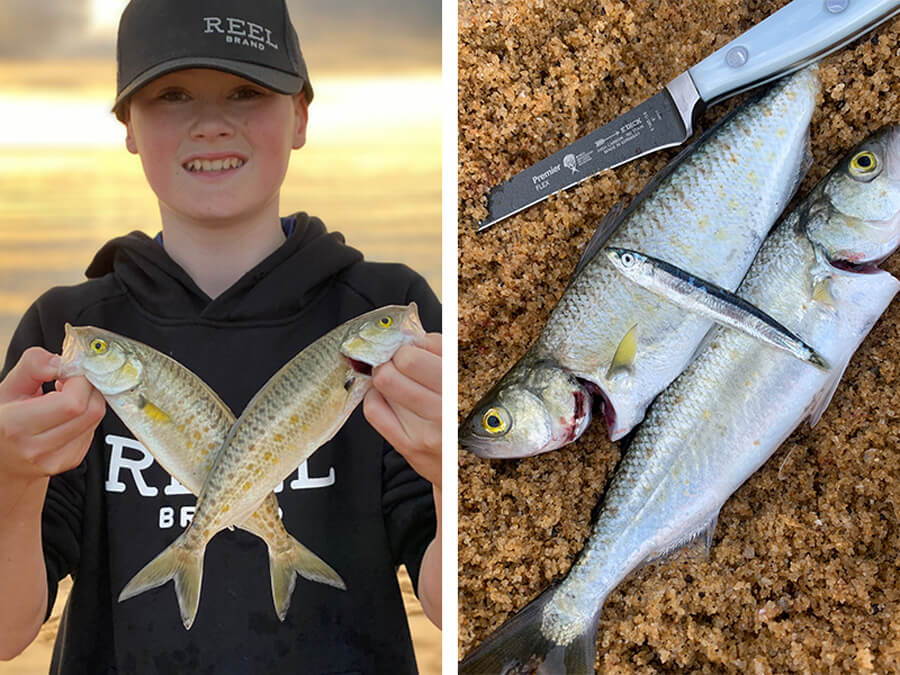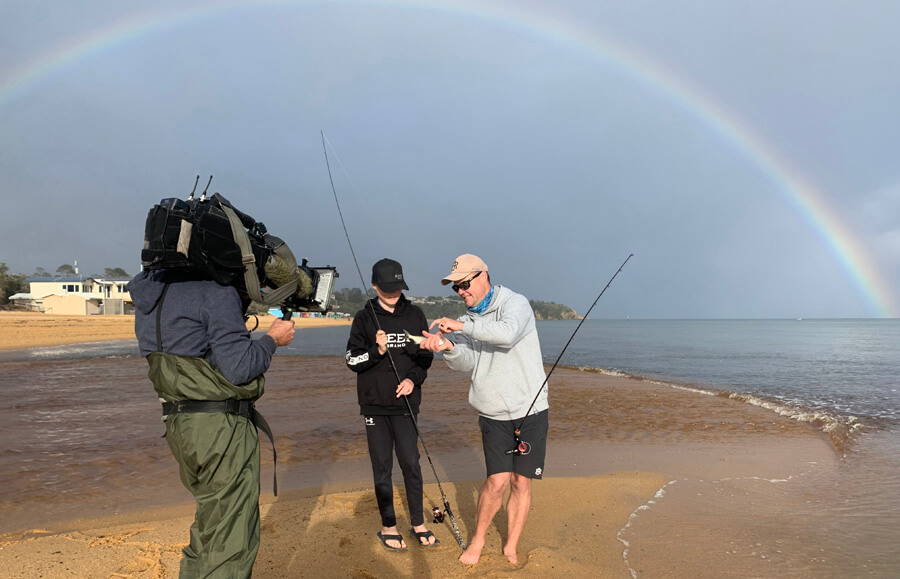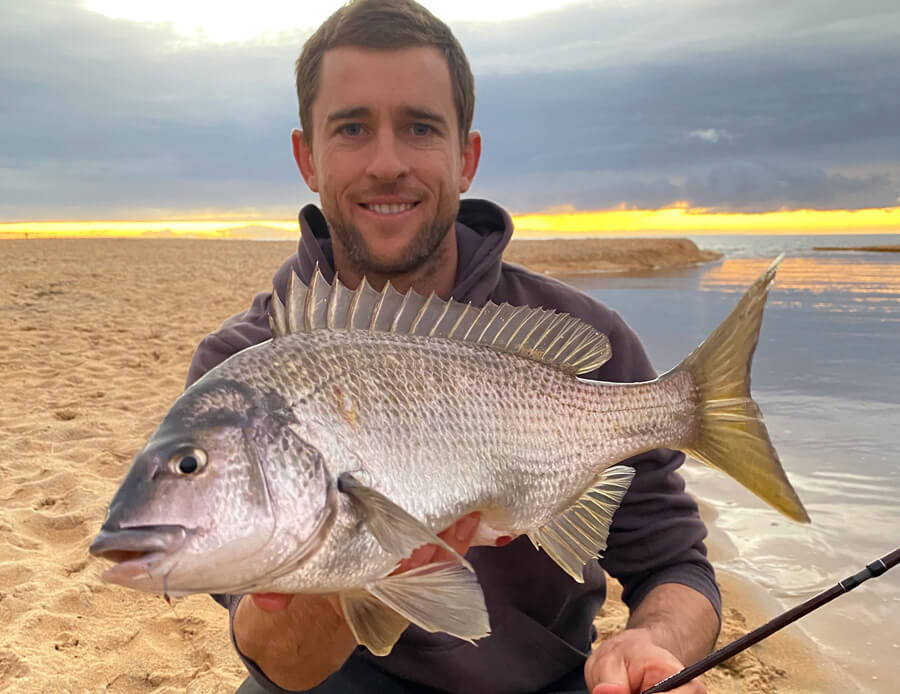 On Tuesday and Wednesday, Paul and Jet and the IFISH crew fished at Mount Martha beach. Jet started out catching a salmon a cast using 100mm Squidgies Wrigglers, small metal lures were also very successful. The team also caught some garfish from the beach and IFISH producer Tom Hughes caught and released a stonker bream.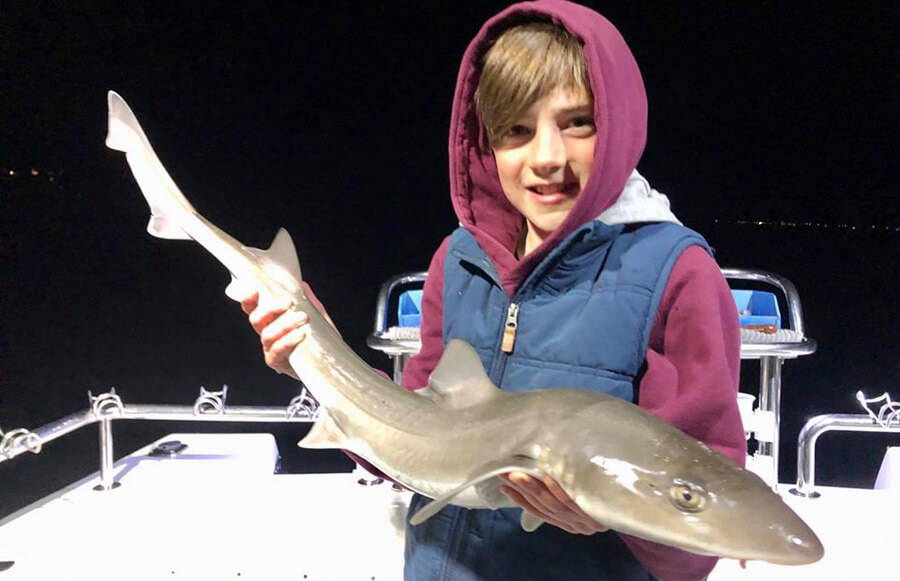 Shaun Furtiere from Think Big Fishing Charters had young Luka on board and managed some nice gummy sharks fishing Western Port.
Chris Cassar from Cassar Fishing Guides has found some fantastic squid while fishing offshore from Western Port recently.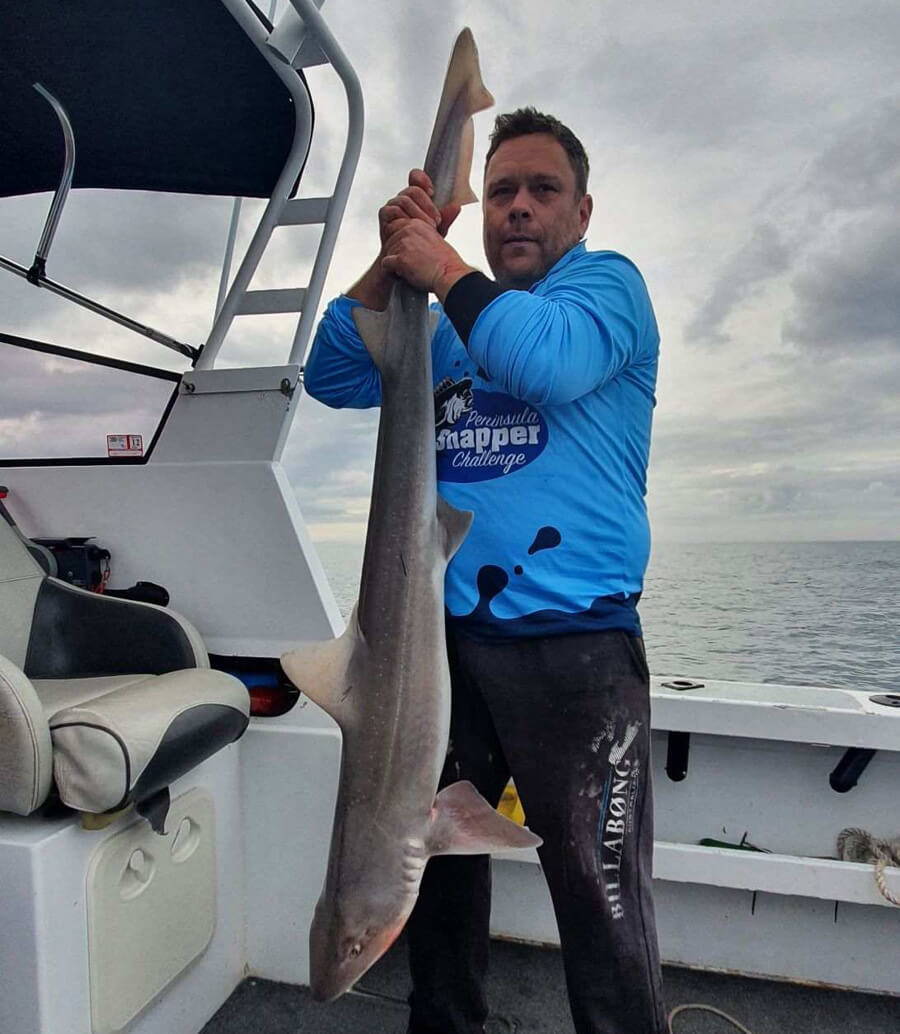 Jason Smith landed this ripper gummy shark fishing out near Seal Rock using wrasse for bait in 35 metres of water.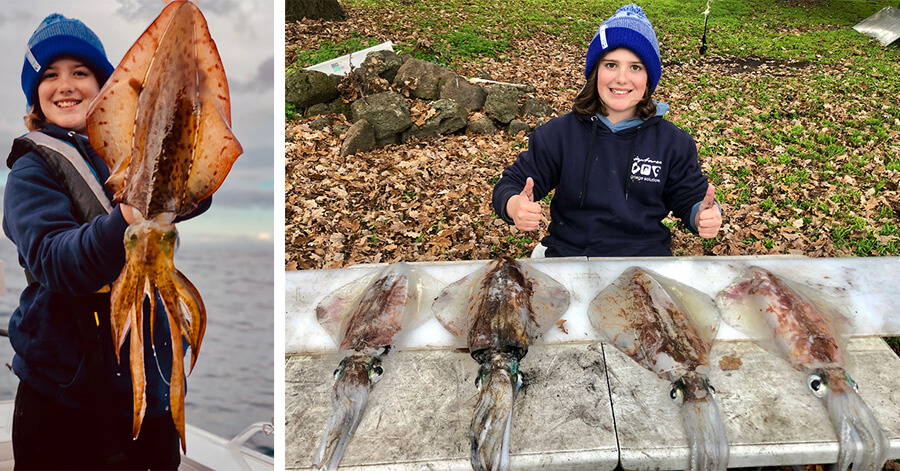 Kade Thornhill caught some massive squid fishing just out from the Flinders pier on Sunday. Size 3.0 jigs in white did the damage. Well done Kade!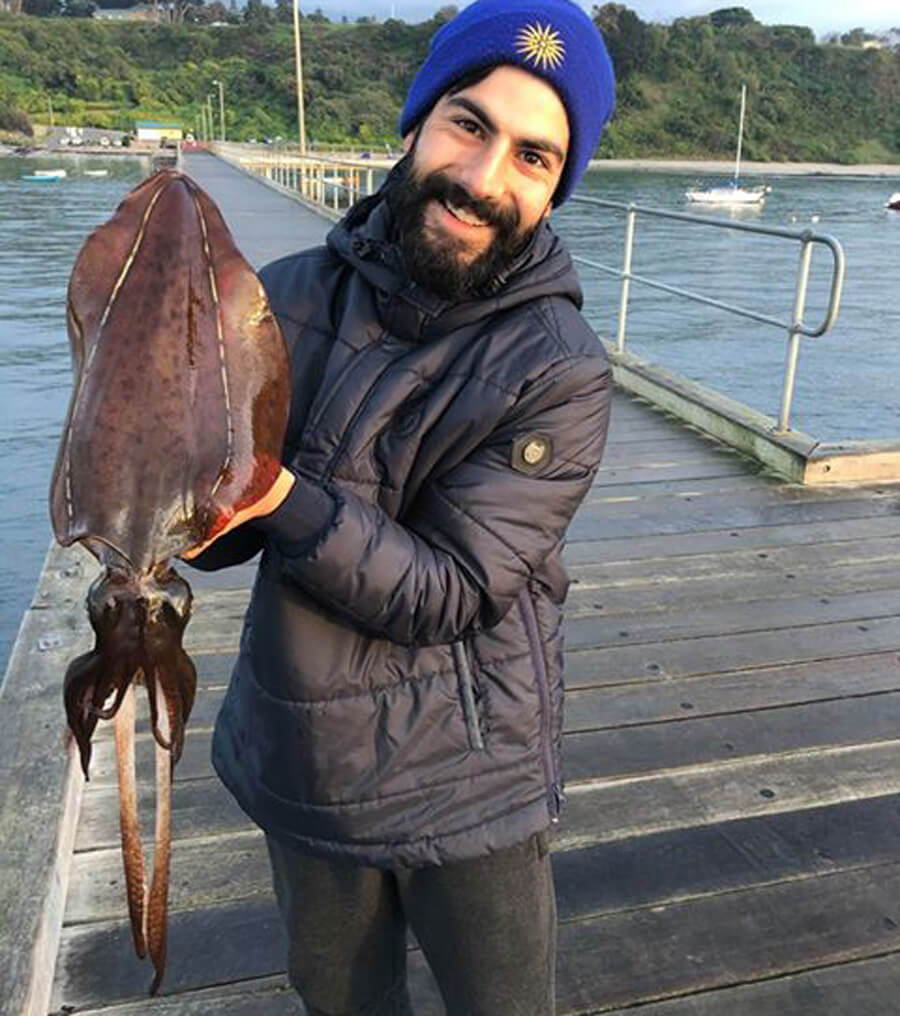 Nicholas Kasapidis with a nice 38cm hood squid caught from the pier at Flinders last week.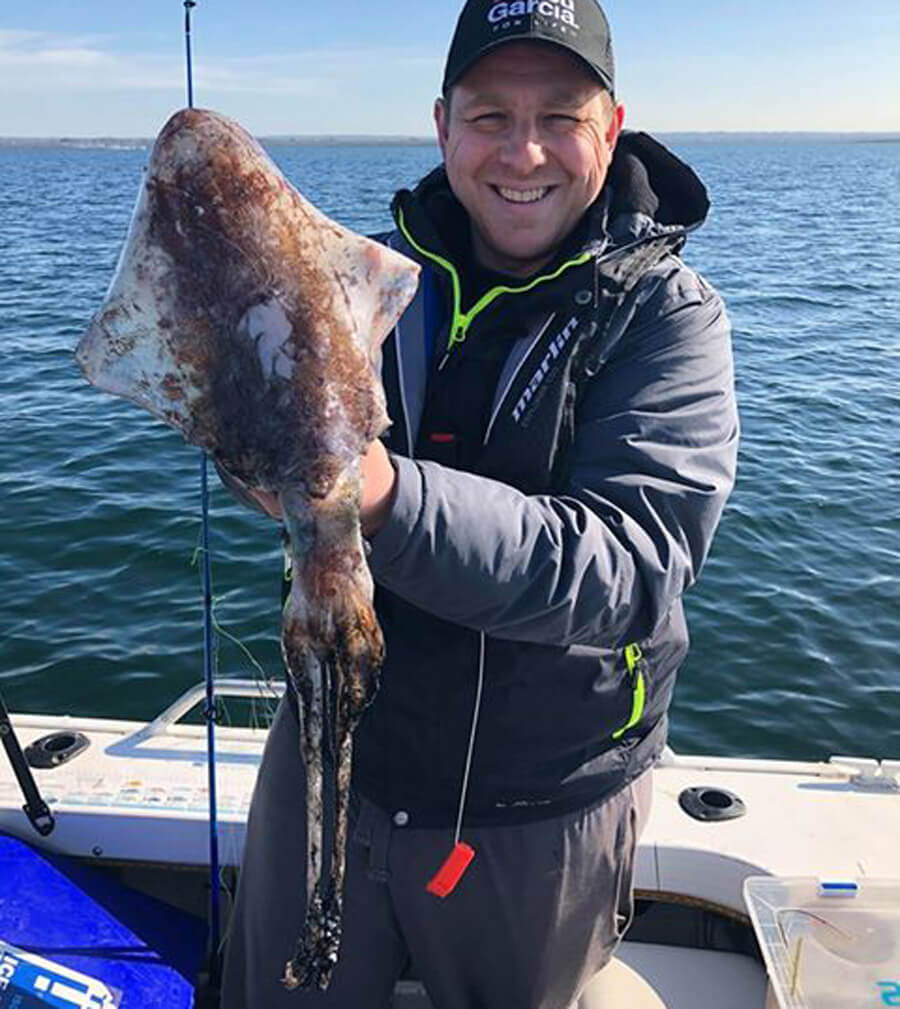 Brent Scarlett managed this nice squid on the first cast at Quail Bank last week.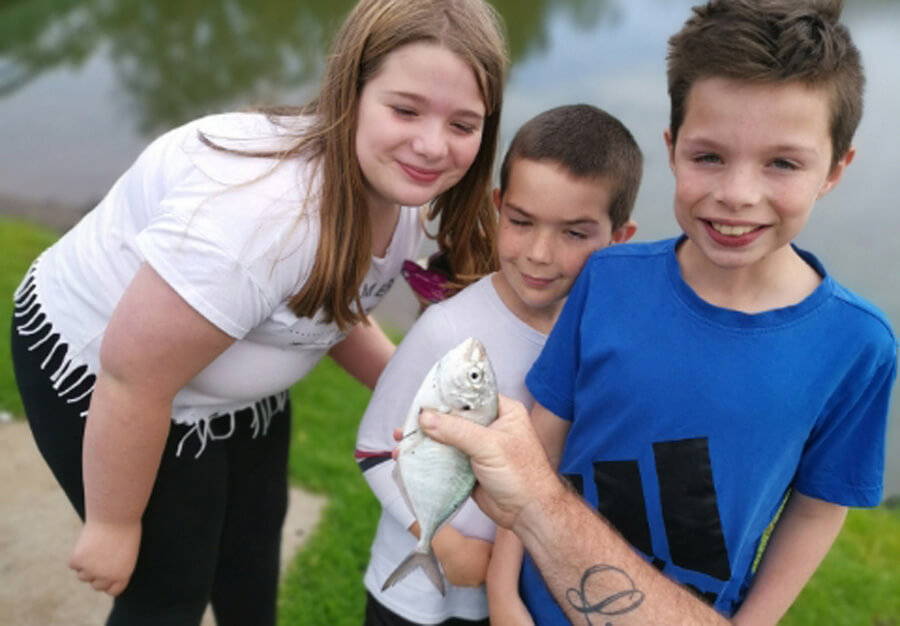 Charlotte, Cooper and Joseph had some fun fishing Tooradin catching silver trevally.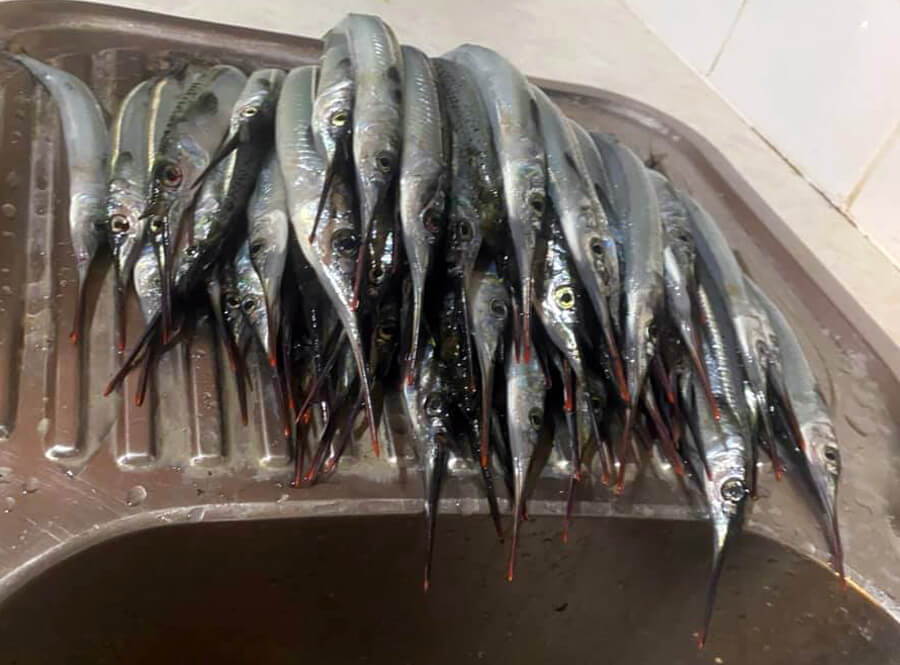 Julian Rennie fished off Mount Eliza and found fantastic numbers of garfish, the key was a consistent berley trail to keep the fish at the boat.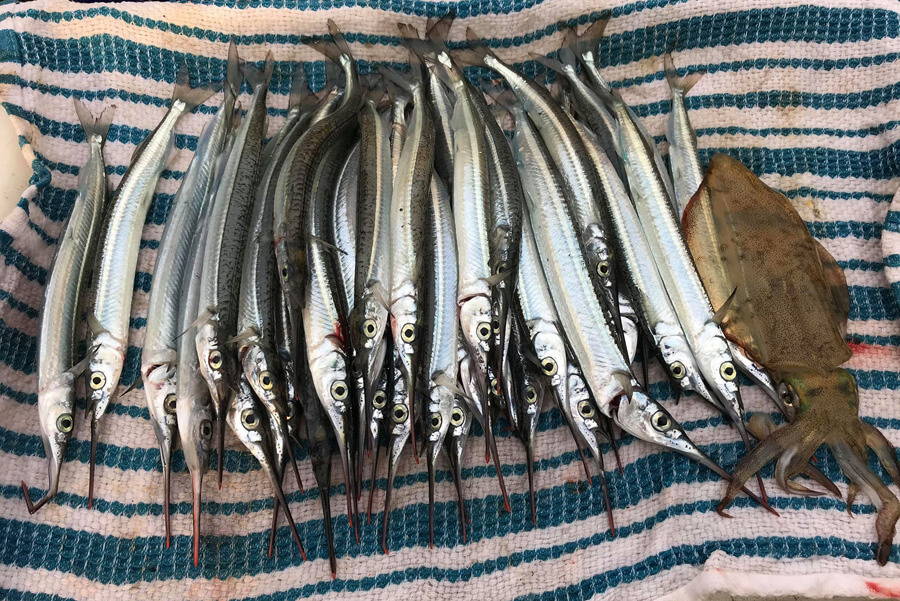 Staff member Mark Keaveny smacked the garfish off Sunnyside beach Mornington on Sunday afternoon. Mark fished in 3-4m of water using a berley log and maggots for bait.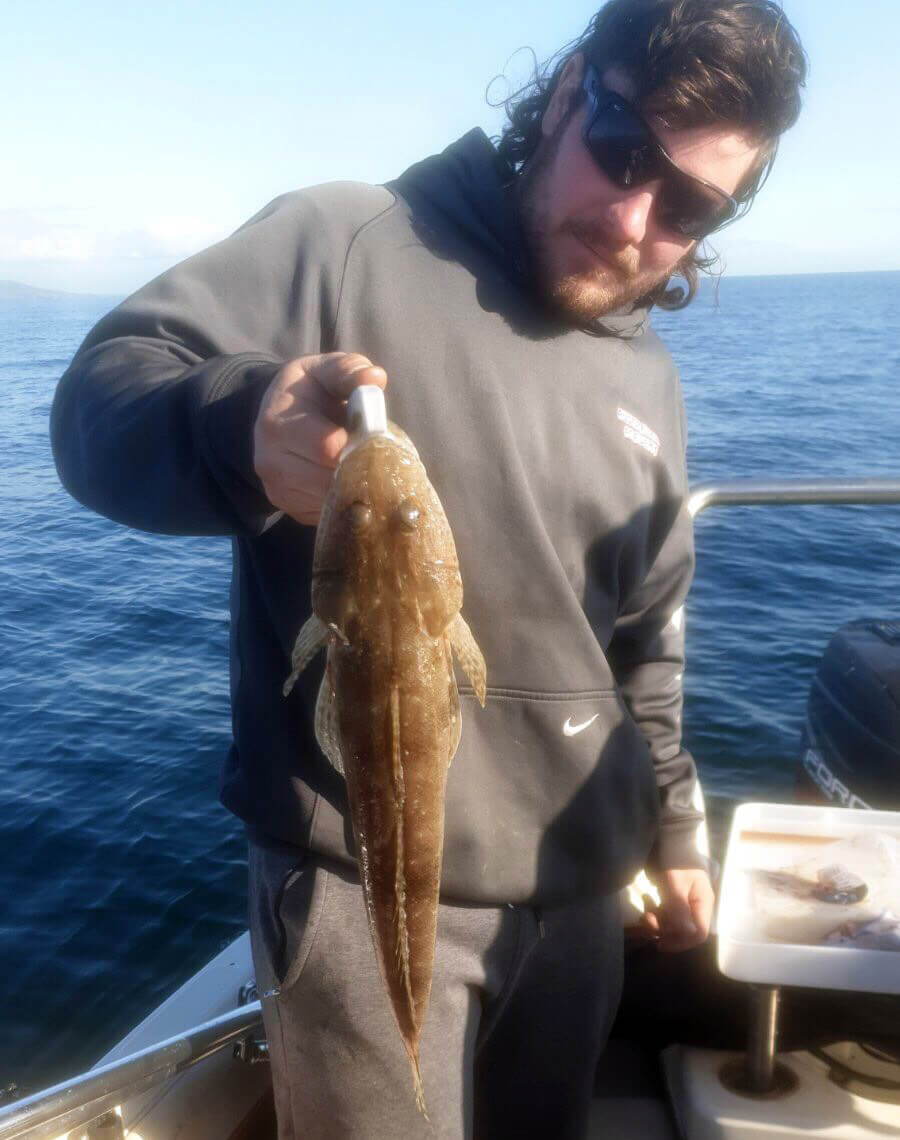 Mitch Holding caught some nice flathead while fishing off Mornington last weekend.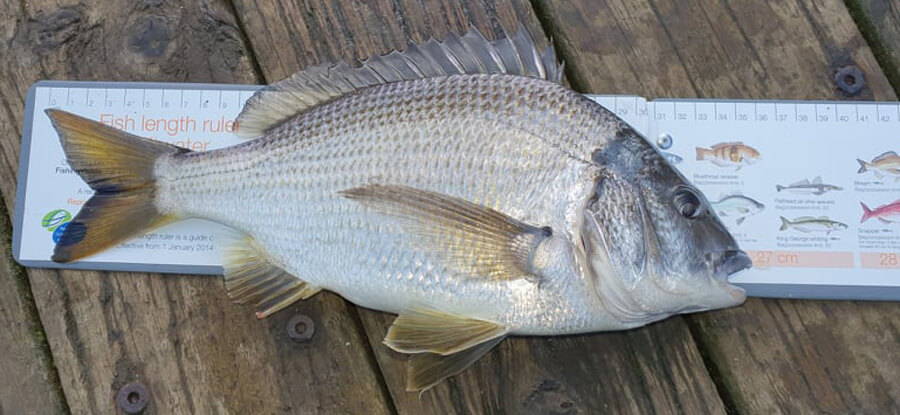 Tom Saveneh fished Balcombe Creek on Tuesday afternoon, he caught and released 5 bream between 23 and 35 cm and 2 eels; all caught on scrub worms.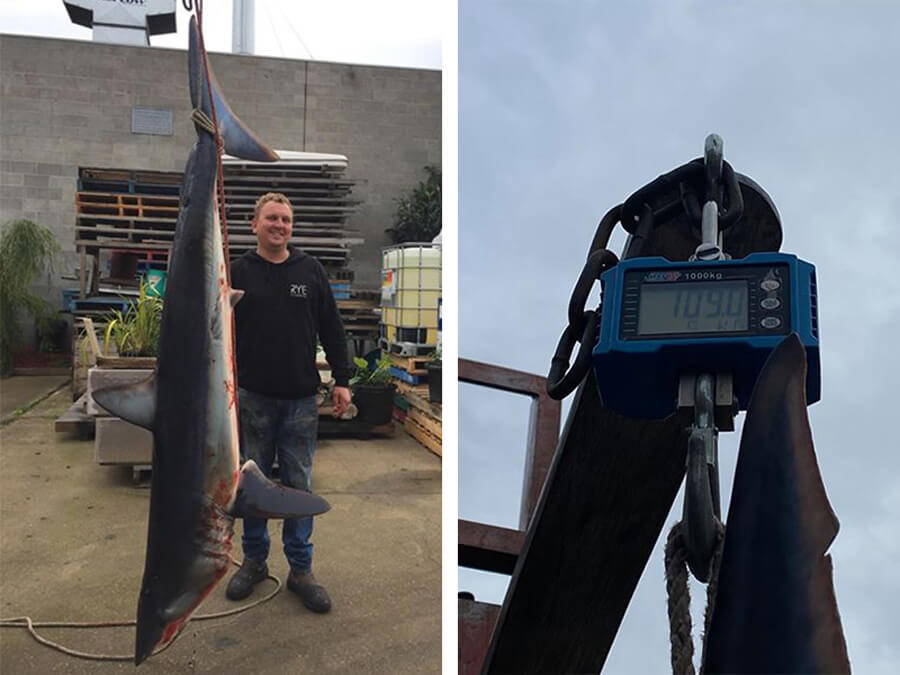 Jason Horne reports in with a fantastic 109kg (gutted) mako caught on a whole bonito under a balloon in 27 metres of water off Fingal. Nice work Jason, enjoy the feed and thanks for reporting in.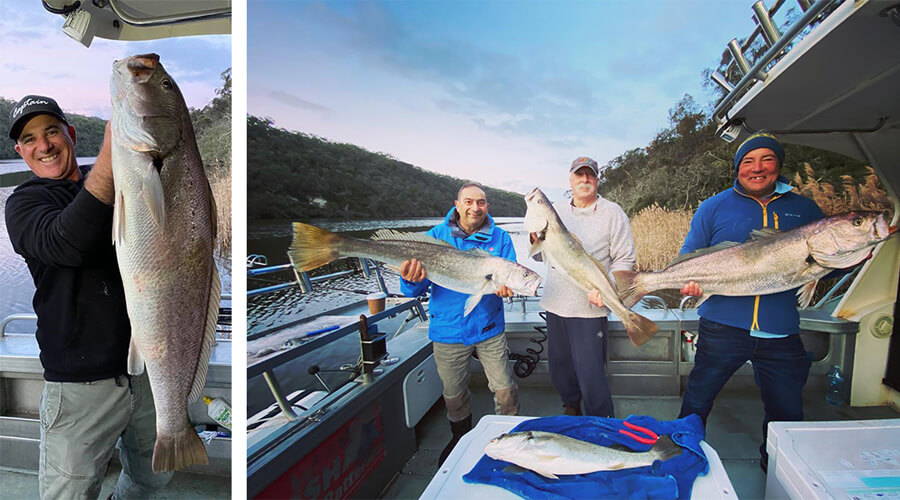 Matt Cini from Reel Time Fishing Charters had a group of regulars on board and had a ripper session on the Glenelg River mulloway catching 16 fish, keeping 4 and tagging and releasing 12.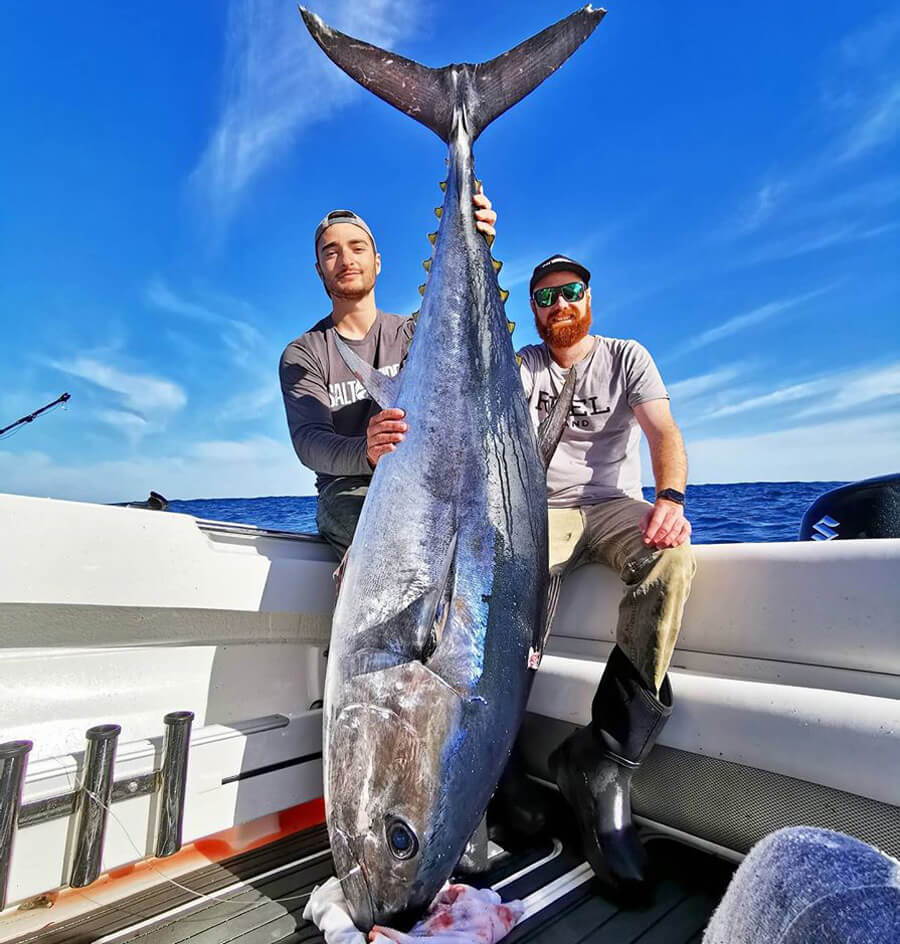 Chris Cassar from Cassar Fishing Guides fished with Aaron Hapgood out from Portland and the boys managed a beautiful barrel tuna.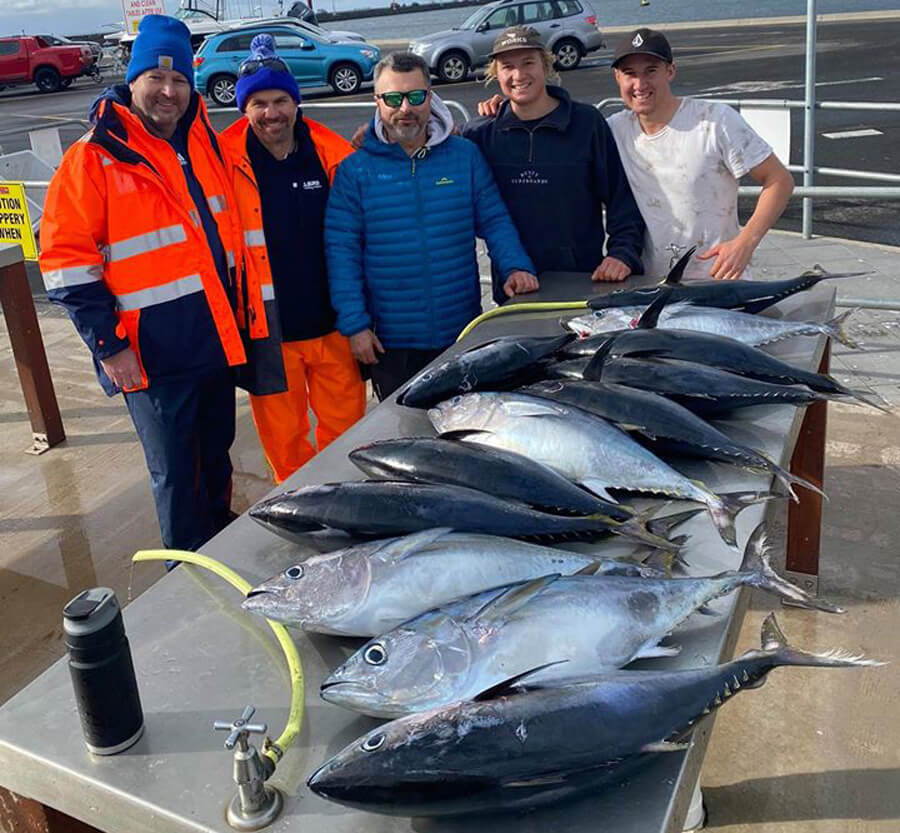 Simon Rinaldi from Red Hot Fishing Charters smacked the school tuna with his customers over the weekend out from Portland.
Jayson Turner from Pro Red Fishing Charters had fun with his customers on the Portland tuna last week.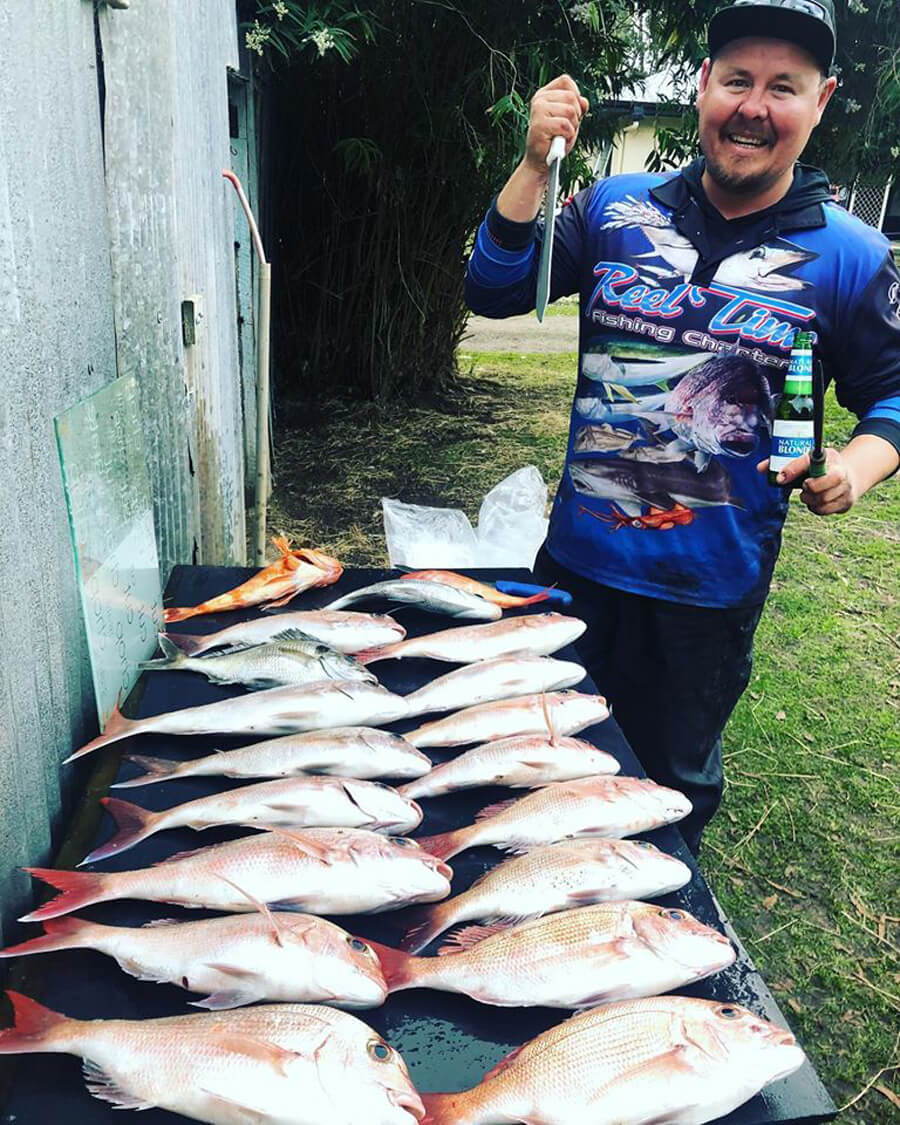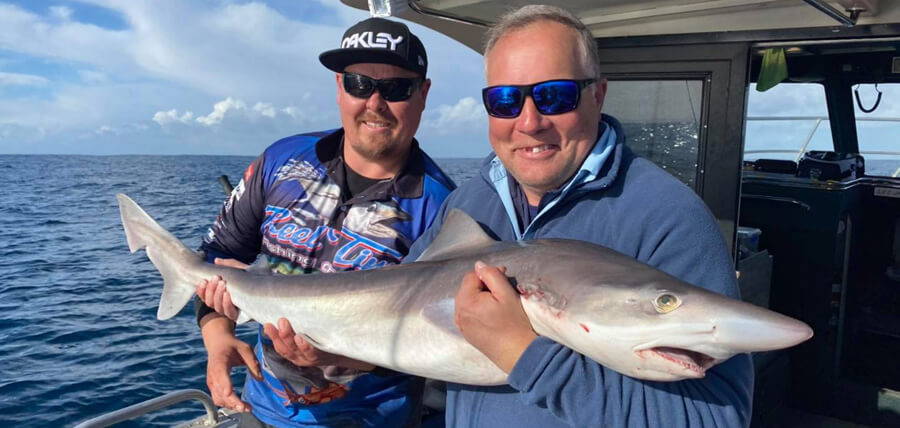 Rambo from Reel Time Fishing Charters had a number of great sessions out of Portland with their customers this week with school tuna one day and some successful reef fishing with some nice snapper and a school shark caught.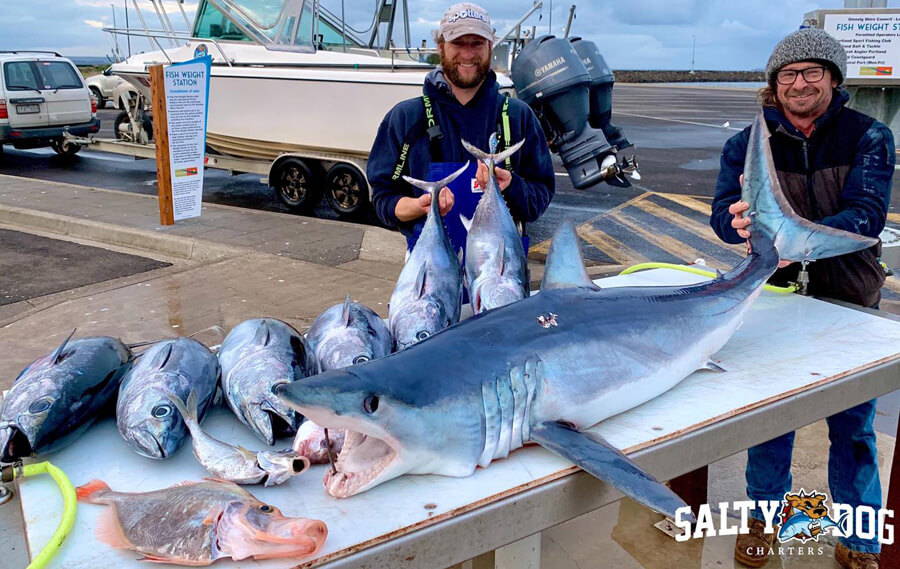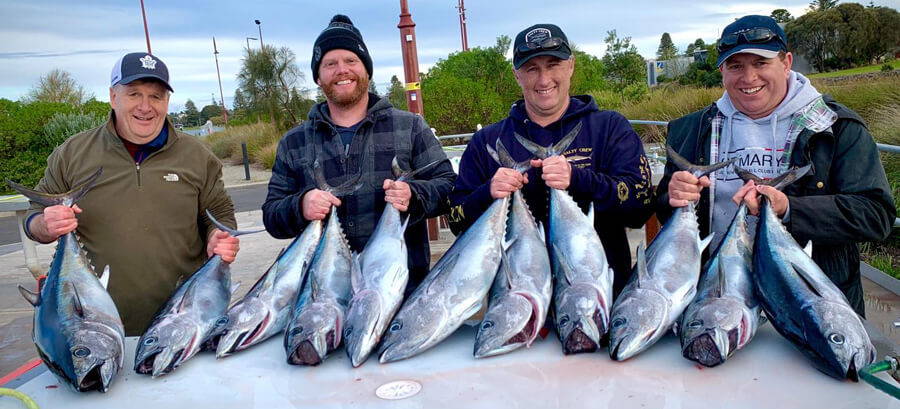 Dan Hoey from Salty Dog Fishing Charters had some awesome trips out from Port Fairy with his customers catching some nice school tuna and a surprise mako shark on one trip as well.

Mick Ott caught this cracking 41cm estuary perch fishing the Hopkins River.

Austin Duncombe with a beautiful rainbow trout caught from Lake Bullen Merri.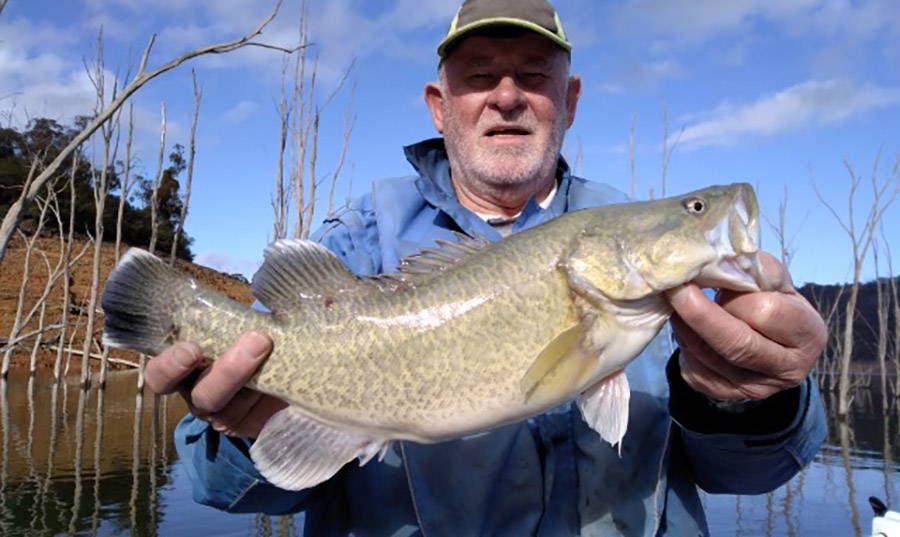 Staff member Don Newman has been fishing Lake Eildon a bit lately and has caught some nice Murray cod trolling Stump Jumper lures.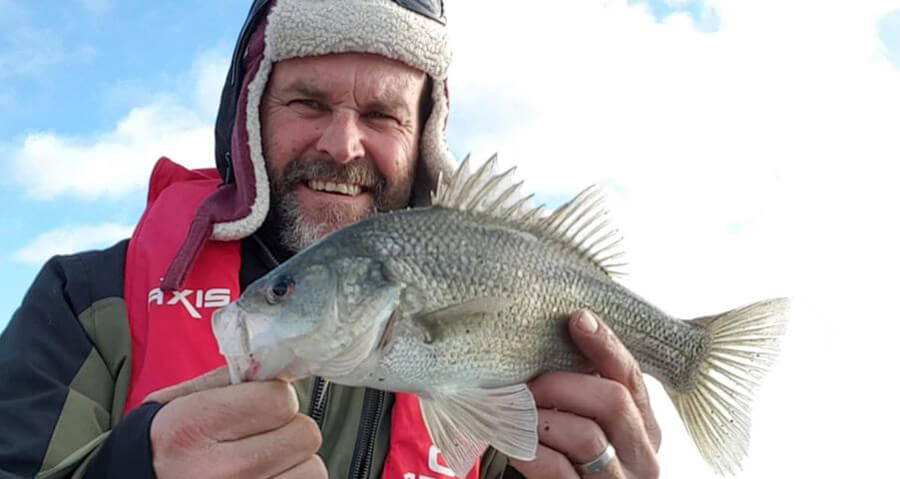 Andrew Ketelaar went to Blue Rock on Sunday to fish for some winter bass and nailed these 2 good fish on soft plastics. The best method for these fish he has found this time of year is to work the lure slow.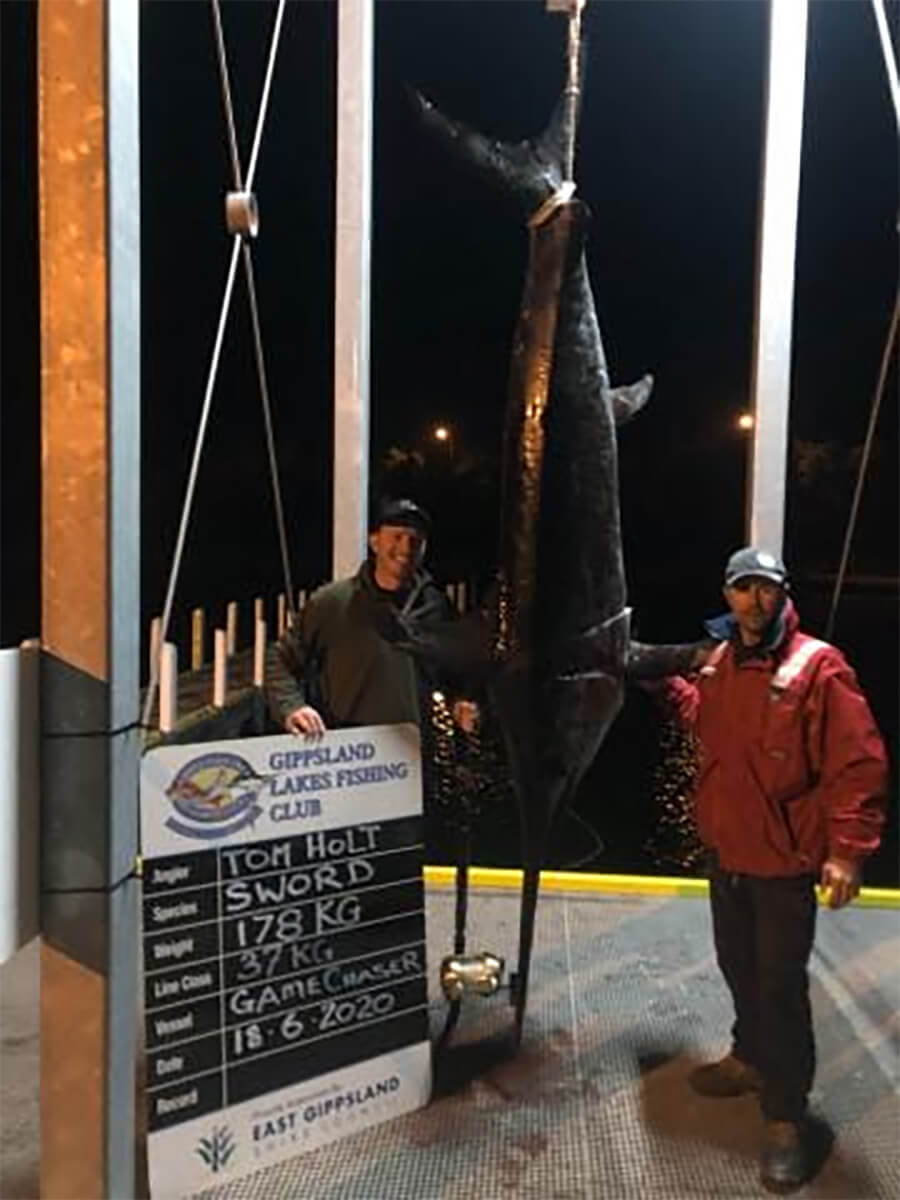 Congratulations to Tom Holt on your 178kg swordfish caught out from Lakes Entrance.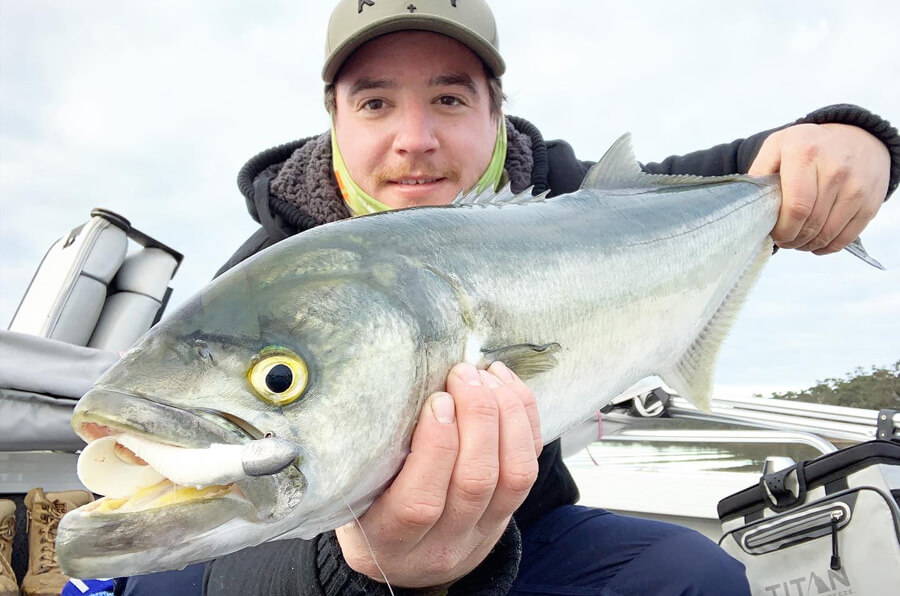 Dean Van Dullemen caught this monster tailor while trolling a soft plastic at Lake Tyers.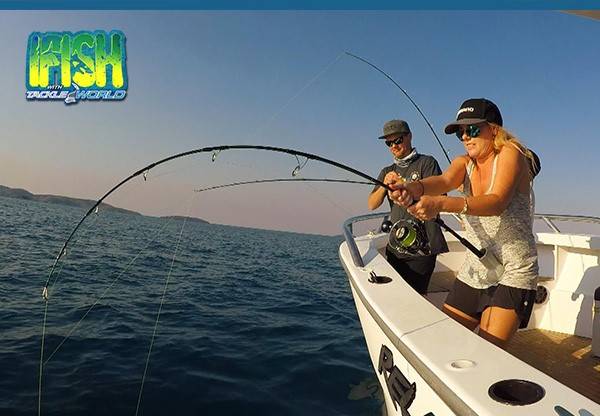 TALKING FISHING - C31 - TUESDAYS at 8.30pm
Catch "Talking Fishing" on Melbourne's C31 TV (CH44) at 8.30pm each Tuesday night. Staff members David Kramer and Adam Ring together with Steve "Trelly" Threlfull host Australia's only "Live to Air" fishing television program at this prime time-slot. Put Tuesday night's at 8.30 away in your weekly diary of TV shows to watch!
A group of hippos is called a "bloat."

Good Luck with your fishing and stay safe on the water,

The TEAM at Tackle World Cranbourne & Mornington