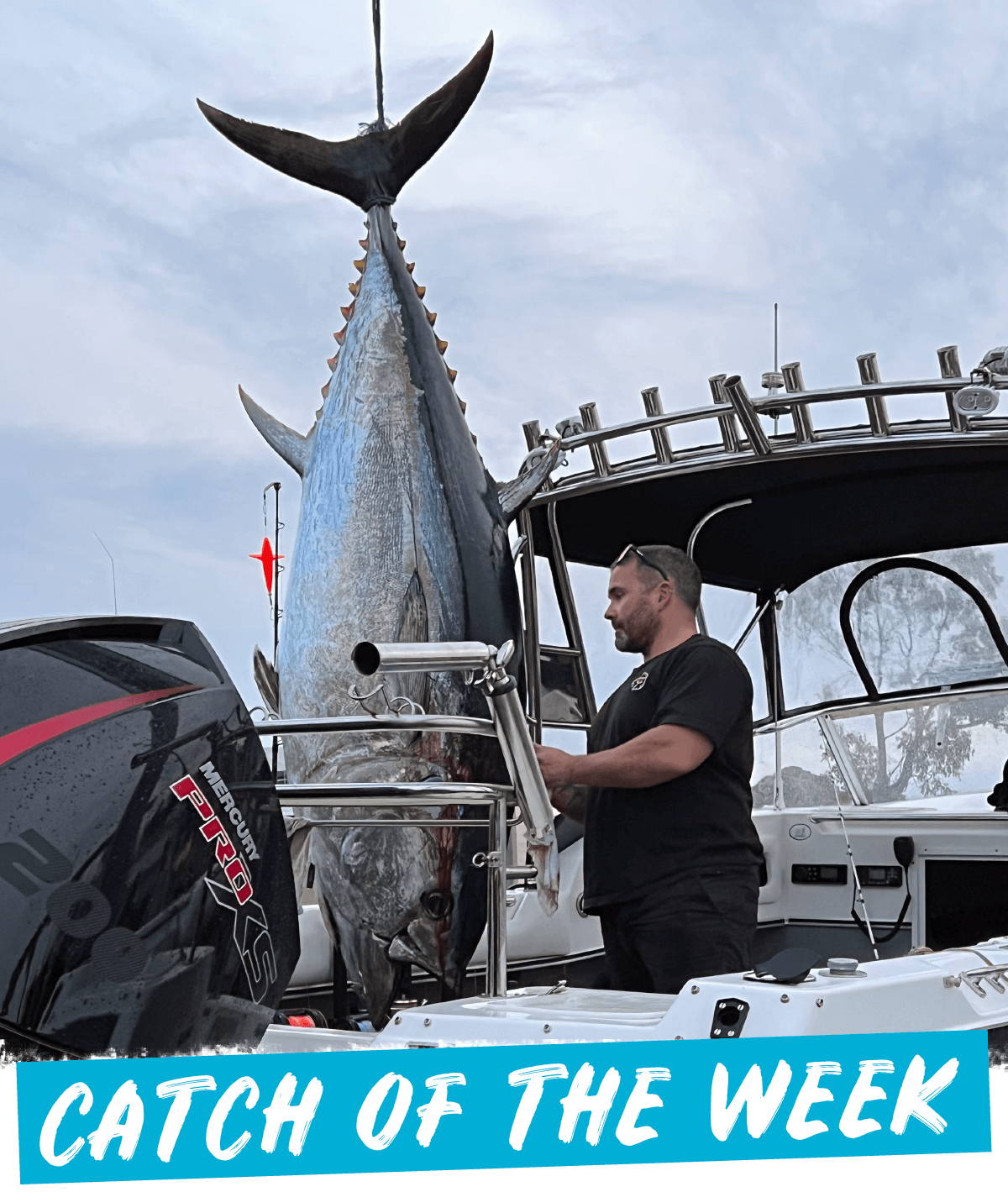 Congratulations to Trueman and Guesty on your cracking barrel tuna caught out from Western Port, you are this weeks Catch of the Week.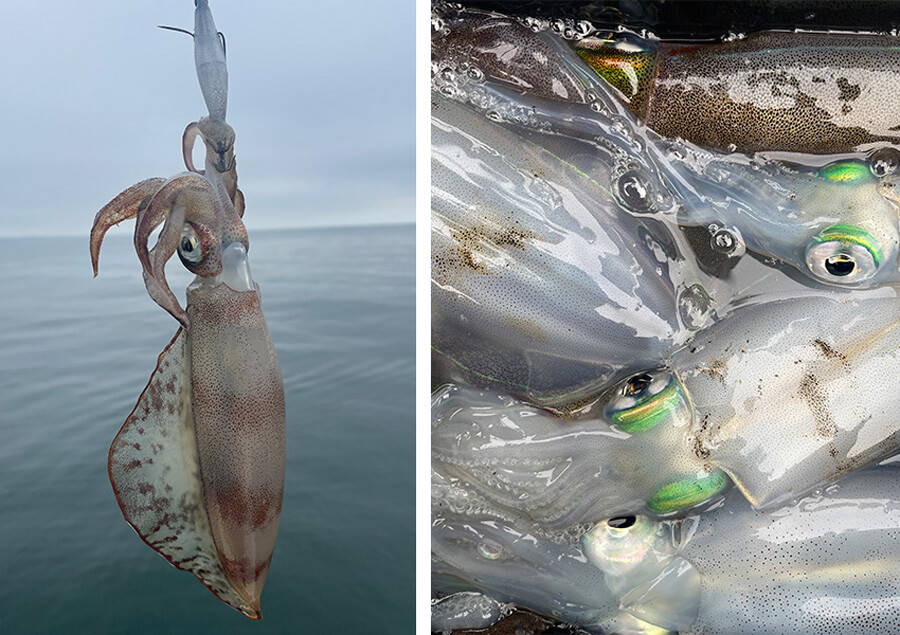 Paul Worsteling and his good mate James Edwards fished out of Martha Cove for a couple of hours this week and managed a beautiful bag out on some fantastic squid. They fished in 4 to 6.2 metres of water over the weed patches. The best jigs were Odori and Ika in black, white or green. The guys then made quick work of cleaning the squid using the Tumbler Scaler Bag.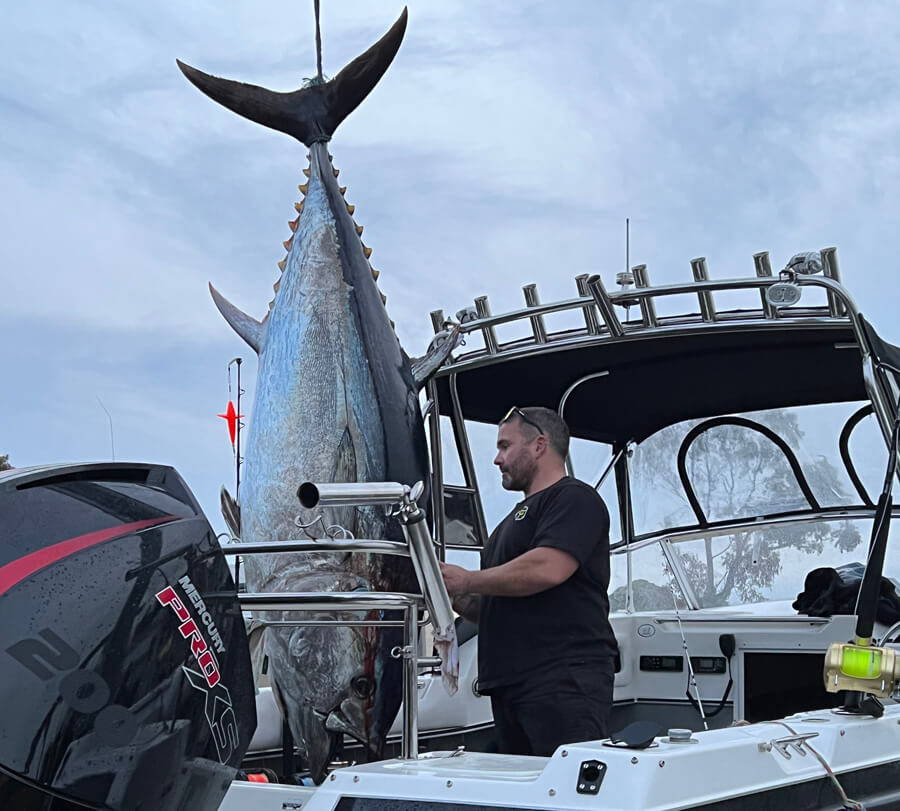 Trueman and Guesty caught a cracker barrel tuna fishing offshore from Western Port using a Pakula fish print skirted lure.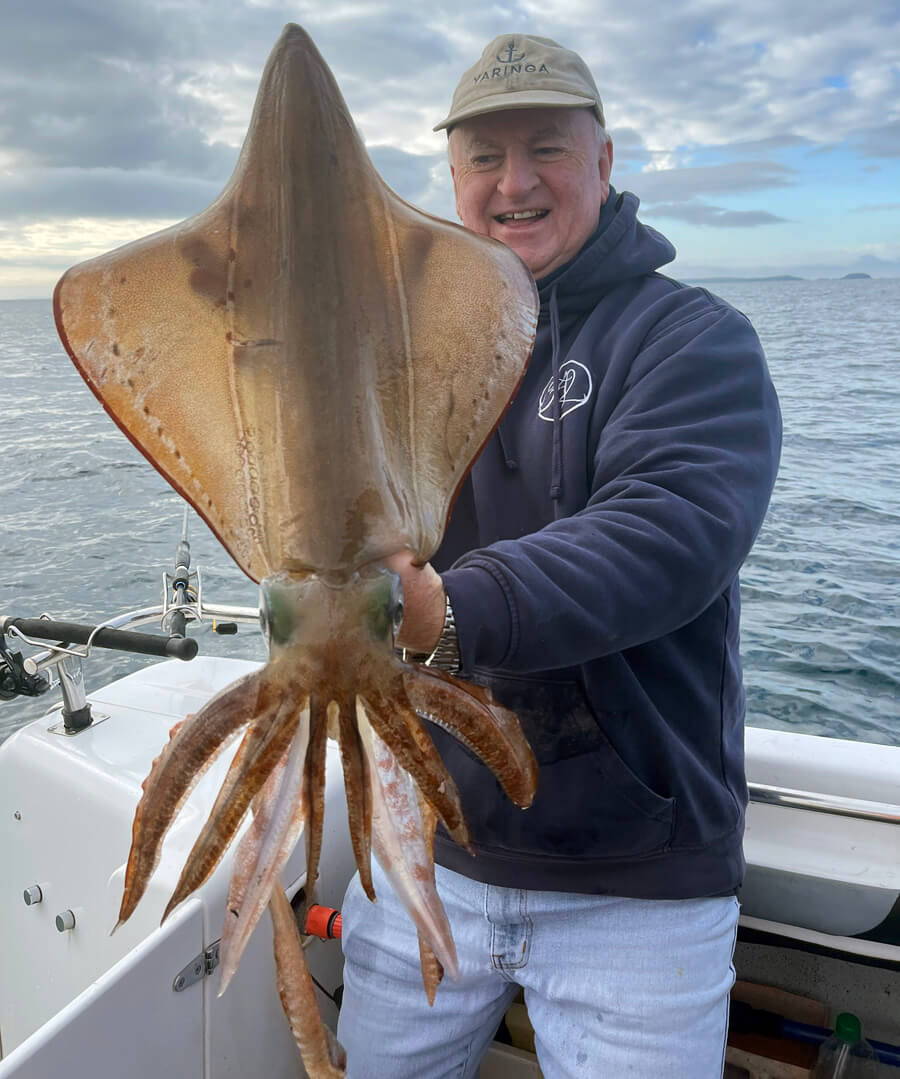 Pat Ellaby caught a cracker 52cm (hood) southern calamari fishing the Western Entrance of Western Port this week. Well done Pat.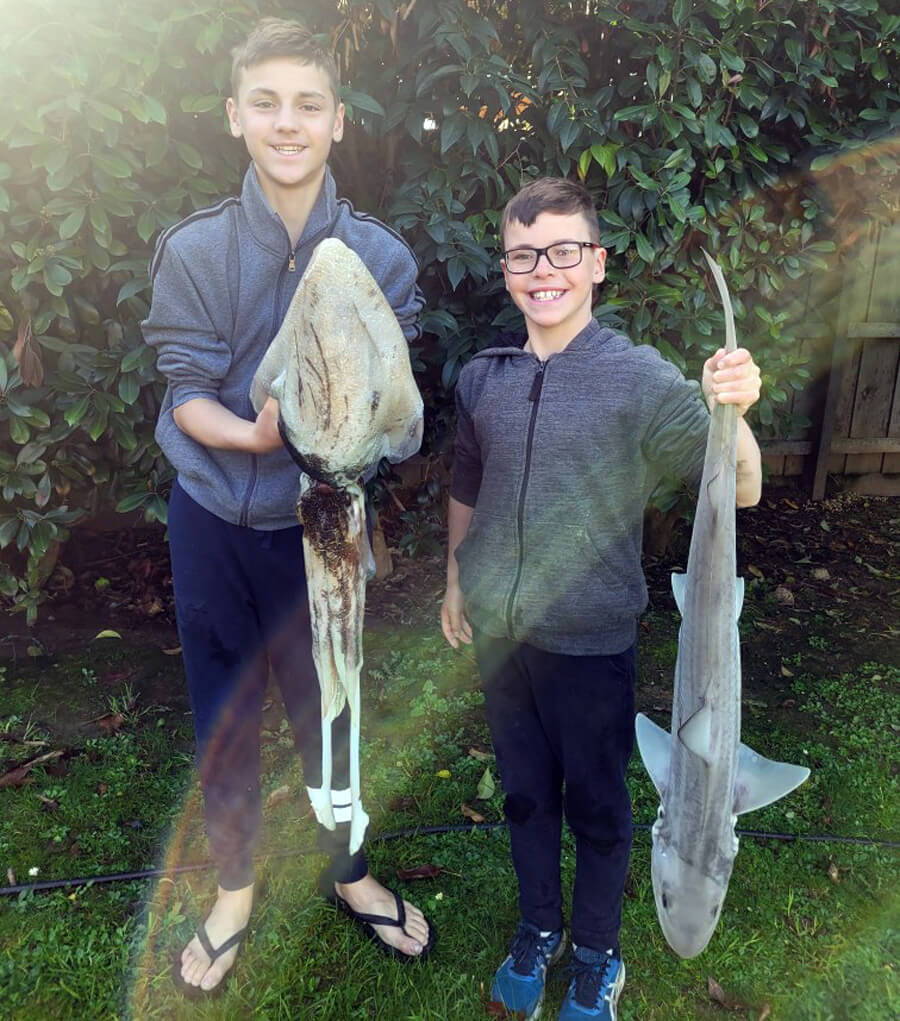 Lucas caught a massive cuttlefish and Cameron caught a nice gummy shark fishing the Western Entrance.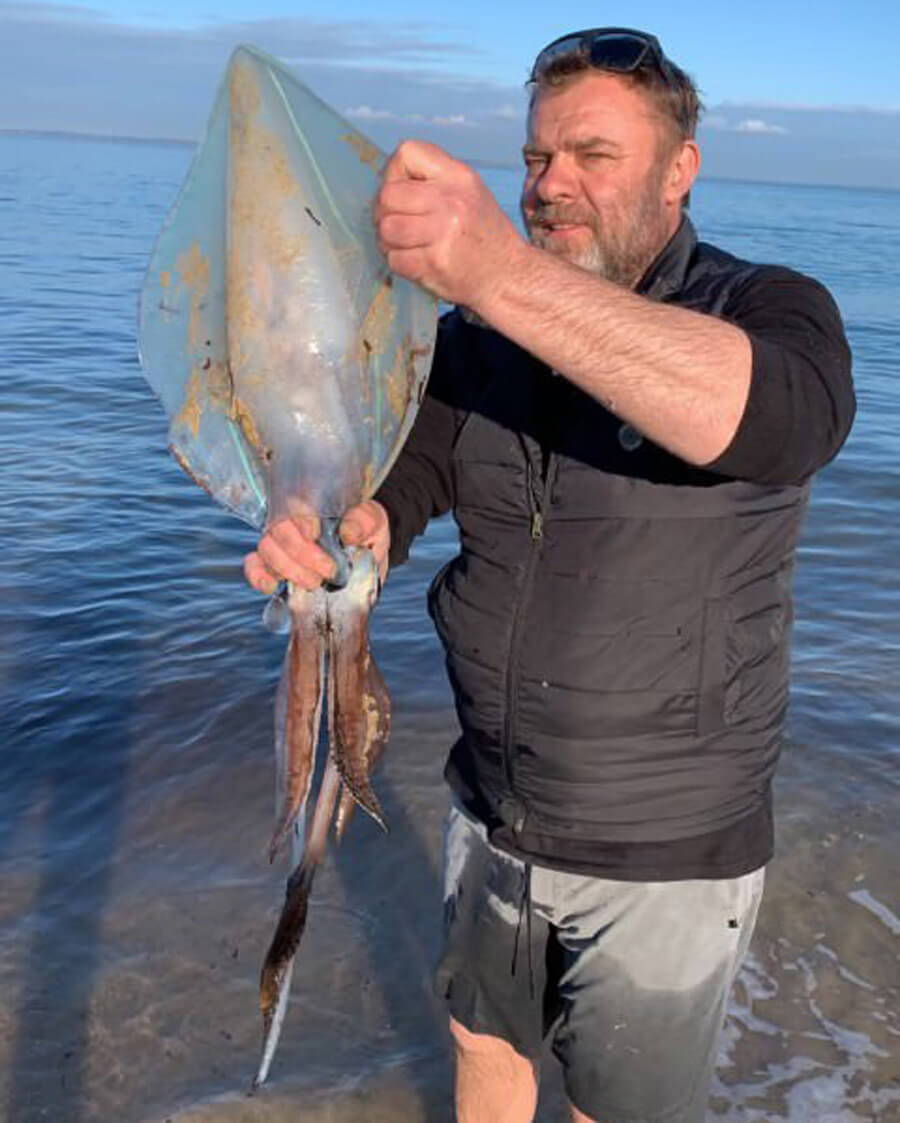 Jay with a solid squid caught land based at Somers using a baited jig.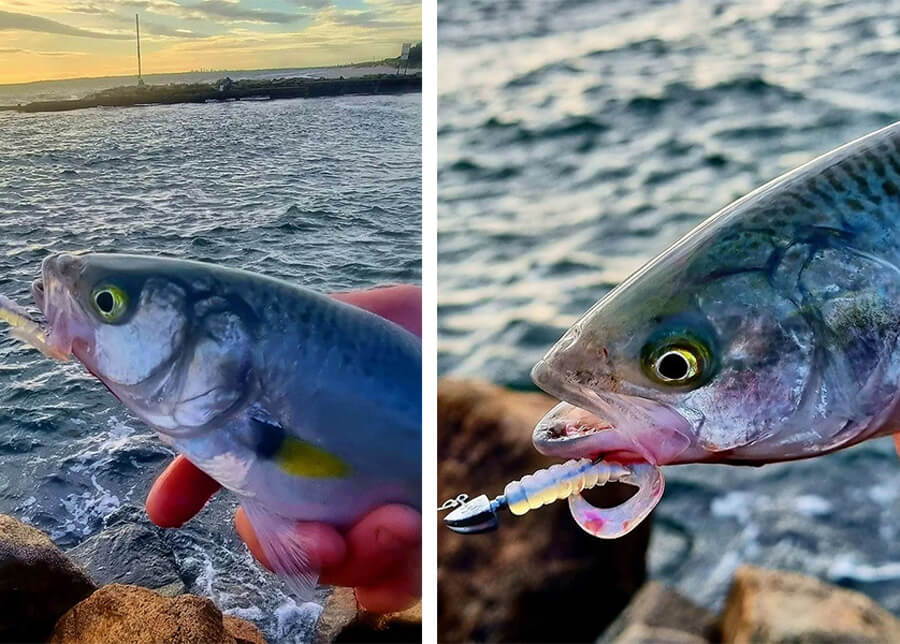 David Borninkhof had a quick flick at the mouth of the Patterson river using soft plastics and caught some nice salmon.
Staff member Mark Keaveny and Frogley's rep Gerry Morsman had a 1 hour session at Mornington pier and caught some nice garfish. Maggots got the job done and the guys reported seeing thousands of gars cruising around the pier. Now is the time to get down there and give them a go!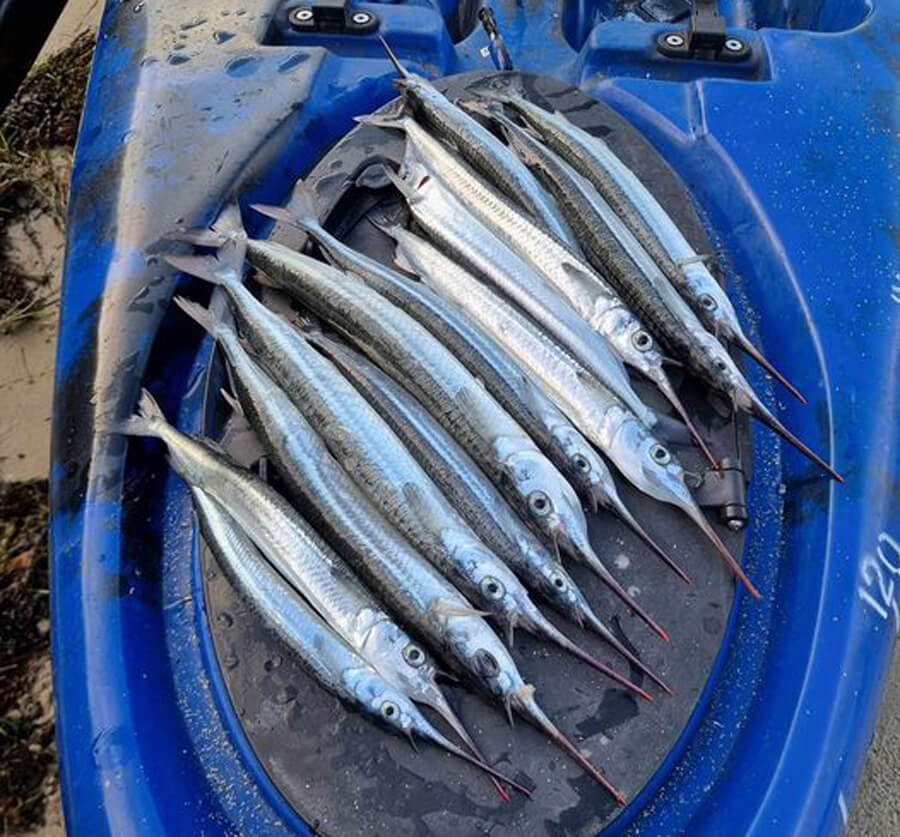 Mick Vanders fished Mornington last week on his kayak and caught some fantastic garfish.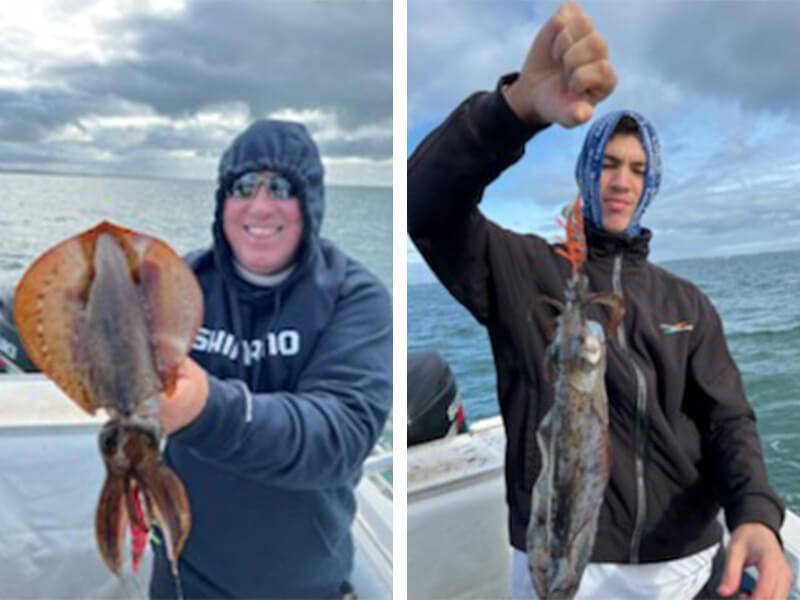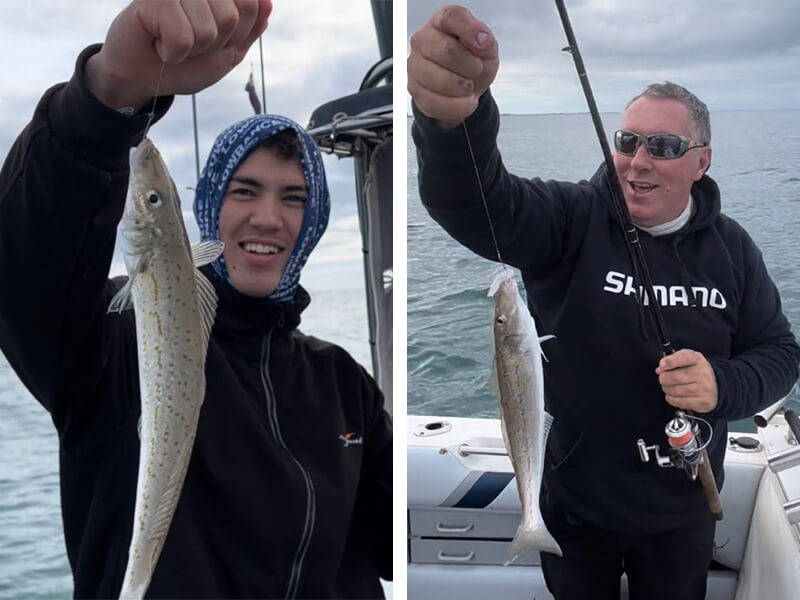 Doug Burt from Doug Burt's Tackle World Gold Coast fished out from Portsea with his family and caught some beautiful squid and thumper whiting.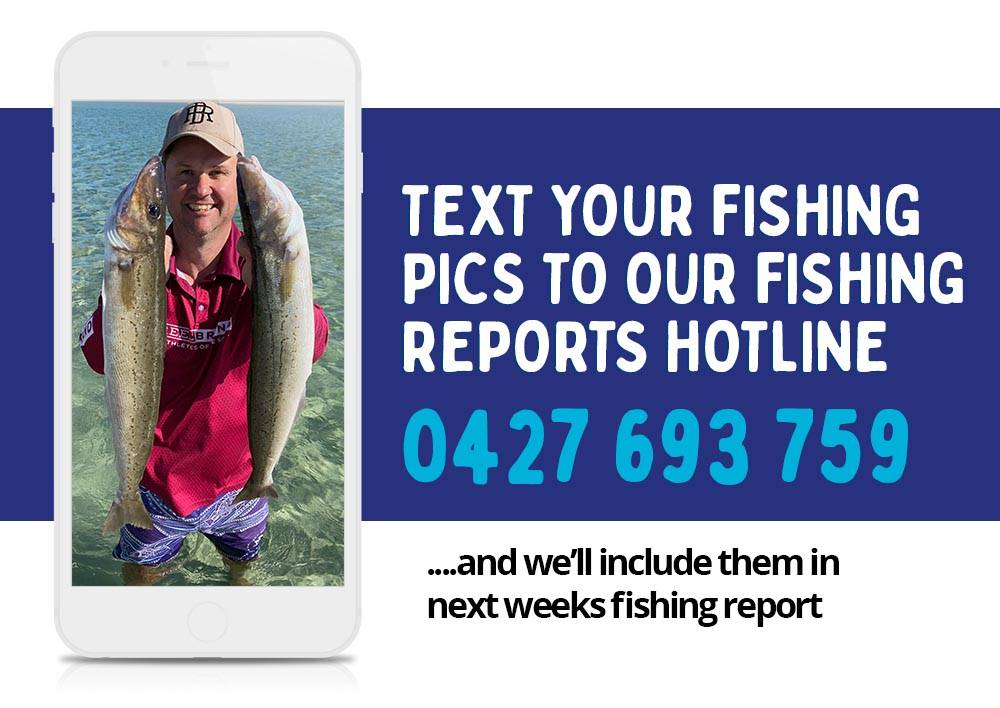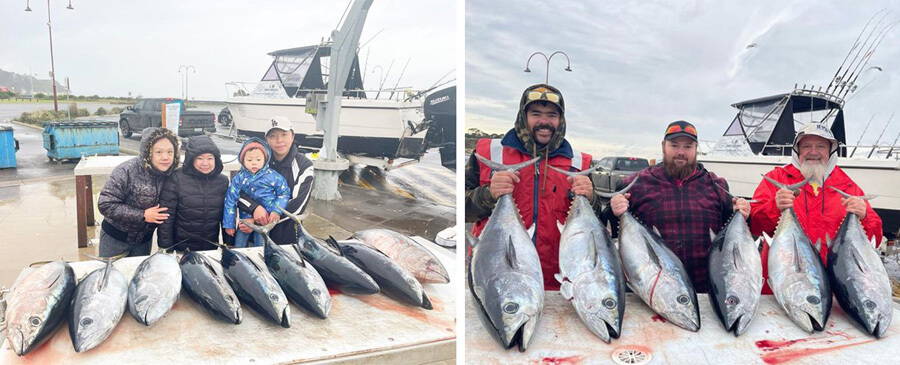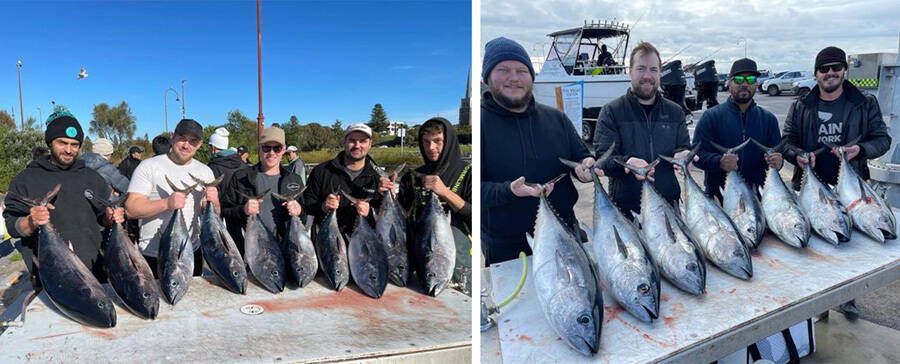 Chris Cassar from Cassar Fishing Charters had plenty of success on the school tuna out from Portland with his customers this week going home with big smiles and some amazing tuna.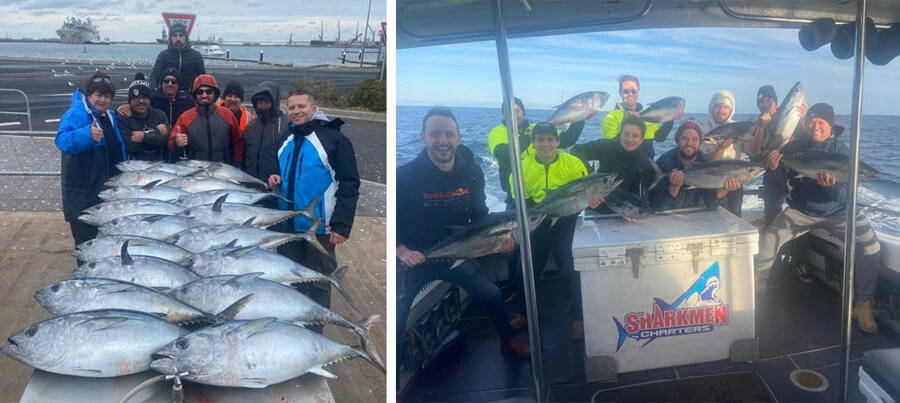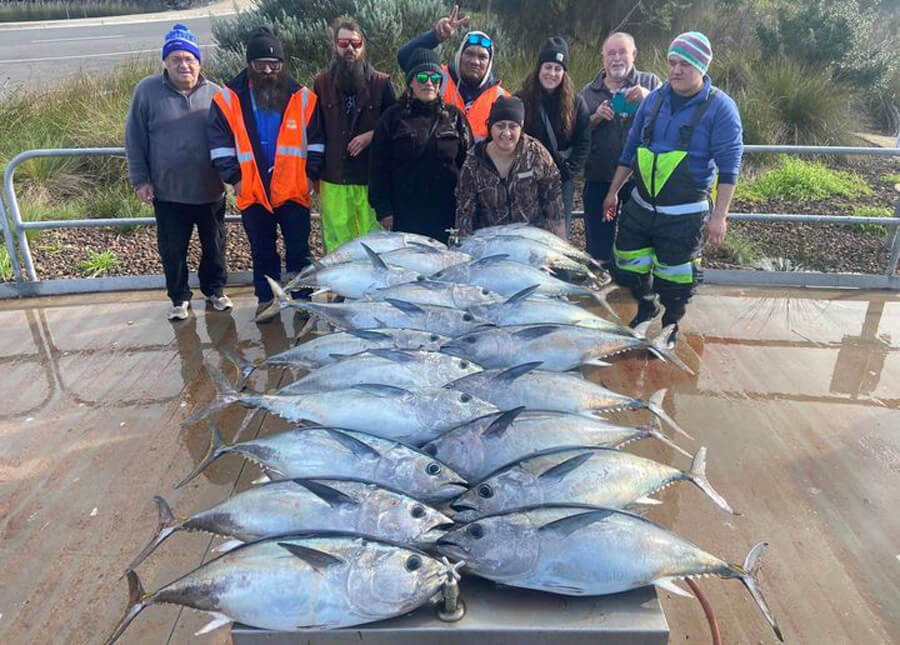 Marco from Sharkmen Fishing Charters had a fantastic week on the tuna out from Portland with his customers catching some beautiful tuna.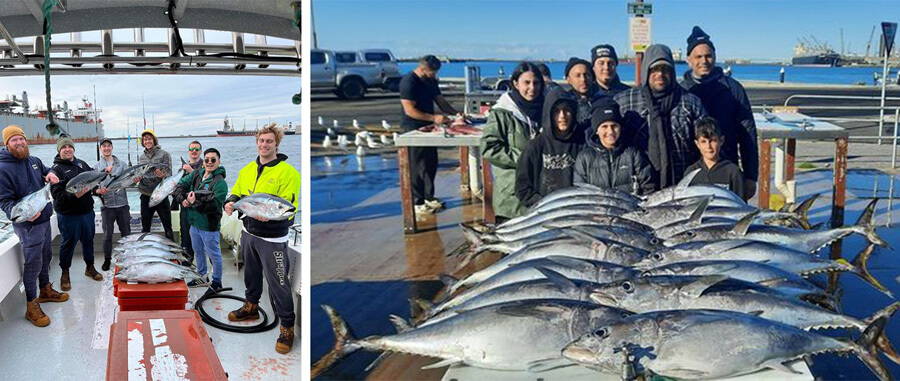 The Reel Time Fishing Charters crews found plenty of nice tuna for their customers this week with lots of tuna to go around.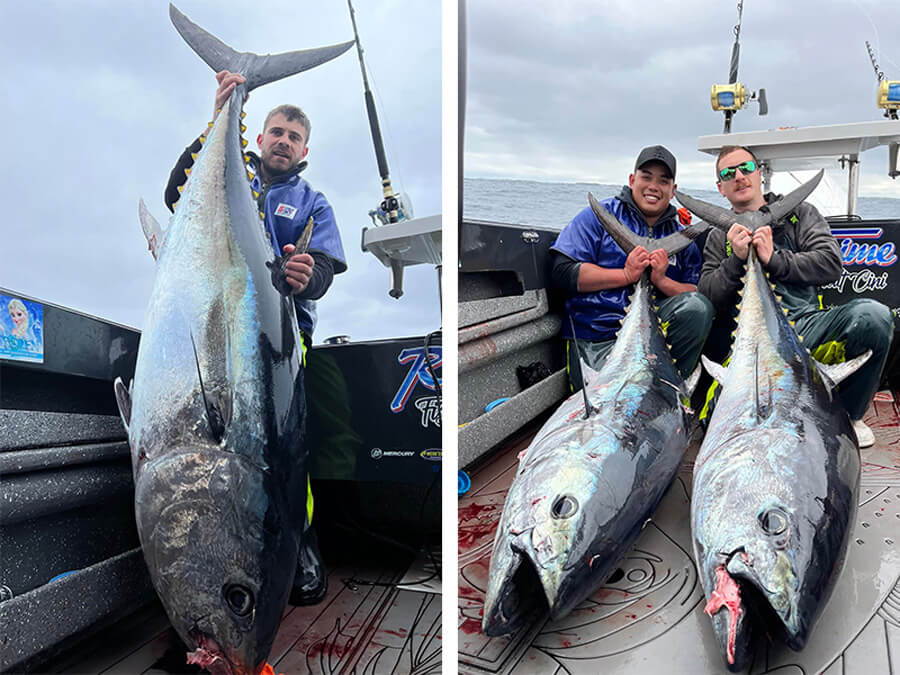 The Reel Time Fishing Charters guys had a ripper social trip last week for Alek's birthday with some fantastic barrels caught. Well done Aleks, Will and Oscar.
Mark Whitford headed to Eildon and caught this ripper 76cm Murray cod, well done Mark.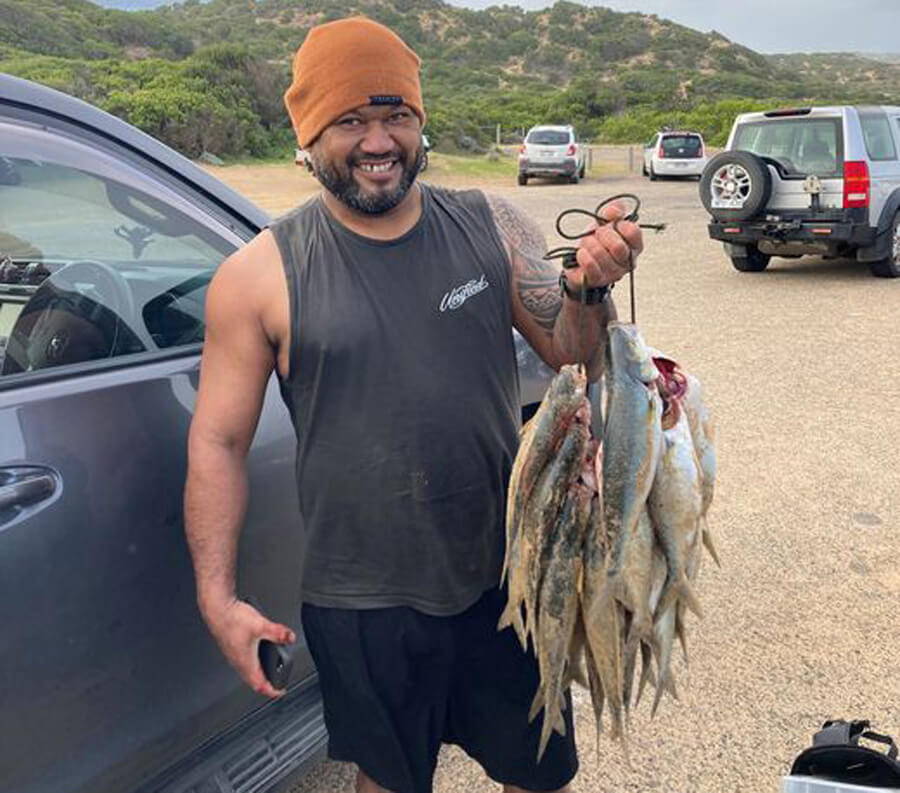 Fisheries Officers from Mornington caught up with Gunnamatta Beach regular Noah as he was about to return home after bagging out on Australian salmon. Aussie salmon have a bag limit of 20 and a minimum size of 21cm. via Victorian Fisheries Authority.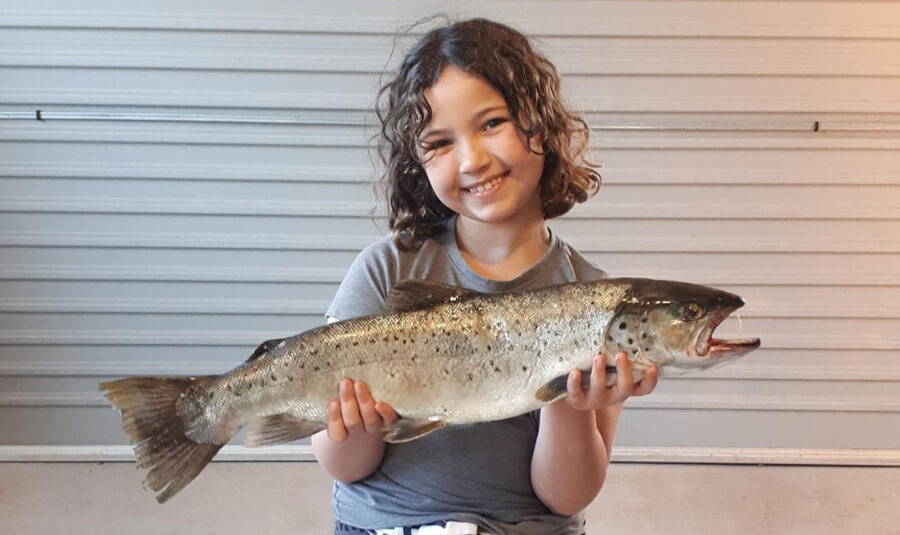 Kiara Coad caught this ripper 5.28lb brown trout trawling Lake Hume near Tallangatta.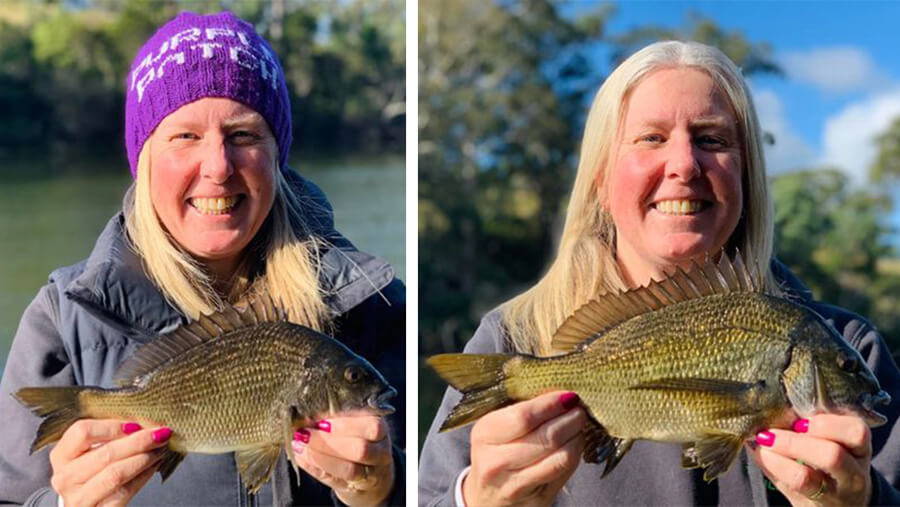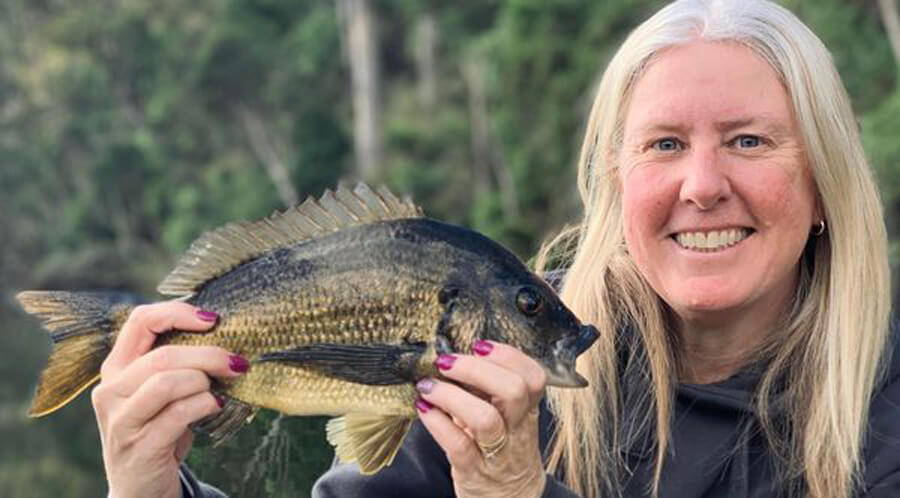 Nikki Bryant fished Lake Tyers recently and caught some fantastic bream.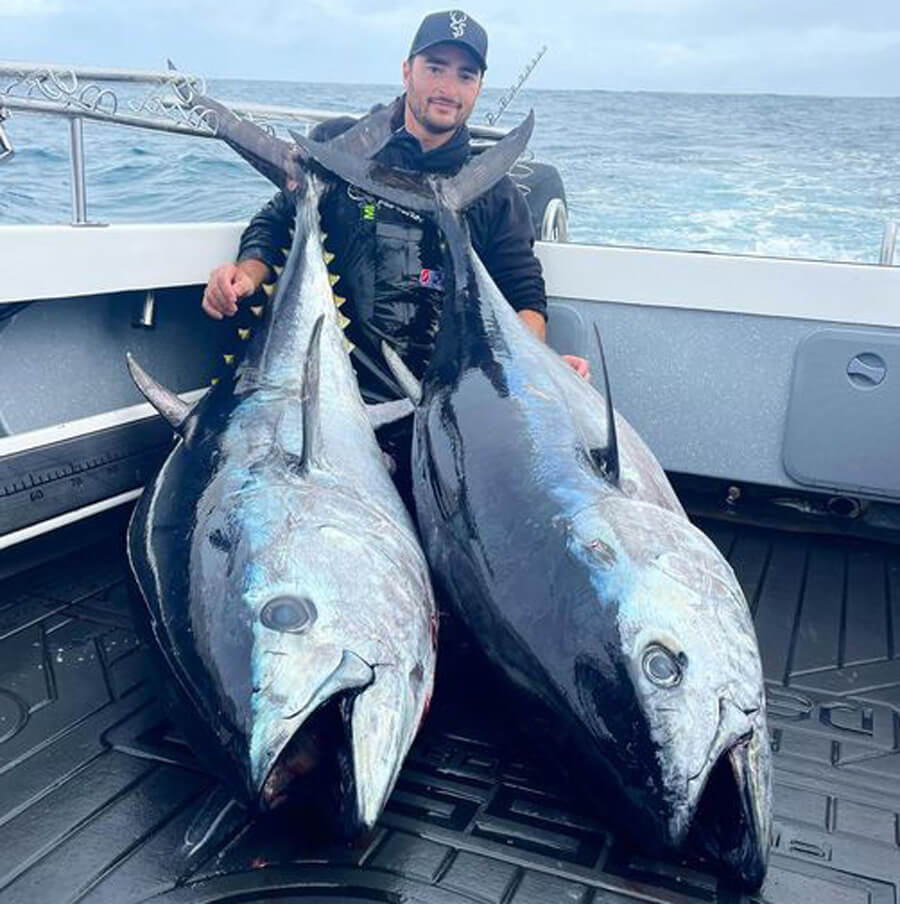 Chris Cassar fished with some friends off Port Macdonnell and managed a pidgeon pair of barrel tuna with them weighing 113kg and 114kg. Well done guys.

Our fishing report archives go back to 2014 so you can go back and see what was being caught where over the years.
IFISH WITH TACKLE WORLD - NEW 2022 SERIES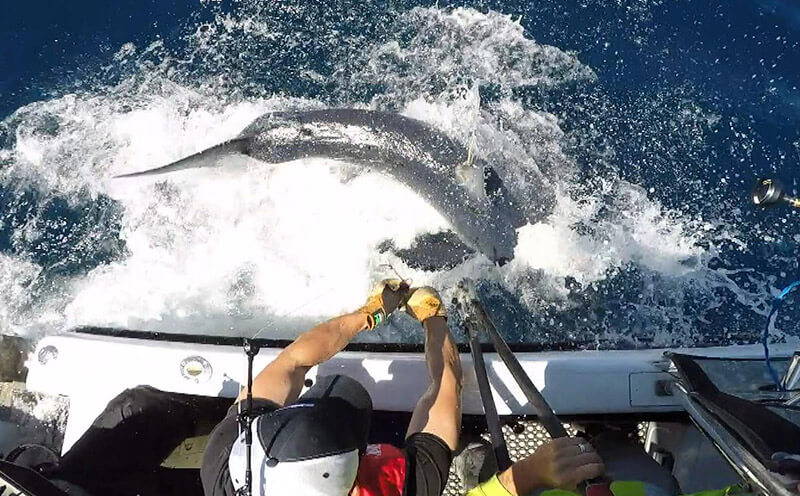 THIS WEEK ON IFISH TV
LOCATION: EAGLE HAWK NECK, TAS
TARGET: MAKO SHARK
SUNDAY 26th JUNE, 2022 on 10BOLD at 5PM
Catch past episodes of IFISH TV on Youtube so you can get your fishing fix any time, any where.
TALKING FISHING - C31 - TUESDAYS at 8.30pm
Catch "Talking Fishing" on Melbourne's C31 TV (CH44) at 8.30pm each Tuesday night. Staff member David Kramer along with Adam Ring Tiffany Newton host Australia's only "Live to Air" fishing television program at this prime time-slot. Put Tuesday night's at 8.30 away in your weekly diary of TV shows to watch!
Good Luck with your fishing and stay safe on the water,

The TEAM at Tackle World Cranbourne & Mornington