Congratulations to Paul Raike on your cracker 42cm (hood) squid caught out from Cowes, you are this weeks Catch of the Week.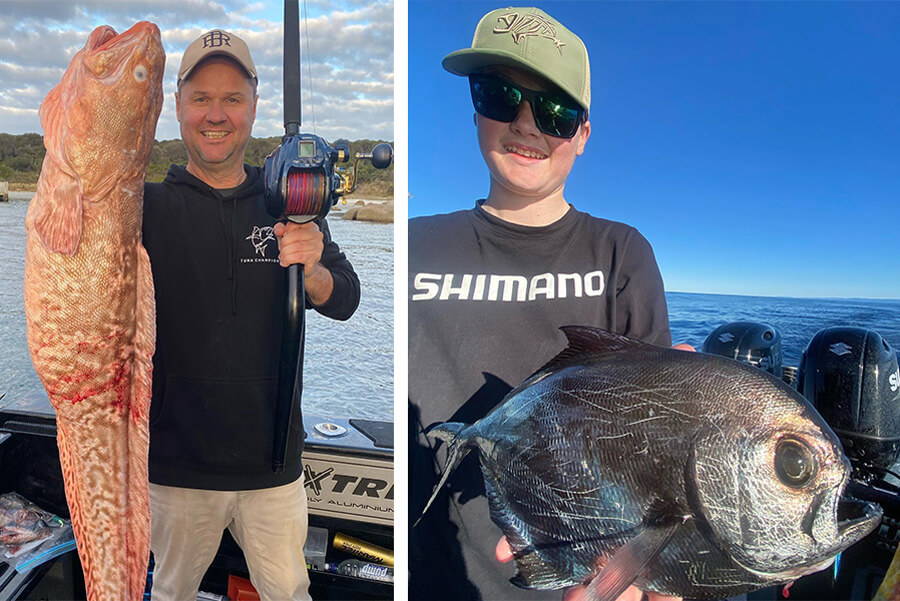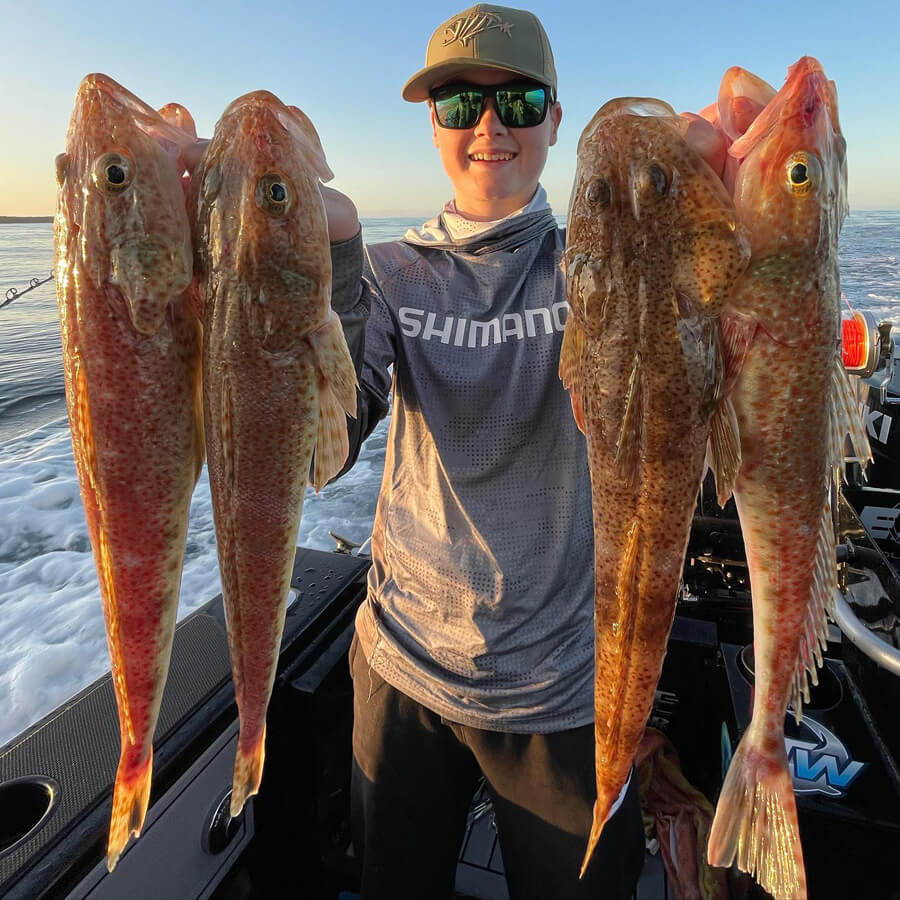 Paul, Cristy and Jet Worsteling fished out of the Port of St Helens this week along the edge of the continental shelf. They have been soaking baits in search of swordfish but they have also been deep dropping baits in up to 600 metres of water using Shimano deep drop gear. The results have been staggering with beautiful blue grenadier, rays bream, gem fish and monster pink ling. On other afternoons they have spent time in 70 metres of water using paternoster rigs to catch massive tiger and sand flathead.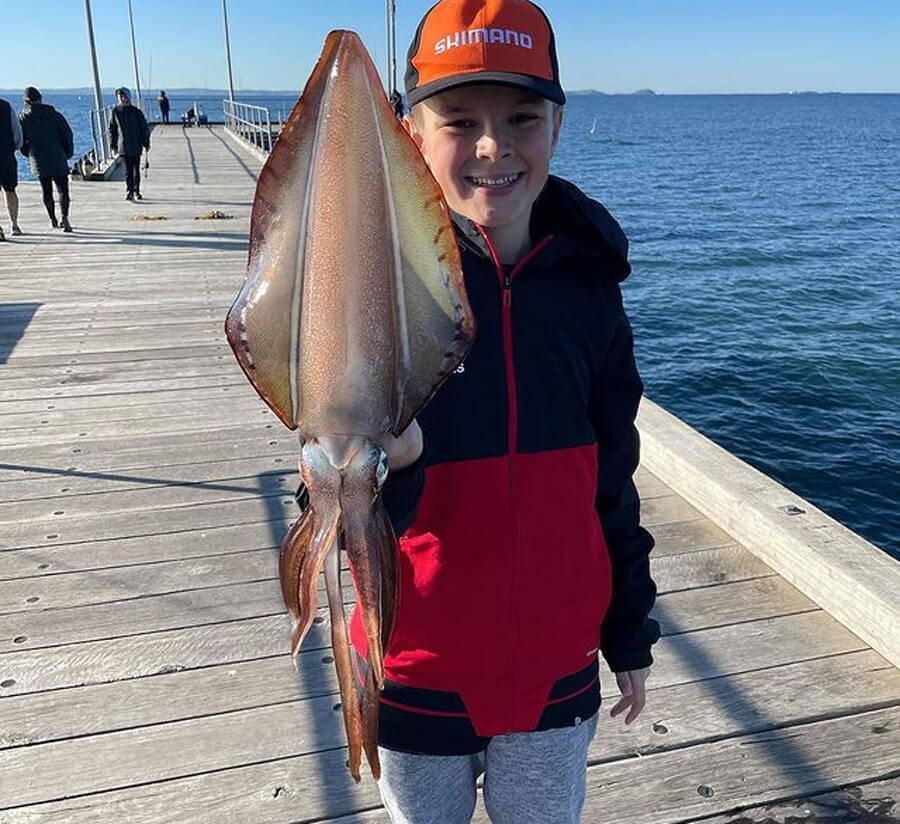 Archer Amado caught a cracker calamari at Flinders pier while fishing with Mason and his dad.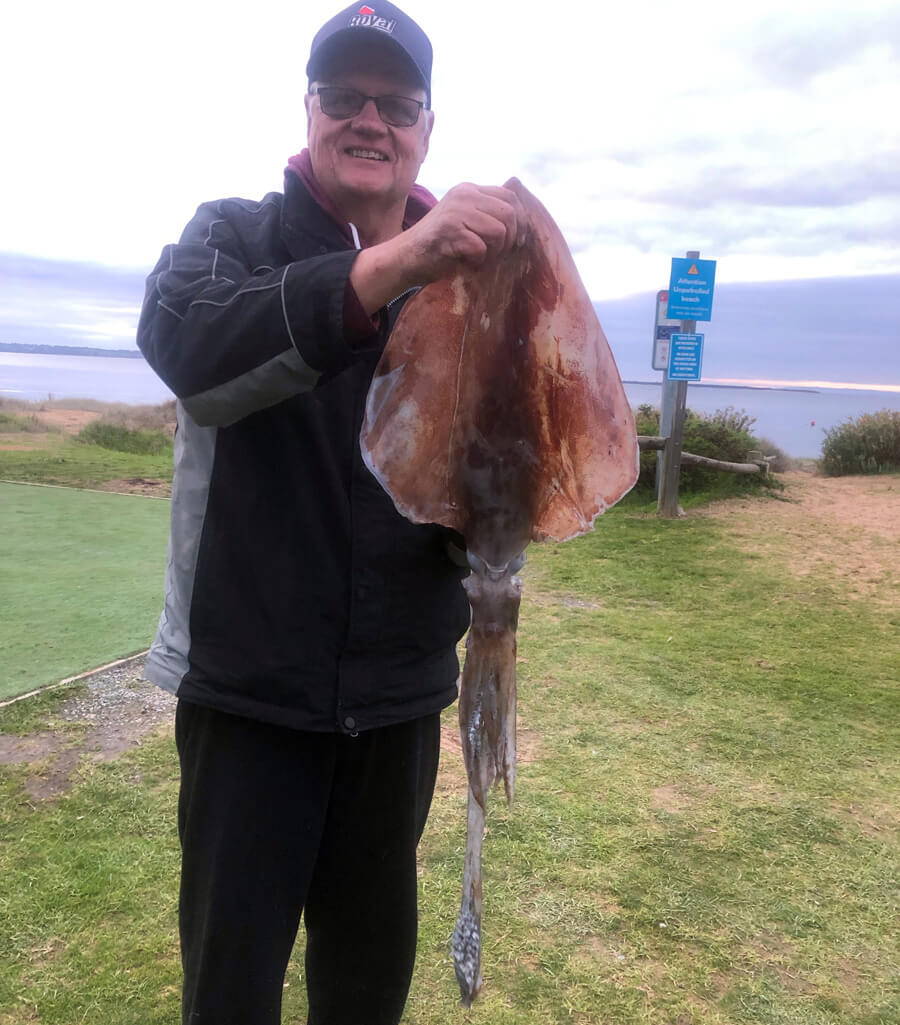 Paul Raike caught a cracker 42cm (hood) squid using a 4.0 sized jig in a purple foil colour while fishing off Cowes.

Steven Skoda caught 7 nice squid fishing at Tyabb this week.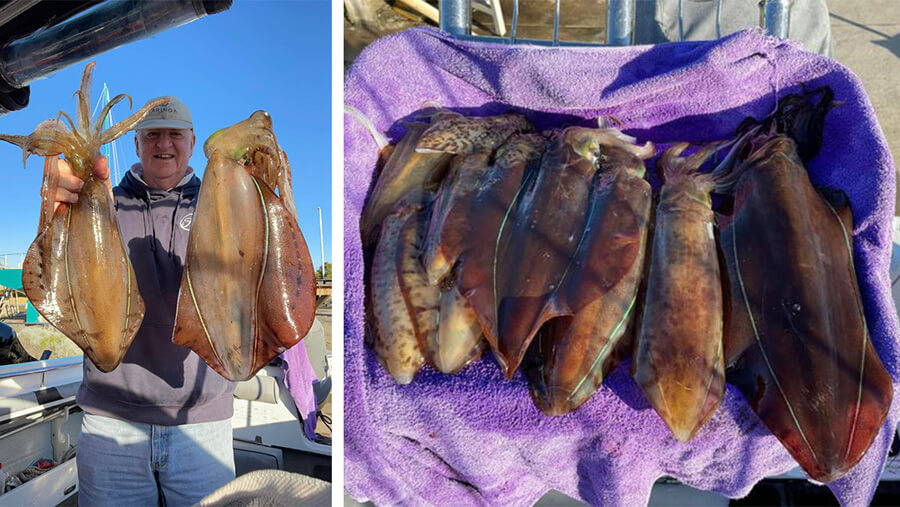 Pat Ellaby fished Quail Bank and caught some cracking squid in the shallows.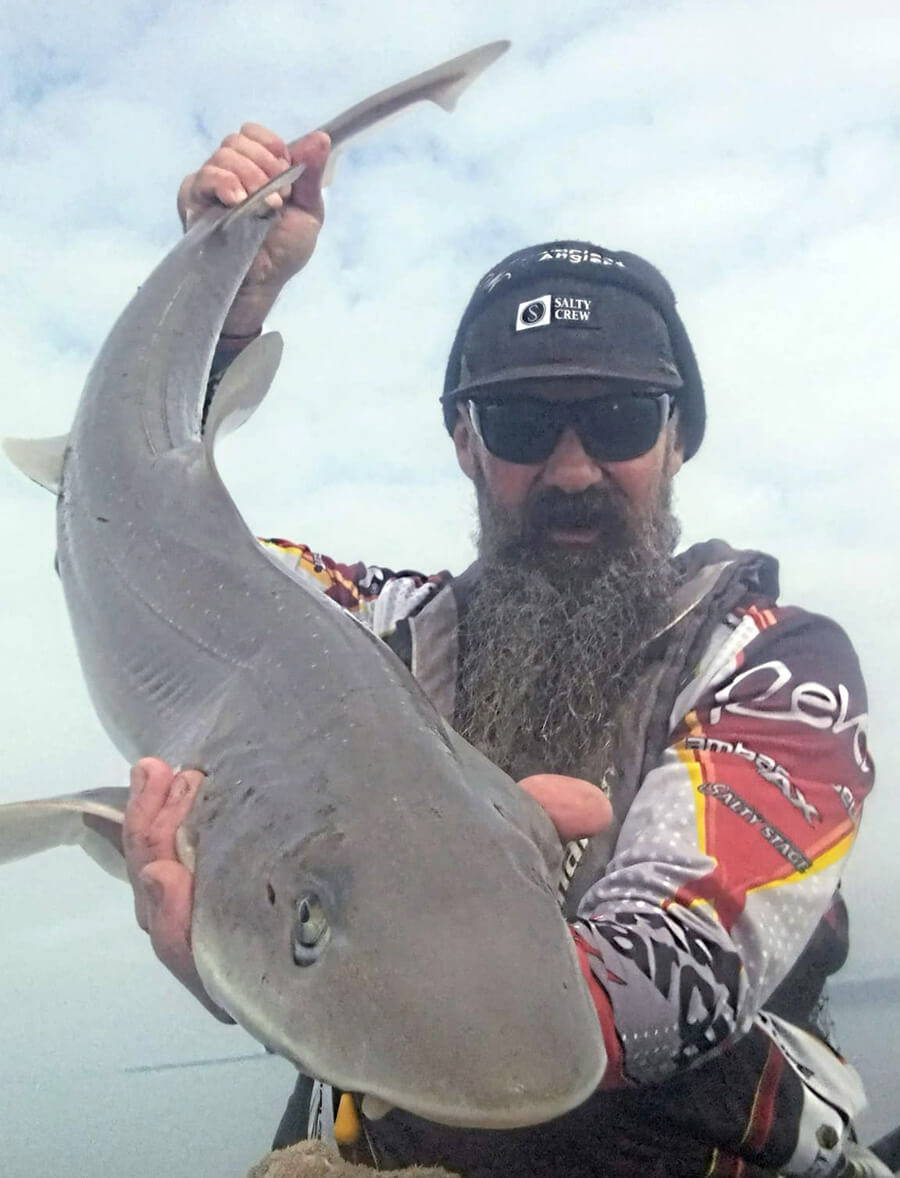 Paul Hilton fished out from Lang Lang and caught a nice gummy shark.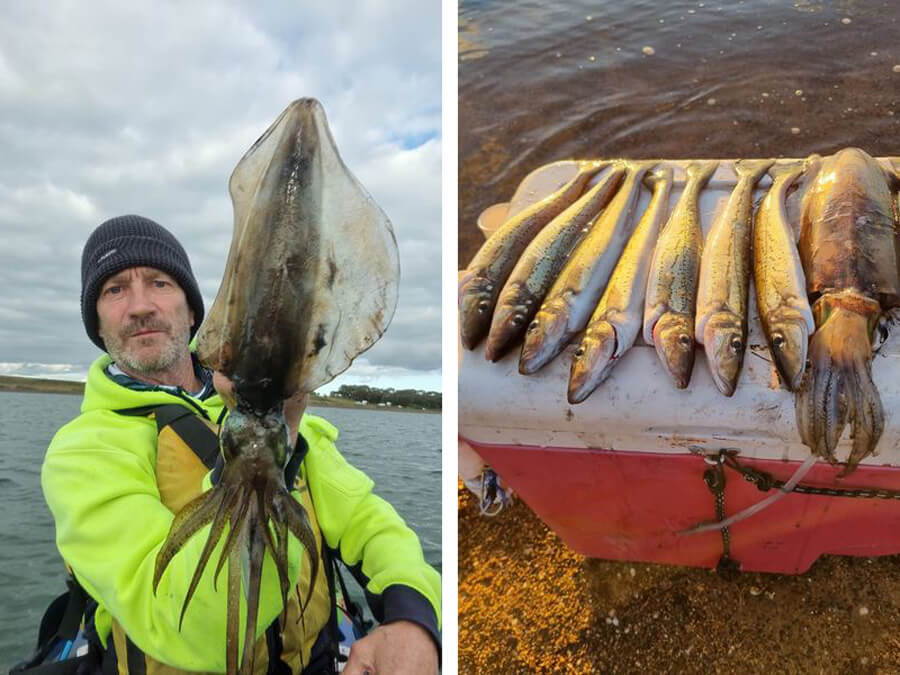 Mick Vanders fished out from Coronet bay and managed a nice bag of whiting and a decent squid.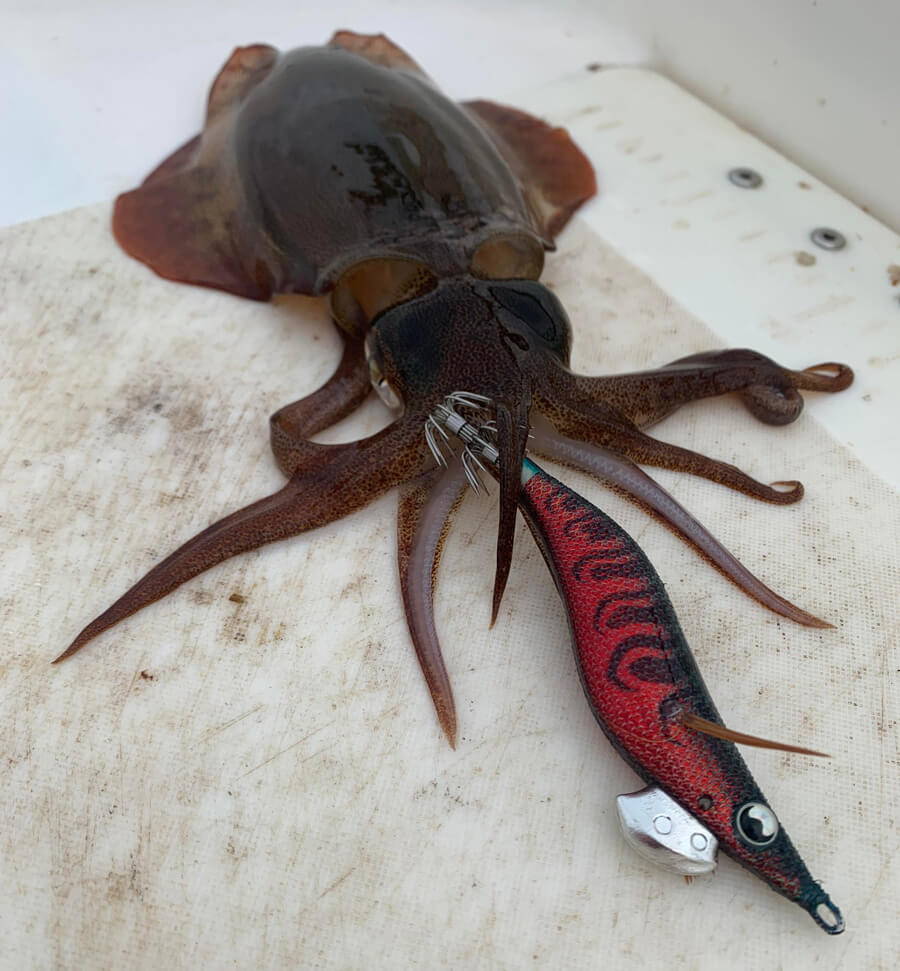 Staff member John Anderson caught a nice bag of squid fishing out from Canadian Bay in 4 to 5 metres of water.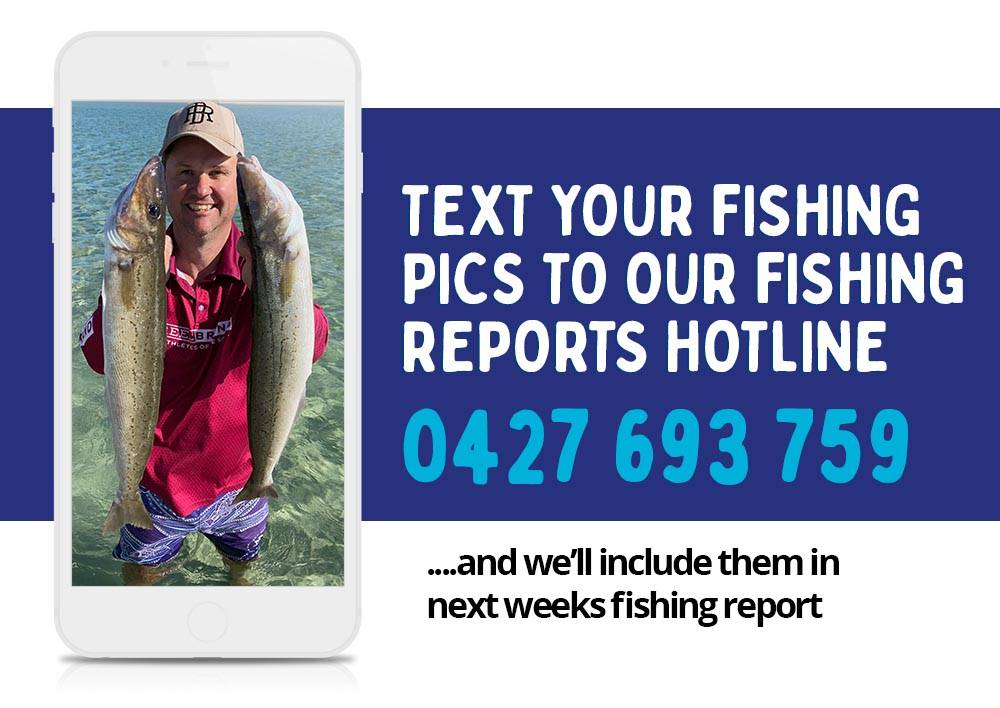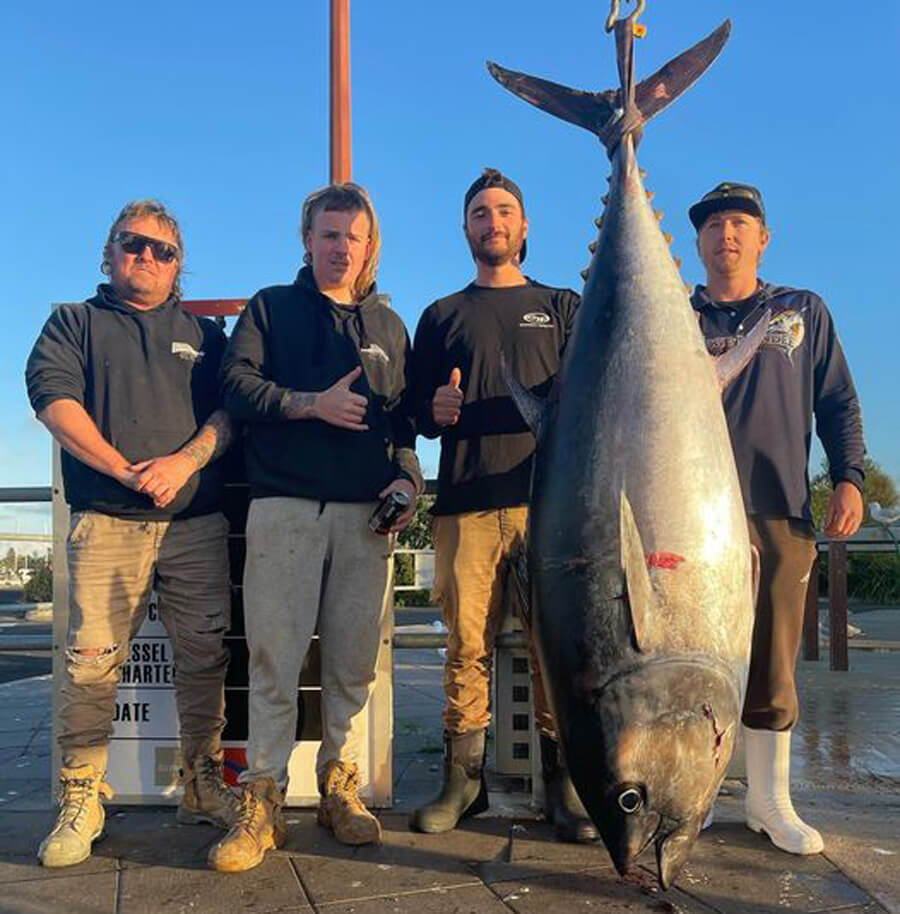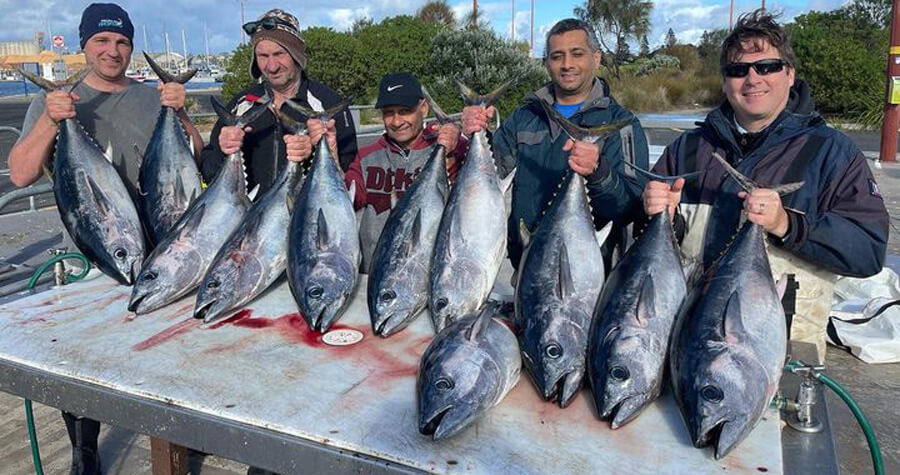 Chris Cassar from Cassar Fishing Charters smashed the school tuna with his customers this week out from Portland. Chris also headed out with Aaron and Jake McCurdy and caught a cracker 117.4kg barrel tuna after a 3.5 hour fight on spin gear.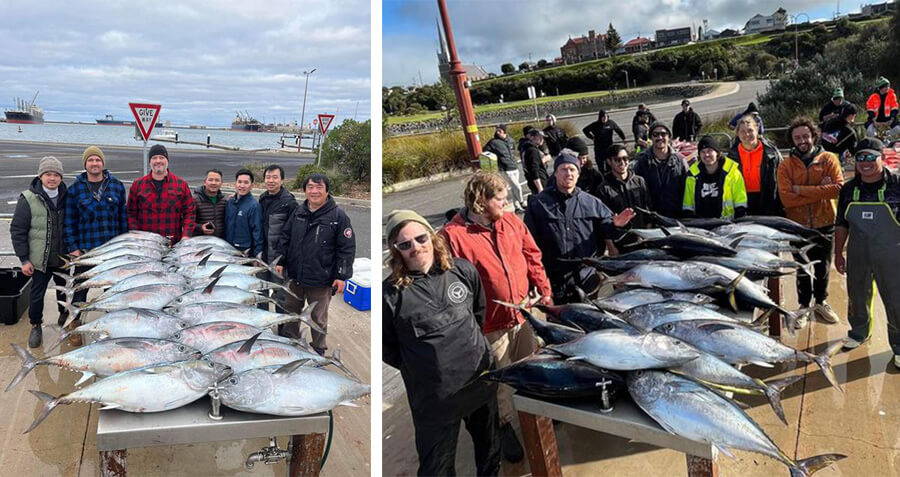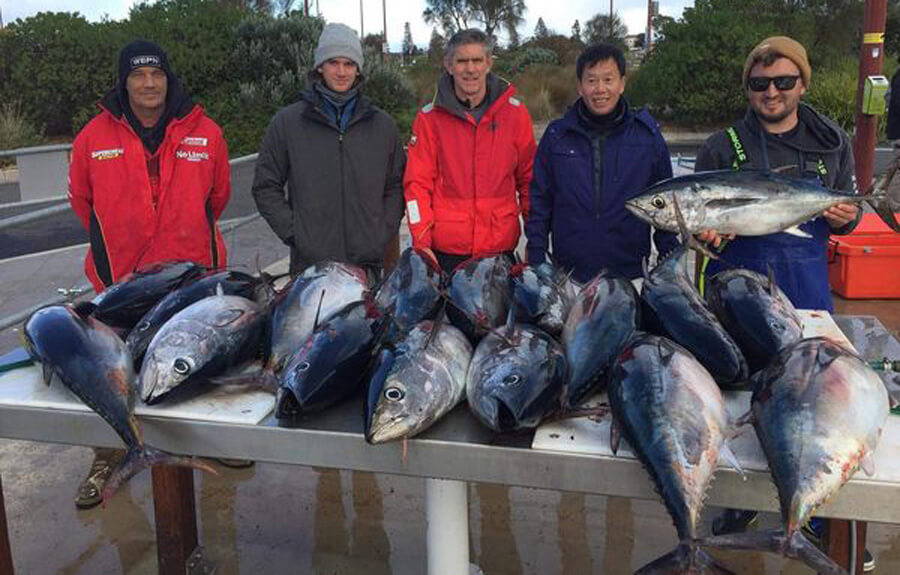 Matt Cini and the Reel Time Fishing Charters crews had a great week on the school tuna out from Portland this week with plenty to go around for their customers.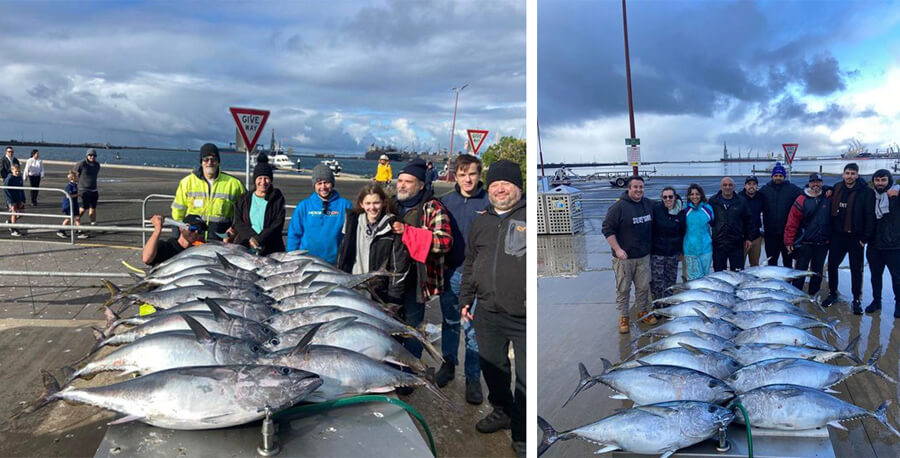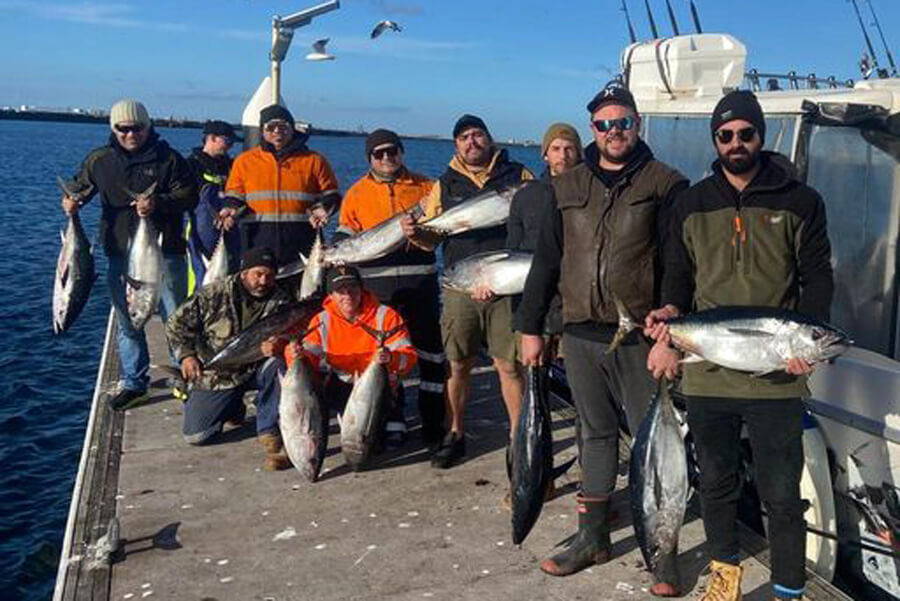 Marco from Sharkmen Fishing Charters caught some fantastic tuna with his customers this week fishing out from Portland this week.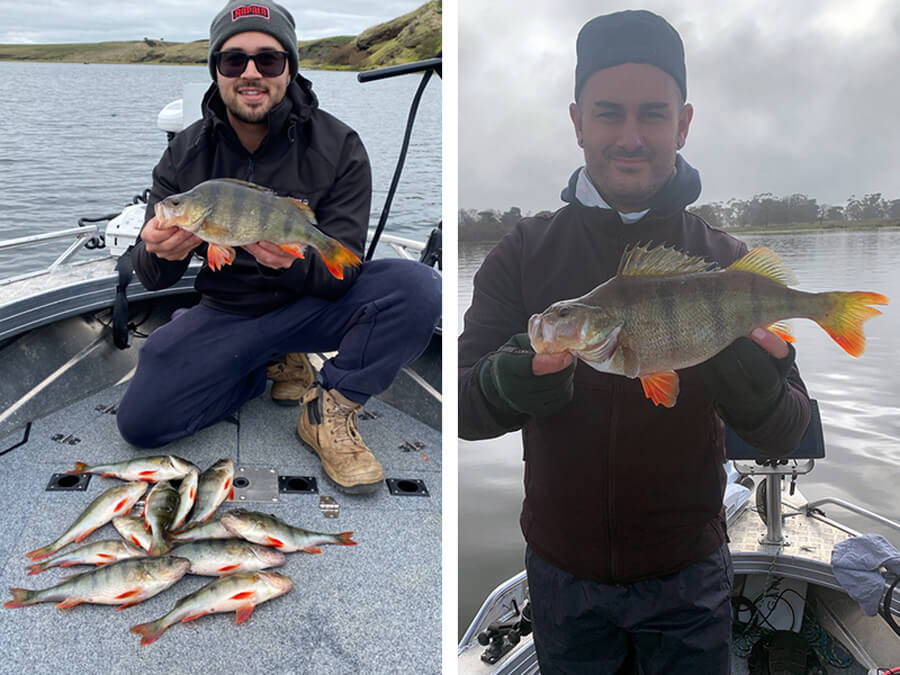 Lockie Buttigieg caught a nice feed of redfin fishing at Lake Purrumbete with the biggest going 40cm.

Staff members Ben Clothier and Adam Walker fished Devilbend Reservoir and caught some nice Estuary perch using vibes worked through the weed beds.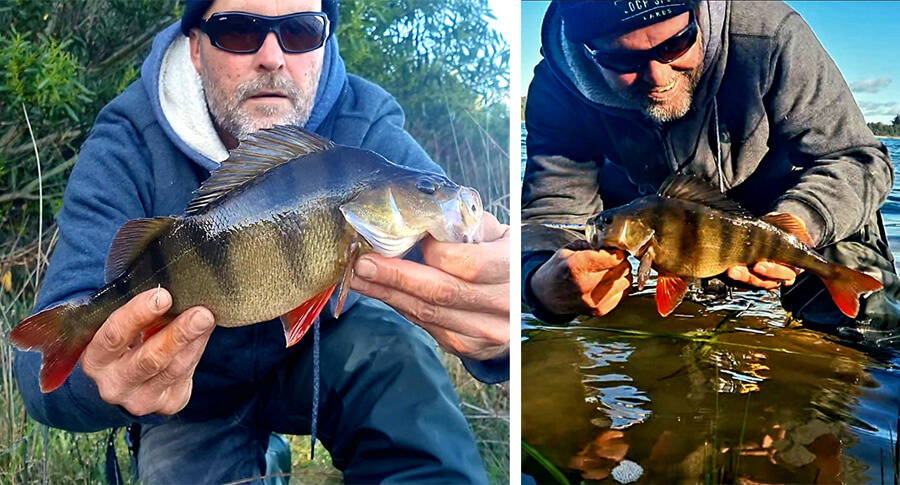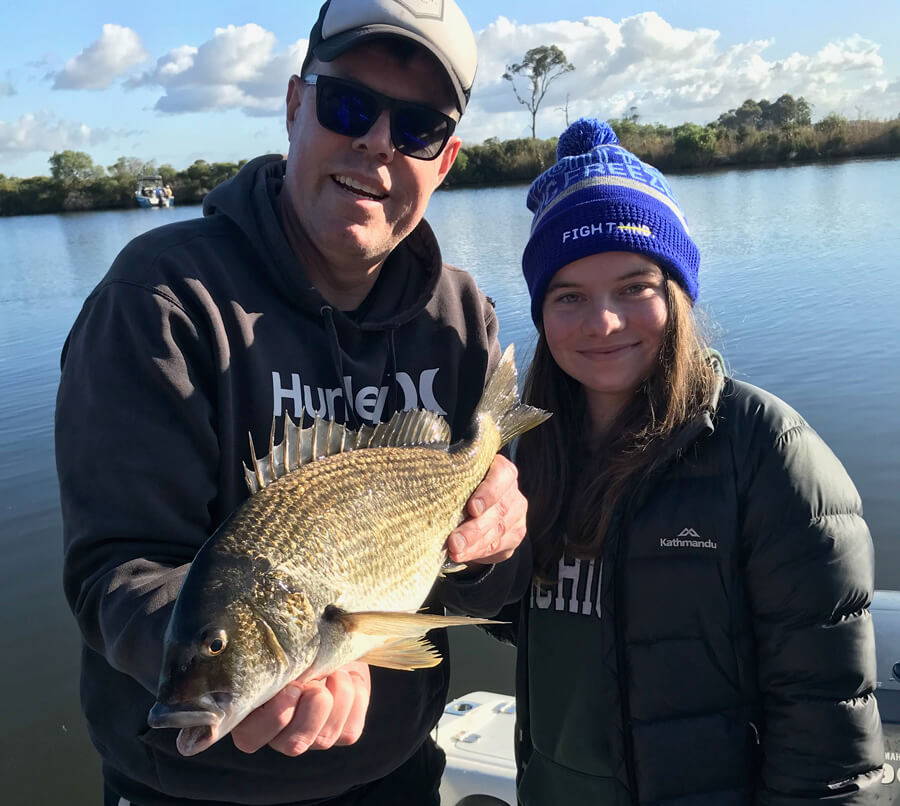 Chloe Taylor and he dad fished the Nicholson River and Chloe caught a craker 44cm bream using prawn for bait.

Slevo fished the shallows around marlo and caught some nice bream using local prawns for bait.

Our fishing report archives go back to 2014 so you can go back and see what was being caught where over the years.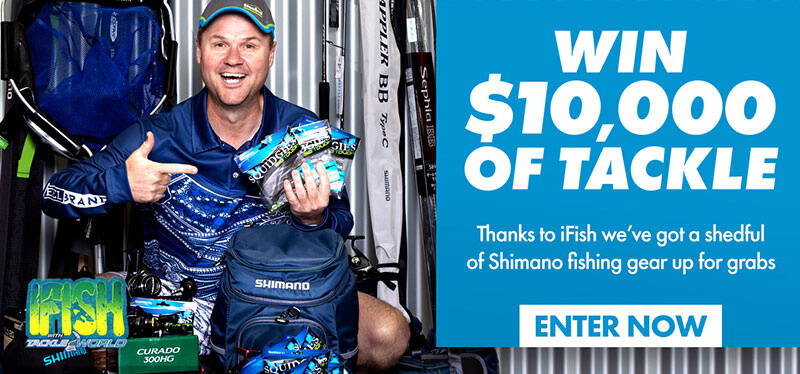 Thanks to my mates at Steeline, you could be walking away with $10,000 worth of quality Shimano fishing gear. Entry is free, so give it a crack. You'll never know your luck if you don't have a go.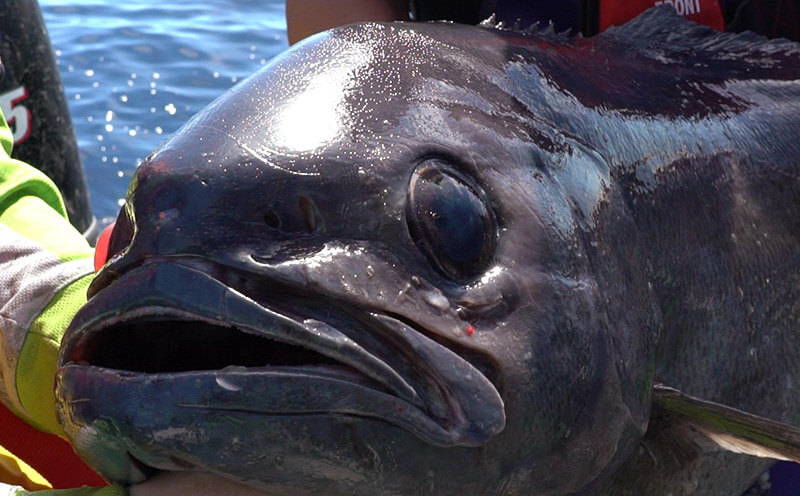 THIS WEEK ON IFISH TV
LOCATION: EAGLE HAWK NECK, TAS
TARGET: BLUE EYE TREVELLA
SUNDAY 10th JULY, 2022 on 10BOLD at 5PM
Catch past episodes of IFISH TV on Youtube so you can get your fishing fix any time, any where.
TALKING FISHING - C31 - TUESDAYS at 8.30pm
Catch "Talking Fishing" on Melbourne's C31 TV (CH44) at 8.30pm each Tuesday night. Staff member David Kramer along with Adam Ring Tiffany Newton host Australia's only "Live to Air" fishing television program at this prime time-slot. Put Tuesday night's at 8.30 away in your weekly diary of TV shows to watch!
KNOW YOUR LIMITS - BROUGHT TO YOU BY VFA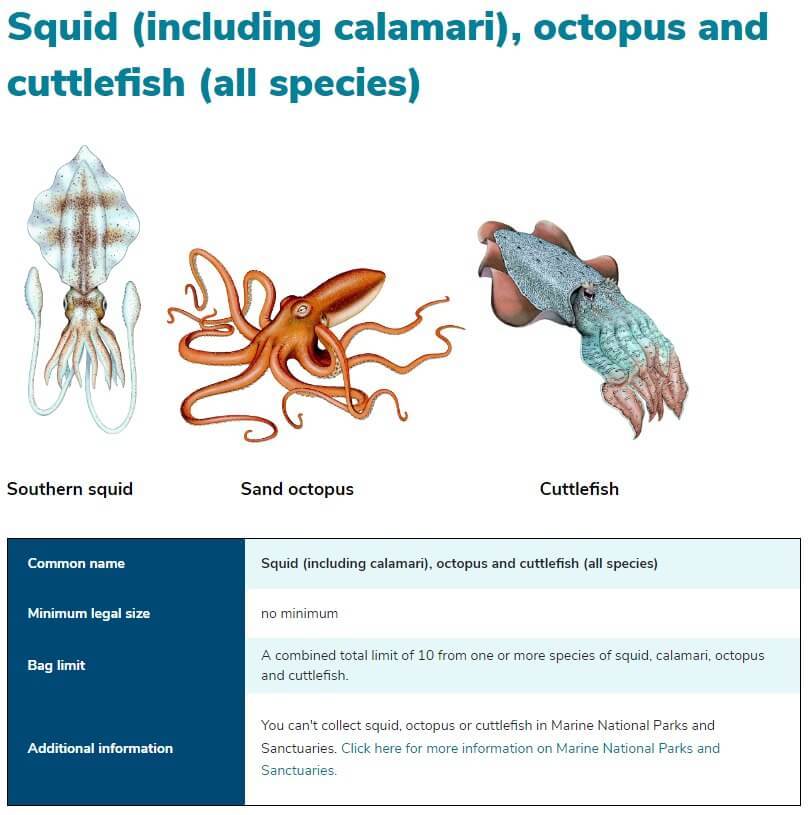 All Victorian Recreational Fishing Limits can be found via the VFA app or grab a hard copy of the guide in stores when you next stop by.
Good Luck with your fishing and stay safe on the water,

The TEAM at Tackle World Cranbourne & Mornington