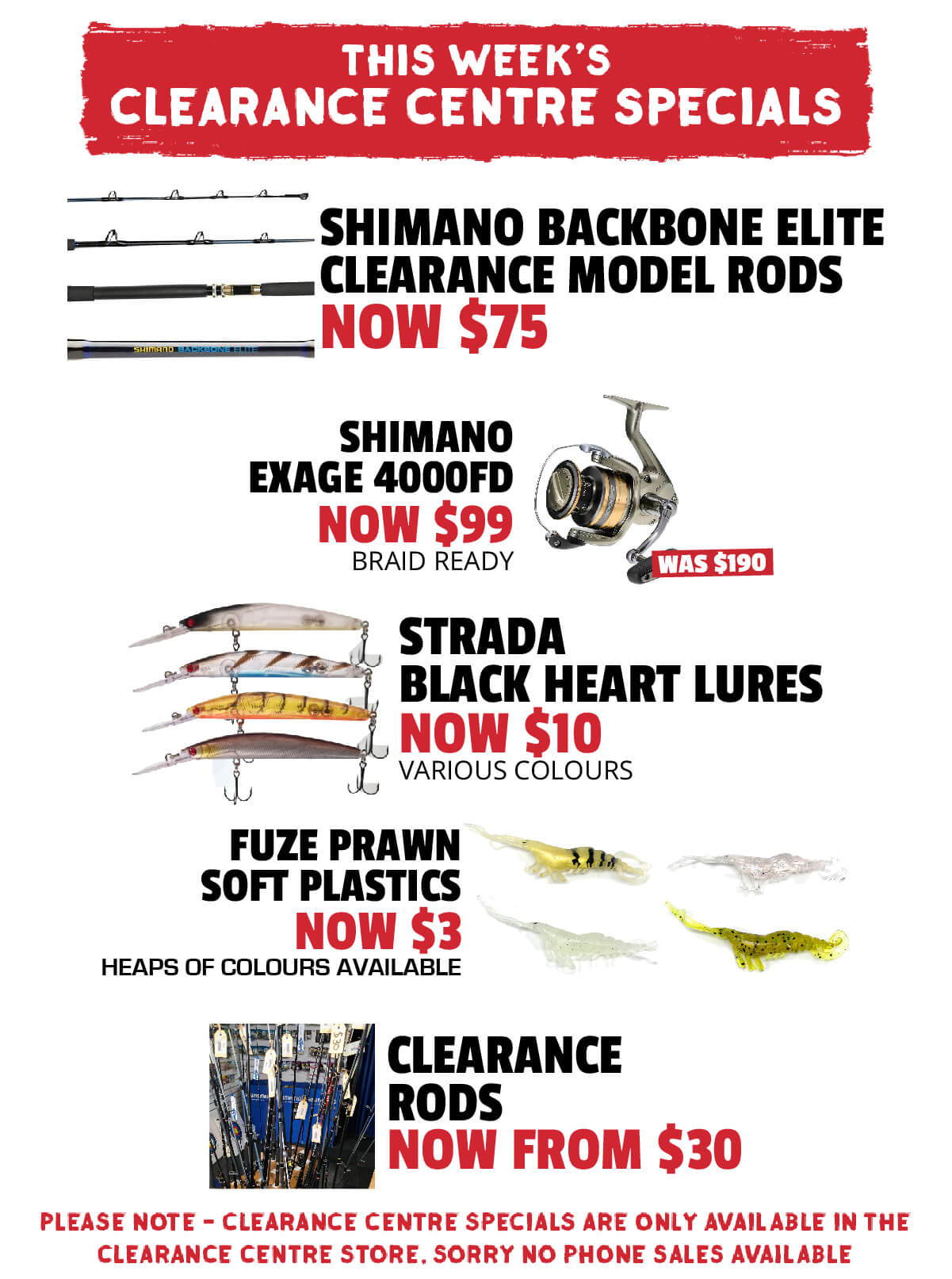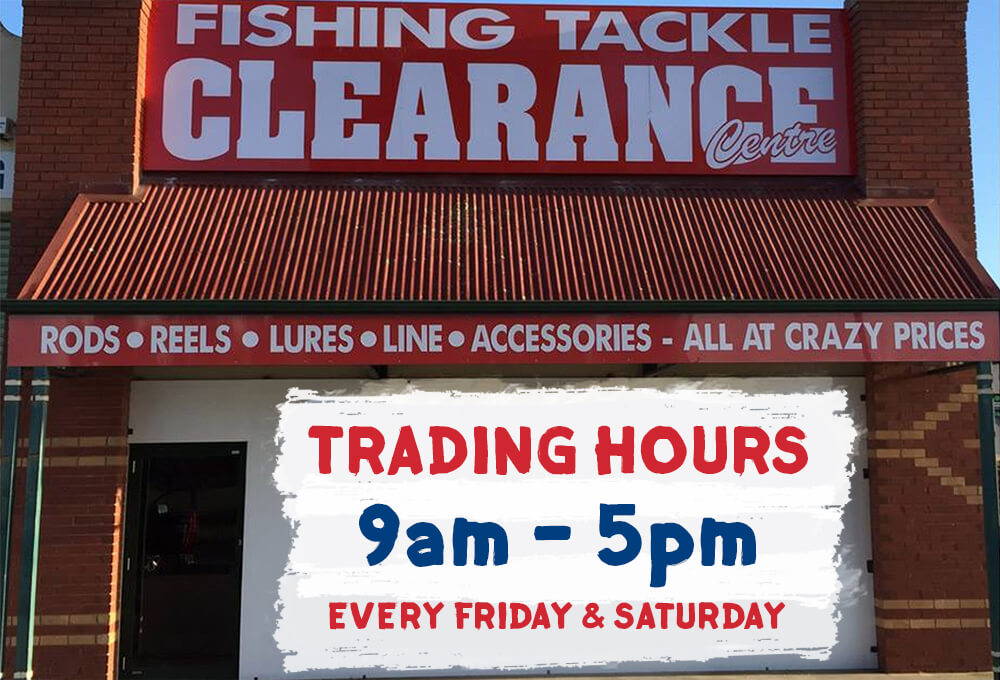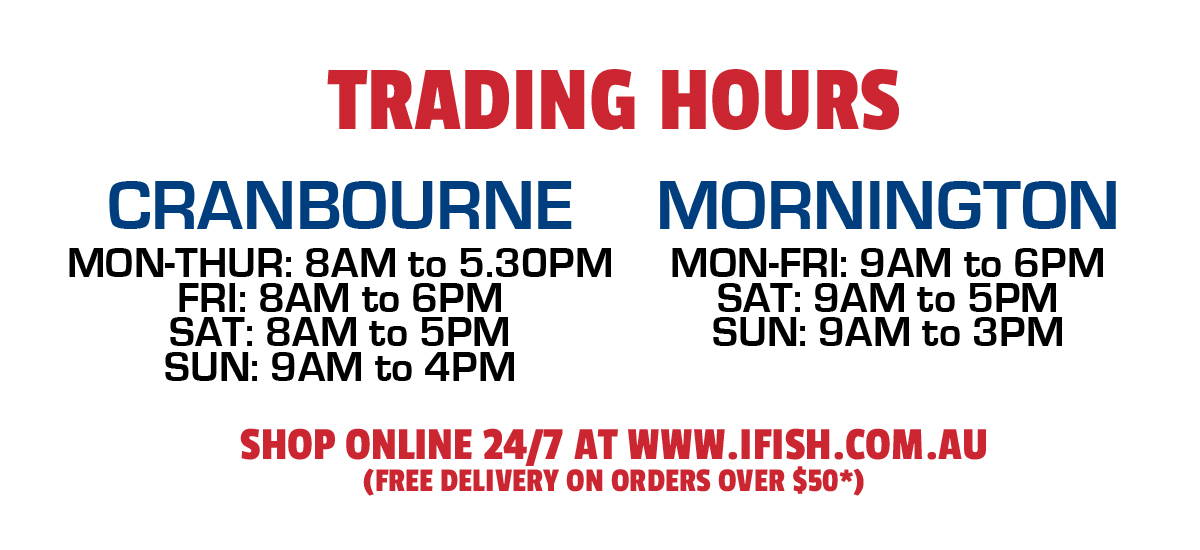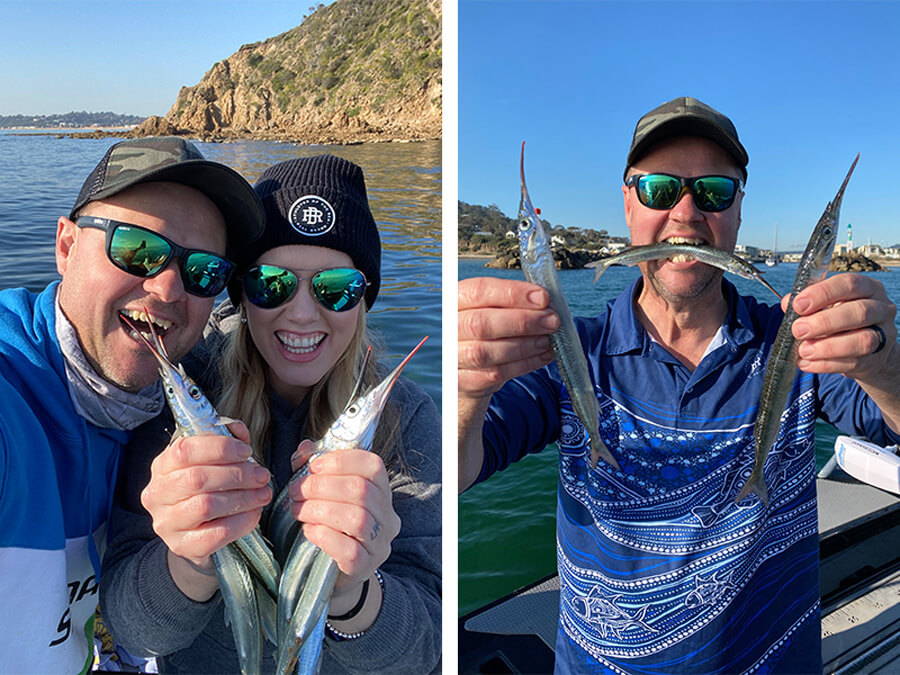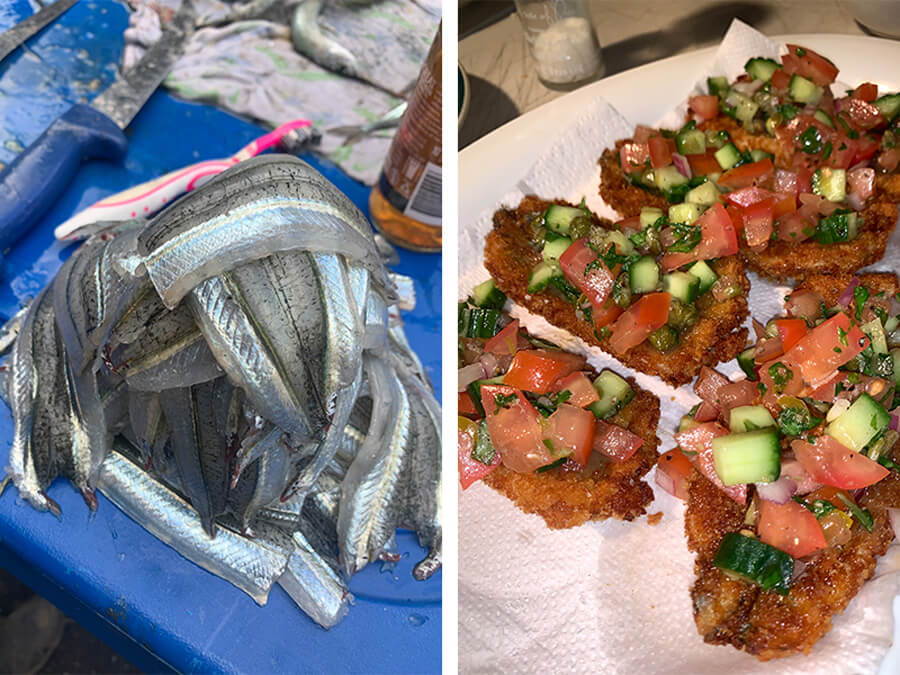 Paul, Cristy and Jet have been making the most of the winter school holidays this week doing as much fishing as they can. They fished out from Martha Cove late last week and found good numbers of garfish out from Mount Martha beach. The key was using a fine berley with tuna oil to bring the gars to the boat and maggots were the stand out bait on size 12 Gamakatsu long shank hooks under a float. They family has been enjoying the garfish cooked as garfish parmigiana and garfish bruschetta. (If you are unsure on how to clean garfish check out Paul's video here)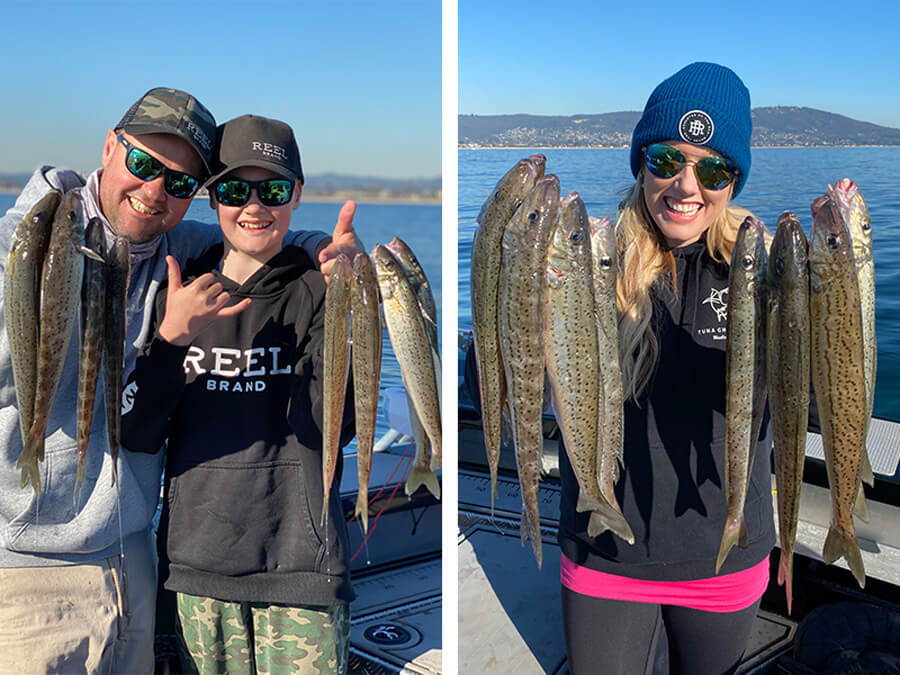 On Monday Paul, Cristy and Jet headed down towards Rye on a hot tip from David Kramer that resulted in a quick session catching 10 whiting using squid, pipi and mussels for bait. The Seadog berley pot behind the boat on the bottom using pellets, tuna oil and pilchards helped keep the fish at the boat.
Benny with a solid cuttlefish caught fishing out from Cape Schanck.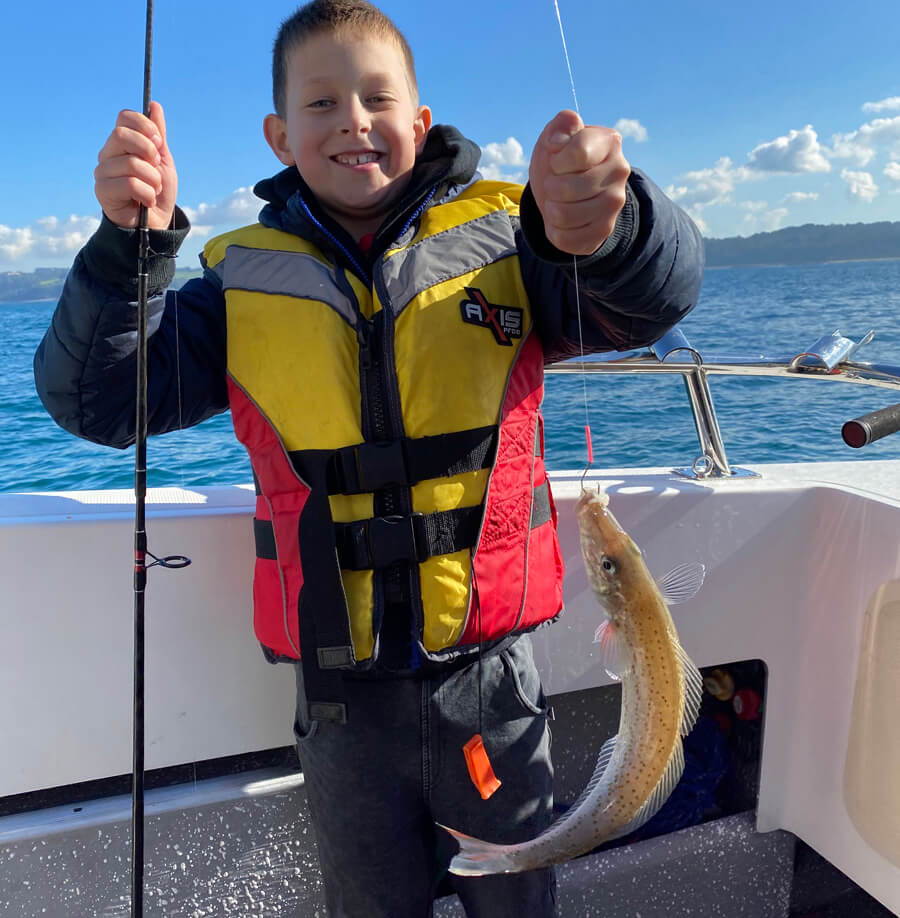 Toby Tomlinson caught some nice King George whiting while fishing at Flinders last week.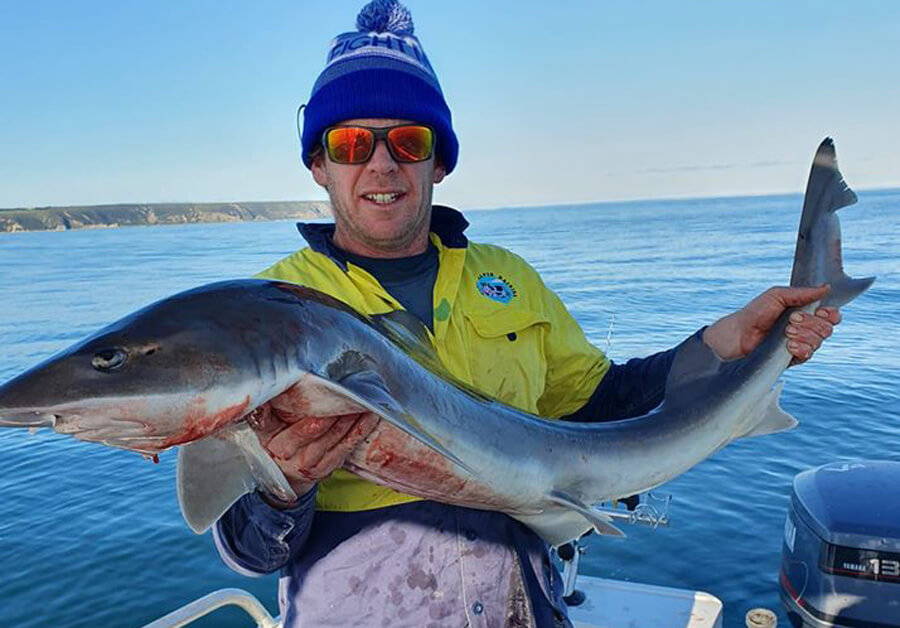 John Moore fished offshore from Flinders last week and managed a nice gummy shark using salmon for bait.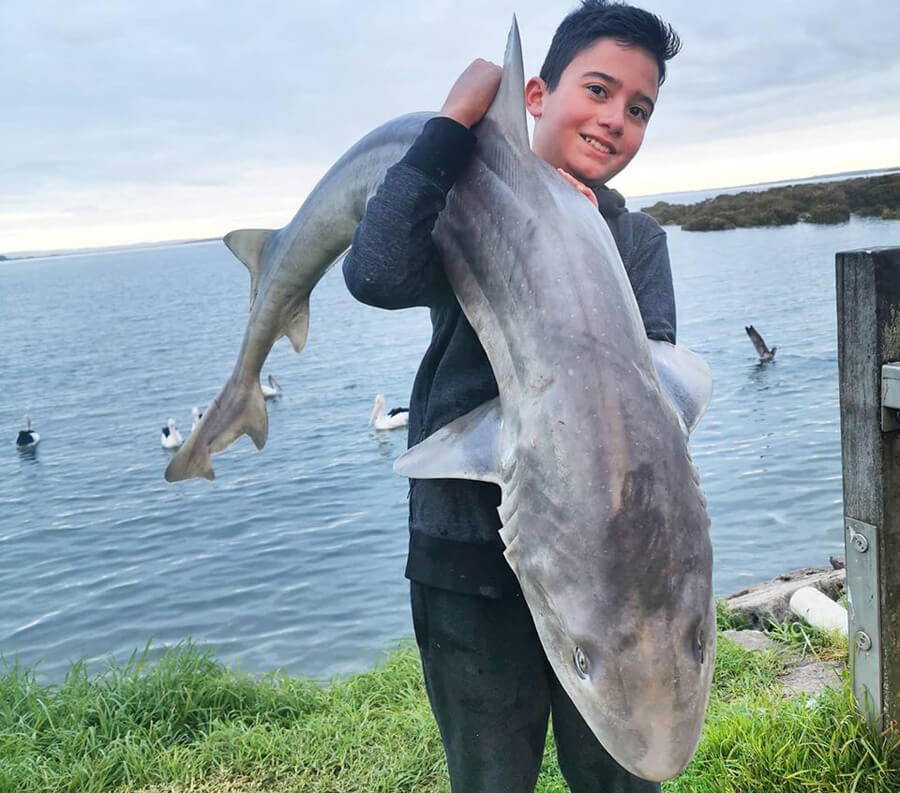 Mike caught this cracking gummy shark while fishing offshore from Flinders.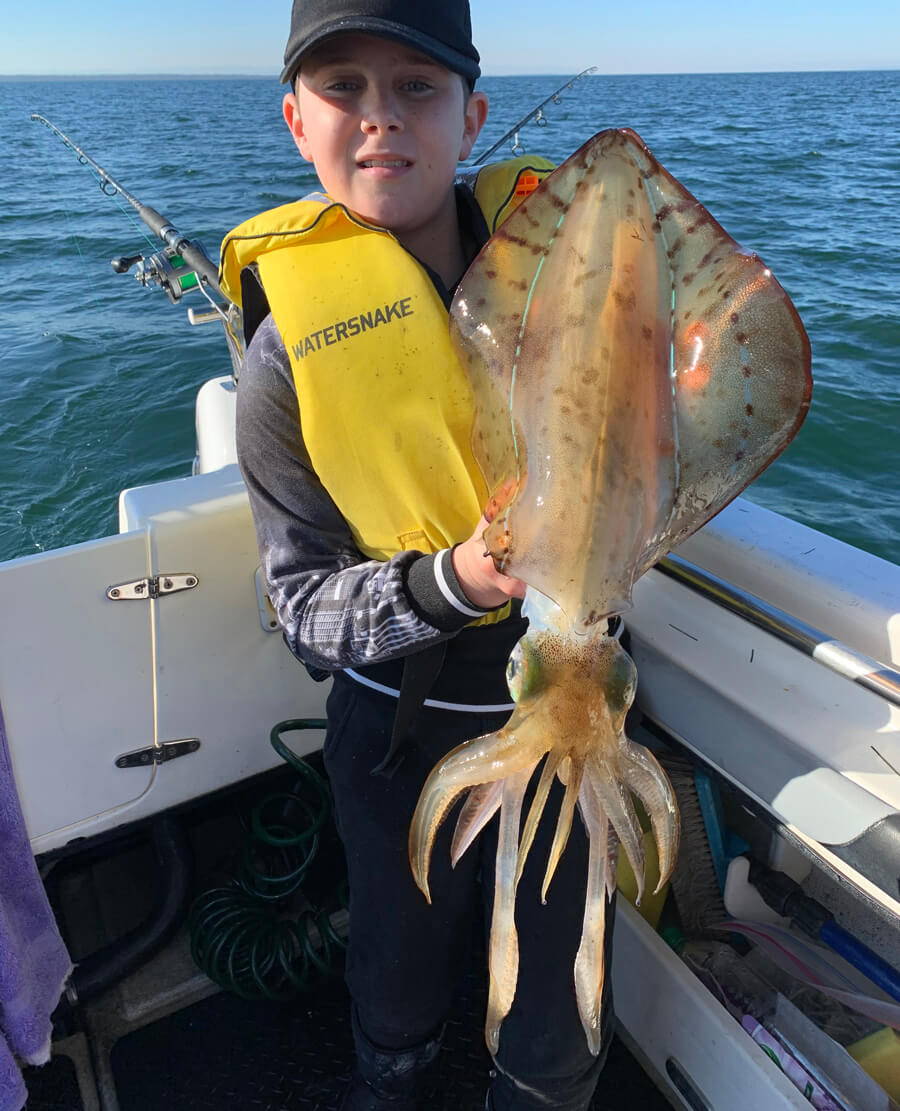 Adam Powell (9) with a cracking calamari caught at Tyabb Bank using silver whiting under a float.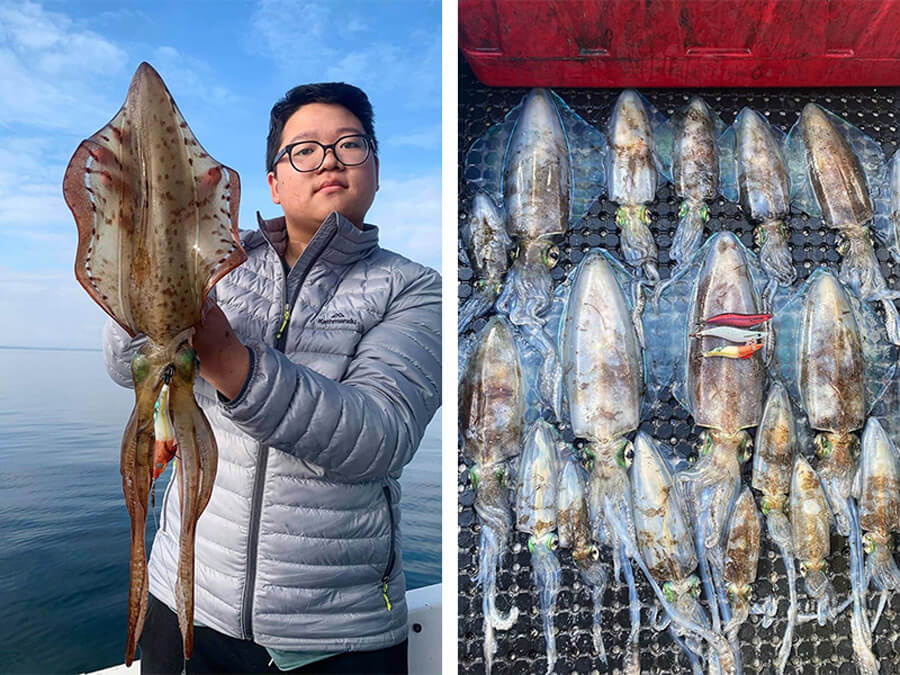 Sam Triplett and Ryan Kang have had some success fishing Tyabb Bank this past week catching some nice squid.
Don Wood fished Quail Bank on the weekend and managed a couple of nice squid using baited jigs under a float.
Andrew Ketelaar had a quick trip after work on Wednesday to target some snapper in Western Port around Joes Island and ended up with this nice snapper in the shallows.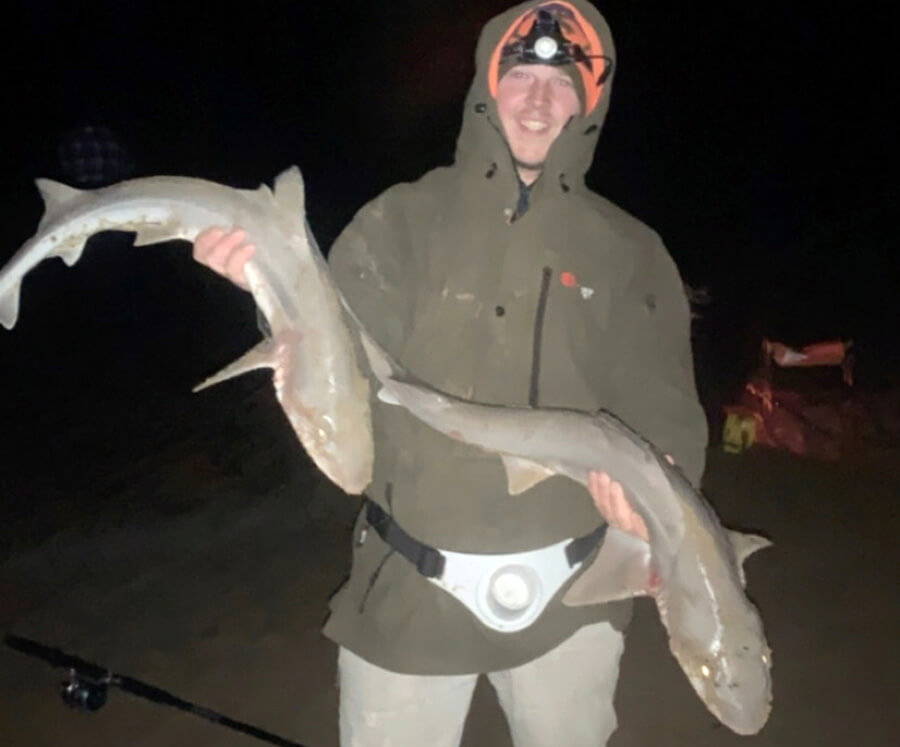 Jason Cornish with a couple of nice gummies caught land based at Lang Lang.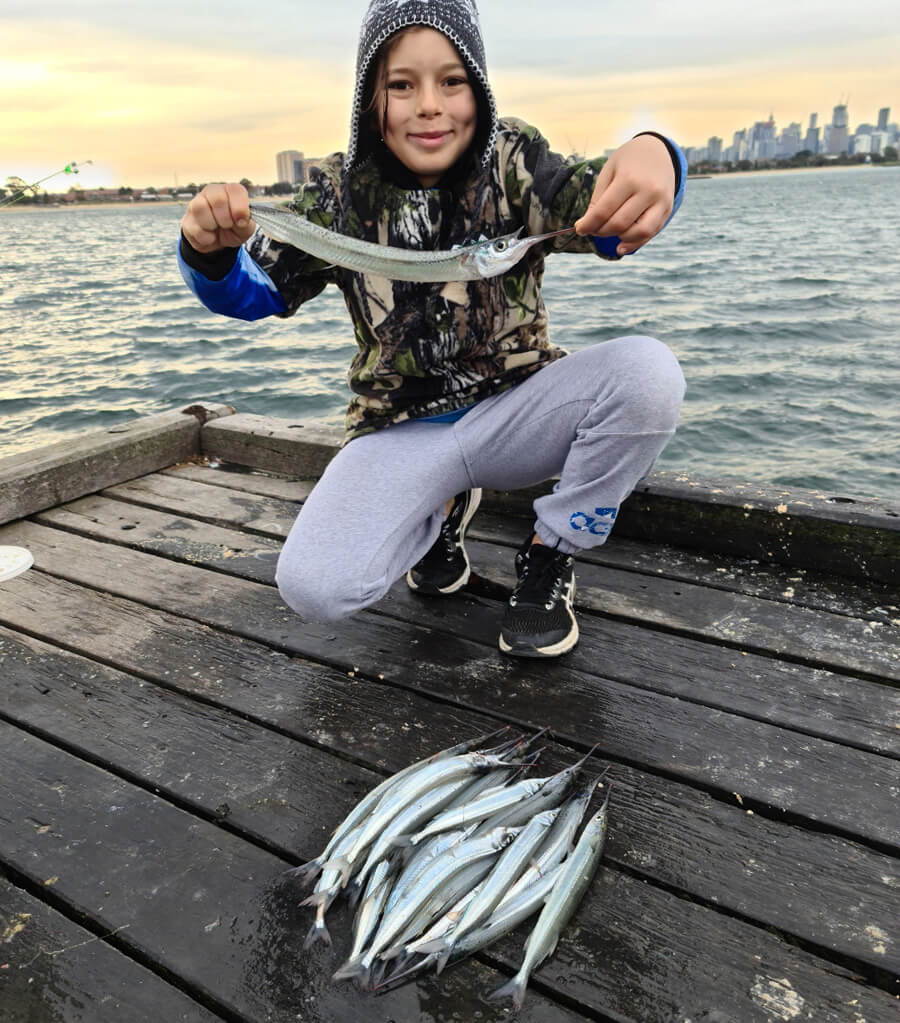 10yo Rocco Palmieri with a nice bag of gars caught at Port Melbourne using silverfish for bait.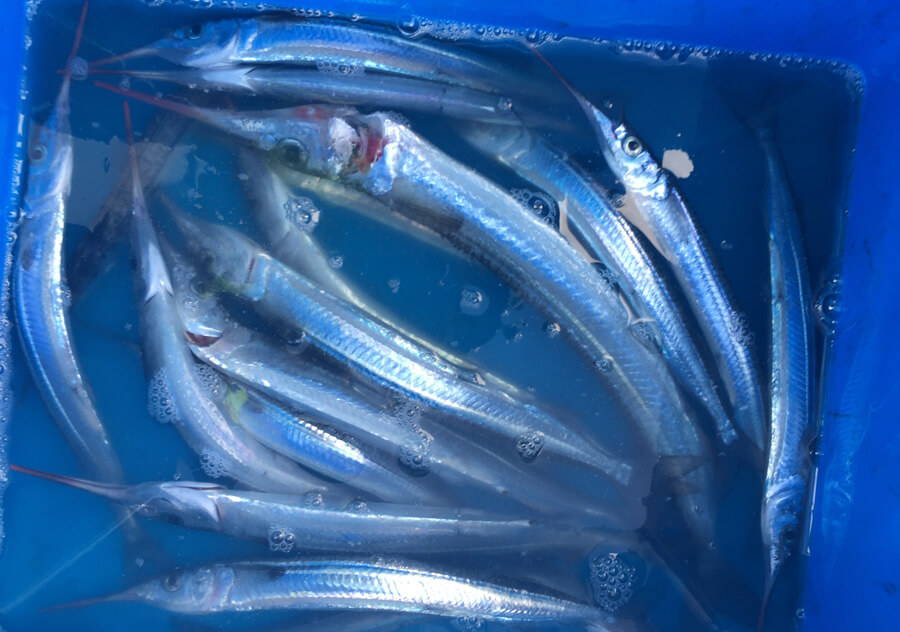 John Oz fished out from Mount Eliza and landed some nice garfish using silverfish for bait.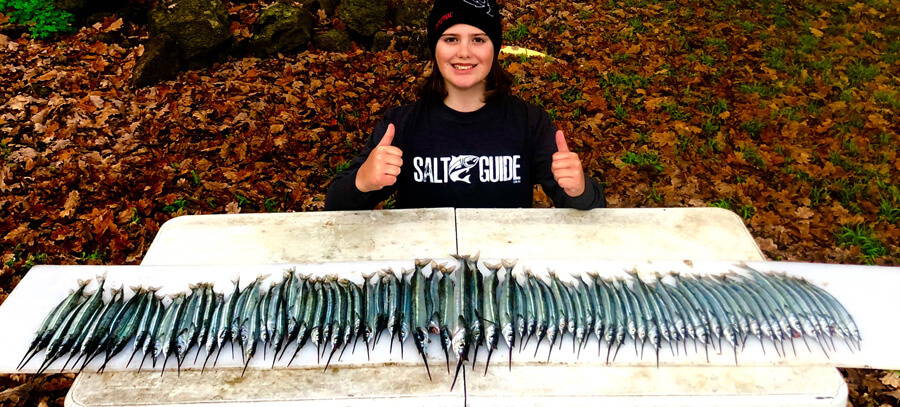 Kade Thornhill smashed the garfish with his dad fishing out from Sunnyside Beach, Mornington in just 3 metres of water.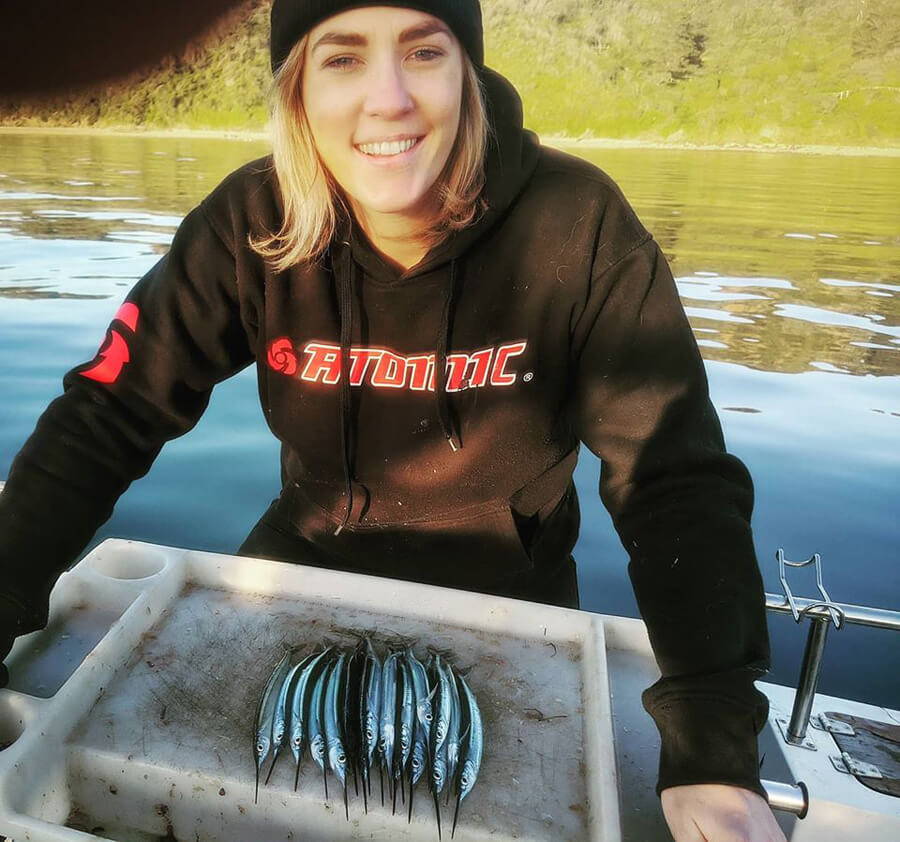 Amy Day and Gerry Morsman fished out from Mornington near Sunnyside Beach on the weekend and managed some nice garfish.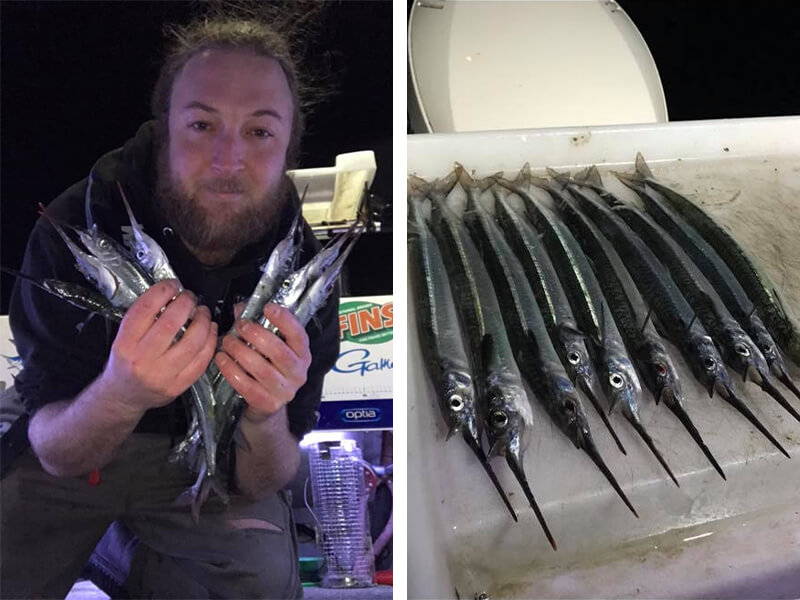 Staff member Mark Keaveny headed out from Mornington in search of garfish and found them towards Mount Martha.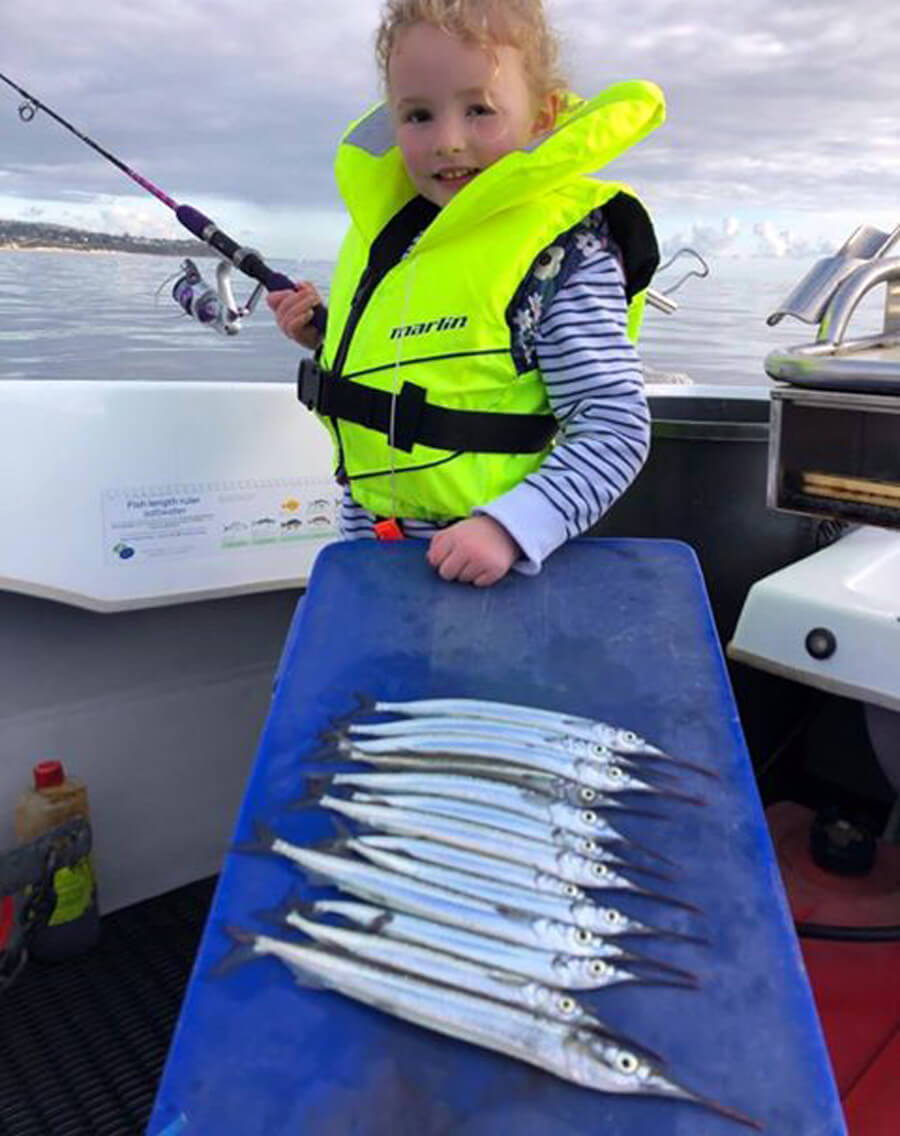 Isabelle had a great session off Mt Martha reef catching some nice Garfish with her family.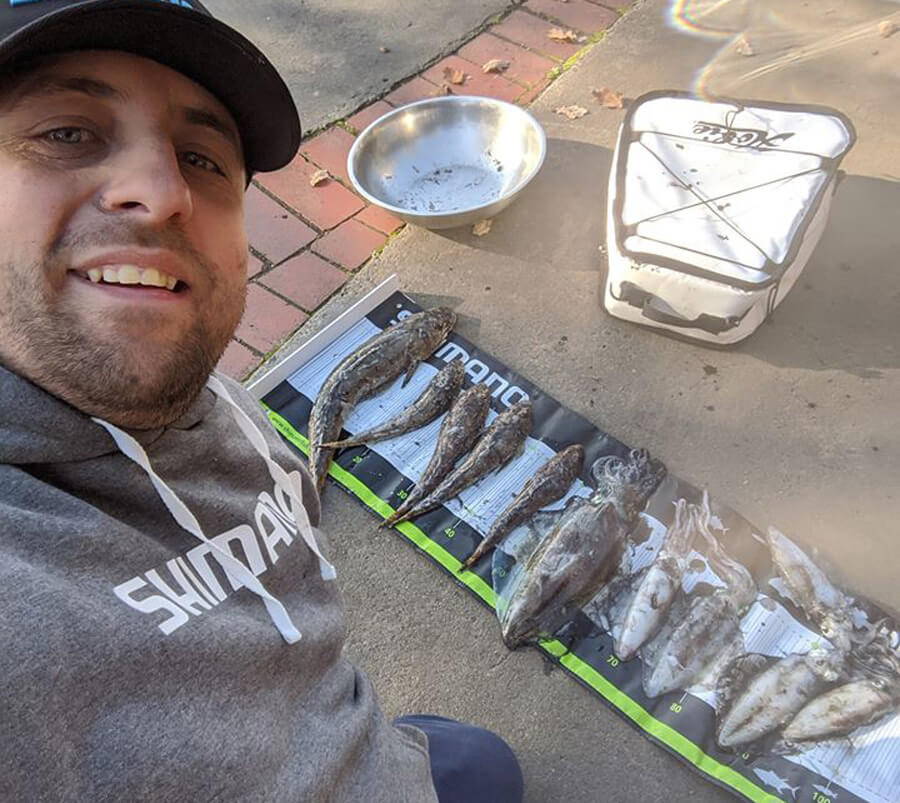 Steven Jurcec had a good session out from Mount Martha last week with some nice squid and flathead caught.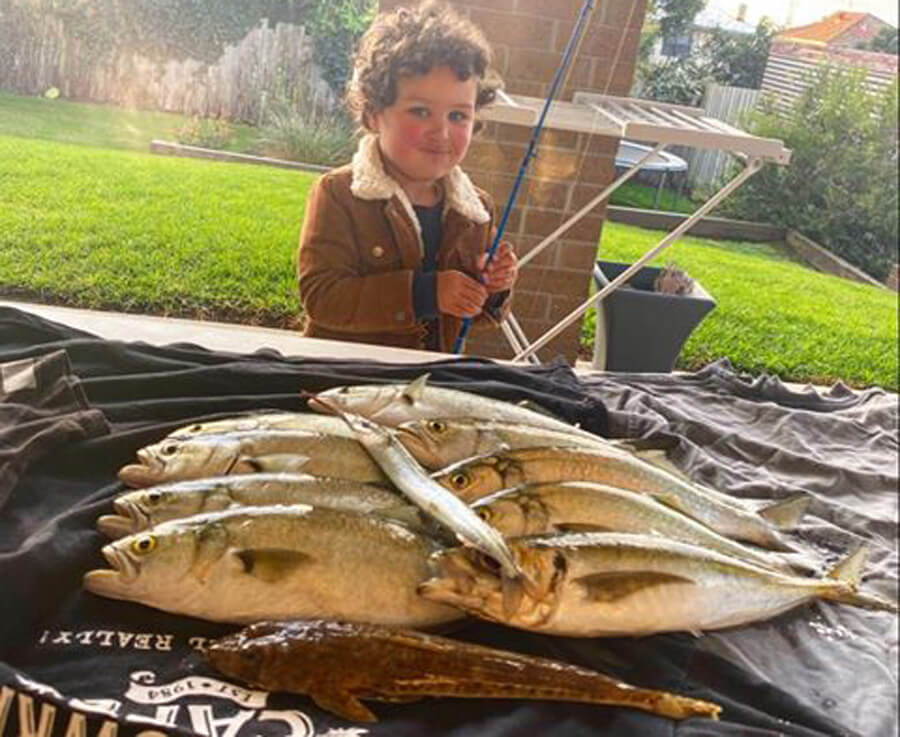 Lennox fished with his dad Mitch at Safety Beach and caught some nice tailor, flathead, yakkas and garfish.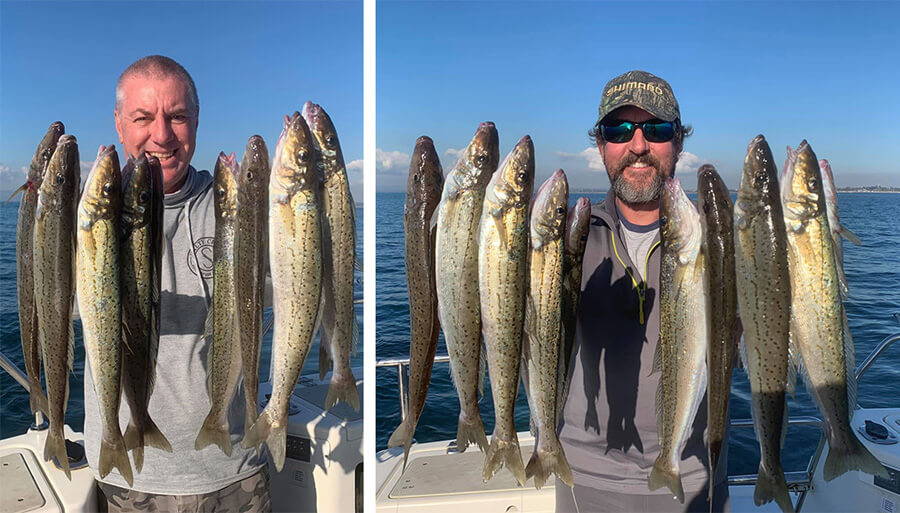 Staff member David Kramer and Garry Norton fished out from Blairgowrie on the weekend and managed some cracking whiting.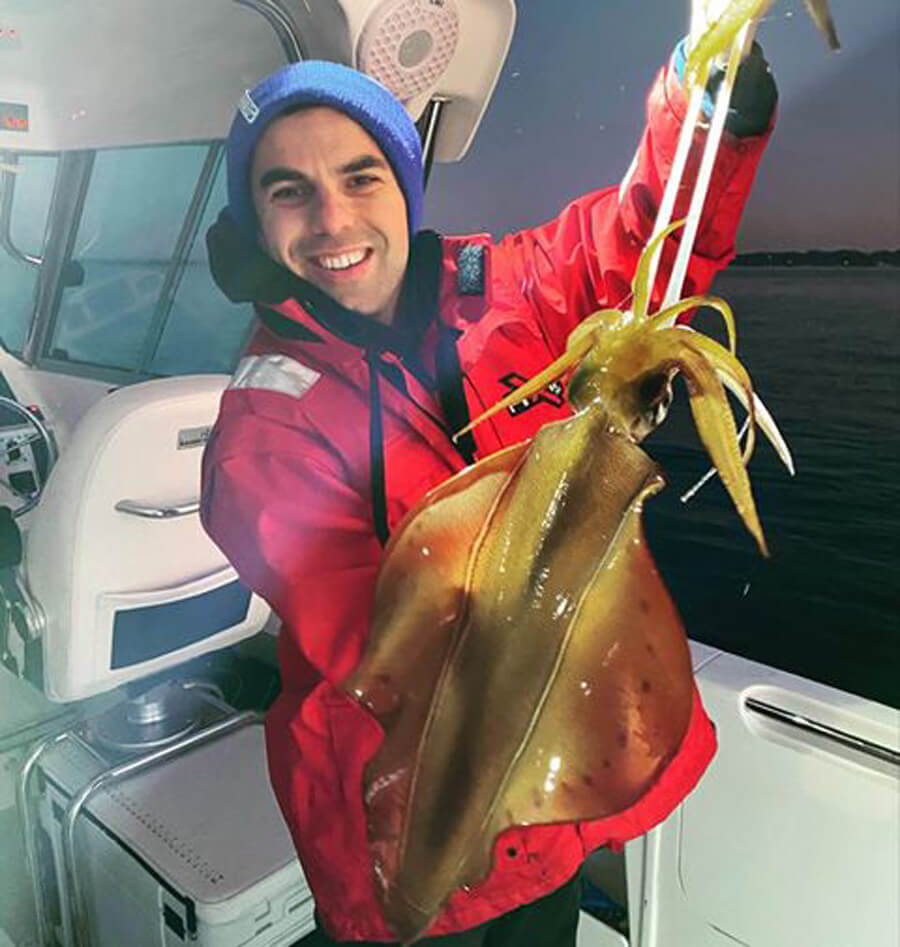 Damian Markovski found some big squid while fishing off St Leonards on Monday morning.
Matt Cini from Reel Time Fishing Charters had Travis, Andrew and Fin on board fishing the Glenelg River at Nelson; the guys caught 8 and tagged and released 6 mulloway for the night.
Arch, Luca and Marco fished Portland and caught this beautiful southern bluefin tuna of 90kgs.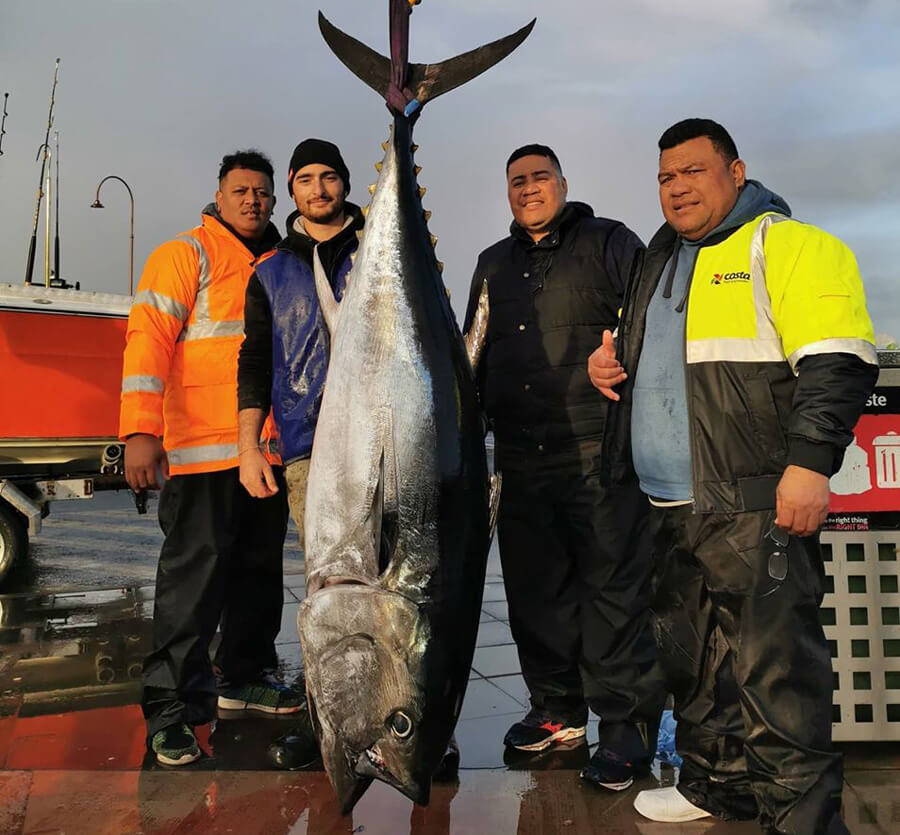 Chris Cassar from Cassar Fishing Guides fished out from Portland last Thursday and the guys landed this cracking 96kg barrel tuna.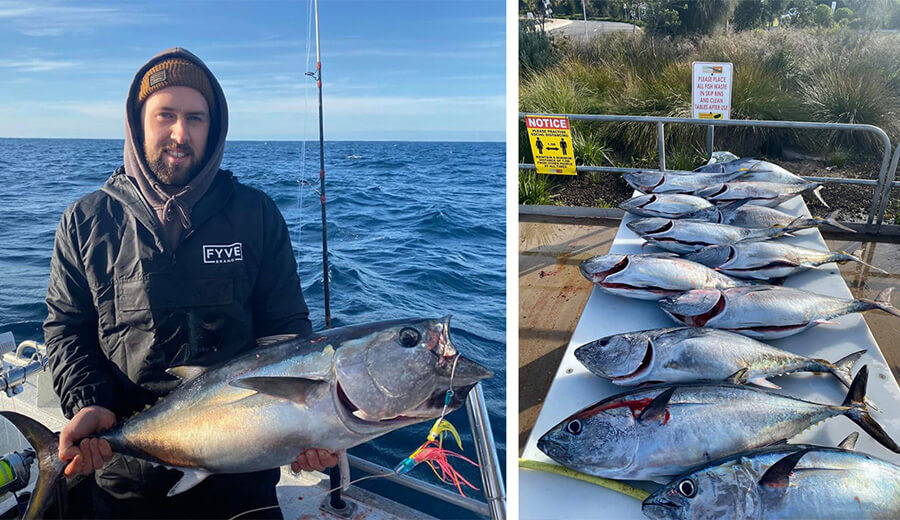 Jayson Turner from Pro Red Fishing Charters found some fantastic tuna with his customers this week out from Portland.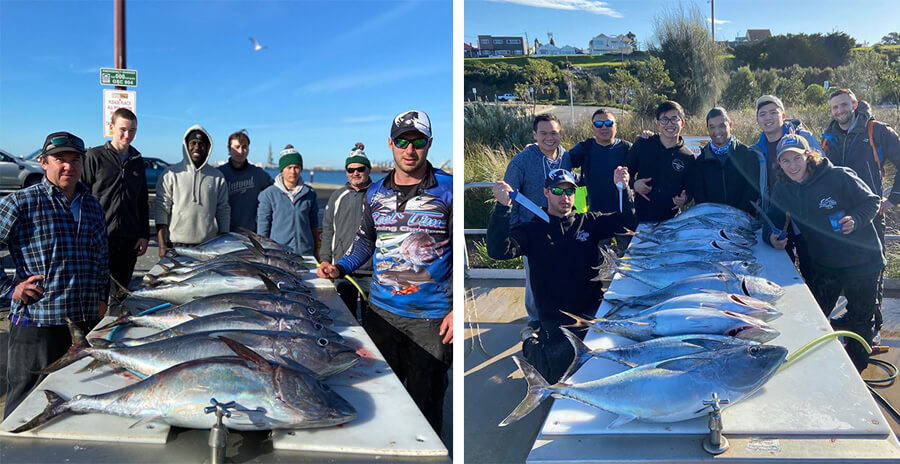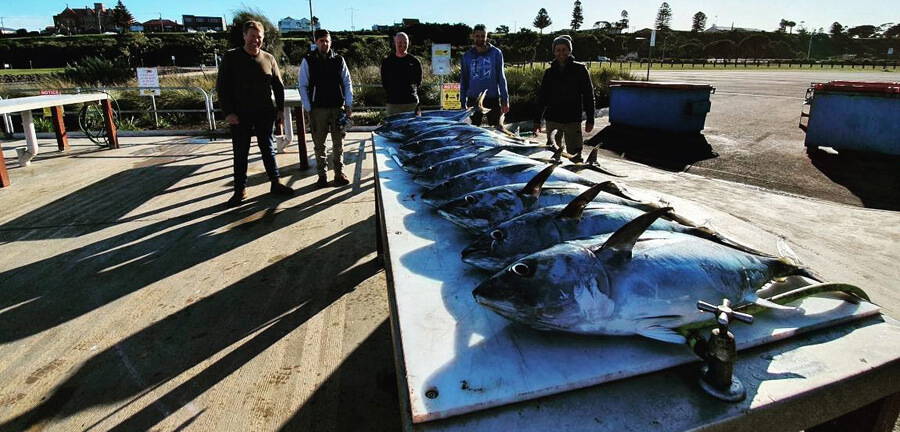 The Reel Time Fishing Charters crews at Portland have been finding plenty of school sized tuna for their customer making for heaps of fun for their customers.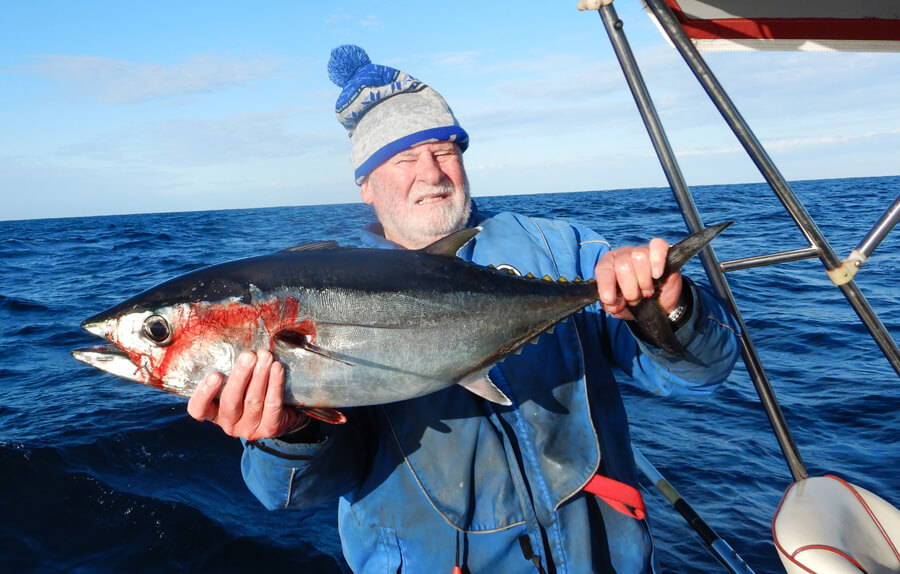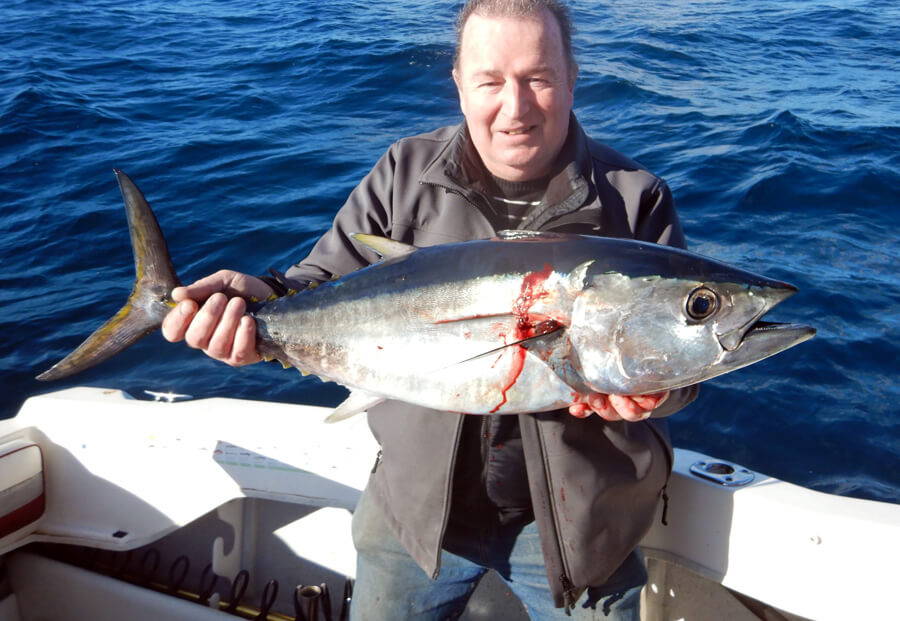 Staff member Don Newman fished out from Port Fairy with Dave Van Den Broek & John McCleod over the weekend. The guys found fish quickly on the first day and managed their bag of tuna before midday. Sunday and Monday the guys also fished and managed good numbers of tuna. The guys found smaller skirts like the Buku Zappers behind the Buku strip teasers did the damage.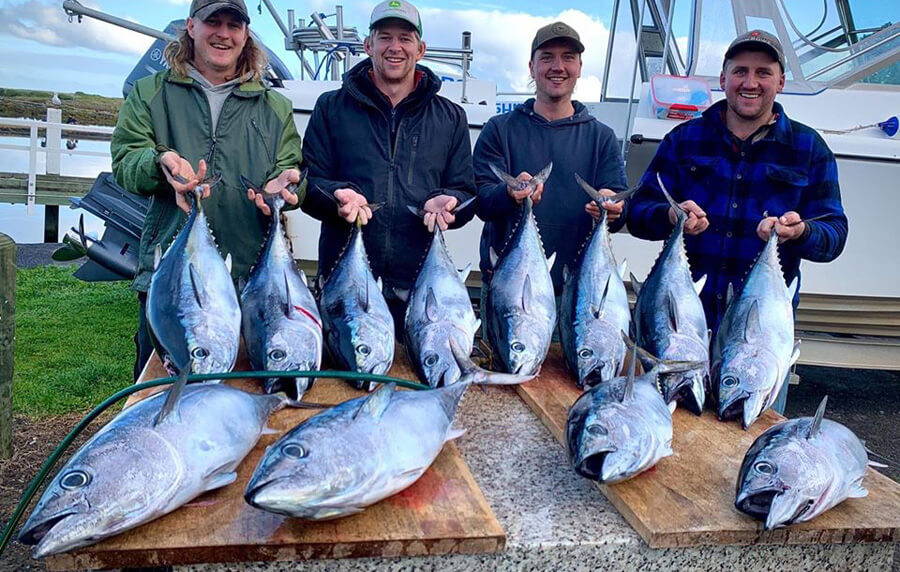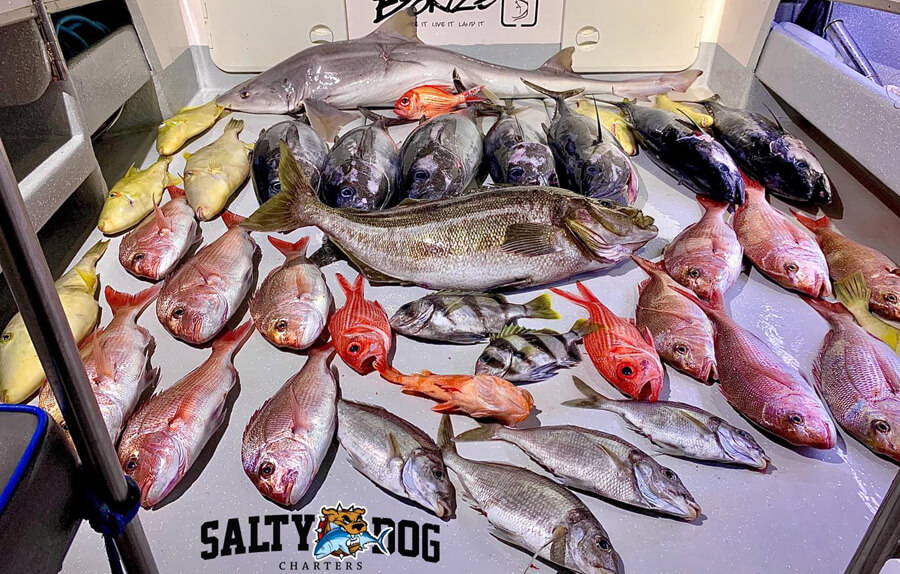 Dan Hoey from Salty Dog Charters is smashing it out from Port Fairy at the moment. Dan has been finding good numbers of school sized tuna and when the weather calls for it they have caught some fantastic fish while hitting the reefs. Big Tassie trumpeter, gummy sharks, snapper, chinamen and more.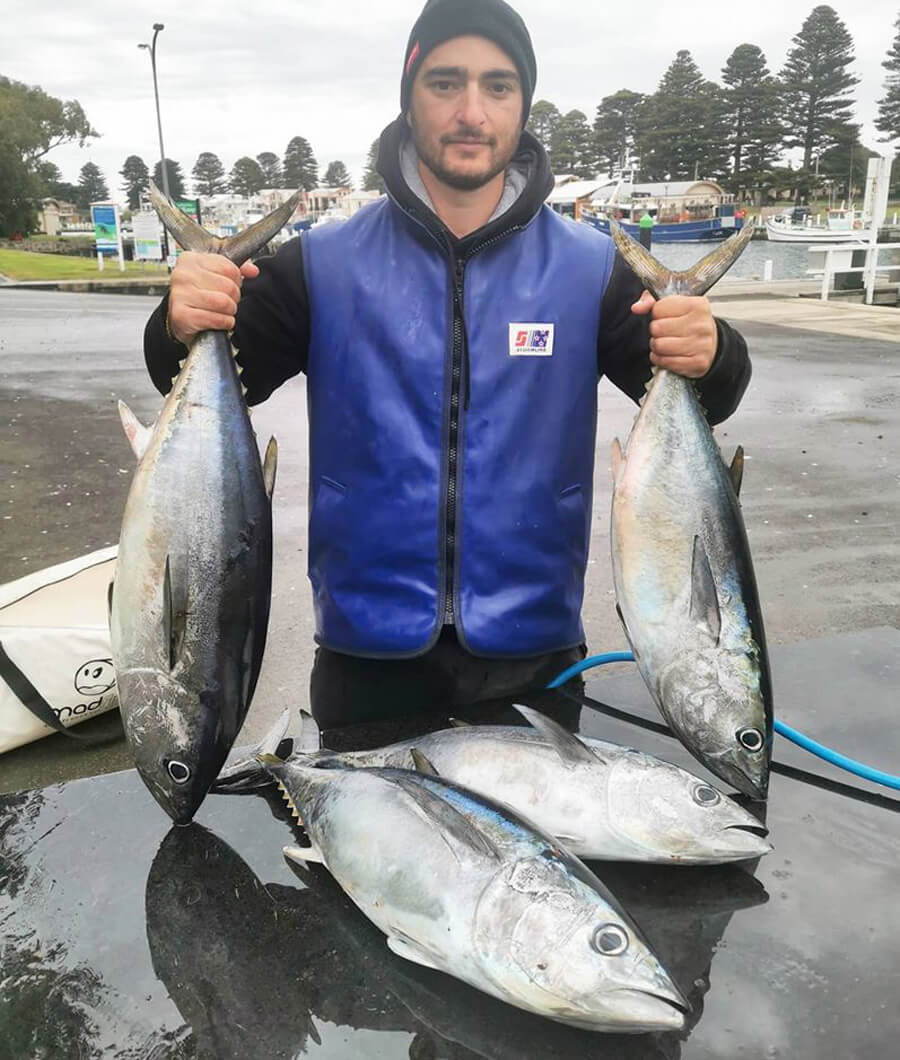 Chris Cassar from Cassar Fishing Guides fished out from Port Fairy and managed to find some nice school sized tuna.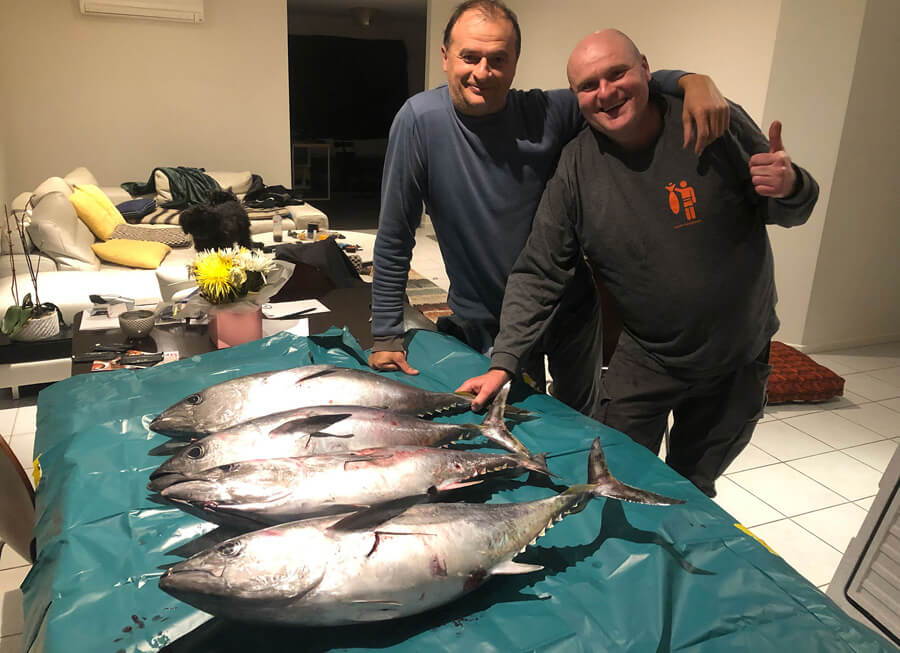 Tibby Flora headed to Port Fairy with friend Jerry and they managed some nice tuna near Julia Percy Island.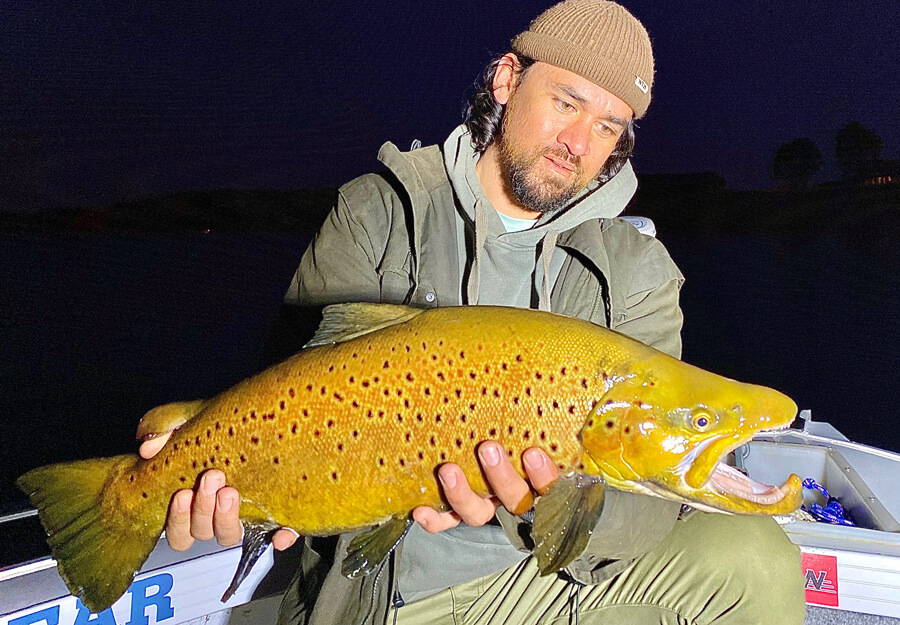 Mick from Victorian Inland Charters had Conrad on board and managed to help him land this beautiful brown trout of 8lb as well as a feed of redfin.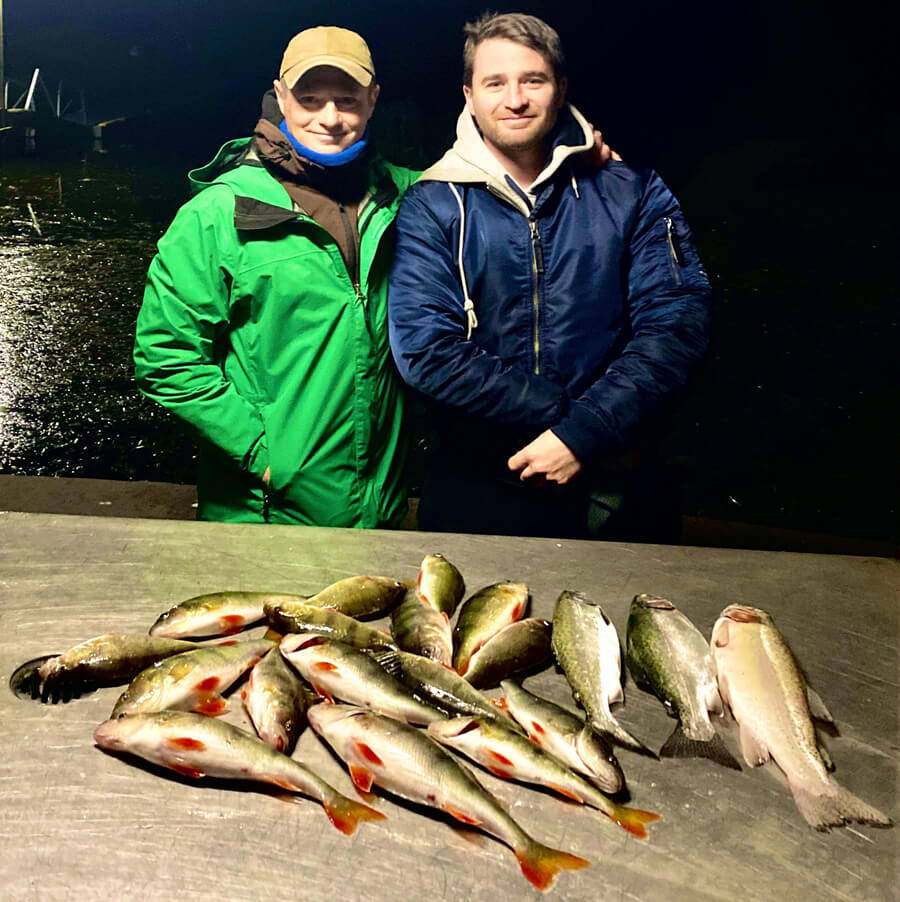 Mick has also had some good sessions with his customers at Lake Bullen Merri lately with good numbers of rainbow trout and chinook salmon caught on the cast.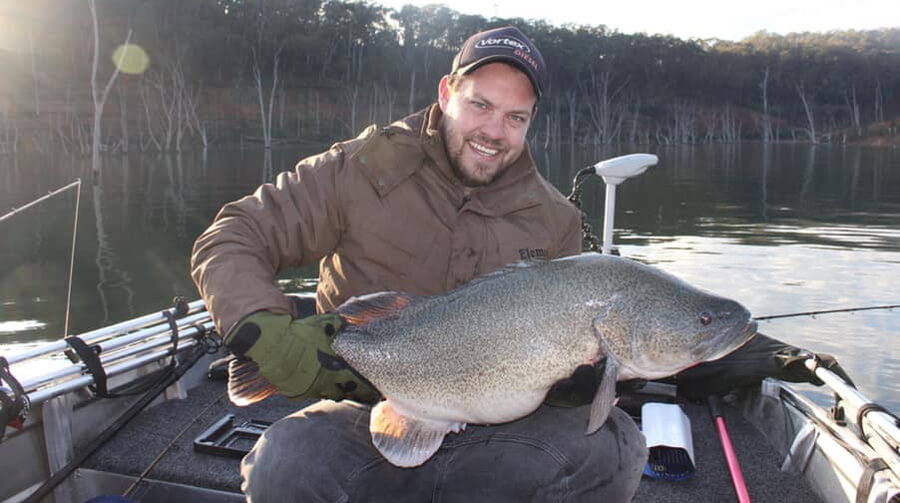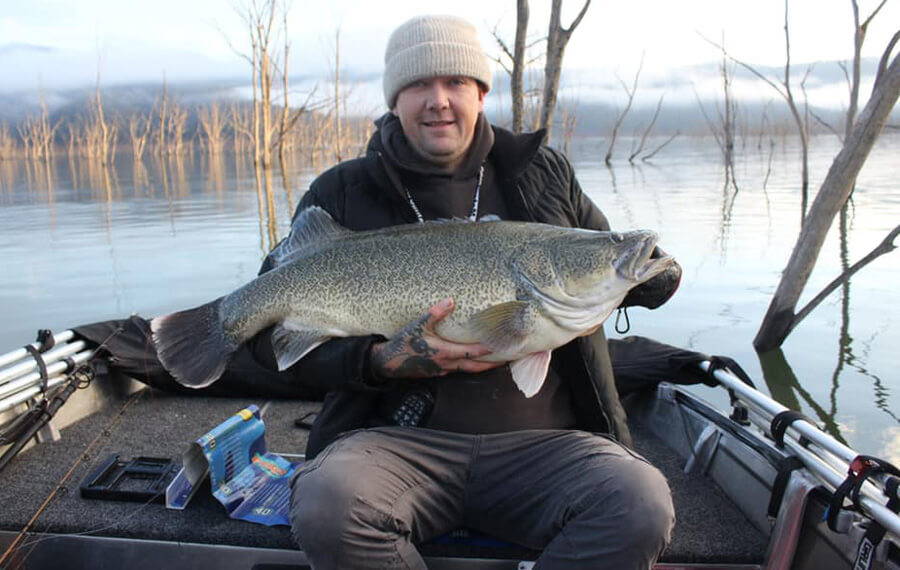 Daniel Power and a mate had a cracking morning at Lake Eildon this week with 2 good cod caught within 5mins of each other; 96cm and 86cm.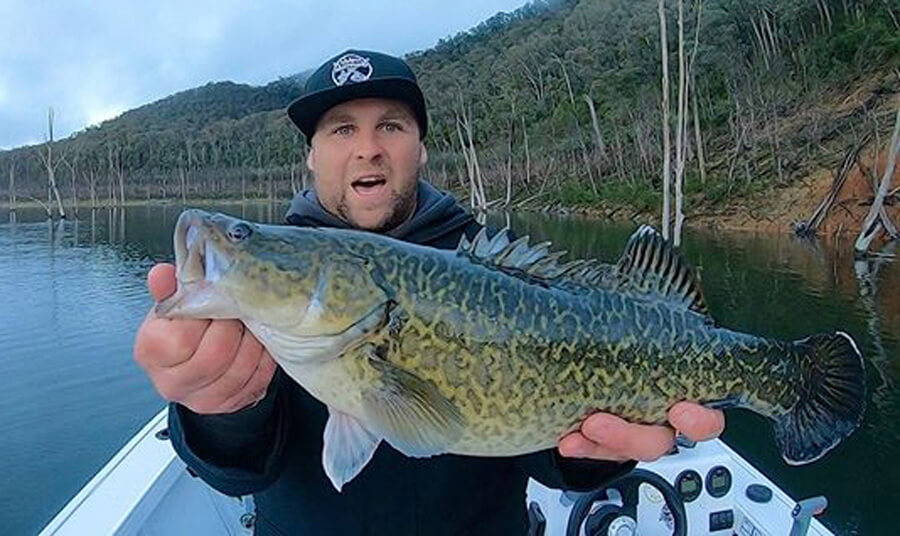 Mark Whitford managed a nice Murray cod fishing Lake Eildon on the weekend.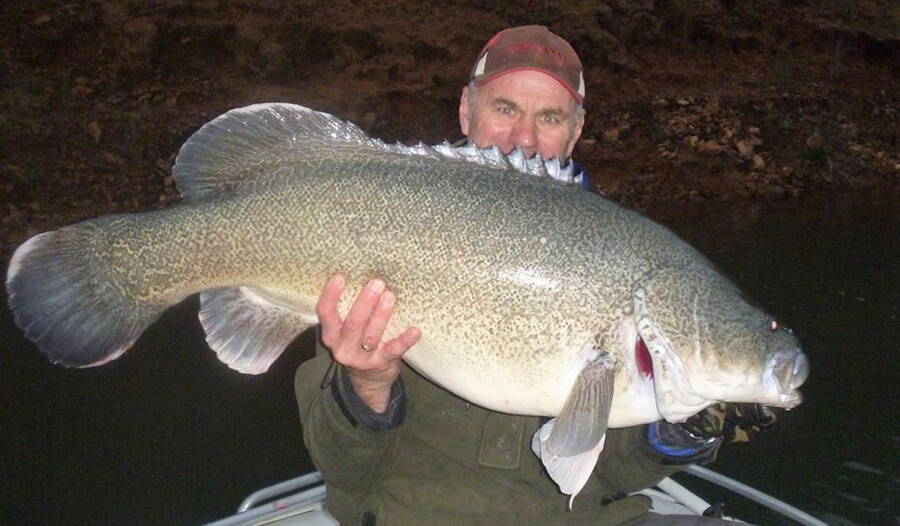 Paul Thomas landed this cracking metre cod caught on top water at Lake Eildon.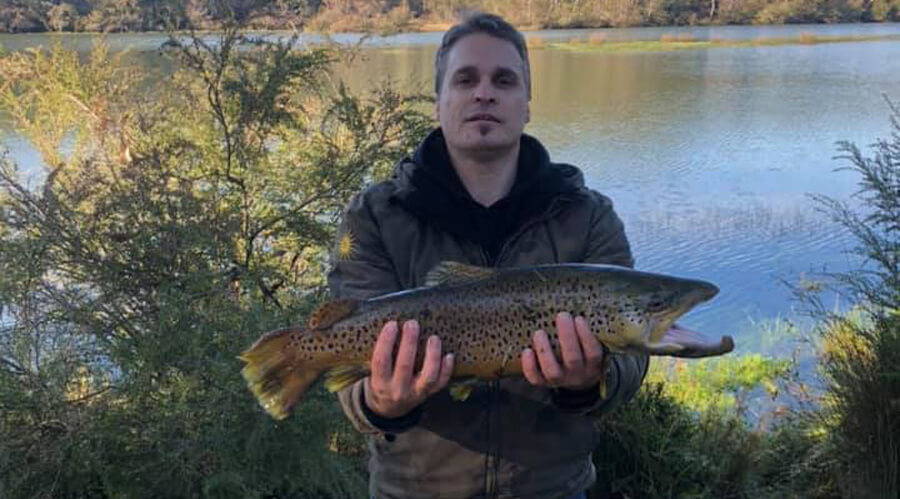 Zoran Risteski landed this beautiful brown trout while fishing Eildon Pondage this week.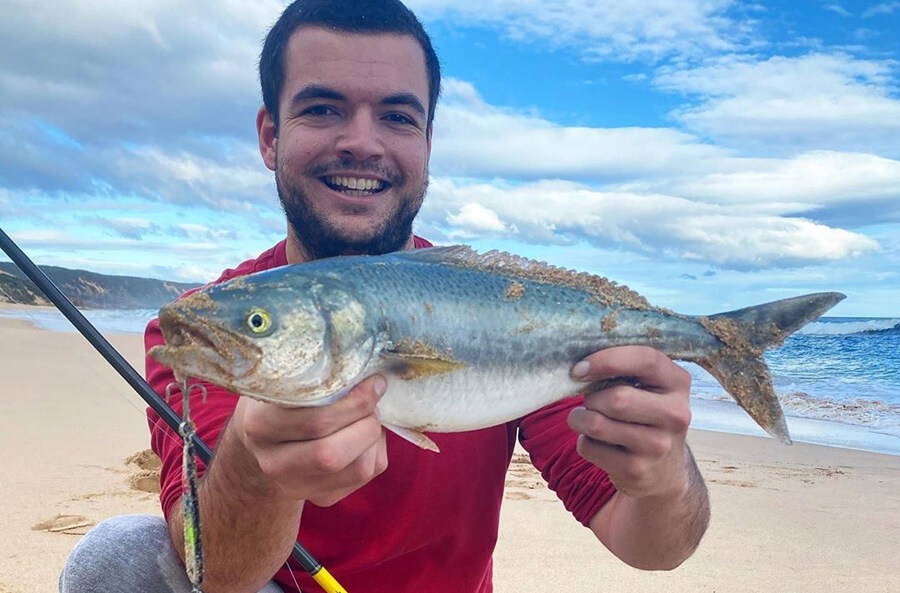 Sam Triplett fished Gunnamatta Surf Beach this week for some nice salmon caught on metal lures.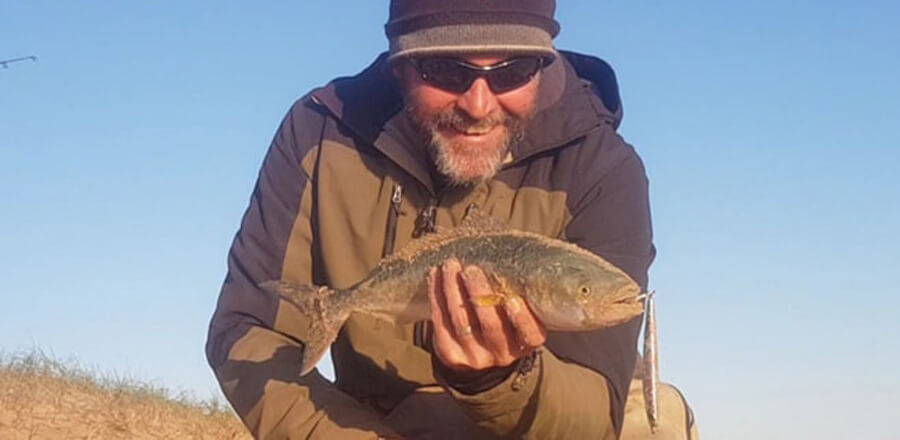 Andrew Ketelaar went to Kilcunda late Sunday afternoon to spin for salmon on the rising tide with metal slugs, he ended up with 5 fish up to 1.5kgs to stock up on some gummy baits.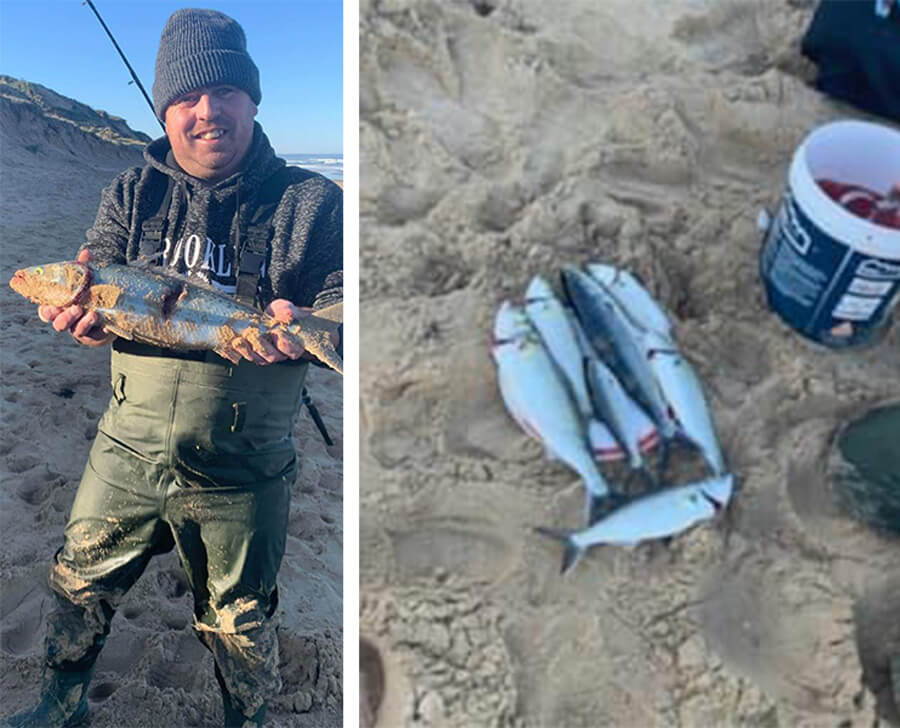 Paulo A Mota fished Venus Bay this week and caught some nice salmon.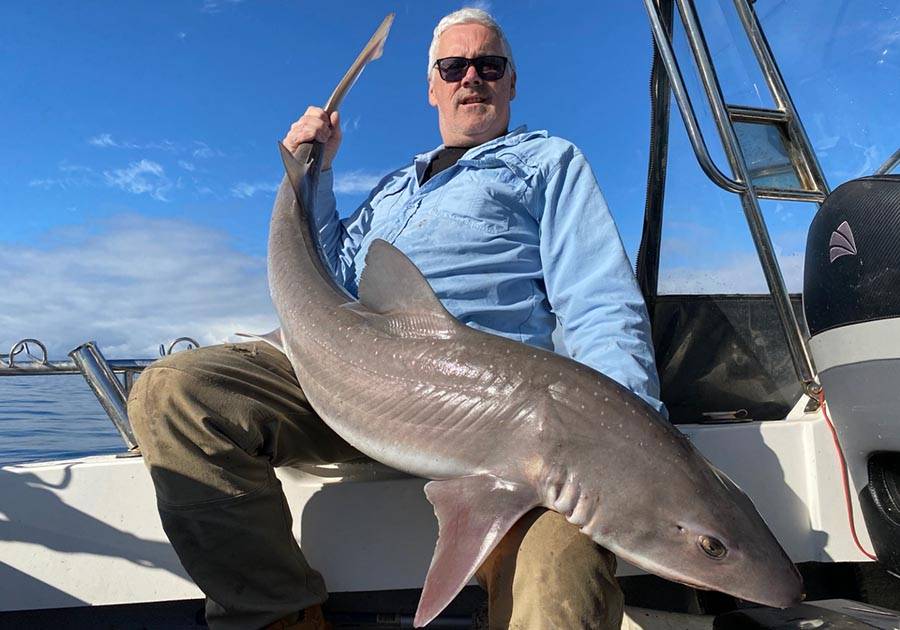 Peter Vink and Peter Ferguson fished Port Welshpool on the weekend and landed this estimated 22-24kg gummy shark.
Aleisha caught her first gummy shark fishing at Port Welshpool last week, well done!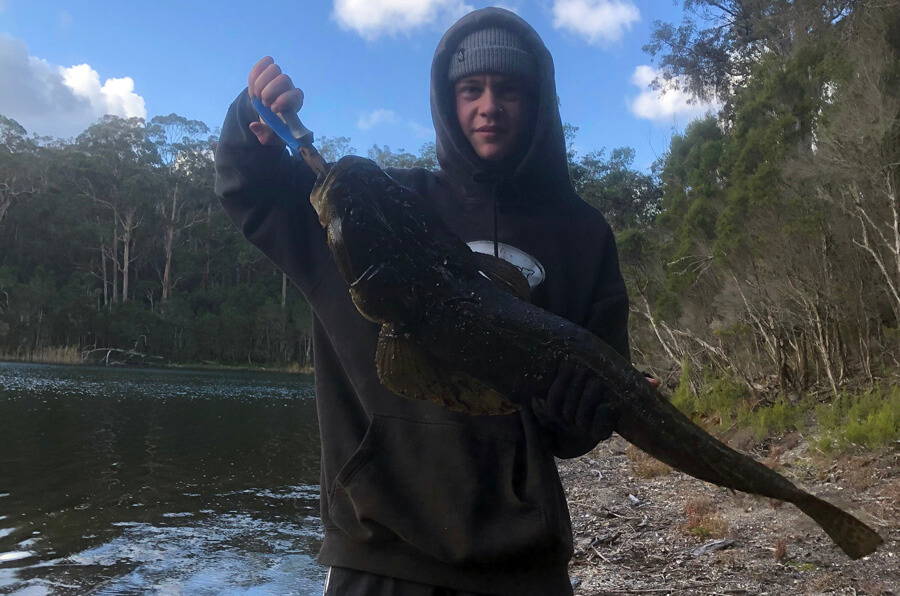 Noah caught and released this cracking 91cm dusky flathead on a pilchard at Lake Tyers.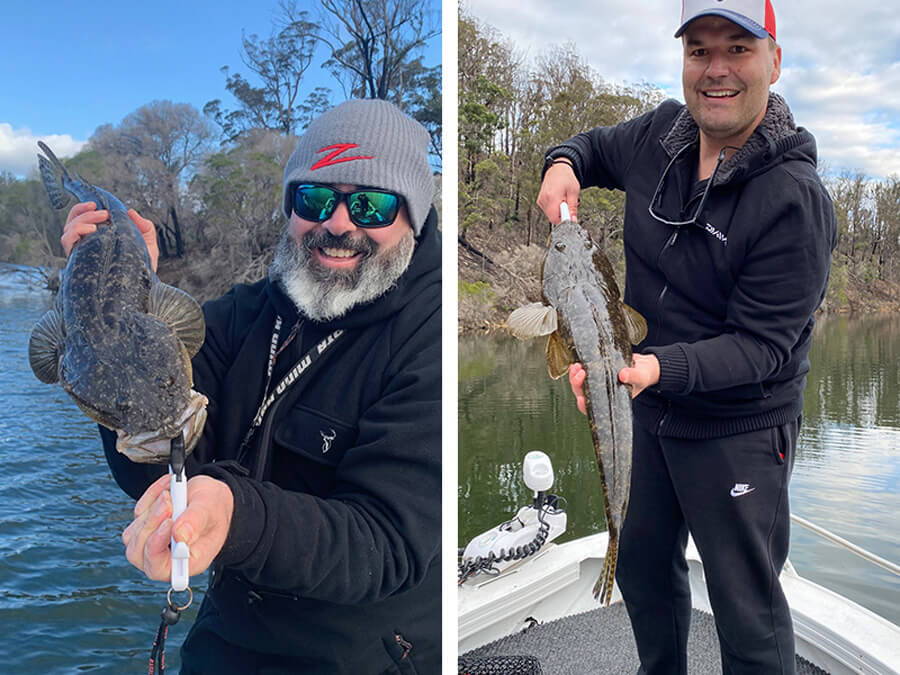 David and Ben fished Mallacoota last Thursday to Saturday and found the system fished very well, both deep holes and drop offs. The rising barometer probably helped. The boys caught tailor, trevally and flathead. Most flatties were between 55cm and 75cm caught on soft plastics in chartreuse and motor oil colours.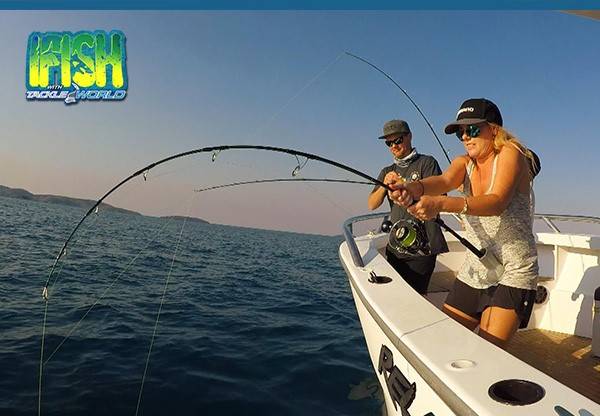 TALKING FISHING - C31 - TUESDAYS at 8.30pm
Catch "Talking Fishing" on Melbourne's C31 TV (CH44) at 8.30pm each Tuesday night. Staff members David Kramer and Adam Ring together with Steve "Trelly" Threlfull host Australia's only "Live to Air" fishing television program at this prime time-slot. Put Tuesday night's at 8.30 away in your weekly diary of TV shows to watch!
The real name of Monopoly mascot Uncle Pennybags is Milburn Pennybags.

Good Luck with your fishing and stay safe on the water,

The TEAM at Tackle World Cranbourne & Mornington