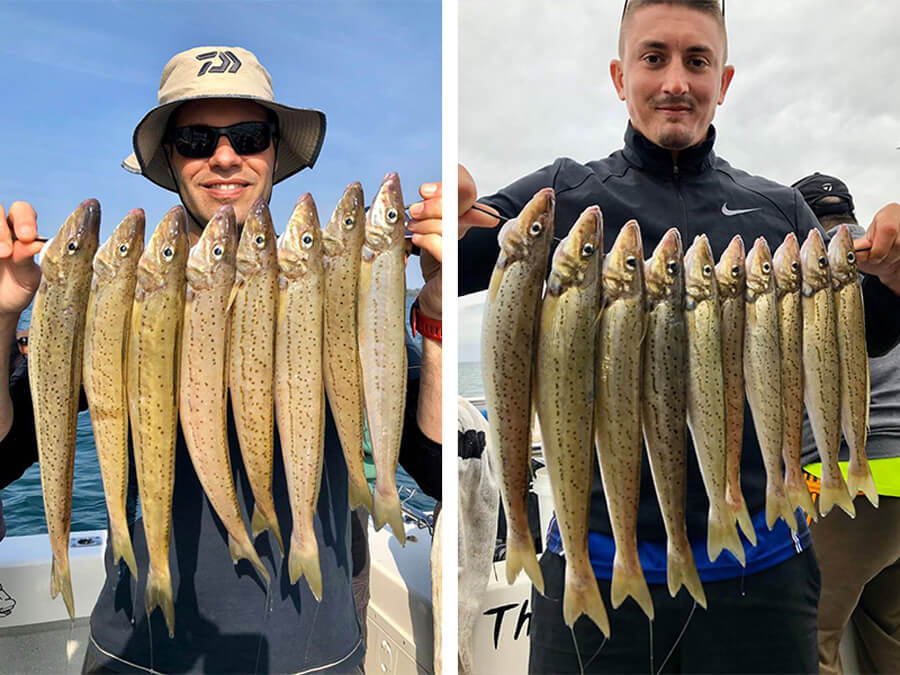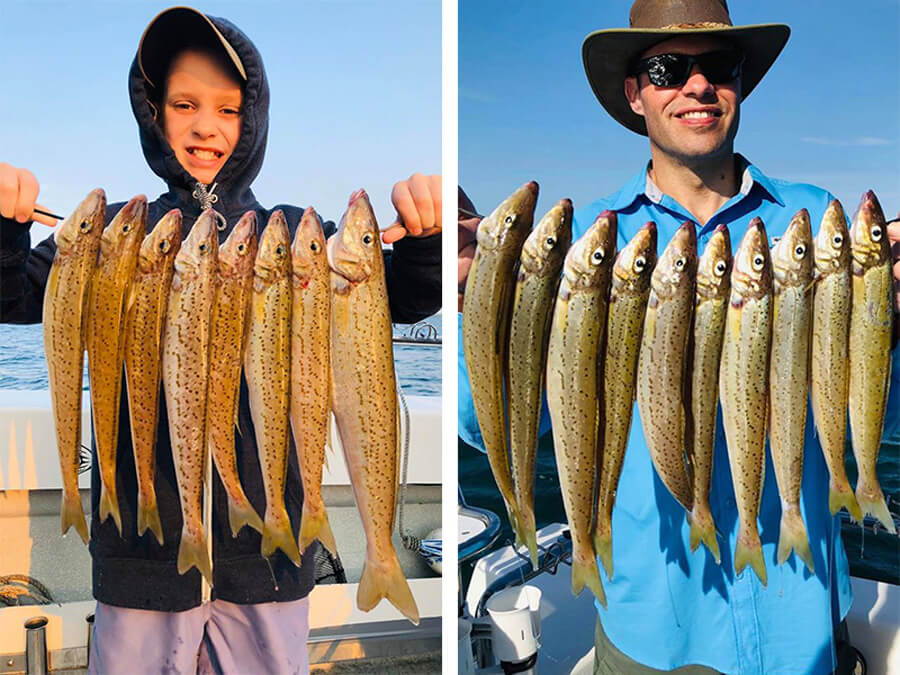 Shaun Furtiere from Think Big Fishing Charters has been stuck into the whiting with his customers this past week fishing Western Port.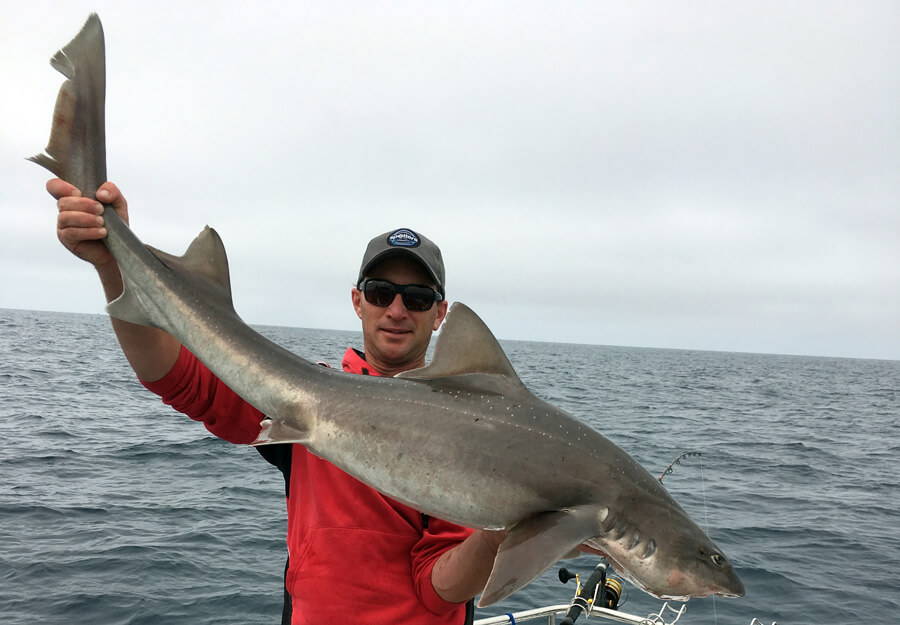 Simon Rinaldi from Red Hot Fishing Charters managed this cracking gummy in 45metres of water out from Seal Rock this week. Simmo also reports seeing small bluefin busting up as well.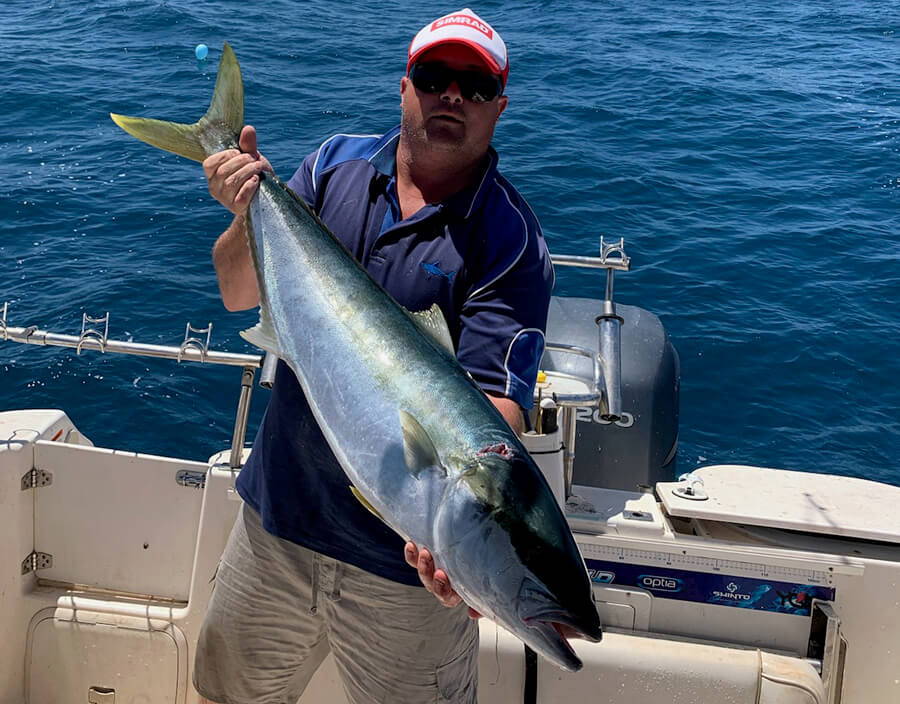 Macca caught this nice kingfish on a weighted slimey under a balloon near Seal Rock on New Years Day. Well done Macca!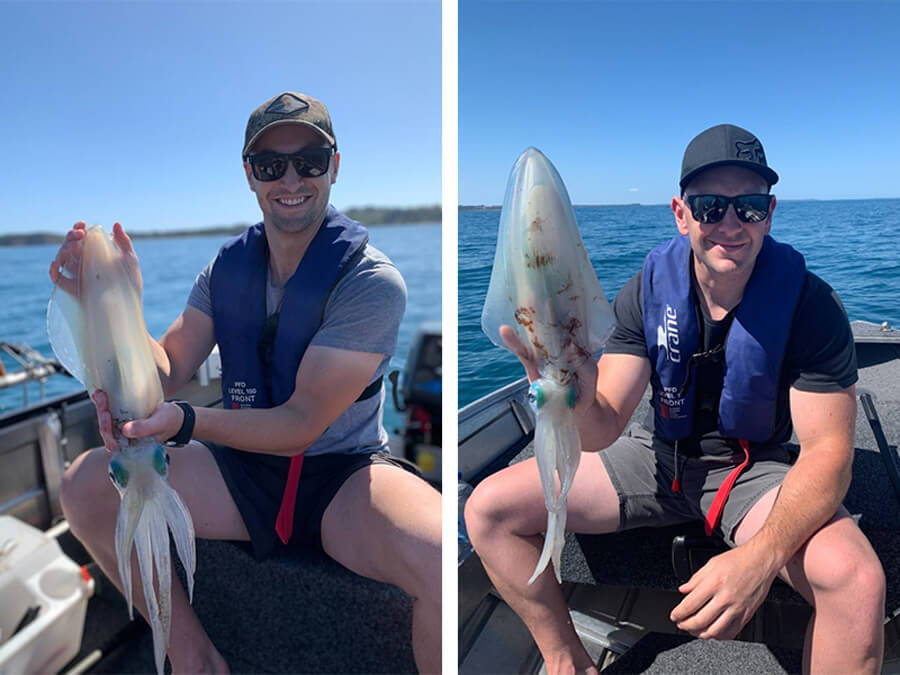 Paul and Craig with some fantastic squid caught in 6 meters of water off Flinders on Thursday.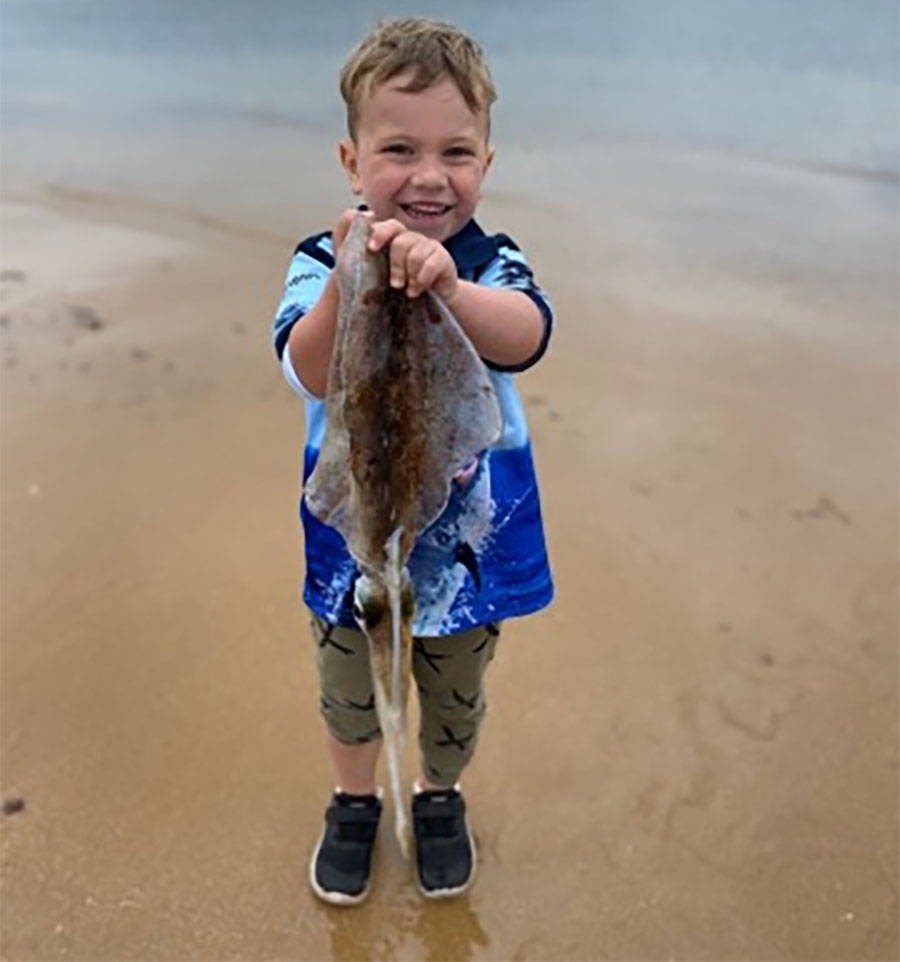 Luke Jackson took his son 3yo Billy for his first time in the boat and landed this cracking squid on the Shimano Sephia jig in colour 14T at Red Rocks. Safe to say Billy looks stoked!!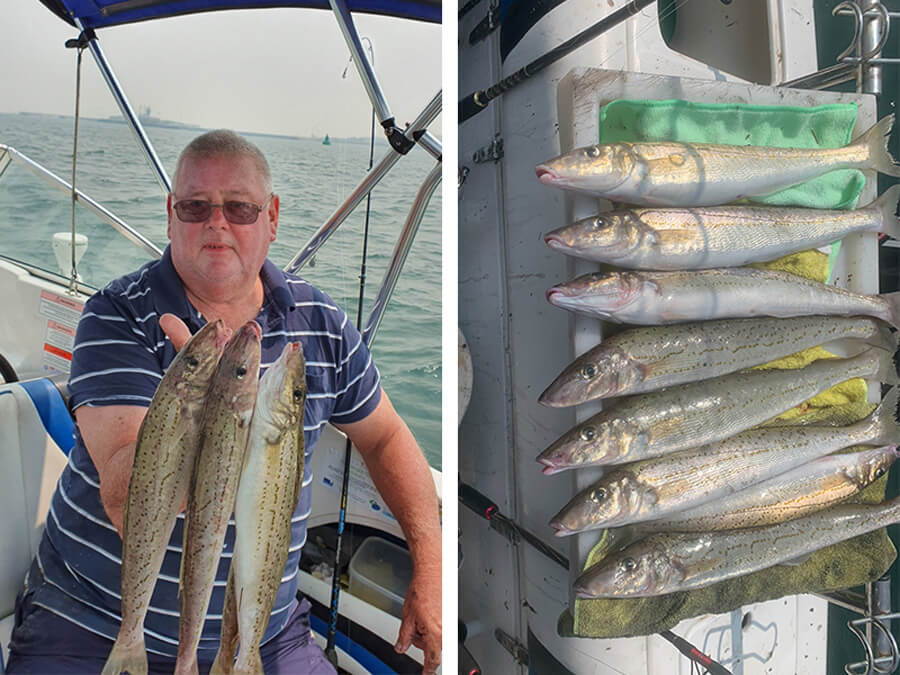 Don Wood fishing out from Hastings in 15 metres of water and found some quality whiting.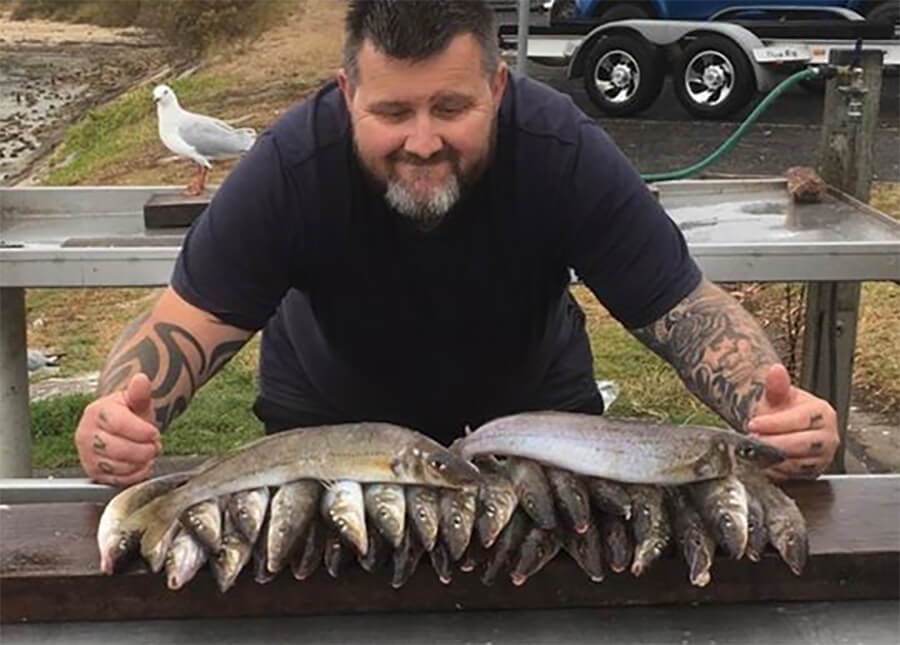 Michael Woods fished Middle Spit this week for some fantastic whiting to 44cm using pipis for bait.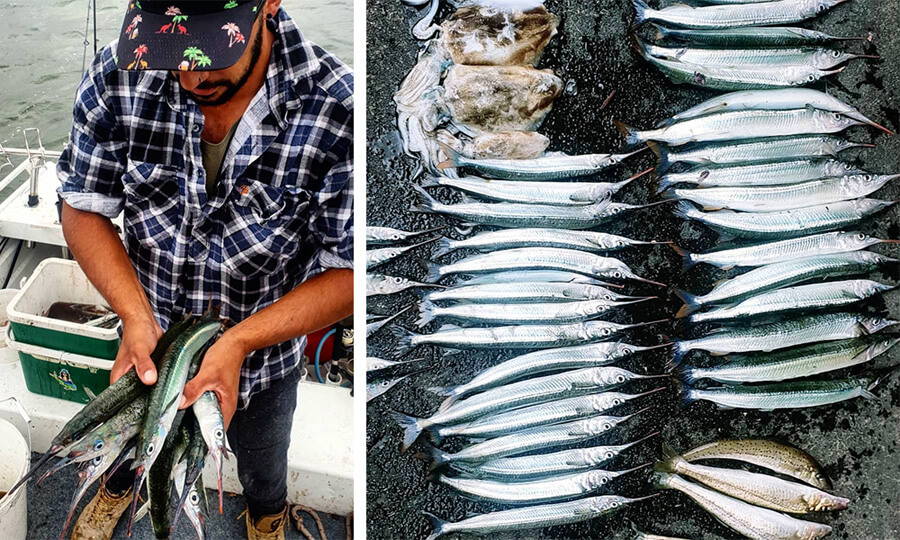 Jovan Pageot and a mate fished out from Warneet and found a patch of cracking garfish.
Ali and her hubby fished with Jayson Turner from Pro Red Fishing Charters last week and found some fantastic snapper fishing Port Phillip Bay.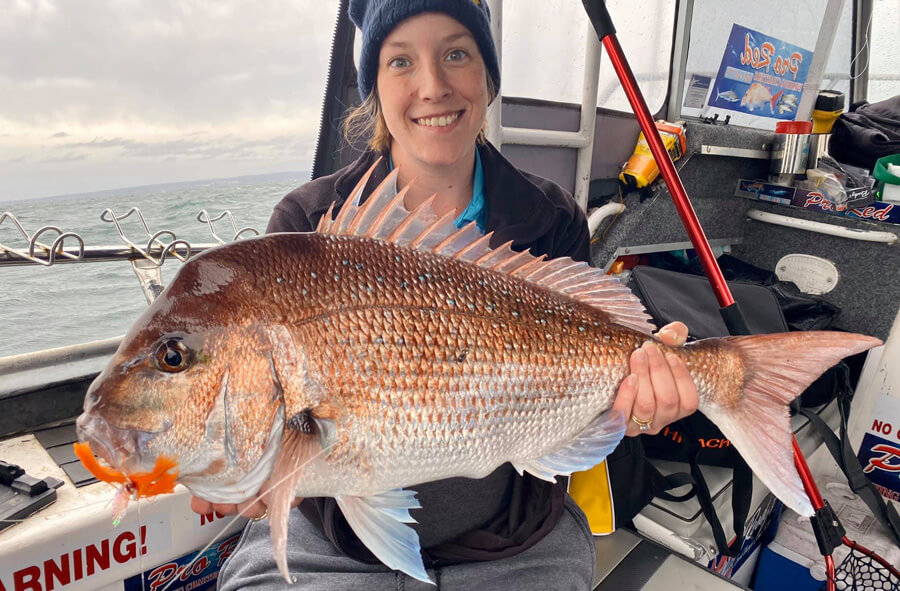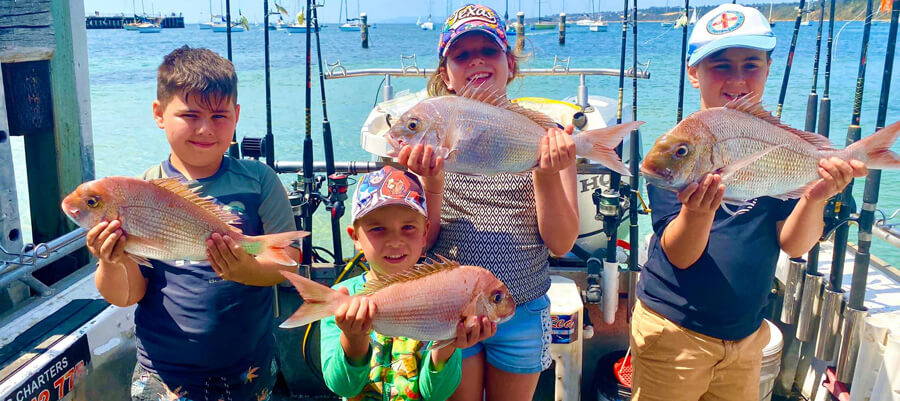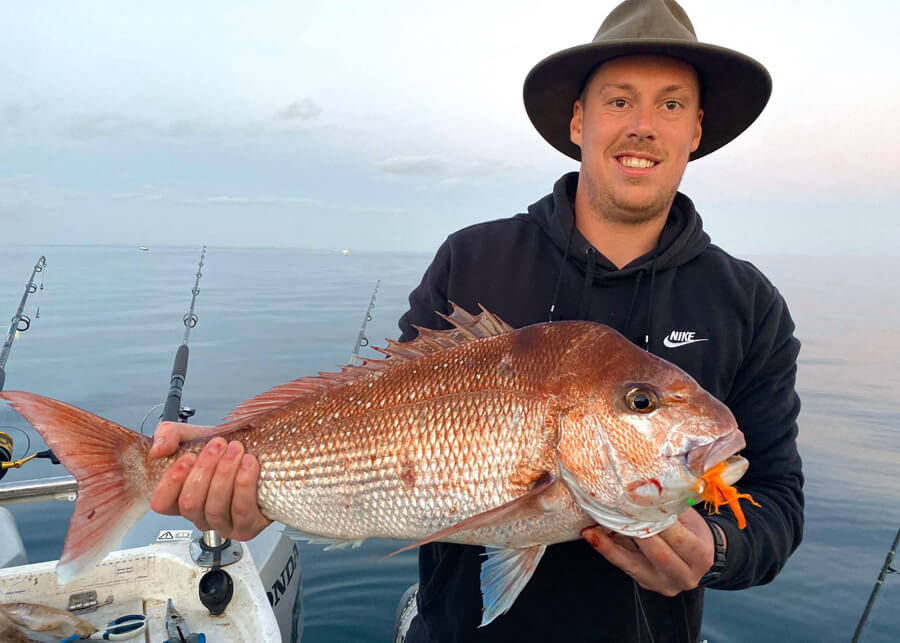 Jayson Turner from Pro Red Fishing Charters has been consistent on the Port Phillip Bay snapper this past week with plenty around for his customers to have some fun and take home a feed.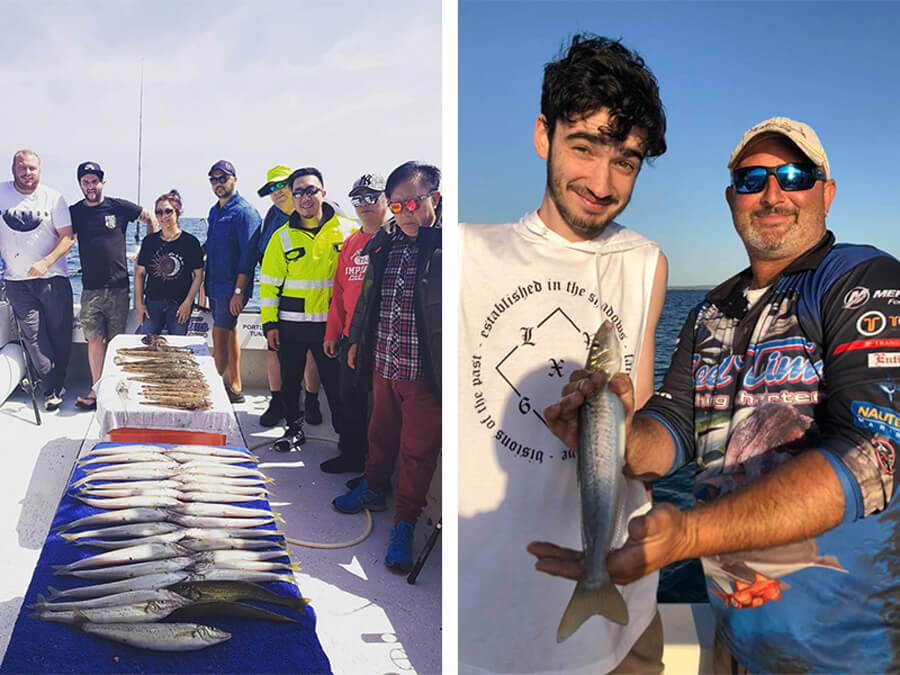 The Reel Time Fishing Charters crews have had some success on the Port Phillip Bay whiting this past week.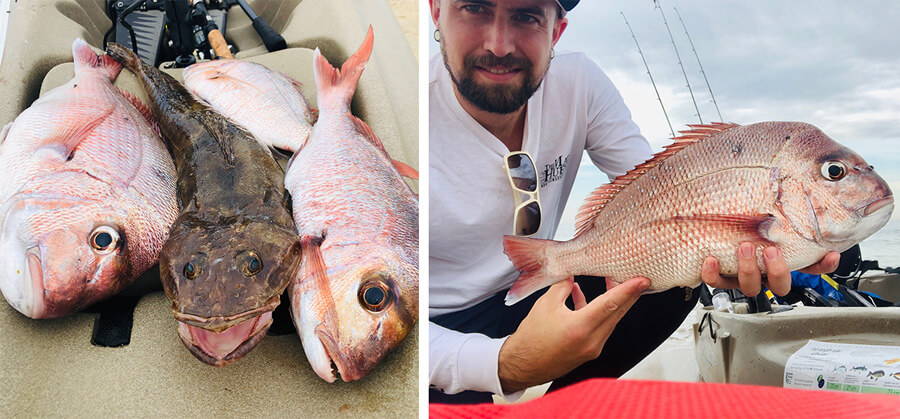 Davey Sier had a great session on the yak out from Sandringham last week with a nice 54cm flathead as well as some nice pinkies to 58cm all caught on soft plastics.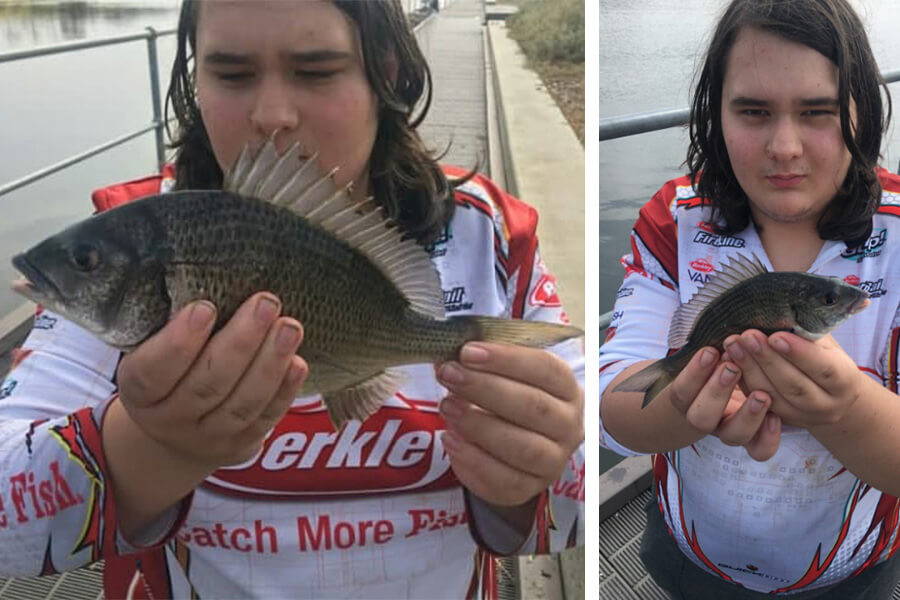 Lleyton Billman caught and released some nice bream at Patterson River using prawns for bait.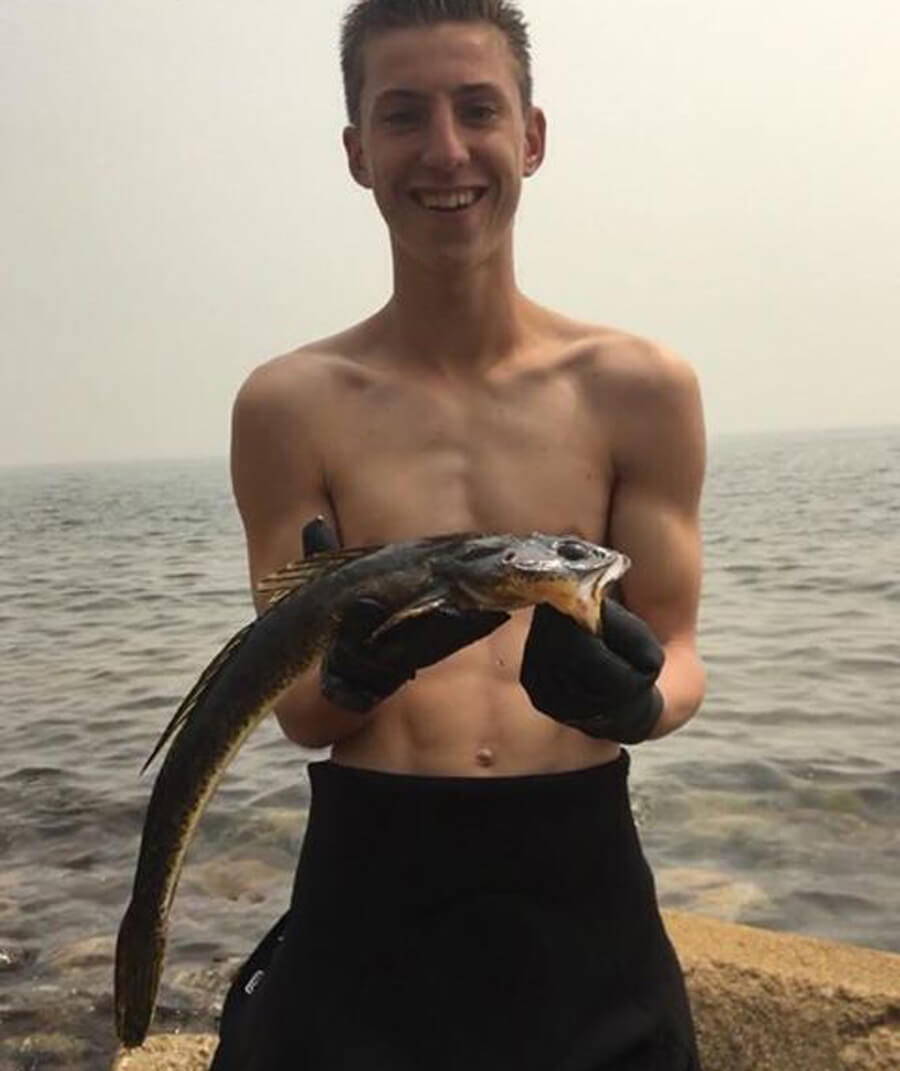 Heath Bidgood with a nice flathead he caught using his speargun in the Mornington area.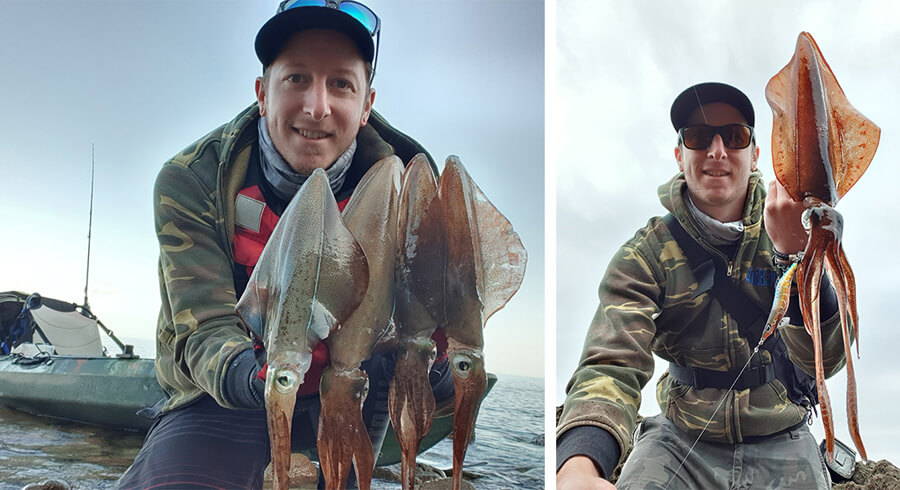 Staff member Brendon Cunningham smashed the squid fishing from his yak and off the rocks at Mt Martha this week. He said the Odori jig with gold foil and blue back (#4) did most of the damage and the bite died once the sun hit the water and the boat traffic increased so it's important to hit your spots at first light at the moment.
Chris O'Connell caught a nice 55 with his dad fishing off Mt Martha.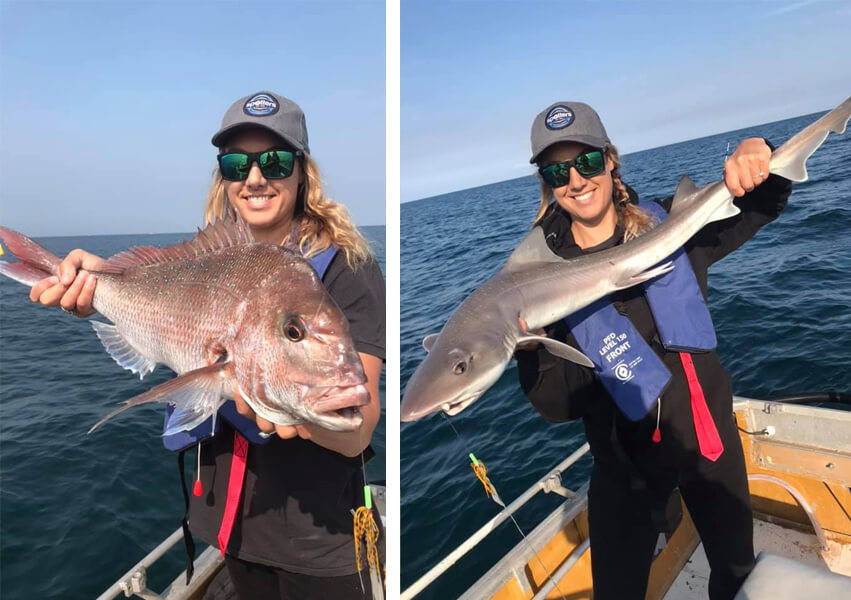 Michelle Britton caught a nice snapper and gummy fishing out from Mt Martha.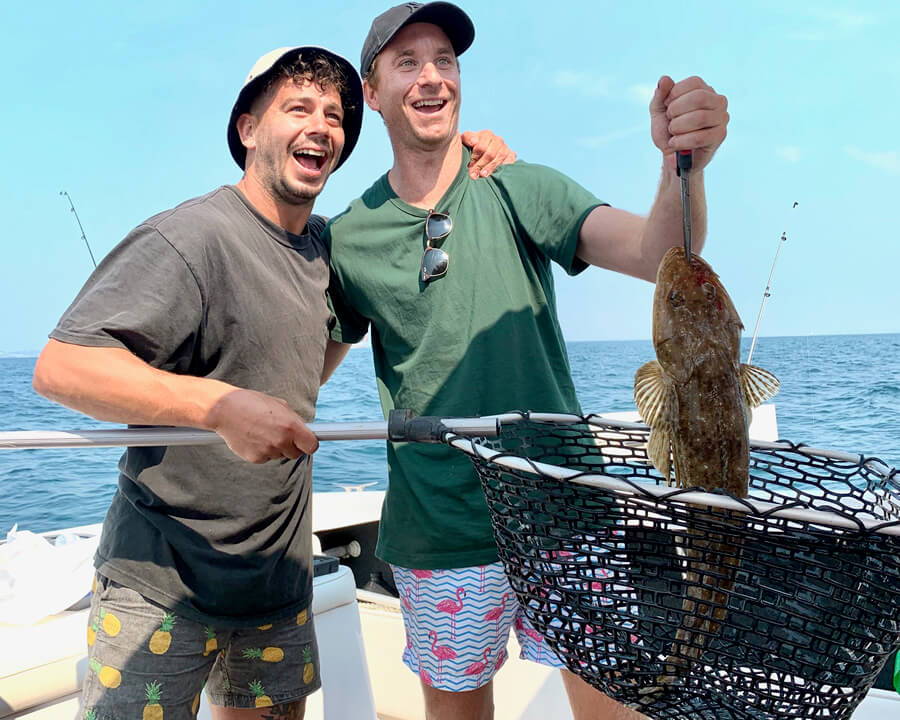 Luke Giles caught this ripper 78 cm flathead off Rye last week.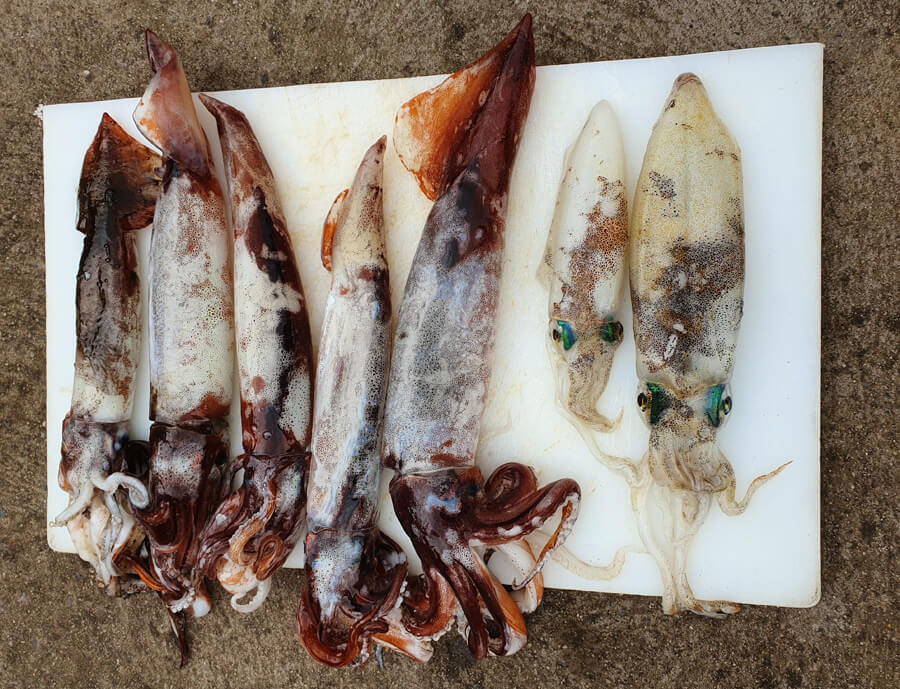 Staff member Adam 'Frase' Fraser fished out from Rye around the south channel marker and found a few arrow squid and southern calamari; all caught on red headed white squid jigs.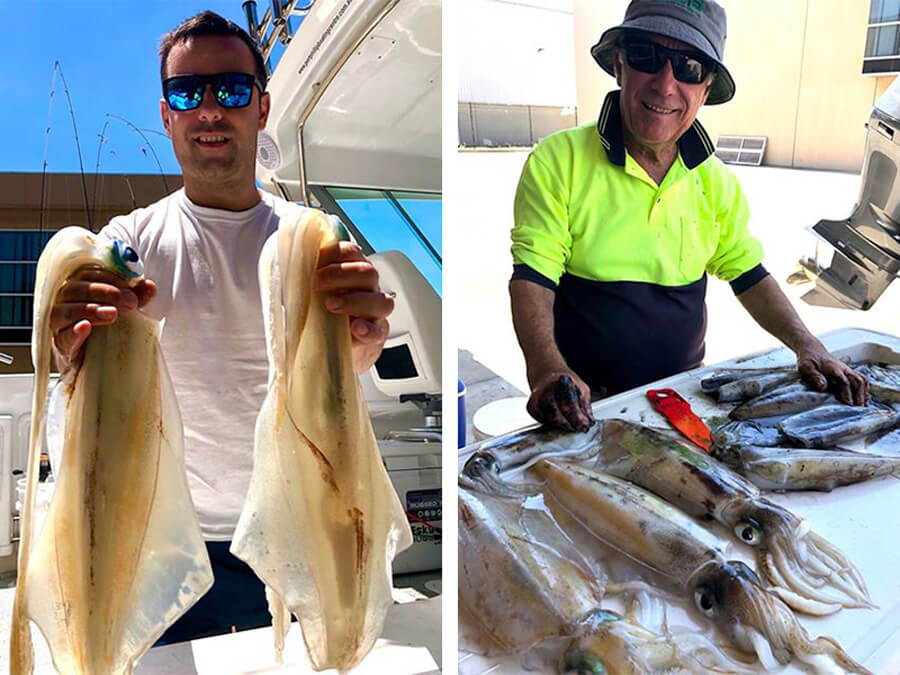 Damien Markovski reports in after fishing St Leonards where they bagged out in 2 hours on some big squid in 3-4 metres of water straight out from the ramp. Well done!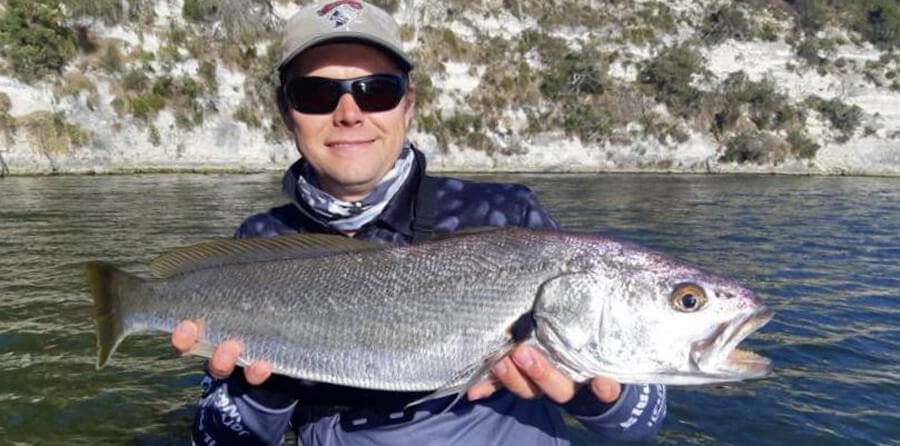 Kelvan Trimble reports in from the Glenelg River where he started his journey in the VIC Mulloway tagging program. On this trip Kelvan caught 6 mulloway, tagging 5 of them (one was already tagged). Kelvan's fishing partner also caught 5 mulloway and between them they caught plenty of bream and EP's as well.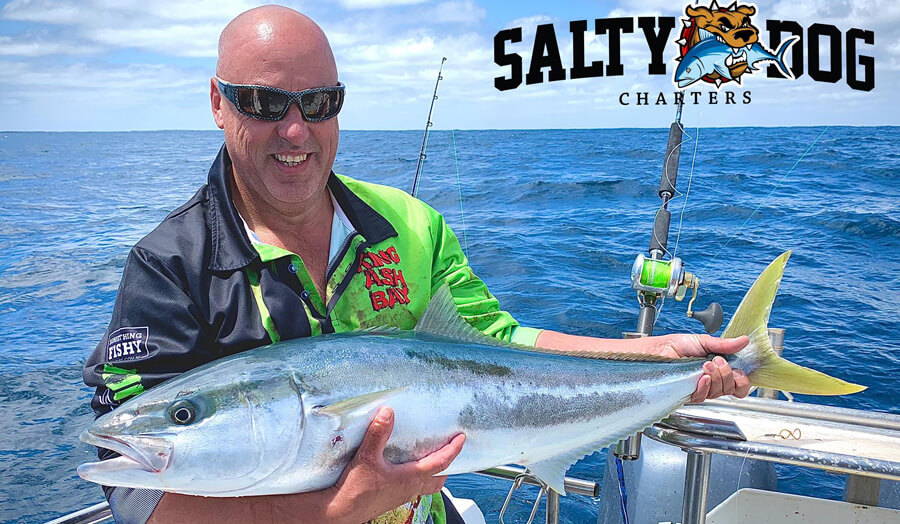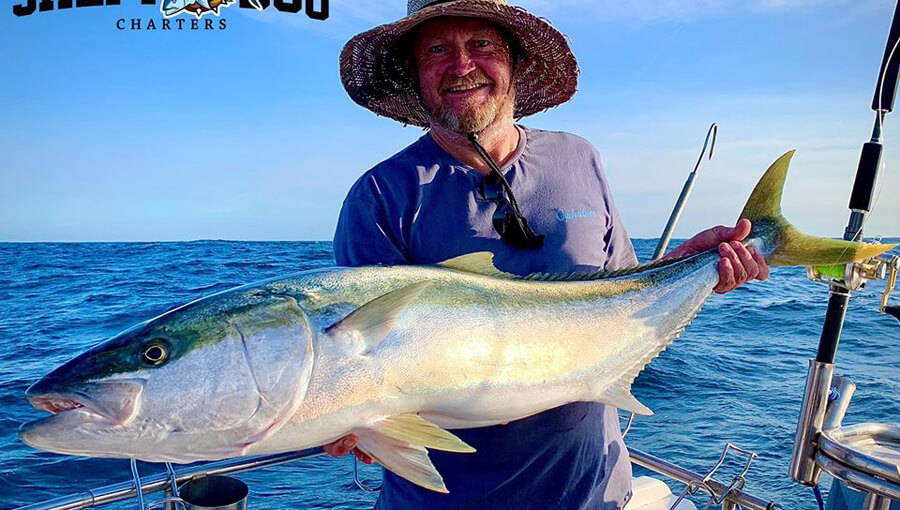 Dan Hoey from Salty Dog Fishing Charters has got his customers on to some thumping kingfish this week out from Port Fairy.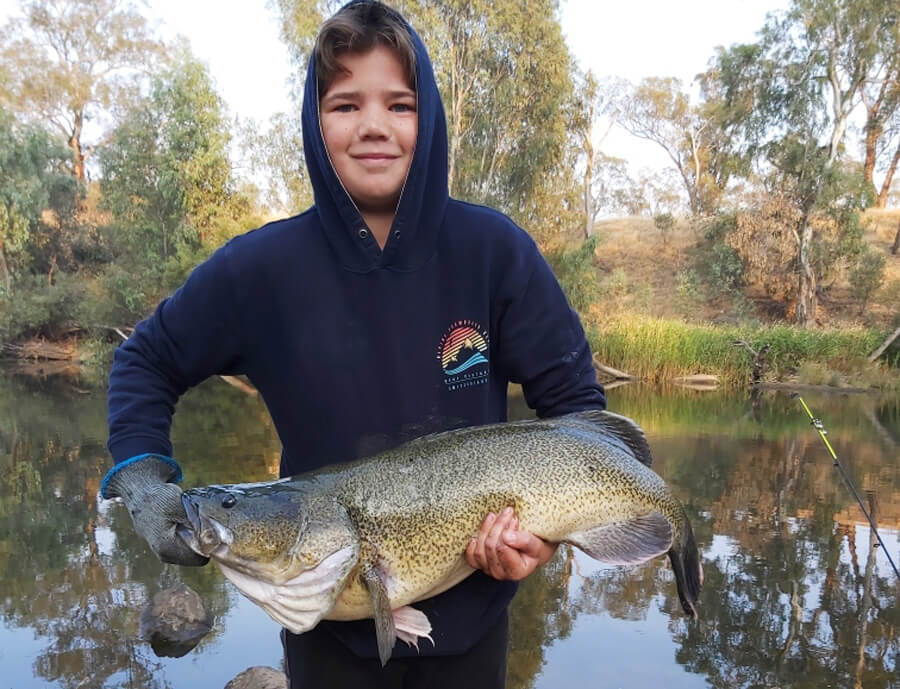 Deacon Marsh with a fantastic 82cm Murray cod caught and released at Bridgewater on Loddon using a yabby for bait.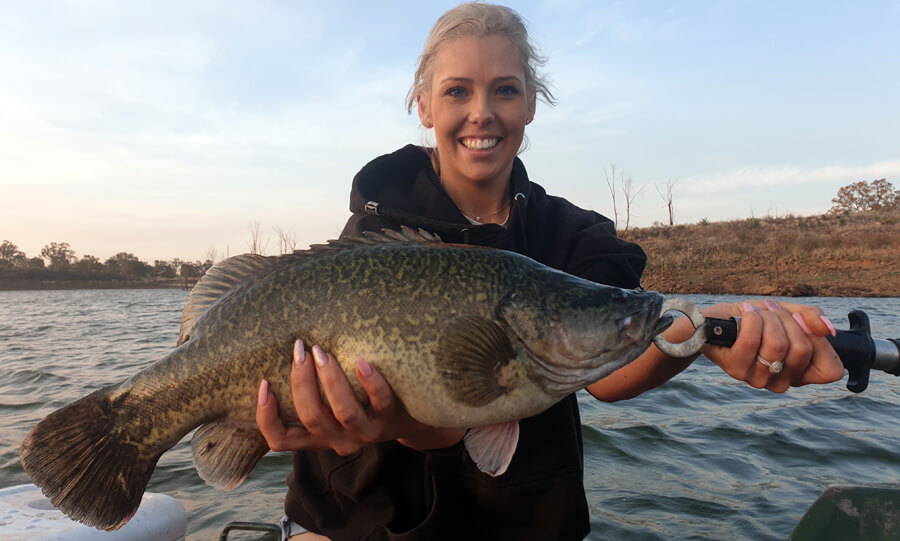 Madiy O'loughlin with a nice cod caught and released at Lake Eppalock.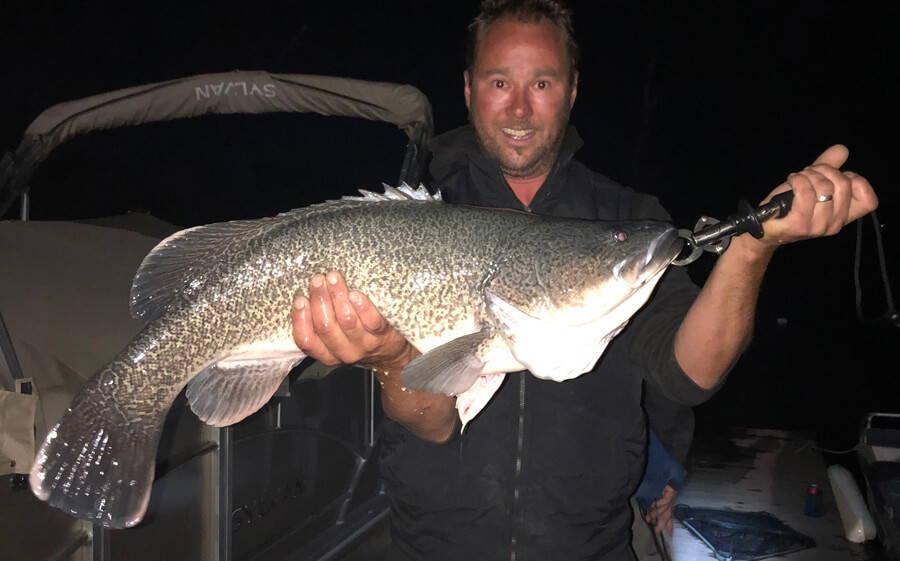 Mike Stickel with a beautiful 83cm Murray cod caught and released at Nagambie using yabbies for bait while fishing from the bank.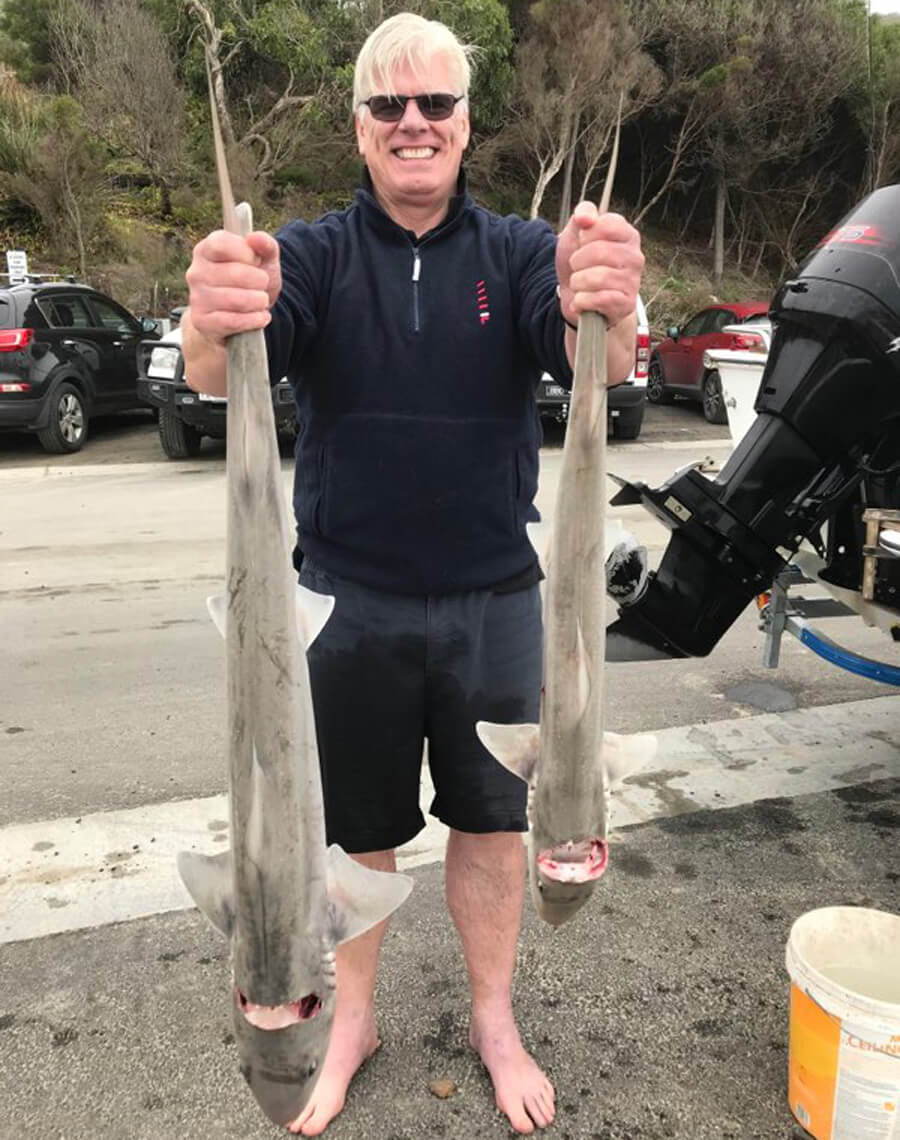 Gary Ayres with a couple of lovely gummy sharks caught out from Walkerville.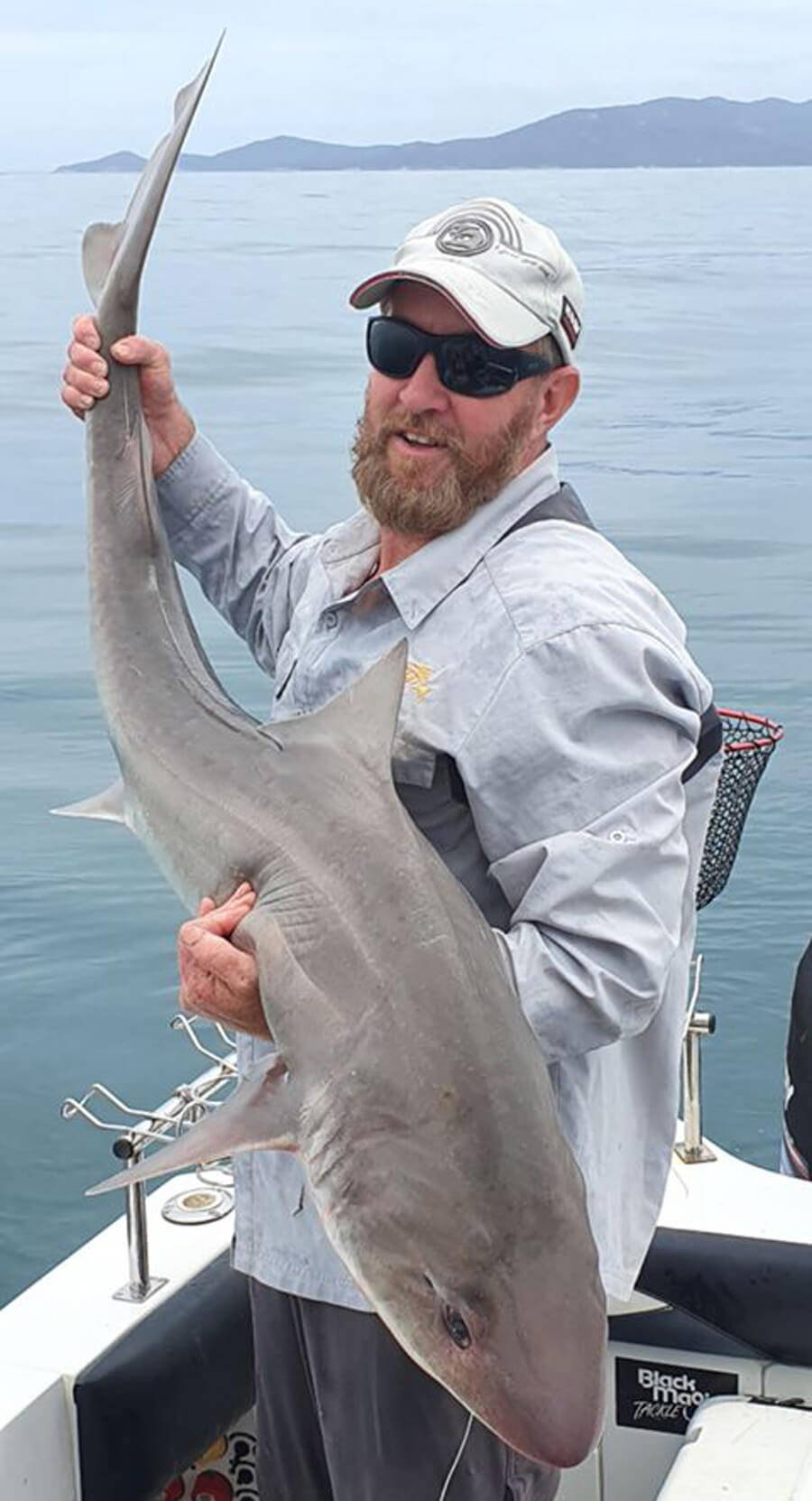 Luke Lamers caught this nice 20kg gummy outside the entrance at Port Welshpool in 10mtrs of water on salmon chunk.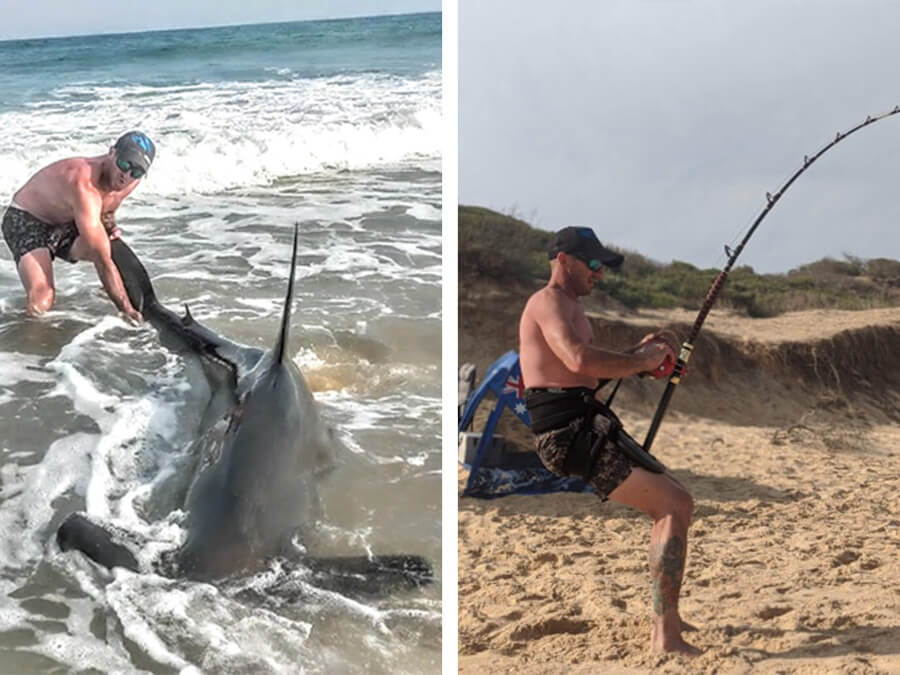 Jacob Royers reports in from 90 Mile beach where he caught and released his dream fish; a 10ft smooth hammerhead shark. Jacob popped in store recently to ask advice on what to get set up with and the team put him on to the Black Magic Tackle Equalizer harness which Jacob mentioned in his report to us that it made it a breeze to fight the fish in just 30mins.
Congrats on the catch mate and thanks for reporting back to us.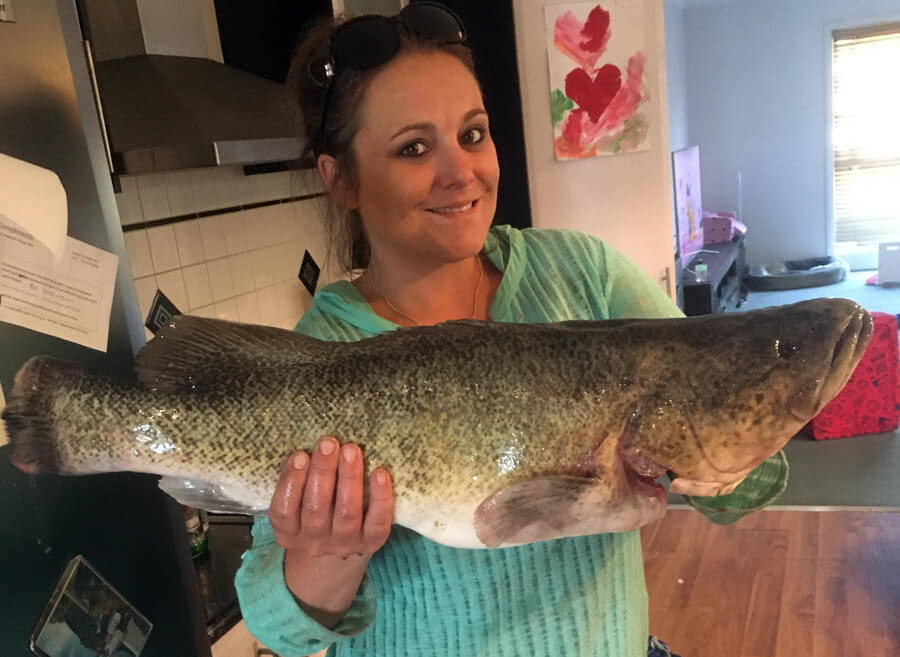 Joelle Amey with a 69cm cod caught fishing at Yarrawonga using chicken for bait.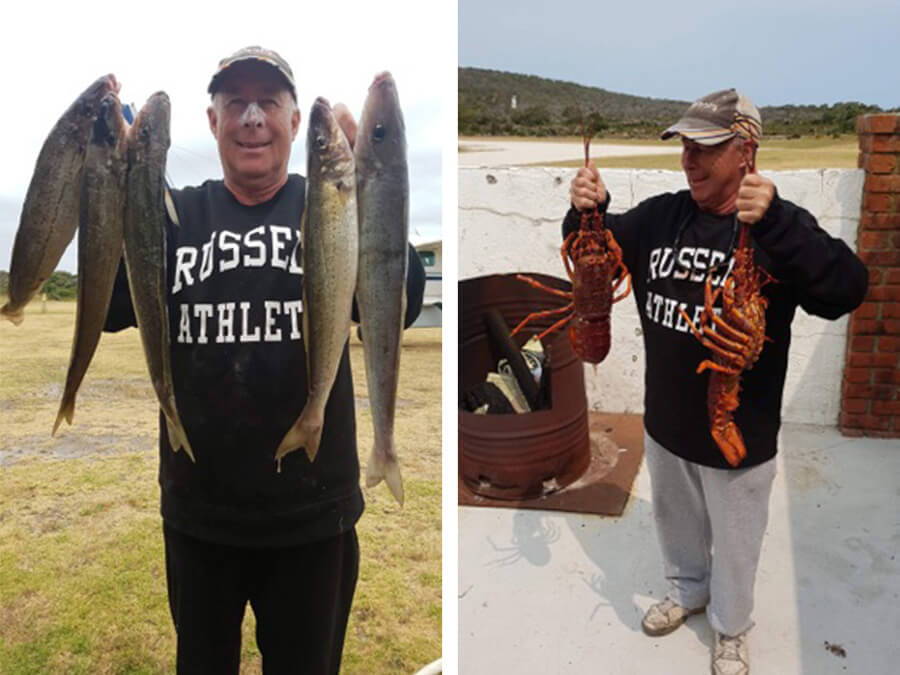 Colin Sires reports in from a mates trip to Flinders Island where they were able to catch some amazing King George whiting around 1kg as well as some nice gummies, crays and rat kings from the pier.
IFISH WITH TACKLE WORLD SUMMER SERIES
TALKING FISHING - C31 TV - TUESDAYS @8.30PM
Catch "Talking Fishing" on Melbourne's C31 TV (CH44) at 8.30pm each Tuesday night. Staff members David Kramer and Adam Ring together with Steve "Trelly" Threlfull host Australia's only "Live to Air" fishing television program at this prime time-slot. Put Tuesday night's at 8.30 away in your weekly diary of TV shows to watch!
Butterflies taste with their feet.

Good Luck with your fishing and stay safe on the water,

The TEAM at Tackle World Cranbourne & Mornington