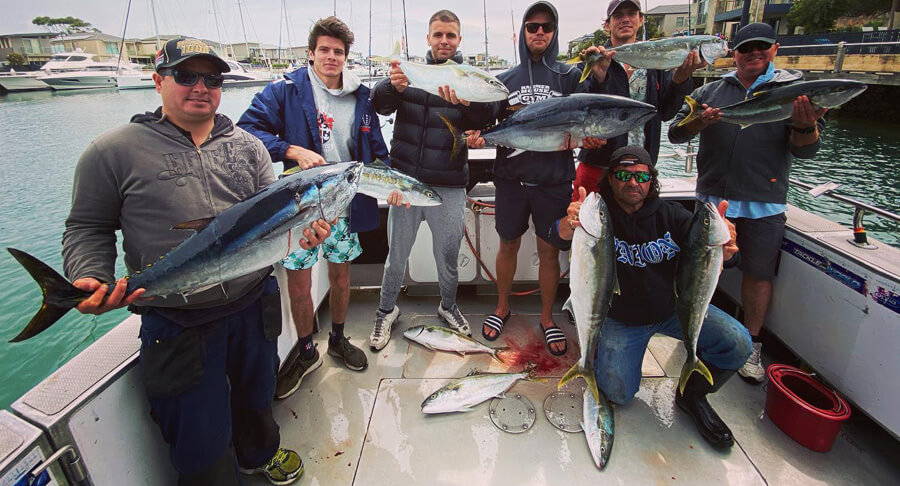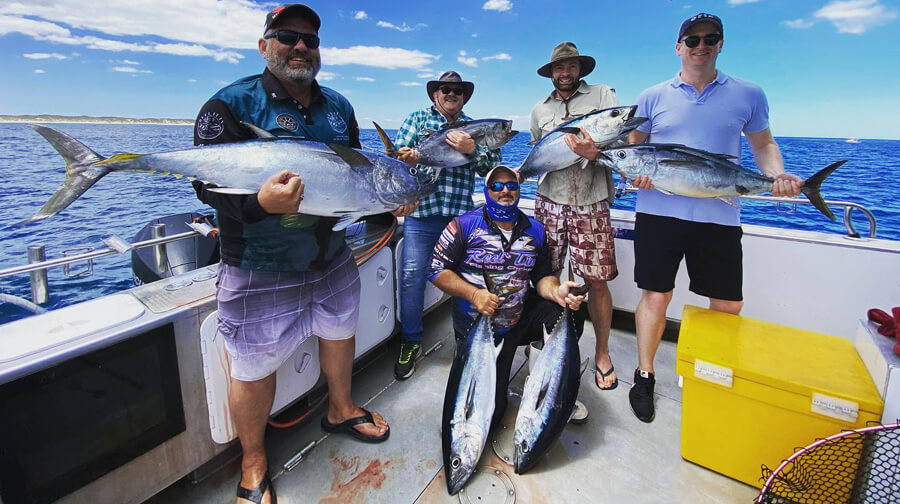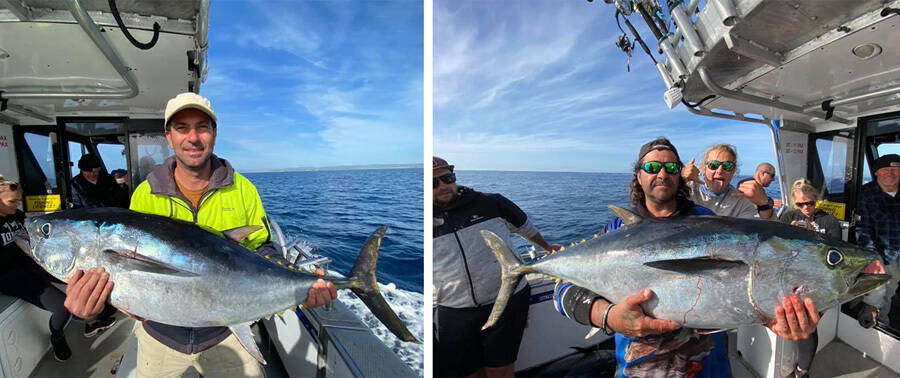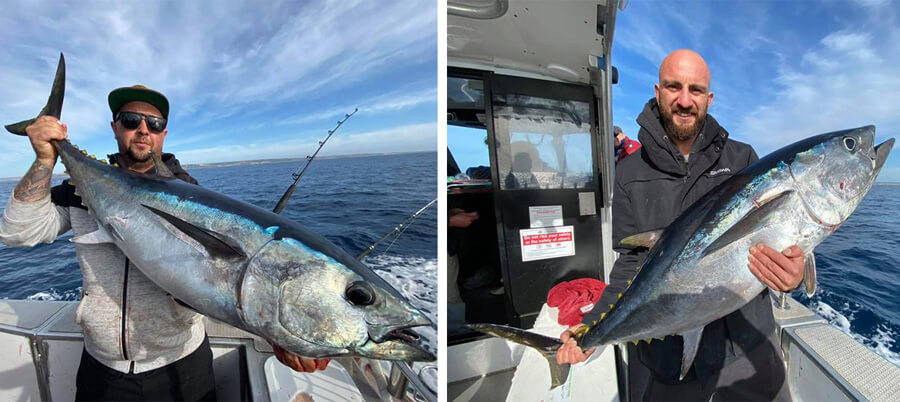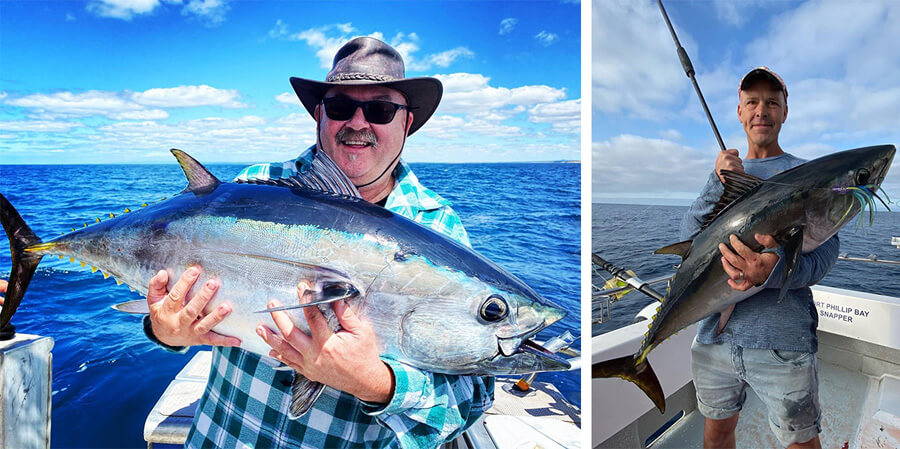 Matt Cini from Reel Time Fishing Charters has smashed the tuna out the front of Port Phillip Heads this past week. Each session this week they have managed to find fish and have nailed countless multiple hook ups on diving lures and skirts.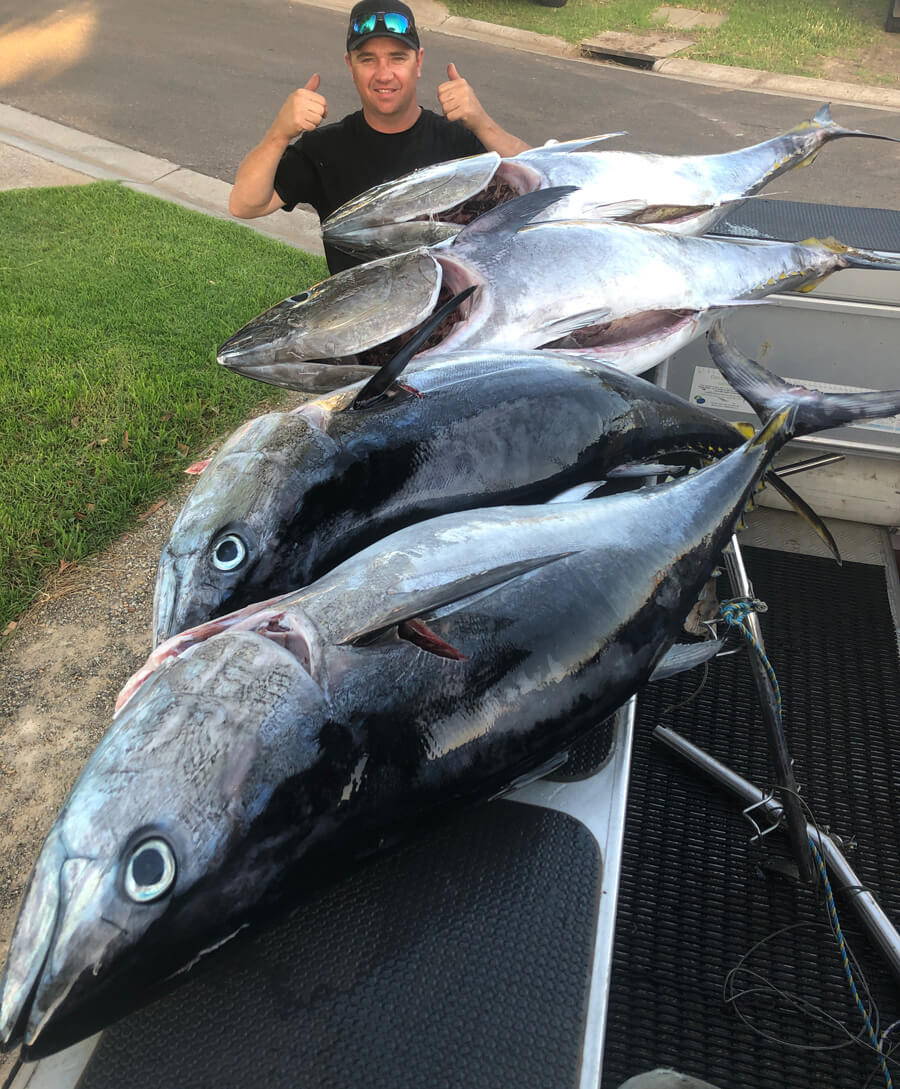 Andrew and Con hit the tuna off Anglesea this week catching some rippers to 30kg.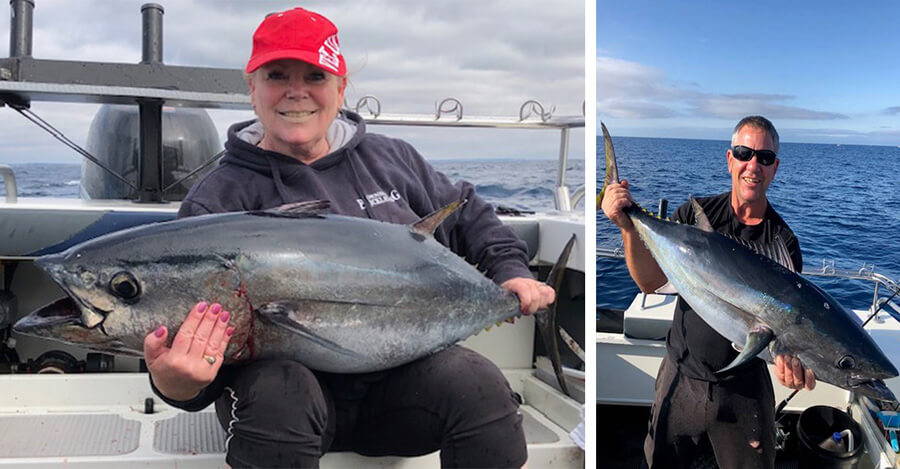 Sharon De-Chellis caught a cracking tuna of 20kg & Colin Dendle 15kg fishing off Barwon Heads in 45 metres of water on Sunday.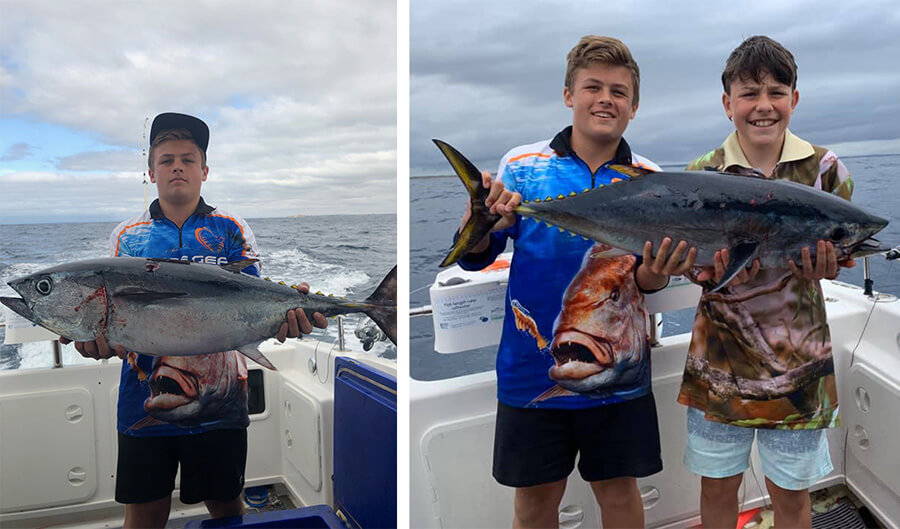 Brad, Kade and Hayden fished off Barwon yesterday and had a ball landing 3 bluefin tuna and 3 Kingfish.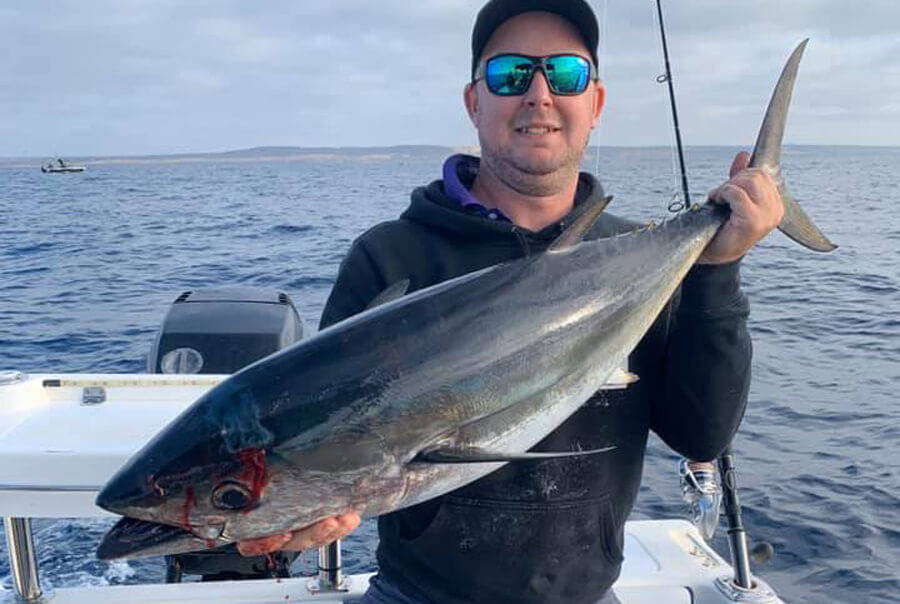 Justin Craig got stuck into the tuna at Barwon Heads this week.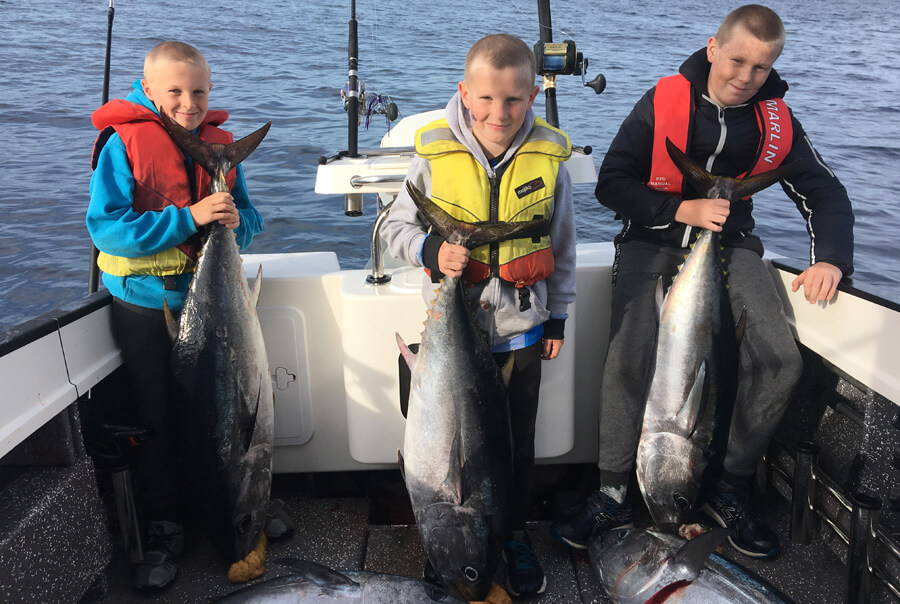 Brodie, Corey and Lochy King had a ball on the offshore tuna with Corey and Lochy catching their first tuna.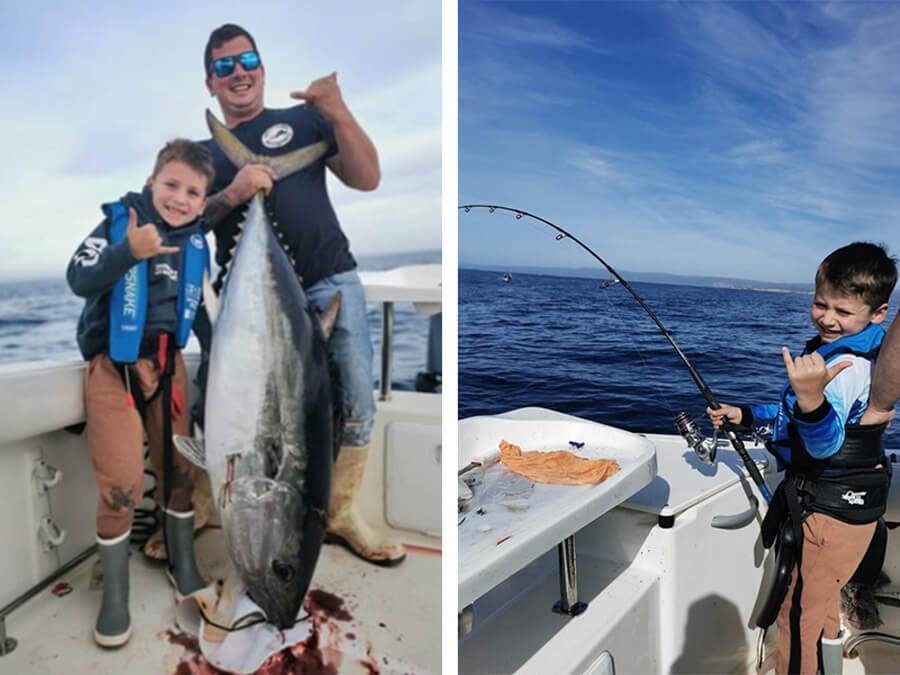 Young Ryder Stoll fished out off Port Phillip Heads with his dad and their mates during the week. They had an epic session on southern bluefin tuna catching them on stickbaits, vertical jigs and trolling skirted lures including Buku Tuna Zappers in pink and white and blue and white.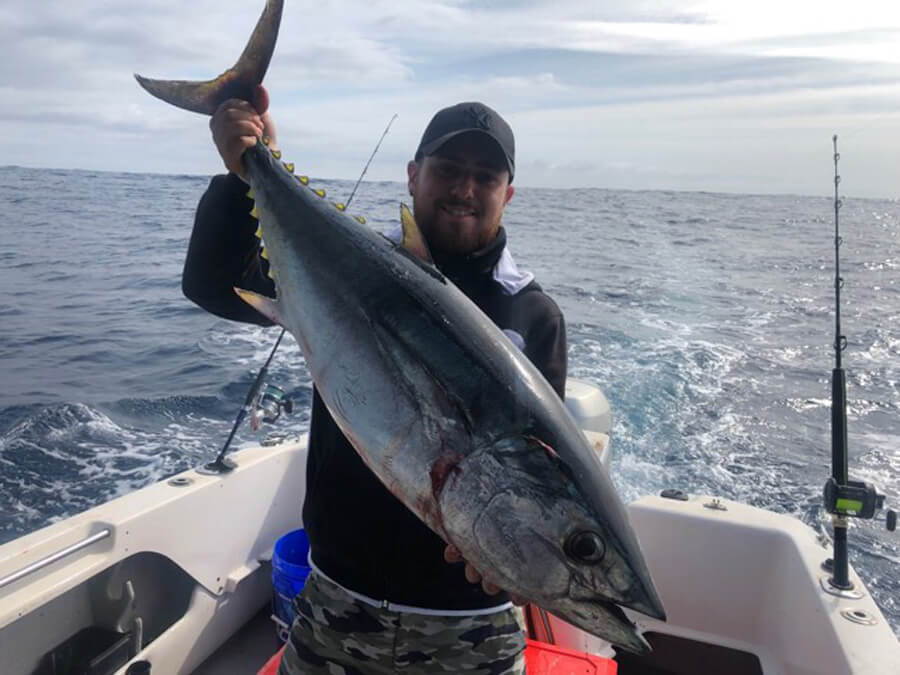 Dean Stacey, John and Steve got among the local tuna this week. This fish was caught on a Rapala X-Rap in 40m of water out the front of the RIP.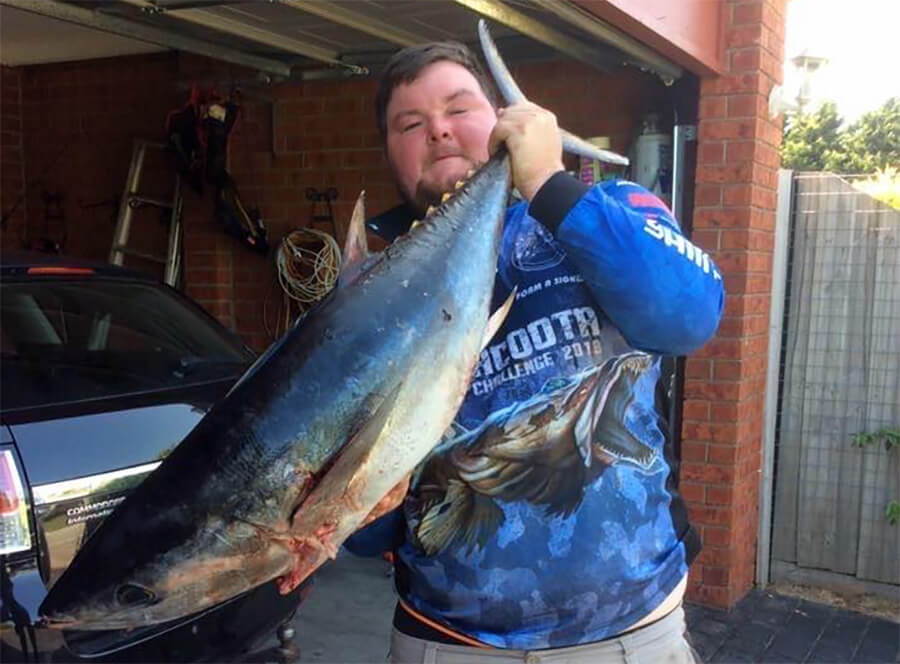 Dylan Gossenhoven fished the Rip on Wednesday and caught this nice tuna on a Rapala X-Rap.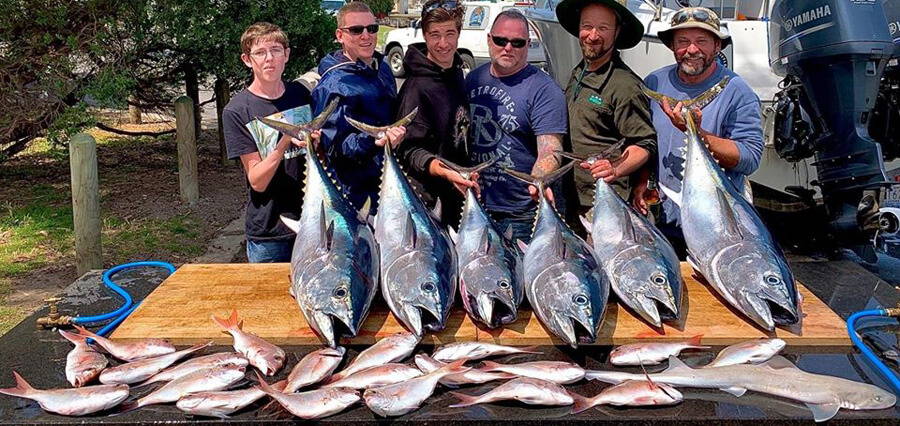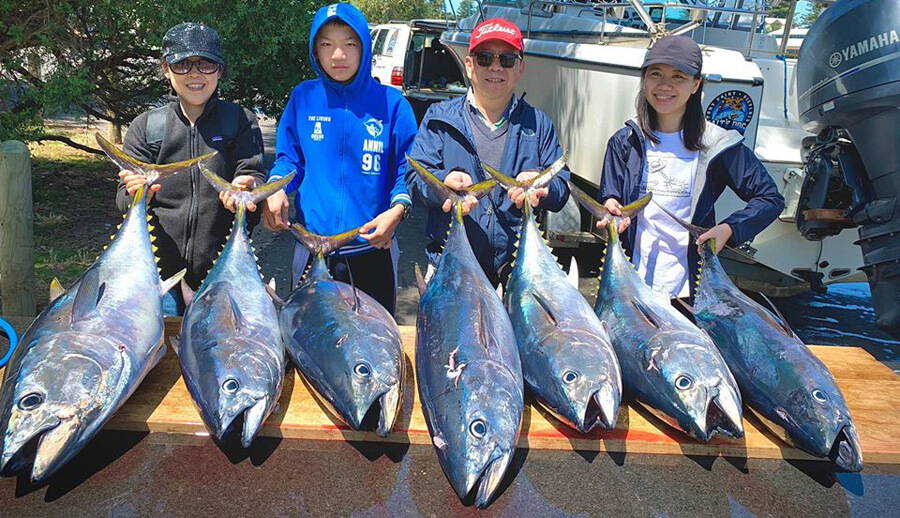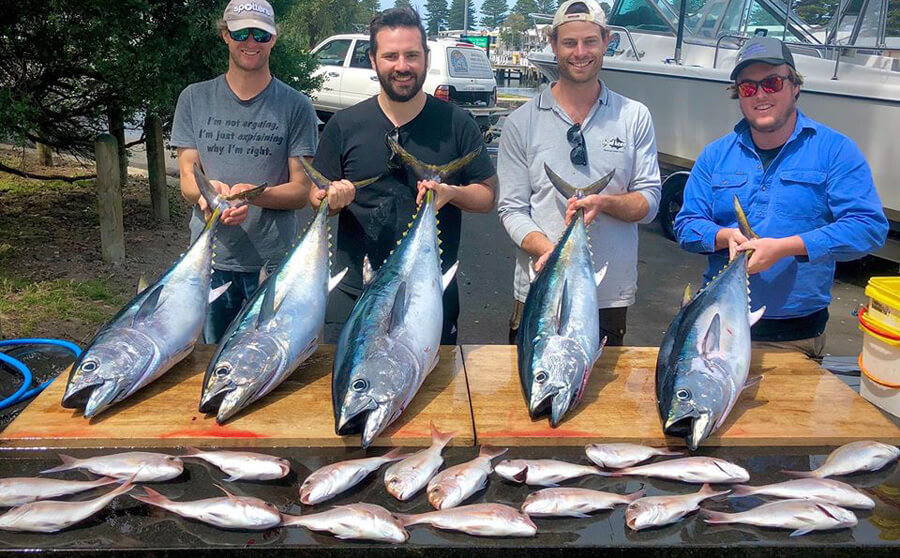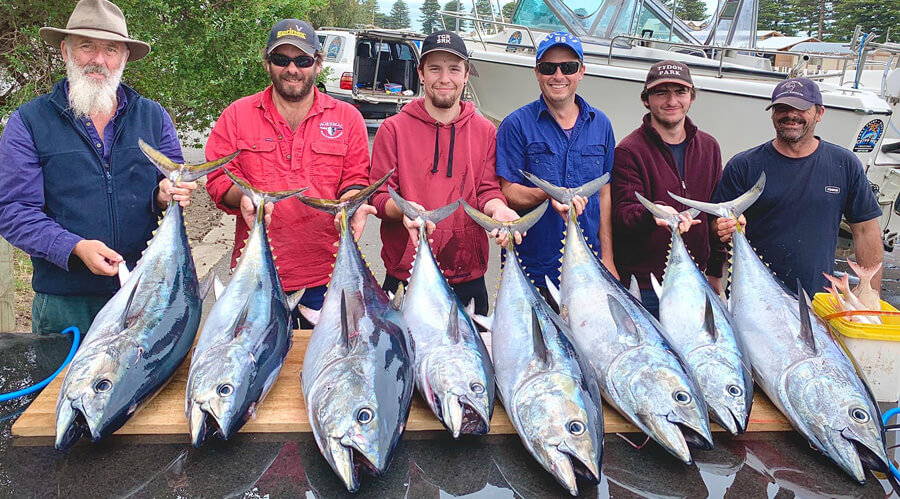 Dan Hoey from Salty Dog Charters got his customers stuck in to some ripper tuna out from Port Fairy this week.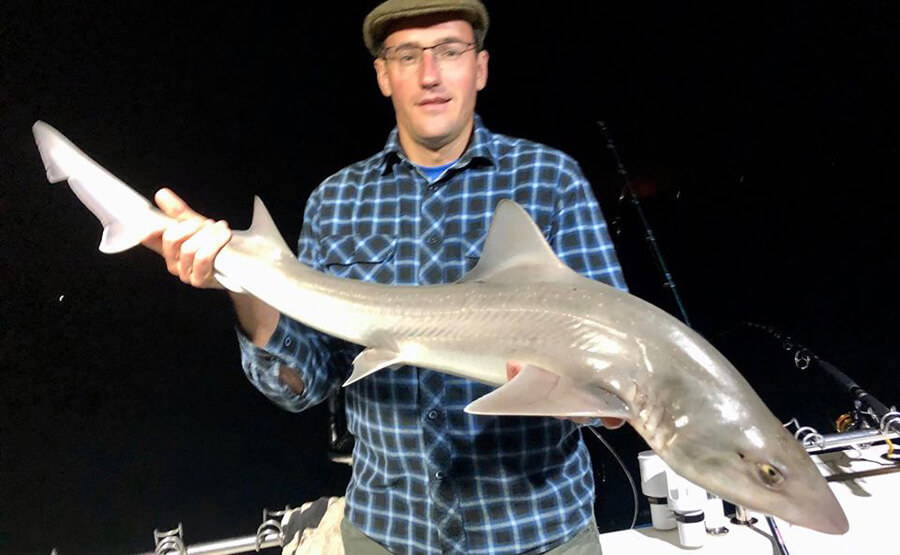 Shaun Furtiere from Think Big Fishing Charters had a number of good Western Port gummy sessions this week with customers; Craig, Dan & crew taking home plenty of fresh gummy, landing 3 and Matthew, Pat & Stef Torre found some good action on Saturday evening.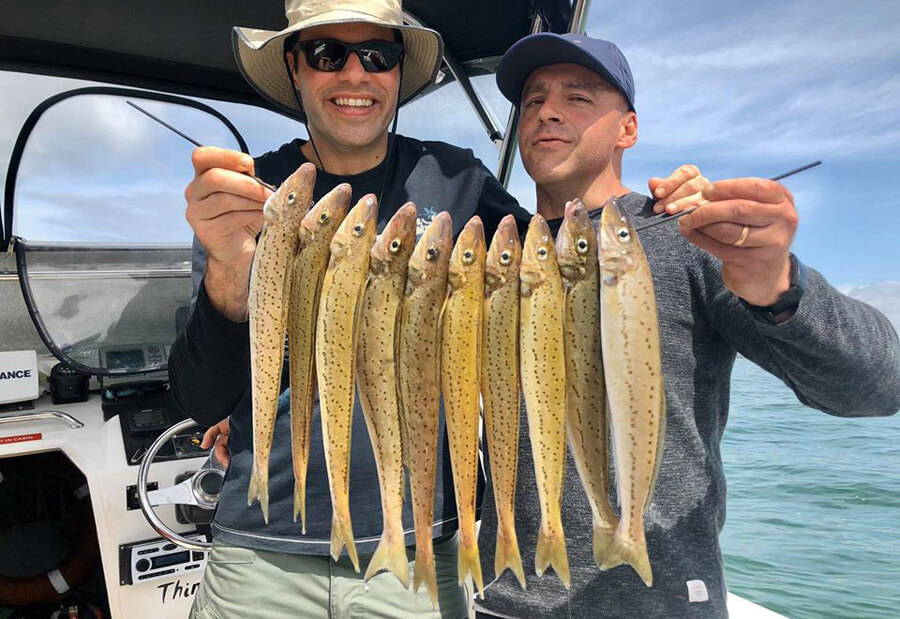 Shaun also had a great session on the Western Port whiting with his customers this week.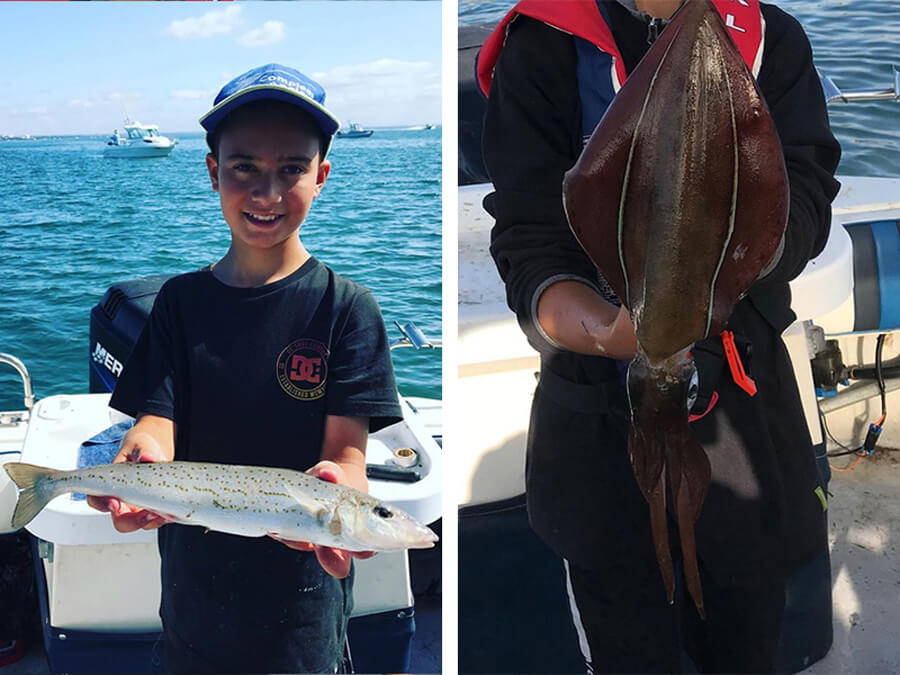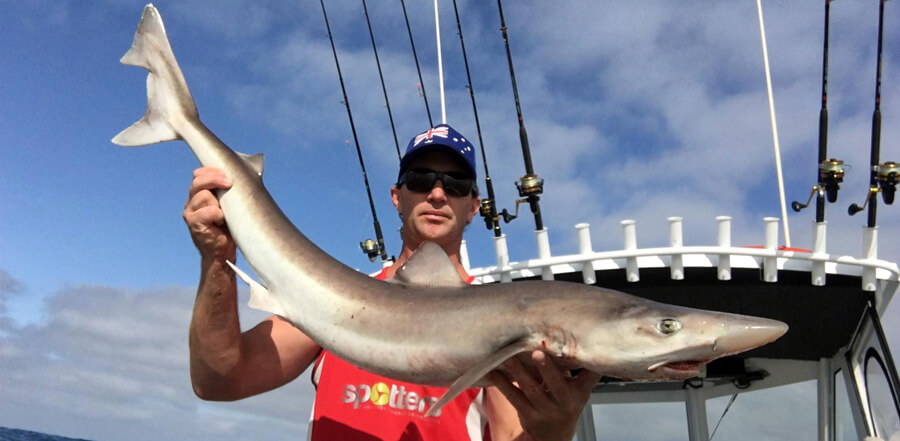 Simon Rinaldi from Red Hot Fishing Charters got stuck in to some fantastic gummy and school sharks fishing offshore from Western Port this week.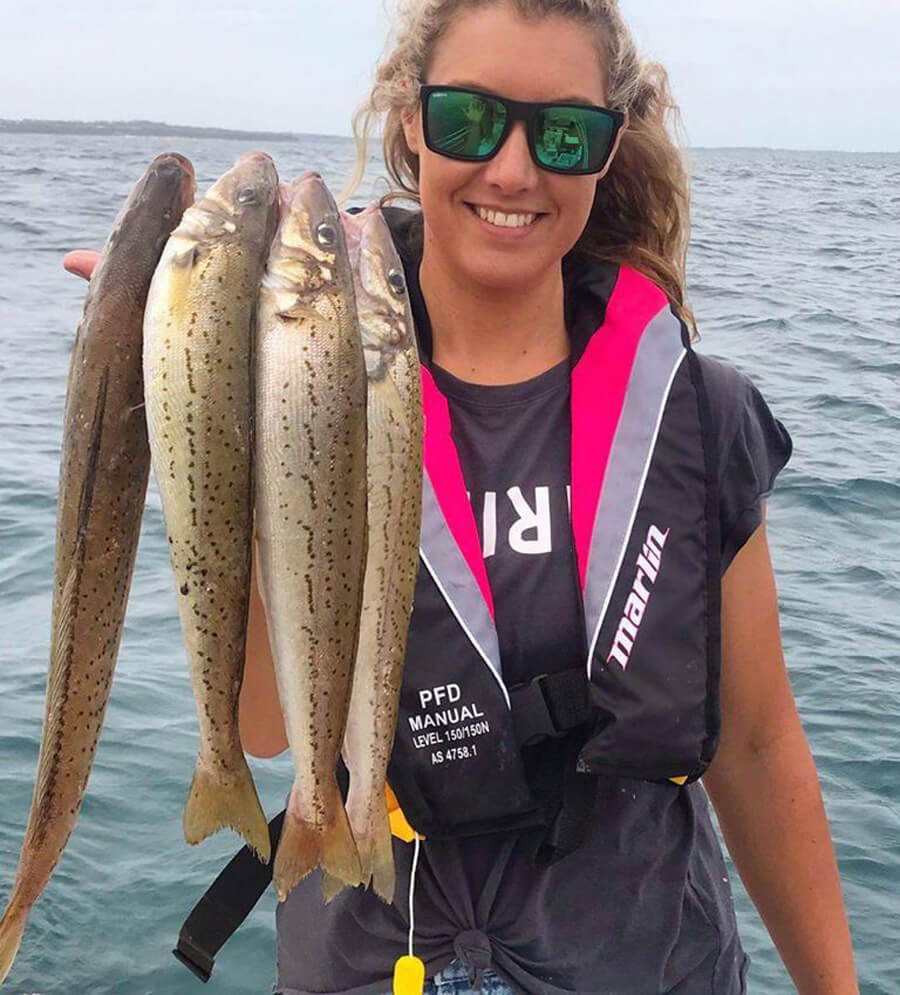 Michelle with some fantastic whiting caught at Flinders over the weekend.
Hannah Chappell with her first gummy shark of 6.5kg caught on fresh trevally fillet. Great fish Hannah!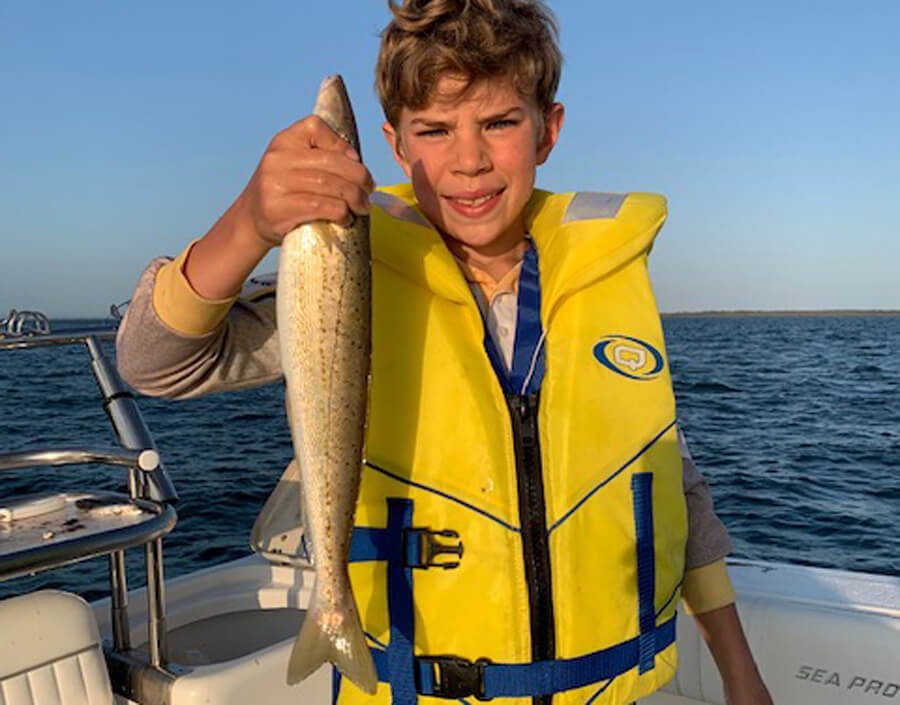 Griffin Spierings fished the middle spit off Hastings and caught a bag of whiting up to 44cm along with plenty of pinkies. The fish were caught on fresh squid with the best bite time around sunset.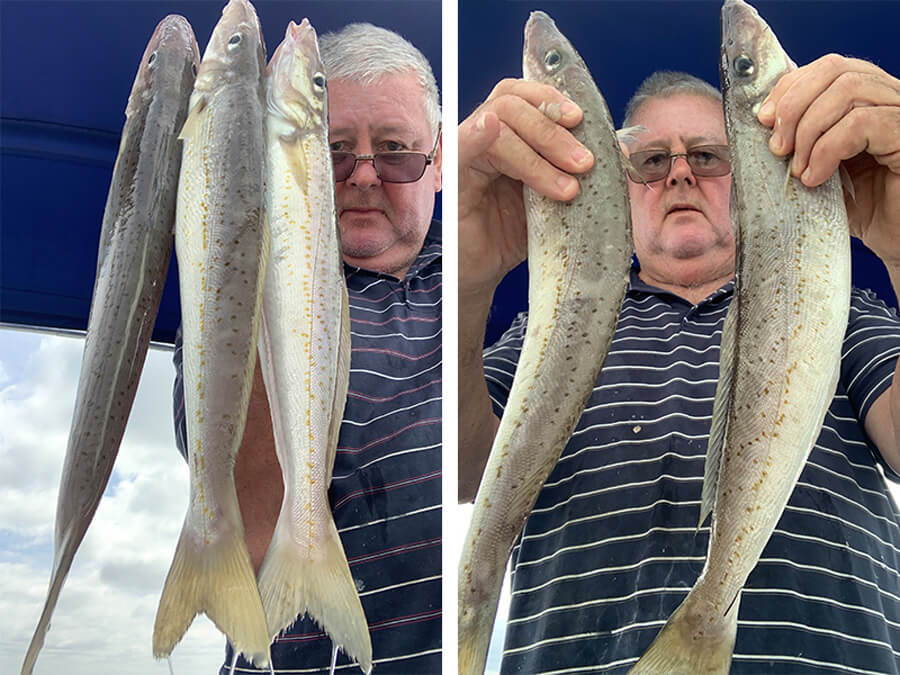 Don Wood fished deep off Hastings and Lysaughts this week in 15 metres of water and caught some quality whiting.
Brothers Frankie and Willis had a great morning fishing Boucher Channel with their dad on Tuesday catching some nice gummies and pinky snapper.
Noah and Alex fished Corinella and had fun catching a few toadies before getting this nice leather jacket caught on pilchard strips.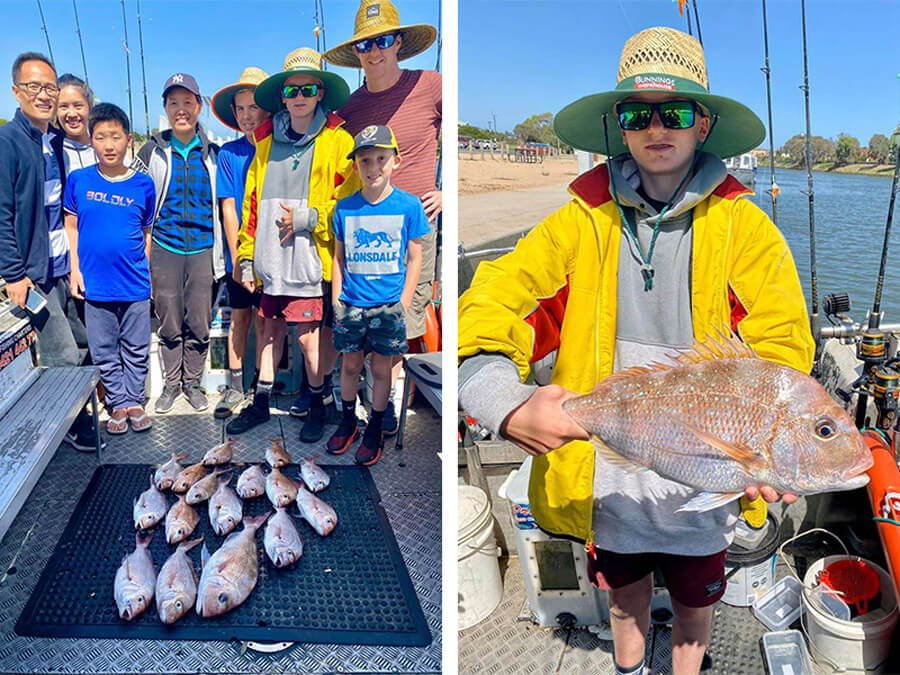 Jayson Turner from Pro Red Fishing Charters found some fantastic snapper for his customers fishing Port Phillip Bay over the weekend.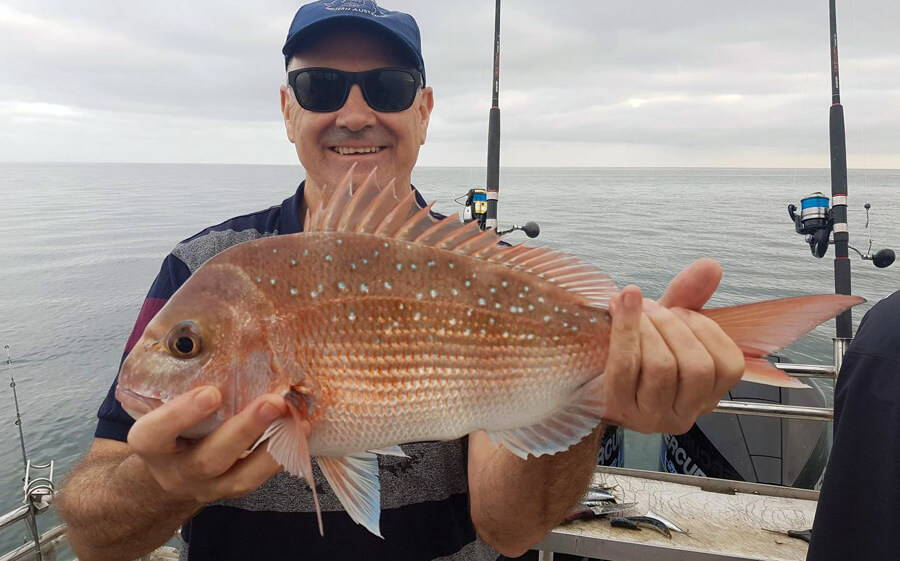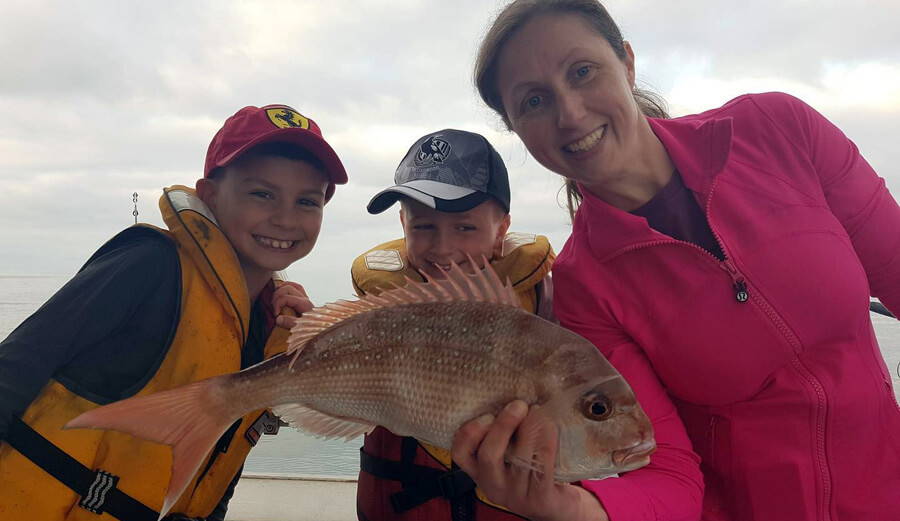 The Reel Time Fishing Charters crews have found some nice snapper and squid for their customers fishing Port Phillip Bay this week.

Staff member Adam Walker and local young gun Marlon Blackford had a ripper session on the Patterson Lakes bream this week with an awesome early morning top water bite that turned in to a fun session with sinking stick minnows after 10am.
Cooper and his dad caught some nice fish off Mornington using silver whiting on Reedy's Ultra rigs.
Kade Thornhill caught some cracking snapper on Saturday in 18 metres of water between Mt Martha and Mornington using squid on Reedy's Rigs.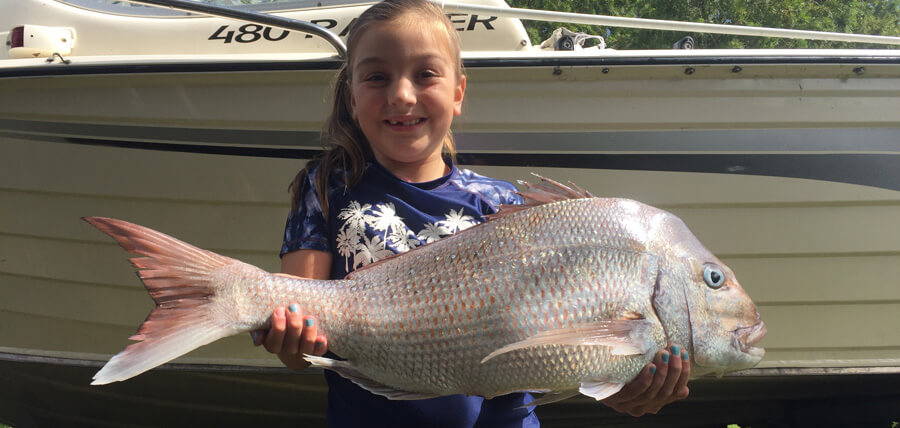 Klara Nakic caught her PB snapper off Mornington on Sunday. Great fish Klara well done!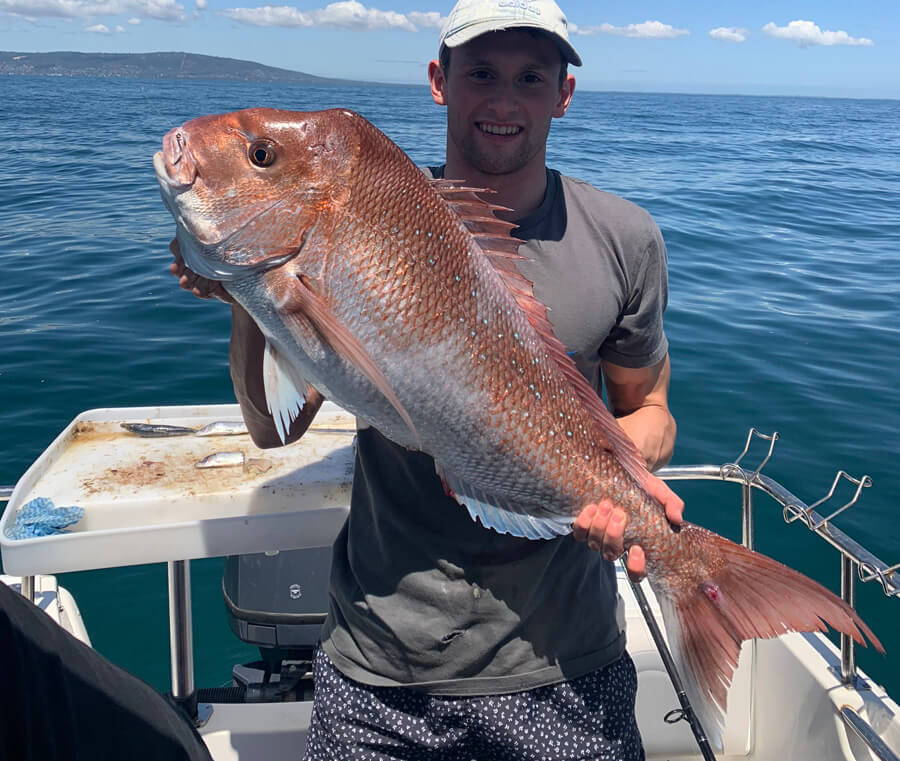 Andrew Rice with a fantastic 82cm snapper caught off Mount Martha in 16 metres of water on Saturday.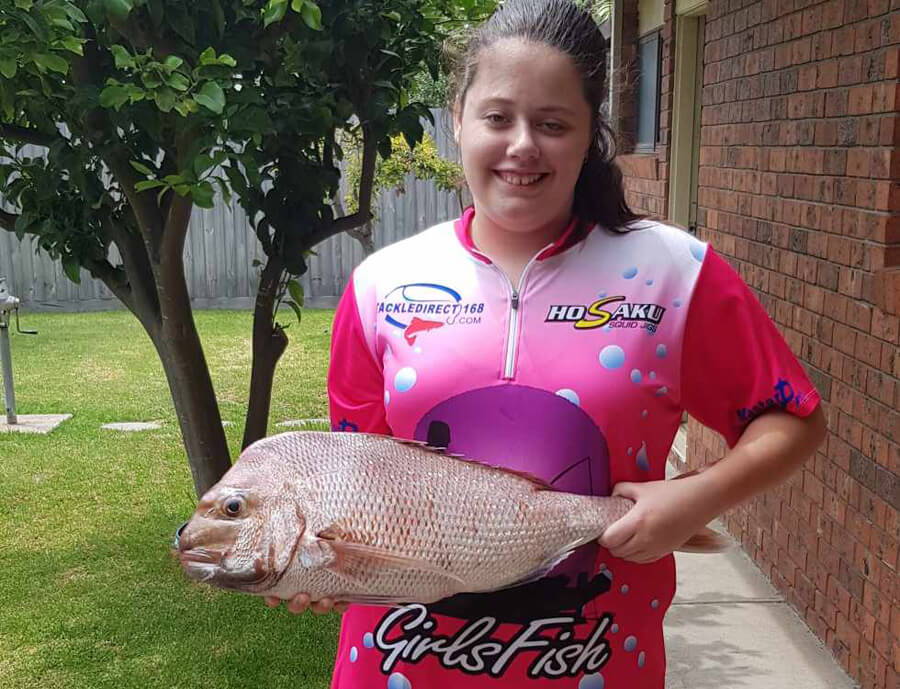 Yasmin Matasic caught a nice snapper off Mt Martha in 18 metres of water using silver whiting for bait.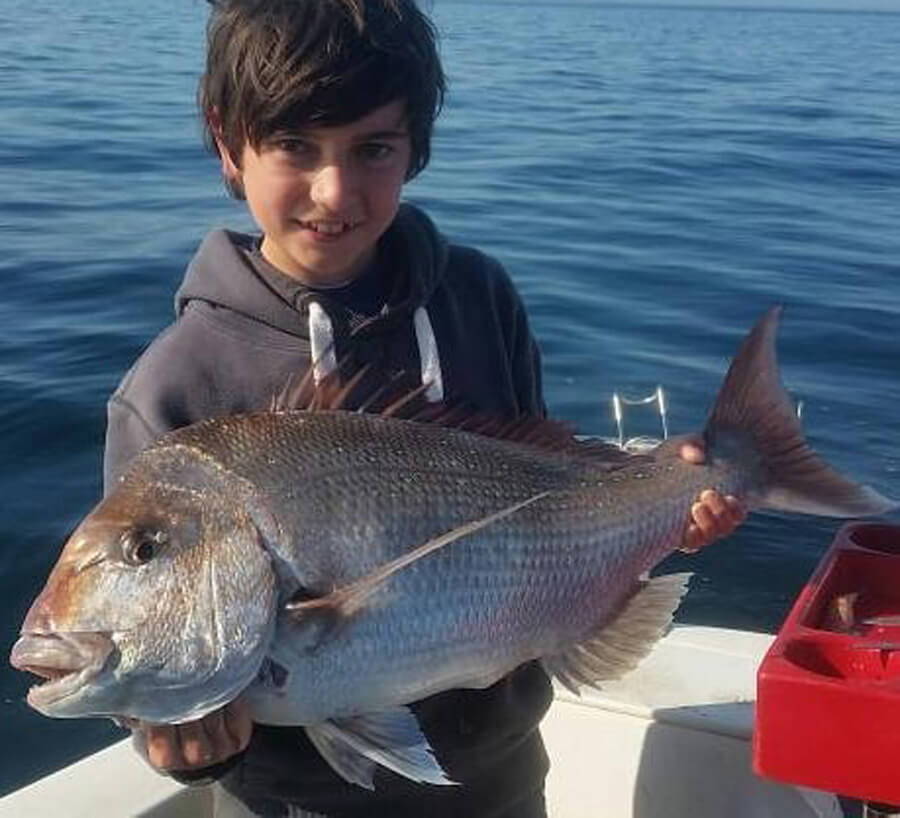 Mason Trevena with a beautiful snapper caught using pilchards for bait.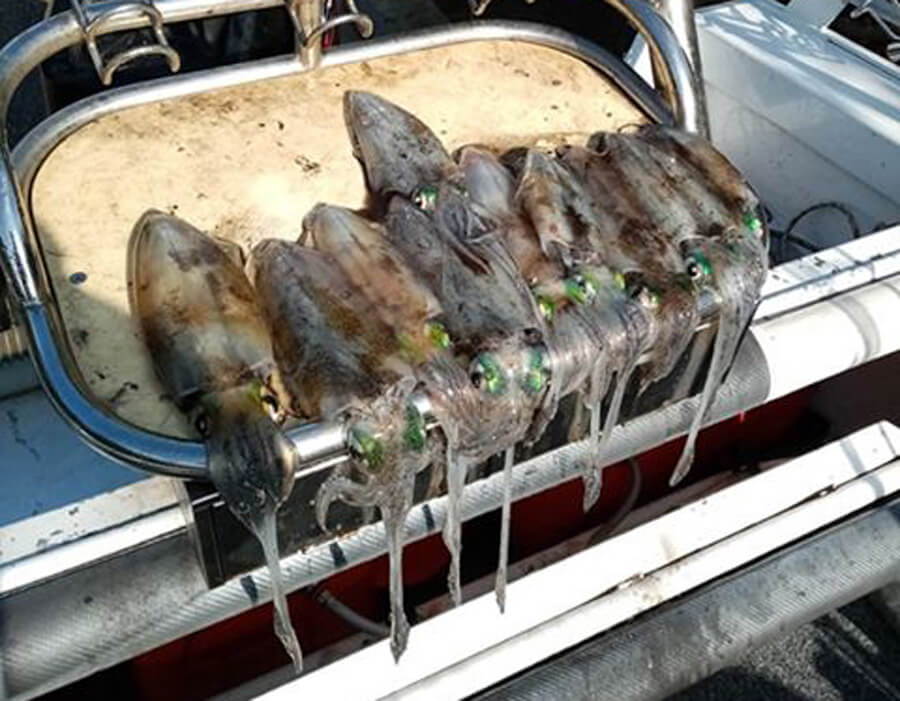 Dylan Gussenhoven had an easy bag out on squid off Mt Martha on Sunday.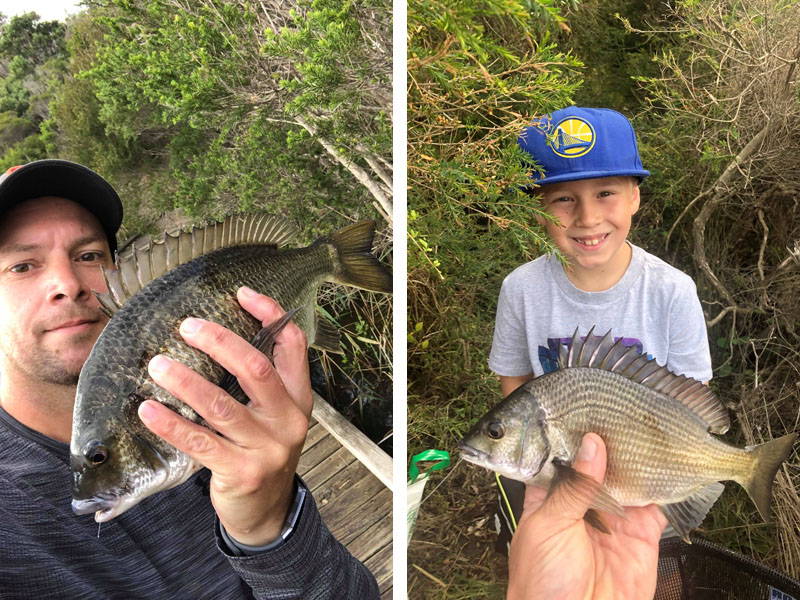 John and son Joshua Forrest fished Balcombe Creek in Mt Martha over the past week and landed some nice bream up to 42cm.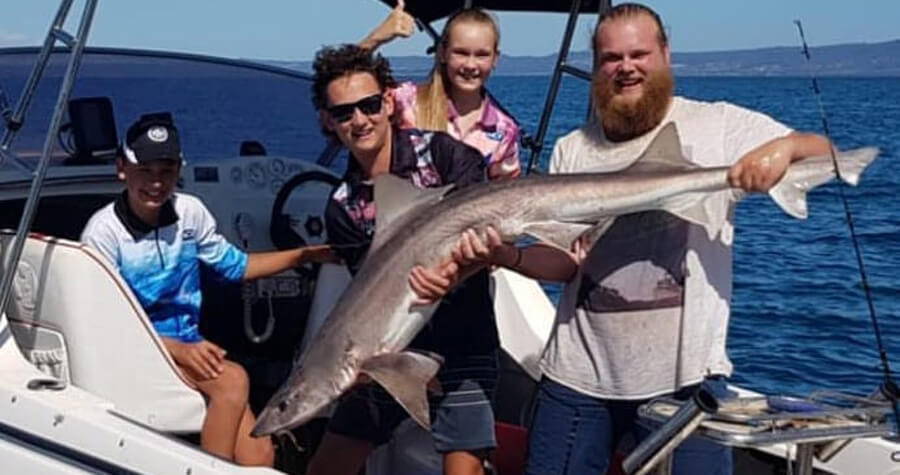 Mitchel, Tom, Emma and Harrison landed this cracking gummy off Mud Island using fresh parrot fish for bait.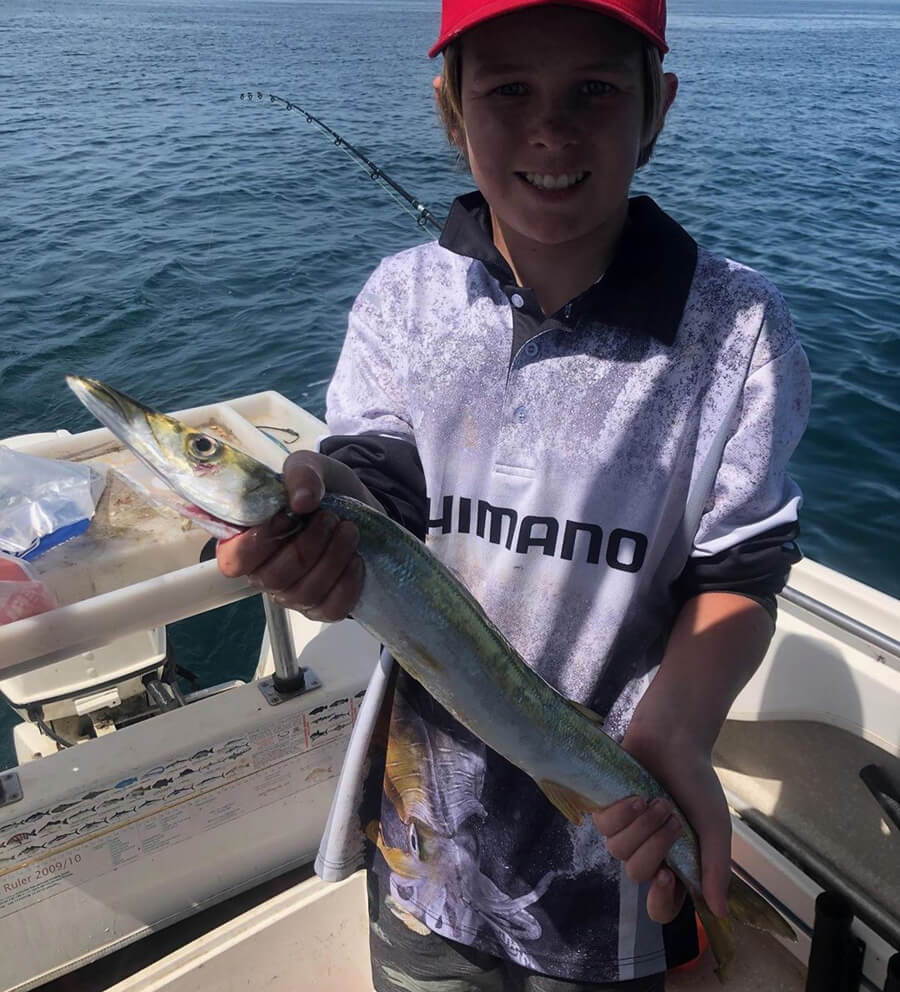 Young Oscar Condon with a nice short finned pike caught fishing at Queenscliff.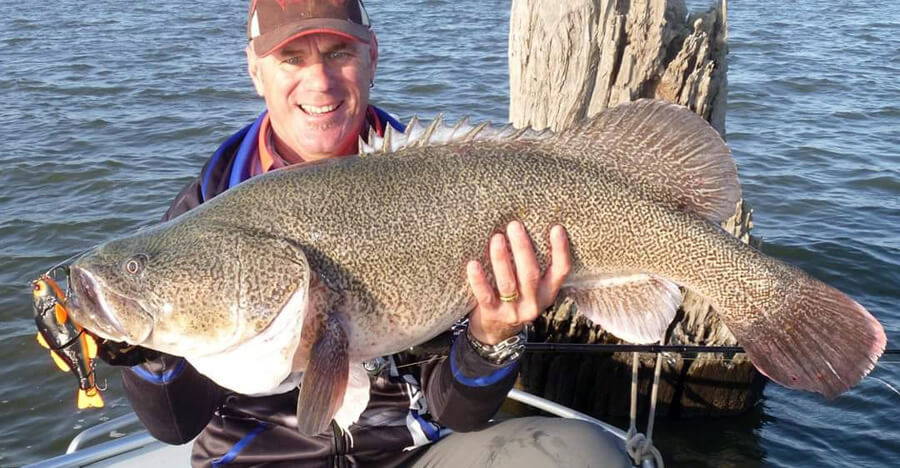 Paul Thomas with a fantastic Murray cod; one of 11 caught in a productive morning session this past week.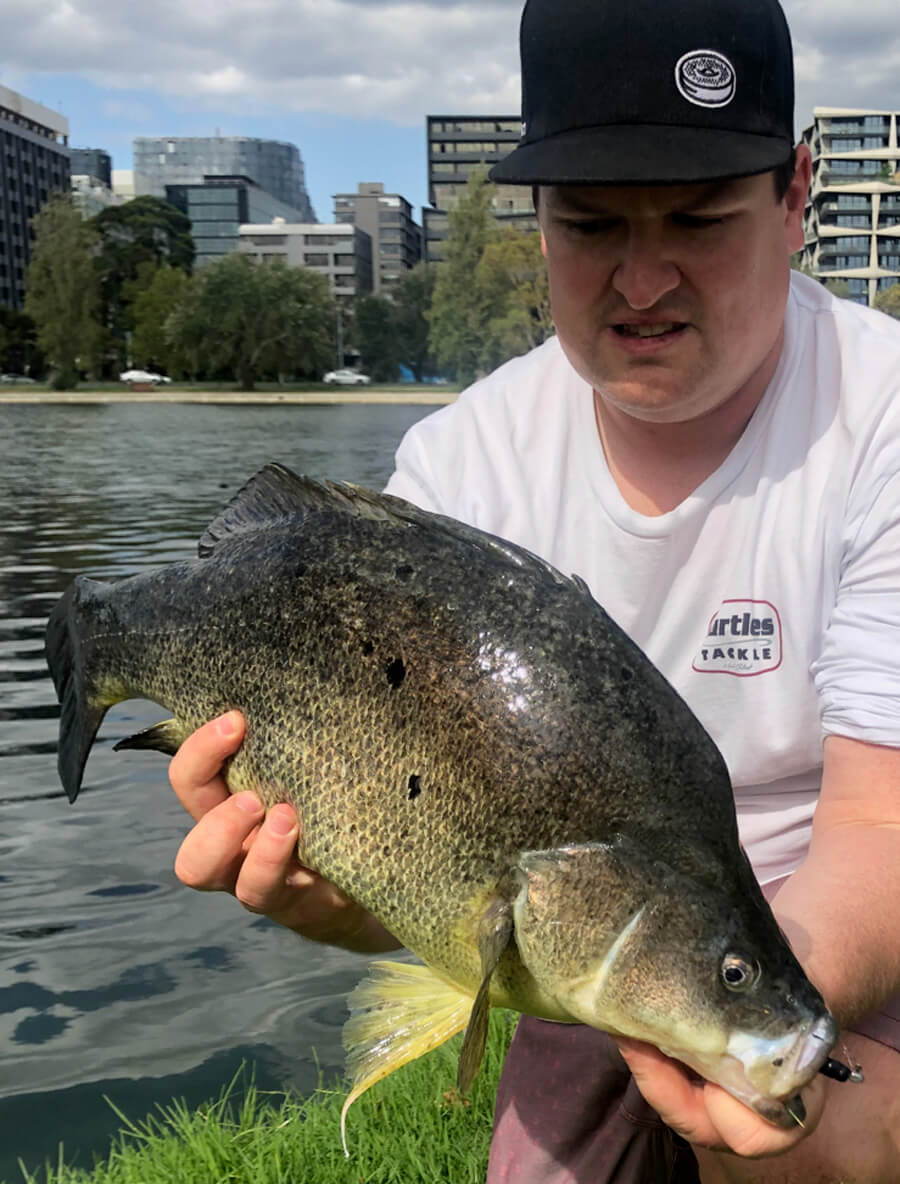 Shane Bardsley with a cracking 60cm yellow belly caught on a soft plastic at Albert Park Lake.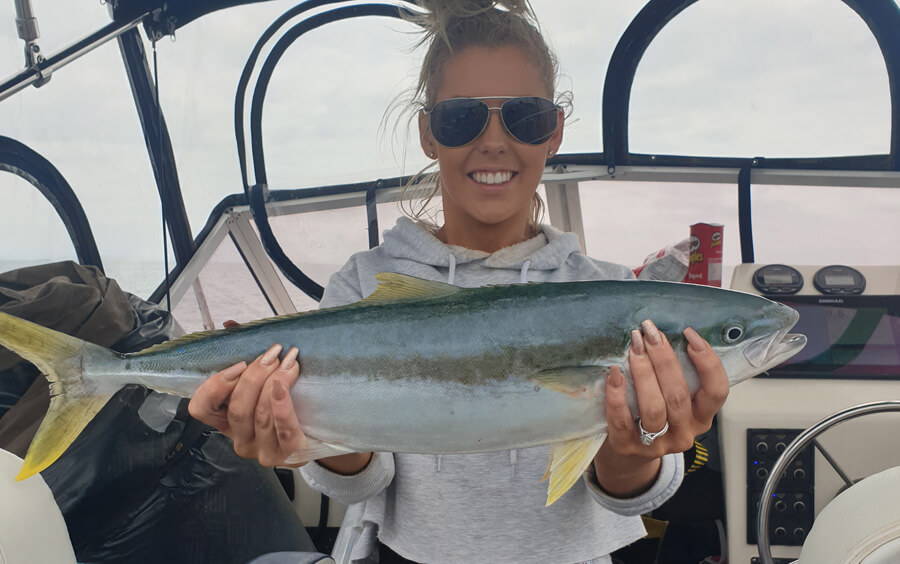 Madiy O'loughlin caught a nice 68cm kingfish on the troll fishing at Port Welshpool.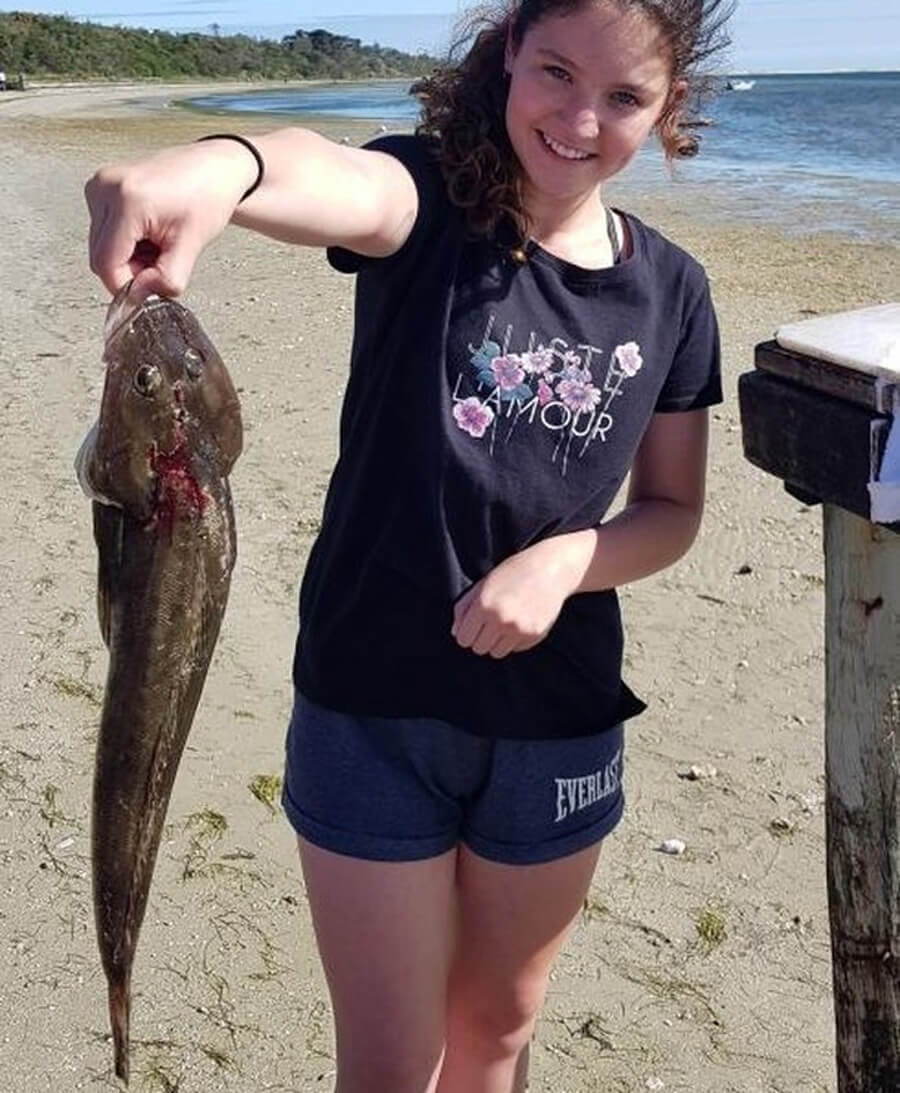 Adele (13) with her PB flatty from the Port Welshpool area, great fish Adele and thanks to your dad for sending it in!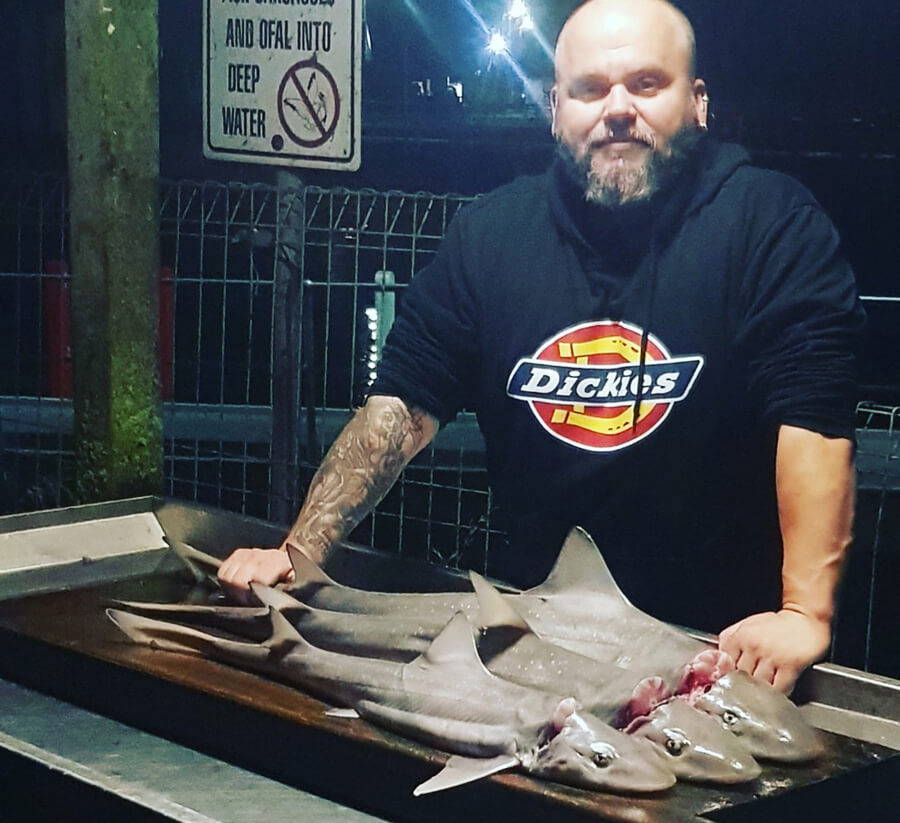 Michael Grujovski and a mate fished Port Welshpool on the weekend and managed some nice gummies for a feed.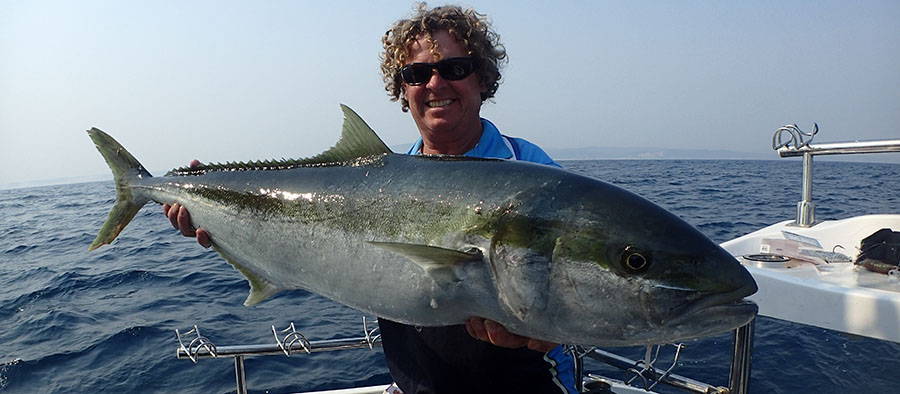 Tony Blackford landed this cracking Kingfish offshore from Marlo this week. Reports are, there are some monster Kings on the reefs out there.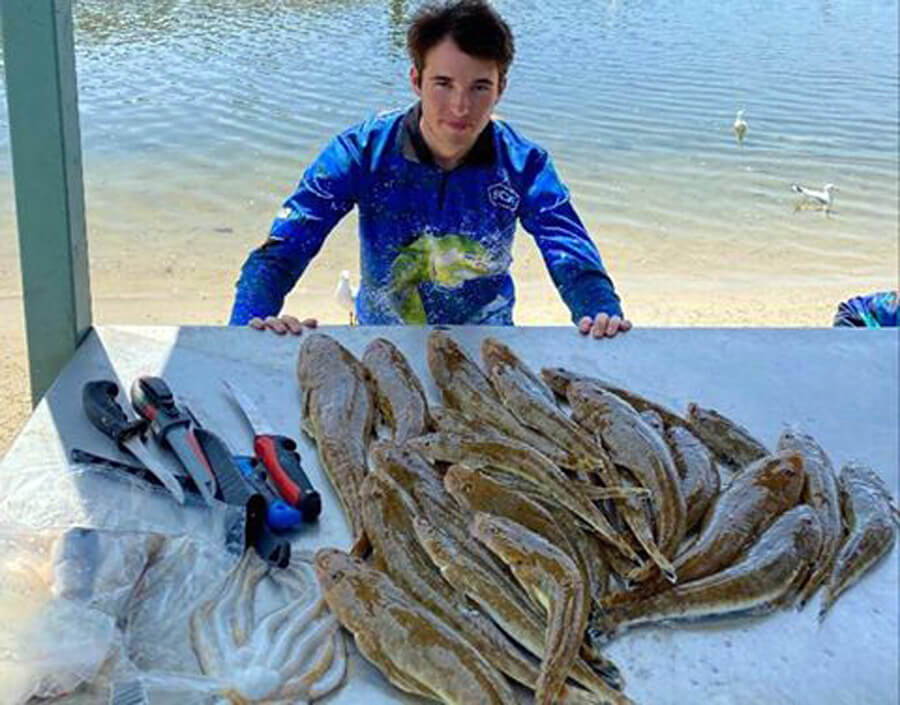 Joe Wilson and his son-in-law Nic fished Lakes Entrance this week and got on to a hot bite on some cracking flatties just 200m from the entrance. Well done guys and enjoy the feed!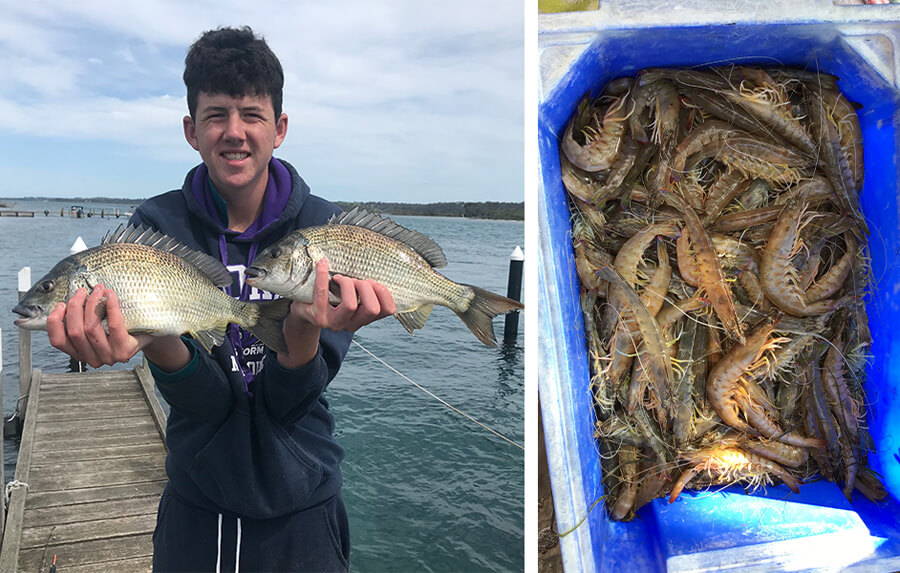 Brodie Methers with a couple of stonker bream caught at Lakes Entrance and it looks like the prawns ARE ON!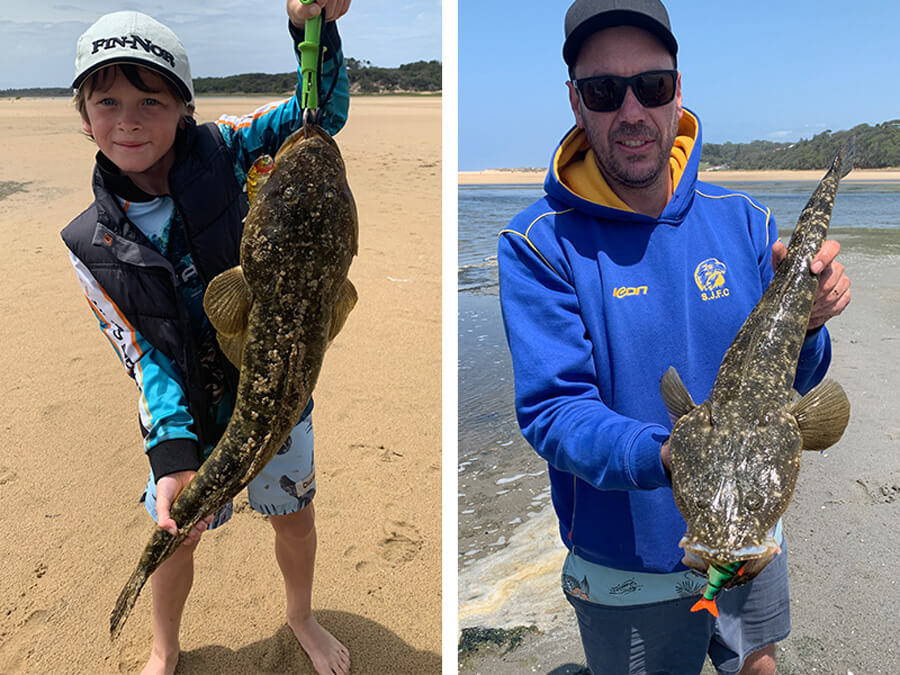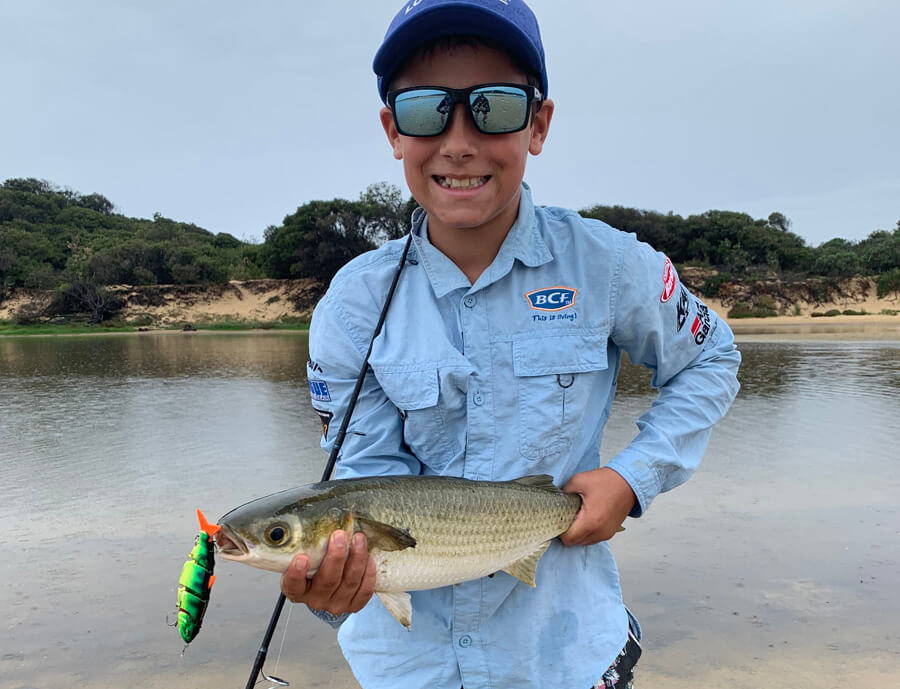 Tyers continues to fish well at the moment; Henry Ridout caught a ripper dusky of 81cm, Ward Clark caught a nice 72cm dusky and check out the massive mullet caught by Tom Ridout. All caught on swim baits!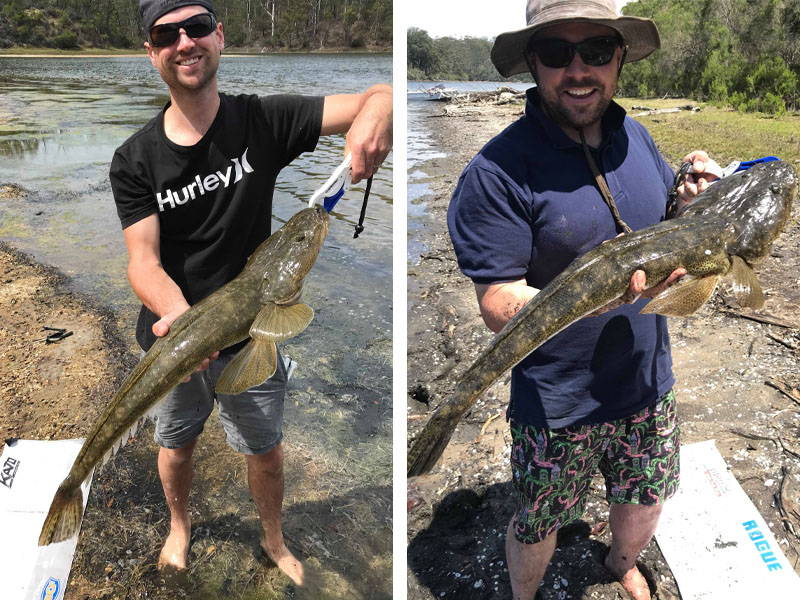 Glenn and Mark fished Lake Tyers last week and some cracking dusky flathead fishing the flats from 50cm to 81cm. Glenn reports that once the boat traffic picked up they shut down a bit.
Harrison Ruskin had a ripper time at Lake Mulwala catching his first ever Murray cod as well as 3 more with his PB sitting on 68cm. Well done Harrison.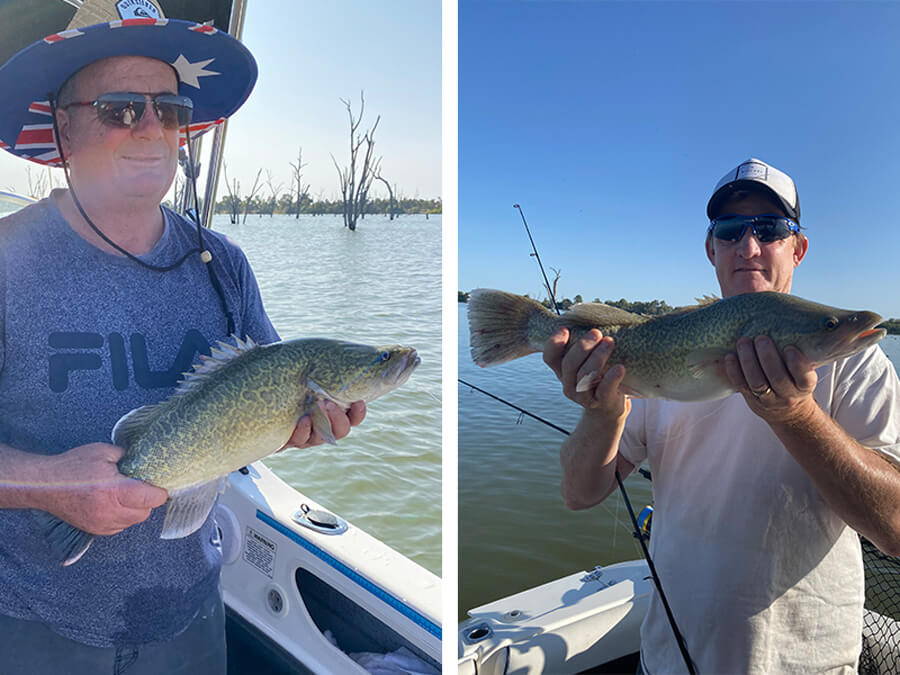 Peter Cole and Jason Jaap caught and released their first ever cod fishing Lake Mulwala over the weekend.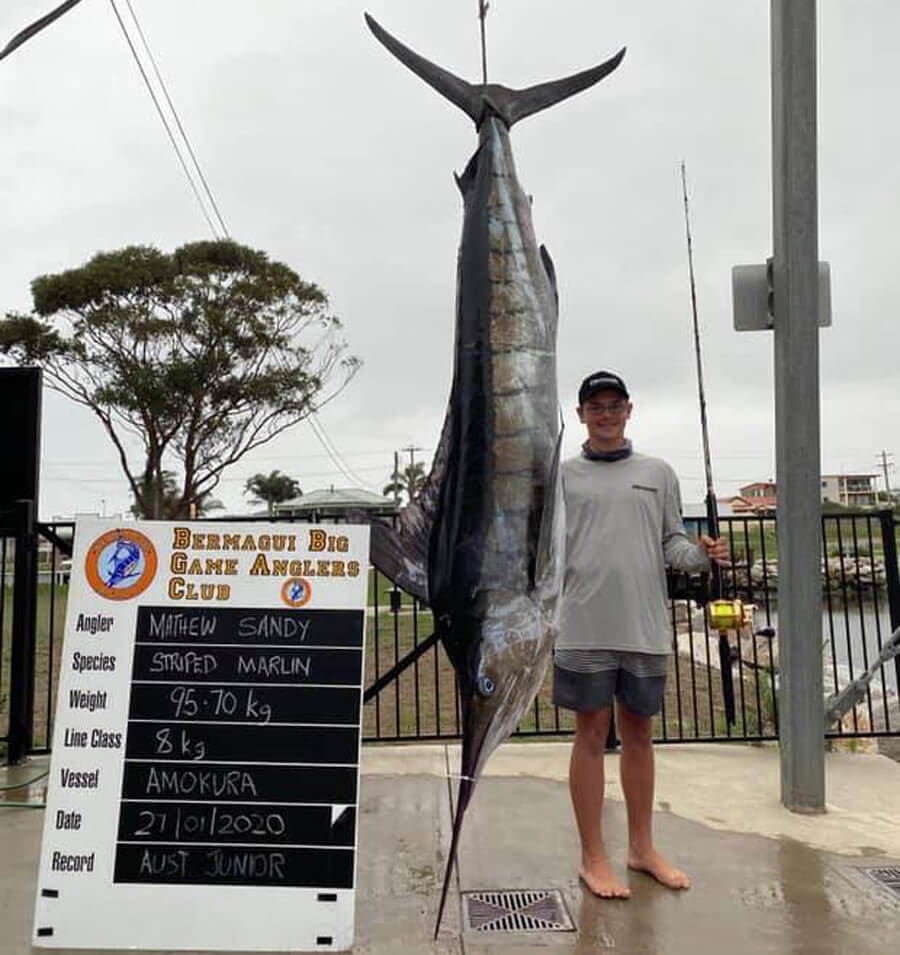 Well done to Mathew Sandy on your pending Australian junior record 95.7kg striped marlin on 8kg line.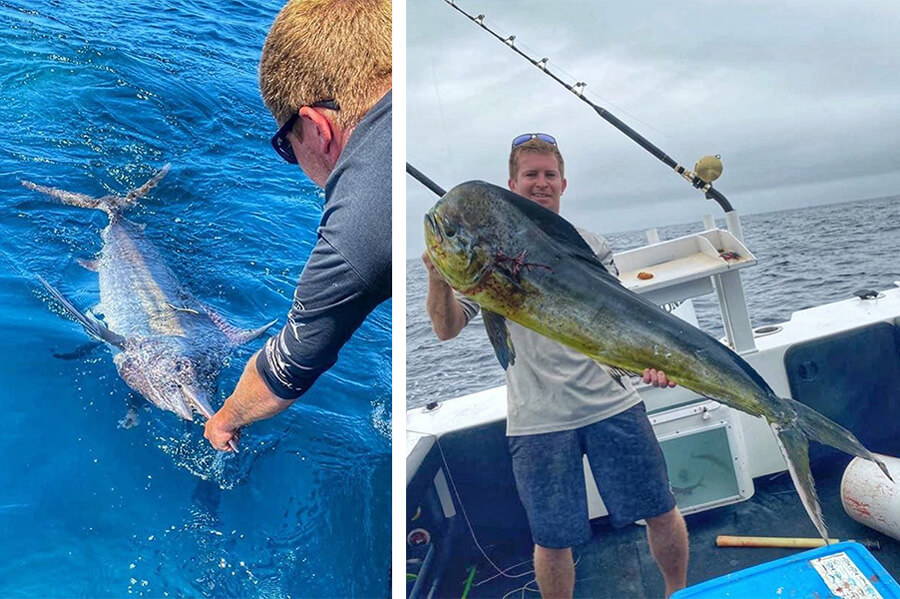 Riagan Dowling reports in from Port Stephens with some good numbers of marlin showing up as well as some solid mahi mahi being caught also.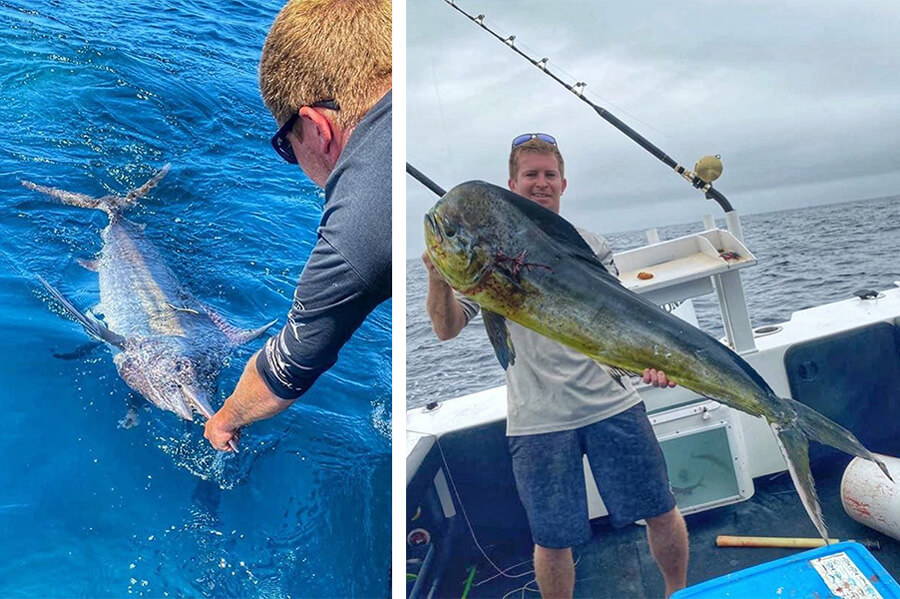 Riagan Dowling reports in from Port Stephens with some good numbers of marlin showing up as well as some solid mahi mahi being caught also.
IFISH WITH TACKLE WORLD SUMMER SERIES
TALKING FISHING - C31 - SERIES RETURN TUES 4th FEBRUARY
In a special edition of Talking Fishing next Tuesday night, the boys will be joined by two Victorian Government Ministers to discuss the Victorian Bushfires.
Ministers Martin Pakula (Tourism) and Jaala Pulford (Fishing, Boating & Roads) will be live in the studio showing never seen before photos of Victoria's damaged roads as well as discussing how fishing related tourism will help rebuild some of the effected communities.
If you yelled for 8 years, 7 months and 6 days youwould have produced enough sound energy to heat one cup of coffee. (Hardly seems worth it.)

Good Luck with your fishing and stay safe on the water,

The TEAM at Tackle World Cranbourne & Mornington