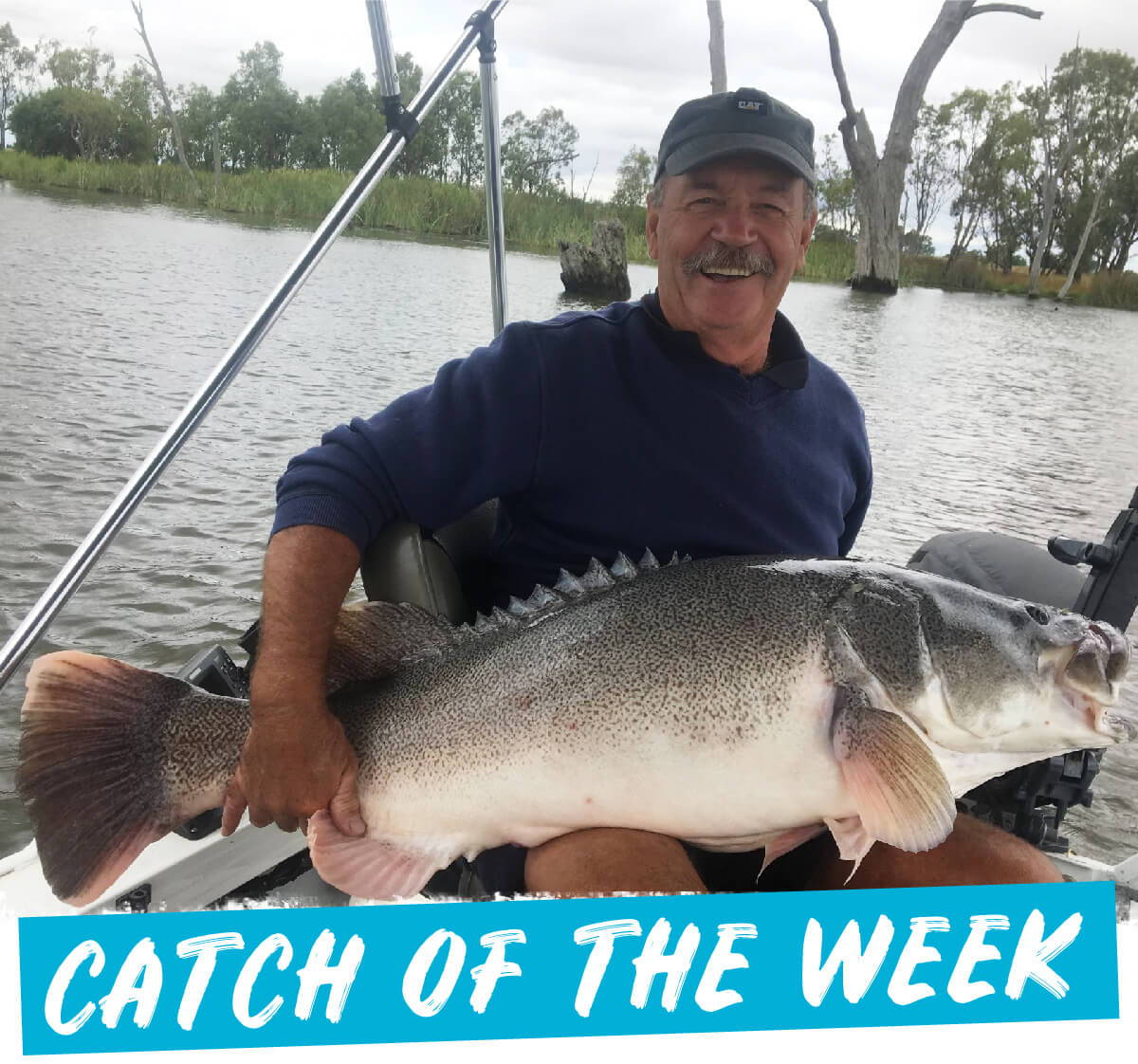 Congratulations to Maurice on your cracking 115cm Murray cod caught at Lake Mulwala, you are this weeks Catch of the Week.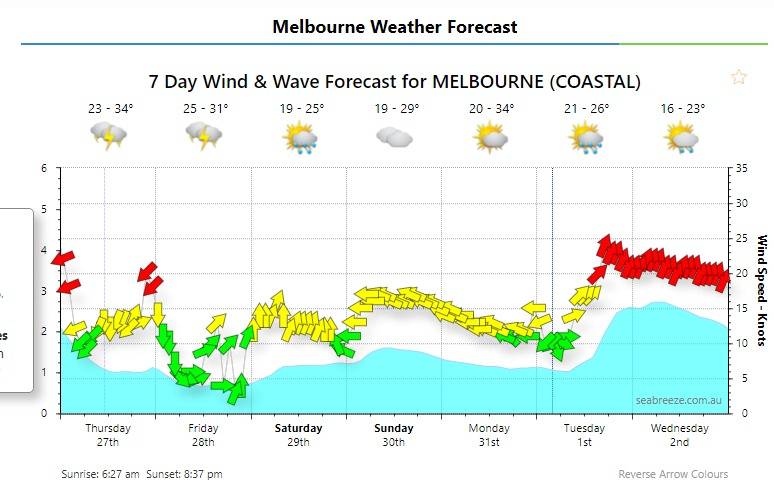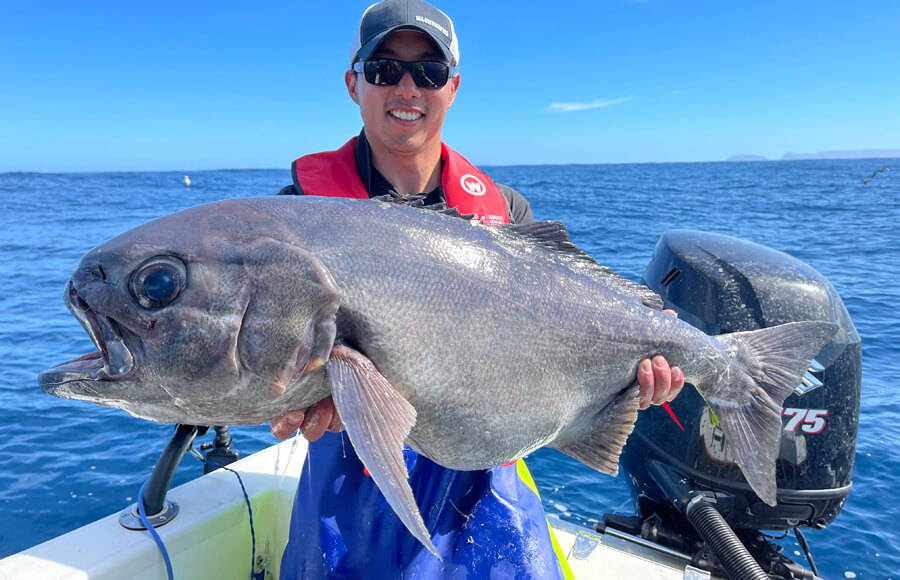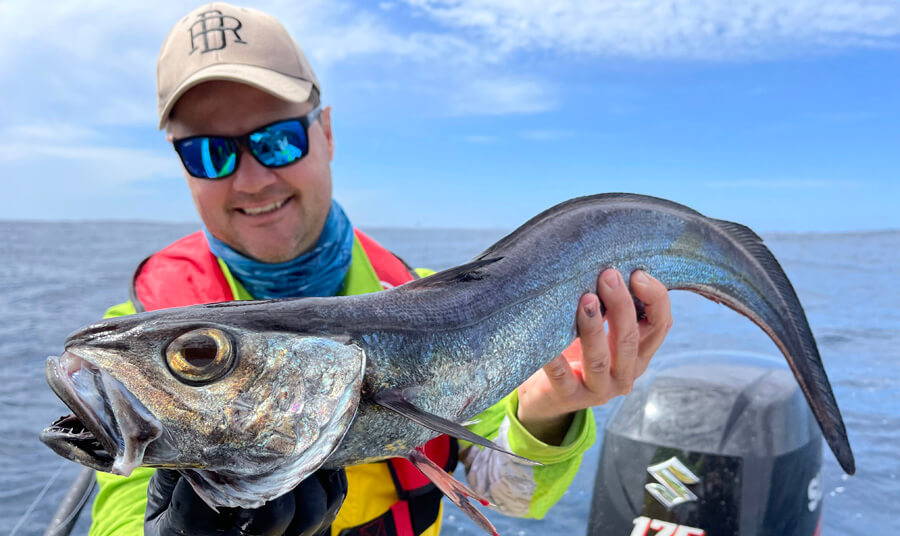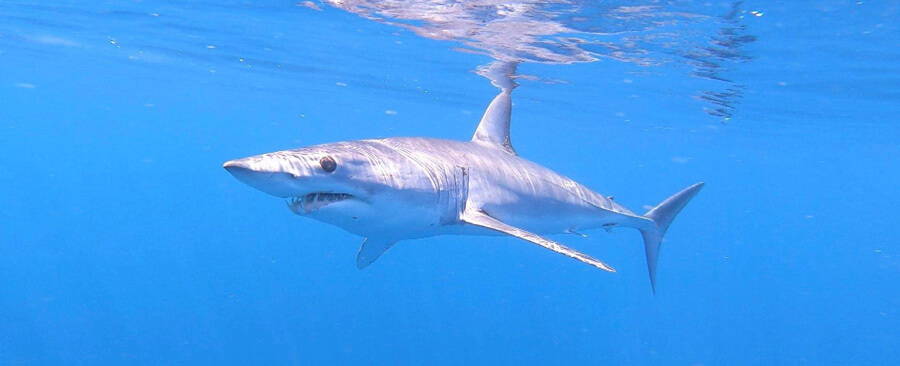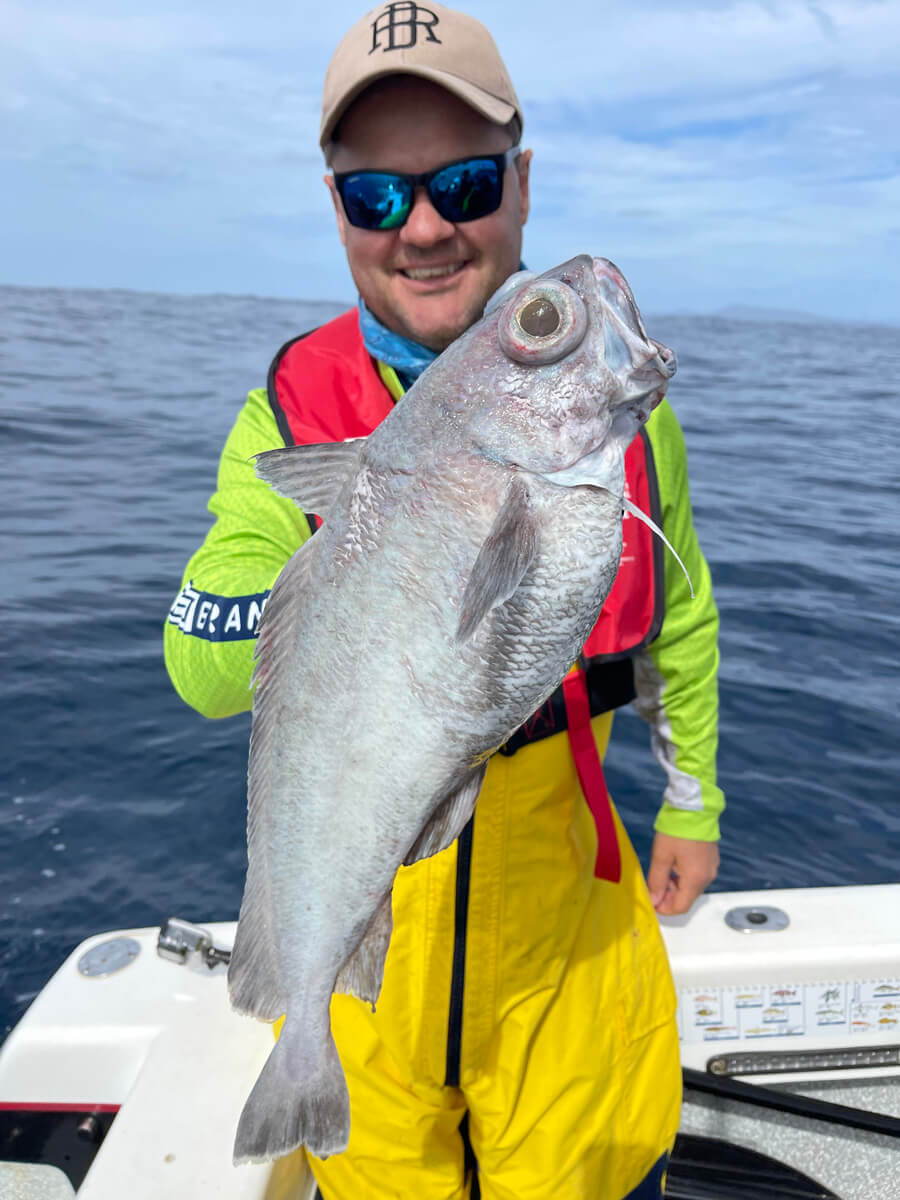 Paul Worsteling and the IFISH TV crew fished out from Eagle Hawk Neck (Tasmania) with Jonah Yick in 600 metres of water deep dropping with Shimano electric deep drop gear. They boys caught good numbers of blue eye trevalla to just over 16kg. Their by-catch included blue eye grenadier, robalo cod and gem fish. Half way through the day a mako appeared behind the boat and after a 1 hour battle Paul managed to tag and release the estimated 130kg. During the fight the fish jumped over 10 feet clear of the water 3 times, all the action will feature in upcoming IFISH TV episodes.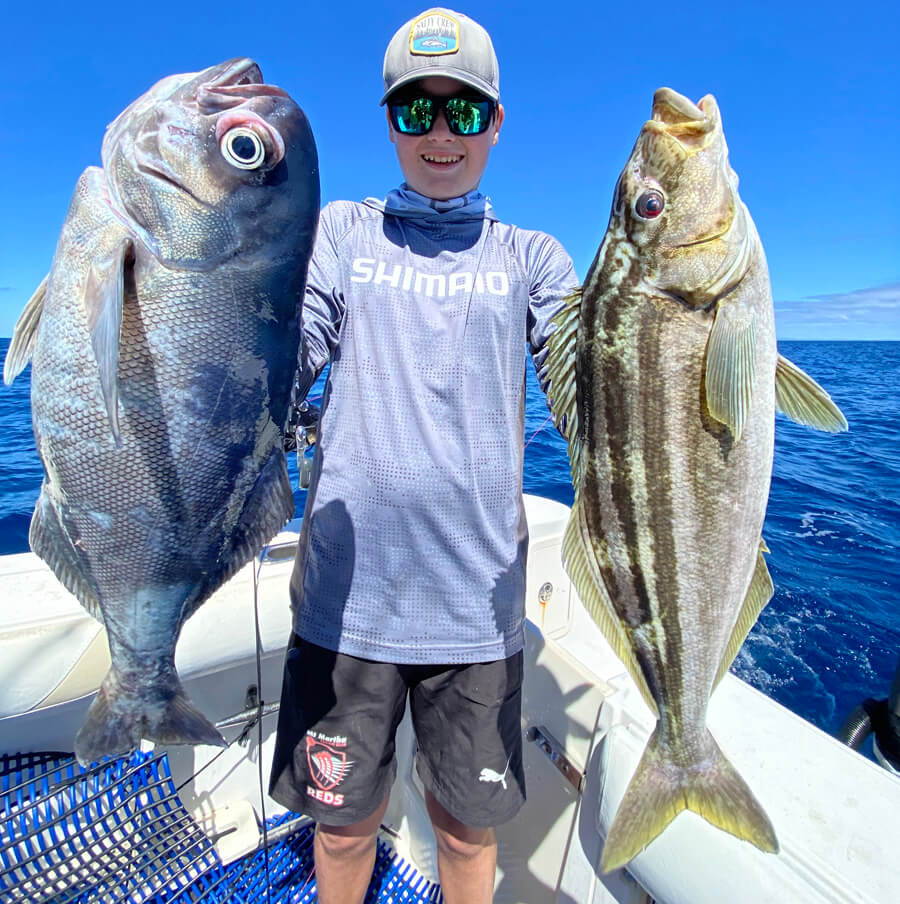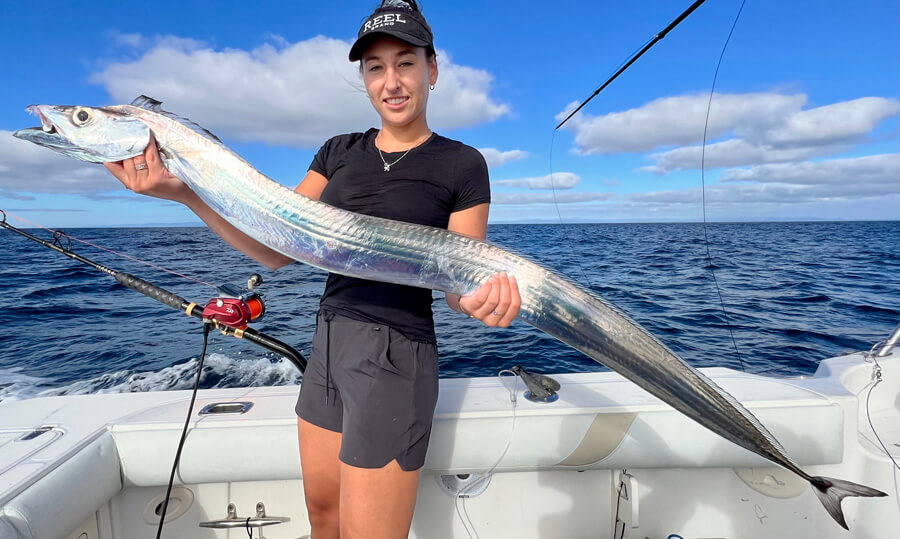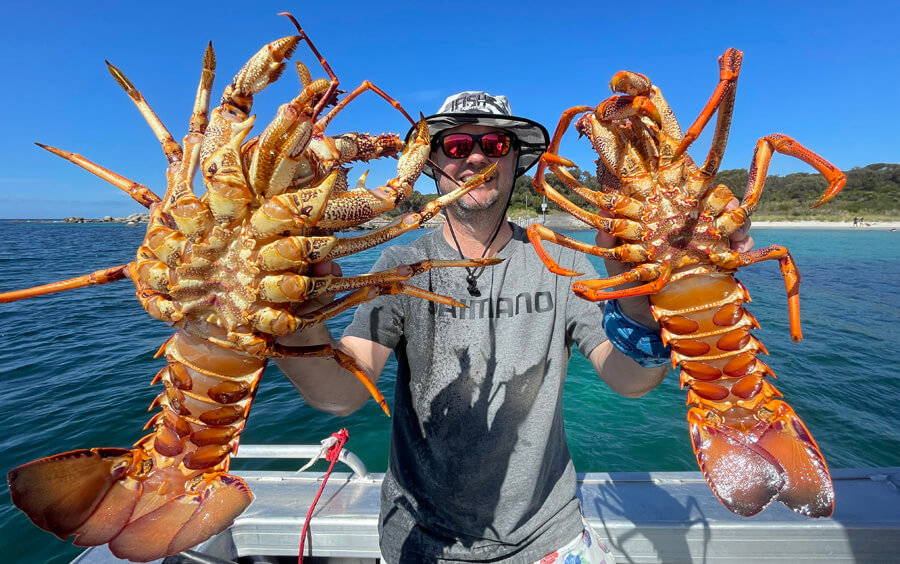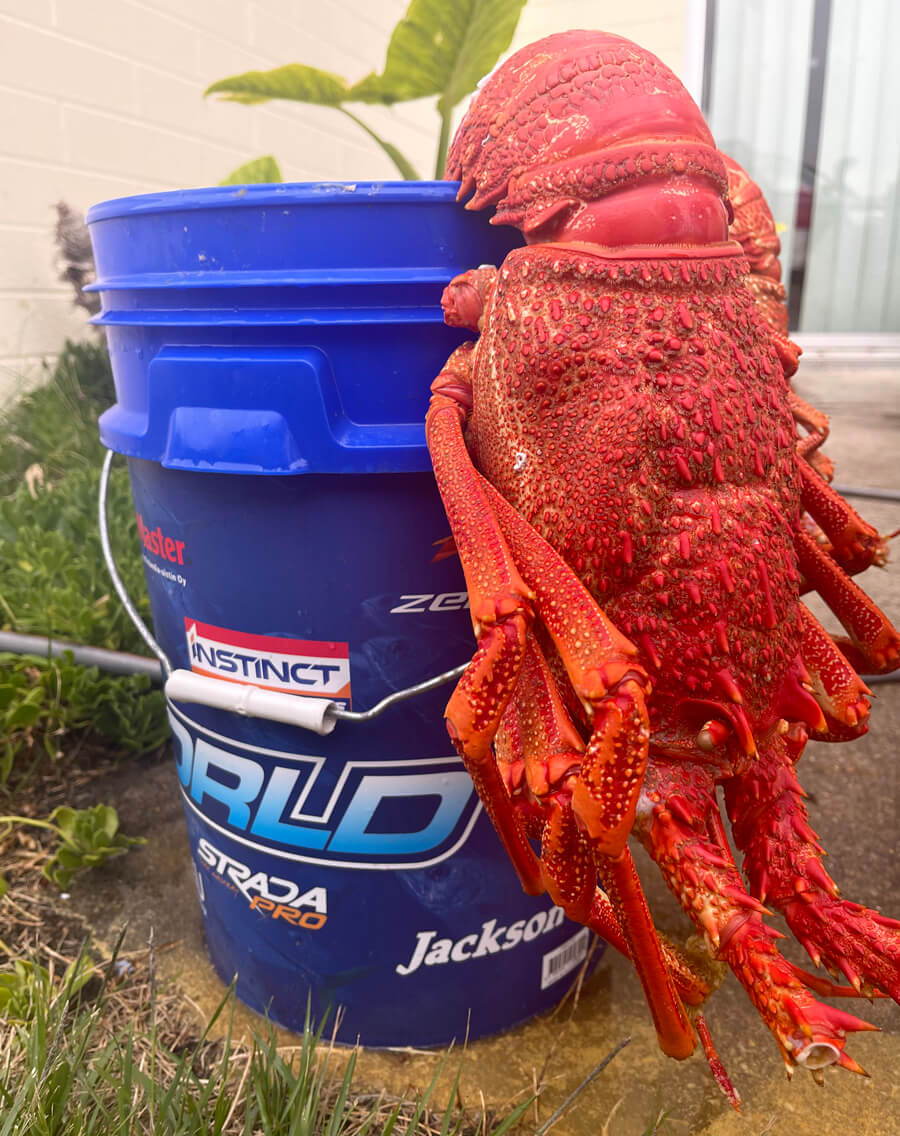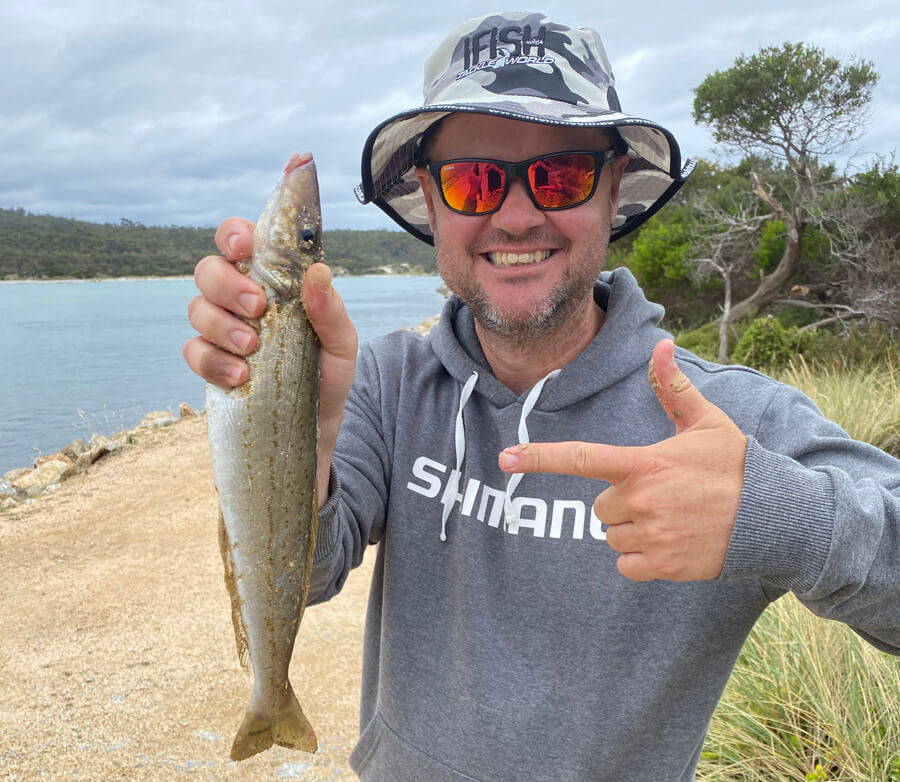 Paul travelled from Eagle Hawk Neck to St Helens (Tasmania) with the family and the IFISH TV crew and caught up with good friends Indy and Gary. Together they did some deep drop fishing and caught good numbers of blue eye trevalla in 400 metres of water as well a an incredibly pretty frost fish caught by Indy. After their session in 400 metres they then headed in to 130 metres of water and caught good numbers of striped trumpeter. While in the St Helens area they dropped cray pots and managed good numbers of monster southern rock lobster. Land based fishing has also been on the cards with the highlight for Paul being King George whiting to 42cm caught using Squidgies soft plastics.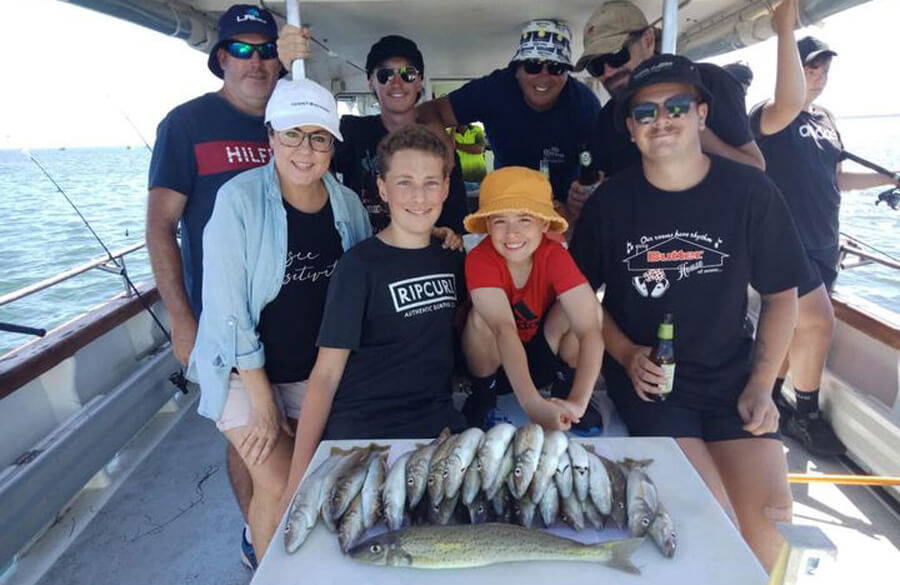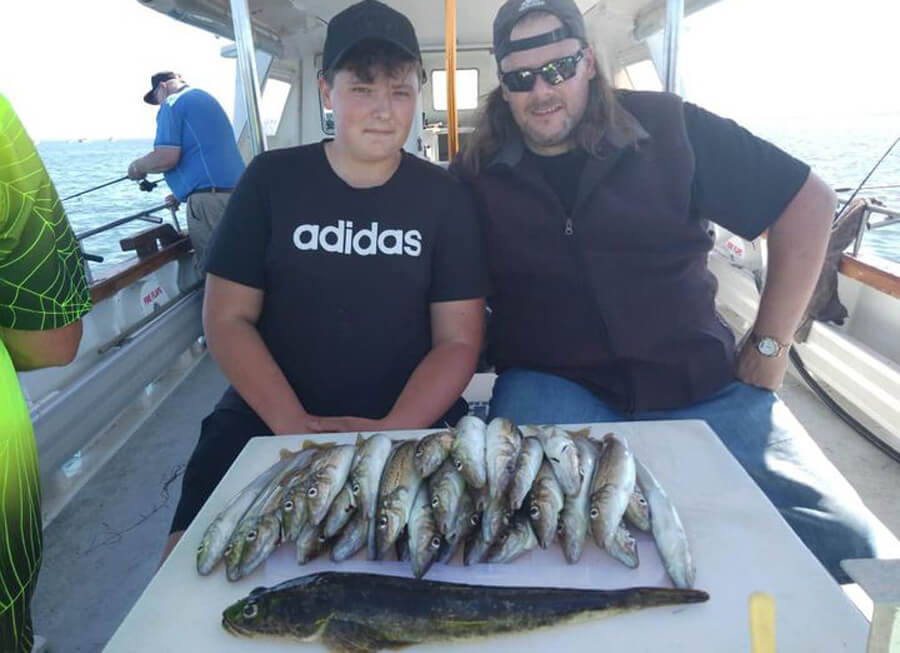 Steve Johnston from Ace Fishing Charters helped his customers get some nice bags of whiting this past week fishing Western Port.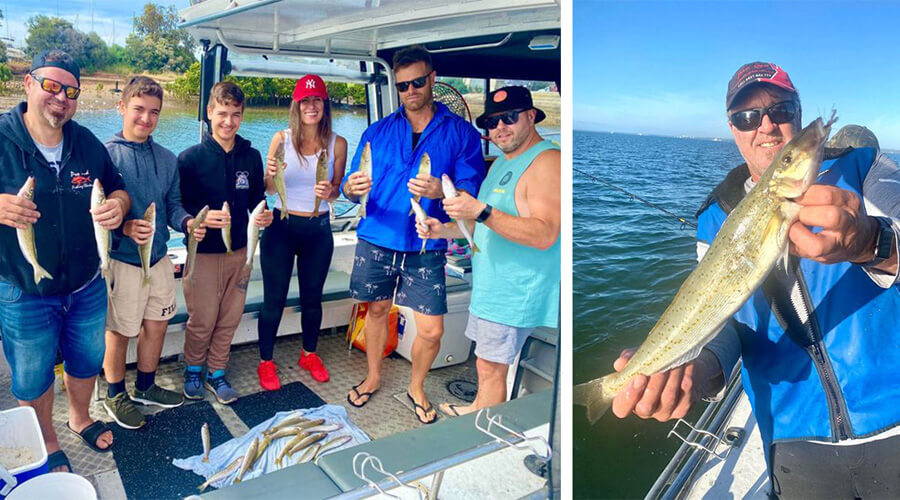 Jayson Turner from Pro Red Fishing charters found some nice whiting for his customers fishing Western Port this past week.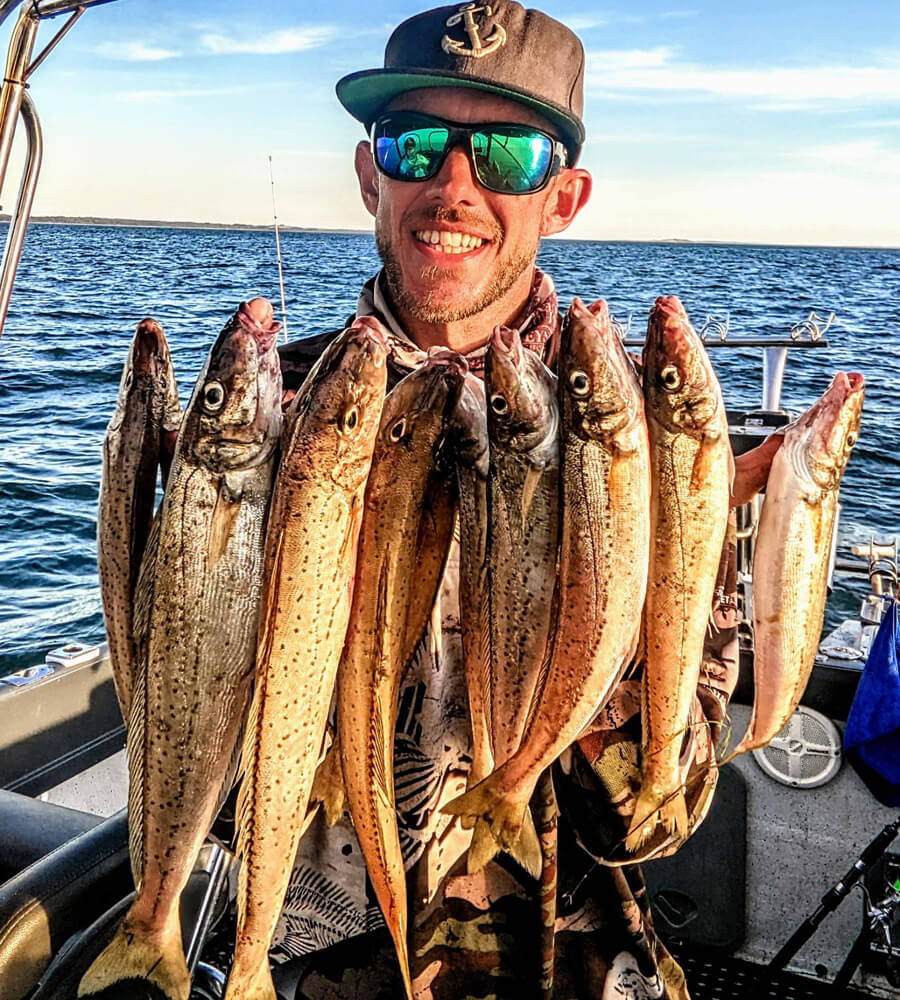 Chris O'Connell caught some nice whiting using squid for bait out from Hastings during the last hour of the run in tide.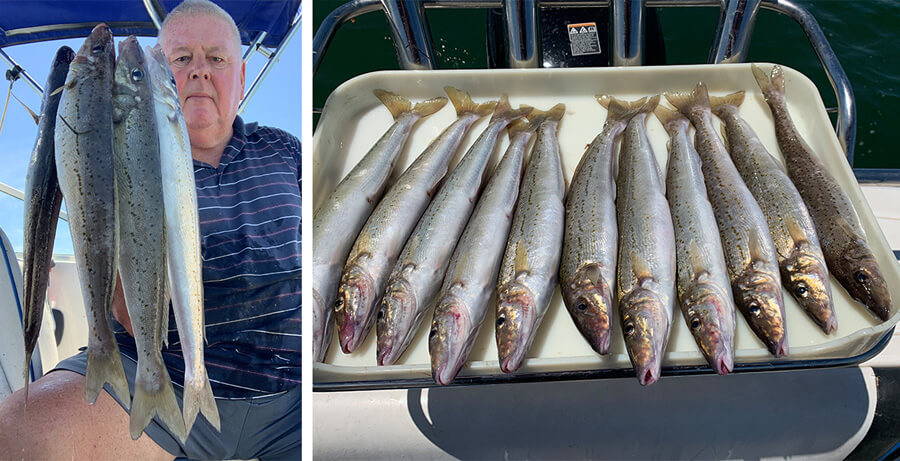 Don Wood found some nice whiting fishing out from Lysaughts on the weekend.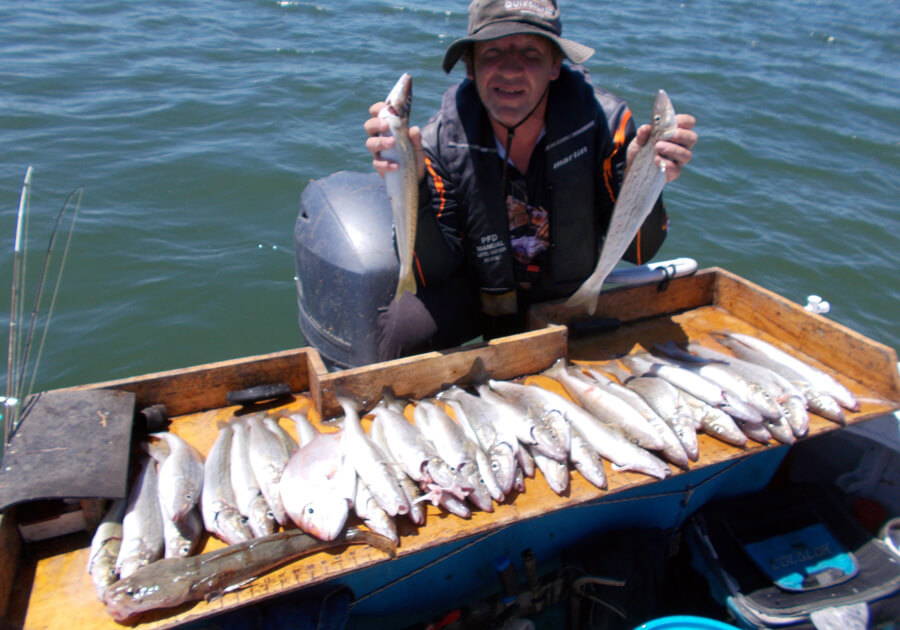 David Milne and Mick James fished the Tooradin Channel in 8 metres of water using pipis, mussels and Californian squid to get a nice bag of whiting with most fish in the 40cm to 44cm range.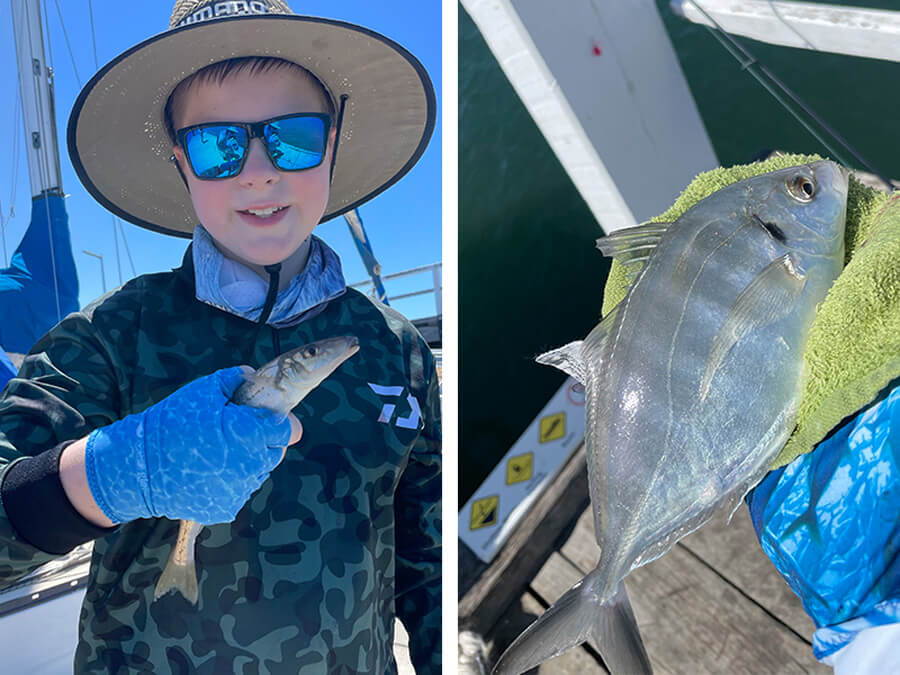 Zakiya Maloney fished Rhyll Pier and caught some nice whiting and trevally.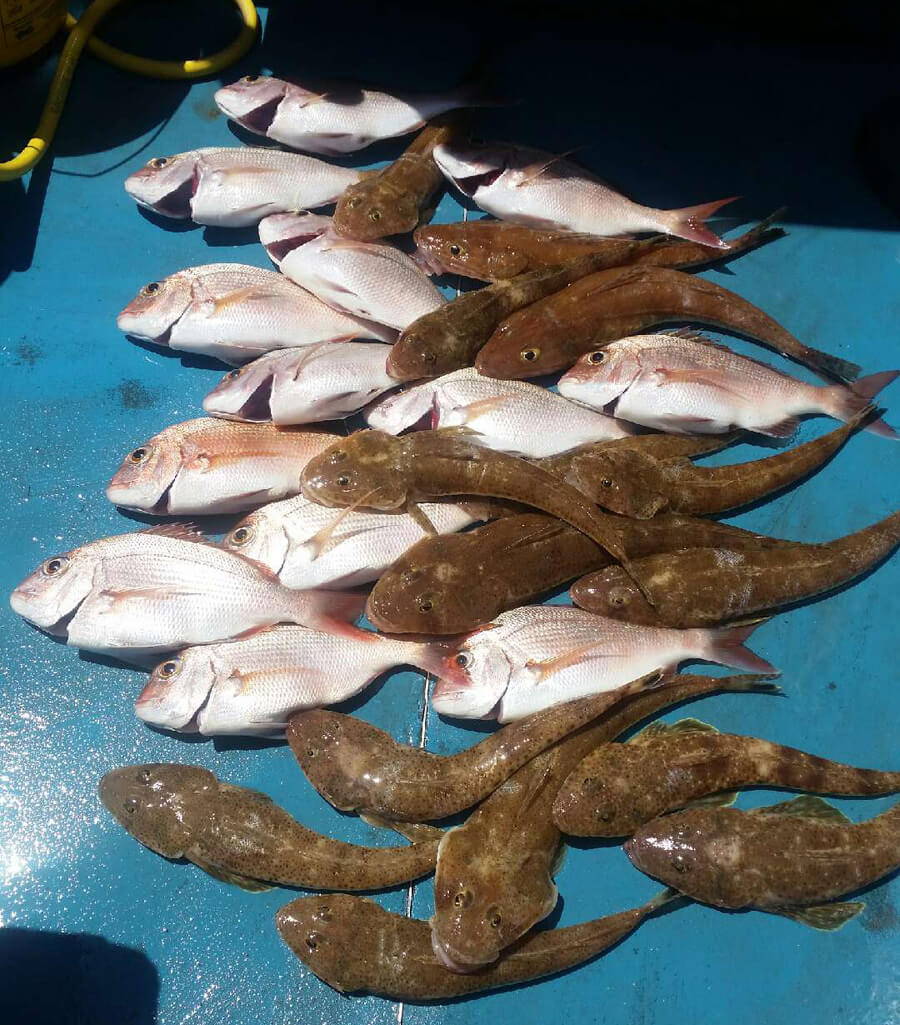 Kozzi and Huff caught a nice mixed bag fishing off Pyramid Rock in 35 metres of water this week.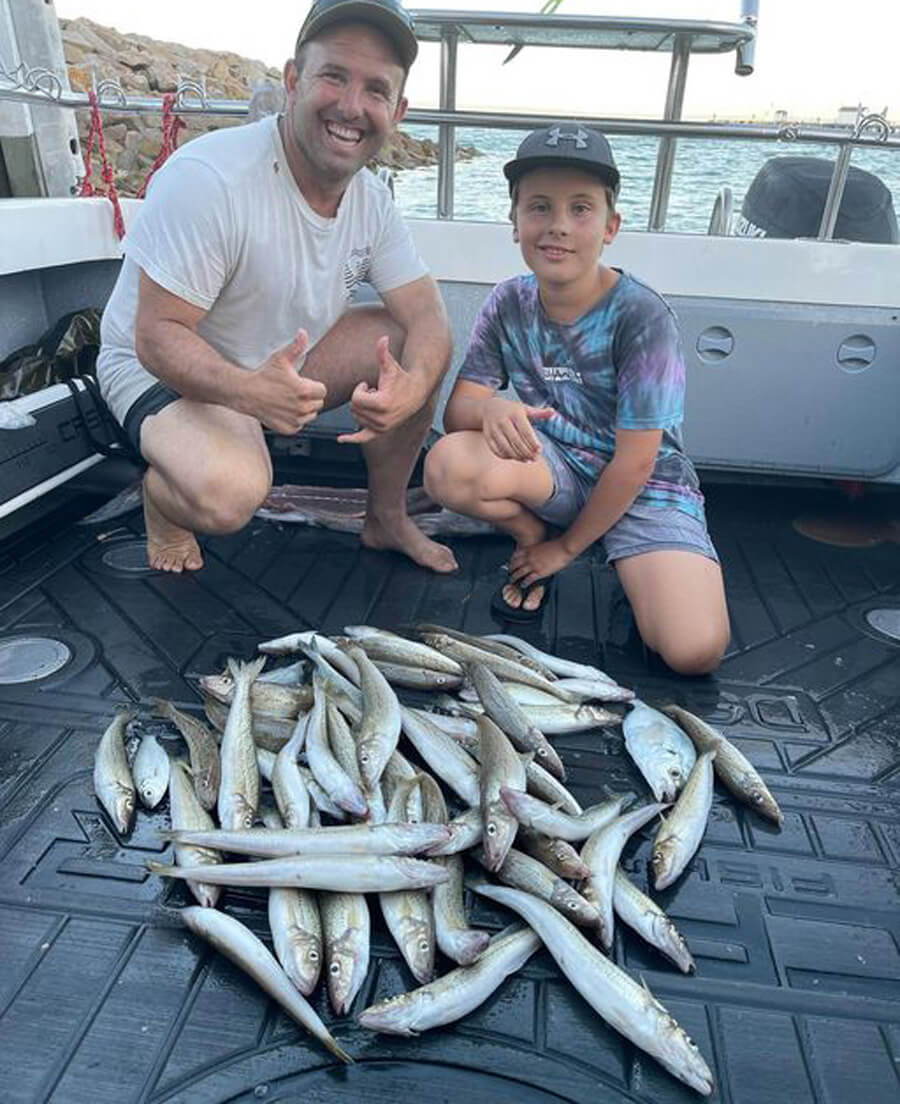 Chris Cassar from Cassar Fishing Charters hit the whiting last week with his customers with plenty caught at the southern end of Port Phillip Bay.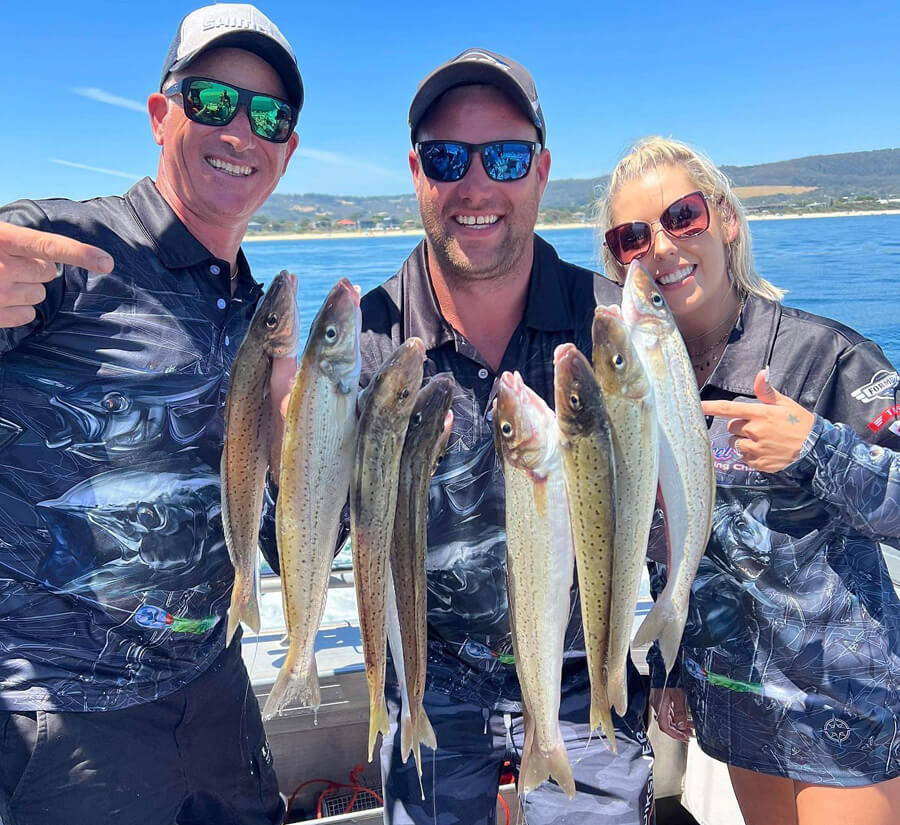 Matt Cini from Reel Time Fishing Charters go stuck into some nice whiting with his customers this week.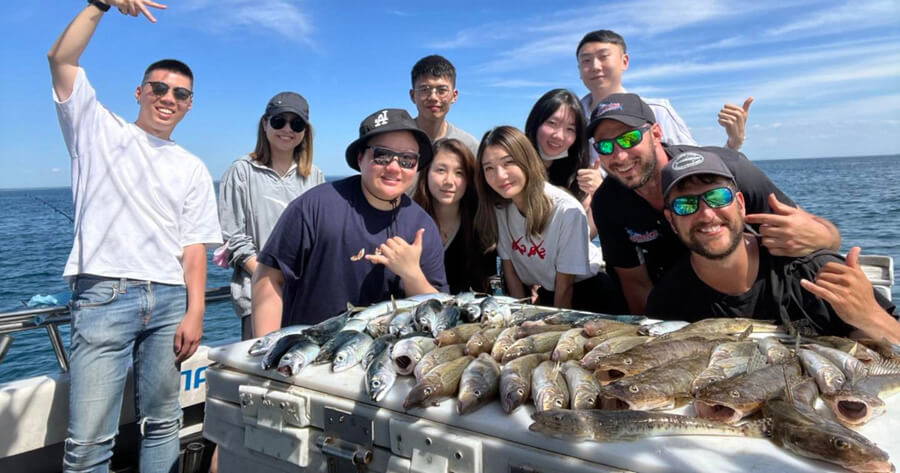 Marco from Sharkmen Fishing Charters helped his customers get a cracking mixed bag fishing Port Phillip Bay this week.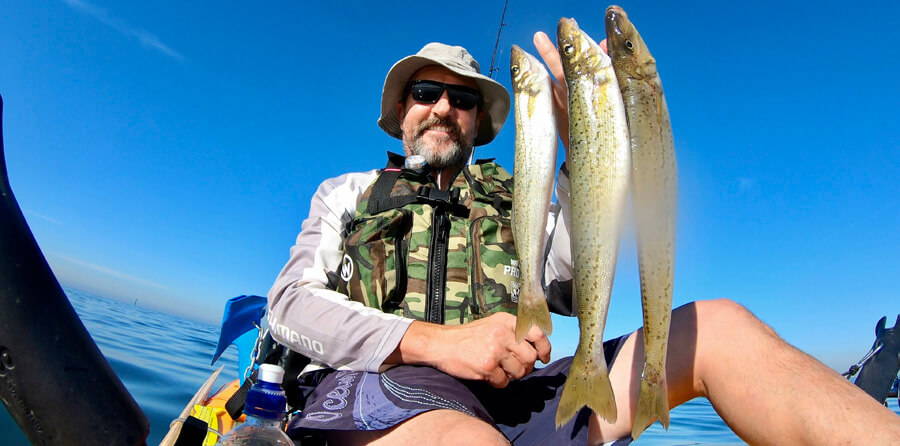 Gary Norton fished off St Kilda and caught some nice whiting to 40cm.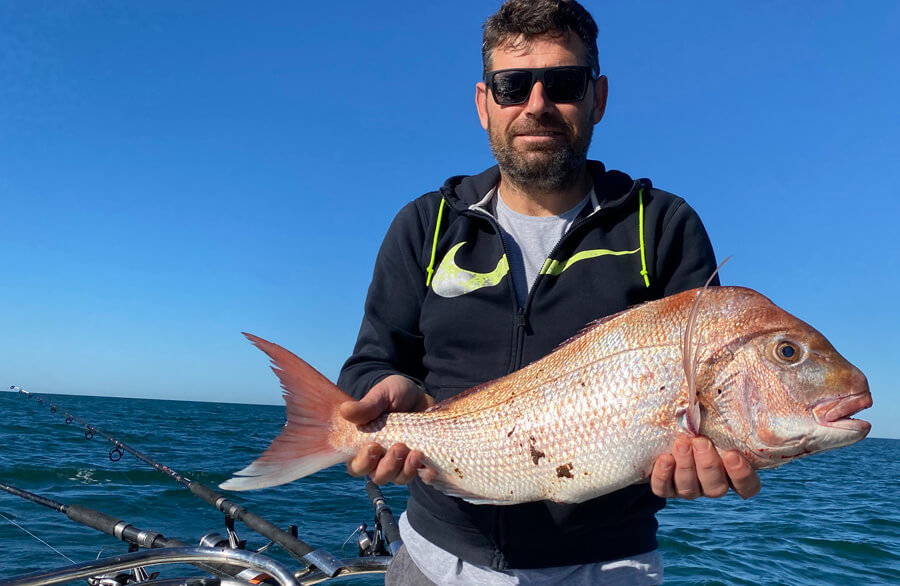 Taki Vezos caught his first ever snapper fishing off Black Rock in 16 metres of water.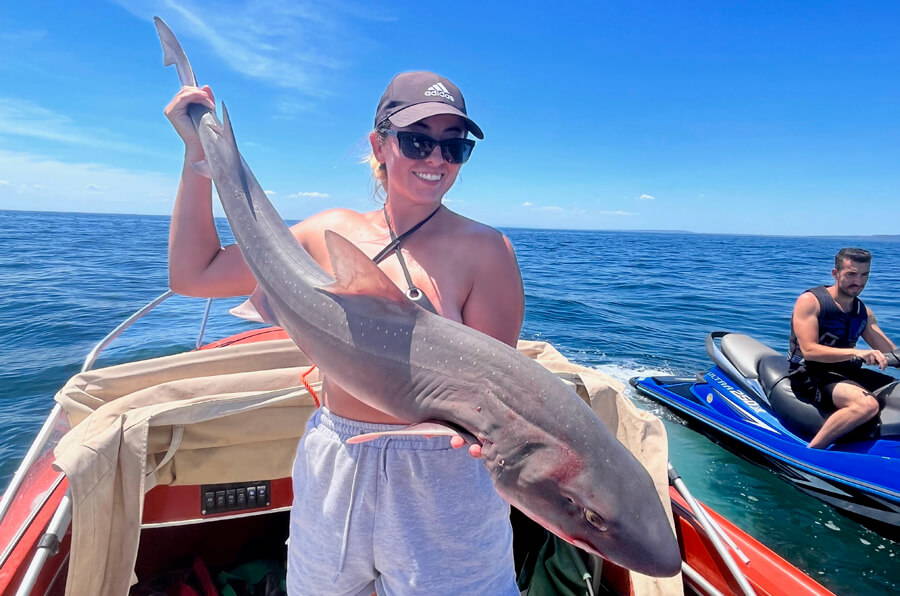 Melek Samsa with a fantastic gummy shark caught from the South Channel out from Rye using Yakka for bait.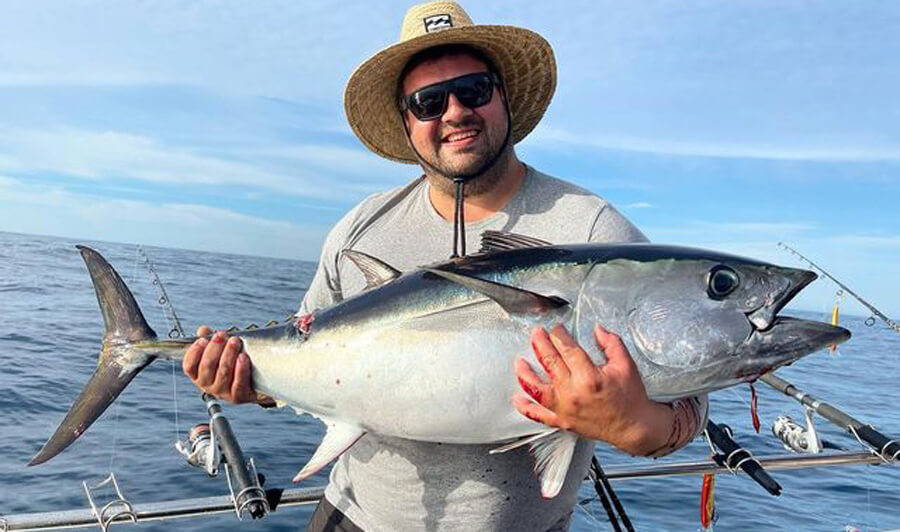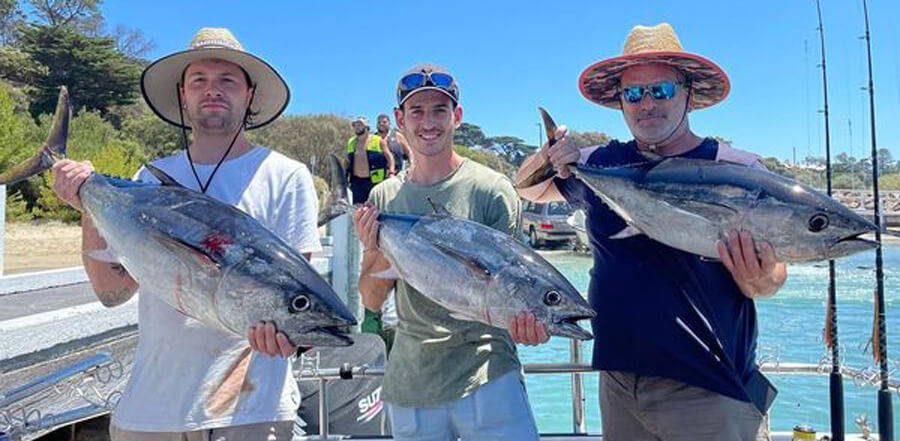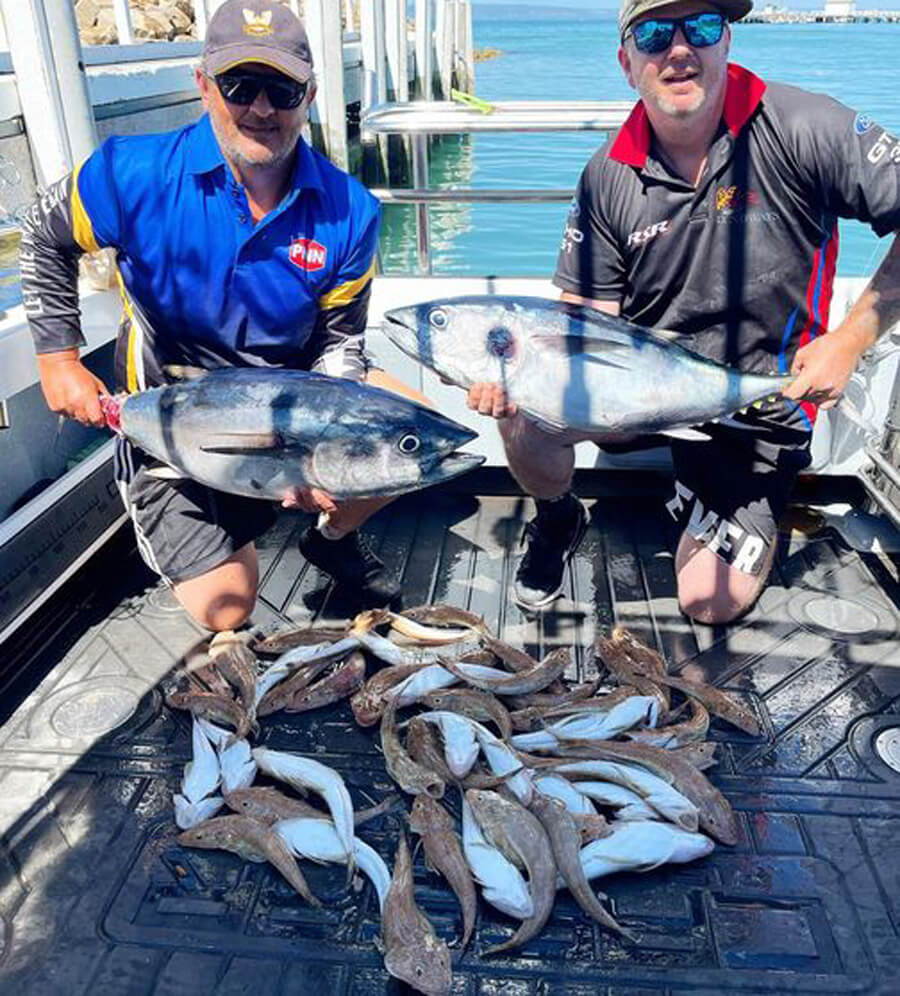 Chris Cassar from Cassar Fishing Charters headed offshore with his customers this week and found good numbers of tuna with a mix of techniques working with trolling skirted lures and casting topwater lures at feeding fish getting the job done.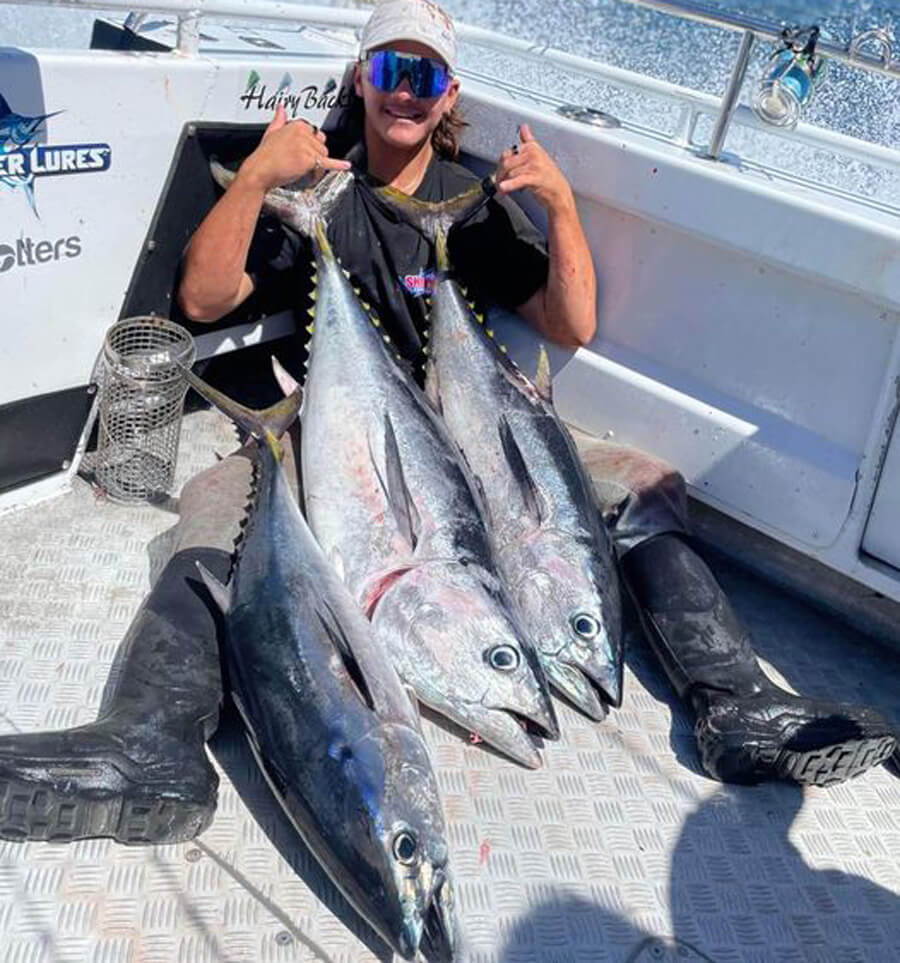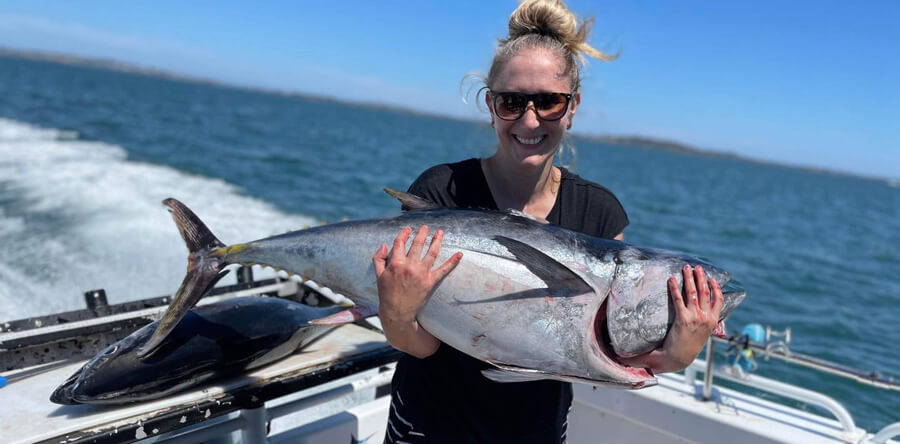 Marco from Sharkmen Fishing Charters found some cracking tuna offshore from Port Phillip Bay with his customers this week.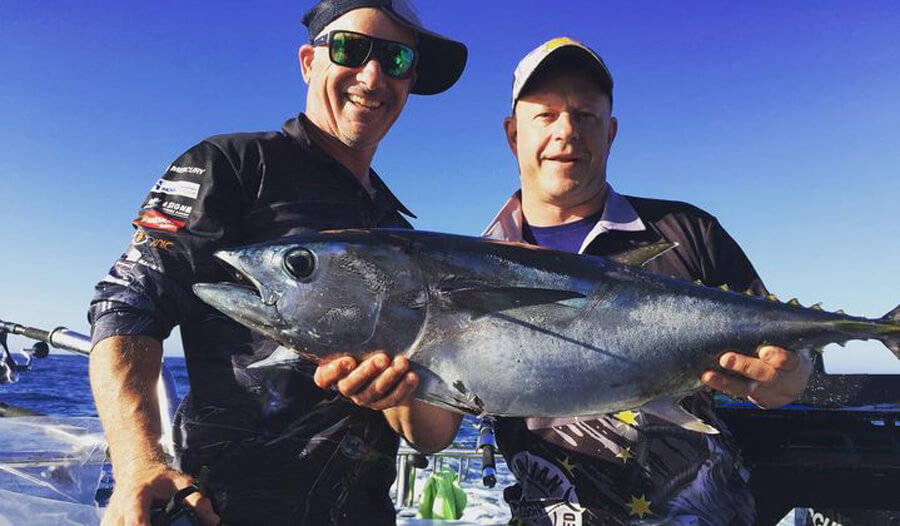 Matt Cini from Reel Time Fishing Charters had some crazy tuna action this week offshore with his customers.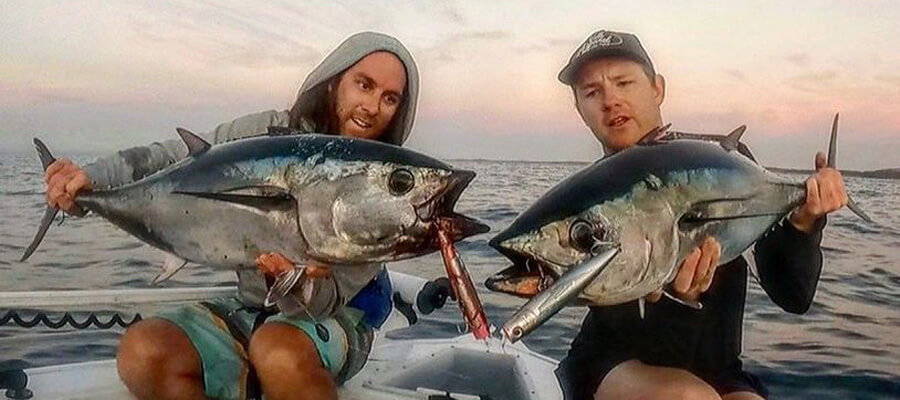 Mitch Chapman from EJ Todd had a ripper session with Joel Bramble catching some nice tuna offshore using the Maria Pop Queen.
Jim Pascoe caught a couple of nice gummies fishing in 20 metres of water out from Indented Head on Sunday using pilchards for bait.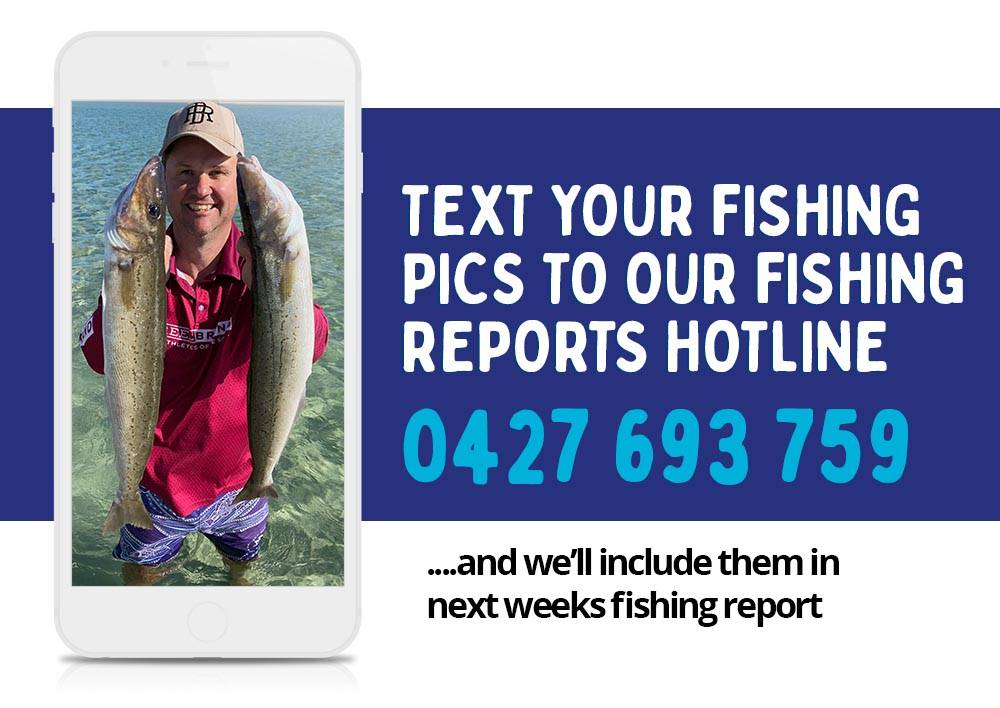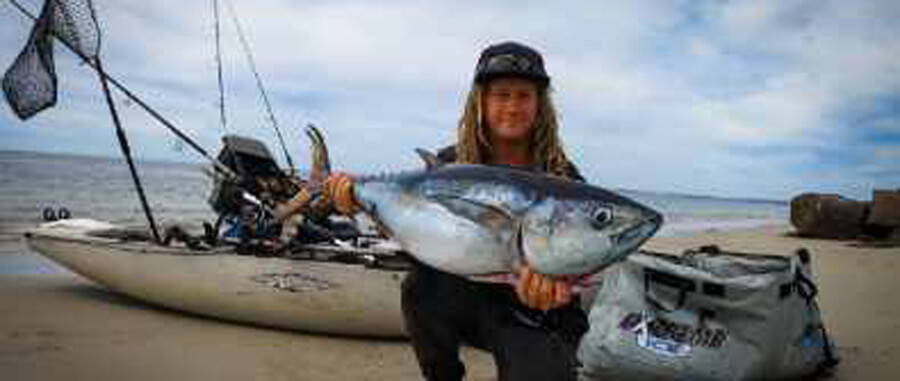 Tyler Hotchkin caught his first tuna from a kayak fishing out from Portland in 15 metres of water using a surface lure sight casted at the school. Well done Tyler.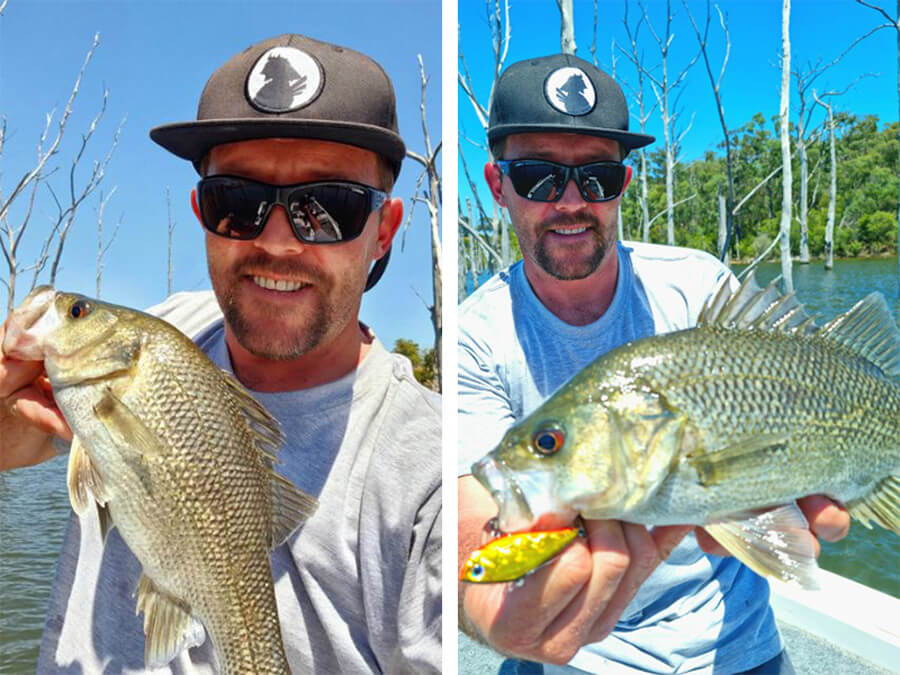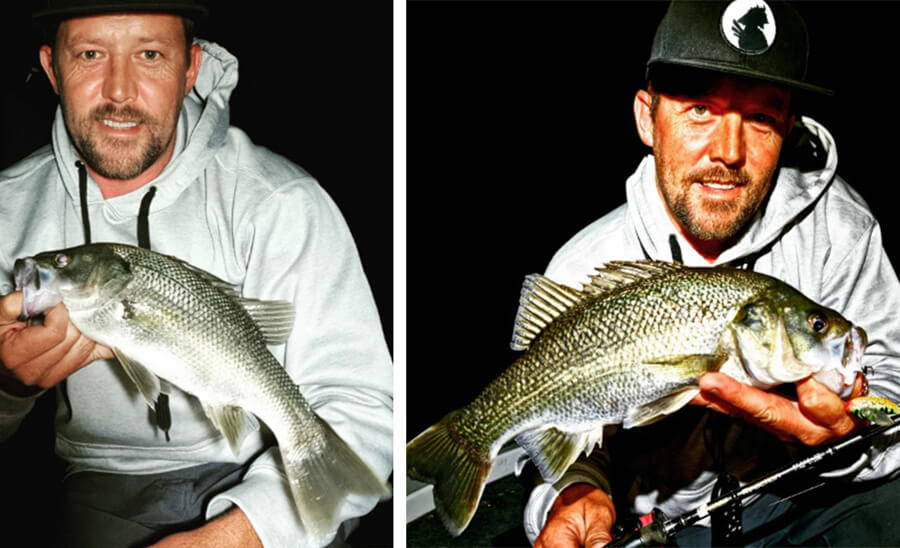 Borno fished Blue Rock Lake for round 1 of the Central Vic Lure Casters Super Series and took out first place. Borno caught his bag of 5 bass using the Atomic Vib 60. Borno also did a night fish and managed a nice 43cm bass using the Atomic Cicada.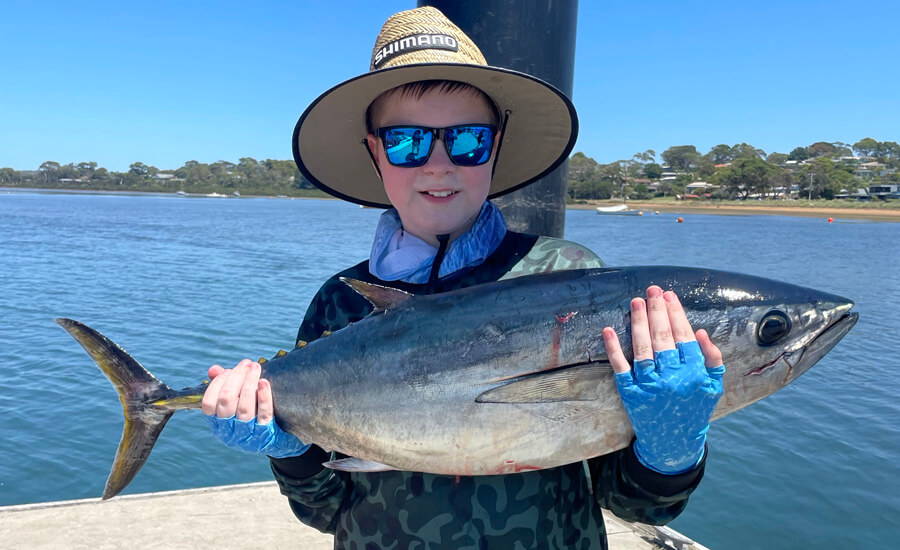 Zakiya Maloney caught this cracking tuna fishing out from Cape Patterson.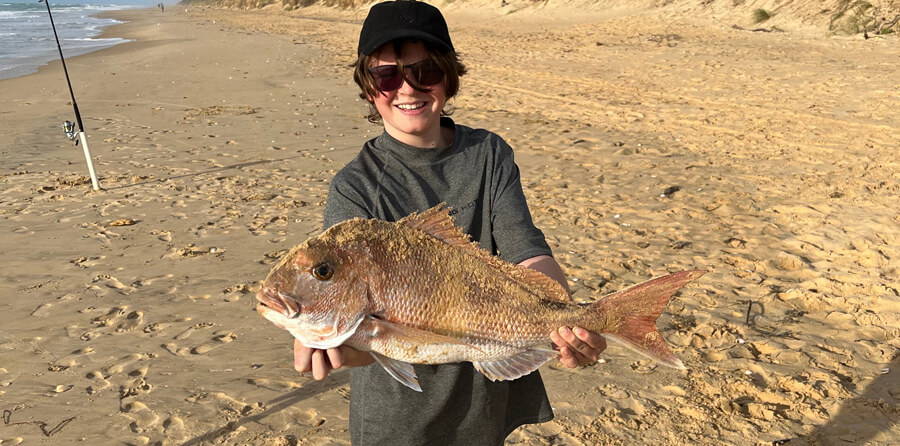 Lucas Mafooda caught this fantastic snapper using blue bait at Woodside beach during the run out tide.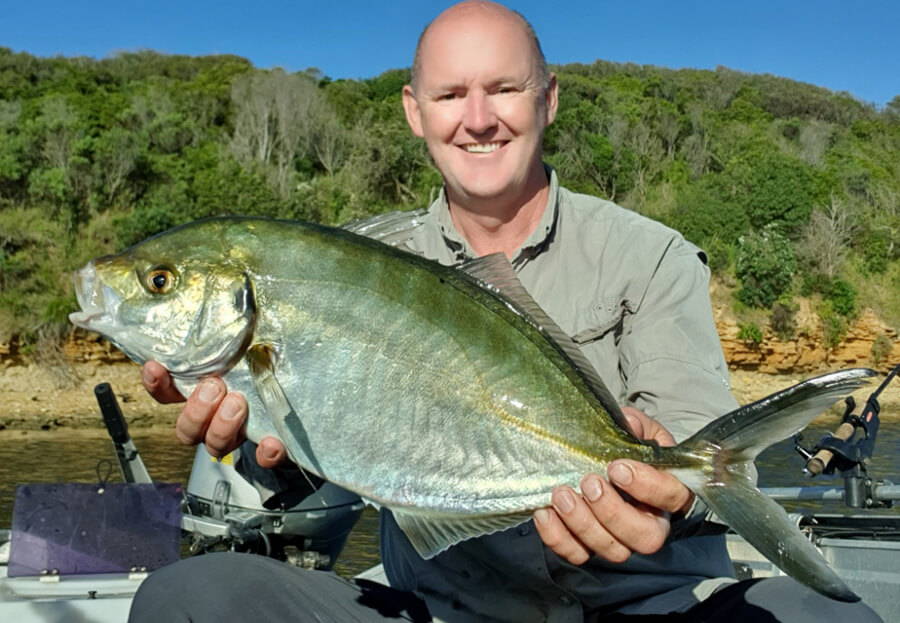 Mick Ott reports in from Lake Tyers where the big tevally are still getting caught. Mick's biggest for the trip so far has been 61cm.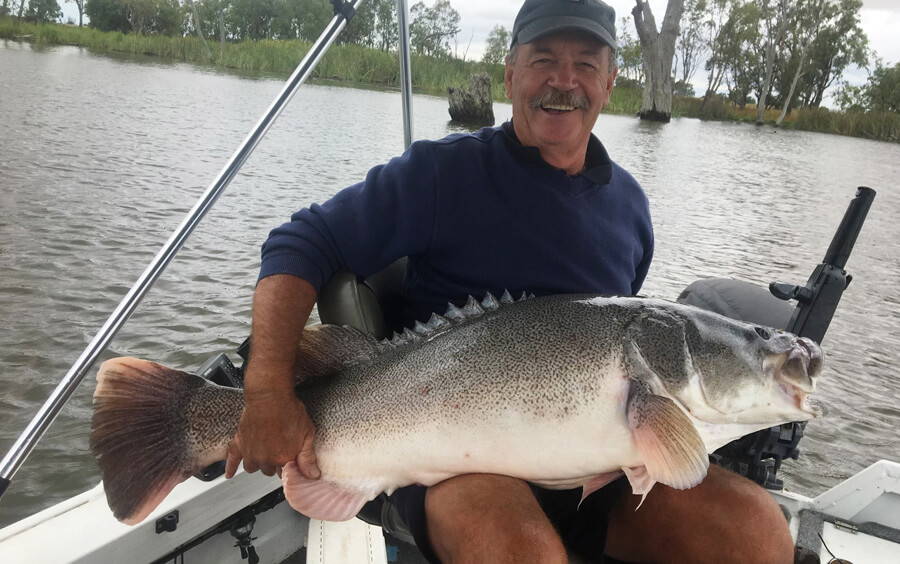 Maurice caught this cracking 115cm Murray cod fishing Lake Mulwala last week.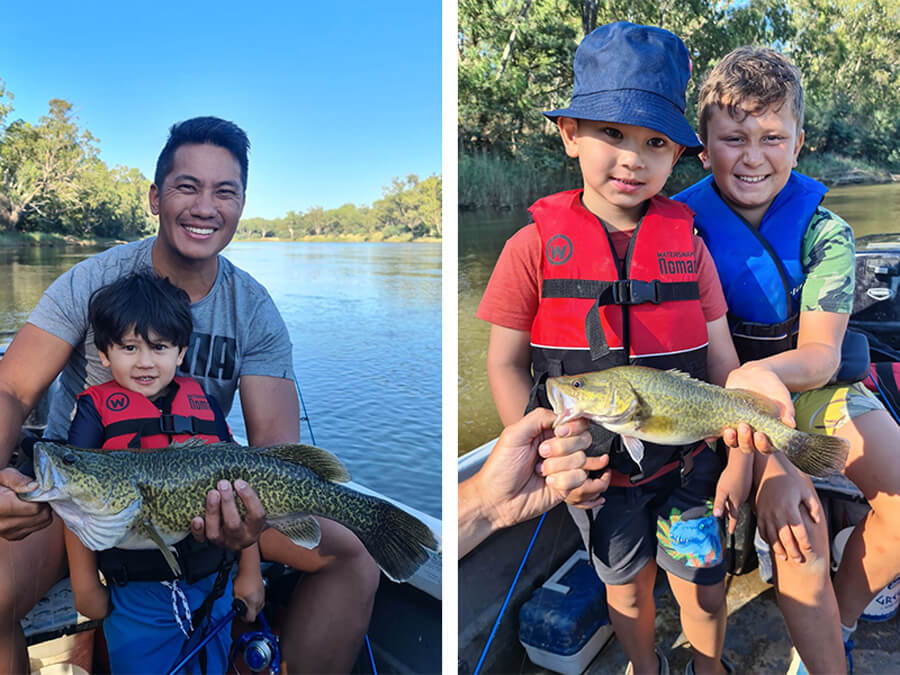 Dale Bangco and his son Josh caught a nice 54cm Murray cod and cousins Zach and Ethan caught a nice cod as well.

Gary Lindrea caught this beautiful Murray cod fishing the Ovens river near Bundalong.
IFISH WITH TACKLE WORLD - SUMMER SERIES

THIS WEEK ON IFISH TV
LOCATION: FINGAL HEAD, QLD
TARGET: LONG TAIL TUNA
SUNDAY 30TH JANUARY, 2022 on 10BOLD at 10AM
Catch past episodes of IFISH TV on Youtube so you can get your fishing fix any time, any where.
TALKING FISHING - C31 - TUESDAYS at 8.30pm
Catch "Talking Fishing" on Melbourne's C31 TV (CH44) at 8.30pm each Tuesday night. Staff members David Kramer and Adam Ring together with Niki Duckstein host Australia's only "Live to Air" fishing television program at this prime time-slot. Put Tuesday night's at 8.30 away in your weekly diary of TV shows to watch!
Good Luck with your fishing and stay safe on the water,

The TEAM at Tackle World Cranbourne & Mornington