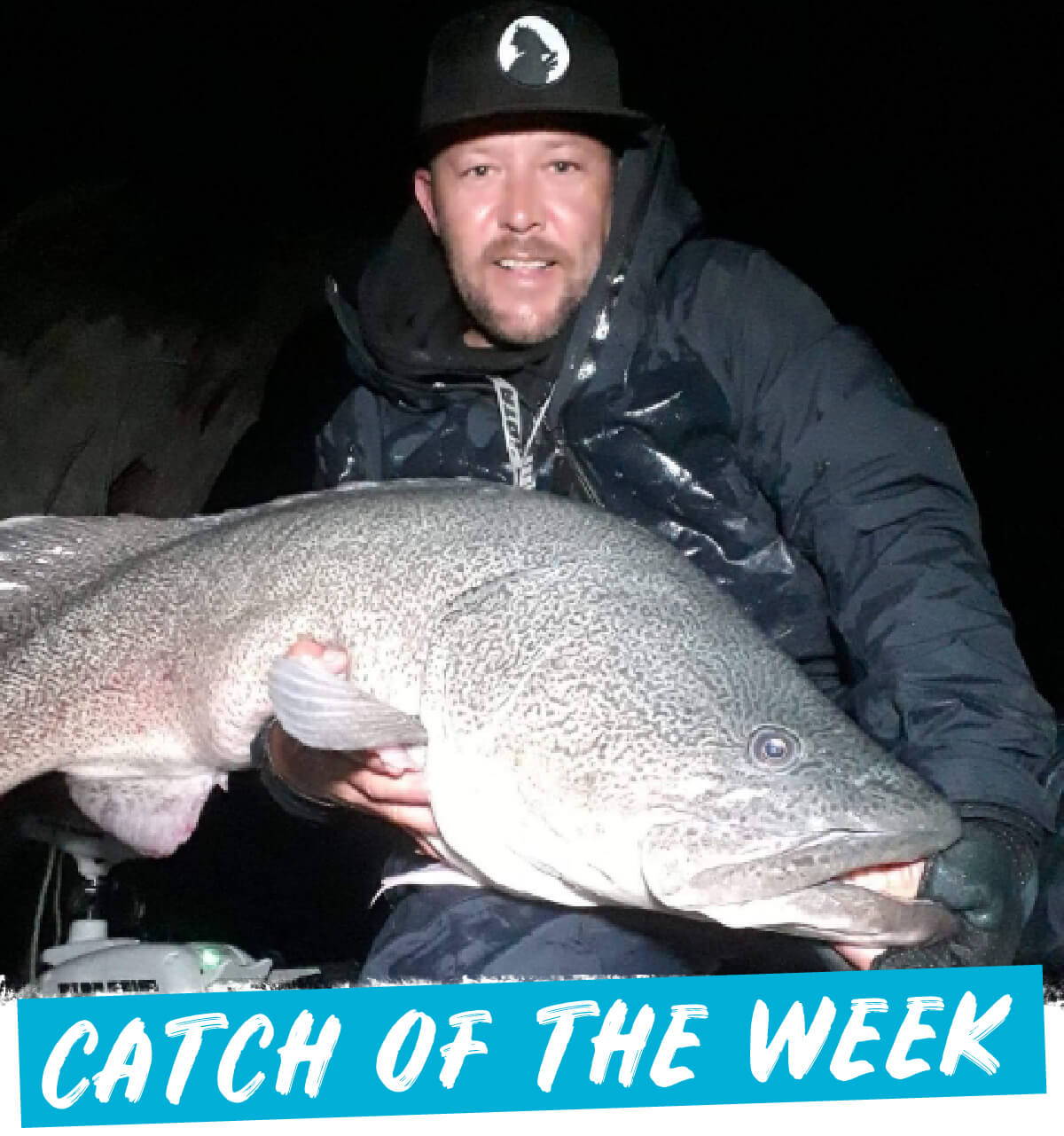 Congratulations to Borno on your 105cm Murray cod caught at Lake Mulwala, you are this weeks Catch of the Week.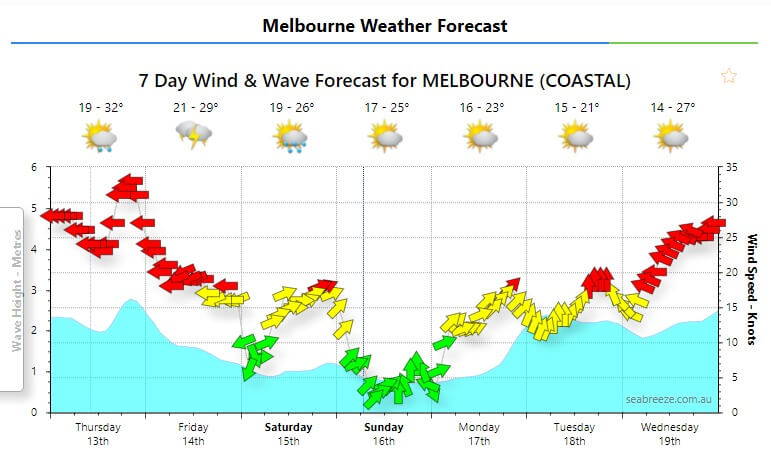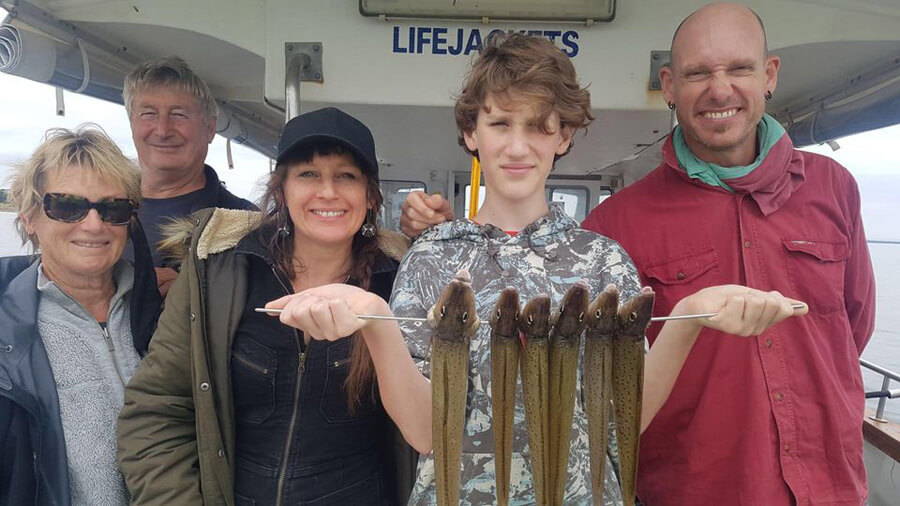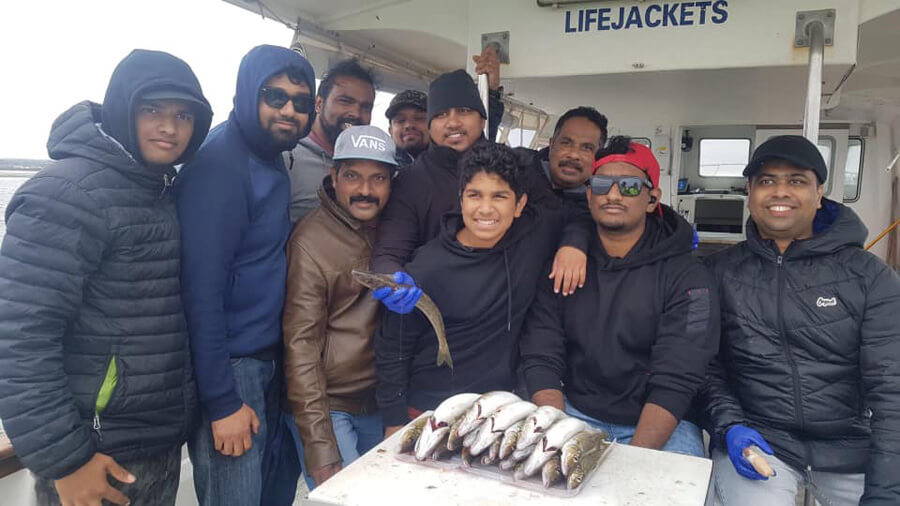 Steve Johnston helped his customers catch some beautiful whiting fishing Middle Spit and the banks along the North Arm.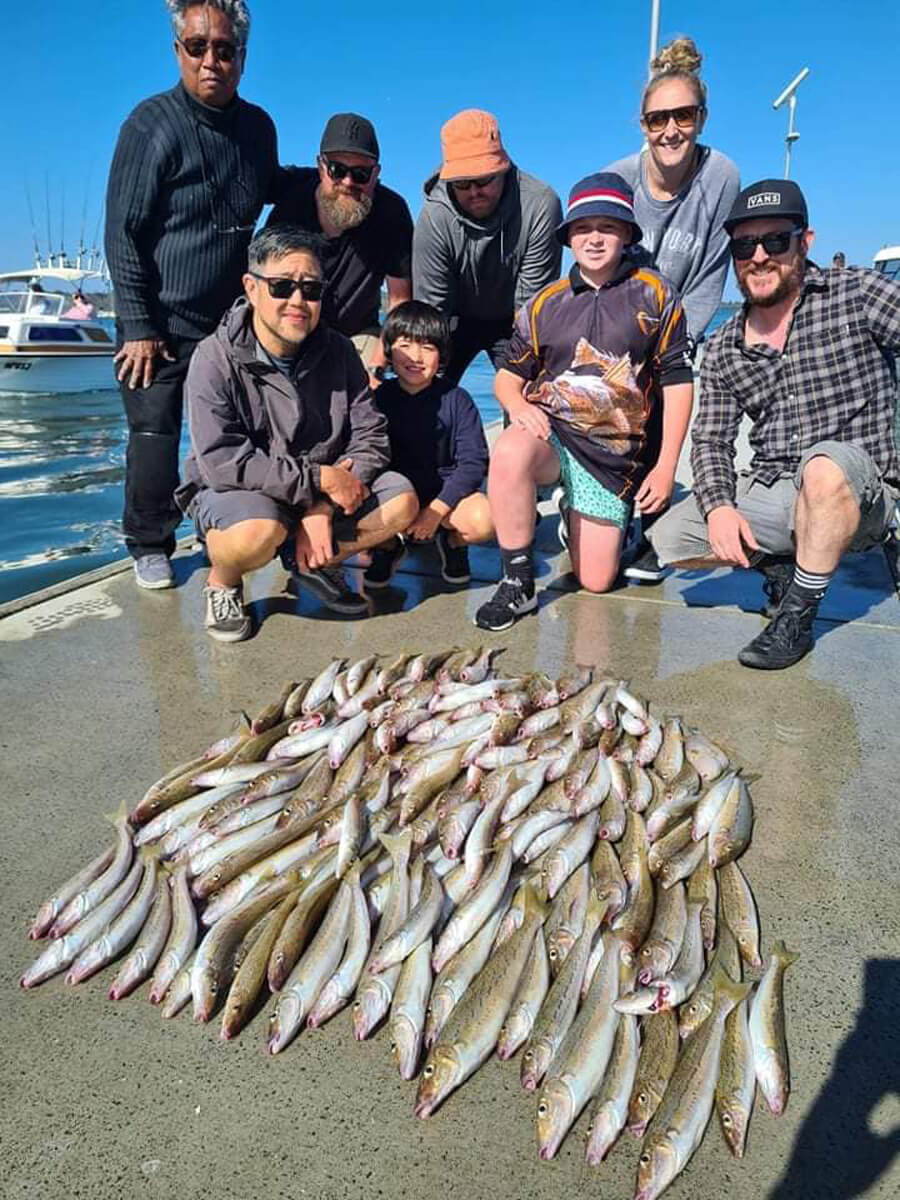 The boys from Sharkmen Fishing Charters have been smashing the whiting in Western Port with their customers this past week.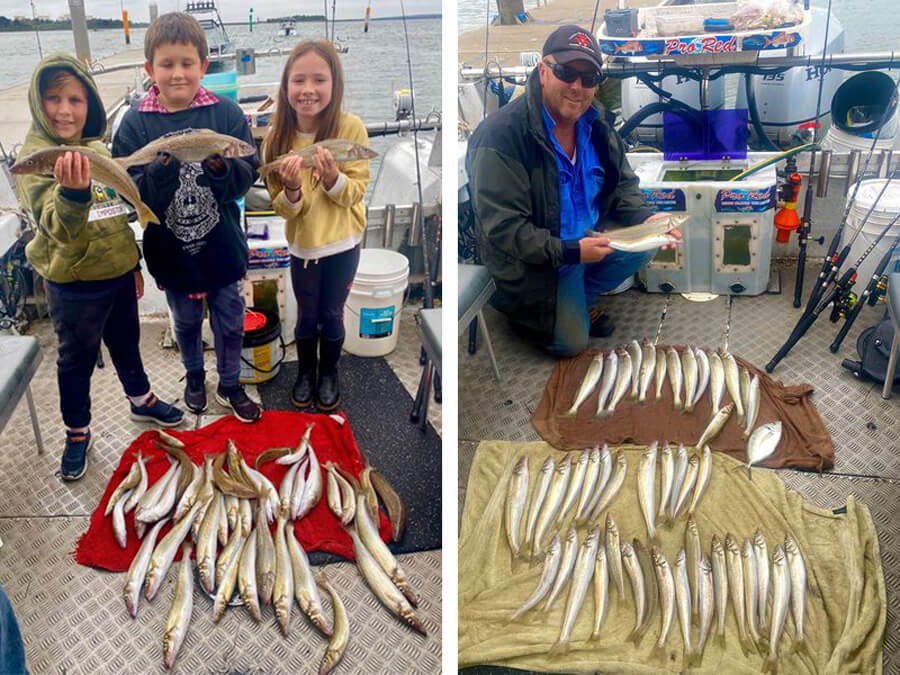 Jayson Turner from Pro Red Fishing Charters has been getting stuck into the Western Port whiting with his customers this week with some nice fish caught along Middle Spit.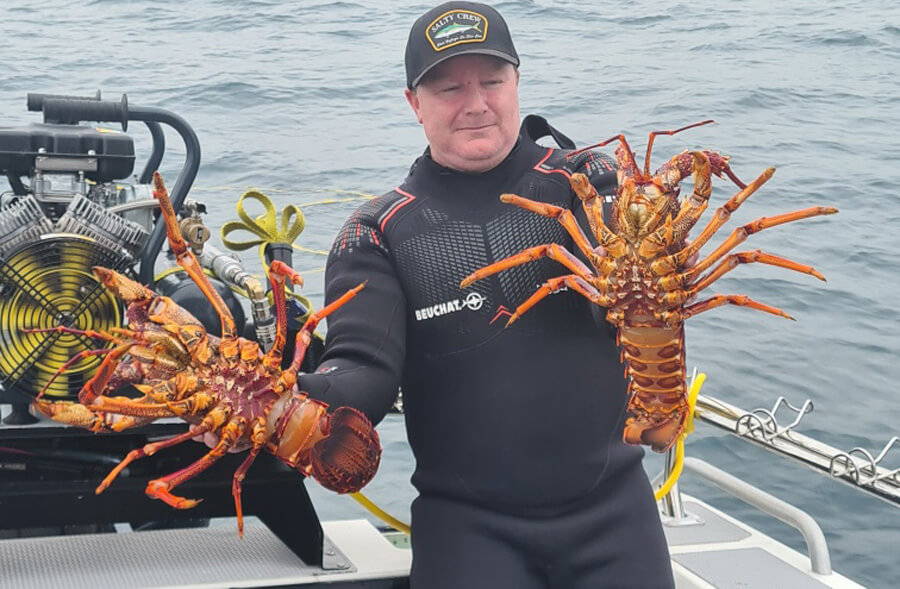 Daveo with a couple of nice crays picked up from off Cape Schanck.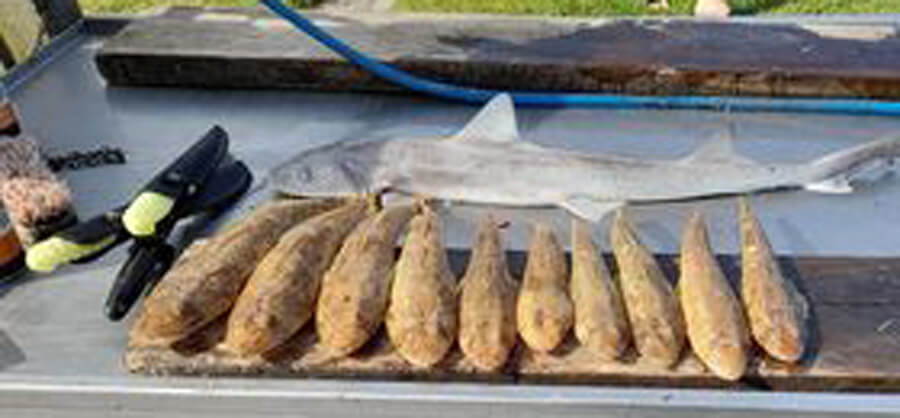 Dylan Gussenhoven fished in 12 metres off Cat Bay and caught some solid flathead and a gummy shark.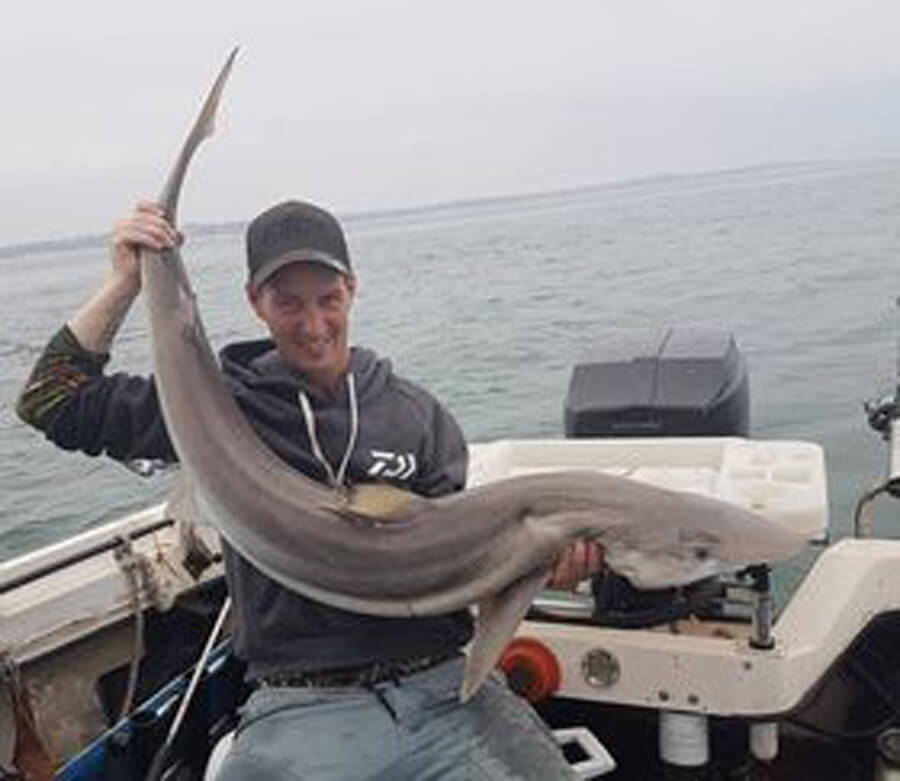 Michael Kilpatrick and his dad fished off Cowes in 16 metres and caught this beautiful school shark using fresh yakka for bait. Well done guys!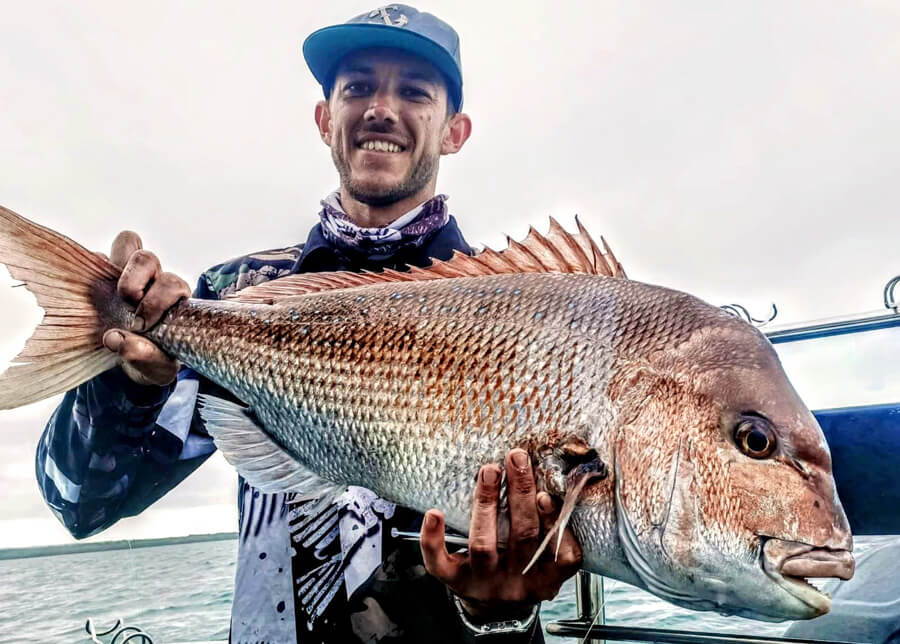 Chris O'Connell caught this ripper 76cm snapper during the run in tide off Hastings on a whiting snatcher using squid for bait. Nice fish Chris well done.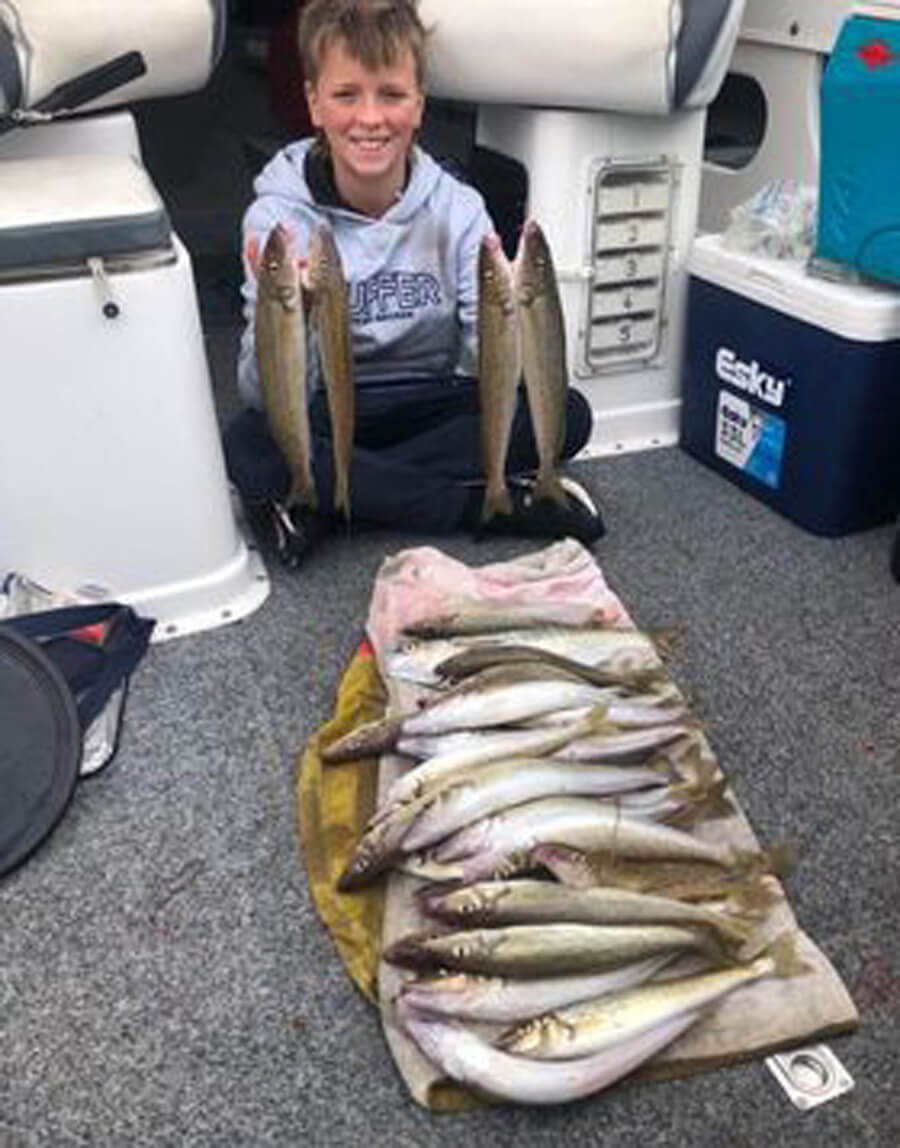 Terry, Rob and Rider had a ripper session out from Hastings catching some thumping whiting. Well done boys!
Bruce and James Ashcroft fished Eagle Rock this week and caught a nice mixed bag of gummies, whiting and pinkies. The guys report pilchards and pipis got the bites. Nice work guys!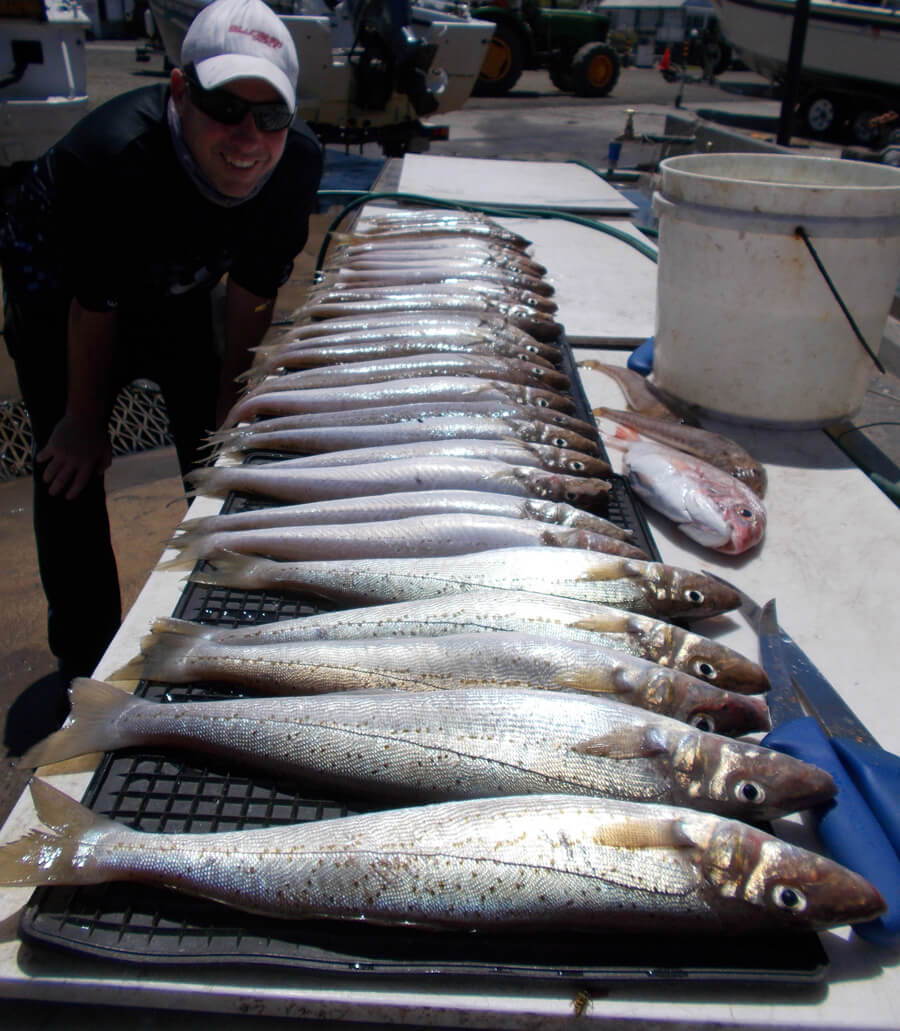 David Milne and Ben Ferguson fished in 5 feet of water at Quail bank during the run in tide and managed some nice whiting. The guys also fished the mouth of the Tooradin Channel to top off their bag at the top of the tide. Mussel and cuttlefish did the damage.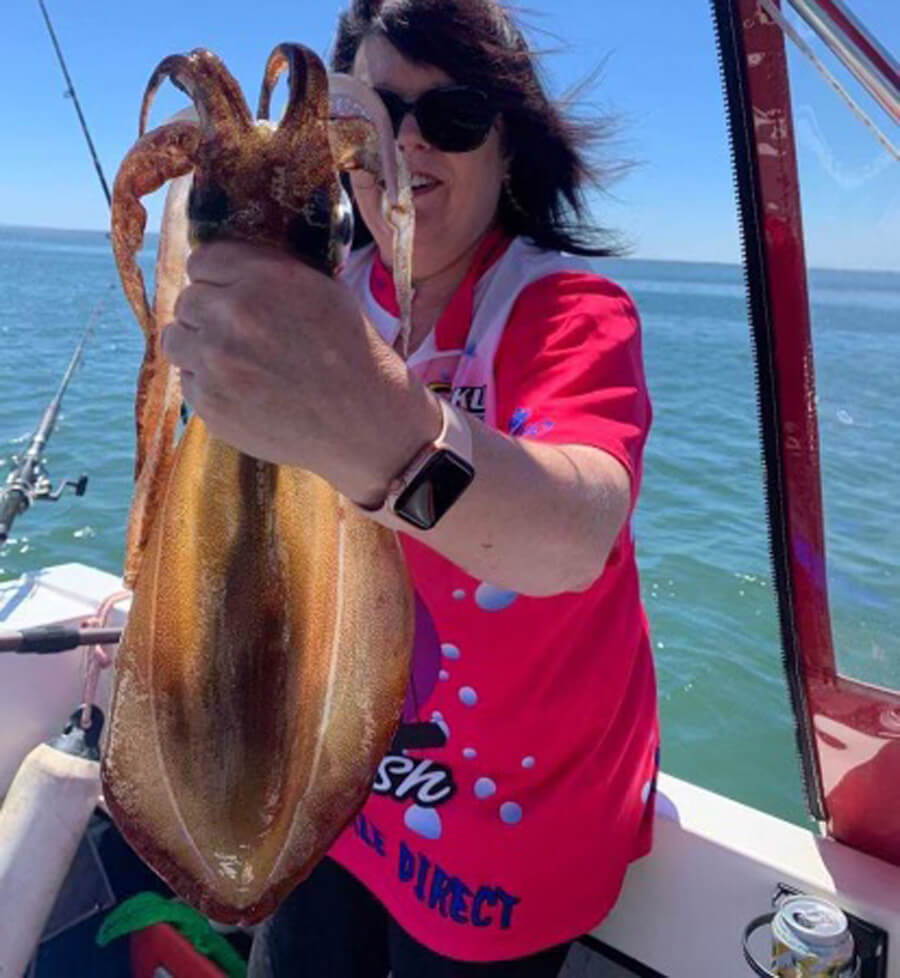 Carolyn de Wit caught this nice squid as by-catch while chasing gummy sharks at the Boulton Channel.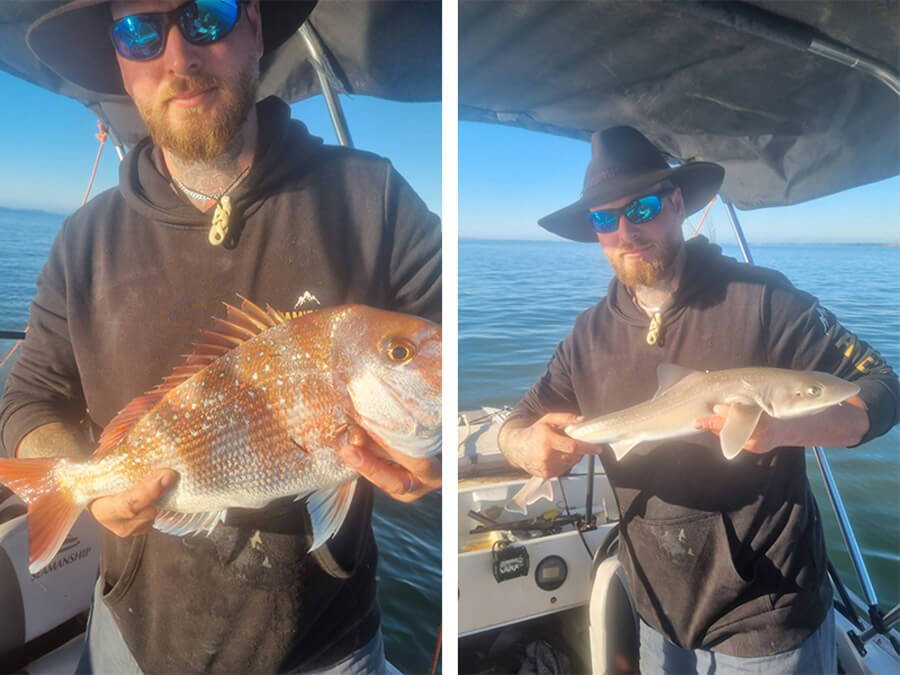 Gary Flett and David Forrow fished off Corinella and caught some nice snapper and a gummy using pilchards for bait.
Dee caught this fantastic gummy shark fishing off San Remo. Well done on the PB Dee.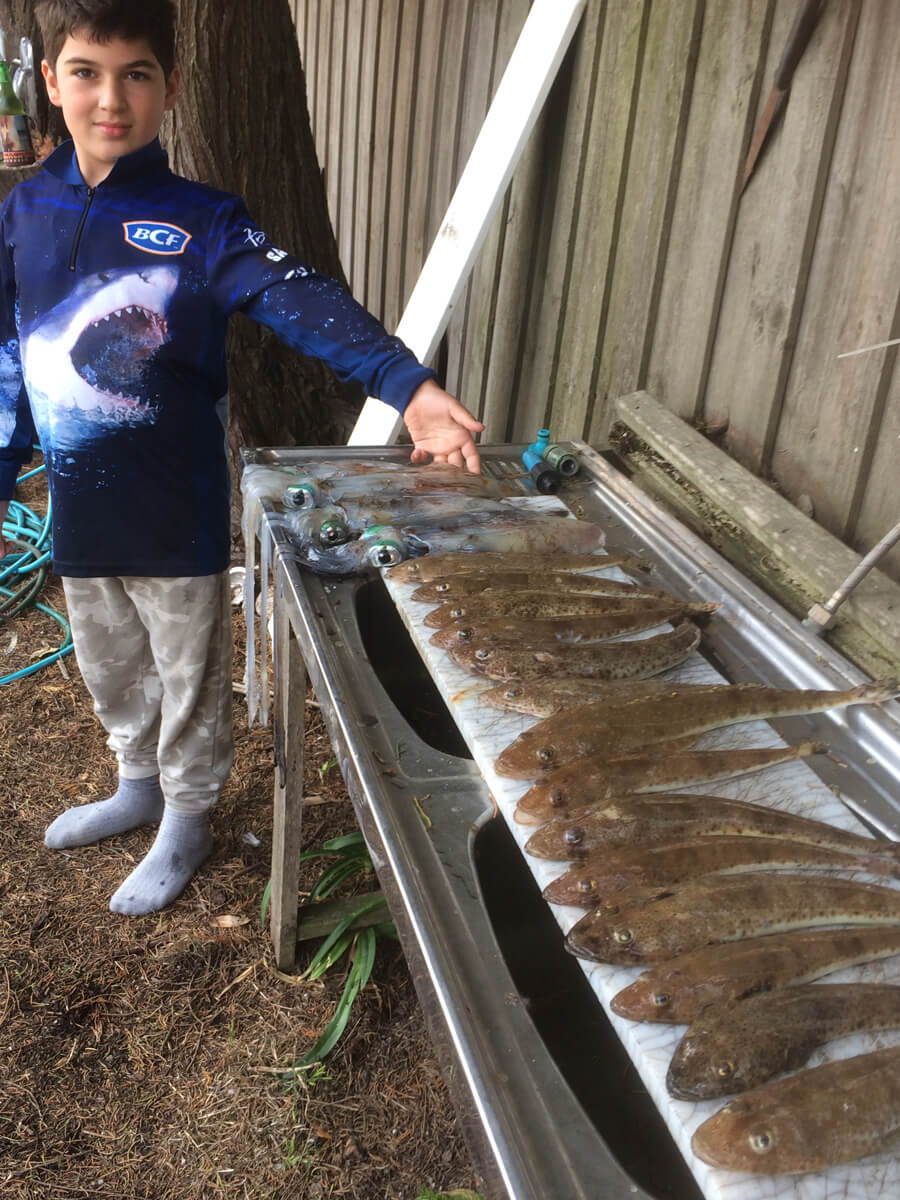 Zac and his dad had a fantastic day fishing the Eastern Entrance with some solid squid caught and some nice flathead also.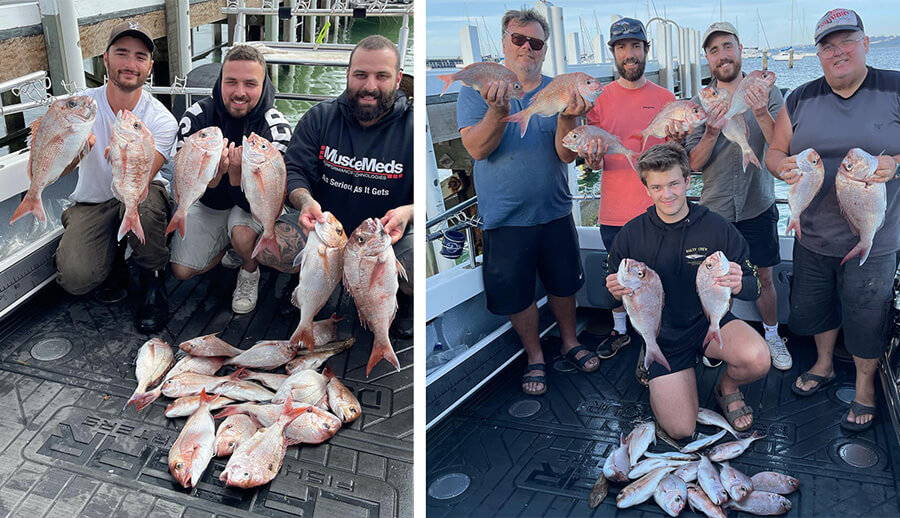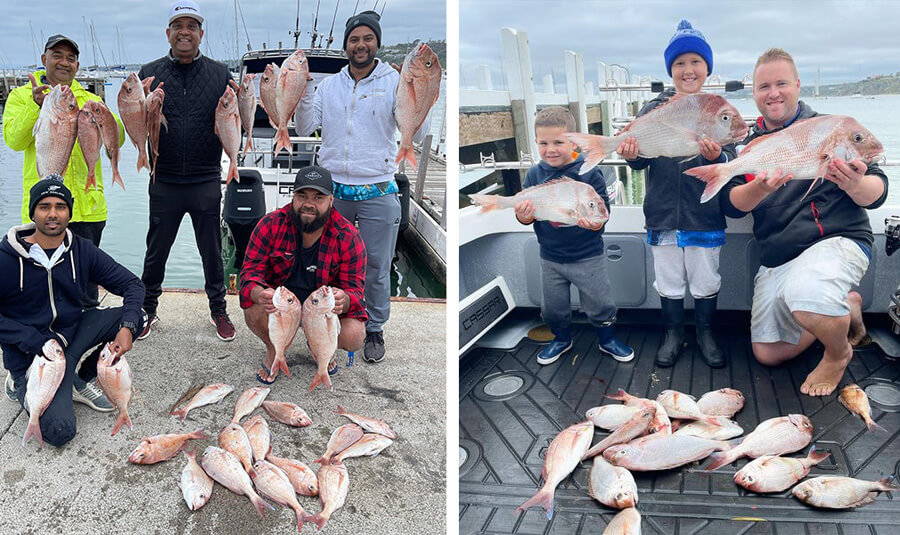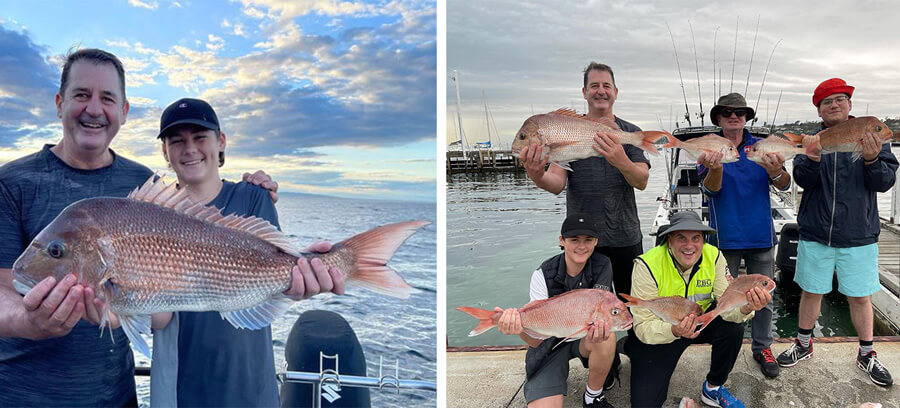 Chris Cassar from Cassar Fishing Charters got stuck into some fantastic snapper fishing Port Phillip Bay with his customers this past week. The reefs from Frankston to Mt Martha are great places at this time of year to chase some snapper, sounding them up and timing the tides will help your catch rate.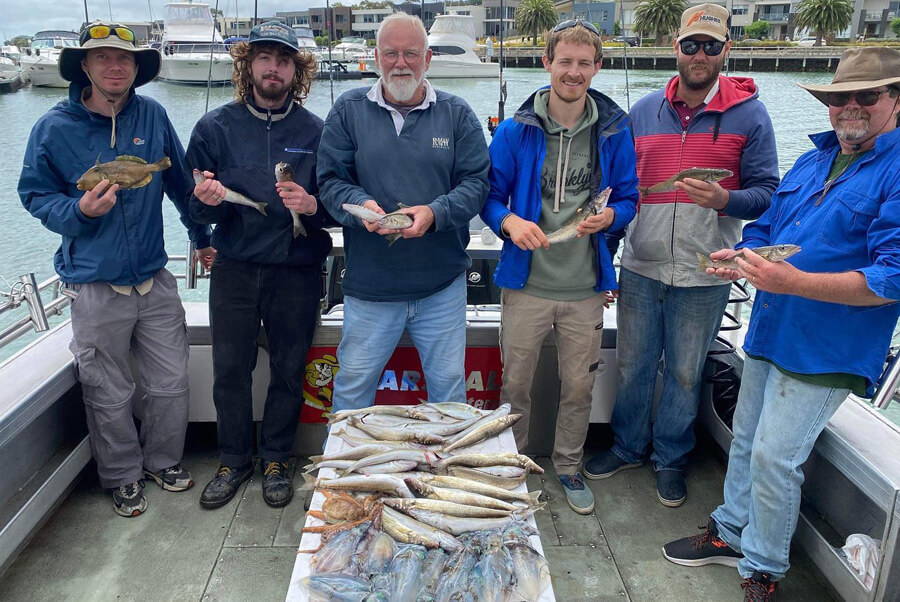 Aleks and Will from Reel Time Fishing Charters found plenty of nice whiting and squid for their customers this week fishing Port Phillip Bay.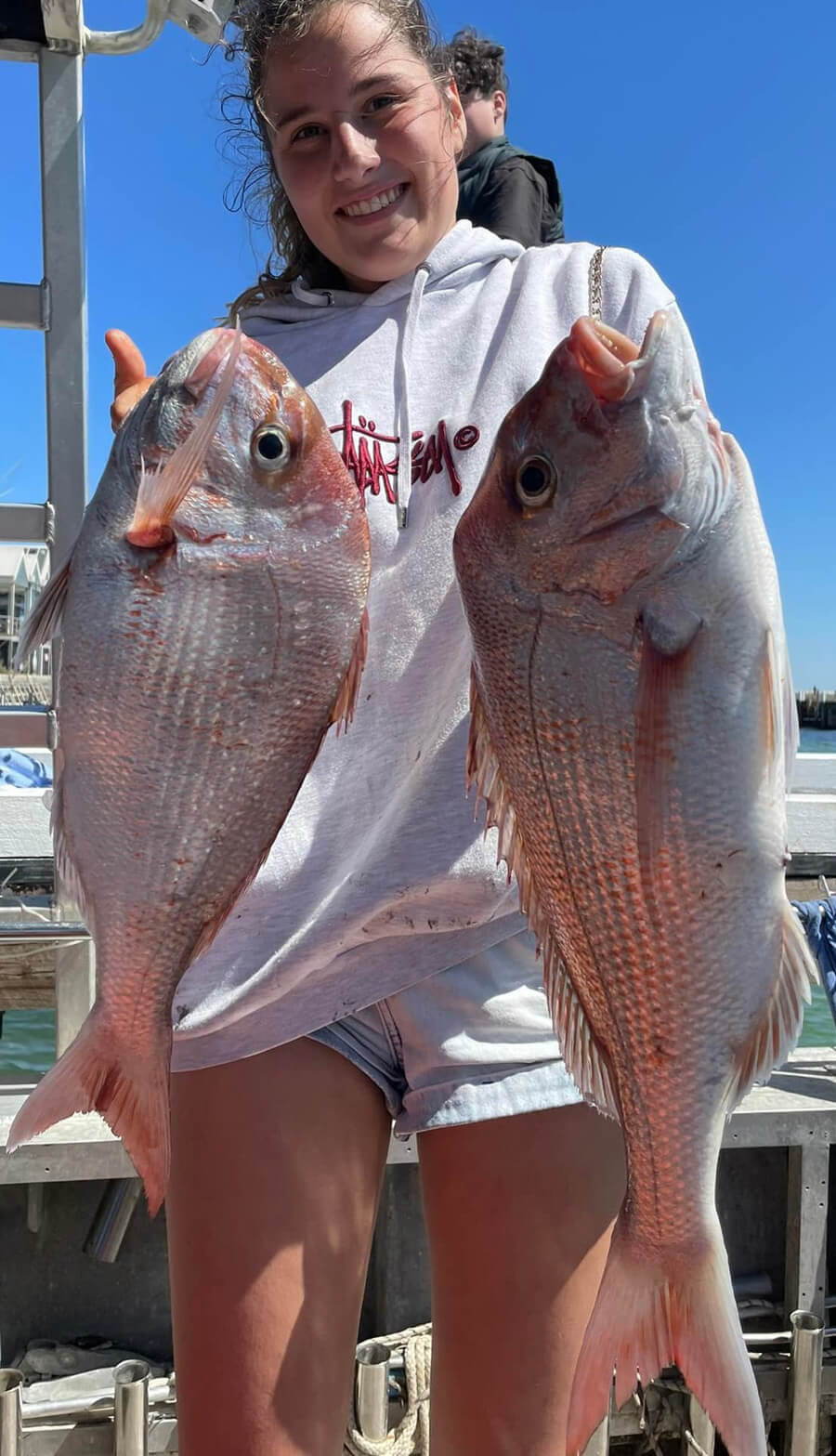 Olivia Pulford with a couple of ripper snapper caught off Mornington last week, the biggest weighed in at 4.5kg.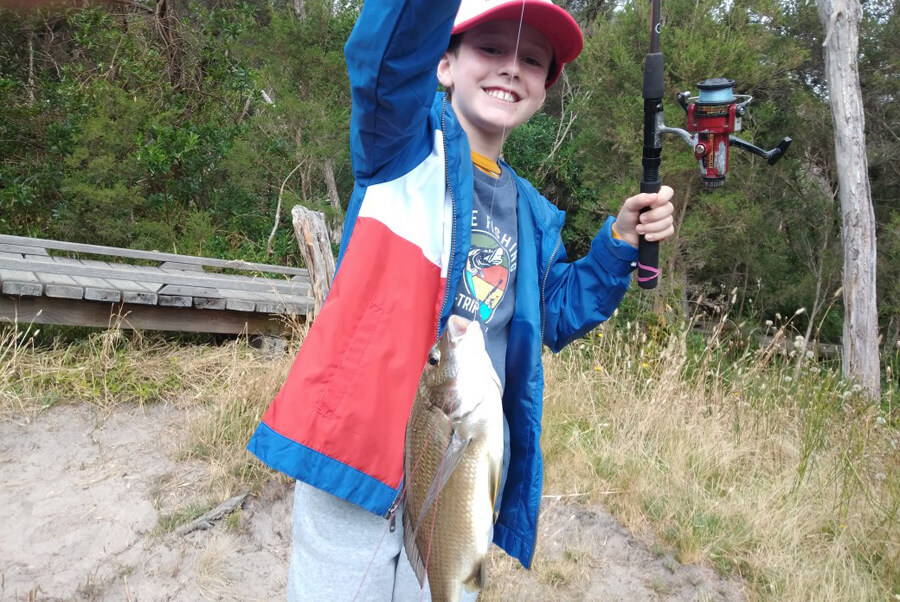 Brock Jonsen caught a cracking bream fishing Balcombe creek this week.
Dylan Gussenhoven fished Mt Martha and caught a nice mixed bag.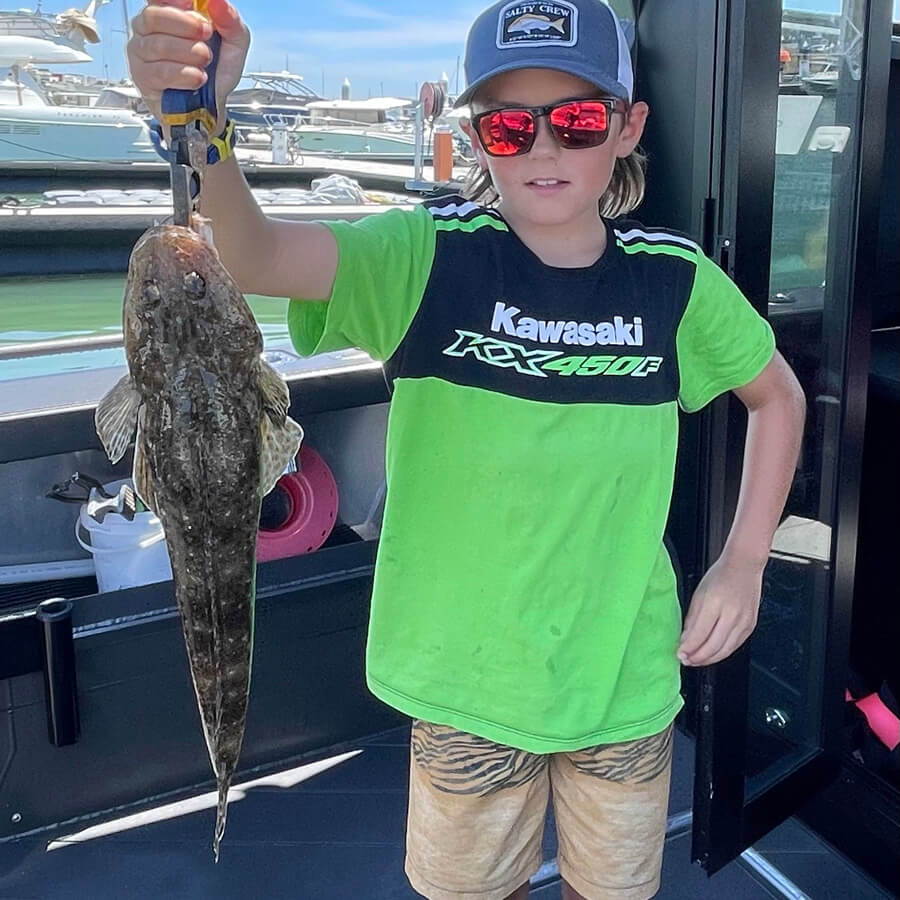 Bryce with his PB 45cm flathead caught off Rosebud.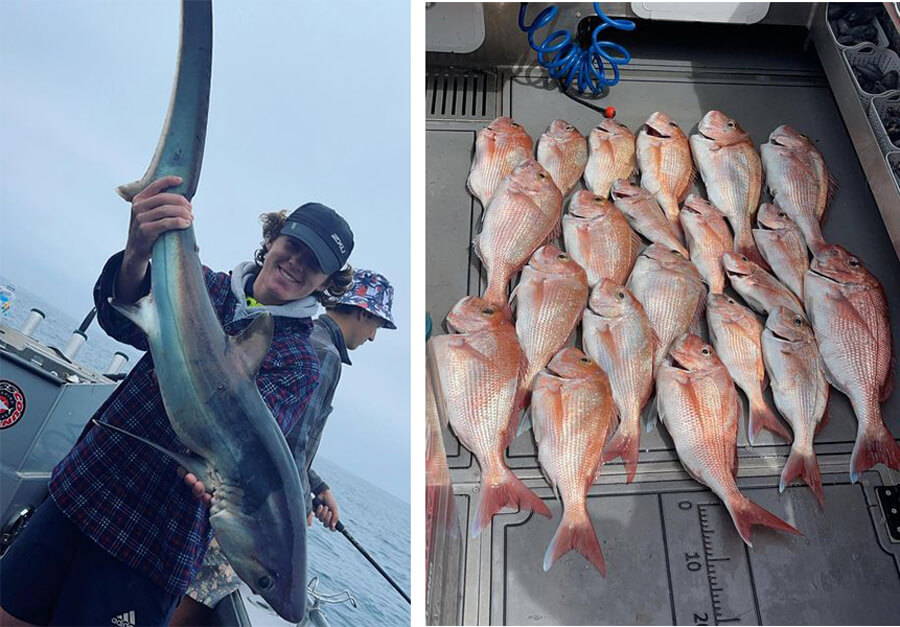 Zac Cross from Cross Country Fishing Charters fished offshore with his customers this week and caught some nice snapper as well as a cracking thresher shark.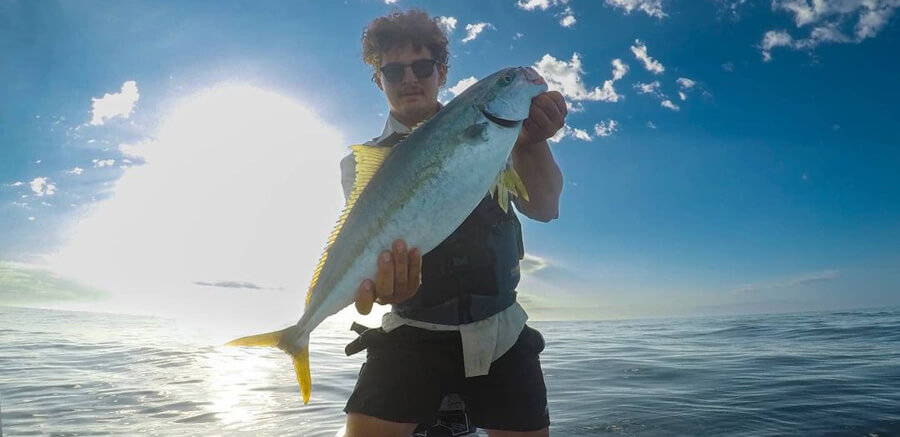 Oscar Ford fished on his jetski offshore and caught a couple of nice kingfish with the biggest going 73cm.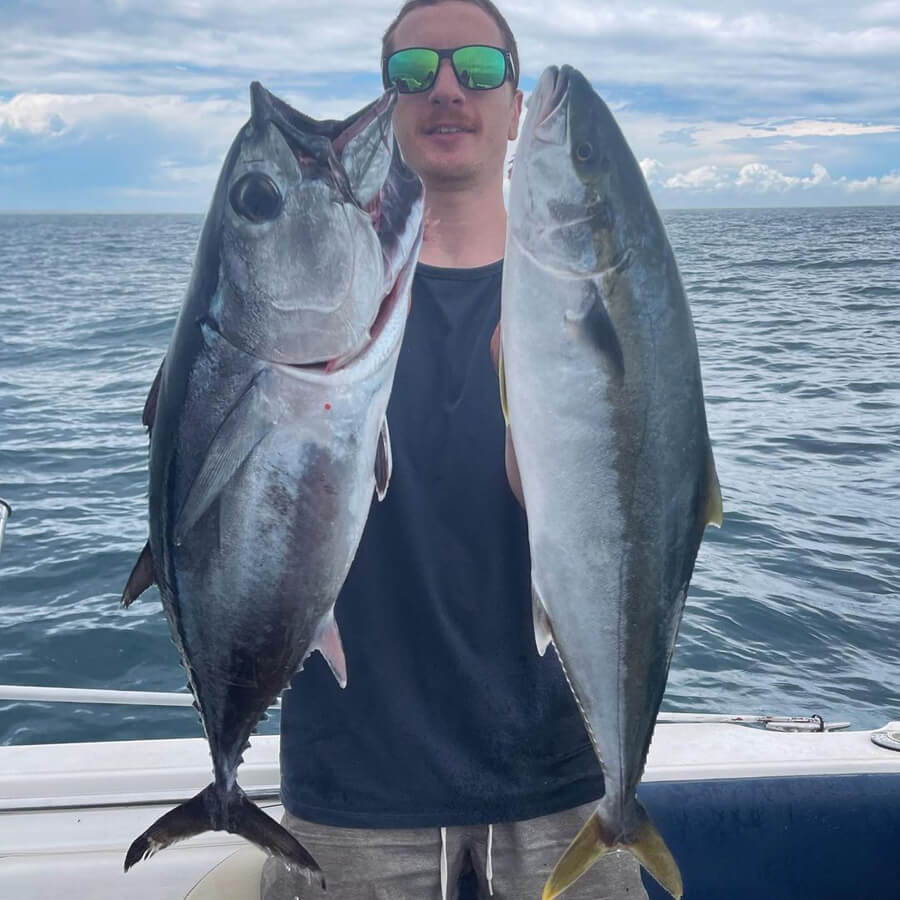 Oscar Adorno found some nice tuna and kings outside the heads offshore this week.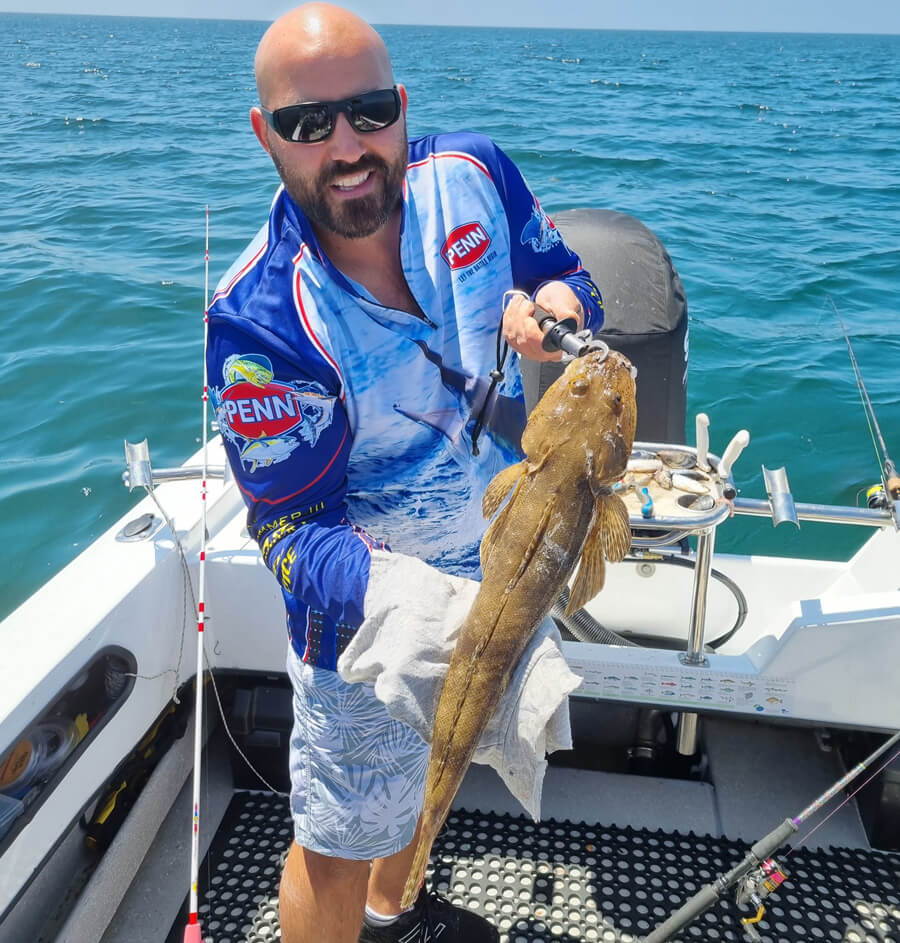 Daniel Borg caught this cracking 57cm flathead fishing off Werribee this week.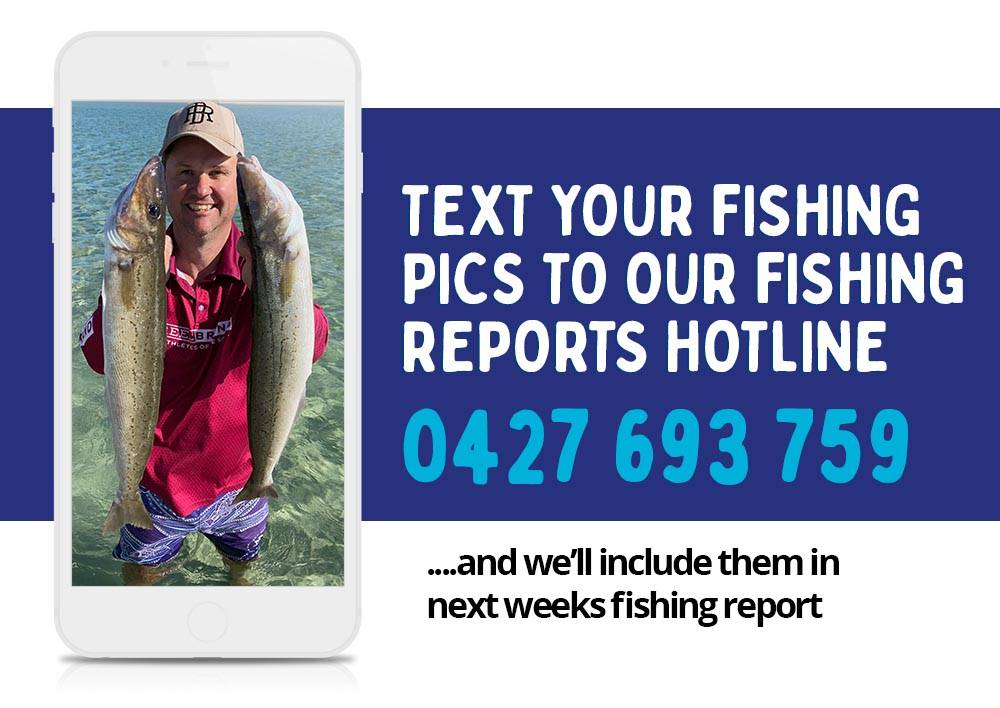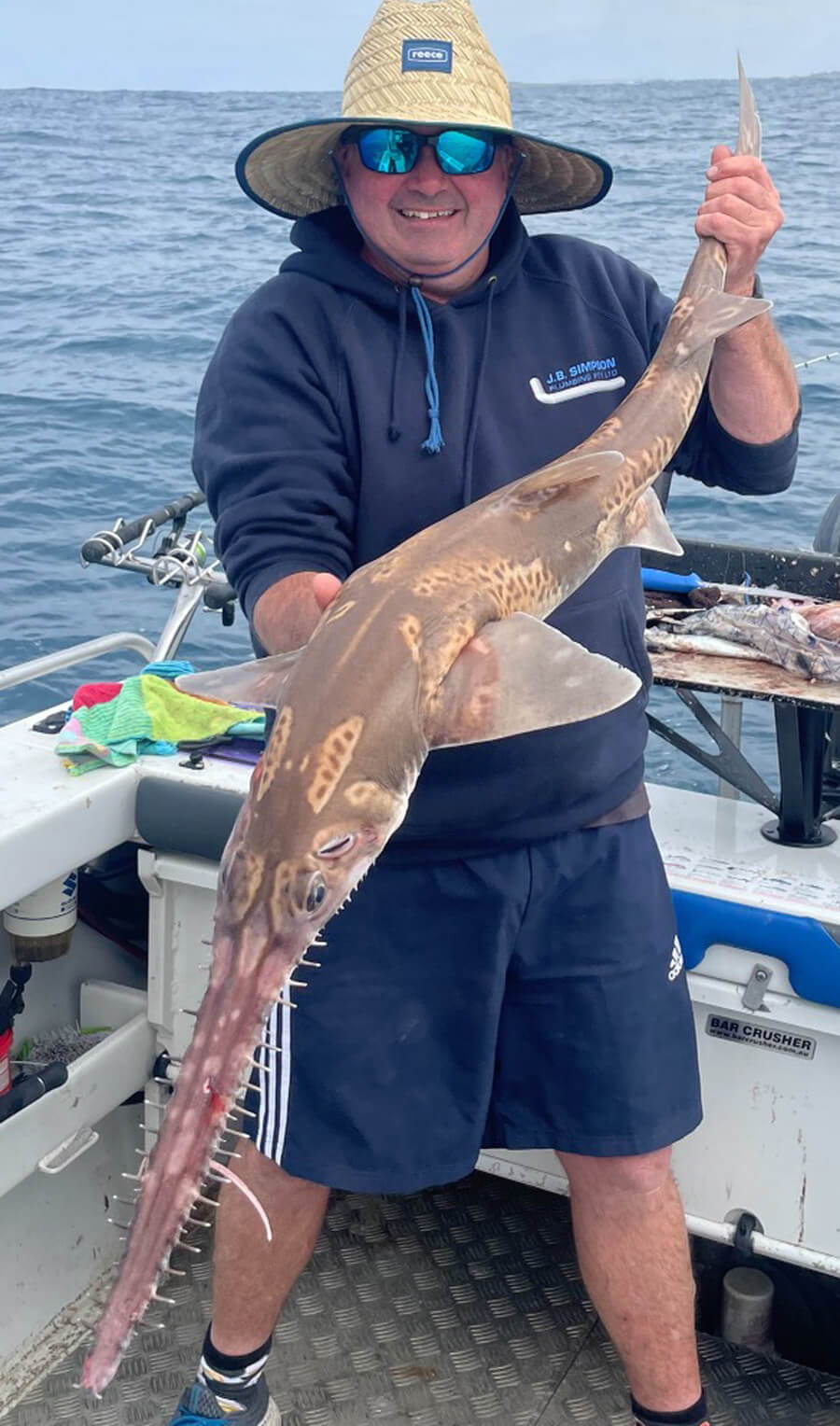 Matt Simpson caught this interesting patterned saw shark fishing off Warrnambool using a couta fillet for bait.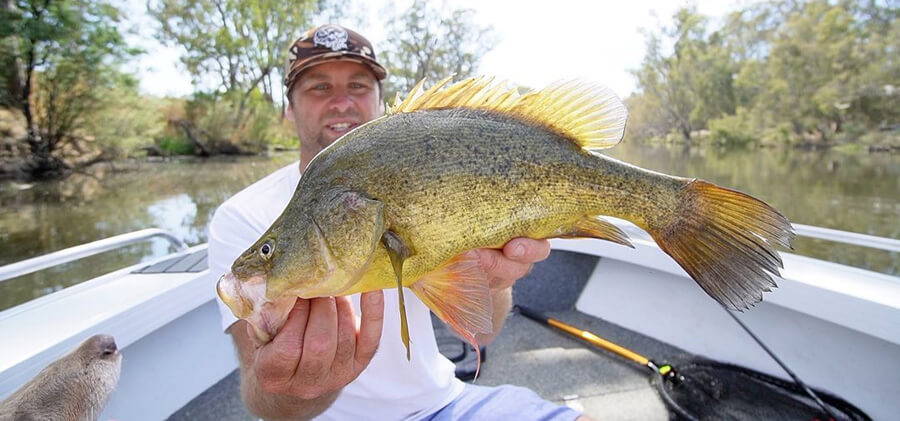 Mark Whitford fished the Nagambie area on the weekend and caught this nice yellow belly.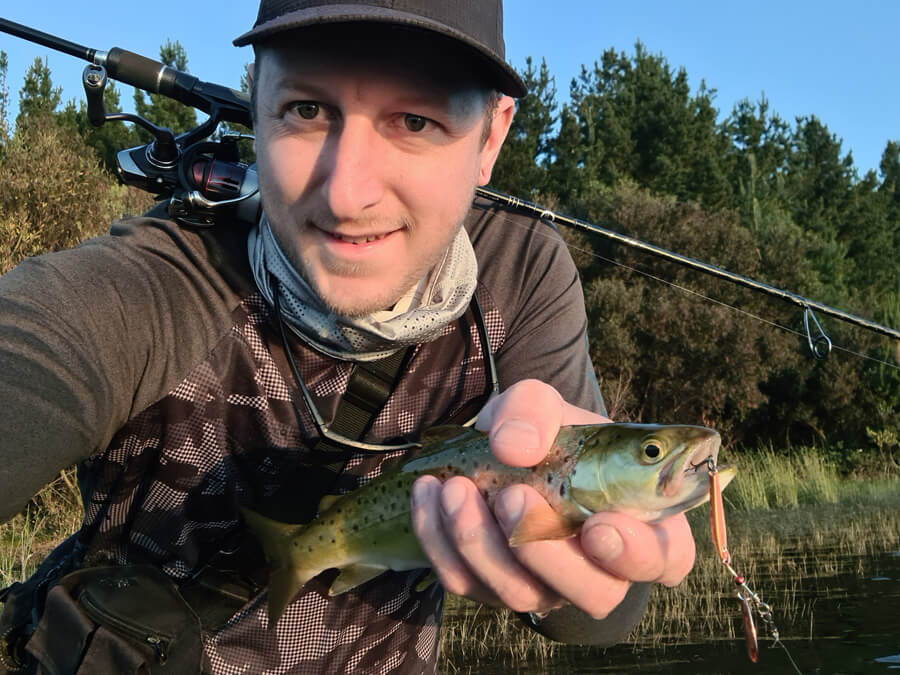 Staff member Brendon Cunningham fished Devilbend Reservoir and caught about half a dozen nice trout using the Jackson Eddy spinner. The Eddy is great for Devilbend as its weight helps with casting through any wind and trout seem to just love the lure.
Andrew Ketelaar fished some Gippsland streams last week and caught some nice brown trout using soft plastics fished in deeper pools. The biggest was this nice brown that took a 3in Berkley paddle tail.
Andrew Ketelaar fished Blue Rock Lake and caught some nice bass as well as some redfin.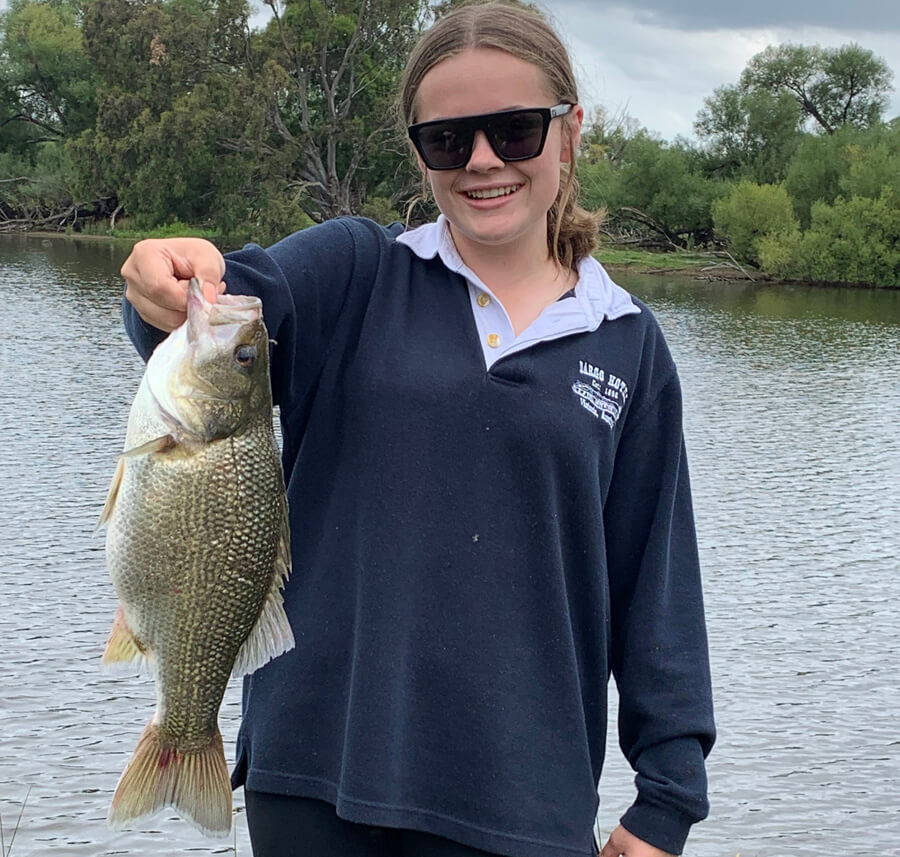 Emily Cruickshank caught this cracking 47cm bass fishing Lake Glenmaggie. Well done on the ripper catch.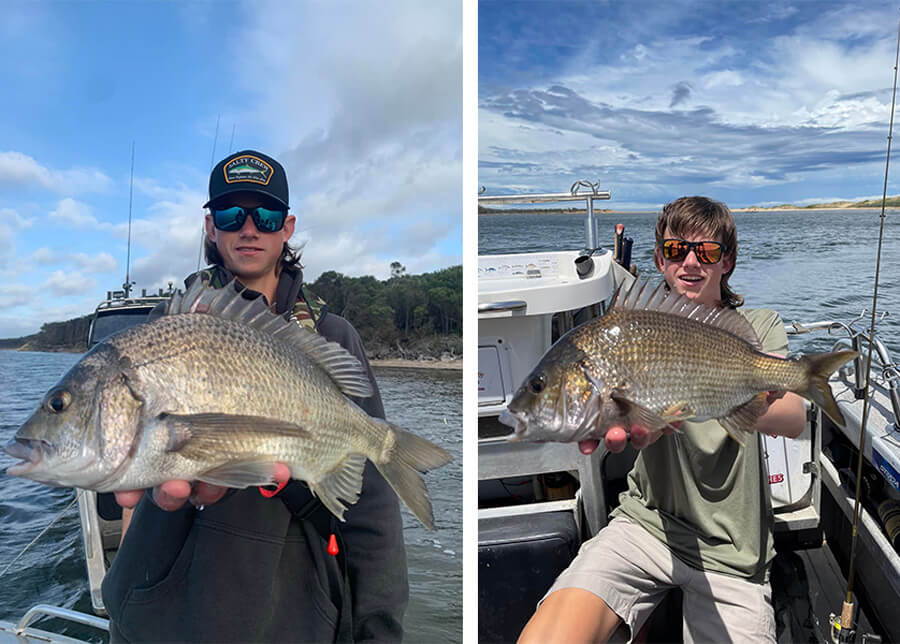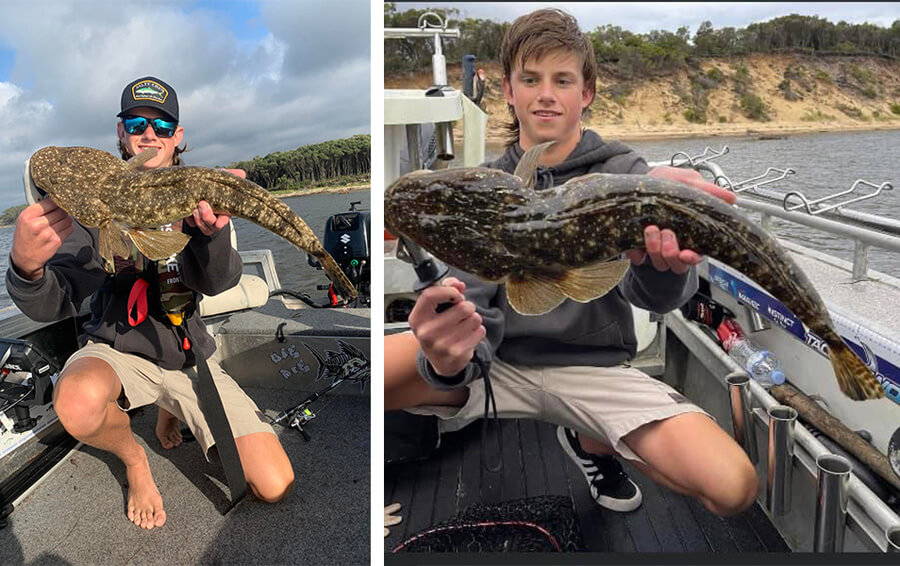 Staff member Ben Clothier fished Bemm river and caught some beautiful bream and dusky flathead.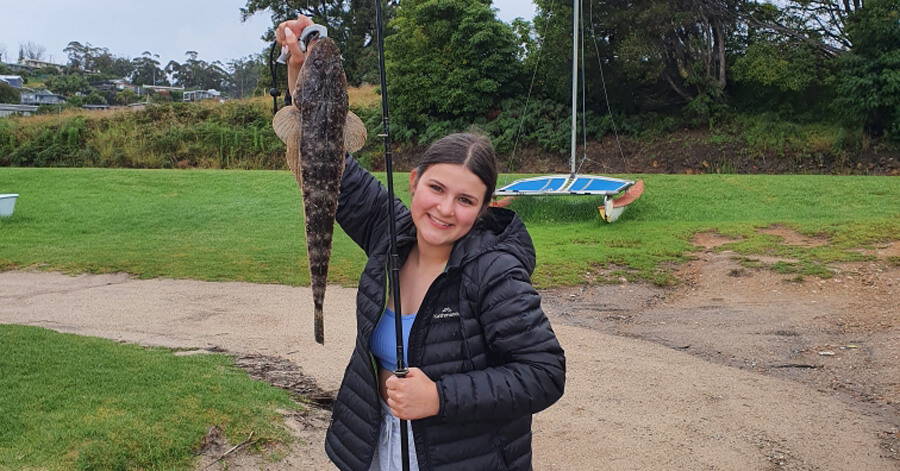 Gabriella Agapito caught this ripper dusky flathead fishing landbased at Mallacoota.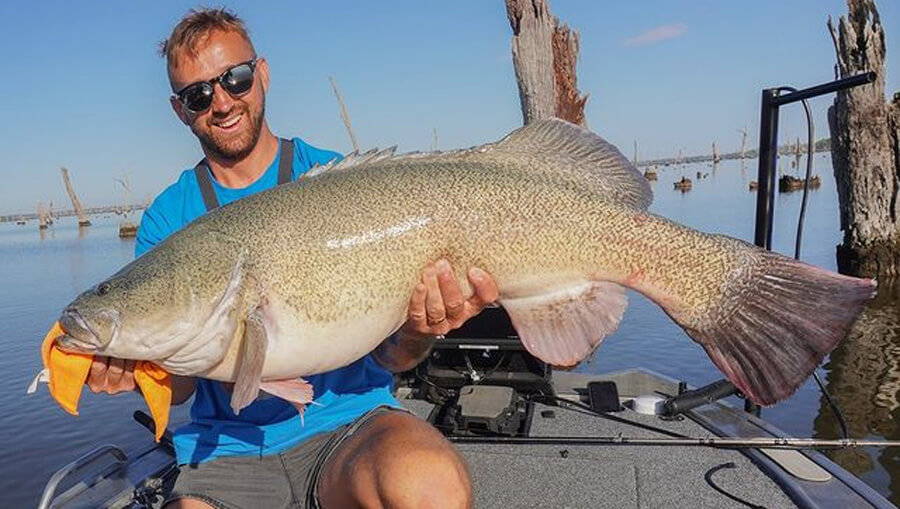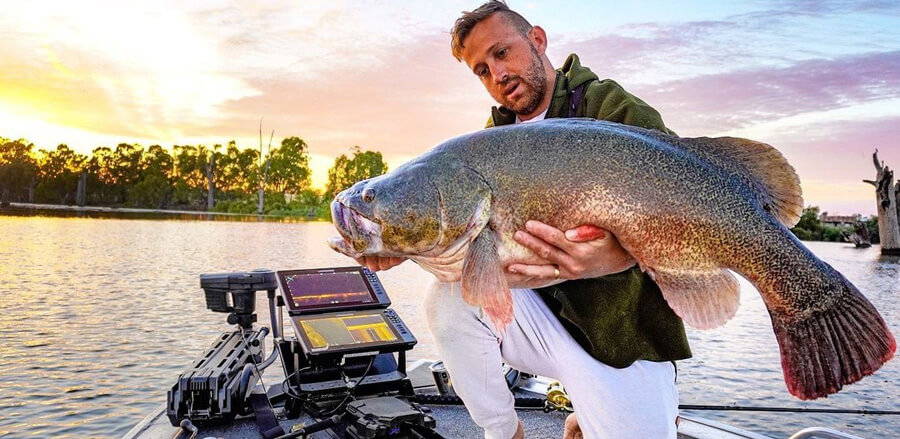 Thomas Pinter has been catching some beautiful Murray cod fishing Lake Mulwala using a variety of techniques including swimbaits and surface lures.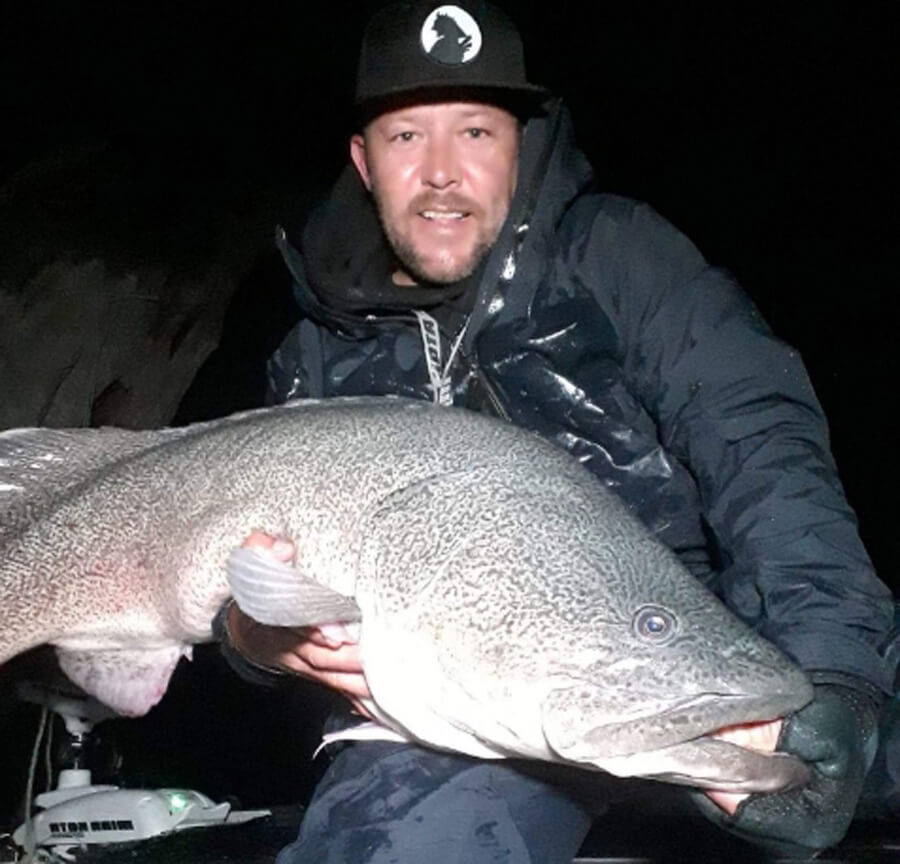 Borno fished Lake Mulwala and caught this cracking 105cm Murray cod.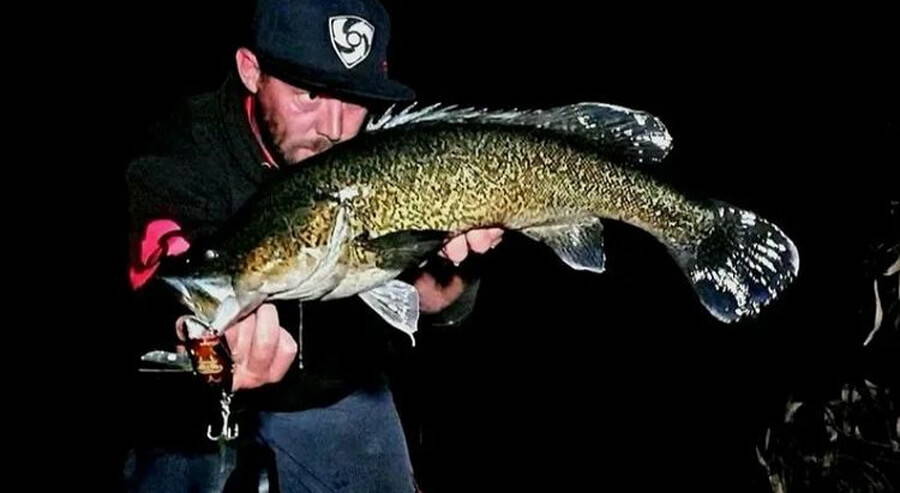 Borno also caught this Murray cod on surface using the Atomic Slappa.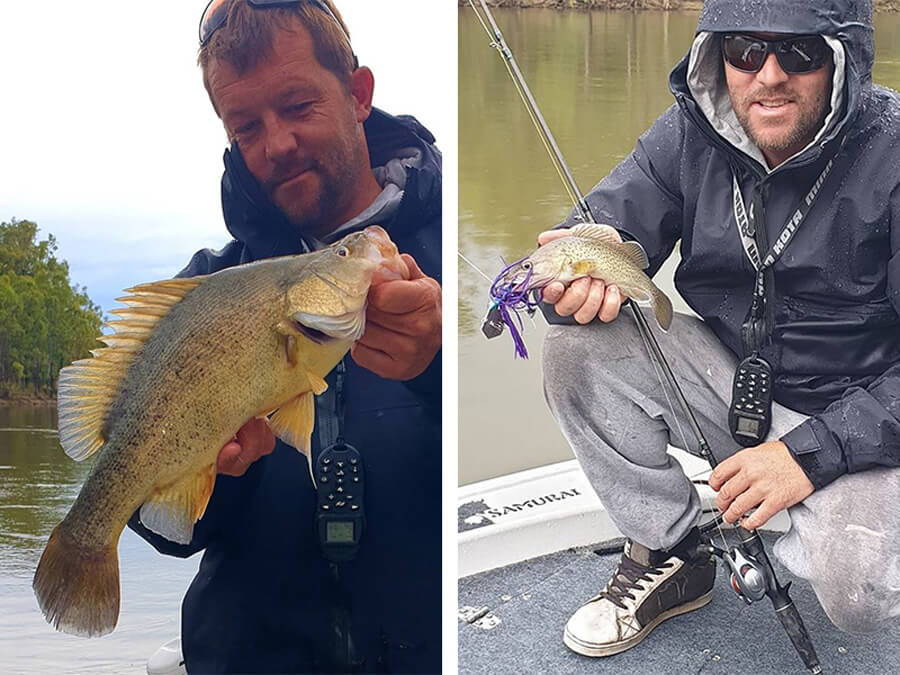 Borno fished around Yarrawonga and caught a nice yella and his first trout cod.
IFISH WITH TACKLE WORLD - SUMMER SERIES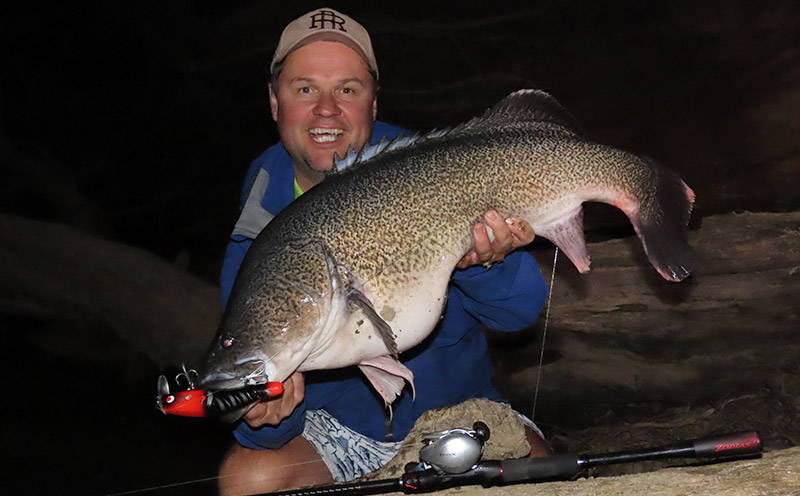 THIS WEEK ON IFISH TV
LOCATION: YARRAWONGA
TARGET: MURRAY COD
SUNDAY 16TH JANUARY, 2022 on 10BOLD at 10AM
Catch past episodes of IFISH TV on Youtube so you can get your fishing fix any time, any where.
TALKING FISHING - C31 - TUESDAYS at 8.30pm
Catch "Talking Fishing" on Melbourne's C31 TV (CH44) at 8.30pm each Tuesday night. Staff members David Kramer and Adam Ring together with Niki Duckstein host Australia's only "Live to Air" fishing television program at this prime time-slot. Put Tuesday night's at 8.30 away in your weekly diary of TV shows to watch!
Good Luck with your fishing and stay safe on the water,

The TEAM at Tackle World Cranbourne & Mornington