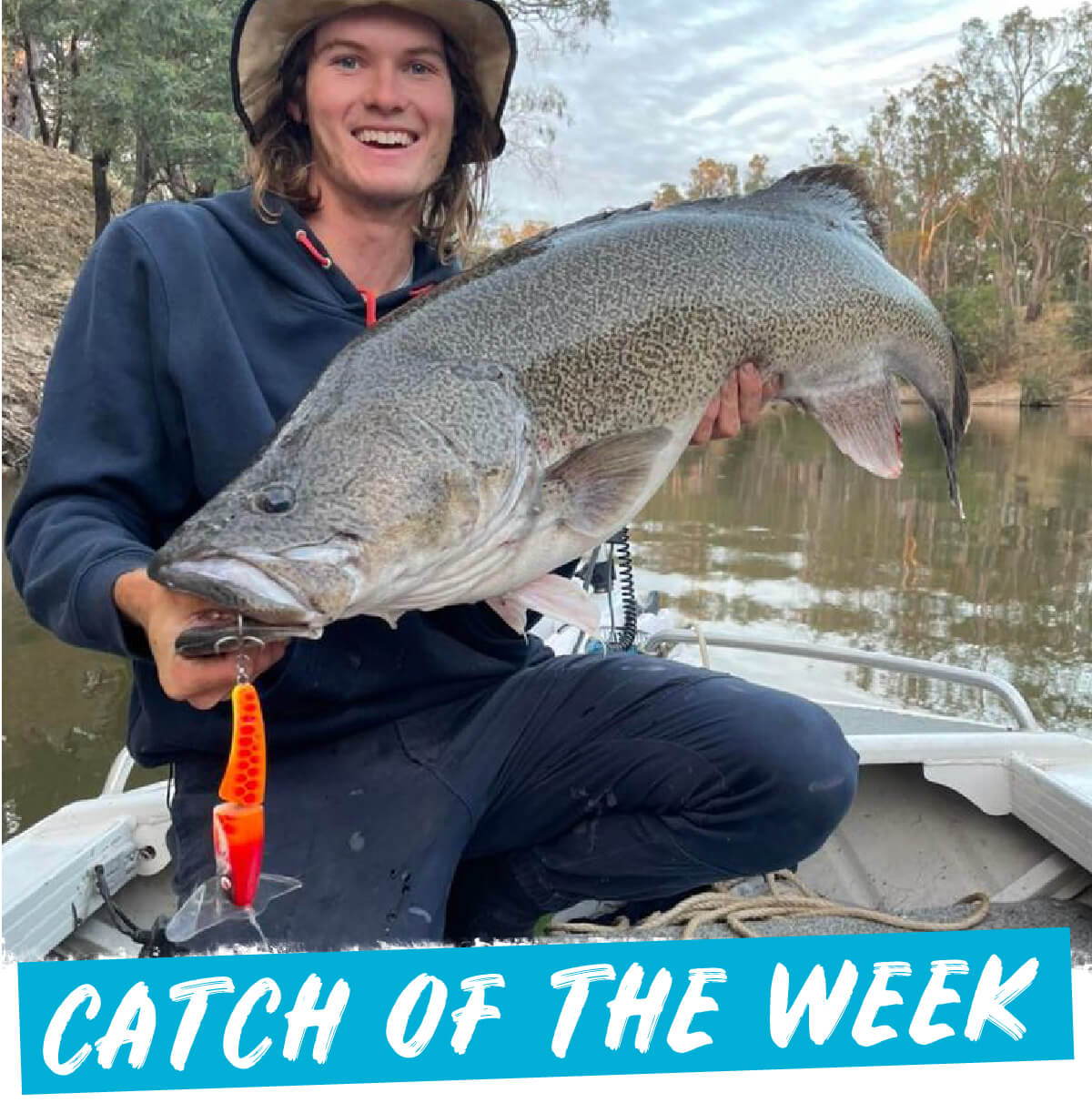 Congratulations to Jono Moore on your 105cm GoFish Nagambie winning Murray cod, you are this weeks Catch of the week.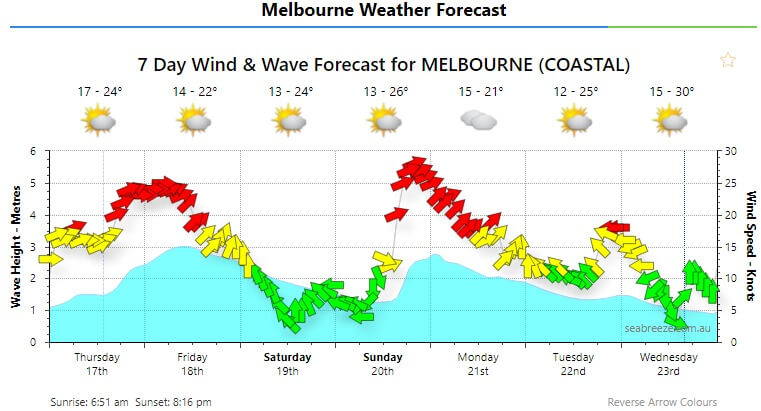 Jono Moore's 105cm Murray cod won him $80k and 1st place in the GoFish Nagambie 2022 competition. The cod was caught on the Saturday morning casting big surface lures. The current was moving quick and Jono cast it in behind a log and the big cod smashed the lure and took him straight under the log. It took 5 minutes to get him out and was only just hooked.
The fish of a lifetime! Well done Jono!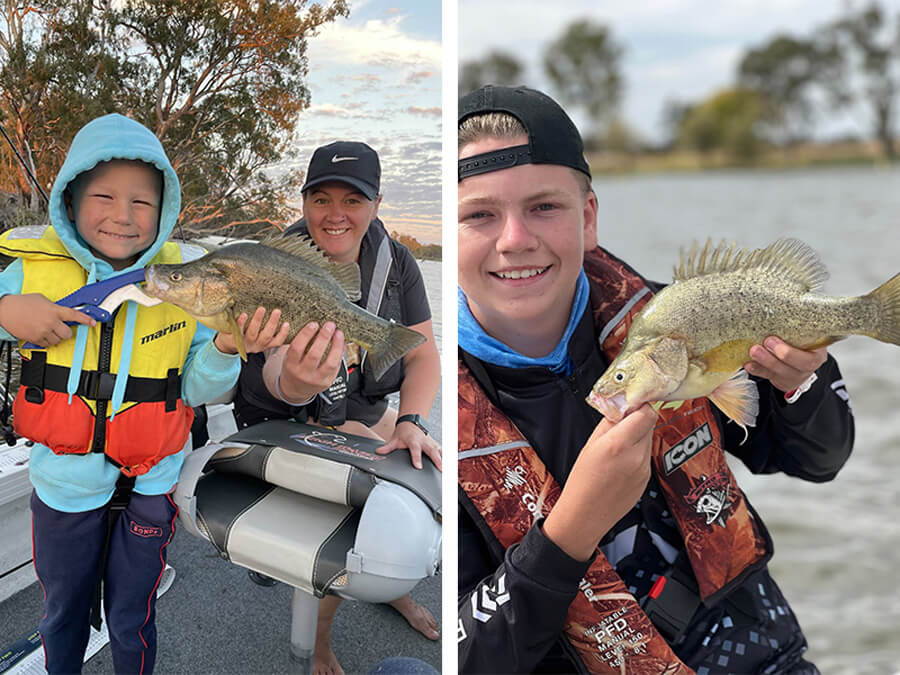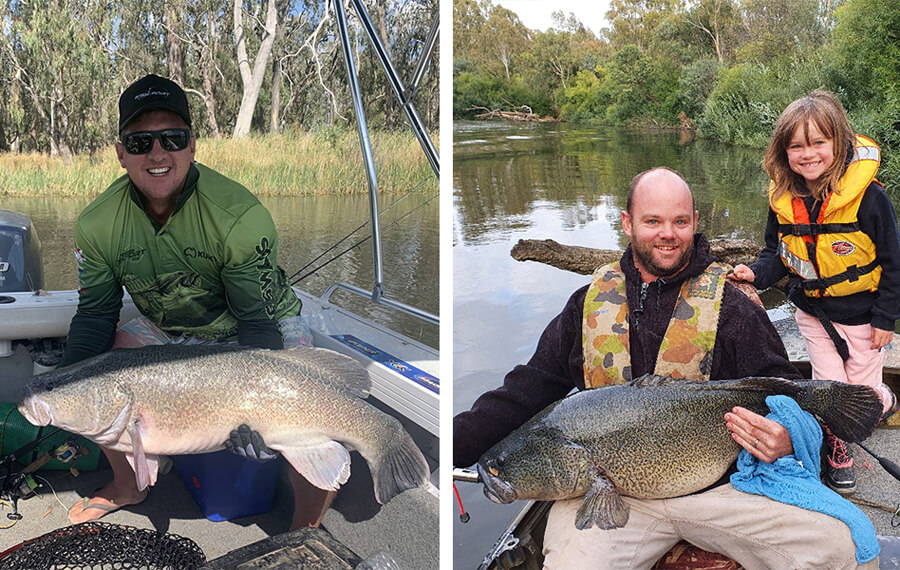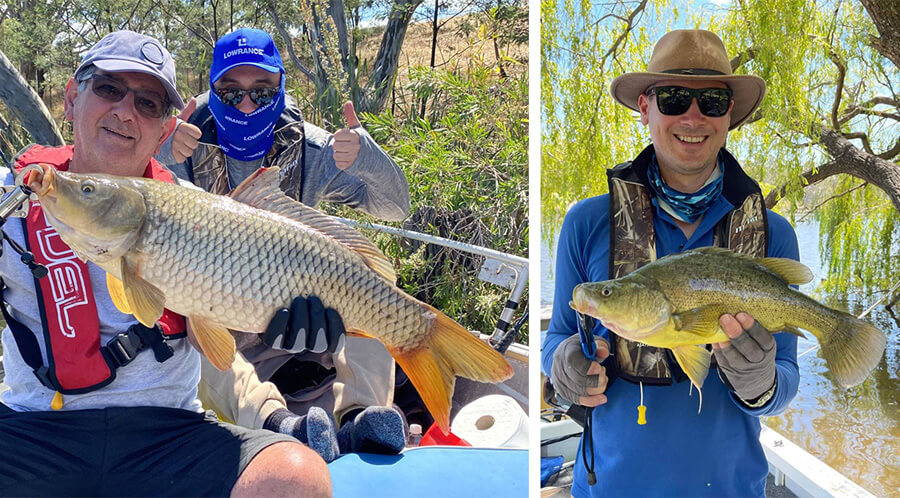 GoFish Nagambie 2022 by numbers.
There were 2,250 total fish caught, measuring a grand total of 89,131.6cm.
The most fish caught by a single GoFisho was 39
CARP - 202 caught with a total length of 12,216.3cm
REDDIES - 191 caught with a total length of 4,423.2cm
YELLAS - 891 caught with a total length of 31,862.8cm
COD - 883 caught with a total length of 40,629.3cm
We had 18 cod greater than 80cm
13 cod greater than 90cm
and 4 big kahunas, yep that's 4 meterys.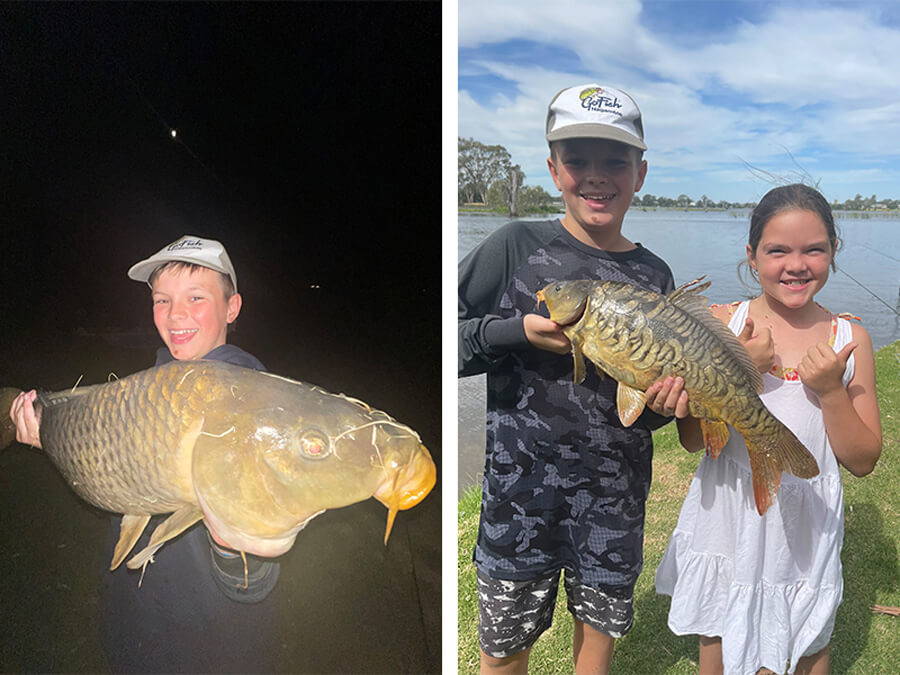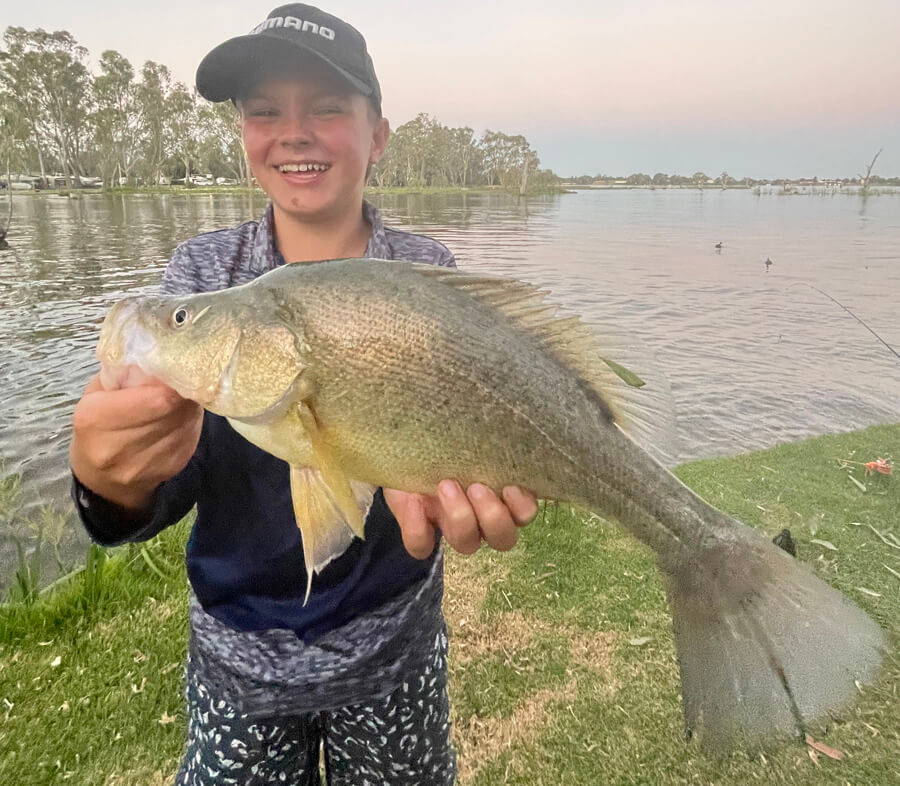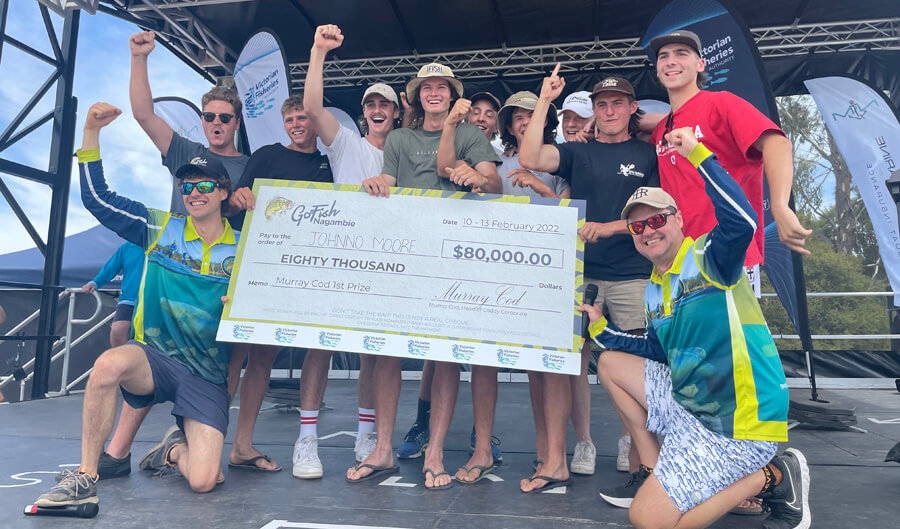 Paul and Cristy Worsteling were proud to attend the 3rd GoFish Nagambie competition over the weekend. It was an incredible weekend with '000's of people in attendance and '000's of fish caught. The highlight was meeting and presenting the 1st prize cheque for $80k to 18 year old Jono Moore for his 105cm Murray cod. Paul and Cristy fished out the front of their accommodation landing numerous carp to 73cm with family and friends. They also landed some beautiful yellow belly to 41cm and some small trout cod. Paul thanks all competitors and organizers for a fantastic event and can't wait for next year.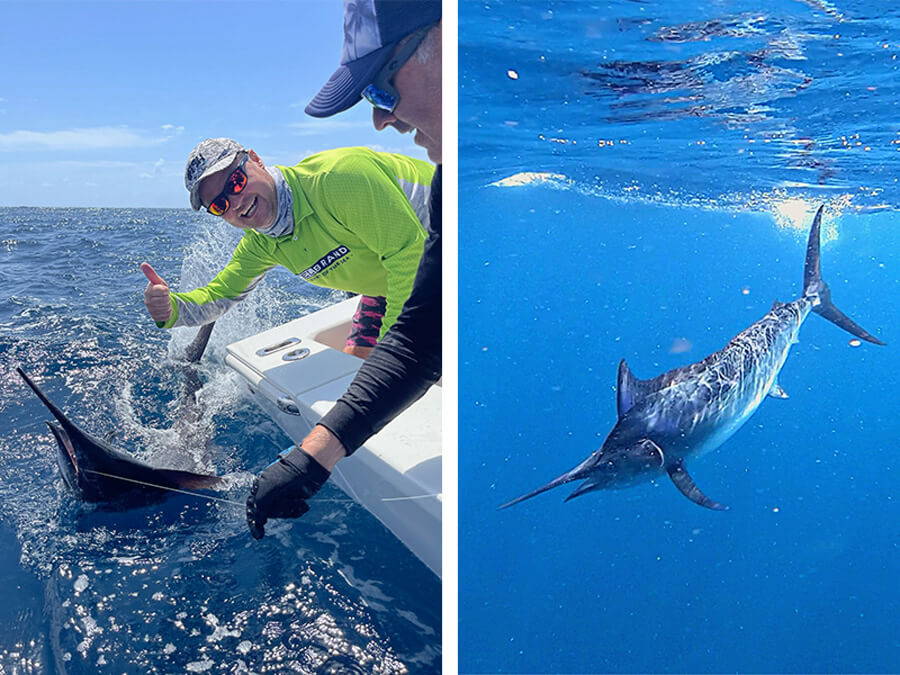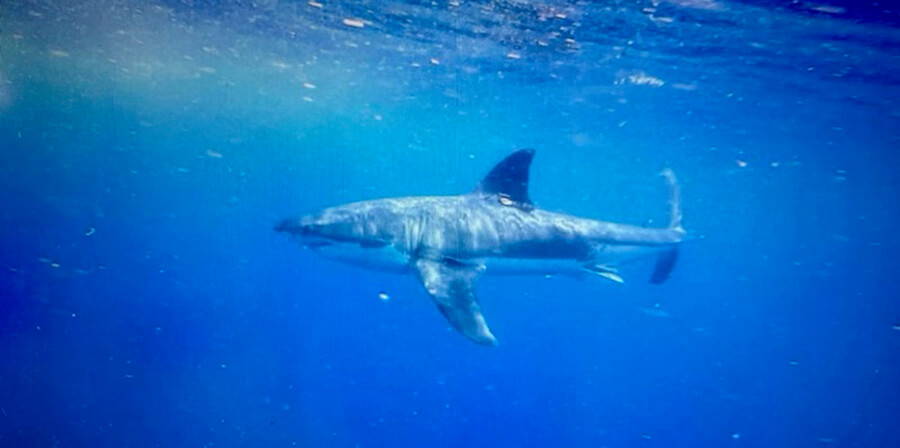 Paul Worsteling and the IFISH TV crew have just been fishing Port Stephens where they had an absolute blast fishing with Brent from Tackle World Port Stephens. They fished over 3 days and managed to capture some amazing action that will grace our screens on future episodes of IFISH TV in the coming months. They caught and released good numbers of black marlin to 50kg caught on live slimey mackerel set around 30 metres off the back of the boat in about 40 metres of water. The marlin put on a good show with heaps of jumps all around the boat and on the leader. At one point while chasing marlin a massive great white came up to the boat to check out what all the action was about.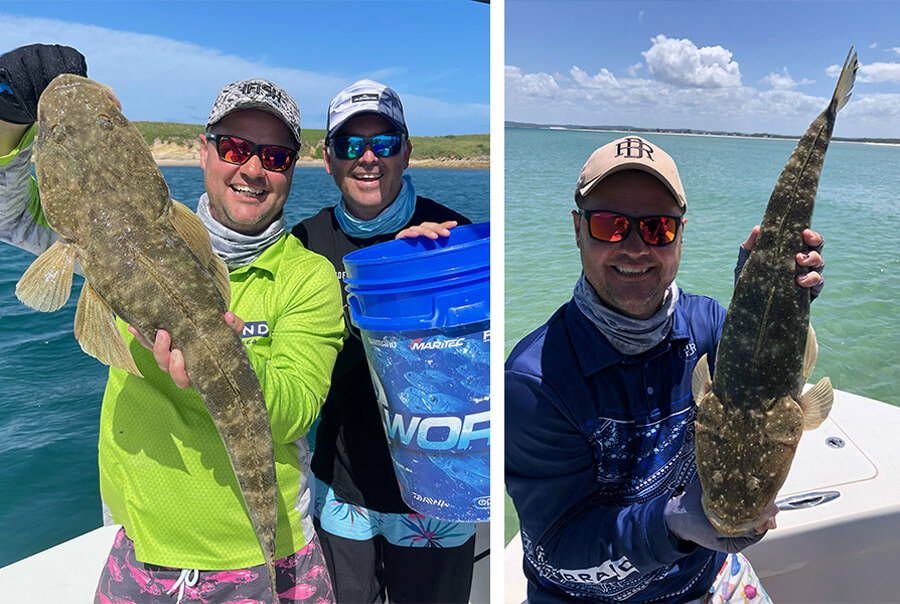 The other highlight for the trip was catching monster dusky flathead around the islands of Port Stephens. The best fish landed was over 80cm with multiple fish caught in the 60cm range and one fish that won it's freedom was estimated in the 90s.
Port Stephens is a beautiful part of the country and well worth adding to your bucket list. You can see all the action from this trip in upcoming IFISH TV episodes this year.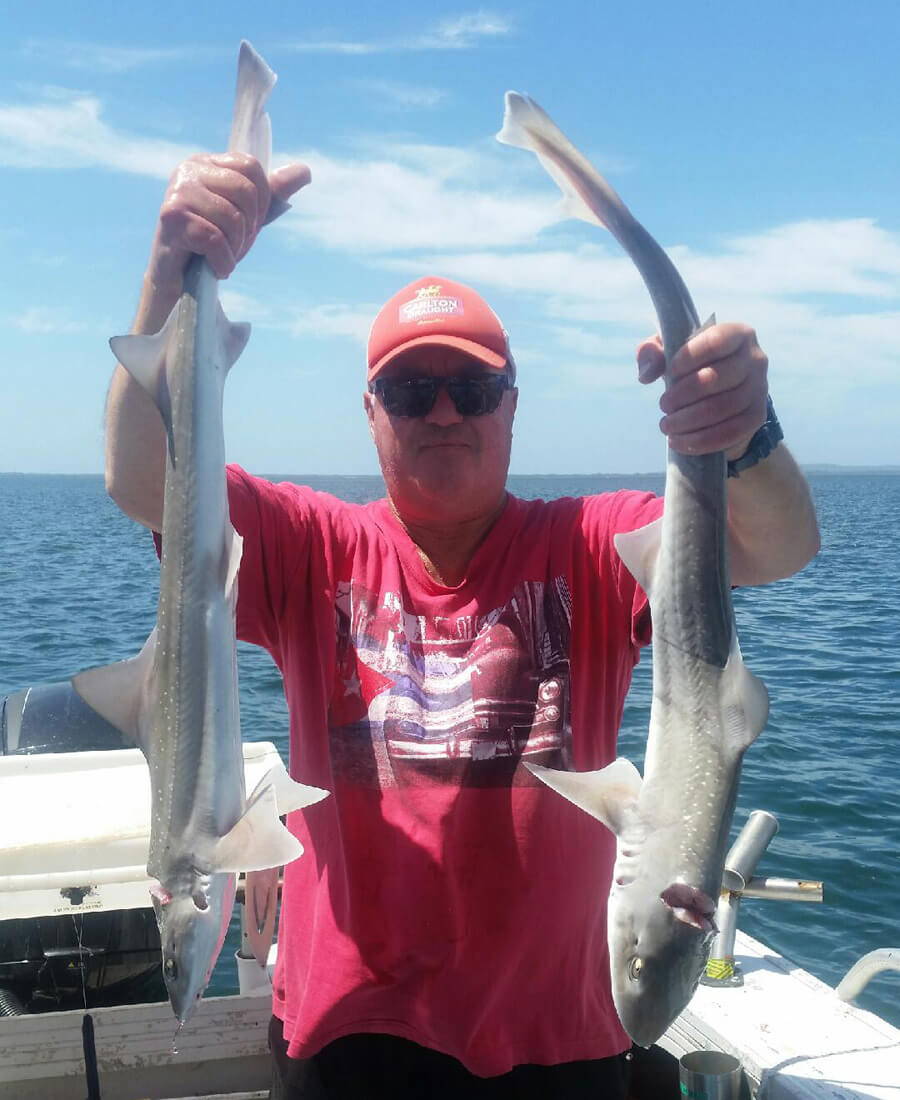 Kozzi and Dave fished off Cowes this week and managed a couple of nice gummy sharks.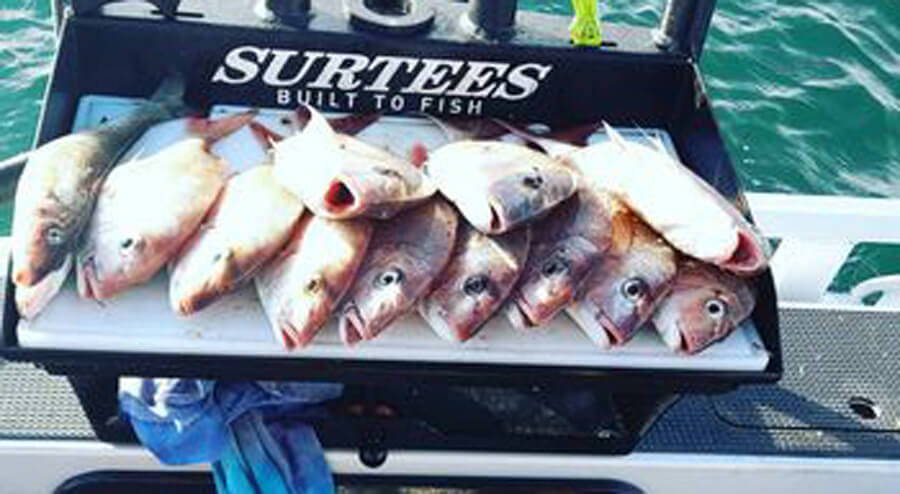 Dylan Gussenhoven bagged out on pinky snapper fishing Gardners Channel at sunrise this week.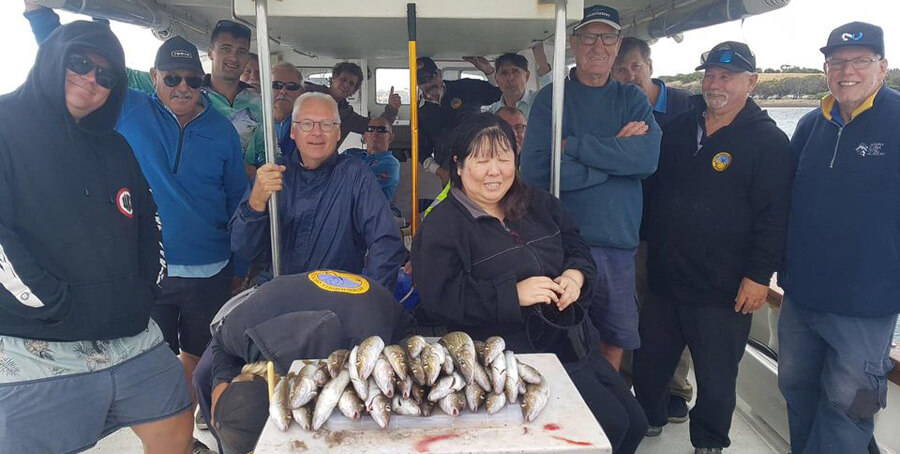 Steve Johnston from Ace Fishing Charters got stuck into some nice whiting with his customers fishing off Tankerton this week.
Heather Ashcroft fished with her husband Bruce off Eagle Rock in 16 metres of water using salmon and pipis for bait and caught some solid whiting and nice snapper.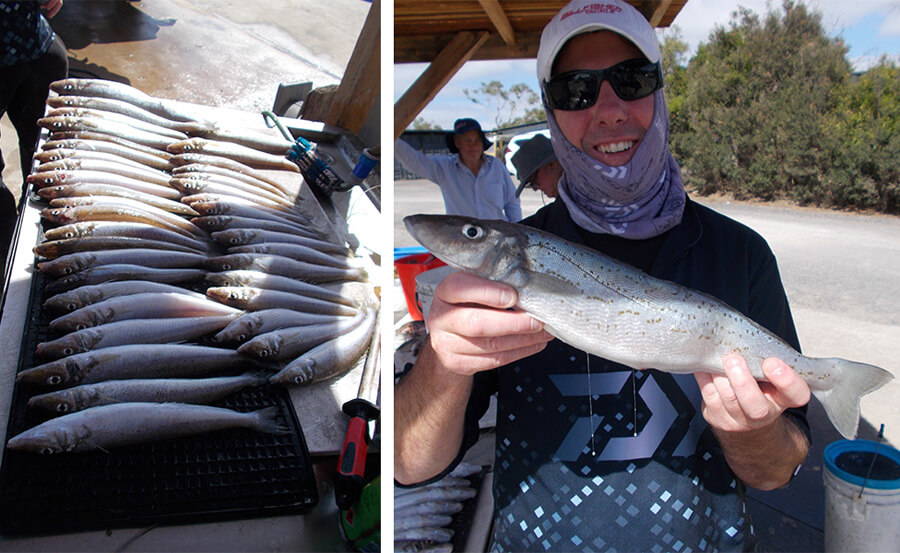 David Milne and Ben Ferguson fished the Tooradin Channel and found most of the fish in 9 metres of water. Mussel and Californian squid did the damage on some nice fish with Ben's best measuring 48cm.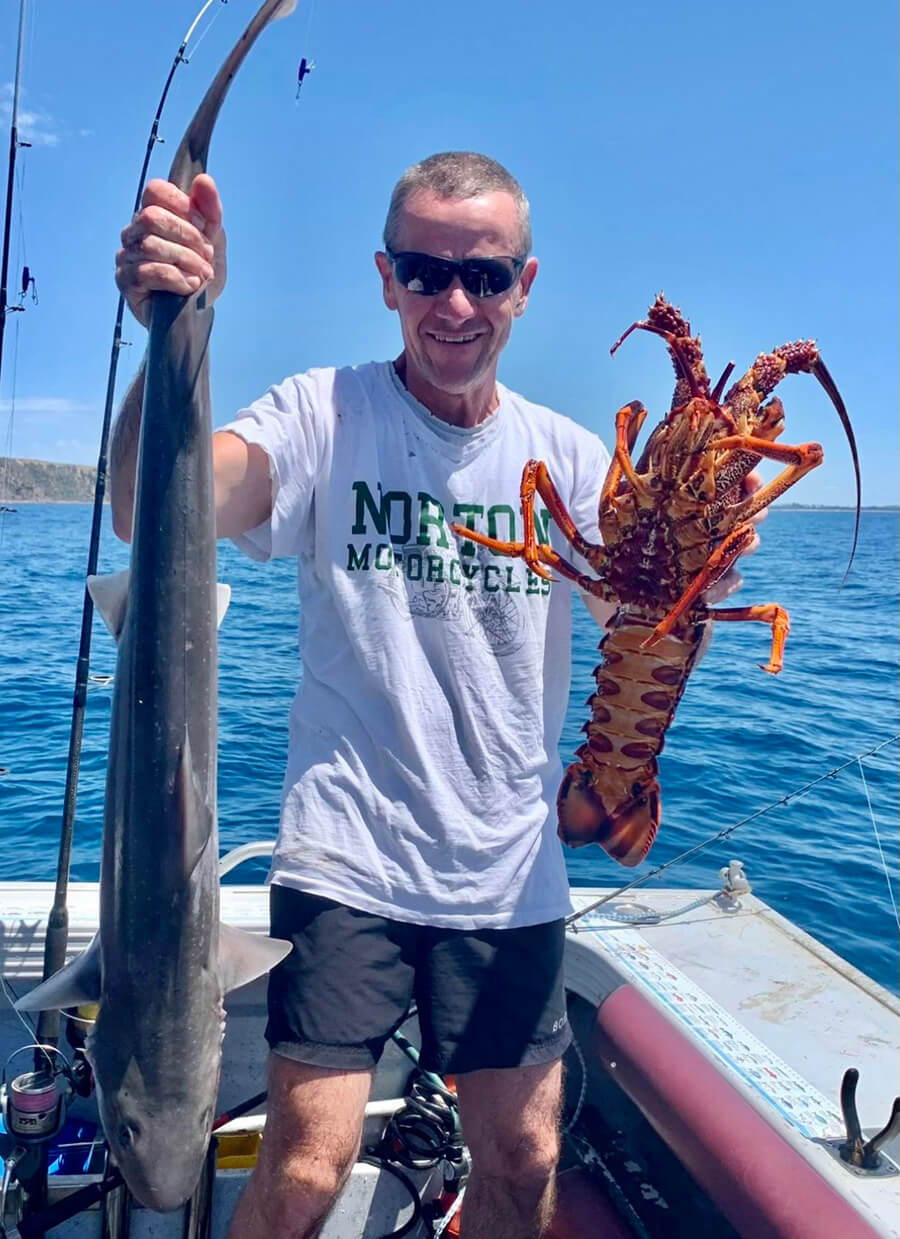 Breno caught a nice gummy shark fishing off Woolamai and also landed himself a tasty crayfish diving in the same area.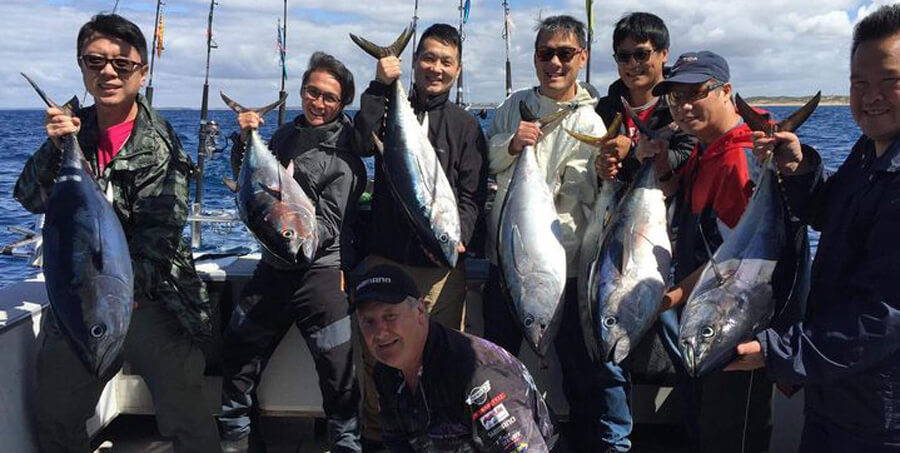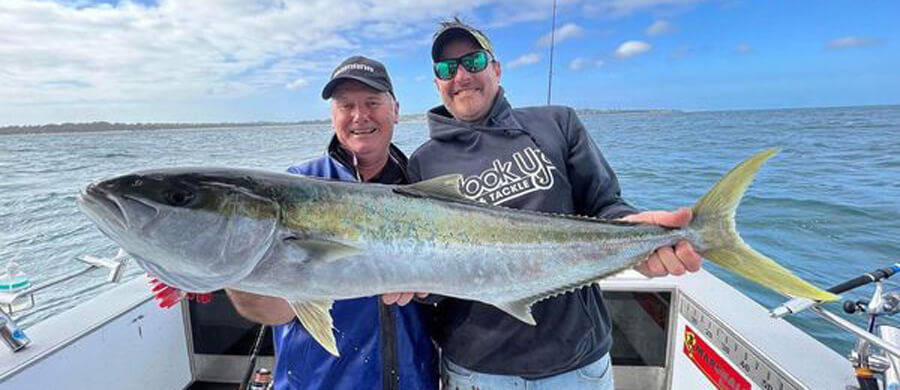 The Reel Time Fishing Charters crews have fished offshore from Western Port this past week and caught some cracking tuna and kingfish this week.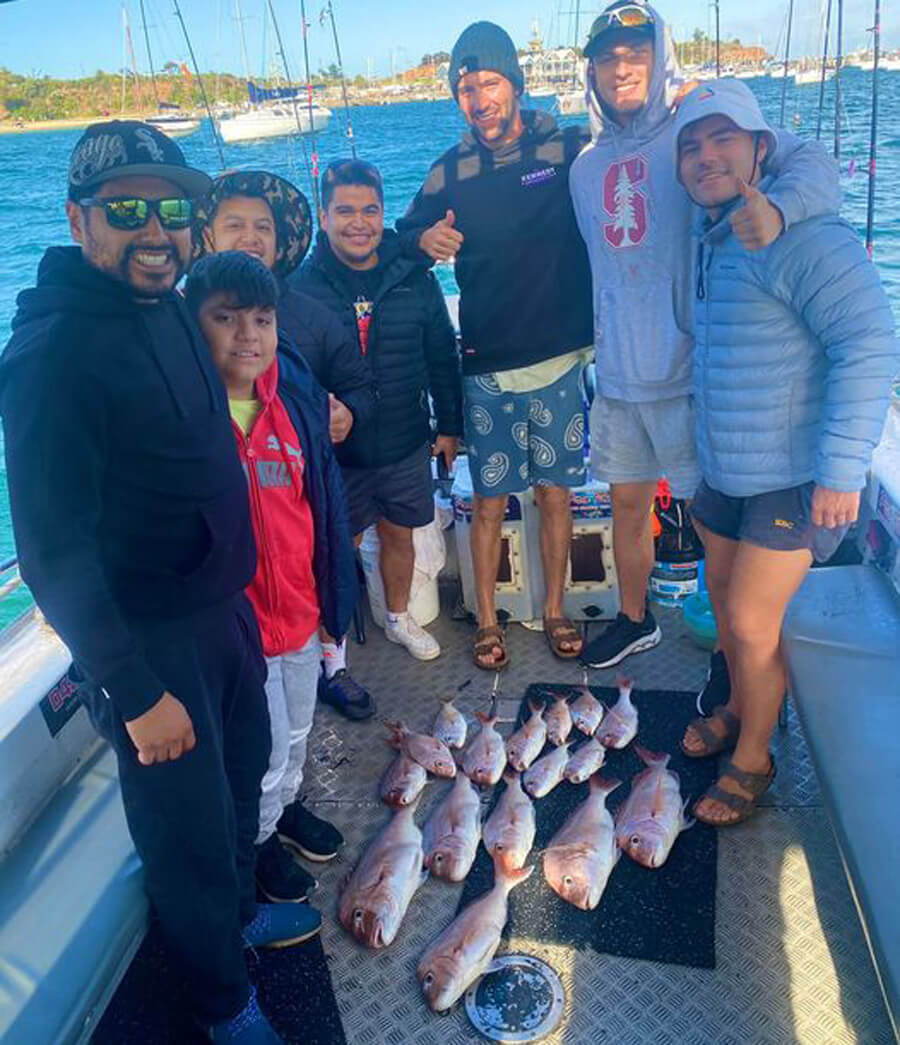 There is still some fantastic snapper to be caught around Port Phillip Bay and Jayson Turner from Pro Red Fishing Charters helped his customers catch some fantastic snapper this past week.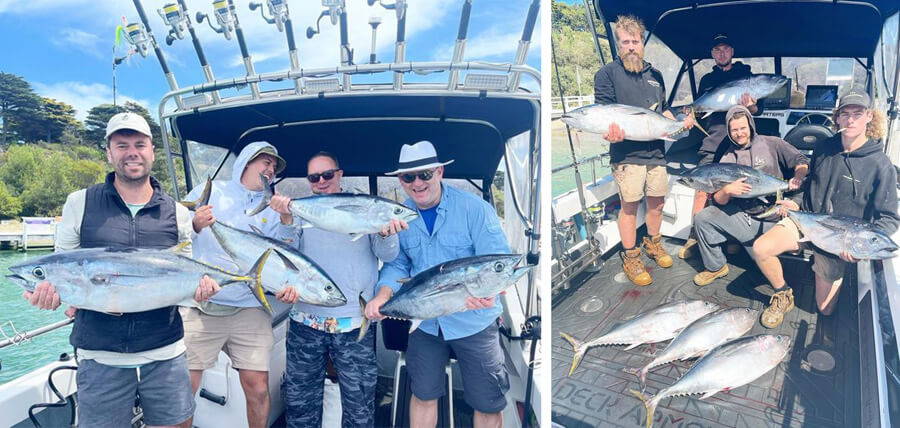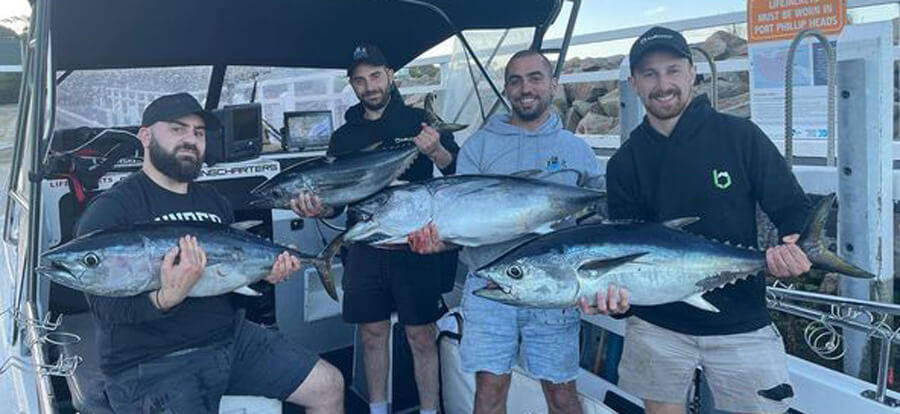 Chris Cassar from Cassar Fishing Charters found tuna to be the flavour of the week this week fishing Offshore with his customers and catching their bag of beautiful tuna using skirted lures and diving lures like the Halco Laser Pro and Strada Pro Tracka.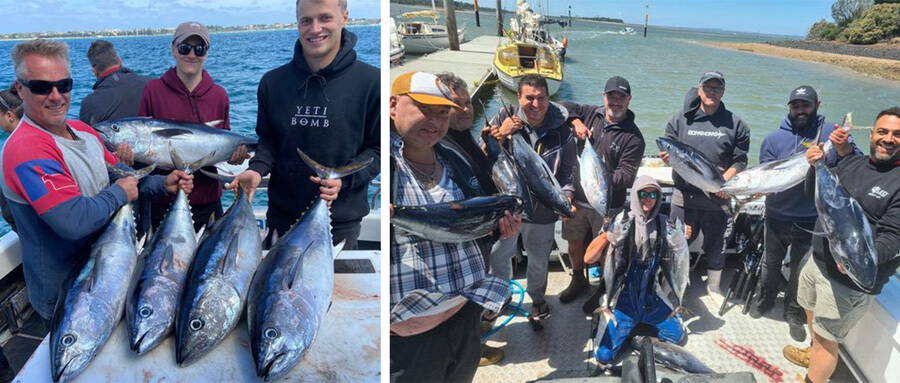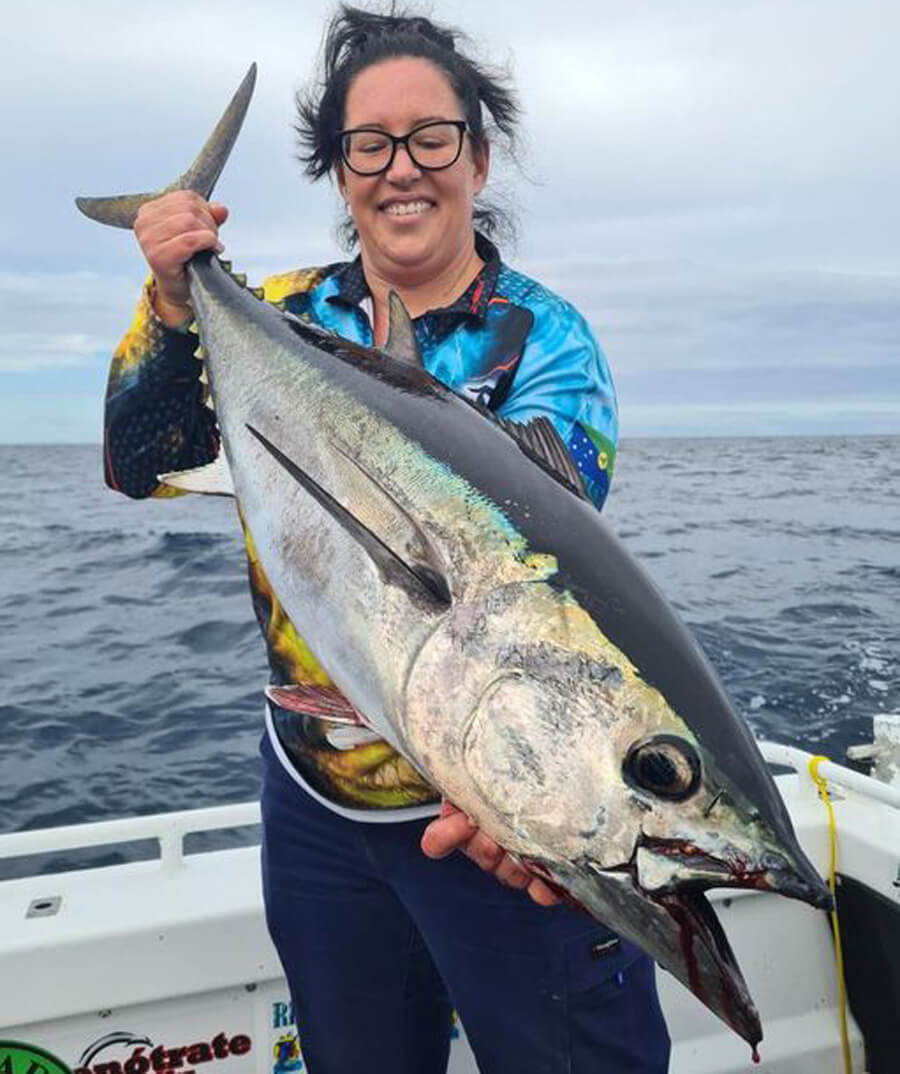 Marco from Sharkmen Fishing Charters got stuck into some cracking tuna this past week fishing offshore with his customers.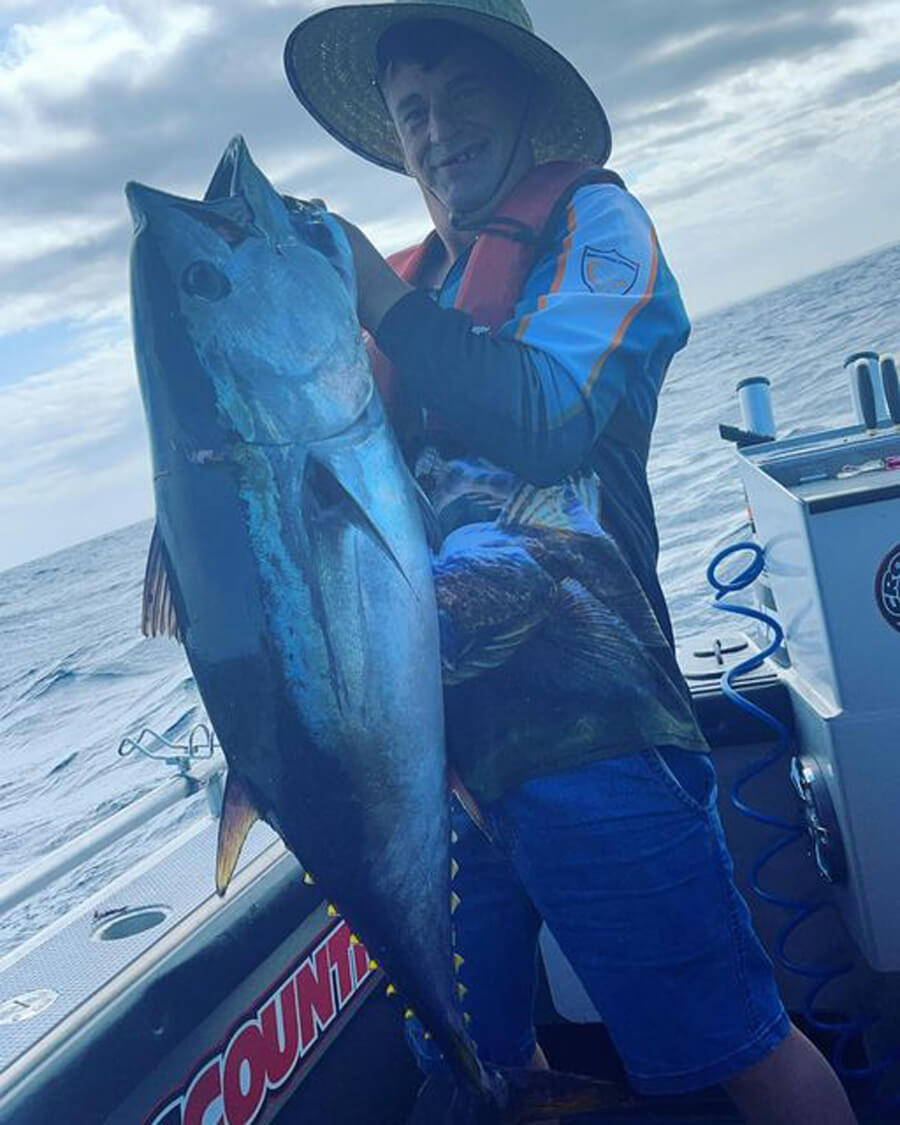 Zak Cross from Cross Country Fishing Charters got his customer Pedro onto a solid tuna fishing offshore this past week.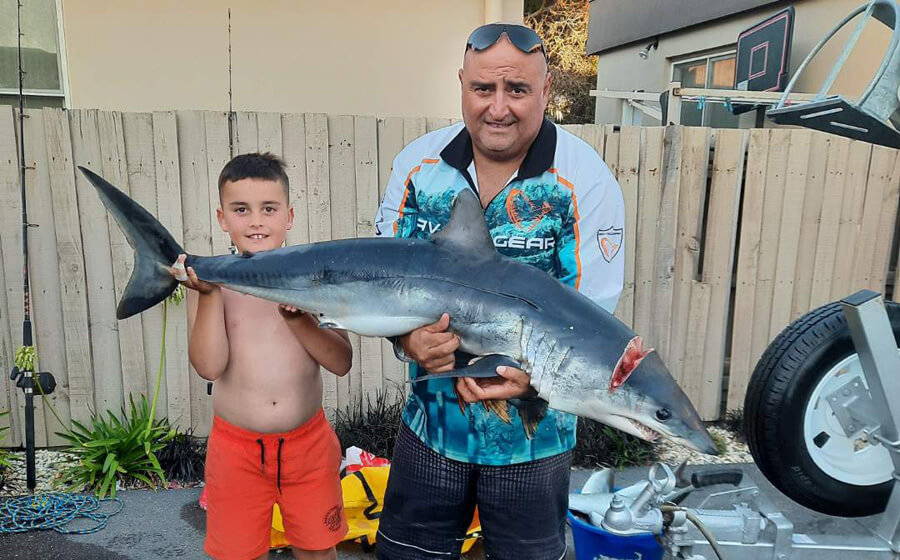 Oliver and his dad Hass fished offshore and landed this ripper mako shark together.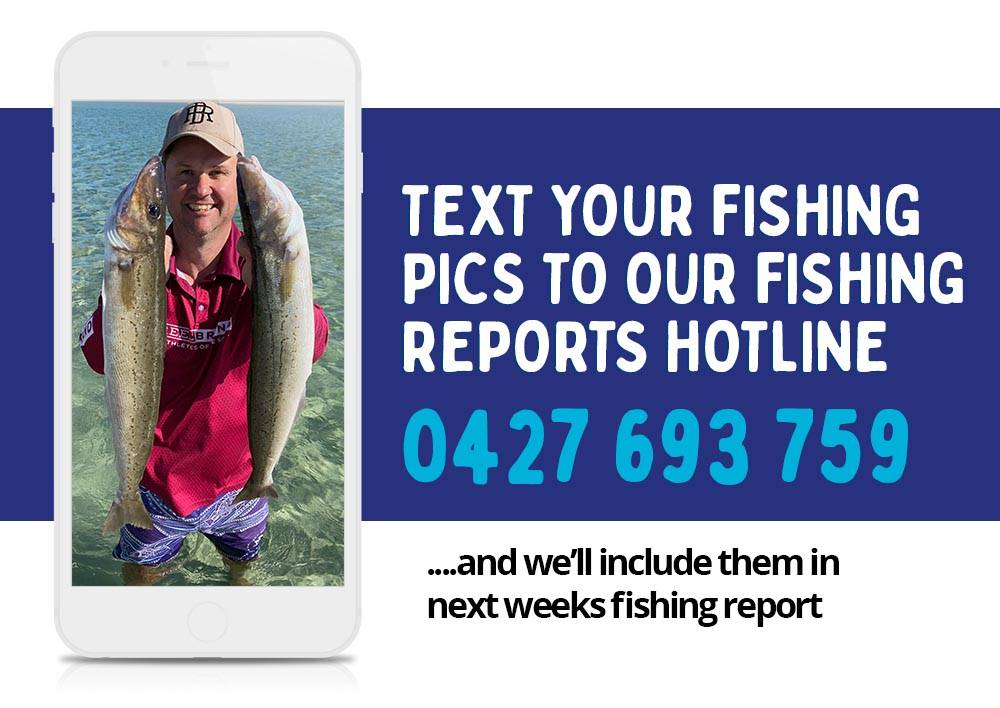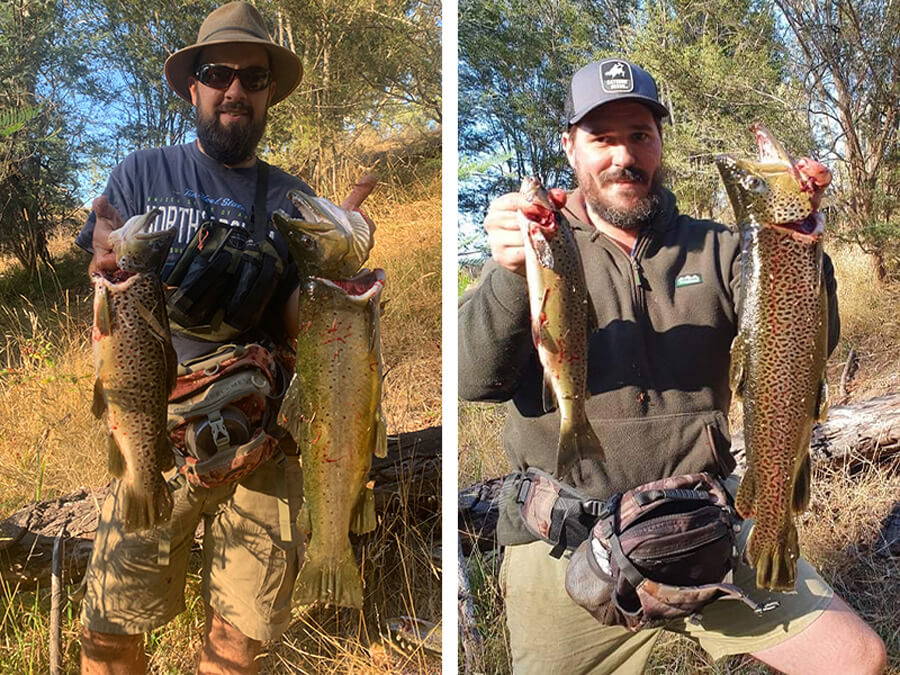 Nath and Jefro had a cracking morning on the brown trout at Eildon Pondage with their biggest going 6lb and all caught on lures.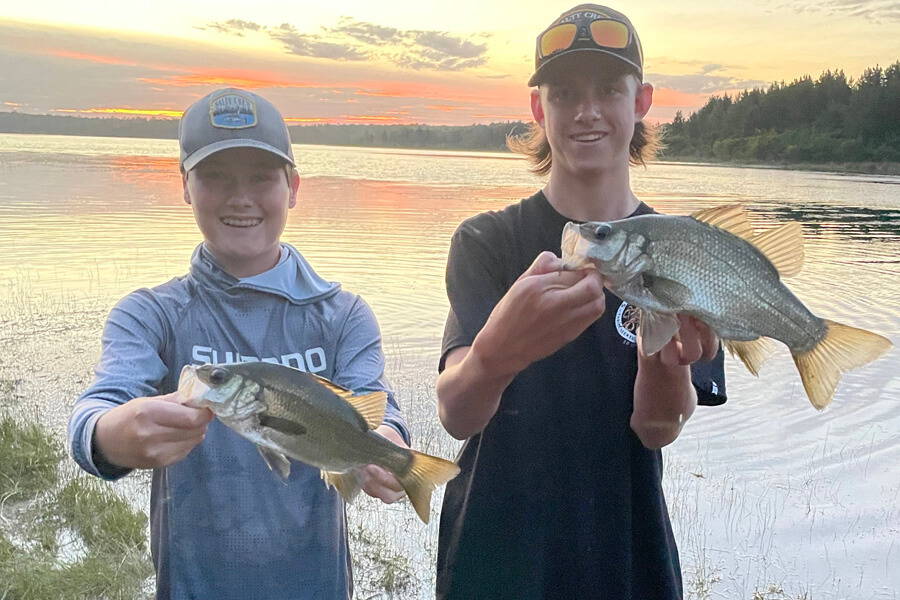 Staff member Ben Clothier and Jet Worsteling fished Devilbend Res and smashed the EP's using the Jackson Pygmy Poppers.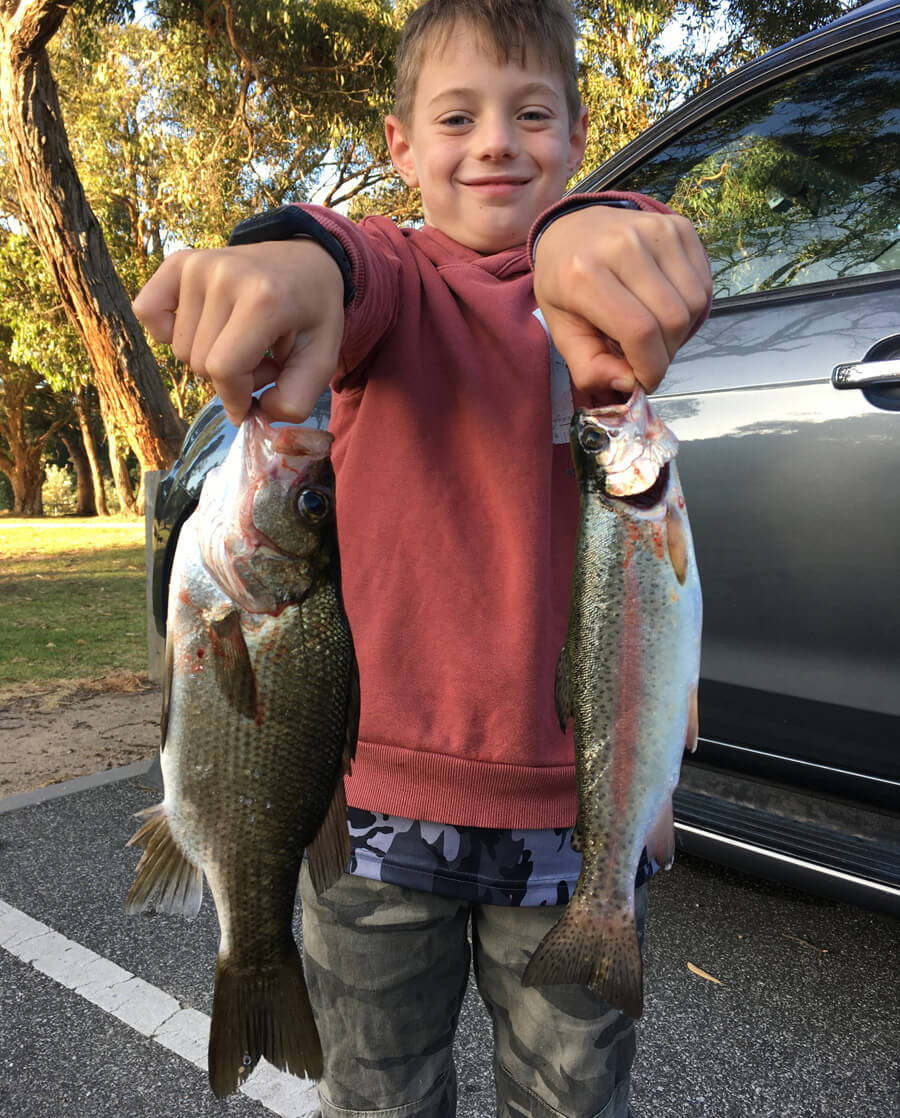 William Snowden fished Devilbend with his dad and caught a nice EP and rainbow trout using Tassie Devil lures. Well done guys!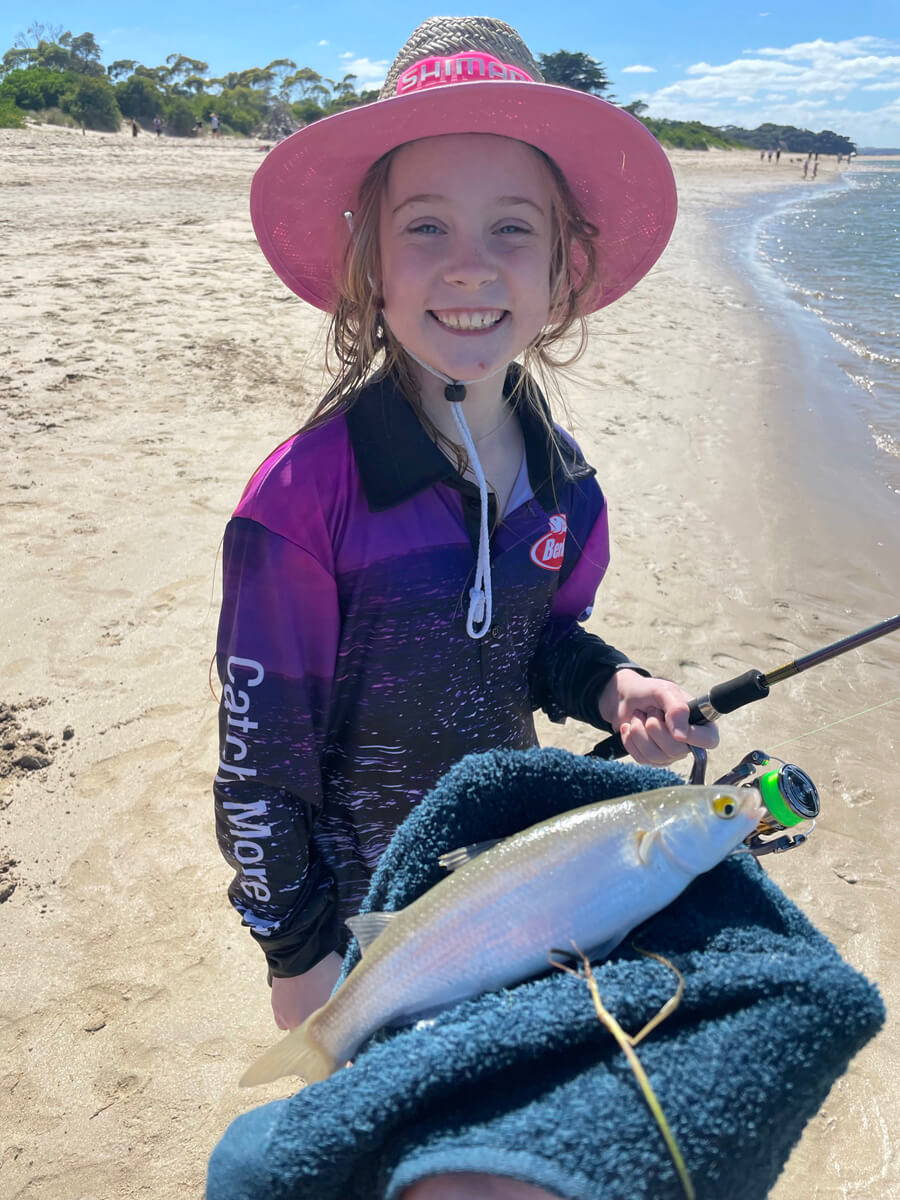 Tigerlily Maloney caught some nice yellow eyed mullet fishing at Inverloch using pipis for bait.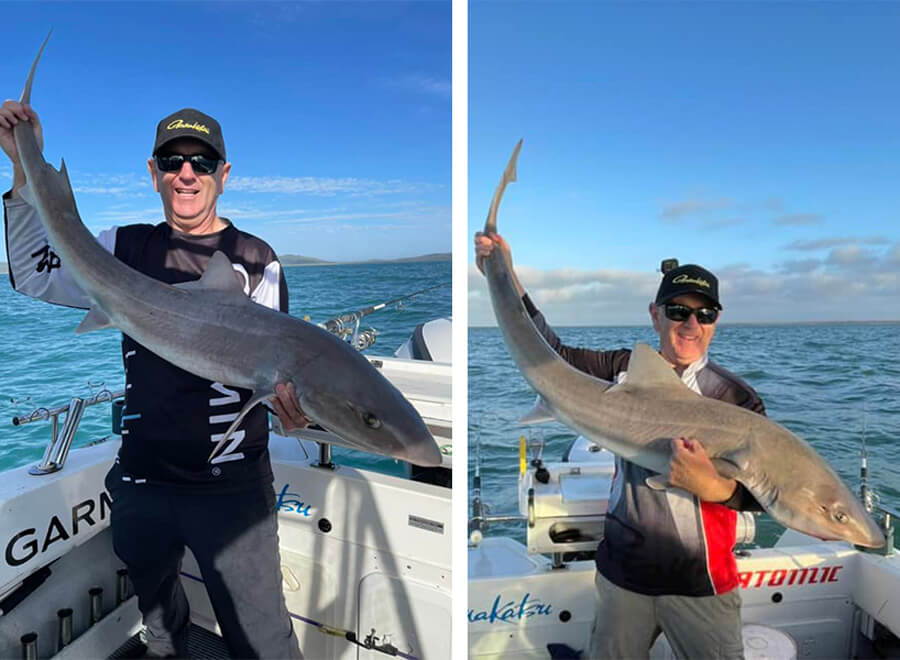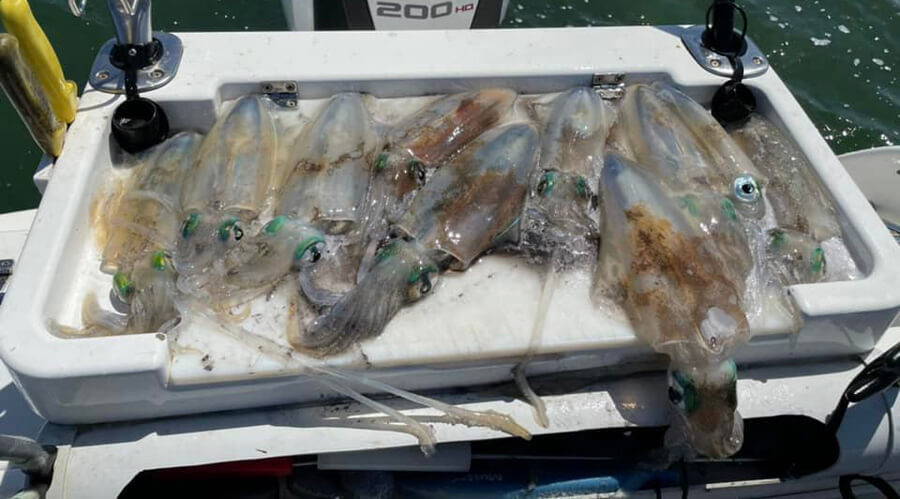 Pete, Peter and Ned fished Port Welshpool this week and had a ripper time catching some solid gummies to over 20kg. They also caught some nice bronzies, flathead and squid.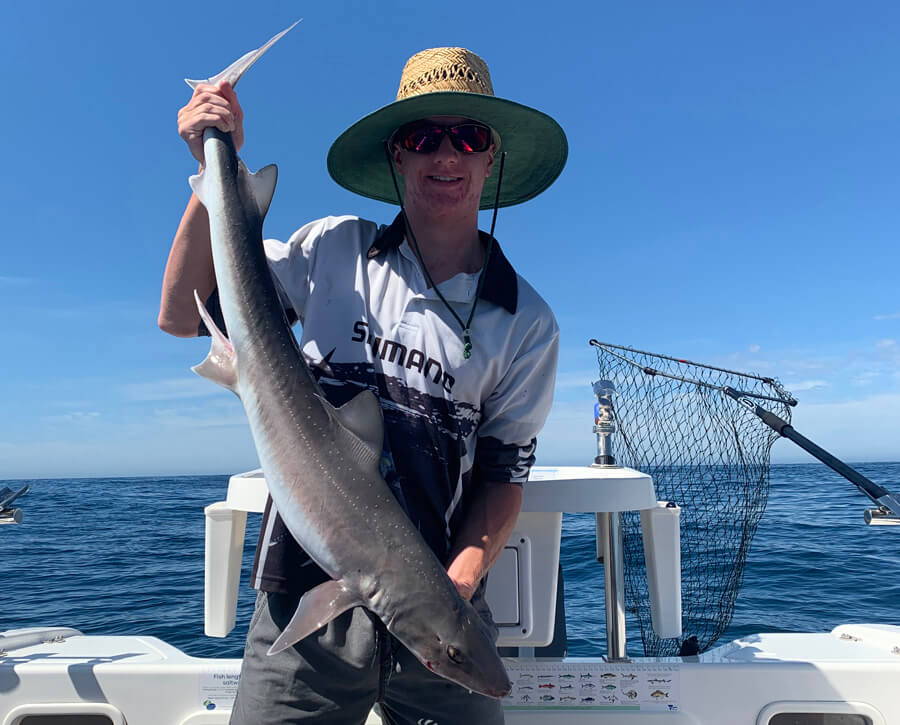 Tom Kaehne caught this ripper 6kg gummy shark fishing at Port Welshpool using fresh yakka for bait.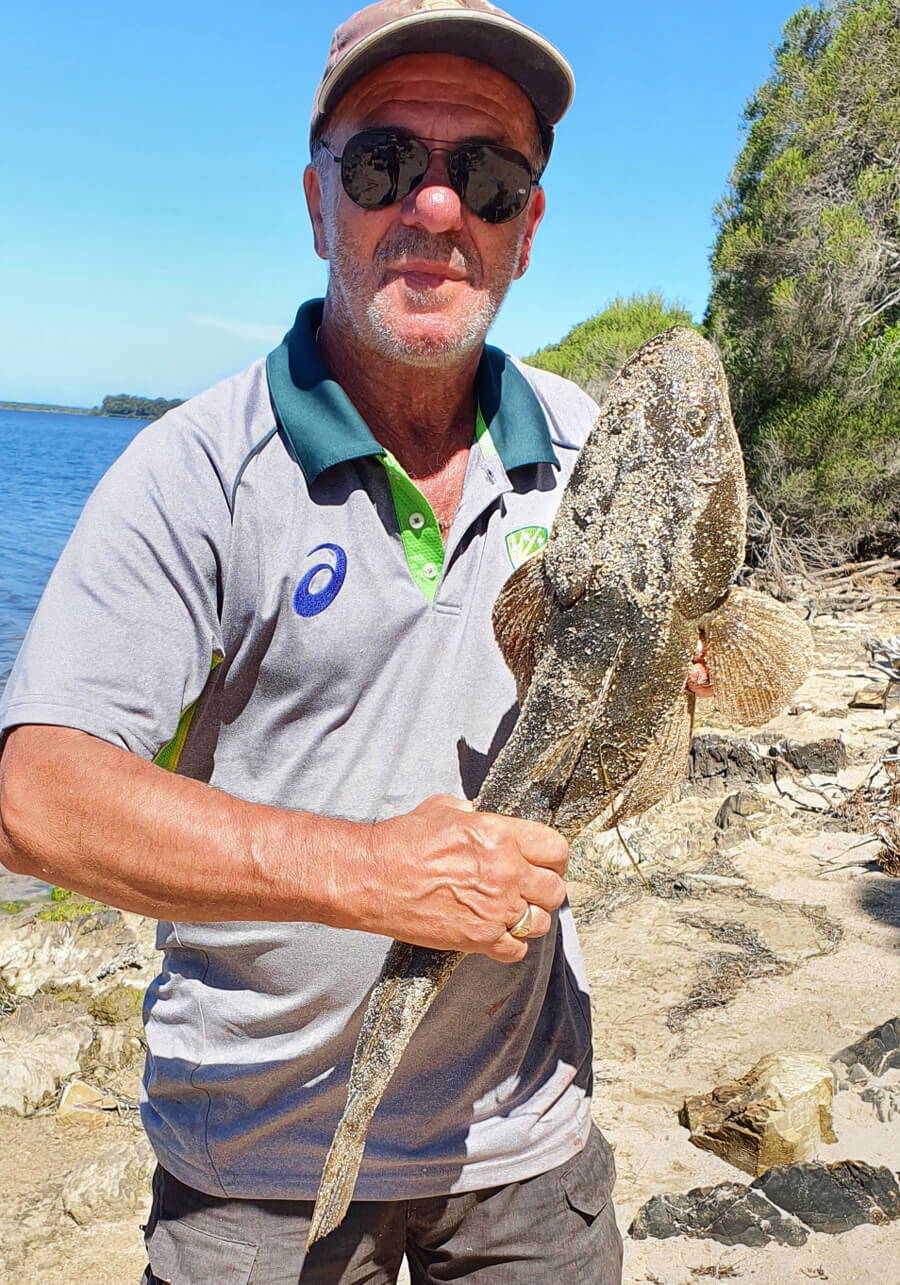 John caught and released this cracking dusky flathead fishing Mallacoota recently. Well done John!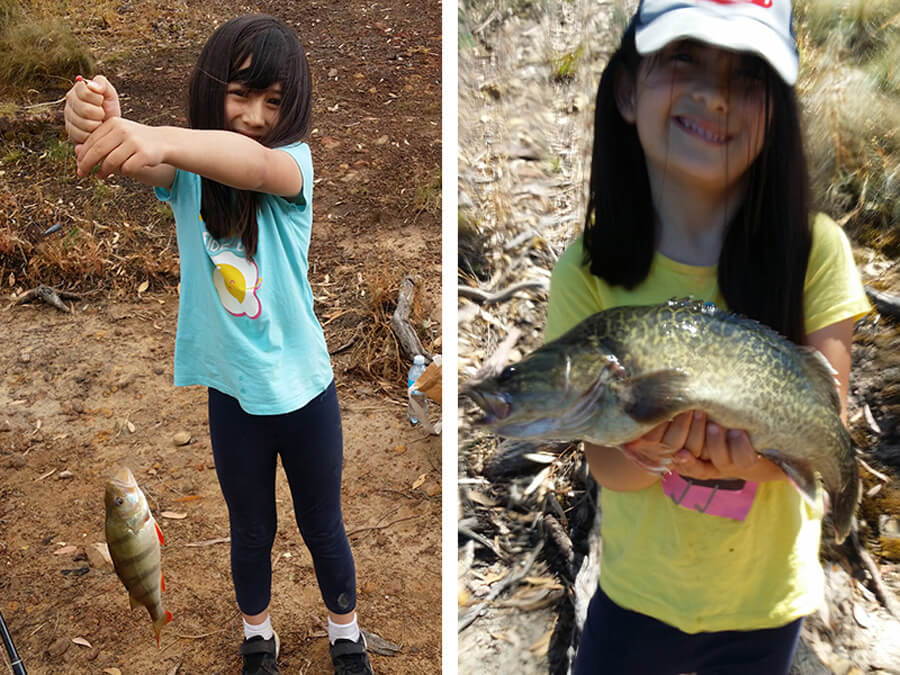 Zoe Clark fished Lauriston Reservoir and caught a nice 30cm redfin and also caught a nice Murray cod.
IFISH WITH TACKLE WORLD - SUMMER SERIES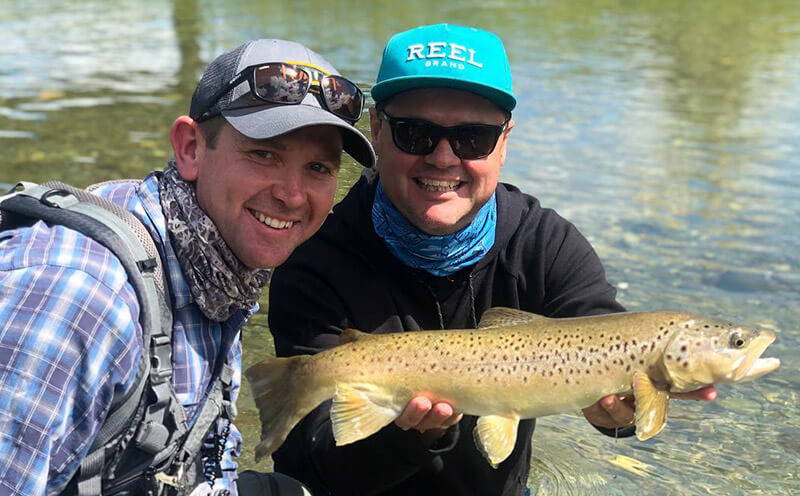 THIS WEEK ON IFISH TV
LOCATION: LUMSDEN, NEW ZEALAND
TARGET: BROWN TROUT
SUNDAY 20TH FEBRUARY, 2022 on 10BOLD at 10AM
Catch past episodes of IFISH TV on Youtube so you can get your fishing fix any time, any where.
TALKING FISHING - C31 - TUESDAYS at 8.30pm
Catch "Talking Fishing" on Melbourne's C31 TV (CH44) at 8.30pm each Tuesday night. Staff member David Kramer along with Adam Ring Tiffany Newton host Australia's only "Live to Air" fishing television program at this prime time-slot. Put Tuesday night's at 8.30 away in your weekly diary of TV shows to watch!
Good Luck with your fishing and stay safe on the water,

The TEAM at Tackle World Cranbourne & Mornington