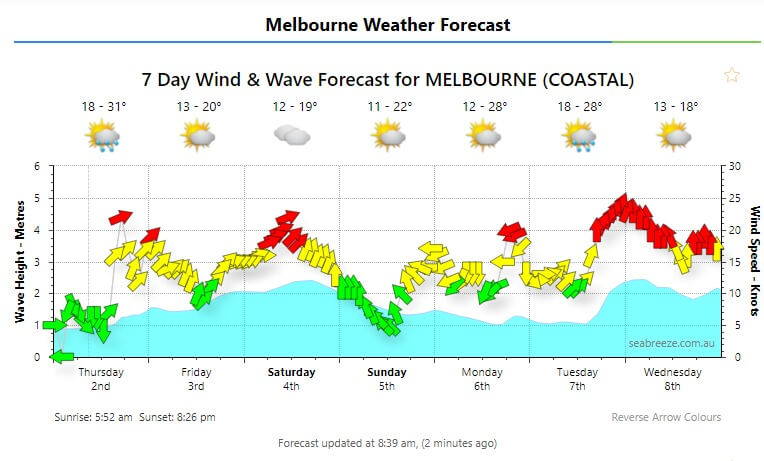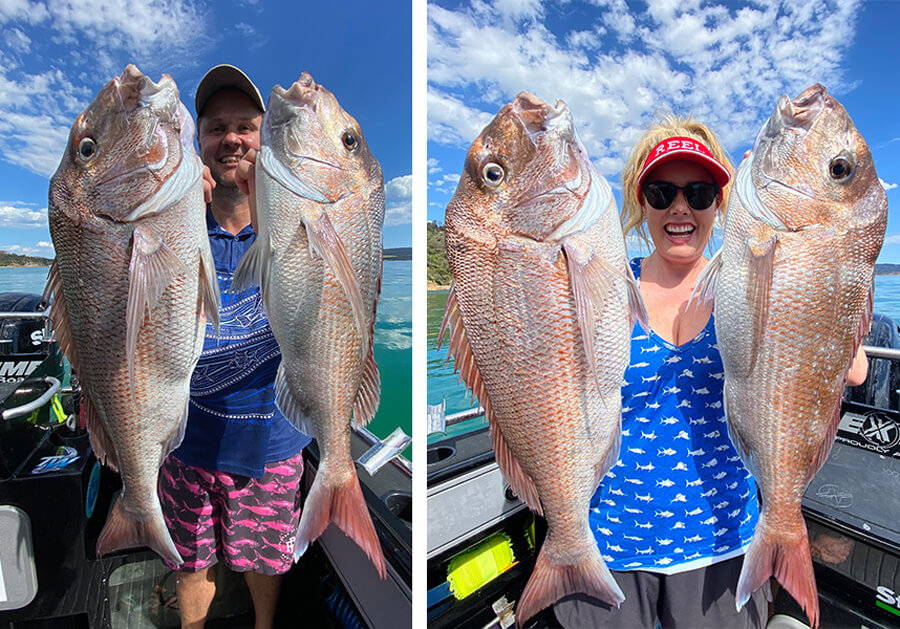 Paul and Cristy Worsteling fished early in the week off Frankston in 20 metres of water and had a ball on the snapper. The session consisted of multiple 3-way hook ups with all fish landed using either snelled rigs or Instinct Snapper Rigs. The best baits were silver whiting, super pilchards and red rockets and burley for the session was block pilchards cut into cubes. On the way back to Mt Martha Paul sounded up fish off Frankston, Mt Eliza, Mornington and Mt Martha; the bay is loaded with fish!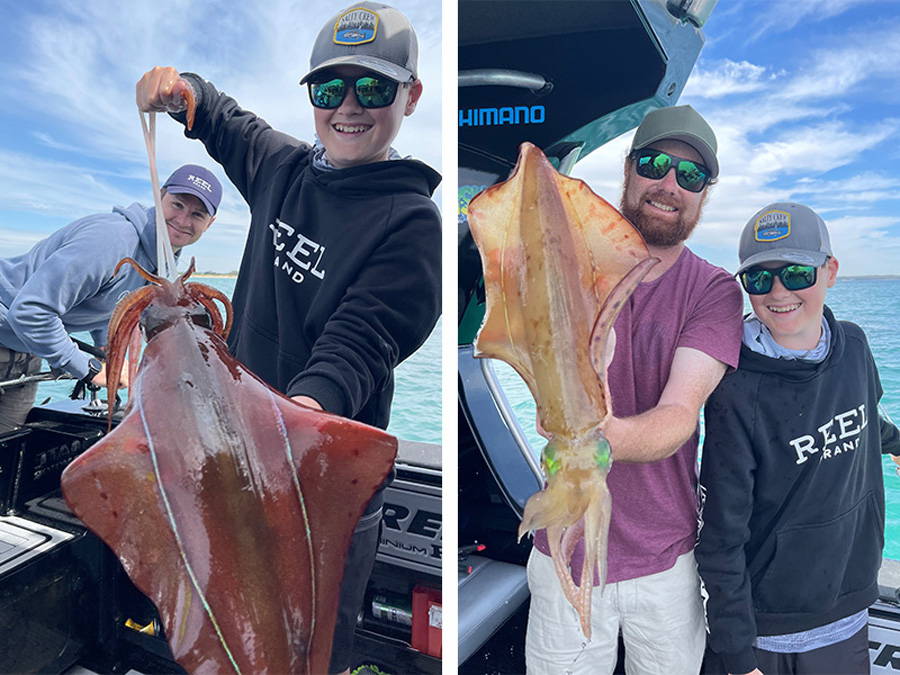 Paul and Jet Worsteling took the IFISH crew down to Queenscliff and met up with Patrick Dangerfield of the Geelong Football Club and Aaron Habgood from Salt Guide. The boys did some filming for a project they are working on. They then headed to the grass beds where they caught a magnificent bag of XOS calamari with the best jigs being both IKA and Odori 3.0 in white or the Shimano Sephia Flashboost in Pink Candy colour.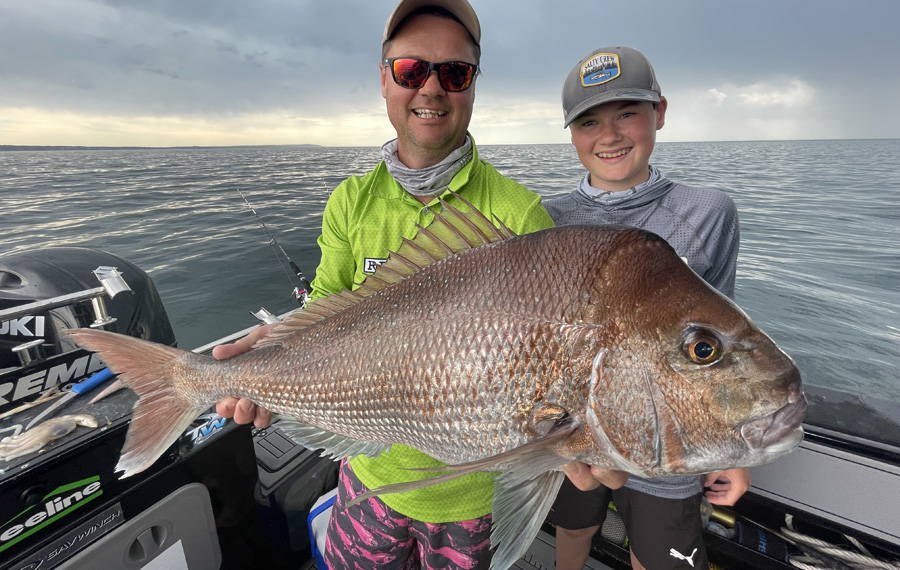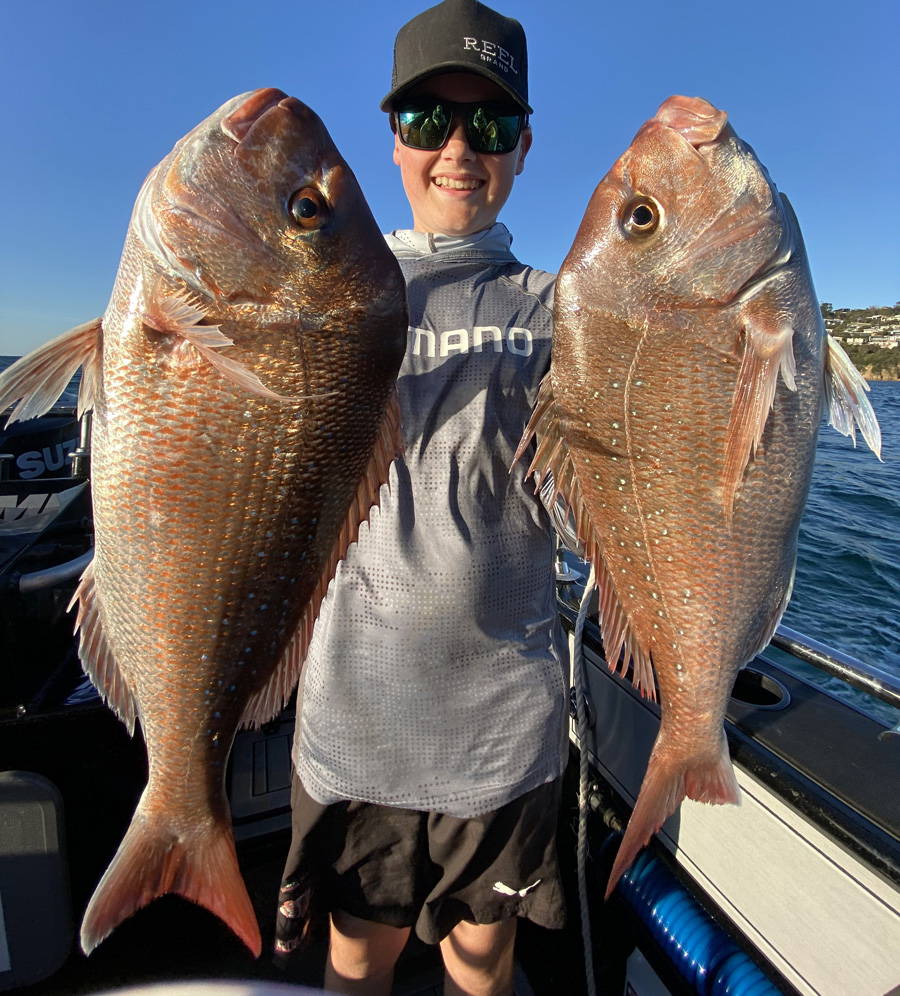 After their session at Queenscliff Paul and Jet headed back across the bay to Carrum in 20 metres of water and had an amazing session on the snapper catching them to over 8kg. Red rockets were the dominant bait for the session however a number of fish took silver whiting, super pilchards and squid strips.
87 year old Lindsay Bull caught this gummy on a freshly caught whole bay trout used for bait on Tuesday. Lindsay and Don Newman also managed to catch 4 keeper whiting measuring 41cm to 45cm & released another two with tags in 8m off Somers.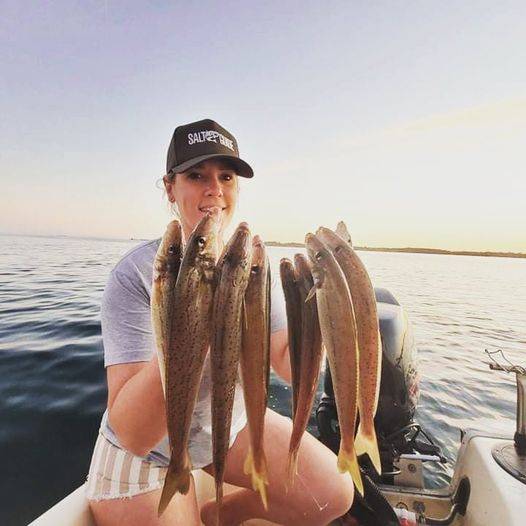 Amy Day and Gerry Morsman fished off Hastings in 8 metres of water and caught some nice whiting during the run out tide using Gamakatsu size 6 shiner hooks.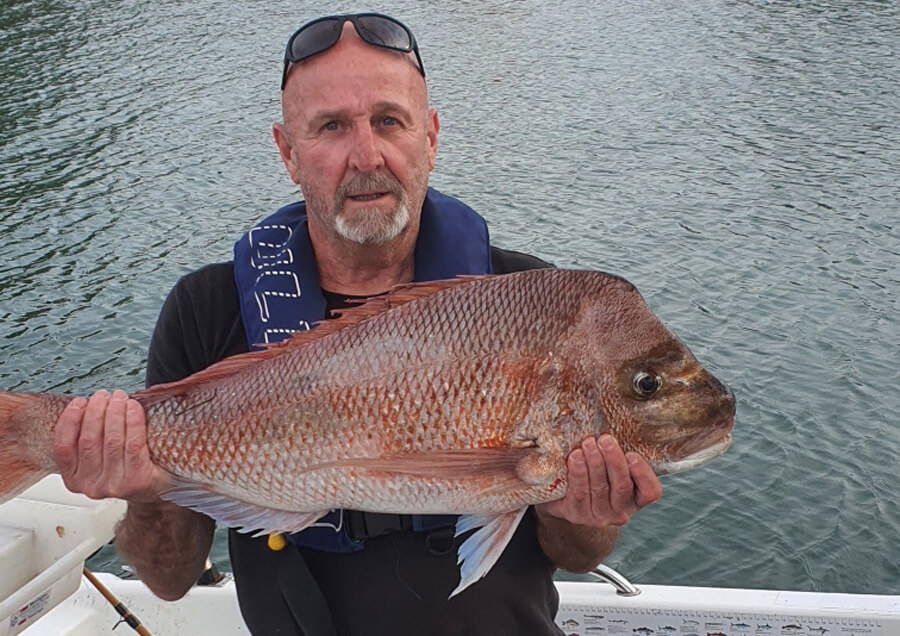 Sean Swift caught this nice 92cm snapper fishing off Hastings this week.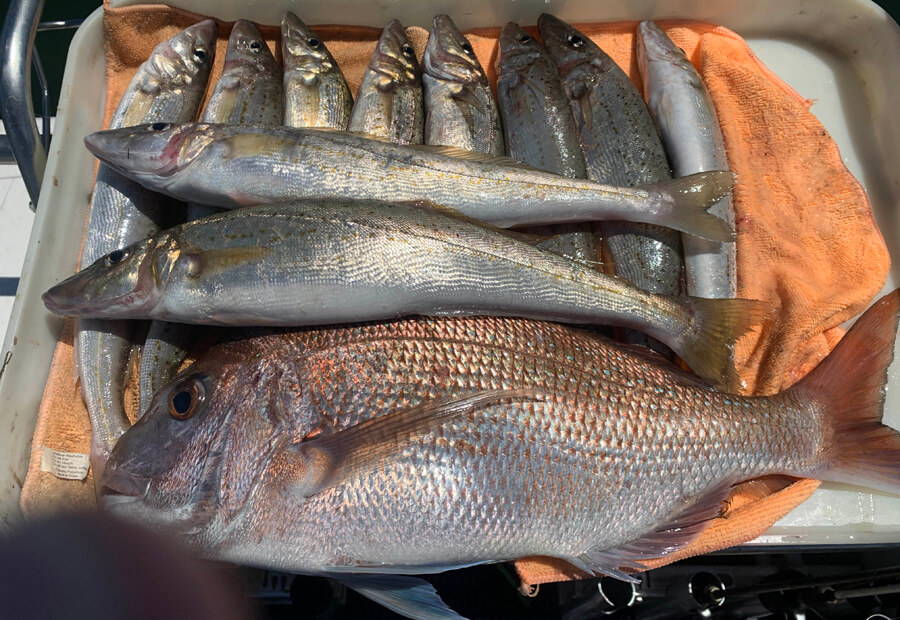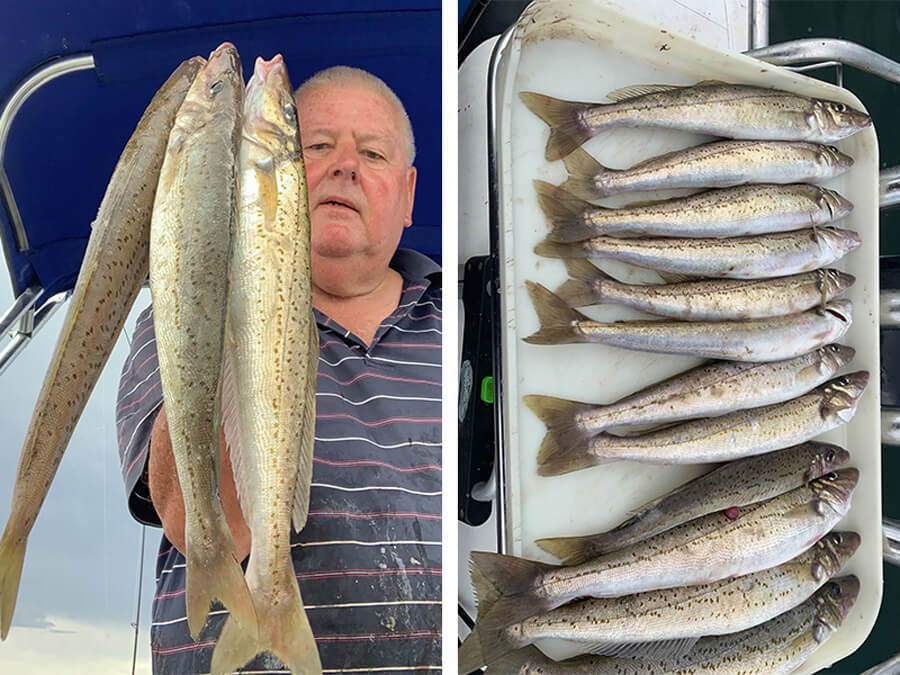 Don Wood fished off Hastings this week and caught a nice mixed bag earlier in the week and later in the week he caught a nice bag of whiting.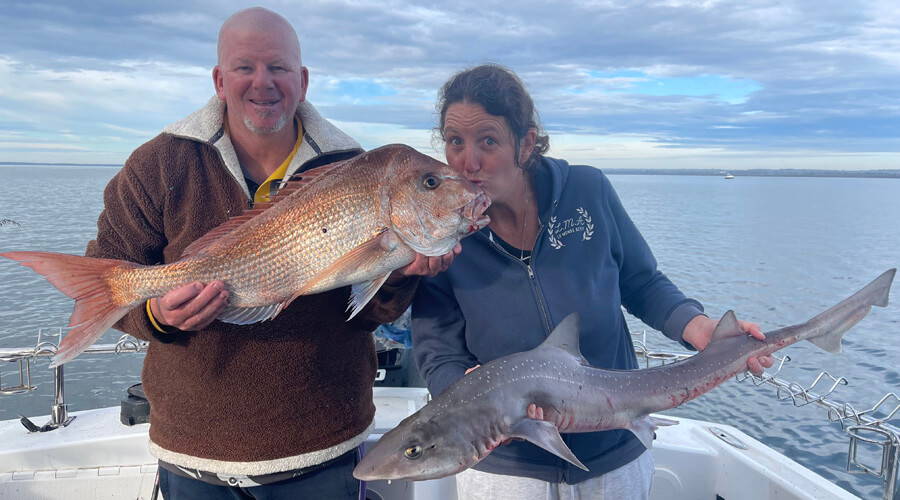 Gav and Kerrie Metherell fished the Top End of Western Port and caught a beautiful snapper and gummy shark using squid strips for bait.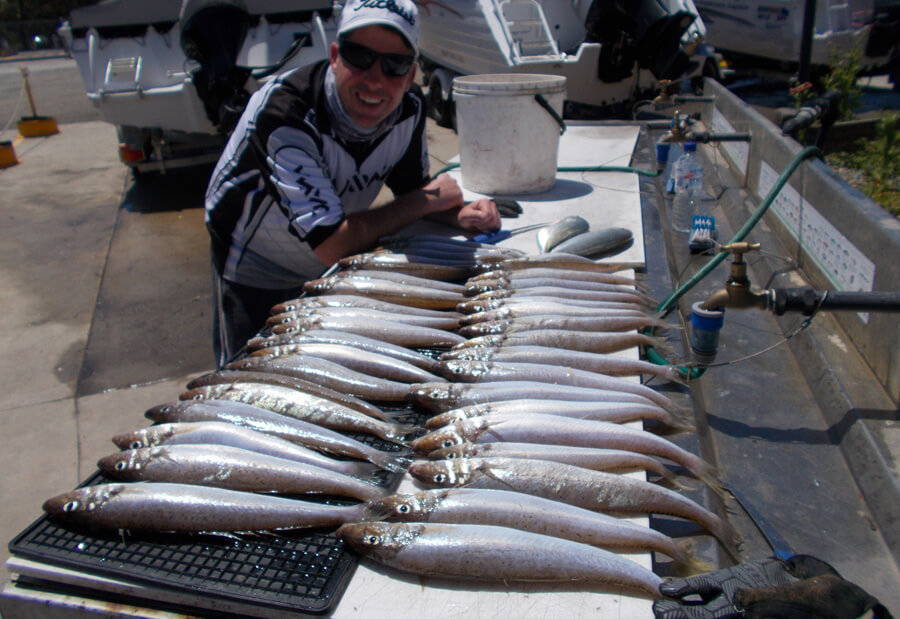 David Milne and Ben Ferguson fished the Tooradin Channel entrance in 7 metres of water and caught some cracking whiting using mussels and Californian squid for bait.

Josh Favero and Bryce Sheard caught this cracking 145cm and 34.3kg mulloway last week. Well done on the cracker fish boys!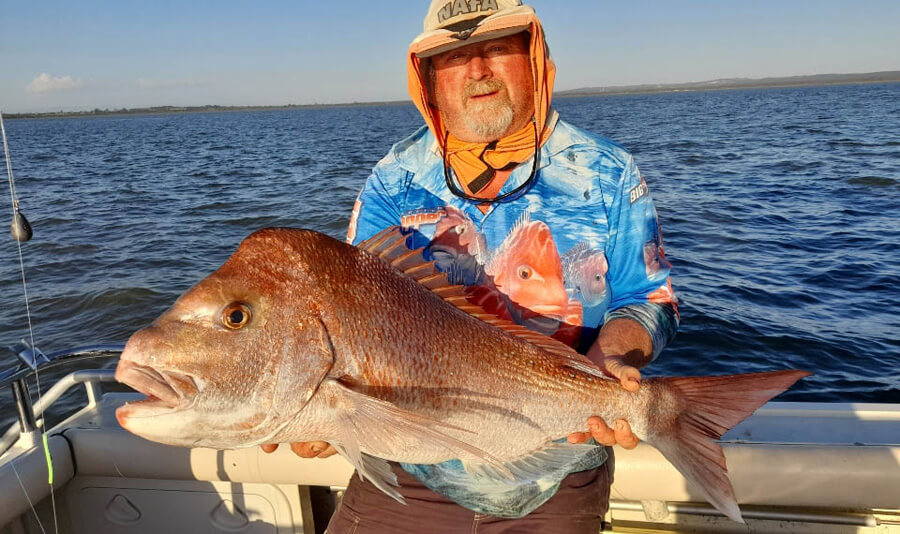 Alan Dalton caught and released this cracking 7.59kg snapper around Elizabeth Island in 6 metres of water on Monday. Well done Alan, ripper fish!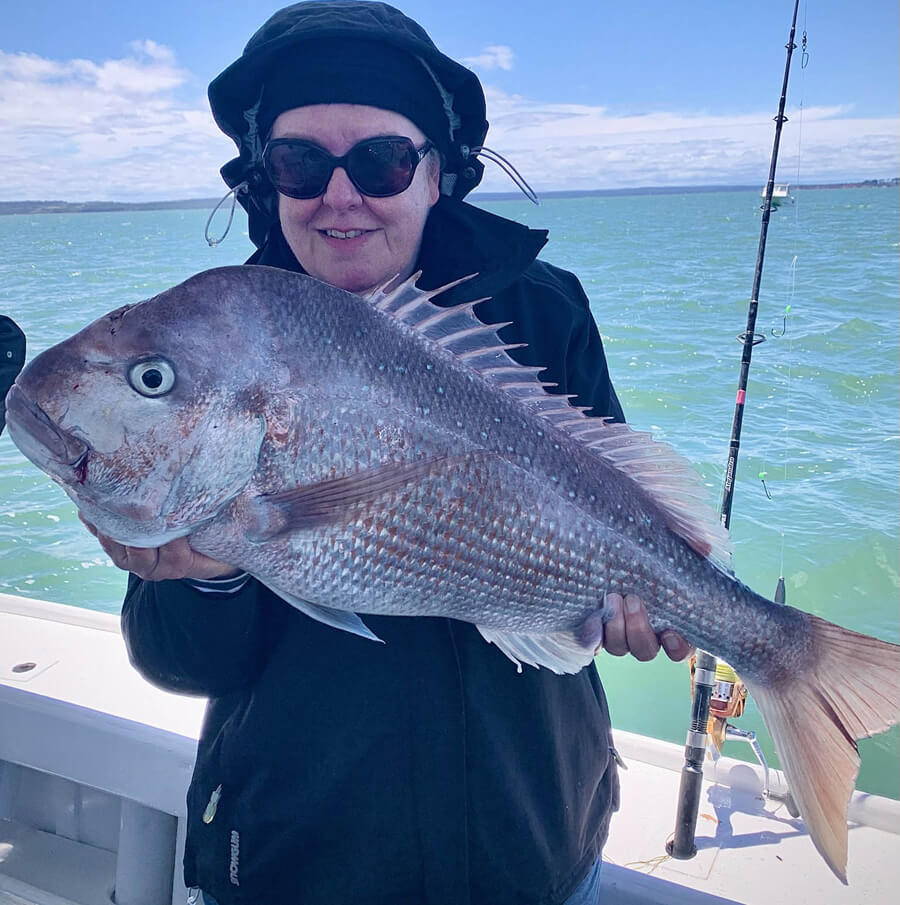 Liz caught her first ever snapper at The Corals fishing with Amanda Keilar from Ladies Fishing Charters.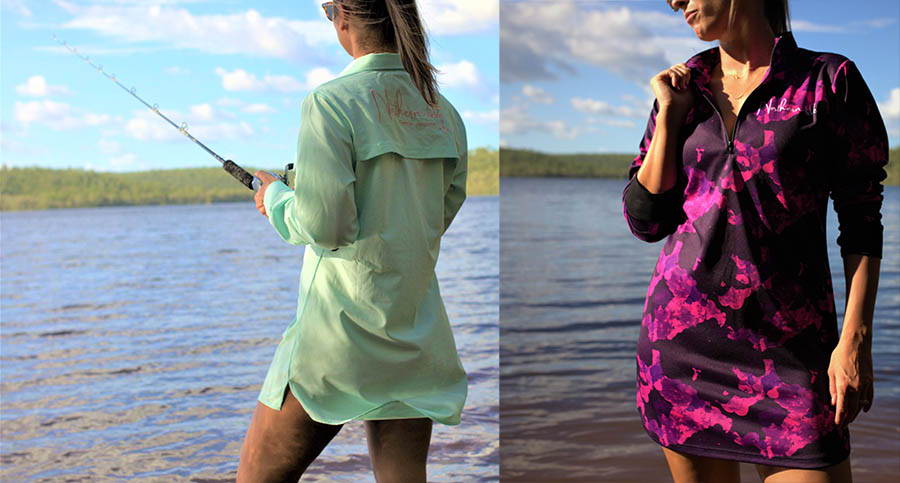 Fish in style in Northern Tide! Now available in stores and online at ifish.com.au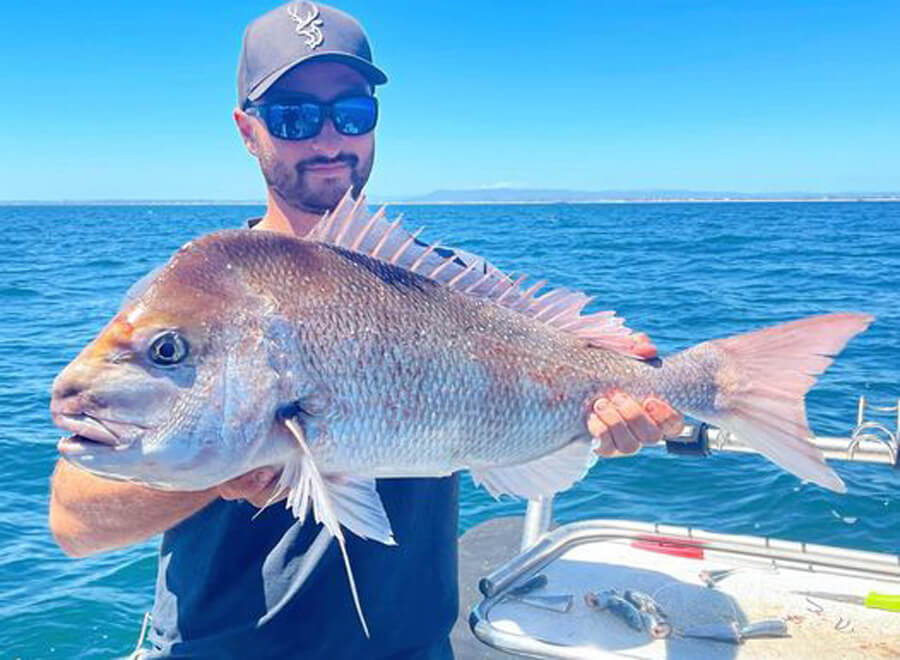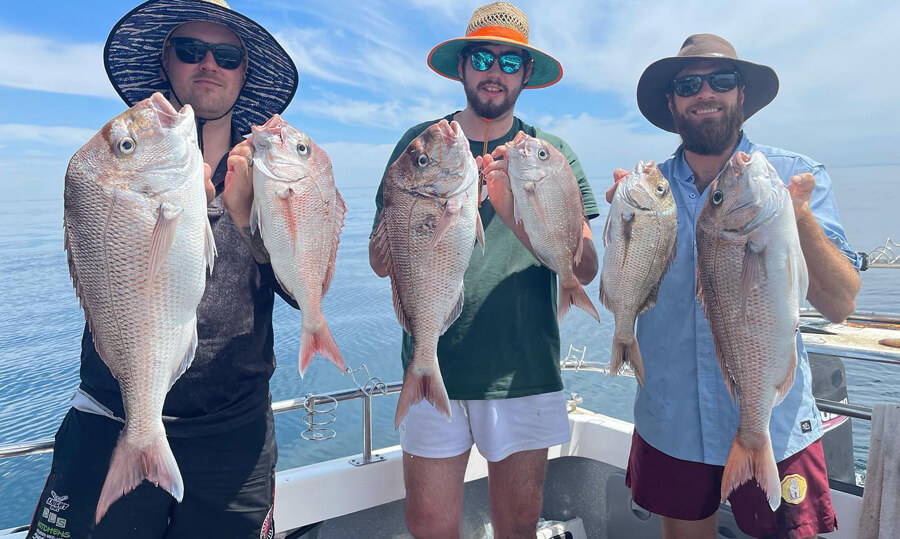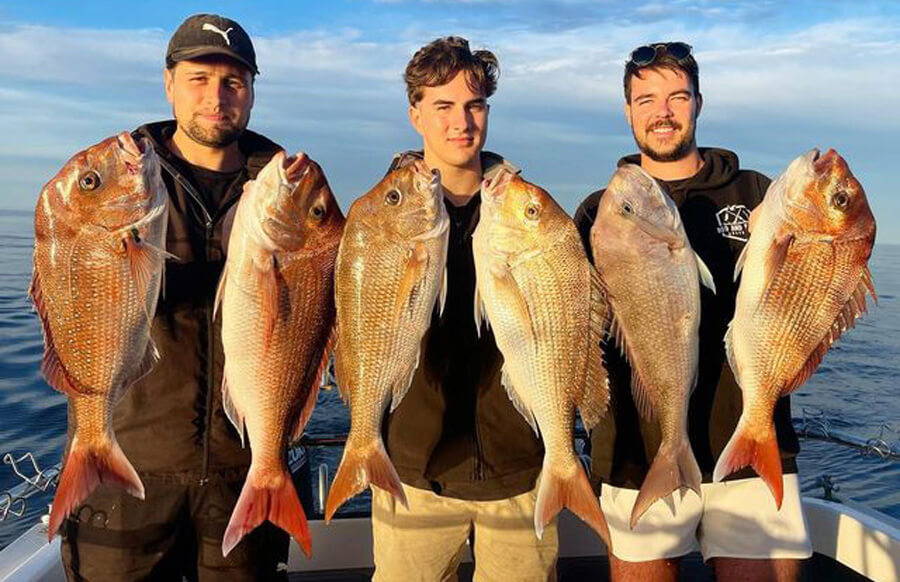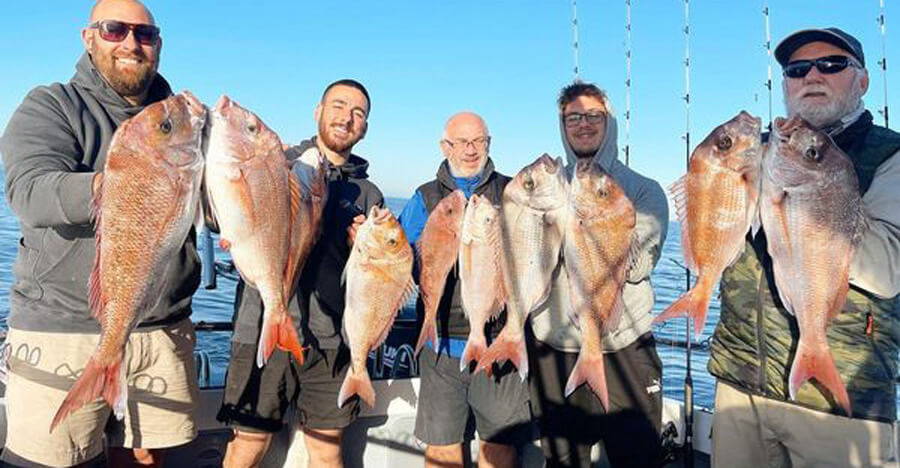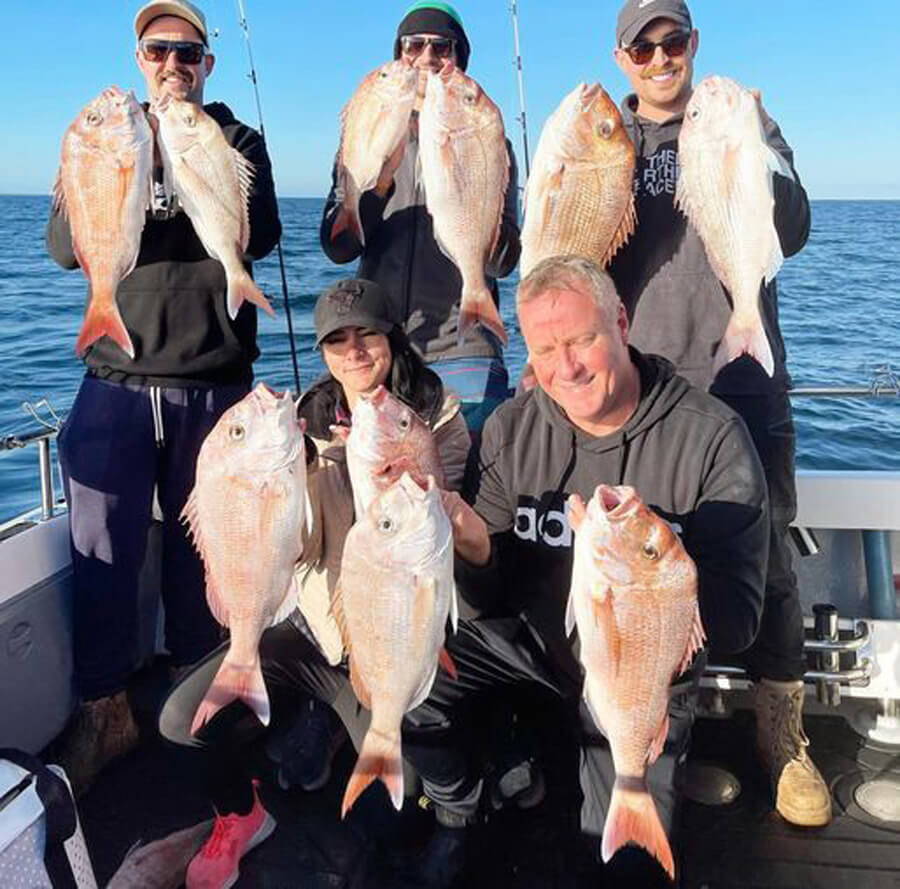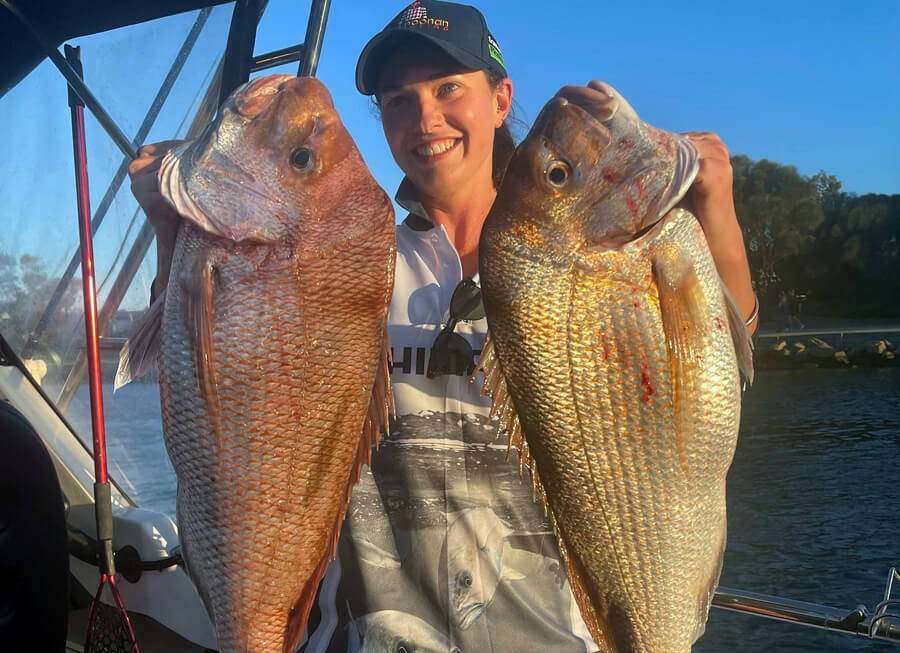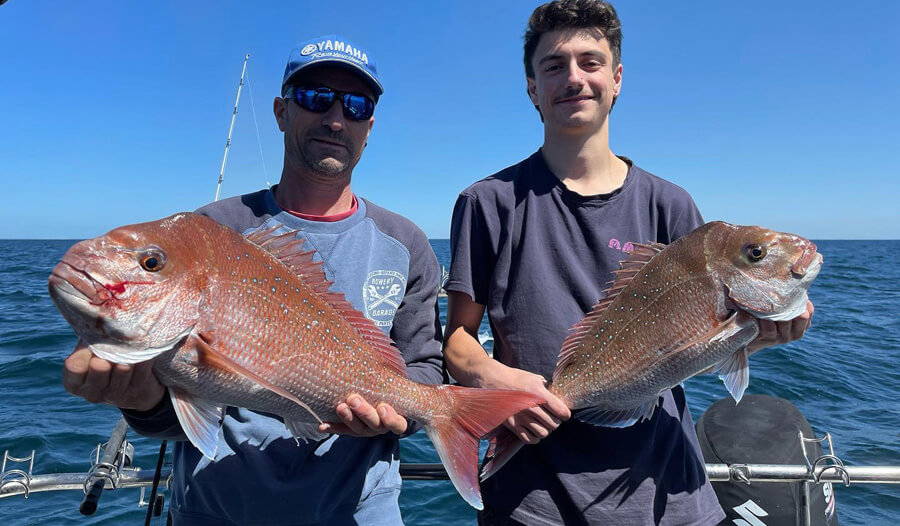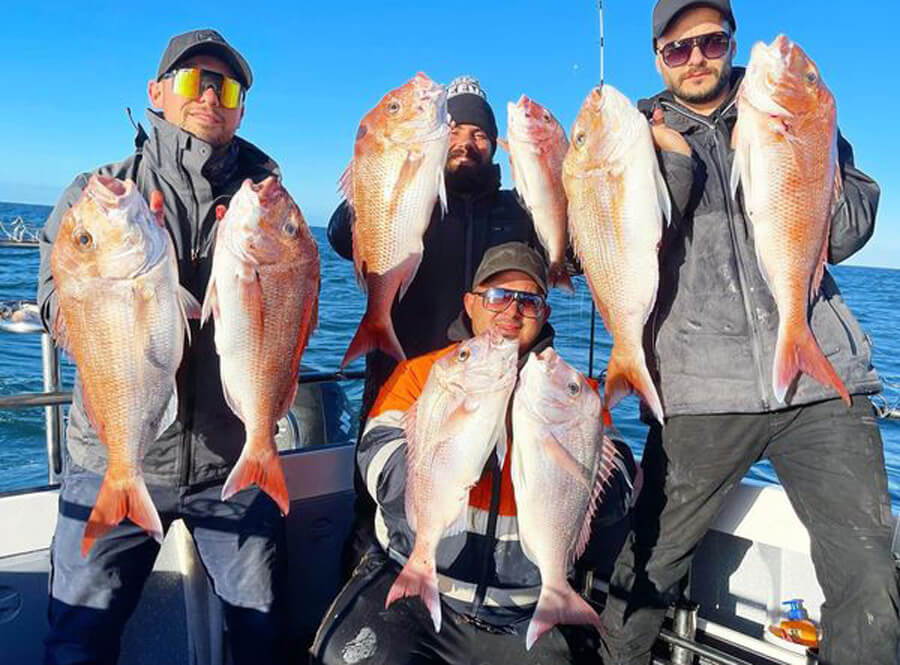 Chris Cassar from Cassar Fishing Charters had multiple bag out sessions on the snapper in Port Phillip Bay with his customers this past week with fish to 8kg being caught. Chris reports fantastic numbers of fish between Carrum and Frankston in 14m to 22m. Best tip is to spend some time to sound up fish and then it's game on!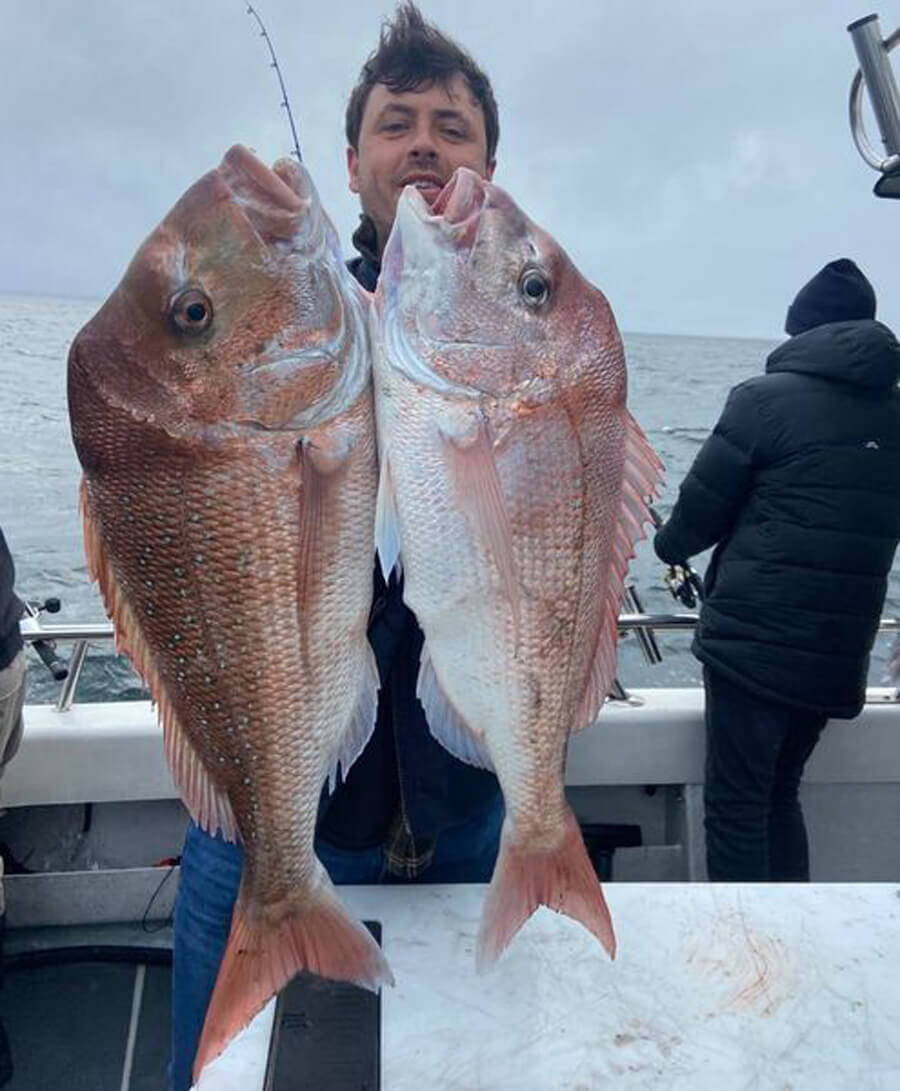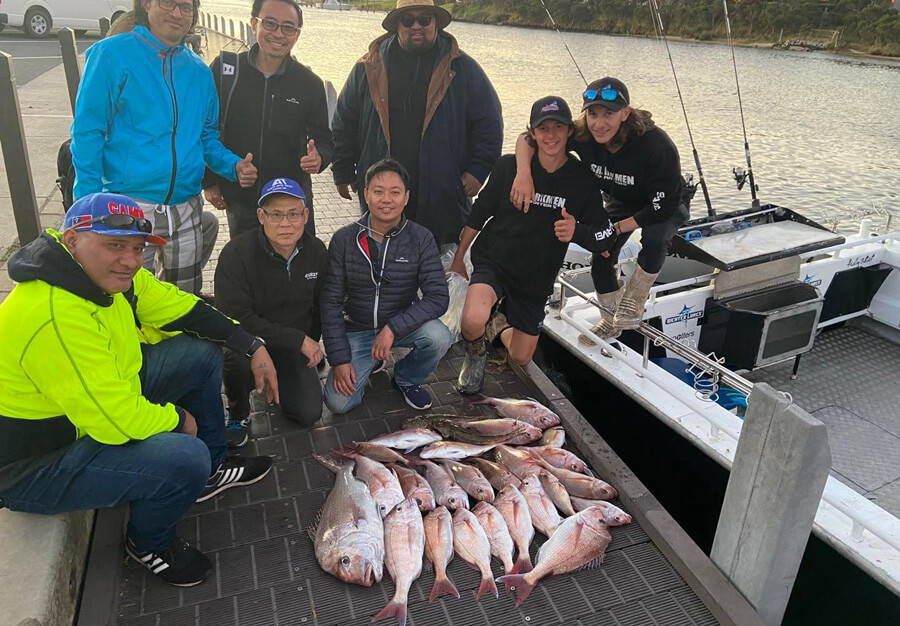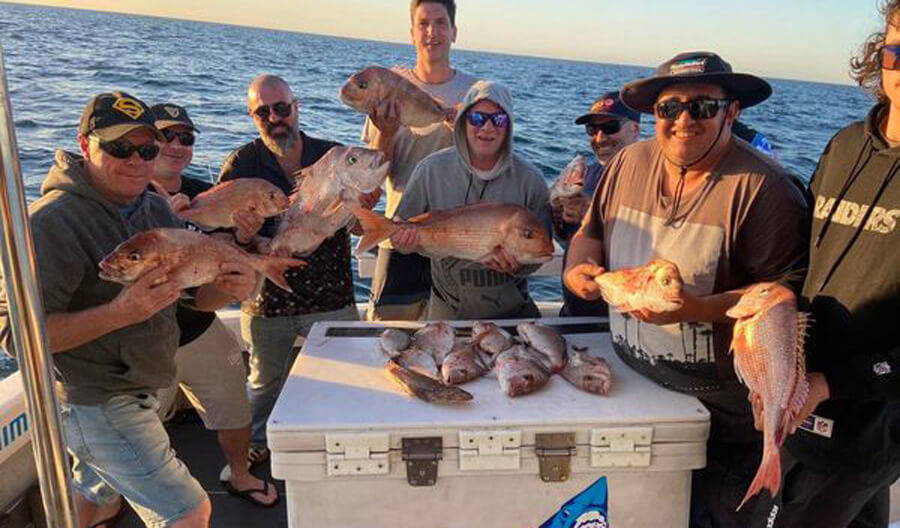 Marco from Sharkmen Fishing Charters found some beautiful snapper for his customers this week fishing Port Phillip Bay.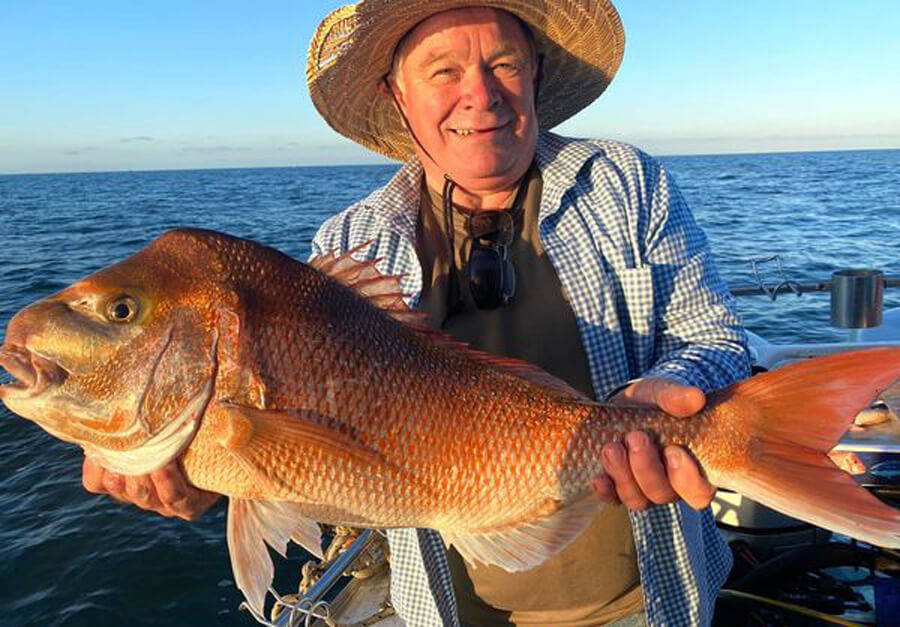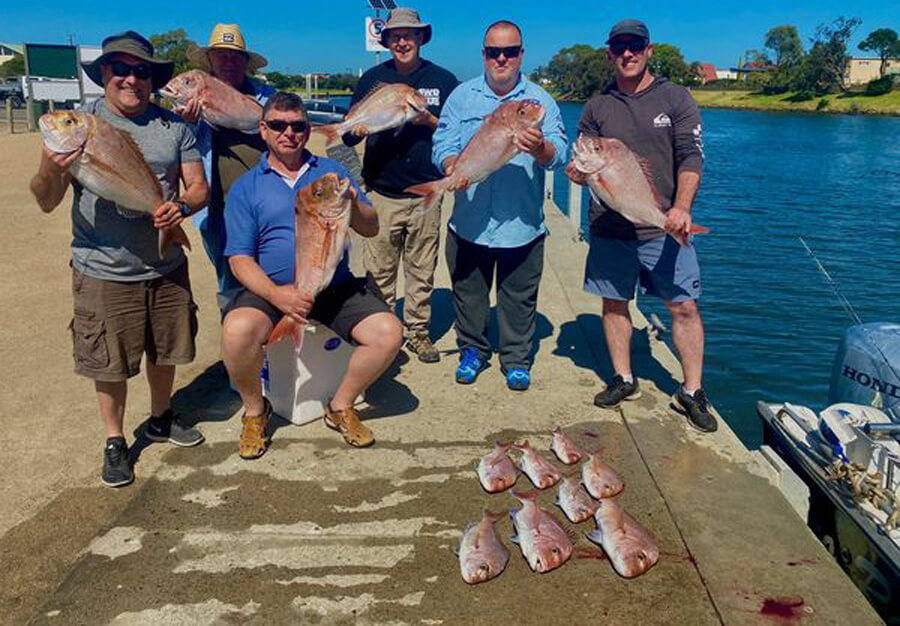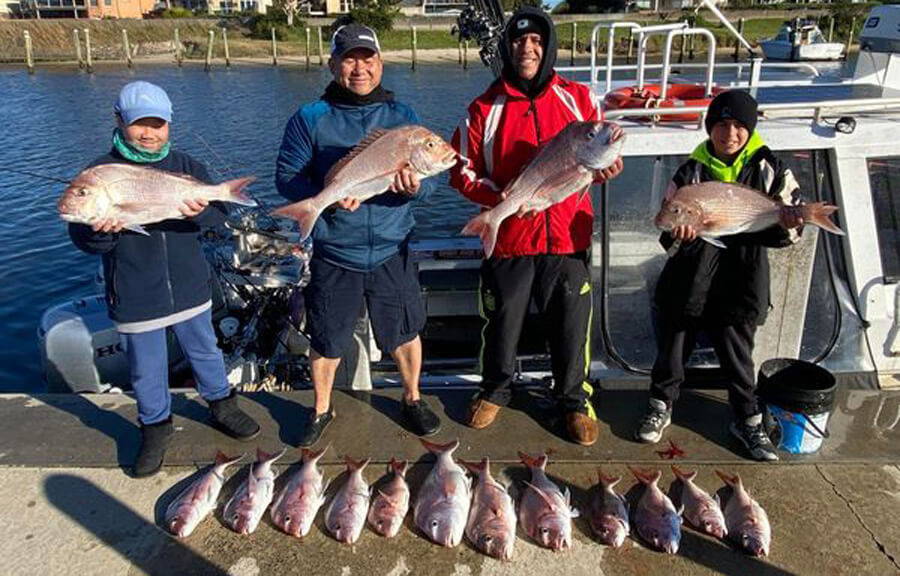 Jayson Turner from Pro Red Fishing Charters had a cracker week on the snapper with his customers out from Carrum.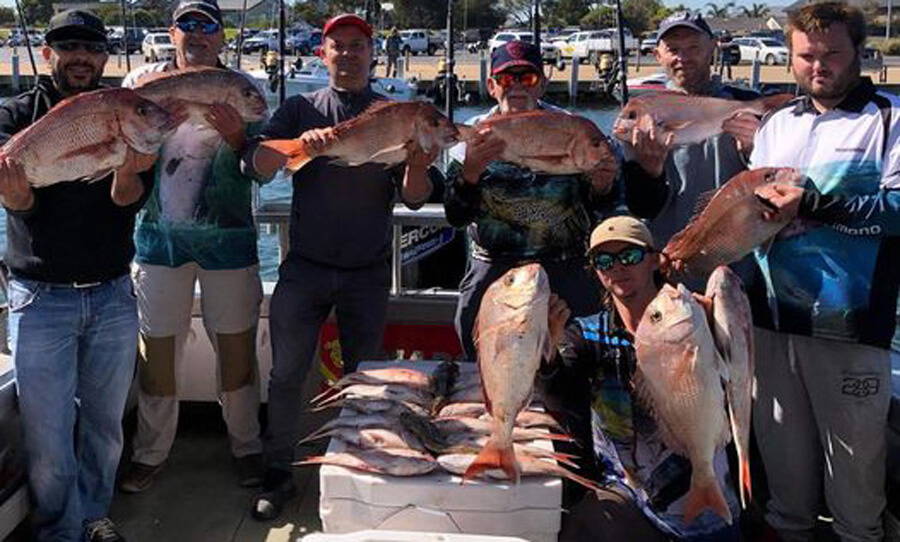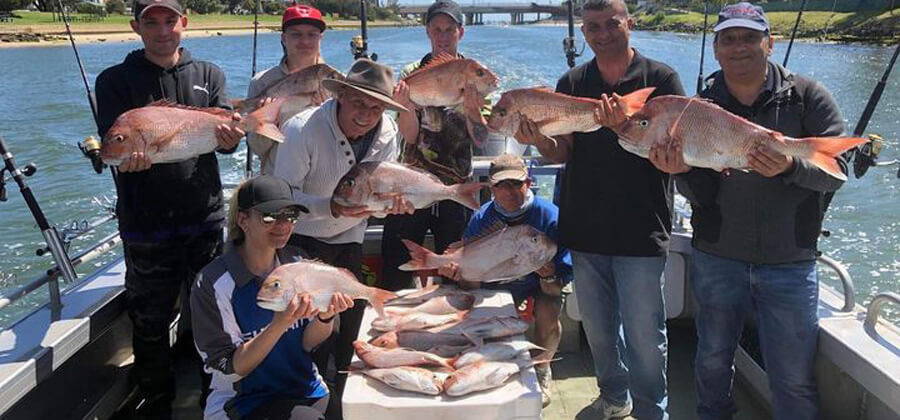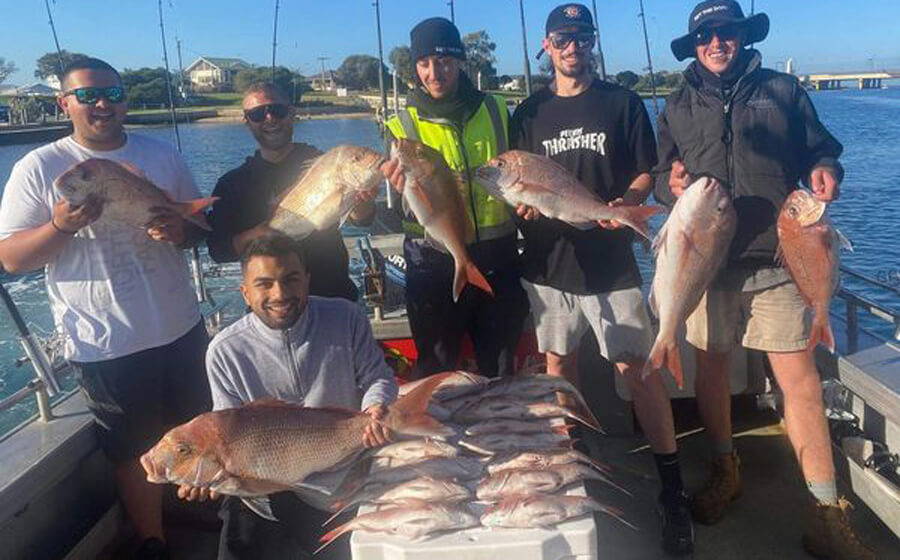 Matt Cini from Reel Time Fishing Charters got stuck into some magnificent snapper fishing in Port Phillip Bay this week.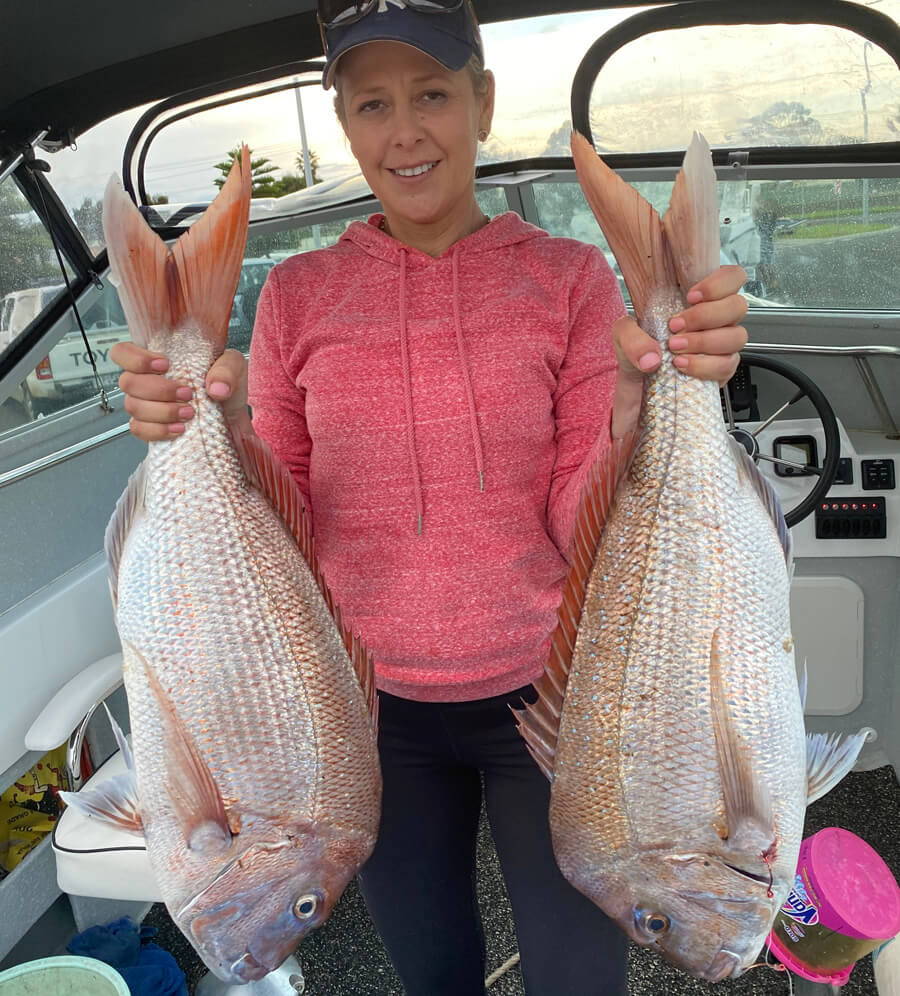 Belinda Foreman caught 2 beautiful snapper to 5.5kg fishing off Altona in 14 metres of water.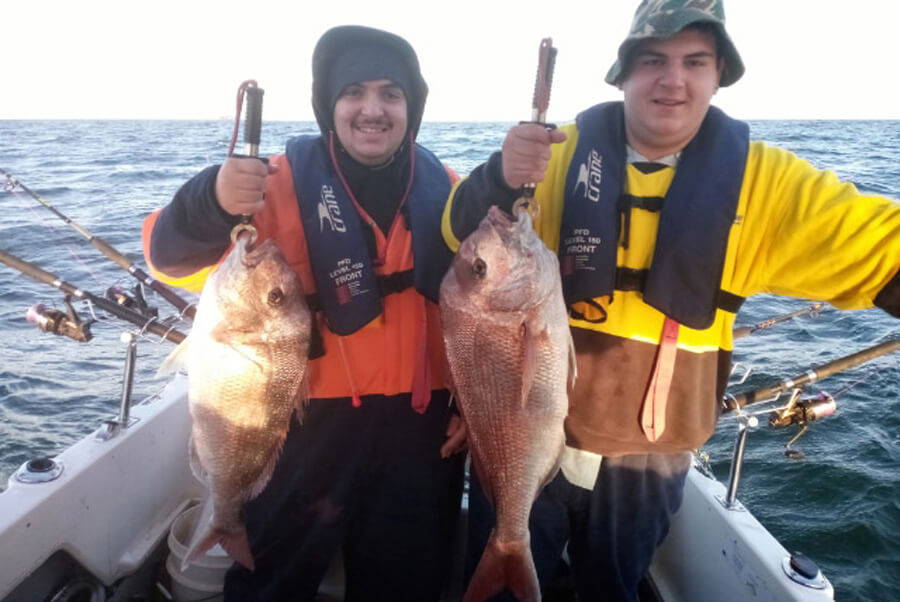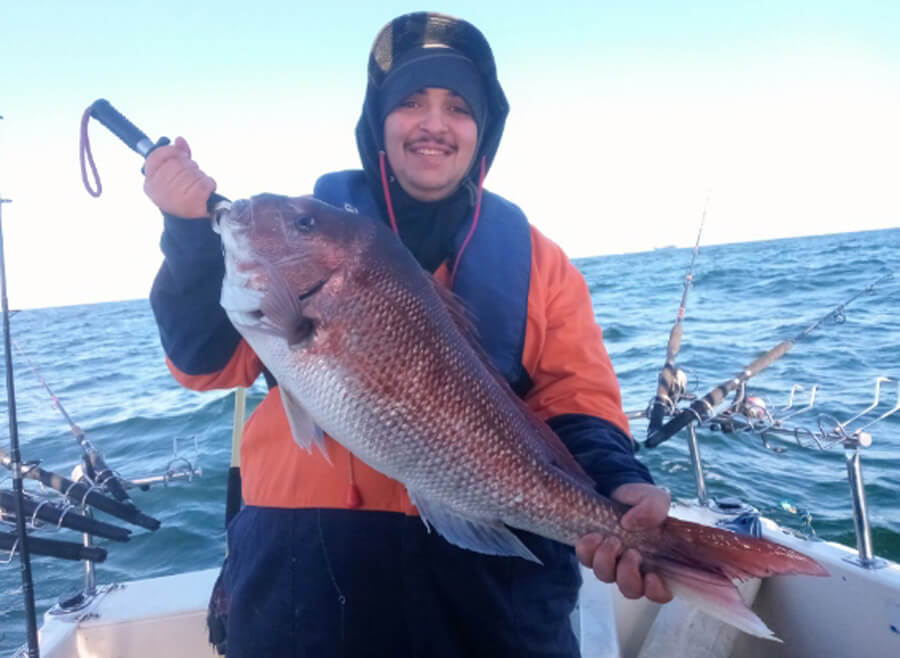 Daniel and Elijah fished off Altona and their first double hook up resulted in a 5.3kg and 5.5kg snapper. Daniel caught his PB during the trip catching an 8kg snapper.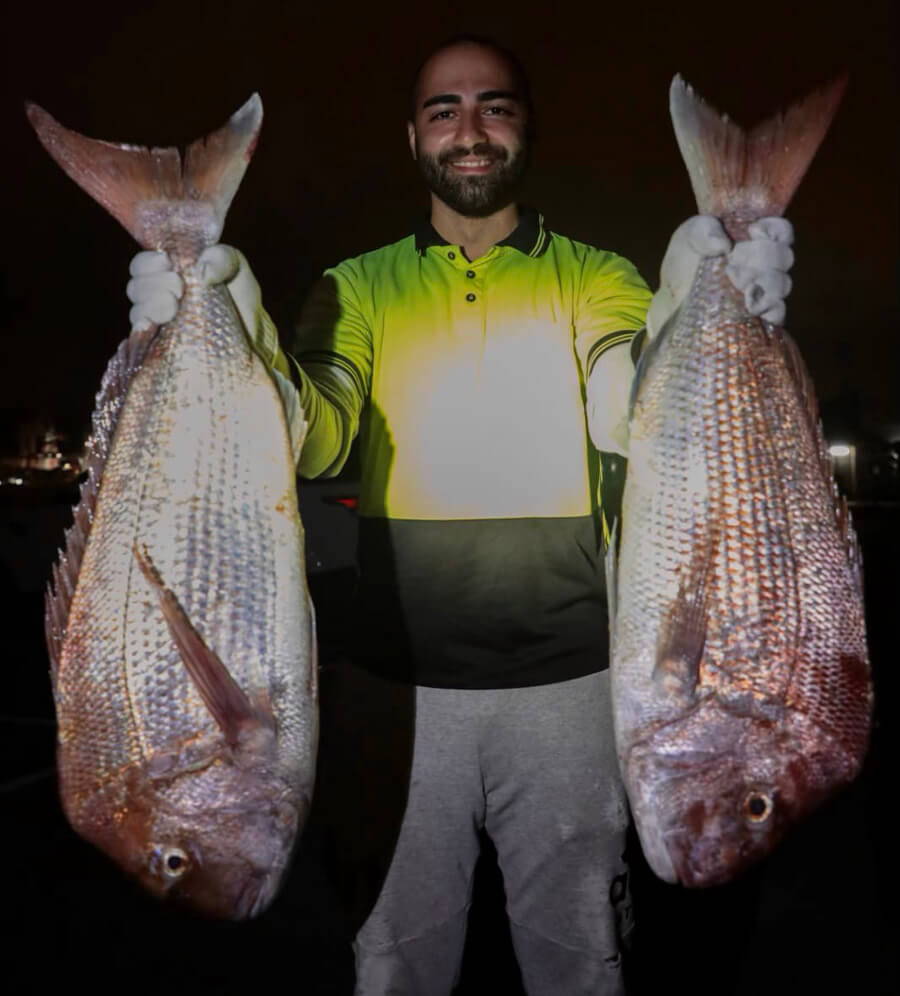 Firat fished the Sandringham rock wall last week and landed 2 cracking snapper to 7.5kg using pilchards for bait.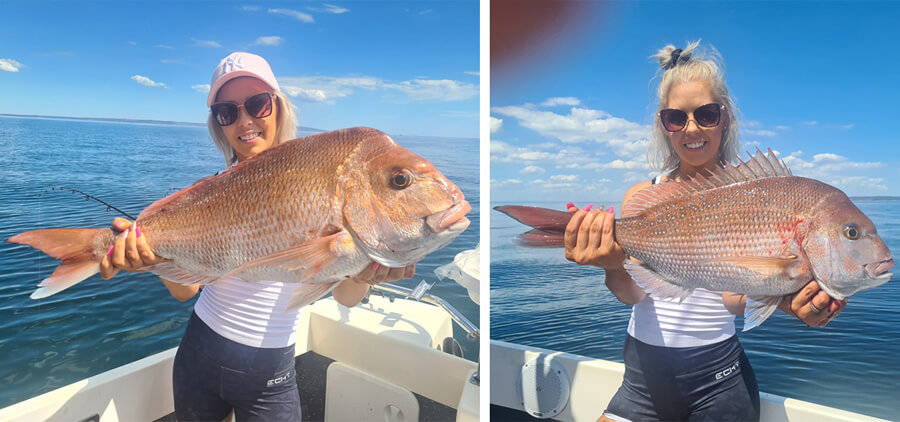 Madiy O'Laughlin caught some nice snapper to 72cm fishing out from Ricketts Point using silver whiting for bait.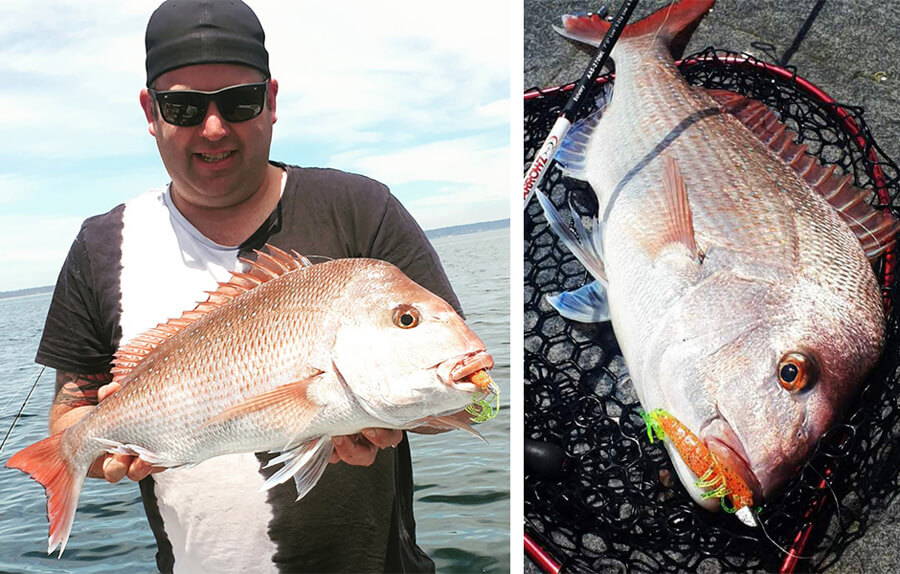 Borno and a mate fished off Aspendale in shallow and managed some nice snapper on soft plastics.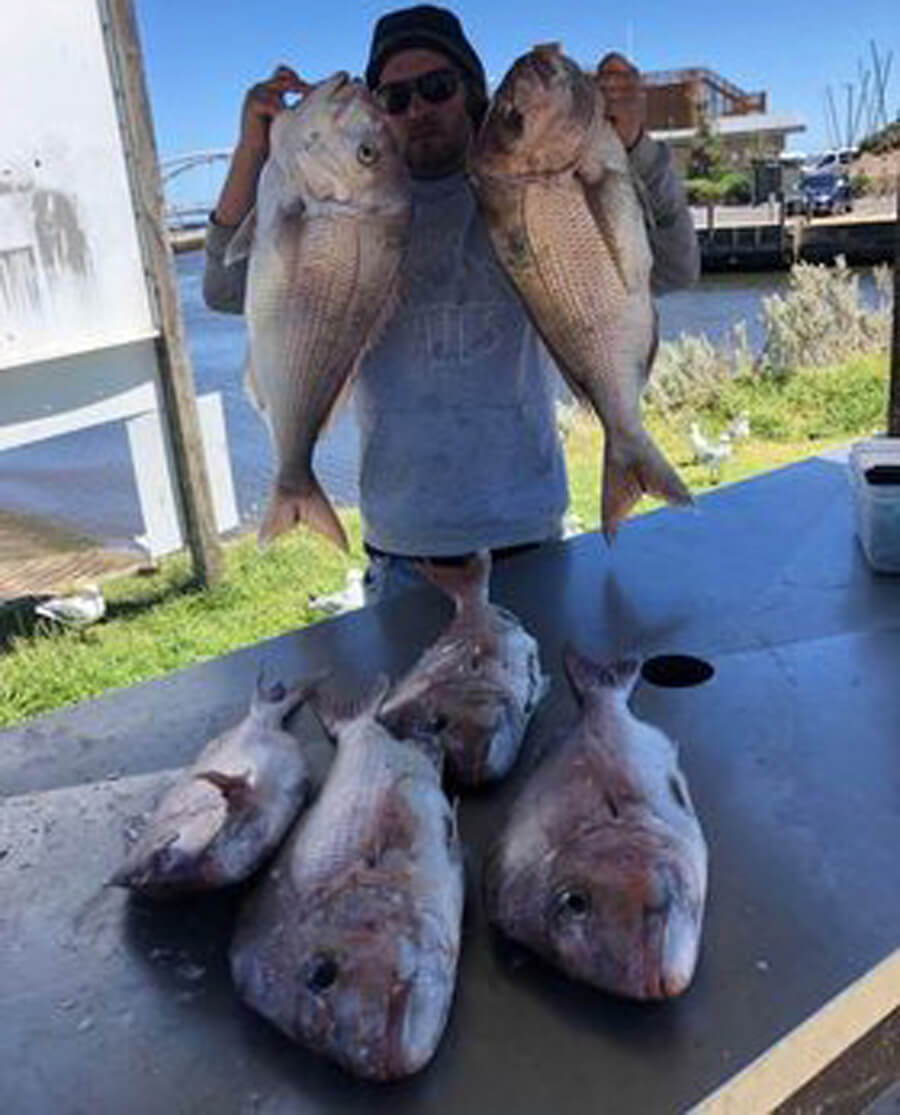 Gomms and Terry fished just south of Carrum and managed a cracking bag of snapper. Well done guys!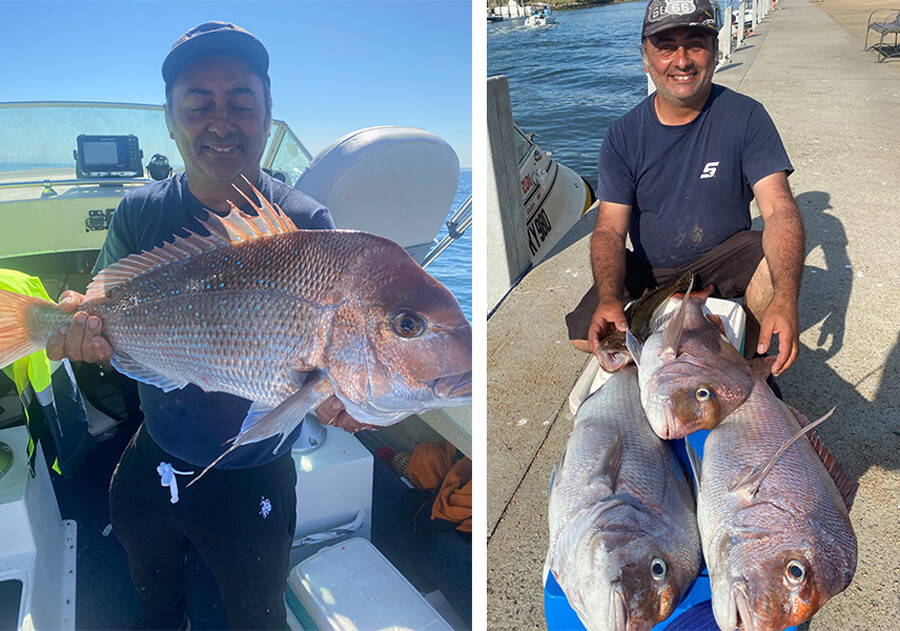 Billy Spindzos caught some cracking snapper to 71cm fishing out from Frankston in 18 metres using fresh salmon and pilchards for bait.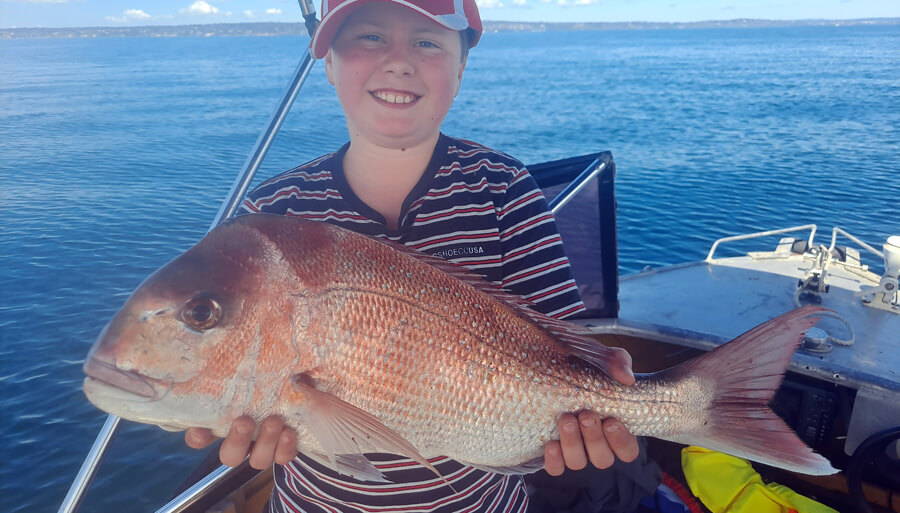 10yo Lachlan Neate caught his first ever snapper fishing off Frankston in 17 metres of water. Congrats on your first snapper mate its a ripper!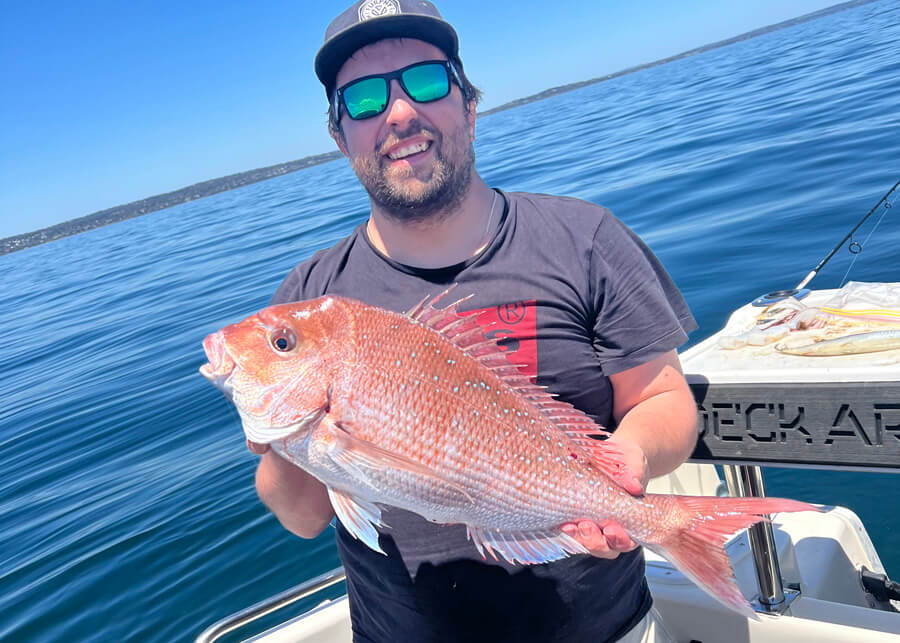 Steven Jurcec fished in 18 metres off Frankston this week and caught a nice snapper during the tide change.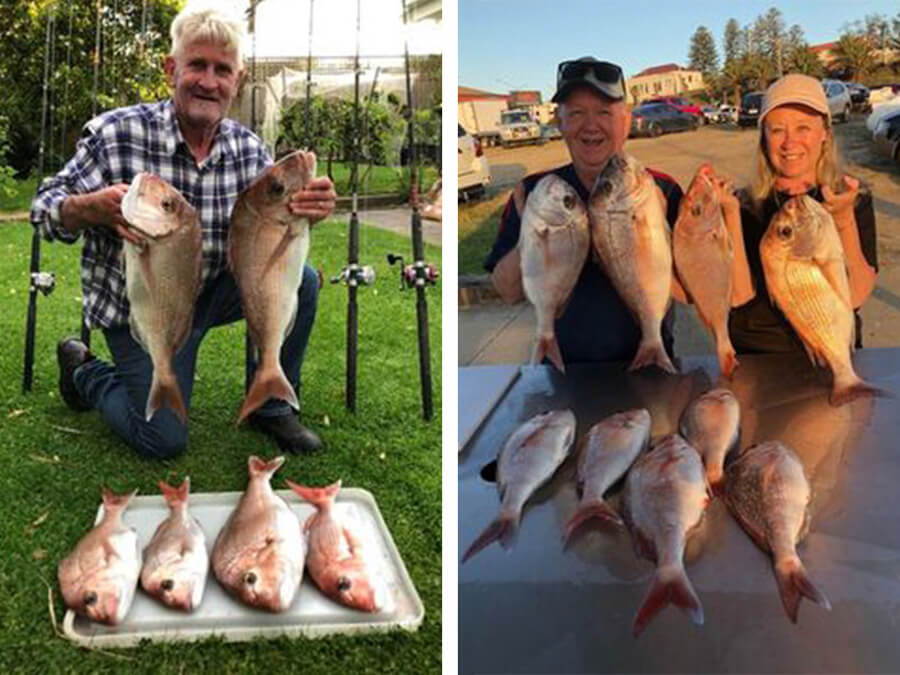 Terry Watkins had a couple of fun sessions with friends this week fishing off Frankston catching some nice snapper.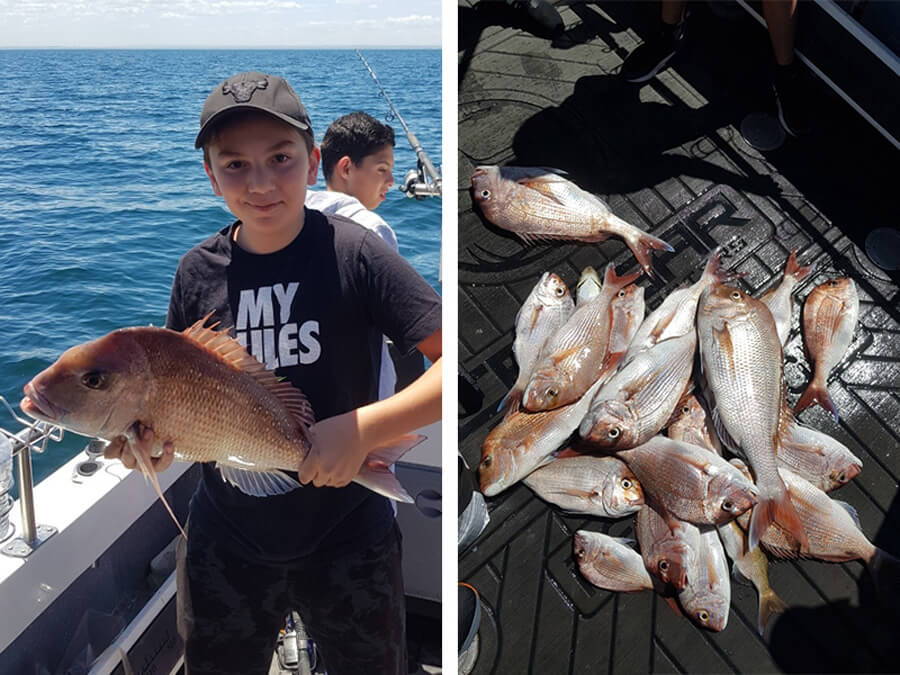 Zak fished on board with Cassar Fishing Charters and had a blast on the snapper off Mornington during a good midday bite.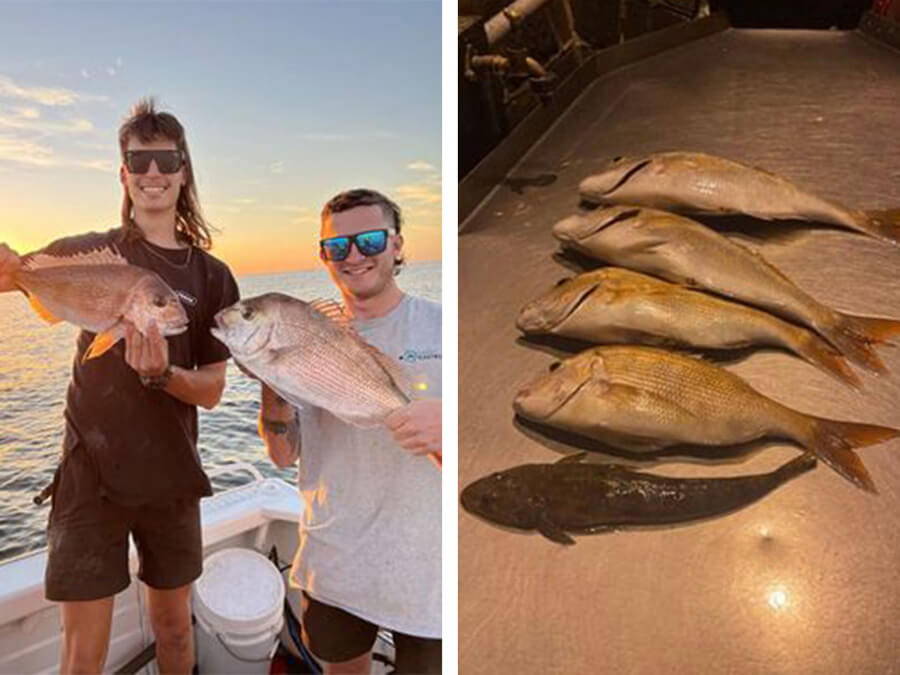 Logan and Mez fished the reef near the Mussle Farms using pilchards and squid for bait and got a nice bag of snapper.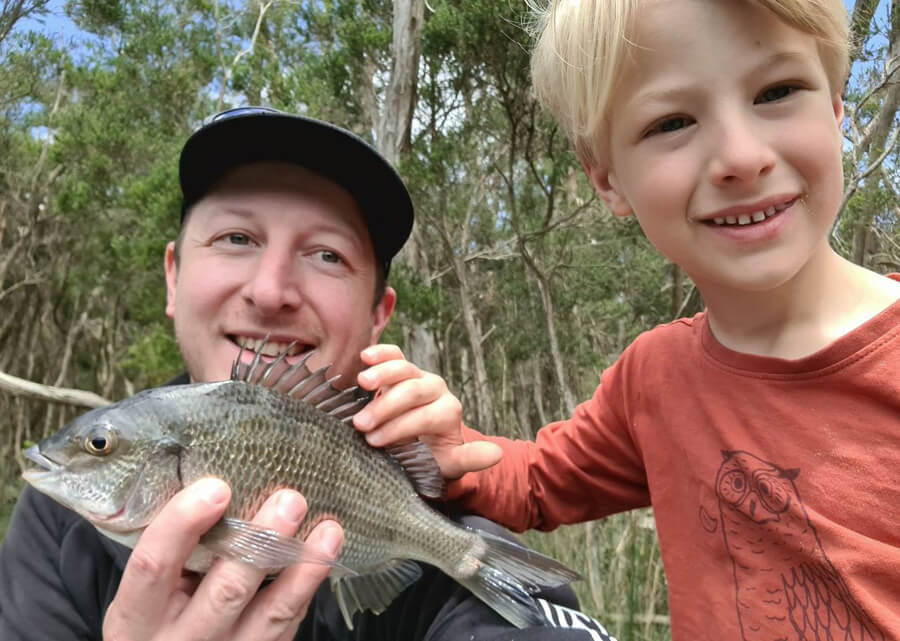 Staff member Brendon and his son Wiley headed to Balcombe Creek for a quick session and managed 3 nice bream in 30mins using bread for bait.
Angela caught this nice snapper fishing offshore this week.
Steve fished Corio Bay on his kayak this week and caught some ripper whiting to 42cm.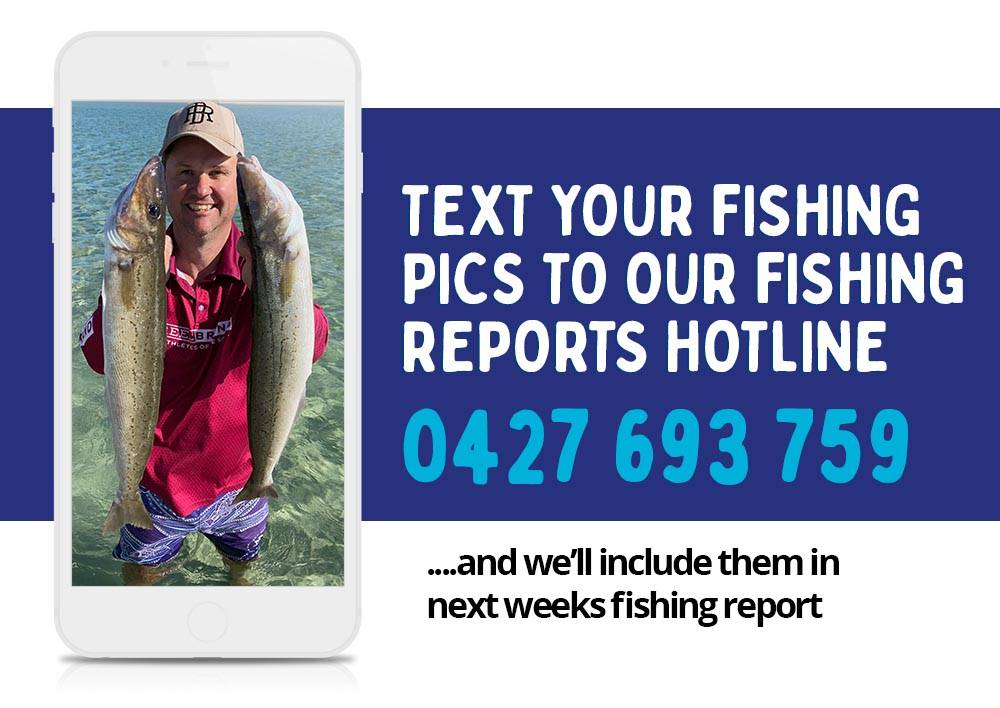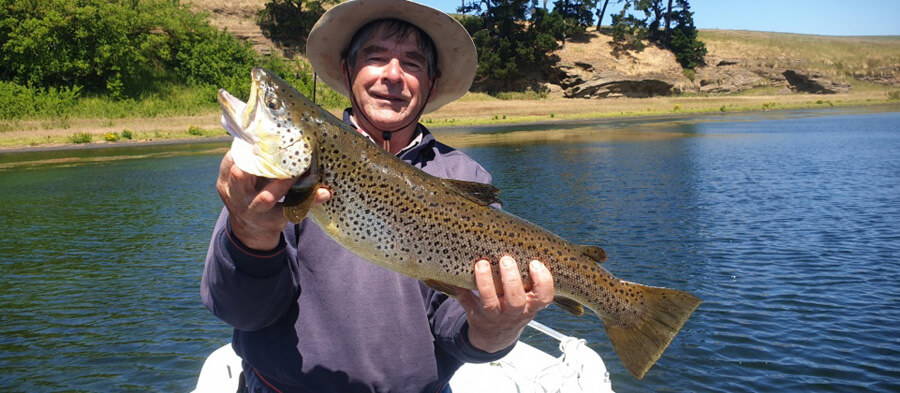 Wayne Bastin caught this ripper brown trout fishing Lake Purrumbete on the weekend.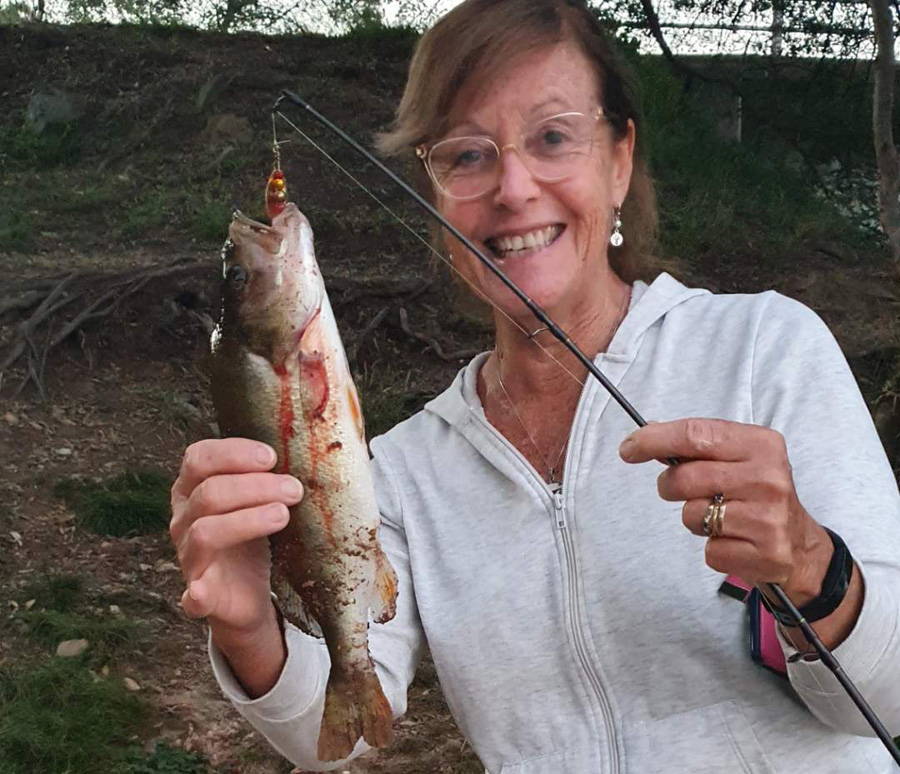 Jenny G caught her first ever redfin fishing at Eildon Pondage this week.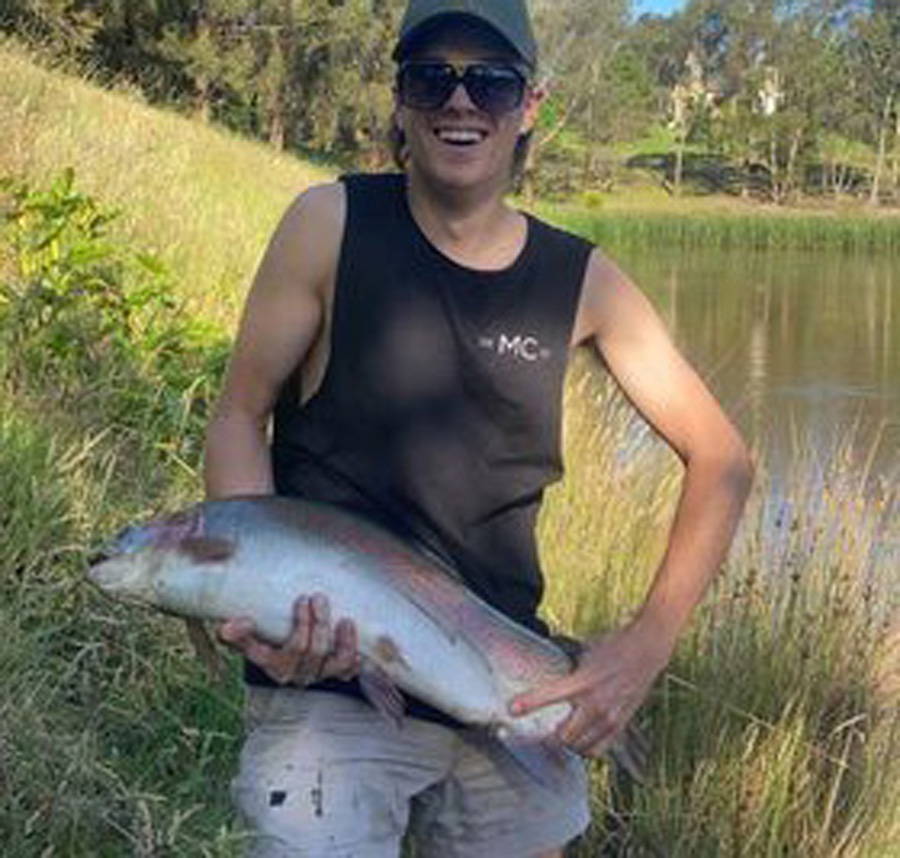 Jack Hornstra caught this stonker rainbow trout fishing Liliput Lane Lake at Pakenham.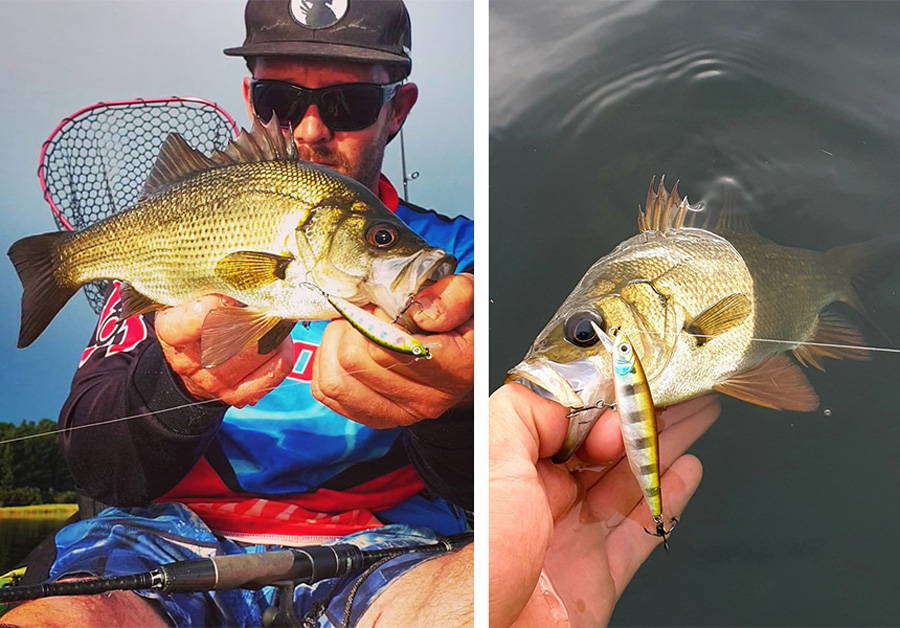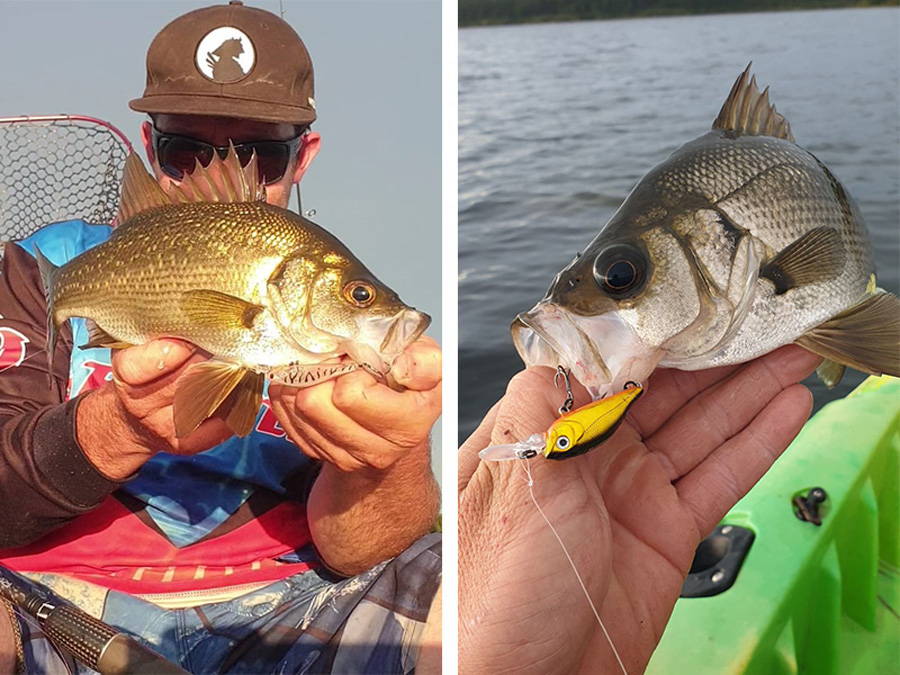 Borno fished Devilbend from his kayak this week and had a cracking session catching and releasing around 40 estuary perch. Fishing the back of the weed beds using Atomic hard bodies did most of the damage and as the light faded the Atomic K9 Walker caught some fantastic fish also.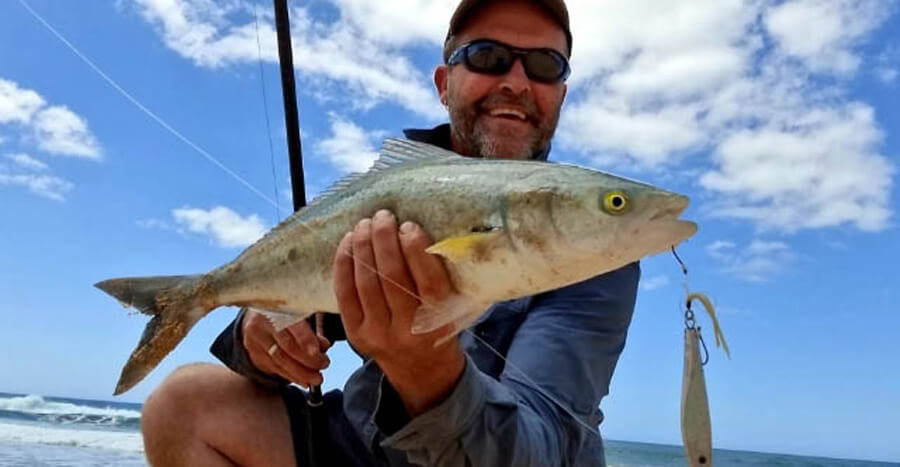 Andrew Ketelaar caught some nice salmon fishing Williamsons Beach using laser lures rigged with Atomic Assist hooks.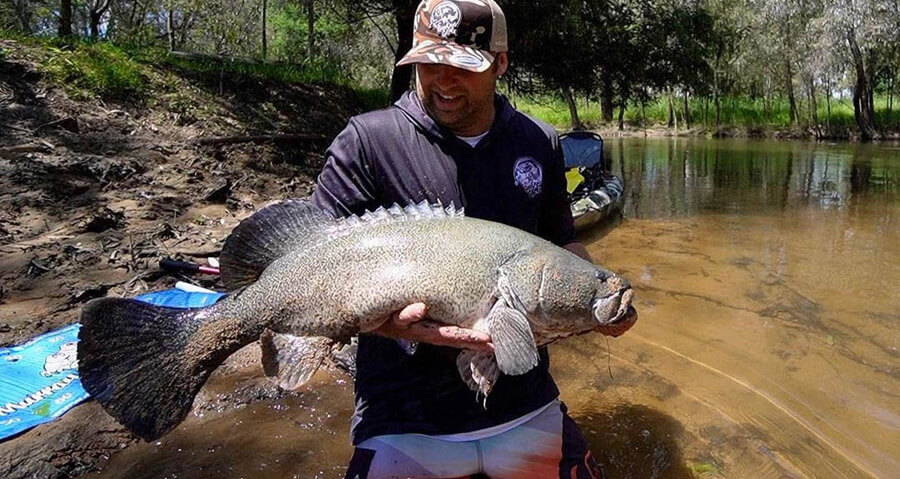 Mark Whitford caught his new PB Murray cod of 89cm fishing around Wangaratta for cod season open this week. Mark caught a total of 9 cod for the session, well done mate!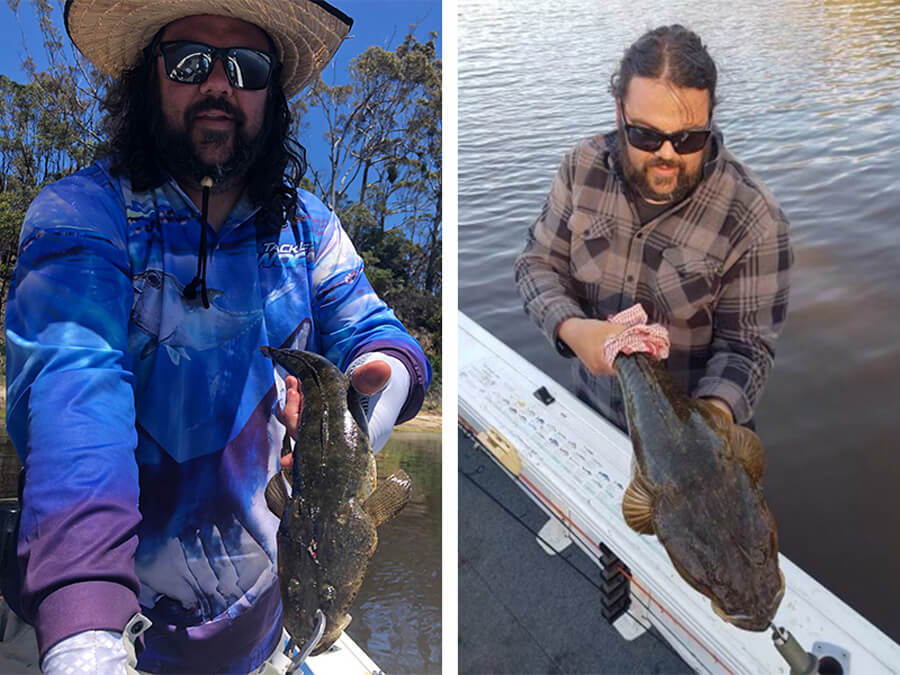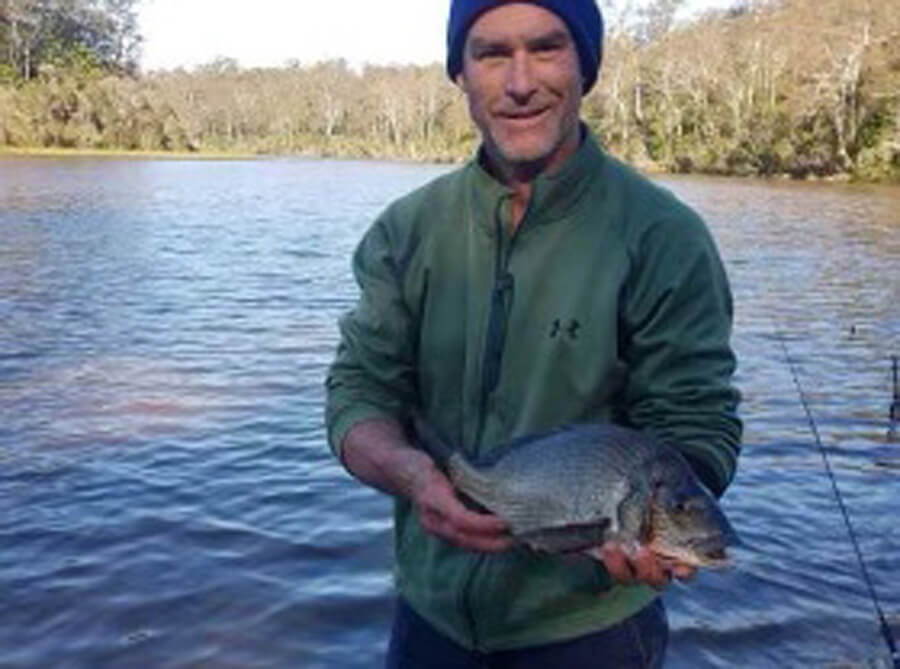 Paul, Luke and Knoxi fished Lake Tyers and caught some beautiful dusky flathead to 82cm as well as some solid bream to 42cm.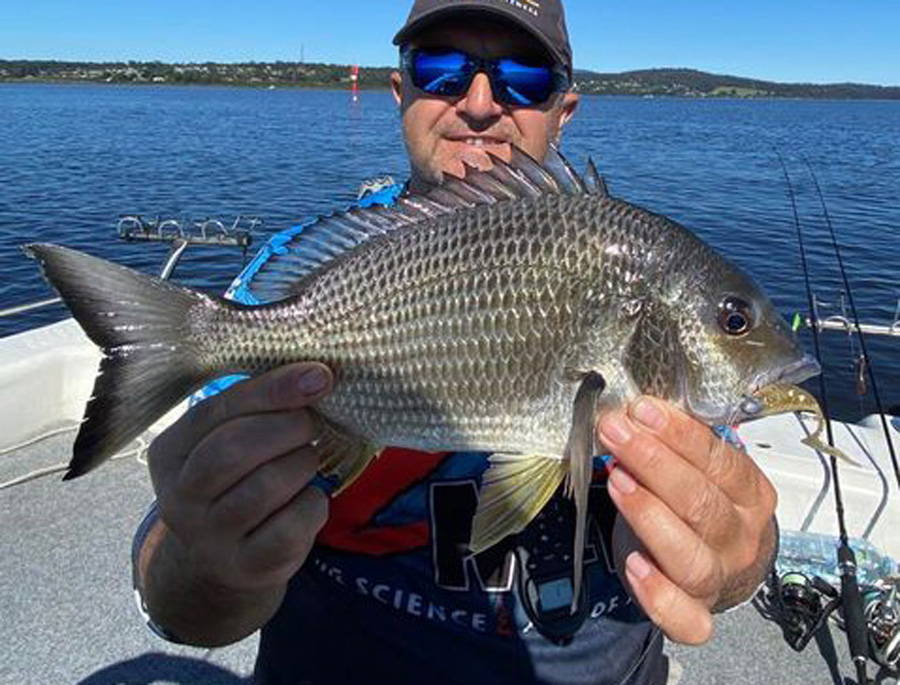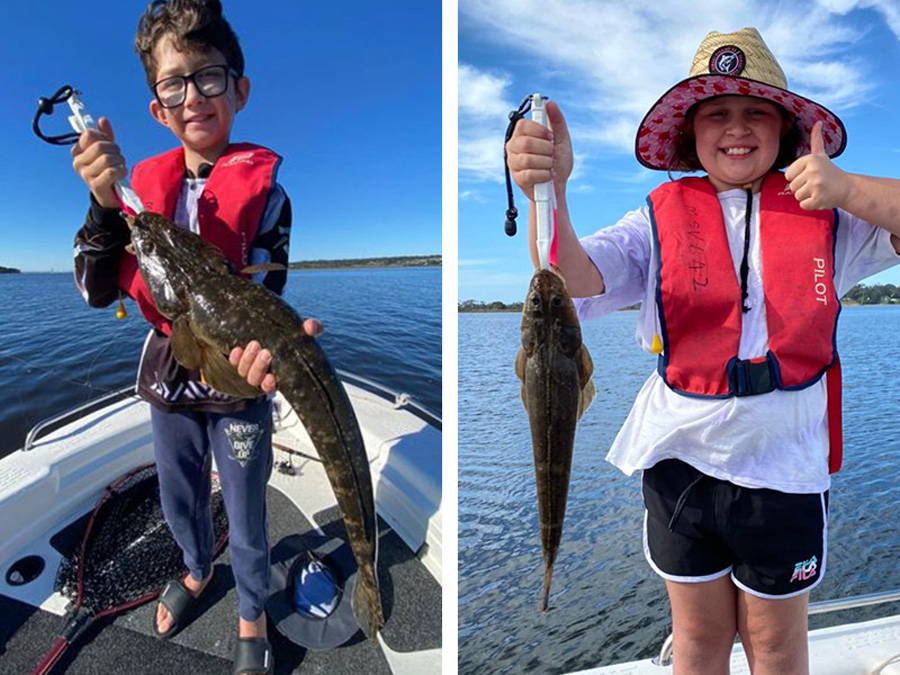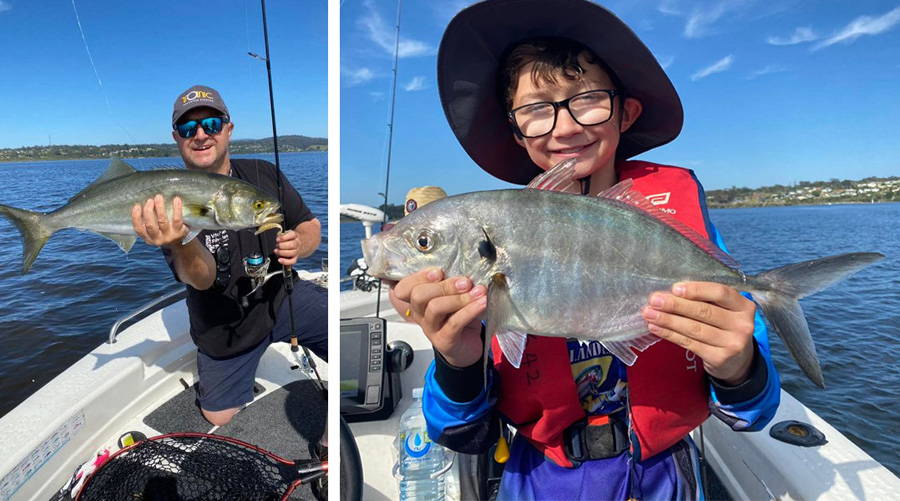 Frank Milito and the family have been fishing Mallacoota this week and have had a cracker time catching plenty of solid tailor and trevally but the highlight has been the quality of the dusky flathead and bream. Well done team Milito!
IFISH WITH TACKLE WORLD - SUMMER SERIES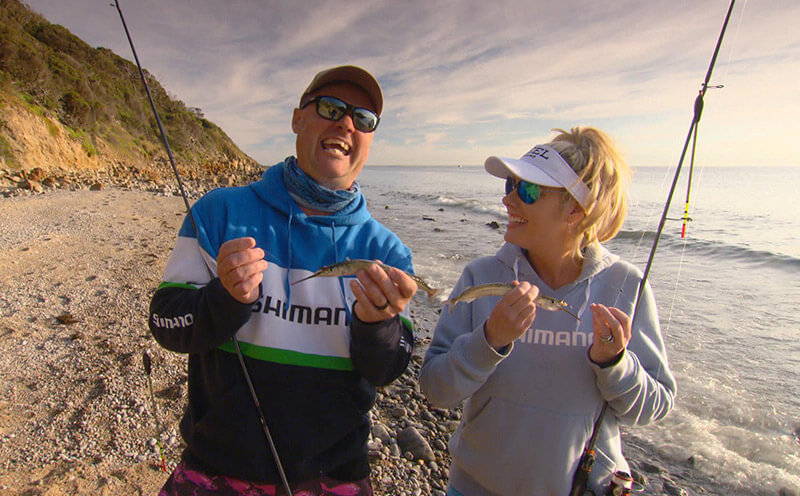 THIS WEEK ON IFISH TV
LOCATION: MOUNT MARTHA, VICTORIA
TARGET: GARFISH
SUNDAY 5TH DECEMBER, 2021 on 10BOLD at 10AM
Catch past episodes of IFISH TV on Youtube so you can get your fishing fix any time, any where.
TALKING FISHING - C31 - TUESDAYS at 8.30pm
Catch "Talking Fishing" on Melbourne's C31 TV (CH44) at 8.30pm each Tuesday night. Staff members David Kramer and Adam Ring together with Niki Duckstein host Australia's only "Live to Air" fishing television program at this prime time-slot. Put Tuesday night's at 8.30 away in your weekly diary of TV shows to watch!
Good Luck with your fishing and stay safe on the water,

The TEAM at Tackle World Cranbourne & Mornington