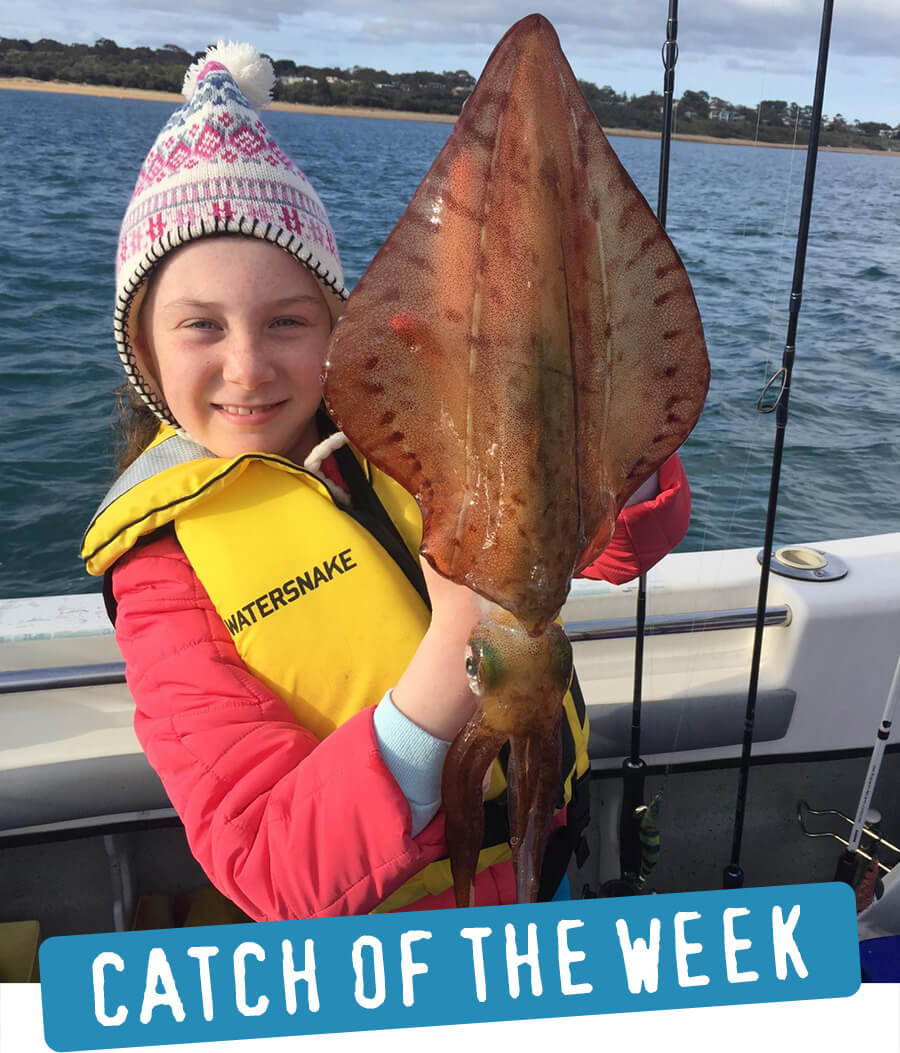 Congratulations to Natalie Powell on her cracking squid caught at Ventnor, you are this weeks' Catch of the Week.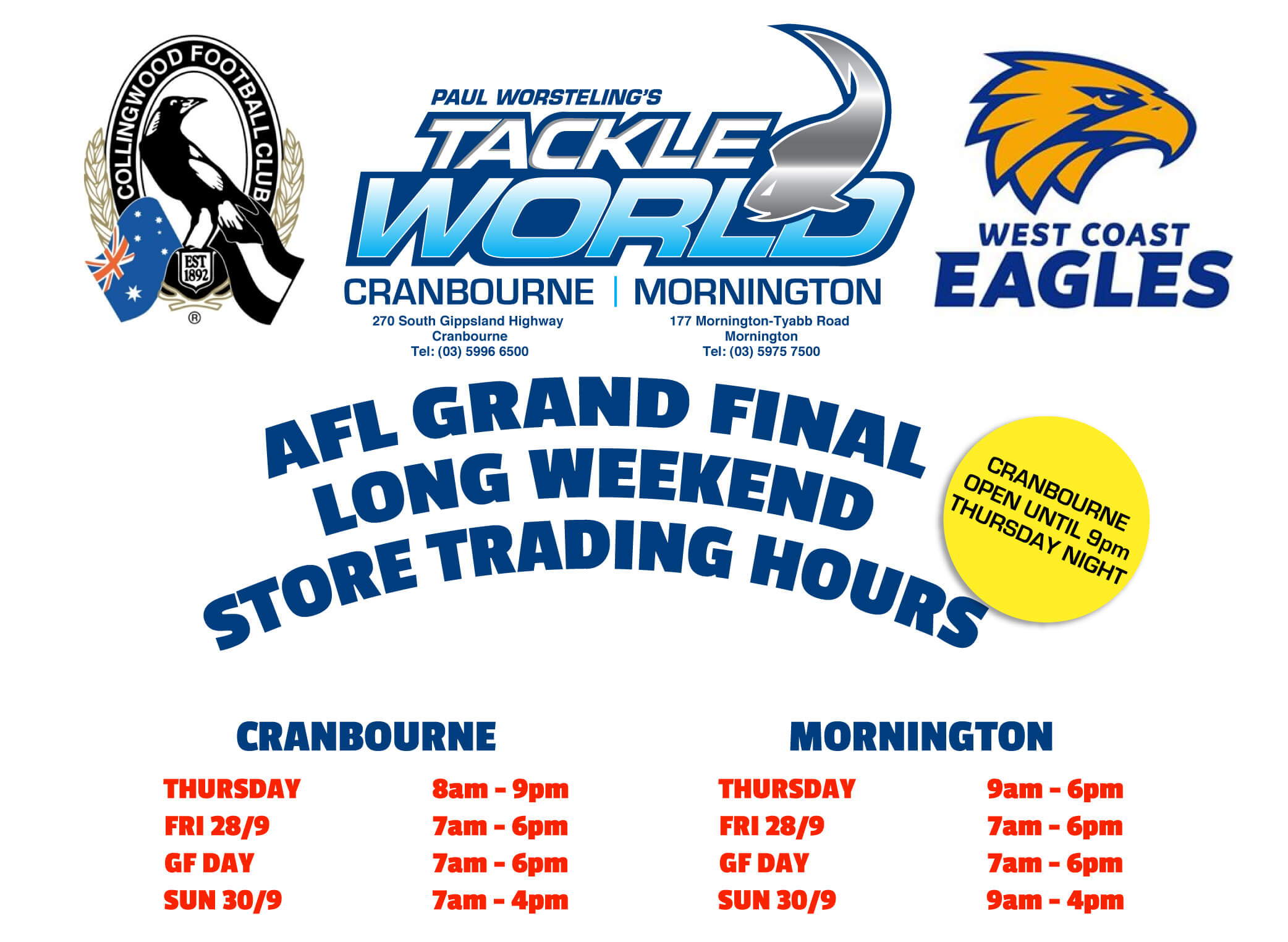 Shaun Furtiere from Think Big Fishing Charters had regulars Robert Coillet, Chris Taylor and Bill Lucas on board for a ripper session catching some solid squid and gummies as well as the surprise catch of some large tailor.
Dean Kritikos fished out from Stony Point in 6m of water using fresh mullet as bait and landed 3 nice gummies and a solid snapper of 5kg.
Shannon and Noey fished Warneet in 11m of water on Sunday night and landed a fantastic 6.8kg snapper on fresh couta fillet.
Matt Anderson fished out from Warneet last week in 8m of water landing some cracking gummies and a snapper. The largest gummy took a pilchard and the smaller gummy and snapper fell to squid.
Jony Ung fished out from Tooradin and landed some cracking snapper on slimey mackerel on snelled rigs.
Jayson Turner from Pro Red Fishing Charters got out on a solo mission this week to scope out some snapper grounds and had a fantastic session on the reds and gummies on snatcher rigs.
Mario Dugonjic fished out from Corinella landing 2 snapper, 3 gummies as well as 3 eels and was plagued by elephant fish.
Gordon Phillips fished with his son Neil out from Corinella and the guys had a lot of success with fresh couta fillet and squid catching this 5kg and 7kg snapper.
Lone Star sales rep, Shane Carrucan fished with Navico sales rep Bill Milonas at Flinders last Saturday catching some cracking southern calamari.
Good customer Pat Ellaby took young Natalie Powell out and she managed to bag 5 ripper squid from the Ventnor area with whiting under a float the preferred method.
James Matarazzo fished Docklands on his kayak this week landing a number of nice sized pinkies on soft plastics.
Glenn Angus fished in 16m of water at Ricketts Point and landed around 15 flathead and one cracking 5kg snapper; the snapper was more interested in the lighter flathead bait/rig than the snapper rigs.
Danny Brett fished with his daughter Scarlet at the Patterson River and Scarlet landed this nice mullet on chicken.
Tom Nguyen fished with Derrick Chau and Farid Tang Xiangde at Mount Martha this week and bagged out using size 3.0 jigs; the Yamashita Pink and Shimano Pink and Orange jigs were the stand outs.
Trent Dickinson and Zach McMahon fished out from Rye chasing squid for bait and had a cracker session bagging out in 5m of water.
Mike Davies fished at Blairgowrie and landed this stonker squid on a size 3.0 orange coloured squid jig.
Shar Kan fished at Queenscliff this week chasing some big squid and was not disappointed.
AJ Azzopardi took his daughter Lilly out for her first squid session and had an epic time out from Swan Bay, they caught 15 squid in total with a variety of jigs doing the damage.
Tom Nguyen fished with Duane Pena, Eric Sidharta and Farid Tang Xiangde and landed 28 squid on a variety of jigs fished from 2 boats.
Michael Barallon fished out from St Leonards this week chasing the big squid and landed some crackers; the big squid took baited jigs and the smaller ones weren't fussy about squid jig colour.
Paul Thomas spent some time at Lake Eildon this past week landing 2 ripper cod on redfin coloured swimbaits; the cod went 86cm and 72cm each caught on consecutive days.
Dale fished the Goulburn River at Thornton and landed this quality rainbow trout on a Nories Wasaby Spoon.
Mornington local, Mark Gray fished with Dylan Athorn fishing in 40m off Lennards Island out from Eden; their snapper went 5kg and fell to fresh yakka on a snapper snatcher. The guys had a ripper time catching a large variety of species.
Joe Greco fished at Cooktown, QLD landing over 17 species of fish and ending the day on these fantastic mangrove jacks.
IFISH WITH TACKLE WORLD SERIES 13
TALKING FISHING - C31 TV - TUESDAYS @8.30PM
Catch "Talking Fishing" on Melbourne's C31 TV (CH44) at 8.30pm each Tuesday night. Staff members David Kramer and Adam Ring together with Steve "Trelly" Threlfull host Australia's only "Live to Air" fishing television program at this prime time-slot. Put Tuesday night's at 8.30 away in your weekly diary of TV shows to watch!
Koala is Aboriginal for "no drink".

Good Luck with your fishing and stay safe on the water,

The TEAM at Tackle World Cranbourne & Mornington