The stonker rainbow trout from the Goulburn River are still being caught and on a variety of methods. Lure fishermen are spoilt for choice with hard bodies, Tassie Devils and soft plastics all working however the stand out (especially with harder flowing and dirty water) has been PowerBait rigged with a swim feeder which has attributed to the majority of catches this past week.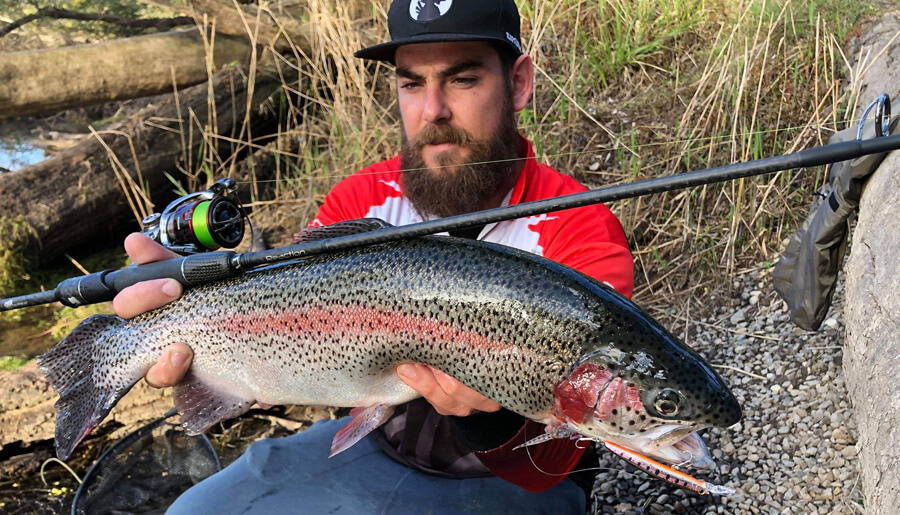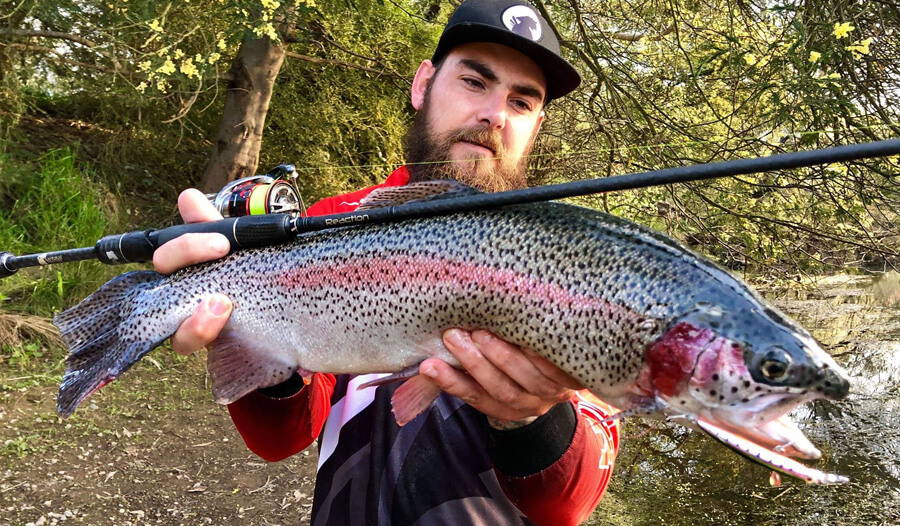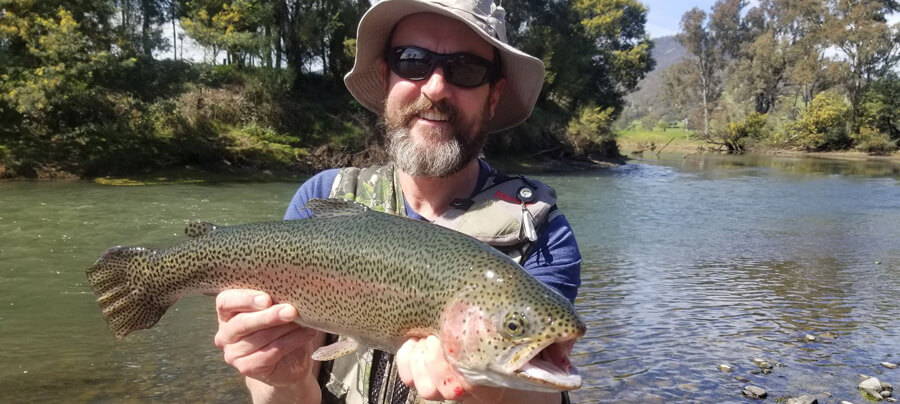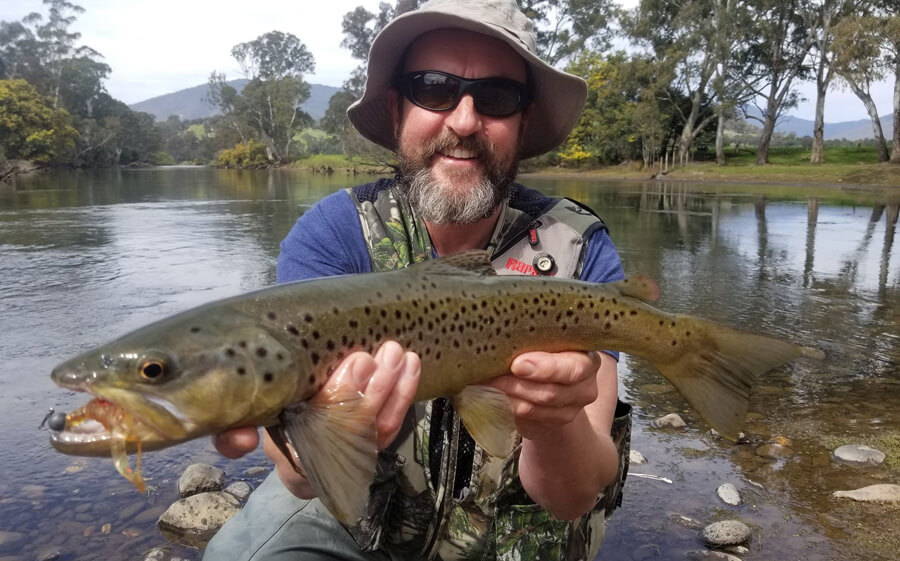 Gerry Morsman and Garry Norton used Atomic diving minnows and soft plastics.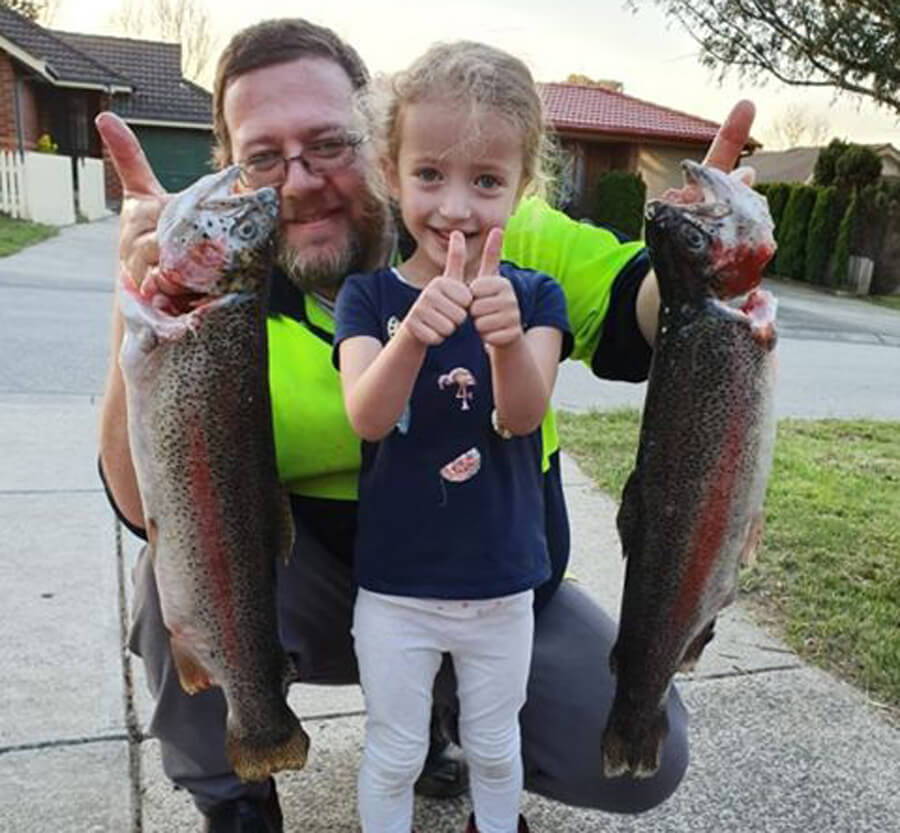 Kane Overton and his daughter Emma on PowerBait.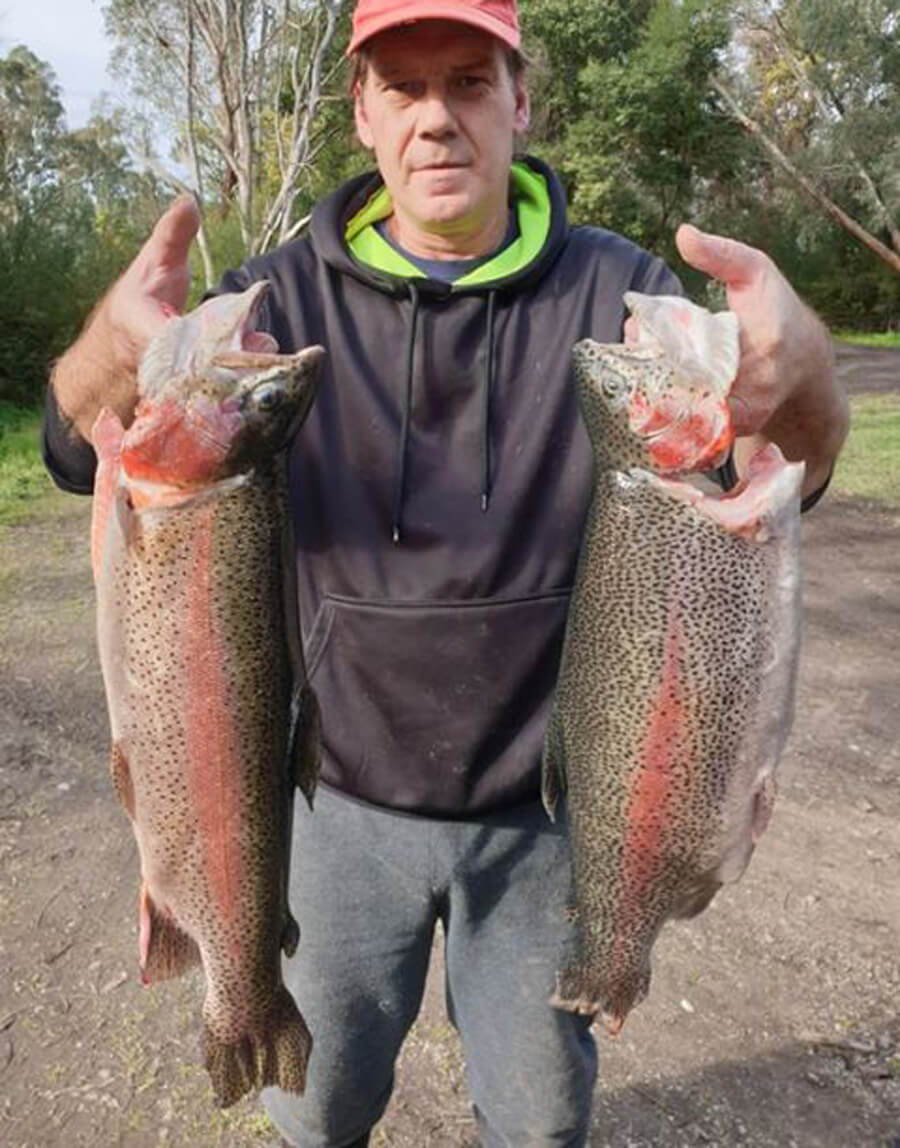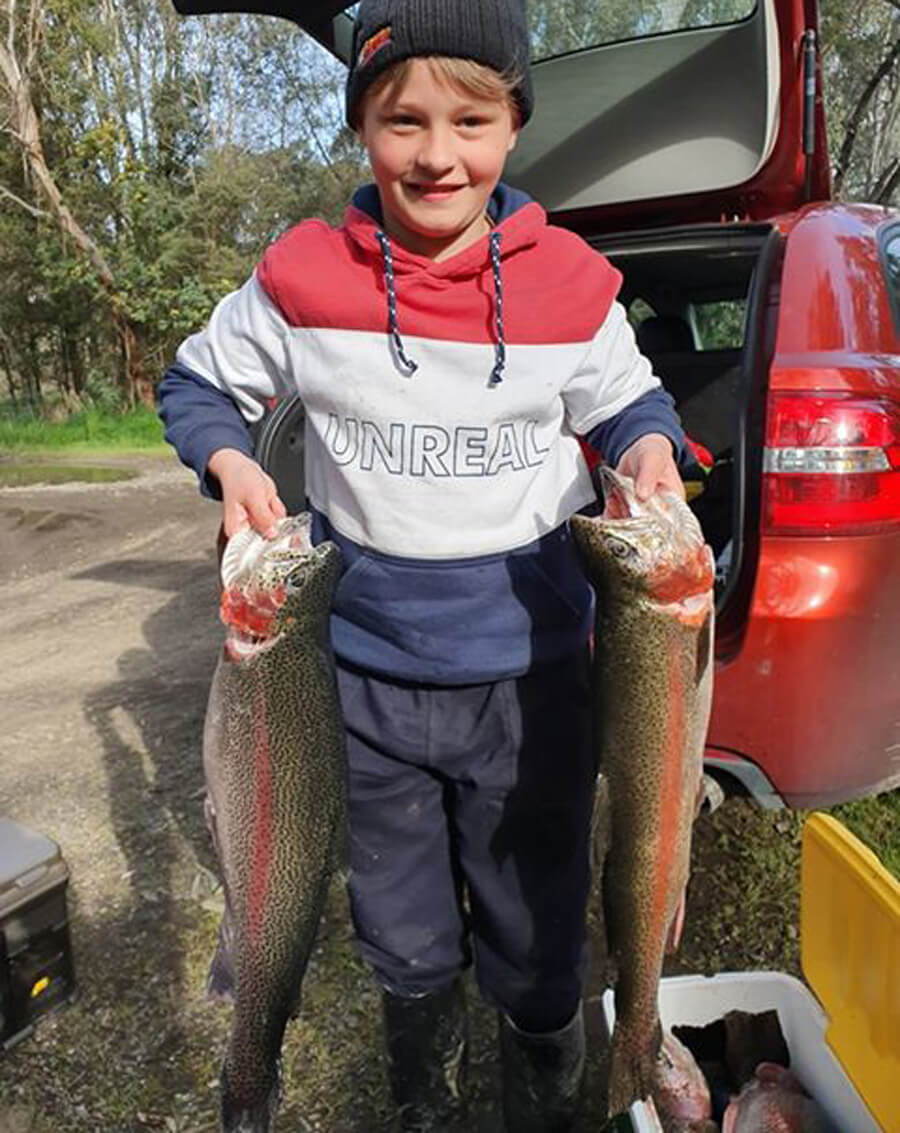 Shaun Mulcahy and his son Caleb using PowerBait landed 8.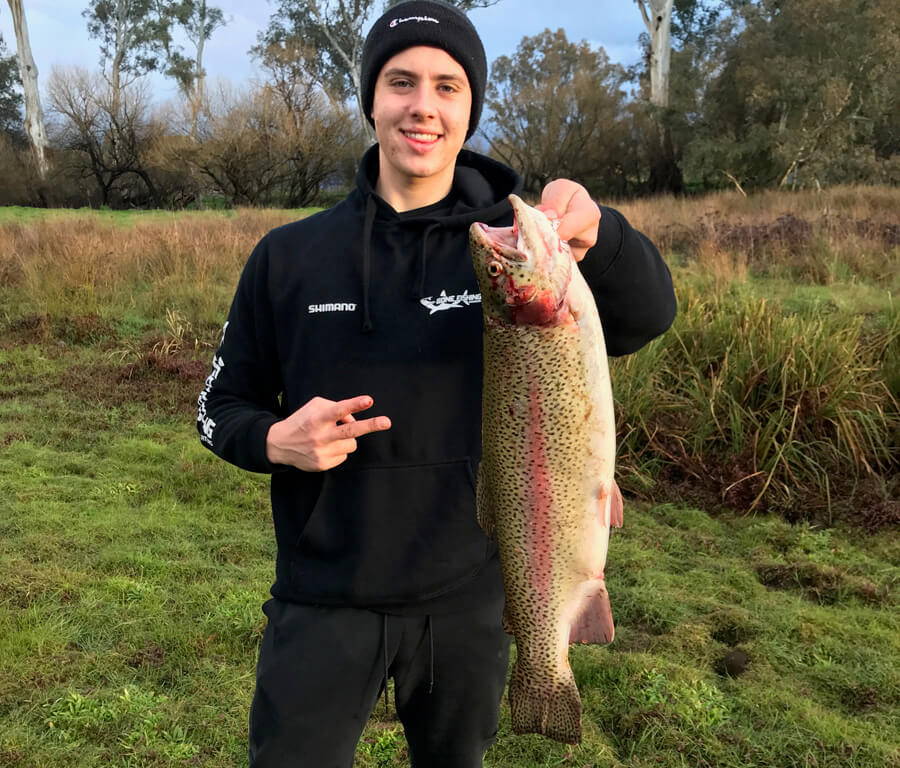 Luca Cerullo on a Tassie Devil.

Mick Lane, Blue Gums on a Rapala CD5.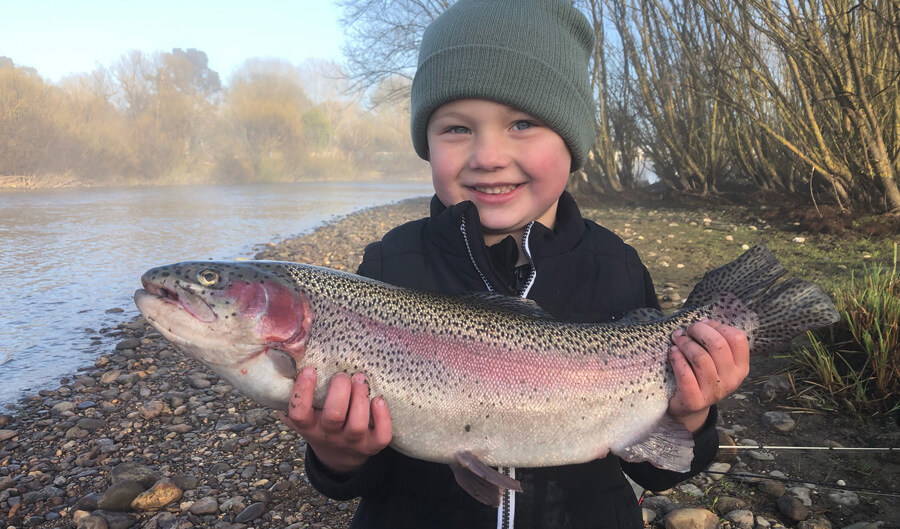 Jack Smith, 8lb from Breakaway on gold Bob 'n Spoon.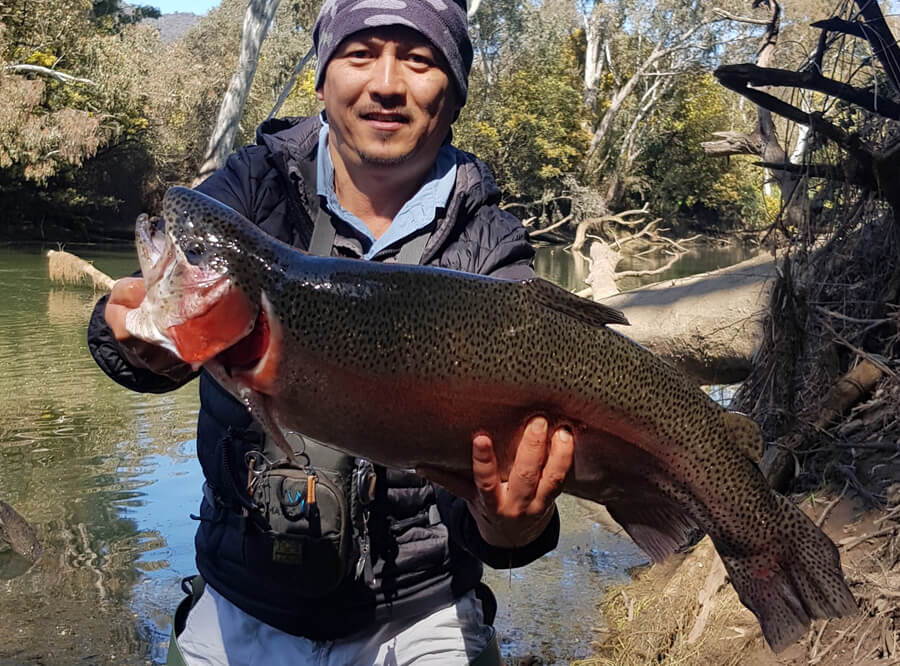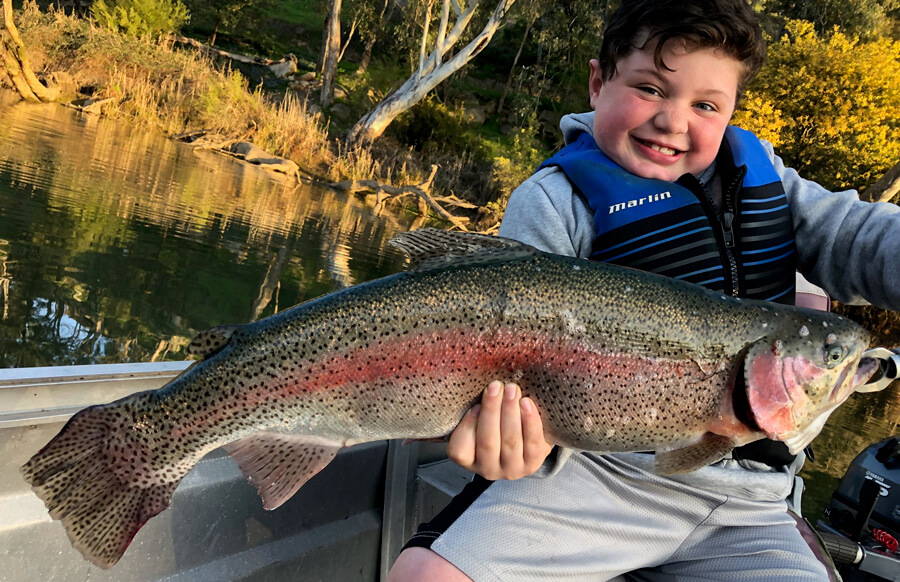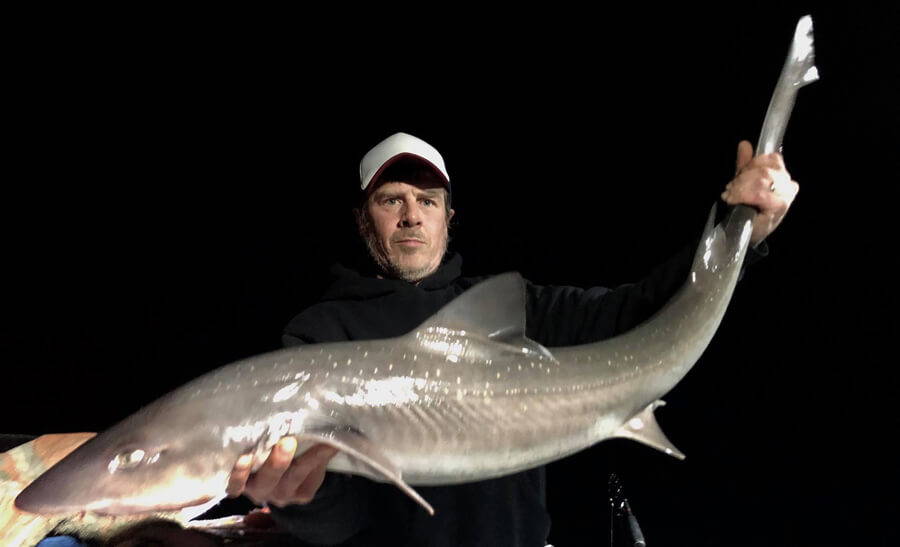 Shaun Furtiere from Think Big Fishing Charters had customers Phil Specs, Harvey and Chris Taylor on board and landed a ripper gummy shark fishing Western Port.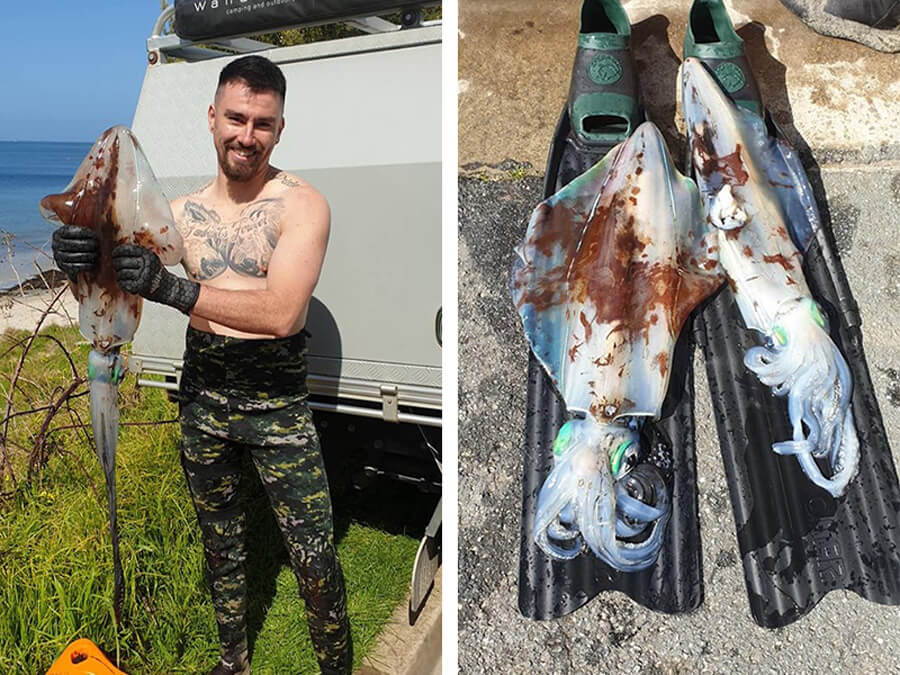 David West went for a spear fish out from Flinders on the weekend and managed a couple of cracking squid.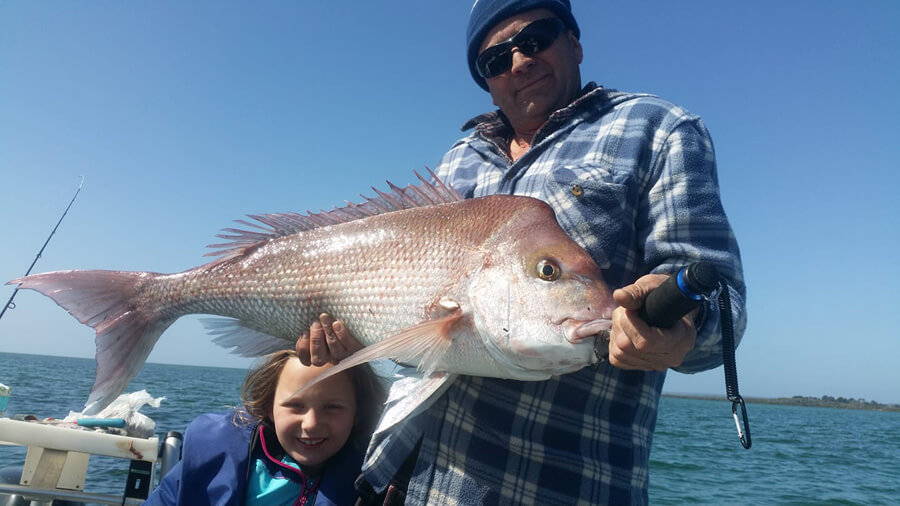 Troy Atkins with a ripper snapper of 7.2kg/82cm caught on slimey mackerel during the tide change at Middle Spit.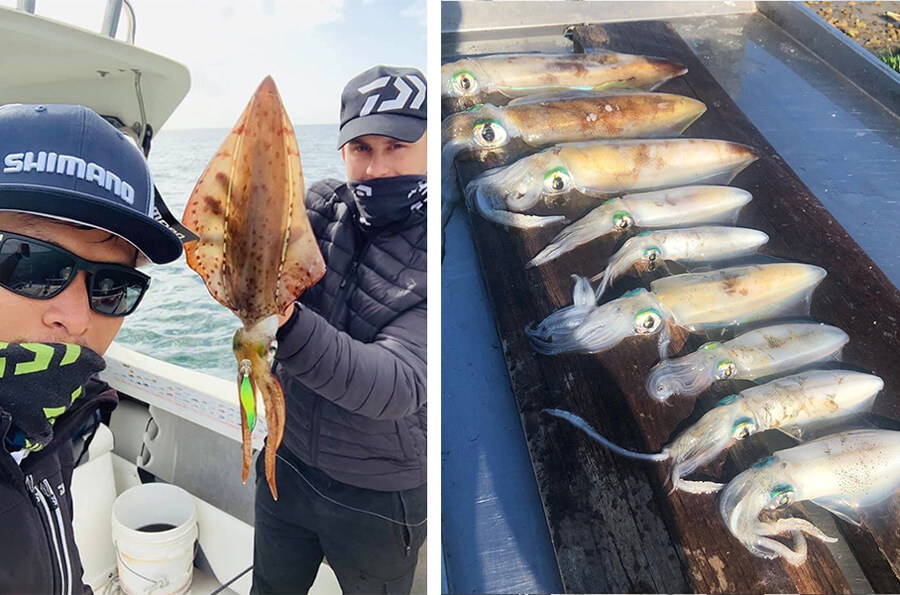 Tarran Van Edmond and Michael Petcharat fished Tyabb Bank early in the week for some quality calamari.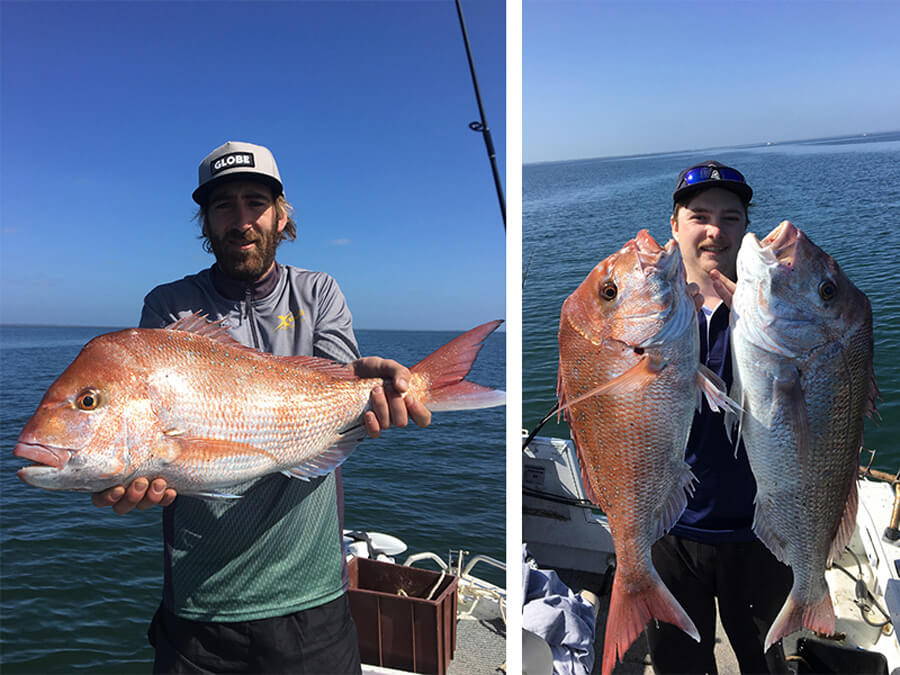 Kallan Braid-Ball and Matt Thompson fished the Top End of Western Port today and nailed a couple of ripper reds on fresh squid. Great work guys!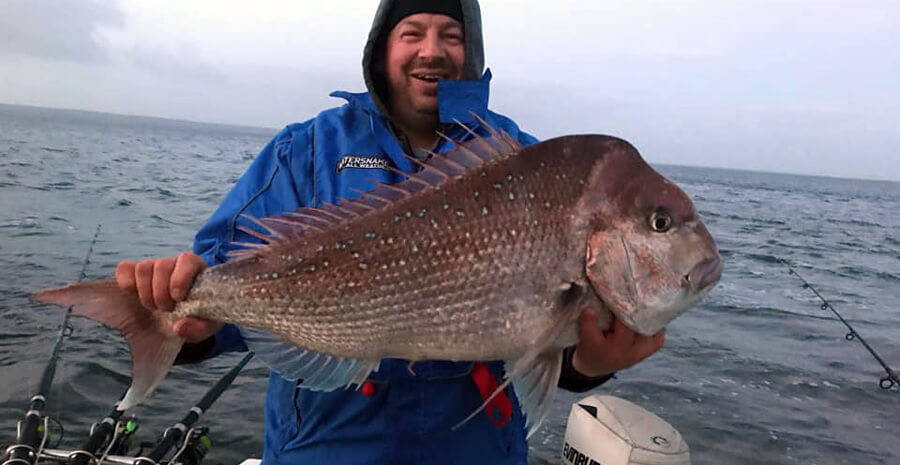 Vince Ascenzo and Lindsay Rosin fished the Top End of Western Port on the weekend and landed this cracker 8.3kg snapper using pilchard for bait.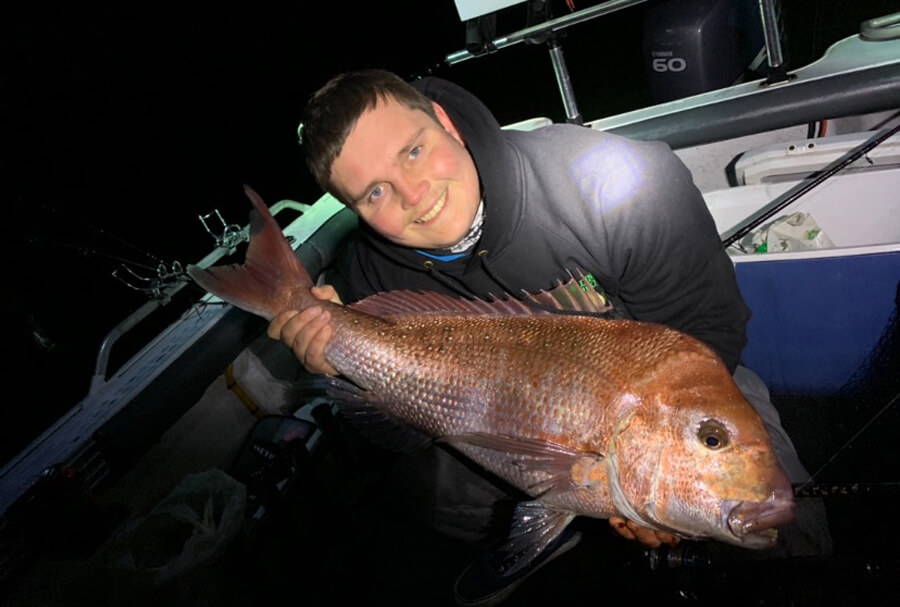 Chris Preston fished Boultons on Monday night and managed this cracker 7.8kg/86cm snapper that took a pilchard on a snelled rig during the tide change.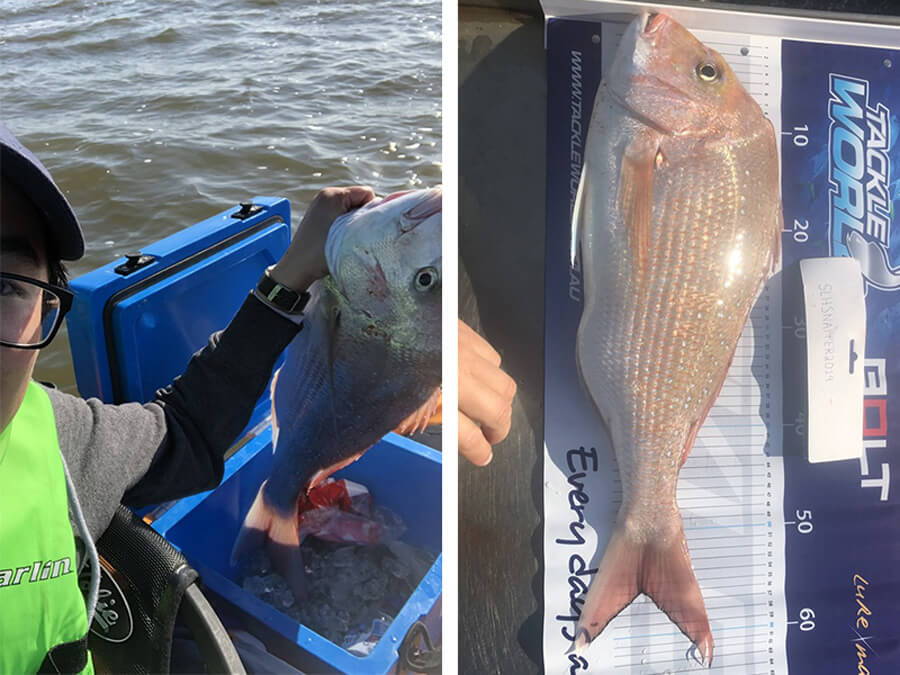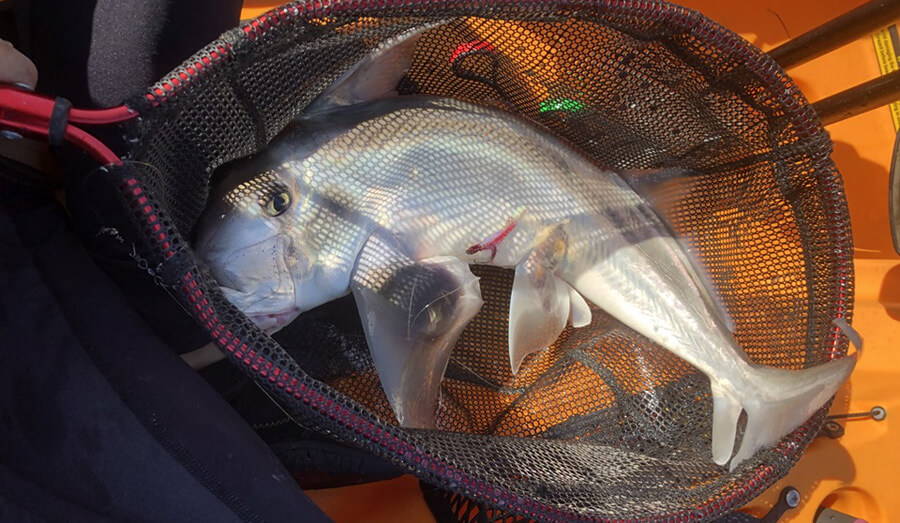 Sambo Chea fished the channels out from Lang Lang in his kayak and managed a fantastic snapper just over 60cm as well as an elephant shark.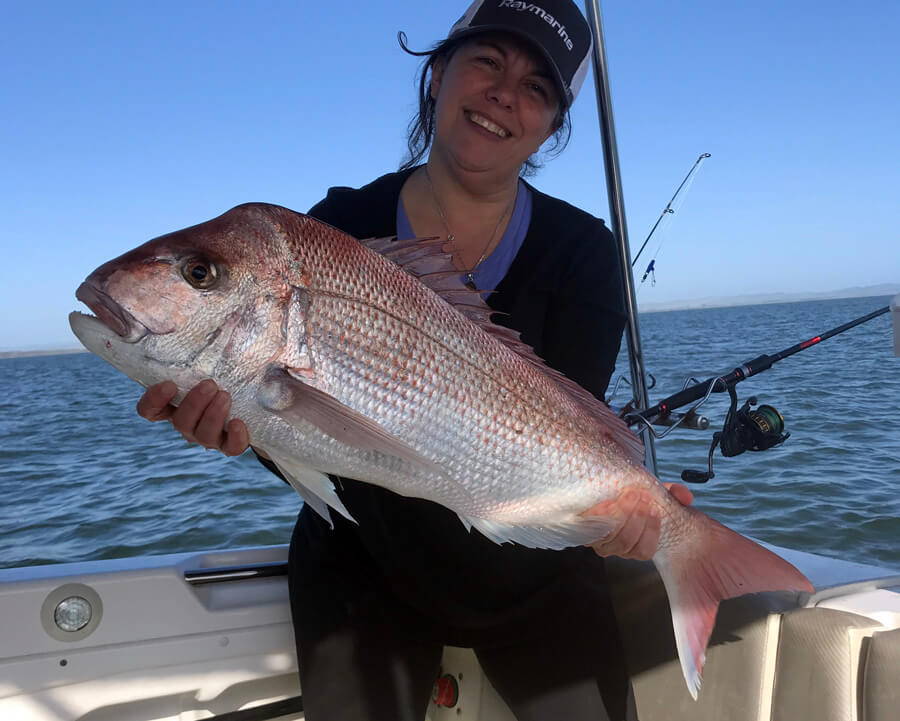 Carmen Tavares with a beautiful snapper of 75cm caught out from Corinella.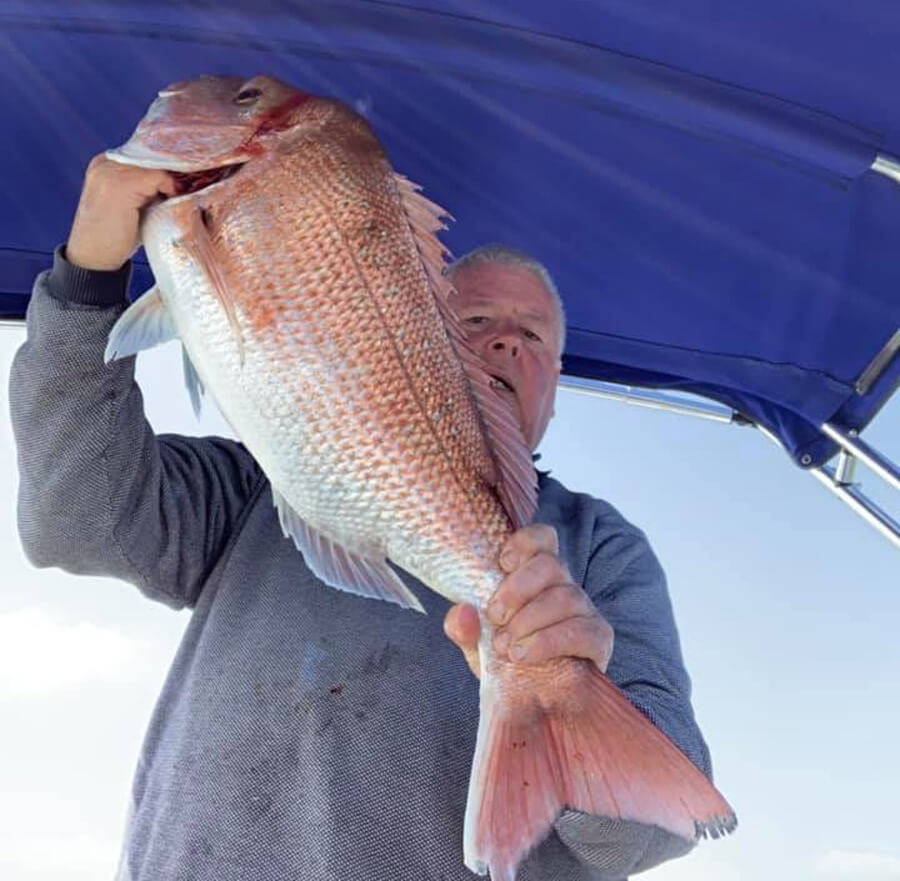 Don Wood fished solo out from Corinella and managed a fantastic snapper.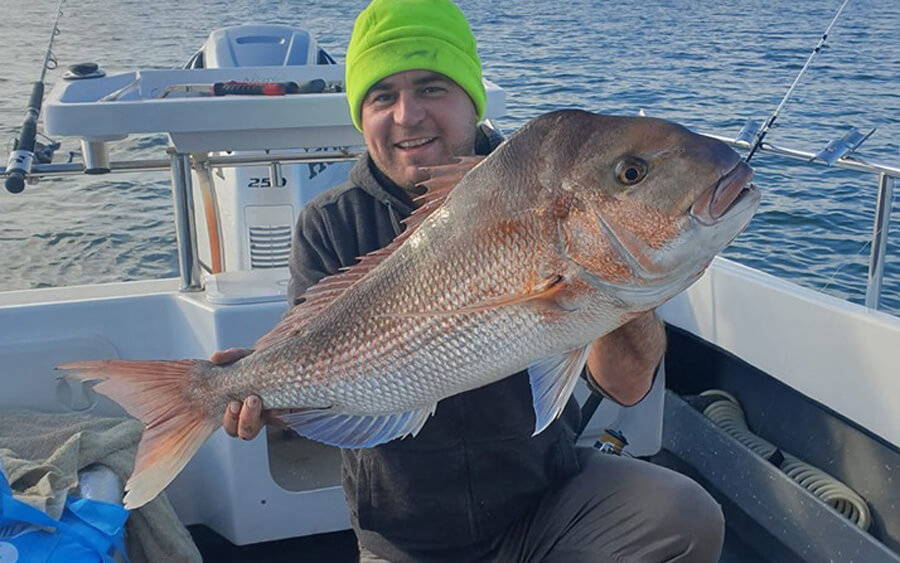 Gerard Foster with a cracking snapper caught from The Corals last week.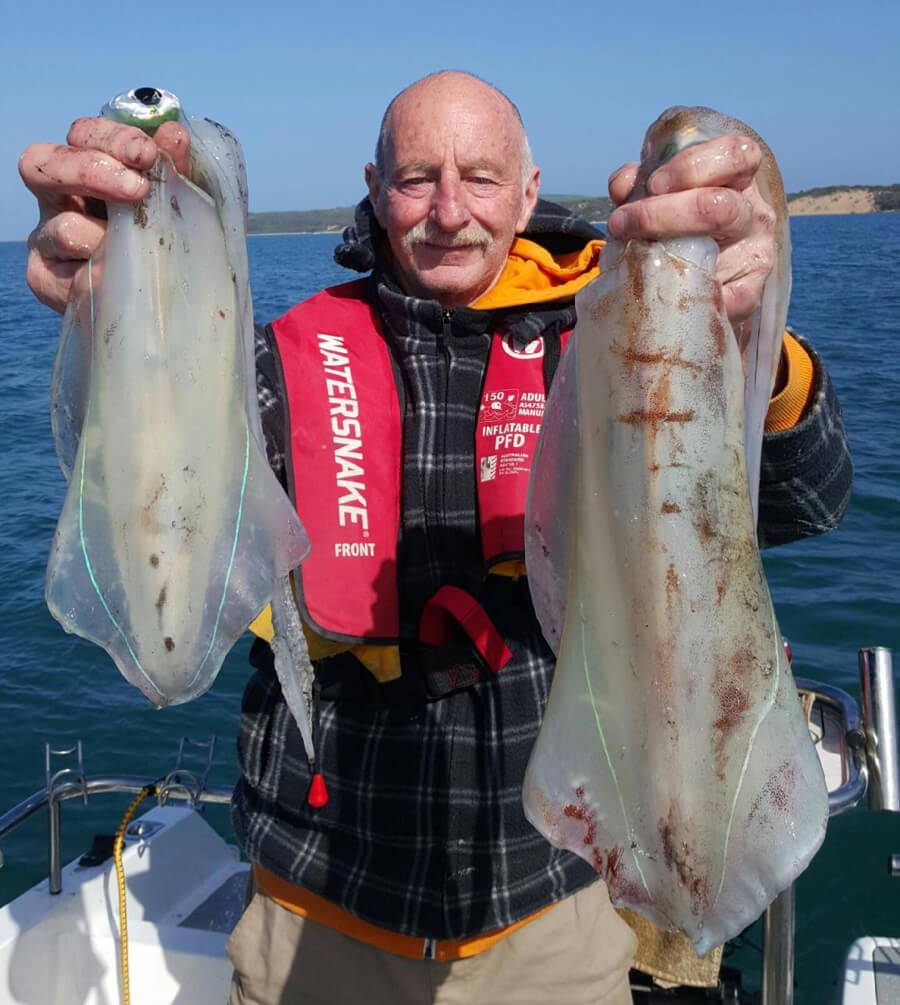 Brian Rinaldi with a couple of solid calamari caught off San Remo on Saturday. Love ya work mate.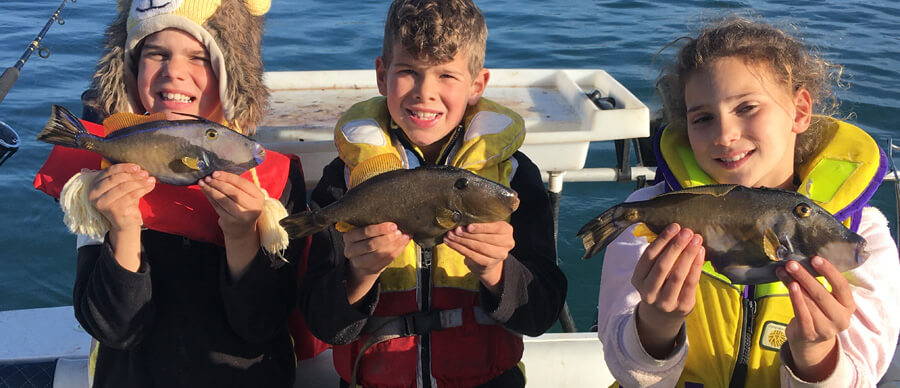 Chloe, Seth and Zac with some nice leather jackets caught from Newhaven.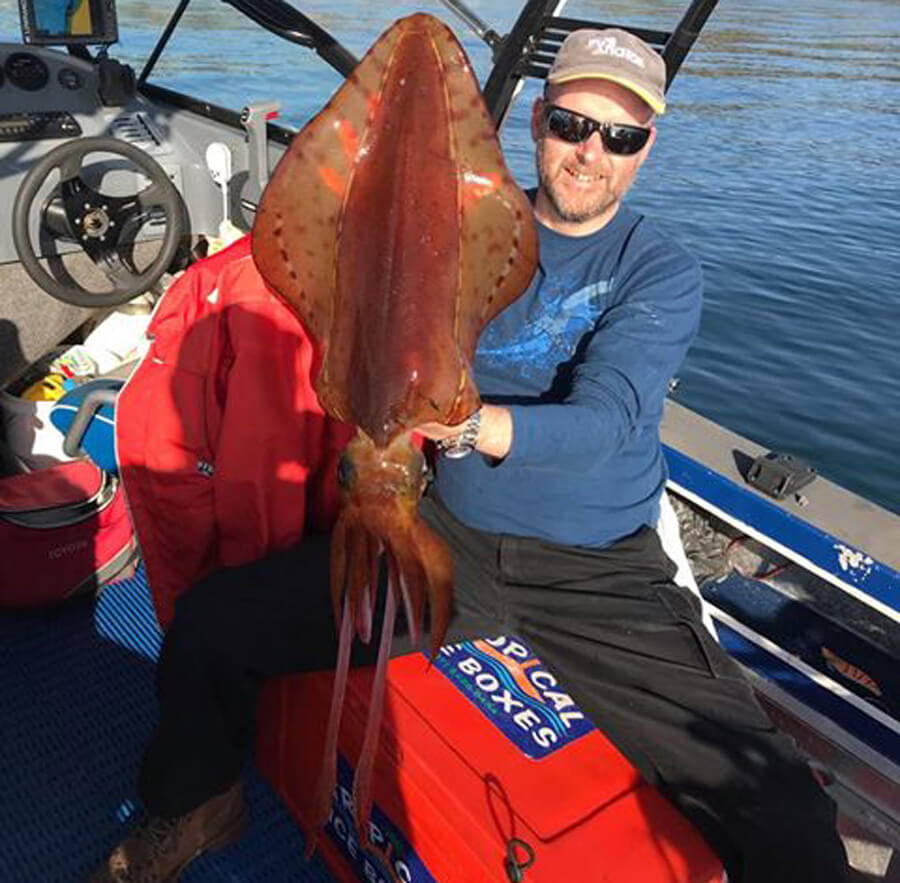 Robert Hutchinson landed this horse of a calamari (51cm hood) while fishing off Mt Eliza on the weekend. Rob has a feeling this beast must have taken a wrong turn at Portsea as we don't normally see squid this big this far up the bay.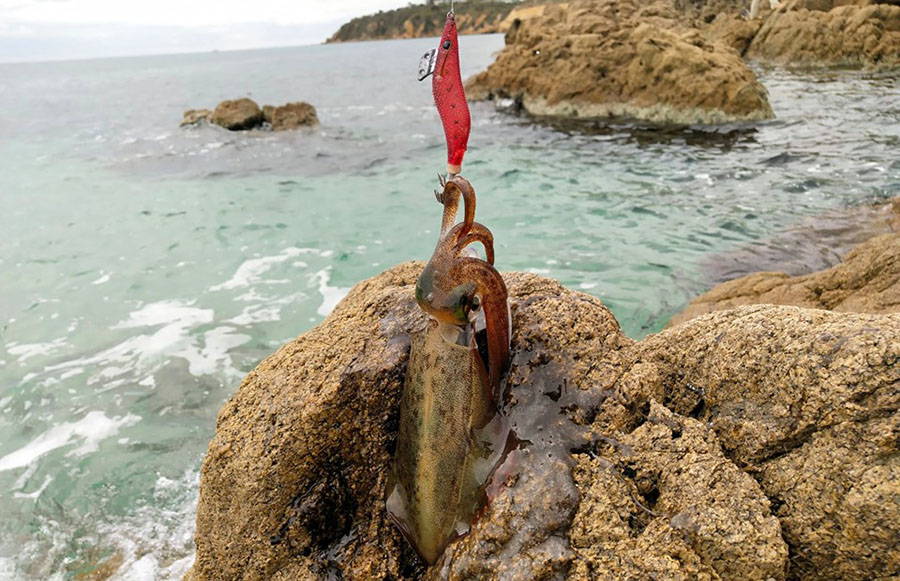 Andre Wui fished the rocks at Mount Martha and managed a couple of nice squid for a feed on red 2.5 sized jigs.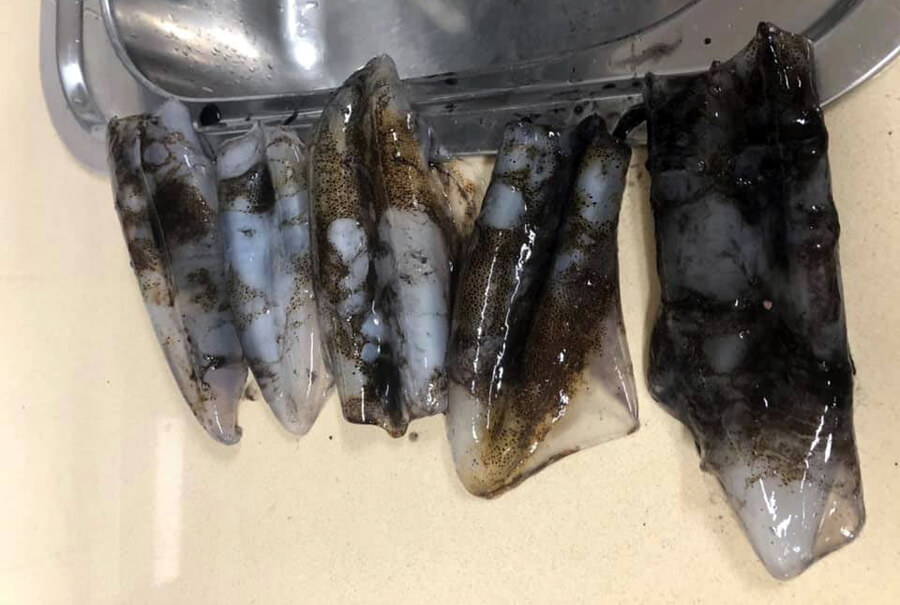 Nuraj Isai bagged 5 nice squid fishing from the rocks at Mount Martha using rainbow foil jigs.
Paul Failla, his old man and little brother fished out from Rye and Rosebud on the weekend for a ripper bag of whiting between them using fresh squid for bait.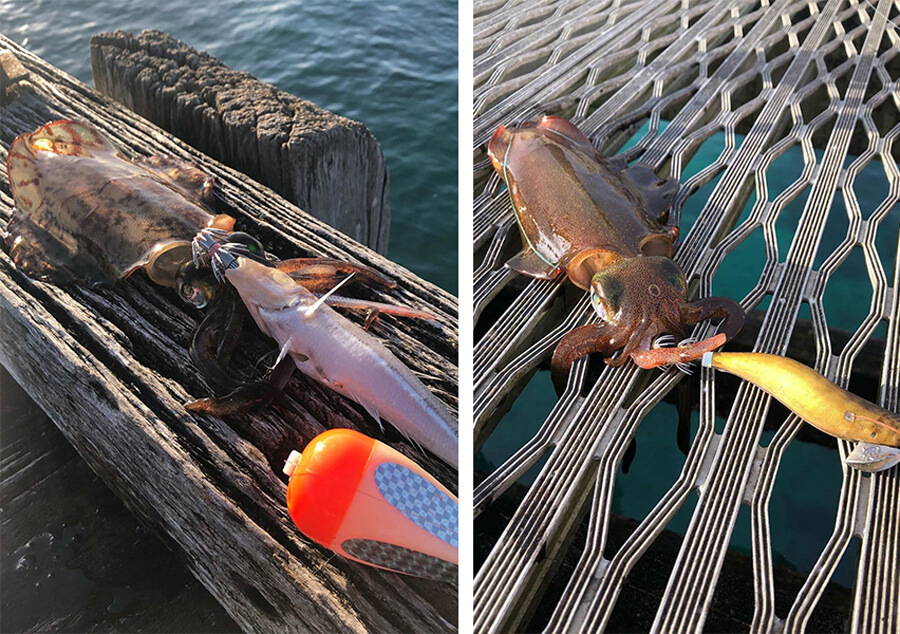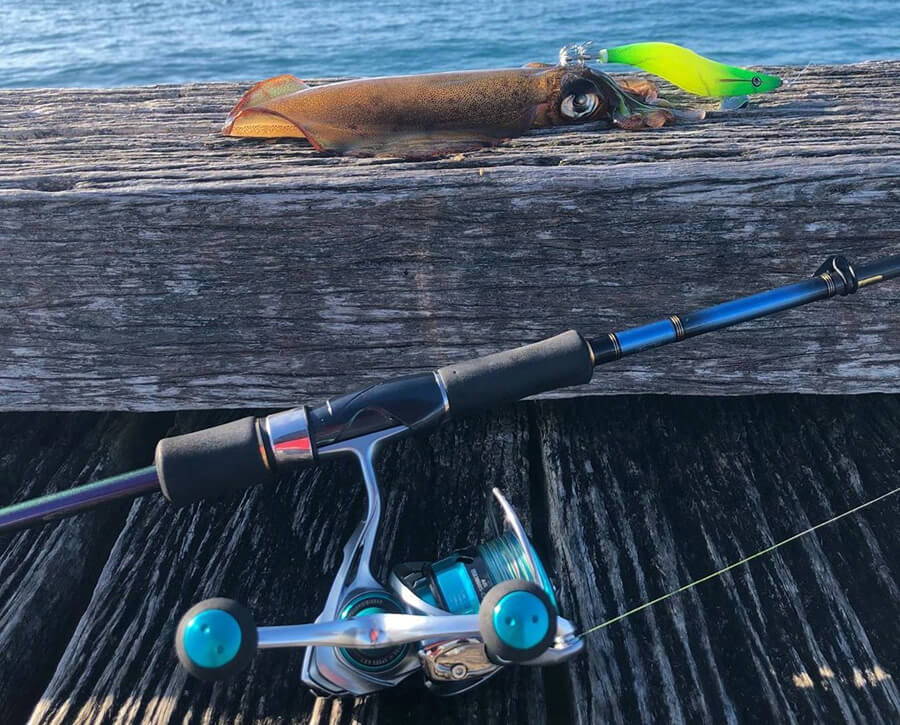 Tarran Van Egmond fished Portsea Pier on Tuesday and found the squid turned it on just before sundown.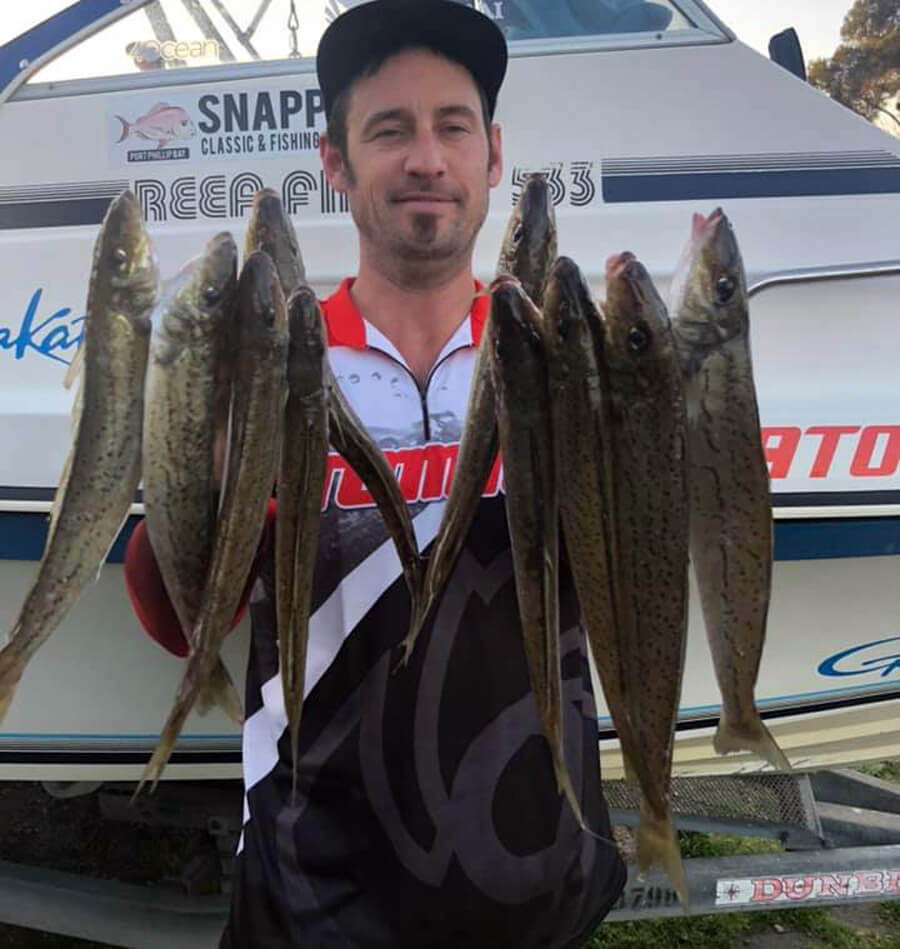 Julian Rennie fished St Leonards in 7 metres of water for a nice feed of King George whiting caught on squid strips.
Glenn Busuttil fished Altona in 2-3 metres and smashed the squid using black squid jigs.
Portland barrel tuna have not stopped and there has been a consistent size class from 80kg to 140kg caught at variety of locations in the area. Based on customers coming through the store; "redbait" skirted lures especially the Bonze Winged Exocet in "Paris" paired with a pink or green spreader bar have been dominating the fish from Portland to Port Mac.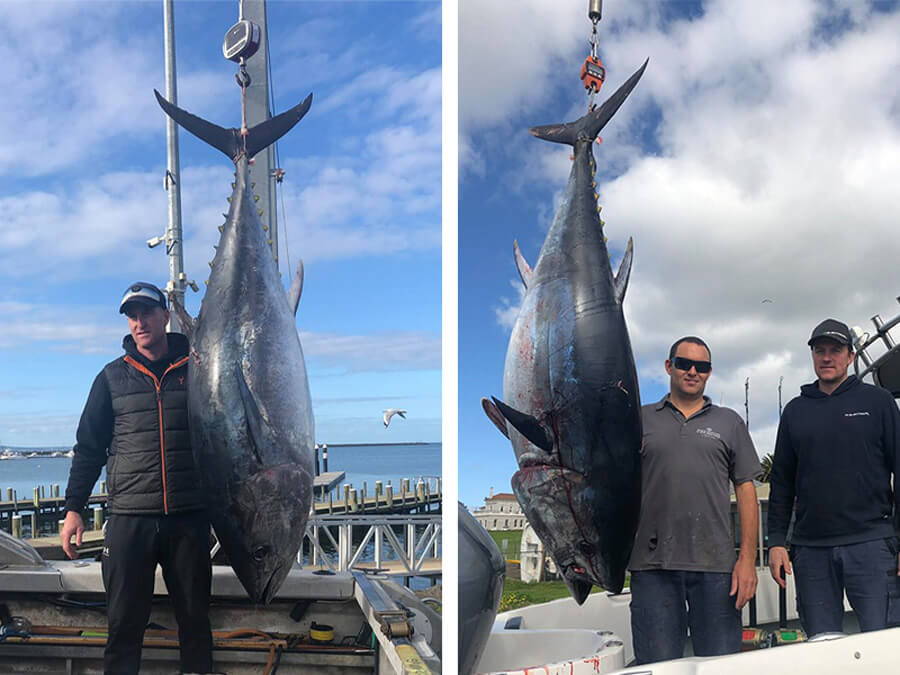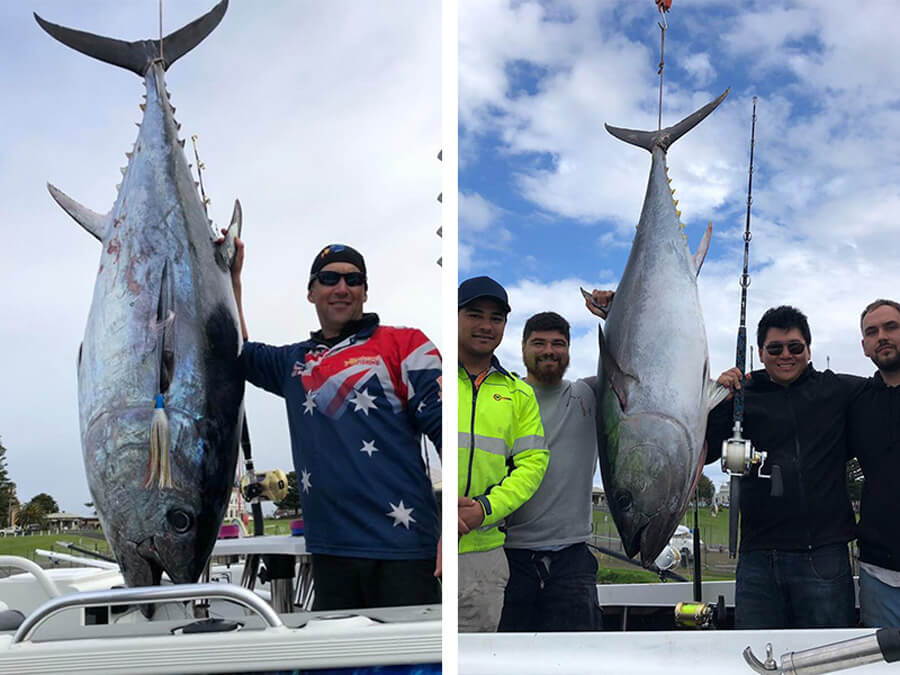 Pictures courtesy Portland Bait & Tackle.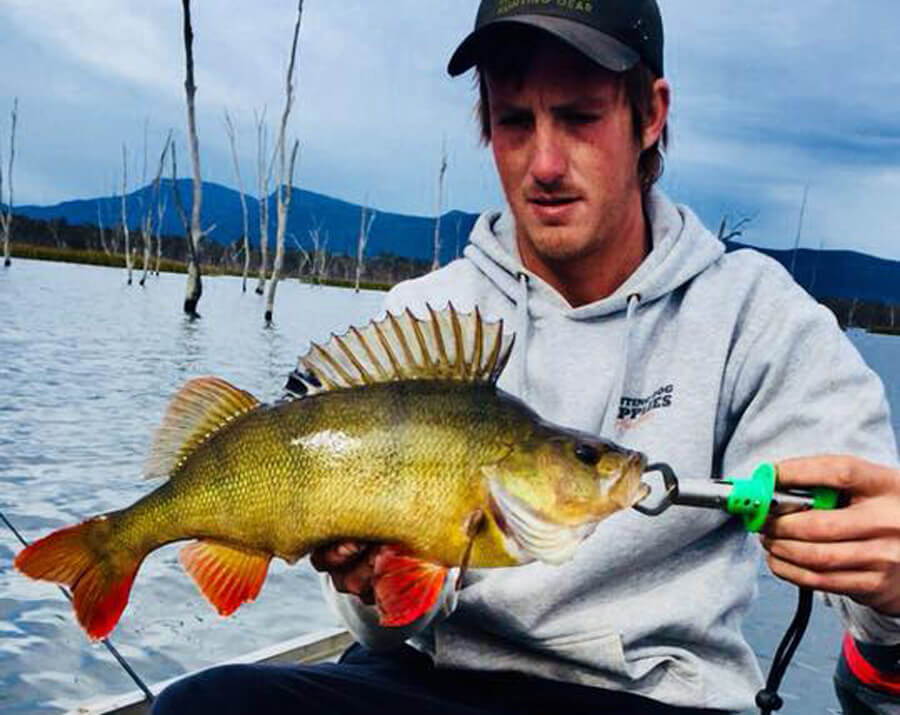 Matt Charles caught this cracking redfin perch fishing at Lake Fyans using a vibe, great catch mate.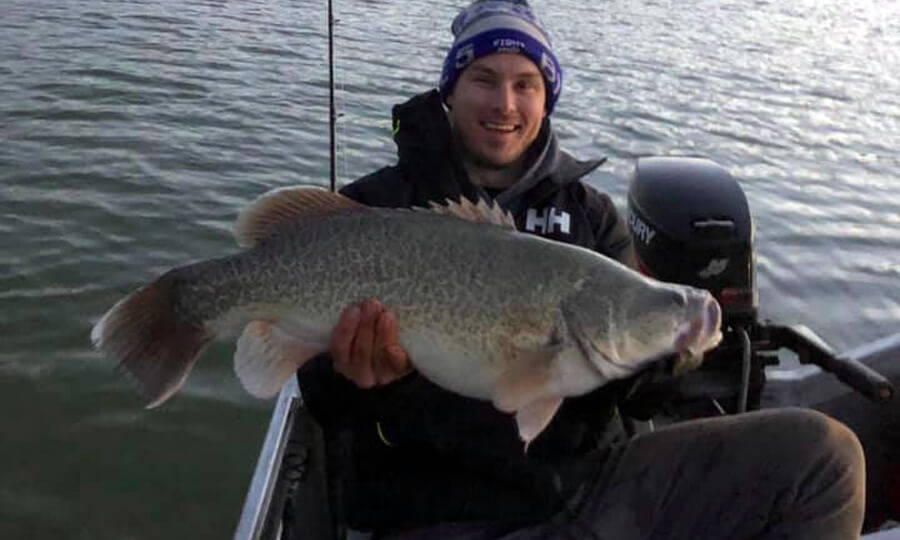 Craig Lashbrook managed this ripper 71cm Murray cod flicking a Jackall Gantarel around the flats at Goughs Bay. Fantastic fish Craig well done!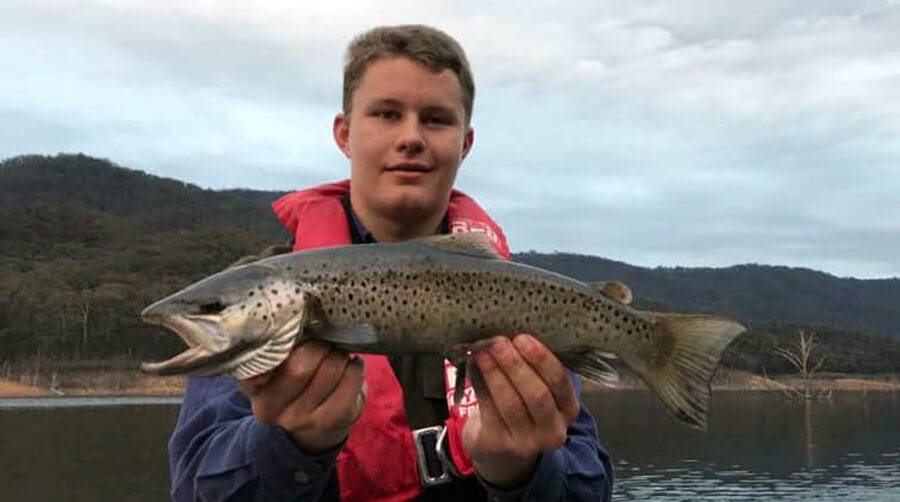 Thomas Vercoe landed this nice brown trout of 48cm while trolling at Lake Eildon.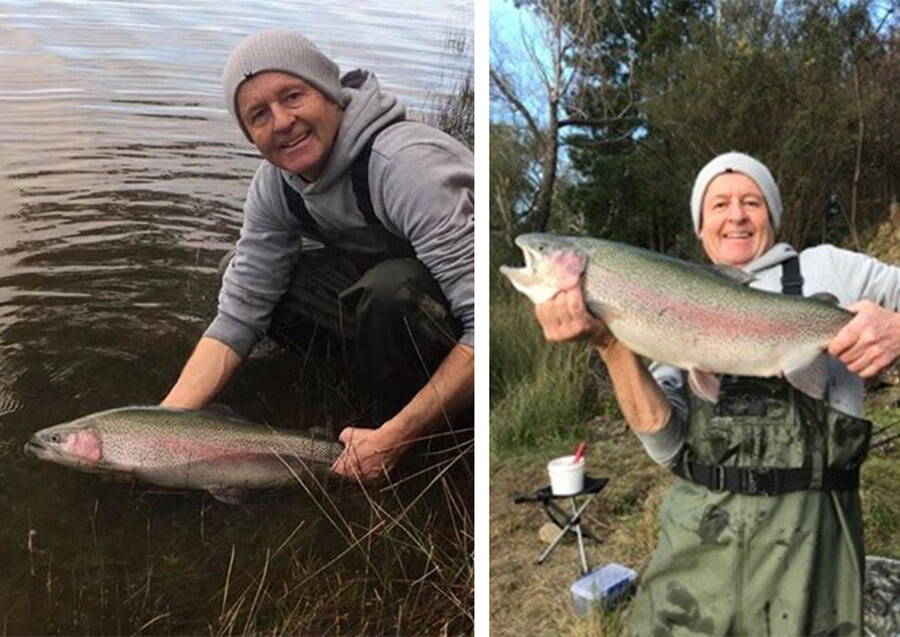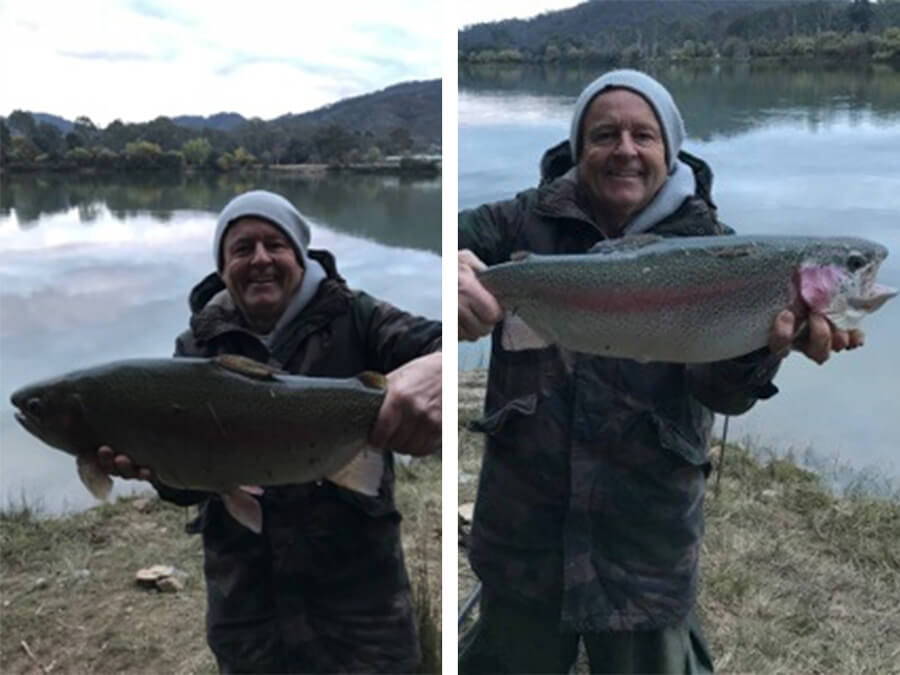 Phil Shannon fished The Pondage on Saturday morning and caught and released heaps of stonkers with the smallest a mere 60cm. Well done mate.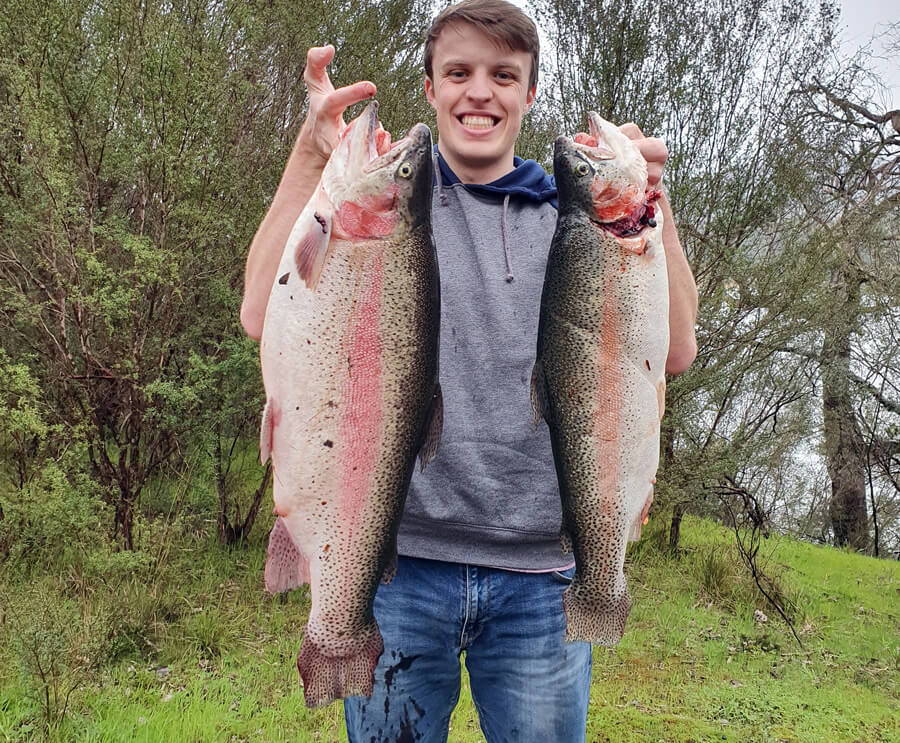 James Ashcroft with a couple of stonkers caught at Eildon Pondage last week.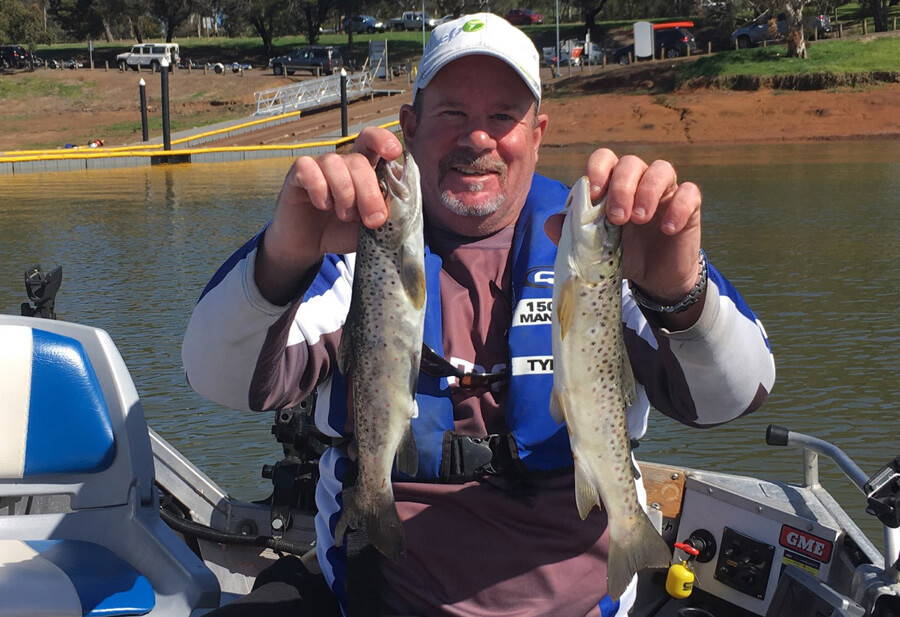 Mark Eaton with a couple of nice trout from Blue Rock Lake.
Nick got this 133cm kingfish off Narooma's Montague island last week. Not very common at the island at this size in recent years. Doesn't this just get you amped for our local kingy season?
IFISH WITH TACKLE WORLD SERIES 14
TALKING FISHING - C31 TV - TUESDAYS @8.30PM
Catch "Talking Fishing" on Melbourne's C31 TV (CH44) at 8.30pm each Tuesday night. Staff members David Kramer and Adam Ring together with Steve "Trelly" Threlfull host Australia's only "Live to Air" fishing television program at this prime time-slot. Put Tuesday night's at 8.30 away in your weekly diary of TV shows to watch!
The catfish has over 27,000 taste buds.


Good Luck with your fishing and stay safe on the water,

The TEAM at Tackle World Cranbourne & Mornington