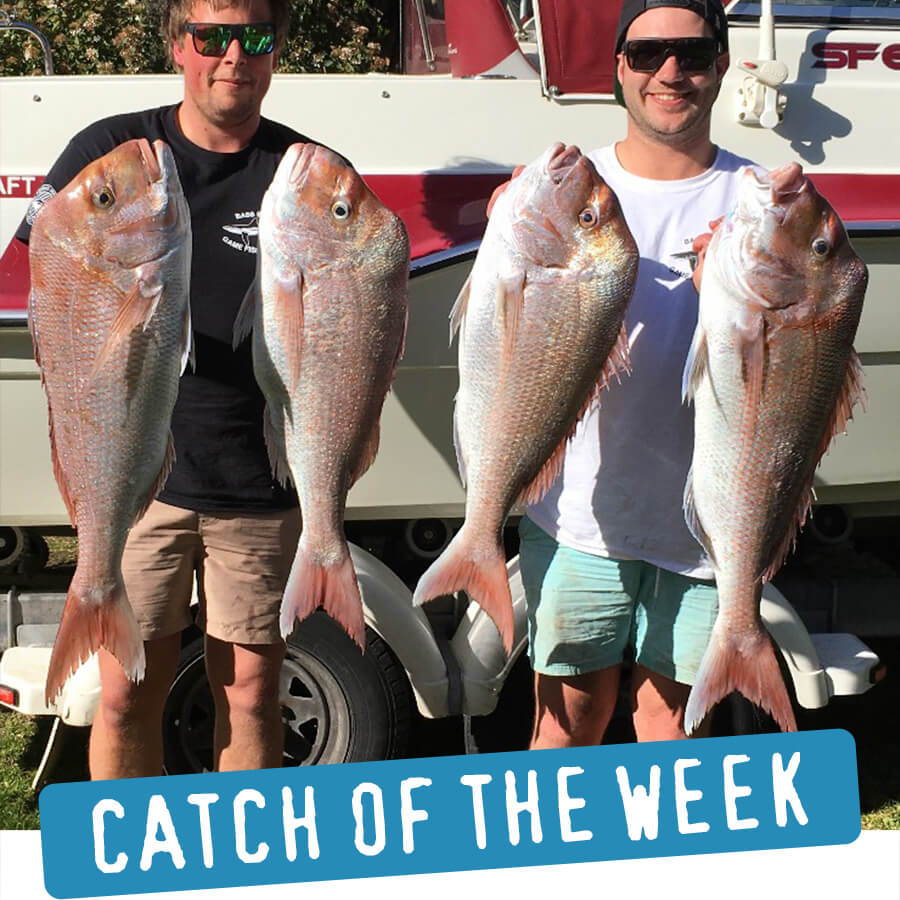 Congratulations to Sam Coffey and Trent Dickinson on their cracking snapper caught at the Top End of Western Port, you guys are this weeks' Catch of the Week.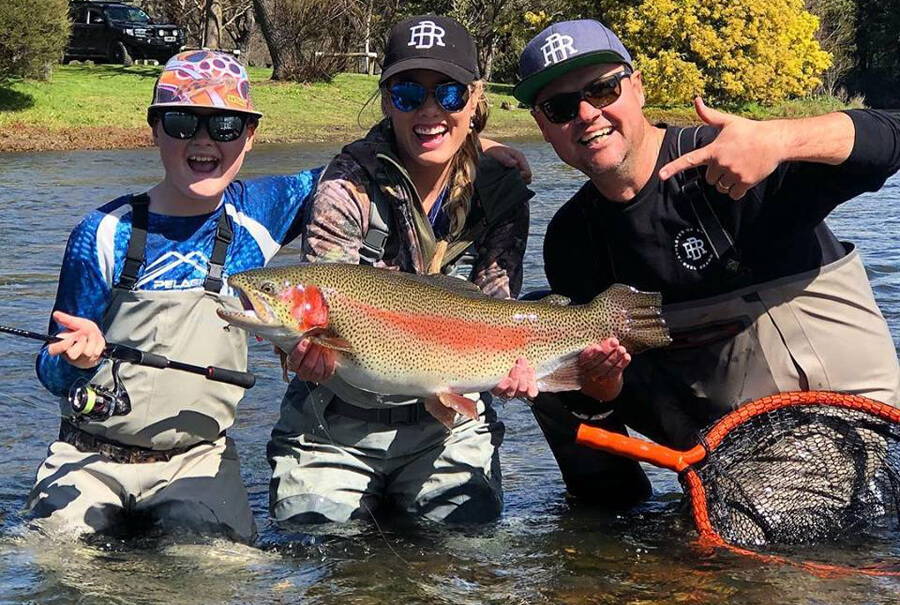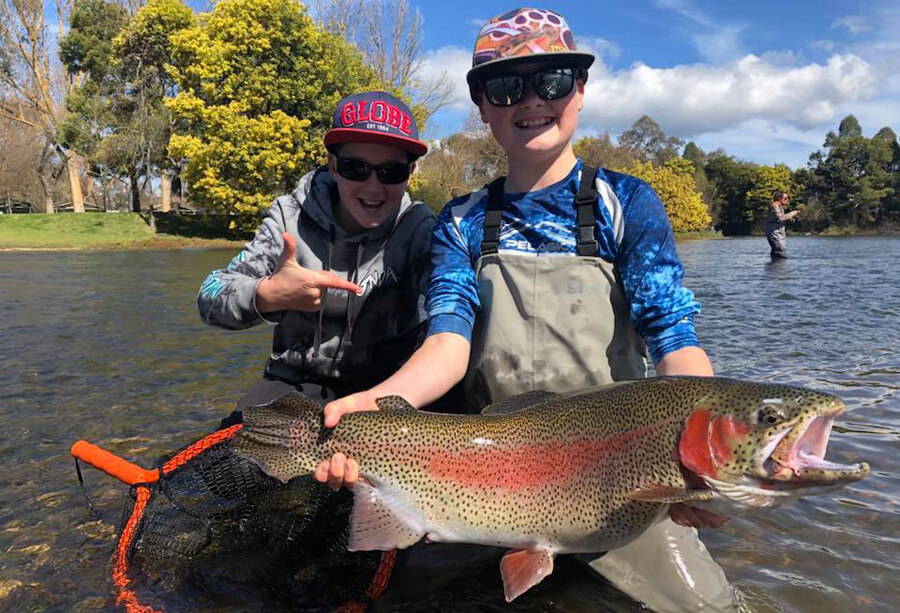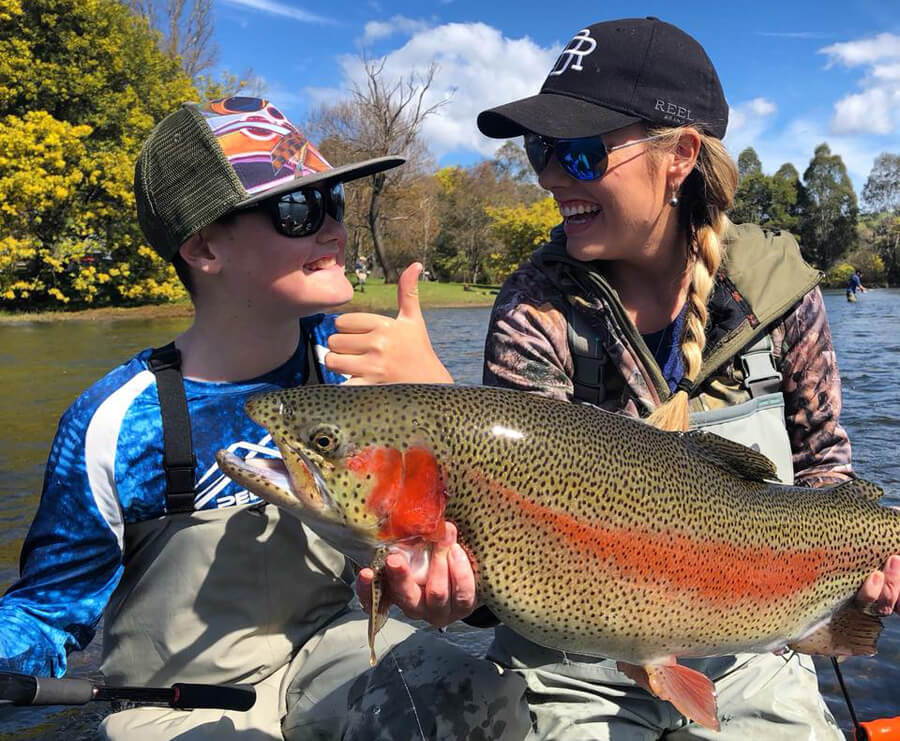 After the great session at the Goulburn River last week PW couldn't resist taking the family back to chase some monster rainbow trout. Paul, Cristy and Jet fished with Jet's mate Matthew, Cristy caught rainbows to 15lb, Jet to 10lb and Matt caught fish to 10lb. The best lures for the weekend were Rapala Minnows in brown trout pattern and dark coloured Berkley T Tail Minnows on Pink Fuze Hammerhead Jigheads. PW reports that the key is to get the lures down deep into the holes as that is where the fish are sitting and fishing from the Breakaway to the Pondage the best areas with plenty of fish still about.
Shaun Furtiere from Think Big Fishing Charters had clients Jacob Day and Luke Lourens on board for a cracker session on the gummy sharks that are getting around Western Port at the moment.
Mitch, Memphis and Dalton had an awesome day at Flinders catching good numbers of squid on jigs in white/red and yellow/green colours. The Odori white/red headed jig is a great all rounded to have with you.
Brendon Hogg fished out from Merricks Beach on the kayak this week and managed this ripper 1.27 metre gummy shark.
Brian Rodgers managed this ripper squid at Tyabb Bank this week, we know that orange jigs like the IKA Orange Shrimp is a great option to throw around in the Tyabb Bank area.
Chris Porter fished Tyabb Bank this week and managed a nice bag of squid with all caught on yellow/green coloured jigs.
Aiden Duke hit Tyabb Bank on Friday and managed some solid squid on natural coloured jigs.
Looks like the Top End is working well for fisho's hunting some early season snapper. Sam Coffey fished with Trent Dickinson and caught some solid snapper to 6kg on fresh squid rings. Rigging squid on Instinct Flasher Rigs is a great option.
Jayson Turner from Pro Red Fishing Charters headed out with his customers chasing snapper around the Top End of Western Port. They managed some nice snapper to 5kg on fresh squid caught on a variety of coloured jigs.
Chris fished around Joe's Island this weeks and landed this cracking 9.5kg snapper that he sounded up only moments before.
Staff member Scott Harper headed out to Corinella last week and got his snapper season off to a fantastic start with this beautiful 79cm model caught on a pilchard on the run out tide.
Eric Bartolo caught this solid snapper fishing near the West Gate Bridge in Port Melbourne.
Ollie fished the rocks at Mornington and caught some nice salmon to 2kg on fresh squid. Ollie reports that the salmon are very thick at Mornington right now.
Sam Giaquinta headed out to 20 metres off Mount Martha this week and while there was no snapper action he managed some cracking flatties.
St Leonards is going off for whiting at the moment, pick the tides and grab some fresh squid like Daniel Zagami from Fish On Charters has been. His customers; Nick, Moe and Amin had a cracker session fishing the run out tide using fresh squid and cuttlefish for bait.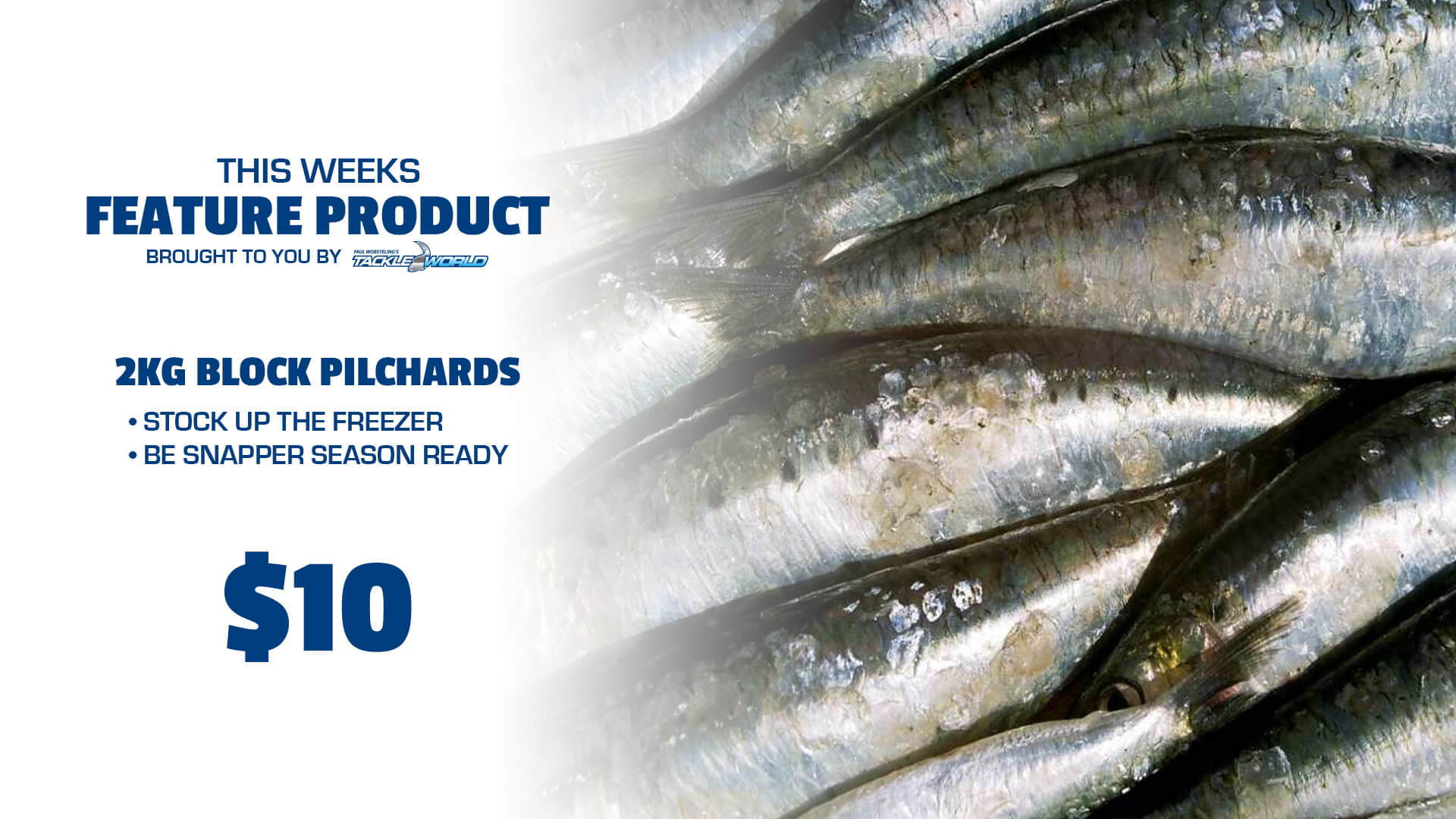 Orlando Thomas fished at Thornton Bridge on the Goulburn River and managed this solid rainbow trout on a Z-Man Slim Swimz soft plastic.
Jed Fraser caught this ripper 5.5kg rainbow at Thornton over the weekend on a spinner. Make sure to have spinners like the Hester Willow's in your tackle box if you are heading out after trout.
Luke Styles smashed the rainbows at the Goulburn this week catching them on soft plastics in the fast flowing water.
Lou Cipri fished the Goulburn this week and caught this fantastic 6.2lb rainbow trout.
Luke Marchetti fished the Goulburn on Saturday for the first time and had a fantastic day catching a solid 2.5kg rainbow on a soft plastic.
Matthew Forbes found it tough out at Lake Eildon this week but managed a nice yella for his troubles.
IFISH WITH TACKLE WORLD SERIES 13
TALKING FISHING - C31 TV - TUESDAYS @8.30PM
Catch "Talking Fishing" on Melbourne's C31 TV (CH44) at 8.30pm each Tuesday night. Staff members David Kramer and Adam Ring together with Steve "Trelly" Threlfull host Australia's only "Live to Air" fishing television program at this prime time-slot. Put Tuesday night's at 8.30 away in your weekly diary of TV shows to watch!
A strawberry is not actually a berry but a banana is.

Good Luck with your fishing and stay safe on the water,

The TEAM at Tackle World Cranbourne & Mornington