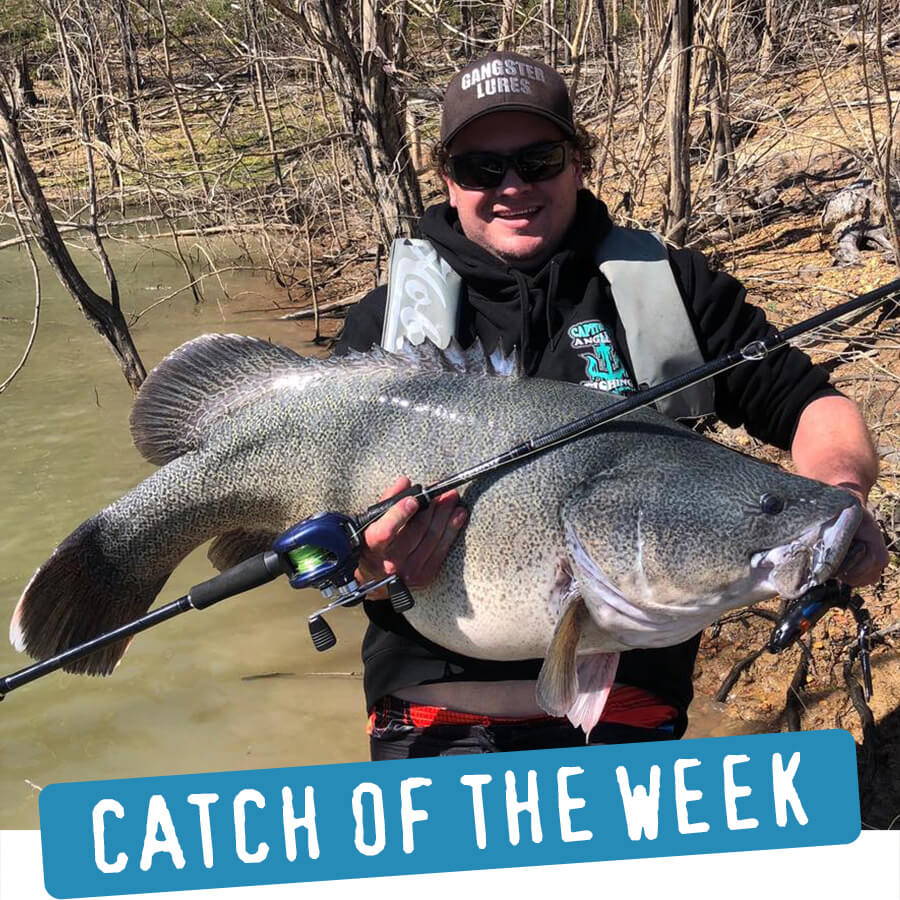 Congratulations to Kyle Dalrymple on his cracking Murray cod caught at Lake Eildon, you are this weeks' Catch of the Week.
Paul, Cristy and Jet Worsteling have been fishing the Tiwi Islands in the Northern Territory at the Johnson River Camp; they have landed good numbers of barramundi, mangrove jacks, golden snapper, threadfin salmon and also catching some cracking mud crabs and a lovely Queensland Groper. A number of different lures have done well for them including Rapala's and Squidgies Prawns.
Frank Callipari fished Western Port overnight on Saturday and managed to land a number of quality snapper and gummies.
Brendon Francis landed this cracking snapper out from Stoney Point this week, this fish was the biggest of 3 caught.
Isabella Sesto fished out from Stoney Point this week and managed 3 cracking snapper and a gummy for a ripper session and Isabella's first snapper too, well done!
Mario Dugonjic fished Quail Bank on Monday for a bait restocking mission and managed to bag out with a mate before heading off to Corinella for the night catching some nice snapper, a ling, gummy and a couple of elephants.
Mario Dugonjic fished with his wife out from Warneet on Friday. They managed 2 nice snapper with the baits getting the bites being salmon, squid and pilchard.
Sam Triplett fished Joe's Island early this week and managed a nice snapper on fresh couta during the run in tide. On a seperate session this week Sam landed this fantastic gummy from the Quail Bank area on fresh trevally also on the run in tide.
Ben Hotchkin had an early start on Thursday which paid off with his PB snapper of 79cm caught from his kayak out from Lang Lang in 2.5 metres of water on a pilchard.
Allen Rayner fished shallow out from Corinella around Tenby Point in 5 to 6 metres; he managed to pick up 2 nice snapper on fresh yakka and found burley a must.
Jordan and Greg with a cracking snapper caught from Corinella on Wednesday.
David Borninkhof fished the Top End to Corinella catching 3 quality snapper with this one being the biggest at 6.8kg; slimies and sauries were the baits of choice.
Simon Kapovic landed this fantastic snapper on a mackerel chunk during the outgoing tide on Monday.
John Moore fished around Elizabeth Island on Friday and managed a couple of ripper snapper on pilchards on the incoming tide.
Tibby Flora fished between Rhyll and French Island in 15 metres of water; they started the day off at low tide and topped up the bait with yakkas and couta. An hour before high tide in the afternoon the action started with Mima Radmilovic landing a 6kg snapper then Jordan Carrington with a 2kg model and then another 6kg snapper was landed by Jerry Zjak; all fish were caught on fresh yakka fillet.
David Albarenque fished with Paul Jabke and landed this quality gummy during the run out tide at the Western Entrance; the gummy took a fresh yakka chunk.
Matt Cini from Reel Time Fishing Charters had some cracker days on the squid with his customers this week finding good numbers and good sized calamari for everyone to enjoy a good feed.
Daniel Zagami from Fish On Charters got out over the week and found some nice whiting as well as plenty of salmon for future gummy baits.
Christian Stojanovic fished the Princess Pier last week and landed a nice pinky as well as some trevally.
Jordan Yan fished at Mornington Pier and landed 5 squid fishing the last light. Mornington Pier has still been producing; moving from both the bay side of the pier and the moorings side has been helping bring the numbers in.
Brandon caught his first squid this week out from Mornington with 4 on the board using orange squid jigs.
James and Luke Matarazzo had a ripper session on the squid fishing around the moorings at Portsea.
Bryce Nurnaitis fished the Barwon River and had a lot of fun catching good numbers of silver trevally on soft plastics.
AJ Azzopardi fished the southern end of Port Phillip Bay around Queenscliff in 6 metres of water on Friday and managed a nice bag of solid squid. AJ reports that a variety of jigs and colours from Yamashita and Harimitsu did the job.
James Mitch landed this monster of a squid at Queenscliff last week, that's a cracker mate, well done!
Amelia fished with her father out from Portarlington on Sunday and opened the snapper season account with 4 stonkers; all fish were caught on fresh, frozen squid from a prior trip and to get onto the fish they were sounded up before dropping baits.
Giulio and Nathan Da Ros fished St Leonards this week for some ripper squid; St Leonards has been showing signs of being a top-notch big-squid location as of late.
Diesel Grech fished with his uncle Silvio at St Leonards and landed this stonker of a calamari in 4 metres of water.
Kyle Dalrymple caught this chunky Lake Eildon cod casting at structure. Kyle also reports sounding up a number of yellas on the weekend also.
Luke Chapple fished with the family at Lake Eildon and trolled lures to much success finding a number of fantastic trout between the power lines and Jerusalem Creek.
Bob Hazler landed a cracking 70cm Murray cod on the long weekend casting a hard body at the bank.
Dave landed this beautiful Murray cod casting a purple and pink diving lure at the bank while fishing at Lake Eildon this week.
Ashley Pratt and is cousin Adam Watt fished the Big River Arm of Lake Eildon using yabbies for bait and landed some ripper cod and yellow belly.
Jack Weymouth-Smith caught his first Lake Eildon Murray cod this week on a diving lure cast into the trees.
John Molinia fished Lake Eildon this week and while he didn't get on to the cod he did manage some fantastic yellow belly and brown trout trolling with Tassie Devils and Stump Jumpers.
David Borninkhof fished Lake Eildon this week and landed this nice cod that went 65cm on a blue, white and red spinnerbait.
Andrew Feather fished the Goulburn River near Alexandra and landed this chunky rainbow trout on a soft plastic. Berkley T Tails and Fuze Doctors in dark or pink colours have been doing well on these beasts.
Phil caught this ripper 4.5kg rainbow trout on the Goulburn River this week.
Gabby caught this nice rainbow trout at Bannockburn Lagoon thanks to the Victorian Fisheries school holiday stocking program, well done Gabby!
Bryce McAlpin landed this nice brown trout out past Kinglake in the high country on a Vibrax spinner.
Shane Bardsley had a ripper night on some CBD yellas this week landing some cracking models on hard bodies.
Luke Scicluna had some fun with the local carp in Dandenong Creek using wooly bugger flies stripped past the sighted fish, Luke managed to land 4 carp with this method.
Michael Murphy took his 3 year old son Max out to Casey Fields on Saturday and Max caught this fantastic rainbow trout on PowerBait and his Tackle Rat Combo. Well done Max!
Burnie had a ripper session bagging out on squid this week at Port Welshpool.
Young Oliver Rodoni landed this stonker of a bream that measured 42cm over the long weekend and won the Williamstown Sportfishing & Game Clubs comp at the Tambo River.
Richard Davis fished the Tambo River and found a large number of quality fish. They landed some cracking bream as well as flathead and trevally. The best baits were cooked peeled prawns, pilchard tails and sand worms.
Tyler Hotchkin spent some time up at Bemm River this week chasing a few PB's and managed a 39cm bream on a black vibe and a solid flatty on a Bent Minnow.
IFISH WITH TACKLE WORLD SERIES 13
TALKING FISHING - C31 TV - TUESDAYS @8.30PM
Catch "Talking Fishing" on Melbourne's C31 TV (CH44) at 8.30pm each Tuesday night. Staff members David Kramer and Adam Ring together with Steve "Trelly" Threlfull host Australia's only "Live to Air" fishing television program at this prime time-slot. Put Tuesday night's at 8.30 away in your weekly diary of TV shows to watch!
In the average lifetime, a person will walk the equivalent of 5 times around the equator.

Good Luck with your fishing and stay safe on the water,

The TEAM at Tackle World Cranbourne & Mornington