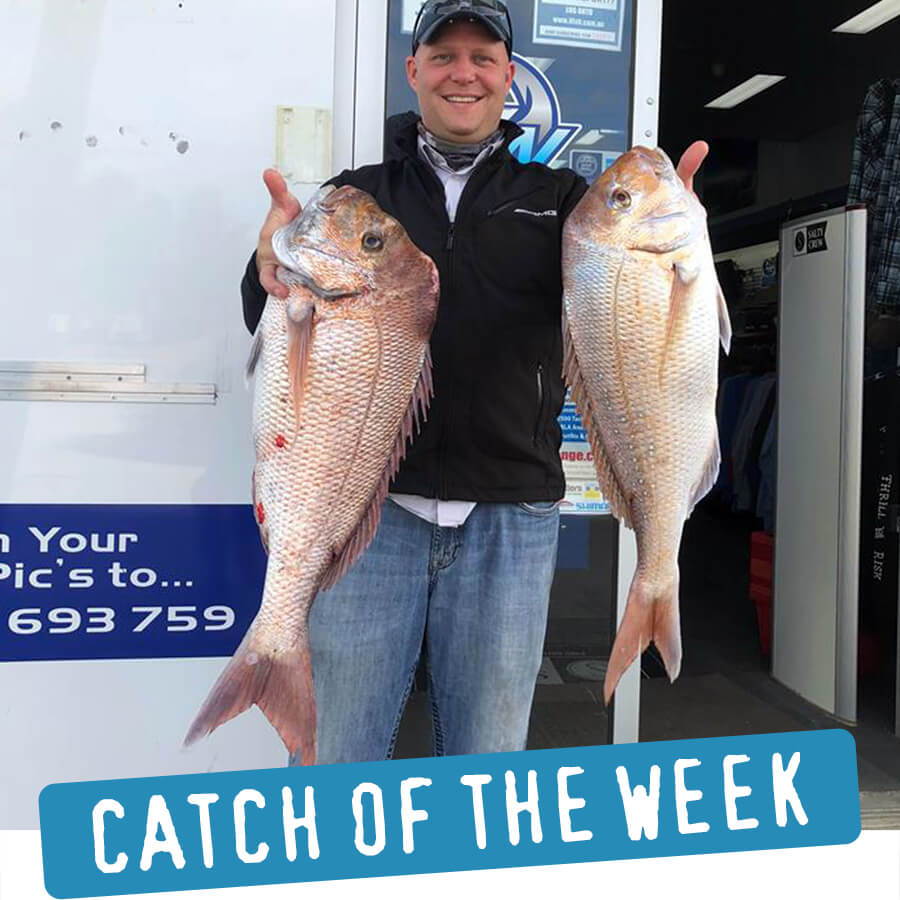 Congratulations to Jeremy Slade on his cracking double header of snapper caught at Mornington Pier, you are this weeks' Catch of the Week.
Rob Wischki fished landbased around Western Port this week and managed a perfect eating sized gummy and snapper.
Robert Bonetto fished with his good mate Sammy V landing some epic squid to over 1kg at Flinders (photos taken at Hastings) as well as a nice 3kg snapper around Sandy Point in 10 metres.
Gerry Morsman fished with Michael in 15 metres of water targeting snapper, the guys managed 2 solid gummies and a nice snapper using pilchards for bait.
Ben and Harry fished out off Hastings with Harry's dad Sasha Sergejew on Saturday night landing a beautiful snapper in 18 metres of water that went 80cm.
Jayson Turner from Pro Red Fishing Charters had his customers off Hastings this week and they managed a solid gummy caught on slimey mackerel strip.
Instinct Snapper Flasher Rigs are perfect for Western Port snapper and will save you time tying rigs while you are on the water.
Dorian Do fished around Eagle Rock in 19 metres of water and caught his PB snapper on squid coming in at 87cm and weighing in at 8.3kg.
Memphis Hurren fished with his dad Ryan this week targeting snapper in the Top End and landed 2 absolute rippers on fresh squid. Memphis' fish went 84cm and Ryan's was 81cm. Well done guys!
Chris Preston fished around Joe's Island for an early morning session looking for snapper but only managed some nice gummies caught on fresh squid caught on the same night.
Daniell Butchers fished with his son Liam at Joe's Island on Sunday and landed a couple of ripper snapper in 15 metres using yakka's for bait; Daniell reports his son Liam losing his rod to a massive fish as well as loosing another stonker to a seal.
Steve Johnson from Ace Fishing Charters had customer Jim Kakas on board on the weekend and he landed a fantastic 3kg snapper.
Brendan McNamara took his daughter Eva out from Warneet and she landed her first ever snapper on a squid strip in 20 metres of water, love ya work Eva!
Jay Blumfield took his son Braydan out for his first snapper this week which was caught at the Warneet Channel in 23 metres on fresh couta fillet.
Frank Walker caught 2 beautiful snapper near Corinella last week. Corinella and The Corals are still 2 hot spots for snapper in Western Port, be sure to include them in your trips this week.
Ben Saunders and his son Billy fished out from Corinella on Sunday and landed this ripper 6kg snapper in 7 metres of water on a fresh squid ring.
Shar Kan fished The Corals this week and managed a couple of nice snapper for his troubles.
Matthew Bell fished with his kids around Elizabeth Island and landed this 70cm gummy using pilchard for bait.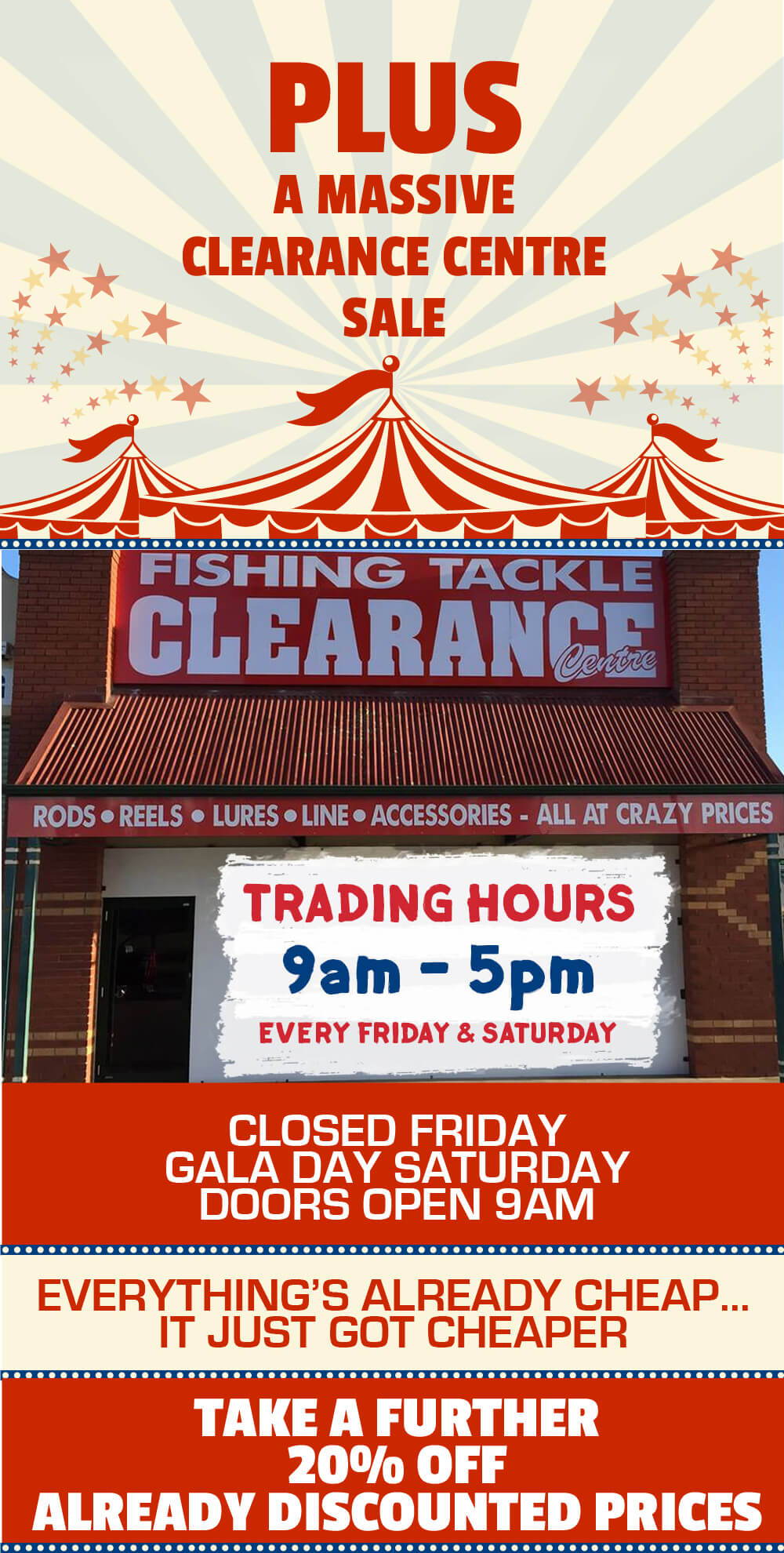 Matt Cini from Reel Time Fishing Charters headed out on Port Phillip Bay with their customers on the weekend and managed to get them into some quality snapper.
Rob and Dylan Mizzi from Sharkmen Fishing Charters managed to get their customers onto a cracker of a snapper last week coming in at 5kg.
Optia snelled rigs are a great way to save time on the water and have been a stand out recently on Port Phillip Bay snapper.
Phil D'Vassallo fished in 10 metres of water out from Altona this week and landed himself a beautiful 72cm snapper on a fresh salmon strip.
Tyson Ngo put down Fortnight and jumped in the kayak and was rewarded with this lovely 47cm flathead caught in 4 metres, well done Tys!
James McKenna fished Altona reef this week landing a nice snapper using soft plastics in 8 metres of water.
Jason King fished out from Altona this week and manage to land 2 cracking snapper, the big one took a whole small squid and the smaller one took a pilchard in 10 metres of water.
Corey Czyzewski fished around P2 out from Altona this week and manage a couple of nice snapper at last light.
Simon fished out from Williamstown on Sunday Morning and landed this fantastic snapper on sunrise using silver whiting for bait; Simon reports other boats around him hooking up at the same time.
David Montebello landed this stonker of a snapper out from Williamstown coming in at just over 8kg.
Andrew Foudoulis fished around P2 this week, and after catching some squid for bait , he landed a couple of nice snapper.
Ryan Bartolo headed out with his dad, Eric around St Kilda this week and landed his first fish; a ripper 72cm snapper caught in 4 metres of water.
Anthony Torpy fished at Half Moon Bay in Black Rock this week and managed a nice bag of pinkies caught on fresh mullet, his fish measured 33, 35 and 41 cm.
Fin Connolly landed a real beauty of a snapper this week off Black Rock in 16m of water during first light.
Michael Mangion opened his season with a lovely snapper caught in 14 metres of water out from Black Rock.
Daniel Zagami from Fish On Charters headed out on a solo session early in the week and at first light landed 2 ripper snapper on pilchards; his fish went 4.6kg and 5.5kg.
Matracks Inmelbs fished out from Black Rock this week stearing clear of the crowds he managed 2 nice snapper on snatcher rigs.
Andrew Fenner had a ripper morning at Black Rock this week catching a cracking snapper in 16 metres on silver whiting.
Peter Kasidiaris fished the Mordialloc Pier on Saturday night and landed this cracking 5kg snapper.
Mate's Day ran for it's 19th year this year and there was plenty of action on the water with a number of fantastic fish caught and smiles from all aboard the boats participating.
Young Skyla Brett had her first fish encounter this week with a nice mullet caught in the Patterson River on chicken.
Blake Over fished out from Mt Eliza on Sunday morning and landed this outstanding snapper of 90cm and 8kg caught on silver whiting.
Young Marlon Blackford fished out from Mt Eliza on Sunday also and landed himself a magnificent snapper in 17m of water.
Greg Ison fished out from Mt Eliza on Monday morning and caught this cracking 6kg snapper in 17 metres of water on a saurie.
Darren Matthews fished the Mornington Pier on Tuesday morning and landed a solid 6kg snapper using fresh squid for bait.
Jeremy Slade fished Mornington Pier on Sunday morning and landed 2 magnificent snapper, the bigger one 5.3kg and the smaller one 3.2kg, caught on pilchards.
Peter Bentley fished down at Mornington Pier last week with his son and they landed this fantastic snapper of 78cm using squid for bait.
Chris Bonavia took the family out on the kayak at Mount Martha last week and caught some fantastic calamari, he then headed out with his father John the next day and landed some quality snapper.
Mark Oram fished Portsea last week and managed a nice bag of quality calamari within 2 hours.
Andrew Richmond landed this thumping southern calamari on Sunday out from Queenscliff at the top of the tide. That's a beast mate!
Roy Demanuele fished Lake Eppalock this week and landed a fantastic 50cm yellow belly.
Staff member Mark Keaveny headed out to Nagambie chasing yellow belly and managed some nice fish on Berkley T Tails and Z-Man GrubZ.
Gary and Daniel Van Leuverden fished around Bonnie Doon at Lake Eildon this week and landed a nice 40cm yellow belly.
Benny Rendina landed this healthy 82cm Murray cod fishing at Lake Eildon this week.
Troy Maker fished Lake Eildon this week and landed 3 nice cod measuring, 71, 68, 49 cm.
Jarrod Bennetts fished with his wife Melanie at Lake Eildon this week and Melanie landed this cracker of a Murray cod while trolling a size 2 Stump Jumper, well done Mel!
Stephen Vidler fished Lake Eildon last week and landed a chunky Murray cod on a purple spinner bait.
8 year old Michael and 6 year old Zander Ouroumis fished at Spring Creek in Torquay at last weeks kids fishing day and landed themselves some trophy bream to 41cm.
Brett Burns landed his first ever snapper off Barwon Heads on Monday weighing in at 8kg. Congrats on the first snapper mate!
Gerry Morsman spent a couple of warm nights this week chasing some top water action at Devilbend Reservoir landing himself a number of nice EP's on Atomic lures.
Nathan Lauren fished from the beach at Inverloch on Monday and managed this whopper of a flathead measuring 57cm.
IFISH WITH TACKLE WORLD SERIES 13
TALKING FISHING - C31 TV - TUESDAYS @8.30PM
Catch "Talking Fishing" on Melbourne's C31 TV (CH44) at 8.30pm each Tuesday night. Staff members David Kramer and Adam Ring together with Steve "Trelly" Threlfull host Australia's only "Live to Air" fishing television program at this prime time-slot. Put Tuesday night's at 8.30 away in your weekly diary of TV shows to watch!
Greenland Sharks have been estimated to be the oldest living vertebrate at 272 to 512 years old.

Good Luck with your fishing and stay safe on the water,

The TEAM at Tackle World Cranbourne & Mornington