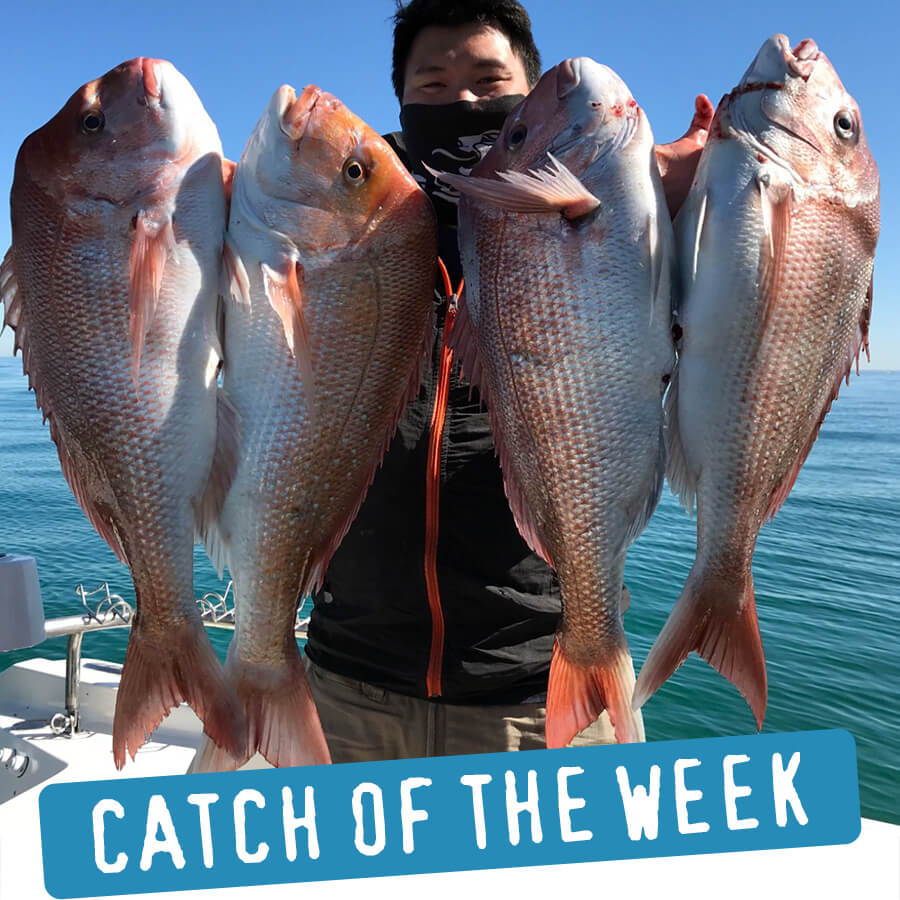 Congratulations to Frank Ai and his mate on a good bag of snapper from Port Phillip Bay, you are this weeks' Catch of the Week.
Shaun Furtiere from Think Big Fishing Charters headed out over the weekend with customers Phil and Harvey and the guys had a ripping day on the gummies with a 3-way hook up.
Greg Dixon fished the western side of Middle Spit and managed 11 fantastic King George whiting from 28cm to 46cm; outgoing tide was the best in 6 metres of water.
Memphis Hurren headed out after school on Tuesday and fished through the rain to land 9 cracking squid to 40cm; dark blue and green rattle jigs as well as pink and white ones did the damage.
Young Tate landed some cracking squid at Tyabb Bank this week with these being their biggest. Ika Squid Jigs have been great in the area in a variety of colours.
Nelson fished Tyabb Bank on the weekend and landed some quality squid, from the looks of the photo silver whiting on a squid spike under a float was a method used on the day.
Max Murphy fished with his dad Michael this week and landed a couple of quality snapper with Max's fish weighing 3.1kg and Michael's 2.9kg.
Shannon Knight fished out from Warneet in 11 metres of water and managed some nice snapper and trevally on slimy and couta baits.
Thomas Hanna fished out from Tooradin with his son Jessie who landed this ripper snapper of 5.8kg caught on a pilchard.
Andrew Ketelaar fished the edges of the Tooradin Channel on Saturday and managed some fantastic calamari and salmon.
Paul Lowry put some time in at Grantville fishing from his kayak and landed this quality snapper in shallow on a pilchard.
Gavin Kirchner fished at Corinella this week and landed a cracking gummy. Corinella is still a hot spot for gummies and snapper at the moment, fishing through the tides has given most the best chance of some decent fish.
Adrian Carstairs fished Corinella on Sunday and landed this cracking 81cm snapper in 7 metres of water during the outgoing tide, he also landed 2 other nice snapper at 62cm and 42cm.
Gary Brookes fished Corinella for a lovely bag of King George whiting that took a liking to pilchard fillets.
Glenn Watson and Brent Monger fished The Corals this week and bagged out on some quality snapper, well done guys!
Matt Tormey fished out from Rhyll this week in 9 metres of water and landed a nice snapper on pilchard and a few gummies on sauries.
Chrisso J Porter fished at Silverleaves and landed a nice 63cm snapper during the run out tide on a whole pilchard.
John Derks caught a marvelous snapper last week that weighed 8.1kg, a great way to kick his season off.
Jack Closter fished out offshore from San Remo on Monday and landed this monster of a school shark at 30kg.
Anastasia and Adriana had a fantastic day on the water with their dad with both girls landing their first snapper out from Altona; silver whiting and squid strip were the stand out baits for the day.
Phillip Jordan fished with his mate Eddy around P2 out from Altona this week and landed a number of cracking fish with this 72cm being the biggest for the day.
Charlie Camilleri fished in 6 metres of water out from Altona this week and landed some fantastic snapper, the biggest being 79cm with pilchard and squid during the change of tide getting things done.
Jayson Baluyot fished Sandringham last week and landed his first snapper fishing land based, well done Jayson.
John Karlik fished out from Sandringham in 8 metres of water and managed a nice couple of snapper with pilchards and squid the best baits.
Frank Ai and a mate fished out from Black Rock in 16 metres on Saturday and managed a couple of hand fulls of cracking snapper with a variety of baits working; Frank also found it key to burley hard with logs and pellets.
Sharyn Costo fished in 15 metres out from Black Rock on Thursday morning and landed this solid 4kg snapper.
Raymond Tang fished with Tam Nguyen last week out from Ricketts Point in 3-5 metres of water and caught a magnificent bag of snapper using fresh squid heads on 3/0 sized hooks.
Yiannis Chalkias fished off Mordialloc in 18 metres and landed this nice snapper that took fresh salmon.
Joel Belvedere fished in 18 metres out from Frankston and landed his PB snapper on Saturday.
Matt Cini and Marco from Reel Time Fishing Charters had some cracking days this week with some solid reds landed for their customers. Fishing from Frankston to Mornington has been successful for a number of boats recently with sounding them before dropping baits critical and burley a must.
Rob and Dylan Mizzi from Sharkmen Fishing Charters got into some hot snapper bites this week with sunset being a standout bite window.
George Kapouleas fished from Mornington Pier and landed a cracking squid on a white glow jig.
IFISH Producer Tom Hughes headed out off the Pillars at Mount Martha on Thursday and caught himself some monster salmon. He went back on Friday with the drone and managed to get some cracking photos of the school that has been holding there for a while now.
Staff member Brendon Cunningham headed out on the kayak from Mount Martha for squid but got caught up with non-stop salmon action trolling hardbody lures behind the yak.
Aaron Horn fished out from Blairgowrie this week and landed this ripper squid in 8 metres of water on a black and red jig.
Eray Ulker fished Sorrento Pier for this cracking squid caught on a red foil Harimitsu jig in 3.5 size.
Bianca fished from the St Leonards Pier on Sunday evening and landed a nice 32cm pinkie.
Staff member Mark Keaveny fished a number of streams in the Yarra Valley area and managed to pull a number of nice fish out using Hester Minnows.
Mark Eaton spent the day at Blue Rock Lake this week trolling Tassie Devils at different depths and landed 3 cracking trout to 42cm.
Justin Craig had a fantastic day at Blue Rock Lake this week landing 6 brown trout all up, keeping 4; Justin caught his fish trolling lures.
Bing landed a whopper seven gill shark fishing off the rocks at Punchbowl this week.
Brett Geddes has had a number of successful trips out on the calamari recently with some real crackers caught.
David McDonald and Dayne Tracey had a fantastic weekend landing some whopping salmon to 3kg at Manns Beach Inlet using metal lures on the incoming tide. After a great session they also managed some cracking squid from Corner Inlet using white and KGW patterned Sephia jigs.
Marisal Milito landed this ripping 43cm bream on sand worm, big brother Lewis helped Marisal hold this fantastic catch.
Ben and Tyler Hotchkin headed up to Lake Tyres over the weekend in search of some early season big flatties. The guys caught a few fish with Tyler's flatty going 79cm and Ben caught 2 at around 66cm.
Mick Ott fished the streams around Benambra landing some cracking trout to 55cm.
IFISH WITH TACKLE WORLD SERIES 13
TALKING FISHING - C31 TV - TUESDAYS @8.30PM
Catch "Talking Fishing" on Melbourne's C31 TV (CH44) at 8.30pm each Tuesday night. Staff members David Kramer and Adam Ring together with Steve "Trelly" Threlfull host Australia's only "Live to Air" fishing television program at this prime time-slot. Put Tuesday night's at 8.30 away in your weekly diary of TV shows to watch!
An octopus lays up to 200,000 eggs and they take 2 to 10 months to hatch.

Good Luck with your fishing and stay safe on the water,

The TEAM at Tackle World Cranbourne & Mornington