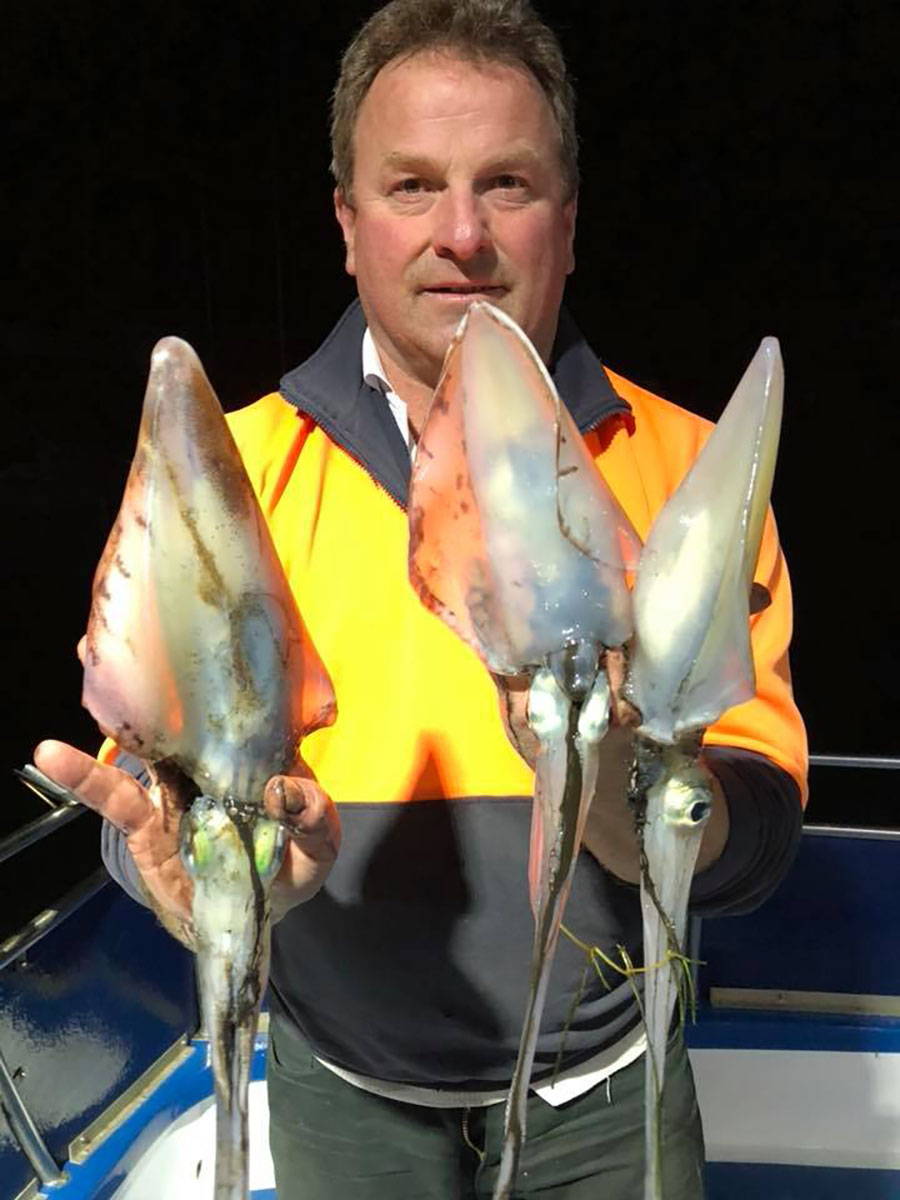 Phil from Reel Adventure Fishing Charters found some nice squid fishing Western Port last week.
Regular Reel Time Fishing Charters customer Vas headed out with Matt Cini and landed this nice snapper fishing Western Port this week.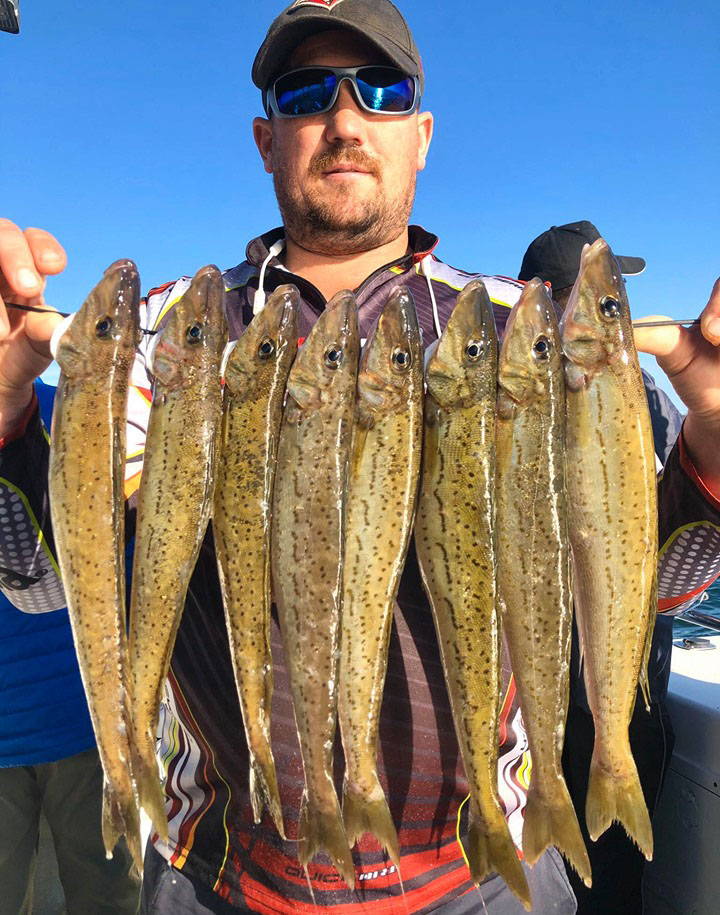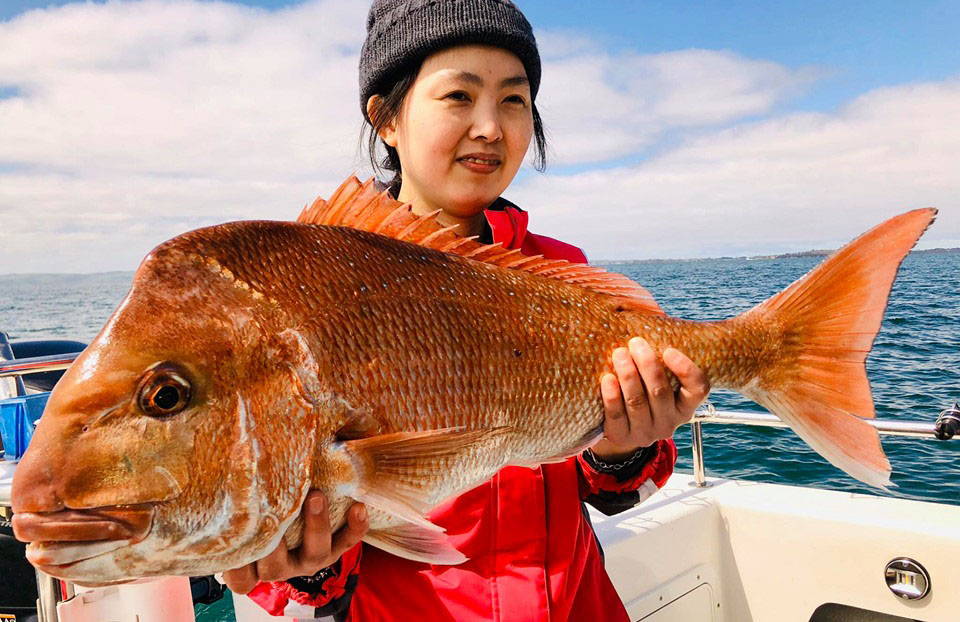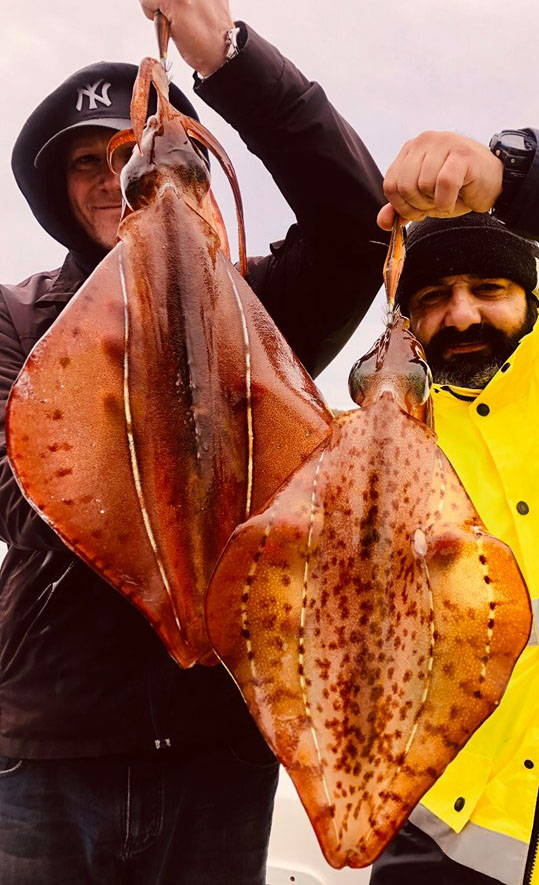 Shaun Furtiere from Think Big Fishing Charters found success on Western Port this past week with a number of charters finding some great fish. On Sunday it was whiting, Tuesday was snapper and Wednesday was some thumping squid.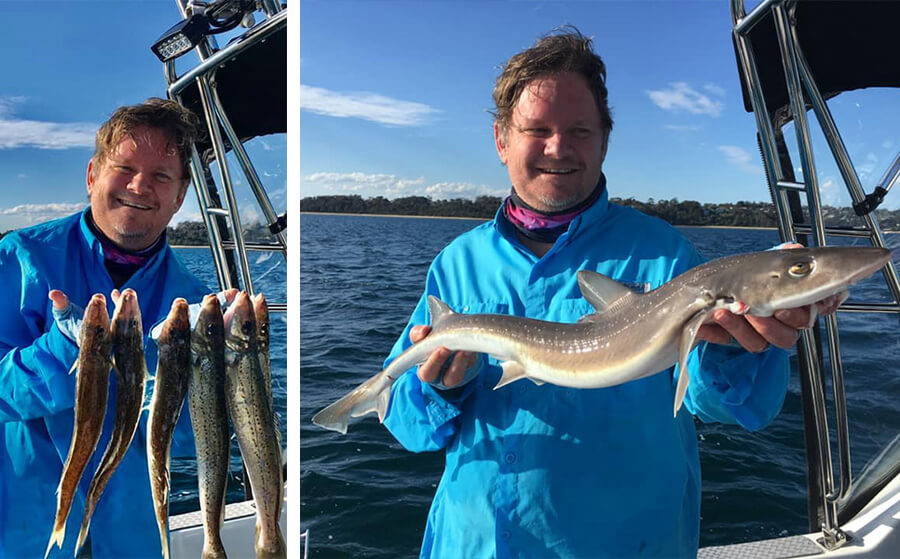 David Priddy fished the run out tide at Somers in 6 metres of water and had a ripper session catching some nice whiting, a gummy and a few gurnard as well as countless other species.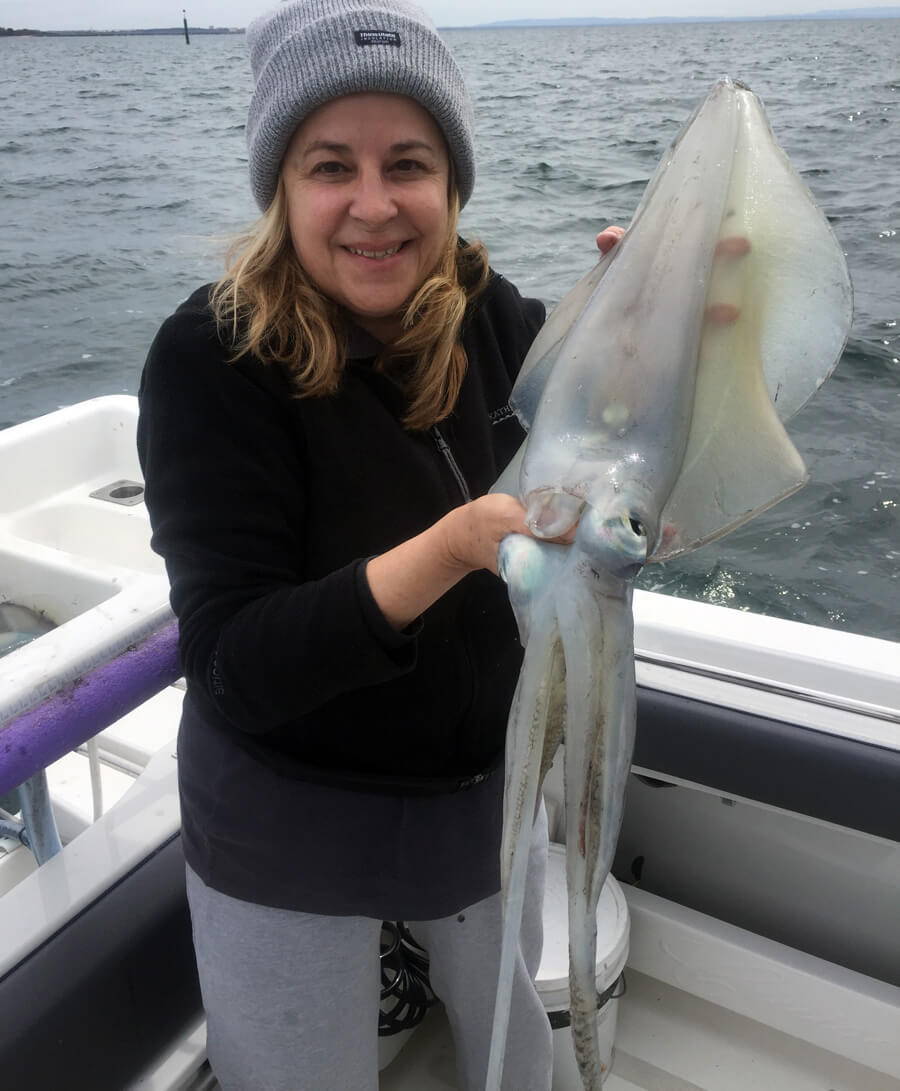 Tania Zancanaro with a cracker XOS southern calamari caught near Stony Point over the weekend, great catch Tania!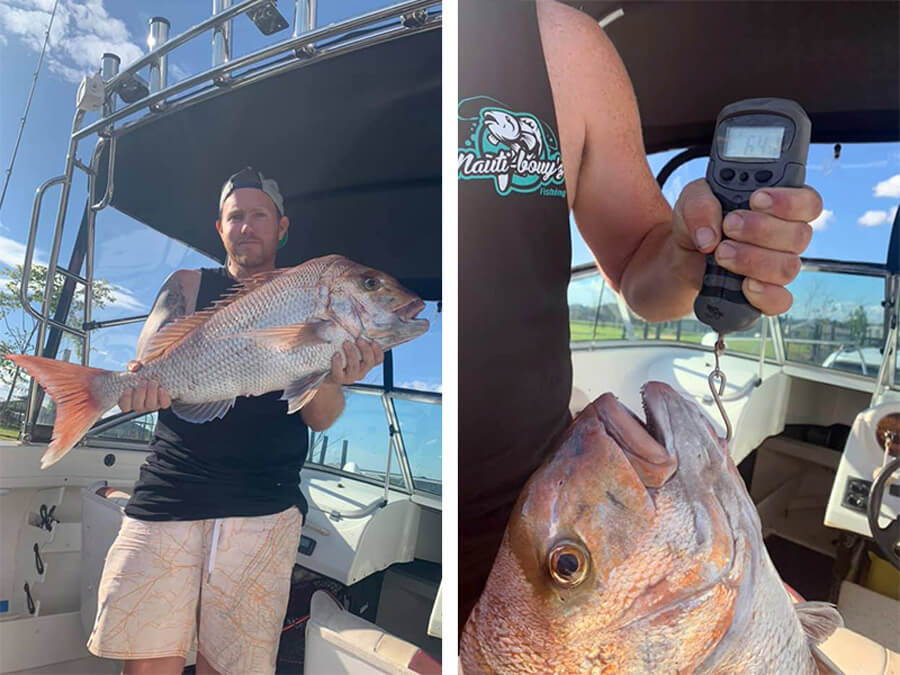 Chris Brophy with a fantastic snapper of 6.4kg caught out from Hastings on a couta chunk.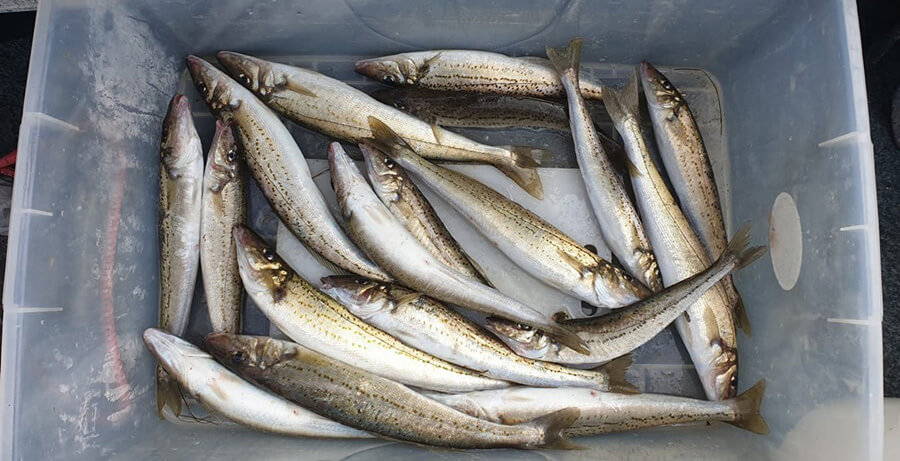 Greg Dixon found some nice whiting fishing the top of Middle Spit in 5 metres of water using pipis for bait.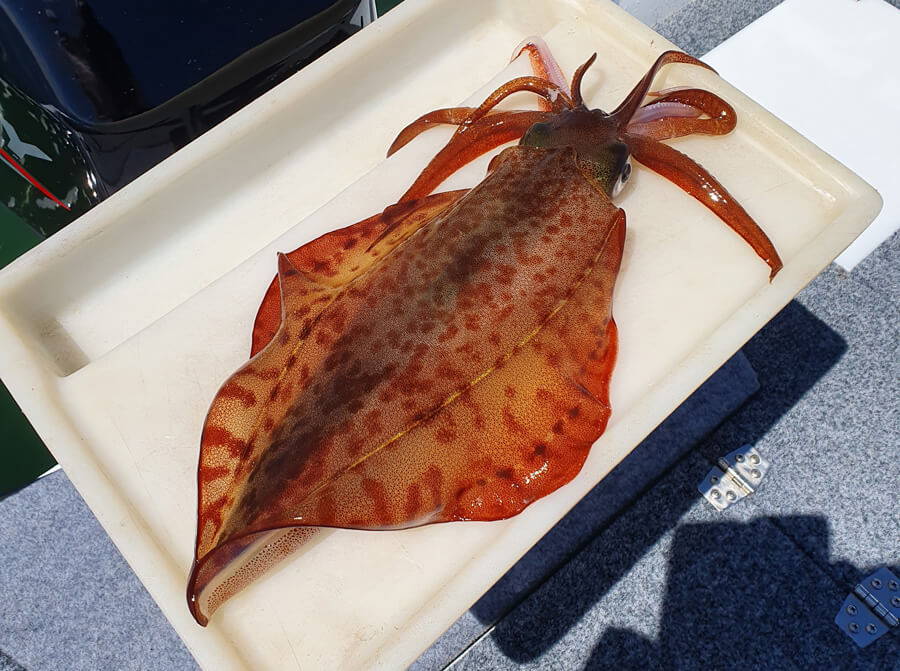 Staff member Adam 'Frase' Fraser fished Tyabb Bank on Tuesday and found some solid calamari in 3 metres of water caught on the Harimitsu AK jig in 3.5 size.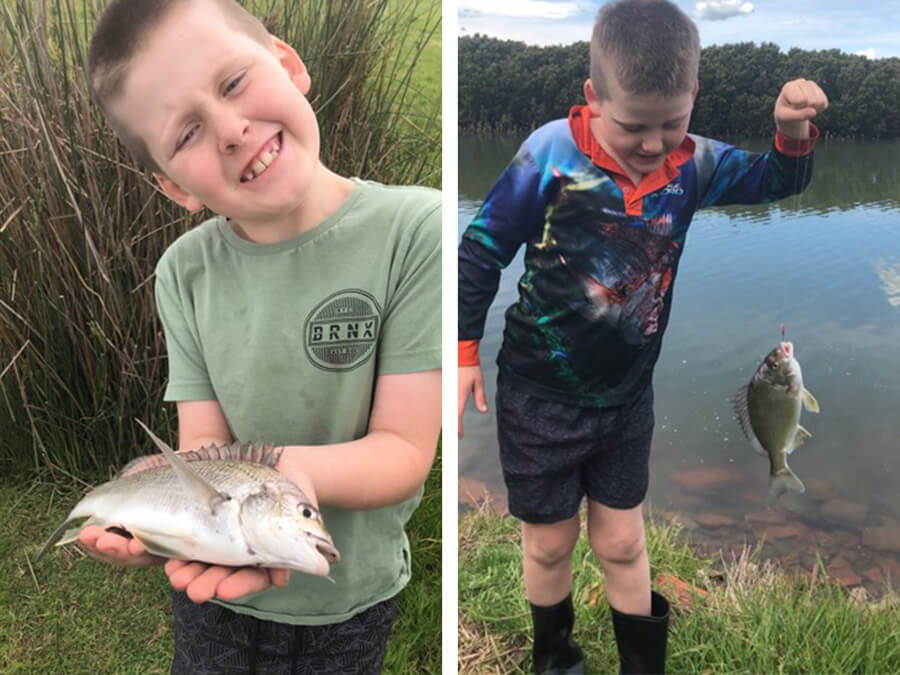 Matthew Sinnema and his kids fished the outgoing tide at Tooradin using worms for bait and had a ball on the local bream population. Well done guys!
Jayson Turner from Pro Red Fishing Charters fished solo in the shallows of Western Port for a nice snapper, some gummies and a couple of elephant sharks.
Brett Palmer headed out on his kayak fishing the flats last week and was rewarded with a stonker snapper caught on a mullet strip.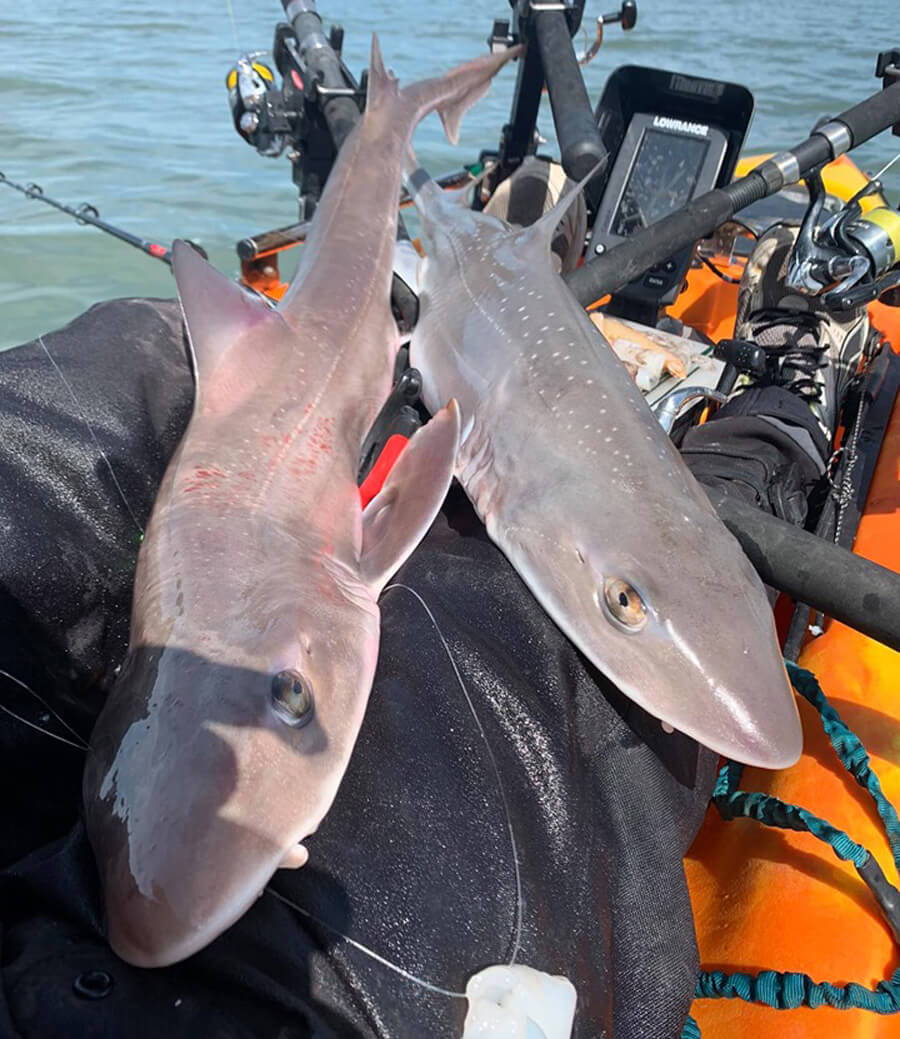 Brett Elwers fished Lang Lang on the kayak and landed a couple of nice keeper gummies.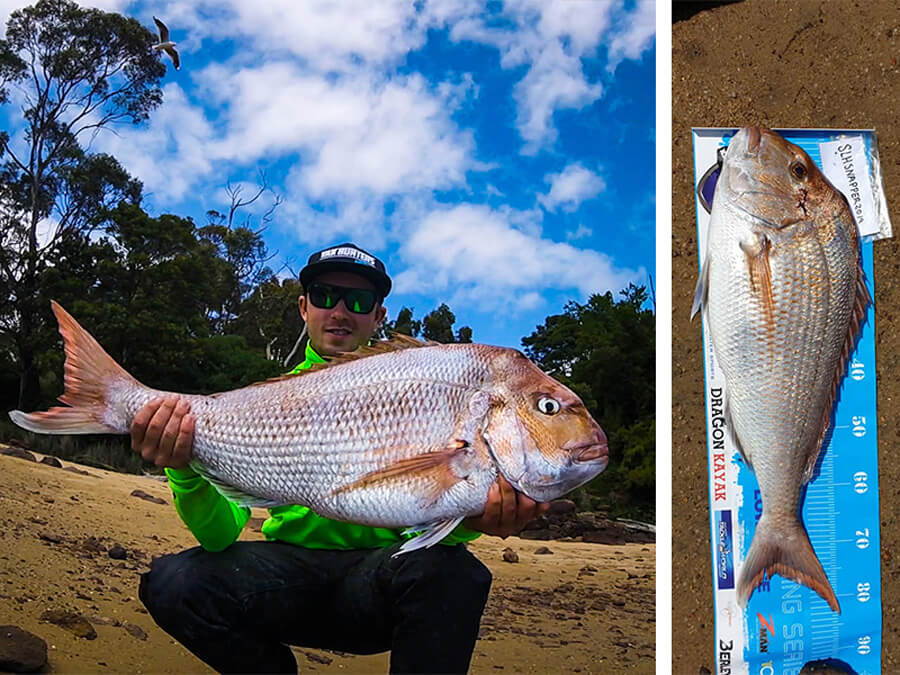 Ben Hotchkin fished near Corinella in 4 metres of water on his kayak on Tuesday and landed a cracking snapper of 83cm on fresh Western Port squid caught the day before.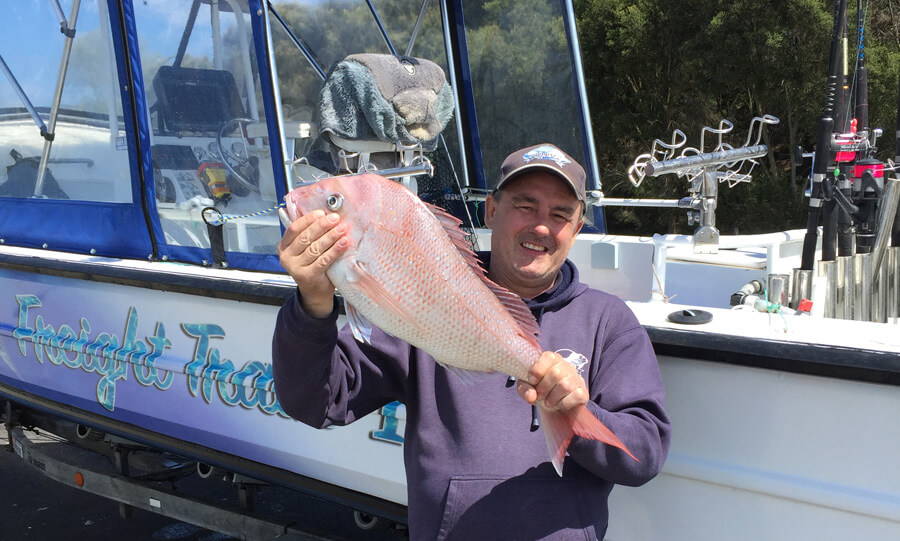 Gavin Kirchner with a nice snapper caught off Corinella on the weekend.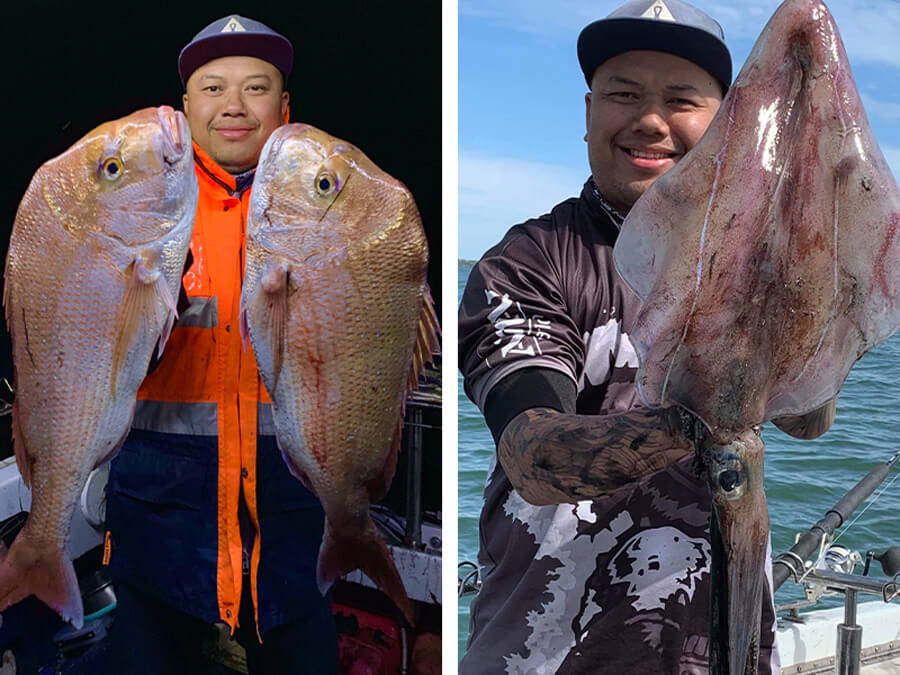 Heng Hryken caught a couple of cracker snapper out from Corinella during the run out tide on Sunday using fresh squid ring baited on single 8/0 octopus circle hooks and a running sinker.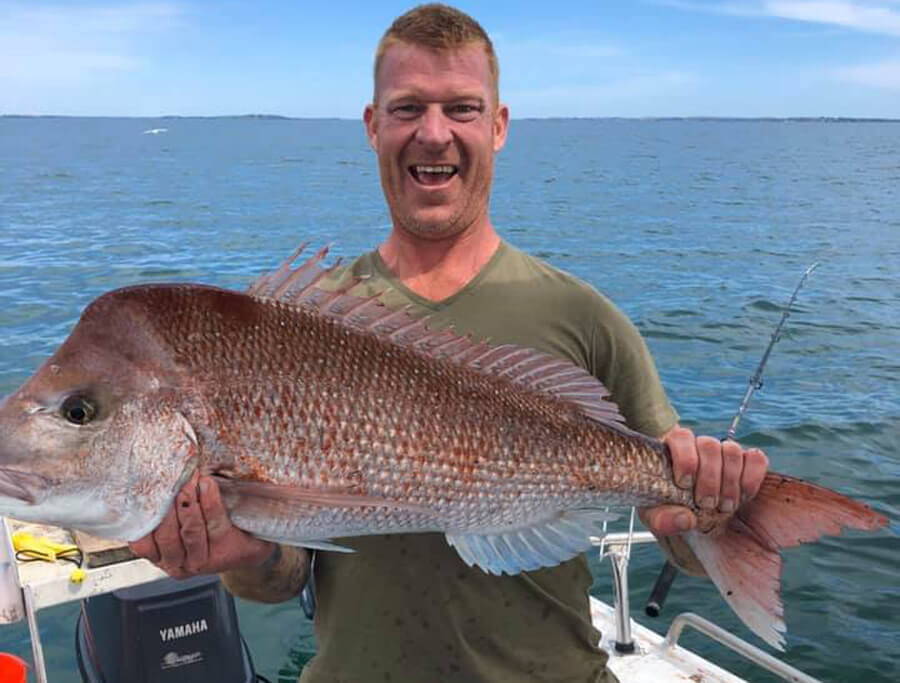 Daniel Hose landed this horse of a snapper fishing Corinella on the weekend.
Ben Hotchkin did a bit of bait collection at Coronet Bay on Monday fishing from his kayak with natural light brown coloured jigs doing the damage.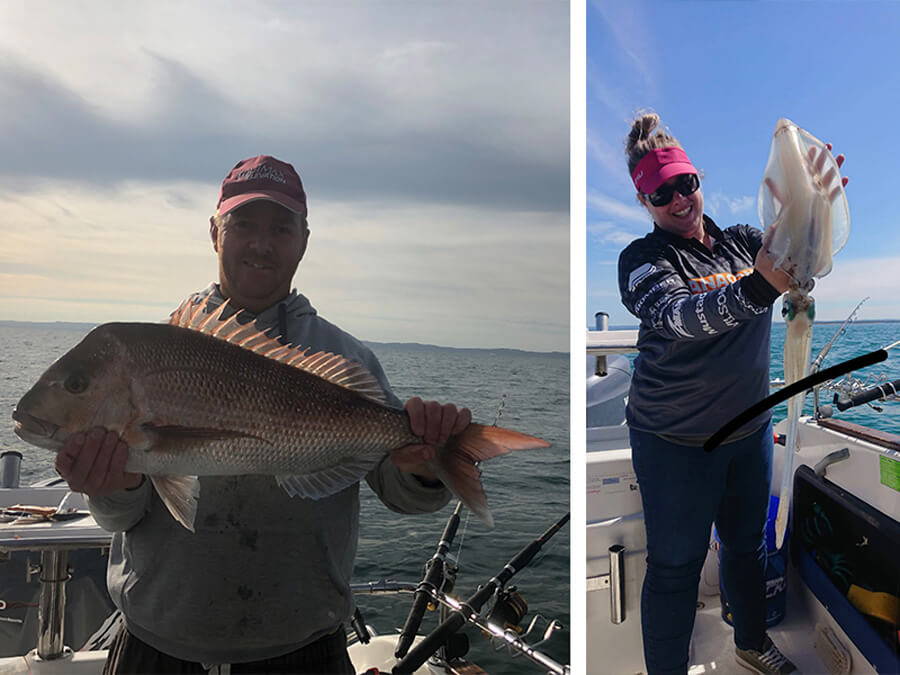 Jamie Kloot landed a nice snapper fishing off Rhyll and Megan Wills caught her nice squid on a white squid jig fishing near Tortoise Head.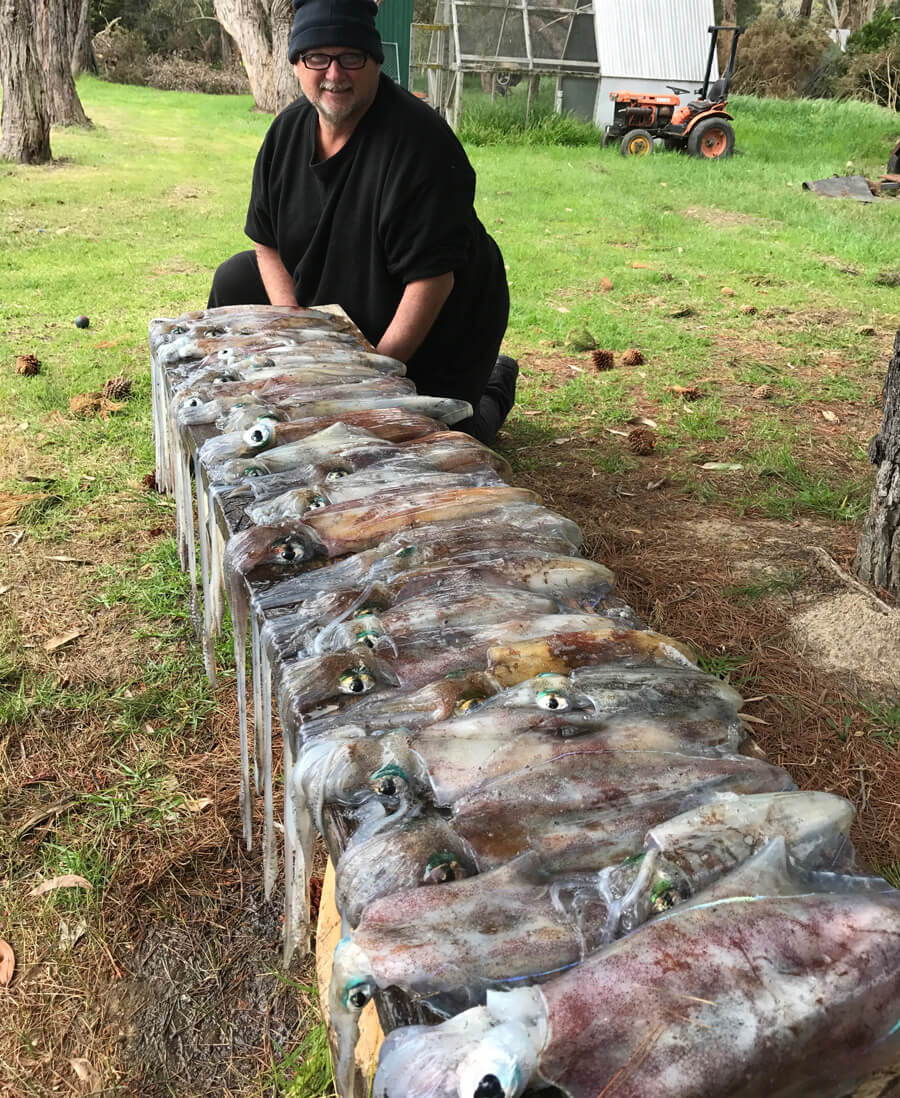 Colin Minchington and 2 mates fished out from Rhyll and smashed the big calamari with the tide change being the best time.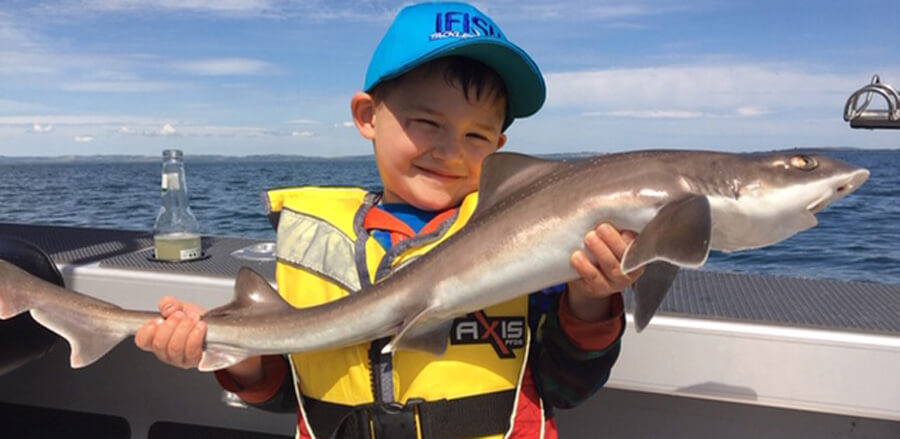 Max Murphy landed his first ever gummy shark on fresh couta fishing off Silverleaves as a by-catch for snapper. Cracking gummy Max, well done!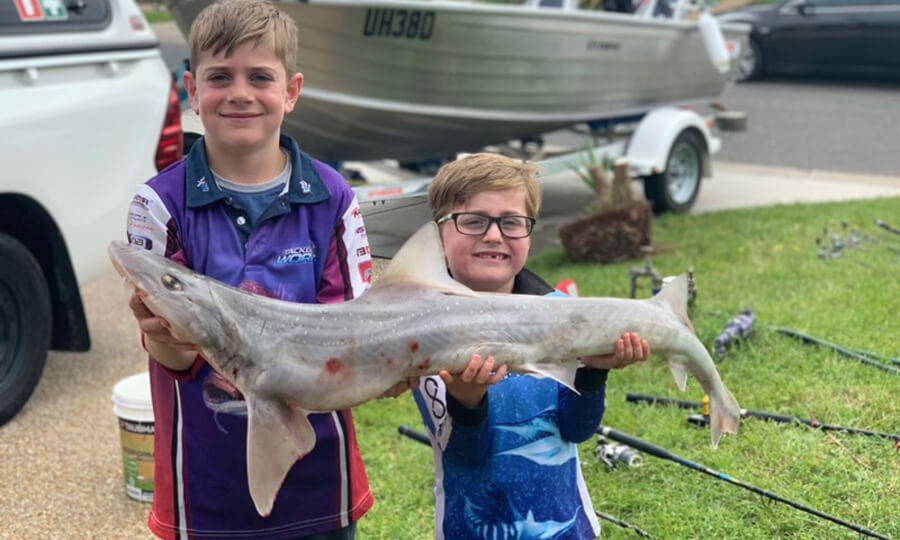 Charlie and Max Pascuzzi helped dad land this ripper gummy shark fishing out from Cowes.
Gerry Morsman and Amy Day headed over to Cat Bay for a quick session on the squid on Sunday and cleaned up on some crackers in 5 metres of water on red foil, 3.5 size jigs.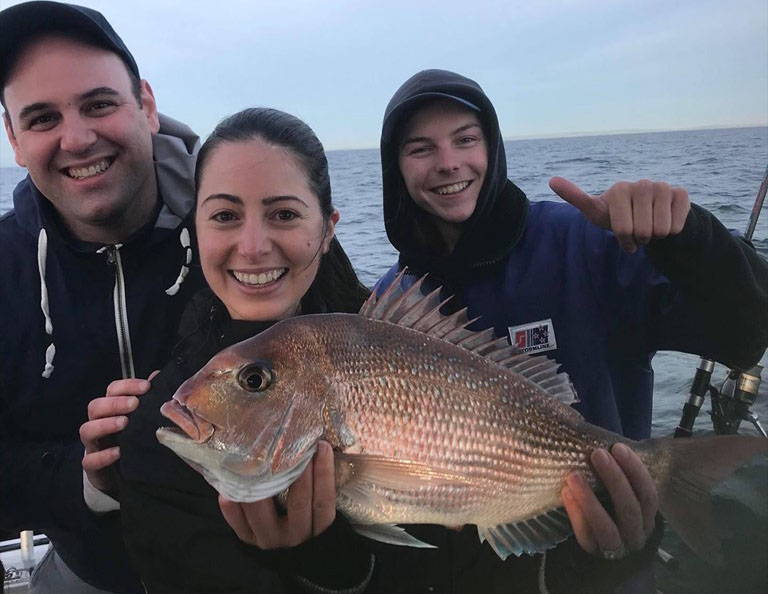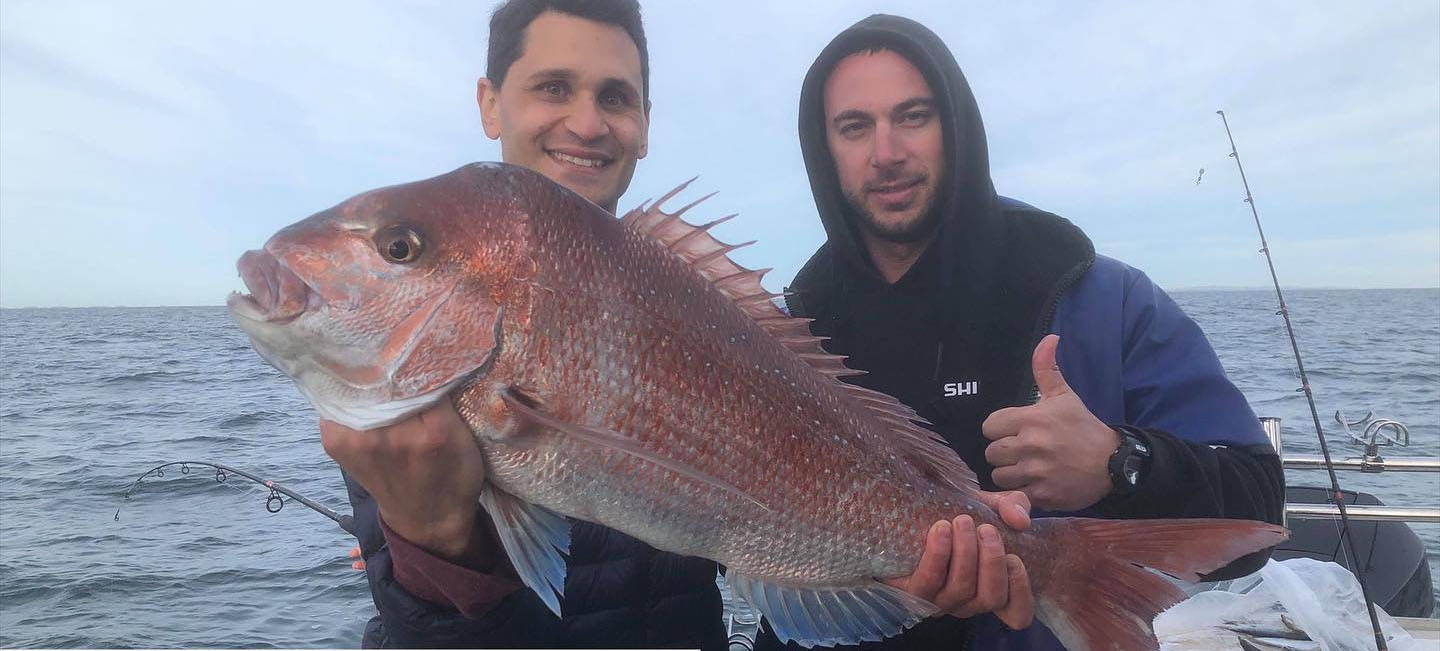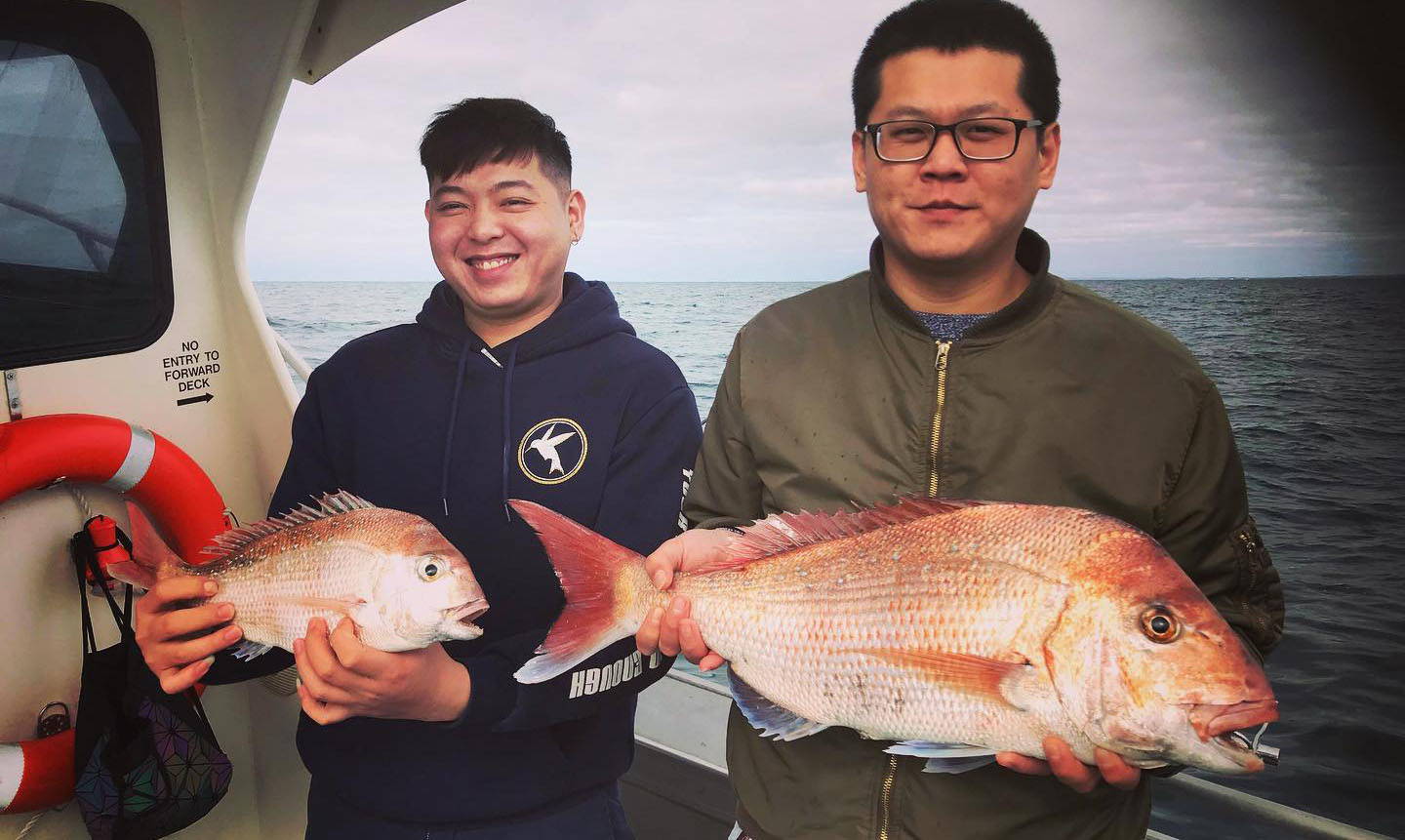 The Reel Time Fishing Charters crews had a few nice sessions on some good snapper this week bringing in a feed for their customers.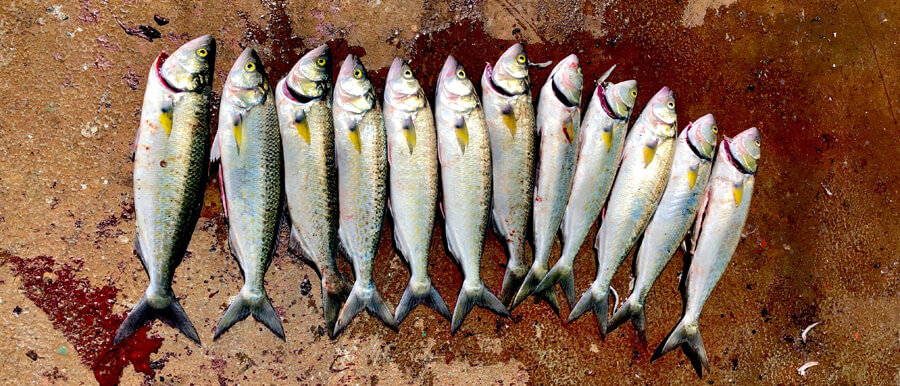 Adam Racolini nailed a nice bag of salmon fishing around Port Melbourne this week.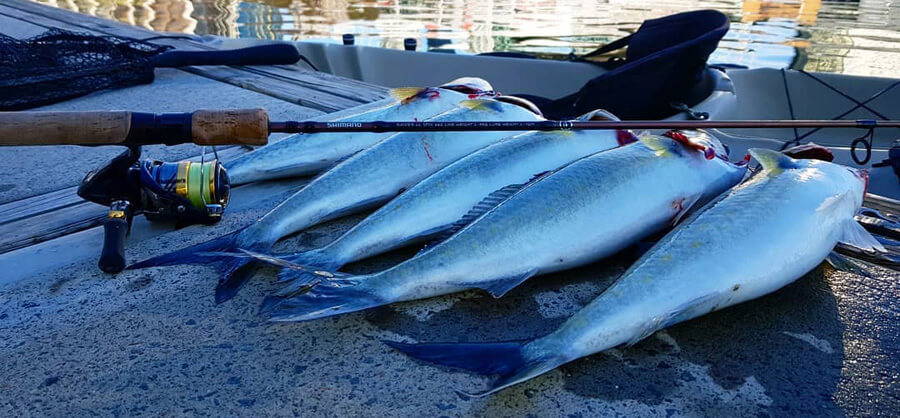 James Matarazzo fished Port Melbourne from the kayak and found some nice salmon using soft plastics, well done James.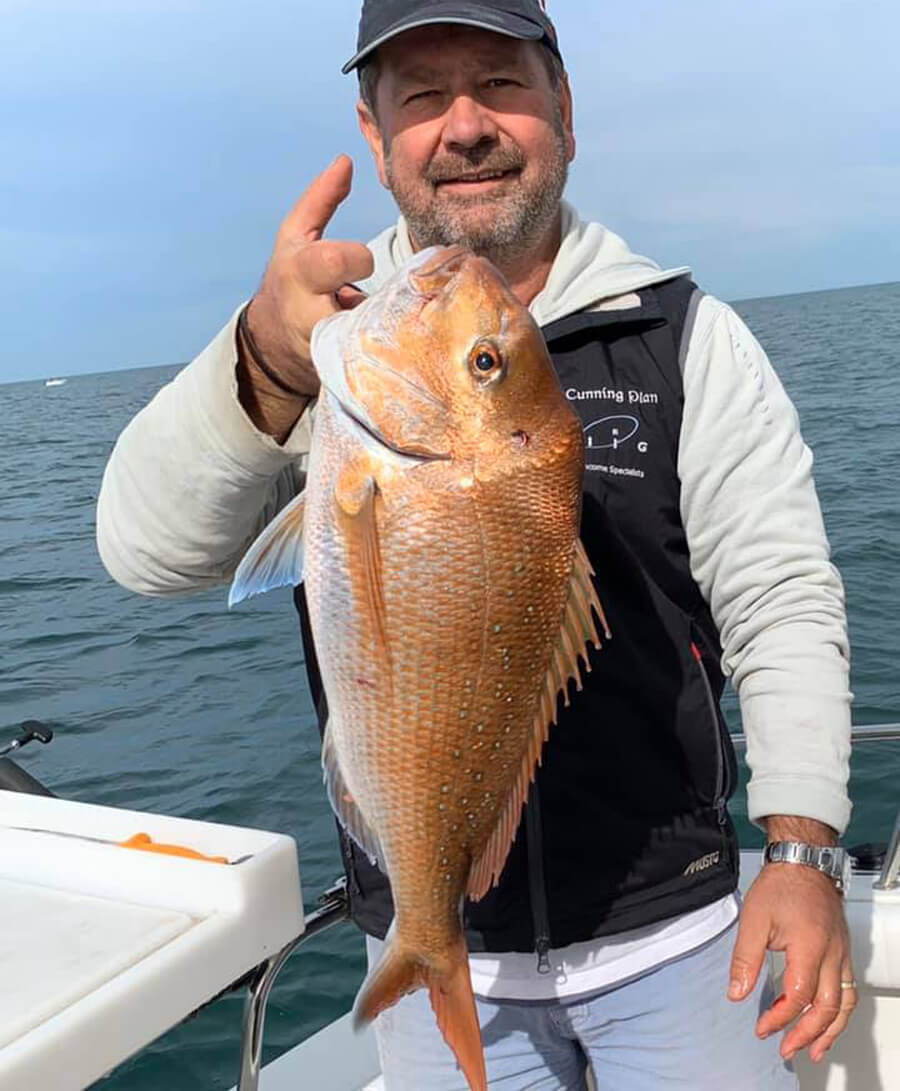 Andrew Read landed this nice snapper on a pilchard fishing Fawkner Beacon on Sunday during low tide.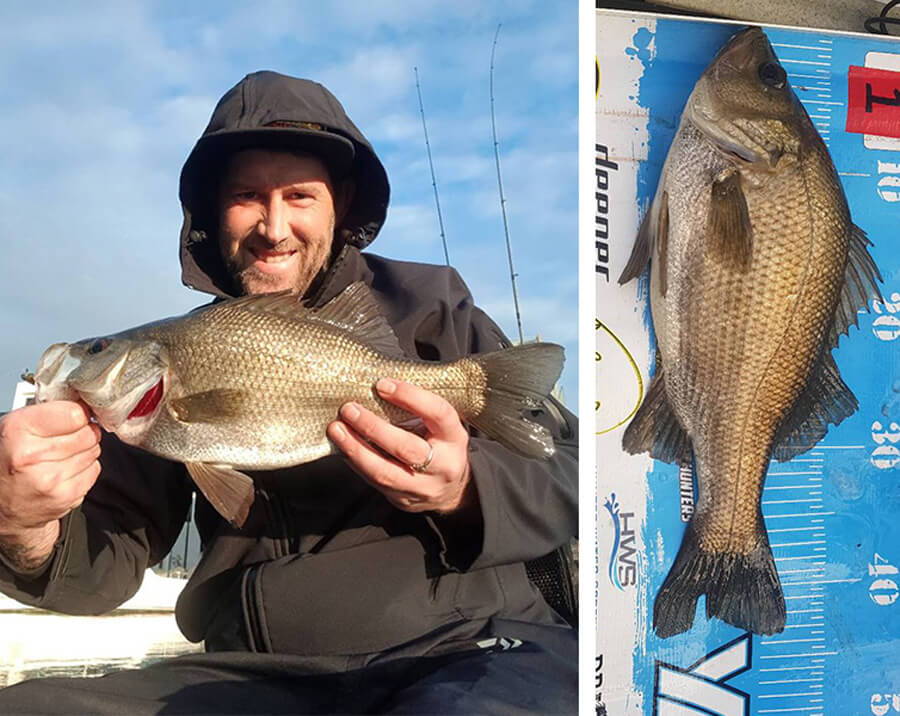 Brendan Smith hit the Patterson River on his kayak this week and landed a cracker EP of 43cm on a grub soft plastic in motor oil colour.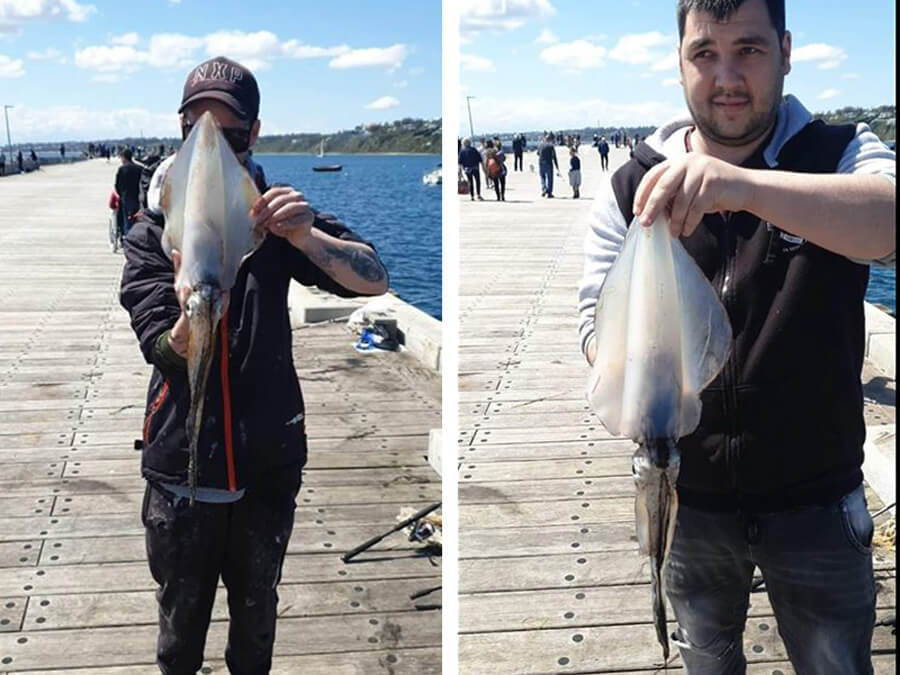 Michael and Todd fished Mornington pier on Saturday for a few nice sized squid; the jig of the day was the Shimano Sephia 2.5 in pilchard colour.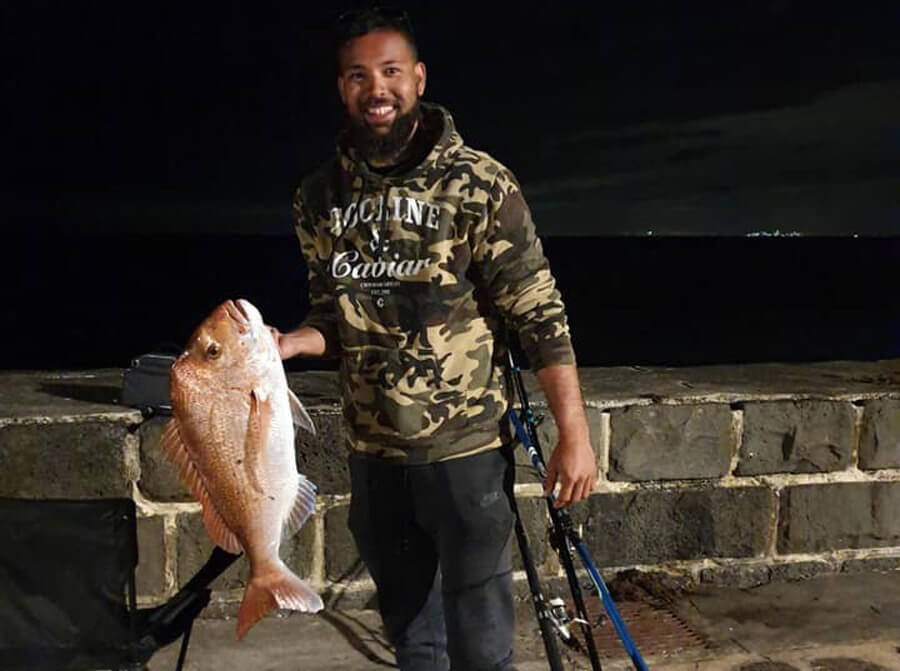 Abz Essa caught a nice snapper from the break wall at Mornington Pier during the run out tide.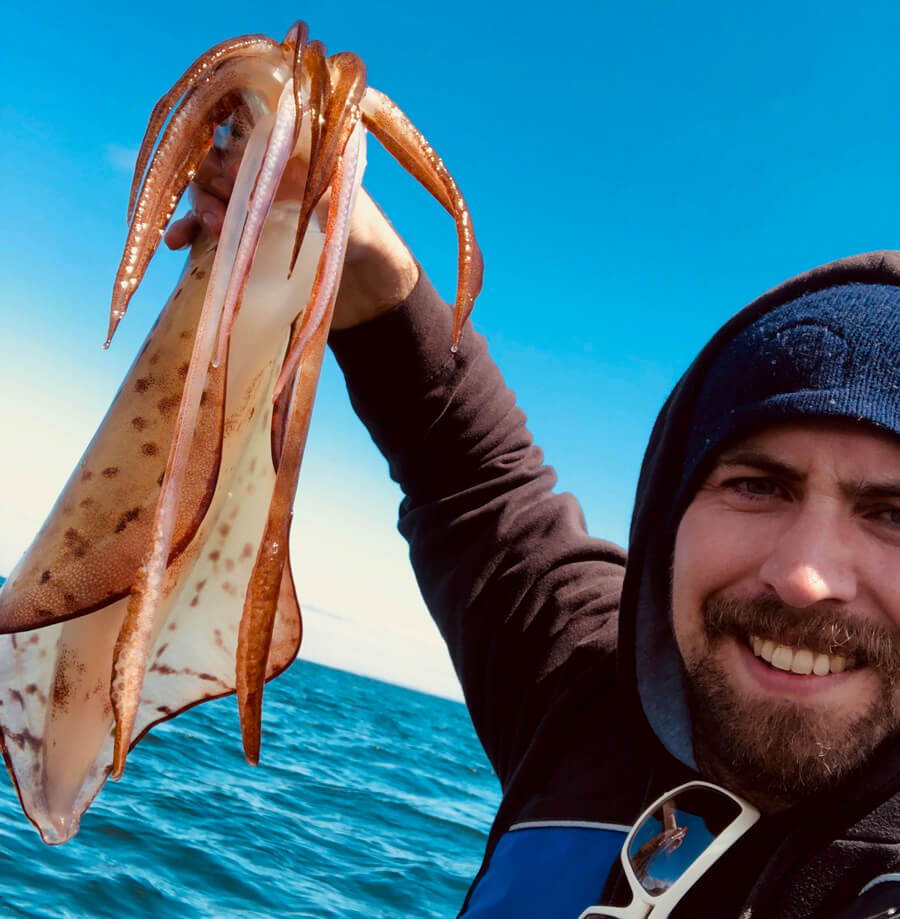 Davey fished out from Mornington on his kayak and landed some nice squid to 41cm on white jigs in 2 to 4 metres of water.

Kaidyn Davis caught a nice 45cm whiting fishing off Mount Martha this week.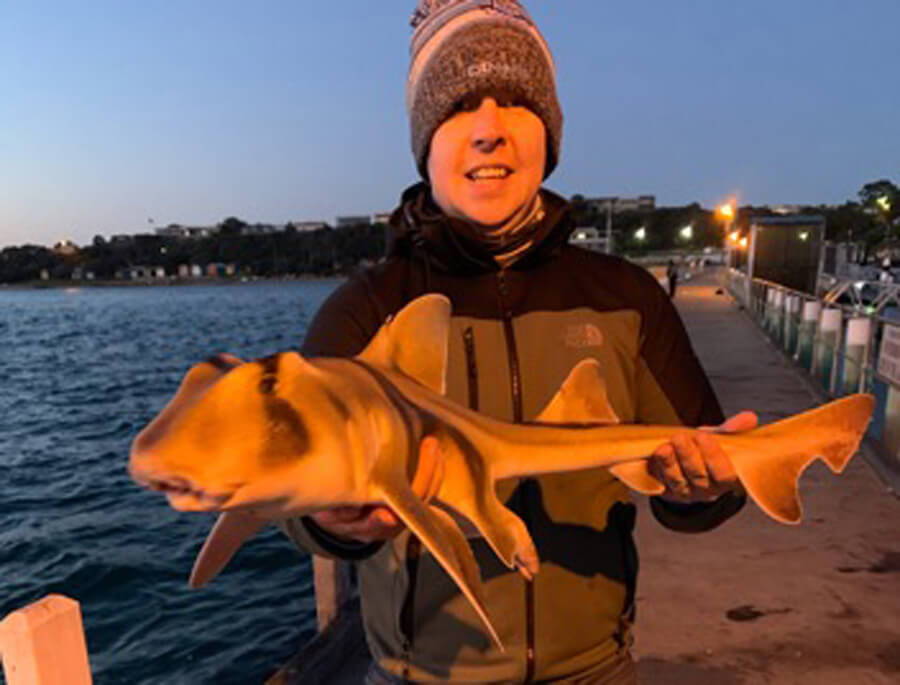 Kevin O'Neill caught this nice Port Jackson shark fishing the Blairgowrie marina on a pilchard.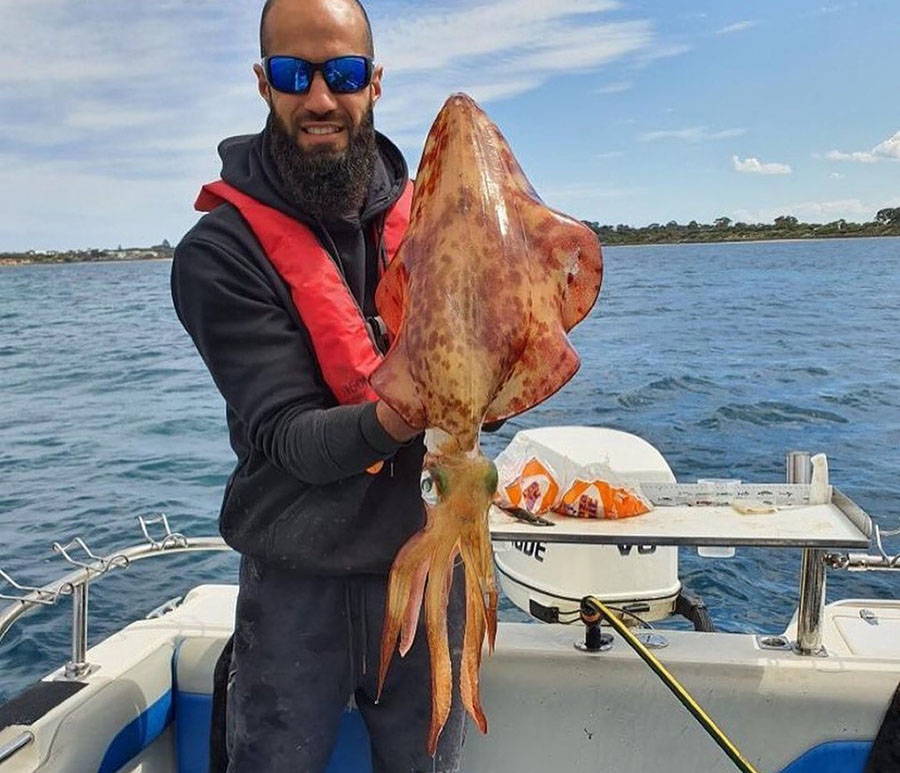 Bachar Houli fished off Queenscliff on the weekend and landed some cracking calamari; this one with a 62cm hood.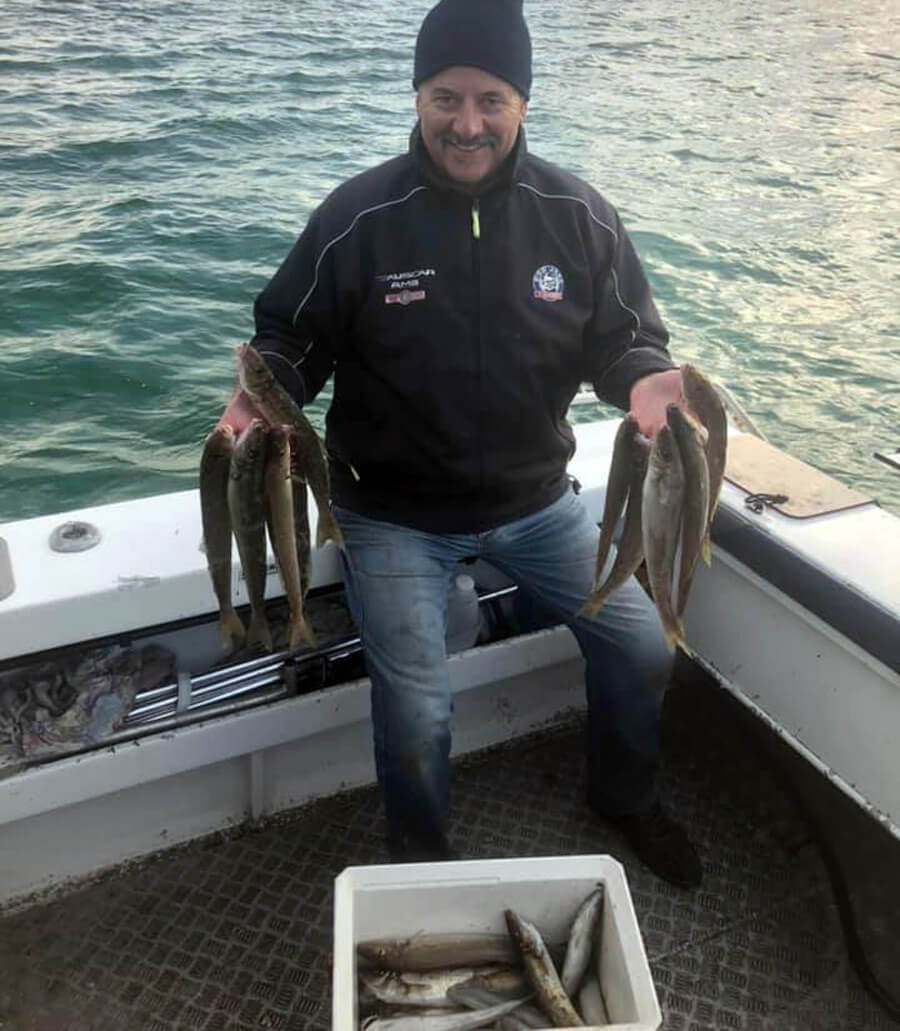 John Fotias and a couple of mates fished Queenscliff and smashed the whiting in 8 metres of water using pipis for bait.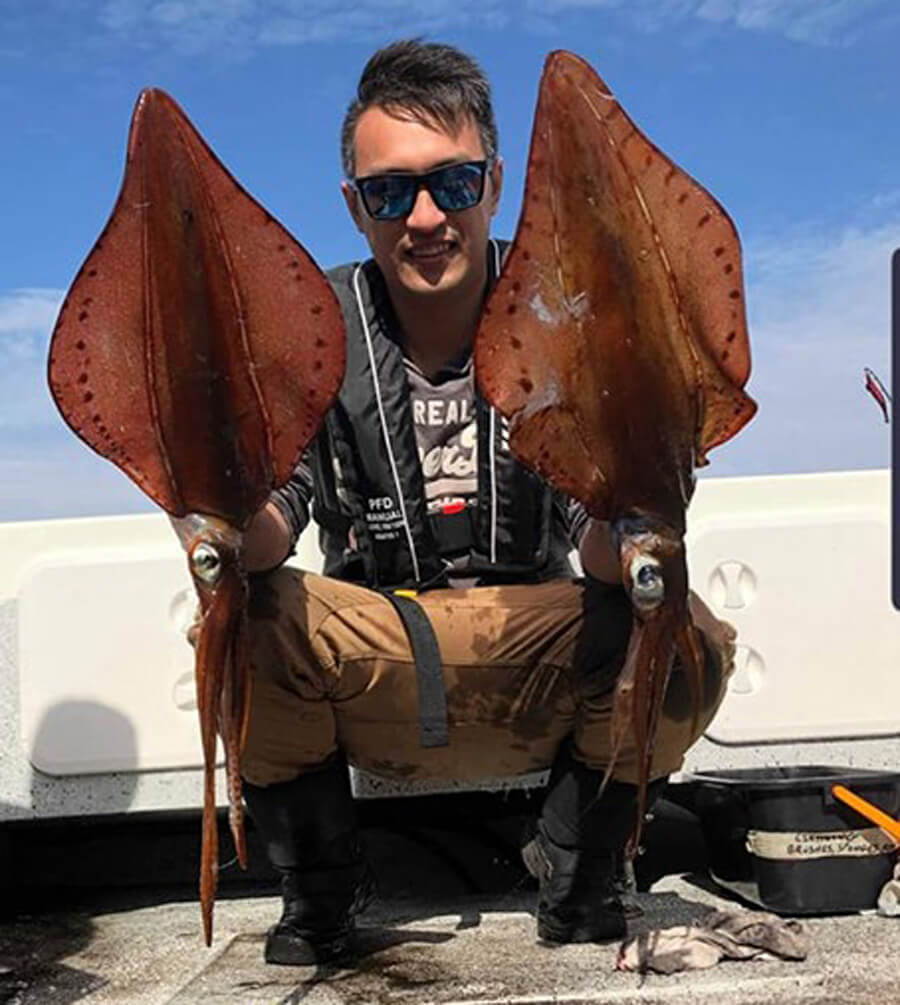 Dorian Do with a couple of cracker Queenscliff calamari caught on red squid jigs.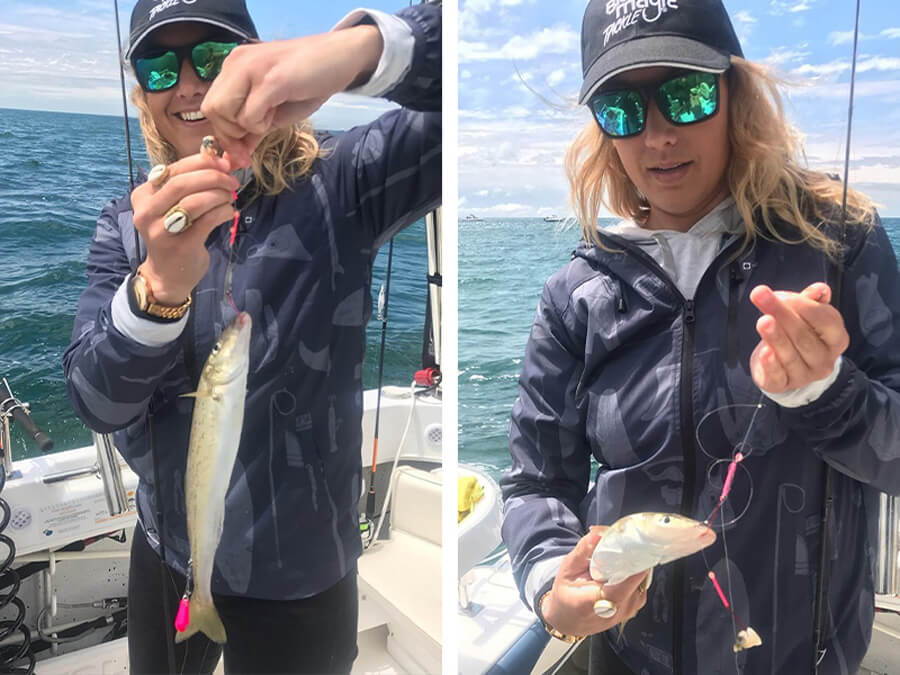 Michelle Emma fished St Leonards chasing whiting and found some good fish using pipis on paternoster rigs.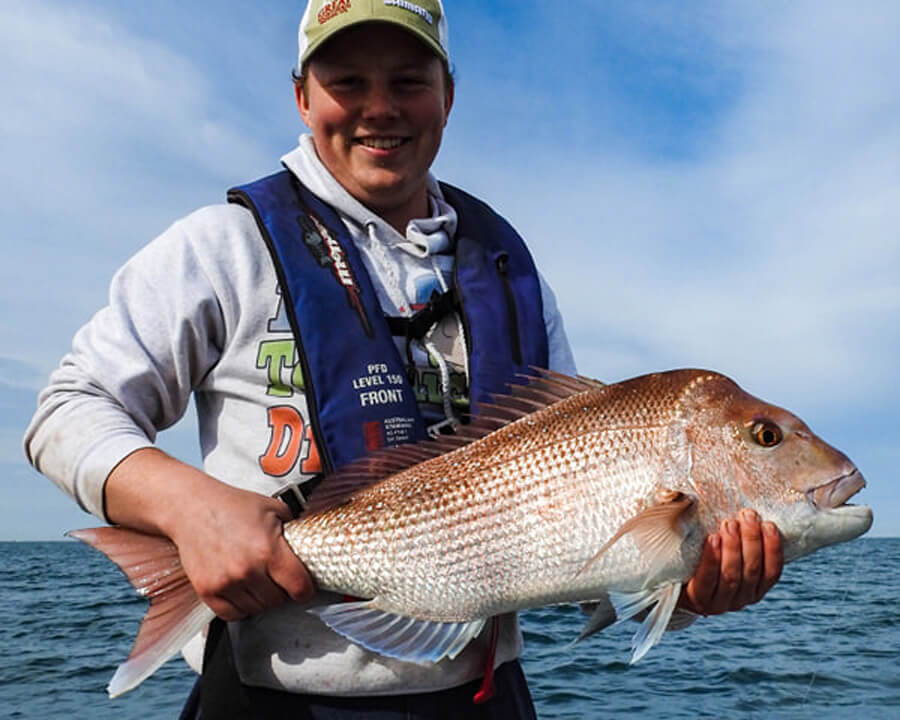 Jayden Barker caught this fantastic 80cm snapper fishing with Chris Muller out from the footy field off Williamstown on fresh squid.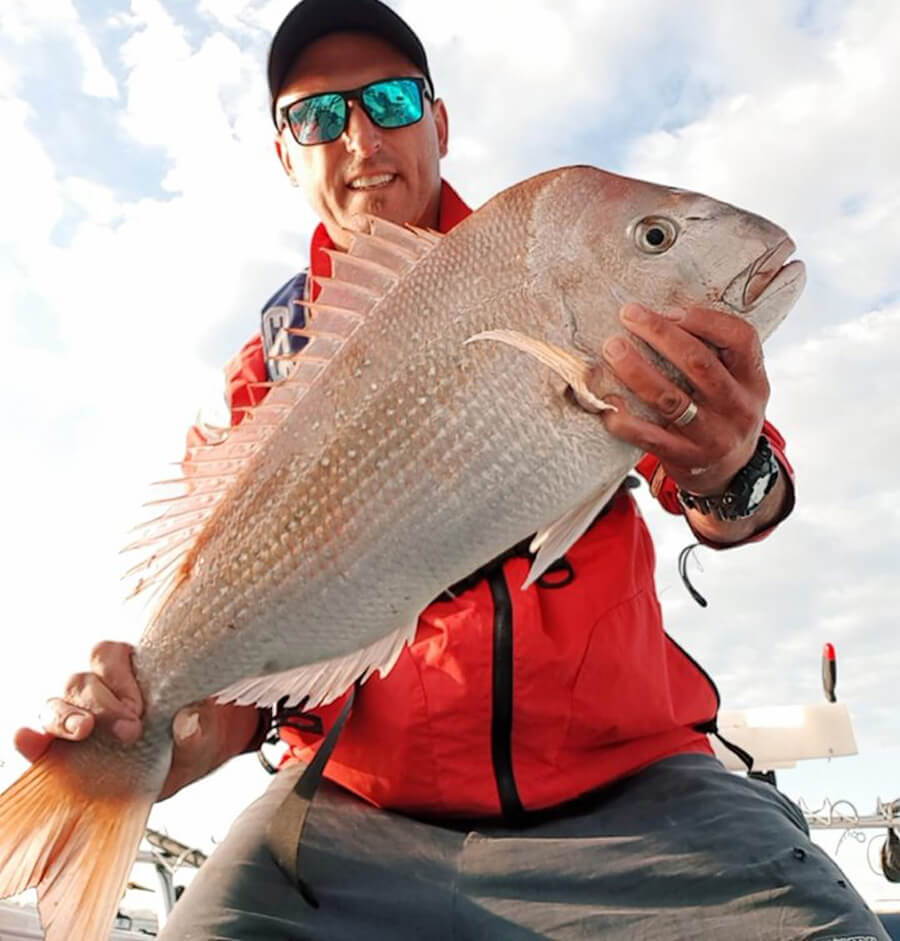 Emro Abazovic landed a cracking snapper off Williamstown that measured 76cm.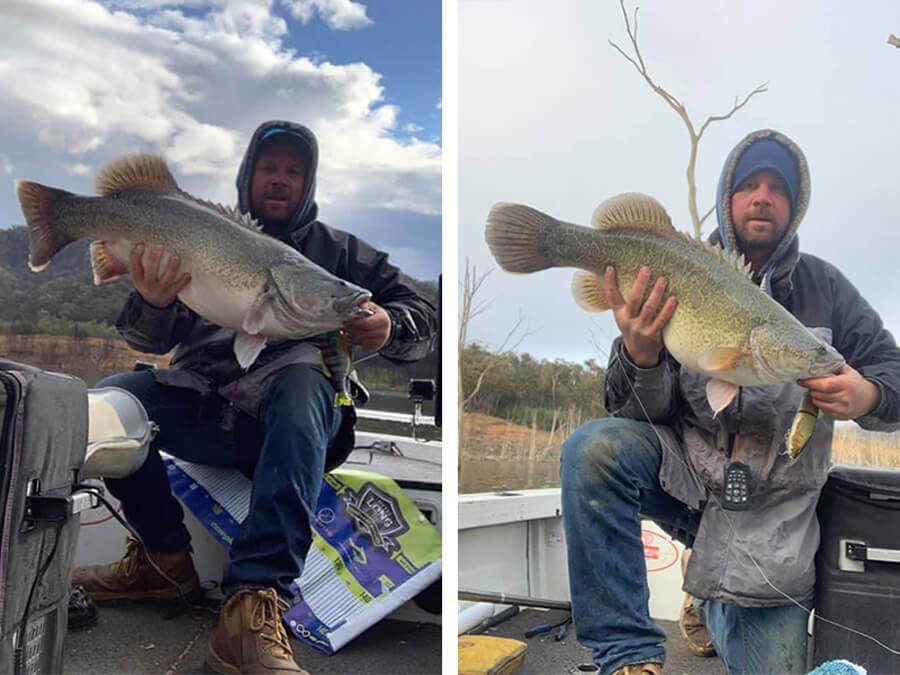 Adam Kirt fished Lake Eildon on the weekend and managed 2 really nice Murray cod, one going 88cm and the other 73cm both caught on swimbaits.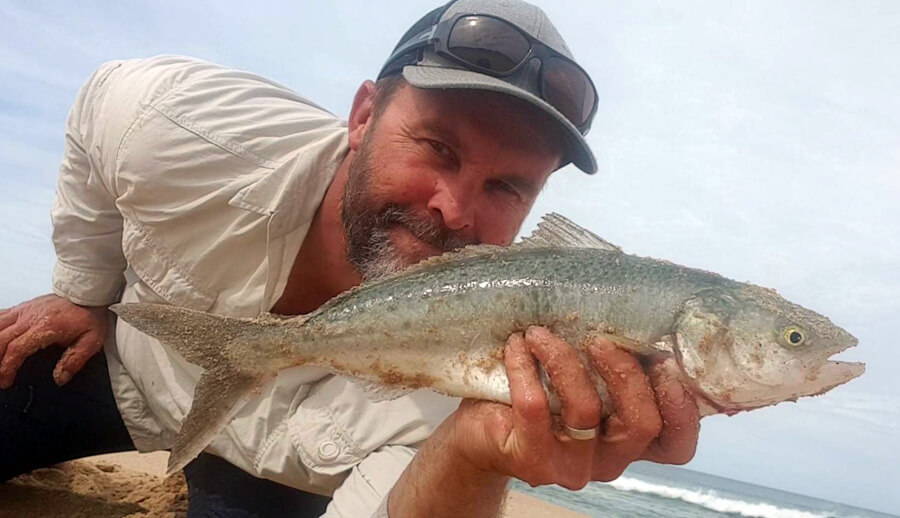 Andrew Ketelaar found some nice salmon fishing off the beach at Kilcunda using soft plastics this week.
Dayne, Tracey and Dave McDonald fished Manns Beach on Sunday and landed some lovely flathead in 3 metres of water on soft plastics.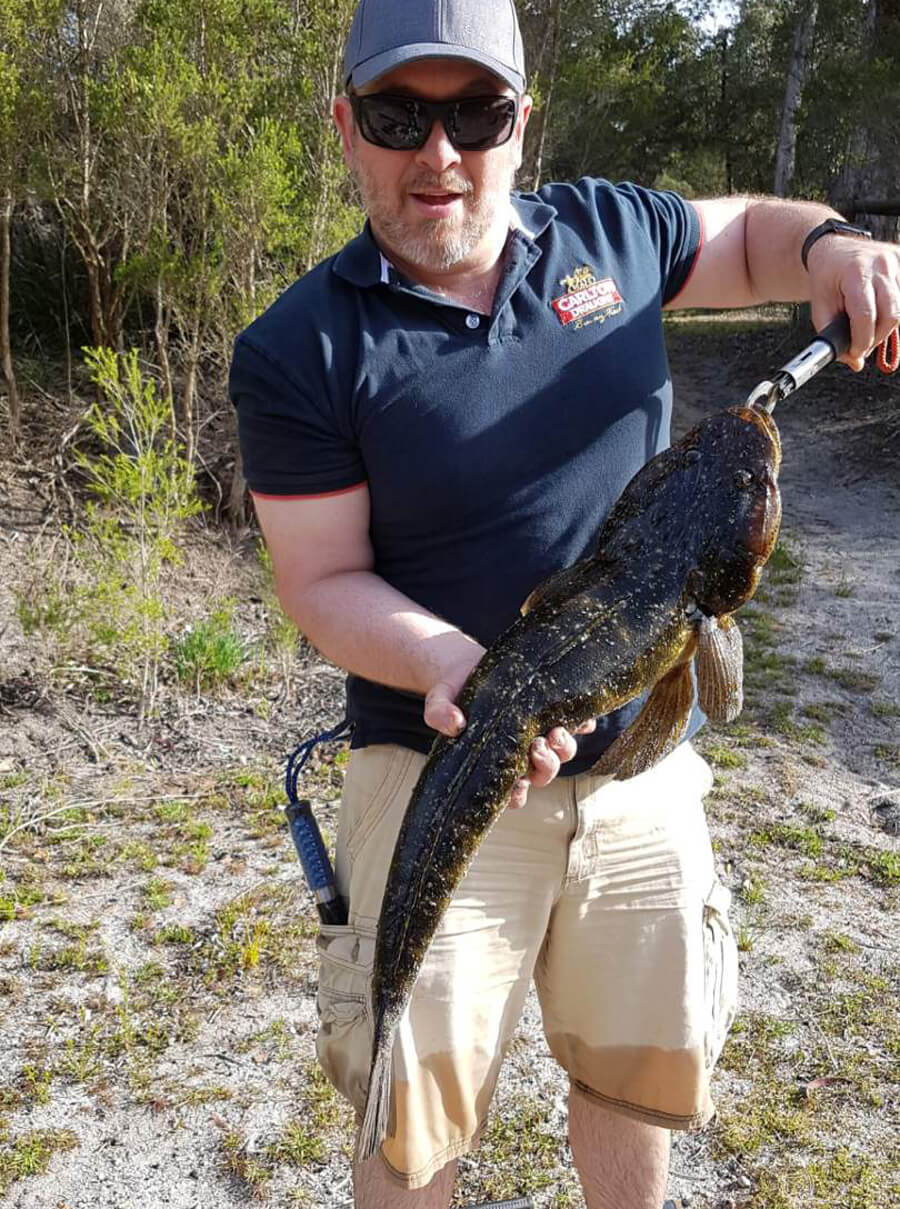 Daniel Whild caught (and released) his first ever dusky flathead and what a ripper too at 77cm; Daniel caught it on a white paddle tail soft plastic.
IFISH WITH TACKLE WORLD SERIES 14
TALKING FISHING - C31 TV - TUESDAYS @8.30PM
Catch "Talking Fishing" on Melbourne's C31 TV (CH44) at 8.30pm each Tuesday night. Staff members David Kramer and Adam Ring together with Steve "Trelly" Threlfull host Australia's only "Live to Air" fishing television program at this prime time-slot. Put Tuesday night's at 8.30 away in your weekly diary of TV shows to watch!
Giraffes have no vocal chords.

Good Luck with your fishing and stay safe on the water,

The TEAM at Tackle World Cranbourne & Mornington