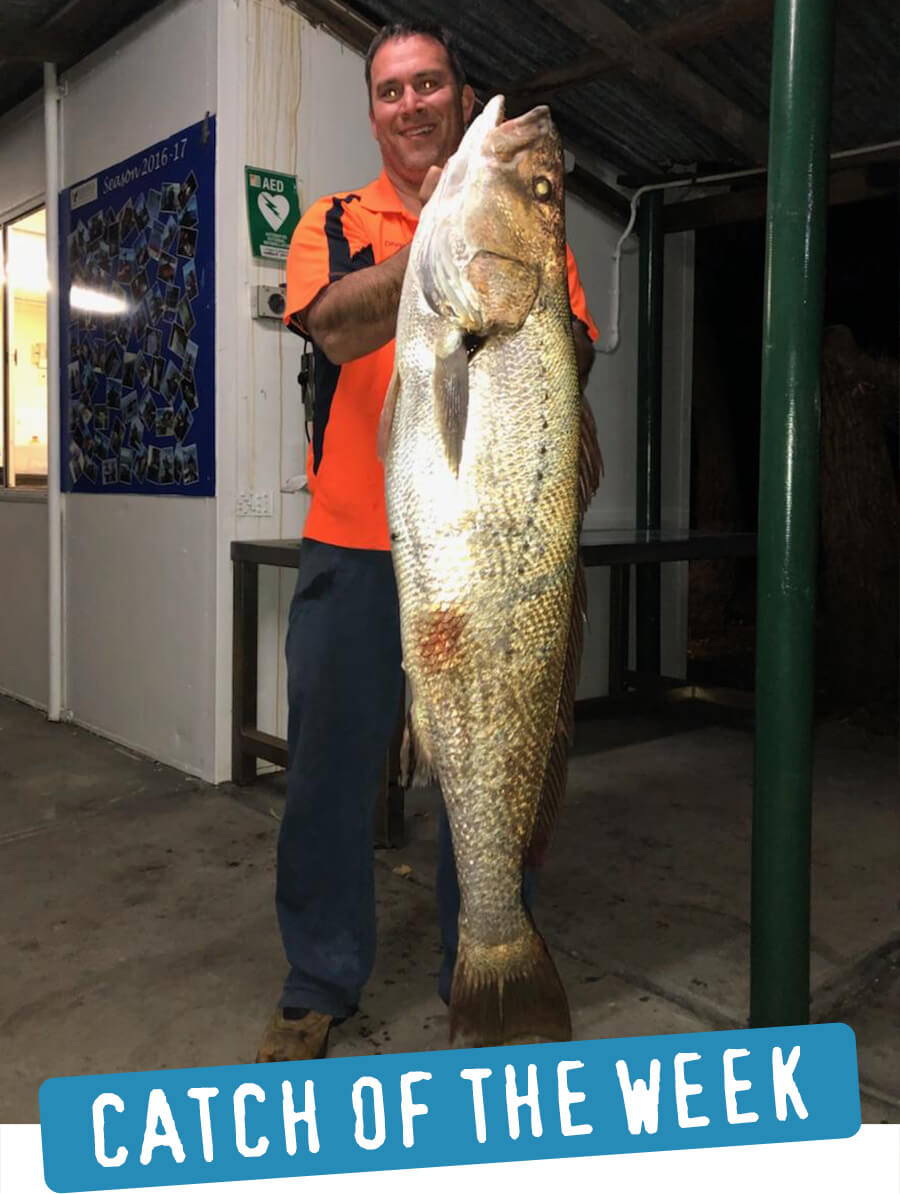 Congratulations to Dave Busuttil on his whopper of a mulloway caught in Western Port, you are this weeks' Catch of the Week.
Jayson Turner from Pro Red Fishing Charters had a fantastic week on the snapper fishing in Western Port with his customers Pete and Angel landing some cracking fish.
Matt Cini and Marco from Reel Time Fishing Charters have had a great week on the snapper with Matt guiding client Brad onto some cracking reds to 4kg in the Top End of Western Port and both Matt and Marco getting their customers onto the action around Western Port.
Rob Wischki fished land based in Western Port on Tuesday and was rewarded with a nice 3kg snapper.
Anthony fished out from Hastings and landed a quality snapper to open his season with a bang.
Chris Preston and Travis Watt fished out from Lysaughts. Using squid caught from Tyabb Bank they landed 4 snapper from 45cm to 78cm caught during the last 2 hours of the run in tide.
John Sargent fished in 8 metres of water at the Top End of Western Port and managed to land this cracker snapper of 78cm.
Nathan Ho fished the Top End and landed this ripper snapper in 15 metres of water on a whole whiting during the last of the run out tide.
Tyler Hotchkin fished out from Lang Lang last week fishing his brother Ben's successful mark and landed a 76cm beauty caught just on dusk.
Neil Phillips landed this quality snapper of 5.5kg at Corinella with squid for bait on the weekend.
Bruce Sherwood fished The Corals last week and landed this monster snapper of 11kg on a squid head.
Regular customer Pat Ellaby took Rosemary Powell out for a fantastic day on the reds, fishing at The Corals they landed a cracking 5kg fish followed by a 3kg fish.
Staff member Scott Harper spent his 50th birthday this week on the water and managed a cracking bag of snapper and calamari.
Mick Rushford managed this beast of a snapper out from San Remo caught on the incoming tide using pilchards for bait.
Aron Bairami fished from the San Remo pier landing this nice snapper on pilchard with a snapper snatcher.
Mithat Buyuk fished at Web Dock this week and landed a solid 83cm snapper.
Ben Boyce-Elliot fished at St Kilda last week and landed this cracker snapper land based.
Warren Chapman fished out deep from Mount Martha this week and landed a fantastic snapper.
Neil Mackenzie fished out from Altona this week and landed a ripper snapper of 6.3kg in 17 metres of water.
Shaun Furtiere from Think Big Fishing Charters has been a master of Western Port this past week with his customers reeling in cracker snapper and monster gummies. Customer Bruce Coles landed his lovely snapper that tipped the scales at 6kg. Andrew and Stuart worked together to land their ripper gummy and also had Alan get stuck into some big squid. To round out the week customers Jacob and Andrew had a cracking session with big gummies to 20kg landed.
Dave Busuttil was targeting snapper early in the week when he landed this beast of a mulloway on light gear. The fish was weighed in at 19kg and measured 130cm, that's a fish of a lifetime mate, well done!
JP fished near buoy 12 in the Western Entrance and landed this quality gummy on a squid strip.
Tom Vercoe fished out from Flinders with his dad targeting squid, the guys had trouble close in so moved to some deeper water and managed some quality squid for the session.
Brock and Kane Spiers had a ripper day on the water landing a number of fantastic squid in 6 metres of water that they later turned into a cracking snapper of 4kg near Hastings in 10 metres of water.
Young Harry Brian landed this ripper 45cm whiting along with 7 others around the same size in the Tooradin Channel using pipis for bait.
Brendon Hogg fished from the kayak around the Top End of Western Port last week and managed to land a couple of fantastic gummies on pilchards rigged on Black Magic Snapper Snatchers.
Ben Hotchkin headed out from Lang Lang on his kayak and landed a pair of ripper gummies on pilchard and prawn baits.
7 year old Mykah Loft had a fantastic session at Corinella landing a ripper gummy and nice snapper all by himself, well done mate!
Anthony Pratt landed 3 cracking gummies in the Eastern Entrance with the biggest going 20kg; the big girls were released; they were caught in 30 metres of water.
Staff member Leigh Sant fished out from Mt Eliza this week and caught a number of cracking salmon to 60cm.
Tyrus Bentley fished with his dad Peter at Mornington Pier this week and caught a cracking squid.
Trent and Paul Dickinson and Steve Alexander bagged out on squid out from Mount Martha this week with some ripper models caught.
Annaliese Groves fished from the rocks at Mount Martha and landed this ripper salmon on a squid strip.
Bernard Abrams and co headed out deep from Mount Martha this week in search of snapper but came home with 2 nice gummies caught on slack tide using fresh squid heads.
Kelli McGrath landed this quality gummy at the South Channel this week, love ya work Kelli.
Jack fished at Sorrento on the weekend and landed this nice squid on a blue Harimitsu jig in size 2.5.
Teresa Santoro landed this solid squid fishing out from Sorrento this week.
6 year old Peppe Sottile caught this monster of a squid out from Queenscliff that weighed in just under 2kg and was caught on silver whiting under a baited jig.
Lou Cipri fished at Queenscliff this week and landed a ripper calamari; white Sephia jigs as well as black Odori jigs have been doing well over there on the big squid.
Bryce Nurnaitis fished Queenscliff harbour last week and had lots of fun catching snapper, salmon and trevally.
Chris Gilder caught this beauty of a flathead at Portarlington near channel marker 3 using pilchard for bait.
Young Nicholas Aston fished with the family off Portarlington and had a great day catching their bag of flatties as well as this beautiful Port Jackson shark.
Bohdy Hamann aged 5 had a fantastic day out with his Pa and Dad on Saturday catching some fantastic flatties.
Luke and Levi Mangion got stuck into the big schools of salmon that have been hanging around Altona and had a lot of fun in 4 metres of water landed some cracking fish.
AJ Azzopardi had his daughter Lilly out from Altona, west of P2 and she managed her first pike, and an absolute ripper pike too! Well done Lilly!
Ashley Manzie fished with his son Ben at Eildon Pondage and had a ripper day with Ben landing a 4.5lb rainbow and Ashley landed a ripper brown of 8lbs. Well done guys.
David fished at Yea and landed this lovely 38cm brown trout that coughed up a pilchard sized blackfish.
Mickaela Harding fished Lilydale Lake last week and landed this ripper 43cm rainbow trout using PowerBait.
Mitch O'Neill landed this cracking gummy on fresh squid that weighed in at 20kg caught at Port Welshpool.
Sasha Sergejew took his son and daughter, Harry and Courtney to Bemm River and had some ripper days catching plenty of fish in the shallows; this pair of fish went 39cm caught on a Bent Minnow.
Staff member Adam Ring spent some time at Bemm River on his recent holidays and smacked the bream using Z-man soft plastics in Motor Oil.
Aaron landed this beautiful 34cm bream at Bemm River this week.
Good customer Rod Hargrave grabbed some travel gear from the Cranbourne store before heading to Thailand where he had a fantastic time catching Mekong Catfish, Siamese Carp and A Wai, well done mate!
IFISH WITH TACKLE WORLD SERIES 13
TALKING FISHING - C31 TV - TUESDAYS @8.30PM
Catch "Talking Fishing" on Melbourne's C31 TV (CH44) at 8.30pm each Tuesday night. Staff members David Kramer and Adam Ring together with Steve "Trelly" Threlfull host Australia's only "Live to Air" fishing television program at this prime time-slot. Put Tuesday night's at 8.30 away in your weekly diary of TV shows to watch!
Porcupines can float in water.

Good Luck with your fishing and stay safe on the water,

The TEAM at Tackle World Cranbourne & Mornington