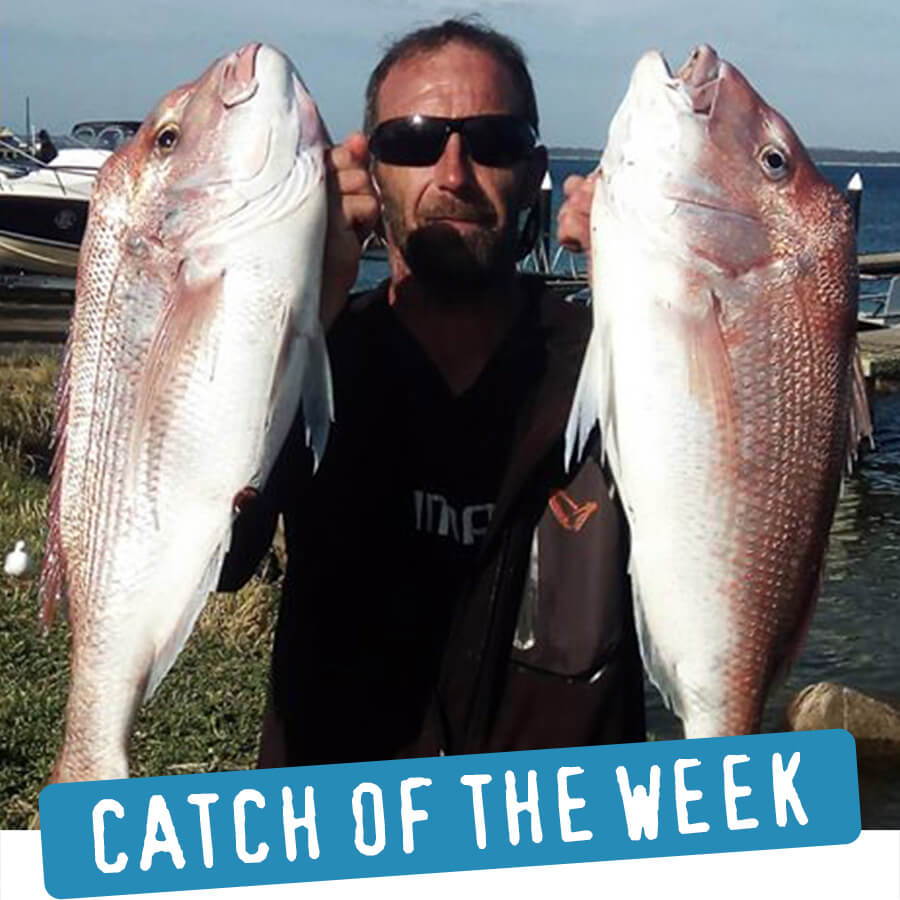 Congratulations to Matt Tormey on his cracking snapper caught from Western Port, you are this weeks' Catch of the Week.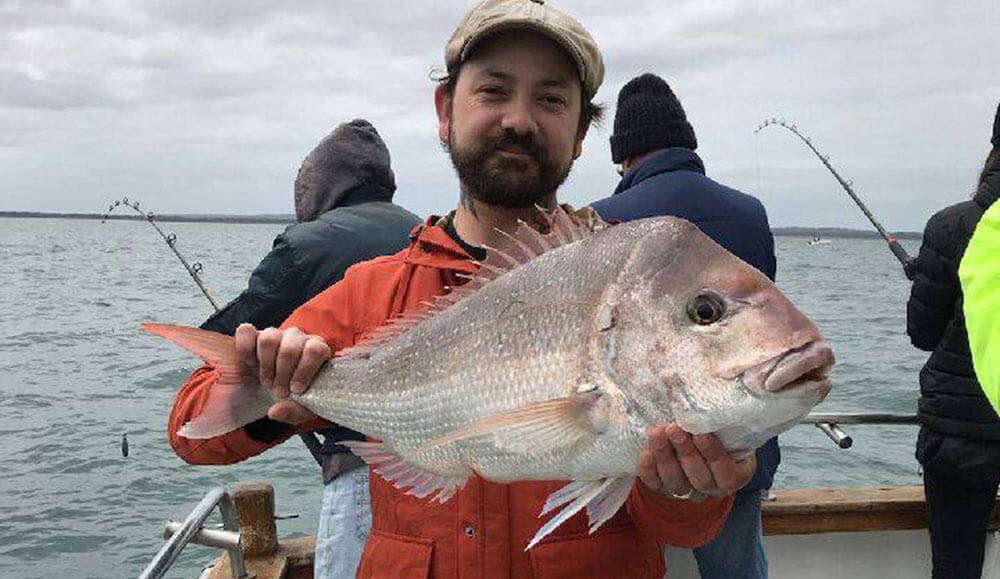 Steve Johnson from Ace Fishing Charters has been out amongst the reds this week and had Crispy Lennox on board who landed this fantastic 4kg snapper on a soft plastic while on the drift.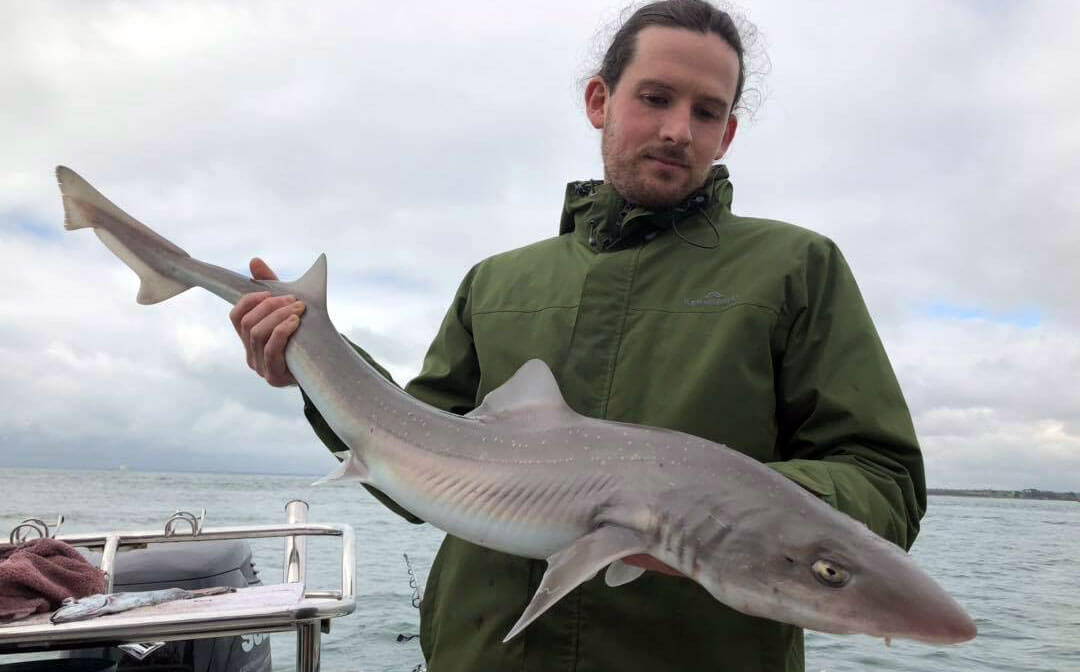 Shaun Furtiere from Think Big Fishing Charters had a successful charter with his customers on Wednesday morning catching a beautiful gummy shark.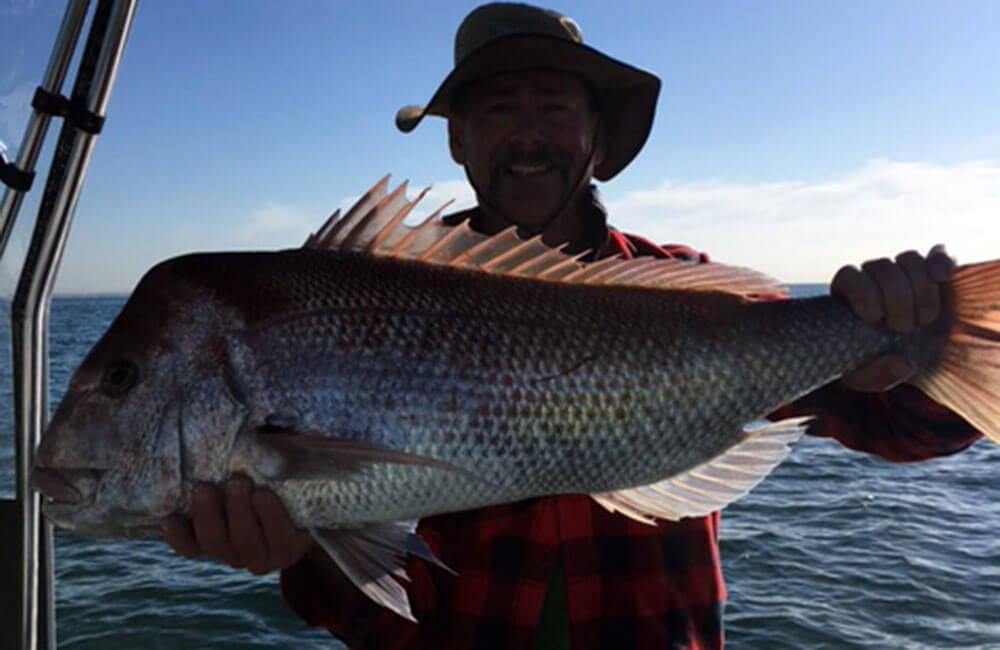 Geoffrey Ball fished off Hastings last week and managed this ripper 85cm snapper using a snapper snatcher baited with a small yakka cube.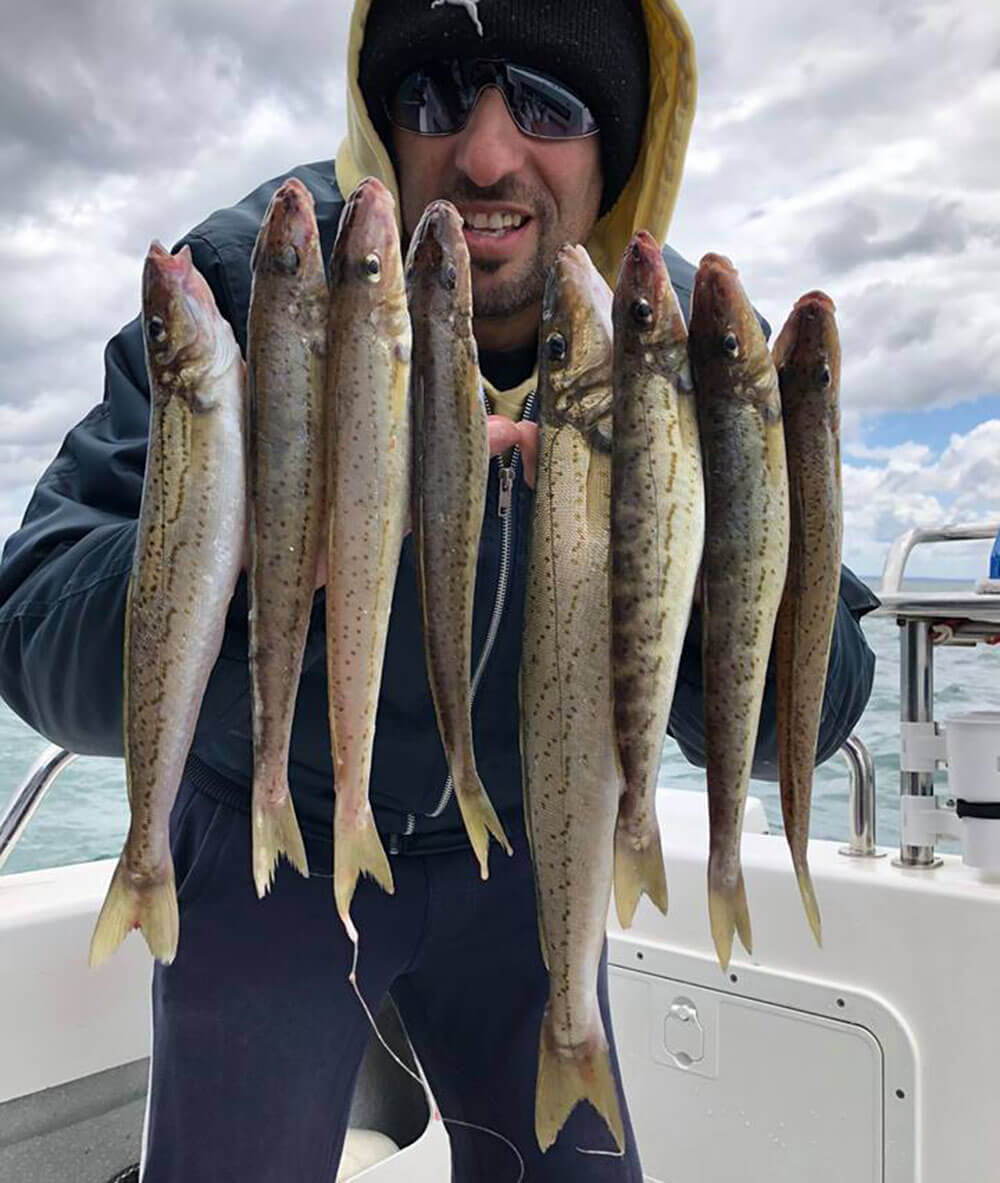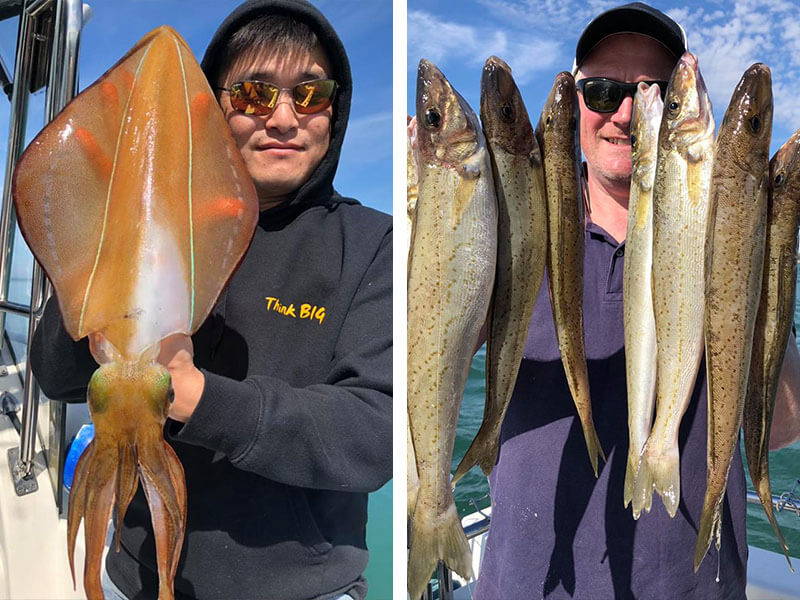 Shaun Furtiere from Think Big Fishing Charters had several very successful charters in Western Port this week with some quality squid as well as some thick whiting from the Middle Spit in 4 to 7 metres being caught by his customers.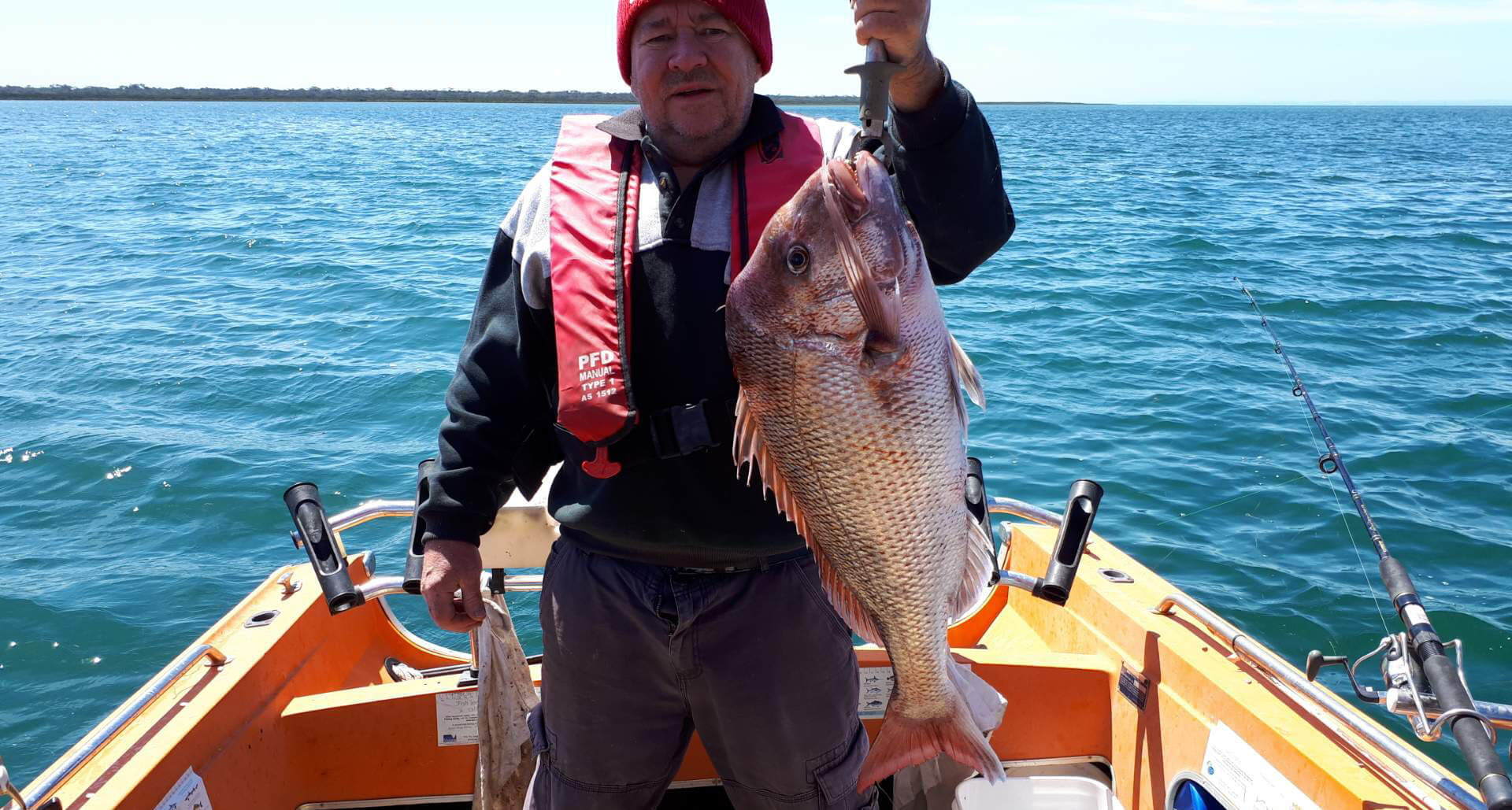 Alan Hodges fished near Eagle Rock this week and landed a quality 82cm snapper.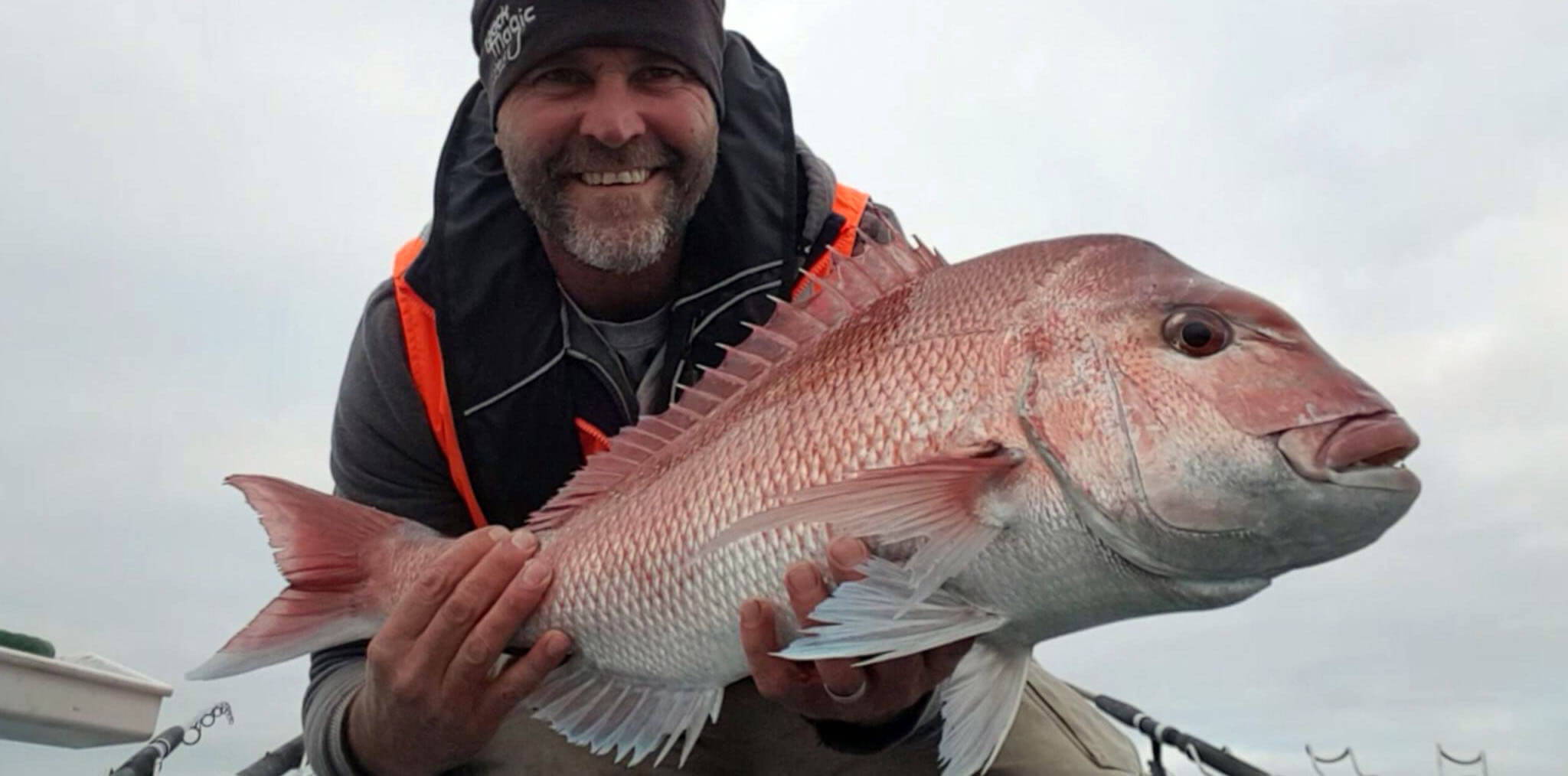 Andrew Ketelaar had a fantastic morning on the water on Monday landing a total of 5 snapper at Crawfish Rock, the best bait was fresh squid.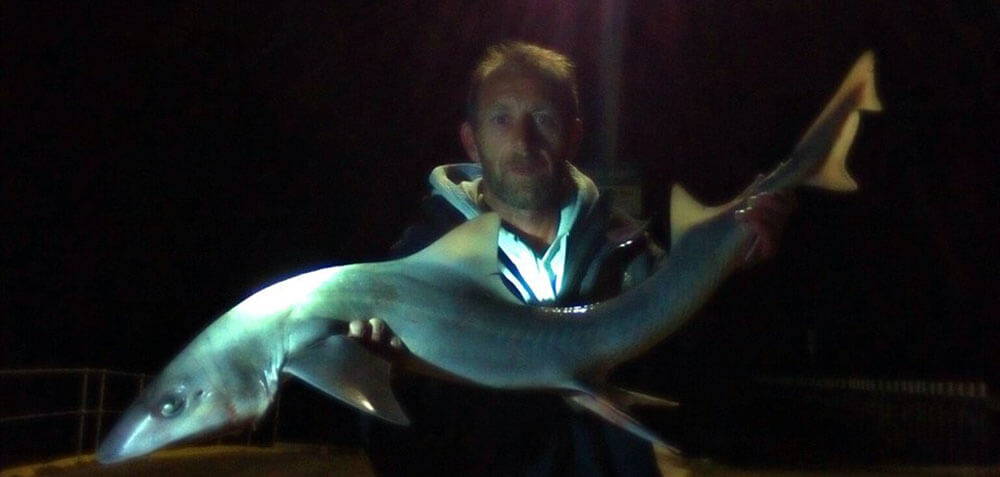 Matt Tormey fished out from Warneet early Thursday morning and landed this ripper gummy on trevally at low tide.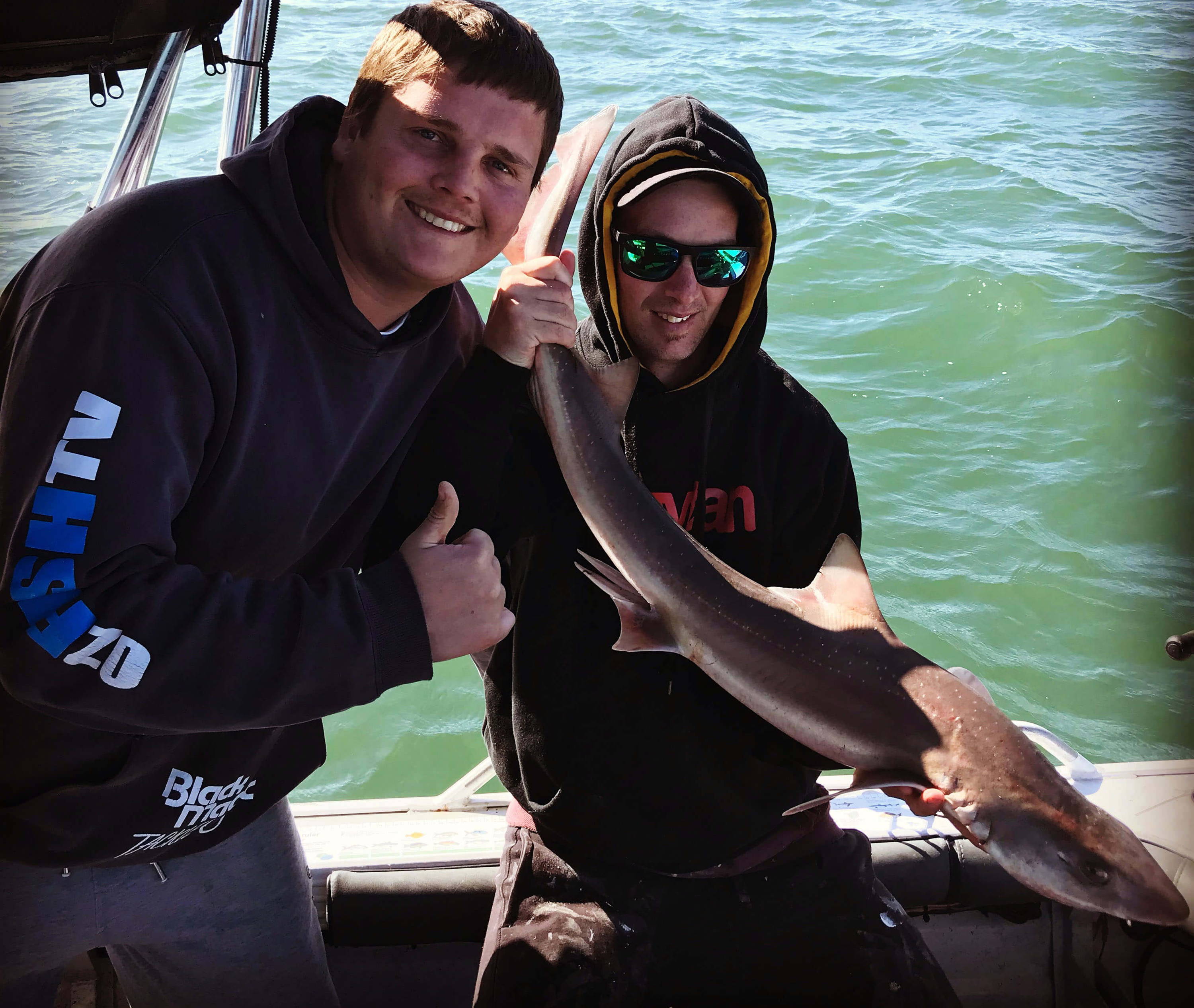 Chris Preston took Michael Kilpatrick out for a gummy session this week and they nailed a fantastic gummy on fresh yakka chunk up Boulton's Channel at the end of the incoming tide.
Ben Hotchkin headed out with his brother Tyler from Lang Lang on the kayaks on the weekend and landed a nice gummy.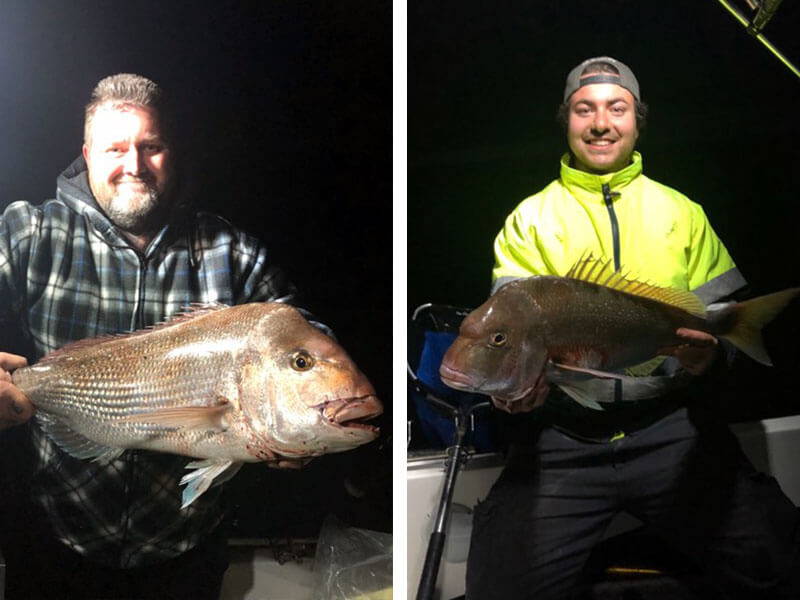 Michael Woods and Rueban had a successful all nighter last week at Corinella landing some top quality snapper on fresh squid heads and trevally.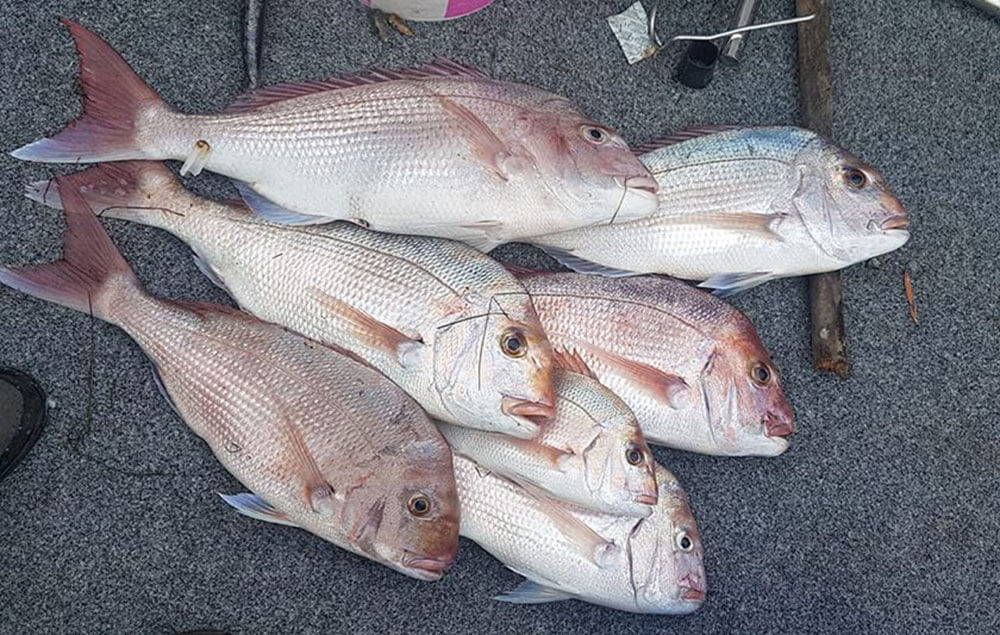 John Moore fished off Elizabeth Island on Sunday morning and manage a cracking bag of snapper.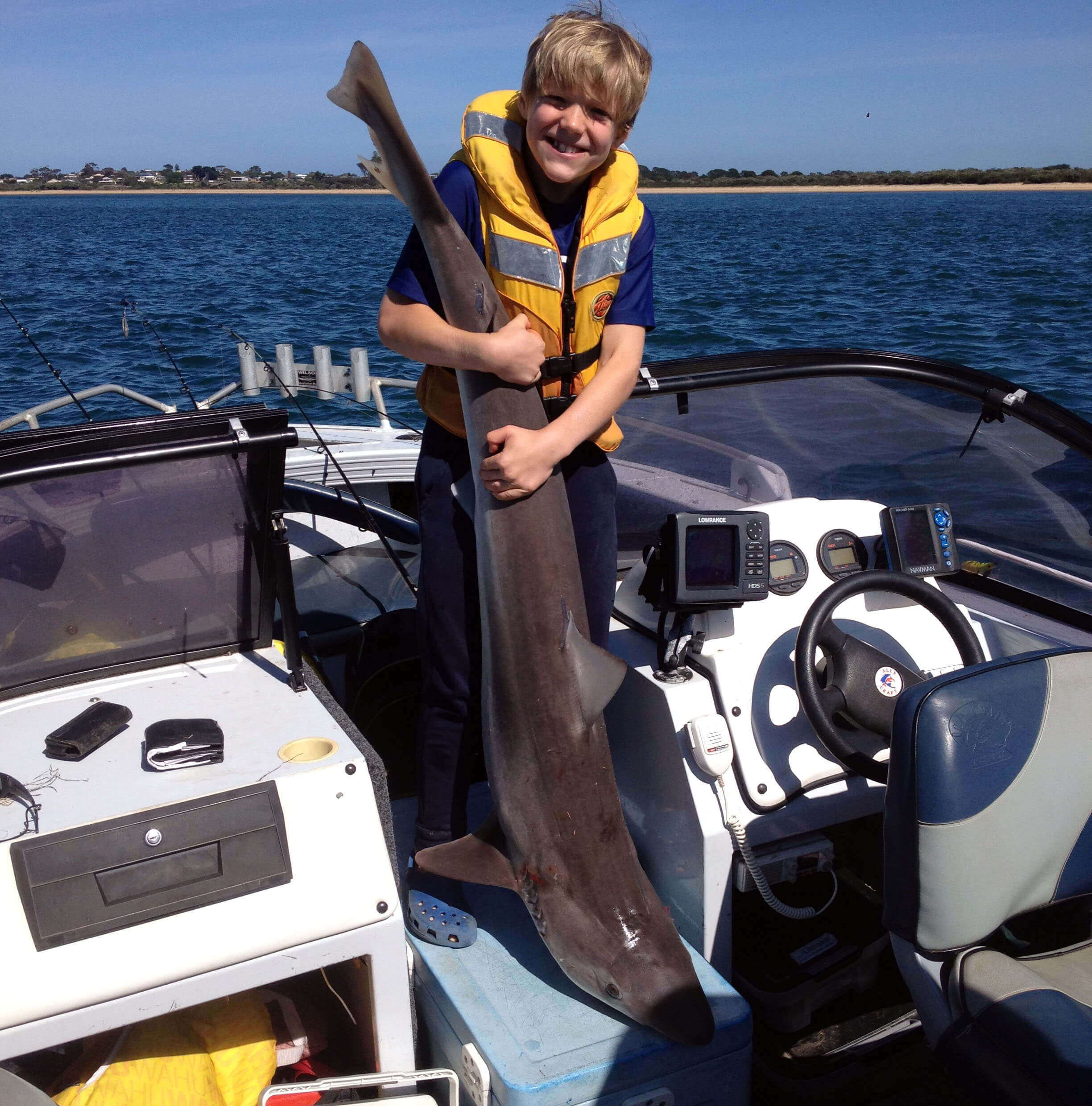 Young Eden caught this magnificent 24kg school shark with a little help from his mate Joel and his dad; half a pilchard was the bait of choice.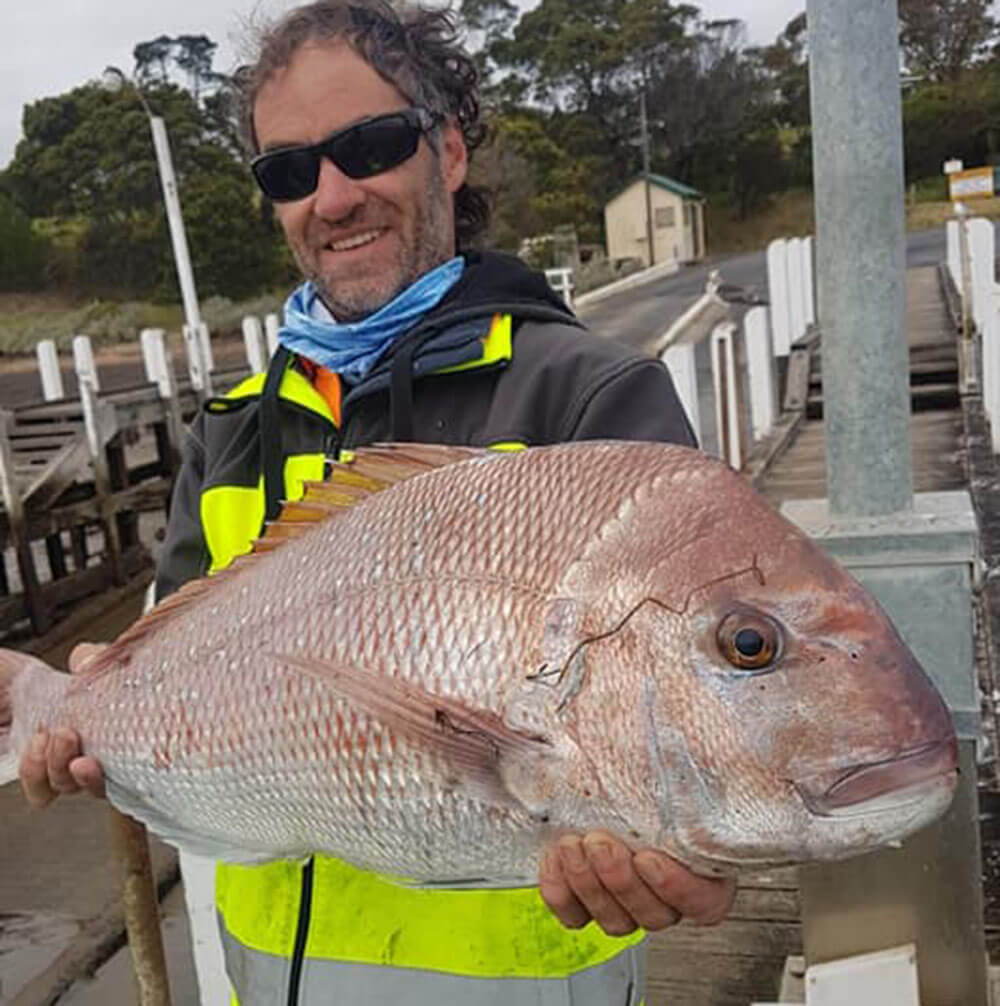 John Moore fished with a mate out from Rhyll this week and they landed this stonker 80cm plus snapper in 8 metres of water.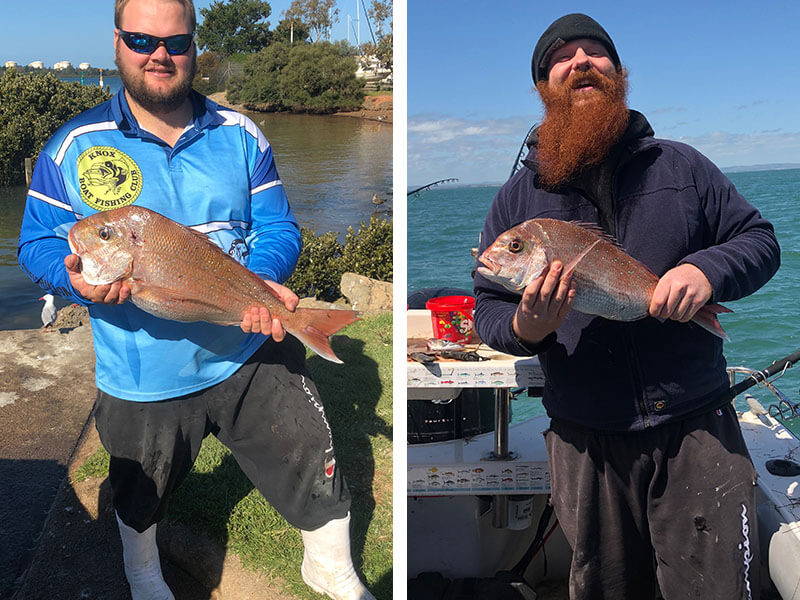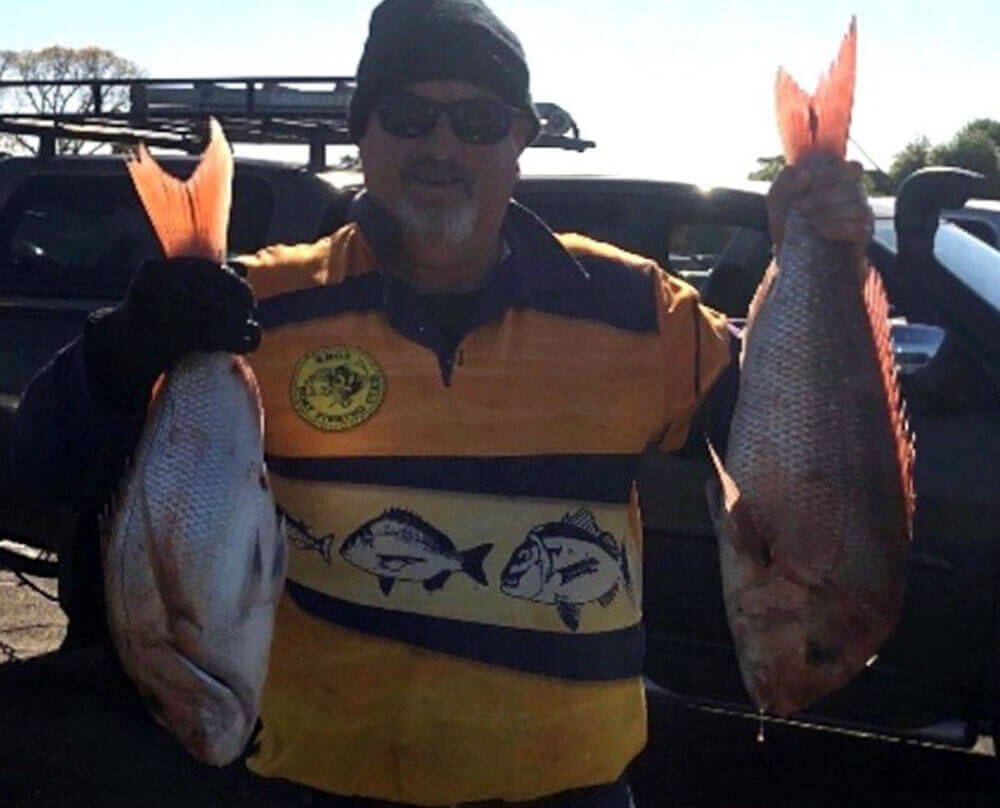 Chris Gray along with his father Stuart and best mate Luke fished on Sunday starting at Esso on first light landing 2 snapper and then another 2 caught at Silverleaves. The biggest was 4.8kg and the best baits were squid and couta.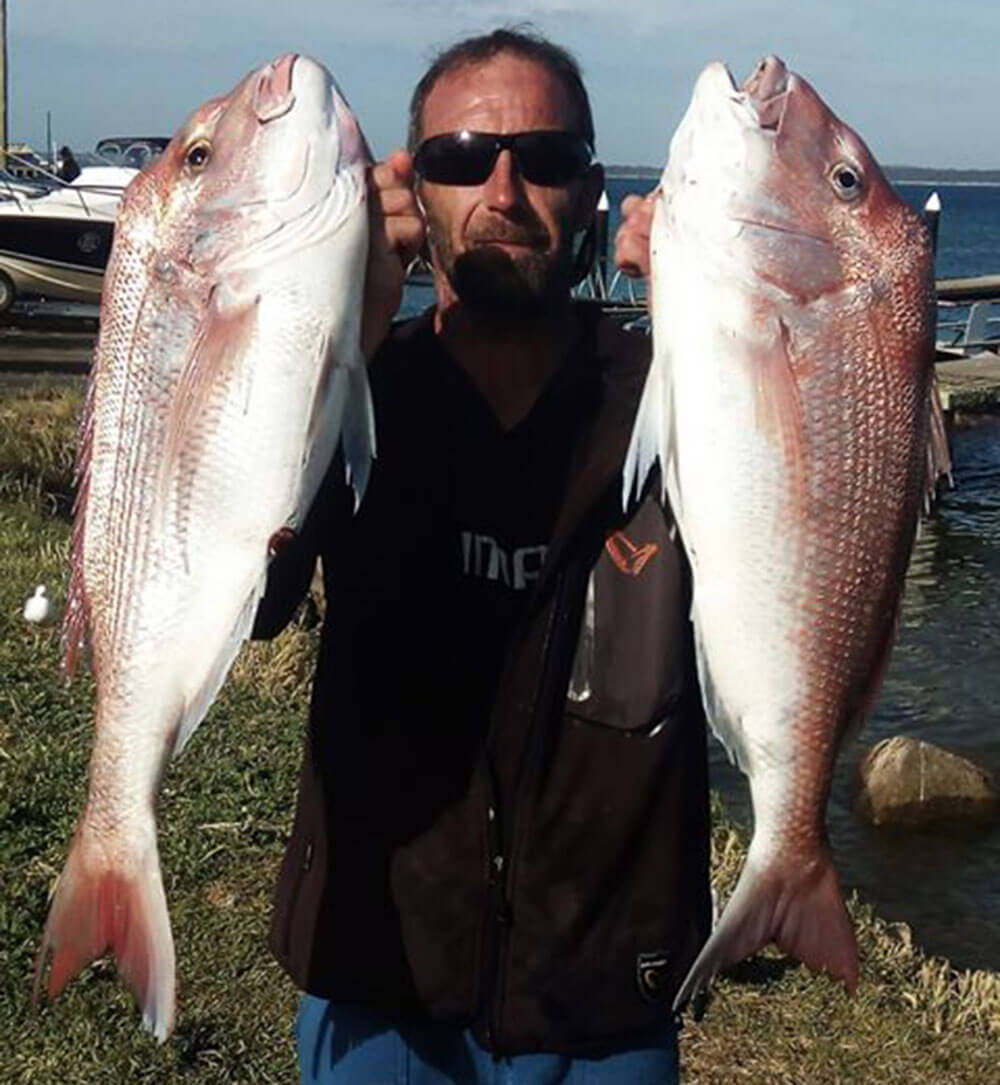 Matt Tormey and Mario fished out from Cowes this week and managed to cracking bag of snapper in 16 metres with fresh trevally being the best bait.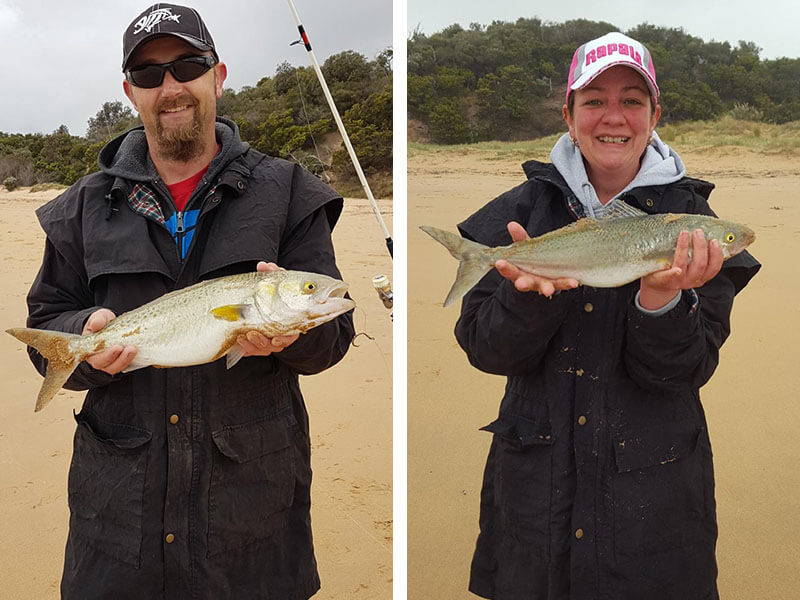 Staff member Adam Fraser and Kylie got stuck into a ripper school of salmon at Red Rocks on Phillip Island this week, IQF pilchards and squid did the damage on salmon up to 2kg.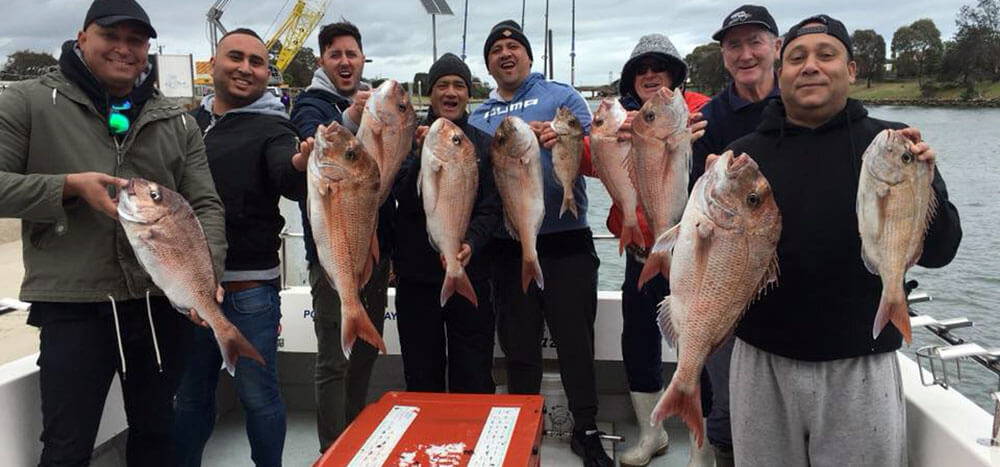 Daniel Zagami from Fish On Charters had a cracking session with his customers this week with lots of perfect eating size snapper caught.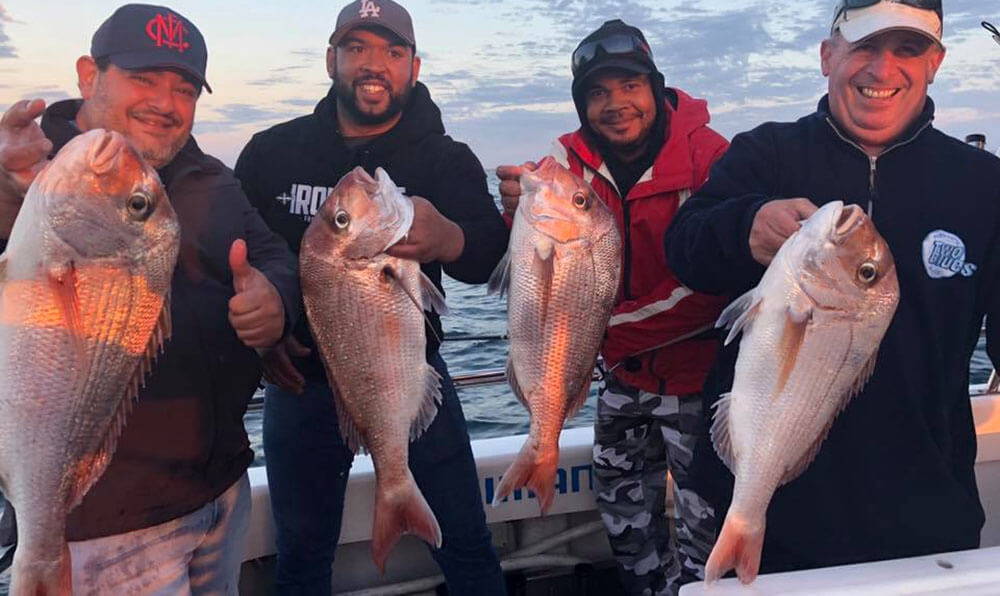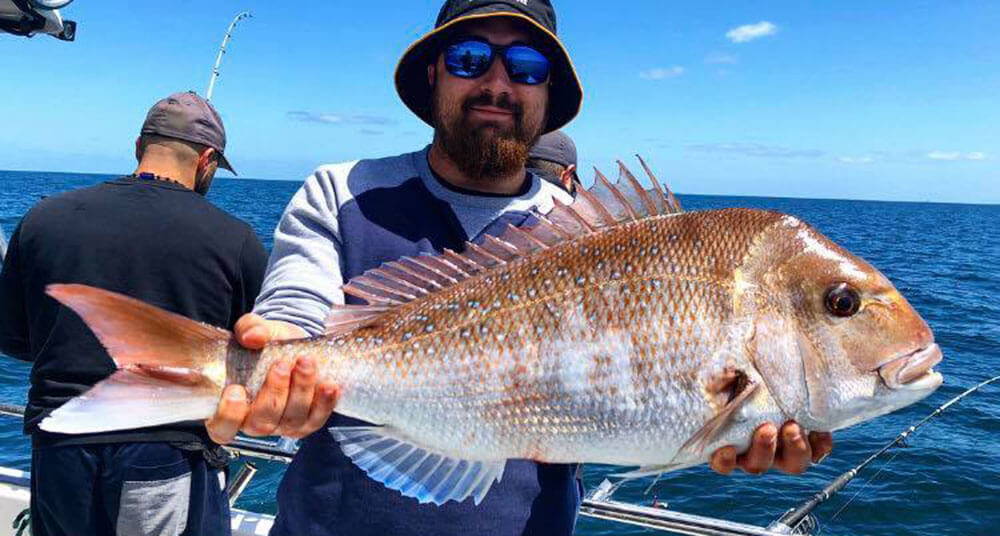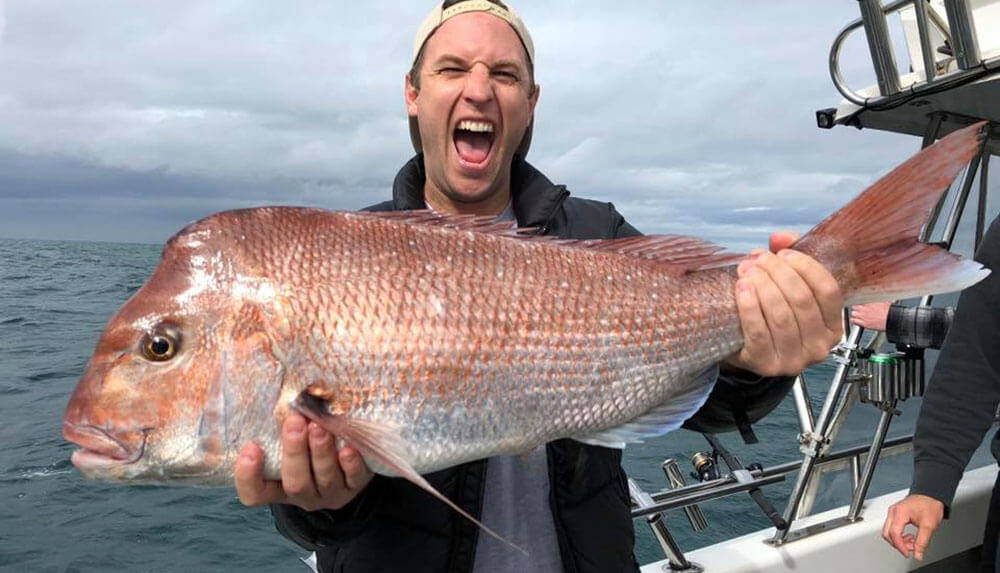 Dylan and Rob Mizzi from Sharkmen Fishing Charters had some fantastic sessions on the snapper this week with their customers.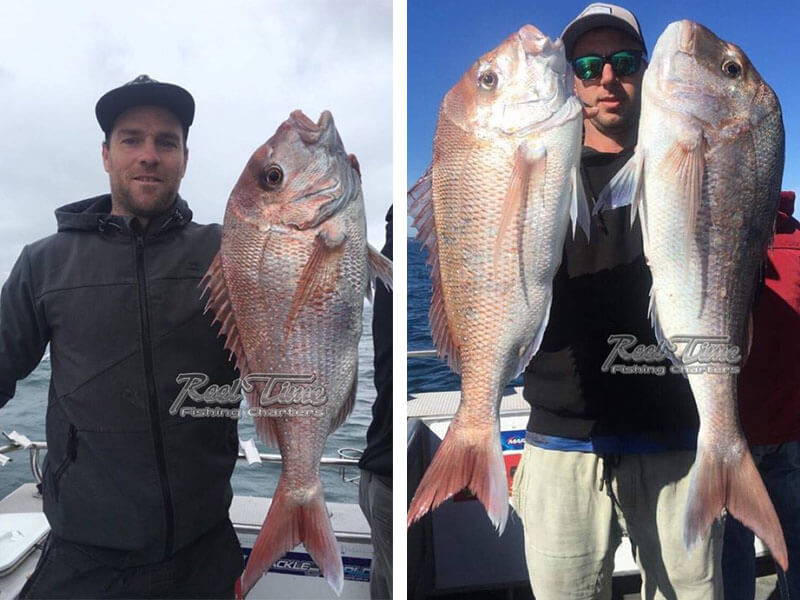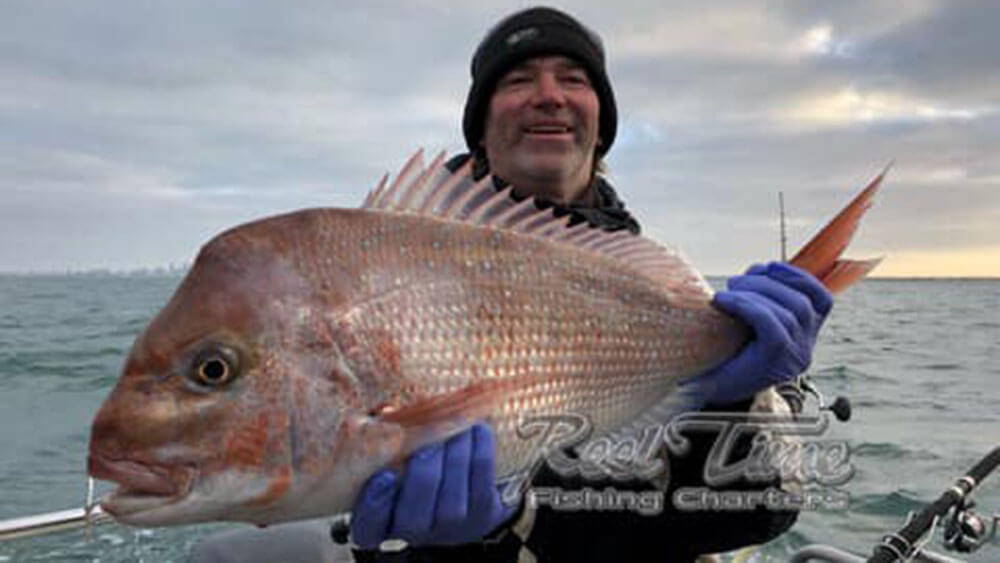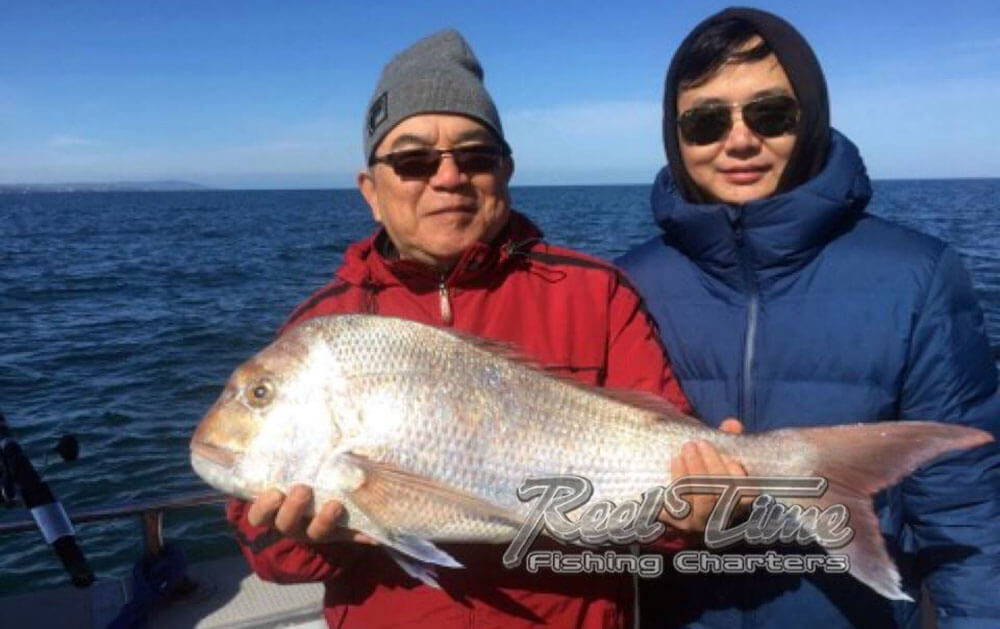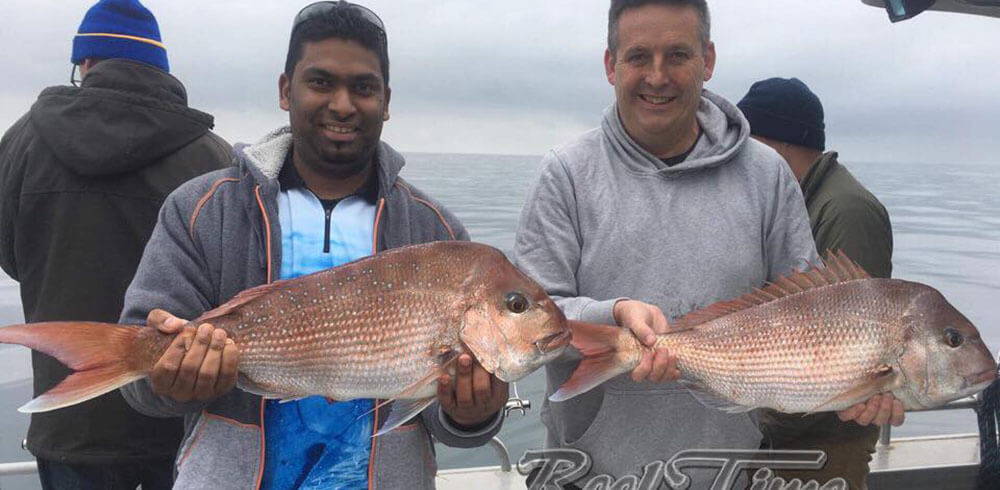 Matt Cini and crew from Reel Time Fishing Charters landed some cracking snapper for their customers fishing from Frankston to Black Rock this week.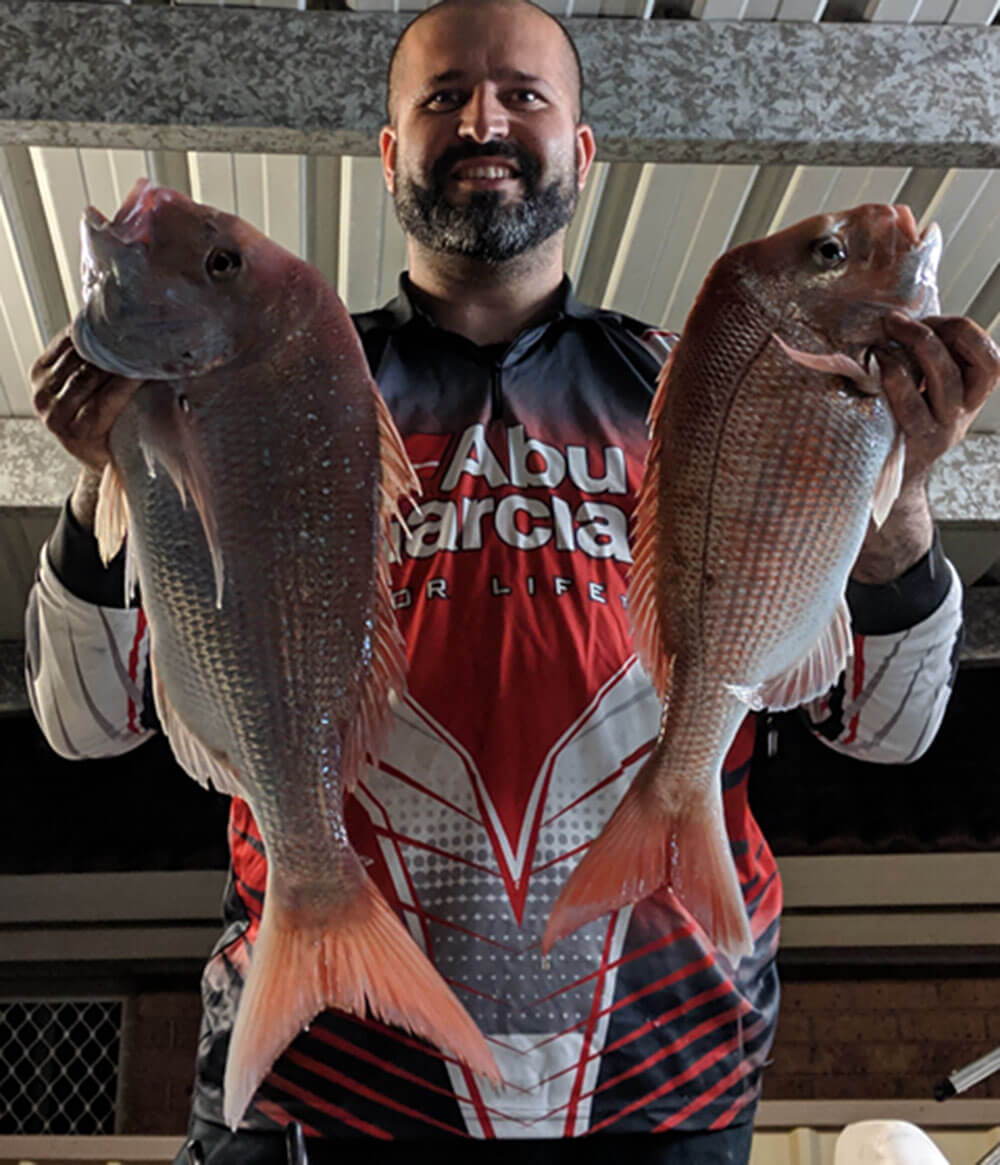 Wissam Karim fished out from Altona in 7 metres of water and landed these fantastic snapper with pilchards doing the damage.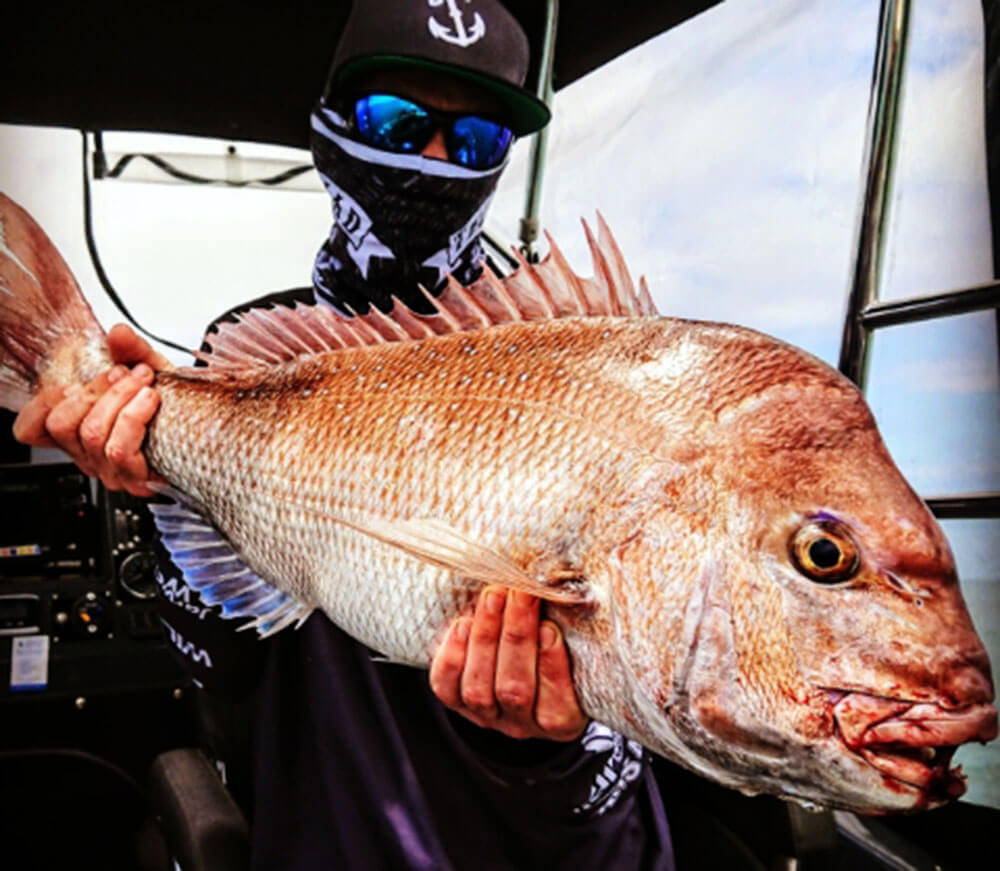 Chris O'Connell got onto a nice snapper this week fishing out from Williamstown, he caught this 75cm beauty on a snatcher rig.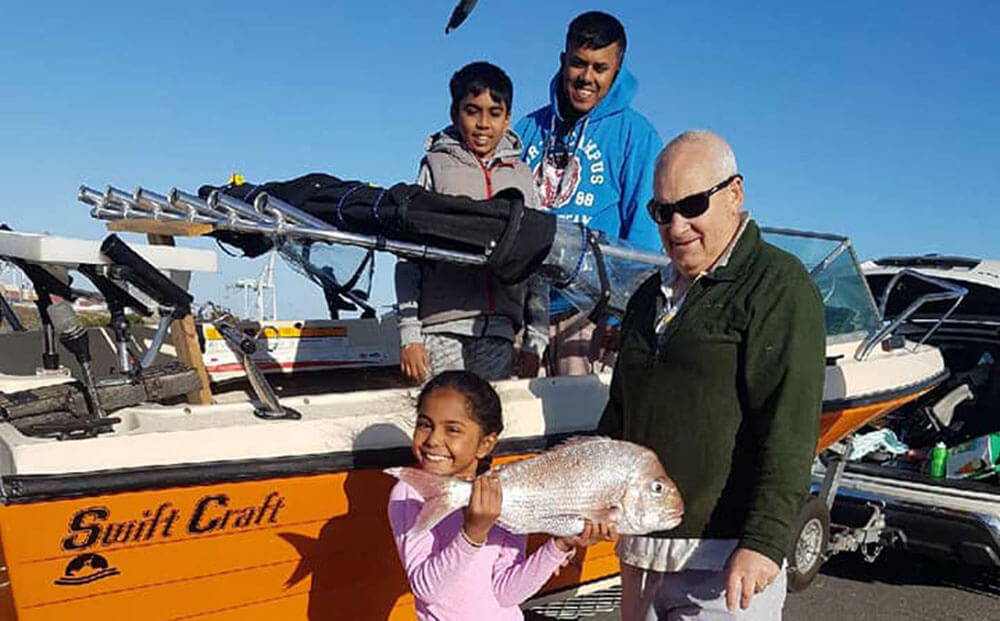 Geoff Long along with his son Nitin and his kids Rags and Diya headed out from Williamstown and managed a nice 55cm snapper.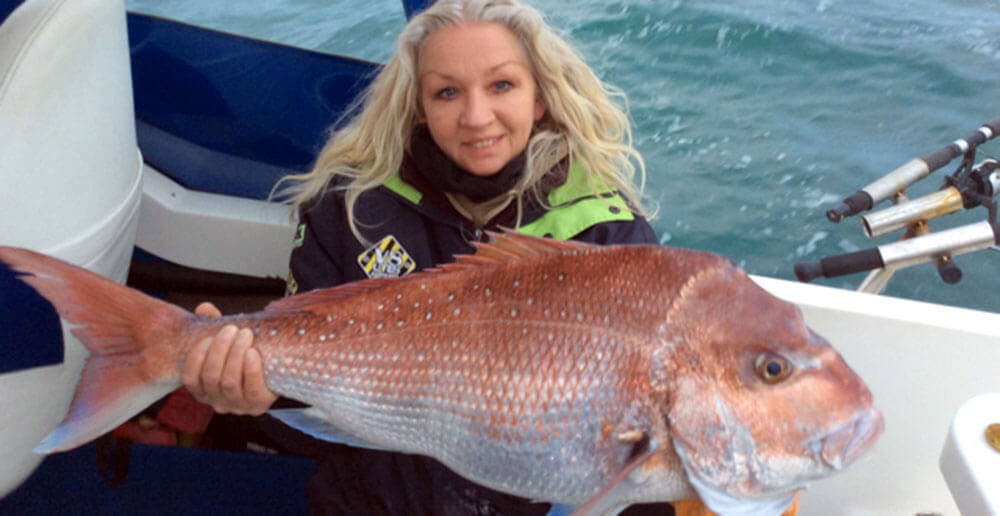 Donna Murray landed this solid snapper of 7kg on the tide change using squid for bait out from Sandringham.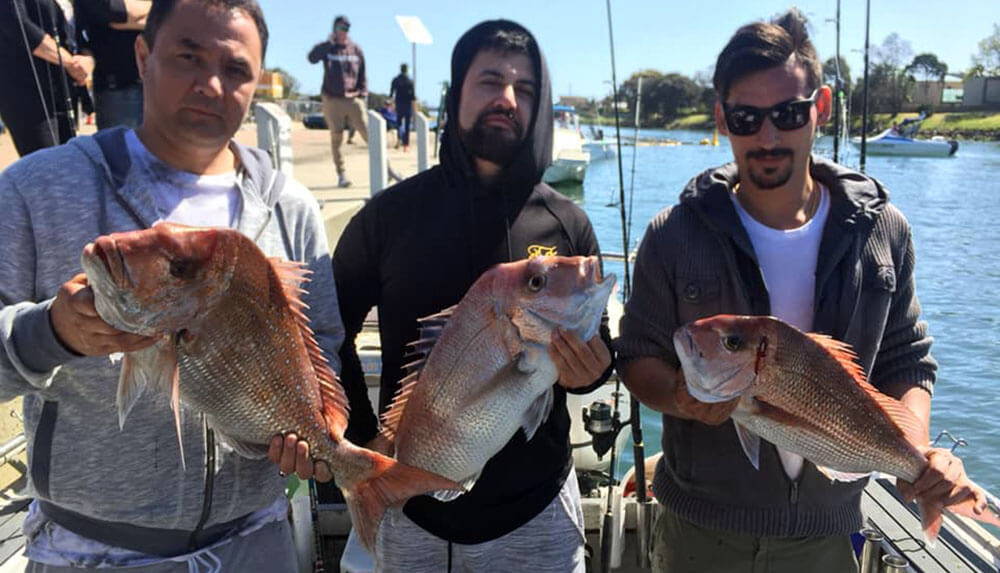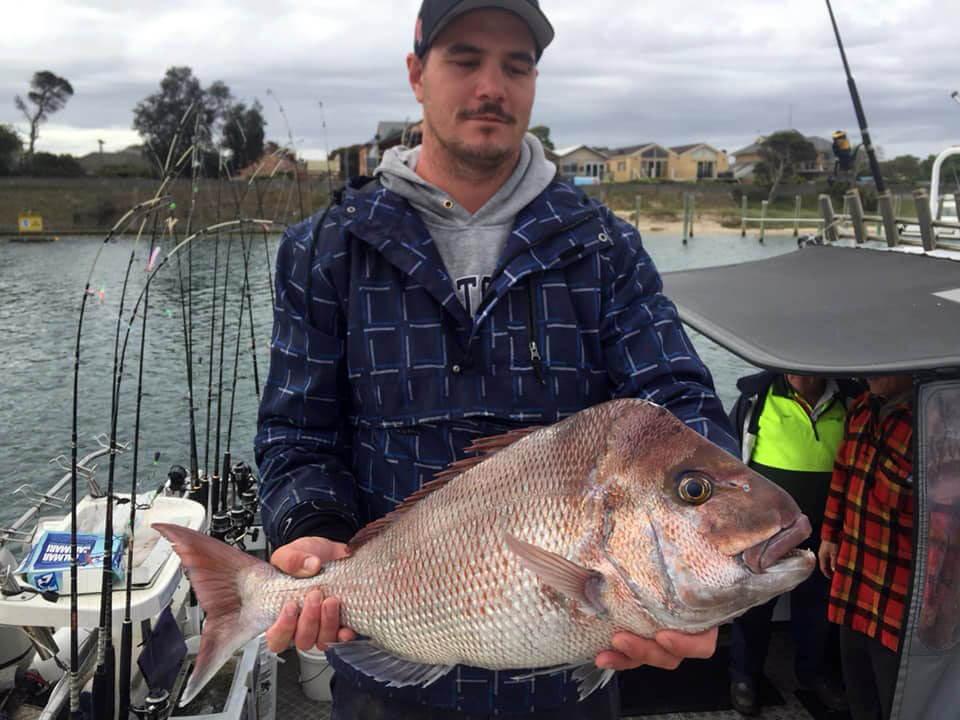 Jayson Turner from Pro Red Fishing Charters had some successful trips out from Carrum this week landing some fantastic quality snapper for his customers.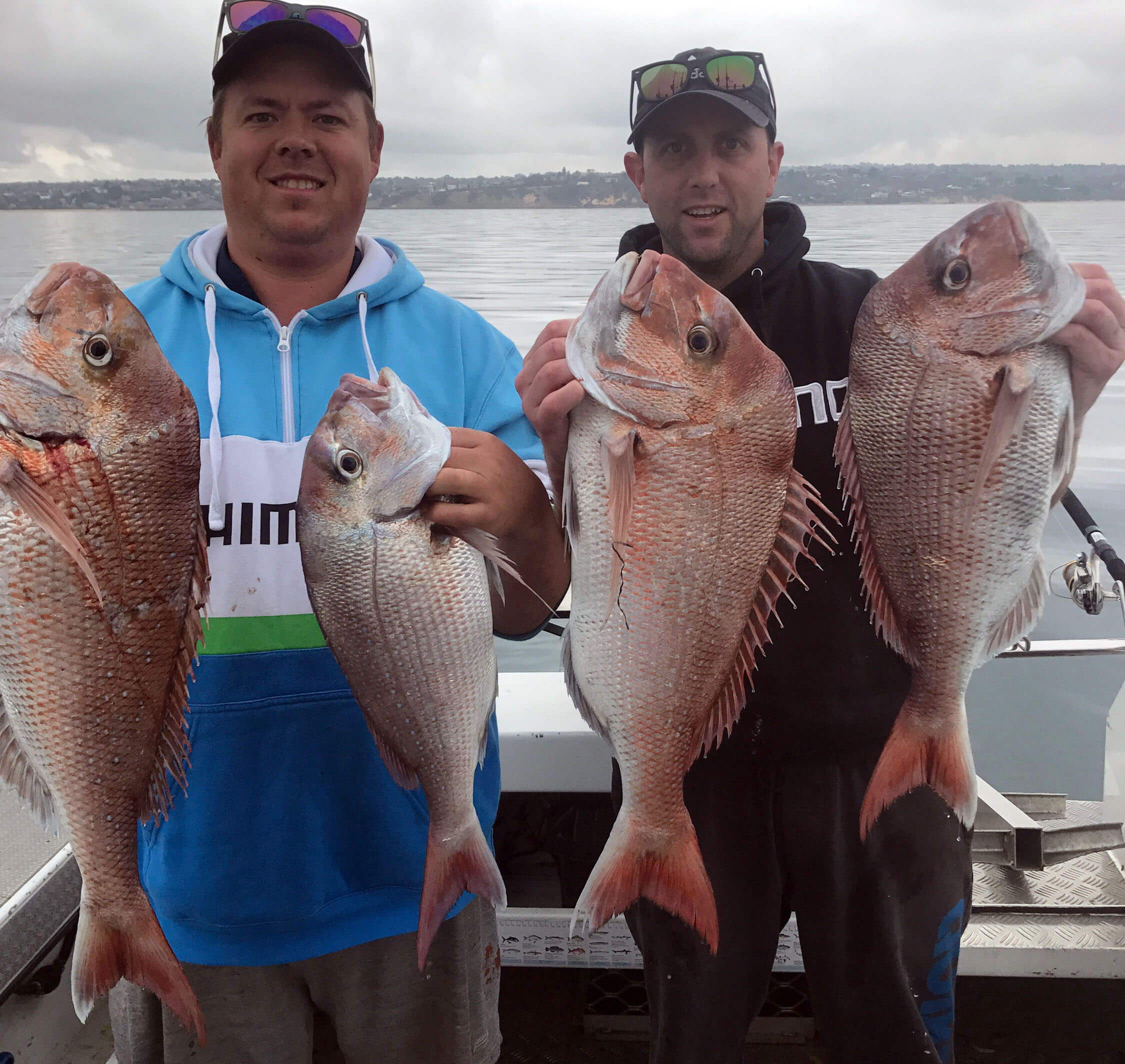 Glenn Watson and Brent Monger fished out from Carrum and found some beautiful snapper out deep.
Calvin DeSilva fished out from Mt Eliza this week and landed a ripper snapper in 15 metres of water.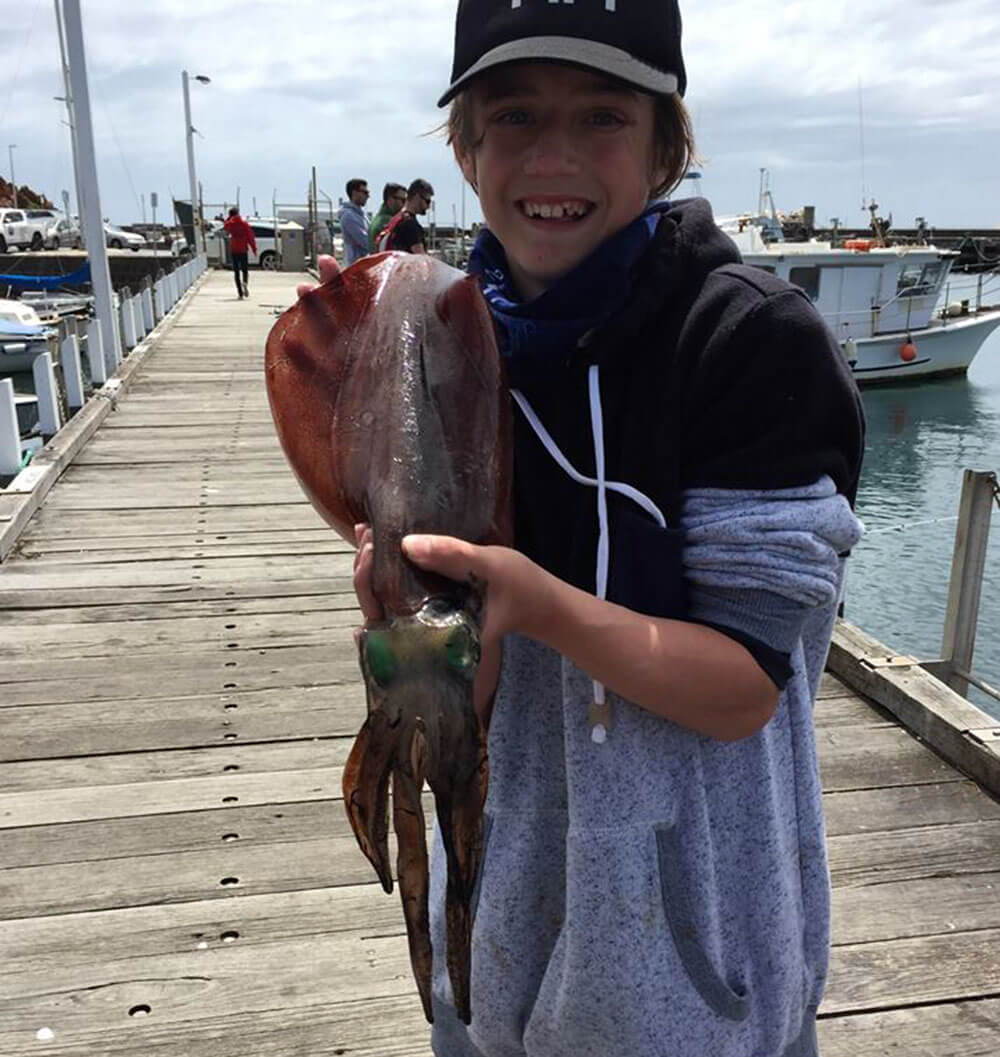 Matari Elwers fished the small pier at Mornington with his mate on the weekend and landed a beautiful squid on a Yamashita jig.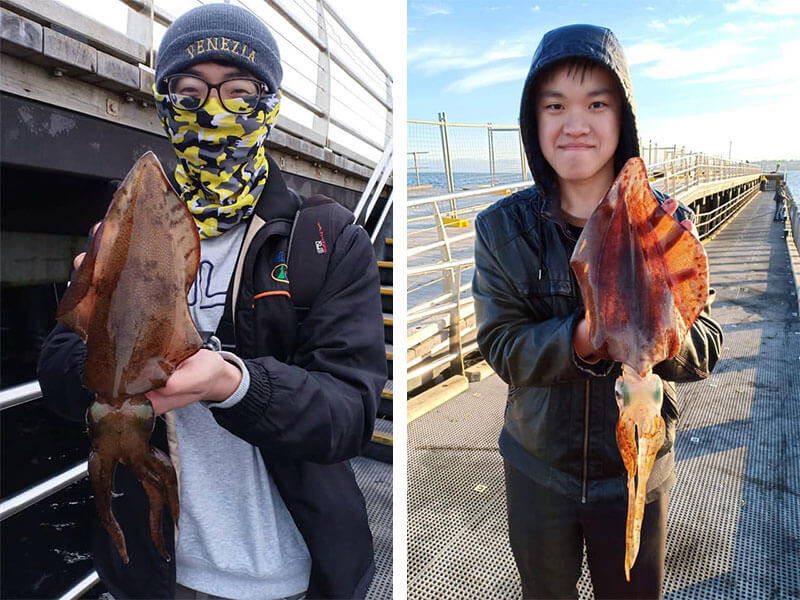 Joshua Chao fished Mornington Pier and managed a few nice squid on 3.0 and 3.5 sized jigs in natural colours.
Oliver Pearse fished the rocks at Mount Martha and landed a cracking calamari, the best time was around sunset.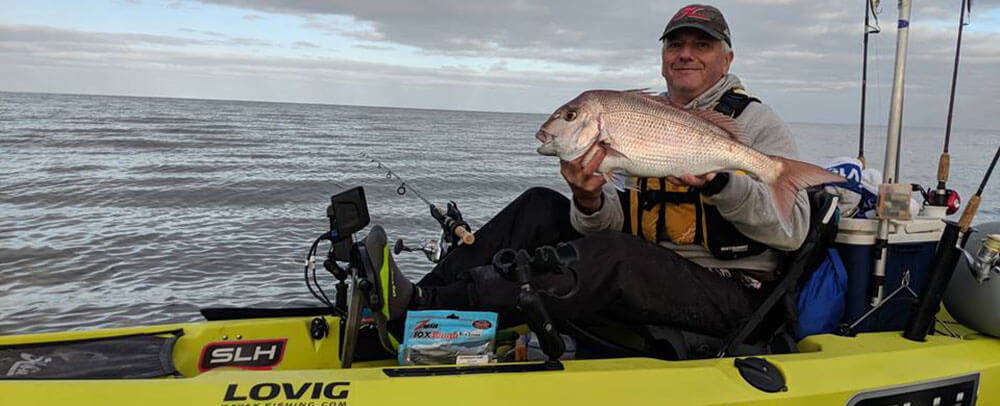 Peter Richie fished out from Mount Martha on the kayak this week chasing snapper on Z-Man soft plastics and wasn't disappointed.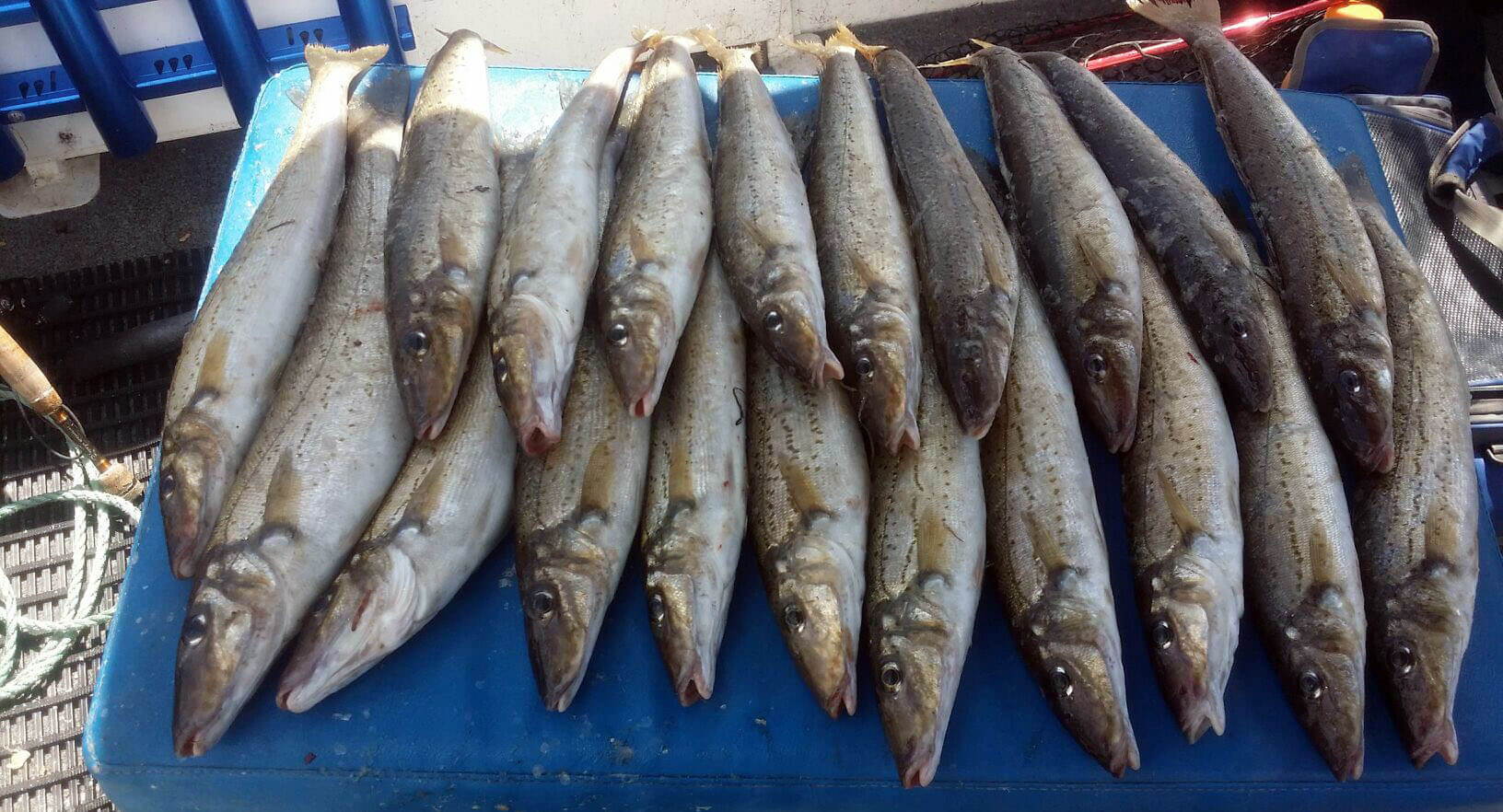 Mo fished out from Rye on Monday morning and got stuck into some quality King George whiting with his bag totaling 9 kg.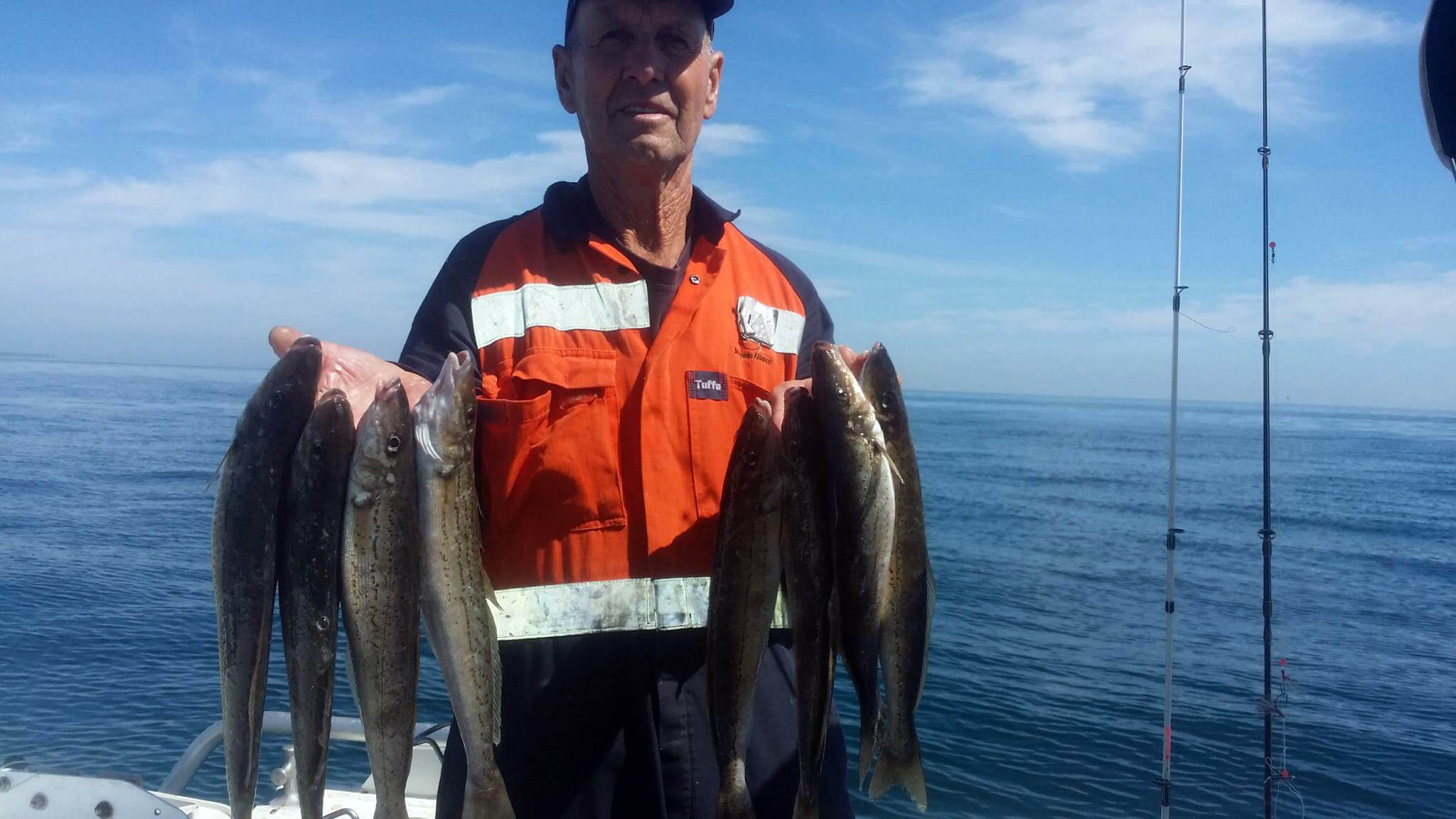 Mo headed out again on Tuesday with Ron and again managed some fantastic whiting out from Rye.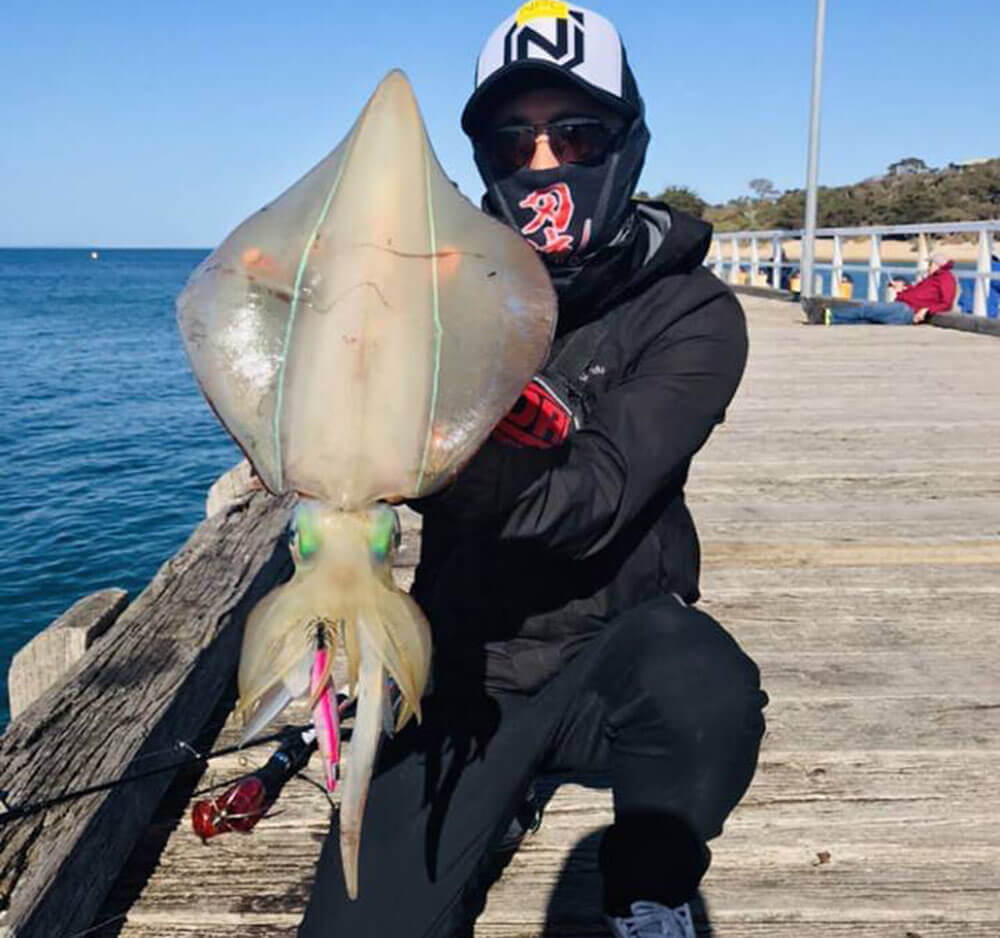 Jordan Yan fished at Portsea pier and managed a number of nice squid on size 4.0 jigs.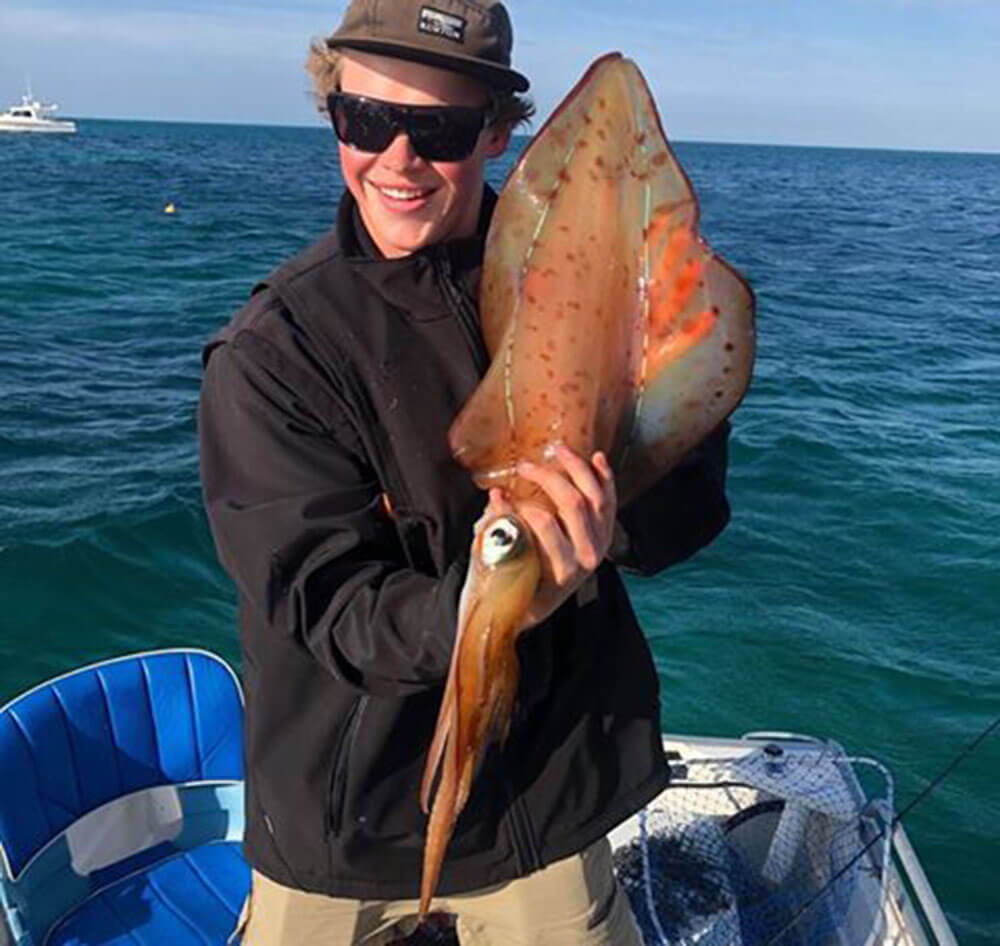 Liam Bradshaw fished out from Portsea this week and landed this ripper squid during the tide change on a white jig.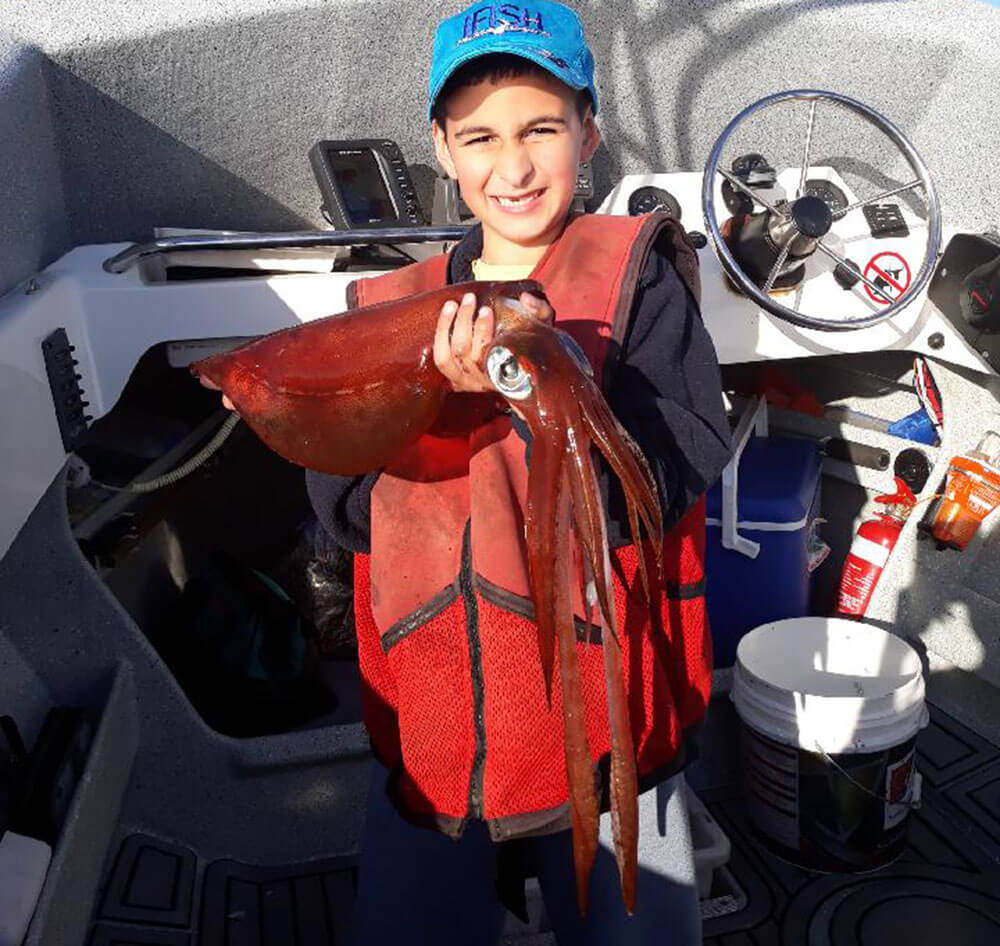 Hayden Saliba landed this beautiful southern calamari this week out from Queenscliff.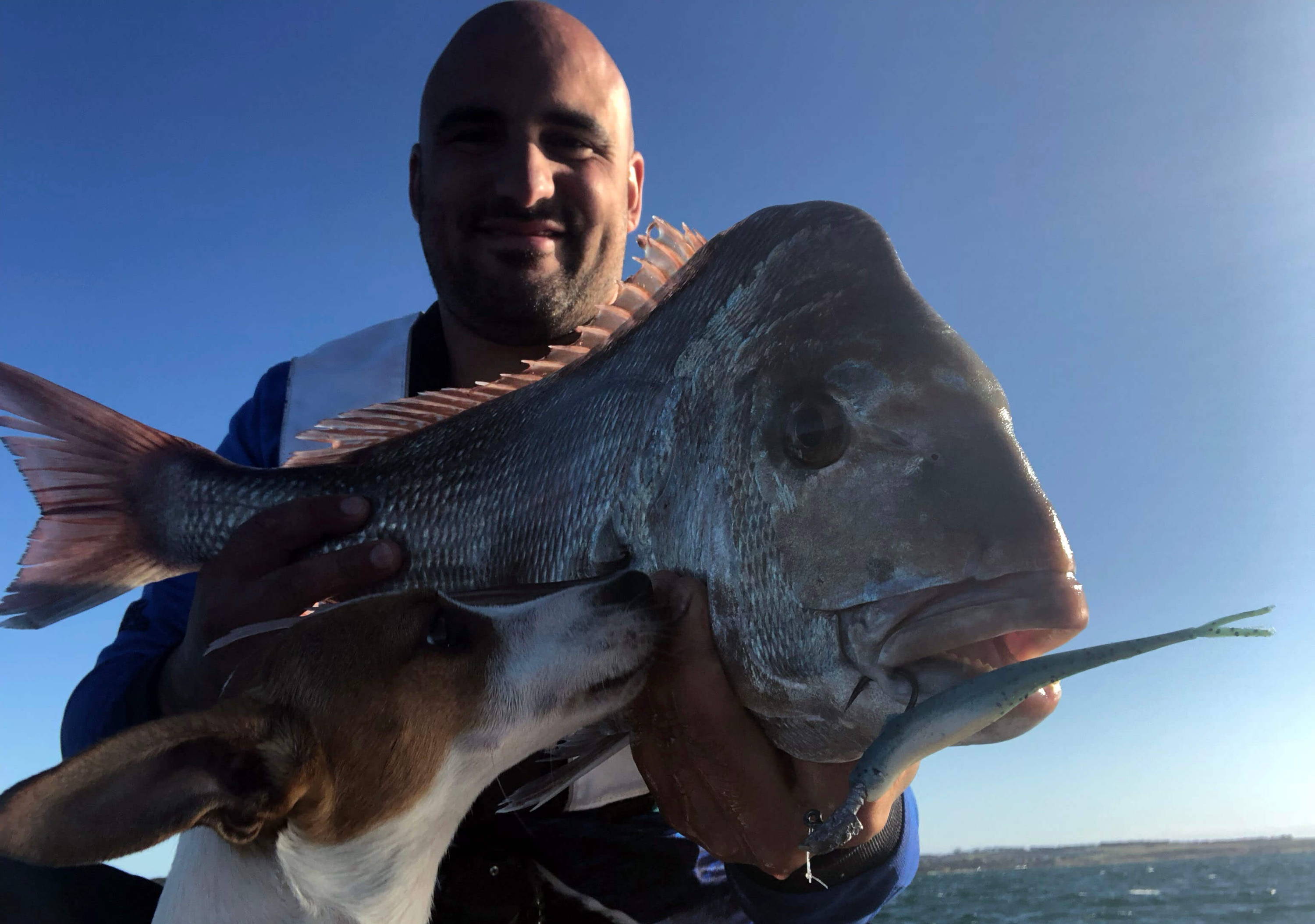 Troy Falzon and Wilson fished out from Clifton Springs this week using soft plastics and managed to land this cracking snapper on a 5in flick bait in pilchard colour.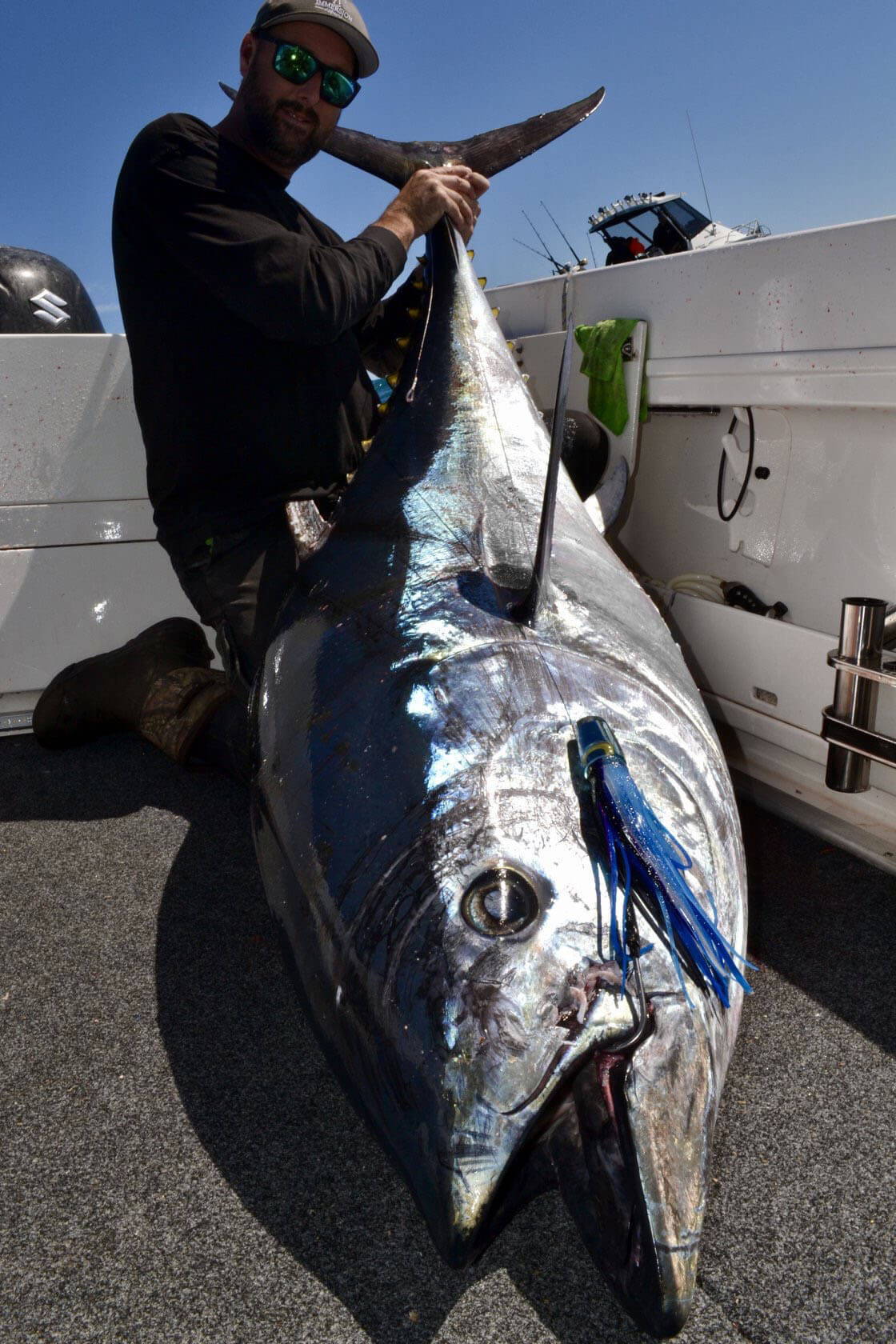 Pete Ryan and Dave Standing fished Portland last week, it was Pete's first tuna of 100kg in his own boat coming in at 135kg taken on a JB Dingo.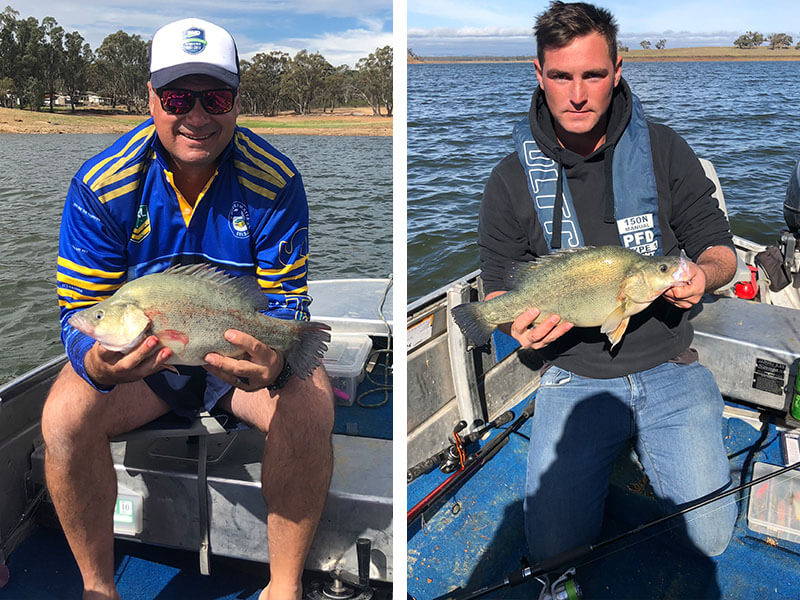 Daniel Trafford and Tony Wilburn fished Lake Eppalock this week and managed some beautiful yellow belly on hard body lures.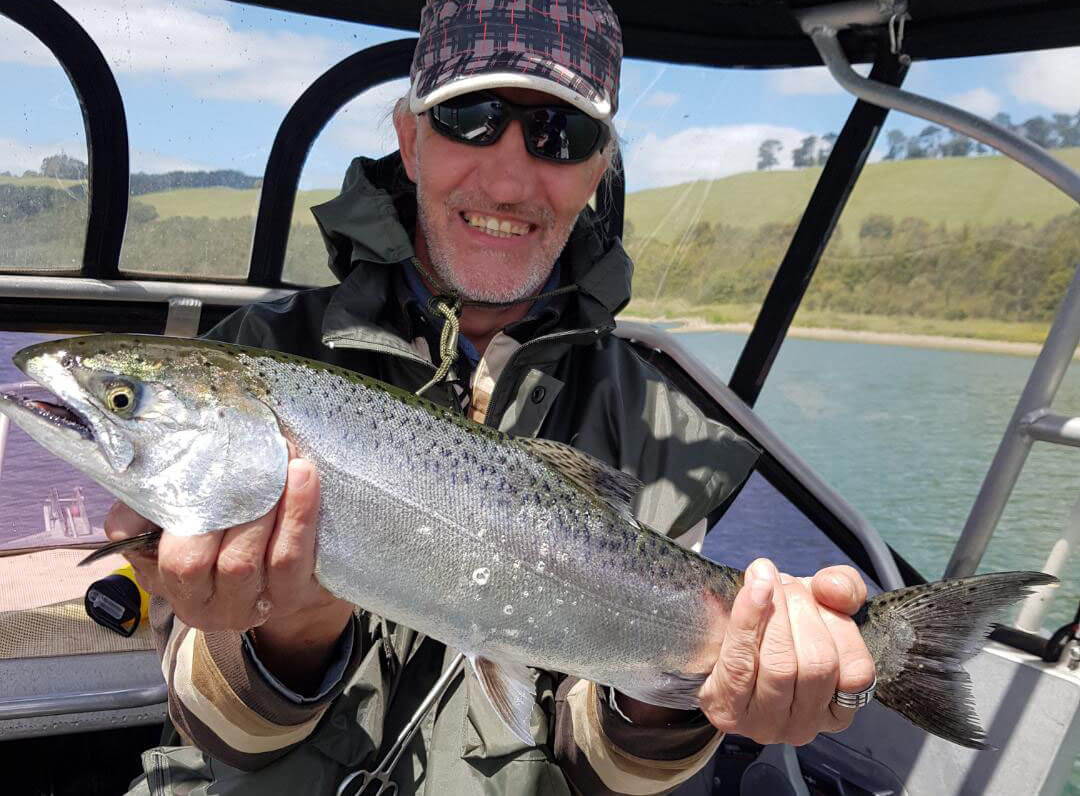 Muzza fished at Lake Bullen Merri this week and landed this cracking chinook salmon of 50cm.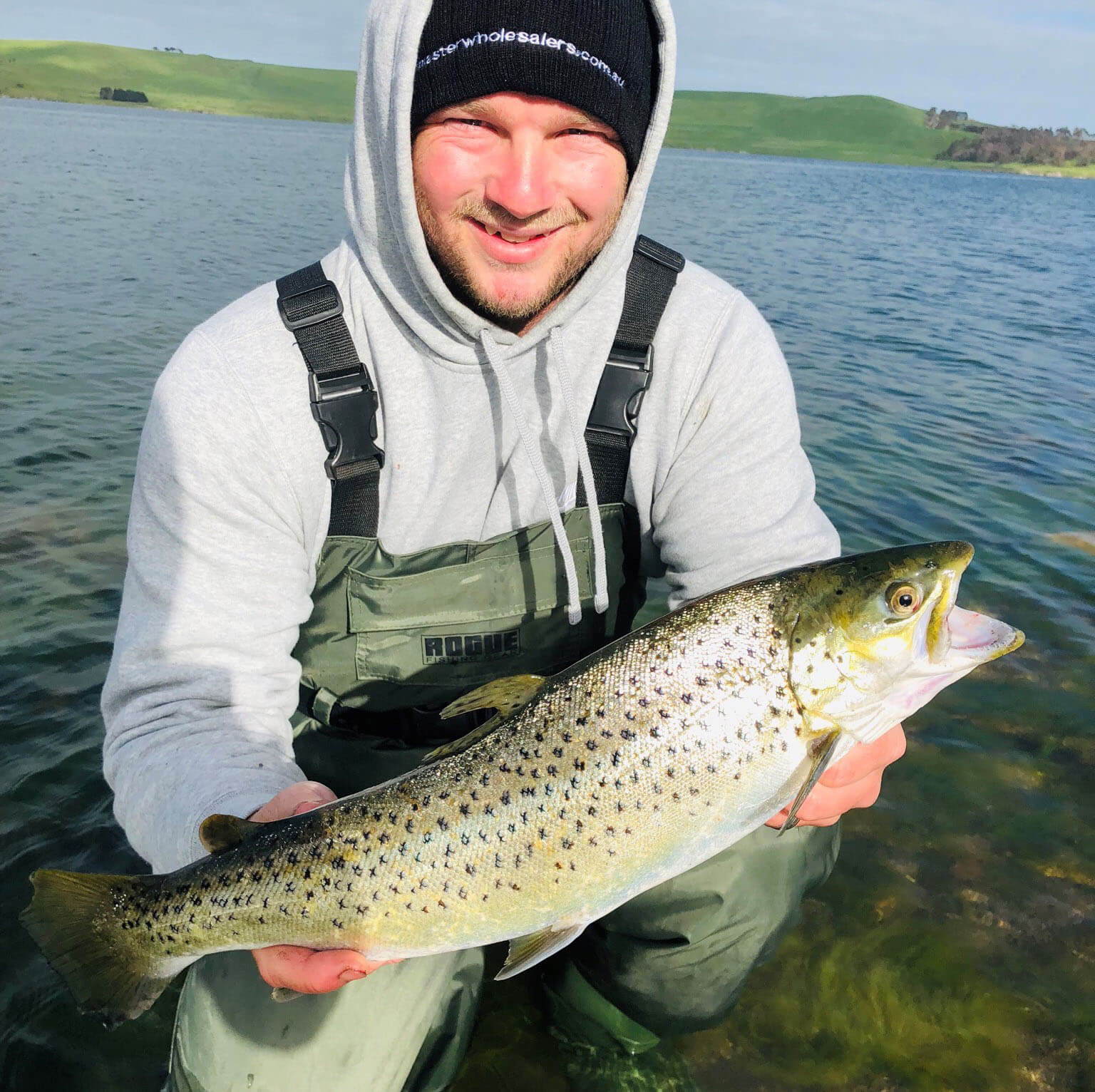 Alan Jones headed out with Daniel Hastings at Lake Bullen Merri this week and Daniel landed this beautiful brown trout, caught on a small soft plastic.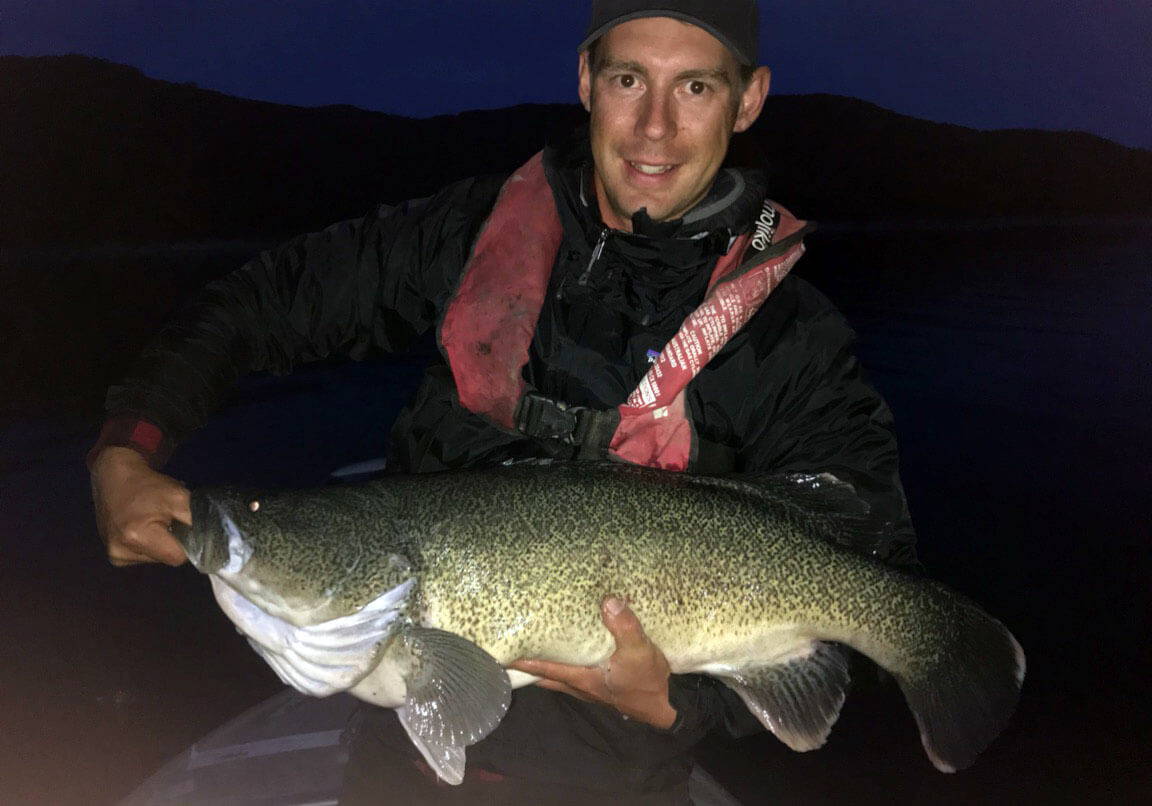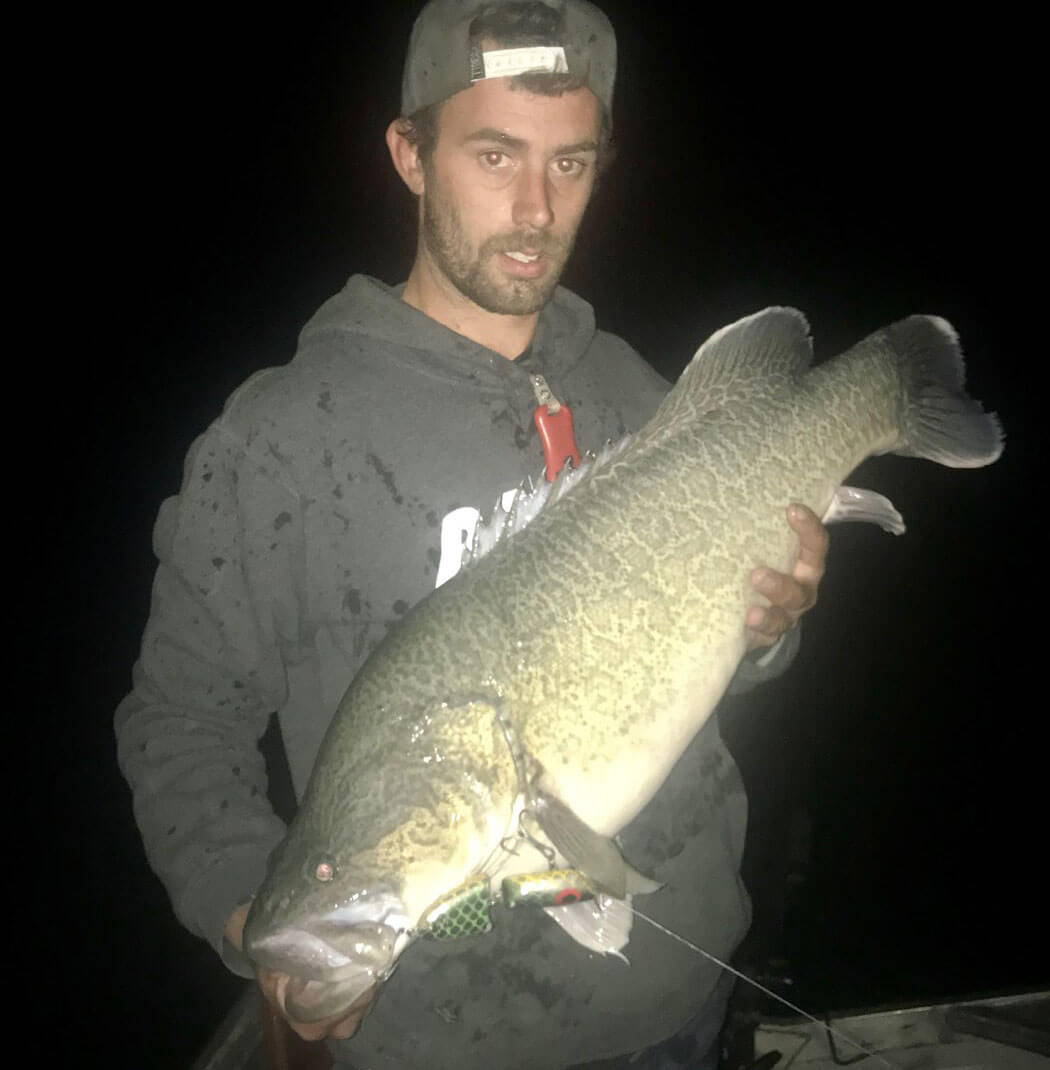 Matt Charlett and Bryce Nicholls fished Lake Eildon last Friday night and landed a couple of chunky cod of 84cm and 83cm on surface lures. The guys report losing a number of fish which is a good sign of the cod getting more active.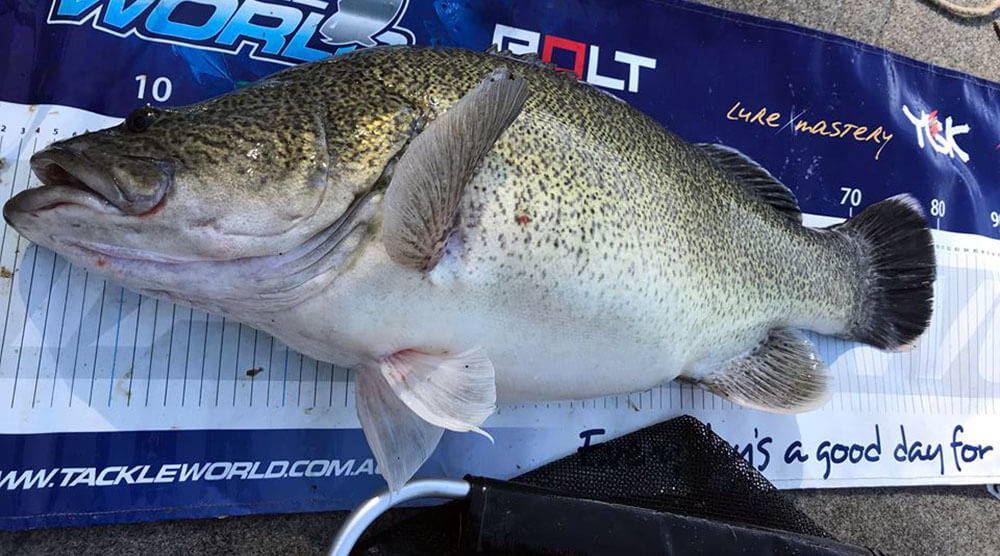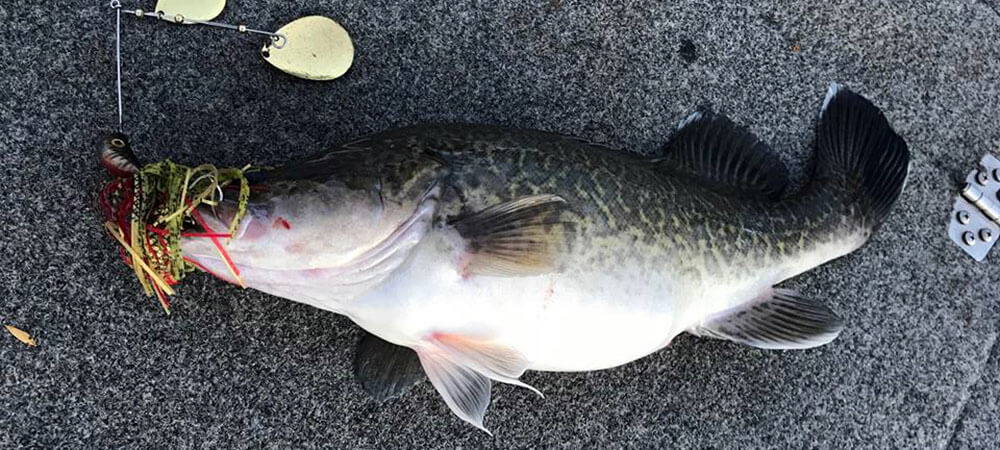 Stephen Vidler landed a number of cracking cod at Lake Eildon this week fishing with spinner baits.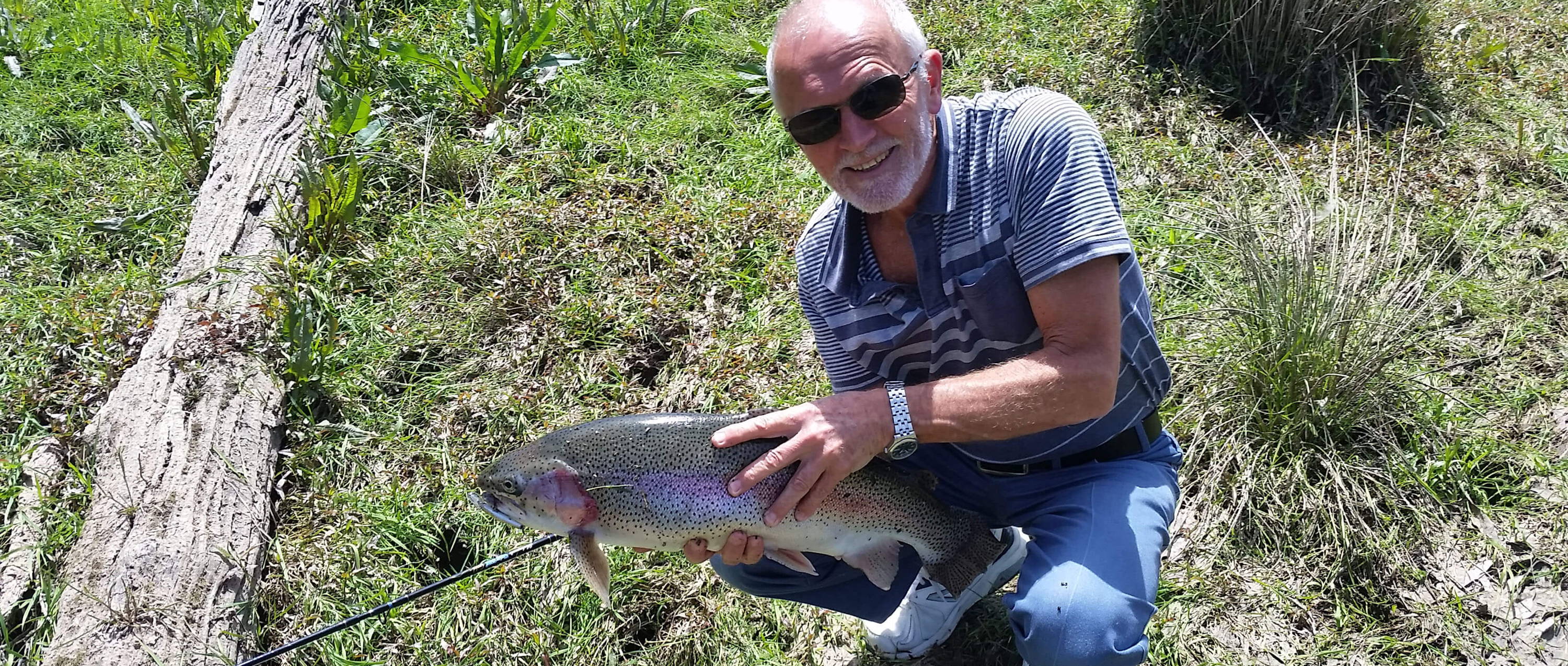 Jeff King landed this beautiful rainbow trout at the Goulburn River, Thornton this week.
IFISH WITH TACKLE WORLD SERIES 13
TALKING FISHING - C31 TV - TUESDAYS @8.30PM
Catch "Talking Fishing" on Melbourne's C31 TV (CH44) at 8.30pm each Tuesday night. Staff members David Kramer and Adam Ring together with Steve "Trelly" Threlfull host Australia's only "Live to Air" fishing television program at this prime time-slot. Put Tuesday night's at 8.30 away in your weekly diary of TV shows to watch!
During your lifetime, you will produce enough saliva to fill two swimming pools.

Good Luck with your fishing and stay safe on the water,

The TEAM at Tackle World Cranbourne & Mornington