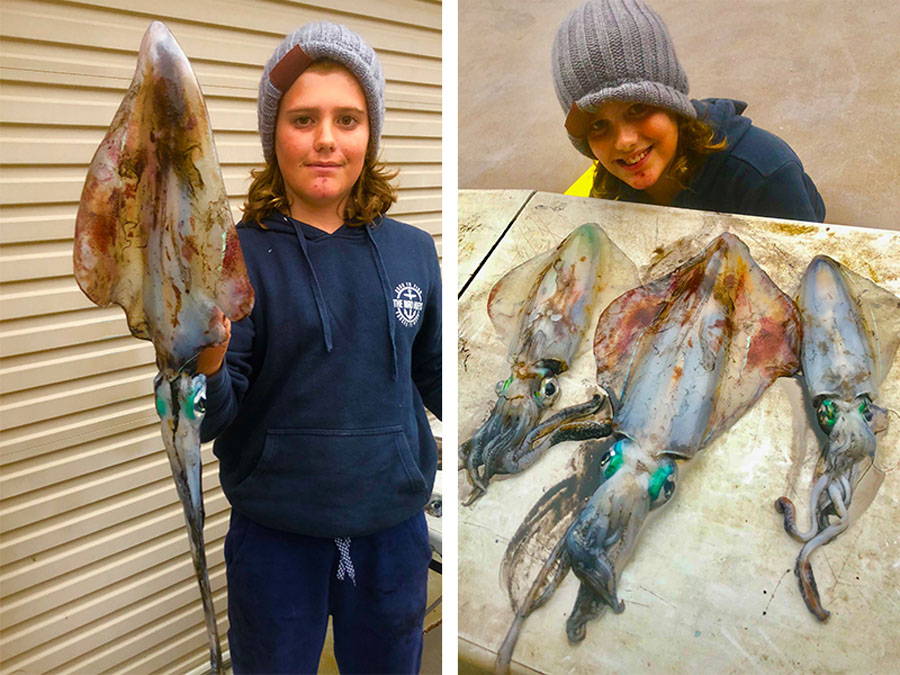 Kade with a fantastic catch of calamari caught from the Flinders Pier during the run in tide on Sunday.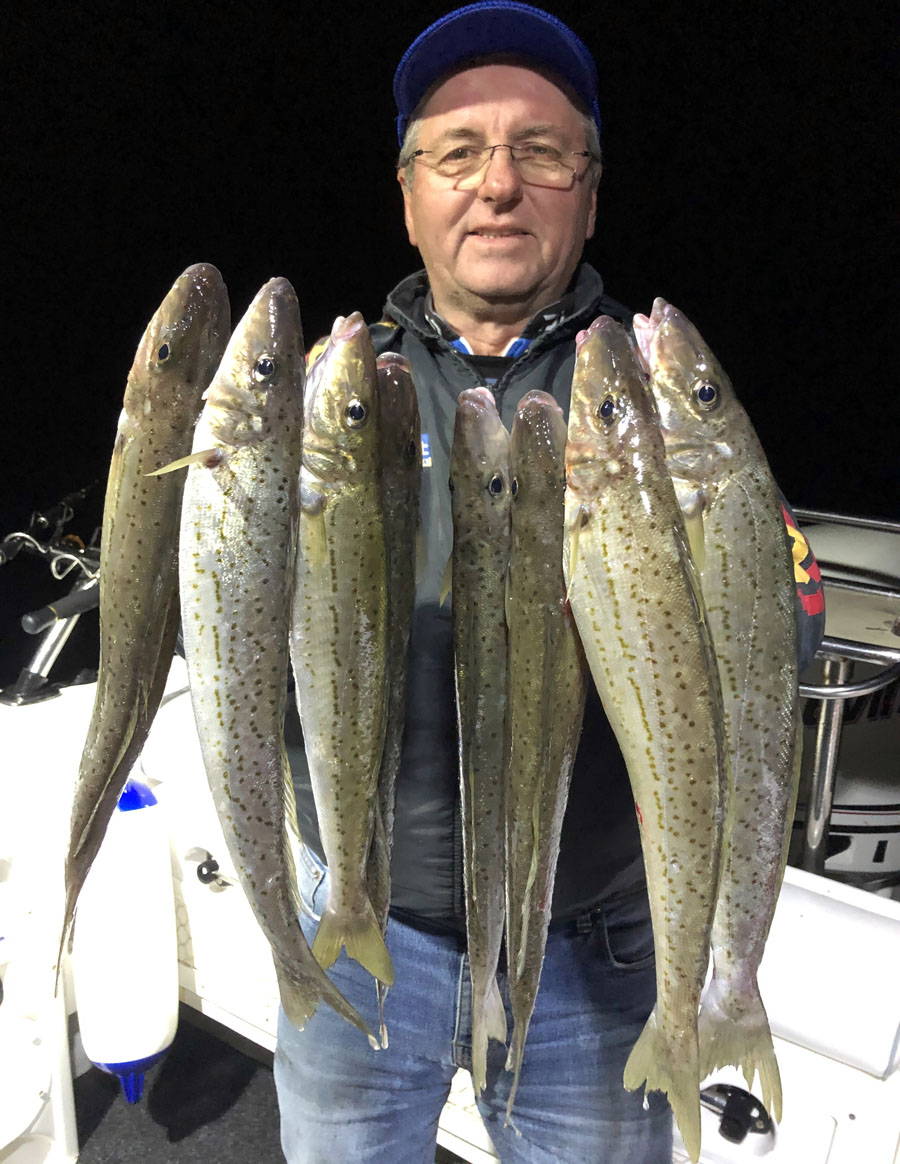 Paul with a beautiful catch of King George whiting caught out from Hastings in 13 metres of water; all fish were over 40cm.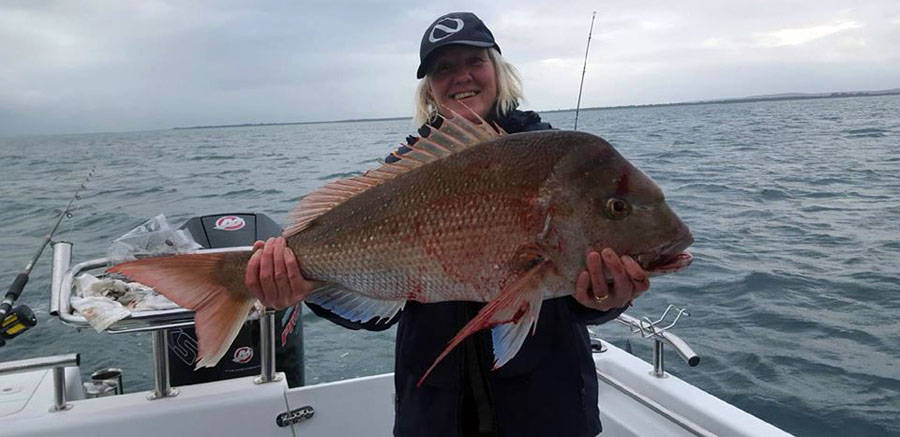 Good customer Stretch caught this snapper at Hastings in 17 metres on the run in tide; red rockets for bait did the job, well done Stretch and thanks for reporting in!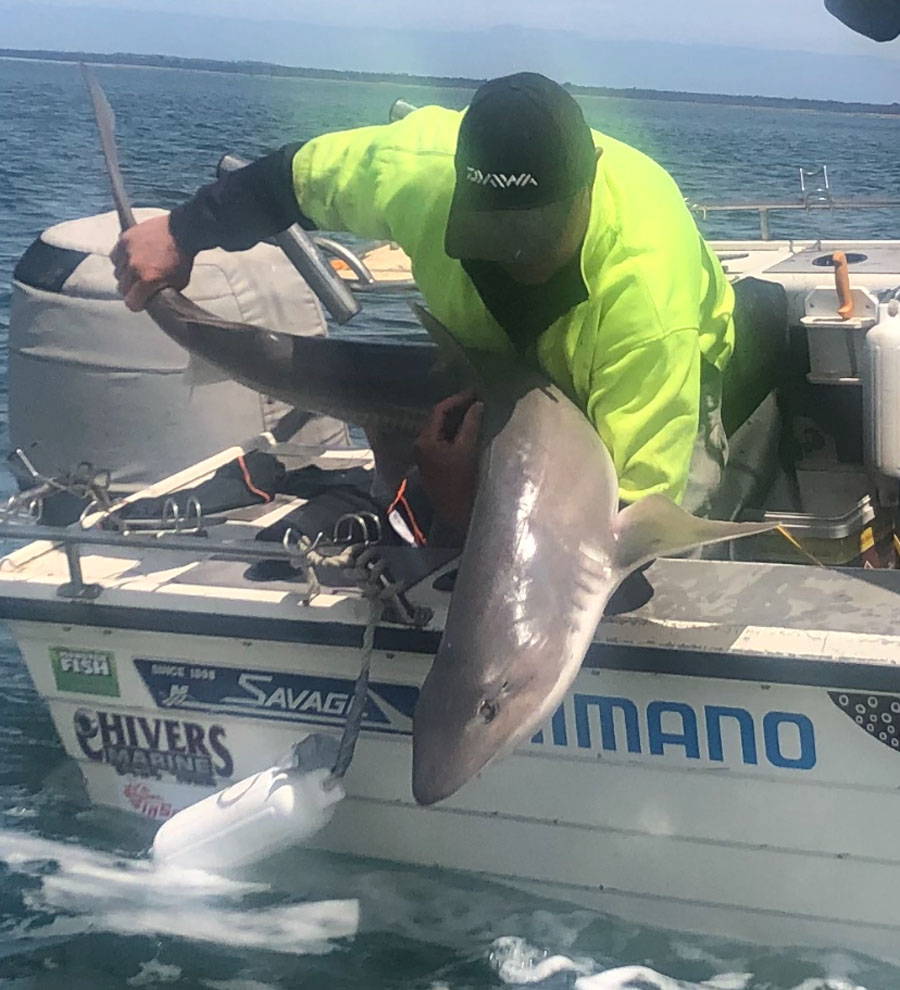 Ritchie caught and released this cracking gummy shark fishing the Middle Spit on a trevally chunk.
Ben Gutu caught this nice snapper fishing in 21 metres near Crawfish Rock using salmon for bait.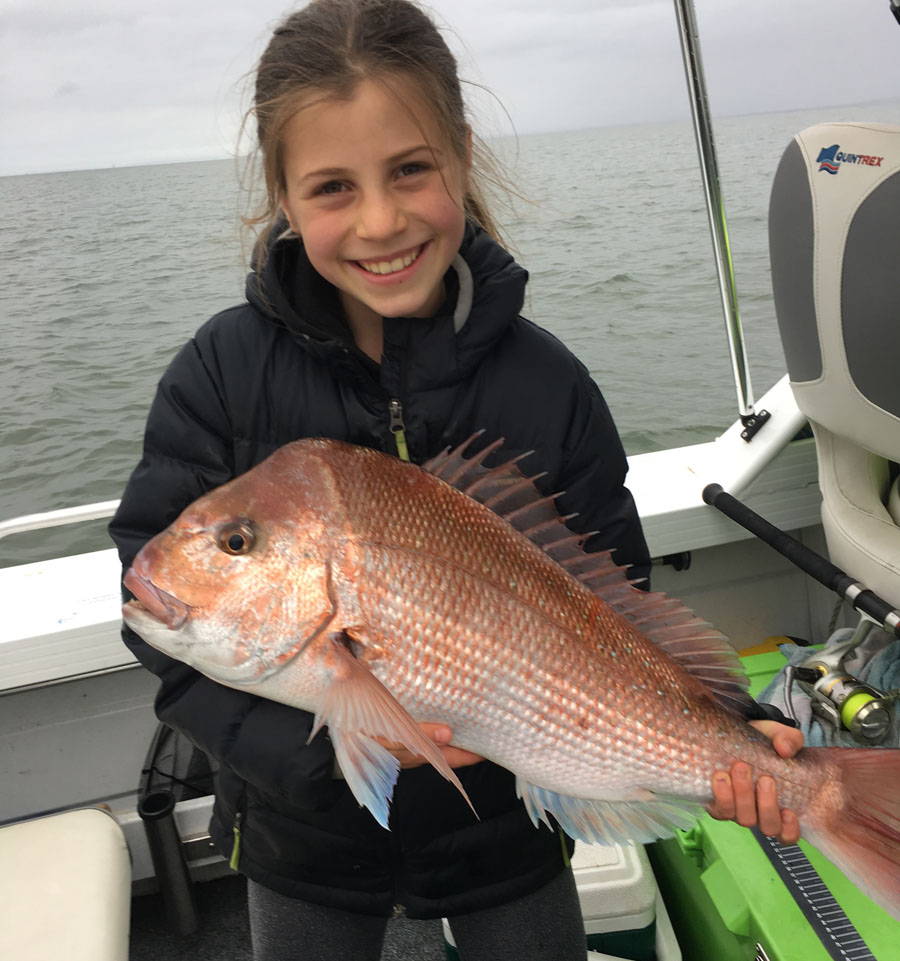 Emy Varga with her second snapper for the session fishing out from Warneet on Sunday late arvo. The fish measured 73cm and was caught in 20 metres of water using yakka for bait. Great fish Emy, well done!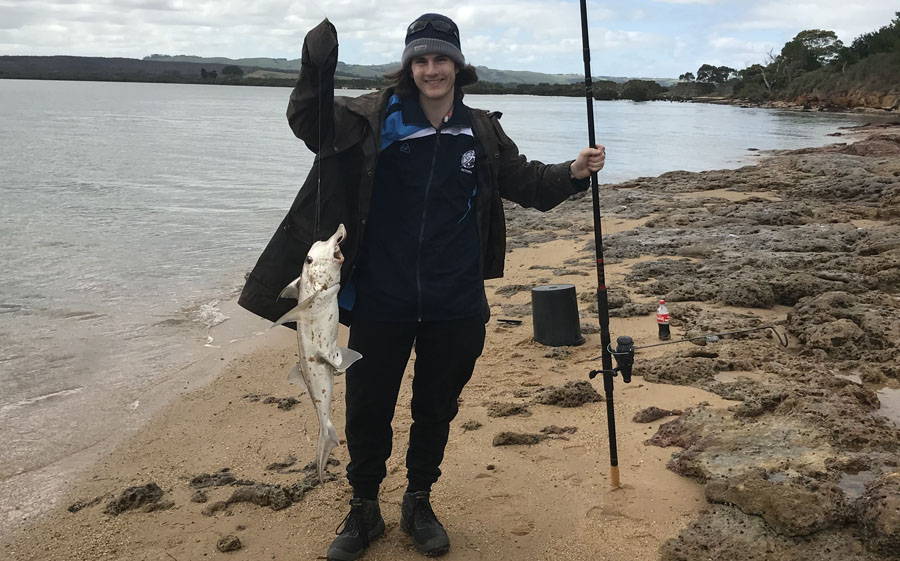 Lachlan Seskis with a nice elephant shark caught at Tenby Point last week.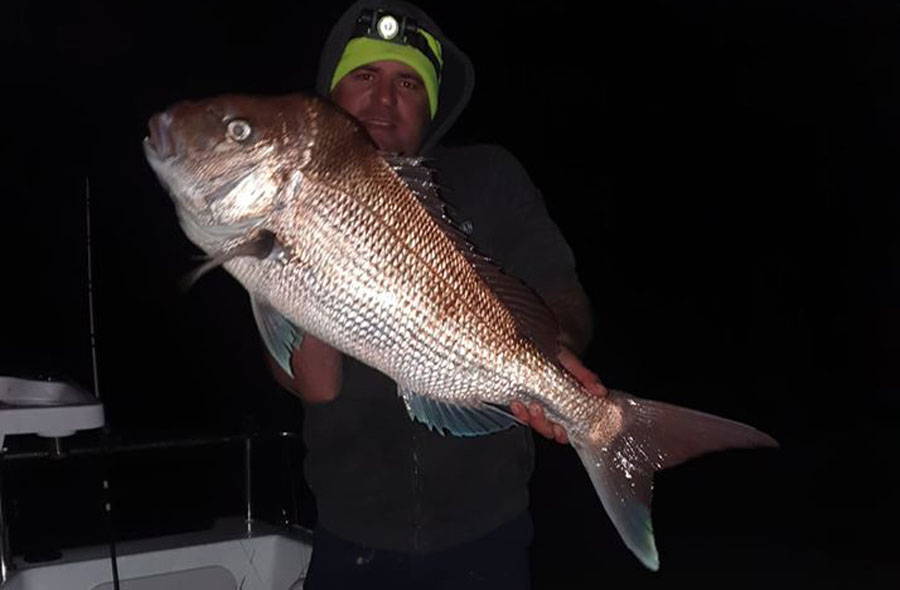 Gerard Foster landed this beautiful snapper of 86cm fishing Corinella this week.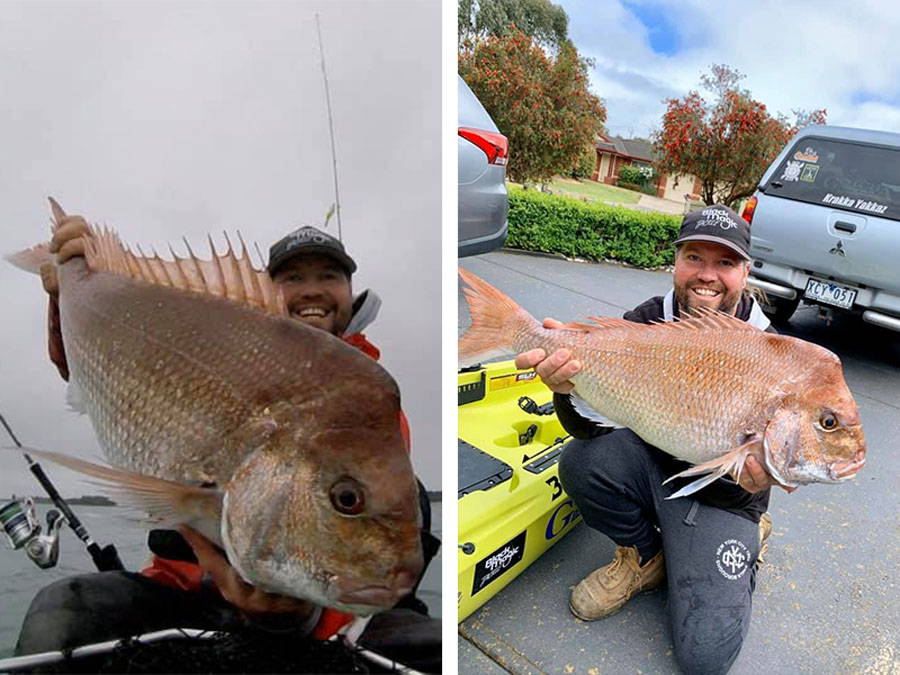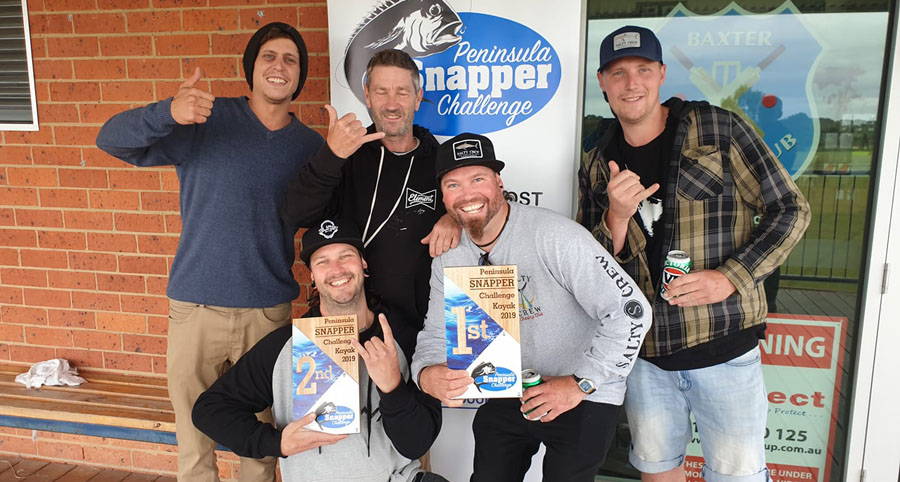 Brendon Hogg fished the East Arm on his kayak and landed a ripper snapper of 75cm taking out 1st place in the kayak division of the 2019 Peninsula Snapper Challenge.
Tod Matson fished the East Arm and landed a nice 69cm snapper placing him 2nd in the 2019 Snapper Challenge.
Chris Preston and a mate fished the East Arm and nailed 4 nice snapper; 5.1kg, 4.8kg, 3.6kg and 3.2kg as well as some pinkies and a good eating size gummy. The fish bit through the last of the run out tide on trevally, squid and mackerel.
Greg Miller reports in after taking the family out fishing from Rhyll where his dad Alex caught this cracker snapper of 7.7kg as well as the kids; Nate, Jensen and Sonny who caught their first snapper. (5.4kg and 4.8kgs) Great work guys!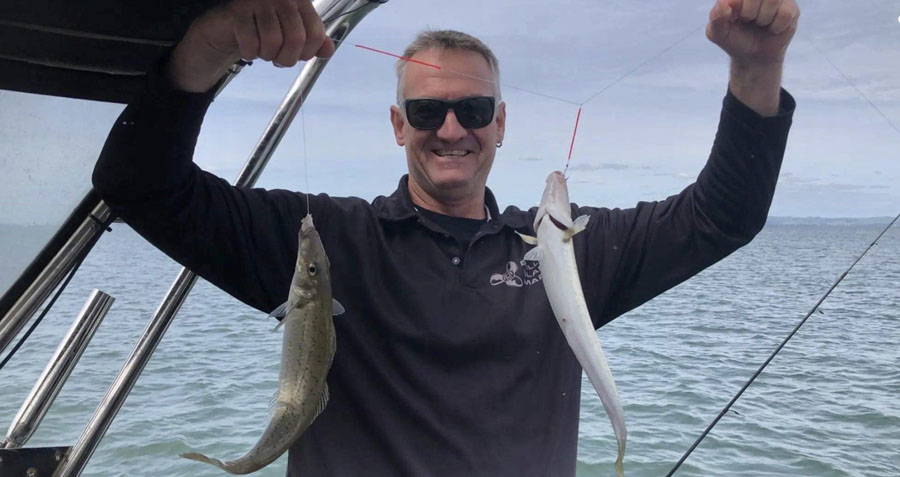 Ralf Faulwetter caught some nice whiting fishing up shallow out from Rhyll last week.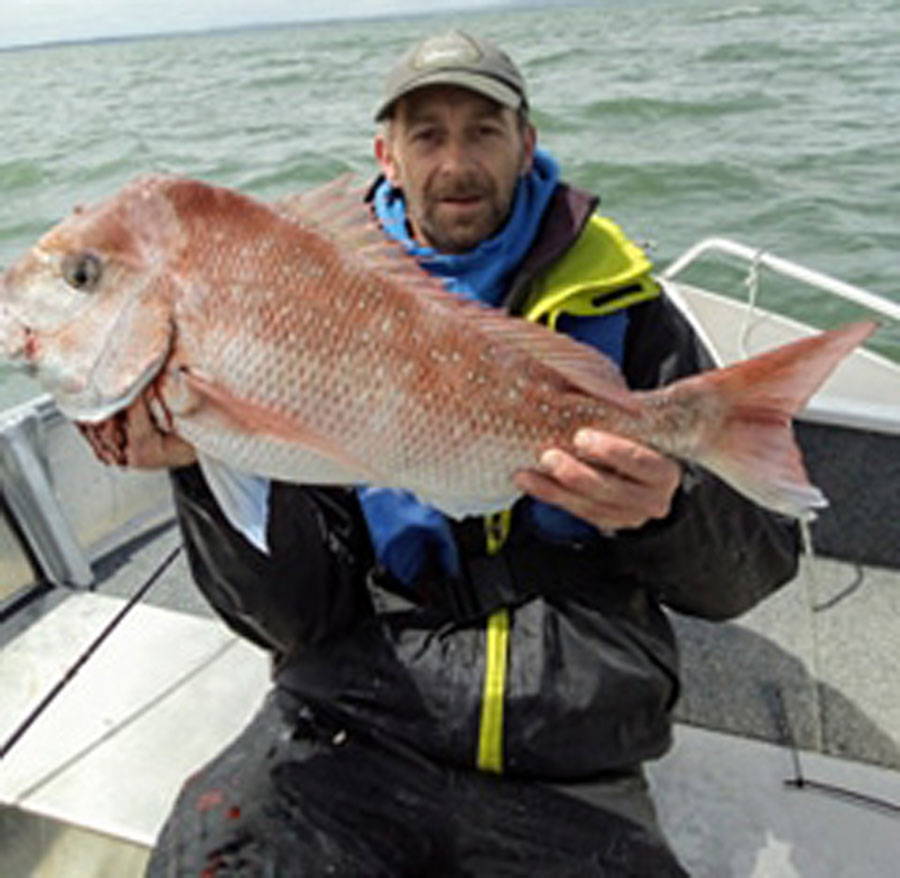 Matt Tormey fished out from Rhyll on the weekend in 14 metres of water and caught this nice snapper on trevally chunk.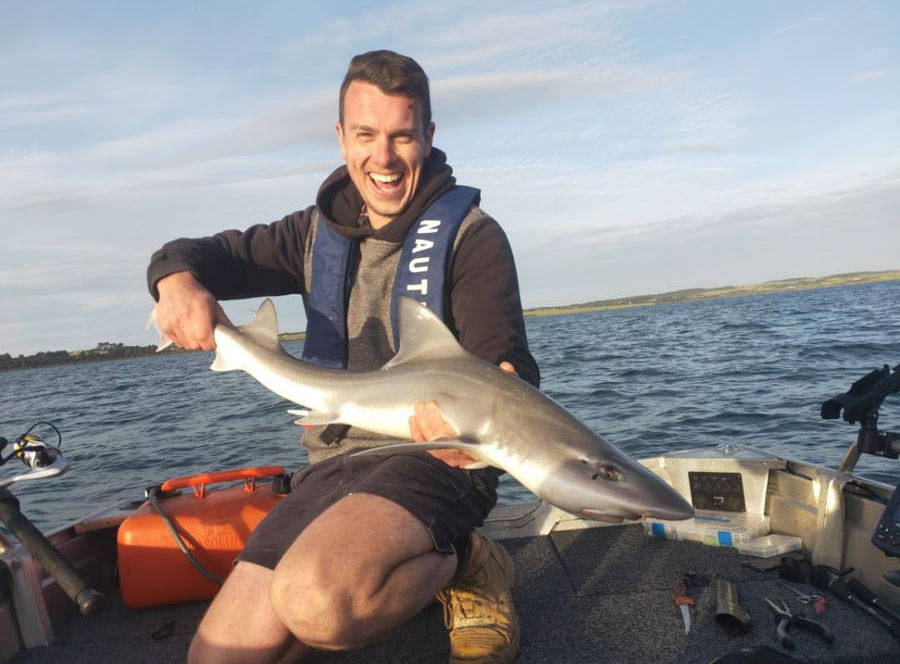 Greg Sampson caught 2 cracker gummies fishing Tortoise Head using fresh salmon for bait last week.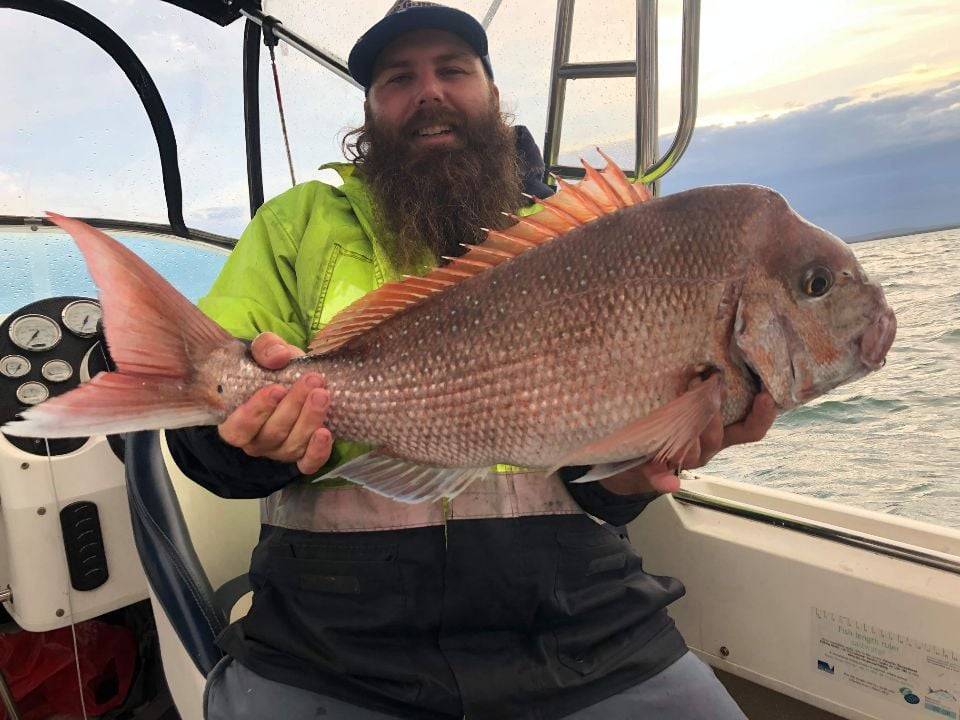 Kane fished near Buoy 35 and landed this cracking snapper of 85.5cm taking out 3rd place in the open divison of the 2019 Peninsula Snapper Challenge.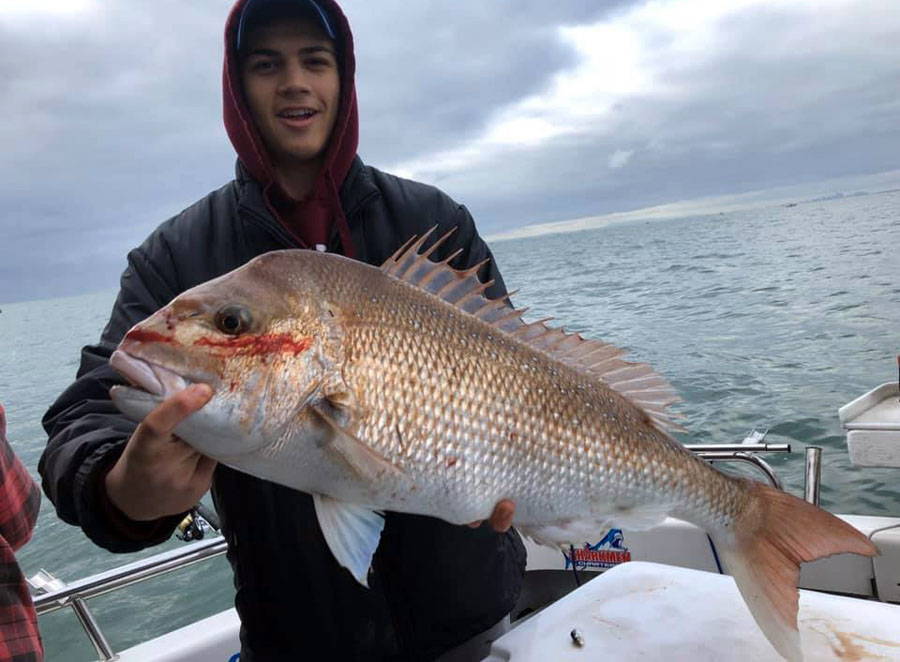 Rob and Dylan Mizzi from Sharkmen Fishing Charters got out in the gap in the weather this week and helped their customer land this cracking snapper fishing Port Phillip Bay.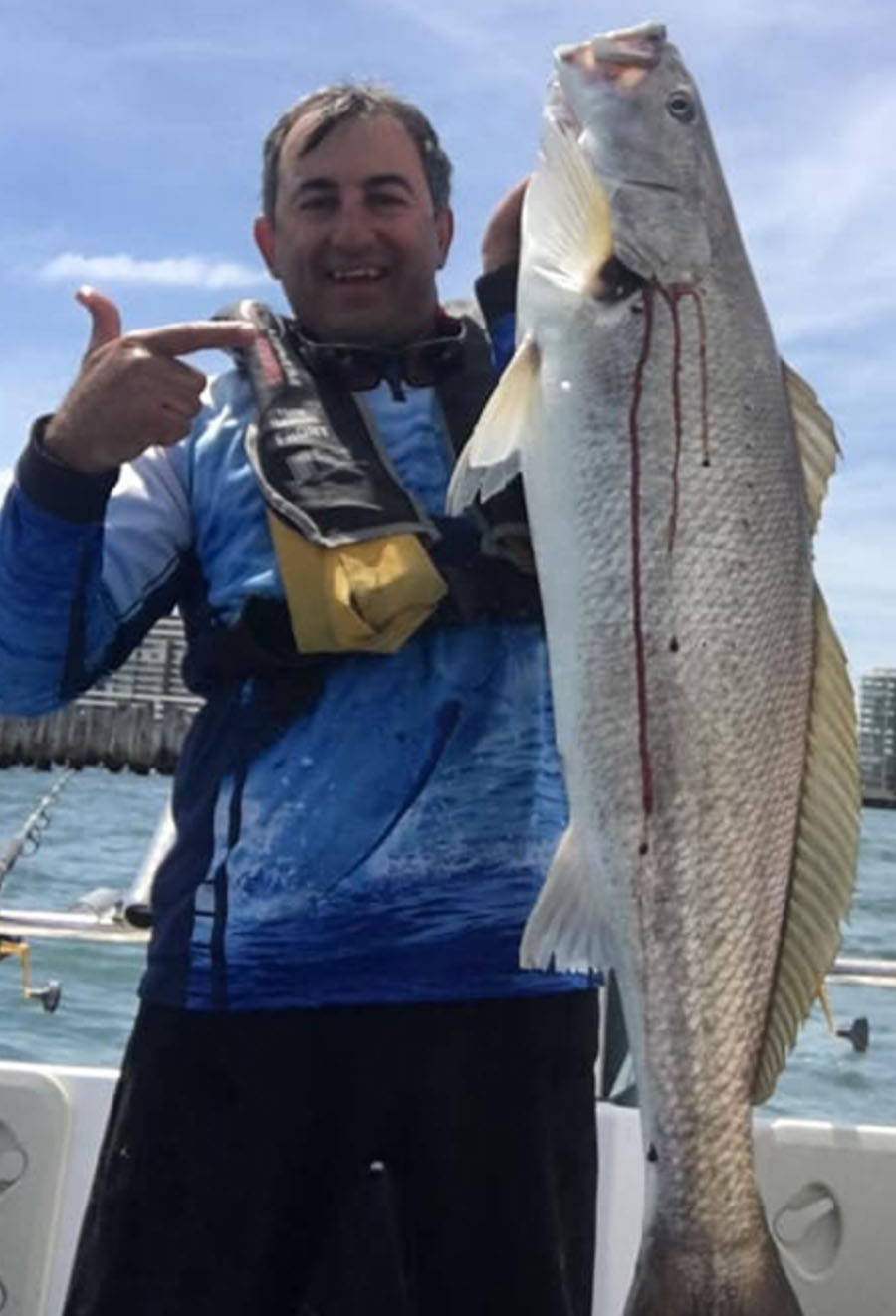 Domenic Raco with a ripper mulloway caught fishing Port Melbourne last week; the fish weighed in at 15kg.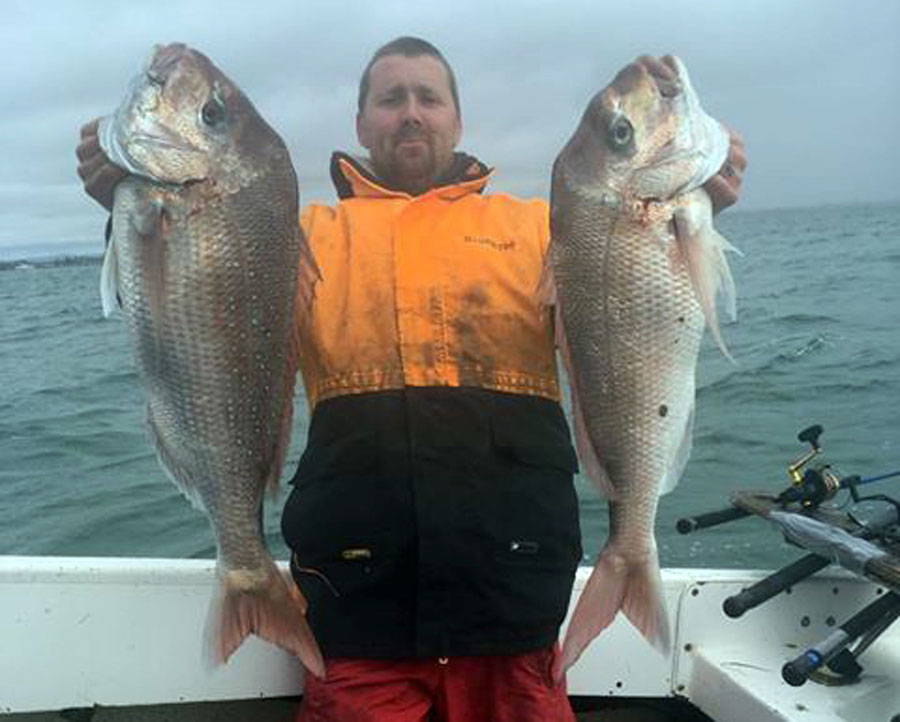 James Fearnley caught his first snapper fishing off St Kilda using squid for bait on 6/0 hooks.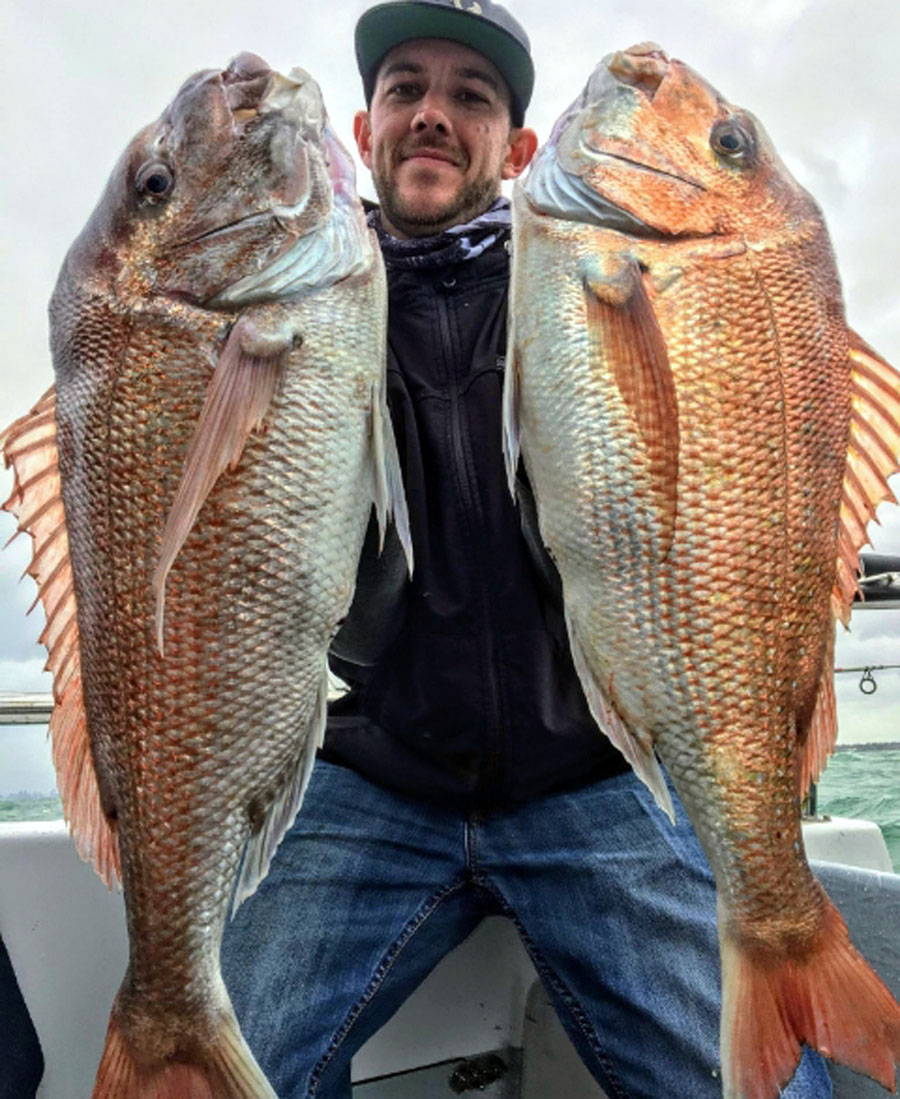 Chris O'Connell got on to some beautiful snapper fishing out from Sandringham on Tuesday using pilchards for bait.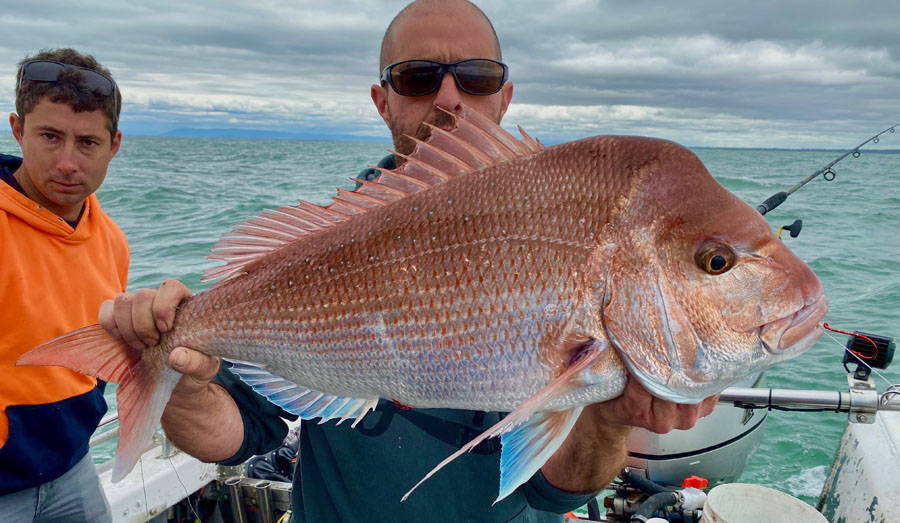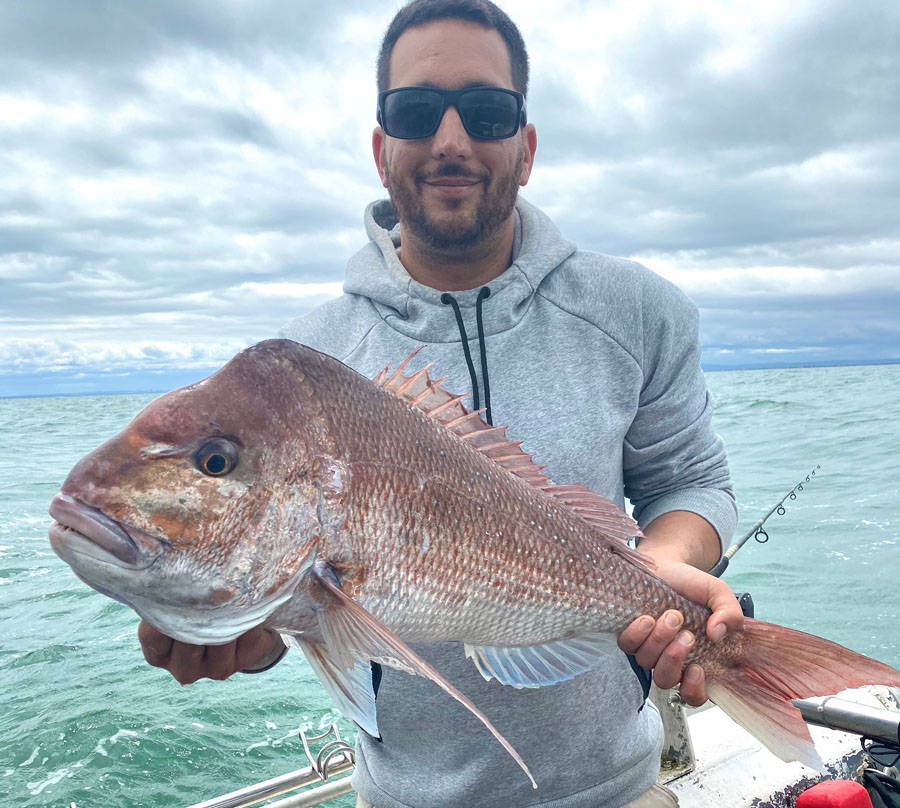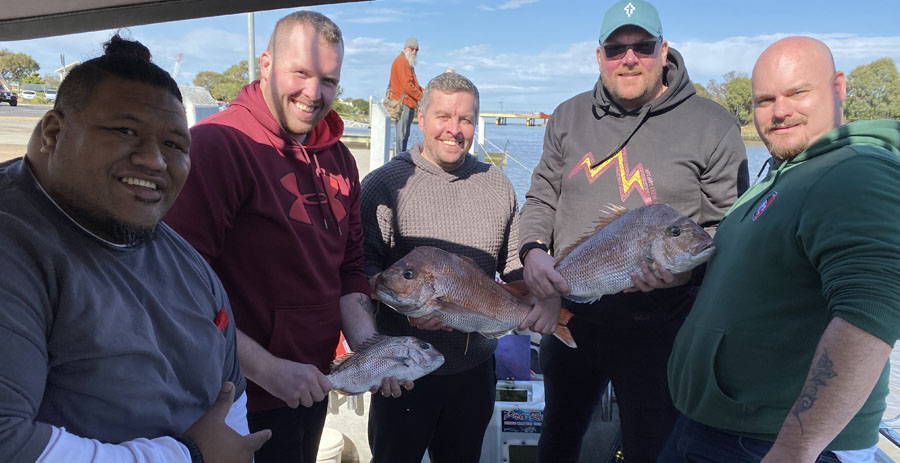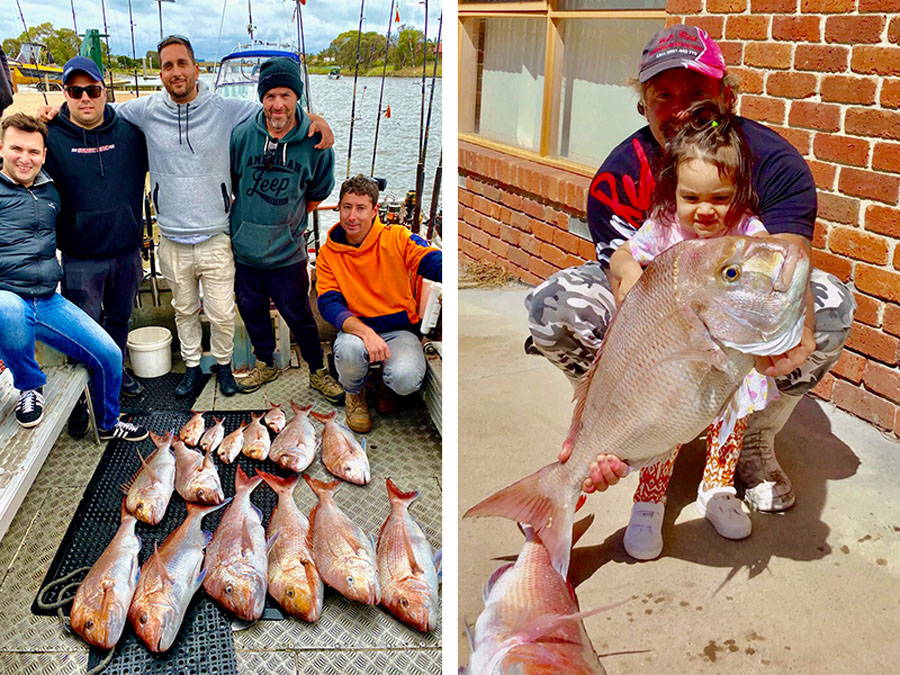 Jayson Turner from Pro Red Fishing Charters reports in that there is a few good snapper to 7kg getting around from Black Rock to Chelsea, even though it is rough it can be worth it but stay safe.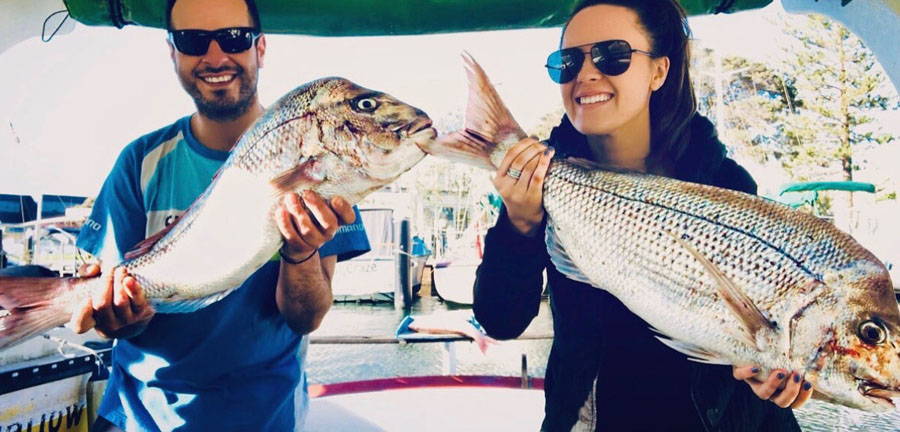 Jimmy and Casey with a pair of fantastic snapper caught fishing out from Black Rock.
Chris Bonavia took his kids, Ayden and Noah out off Black Rock where Noah landed his first snapper.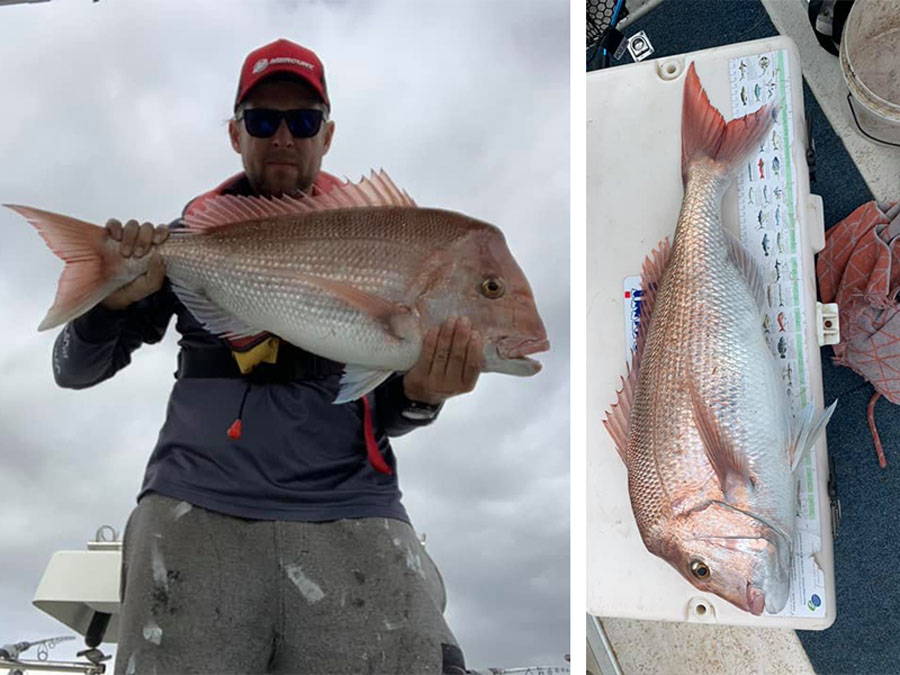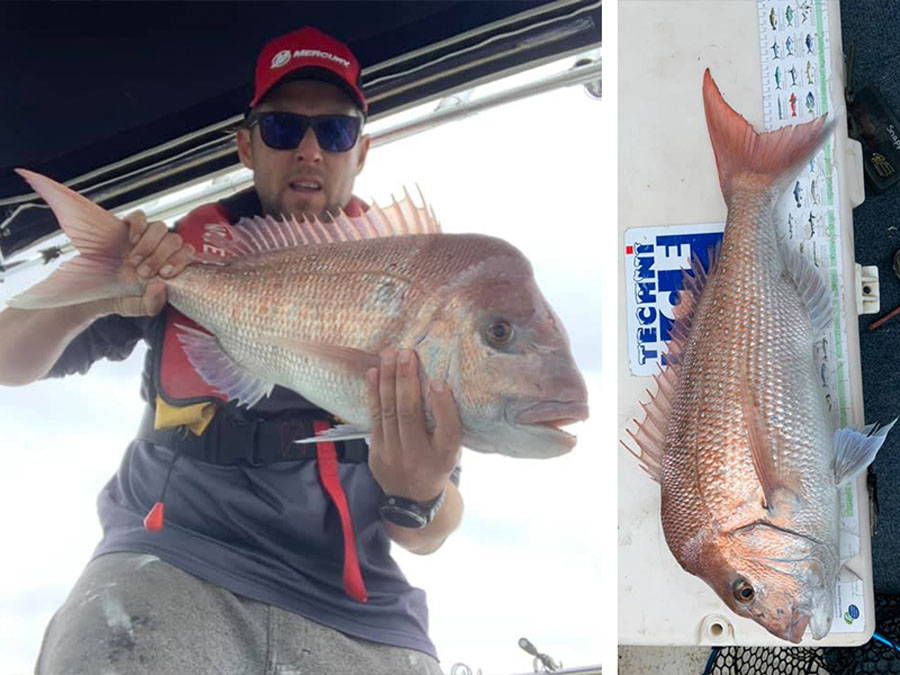 Leigh Schilling fished Black Rock on Sunday afternoon in 6 metres of water and had a ripper time catching and releasing 4 40cm plus snapper using silver whiting for bait; the biggest fish went 84cm.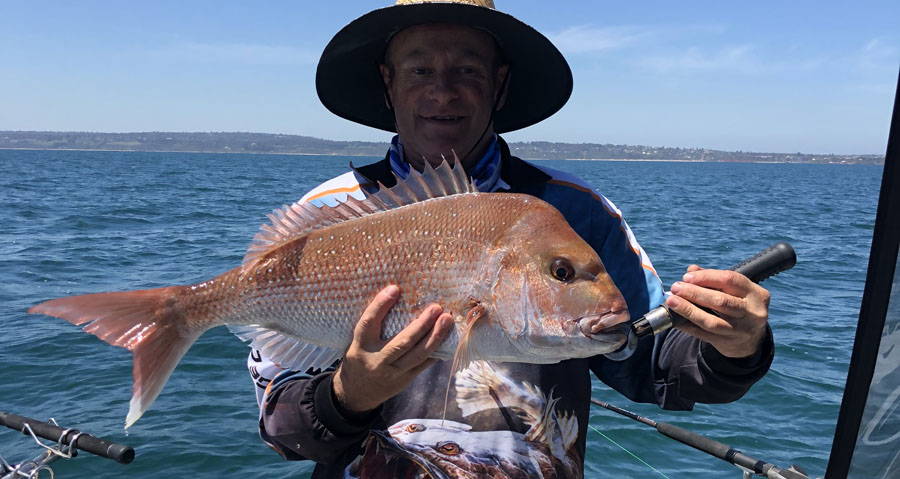 Steve caught this nice snapper fishing out from Mornington recently.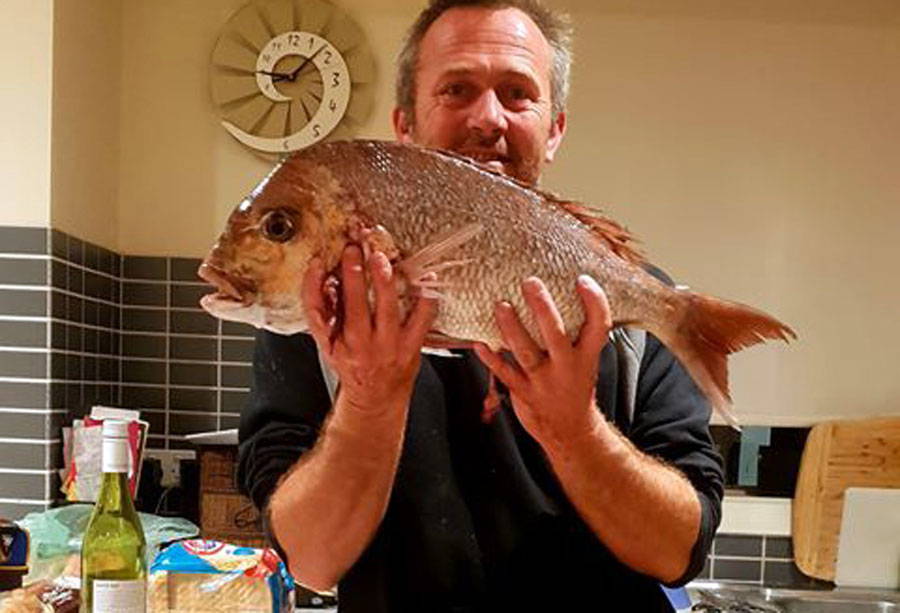 James Lawson caught this nice snapper on fresh squid fishing the rocks at Mornington this week.
Luciano Cipri with a beautiful calamari caught fishing the Pinnace Channel.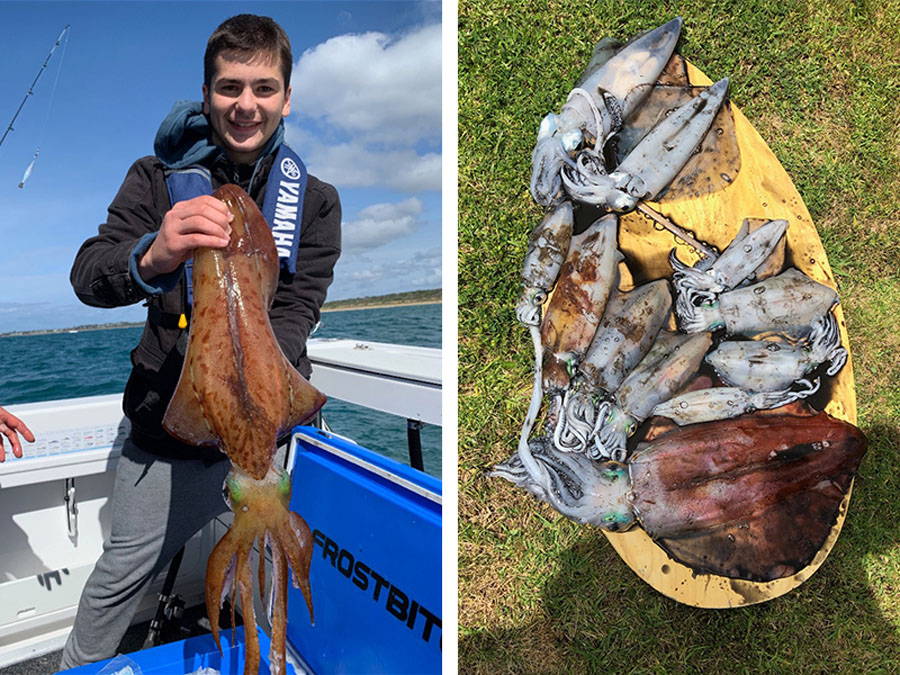 Nicholas Di Lizio caught this cracking 52cm hood calamari fishing off Queenscliff.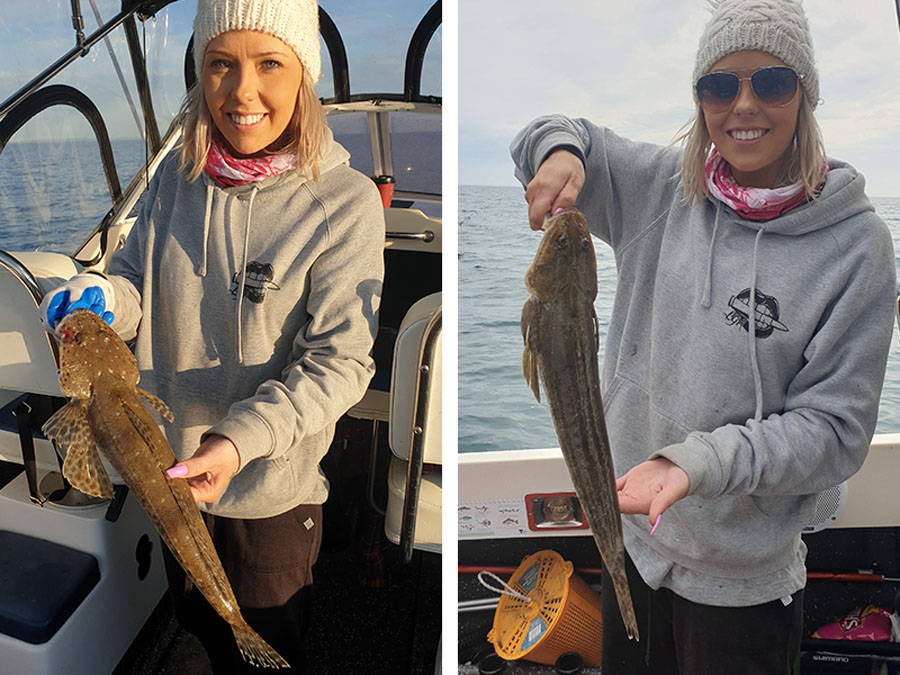 Madiy O'loughlin caught these 2 fantastic 53cm and 50cm flatties fishing Indented Head in 10 metres of water on pilchards.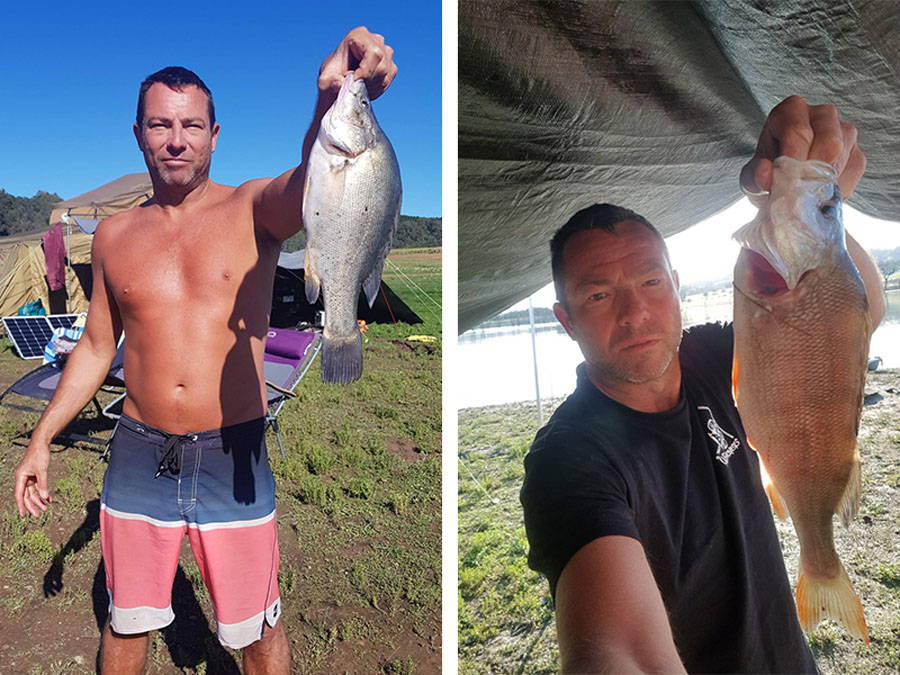 Leigh caught some nice yellow belly and a nice redfin fishing the Pines at Lake Eildon last week.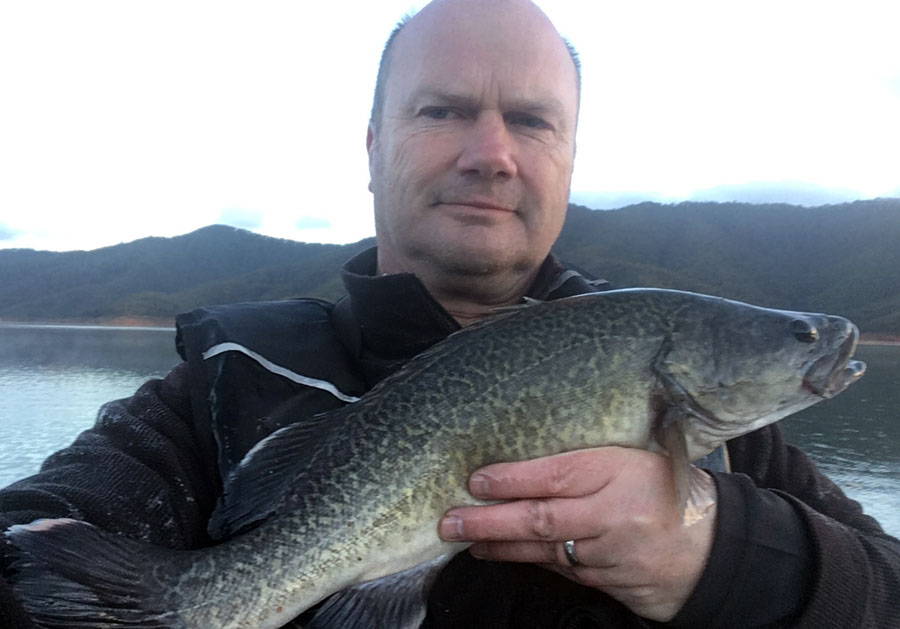 Dean De Rooden caught and released this nice Murray cod trolling the wall using a red and black lure.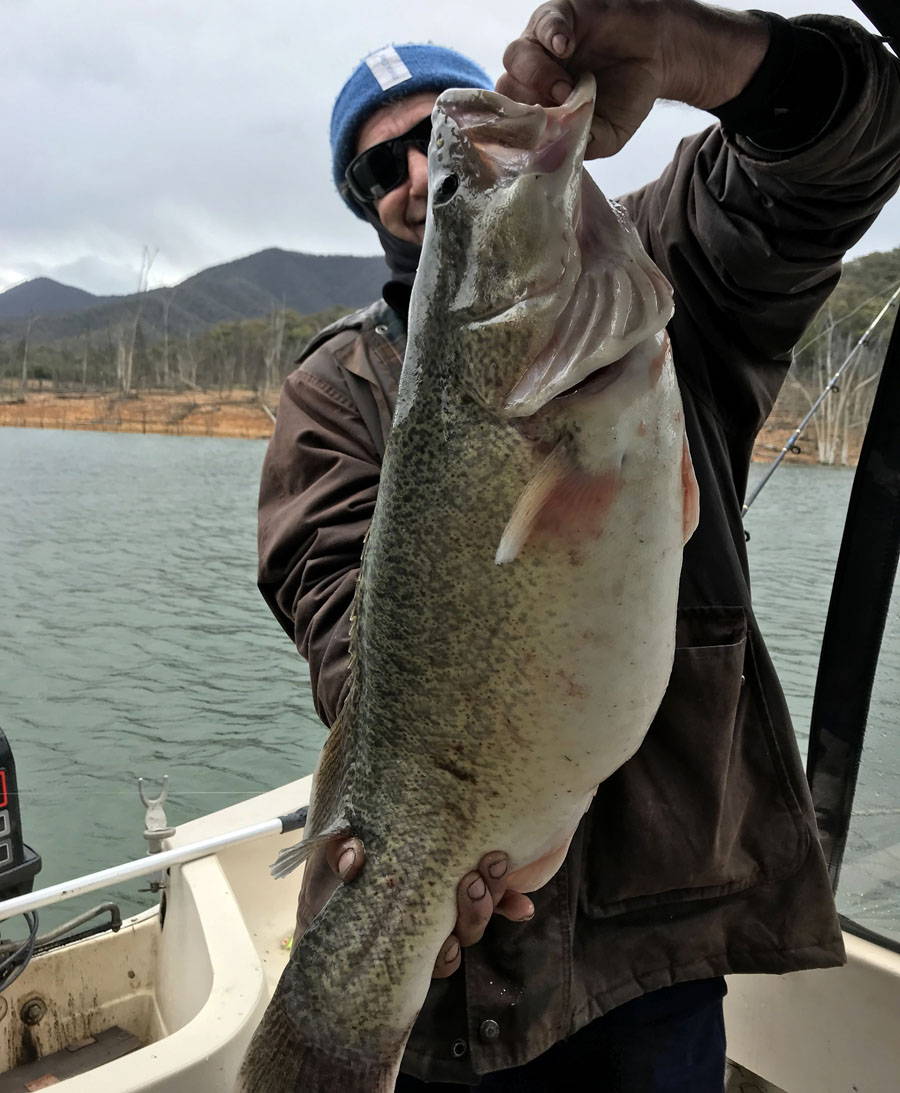 Mark fished Eildon last week and landed this ripper 68cm Murray cod.
Ryan Bogan fished the Delatite Arm of Lake Eildon and caught this cracker cod of 85cm trolling a blue 55mm Stump Jumper over the Melbourne Cup long weekend. Great fish Ryan, thanks for your report!
Jaylee Branch caught a ripper rainbow trout fishing the Pondage using a green lumo Tassie Devil.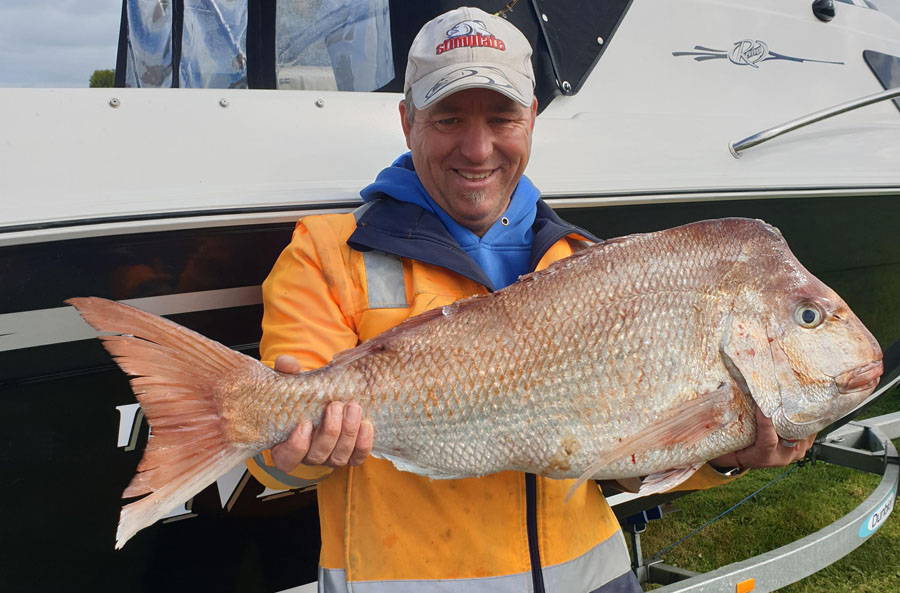 Dave Johnson caught this fantastic 9kg snapper fishing Port Welshpool with this fish going 9kg.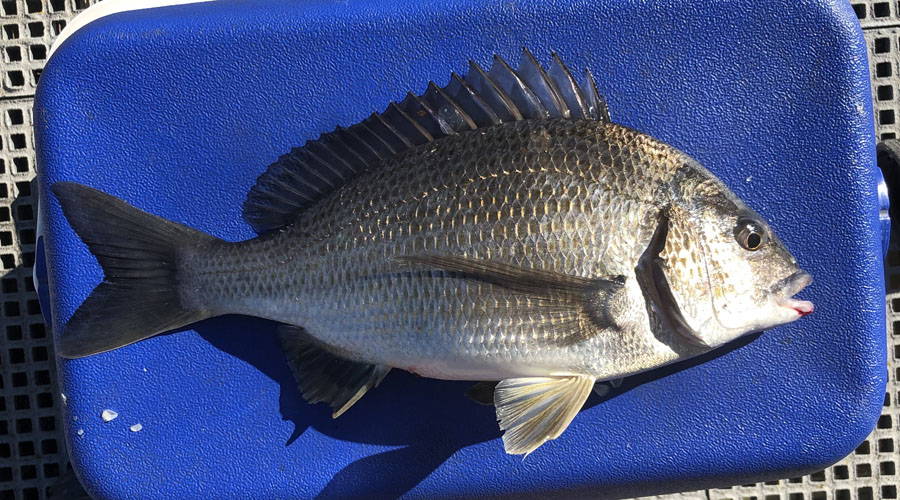 Chris Burgess caught this ripper 34cm bream fishing the Mitchell River at Bairnsdale.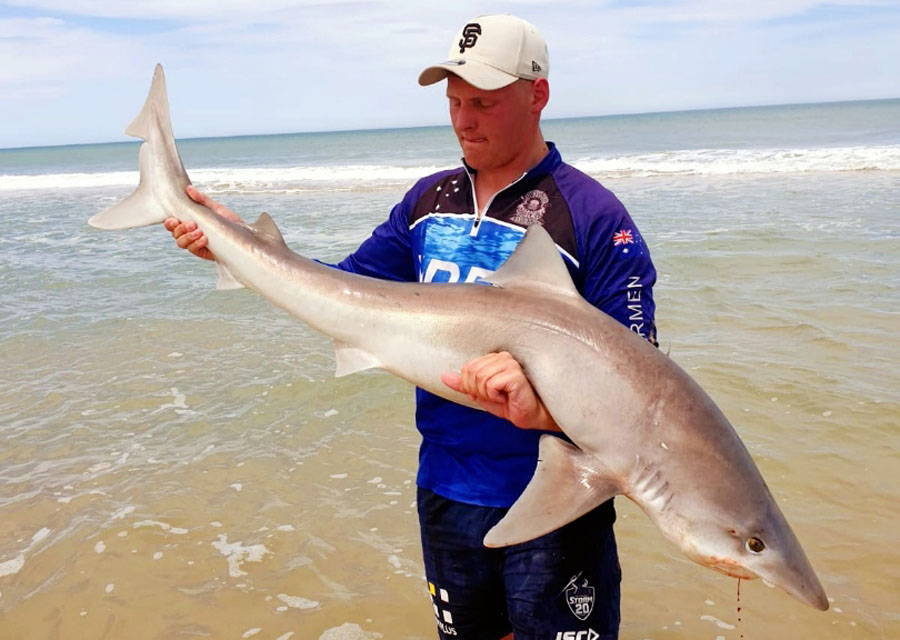 Hux Fysh with a ripper school shark caught on fresh salmon fishing the 90 Mile Beach.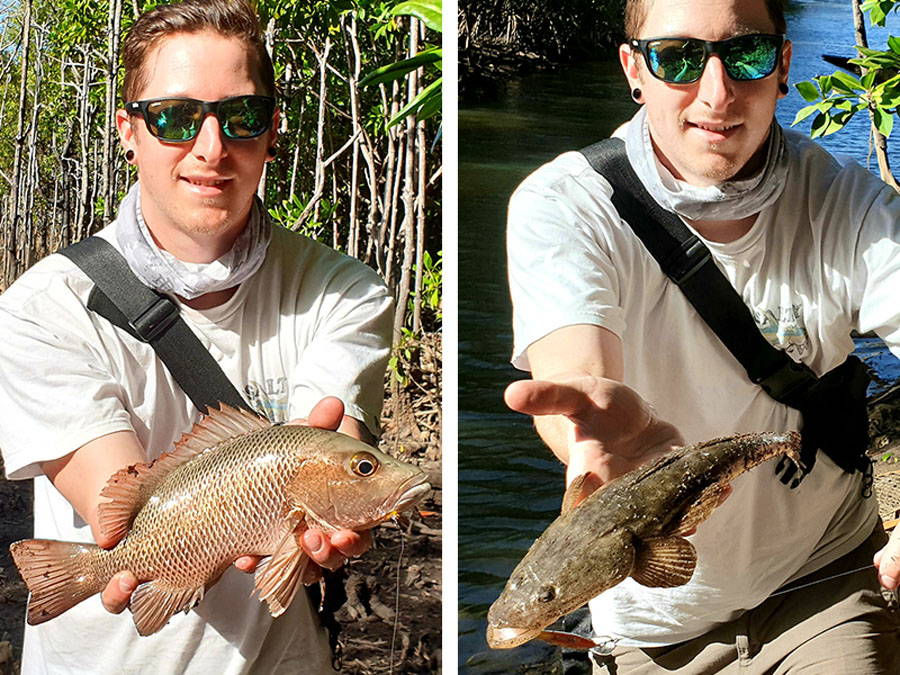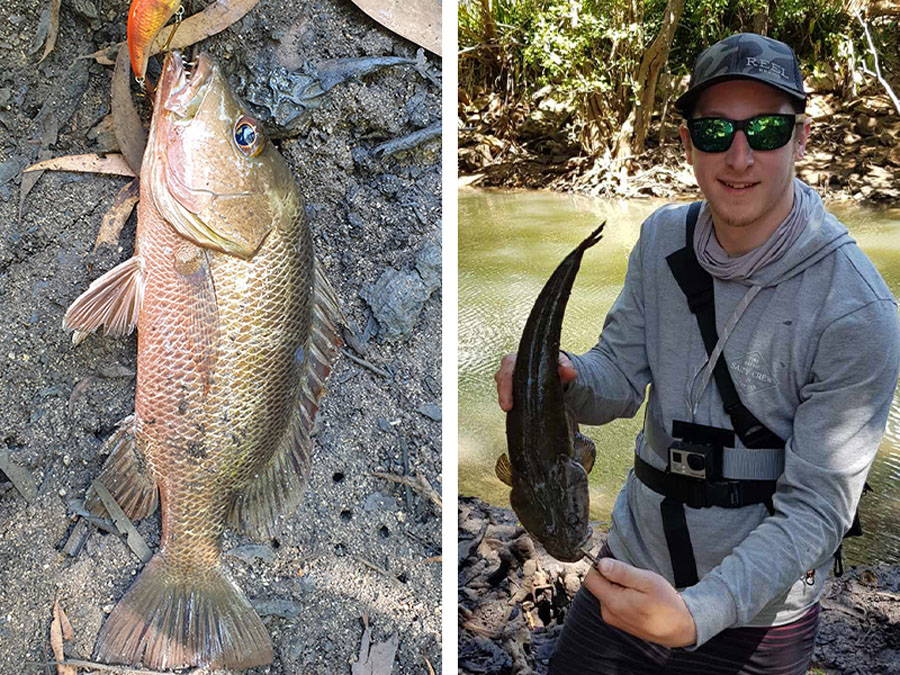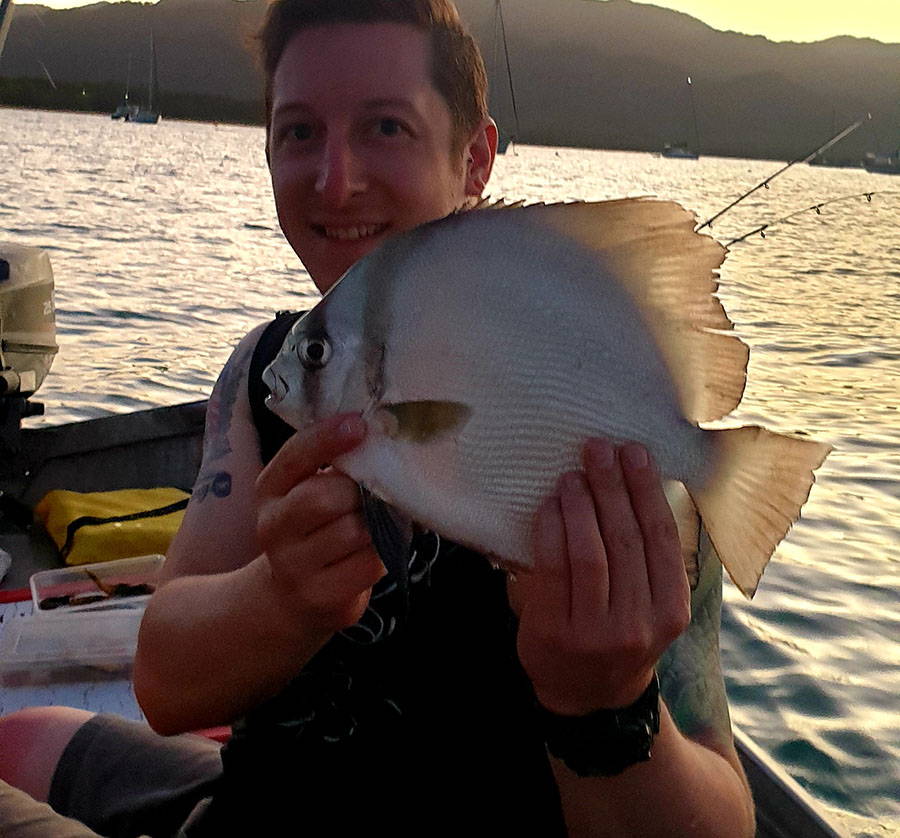 Staff member Brendon Cunningham spent last week with the family in Townsville and Magnetic Island where Brendon managed to tick off a couple of new species; a bat fish and some mangrove jack as well as some cracking flatties caught on hard body lures.
IFISH WITH TACKLE WORLD SERIES 14
TALKING FISHING - C31 TV - TUESDAYS @8.30PM
Catch "Talking Fishing" on Melbourne's C31 TV (CH44) at 8.30pm each Tuesday night. Staff members David Kramer and Adam Ring together with Steve "Trelly" Threlfull host Australia's only "Live to Air" fishing television program at this prime time-slot. Put Tuesday night's at 8.30 away in your weekly diary of TV shows to watch!
The human heart creates enough pressure when it pumps out of the body to squirt blood 30 feet.

Good Luck with your fishing and stay safe on the water,

The TEAM at Tackle World Cranbourne & Mornington