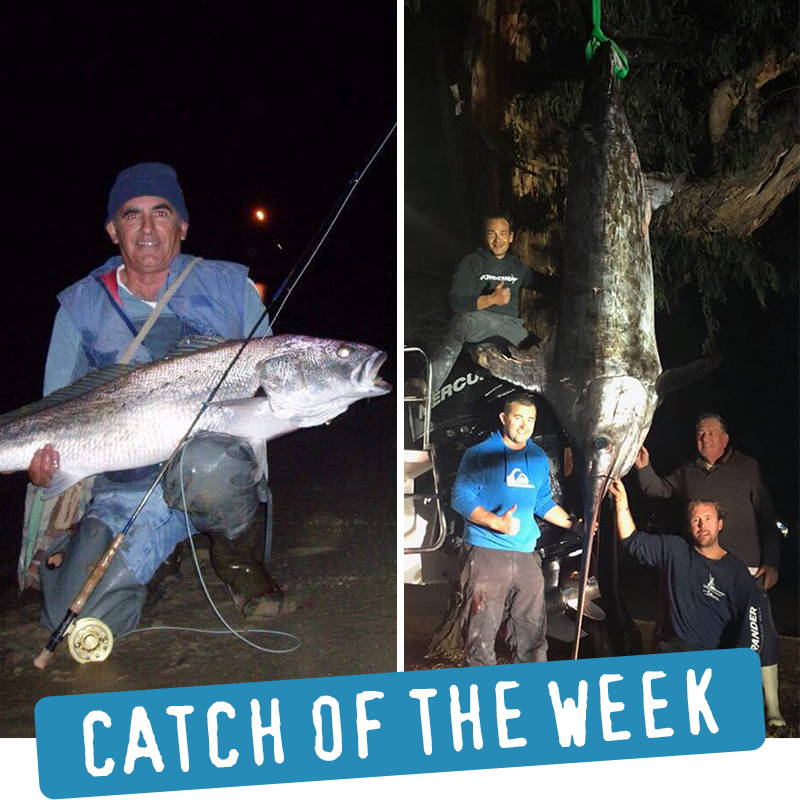 We couldn't split Catch of the Week this week, with 2 great catches, both very special in their own class. Firstly, congratulations to Mario Pulis on his PB 17kg, 1.25m mulloway caught from Patterson Lakes on a home made fly and fly reel.
Also congratulations to George Lirantzis from Ulladulla on his 436.2kg broadbill swordfish caught off Mallacoota. We believe it is the second largest sword every caught. The fish is just shy of the magical 1000LB mark; a true beast. Well done George!
Pat Ellaby fished Lysaghts in 14 metres of water on Friday arvo looking for some big snapper and wasn't disappointed with this cracking model.
Peter Vink fished Corinella on Friday night and caught a cracking 11kg gummy on a trevally chunk and a 6kg snapper on a squid strip.
Jimmy fished the Nobbies and managed some solid salmon. There are some great salmon getting around at the moment.
Leigh Schilling fished out from Brighton early Sunday morning in 3-4m of water and caught his bag of calamari.
This is something you don't see every day; Mario Pulis caught his PB mulloway of 1.25m on a fly and reel he made himself in Patterson River on Monday night.
Bernard Abrams fished on Friday in glass conditions catching some fantastic squid at Dromana in 6-9 metres on the drift then heading out deep off Mount Martha for a snapper and some gummies.
Robert Bonetto fished out wide from Mount Martha and his mate Sammy V caught these pearler snapper on fresh squid.
John-Paul Calamatta fished out deep from Mount Martha managing this beautiful snapper as well as a couple of nice gummies.
Tom Sidiropoulos caught this thumper of a cuttlefish from Blairgowrie late on Saturday night.
Staff member David Kramer fished Point Nepean on Saturday in glorious conditions. He set out for the trifecta of Calamari, Cuttlefish and King George Whiting and came home with the goods. David reported the whiting were hard to get, losing a lot of baits to plagues of leather jackets.
Tibby Flora caught some great gummies from the Mud Island and Mussel Farm areas.
Julian Rennie headed across the bay to St Leonards and ended his session with a decent bag of whiting on pipis and a few squid. Well done mate!
Jim Pascoe fished St Leonards on Friday and caught this thumping cuttlefish in 5m of water.
The inaugural Victorian Broadbill Swordfish Championship is well underway now and runs through until 17th June. There has been some epic fish caught already…..
Ben Hermens caught a 182kg sword on board Far Out II on Saturday.
Sally Bourke caught a whopping 277kg sword setting a pending Vic & Aus record.
Terry Roberts caught his PB a 100kg sword on Sunday.
Billy Rebbechi managed a fantastic 128kg sword on Sunday.
Jon Be found some tuna off Cape Schanck on Saturday in 55-60 metres of water, small skirts worked well.
Sam Coffey (son to staff member Steve Coffey) and Trent Dickinson caught this fantastic 100.8kg Portland tuna in 60m of water south of Lawrence Rocks. Trent was on the rod for 3.5hrs and the boys hooked it on a Pakula Mouse in Illusion colour. Beautiful work boys!
Simon Rinaldi from Red Hot Fishing Charters has been stuck into the tuna off Portland this past week with plenty of bullets brought on board.
Marco and Vas from Reel Time Fishing Charters headed out from Portland looking for some bottom fishing but spent the day pestered by tuna. Must have been a tough day guys.
Matt Cini from Reel Time Fishing Charters couldn't stop the tuna bite on Sunday off Portland out around the shelf with multiple rods buckling on the troll throughout the days.
Daniel Zagami from Fish On "Barrel Buster" Charters got into the tuna action over the weekend with some great numbers brought aboard.
Noah Zammit and the Cauchi boys caught this nice mako of approximately 40kg.
Simon and Tony caught this 120kg barrel on a Marlin Magic lure in pink.
Glen Lucas caught this fantastic Mulloway from Nelson. Well done mate.
Tim Beusmans had a cracking day at Lake Purrumbete catching an 11lb brown trout then a 3lb redfin and then topping the day off with a 10lb brown trout on Wednesday morning on a Rapala spotted dog lure flat lining.
Alan Bonnici caught a cracking brown trout from Moorabool Reservoir.
Jovan Pageot managed some ripping brown trout out of Lake Eildon this week. Jovan reports surface action was non existent so he started trolling down deep using a couple of innovative ideas from his tackle box and found some quality fish.
Young 4 year old Joshie caught some fantastic brown trout on the troll over the weekend.
After finding a few brook trout at Rubicon River on Monday staff member Mark Keaveny moved to the Goulburn and caught his PB brown trout. Well done mate.
Staff member Adam Ring fished with his dad Trevor exploring the Acheron River and caught some nice lean post-spawn browns.
Staff members Mark Keaveny and Brendon Cunningham fished Devilbend Reservoir after hearing reports of trout being stocked. The guys managed plenty of small rainbows and Mark managed a nice brown. The Victoria Fisheries Authority stocked the reservoir with 5000 browns and 10000 rainbows topping it up for the future.
Mark Whitford fished last light on Tuesday using a Hester Sinking Devil and was rewarded with a solid brown trout.
Tony & Marlon Blackford fished the bend from the kayaks and caught some great trout and EP's, it's great to see the EP's are still on the chew.
Chris Whitehead fished Devilbend and caught a fantastic brown trout as well as a few smaller rainbows.
Chris Cassar and Daniel Nguyen fished Devilbend and managed some nice EP's and redfin.
While it is a great time to get out to Devilbend our staff found a lot of empty fishing tackle packets and would like to remind everyone to take home what you bring with you. If this continues then there is a possibility of Devilbend being closed to the public.
Antonios Kouroumblis caught this shovel nosed shark from Port Welshpool over the weekend.
Lee Ryan sent in this photo of Jay Martin with a solid tailor caught from Bemm River on a recent boys trip.
Marc Ainsworth from the Victorian Fisheries Authority fished Lake Mulwala this week and landed this 90cm Murray Cod on a spinnerbait.
IFISH WITH TACKLE WORLD SERIES 13
Horizontal Falls, Western Australia
Today's Target: Mangrove Jack
Sunday 3rd June on ONE at 5.30pm
TALKING FISHING - C31 TV - TUESDAYS @8.30PM
Catch "Talking Fishing" on Melbourne's C31 TV (CH44) at 8.30pm each Tuesday night. Staff members David Kramer and Adam Ring together with Steve "Trelly" Threlfull host Australia's only "Live to Air" fishing television program at this prime time-slot. Put Tuesday night's at 8.30 away in your weekly diary of TV shows to watch!
The oldest known age for a fish was an Australian lungfish. In 2003, it was still alive and well at 65 years old.

Good Luck with your fishing and stay safe on the water,

The TEAM at Tackle World Cranbourne & Mornington