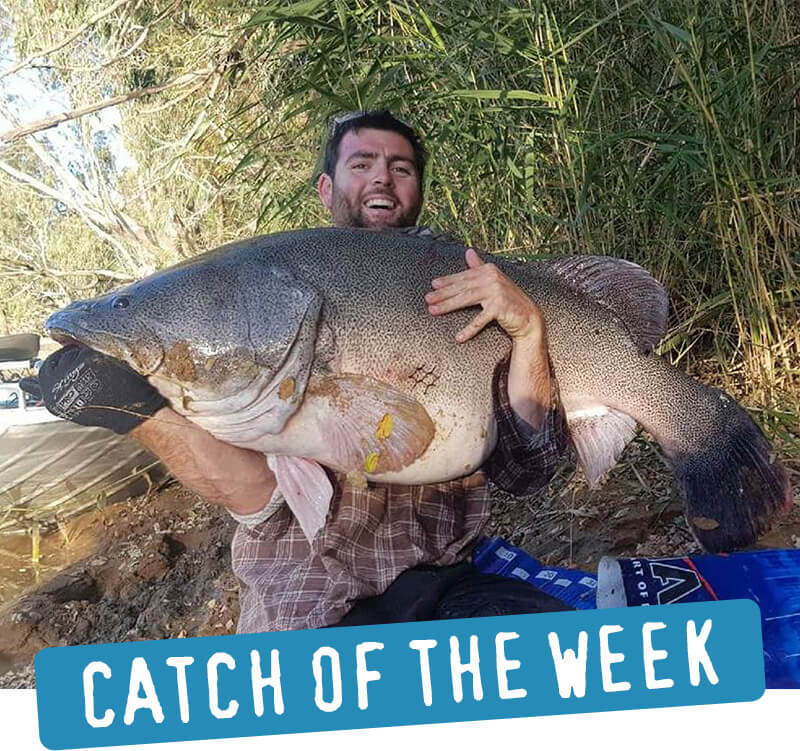 Congratulations to Brayden Smith who caught this beast of a Murray cod measuring 132cm.
Matthew Rowe fished The Murray with his old man and managed 2 stonker cod; Matt with a 115cm and his dad's was 111cm.
Brayden Smith fished the Murray downstream of Yarrawonga and caught this absolute beast of a Murray cod at 132cm on a no1 Stump Jumper; the fish was released well.
Luke Maslin caught this 125cm beast from the Murray River last week casting lures into timber structure.
Staff members Don Newman and Greg Smith fished Lake Eildon and caught this fantastic 90cm Murray cod casting a Coolabung Wake Walker at some timber.
Darren Weda caught this stonker of a Murray cod at Lake Eildon on the surface last week. Well done mate!
Nathan Mcdonald caught this 97cm cod casting around some timber at Lake Eildon.
Jason Junior Foo fished the Gunbower area landbased and managed this beautiful cod off the surface that went 94cm.
William Wallace caught this ripper Murray cod walking the banks of the Lachlan River in the Bedgerabong area that measured 110cm.
Lachlan Rohde caught this nice 101cm Murray cod over the weekend.
Hamish Williams Van Rijn caught his first Murray cod on a chatterbait and measured 111cm.
David Lorinc fished out from Cape Schanck on Saturday morning catching this nice tuna on a Bonze Bruiser in Pimpernel.
Shar Kan fished off Cape Schanck and caught some great tuna finding small skirts the best.
Gerry Morseman fished solo offshore from Pyramid Rock catching a ripping gummy on fresh parrot fish on the run out tide. Gerry mentioned it might be worth deep dropping a jig for big cuttles when fishing deep reefs.
Amanda Keilar was fishing off Cape Woolamai and came across this short nosed spur dog.
Daniel Summers caught this lovely snapper from Brighton, landbased on a half pilchard on a running sinker rig.
Jeremy James Sucanji fished Seaford Pier for a tasty looking bag of garfish.
Hugh Garcia fished Frankston pier chasing some gars and caught a nice bag using silverfish and bread.
Motu Uelehipa fished around Olivers Hill targeting gars and got a few nice ones.
Pey Ridgley caught this beautiful snapper off Mornington in 19m of water on a fresh squid head.
Allen Rayner fished out from Mount Martha on the weekend in 21m of water and caught some ripping snapper.
Nathan Da Ros caught this fantastic snapper off Mount Martha in 21m of water.
Robert Wilson fished out deep from Mount Martha in 23m and caught this lovely gummy on a pilchard.
Tibby Flora fished the old channel off Port Arlington and managed a nice ling and some bait for a session he had on Sunday where he fished with Steve catching a nice gummy off Mud Island.
Mark Chisari fished the tide change on Sunday morning at St Leonards and managed a nice bag of squid and a solid cuttlefish.
Nikos Michailidis fished at St Leonards in 8m of water catching a great bag of whiting on pipis.
Daniel Zagami from Fish On Charters got into the whiting at St Leonards with fresh squid being his stand out bait.
Boofa and Ox bagged out on squid out from Werribee early in the week.
Robert Bonetto took off to Portland this week and managed over 20 bluefin to 15kg as well as some albacore and striped tuna.
Great customer of the shop Julian Rennie fished with mates Chrisso and Gooch at the shelf off Portland bagging some great tuna in 180m; Black/Red Skirts and also Green/Yellow skirts doing the job.
Simon Rinaldi from Red Hot Fishing Charters got into some fantastic southern bluefin tuna as well as a few stripeys off Portland over the past week with plenty of school fish around.
Matt Cini from Reel Time Fishing Charters had some great days on the tuna over the past week with plenty of school SBT's and stripey's brought aboard for their customers off Portland.
Jayson Turner from Pro Red Fishing Charters fished the beautiful weather at the start of the week getting into the tuna action for his customers.
Young Tom May caught this lovely trout in the upper Mitchell River.
Joe Bac caught this solid mulloway from the Barwon River on the weekend.
Robert Meocevic had a great time with 3 generations fishing at Lake Eildon together and the youngest bloke catching a nice 43cm brown.
Peter Bentley fished Devilbend on the weekend and caught this nice rainbow trout on a spinner.
Brendan Smith fished Devilbend from his kayak and caught a number of EP's on Daiwa Double Clutch lures.
Niroj Douglas fished with Alex Hawkes in the Noojee area and got onto some nice trout.
Andrew Ketelaar threw some laser lures around the beach at Kilkunda for some fantastic salmon to 3kg.
Mark Otten and best mate Darren had a cracker session on the salmon at Venus bay on pilchards and red/white surf poppers.
Juzzy Craig fished out from Cape Liptrap and caught 3 really nice gummies.
Jarrod Biles fished with Dean Barnett and Jason Portelli and found some very nice brown trout up at Eucumbene.
Ben Young and Andrew Xanthoulakis fished Eucumbene and also found some nice colored brown trout. They then fished Jindabyne in Threadbo river and the lake and enjoyed catching a number of brook trout.
IFISH WITH TACKLE WORLD SERIES 13
TALKING FISHING - C31 TV - TUESDAYS @8.30PM
Catch "Talking Fishing" on Melbourne's C31 TV (CH44) at 8.30pm each Tuesday night. Staff members David Kramer and Adam Ring together with Steve "Trelly" Threlfull host Australia's only "Live to Air" fishing television program at this prime time-slot. Put Tuesday night's at 8.30 away in your weekly diary of TV shows to watch!
Light can't penetrate more than 300 feet through the ocean; this area that can never be touched by sunlight is called the "deep sea."

Good Luck with your fishing and stay safe on the water,

The TEAM at Tackle World Cranbourne & Mornington