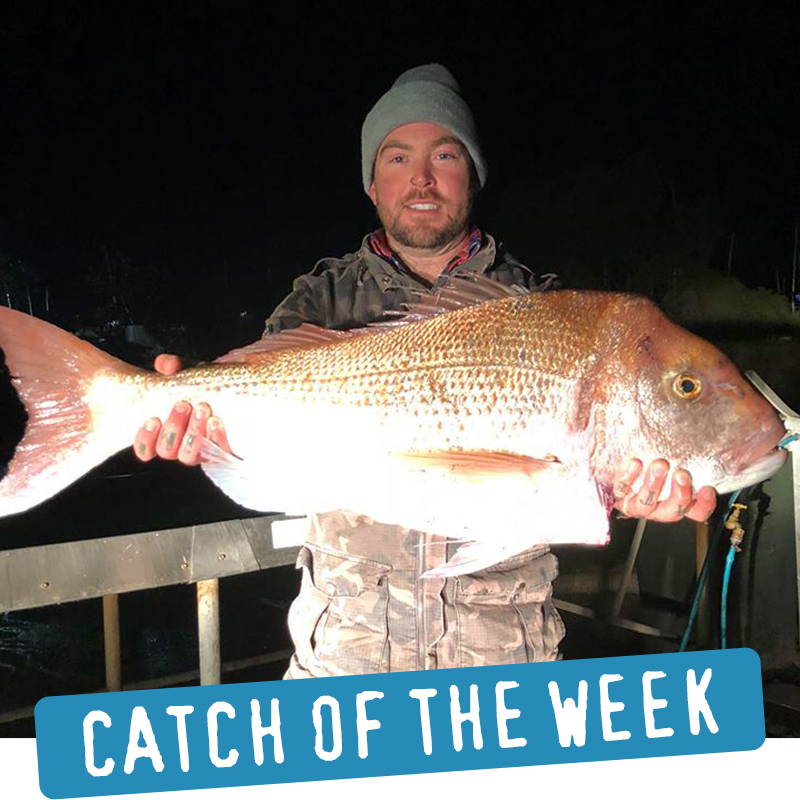 Congratulations to Andrew Menhennitt on his ripper snapper caught around Gardeners Channel. Love your work!
Daniel, Frank & Vince fished offshore from Western Port and managed a ripping 155kg tuna landed after a 1hr 44min battle.
Shaun Furtiere from Think Big Fishing Charters headed out with his customers on Wednesday getting into some cracking squid on white Sephia Jigs.
Shaun Furtiere from Think Big Fishing Charters had his customers on some cracking squid around Tyabb Bank on white Sephia jigs on Sunday.
Peter Baldasso fished with girlfriend Megan Smith around Tyabb Bank finding the bigger squid in 4 metres.
Andrew Menhennitt was fishing for gummies around Gardeners Channel and managed this ripper snapper on fresh salmon.
Gerry Morsman had some fun around Seal Rock jigging up some nice snapper.
Staff member Austin Sawyer fished Mornington Pier on the weekend and managed a couple of squid on red headed, white jigs.
Motu Uelehipa fished Mornington Pier chasing garfish and got a nice bag that his grandson looks wrapped with!
Andrew Luwor fished Mornington Pier and got stuck into the salmon that have been around using soft plastics.
Staff member David Kramer was convincingly out fished by Olympic Skier, Kirstie Marshall, AFLW Collingwood captain, Steph Chiocci & Chloe Molloy also from the Magpies on the weekend. The crew got stuck into good numbers of calamari and cuttlefish around Portsea.
Jordan Yan fished the Sorrento and Portsea piers finding good numbers of calamari and cuttlefish caught on natural and rainbow coloured jigs.
Toby fished the beaches at Point Lonsdale managing fantastic numbers of 2kg plus Salmon on light gear.
Cio Nema Etibur fished the Queenscliff Pier and managed a nice squid.
Julian Rennie fished St Leonards last week catching some nice whiting on pipis. Jules also stopped on the way back to the ramp to catch some fantastic squid on red and blue coloured jigs.
Evanos Delokos Burritos Stanmarinos fished with John Rao at Geelong from the kayak getting into some quality salmon.
Anthöny Färrugiä fished from the yak out from Campbell's Cove and managed a nice bag of squid on 2.5 and 3.0 sized jigs.
Young Tyler Bramich fished with his dad Paul and landed his PB snapper at 90cm caught on light gear.
Boofa and Ox fished out from Werribee and bagged out on squid including a 3.8kg cuttlefish.
Niel Humphreys caught this monster mulloway from the Glenelg river that measured 155cm.
Bruce Roberts,Colin Mclaughin and Andrew Jenkins fished around Lawrence Rock out from Portland and caught this 120kg plus tuna in 65m of water. Nice work guys!
Don-Mako Marco and Luke Smith on board Reel Time Fishing Charters caught this mega-mako going 250kg as a bonus while fishing for Tuna out from Portland on Sunday. Love your work lads!
This past week has been great weather and Matt Cini from Reel Time Fishing Charters has had some great days out from Portland on the tuna.
Rob Mizzi from Sharkmen fishing charters has continued his awesome days out from Portland getting stuck into the tuna for his customers.
Simon Rinaldi from Red Hot Fishing Charters has been deep in the tuna out from Portland with some great fish landed.
Jayson Turner from Pro Red Fishing Charters has had some great days on the tuna this week with plenty of fish for his customers.
Ryan Pickles and Jason Farrugia fished out from Portland and managed a fantastic tuna on the troll.
Rob D fished the Horseshoe on Tuesday finding good numbers of tuna catching a good bag using Bonze skirts.
San and Ning Chan fished with Salty Dog Charters off Port Fairy and landed this beast 153kg tuna.
Staff member Paul Delisle fished with Geoff McMahon hitting Lake Purrumbete and Bullen Merri over the weekend getting some fantastic trout and chinook salmon downrigging with pink and white lures. Paul mentioned that he found an instant increase in hookups when he added 2 red beads to his tassie devils.
Steven Carrick fished Lake Eildon and caught 2 lovely brown trout on the troll.
Will Parr caught an absolute beast of a Murray cod on a Stump Jumper from the Murrumbidgee area last week that measure 102cm.
Mason and Daniel Paull successfully tagged and released this beast of a swordfish off St Helens in Tasmania, well done guys!
IFISH WITH TACKLE WORLD SERIES 13
TALKING FISHING - C31 TV - TUESDAYS @8.30PM
Catch "Talking Fishing" on Melbourne's C31 TV (CH44) at 8.30pm each Tuesday night. Staff members David Kramer and Adam Ring together with Steve "Trelly" Threlfull host Australia's only "Live to Air" fishing television program at this prime time-slot. Put Tuesday night's at 8.30 away in your weekly diary of TV shows to watch!
Electric eels are known to produce enough electricity to light 10 light bulbs.

Good Luck with your fishing and stay safe on the water,

The TEAM at Tackle World Cranbourne & Mornington