Congratulations to Chris Evans and crew on this 129kg southern bluefin tuna caught out from Port Fairy on the weekend.
Shar Kan fished Tyabb Bank and managed some fantastic squid in 4-5 metres.
Chris Preston fished Stockyard Point on Monday night and caught a nice gummy just after dark on the incoming tide on fresh mullet chunk as well as 3 elephants which took banana prawns.
Reinhart Hansen fished around Reef Island and caught some fantastic whiting on the flood tide using pipis.
Peter Galvin fished north west of Cowes and caught this cracker snapper on fresh salmon chunk taken on the tide change.
Gerry Morseman fished out offshore from Pyramid Rock and managed a couple of nice gummies to feed the family.
Andrew Palling took Riley and Jack out the front of the Western Entrance after a gummy or 2 then headed offshore for a mako bagging this ripper 45kg model. Well done guys!
Michael Filatov caught some nice snapper on pilchard and squid out front of the Western Entrance on Sunday.
Gary Fletcher fished out from Stoney Point and caught this lovely goat fish.
The all new Instinct Performance Rigs have arrived and with new additions to hook sizes, there is now a rig for every application. The hook size has now expanded from 2/0 all the way through to 7/0 and there are now 5 new colour combinations that look absolutely delicious! With the introduction of the smaller 2/0 and 3/0 hook sizes this really opens up the surf salmon market and we expect to see exceptional results over the course of the Winter months. These two sizes also provide a great option for those of you who continue to get stuck into the pinky snapper that take residence on the reefs around Ricketts Point and Mornington throughout the cooler months.
Here is a quick guide on how to pick the ideal size of performance rig for your application.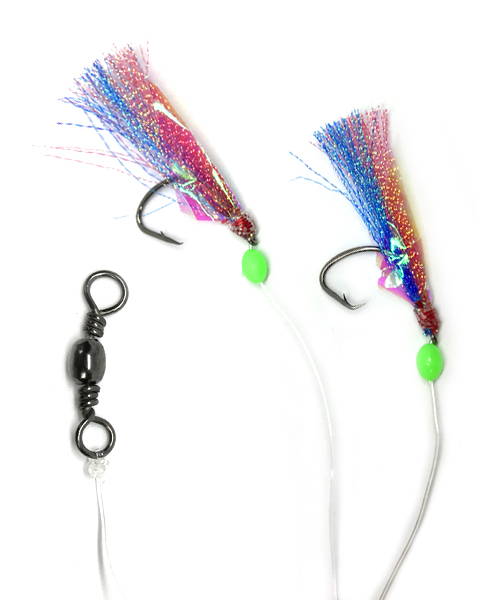 Beach Salmon
Pink Snapper
Slimey Mackerel
Bay Flathead
Elephant Fish
Snapper
Offshore Flathead
BIG Beach Salmon
BIG Snapper
Gummy Shark (Beach & Bay)
All forms of reef fishing
Frank Cakici caught this fantastic snapper on a pilchard, it weighed in at 7.6kg.
Amzar Nadzri fished the Brighton Pier breakwall using a Harimitsu AR in 3.5 and caught a nice bag of squid.
Theodore Skonis fished out from Black Rock on the weekend for a nice snapper.
Jake fished out from Mornington in that magic 18m area and caught this lovely snapper.
Adam headed out off Mornington and caught this cracker snapper in 21m of water. Nice work!
Aiden 'Gooch' Duke took his son Dan out off Mornington and caught this fantastic flatty in 17m.
Nikos Mouselimis caught this ripper snapper from Mornington Pier using a smelly old pilchard.
Staff member Riley Hood fished from the kayak at Mount Martha and managed some nice squid on Odori jigs on Saturday.
John Giuliano fished out wide from Mount Martha in 23m and caught some nice snapper with a mate.
Bill fished the Mount Martha area for squid and managed this stonker.
Bernard Abrams fished off Dromana where he bagged some nice calamari for a feed.
Staff member Riley Hood fished out from Rye on Sunday using black Odori jigs and caught this ripper squid.
Chrisso Porter fished around Rye catching a nice bag of squid on 2.5 sized jigs and caught a ripper gummy on a fresh slimy.
Julian Accurso fished out from Portsea on Saturday and caught a nice bag of whiting.
Tim Brock fished the change of tide on Saturday at Mud Island for a couple of nice gummies, they weighed 7.5kg and 5.5kg.
Bill Adamopoulos fished out from St Leonards in 7m of water catching a nice bag of squid and whiting.
Amelia headed out with her father on Sunday and fished St Leonards for a good bag of squid but found the whiting tough.
Matt Cini and co from Reel Time Fishing Charters had boats 1 and 2 out from Portland over the weekend mixing it up with good numbers of tuna as well as some reef fishing and school shark action.
Simon Rinaldi from Red Hot Fishing Charters had some young lads aboard for their first tuna and didn't disappoint with a great day out from Portland.
Rob Mizzi from Sharkmen Fishing Charters had an epic weekend on the Portland tuna with Saturday a standout day with all rods buckling.
Chris Evans fished Port Fairy with some mates and they managed this 129kg barrel tuna. They said there were lots of fish sounded around 55m and redbait everywhere.
Stretch and Jase Vyverberg fished out from Port Fairy bagging out on tuna in 90mins then caught a nice school shark at 12.4kg
Ash O'Neale fished Snobs Creek and managed his PB brown trout at 65cm on dry fly that was released to continue it's journey.
Zoran Risteski fished Eildon Pondage and managed some cracker trout on powerbait.
Darren Parsons caught his PB brown trout from Lake Wendoree that went 57cm and was caught on rainbow powerbait.
Staff member Mark Keaveny fished the Whittlesea area to finish off the trout season and managed some fantastic trout on minnow lures.
Niroj Douglas caught this fantastic brown trout on a dry fly in the Noojee area to finish off the stream trout season.
Juzzy Craig fished out from Waratah Bay and caught this nice gummy on fresh wrasse in 22m.
Sunday the 10th was a great day for out wide fishing off Lakes Entrance with seven swordfish, an Opah, a mako shark and a bluefin tuna all recorded for the comp down there. Two of the swords were tagged and released.
Robb Gray and Alex King fished out from Lakes Entrance and caught 2 fantastic swords at 35kg and 42kg as well as deep dropped for this amazing 43kg Opah.
Simon Crane caught this fantastic mako at 84kg that was weighed in at Lakes Entrance as part of the comp.
Rick Ziagrkowski weighed in this fantastic southern bluefin tuna at 61kg out from Lakes Entrance.
An unusual catch for inside Lakes Entrance. Off the footbridge, anglers such as Anne have found good numbers of calamari on the seagrass beds.
Mick Ott still catching some nice dusky flathead out at Lake Tyres to 82cm over the weekend.
Ben and Tyler Hotchkin fished Mallacoota for the first time catching some fantastic bream and flatties on Daiwa Double Clutches. Well done guys!
Will Garner put in the hours at Nelson and caught this 98cm mulloway on light gear. Well done!
IFISH WITH TACKLE WORLD SERIES 13
TALKING FISHING - C31 TV - TUESDAYS @8.30PM
Catch "Talking Fishing" on Melbourne's C31 TV (CH44) at 8.30pm each Tuesday night. Staff members David Kramer and Adam Ring together with Steve "Trelly" Threlfull host Australia's only "Live to Air" fishing television program at this prime time-slot. Put Tuesday night's at 8.30 away in your weekly diary of TV shows to watch!
The shortfin mako shark is the fastest shark in the ocean. This toothy torpedo can swim at speeds of up to 96 kph and has a tail like a tuna which is it's favourite food.

Good Luck with your fishing and stay safe on the water,

The TEAM at Tackle World Cranbourne & Mornington