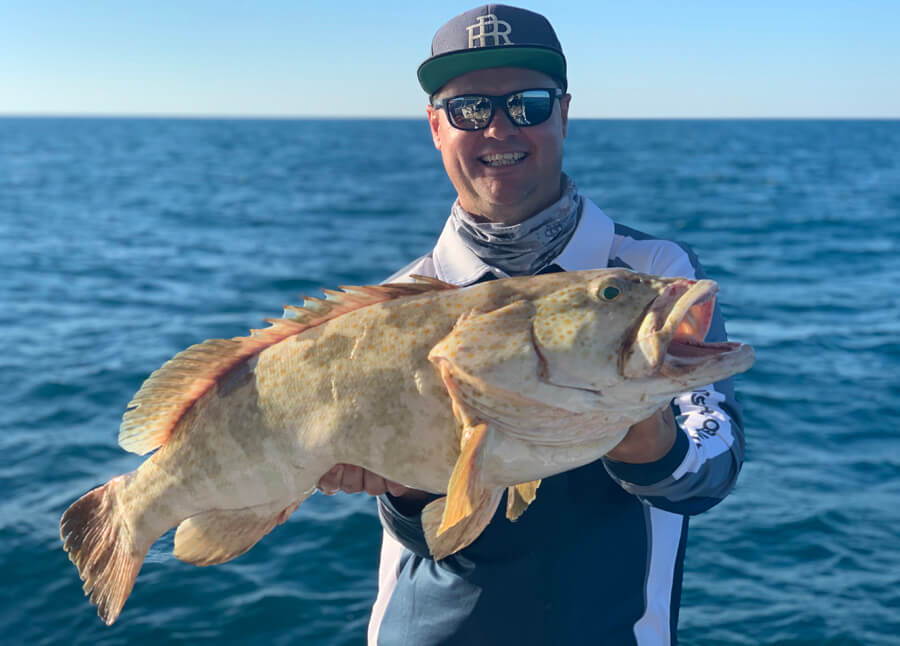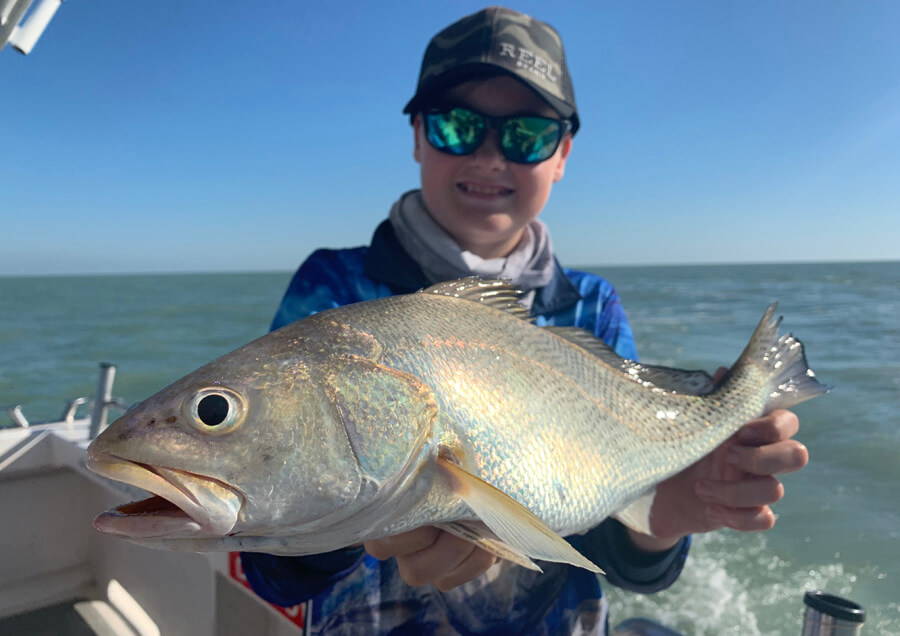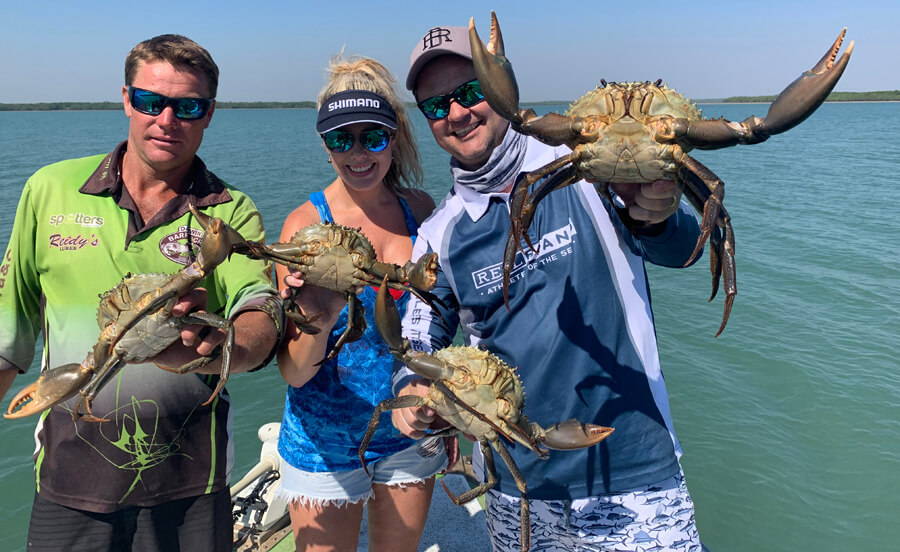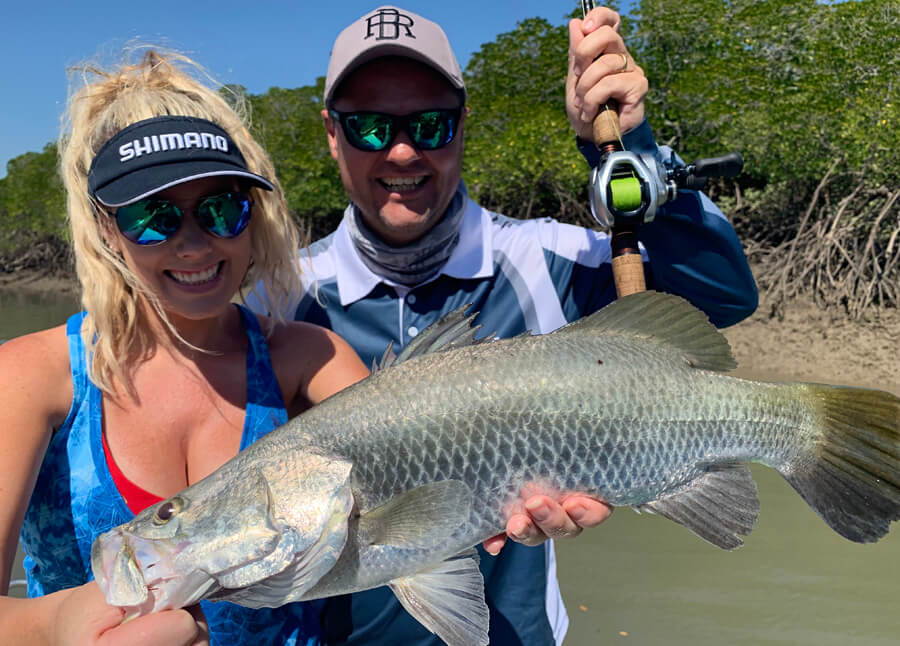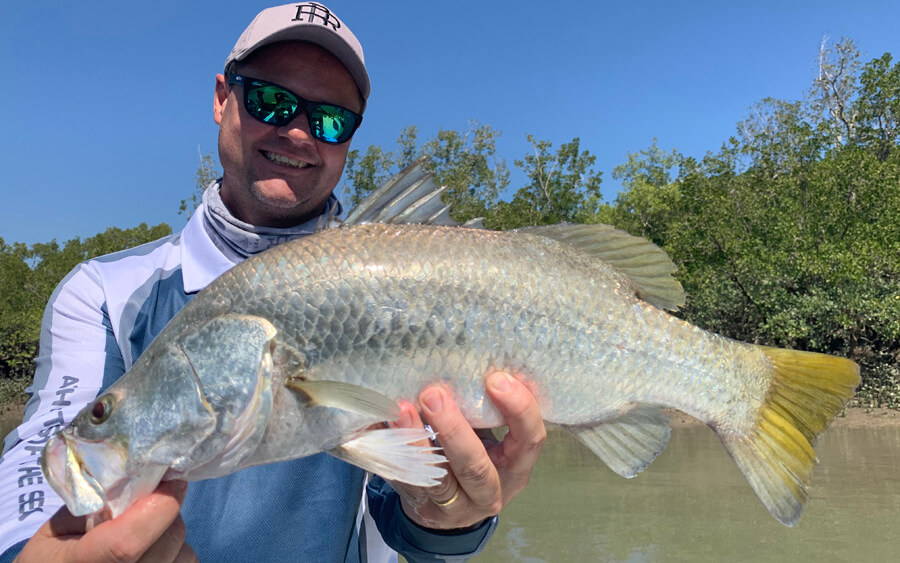 Paul, Cristy, Jet and the IFISH crew fished Darwin over the past week starting off their trip fishing with Darwin Barra and Crab tours catching some very large crabs and some nice barramundi on soft plastics. The crew also fished around town to check out the local Darwin species and caught bream, tusk fish and crabs. To finish off the trip Paul and Jet jumped on board Arafura Bluewater Charters and headed offshore where they caught ridiculous amounts of fish in 40 metres of water. The species caught included saddle tail snapper, small mouth nannygai, red emperor, gold spot cod and many more. This trip has reminded Paul that no matter the time of year, Darwin always seems to deliver when it comes to fishing.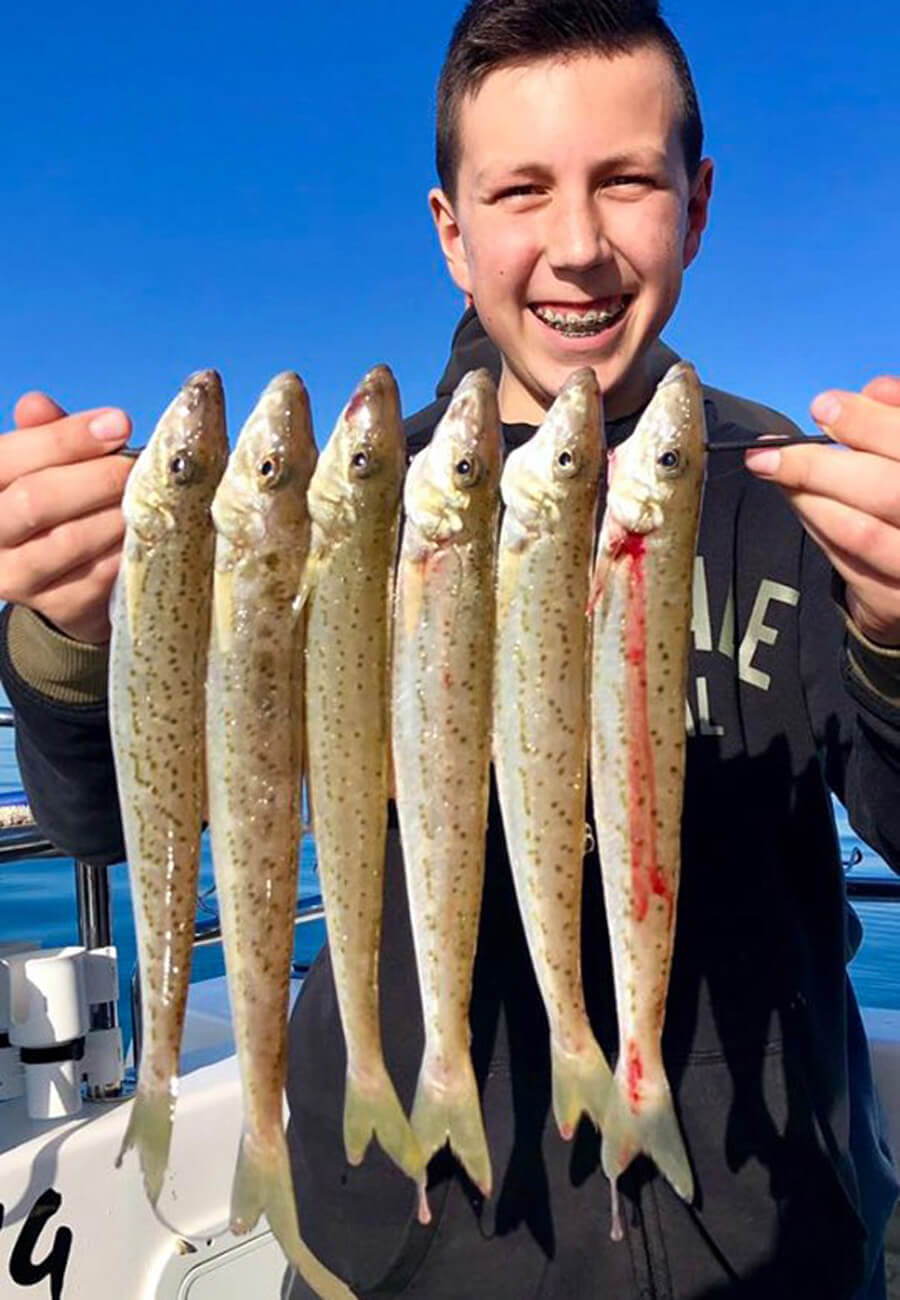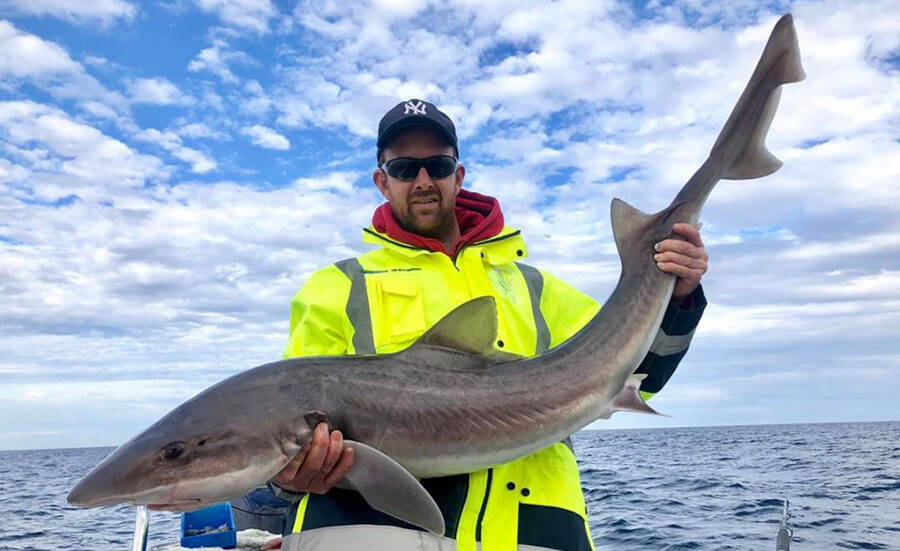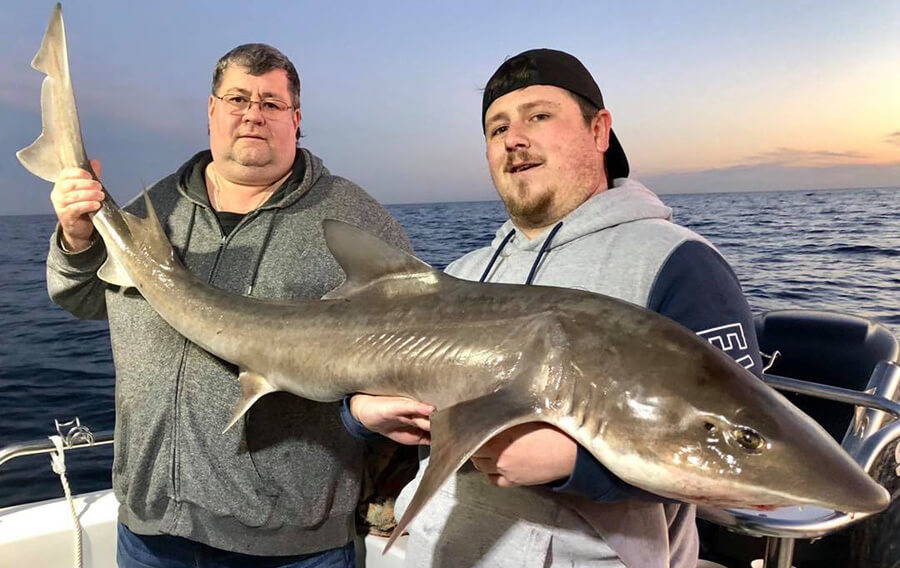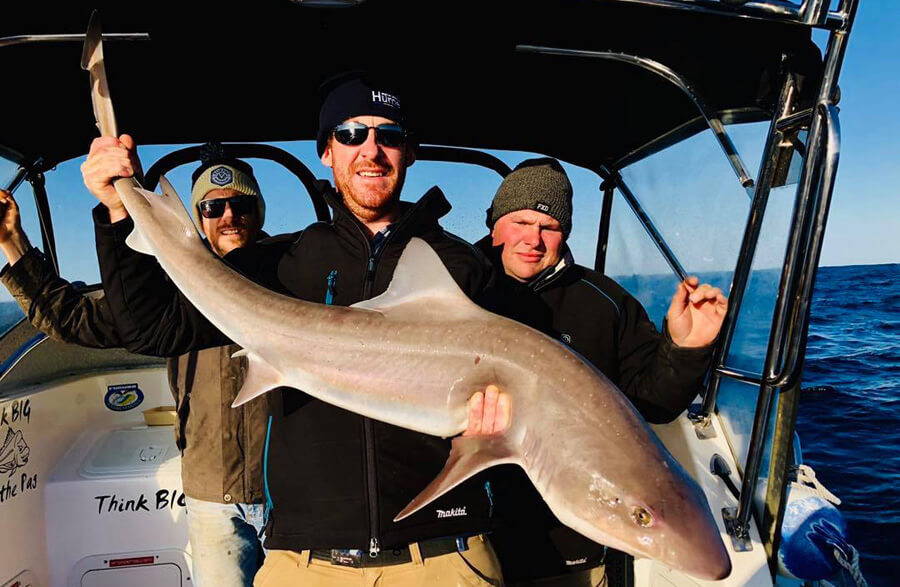 Shaun Furtiere from Think Big Fishing Charters didn't disappoint for his customers in Western Port last week with some nice whiting caught by Dennis, Declan and John. Shaun also had a number of gummy charters that all produced some cracking fish.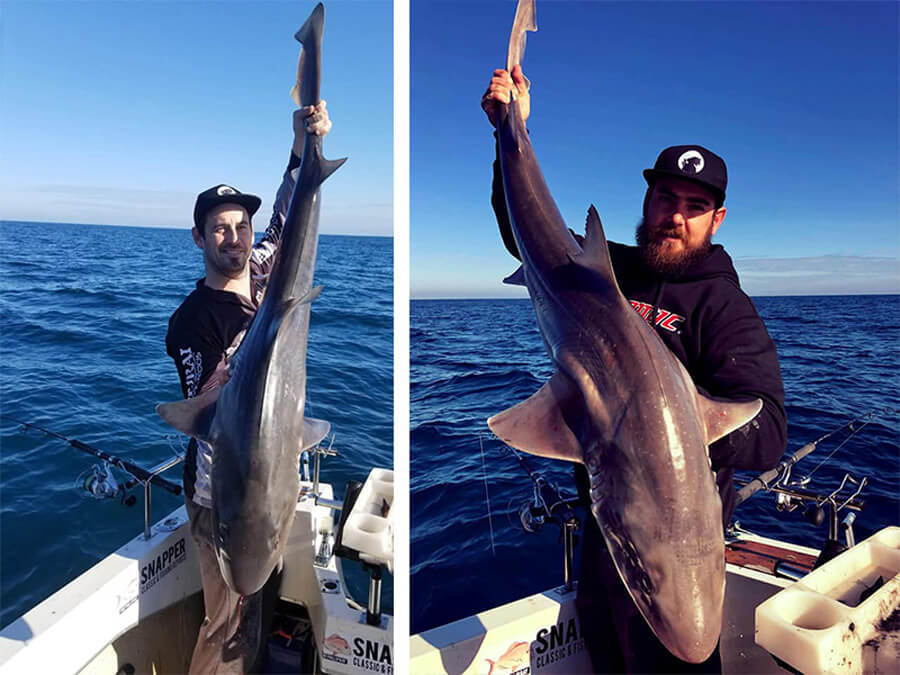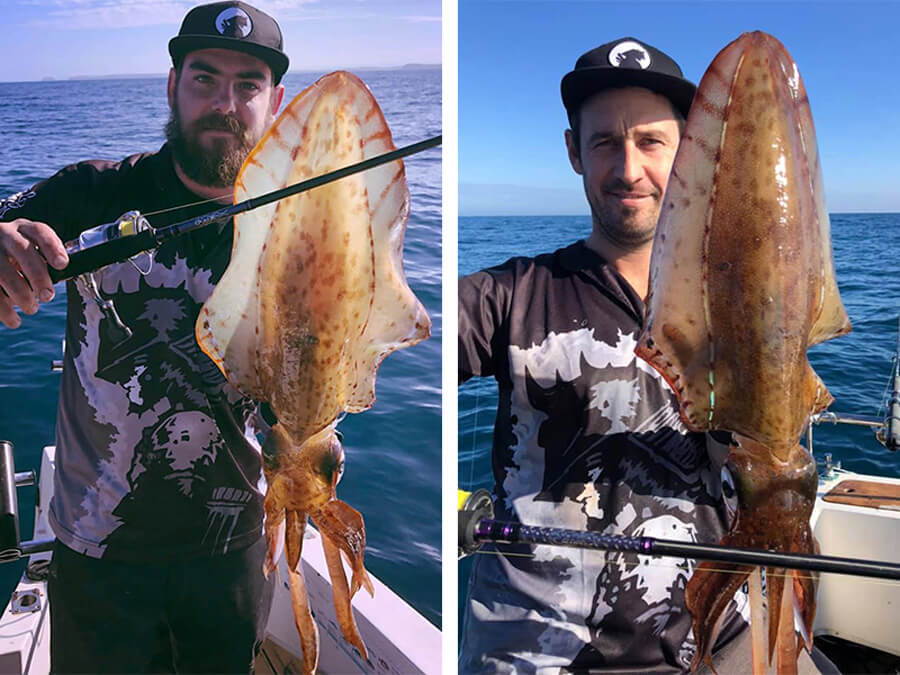 Gerry Morsman and Julian Rennie fished offshore chasing some big gummies in 40 metres of water and landed 2 crackers at 16kg and 20kg each.
Chris Cassar fished offshore last week on a guide session and managed some cracking gummy sharks as well as a surprise catch of a saw shark.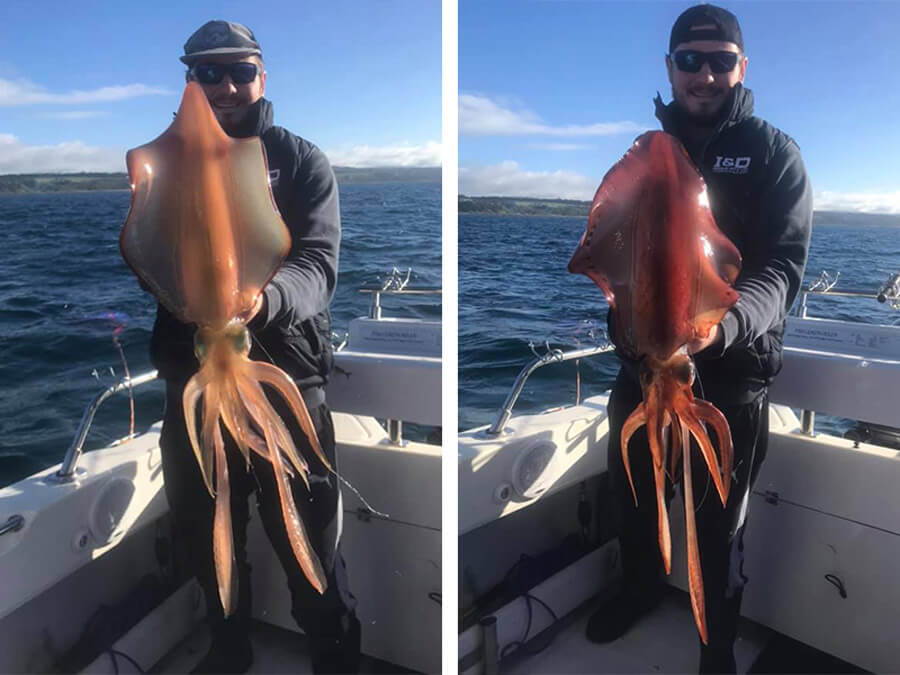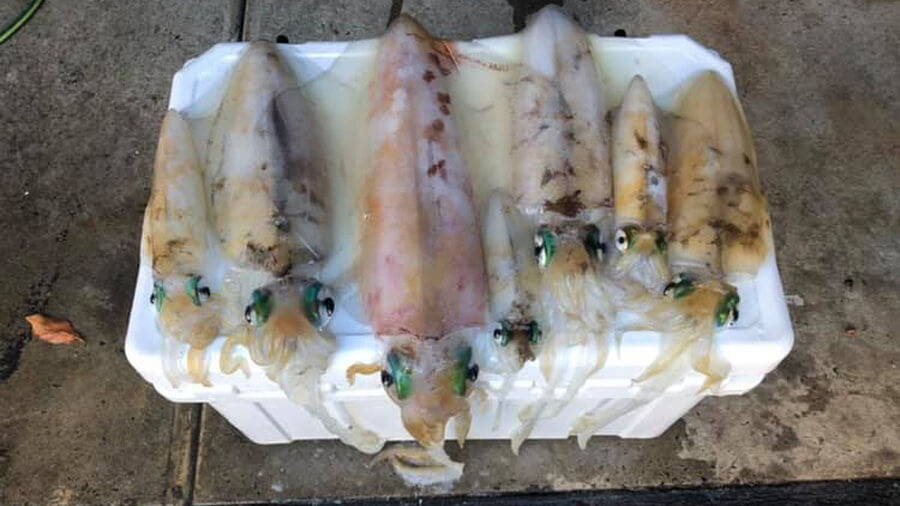 Mario Dugonjic and Bill Adamopoulos fished Flinders at first light during the outgoing tide and managed a few nice calamari in 7 metres to 10 metres.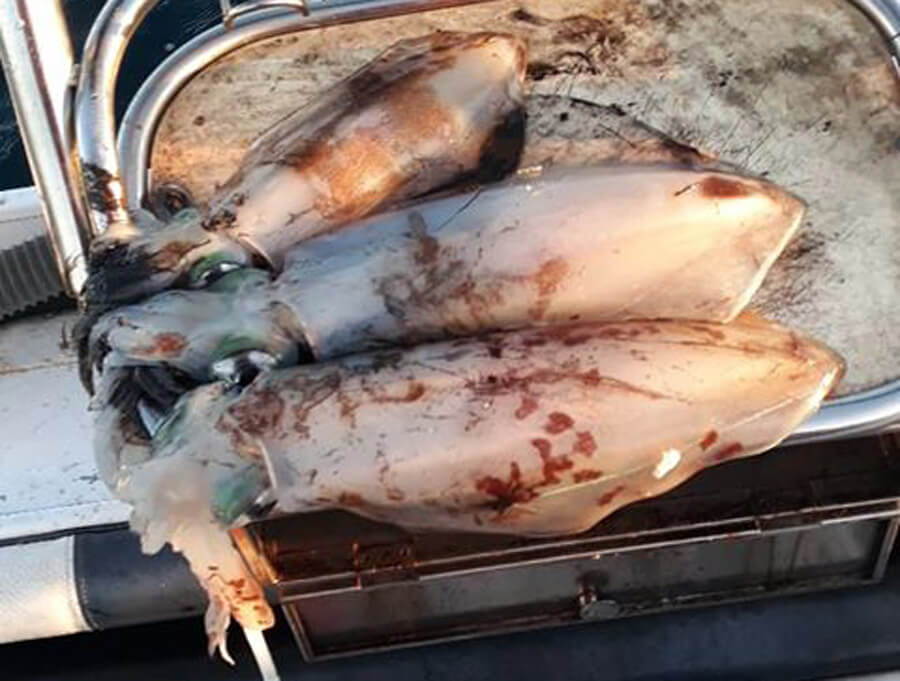 Dylan Gussenhoven headed out off Flinders and managed a few solid calamari in 2 drifts, well done mate.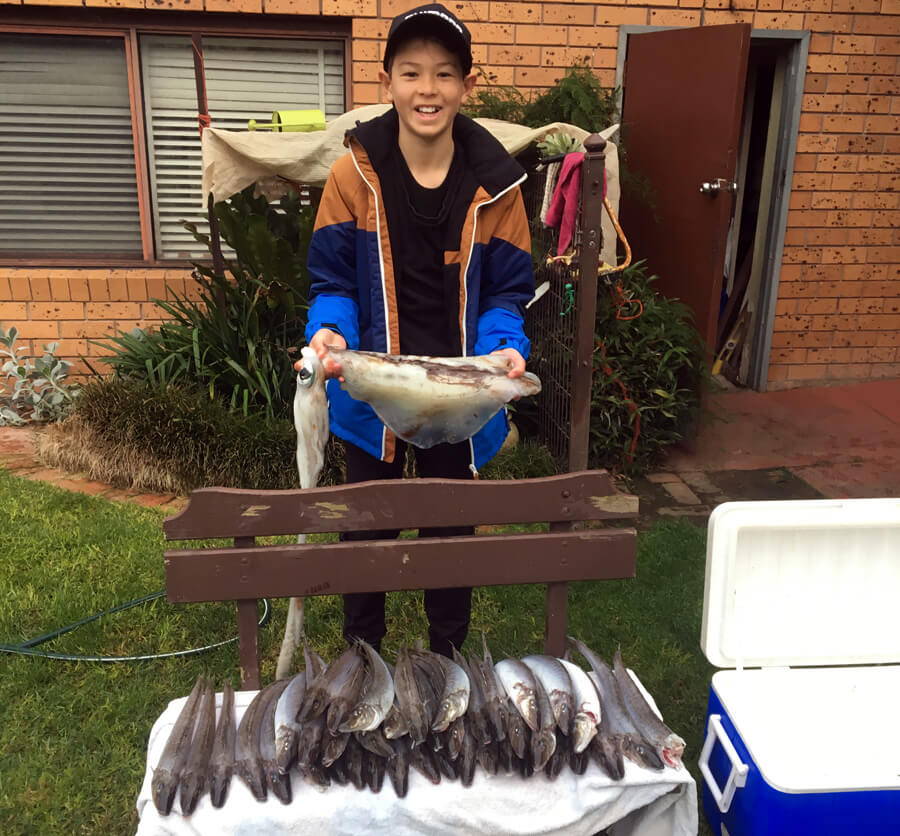 Aaron Khor fished with family near Tortoise Head last week and managed some fantastic whiting and a thumping squid.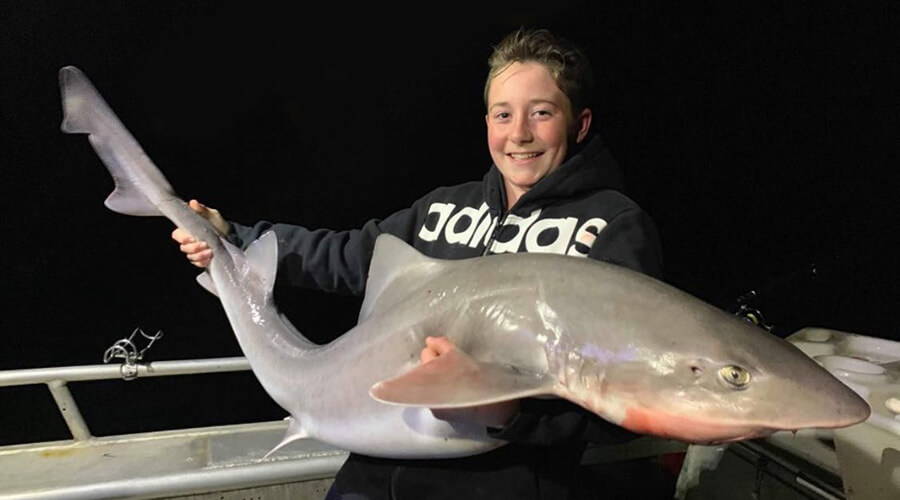 Kane Karayannis fished with Døm Giłlõt last week and managed a magnificent gummy that was released after a quick couple of photos.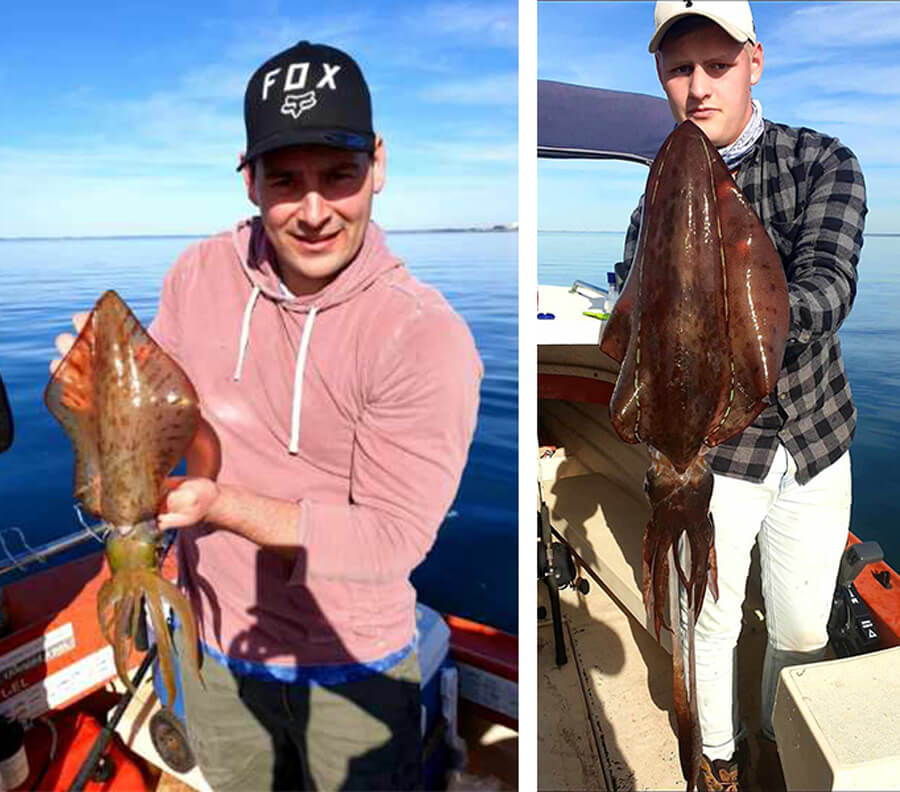 Hux Fysh and a mate had a great session on the Tyabb Bank calamari in 3 to 4 metres on the weekend using Shimano Sephia jigs in 3.5 size and silver whiting under a float. Their biggest hood was over 45cm.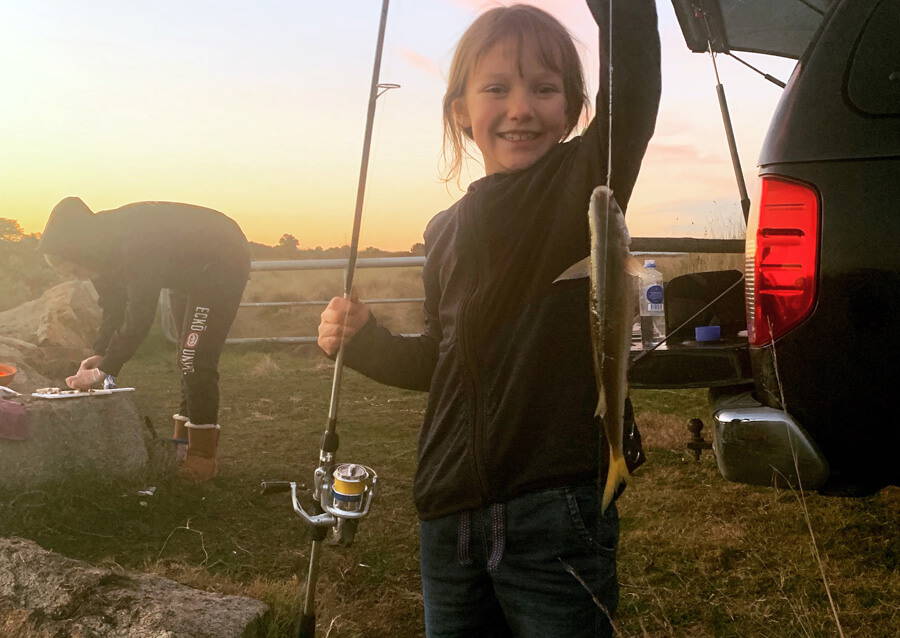 Holly Palmer had a great session at Cardinia Creek catching plenty of mullet.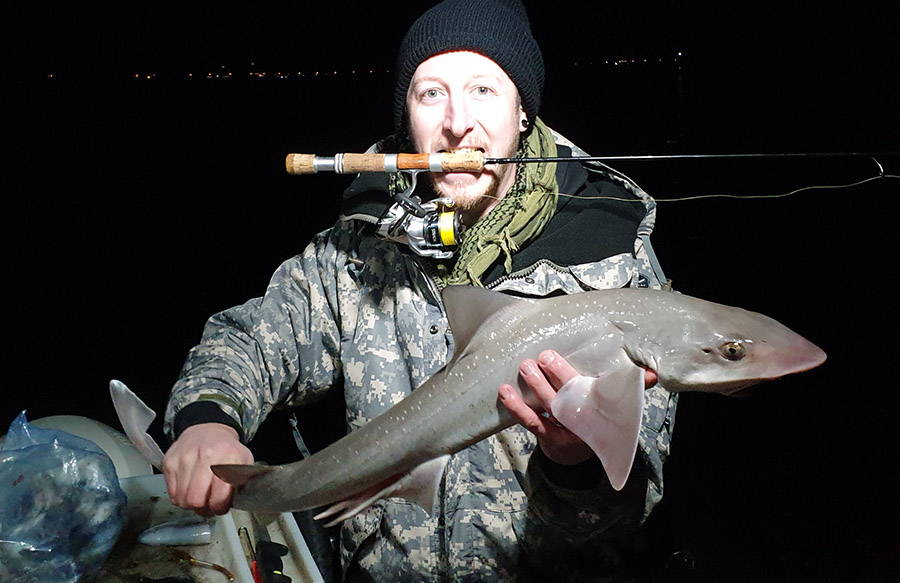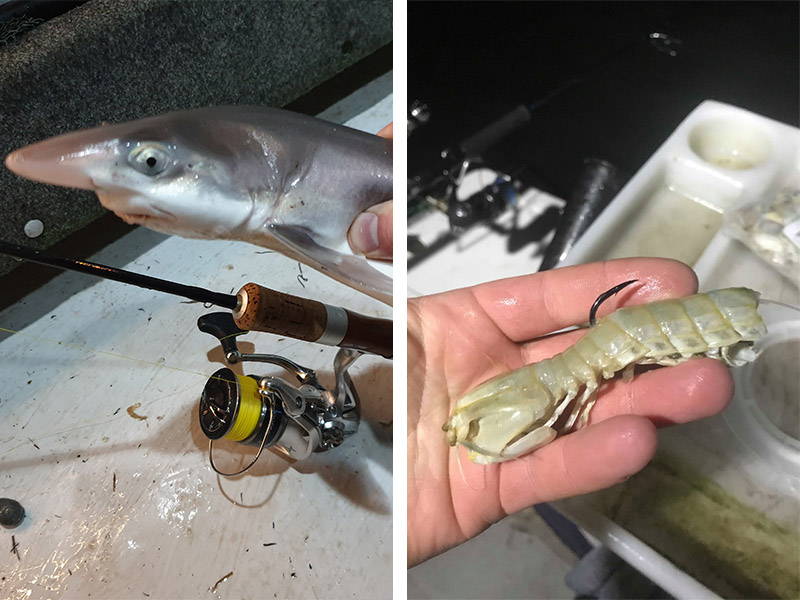 Staff members Mark Keaveny and Brendon Cunningham fished the incoming tide on Friday night and were rewarded with a consistent bite from gummies and school sharks. The guys found mantis shrimp to be the most productive bait for gummies as well as freshly caught yakkas. The guys were using Shinto Pro octopus beak hooks in size 4/0 and it was important to have gummy burley pellets running to keep the bite going.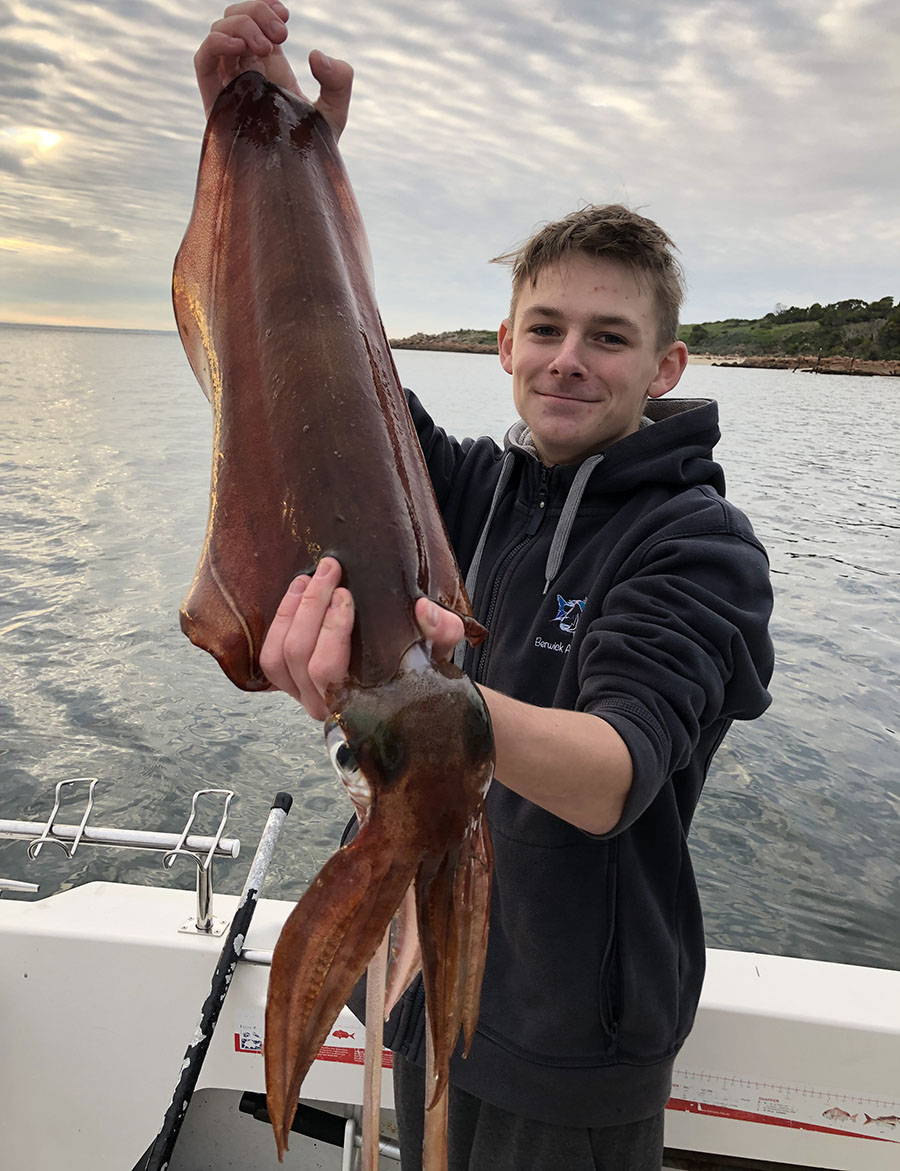 Max Moulday with a 2.5kg squid caught at San Remo at first light on a black squid jig in 3.5 size.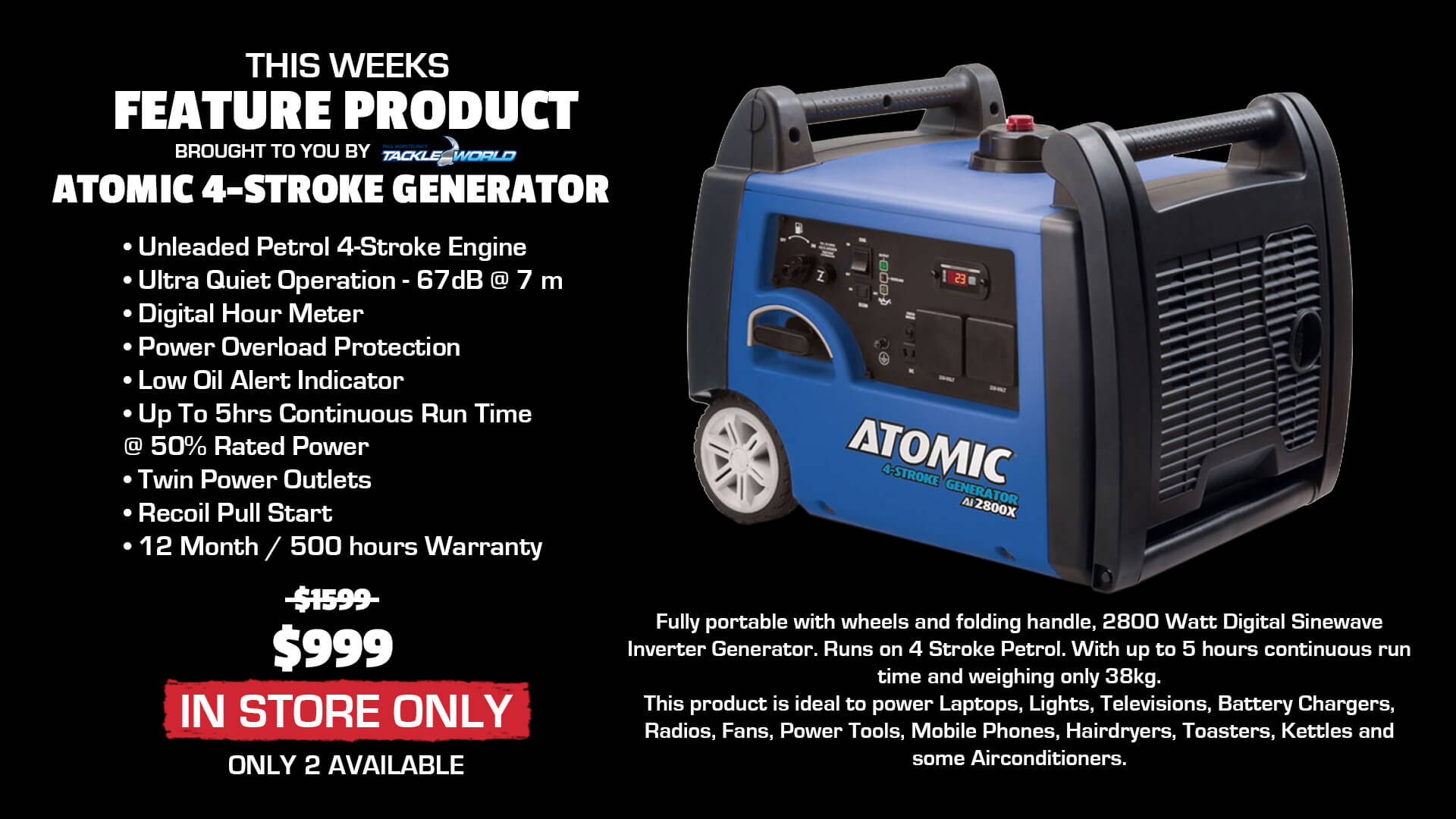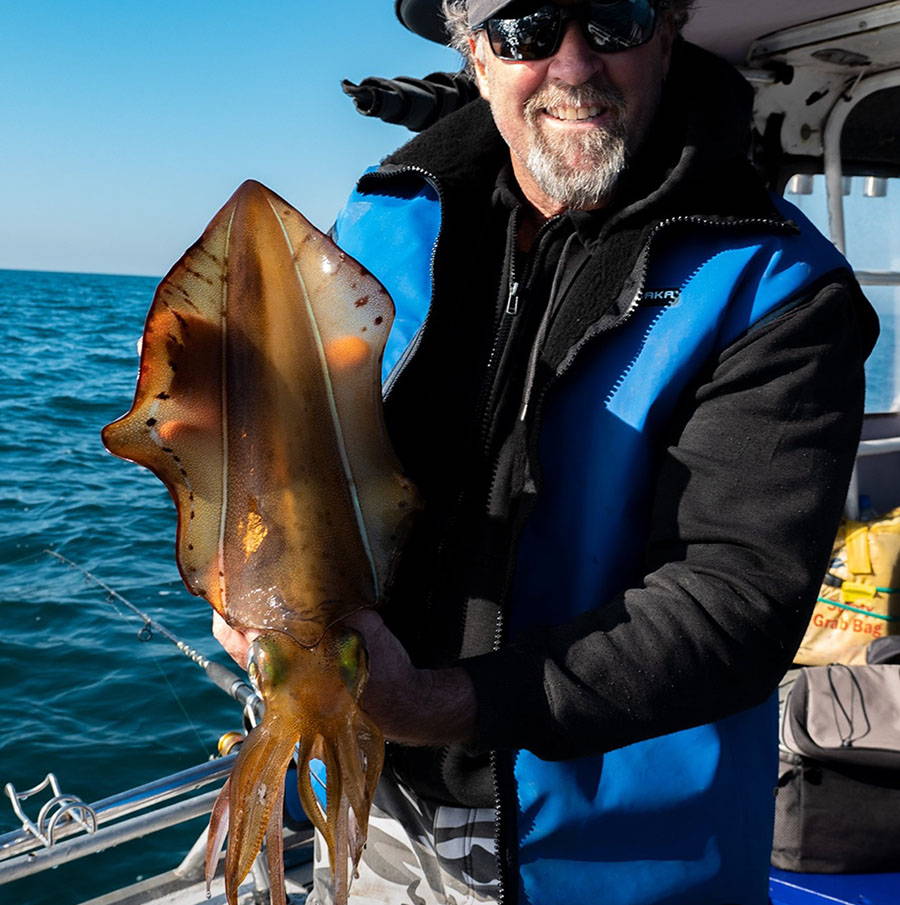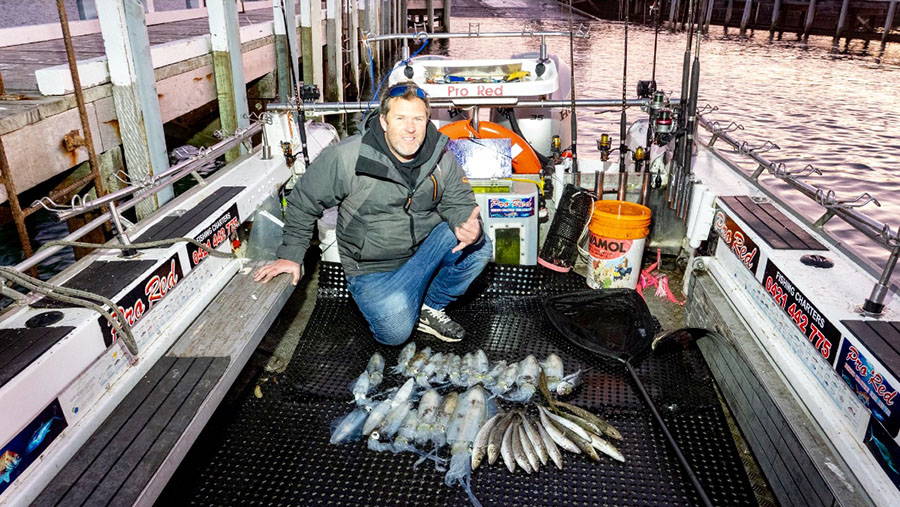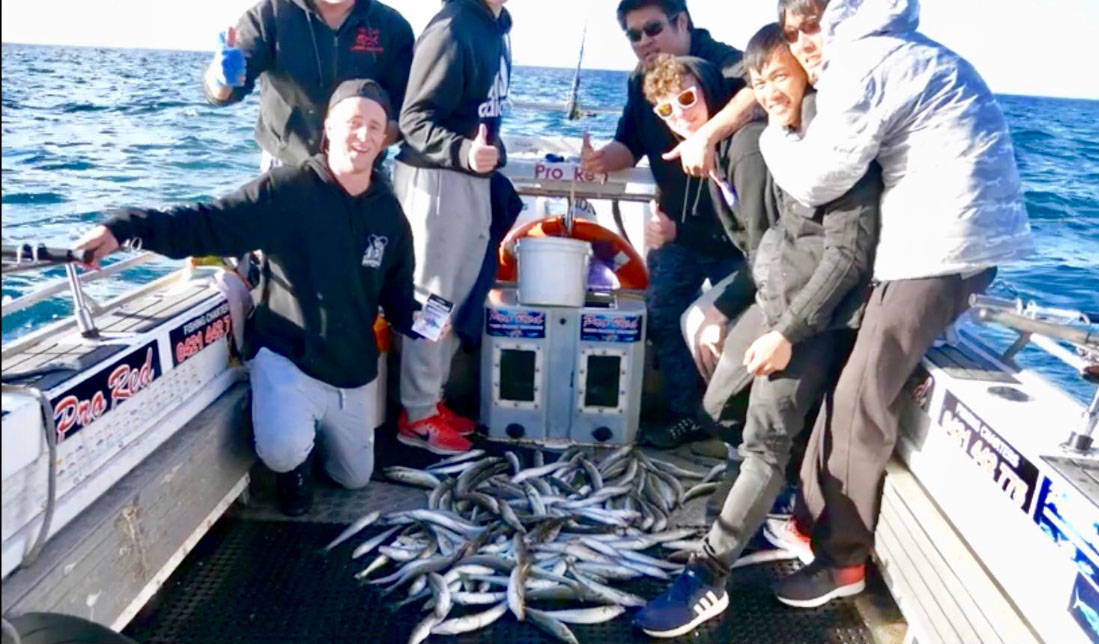 Jayson Turner from Pro Red Fishing Charters reports in from a week of successful whiting and squid charters on Port Phillip Bay. It's great to see there is plenty to be caught at the moment.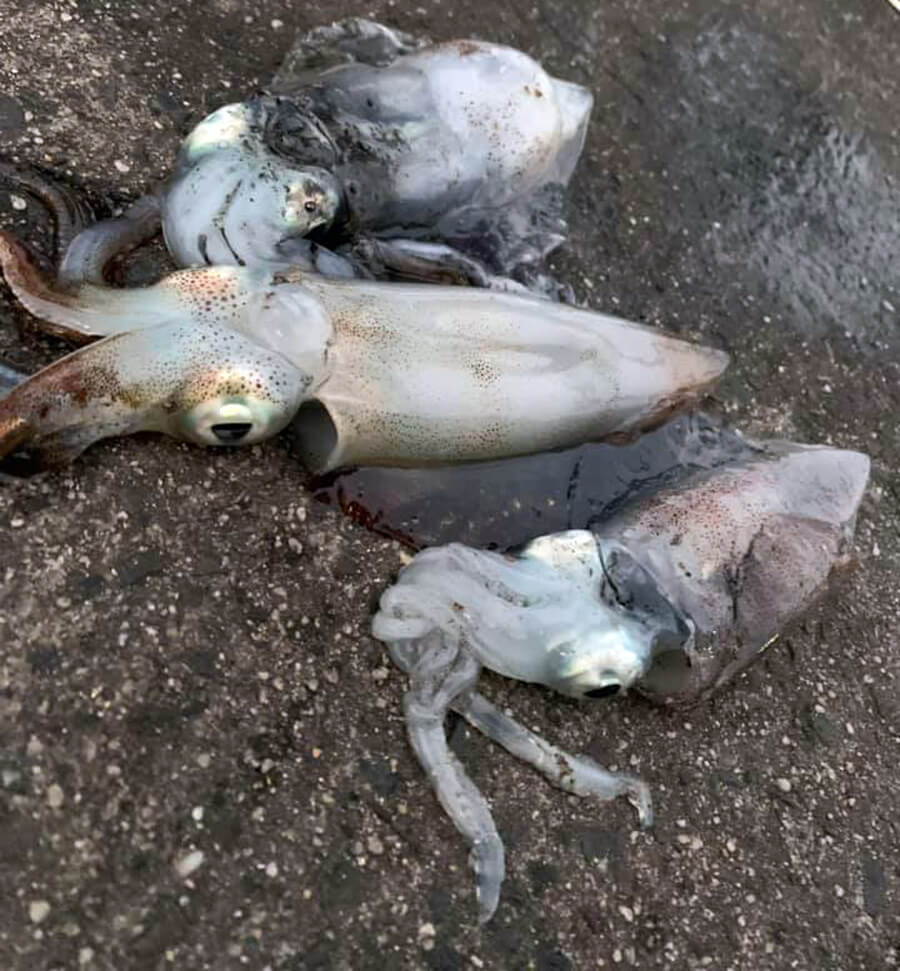 Ross Fountis managed to catch a few nice squid fishing land based at Black Rock this week.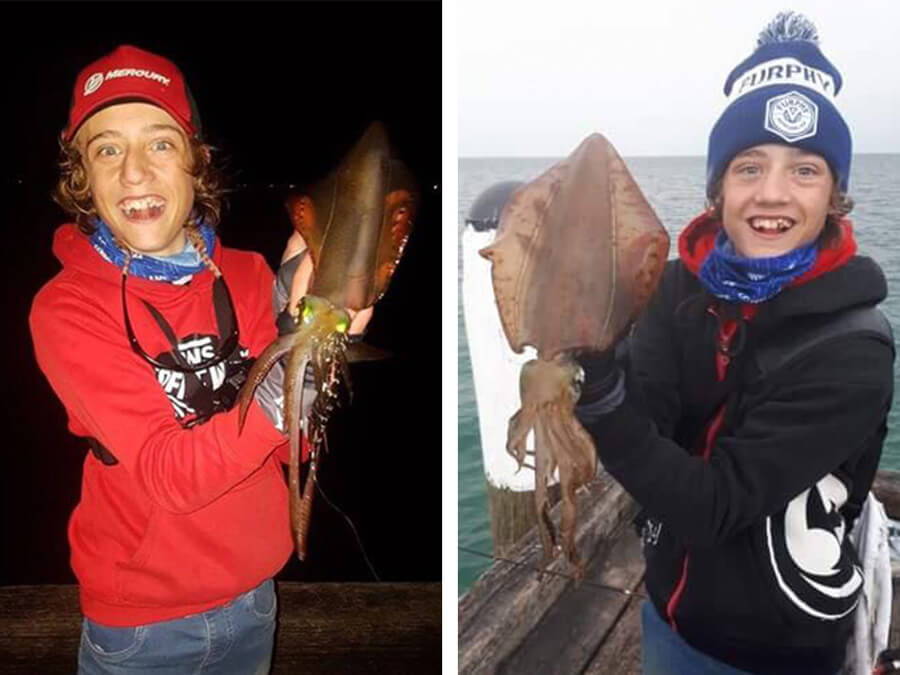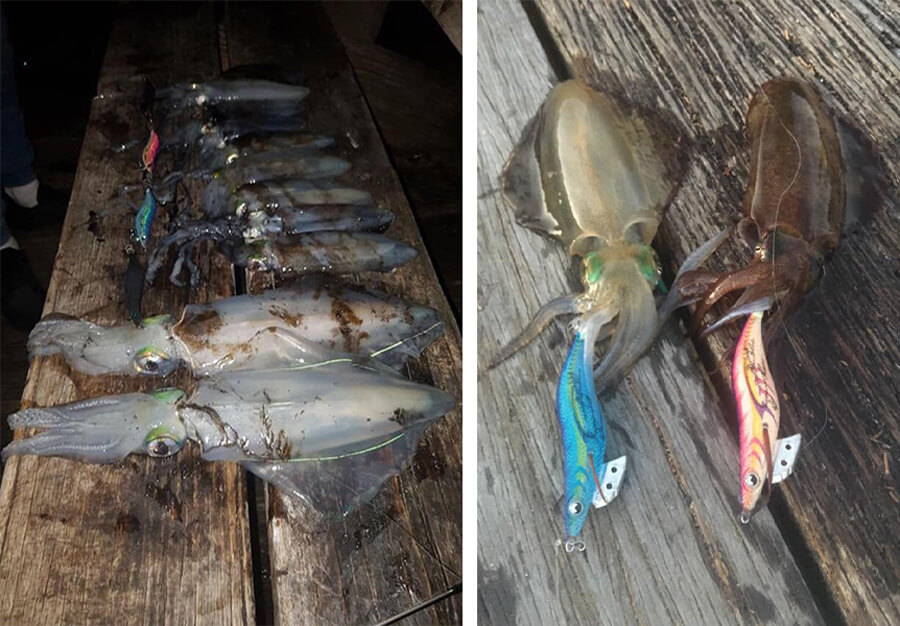 Matari Elwers has had a couple of great sessions on the local squid over the weekend with some nice hoods caught at Rye pier using Yamashita and Harimitsu jigs. Love ya work mate!
We love hearing feedback from our customers and Mark Mccartin messaged us after catching his very first gummy shark. Congratulations Mark.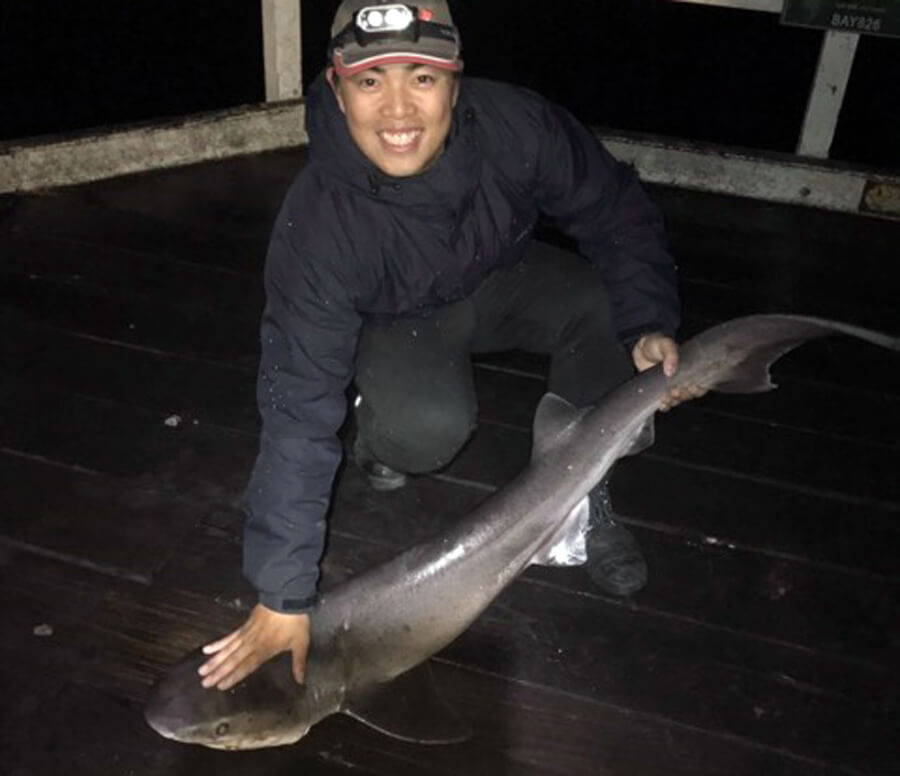 Danny Nguyen fished Point Lonsdale this week and landed this solid 7 gill shark on fresh tommy rough.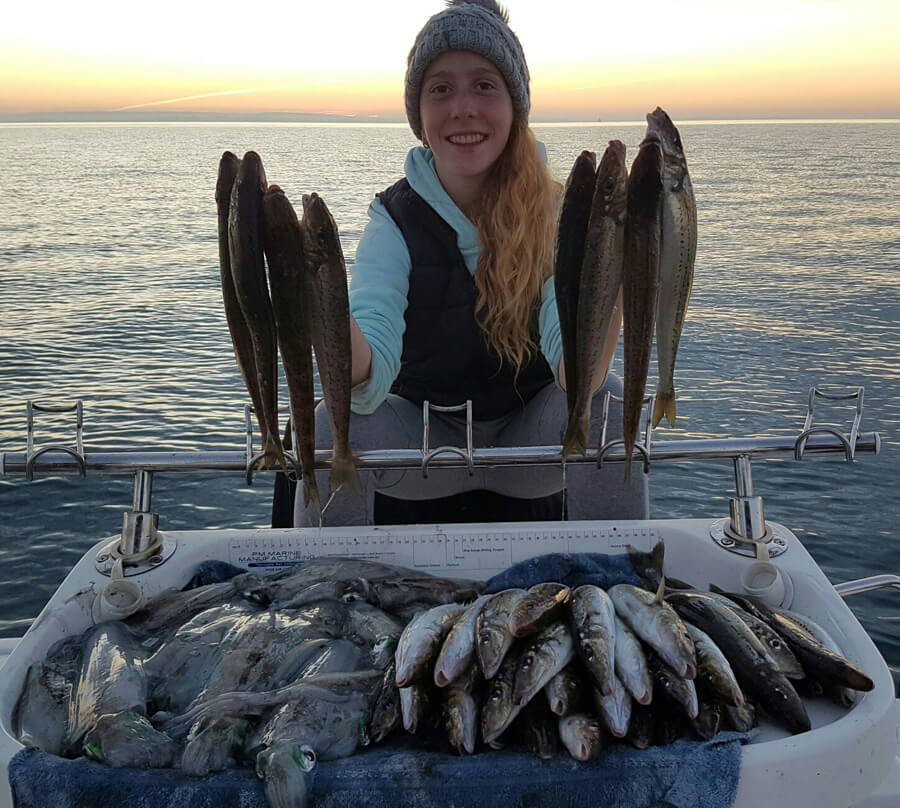 Amelia and her father fished St Leonards on Friday getting their bag of squid in no time and then finding a school of whiting in 4 metres of water. Well done guys and thanks for sending in your report!
David from The Peninsula Snapper Challenge and Rod fished St Leonards last week and landed some fantastic King George whiting.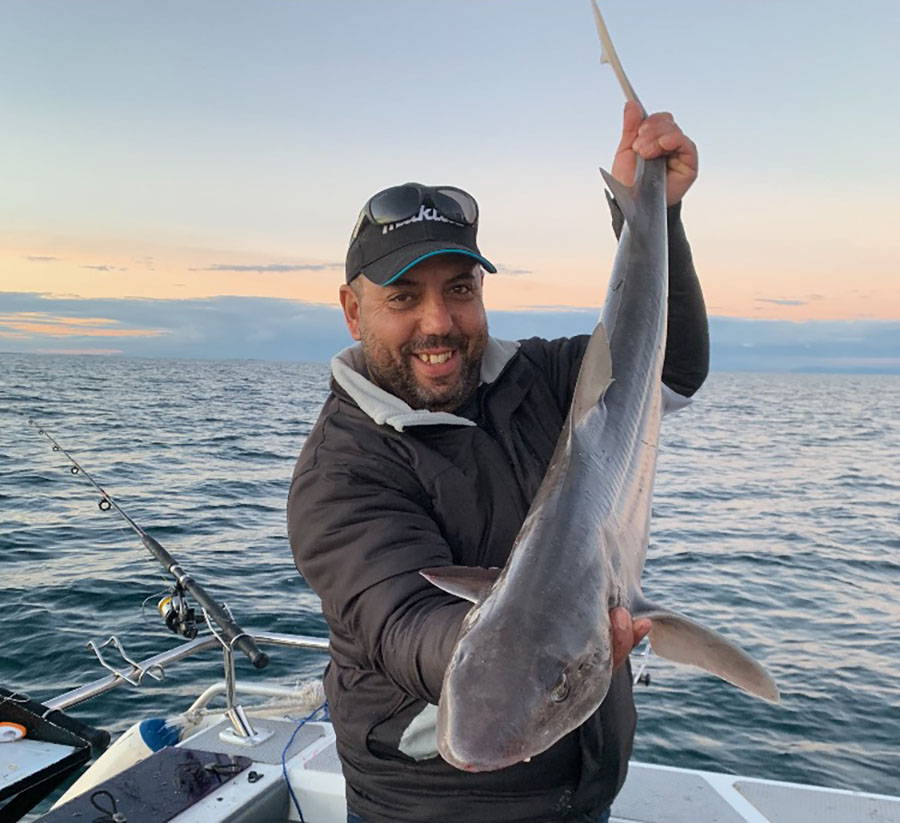 John Kalantzis with a nice winter gummy caught on a slimey mackerel head in 12 meters of water out from Werribee.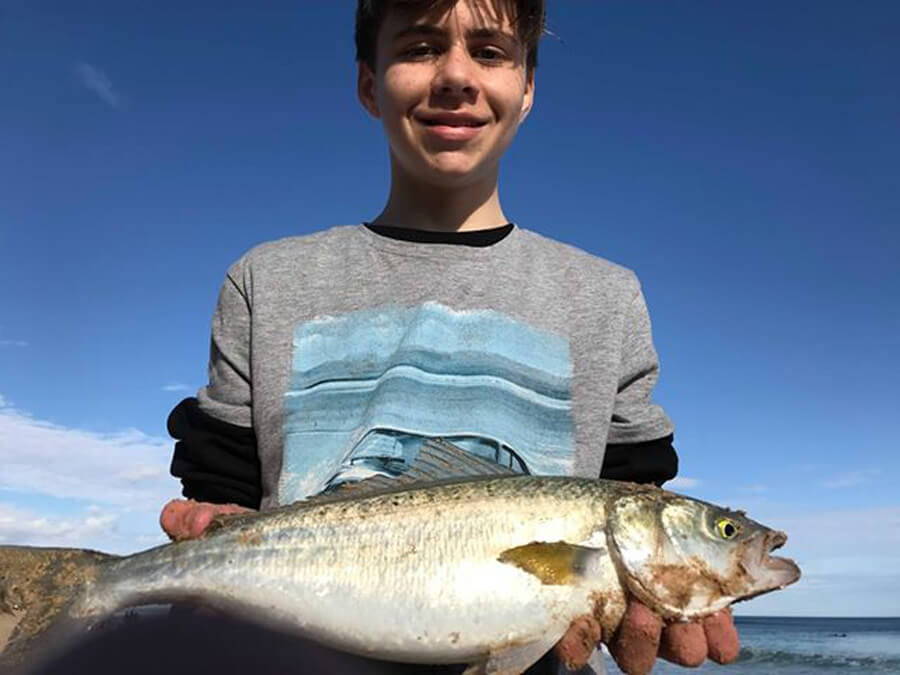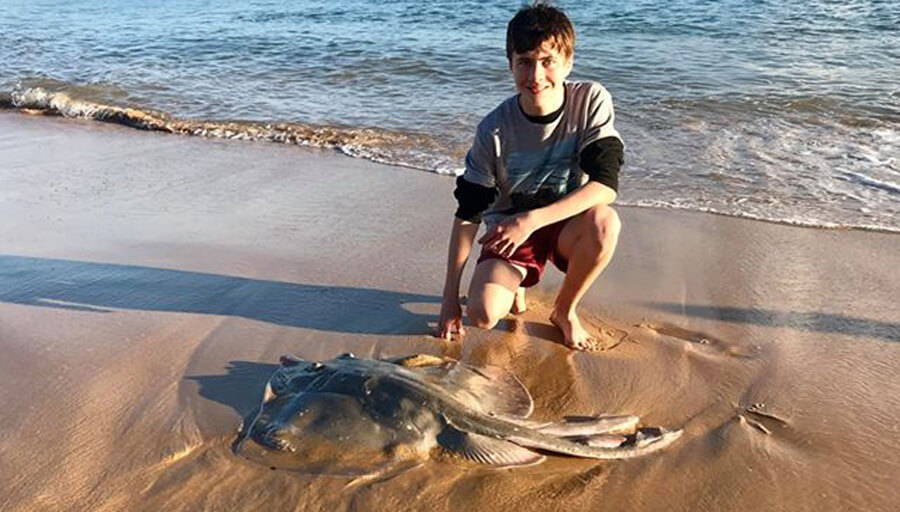 Mark Otten and his son Samuel fished Venus Bay and together they managed some fantastic salmon. Mark fished using Halco metal lures rigged with BKK twin assist hooks and Samuel fished with a paternoster rig using pilchard at the bottom and a red/white surf popper at the top.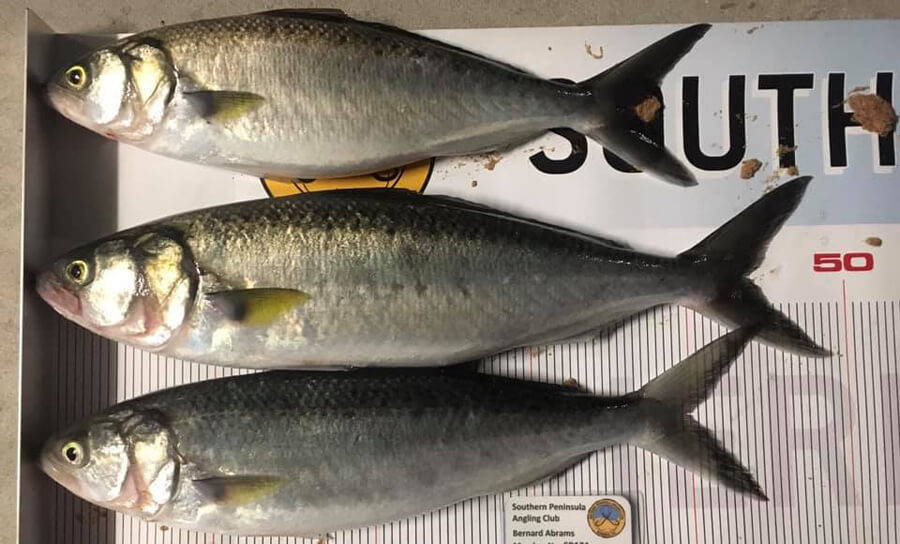 Bernard Abrams fished Gunnamatta surf beach and got into a few fantastic salmon on Sunday arvo.
Ebony Lesiputty caught her first Murray cod on a lure this week while fishing at Nagambie this week.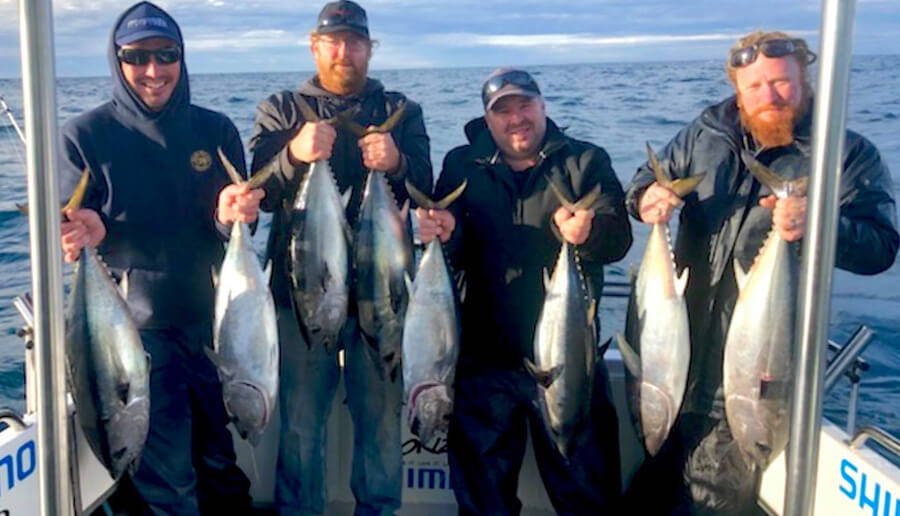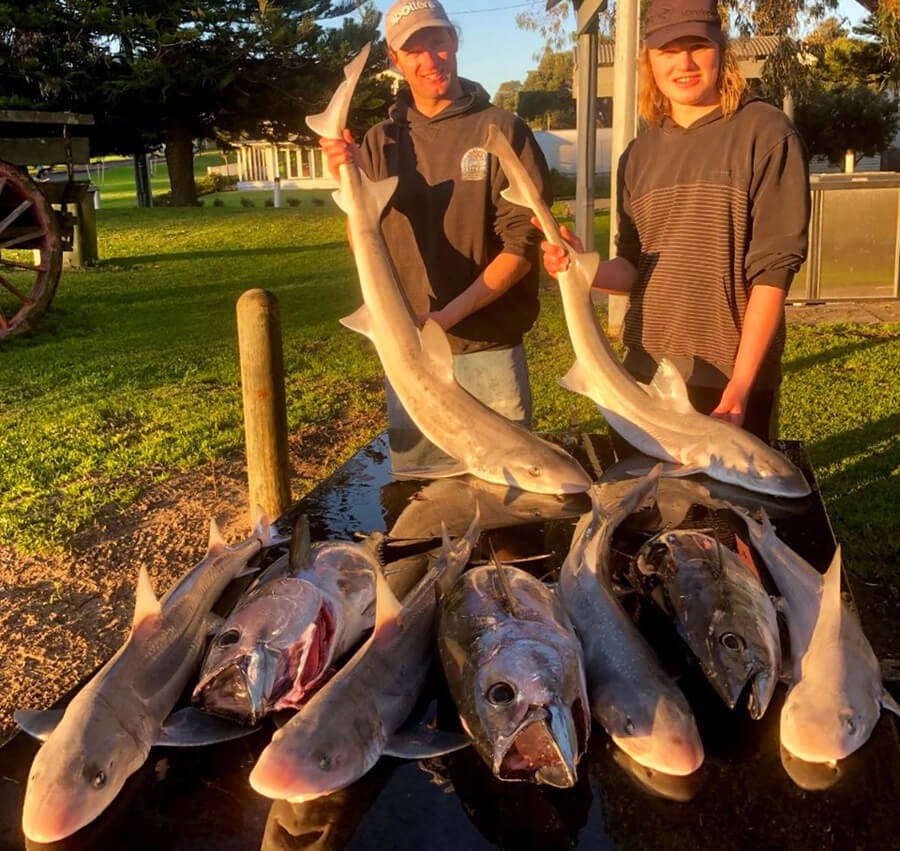 Dan from Salty Dog Charters had a good week on the Portland school tuna with their 2 charters bagging out early on both days. The Salty Dog Crew also headed out on a recon mission last week having no trouble finding the tuna and a good feed of gummies.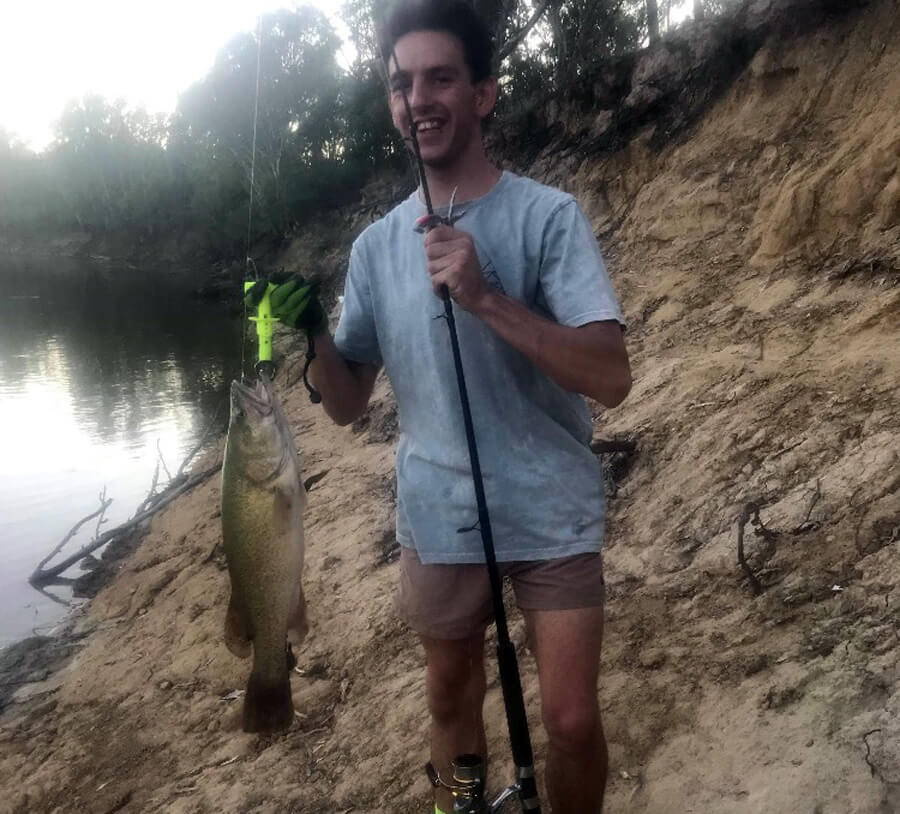 Cameron Butler caught a nice 68cm Murray cod fishing at Tocumwal last week.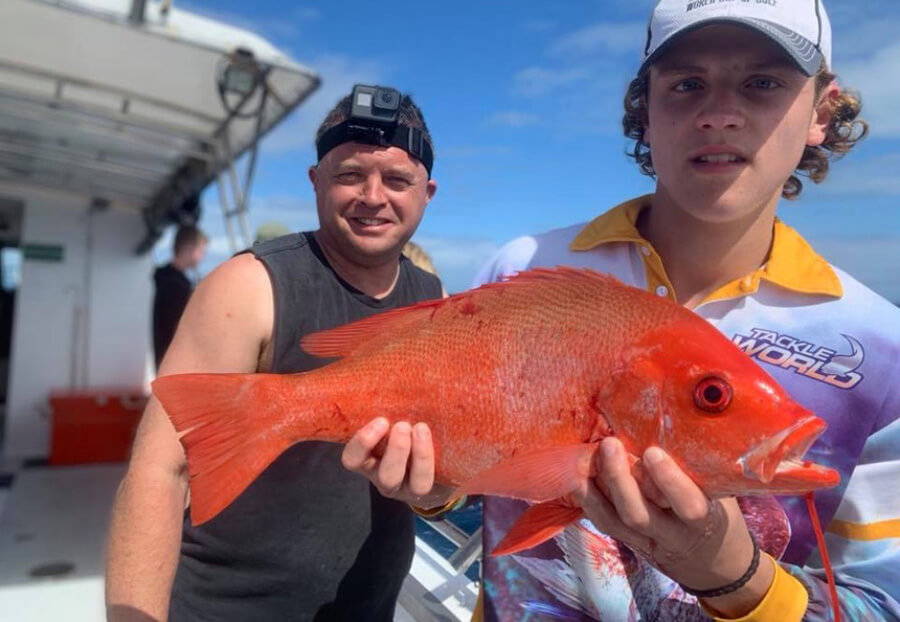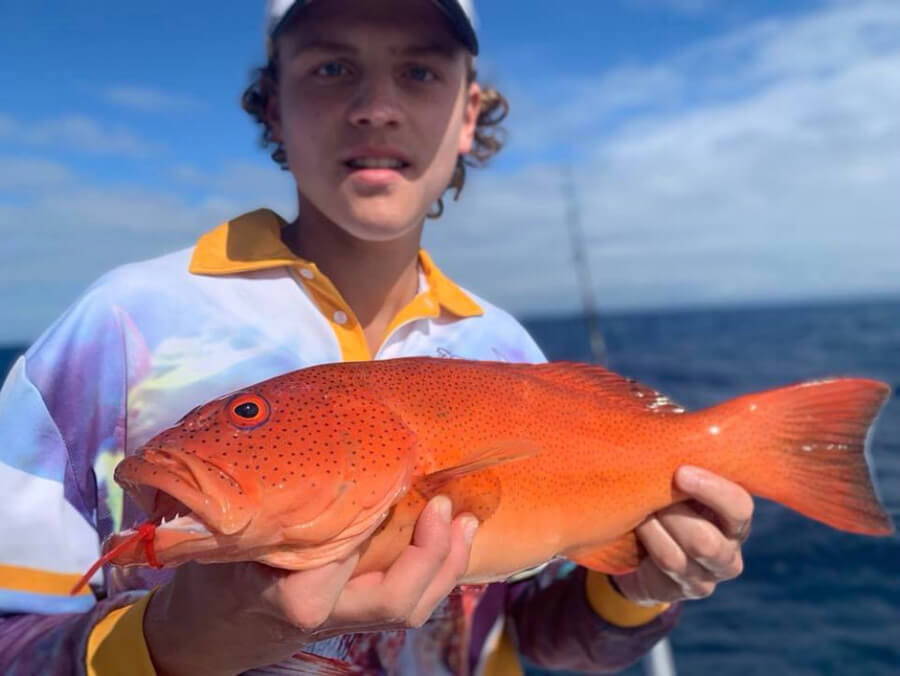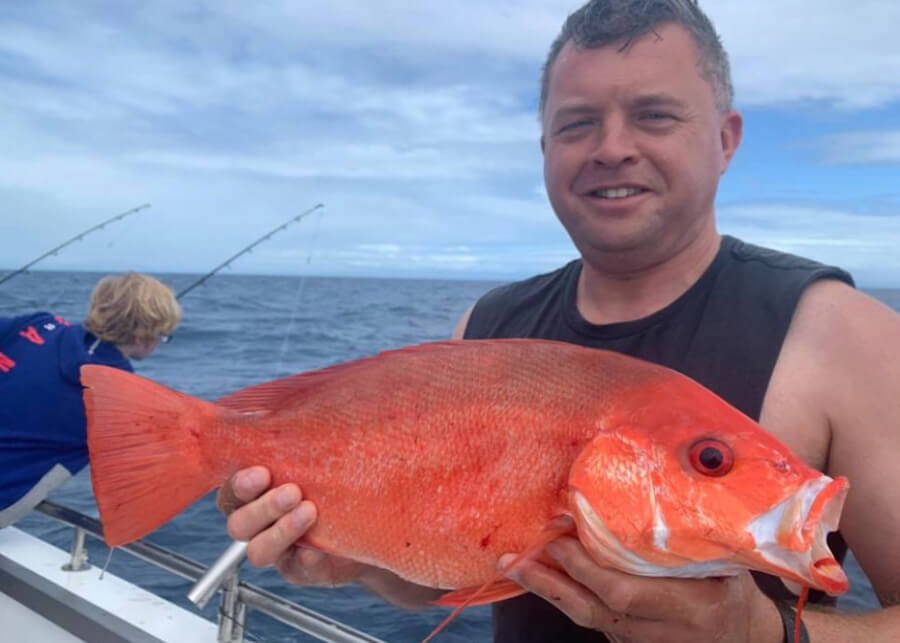 Abe and Daniel fished Port Douglas and had a ball catching coral trout and nannygai.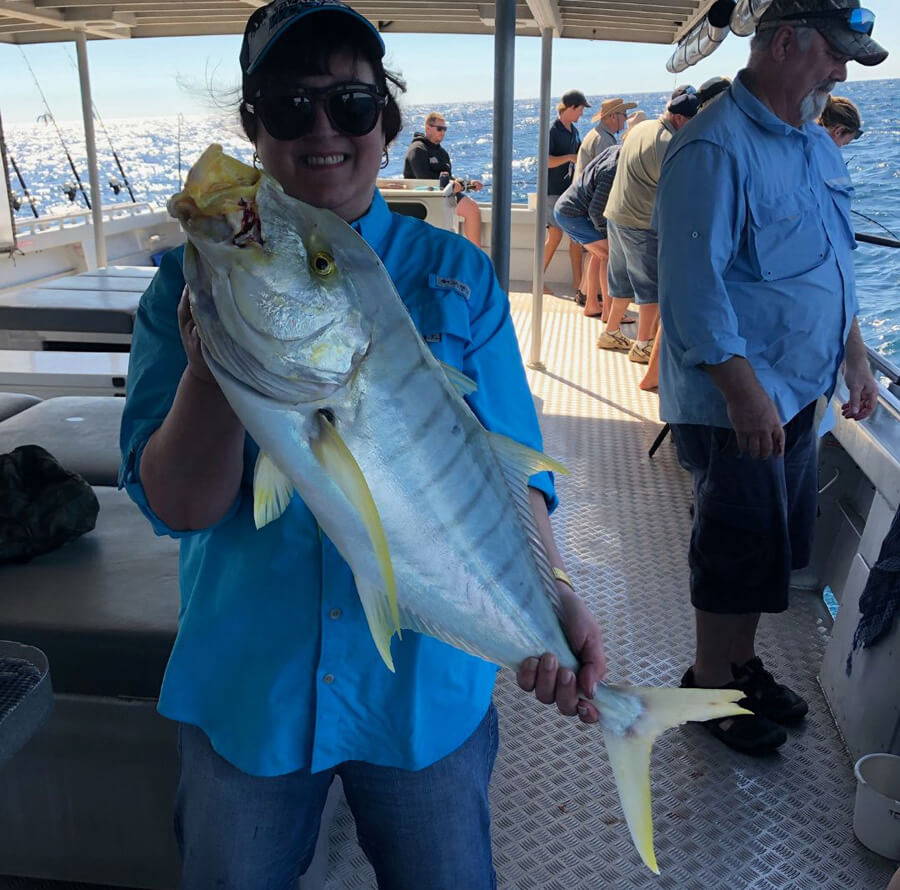 Cathy Slater with her biggest ever fish, a golden trevally caught at Broome.
IFISH WITH TACKLE WORLD SERIES 14
TALKING FISHING - C31 TV - TUESDAYS @8.30PM
Catch "Talking Fishing" on Melbourne's C31 TV (CH44) at 8.30pm each Tuesday night. Staff members David Kramer and Adam Ring together with Steve "Trelly" Threlfull host Australia's only "Live to Air" fishing television program at this prime time-slot. Put Tuesday night's at 8.30 away in your weekly diary of TV shows to watch!
Jupiter is bigger than all the other planets in our solar system combined.


Good Luck with your fishing and stay safe on the water,

The TEAM at Tackle World Cranbourne & Mornington