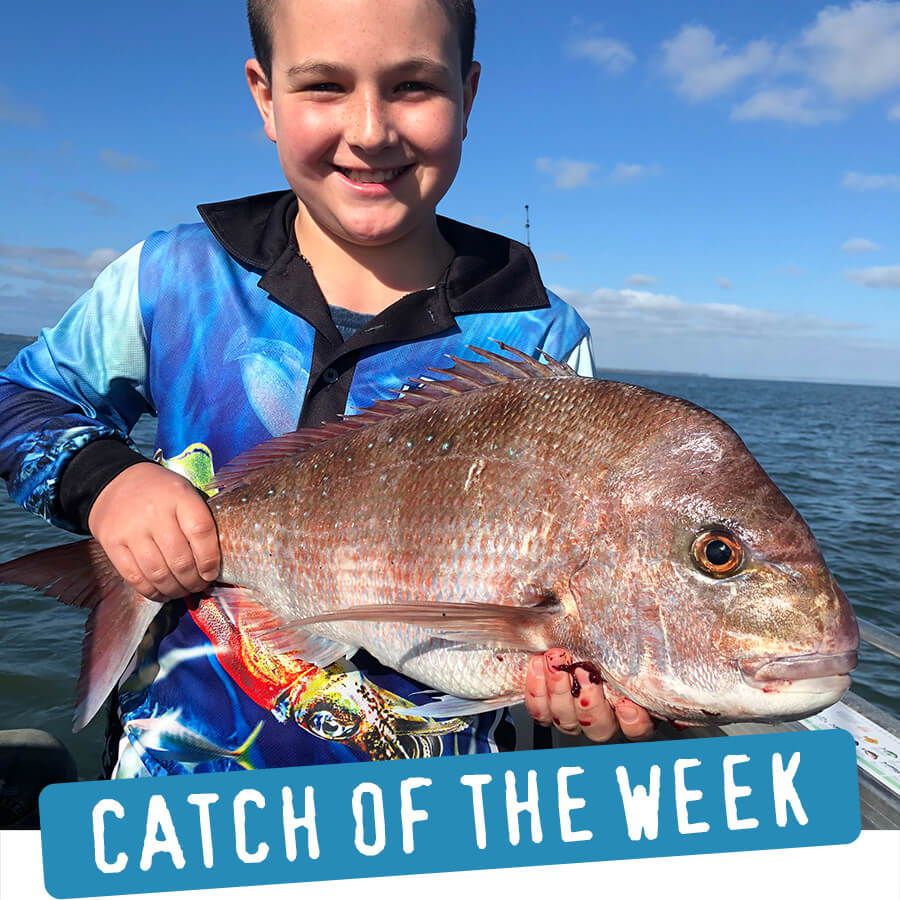 Congratulations to Zak Larkin on his first ever snapper caught fishing at Corinella this week, you are this weeks Catch of the Week.
Steve Johnson from Ace Fishing Charters has been getting his Christmas Charter customers on to some fantastic fish this week with plenty going around for his customers.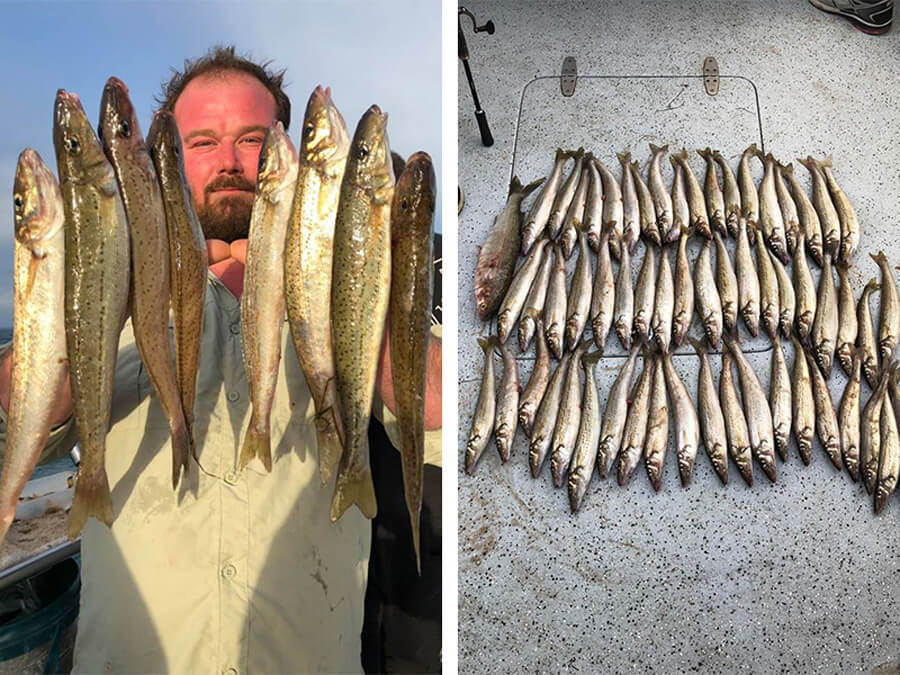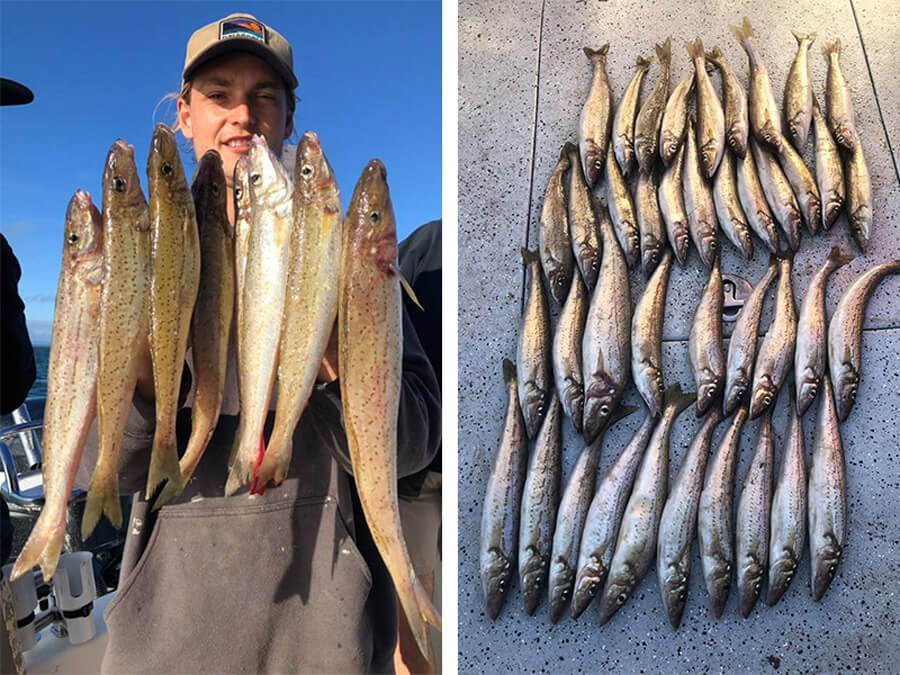 Shaun Furtiere from Think Big Fishing Charters has been slaying the whiting with his customers this week fishing the usual hot spots from the top of the North Arm to Shallow Bank.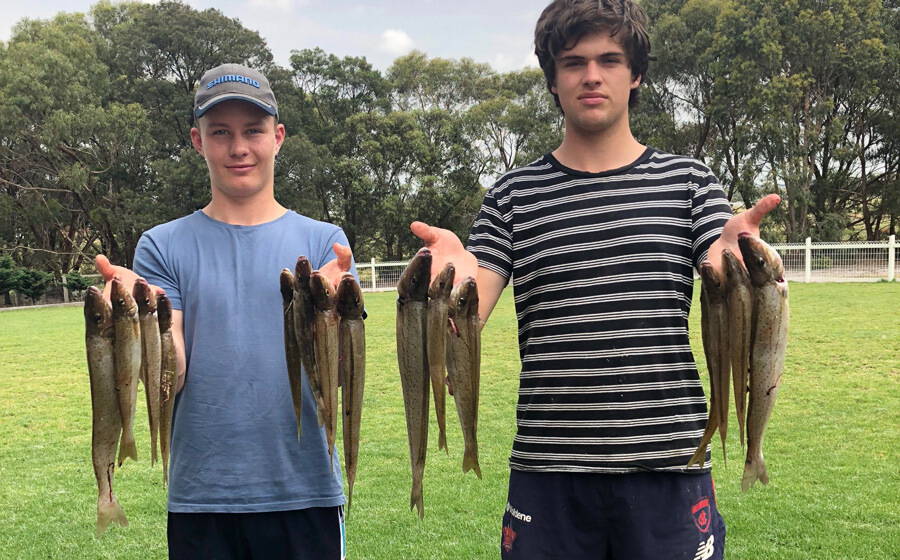 Fishing the Middle Spit on Saturday Tom Vercoe and James Egan landed some beautiful King George whiting with squid being the best bait; their biggest whiting went 46cm.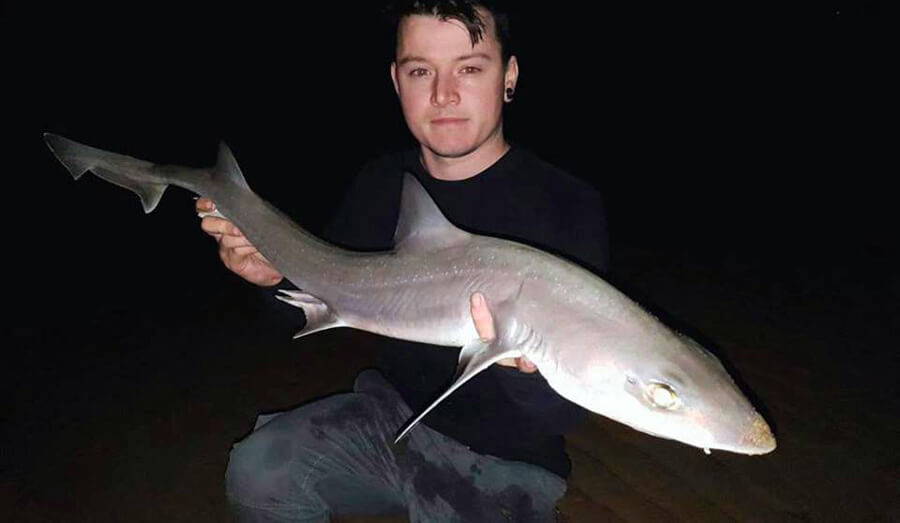 Daniel Jewson put in the hours this week with this beautiful gummy landed as well as 5 others all caught on fresh squid fishing the sand at Stockyard Point.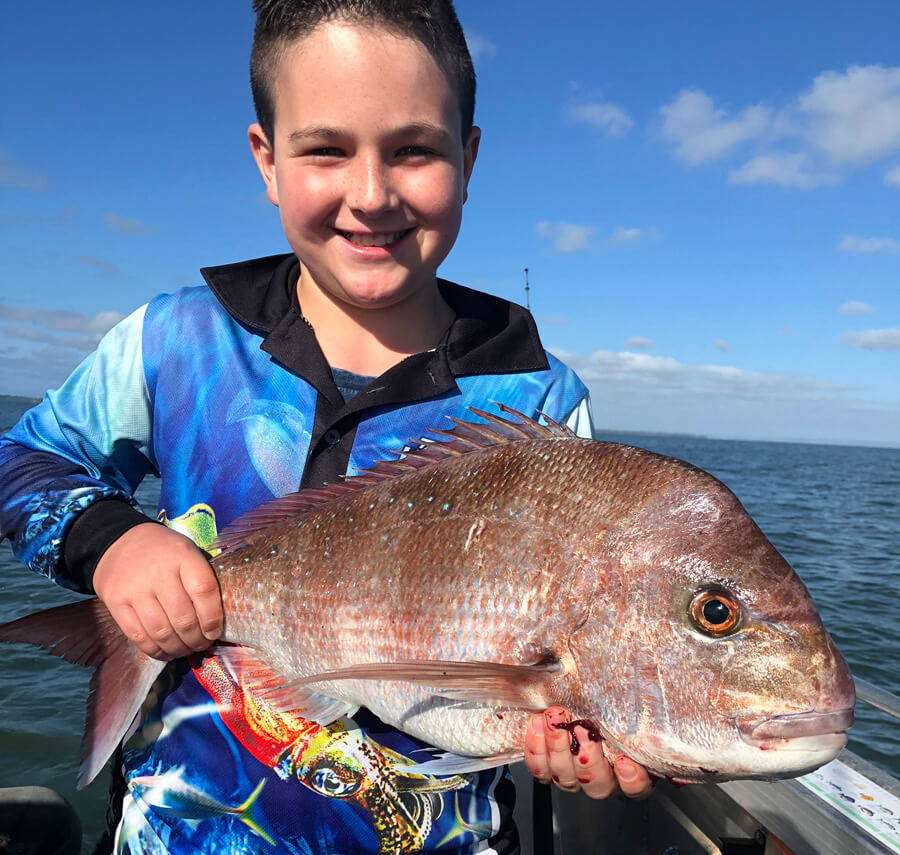 10 year old Zak Larkin fished with his dad Sam last week and and landed his first ever snapper, a ripper 62cm fish caught at Corinella. Well done Zak.
Annaliese Groves fished land based at Corinella and caught her first ever gummy shark of 60cm on a trevaly chunk.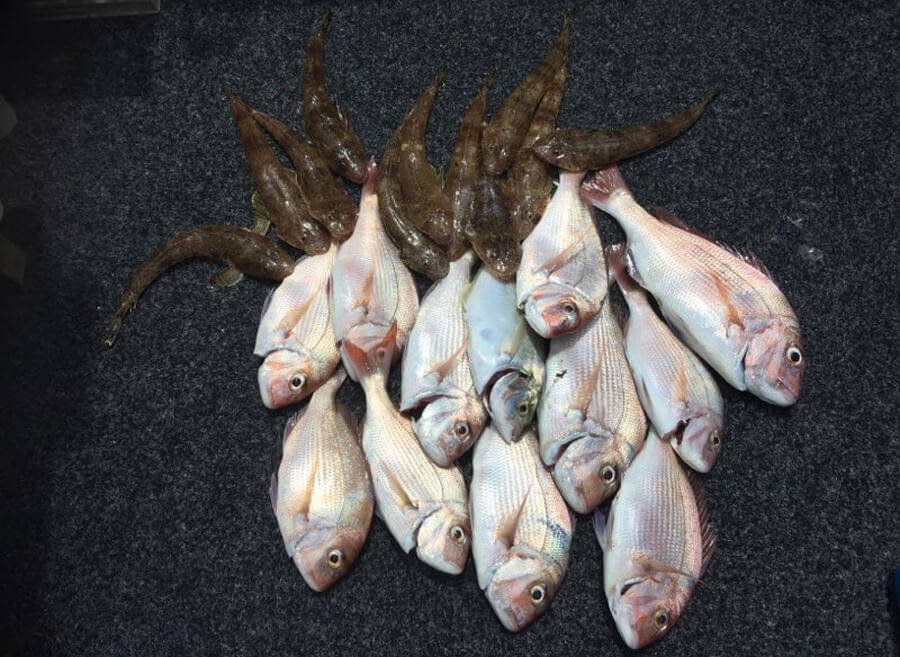 Kozzi and Huff had a ripper session off Tortoise Head this week landing a nice feed of snapper and flatties.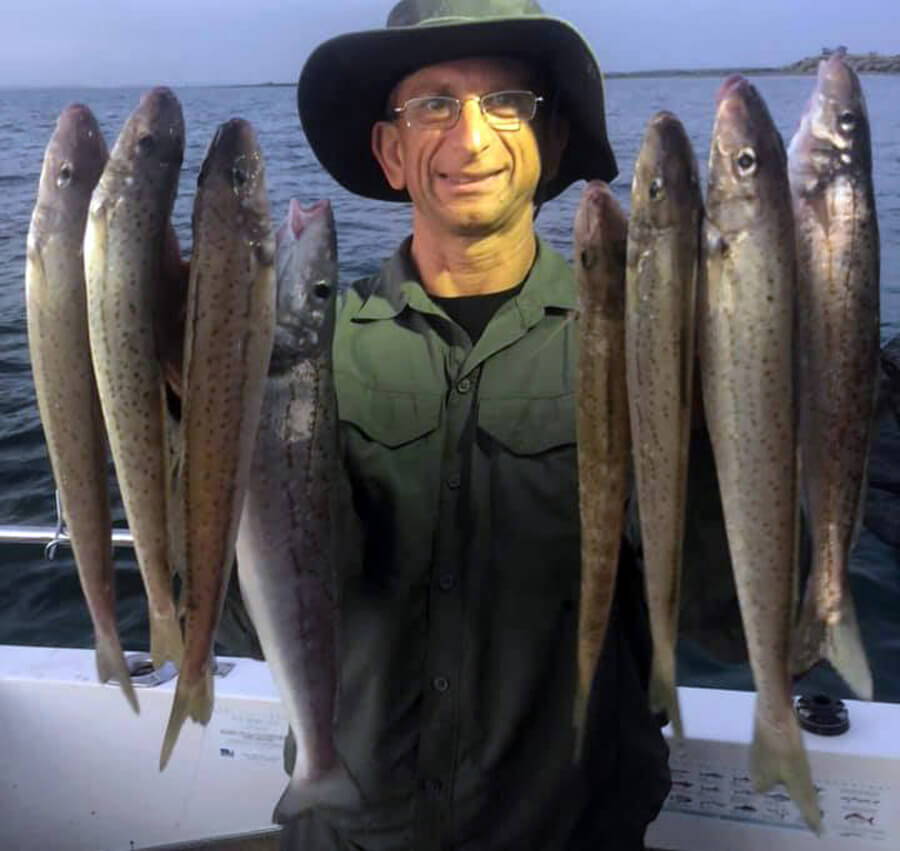 Julian Rennie fished with Shane Schrader last week at Tortoise Head and landed a fantastic bag of whiting on pipis in 5 metres.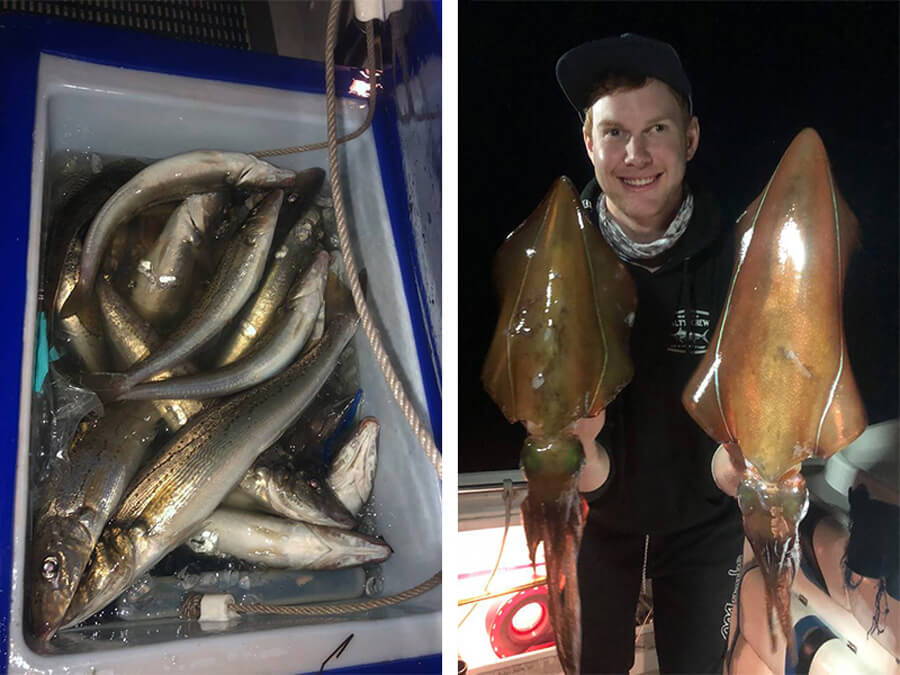 Staff member Jeremy De Haan headed out from San Remo with Jake Tognazzini on Wednesday night and started with some stonker squid followed by a beautiful bag of whiting in 6 metres. Odori 3.0 sized jigs did the damage on the squid with fresh squid becoming the ideal whiting bait.
Chris Preston headed for Rhyll this week and landed himself a mixed bag to die for; his gummies and snapper were landed on fresh yakka and the whiting on pipis.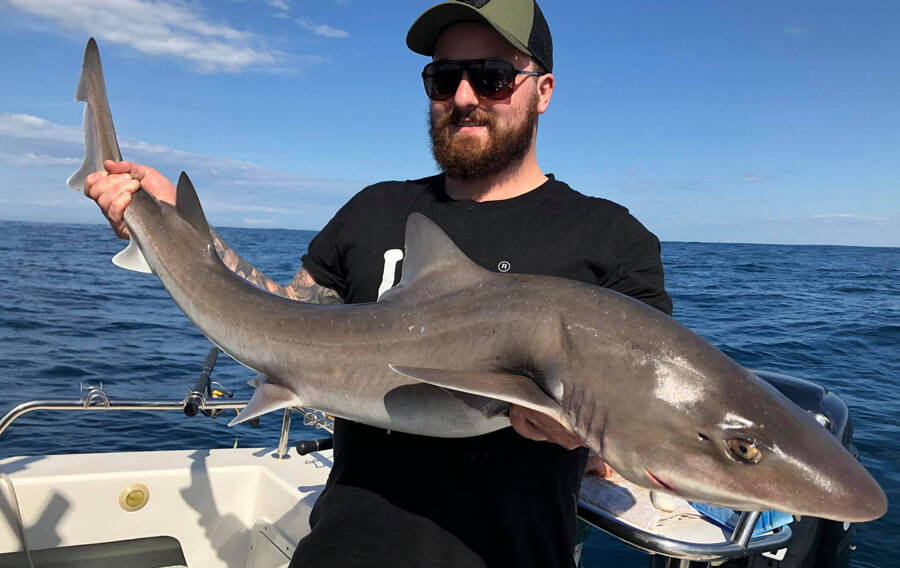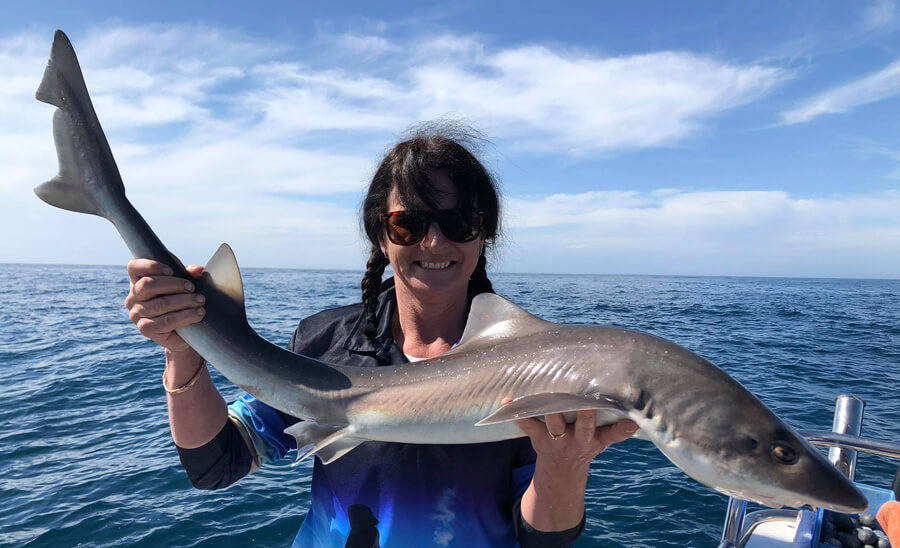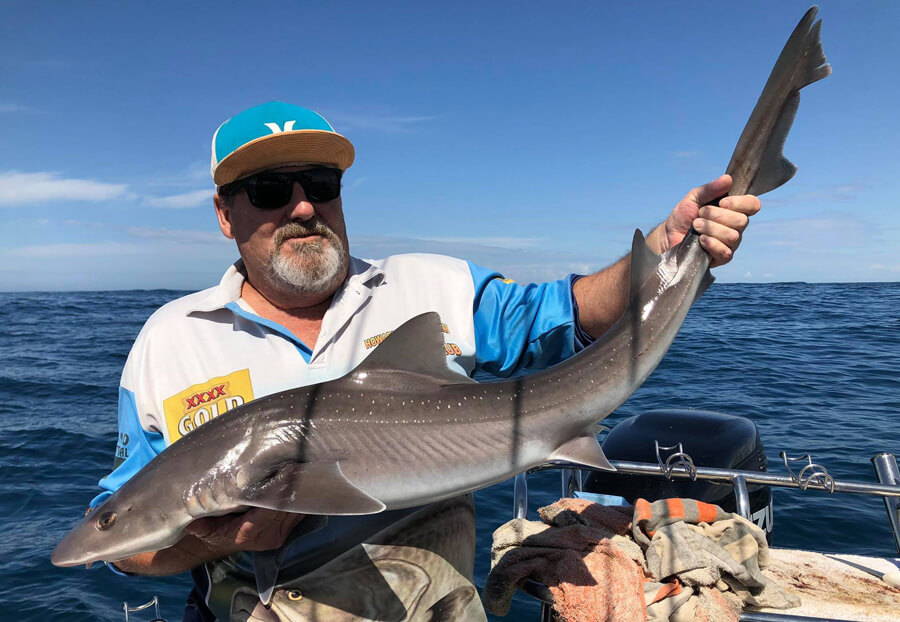 Shaun Furtiere from Think Big Fishing Charters headed out with some customers around the Western Entrance in search of some big gummies and that is what they found with some cracking fish landed by all.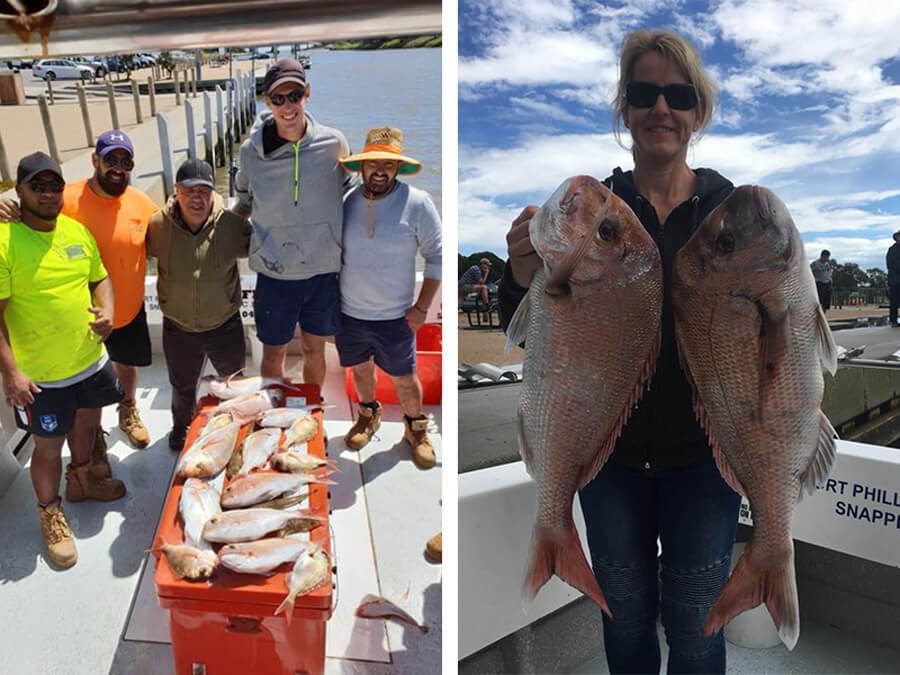 Daniel Zagami from Fish On Charters had some fantastic sessions on the snapper this week with some ripper fish landed with his customers.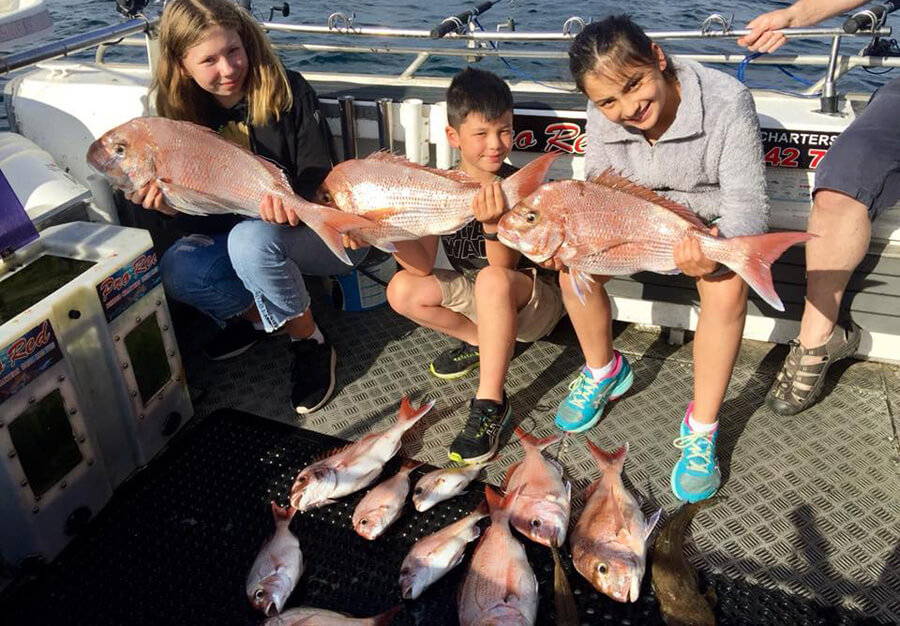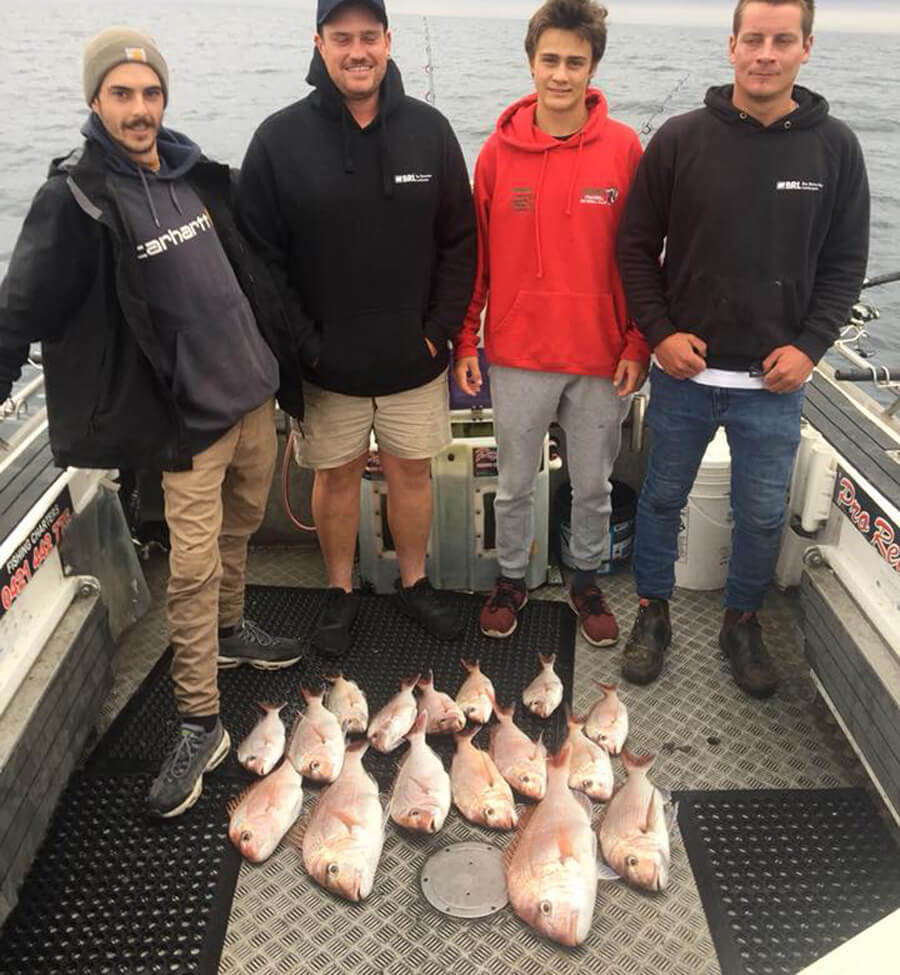 Fishing out from Carrum Jayson Turner from Pro Red Fishing Charters had some great sessions on the snapper with his customers this week as well as a nice sized gummy.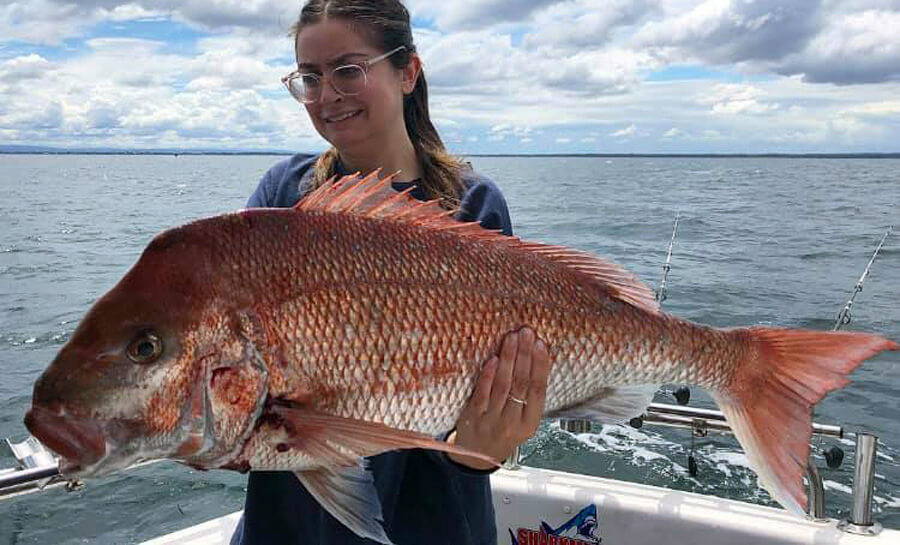 Dylan and Rob Mizzi from Sharkmen Fishing Charters helped their customers land some fantastic snapper this week with this stonker the stand out fish, well done guys!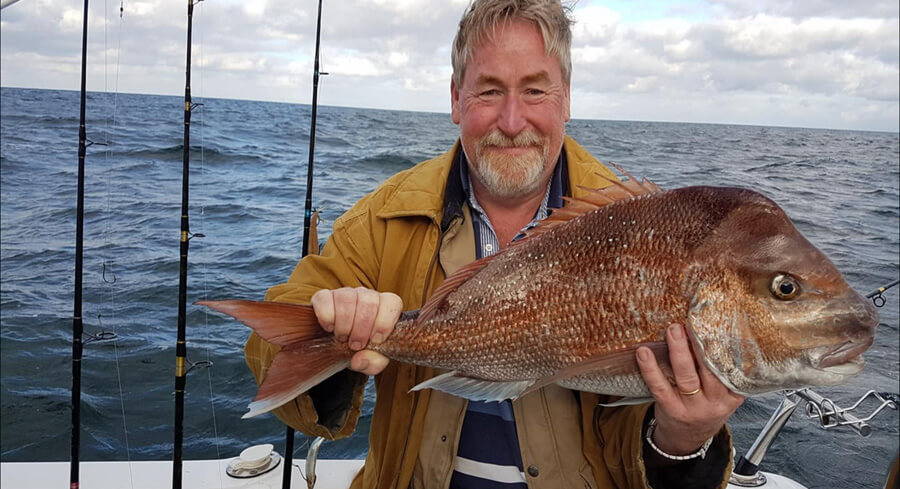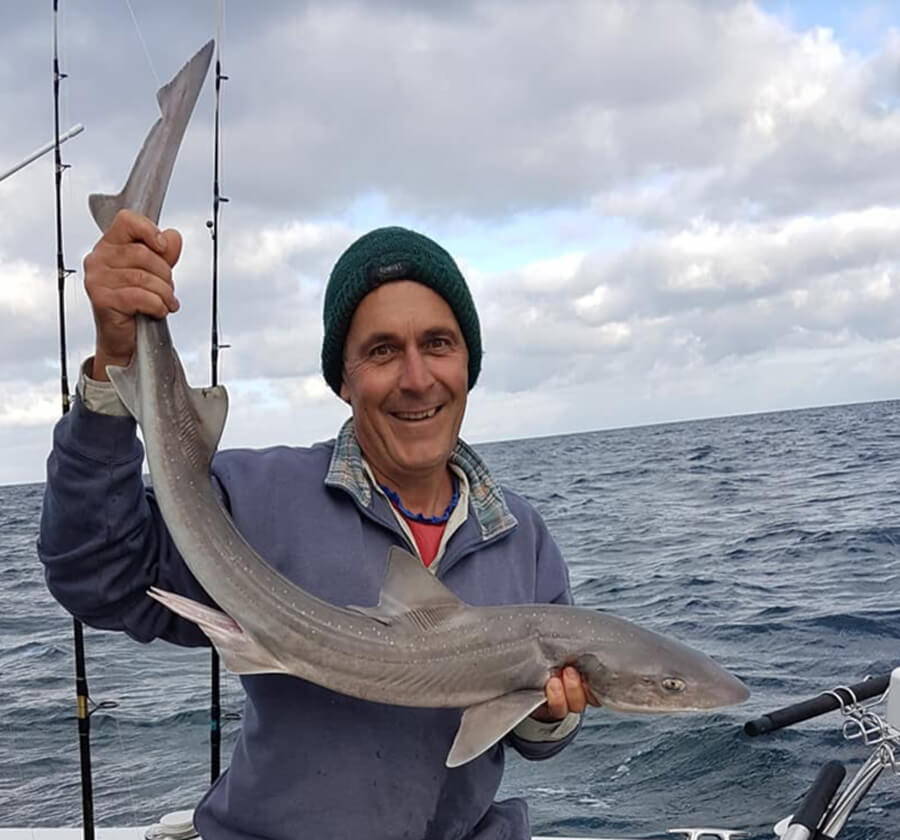 George Golovkin and Owen Rutherford had a great session out from Carrum in 15 metres landing a beautiful snapper and gummy between them and just minutes apart.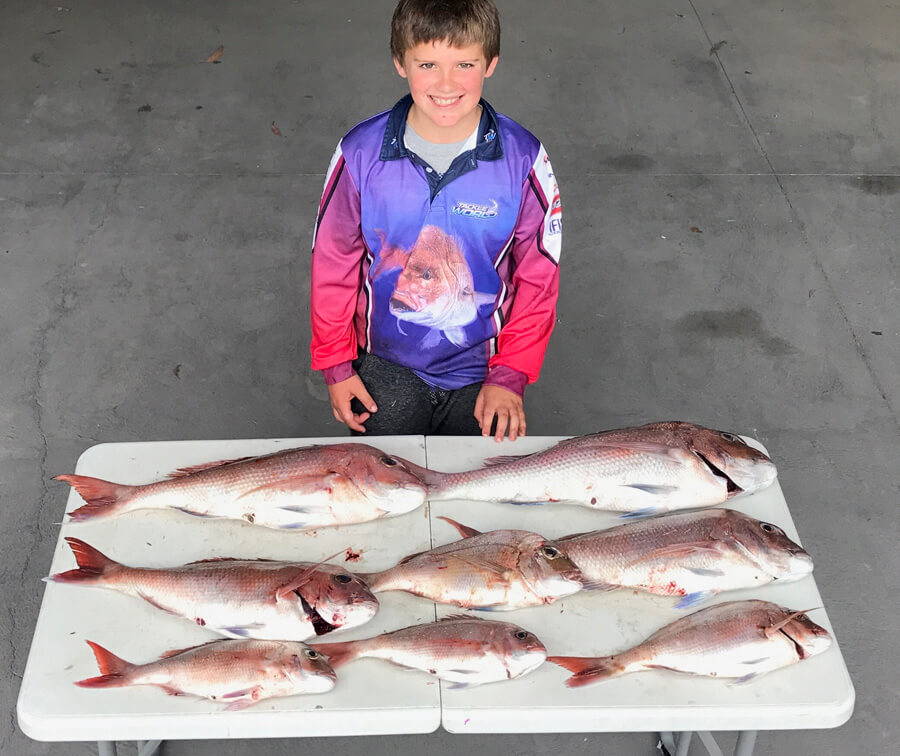 Kade Thornhill and his dad fished out from Mornington last week in 16 metres and landed some cracking snapper on fresh squid and pilchards. Love your work Kade!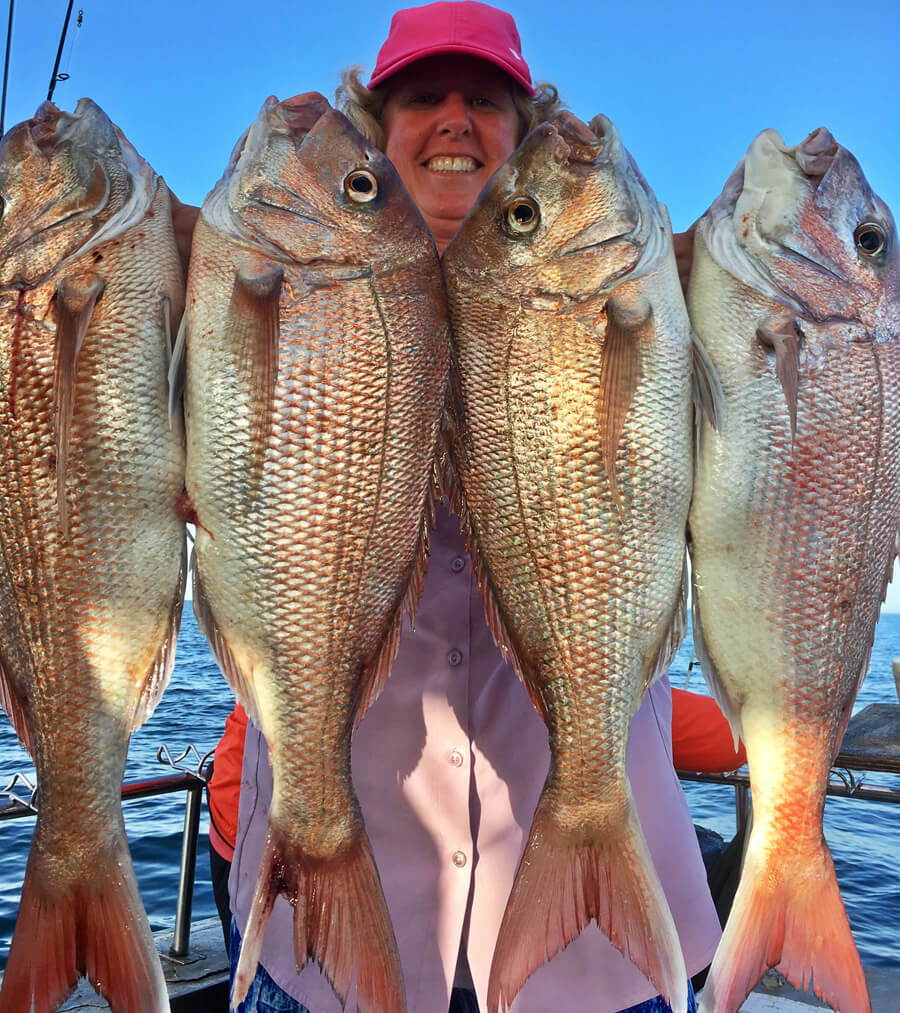 Nikki Bryant fished on board with Unreel Fishing Charters this week and managed some beautiful snapper for the session.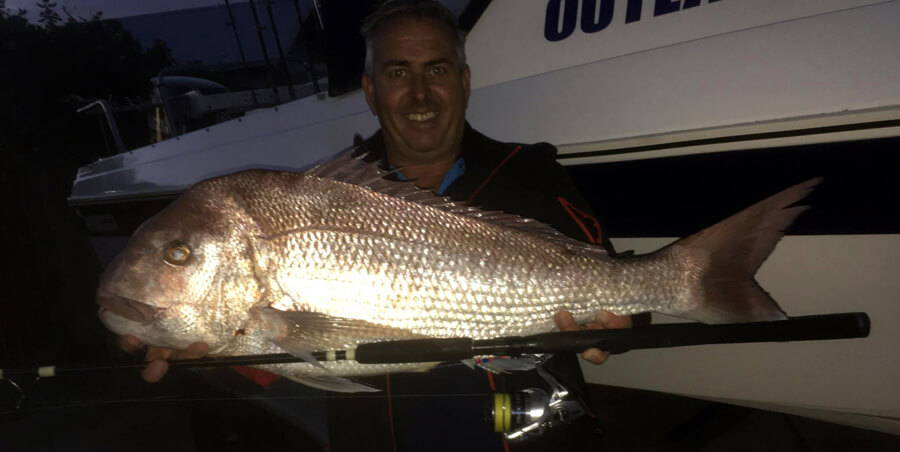 Russ Sheppard fished out from Mount Martha on the weekend and landed this marvelous 8kg snapper that took a whole silver whiting; interestingly Russ said the snapper had a whole flounder of around 20cm in its stomach.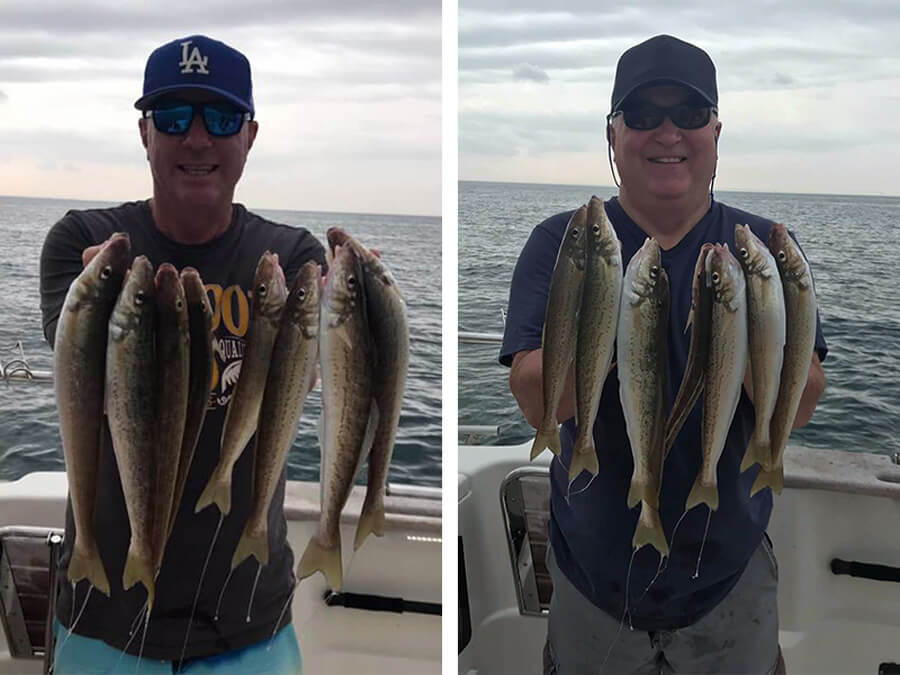 Staff member David Kramer and Tony Sharp headed out off Rye on Saturday and managed a fantastic bag of King George whiting.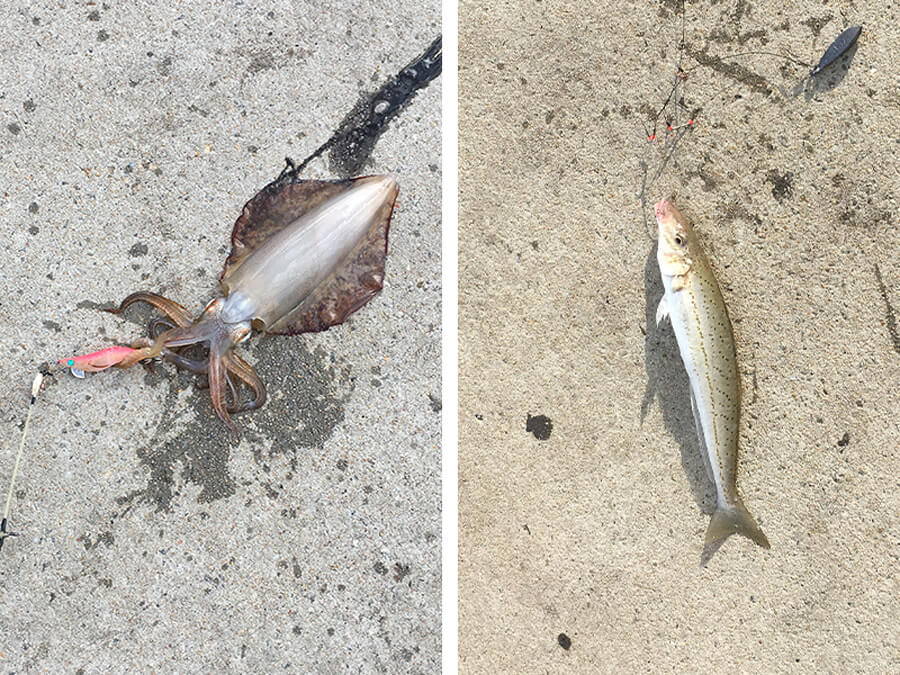 Lauren Lee fished Blairgowrie Pier this week and landed a nice whiting and squid during the run in tide.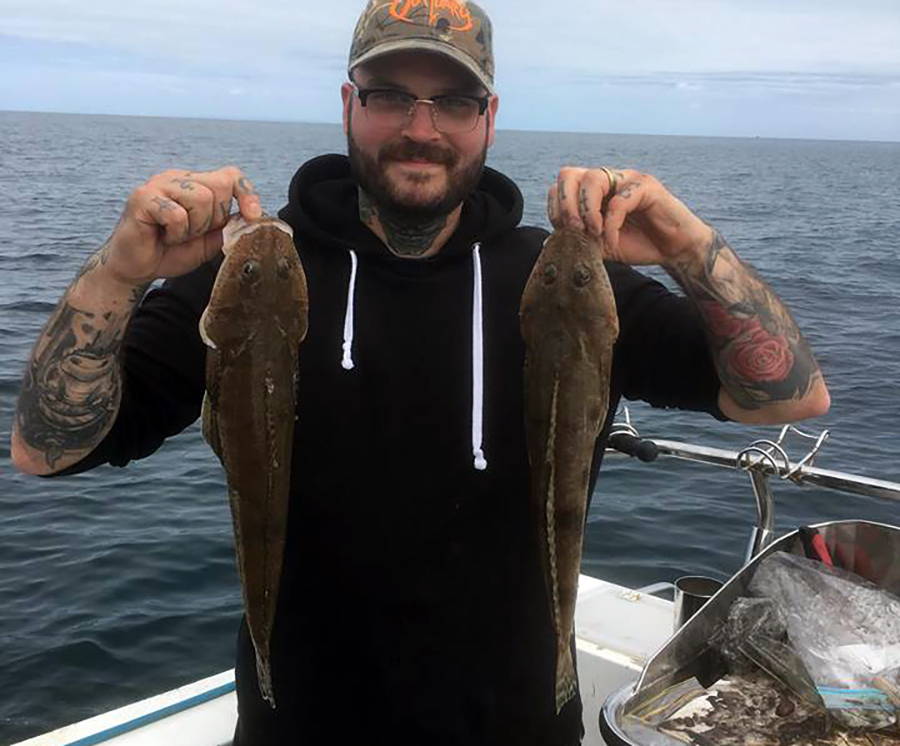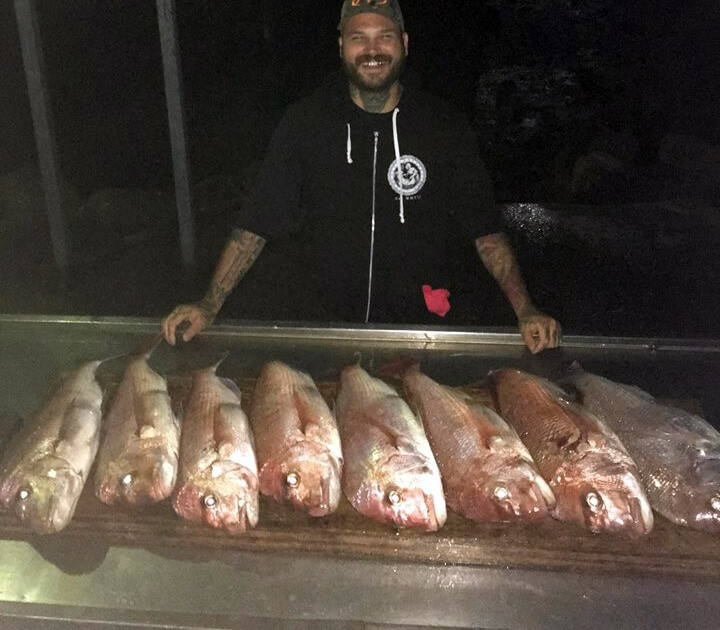 Robert Bonetto and his son in law Darryl from Canada set out on their boat the Ava Jade named after Darryl's daughter this week where they landed some fantastic fish including gummies to 15kg, a 3.5 metre long bronze whaler that took over 2 hours to bring to the boat to be released and some cracking flatties. On Wednesday night they changed up their location and chased snapper in Western Port landing a stellar bag of fish. Well dony Darryl, hope you ticked off most of your bucket list.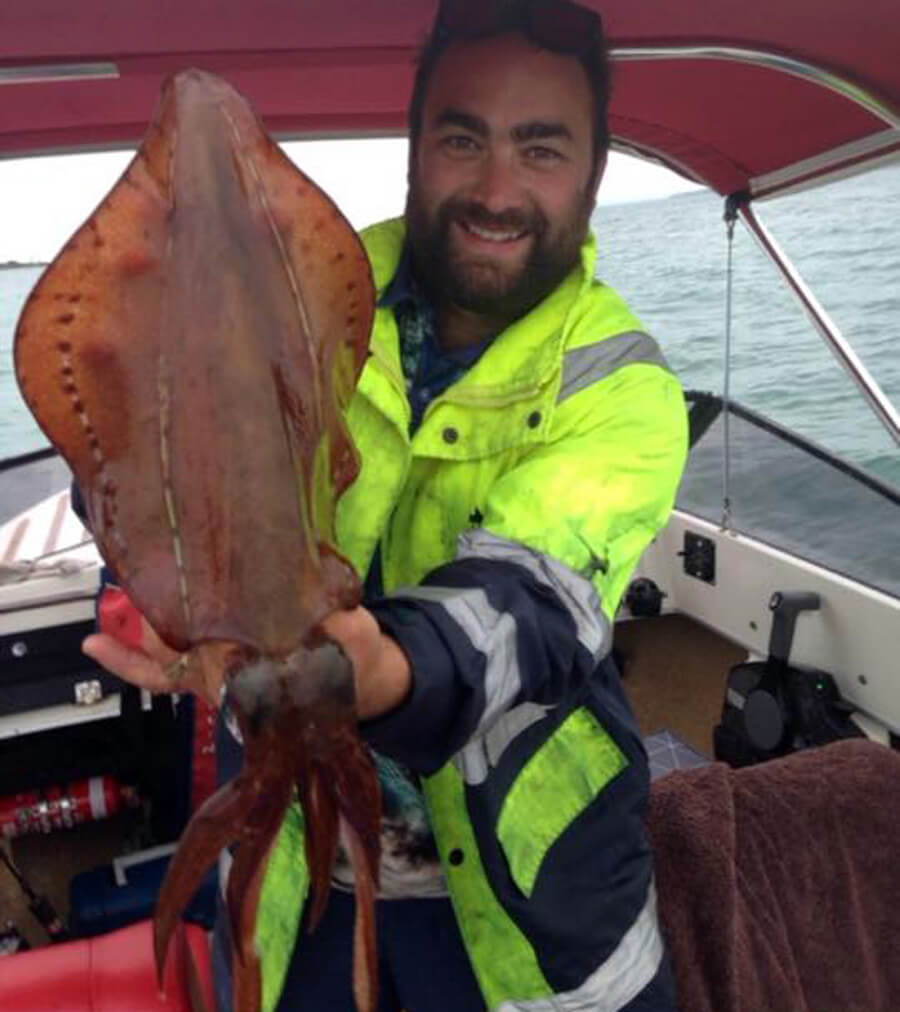 Daniel Zagami from Fish On Charters headed out for some big southern Port Phillip Bay squid out from Queenscliff with his uncle Tony and the boys weren't disappointed.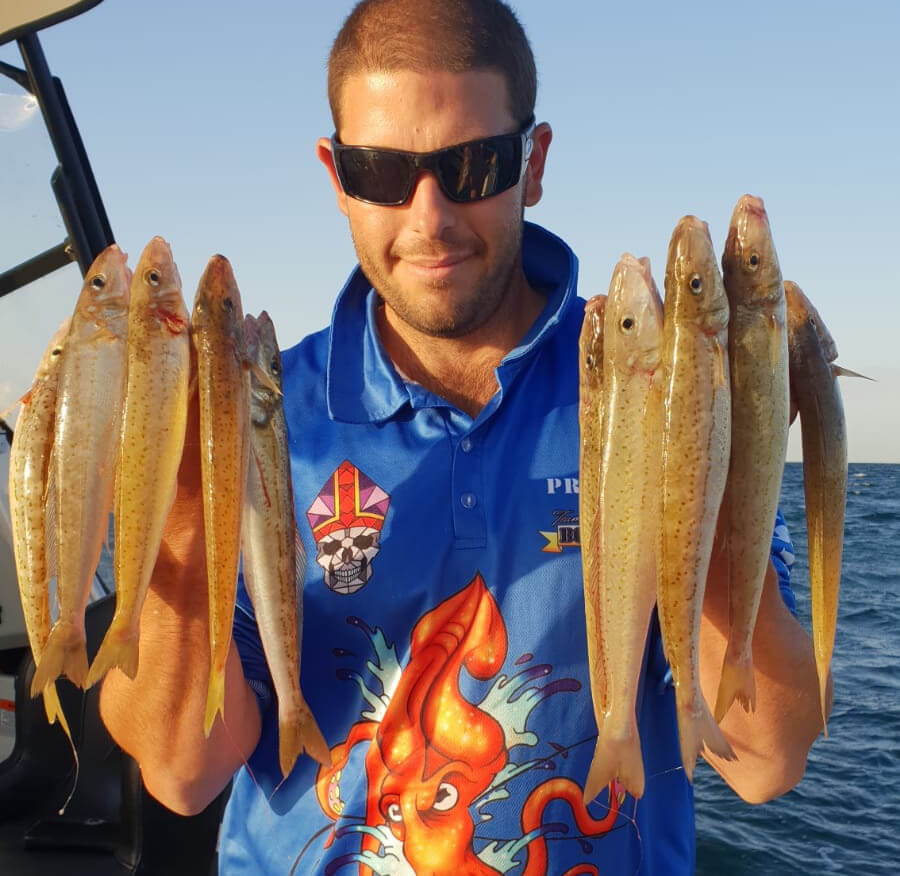 Phil and Eddy fished around Swan Bay this week and found some nice whiting using fresh squid for bait.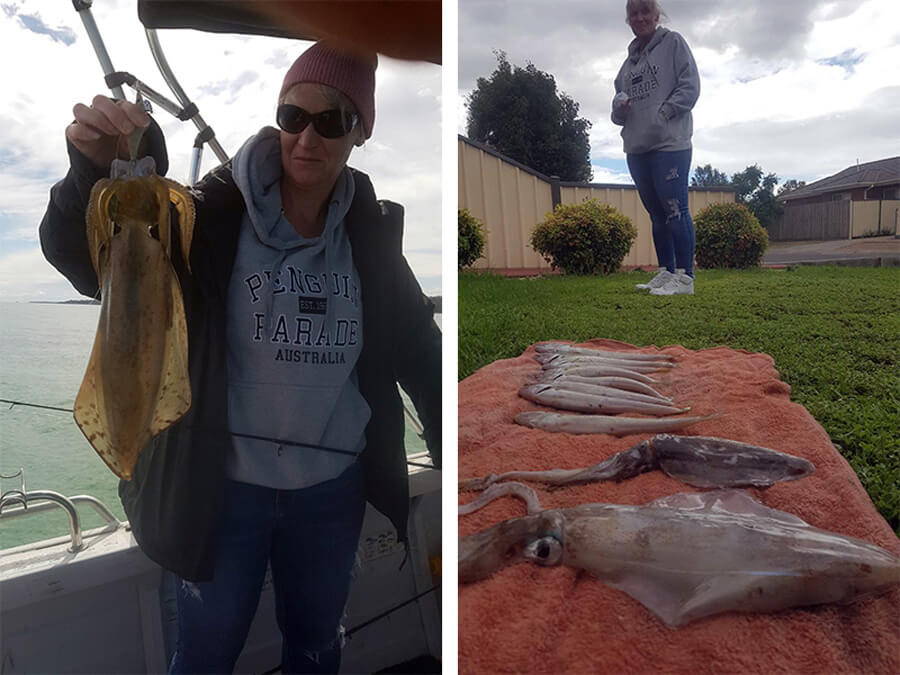 Cindy Gurney landed her PB squid fishing out from Clifton Springs this week with some nice whiting caught as well.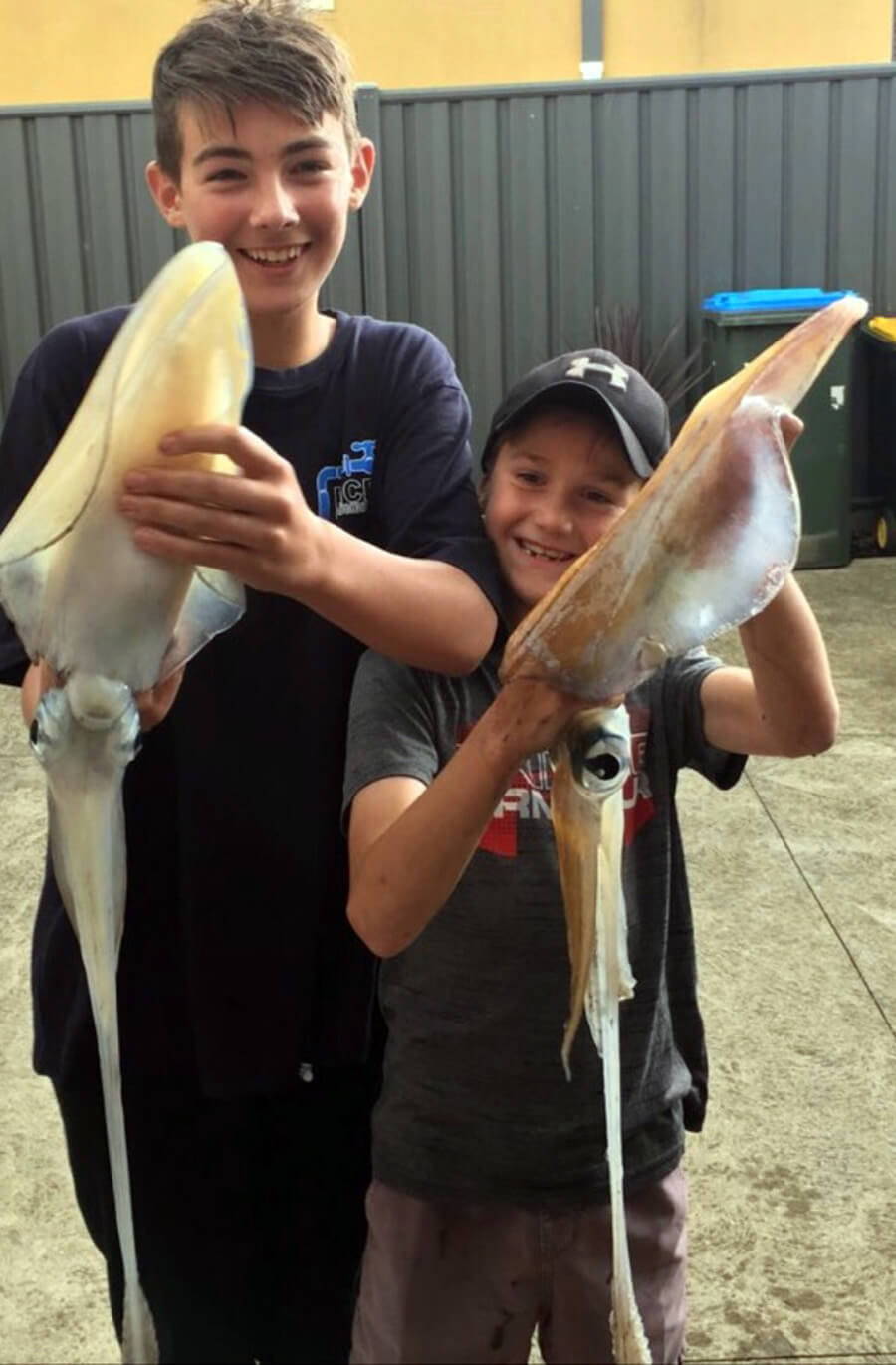 Jye and Nate landed some fantastic calamari fishing out from Werribee this week. Great work boys!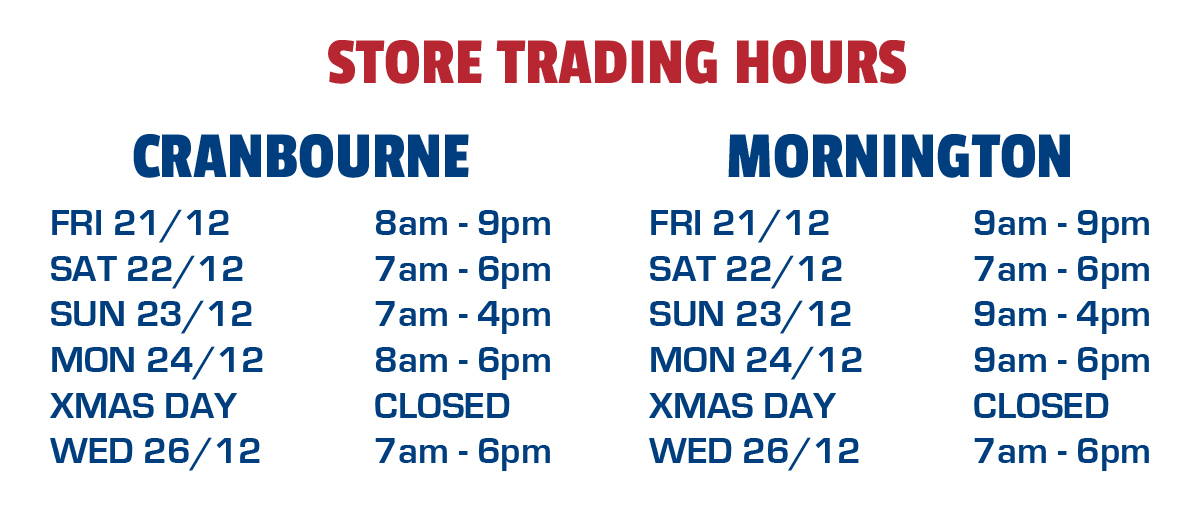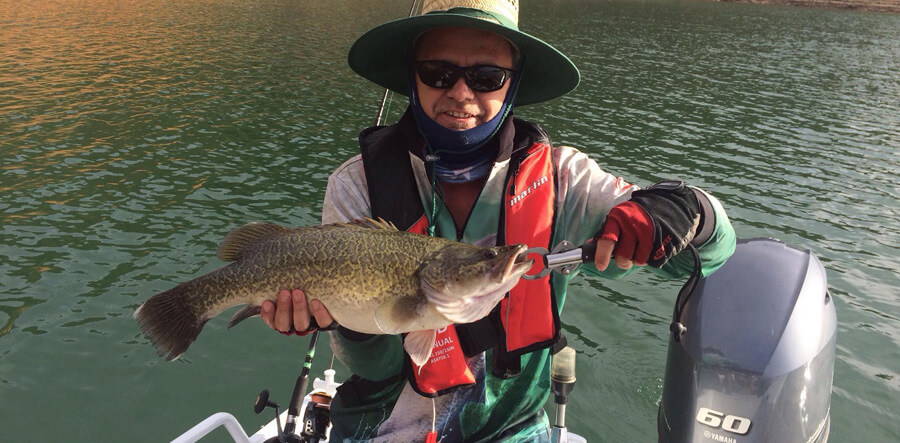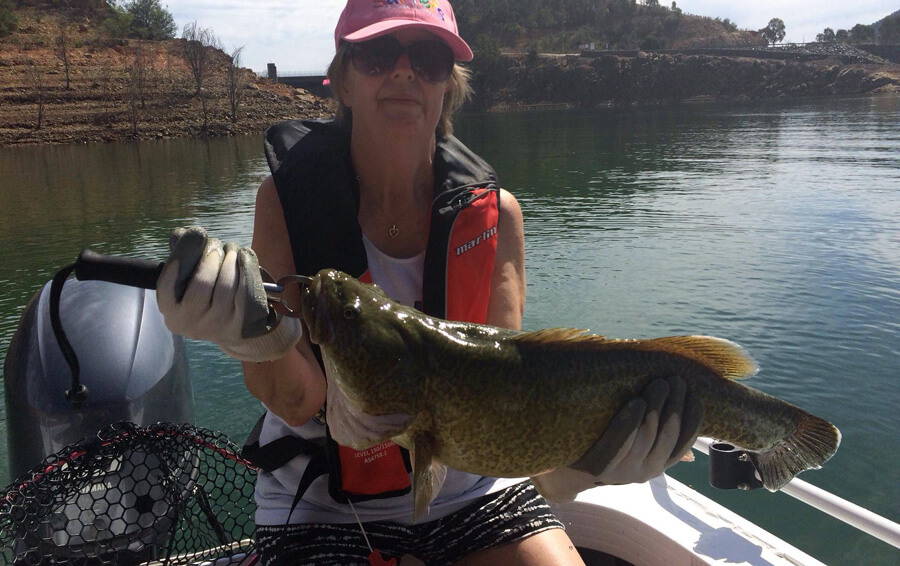 Gary Van Leuverden fished Lake Eildon with his wife Sheila and between them they landed 3 ripper cod with Sheila landing the biggest fish and her pb at 60cm.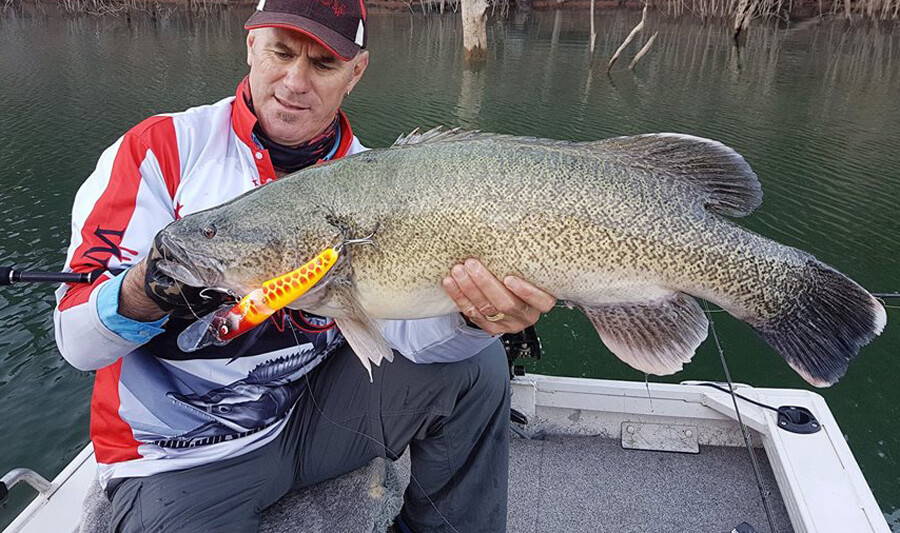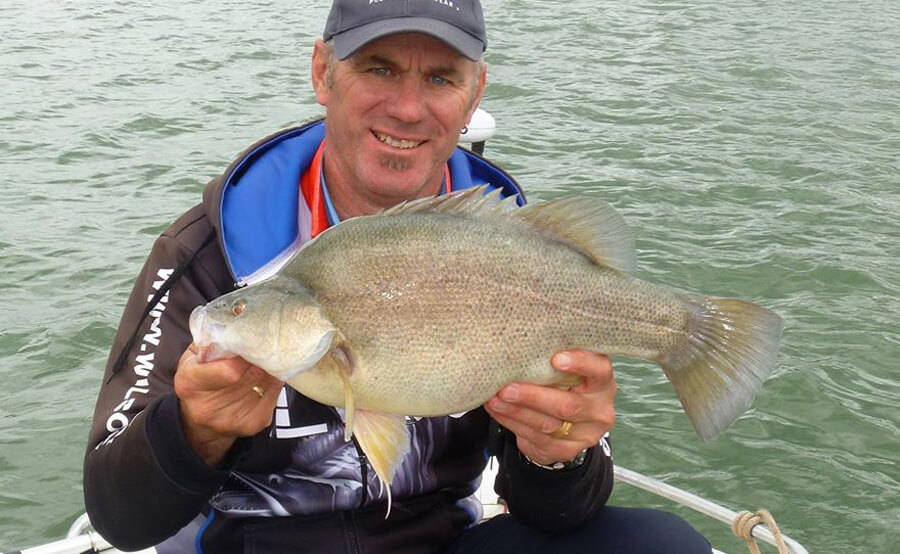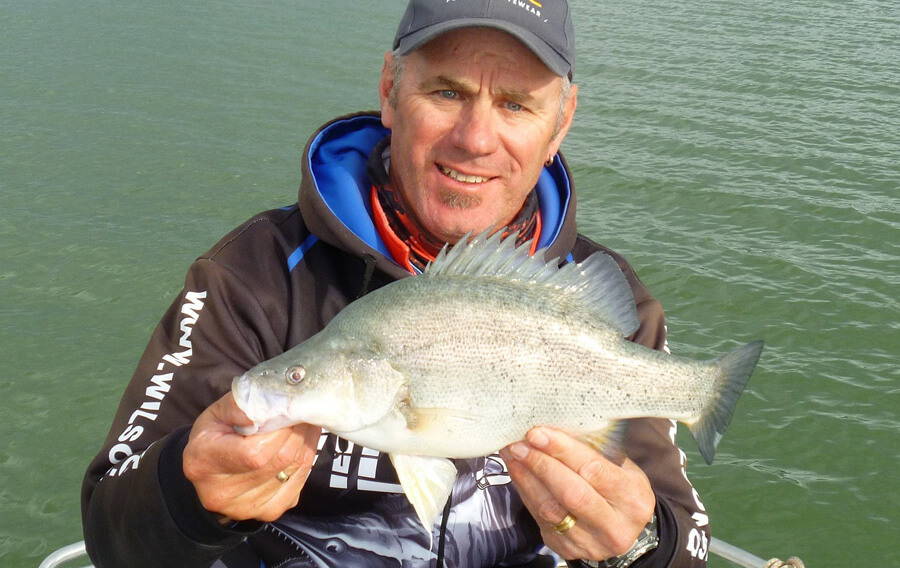 Paul Thomas had a couple of fantastic sessions at Lake Eildon this week landing a beautiful Murray cod on a Koolabung Codcracker as well as some ripper yellas to 50cm.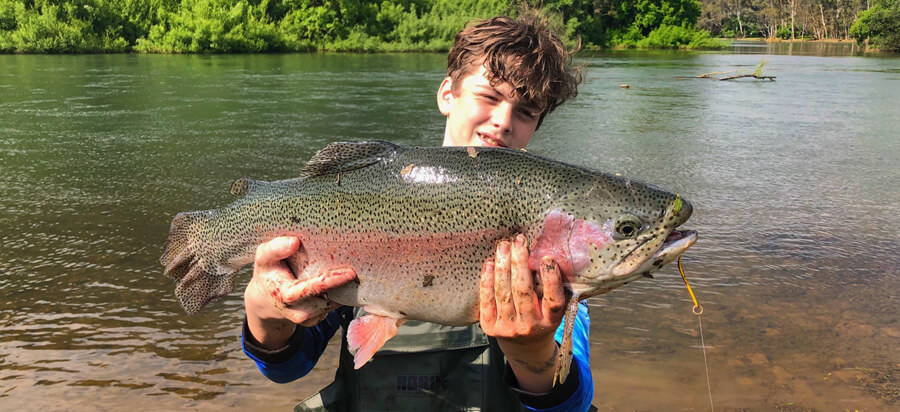 Jake Derham fished the Goulburn River near Gilmores Bridge catching and releasing this gorgeous rainbow trout using a Tiger coloured Pegron lure.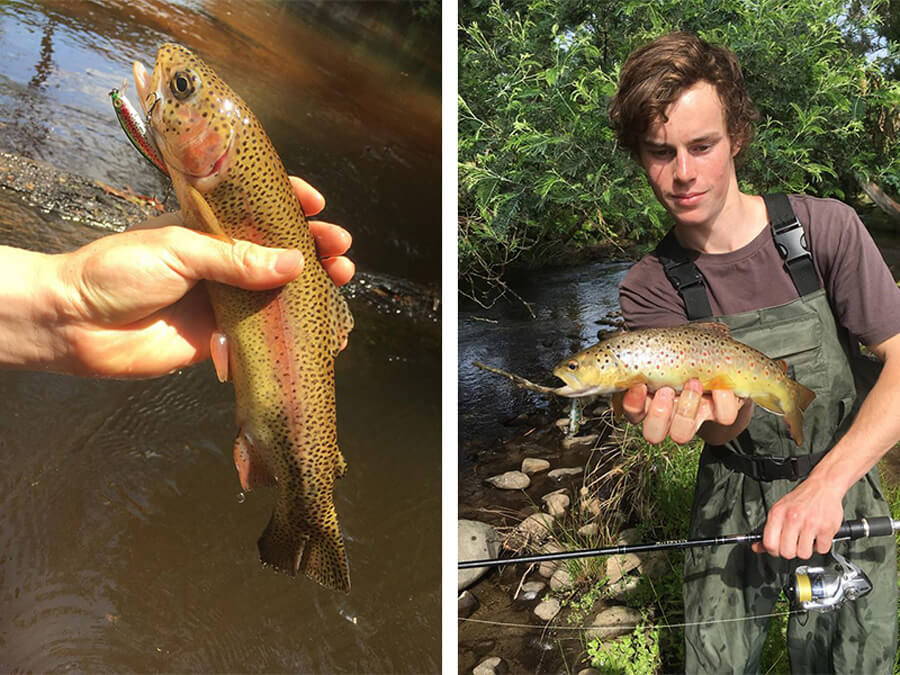 Staff member Harry Bould has had the trout bug lately and took 2 trips to the Steavenson River this week with a couple of mates, Kyle and Ben. The guys landed dozens of fish on their trips using hard body minnow lures.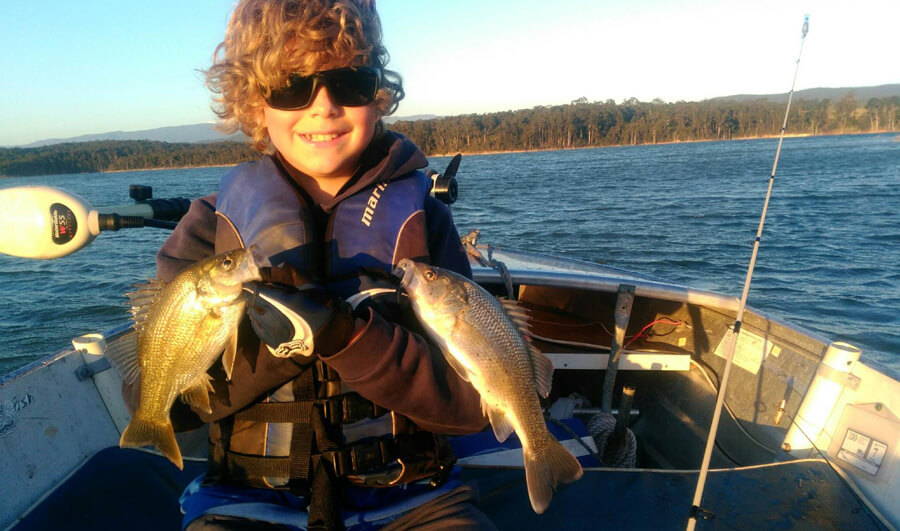 Rusty Axford landed 2 beautiful bass fishing at Blue Rock Lake last week, the result of a double hook up while trolling.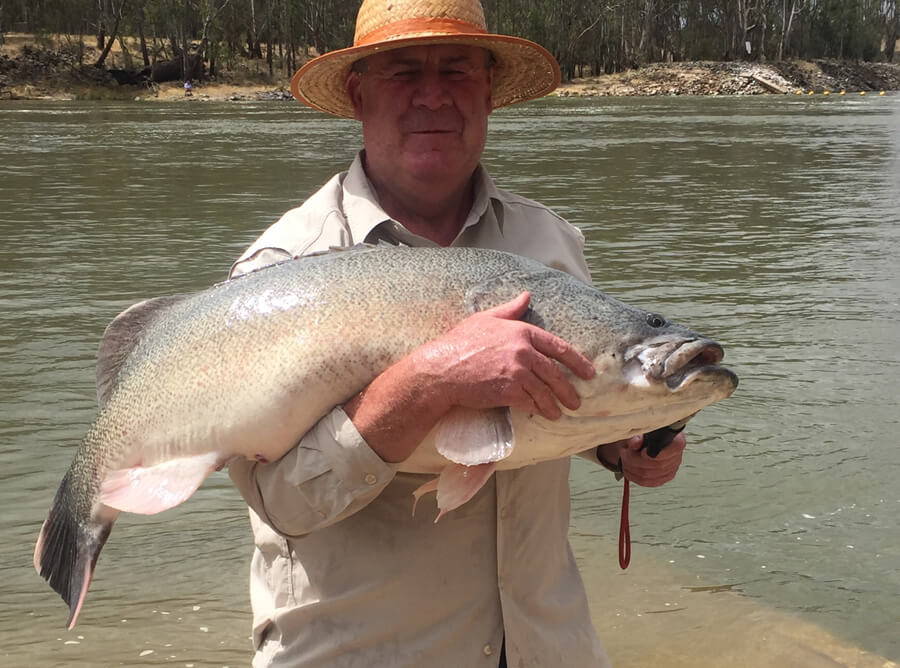 Kev Keating landed this monster Murray cod of 105cm fishing off the boat ramp using cheese on a running sinker rig.
IFISH WITH TACKLE WORLD SERIES 13
TALKING FISHING - C31 TV - TUESDAYS @8.30PM
Catch "Talking Fishing" on Melbourne's C31 TV (CH44) at 8.30pm each Tuesday night. Staff members David Kramer and Adam Ring together with Steve "Trelly" Threlfull host Australia's only "Live to Air" fishing television program at this prime time-slot. Put Tuesday night's at 8.30 away in your weekly diary of TV shows to watch!
Almonds are a member of the peach family.

Good Luck with your fishing and stay safe on the water,

The TEAM at Tackle World Cranbourne & Mornington