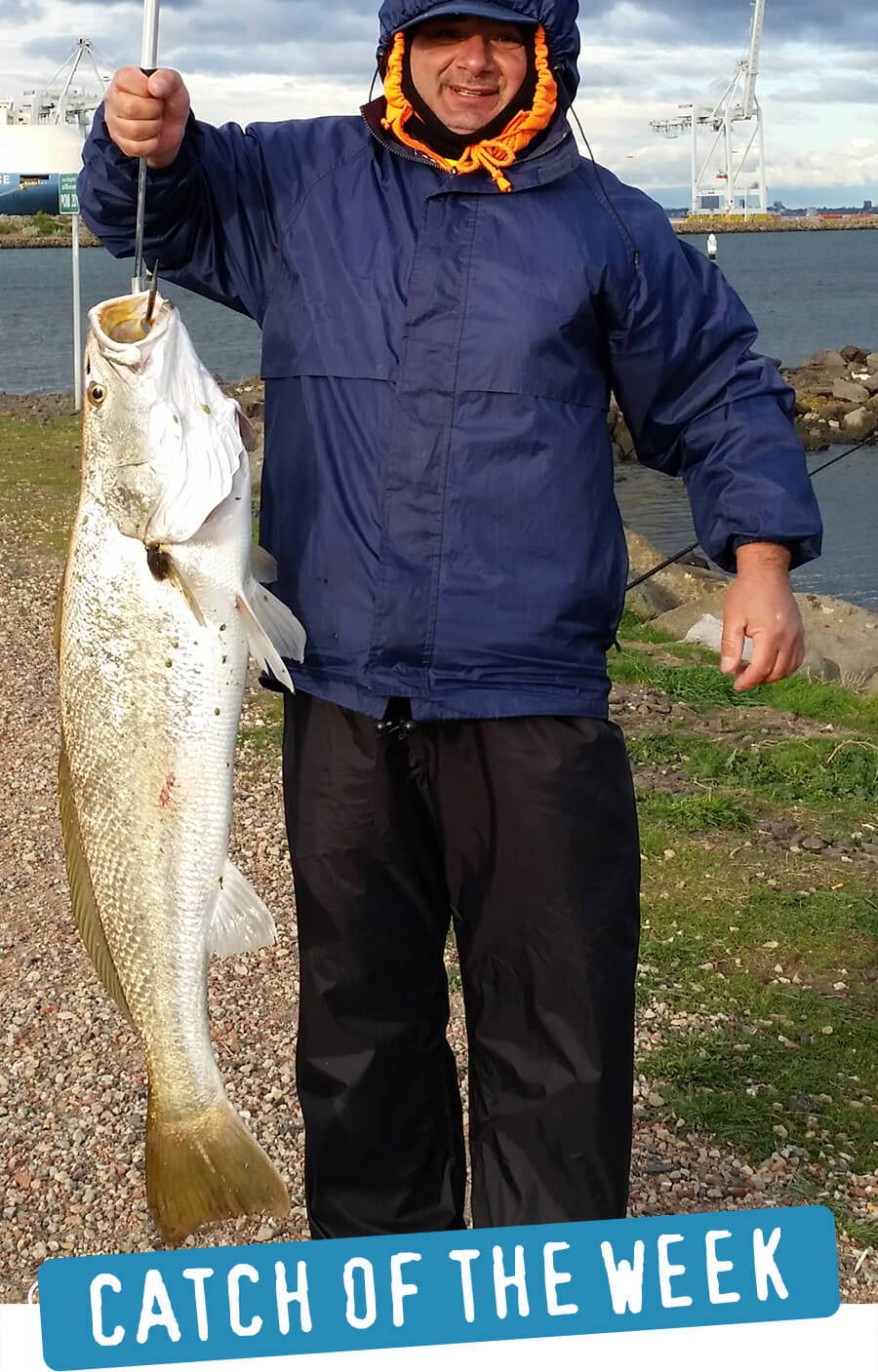 Congratulations to Mario Barbara on his cracking mulloway caught from The Warmies, you are this weeks' Catch of the Week.
Paul, Cristy and Jet Worsteling along with the IFISH crew have been over in Alaska and fished the Alagnak River at the ATA Lodge over the past week. An incredible trip where they landed king salmon to 35lb, massive chum salmon, pink salmon and sockeye salmon. All salmon were caught on fly in a variety of presentations on both fly and spin gear with 99% of the fish released, the rest came back to the lodge for some delicious meals. Keep an eye out on IFISH TV over the coming months as the footage is epic and even features fishing with Alaskan bears.
Chase White fished with Luke Bartlett at Jam Jerrup on Saturday night and landed some fantastic gummies to 5.5kg using pike for bait.
Mario Barbara caught this cracking 1 metre long mulloway at The Warmies in Newport. There have been plenty of reports of tailor in the area, so no wonder the mulloway are there.
Marlon Blackford fished with mate Zac on the weekend in the Patterson Lakes system and landed some fantastic quality estuary perch on hard body lures.
Matt Cini from Reel Time Fishing Charters had his customers out on the Glenelg River at Nelson on Tuesday night and managed 5 solid jewies releasing 3 to grow.
Joe Holt fished the Merri River last week and found the water to be fast and dirty but pulled a cracking brown trout out using bright coloured hard body minnows.
Matthew Walkeden fished the upper Hopkins River and caught this ripper brown trout.
Mark Otten fished with his uncle at Venus Bay last week catching over 30 salmon on metals with assist hooks as well as pilchards on a paternoster rig.
Sammi Houssen landed this very healthy hen brown trout at Moorabool Reservoir on the weekend.
Hilton Garcia fished Lake Purrumbete on Saturday and managed 4 brown trout all about the same size as well as a nice redfin all on the fly.
Vaughan Ellis fished Lake Eildon and managed a ripper brown trout on a Stump Jumper.
Emma fished Lake Eildon and caught 2 really nice brown trout at 45 and 51cm respectfully.
Hilton Garcia has been fishing Eildon Pondage a bit and found there to be a lot of small stocked trout all of which either took Powerbait or on fly when the wind was down.
Andrew Ketelaar found some good schools of salmon on the rising tide, fishing the beach at Kilcunda on the weekend.
Daniel Somssich fished the Sussex Inlet last week and caught a 58cm flathead on fresh whiting and a 55cm morwong on chicken.
Mick fished off Dunk Island in Queensland and managed a couple of fantastic spotted mackerel.
Roslyn Shelly caught this ripper spanish mackerel off Snapper Island in North Queensland.
Linda Cantle caught her PB GT while fishing Nhuluboy in the Northern Territory. Well done!
Staff member Steve Coffey is in Malaysia at the moment and has had a fantastic day of fishing in Rompin with good friends David McCallum and Stuart Wade catching sailfish and cobia with double, triple and quadruple hook ups.
IFISH WITH TACKLE WORLD SERIES 13
TALKING FISHING - C31 TV - TUESDAYS @8.30PM
Catch "Talking Fishing" on Melbourne's C31 TV (CH44) at 8.30pm each Tuesday night. Staff members David Kramer and Adam Ring together with Steve "Trelly" Threlfull host Australia's only "Live to Air" fishing television program at this prime time-slot. Put Tuesday night's at 8.30 away in your weekly diary of TV shows to watch!
A cat has 32 muscles in each ear.

Good Luck with your fishing and stay safe on the water,

The TEAM at Tackle World Cranbourne & Mornington