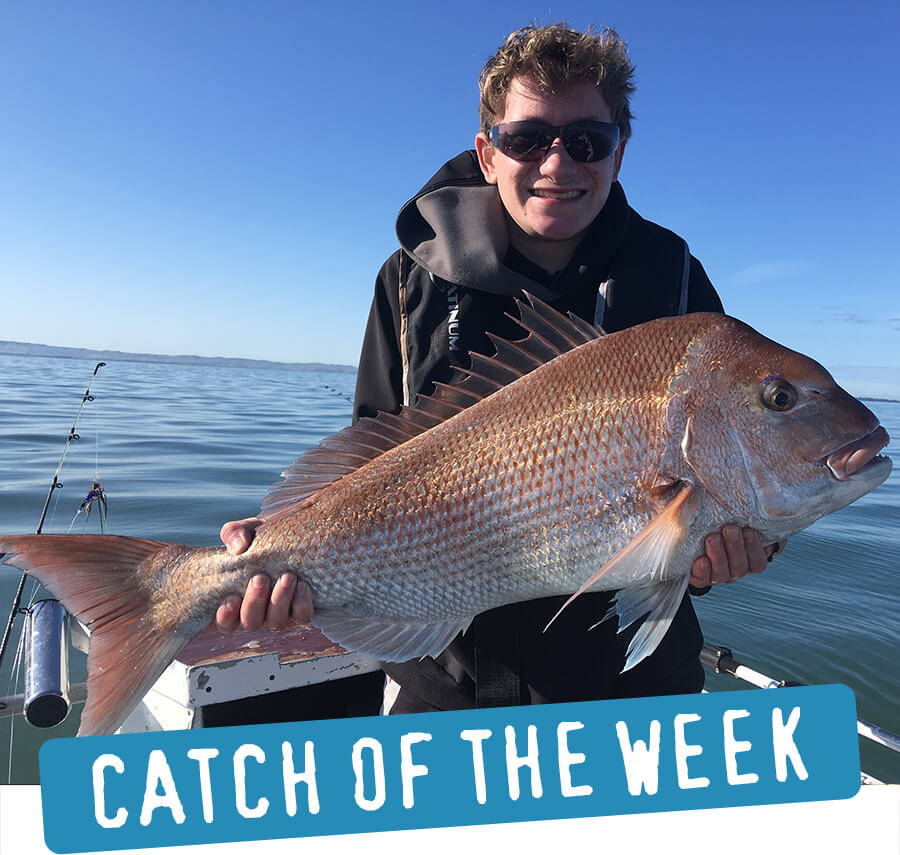 Congratulations to Jake Dunbar on his first ever snapper at 7.7kg caught out from Rhyll, you are this weeks' Catch of the Week.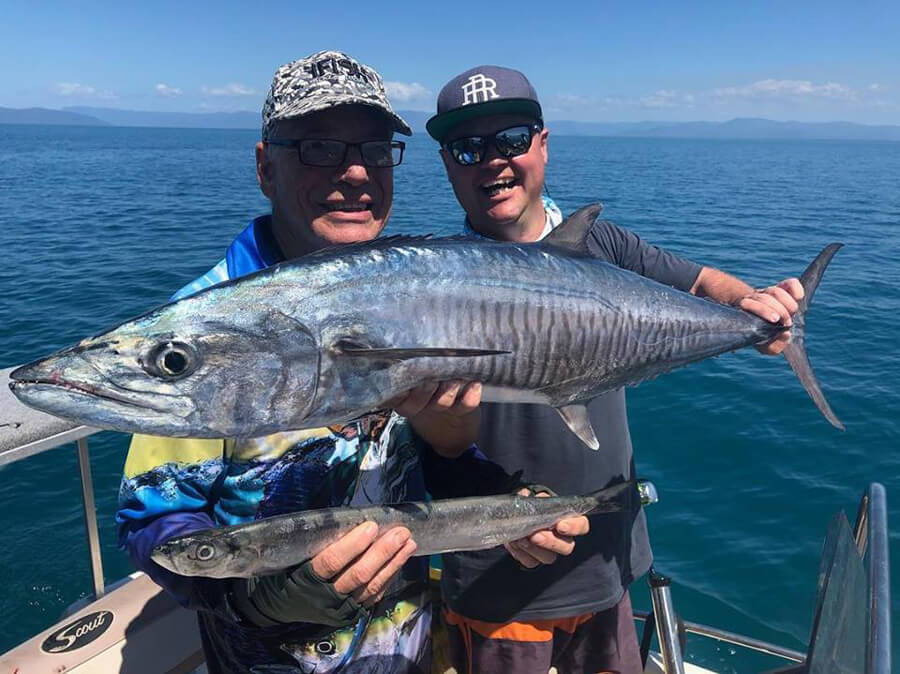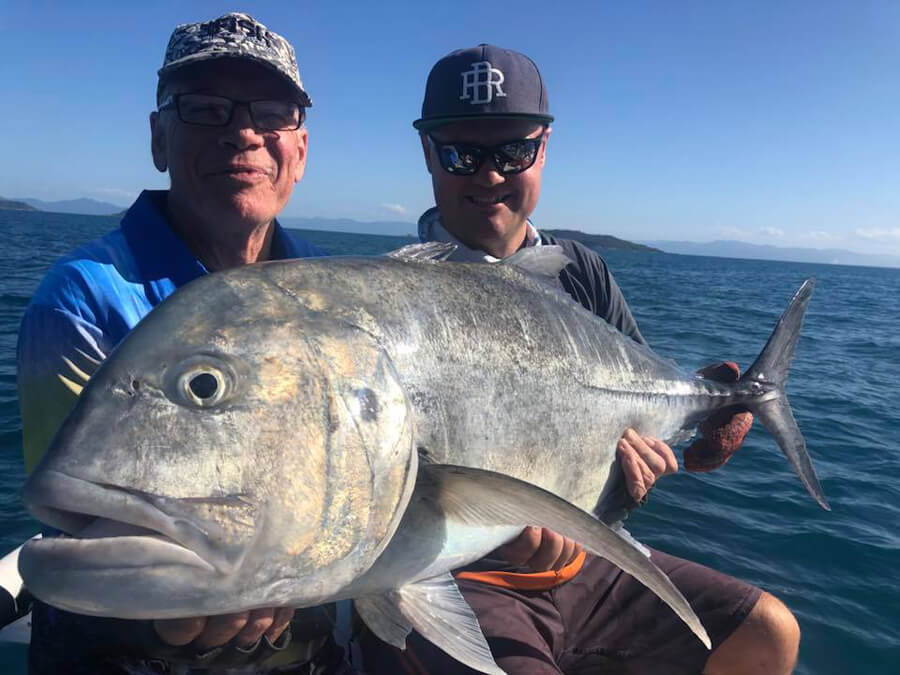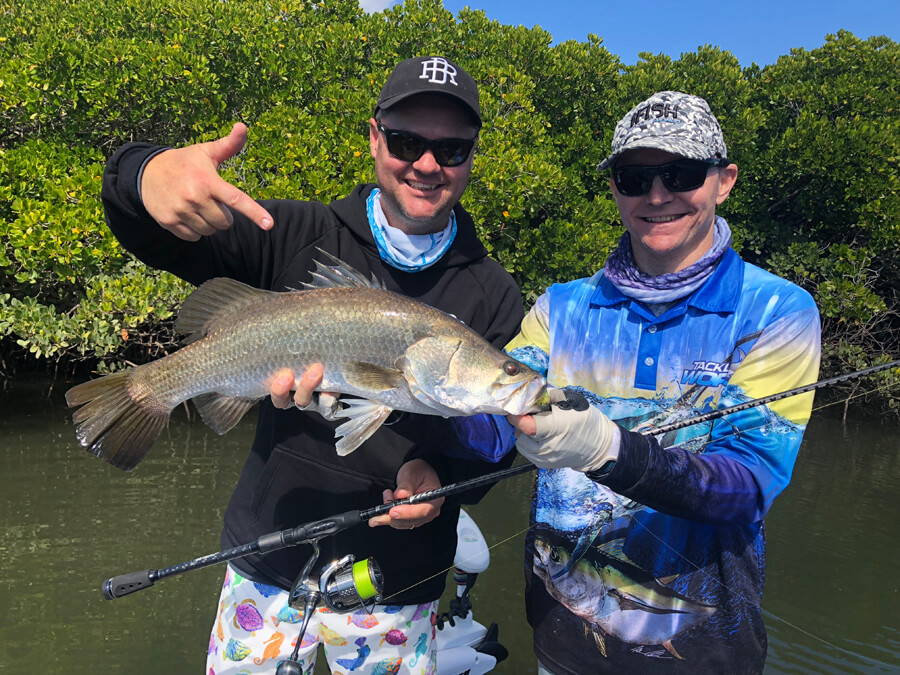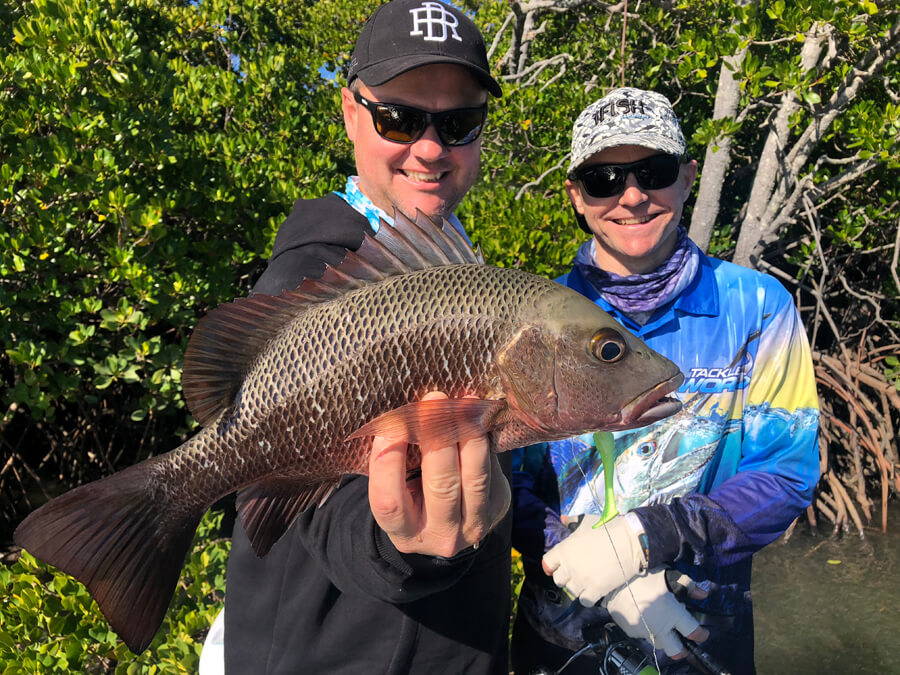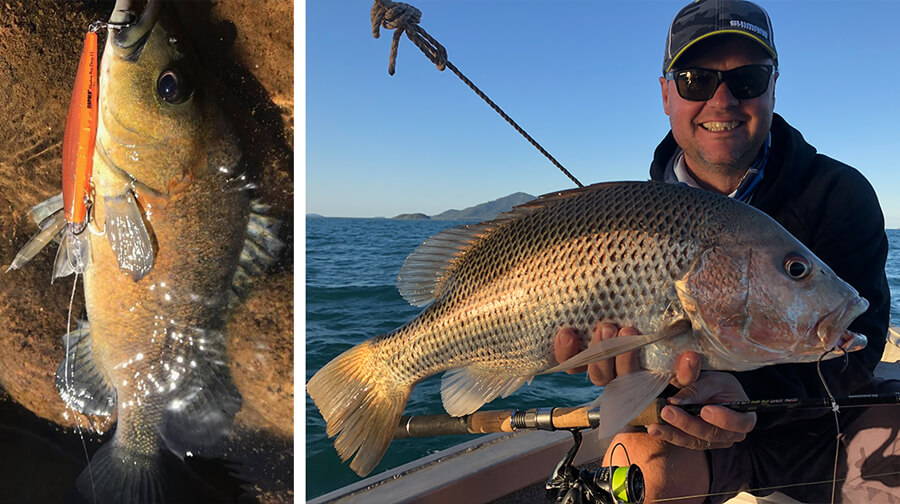 Paul and the IFISH TV crew travelled to Townsville in Far North Queensland last week for some cracking fishing. On the first day they fished with Hinchinbrook Adventures and took a helicopter up into the gorge approximately 40 miles from Ingham and caught sooty grunter and fresh water barramundi. On day 2 it was an early start fishing the back of Hinchinbrook Island at Missionary Bay catching huge mangrove jacks, barramundi as well as gold and black spot cod on soft plastics amongst the mangroves. On Day 3 PW fished north of Hinchinbrook Island with Roly Newton from Tackle World Tully; the guys trolled wolf herring for Spanish mackerel. They had an epic time hooking, landing and losing massive Spanish mackerel and monster GT's.
Shaun Furtiere from Think Big Fishing Charters headed out with some customers last week in cracking conditions and managed some solid gummies.
Dean Stacey fished out from Stoney Point on Saturday and caught this monster squid on a baited jig in 1.5m of water.
Lee Evans caught her first squid off the Tyabb Bank on the weekend using orange jigs in 2 to 3 metres of water fishing with good friend Rick Roberts. The IKA squid jigs in orange colour have been dominating at the Tyabb Bank.
Shaun Furtiere from Think Big Fishing Charters headed out to Tyabb Bank on Sunday morning getting stuck into some solid squid, orange jigs being a stand out as well as the Daiwa Red Headed Metallic jig.
Andy from Yaringa Fishing Club fished at Quail Bank targeting squid and found a number of them to 1.4kg.
Macca fished out from Blue Gum Point on Saturday and had a ripper session catching a couple of solid snapper, 10 flatties and a gummy shark. The snapper were 3.9kg and 4.75kg each on squid head and salmon chunk in 14m of water.
Jake Dunbar caught his first ever snapper coming in at 7.7kg out from Rhyll in 15m of water on fresh salmon fillet, well done mate!
Cameron Jansz fished out from Cowes and caught this cracker snapper on a live bay trout in 15 metres of water at slack tide.
Staff member Brendon Cunningham fished out from Flinders Pier on his kayak on Sunday morning drifting a number of jigs when this nice squid took his red foil Odori jig within seconds of dropping it.
Brendon Hogg fished around the Sandy Point area on Saturday morning from the kayak and managed a couple of perfect eating sized gummies by 7.30am, well done mate!
Julian Rennie and Mick Royal headed out offshore from Seal Rock on Friday and caught some monster squid as well as a couple of beautiful 10kg gummies using the fresh squid for bait.
Julian Rennie and Aiden Duke headed offshore from Western Port on Saturday and got stuck into some cracking gummies on fresh parrot fish chunks; the boys were fishing in 40m of water around from Seal Rock.
Chrisso Porter took his dad out offshore from the Western Entrance on Saturday. The guys had a ripper session using pilchards catching plenty of pinkies and squid.
Gerry Morsman also fished offshore from Western Port in the Seal Rock area and caught a ripper gummy on fresh parrot fish.
Matt Cini from Reel Time Fishing Charters had a cracking day on the squid on Port Phillip Bay, they managed bags of squid for their customers with red and purple jigs a stand out.
Rob Zed decided to give Altona a try this week and after parking in 8m of water managed 2 solid snapper; one taking a pillie and the other a squid bait.
Wayne Kelly started off his snapper season nicely with a beautiful 7.2kg fish caught deep off Carrum on Friday. Some would say it's a bit early for snapper off Carrum but we might say otherwise now.
Julian Rennie took his daughter Taylor out around Mt Eliza catching a total of 7 squid as well as some flatties and pinkies.
Steve Fulton fished out from Mornington on Saturday and scored this nice snapper that took a pilchard.
Ollie and Jake report that Mount Martha rocks has been firing for squid with green and silver jigs in 2.5-3.0 size doing all the damage, well done boys!
Farid Qazizada fished Gunnamatta on Sunday and managed a fantastic bag of salmon. Using pilchards as bait or casting metal slugs like Arma lures is a great option at Gunnamatta.
Maddy Walker caught her first gummy shark off Apollo Bay last week, that's one hell of a first, well done!
Tim Beusmans caught this cracking brown trout from Lake Purrumbete, hard bodied lures like Rapala's or Tassie Devils downrigged have been a good method at Purrumbete.
John Smrdelj fished with his son Steve, the guys put in the kilometres and found some great patches of fish at Cooliban Reservoir and had a ripper time catching trout and redfin with the biggest reddie measuring 45cm.
Jodie Foster caught this lovely rainbow trout on a hard body lure, released to fight another day.
Justin Craig caught this cracker gummy out from Walkerville on fresh wrasse in 20 metres of water on sunrise.
David McDonald and Dayne Tracey had a ripper session on the calamari at Corner Inlet, white Sephia jigs were the winners for the day.
Tony and Bernie fished Port Welshpool last week and had a ripper session on the whiting and flathead in some fantastic, calm conditions in the afternoon.
Congratulations to Lewis Milito on his very first pinkies caught out from Lakes Entrance this week.
Tony and Marlon Blackford participated in Victorian Fisheries Authority 'Pearch Search' program this week assisting in the capture of brood stock estuary perch to be sent to our native breeding centres. 120 EP's were caught and the best 48 have been shipped off to help the future of this incredible native species.
Trevor Schessl had a pleasant surprise fishing for bream when this 1.3 metre jewie gave him an epic fight on light gear.
IFISH WITH TACKLE WORLD SERIES 13
TALKING FISHING - C31 TV - TUESDAYS @8.30PM
Catch "Talking Fishing" on Melbourne's C31 TV (CH44) at 8.30pm each Tuesday night. Staff members David Kramer and Adam Ring together with Steve "Trelly" Threlfull host Australia's only "Live to Air" fishing television program at this prime time-slot. Put Tuesday night's at 8.30 away in your weekly diary of TV shows to watch!
Brown trout may have the capability of spawning with other species of brown trout, but they don't breed with rainbows. No "brainbow trout" has ever been found in nature.

Good Luck with your fishing and stay safe on the water,

The TEAM at Tackle World Cranbourne & Mornington