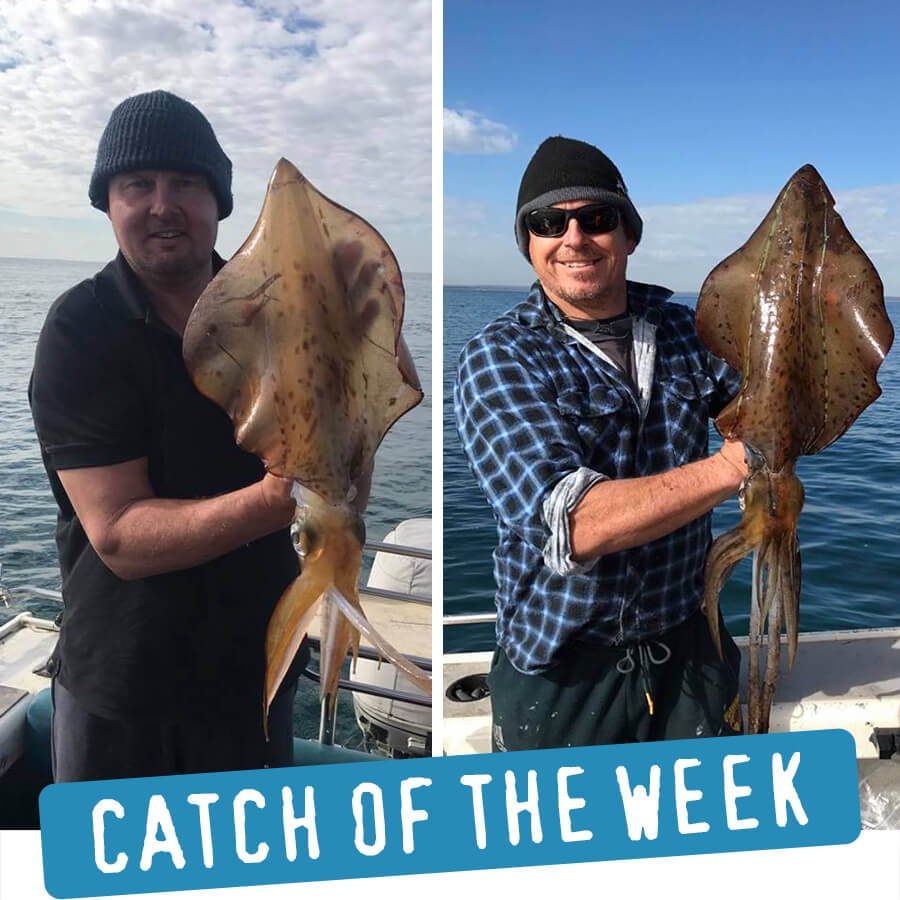 Congratulations to Ritchie Gstrein and his mate Jimmy on their cracking squid caught at Quail Bank, you guys are this weeks' Catch of the Week.
Ritchie Gstrein fished with Jimmy and found a few nice squid at Quail Bank, they report having to fish in 8 metres to find them.
Dave and Craig fished Quail Bank on Saturday morning and caught a decent bag of squid on first light with silver whiting under a float as the stand out technique.
Tim Torpy fished out from Stony Point last week and caught this ripping red using a squid ring for bait in 15 metres of water. Well done mate!
Andrew Ketelaar was fishing for gummies at Point Leo Beach and managed this monster barracouta as by catch.
Staff member Harry Bould fished Flinders Pier in some wet and windy conditions and managed a couple of decent squid on red foil, 3.5 size jigs.
On a separate session to Flinders Pier Harry managed a really nice squid using silver whiting under a float.
Brad caught this quality gummy shark from the Western Entrance on Friday Night on a fresh squid strip.
Shaun Furtiere from Think Big Fishing Charters had customers, Brendan Jones and John Kara on board fishing the Western Entrance catching a massive seven gill shark early on and finishing off the trip with a nice gummy shark for a feed.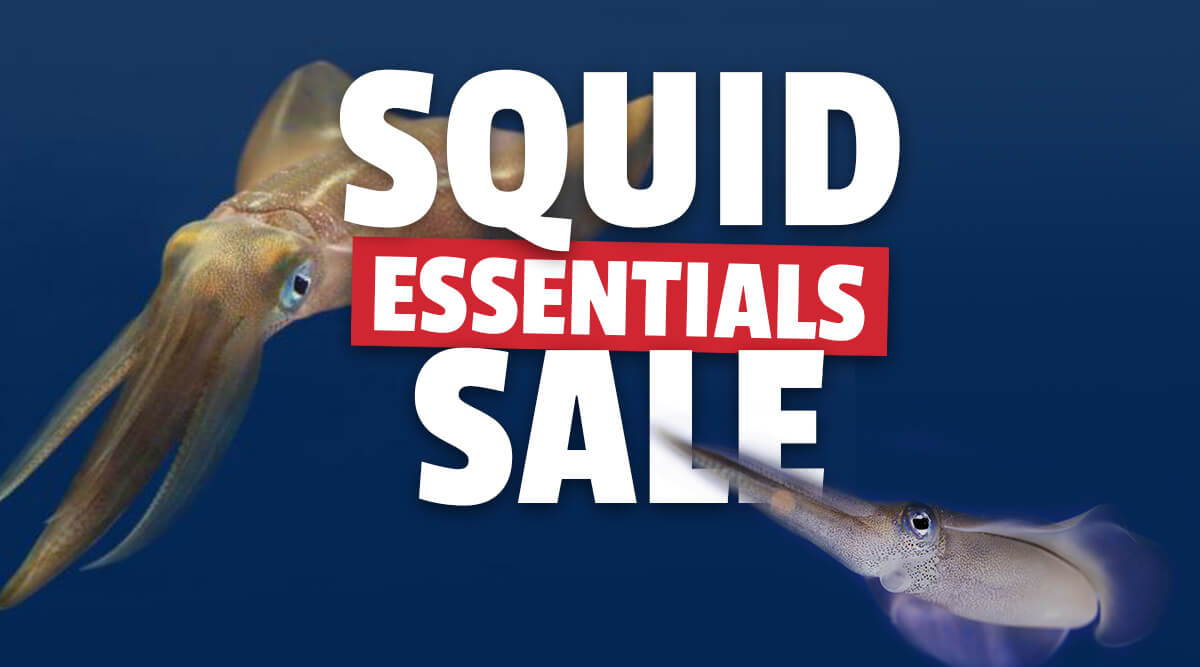 Check out all the ripper specials available both in store and online at the link below.
Mike Naks fished with a good mate last week around Black Rock and managed to find some cracking snapper out wide.
Tristan Rogers and Dylan Rogers fished Patterson Lakes catching a number of solid bream to 39cm on curl tail grubs and scrub worms.
Josh Dales fished Patterson Lakes from the kayak and caught his first mulloway that fell to a curl tail shad soft plastic.
Staff member Brendon Cunningham fished from the rocks at Mount Martha on Saturday morning finding the fishing slow but managed a couple of nice sized squid on IKA squid jigs.
Bernard Abrams fished out deep from Rosebud on Saturday and caught this solid snapper around lunch time on fresh squid.
Daniel Zagami from Fish On Charters had a fantastic day on the water with Paul Barnes and Rod Douglas on Saturday starting out at Sorrento catching some decent squid on black and red jigs and then finding some fantastic gummies out around Portsea.
Deki and his father Rade had a fantastic day on the water; catching their bag of squid at Rye then fished St Leonards catching over 30 whiting from 33 to 42cm and then to top the day off dropped a whiting fillet at Mud Island turning it into a ripper 15kg gummy shark. Solid effort guys well done.
Tibby Flora fished in 5 metres of water at St Leonards with some friends and found the whiting going off.
Daniel Zagami from Fish On Charters headed out on Wednesday night and managed a fantastic bag of whiting using fresh cuttlefish as bait on the last 2 hours of the run in tide.
Cody Carruthers reports the mulloway to be firing in the system with some quality fish caught.
Mark Otten continues to show us how it's done at Venus Bay this week with over 40 fish caught between himself and his mates; 60 and 80 gram lures rigged with assist hooks did the damage.
Clint Jackson fished with his mate Sam Rooks at Bullen Merri on the weekend and landed 5 fish in total, 4 chinook salmon and 1 brown trout. They were down rigging lures including tassie devils.
Anthony Pearson fished Lake Eildon on Friday and managed 3 fish, the pictured photo was the biggest at 60cm.
Ben Neale caught this solid Murray cod near Goughs Bay at Lake Eildon on a Jackal lure.
Mornington local Mark Grey had a ripper session out from Eden in 40-50 metres of water catching a decent mixed bag.
Thomas Pinter had a ripper trip at Copeton Dam with his partner Rebecca catching a number of fish; Thomas managed this stonker 111cm Murray cod, well done guys!
Staff member Paul Delisle is up at Bailey Island off Mackay in Queensland fishing with Mark Byriell and has caught some nice spanish mackerel, grassy Sweetlip, nannygai, stripeys and golden snapper in near perfect conditions.
Michael Black caught this ripping GT on a stick bait on a recent trip to Cairns.
IFISH WITH TACKLE WORLD SERIES 13
TALKING FISHING - C31 TV - TUESDAYS @8.30PM
Catch "Talking Fishing" on Melbourne's C31 TV (CH44) at 8.30pm each Tuesday night. Staff members David Kramer and Adam Ring together with Steve "Trelly" Threlfull host Australia's only "Live to Air" fishing television program at this prime time-slot. Put Tuesday night's at 8.30 away in your weekly diary of TV shows to watch!
Sharks are the only fish that have eyelids.

Good Luck with your fishing and stay safe on the water,

The TEAM at Tackle World Cranbourne & Mornington