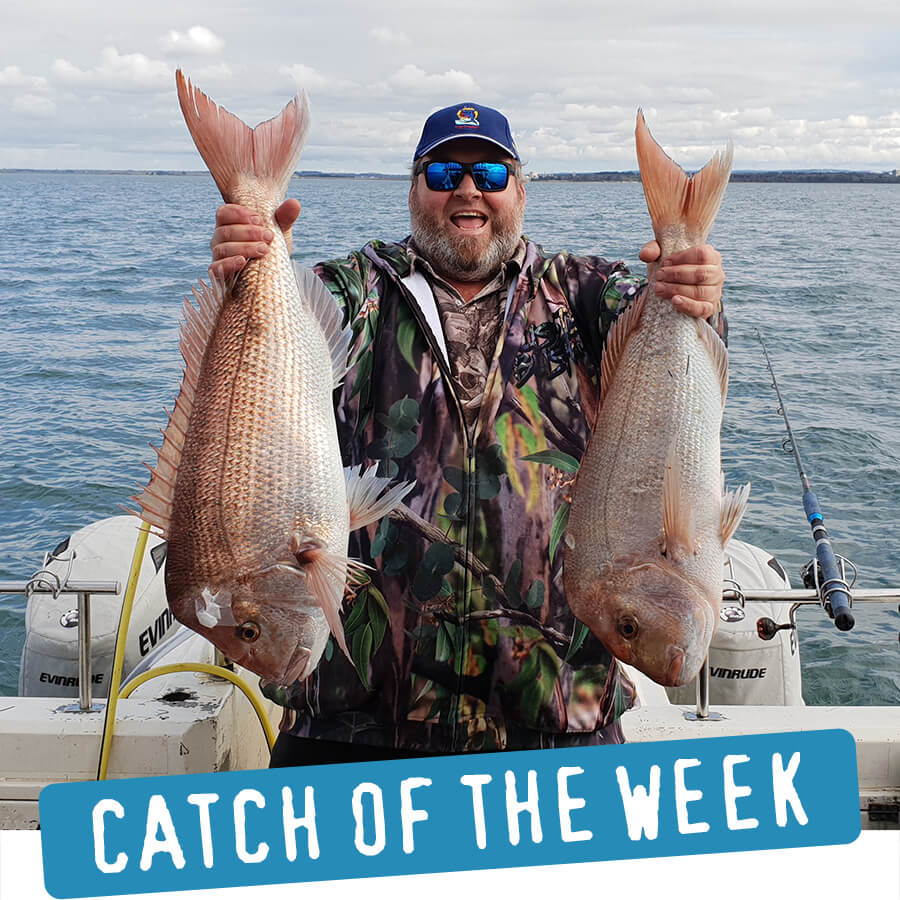 Congratulations to Dean Tolra and Andy on their cracking snapper caught from the Top End of Western Port, you are this weeks' Catch of the Week.
Dean Tolra, the Vice President of Yaringa Fishing Club took out Andy and nabbed these two cracking reds at the Top End of Western Port. The fish weighed 5.5kg and 6.8kg respectfully and the boys report the water temp sitting around 9.5 degrees.
Shaun Furtiere from Think Big Charters got out on Wednesday morning and got stuck into some quality calamari at Quail Bank, orange squid jigs were the winners. An IKA squid jig in Orange Shrimp colour would be a great option.
Kane Zienkiewicz took his new boat out from Stoney Point and caught this whopper 9kg gummy on fresh yakka. Love ya work mate!
Mithat Buyuk fished the Warmies area at Newport and managed a solid snapper from the stones.
Tom Nguyen got stuck into the squid as they went nuts just before sunrise at Brighton Pier, Tom said that not even heavy wind could stop him or the squid.
Tristan Rogers had a cracking solo session on the bream with this ripper 38.5cm model caught among others of a similar size. We know people have been smashing the bream at Patto on curl tail soft plastics and vibes.
Motu Uelehipa fished the mouth of the Patterson River a couple of times over the past week braving the cold for some quality bags of salmon as well as mullet and trevally making an appearance.
Cameron Jansz was fishing Balcombe Creek at Mount Martha targeting garfish and bay trout using fresh squid when his bait got hammered by this ripper bream.
Mark Gray fished out from Rye in 10m on the northern edge of the south channel and caught these nice flathead.
Yazdan Vatani fished with Norbert Zaire at Blairgowrie Pier and managed a couple of nice calamari. The guys used Daiwa Emeraldas jigs in 3.0 and gold colour.
Daniel Zagami from Fish On Charters took his father out for a quick session out from Sorrento fishing the end of the run out tide and using fresh salmon as bait. The guys managed these two beautiful eating sized gummies for their efforts.
Bobby Parslow fished Sorrento on Friday arvo in the wet managing a nice bag of whiting using fresh squid and fishing the incoming tide. Great to see some whiting being landed.
Jason Nguyen caught this fantastic squid in the afternoon fishing from the Portsea Pier last week on his first cast, great effort mate.
Andrew Ketelaar braved the weather last week and fished Wurdibuloc Reservoir managing a number of great brown trout to 2kg on minnow soft plastics.
Troy Galt fished Lake Eildon on Monday and caught this healthy Murray cod on a Stump Jumper.
Paul Thomas and his son Bailey spent the day fishing Lake Eildon this week targeting trout and weren't disappointed with a number of ripper trout caught on Tassie Devils and Daiwa minnows. Bailey caught his yellow belly after spying the fish hanging out at the surface.
Anton Davies fished Lakeside Pakenham and landed this beautiful rainbow trout on a Z-Man Grub.
John Simit landed this cracking rainbow at Lakeside Pakenham this week on a Wasaby Spoon, well done mate!
Ray Cooper fished Bemm River this week and caught over 20 ripper bream to over 30cm on a variety of baits including cooked prawns.
Matthew Gillian caught this solid tailor from the beach at Redcliffe on fresh prawns.
IFISH WITH TACKLE WORLD SERIES 13
TALKING FISHING - C31 TV - TUESDAYS @8.30PM
Catch "Talking Fishing" on Melbourne's C31 TV (CH44) at 8.30pm each Tuesday night. Staff members David Kramer and Adam Ring together with Steve "Trelly" Threlfull host Australia's only "Live to Air" fishing television program at this prime time-slot. Put Tuesday night's at 8.30 away in your weekly diary of TV shows to watch!
There was once a type of crocodile that could gallop.

Good Luck with your fishing and stay safe on the water,

The TEAM at Tackle World Cranbourne & Mornington