The action off Portland on Monday was absolutely epic with what could be considered a record day for big tuna at Portland. Portland Bait and Tackle was right in the middle of the action weighing in 24 barrel tuna between 80kg and 133kg. While 24 fish were weighed in there was many more that came in. Let's hope that this is a sign of things to come for the tuna season ahead.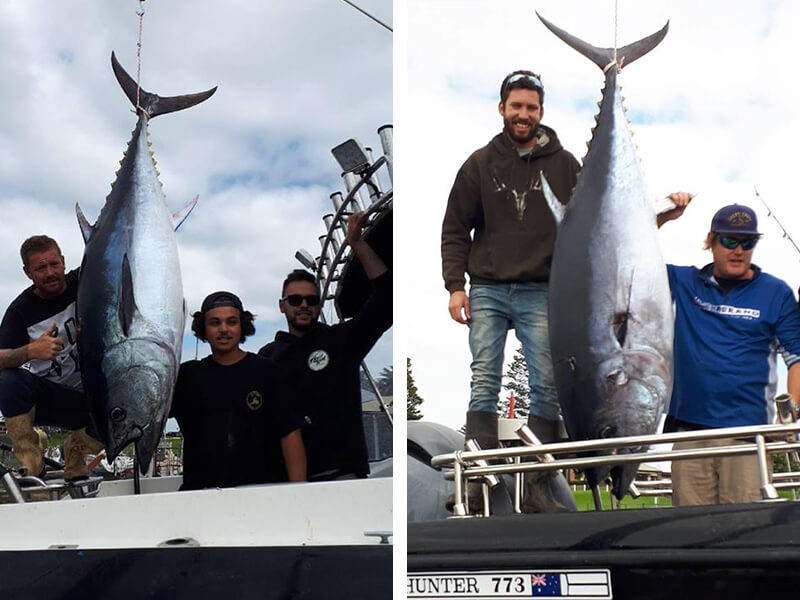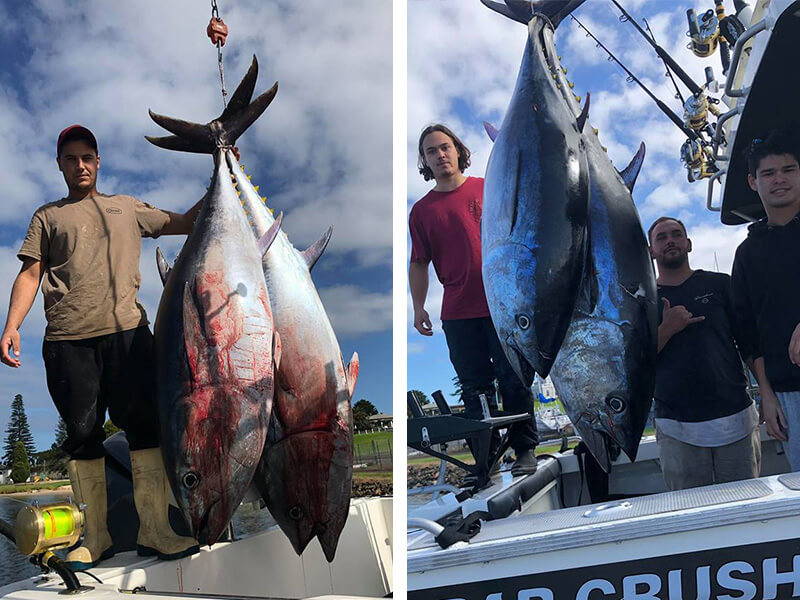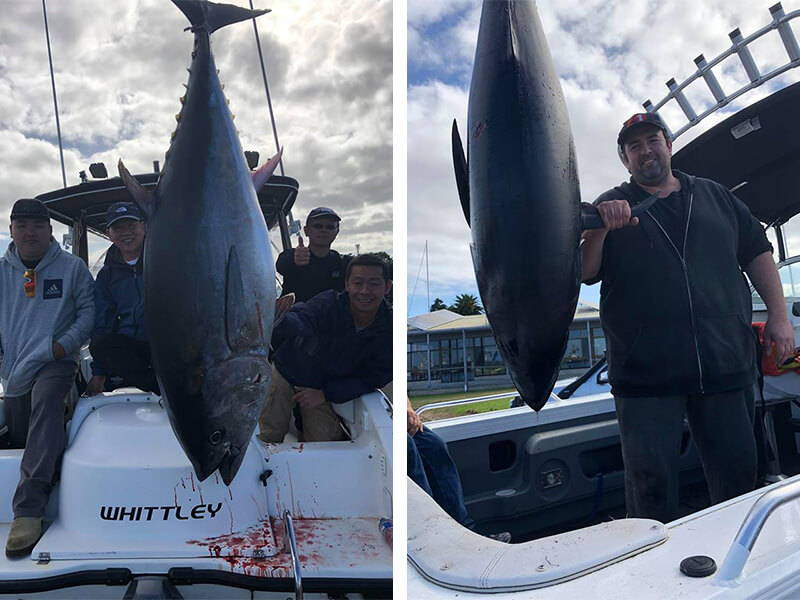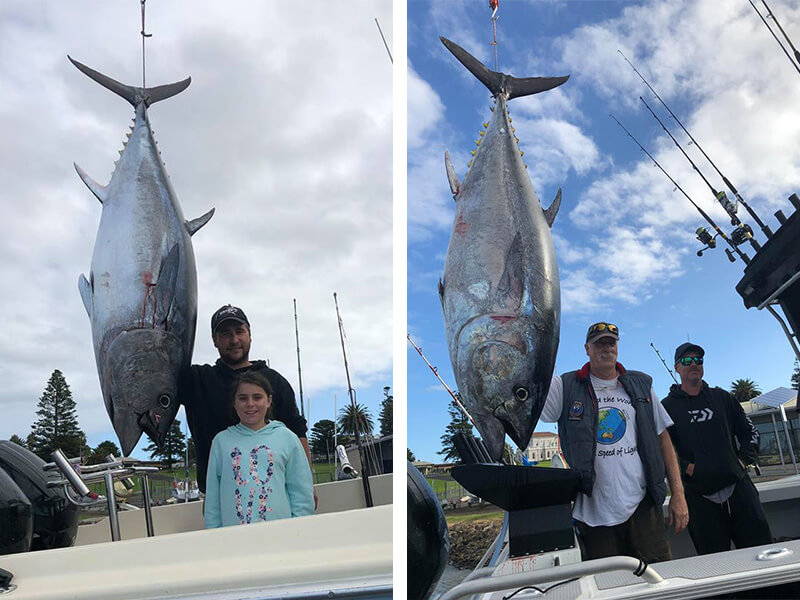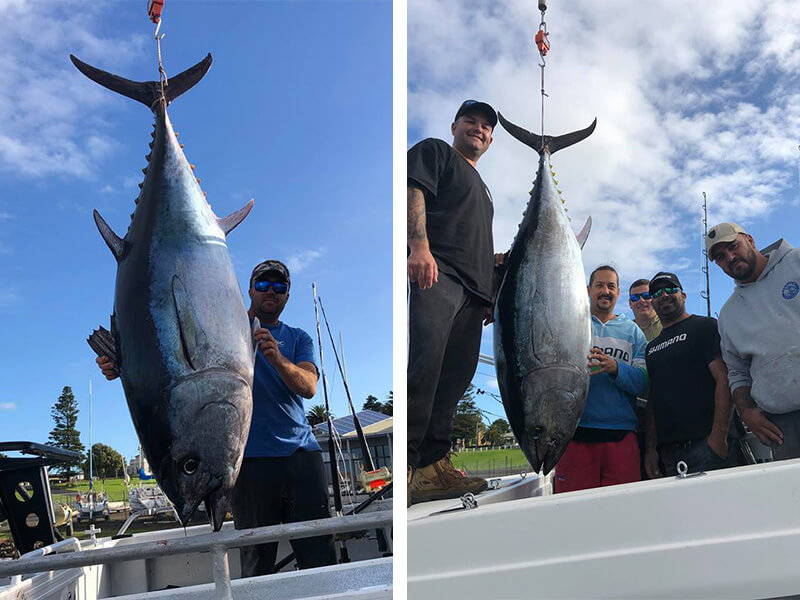 PHOTOS COURTESY PORTLAND BAIT AND TACKLE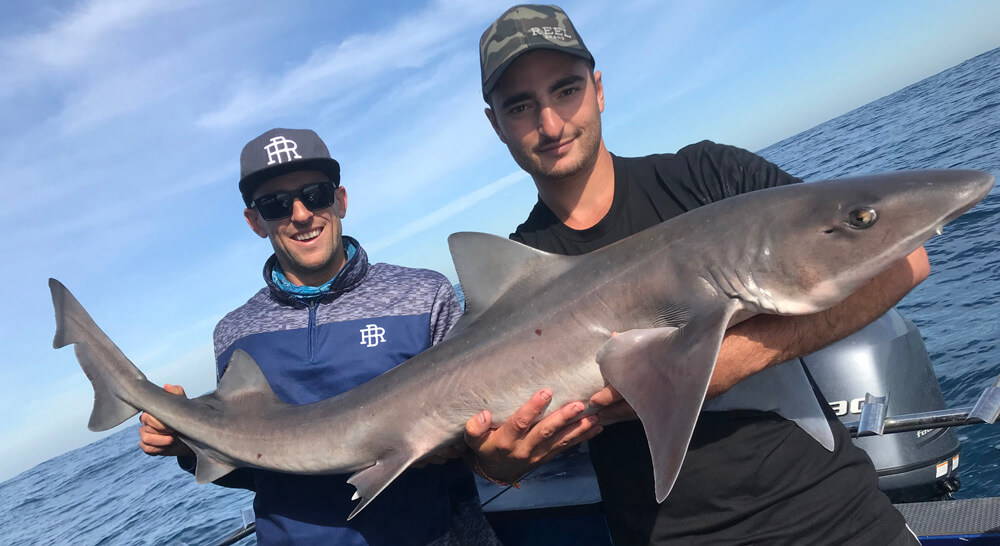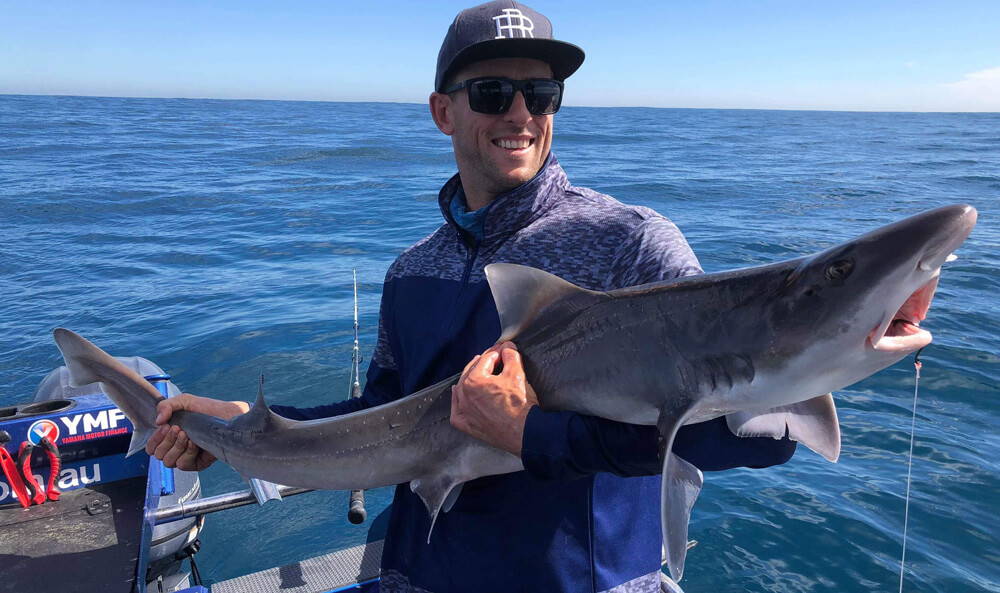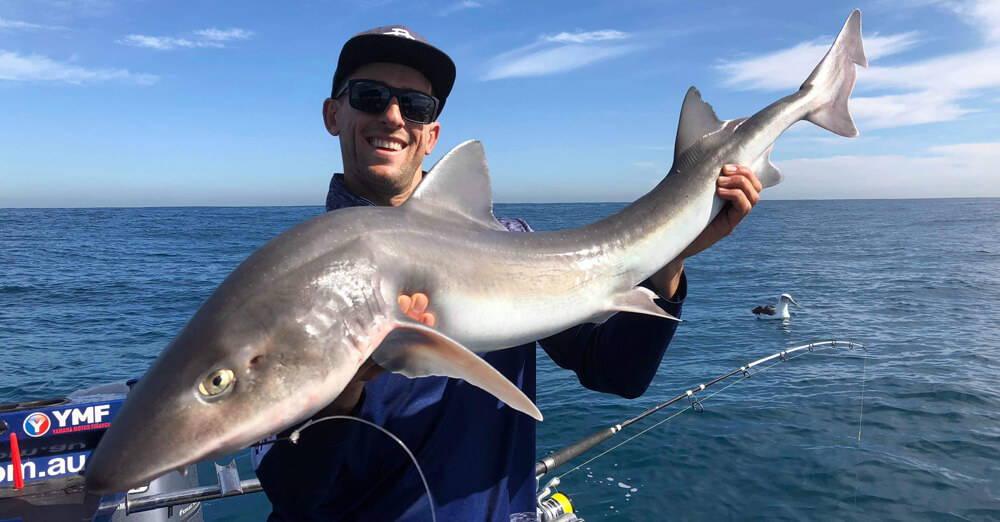 On Tuesday IFISH Producer Tom Hughes teamed up with local guide Chris Cassar and 'borrowed' True Blue for a trip chasing gummy sharks. The boys launched from Stony Point and started with some bait collection in 20 metres of water collecting wrasse on light paternoster rigs with long shank hooks. With plenty of bait they then moved offshore towards Cape Schanck and set up in 40 metres of water. The spread was 4 rods; 2 with paternoster rigs straight up and down and 2 running sinker rigs cast out the back using 8/0 Gamakatsu hooks on both. The guys had a ball when the tide changed catching 7 big gummies to just over 20kg and 5 seven gill sharks estimated to 40kg that were released beside the boat. The guys only kept 2 of the smaller gummies from the trip for a feed and remind everyone to care for your catch by bleeding and gutting sharks as it will make all the difference in the flavour later. Tom reports that while offshore they found large numbers of snapper to 70cm on the sounder and underwater camera as well as spotted big schools of salmon and tuna.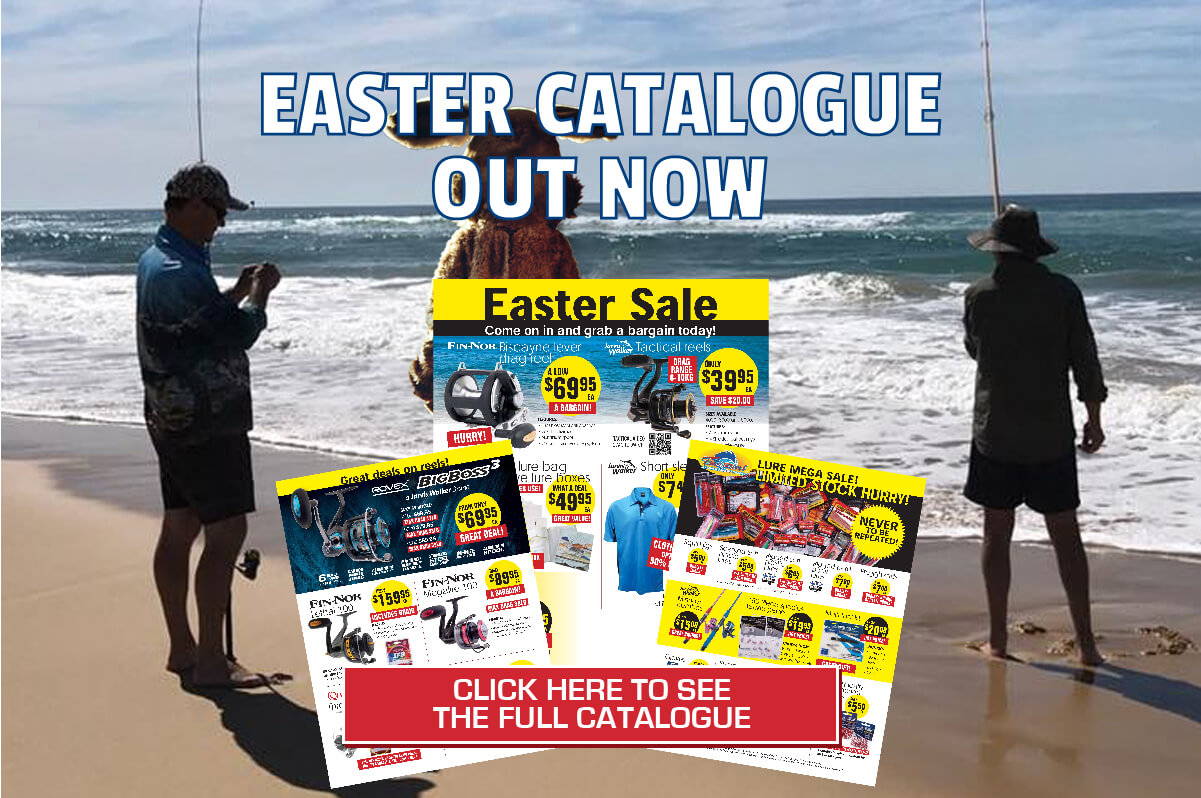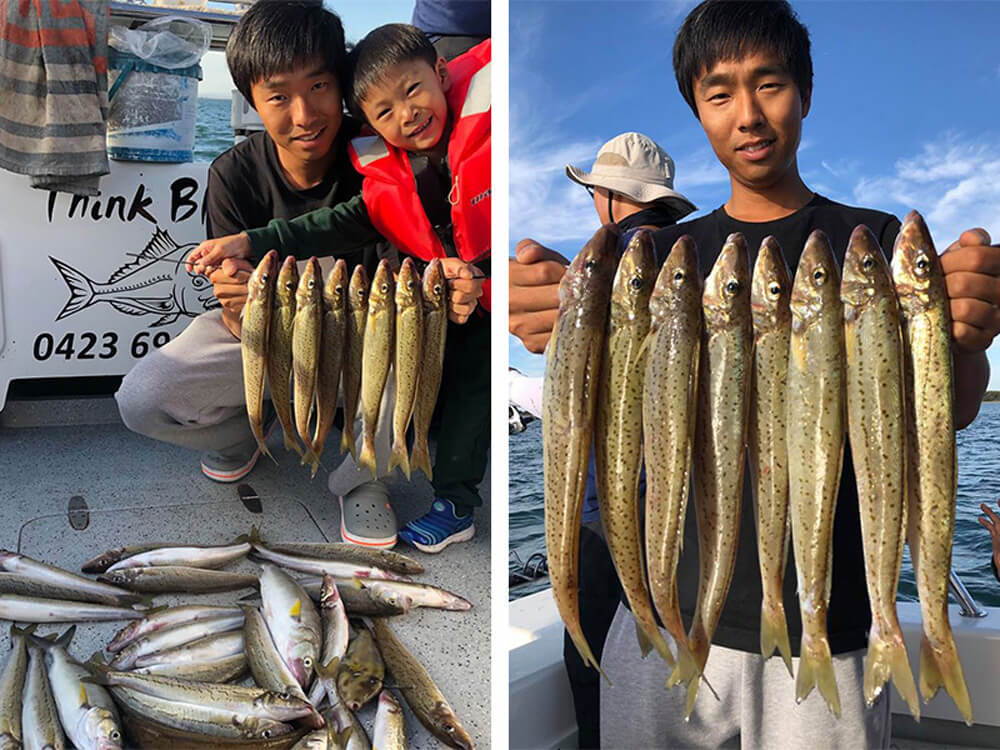 Shaun Furtiere from Think Big Fishing Charters had customers Billy Zhang and his son Jeremy on board last week for a fantastic session on the Western Port whiting.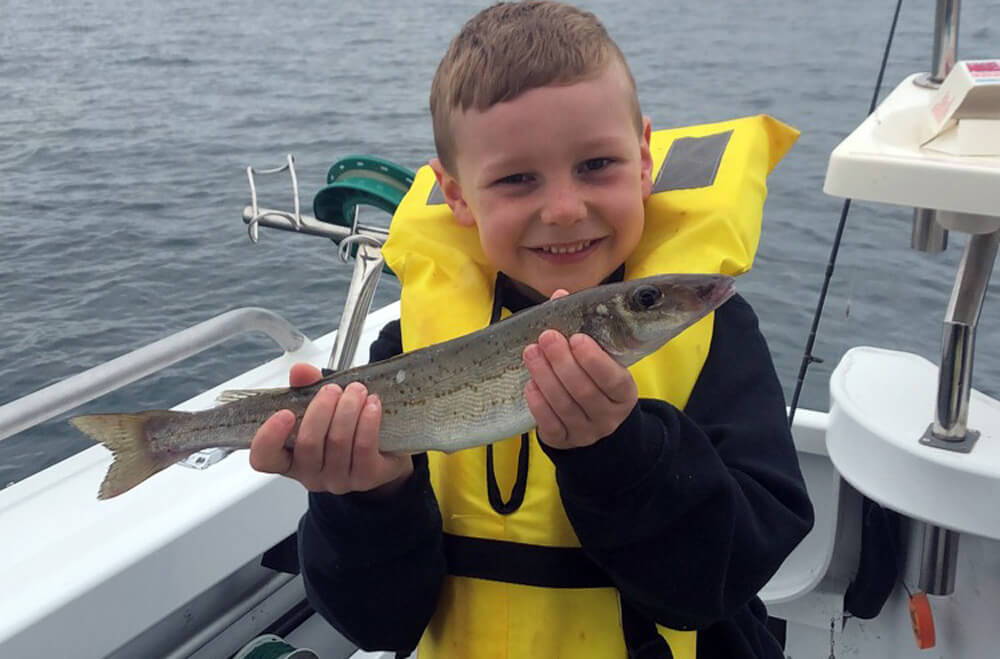 Jack Payne fished with his dad Lee and pop Greg and together they managed a nice feed of whiting with squid and pipi being the best baits in just 3 metres of water.
Guesty fished Middle Spit last week and managed to catch some cracking whiting.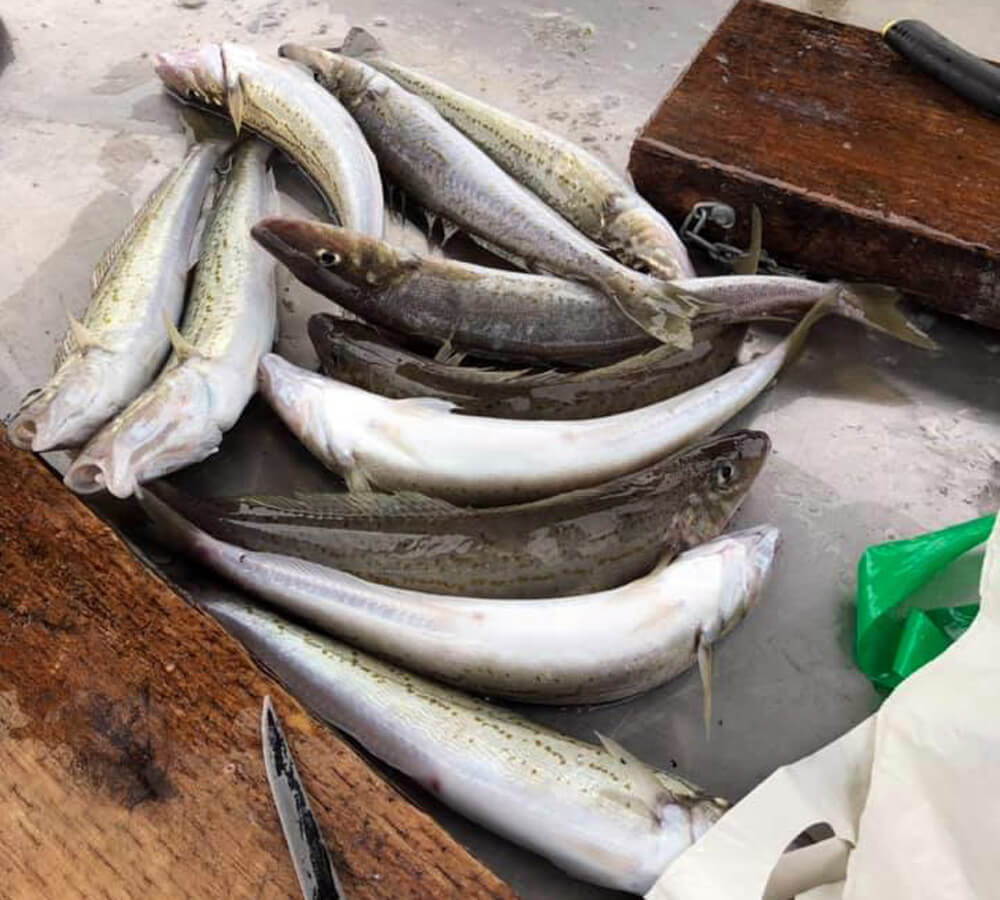 Matthew Foley landed a nice feed of whiting during the run out tide at Middle Spit using pipis and squid for bait.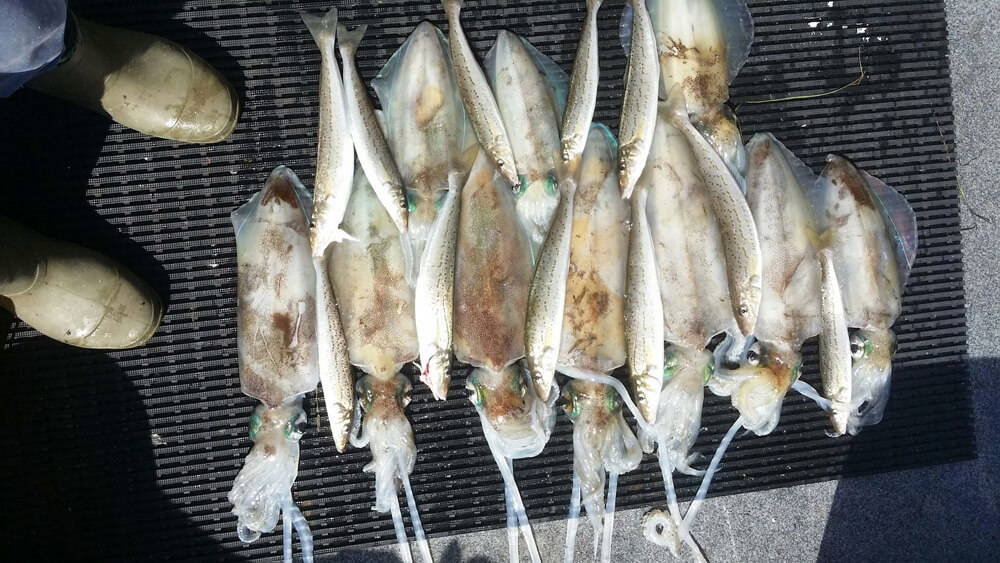 Mo had a fantastic session at Quail Bank on Tuesday landing some monster calamari and a dozen whiting.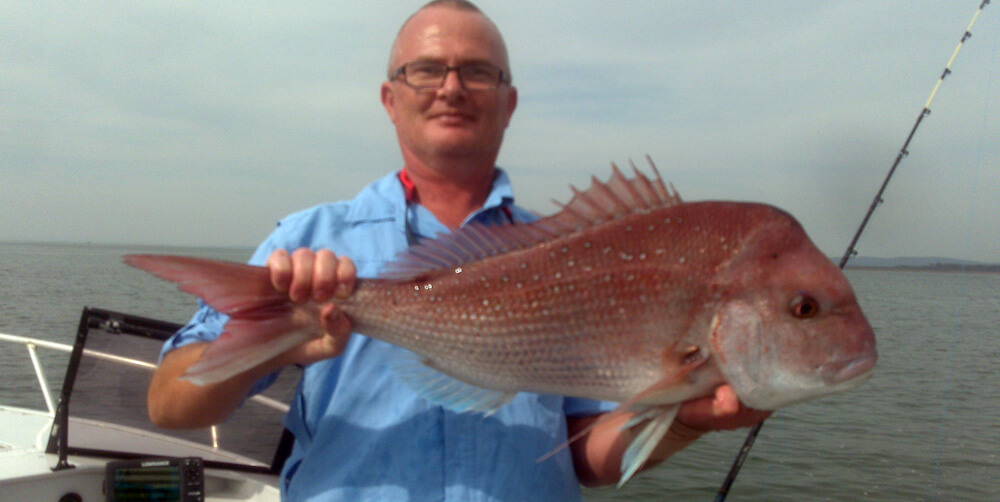 Ian Mackenzie and his mate Brian fished the entrance to the Warneet Channel last week chasing whiting and managed 10 nice whiting as well as a good snapper and some fantastic flathead to 48cm; bait of choice was cuttlefish.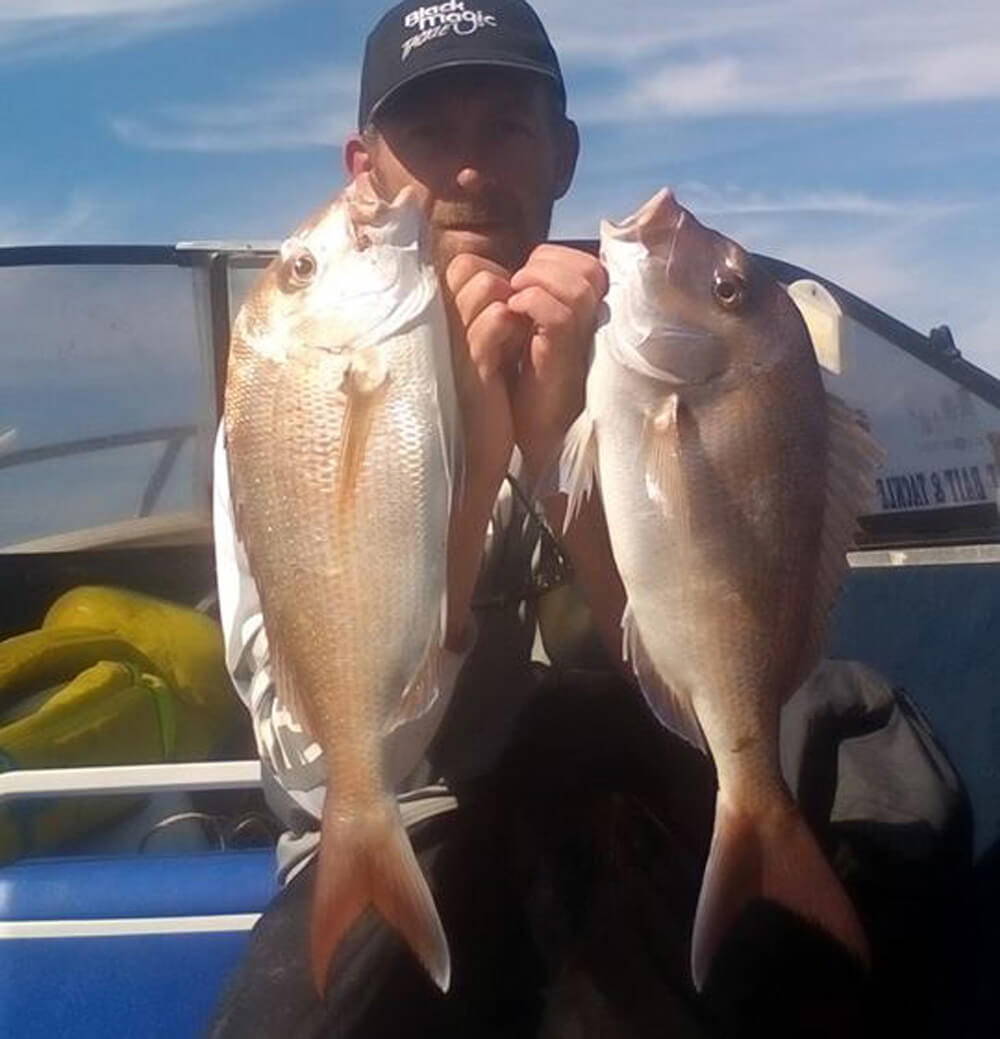 Matt Tormey fished out from Corinella on Wednesday morning and landed some fantastic reds during the run out tide in 6 metres; best baits were striped tuna and tommy ruff. Well done mate.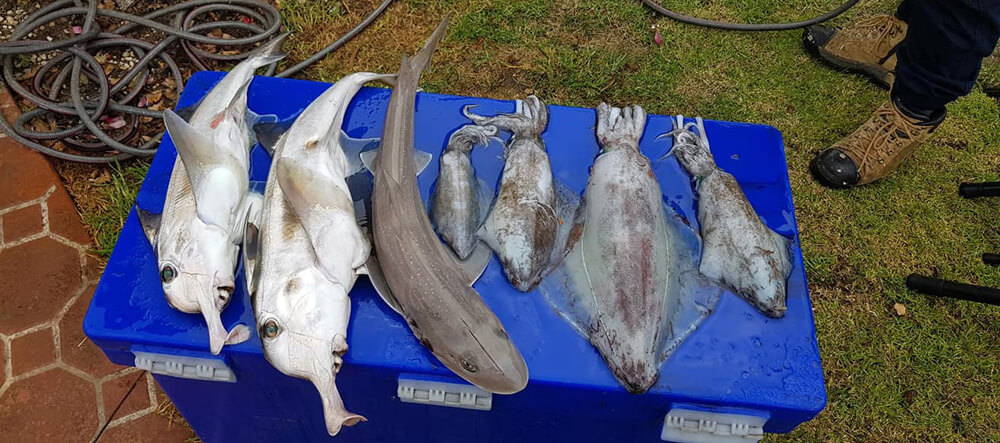 Ben Gutu and a mate fished out from Corinella on Tuesday and landed a nice gummy as well as a couple of elephant fish using fresh squid caught around Reef Island on red foil jigs.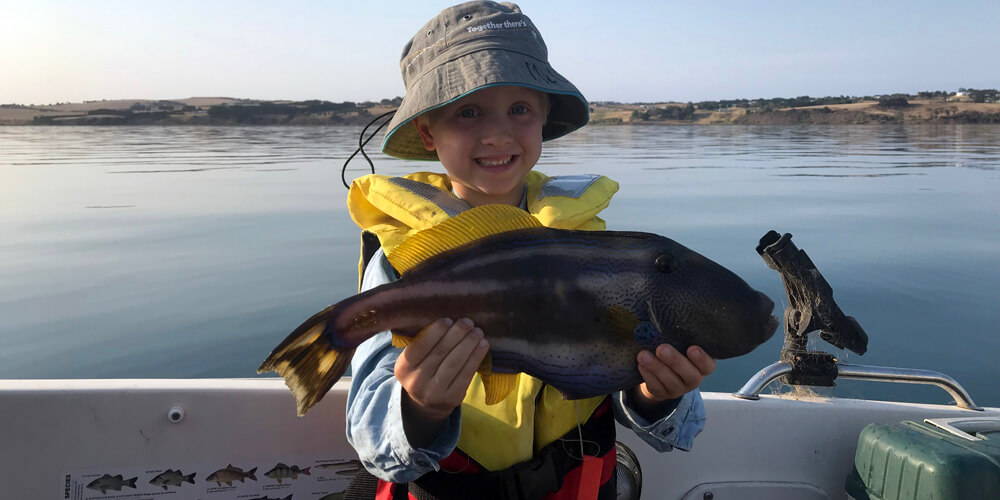 5 year old Miles Leary with a ripper leather jacket caught off San Remo last weekend.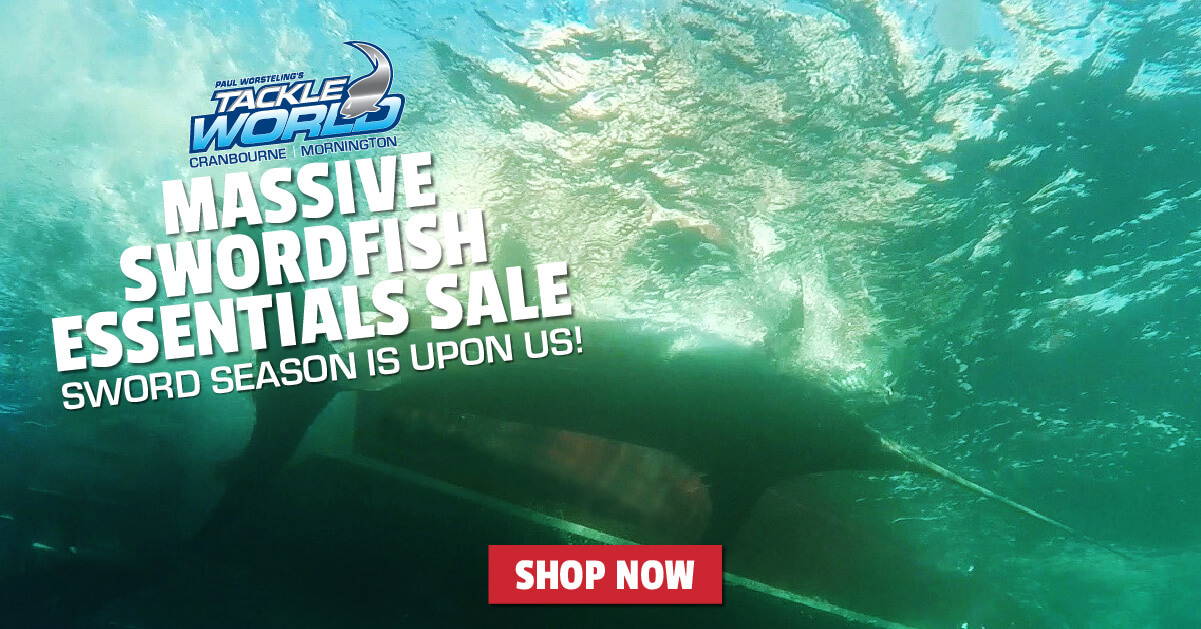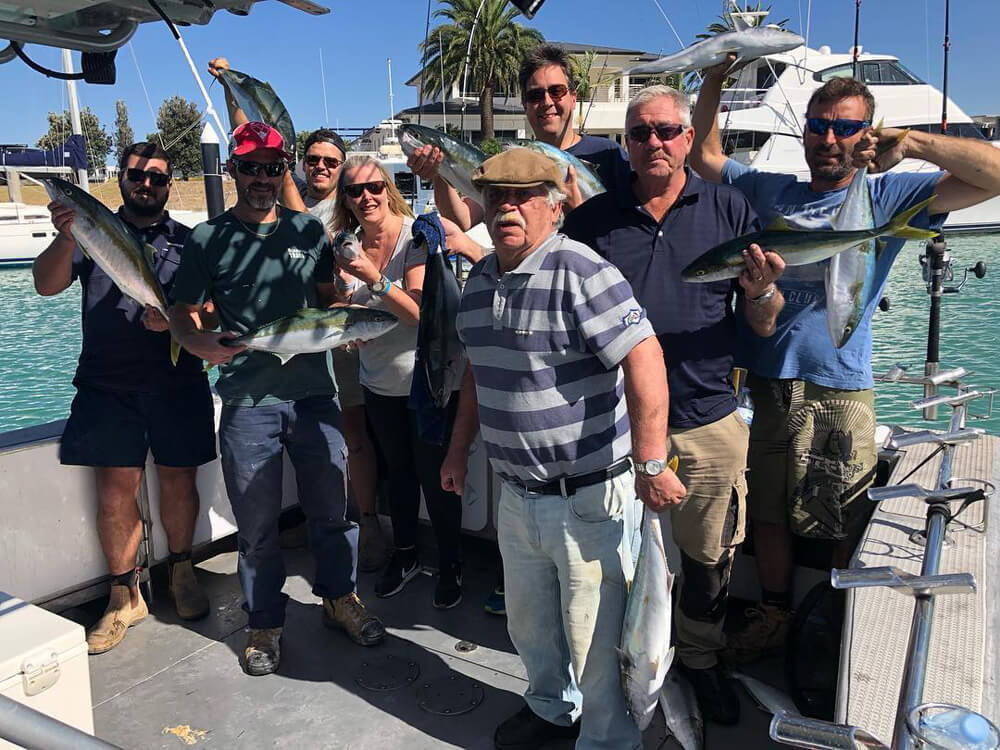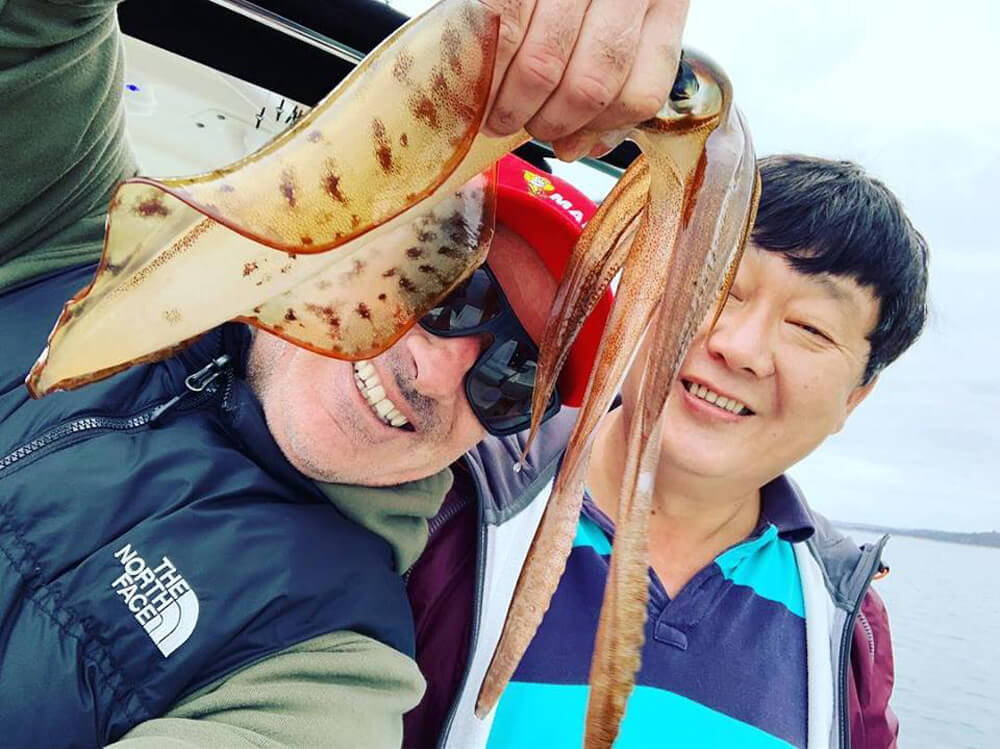 Matt Cini and the Reel Time Fishing crew finished their kingfish charters last week with a few rat kings landed for their customers. They are still finding some fantastic squid and snapper on their charters at the moment as well.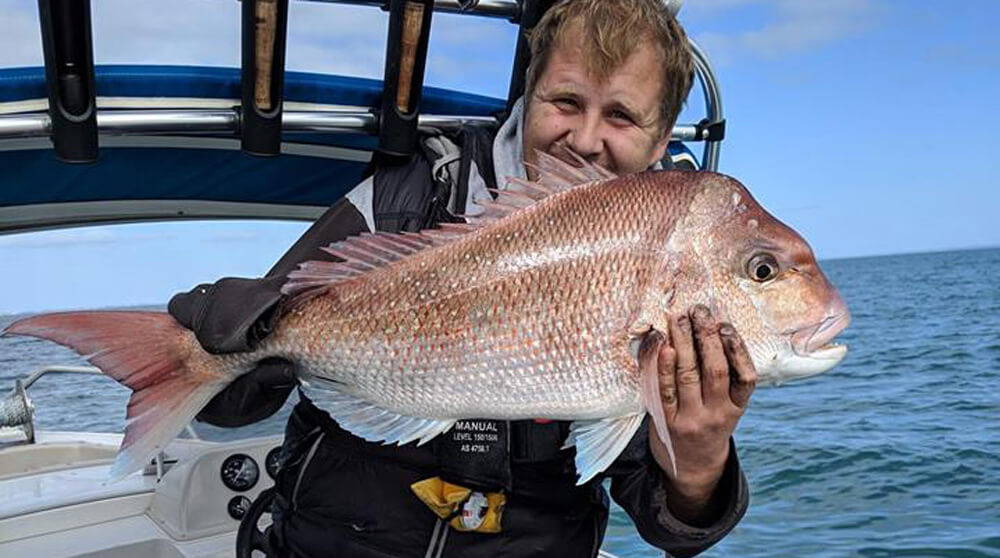 Adam Ireland and Robert Ballo fished out from Mount Eliza in 19 metres of water on some great snapper with pilchards being the stand out bait.
Gazza Jones with a fantastic snapper caught off Mornington in 21 metres of water last week.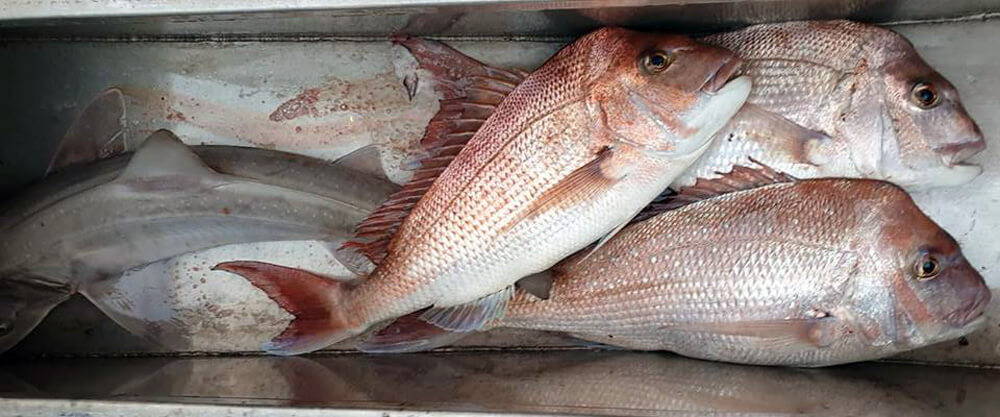 Shar Kan and Greg Kontostergios fished out from Mornington in22 metres and landed some cracking snapper and a nice gummy on pichards.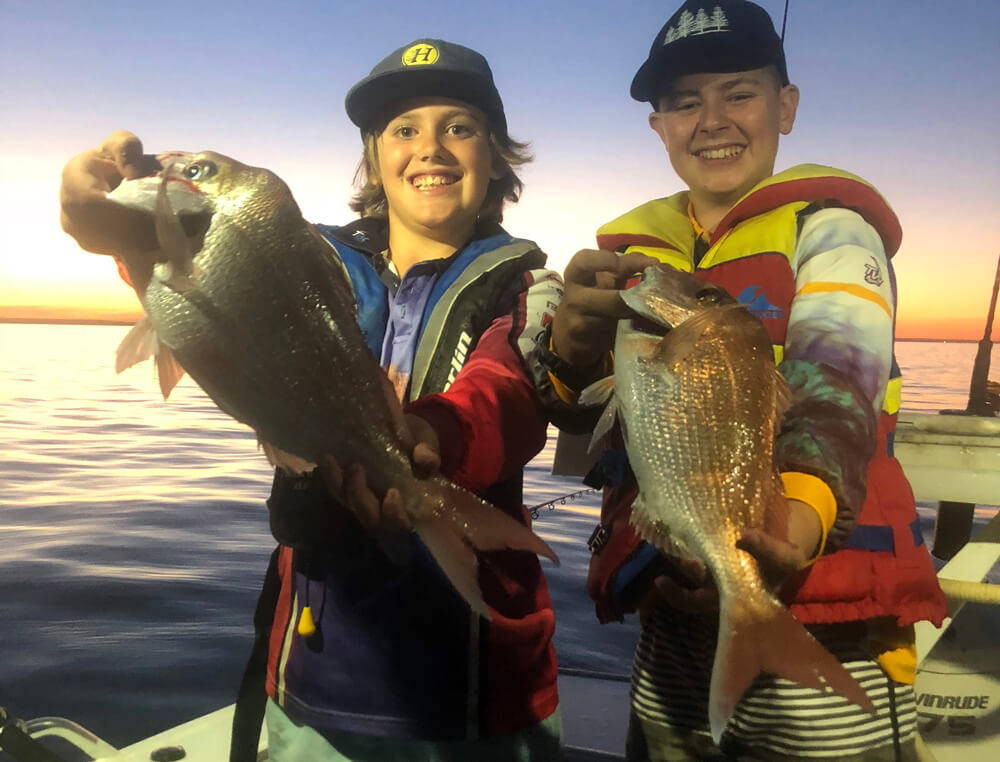 Kade and Cooper landed some nice pinkie snapper off Mornington in 21 metres on Tuesday night with silver whiting being the best bait.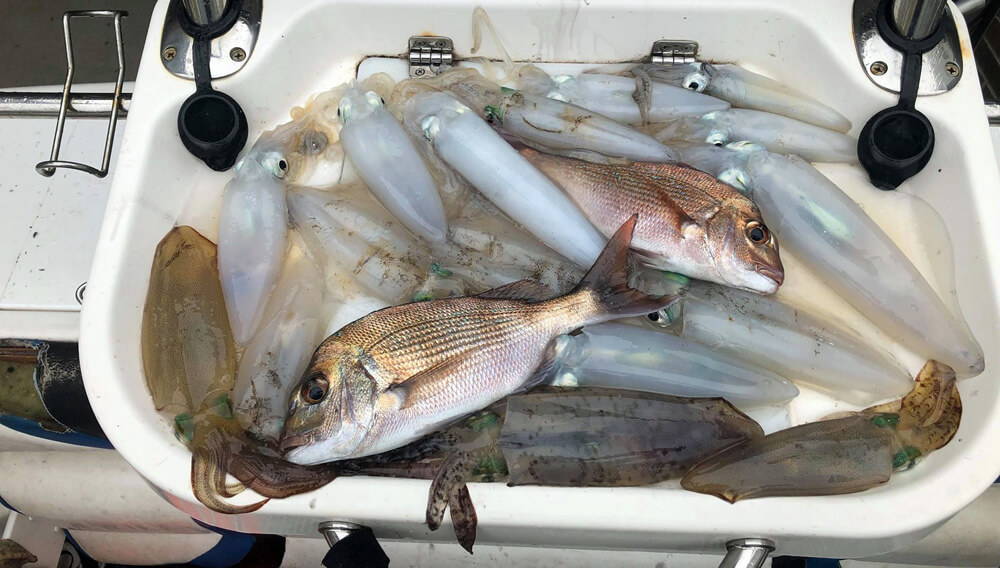 Staff member Jeremy De Haan had a quick session with Jake Tognazzini off Sunnyside Beach, Mornington on Wednesday landing some fantastic calamari on red foil jigs as well as some nice eating sized pinkies on soft plastics.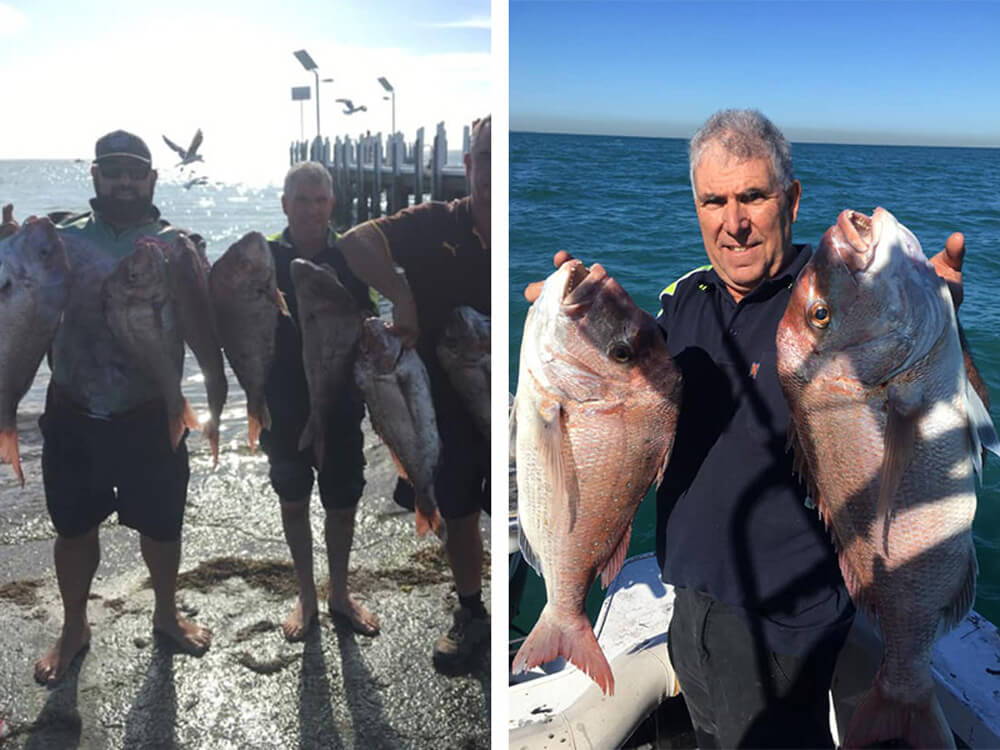 Paul Failla fished out from Mount Martha with a couple of mates in 21 metres of water and landed some cracking snapper to 56cm on fresh squid; best bite time was 2 hours before and after the high tide change.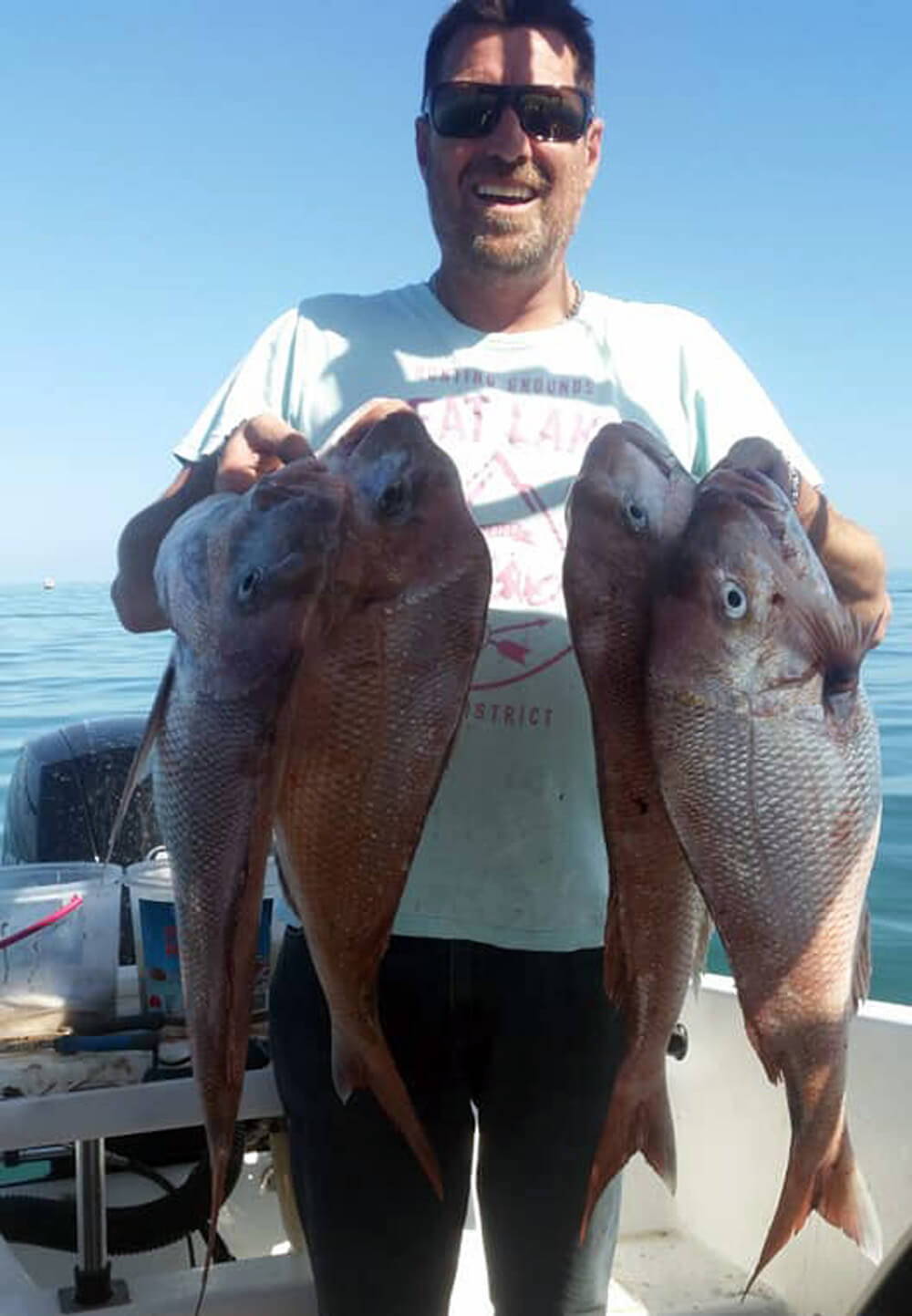 Allen Rayner and co got stuck into some fantastic snapper out off Mount Martha last week in 21 metres, east side of the channel.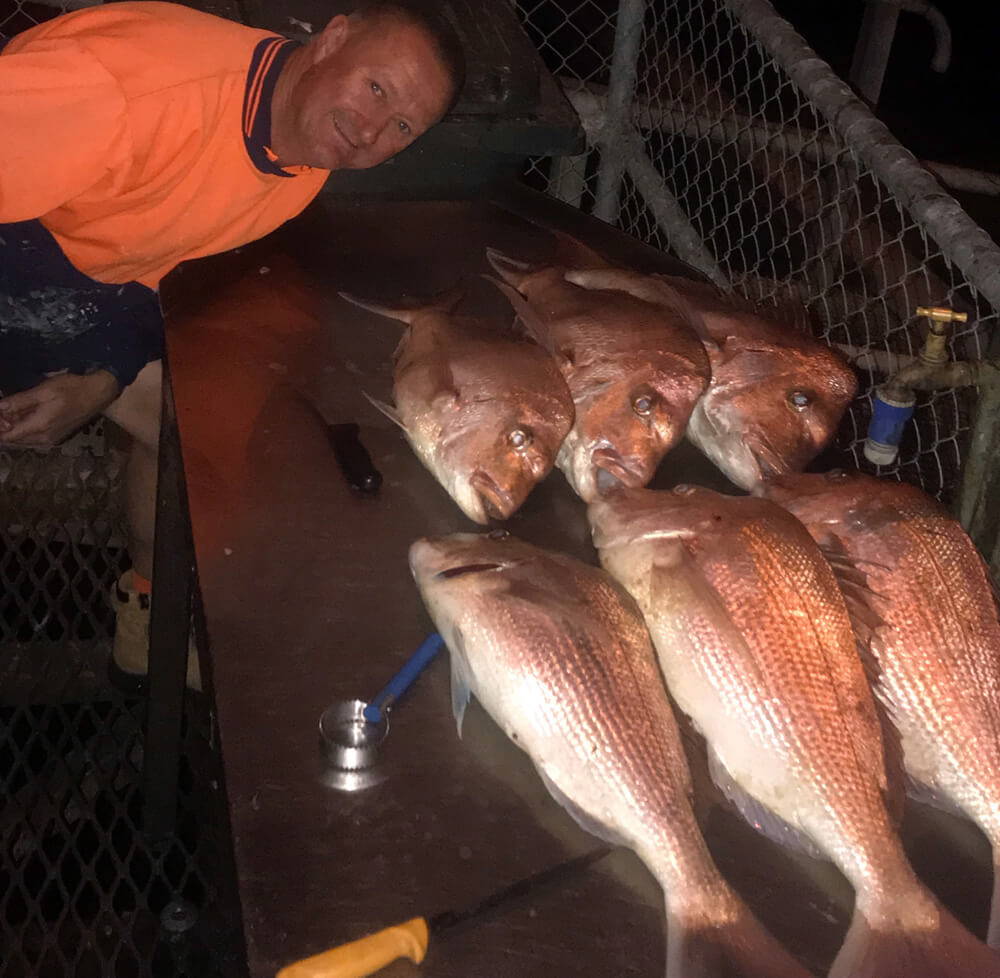 Andy Birch and co had a fantastic sunset session on the snapper out from Mount Martha this week in 21.5 metres of water.
Sam Gianquinta caught 2 nice snapper fishing out from Mount Martha in 20 metres last week. The run out tide was the best bite time and pilchards did the damage.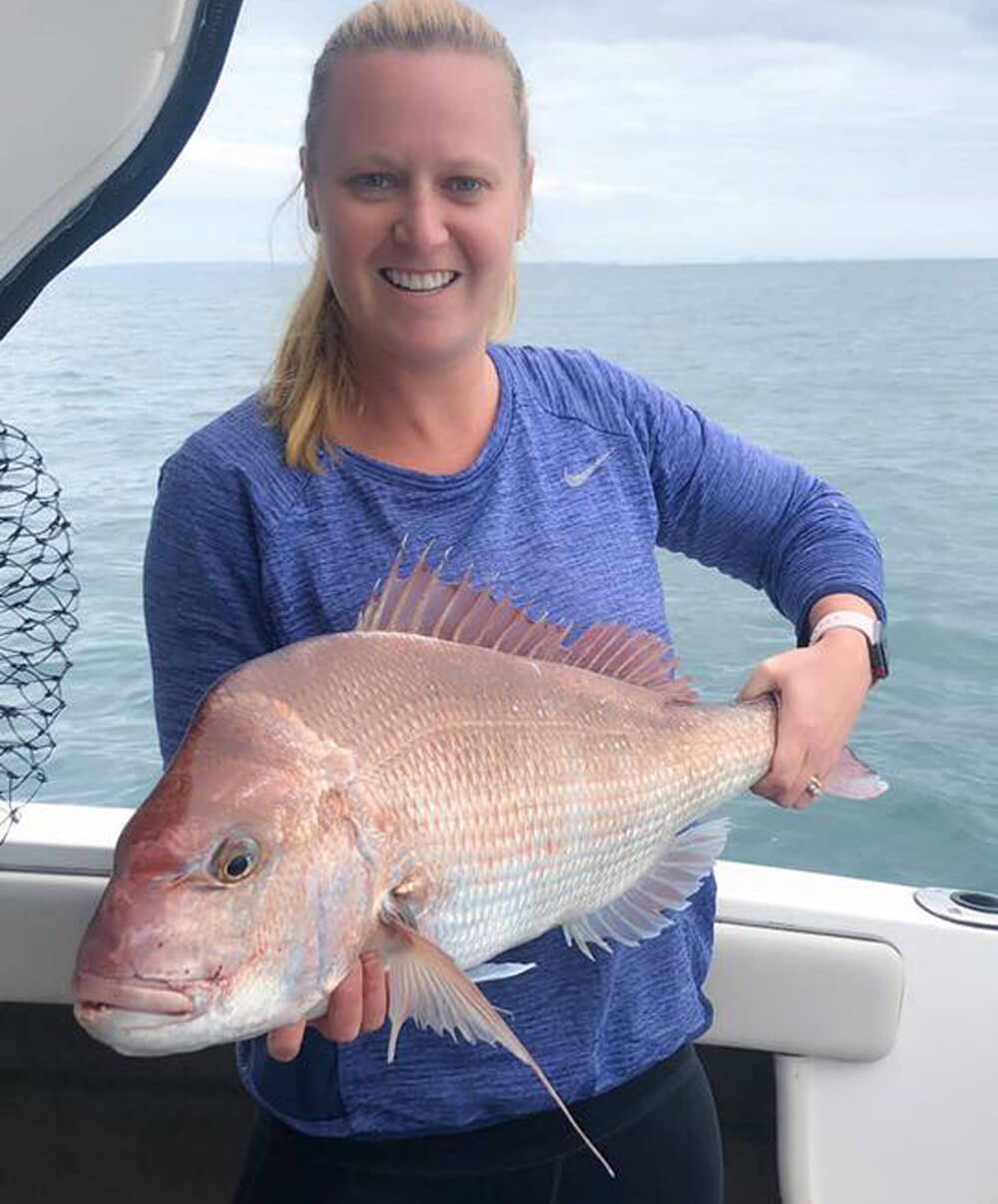 Caitlin Stevens with her first big snapper coming in at 72cm it was caught off Mount Martha in 21.5 metres during the tide change. Great catch Caitlin!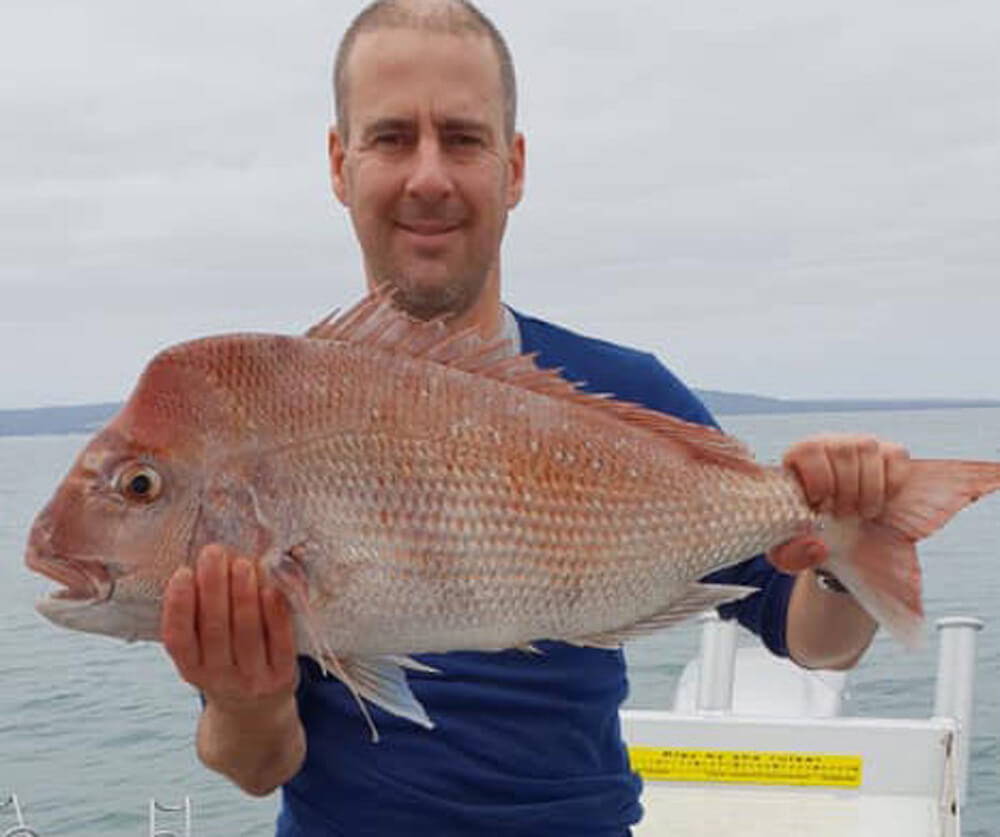 Matt Attard landed this fantastic snapper out from Mount Martha in 21 metres on a pilchard during the tide change.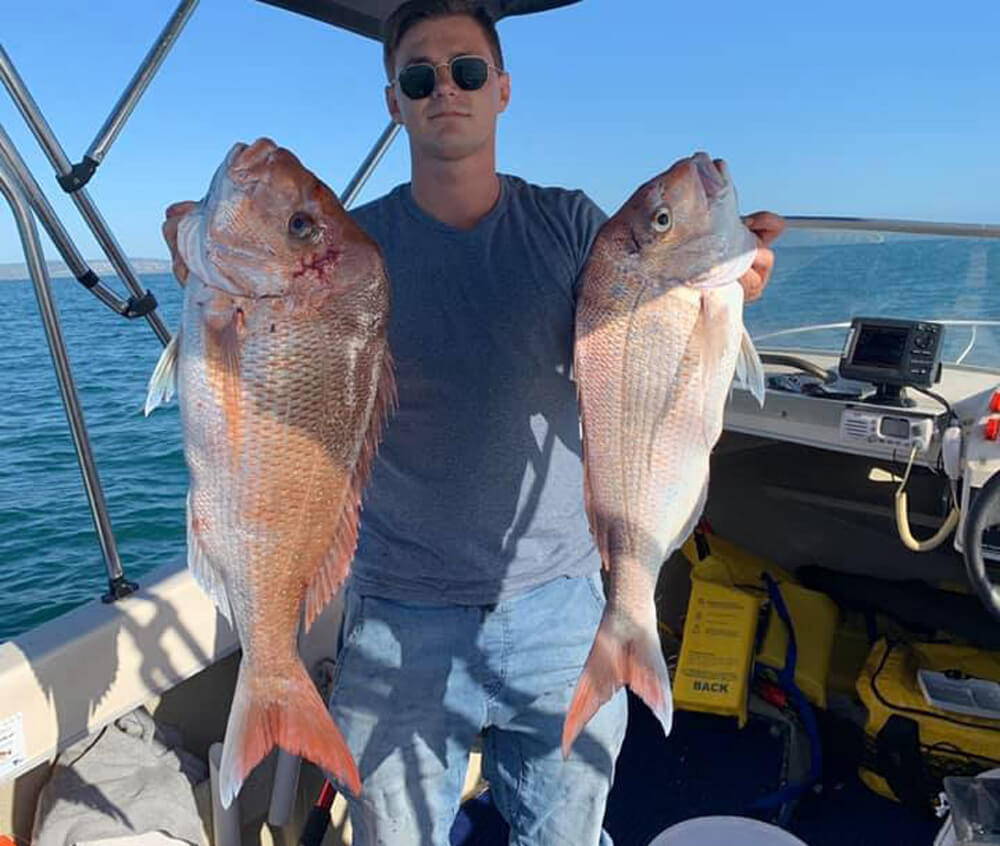 Aaron Bird with a couple of ripper snapper landed in 22 metres on the east side of the shipping channel out from Safety Beach. Aaron didn't sound any fish so picked a spot and berlied with tuna oil and pilchard cubes which had the fish on in half an hour.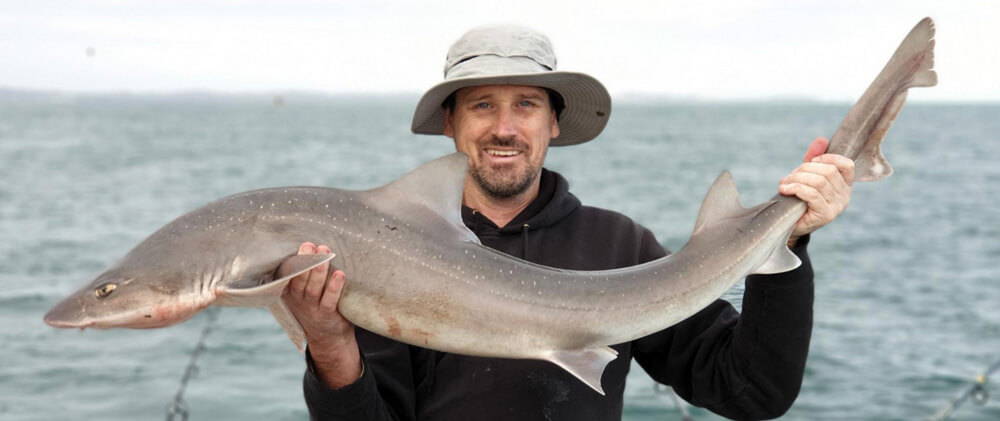 Al Gladman and Jaryd McDowall landed 2 ripper gummies fishing out from St Leonards in 15 metres of water during slack tide.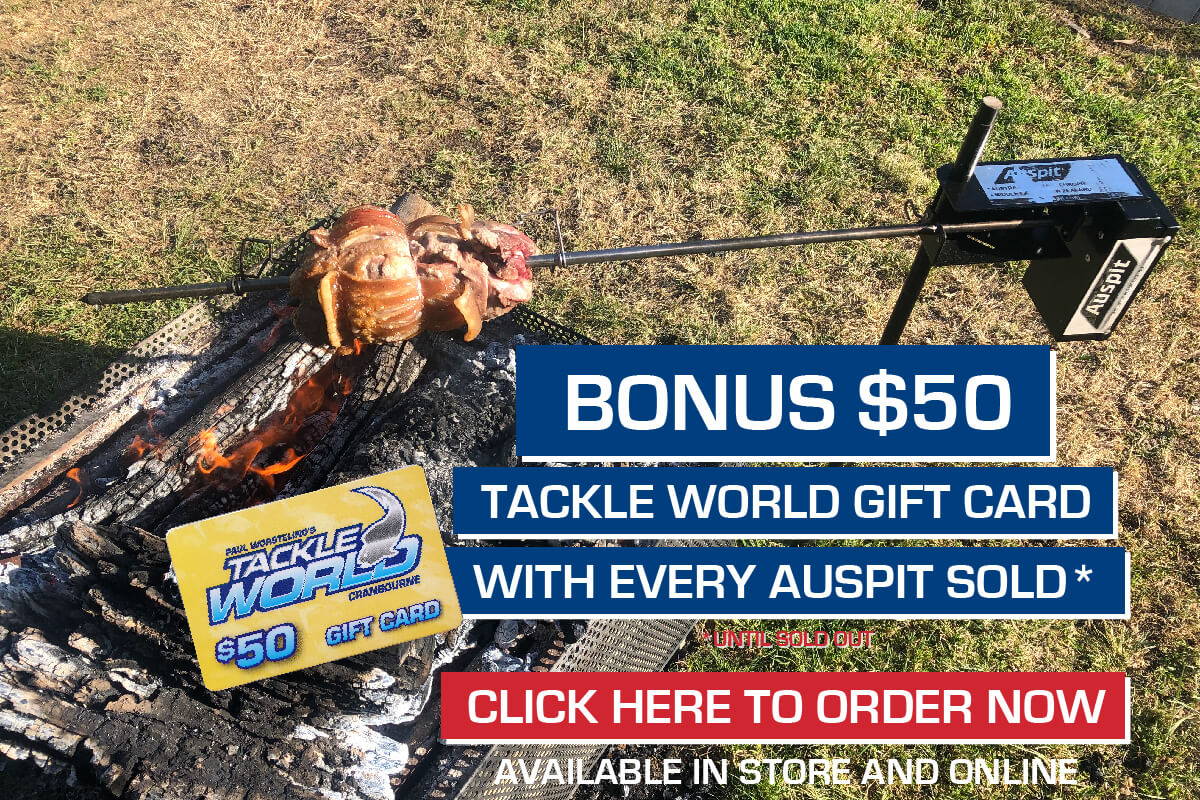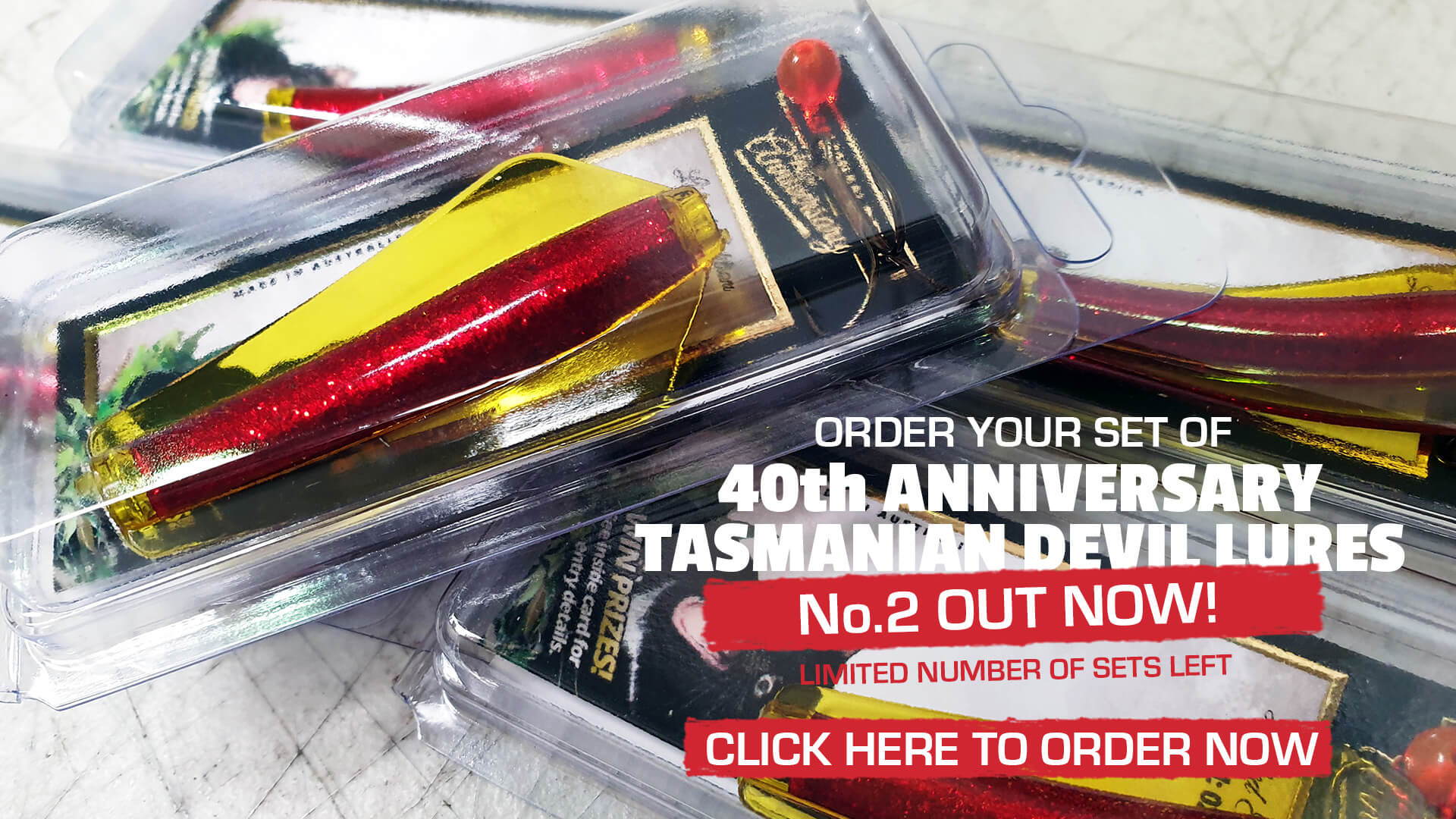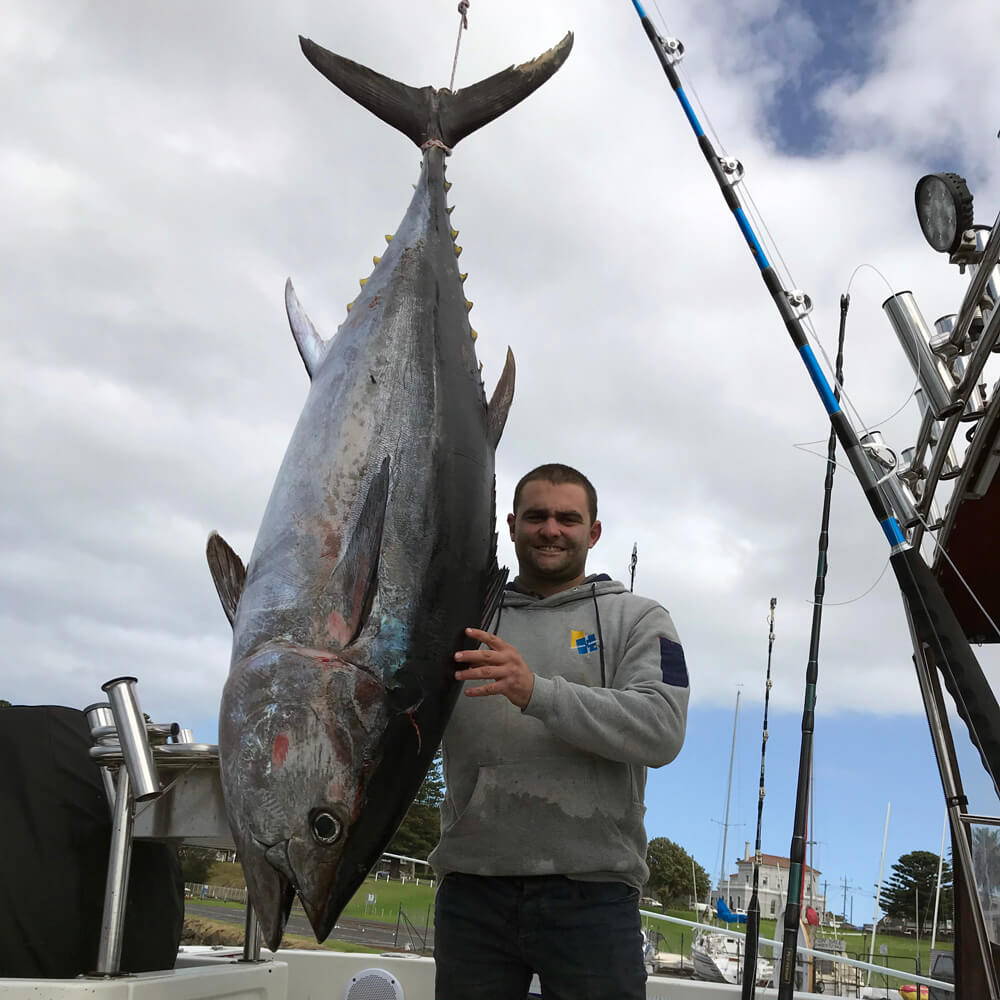 Trent Dickinson and Tim Williams landed a fantastic barrel tuna of 89kg after a 2 hour 20 minute fight fishing out from Portland on Monday with Tim on the rod for his first solid tuna.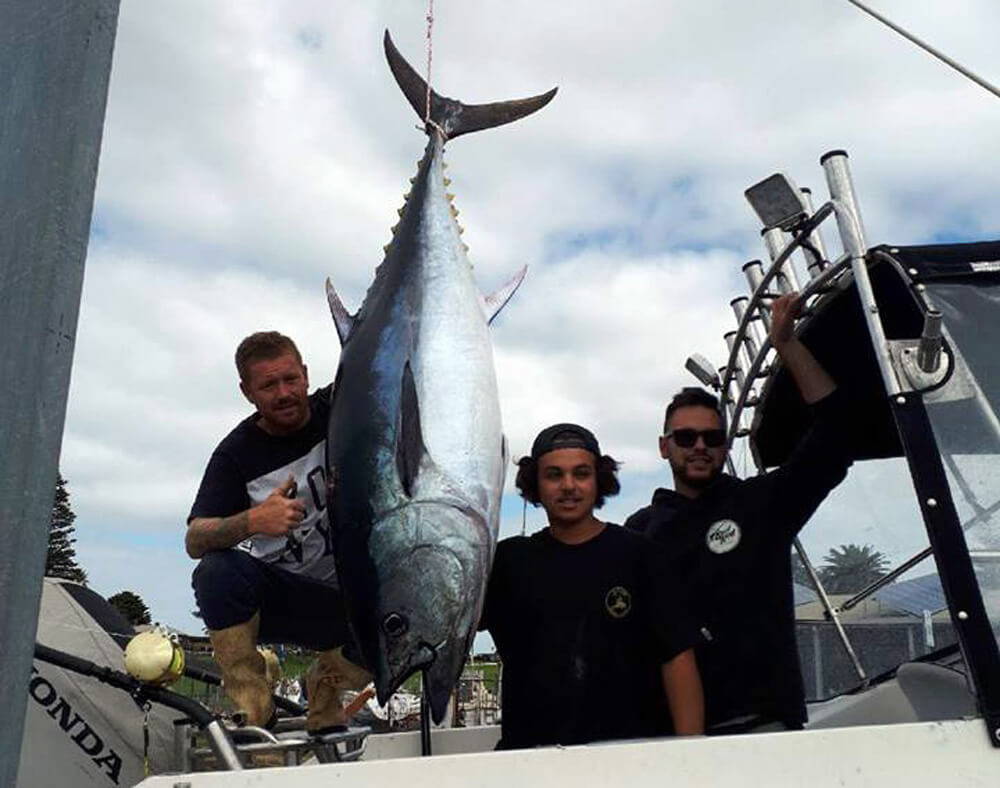 Aaron Feldman, Matt Singh and Daniel Bateman fished out from Portland chasing barrels around the 100 metre line and they managed to land one and lose one using Redbait Zacatak and Humdinger Bonze skirts. Great job guys!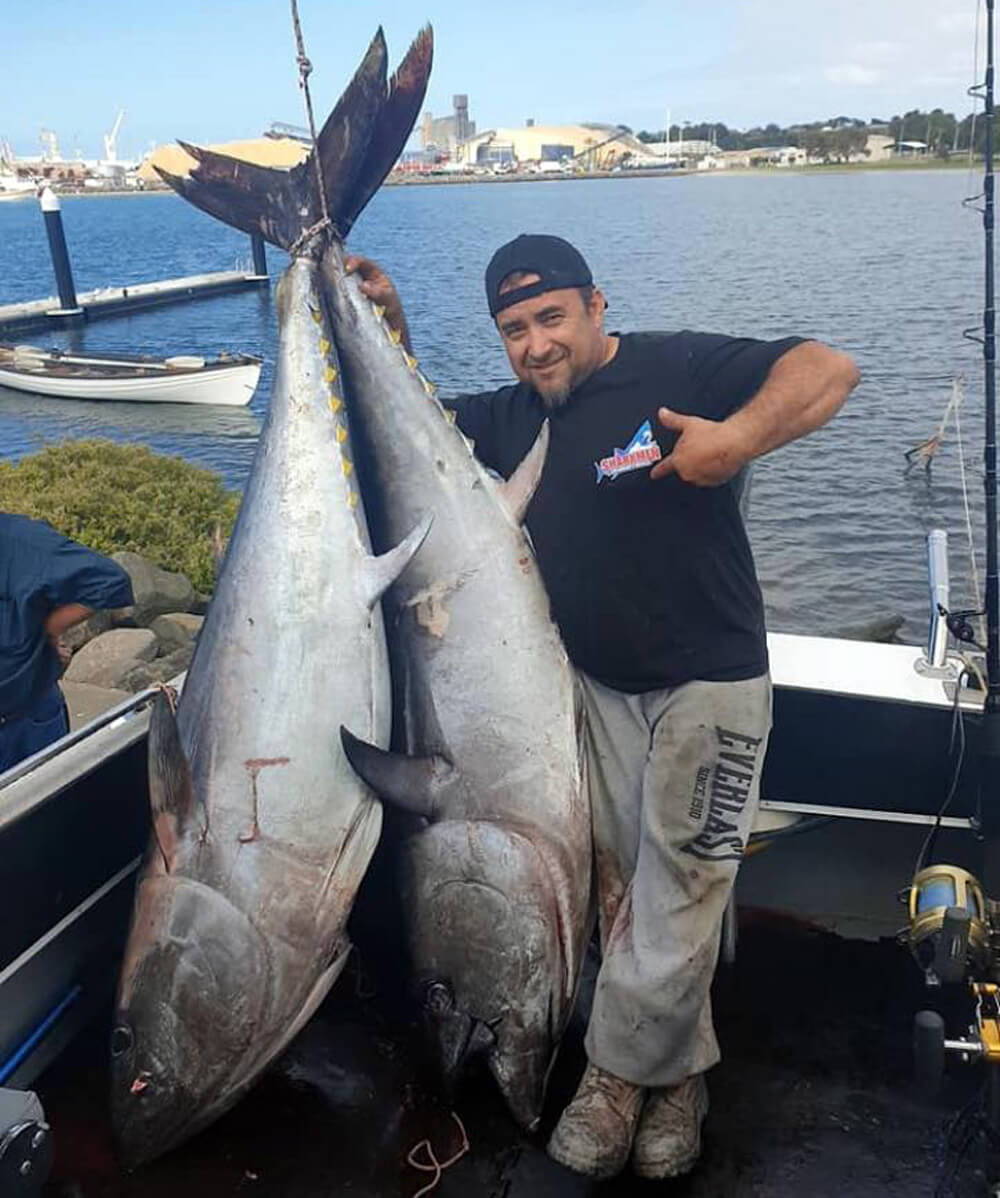 Sharkmen Fishing Charters decky Sel landed the double barrels on Monday during the hot tuna bite. Over 20 barrel tuna were brought in at Portland on Monday alone with reports of sighting thousands of big fish in the area.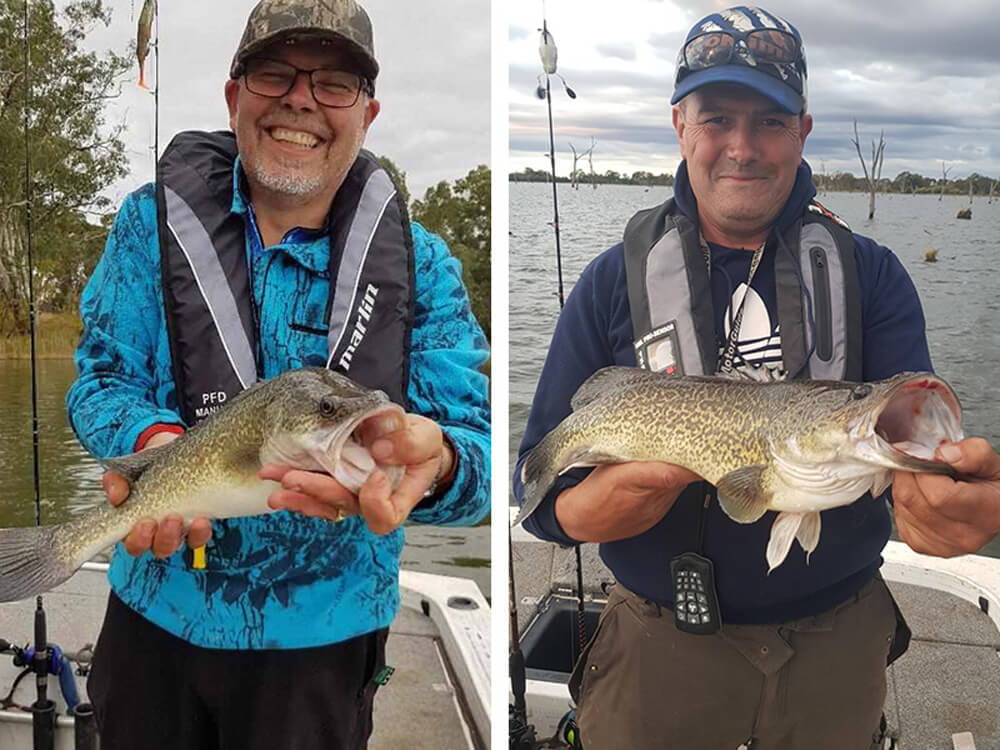 Silvio and Chris headed to Nagambie to practice for the upcoming GoFish competition and Chris (blue shirt) managed to catch his first cod of 52cm and Silvio landed a beautiful 64cm cod, all fish caught on soft plastics.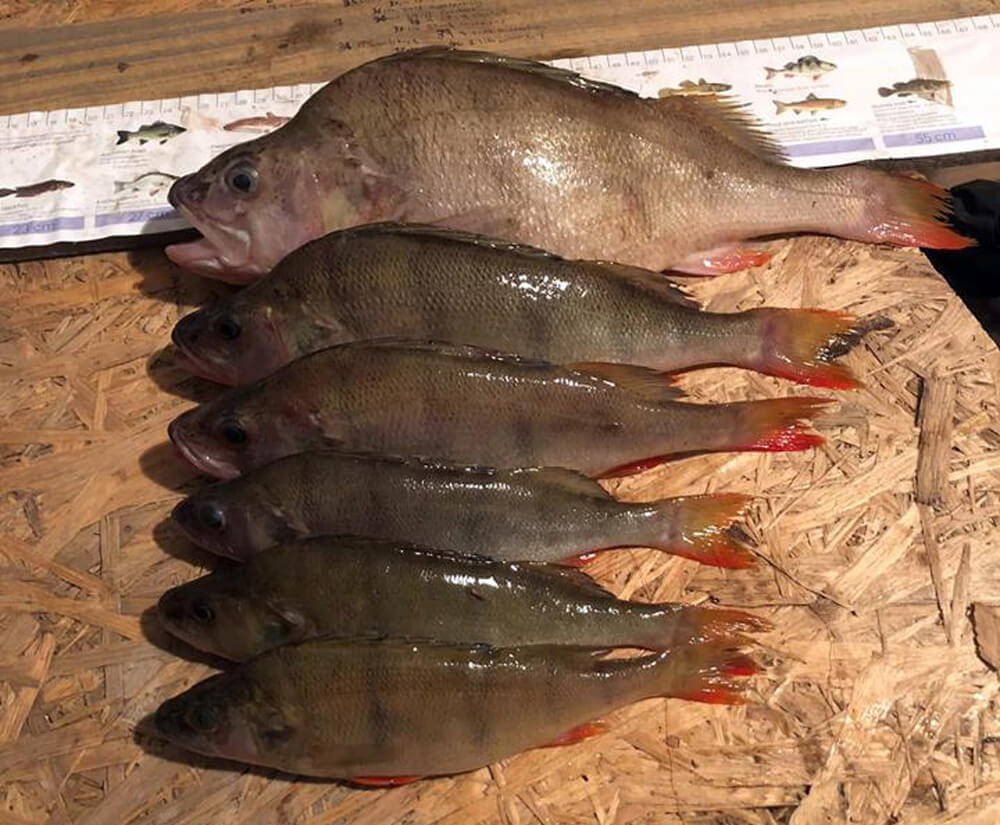 Steve Smrdel managed a good feed of redfin fishing the reservoirs at Kyneton this week using live baits.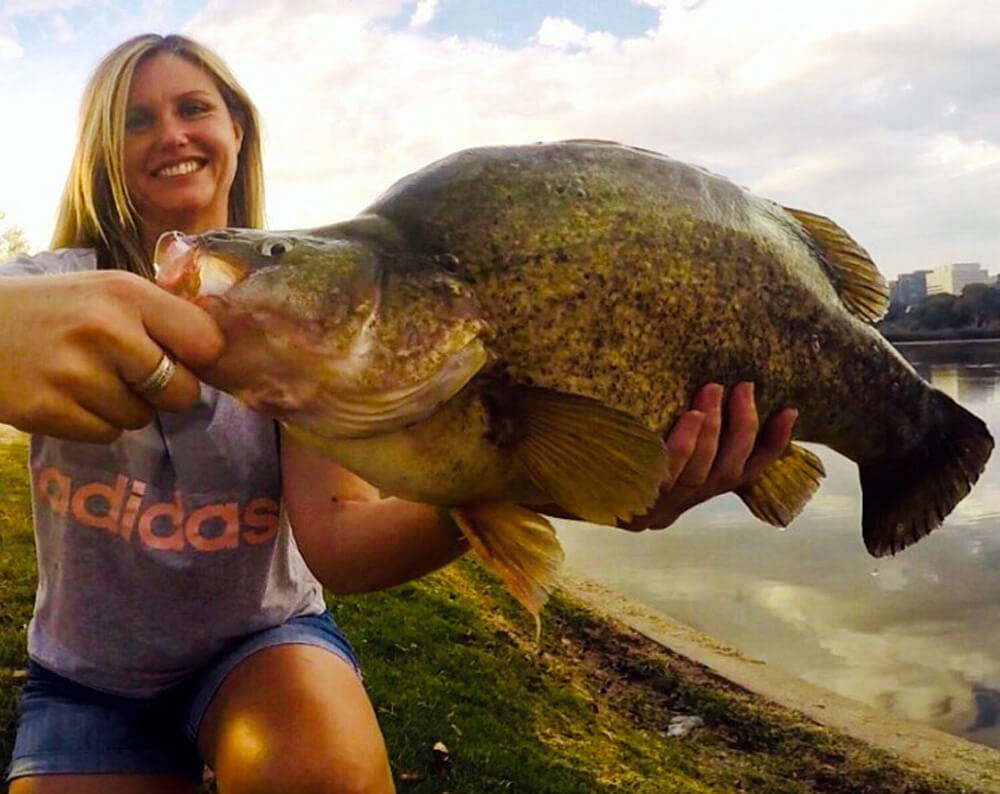 Todd took his girlfriend Gemma out for a flick at Albert Park Lake and fair to say she is a keeper making Todd very jealous and proud of her monster yella and 47cm EP, love ya work Gemma!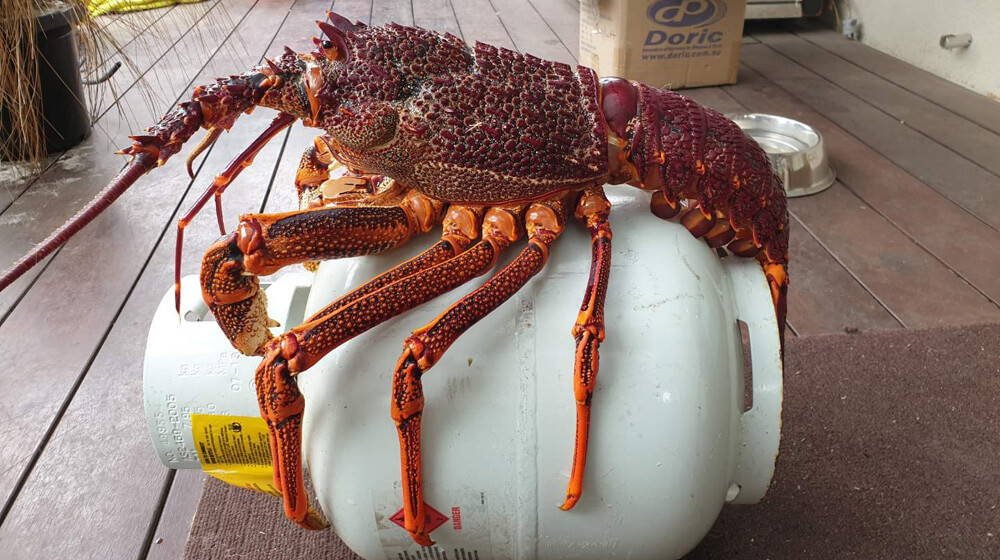 Julian caught a monster 4kg crayfish off Cape Schanck last weekend.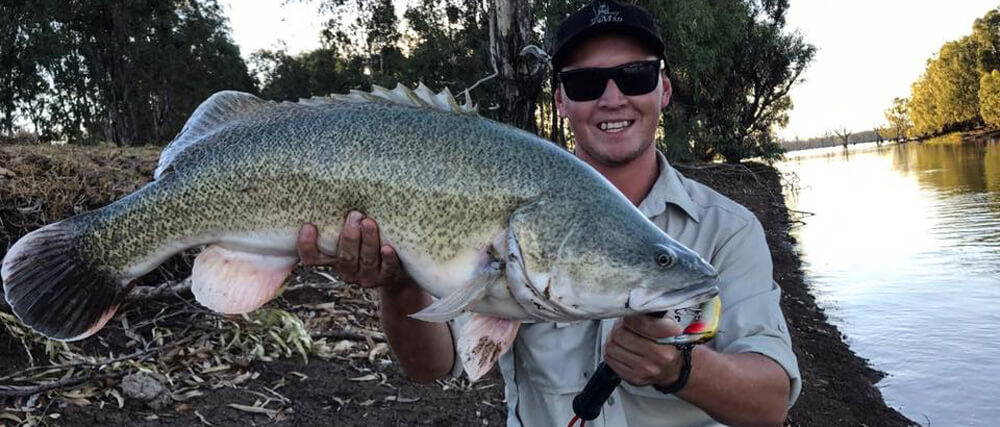 Jack Weymouth-Smith landed a cracking cod fishing a canal in the Riverina area.
IFISH WITH TACKLE WORLD SERIES 14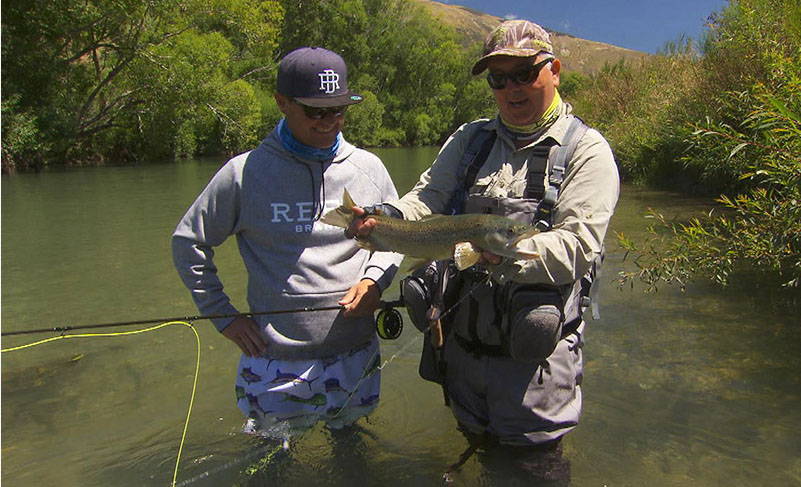 Lumsden, New Zealand
Target Species: Brown Trout
Sunday 7th of April on 10BOLD at 5.30pm

TALKING FISHING - C31 TV - TUESDAYS @8.30PM
Catch "Talking Fishing" on Melbourne's C31 TV (CH44) at 8.30pm each Tuesday night. Staff members David Kramer and Adam Ring together with Steve "Trelly" Threlfull host Australia's only "Live to Air" fishing television program at this prime time-slot. Put Tuesday night's at 8.30 away in your weekly diary of TV shows to watch!

There are 336 dimples on a regulation golf ball.

Good Luck with your fishing and stay safe on the water,

The TEAM at Tackle World Cranbourne & Mornington